Three Perfect Days: Xi'an
Story by Benjamin Carlson | Photography by Jasper James | Hemispheres, March 2016
Even in a country as steeped in history as China, Xi'an is mindbendingly old. National capital for 13 dynasties, city of eight names, anchor of the Silk Road, an ancient metropolis one and a half times the size of Rome, Xi'an has more than 3,000 years under its belt. In the 13th century, one visitor wrote of the city's "noble, rich, and powerful" past—and Marco Polo wasn't easily impressed. Xi'an is a city both blessed and burdened by memories of greatness. Residents still speak of the Tang dynasty as if it ended yesterday (as opposed to AD 907). Every dingy noodle shop boasts of recipes dating back a century or more. Subway construction has hit repeated delays as diggers encounter crypts and other relics beneath the streets. But Xi'an isn't just for history buffs. It's also a loud, teeming city that captures all the glories and growing pains of contemporary China. The contradictions between an illustrious past and the sometimes awkward ambitions of the present are readily apparent: Cranes and concrete towers clutter the skyline beyond the ancient city walls; peasant folkways wend alongside roaring highways. But it's this—the clash of ageless tranquillity and breathless dynamism—that makes Xi'an such a fascinating, exciting place.

In which Ben tries (and fails) to decipher calligraphy, climbs the Little Wild Goose Pagoda, and grapples with one of the "Eight Strangenesses of Shaanxi": chili
In China, power radiates from the center. So, like other Chinese capitals, Xi'an was built outward in rings. Even as it has grown into a city of 8 million, the heart of Xi'an beats inside the huge city walls that enclose an area of about 14 square miles, and the Sofitel Legend People's Grand Hotel sits at the heart of the heart of it. The building, a 1950s Sino-Russian edifice, has two stately wings extending from a cylindrical tower. It was the first grand hotel in modern China, and it remains an anchor of the downtown, with a theater, museum, and serene garden.
I awake in a sumptuous suite and head to breakfast. My butler, a cheerful young woman named Lizzy, who is dressed in a little black tux with swinging coattails, offers me newspapers in French and English. As I tuck into shaved salami on toast and a red currant Danish, caterers hang garlands of green in the gardens outside in preparation for a wedding party.
But I'm not here to luxuriate. I'm here to plumb the depths of Chinese civilization, starting at the Tangbo Art Museum. My cab driver—husky-voiced, chain-smoking—drops me off in the southeast of the city, outside the walls. On the way there, we pass spectral blocks of unfinished apartments, peddlers hawking cabbages, and a dozen aunties waving their hands over their heads as if they were at a luau.
I'm met at the museum by Lei Ling, a graceful curator in a maroon wool coat. The small museum specializes in folk crafts and traditional arts, much of it from the Shaanxi province around Xi'an. Lei, a native of the city, shows me shadow puppets made of donkey skin and posters bearing Cultural Revolutionary slogans ("Smash 1,000 years of chains!"). I ask her about a set of clay statues depicting a family eating and arguing. Lei explains that they relate to the "Eight Strangenesses of Shaanxi," which include squatting while eating, marrying locally, shouting opera, and consuming heroic quantities of chili.
She seats me at a long wooden table, picks up a calligraphy brush, and asks me to guess the meaning of an ancient character she draws. Dragon? "No, that's a woman." She draws another: a 57-stroke character that takes up a whole sheet, made of elements that mean knife, moon, cart, word, distance, and heart. "You cannot find this in the dictionary," she says. "This is the most complicated character in Chinese."
"What does it mean?"
"It's biang biang, a sort of noodle."
Lesson over, Lei takes me to meet the owner of the museum: Ren Jie, a 50-something man in a puffy jacket. He welcomes me into his small, smoky office behind the galleries. Cheerful, with a gravelly laugh, he pours pu-erh tea into small ceramic cups. He founded the museum 15 years ago, he says, because of his passion for the traditional arts of Shaanxi province.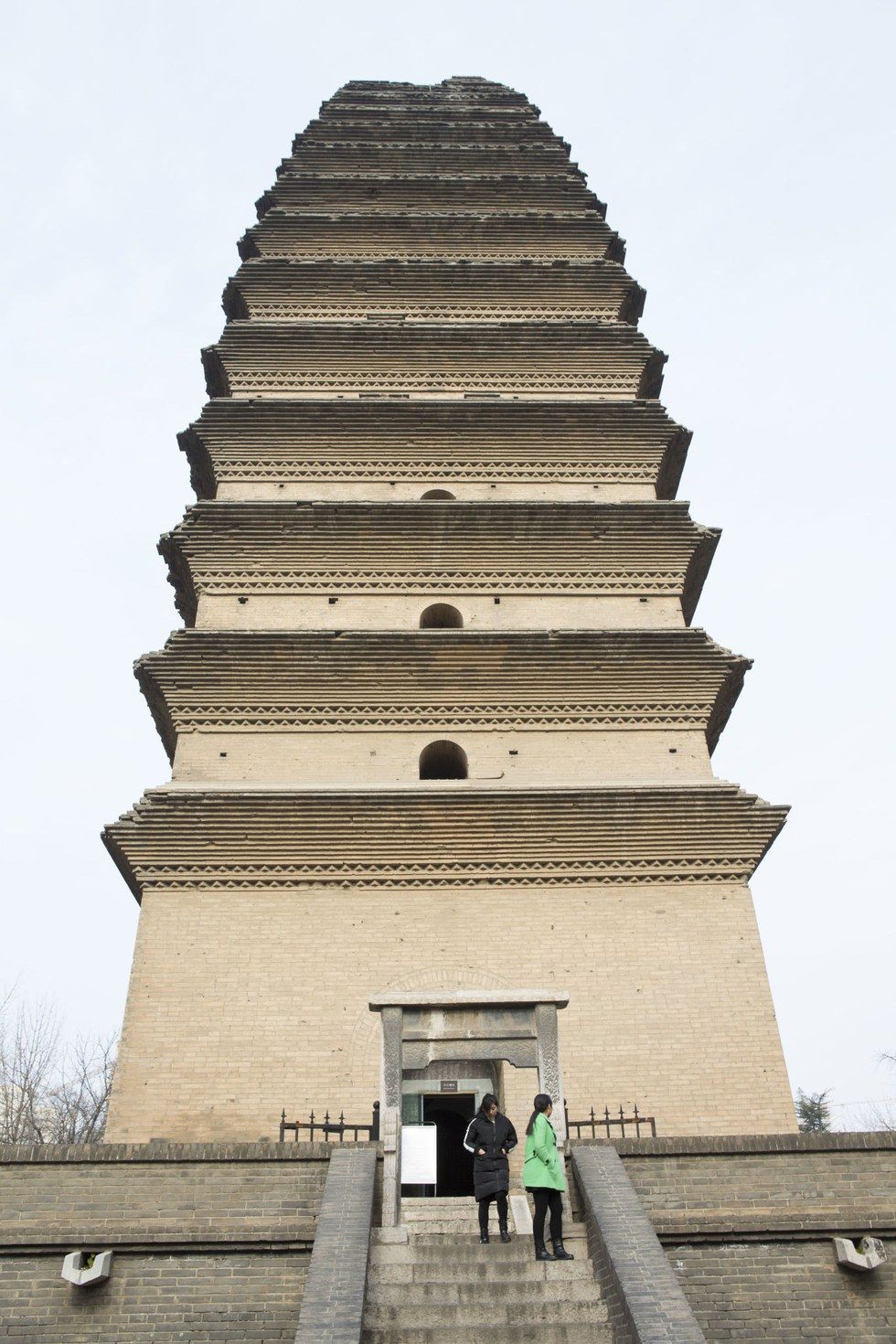 The 13-story Little Wild Goose Pagoda
"You've got to practice the art yourself to understand," he says. "In the West, people get tattoos using Chinese characters, but they make no sense. Those people have no idea what they mean." He is also eager to share his advice on food, urging me to load up on lamb soup with hand-torn bread. "Why do we break the bread ourselves? Because that way we have to sit with our friends a long time. You break bread, you talk. Every day it's like that. That's the Xi'an lifestyle."
As I prepare to leave, I ask Ren what else sets Xi'an apart. "Shanghai is a young city compared to us—Beijing too," he says. "Xi'an, we were the New York of the ancient world. Over a million population in the 8th century."
Despite my increasingly urgent craving for noodles, I decide on a pre-lunch trip to the Xi'an Museum, located on the grounds of the Little Wild Goose Pagoda, just south of the city walls. I start on the lower level, which displays a huge scale model of 8th century Xi'an (then known as Chang'an), when it was the greatest city in the world. Nearby, next to a display case containing the figures of 12 plump Tang dynasty ladies, a little girl in pink silk robes theatrically recites historical details.
"In the Tang dynasty we were the most advanced and populous country in the world," the girl says with the poise of a beauty pageant host. "Many foreigners came to trade and learn from us." She is wearing a sash that says, "Little Explainer."
From here, I pass through a small park to the Little Wild Goose Pagoda, a 13-story tower of tawny brick with a viewing station at the top. Up here, the contrasts of Xi'an are on vivid display: the candy-cane smokestack, the huge 14th-century Drum and Bell towers in the distance. Below, a vendor sells red slips of paper for visitors to write their wishes on. Hundreds hang from a branch. Mine says: biang biang.
My wish is fulfilled just inside the city walls, near the South Gate, down a winding street of bars. I step into a clean, bustling shop called Lao Wan, or Old Bowl, and tuck into a huge portion of noodles the width of a belt, garnished with green onion, white garlic, bok choy, and ample quantities of that most challenging of the Eight Strangenesses: chili.
To work off a few noodles, I ascend the wall near South Gate. Visitors can rent bikes to wheel around the top of the 14th-century structure; one of the largest and most complete city walls left in China, it runs for eight miles, stands almost 40 feet high, and is wide enough for two trucks to drive side by side. A few minutes in, I stop to watch a group of young men wearing flat caps and girls in denim overalls, all standing completely still. A moment later, in silence, the group breaks into a hip-hop dance routine. As a cameraman walks around filming them, a female bystander remarks to no one in particular, "It's weird without the music."
I make my way back to the Sofitel and, after a large Scotch at the lobby bar, head for dinner at the hotel's Dolce Vita Italian restaurant. I opt for the sea-themed menu: a whirlwind of pan-seared octopus over fluffy potatoes and lasagnette ai frutti di mare, followed by a tiny jar of exquisite tiramisu. Up in my room, I gaze at the bamboo-and-ox-hair brushes hanging over the desk, trying to picture the 57 strokes of biang biang. I don't get beyond the knife and the moon before I am asleep.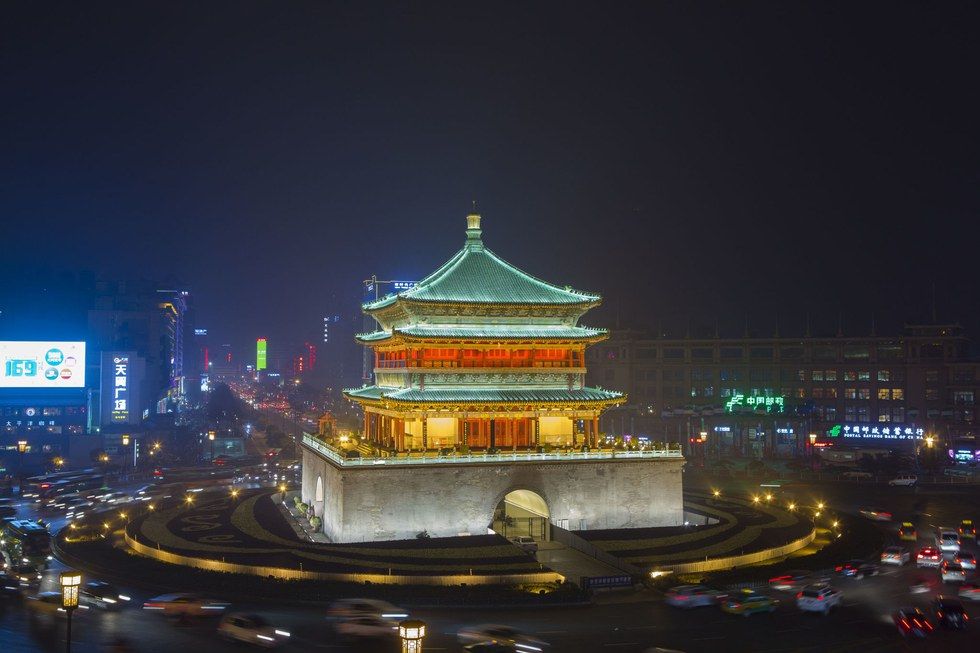 "Shanghai is a young city compared to us—Beijing too. Xi'an was the New York of the ancient world. Over a million population in the 8th century."

In which Ben tries (and fails) to decipher the species of a peddler's statuette, navigates the Muslim Quarter, and attends an arm-wrestling contest
No matter where you are, there are few better ways to start the day than immersed in a deep tub pungent with Hermès bath salts. I follow my dip with an equally restorative order of dragon fruit with toast in the hotel café, fortifying myself for a shopping spree at the antique market of the Temple of the Eight Immortals, the biggest Taoist temple in Xi'an, located east of the city walls.
Outside the temple, peddlers display an array of baseball caps, incense burners, screwdrivers, and sweet potatoes. I inspect a decorative clay object and am practically charged by a wrinkled old man, who claims it is from the Yuan dynasty of AD 1271. I nod and move on. I ask another vendor the price of two iron tiger statuettes, and she corrects me: "They're unicorns." Nearby, a young woman is involved in a heated conversation with a pipe-smoking man in a military coat.
"Are these yours?" she asks, holding up several "Certificates of Merit" given to comrades for good work.
"My brother's."
"How can you sell them?"
"They're no use to me. He's not around anymore."
"You shouldn't sell them."
"Eh, all right."
Inside the Eight Immortals, where Empress Cixi fled in 1900 during the Boxer Rebellion, worshipers put bundles of incense into iron urns and bow three times. I follow them into a hall where a Taoist priest with a mustache and a black hat listens to a loud audiobook while visitors kneel upon pillows. Nobody else seems bothered, and I wonder if this isn't some kind of test. Isn't Taoism all about accepting contradictions? I leave the temple, passing a food cart selling five spice dog meat. A few feet away, a Chihuahua in a pink vest snoozes on a blanket.
"That's Haohao," his owner says.
I bend to greet Haohao and he bares his teeth, growling until I back away from the pile of onions he seems to believe belong to him.
My next stop is in the South Gate area, at the Forest of Steles, a repository of stone tablets founded in 1087. Housed in the city's Confucian Temple, it contains 3,000 steles that are considered masterpieces of the calligrapher's art—the characters delicately chiseled into the stone—including several complete books written by emperors. By the entrance, four elderly masters demonstrate calligraphy for small crowds of mostly older men. One man yanks a small boy away after he repeatedly bumps a master's elbow with a toy truck. "I'm helping!" the boy cries.
"Foreign goods and ideas traveled along the Silk Road, bringing fruitful infusions of the outside world."
You don't have to know the language to appreciate the wildly diverse styles on show at the museum: some swooping, others dashing, or, in the case of one master called Crazy Zhang, erupting in wild, drunken arcs. In one gallery, I find the Nestorian tablet of 781, a record of Christian pilgrims' first encounters with China. It's a testimony to Xi'an's cosmopolitan past, when foreign goods and ideas traveled along the Silk Road, bringing fruitful infusions of the outside world into Chinese culture and cuisine.
Appropriately, I'm about to visit a real hotbed of cultural fusion: the Muslim Quarter, a sprawling area within the city walls. I've arranged to meet two longtime expat residents: Matt Allen, a San Franciscan entrepreneur married to a local woman, and his friend Marcello, an Italian-Venezuelan guitarist. Matt gives me a bro-bump, then plunges into the crowd.
"Something that doesn't get nearly enough attention is how long Muslims have been a part of Chinese culture," says Matt. "This is a scene that's been humming along 24 hours a day for centuries, and it's gorgeous and humming all day long."
I struggle to keep up as Matt and Marcello dodge vendors selling peanut brittle, walnuts, dates, and deep-fried persimmon cakes. Plumes of smoke swirl around hickory lamb skewers. Matt appears from the crowd to hand me a cup of pomegranate juice. They're in season, so the price is good. "My Muslim friends, they all know the price of, like, six commodities at once," he says over his shoulder. "It's all still Silk Road trader stuff."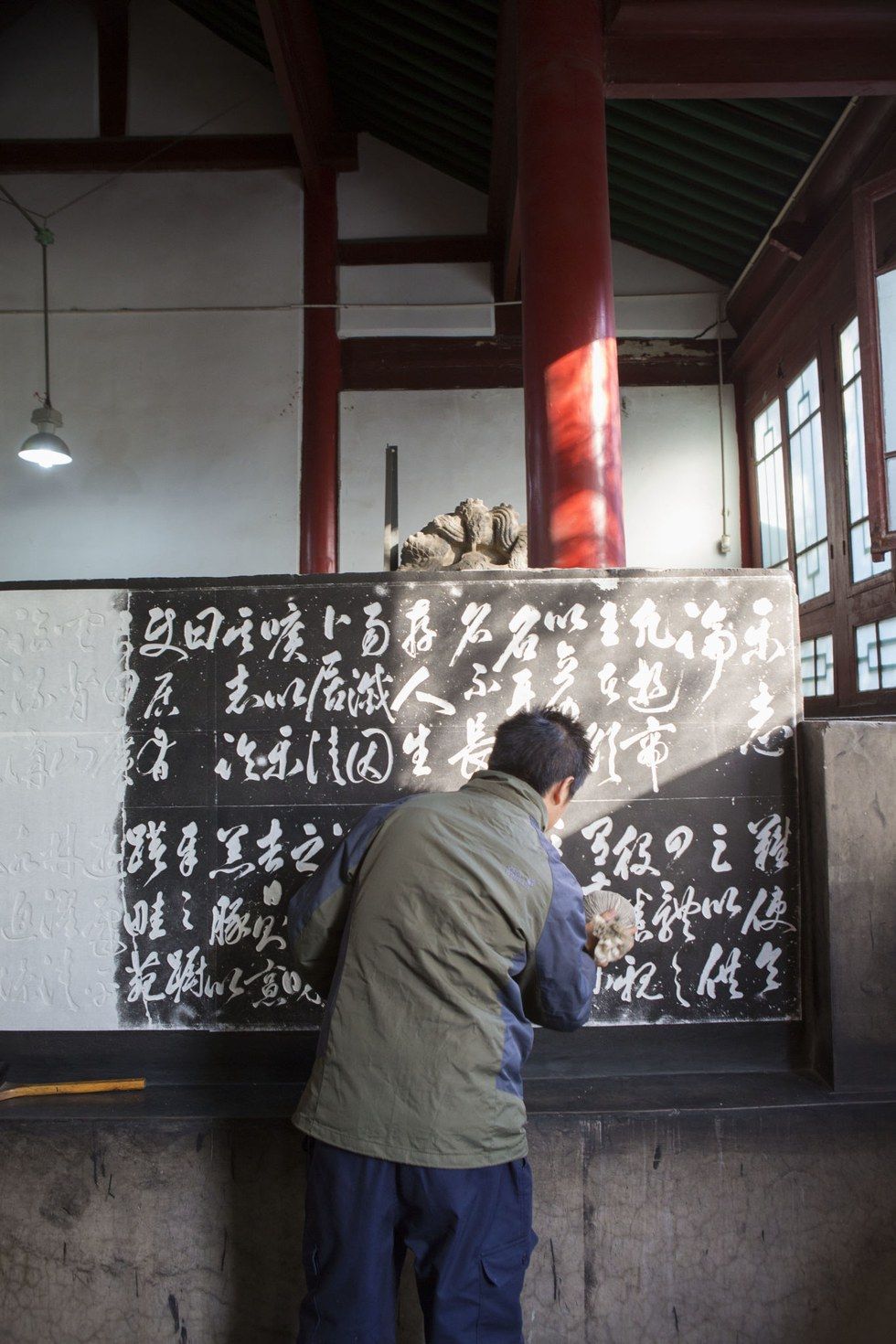 Stone tablets at the Forest of Steles.
It's a dizzying scene. Bikes honk. People shout. The three of us surface at a popular shop called Old Sun's Family Beef Lamb Porridge, which serves a dish known as yang rou pao mo. We sit and tear discs of soft, dense bread into tiny pieces to fill a bowl, which will then be ladled with hot, savory lamb or beef stew. Matt points at my crudely torn bits and turns to Marcello. "Man, he is going to have some terrible soup."
Finally, I get it right. The cook, wearing a square white hat, swirls steaming broth into my bowl, adding bok choy and chilies as he goes. As we eat, I ask Matt what makes Xi'an so special. "I love how smart everyone is here without any education," he responds. "All the men can fix everything, and the women can all make 100 soups. The whole country is jerry-rigged, and I feel like this is where that started."
We end the afternoon jostling along alleyways toward the Great Mosque, one of the largest and oldest in China. While the buildings have the graceful eaves of Chinese temples, the vertical inscriptions along the doorframes are written in Arabic script. As we stroll through the mosque gardens, my companions talk hip-hop. A few years earlier, Matt tells me, he and a friend achieved some notoriety with a video of them rapping, in Chinese and English, a piece titled "We Livin' in Xi'an."
After a spritz and snooze at the hotel, I head for the contemporary Spanish eatery DUO, opposite Nanhu Lake. While I chow down on suckling pig croquettes, Galician octopus, and vacuum-cooked codfish, the city's only flamenco band—composed of two locals and a Scotsman—accompany a stomping Chinese woman in a red dress.
My phone buzzes. It's Matt, telling me there's an arm-wrestling competition taking place in a pirate-themed barbecue restaurant across town. I leap into a cab and head over. A smoky room of long tables is filled with beer steins, burly men in Speedos, and girls in red bunny outfits. How they kept the Strangenesses here down to eight, I'll never know.

In which Ben tries a "Chinese hamburger," marvels at the magnificent Terracotta Warriors, and samples a local take on "American" craft beer
I awake in a sleek crimson room at the Gran Melia, a chic Sino-Iberian hotel in Qu Jiang New District, a booming zone of parks and malls. I sit at a booth at the hotel's Red Level lounge, nibbling on a savory rou jia mo, a local pork sandwich sometimes called a "Chinese hamburger." In the perfumed lobby, a concierge calls me a car. Minutes later, a red-gloved attendant opens the door, and we are off to Xi'an's premier attraction: the Terracotta Army, located 45 minutes east of the city.
After living several years in China, I have learned to be wary of certain "marquee" tourist sites. Sure enough, the park that surrounds the warriors is jammed with souvenir stalls and selfie sticks. But then, as I step into the hangar-size hall where thousands of terracotta warriors stand uncovered or lie buried in soil, I am overcome.
Dating back to the third century BC, the site consists of three pits containing as many as 8,000 clay soldiers, along with hundreds of statues of horses, scholars, and officials. These are the guardians of the tomb built by (and for) Emperor Qin Shi Huang, the first ruler to unify what we now recognize as China, in 221 BC. He created the title of emperor, built the first Great Wall, created national roads, and ordered the construction of a vast city of the dead.
Each warrior has slightly different eyebrows, cheekbones, and proportions. It wasn't until 1974, when farmers went to dig a well on this land, that anyone even knew these marvels were here. Six thousand soldiers still lie buried. What else lies beneath the surface of this city?
Leaving the pits, I pass a girl with dyed red hair pretending to play mandolin as friends take her picture. A stylish woman pauses to spit in a trash can. I am firmly back in the present.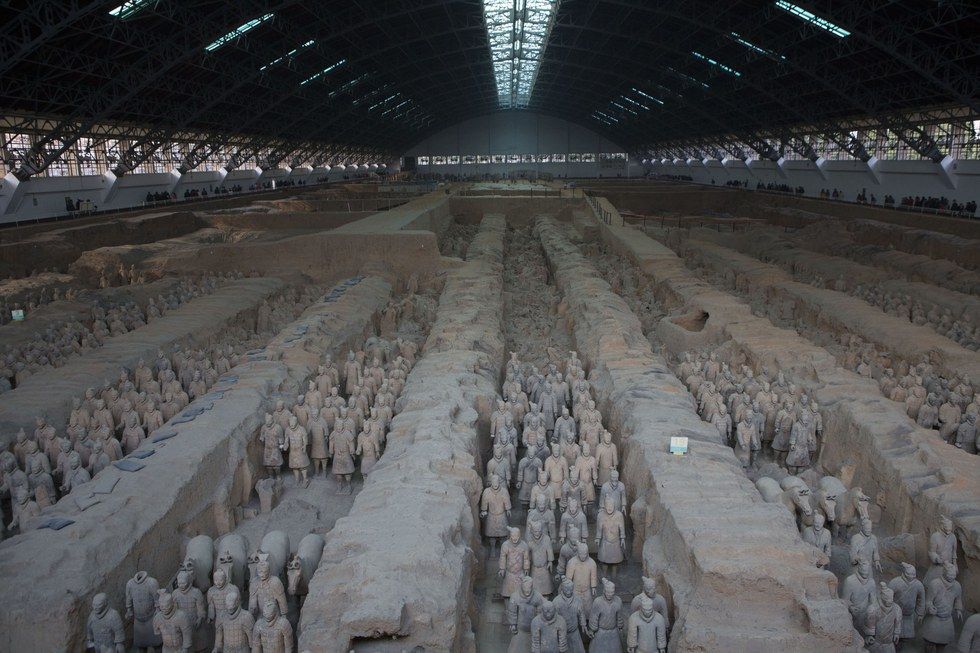 Xi'an's premier attraction, the Terracotta Army
The lunch options are iffy among the trinket stalls surrounding the site, so I opt for a noodle stand in the lot where cabbies wait for their fares. A man under a sign that says "Farm Family Little Eats" pulls bands of dough into thin noodles. He smiles when I pull up a stool and order a bowl. It's savory, fortifying, and cheap.
A cab takes me down the road to Emperor Qin Shi Huang's tomb, which looks like a large, pleasant park, because Chinese archaeologists have been waiting for technology to develop that will allow access to the tomb without damaging its contents. According to legend, the emperor rests amid rivers of mercury. (Probes have confirmed that mercury levels are 100 times the norm.) Above ground, people do normal park things: stroll, snooze, eat. It's a strange place.
For dinner, I am meeting a guide from Lost Plate, which organizes food tours to tiny shops around the city. The founder, Ruixi Hu, is a transplant from western China. "There are so many travelers in Xi'an who come, and all they do is see the warriors and go back to their hotel," she says. "They don't get to experience all the awesome food, which is the best part of the city. So we take people off the beaten path, where locals eat."
"I have learned to be wary of 'marquee' tourist sites. But as I step into the hangar-size hall where thousands of terracotta warriors stand or lie buried in soil, I am overcome."
Upon her arrival in Xi'an a little over a year ago, Ruixi bought a map and began exploring, scoring every restaurant she visited on a 10-point scale, compiling a list of ultra-local restaurants worth visiting. "I think I ate at least 50 types of noodle in Xi'an," she says. "I gained 10 pounds, for sure."
She sets me up on a tour with one of her guides, a young university student named Lu, who immediately asks if I want a beer from the cooler. I like this guy already. As we putter off to our first stop in a tuk-tuk, I tell him about my visit to the tombs. "The first time I stood in front of the warriors I, like, felt something," he says. Lu's English is excellent, and conspicuously Americanized. "Oh, I watch a lot of American shows," he explains.
The tuk-tuk winds through the alleyways on the fringes of the Muslim Quarter. Our first stop is a shop where gruff, stocky brothers roll out disks of dough and fling them on top of a tall stove. These honey-coated loaves are then stuffed with radish, carrot, egg, cabbage, pickles, and something called "tofu flower," which is fished from a dark red broth that Lu tells me is "28 years old."
"What?"
"The fire has been going for 28 years. They never let it go out."
"Why?"
He shrugs. "They say the flavor is better."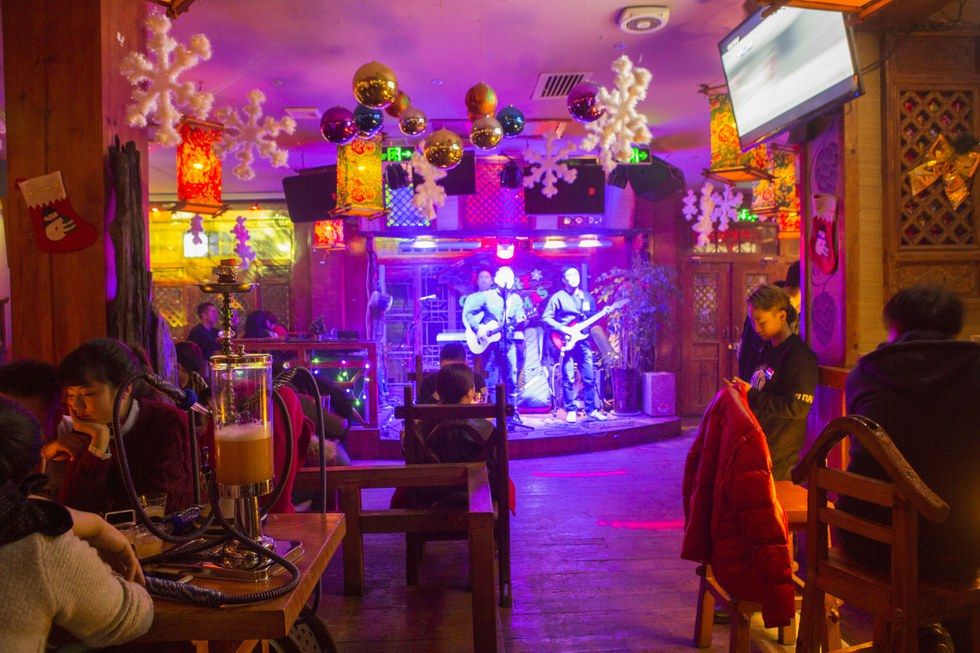 A band plays at the "American-style" Xi'an Brewery.
The rest of the evening is a blur of tuk-tuk rides, on-the-go beers, and delicacies from unassuming shops: lamb skewers garnished in cumin and chili; soup dumplings and sweet "eight treasure" porridge with osmanthus, hawthorn, jujube, and lotus seeds; and a finale of spinach noodles served with Ice Peak orange soda ("the Xi'an Fanta," Lu says).
Our last stop is Xi'an Brewery, a brewpub by the South Gate of the city. The place is supposed to be American-style, but the customers are mostly local, the decor is Shaanxi-themed (masks and redheaded cranes), and games of dice are going at every table. A Chinese house band plays pop standards.
A kid at the bar has, for some reason, dyed his hair gray. Owner and brewer Jon Therrian, who hails from Ohio, takes me upstairs to a karaoke room where people are playing cards. I shake the hand of his co-owner, a Xi'an native named Lei.
"My parents' generation all drank baijiu,"
Lei says, referring to a hard grain liquor that's popular in northern China. "But our generation, we all are ready for something new."
They serve up a sampling of their wheat beer, seasoned with coriander and orange peel, along with milk stouts and Kölsch, all unpasteurized and unfiltered. "We try to make it in style, but we also try to make it suit local tastes," Therrian says of his beer, which balances the stronger flavors of foreign beer and the Chinese preference for lower alcohol content. I meet the editor of the monthly English magazine of Xi'an and, suffused with beery warmth, ask him what brought him to the city.
"People say, 'I came for the culture,' or 'I heard the food was amazing'," he says. "I even had a guy who said, 'I want to live in a city that starts with X.' But I had no good reason for coming, and it ended up being a good decision. It sounds lame, but Xi'an has a sense of realness—real China—that people always talk about. It's charming and in your face. We're a lot more down and dirty, and that's cool."
Cheers to that, I say, taking another swallow of stout tailored to suit the traditional tastes of the local population, which seems a fitting way to end the day.
Beijing-based writer Ben Carlson has devised a 78-stroke character to describe the feeling of having a piece of biang biang stuck in one's tooth.
This article was written by Benjamin Carlson from Rhapsody Magazine and was legally licensed through the NewsCred publisher network. Please direct all licensing questions to legal@newscred.com.
When the pandemic began, United Cargo knew it would be critical to utilize its fleet, network and industry-leading pharmaceutical handling processes to transport a COVID-19 vaccine when the time came.
Connecting vaccines to the world: United responds to mass distribution effort
December 22, 2020
On November 27, United Airlines became the first commercial airline to safely deliver the first batch of Pfizer and BioNTech's COVID-19 vaccine into the U.S. thanks to a coordinated effort between United's cargo, safety, technical operations, flight operations, regulatory and legal teams.
Now as the entire shipping and logistics industry bands together to widely distribute vaccines, United is leveraging all of its flights, including cargo-only and those carrying passengers, to transport millions of vaccines to destinations throughout our network, including Honolulu, Guam and Saipan – the first of any carrier to do so.
"United's cargo service has helped safely deliver many essential goods during this pandemic, but there is no shipment that gives me more personal pride than helping bring this life-saving vaccine to our communities," said Jan Krems, United Cargo President. "While we still face a long road ahead the promise of a widely distributed vaccine gives us hope that we are one step closer to putting this pandemic behind us and moving forward together toward a brighter future."
And United is shipping more than just vaccines to help during the pandemic in keeping the lines of commerce flowing and goods getting to where they need to be. Since mid-March, United has operated 9,000 cargo-only flights carrying more than 435 million pounds of cargo. By using a combination of cargo-only flights and passenger flights, United Cargo has also transported 80 million pounds of medical supplies this year.
In coordination with our shipping and logistics partners, United will continue to distribute COVID-19 treatments to destinations throughout its network. The real heroes are the scientists who created these life-saving vaccines and the frontline workers who are not only administering them, but also helping care for and tend to those suffering from this virus. United is proud to do its part in helping to get this precious cargo to the people and communities who need them, and looks forward to doing our part in the months ahead.
United Cargo responds to COVID-19 challenges, prepares for what's next

September 30, 2020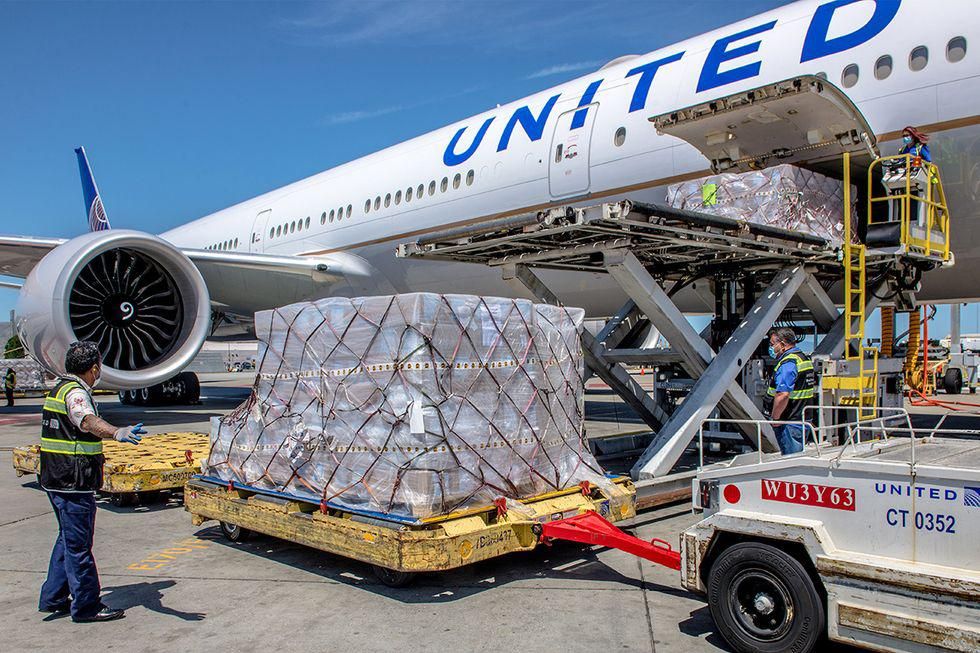 Even before the COVID-19 pandemic, United Cargo has supported a variety of customers within the healthcare industry for over 10 years. Three key solutions – TempControl, LifeGuard and QuickPak – protect the integrity of vital shipments such as precision medicine, pharmaceuticals, biologics, medical equipment and vaccines. By utilizing processes like temperature monitoring, thermodynamic management, and priority boarding and handling, United Cargo gives customers the peace of mind that their shipments will be protected throughout their journey.

With the global demand for tailored pharmaceutical solutions at an all-time high, we've made investments to help ensure we provide the most reliable air cargo options for cold chain shipping. In April this year, we became the first U.S. carrier to lease temperature-controlled shipping containers manufactured by DoKaSch Temperature Solutions. We continue to partner with state-of-the-art container providers to ensure we have options that meet our customers' ever-changing needs.
"Providing safe air cargo transport for essential shipments has been a top priority since the pandemic began. While the entire air cargo industry has had its challenges, I'm proud of how United Cargo has adapted and thrived despite a significant reduction in network capacity and supply," said United Cargo President Jan Krems. "We remain committed to helping our customers make it through the pandemic, as well as to doing everything we can to be prepared for the COVID-19 vaccine distribution when the time comes."
Our entire team continues to prioritize moving critical shipments as part of our commitment to supporting the global supply chain. We've assembled a COVID readiness task team to ensure we have the right people in place and are preparing our airports as we get ready for the industry-wide effort that comes next.
In cooperation with our partners all over the world, United Cargo has helped transport nearly 145 million pounds of medical supplies to aid in the fight against COVID-19, using a combination of cargo-only flights and passenger flig­hts. To date, United Cargo has operated more than 6,300 cargo-only flights and has transported more than 213 million pounds of cargo worldwide.
United Cargo responds to global needs, celebrates 5000th cargo-only flight

August 18, 2020
By Jan Krems, President, United Cargo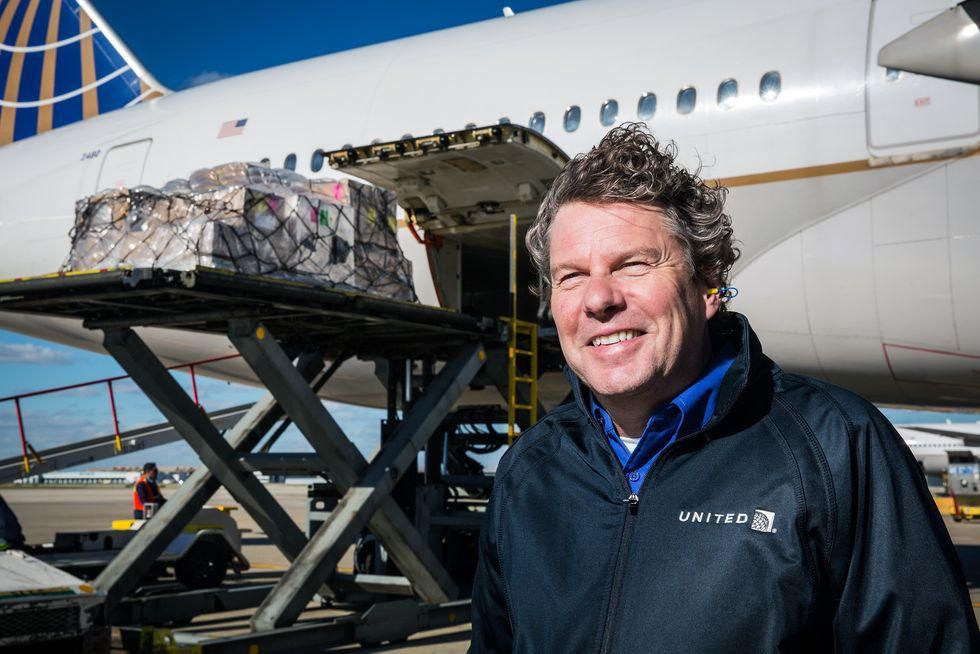 In mid-March, United took steps to manage the historic impact of COVID-19 and began flying a portion of our Boeing 777 and 787 fleets as dedicated cargo-only flights to transport air freight to and from U.S. hubs and key international business locations. More than ever, providing reliable cargo transportation was vitally important and I'm proud say our United Cargo team stepped up to support our customers.

Although we're facing the most challenging environment our industry has ever experienced, I'm very excited to celebrate a major milestone. Since March 19, United has operated over 5,000 cargo-only flights transporting nearly 170 million pounds of cargo on these flights alone. With an increased need to keep the global supply chain moving, and an even more urgent need for medical supplies, we knew we had to utilize our network capabilities and personnel to move vital shipments, such as medical kits, personal protective equipment (PPE), pharmaceuticals and medical equipment between U.S. hubs and key international destinations.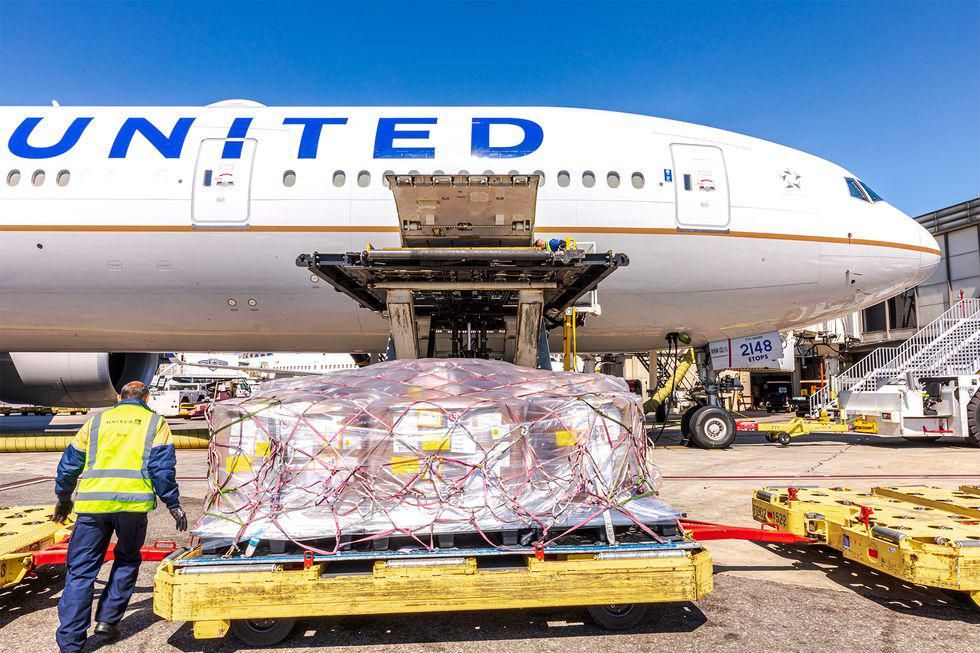 In cooperation with freight forwarders and partners all over the world, United Cargo helped transport more than 107 million pounds of medical supplies to aid in the fight against COVID-19 using a combination of cargo-only flights as well as passenger flights.

To keep military families connected, we increased the frequency of cargo-only flights between the U.S. and military bases in various parts of the world — including bases located in Guam, Kwajalein and several countries in Europe. We know how critically important it is for these families to stay connected, and I'm honored that we were able to utilize our network and our aircraft to fly nearly 3 million pounds of military supplies.
In collaboration with food-logistics company Commodity Forwarders Inc. (CFI), our cargo teams moved nearly 190,000 pounds of fresh produce to Guam for the U.S. Department of Agriculture's Coronavirus Farm Assistance Program. This new program was created to provide critical support to consumers impacted by the coronavirus pandemic.
United has played a critical role in keeping global supply chains stable during the pandemic as we deliver urgently needed goods around the world. These past few months have created challenges that I have never seen in my 30-plus years of experience working within the air cargo and freight forwarding industry. However, I'm proud of our teams for staying focused on our mission to provide high-quality service and to keep our customers connected with the goods they need most.
United Cargo and logistics partners keep critical medical shipments moving
July 02, 2020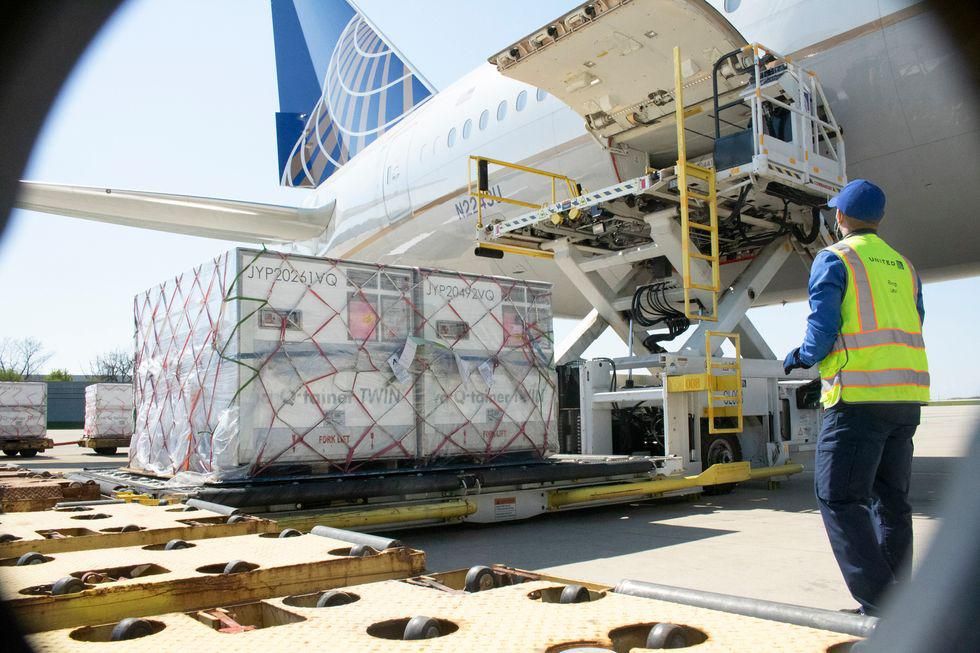 By working together and strengthening partnerships during these unprecedented times, our global community has overcome challenges and created solutions to keep the global supply chain moving. As COVID-19 continues to disrupt the shipping landscape, United and our industry partners have increasingly demonstrated our commitment to the mission of delivering critical medical supplies across the world.

United Cargo has partnered with DSV Air and Sea, a leading global logistics company, to transport important pharmaceutical materials to places all over the world. One of the items most critical during the current crisis is blood plasma.
Plasma is a fragile product that requires very careful handling. Frozen blood plasma must be kept at a very low, stable temperature of negative 20 degrees Celsius or less – no easy task considering it must be transported between trucks, warehouses and airplanes, all while moving through the climates of different countries. Fortunately, along with our well-developed operational procedures and oversight, temperature-controlled shipping containers from partners like va-Q-tec can help protect these sensitive blood plasma shipments from temperature changes.
A single TWINx shipping container from va-Q-tec can accommodate over 1,750 pounds of temperature-sensitive cargo. Every week, DSV delivers 20 TWINx containers, each one filled to capacity with human blood plasma, for loading onto a Boeing 787-9 for transport. The joint effort to move thousands of pounds of blood plasma demonstrates that despite the distance, challenges in moving temperature-sensitive cargo and COVID-19 obstacles, we continue to find creative solutions with the help of our strong partnerships.
United Cargo is proud to keep the commercial air bridges open between the U.S. and the rest of the world. Since March 19, we have operated over 3,200 cargo-only flights between six U.S. hubs and over 20 cities in Asia, Australia, Europe, South America, India, the Caribbean and the Middle East.
United further expands cargo-only operations to key international markets
June 9, 2020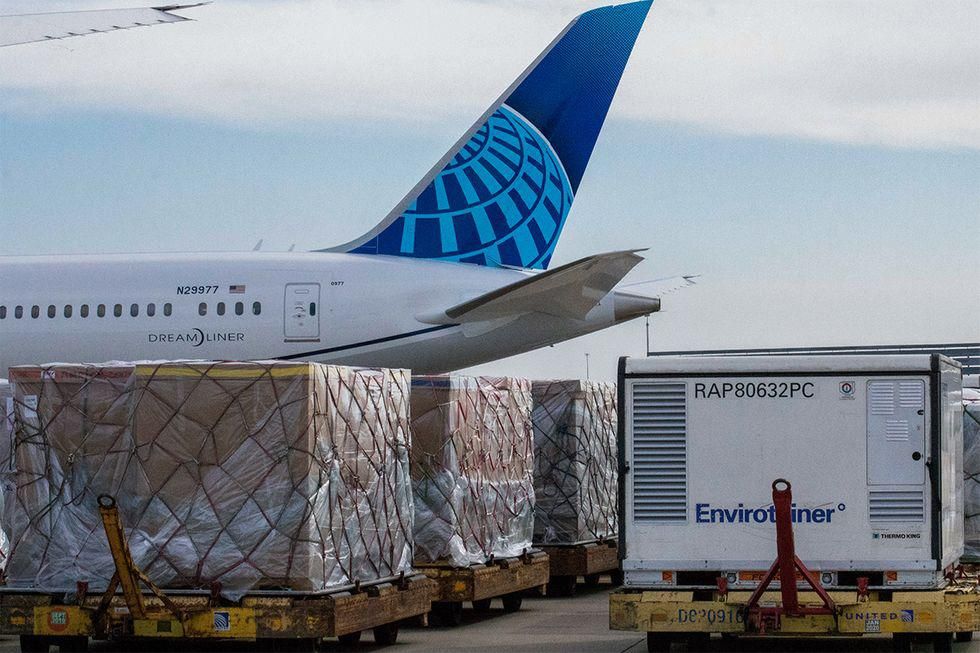 United has played a vital role in helping keep the global supply chains stable during the COVID-19 pandemic so urgently needed goods can get to the places that need them most.

In addition to current service from the U.S. to Asia, Australia, Europe, India, Latin America and the Middle East, we are proud to now offer cargo-only flights to key international markets including Dublin, Paris, Rome, Santiago and Zurich. These new routes will connect our freight customers and further extend our air cargo network throughout the world – for example connecting major pharmaceutical hubs in Europe and perishable markets in Latin America.
"Air cargo continues to be more important than ever," says United Cargo President Jan Krems. "This network expansion helps our customers continue to facilitate trade and contribute to global economic development and recovery. I'm proud of our team for mobilizing our cargo-only flights program that enables the shipment of critical goods that will support global economies."
Since we began our program March 19, we have completed more than 2,400 cargo-only flights, transporting over 77 million pounds of cargo. We have over 1,100 cargo-only flights scheduled for the month of June, operating between six U.S. hubs and over 20 cities all over the world.
United's first flight carrying cargo in-cabin takes off
May 13, 2020

United continues to keep supply chains moving and to meet the demand for critical shipments around the globe. Recently, United received approval from the Federal Aviation Administration (FAA) to carry cargo in approved storage areas in the passenger cabin.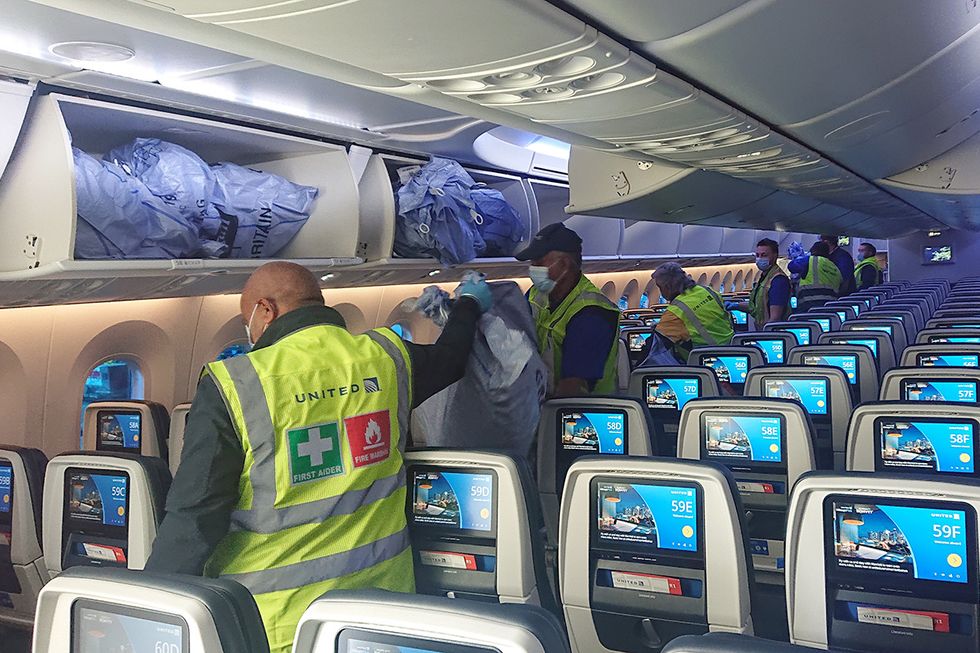 Our inaugural cargo-in-cabin flight flew from London (LHR) to Chicago (ORD) carrying over 4,200 pounds of mail in the passenger cabin, plus a full payload of freight in the belly of the aircraft. Initially, cargo-in-cabin shipments will be loaded on the 777 and 787 aircraft operating our cargo-only flights. We will continue to evaluate additional opportunities to use this space to meet the growing cargo demand.
"We send our sincere thanks to the FAA for working with our team to enable the transport of more critical goods on United's cargo-only flights," said Jan Krems, President of United Cargo. "By loading existing cabin storage areas with cargo and mail, we can move even more critical medical equipment, PPE, and other vital shipments the world needs to manage through the pandemic."

United's cargo-only network continues to expand in order to help bring vital shipments to the people that need it most. We're now offering service between six of our U.S. hubs and 18 airports worldwide: CTU, HKG, ICN, MEL, PEK, PVG, SIN, SYD and TPE in the Asia-Pacific; AMS, BOM, BRU, DUB, FRA, LHR, TLV and ZRH in EMEIA; and SJU in the Caribbean.
Since the start of its cargo-only flights program March 19, United has operated over 1,300 cargo-only flights transporting over 44 million pounds of cargo.
For more information, visit unitedcargo.com.
United expands cargo-only flights to additional global destinations
April 16, 2020
Getting vital goods, especially medical relief supplies, into the hands of the businesses and people who need them has never been more critically important. To meet the overwhelming demand, United began operating cargo-only flights on March 19. Since we began using Boeing 777 and 787 aircraft from United's passenger fleet for this purpose, we have operated over 400 flights carrying more than 6 million kilos of cargo.
"With the global community in need, we are doing everything we can to keep supply chains moving worldwide and support the battle against COVID-19," said United Cargo President Jan Krems. "We're proud to play an active role in connecting vital medical supplies like test kits and personal protective equipment with healthcare professionals around the world."
We are now operating more than 150 cargo-only flights per week between six of our U.S. hubs and 13 cities worldwide: CTU, HKG, PEK, PVG, SYD and TPE in the Asia Pacific; AMS, BRU, DUB, FRA and LHR in Europe; SJU in the Caribbean and TLV in the Middle East. We expect to add new cities soon and will continue to expand our cargo-only flights program.
Hub
Cargo-only flights operating through May
Chicago (ORD)
ORD - AMS (Amsterdam)
ORD - FRA (Frankfurt)
ORD - HKG (Hong Kong)
ORD - LHR (London)
ORD - NRT (Tokyo Narita) - PEK (Beijing)

Houston (IAH)
IAH - AMS (Amsterdam)
IAD - FRA (Frankfurt)
Los Angeles (LAX)
LAX - HKG (Hong Kong)
LAX - LHR (London Heathrow)
LAX - NRT (Tokyo Narita) - PVG (Shanghai)
LAX - SYD (Sydney)
New York/Newark (EWR)
EWR - AMS (Amsterdam)
EWR - FRA (Frankfurt)
EWR - LHR (London)
San Francisco (SFO)
SFO - AMS (Amsterdam)
SFO - NRT (Tokyo Narita) - PEK (Beijing)
SFO - NRT (Tokyo Narita) - PVG (Shanghai)
SFO - NRT (Tokyo Narita) - TPE (Taipei)
SFO - TLV (Tel Aviv)
SFO - SYD (Sydney)
Washington, D.C. (IAD)
IAD - BRU (Brussels)
IAD - DUB (Dublin)
IAD - FRA (Frankfurt)
IAD - NRT (Tokyo Narita) - PEK (Beijing)
IAD - SJU (San Juan)
Flight details are subject to change, for the most up-to-date schedules, please visit https://ual.unitedcargo.com/covid-updates.
Cargo-only flights support U.S. military and their families
March 30, 2020
We are helping to keep military families connected by increasing the frequency of cargo-only flights between the United States and military bases in various parts of the world — including Guam, Kwajalein, and several countries in Europe. Last week we began operating a minimum of 40 cargo-only flights weekly — using Boeing 777 and 787 aircraft to fly freight and mail to and from U.S. hubs and key international business and military locations.
We are going above and beyond to find creative ways to transport fresh food and produce, as well as basic essentials from the U.S. mainland to military and their families in Guam/Micronesia. On Saturday, March 28, we operated an exclusive cargo-only B777-300 charter to transport nearly 100,000 pounds of food essentials to Guam to support our troops.
In addition, we move mail year-round all over the world. In response to COVID-19, and in support of the military members and their families overseas, we implemented a charter network, transporting military mail to Frankfurt, which is then transported all over Europe and the Middle East. Since March 20, we have flown 30,000+ pounds of military mail every day between Chicago O'Hare (ORD) and Frankfurt (FRA). On the return flight from Frankfurt to Chicago, we have carried an average of 35,000 pounds of mail to help families stay connected.

"Keeping our military families connected with the goods they need, and keeping them connected with loved ones to feel a sense of home, is of critical importance. As a company that has long supported our military families and veterans, our teams are proud to mobilize to lend a hand." — United Cargo President Jan Krems.
Our cargo-only flights support customers, keep planes moving

March 22, 2020
We have begun flying a portion of our Boeing 777 and 787 fleet as dedicated cargo charter aircraft to transfer freight to and from U.S. hubs and key international business locations. The first of these freight-only flights departed on March 19 from Chicago O'Hare International Airport (ORD) to Frankfurt International Airport (FRA) with the cargo hold completely full, with more than 29,000 lbs. of goods.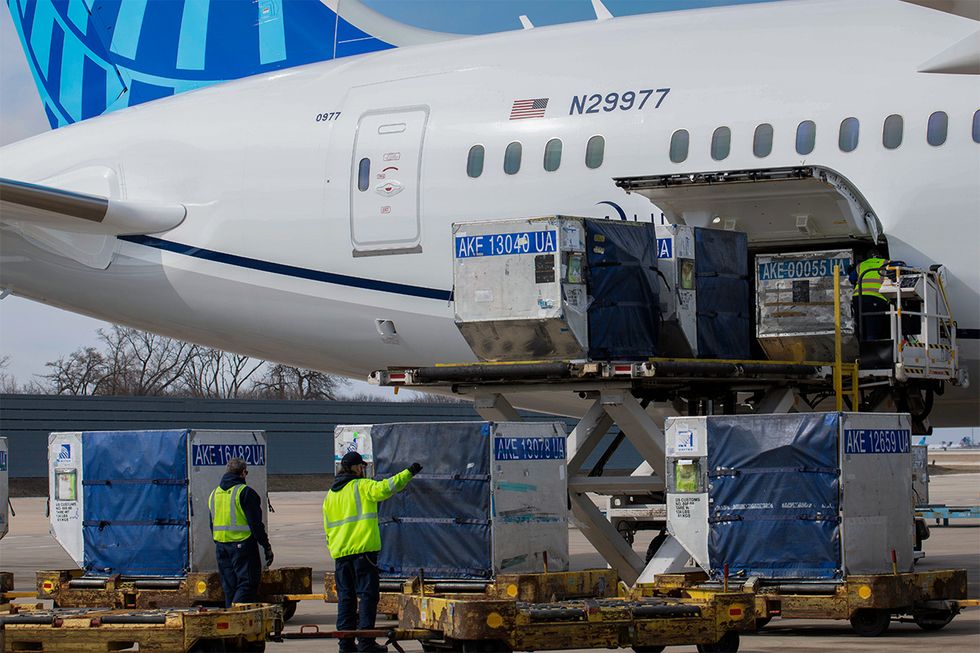 Getting critical goods into the hands of the businesses and people who need them most is extremely important right now. To support customers, employees and the global economy, we will initially operate a schedule of 40 cargo charters each week targeting international destinations and will continue to seek additional opportunities.

With coronavirus (COVID-19) creating an increased need to keep the global supply chain moving, we are utilizing our network capabilities and personnel to get vital shipments, such as medical supplies, to areas that need them most.
"Connecting products to people around the world is the United Cargo mission," said United Cargo President Jan Krems. "That role has never been more crucial than during the current crisis. Our team is working around the clock to provide innovative solutions for our customers and support the global community."
On average, we ship more than 1 billion pounds of cargo every year on behalf of domestic and international customers. For more information, visit unitedcargo.com.
Airline and its customers use crowdsourcing platform - Miles on a Mission - to donate more than 11 million miles for charities like the Thurgood Marshall College Fund, College to Congress and Compass to Care
CHICAGO, Dec. 1, 2020 /PRNewswire/ -- United is inviting MileagePlus members to give back on Giving Tuesday and throughout the holiday season by donating miles to nearly 40 non-profits through United Airlines' crowdsourcing platform, Miles on a Mission. Non-profits like Thurgood Marshall College Fund, College to Congress and Compass to Care are attempting to raise a total of more than 11 million miles to be used for travel for life-saving health care, continued education, humanitarian aid and more. United will match the first 125,000 miles raised for each of these organizations to help ensure they meet their goals.
"This year has posed unprecedented challenges for us all and has been especially devastating to some of the most vulnerable members within the communities we serve," said Suzi Cabo, managing director of global community engagement, United Airlines. "The need for charitable giving has not stopped during the pandemic, and neither has United. This Giving Tuesday marks an opportunity for us to all come together for the greater good and we are proud to provide a platform to support organizations with upcoming travel needs that will enable them to continue supporting the communities they serve."
The launch of these campaigns is part of United's ongoing Miles on a Mission program, which began in October 2019 and has raised more than 92 million miles to-date. Past campaigns have helped organizations travel children for life-saving medical treatment and unite parents with newly adopted children from foreign countries. Participating non-profits have 28-days to reach their mile raising goals through the platform.
The organizations that are raising miles in this campaign include:
College to Congress: The organization provides support including travel for disadvantaged college students who otherwise could not afford to intern in Washington, D.C.
Thurgood Marshall College Fund: This is the only national organization representing America's 47 publicly-supported Historically Black Colleges and Universities (HBCUs), and the nearly 300,000 students that attend them each year. The miles raised will cover the travel expenses to and from campus for students unable to afford them.
My Block, My Hood, My City: This organization provides underprivileged youth with an awareness of the world and opportunities beyond their neighborhood. Miles will be used to fund educational trips for Chicago youths to help them gain a greater understanding of the world outside of their comfort zones.
Compass to Care: The non-profit ensures all children, whose parents have a financial need, can access life-saving cancer treatment. Compass to Care is raising miles to fund travel to get children from their homes to hospitals for cancer treatment.
Luke's Wings: This organization is dedicated to the support of service members who have been wounded in battle. Raised miles will be used to purchase plane tickets for families to visit wounded soldiers recovering in Army medical centers.
Rainbow Railroad USA: The organization's mission is to help persecuted LGBTQI+ individuals around the world travel to safety as they seek a haven from persecution. Miles will support the organization's core Emergency Travel Support program.
This year, United's legal partner Kirkland & Ellis will also be donating $50,000 to My Block, My Hood, My City and the Thurgood Marshall College Fund. Other organizations launching campaigns on the platform include: Sisters of the Skies, Inc., Up2Us Sports, Airline Ambassadors International, Austin Smiles, AWS Foundation, Crazy Horse Memorial, FLYTE, Higher Orbits, Lily's Hope Foundation, Miles4Migrants, Support Utila Inc. and Watts of Love. MileagePlus members can also donate to United's 20 other existing partner charities including, Airlink, American Red Cross, Make-A-Wish, Shriners Hospitals; Clean the World, Special Olympics and more. To learn more or donate to these organizations, please visit donate.mileageplus.com.
Visit www.united.com/everyactioncounts to learn more about our pledge to put our people and planes to work for the greater good.
About United
United's shared purpose is "Connecting People. Uniting the World." For more information, visit united.com, follow @United on Twitter and Instagram or connect on Facebook. The common stock of United's parent, United Airlines Holdings, Inc., is traded on the Nasdaq under the symbol "UAL".

SOURCE United Airlines
For further information: United Airlines Worldwide Media Relations, +1-872-825-8640, media.relations@united.com

In October 2019, we launched a first-of-its-kind airline miles donation platform, Miles on a Mission. In the inaugural year, MileagePlus members donated over 70 million miles, with United matching over 20 million miles, to 51 organizations. These miles have allowed for these organizations to do important, life-changing, life-saving work in the communities we serve around the globe.
Whether it's visiting friends and relatives, traveling for work or simply exploring a new corner of the world, we all have a reason as to why we fly. No matter the reason you fly, the miles you earn and donate help our Miles on a Mission partners soar. Take a look at how some of our partner organizations have put our MileagePlus Members' donations to work.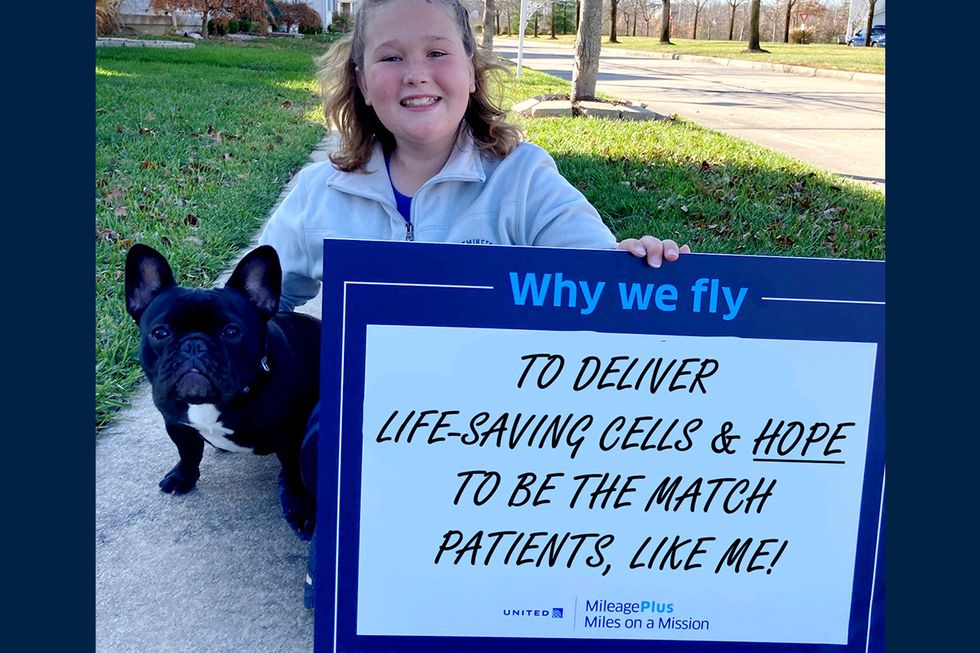 "To deliver life-saving cells and hope to Be the Match patients, like me!"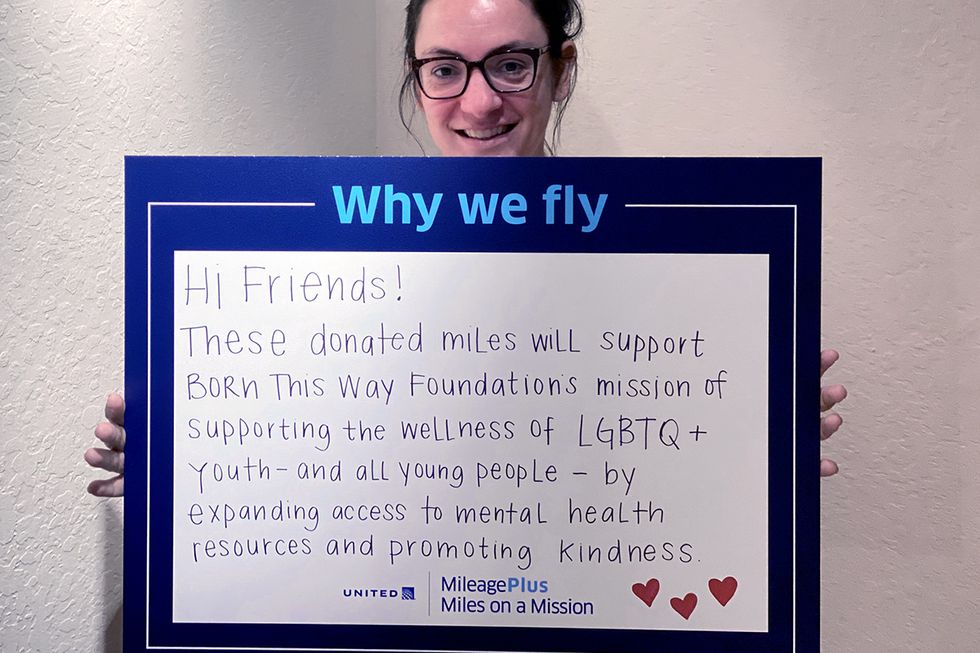 "These donated miles will support Born This Way Foundation's mission of supporting the wellness of LGBTQ+ youth — and all young people — by expanding access to mental health resources and promoting kindness."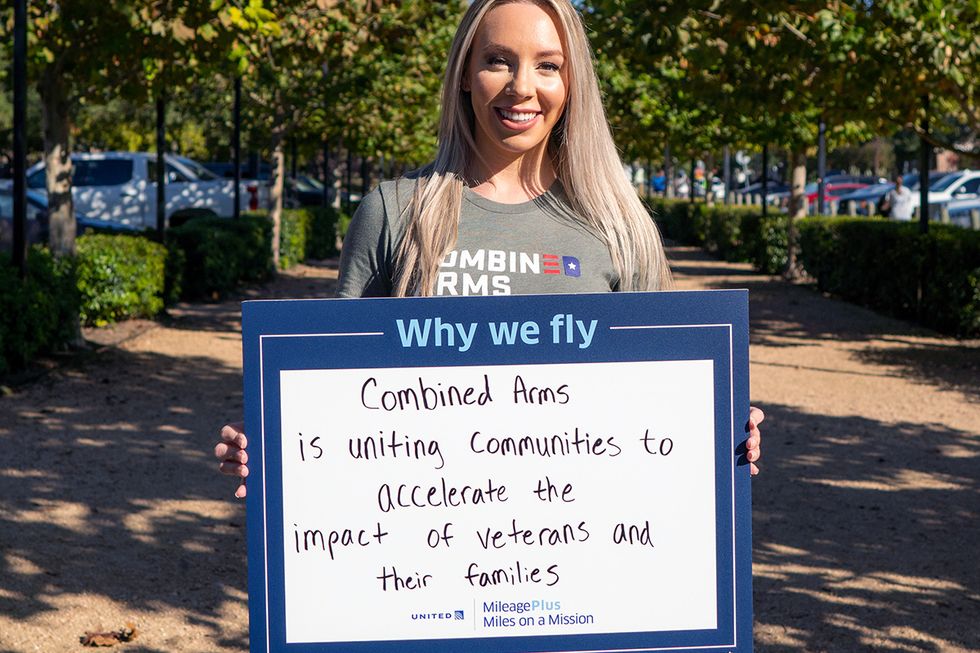 "Combined Arms is uniting communities to accelerate the impact of veterans and their families."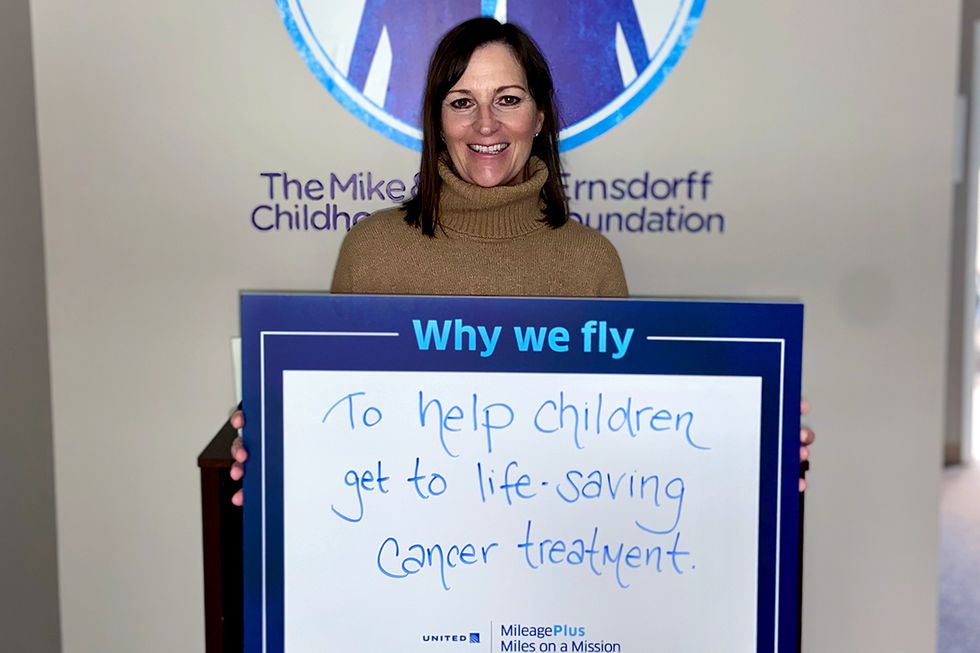 "To help children get to life-saving cancer treatment"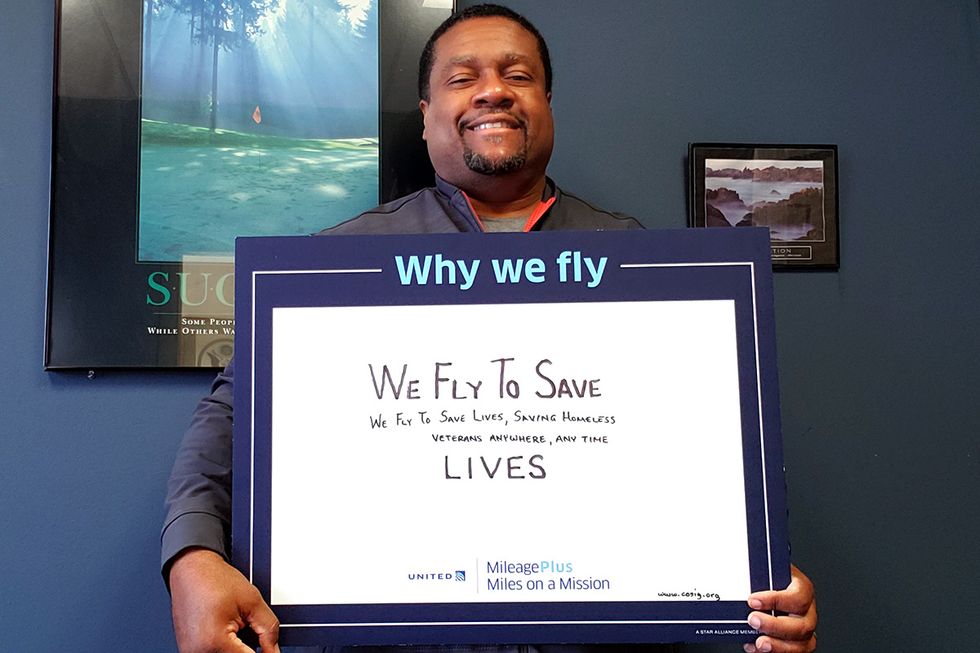 "We fly to save. We fly to save lives, saving homeless veterans anywhere, any time."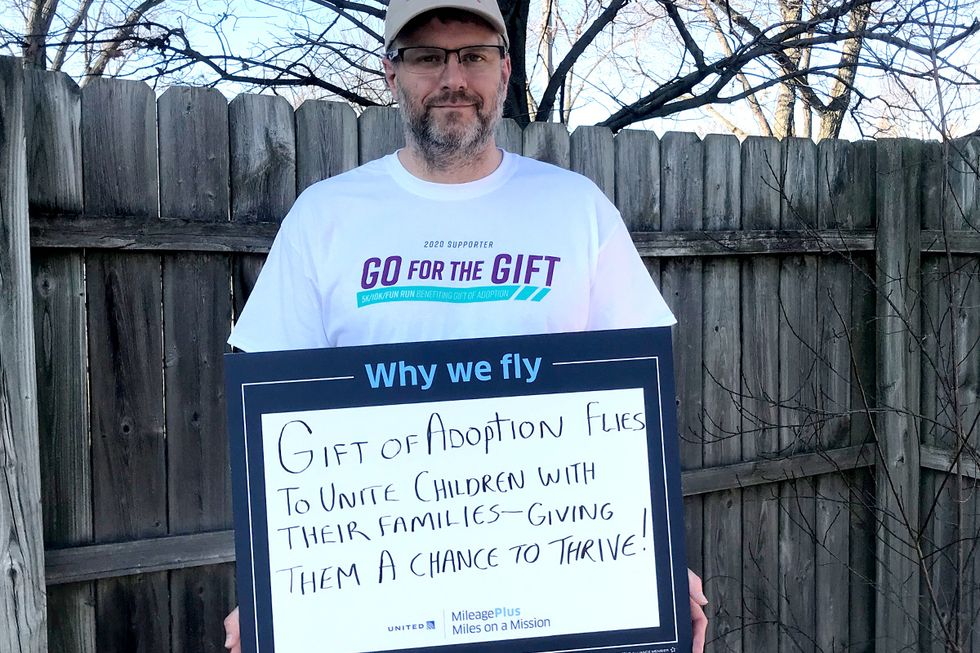 "Gift of Adoption flies to unite children with their families — giving them a chance to thrive!"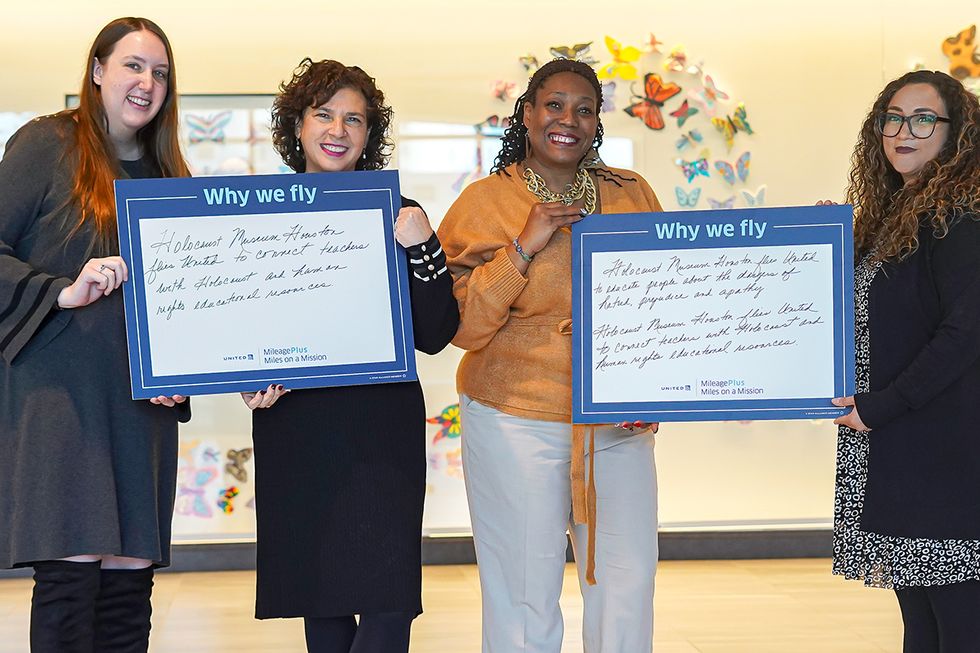 "Holocaust Museum Houston flies United to educate people about the dangers of hatred, prejudice and apathy. Holocaust Museum Houston flies United to connect teachers with Holocaust and human rights educational resources."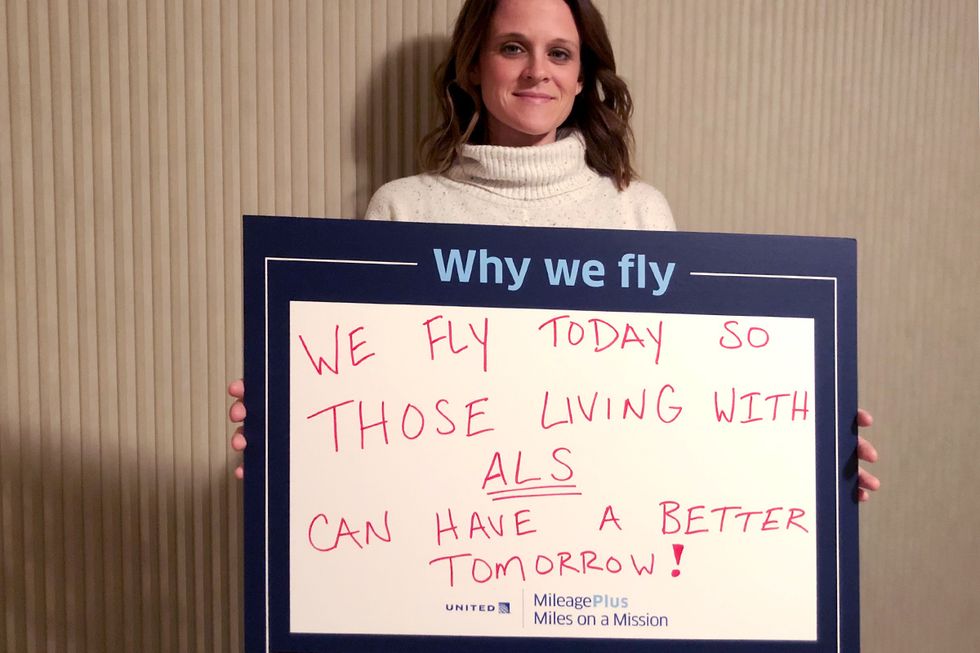 "We fly today so those living with ALS can have a better tomorrow."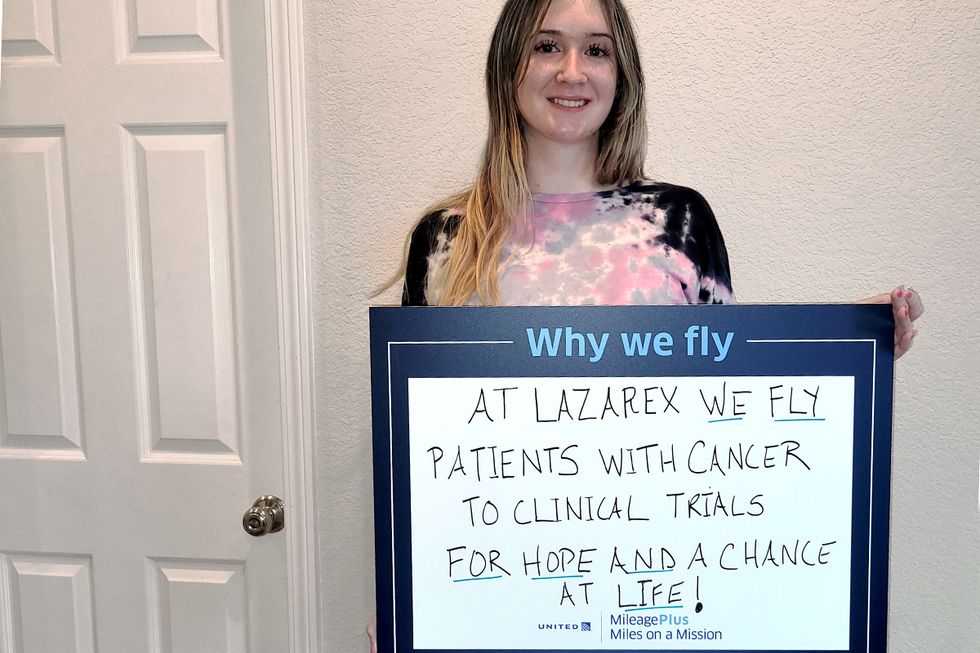 "At Lazarex we fly patients with cancer to clinical trials for hope and a chance at life!"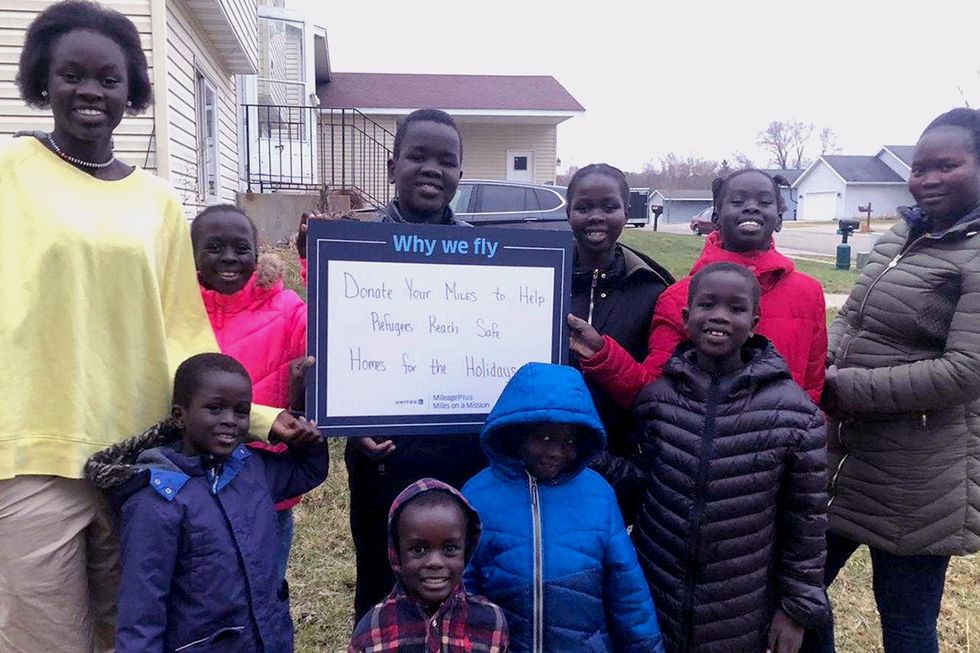 "Donate your miles to help refugees reach safe homes for the holidays."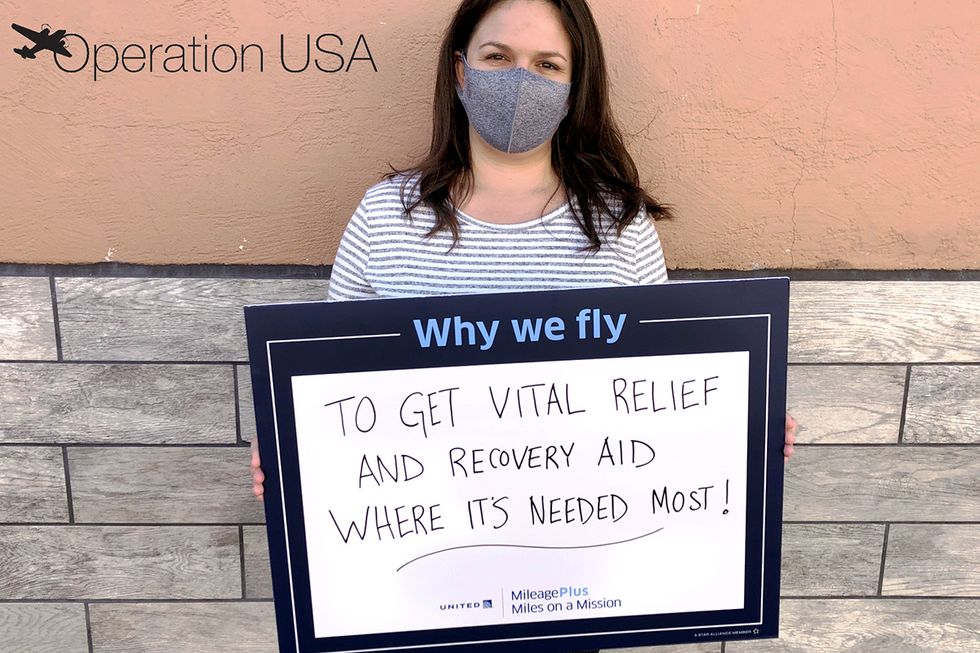 "To get vital relief and recovery aid where it's needed most!"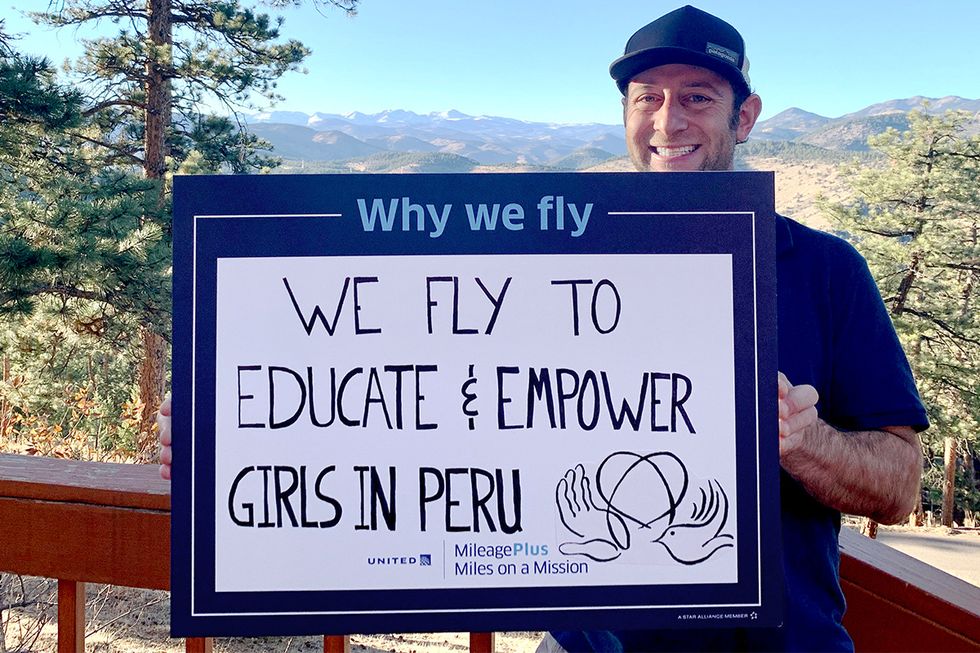 "We fly to educate and empower girls in Peru."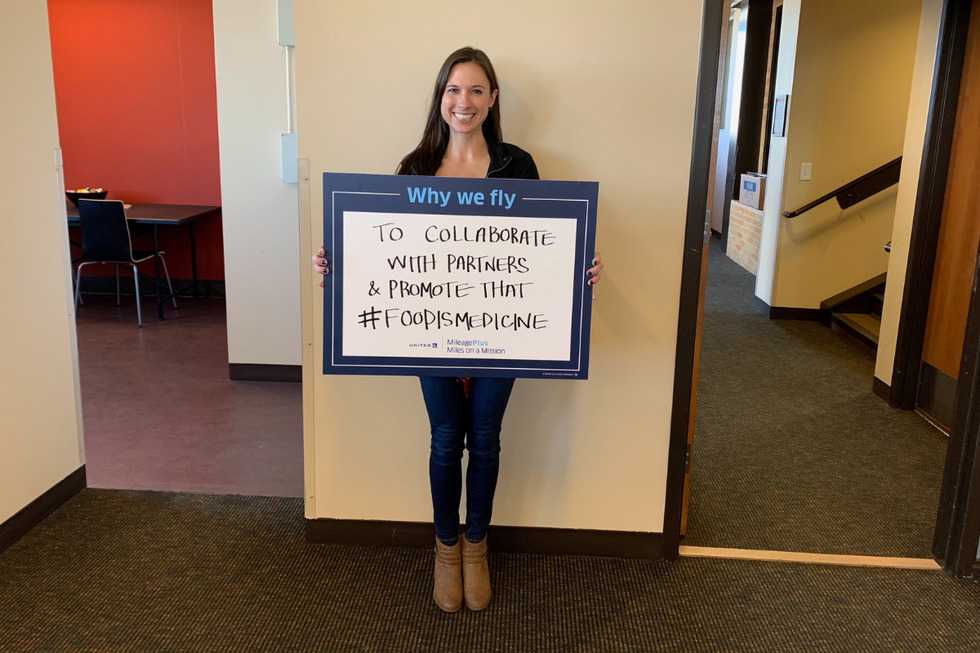 "To collaborate with partners & promote that #FoodIsMedicine"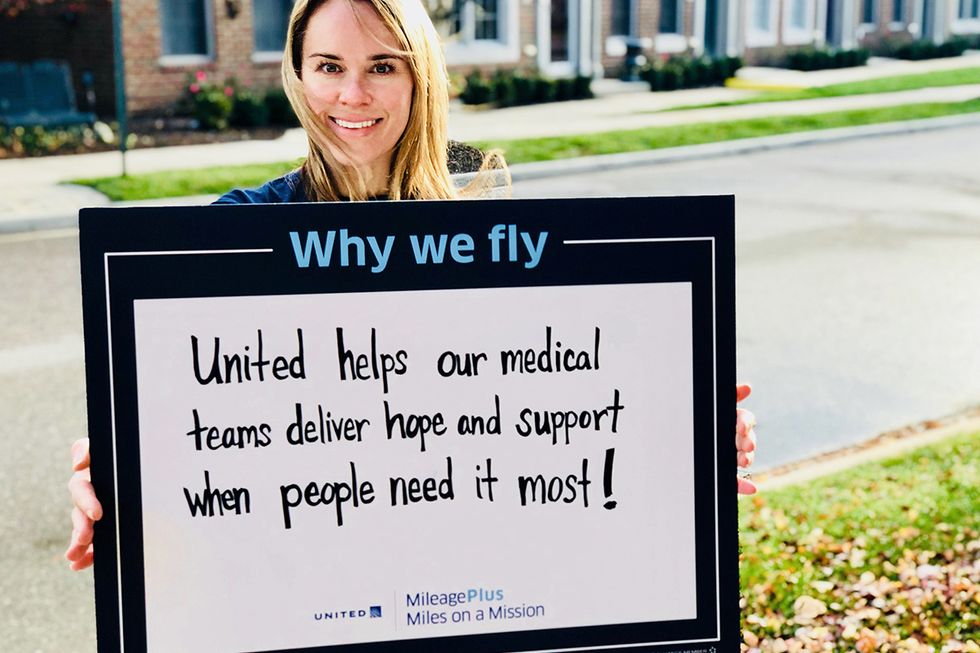 "United helps our medical teams deliver hope and support when people need it most!"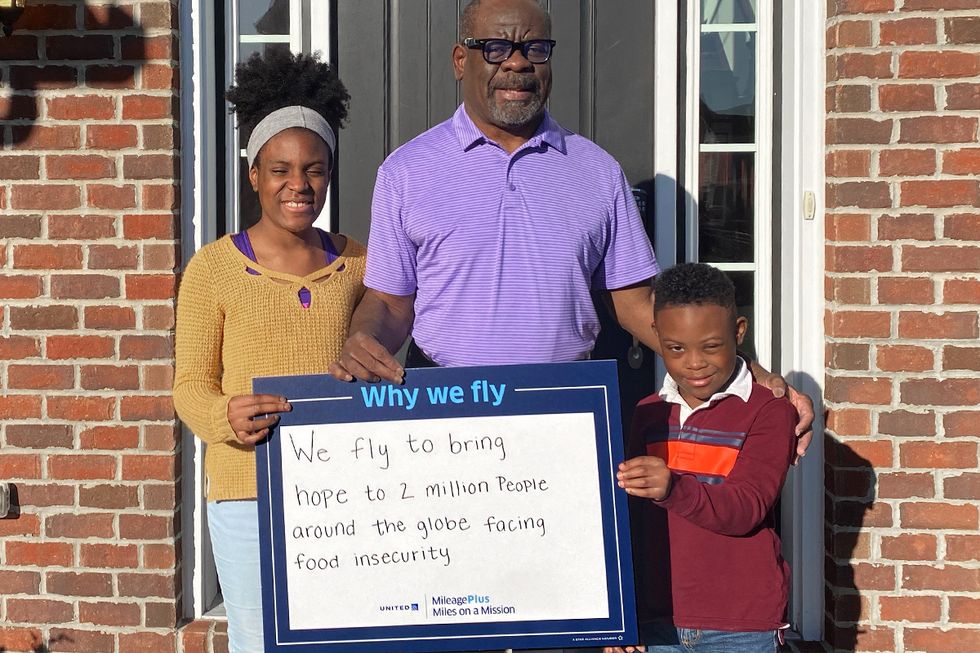 "We fly to bring hope to 2 million people around the globe facing food insecurity."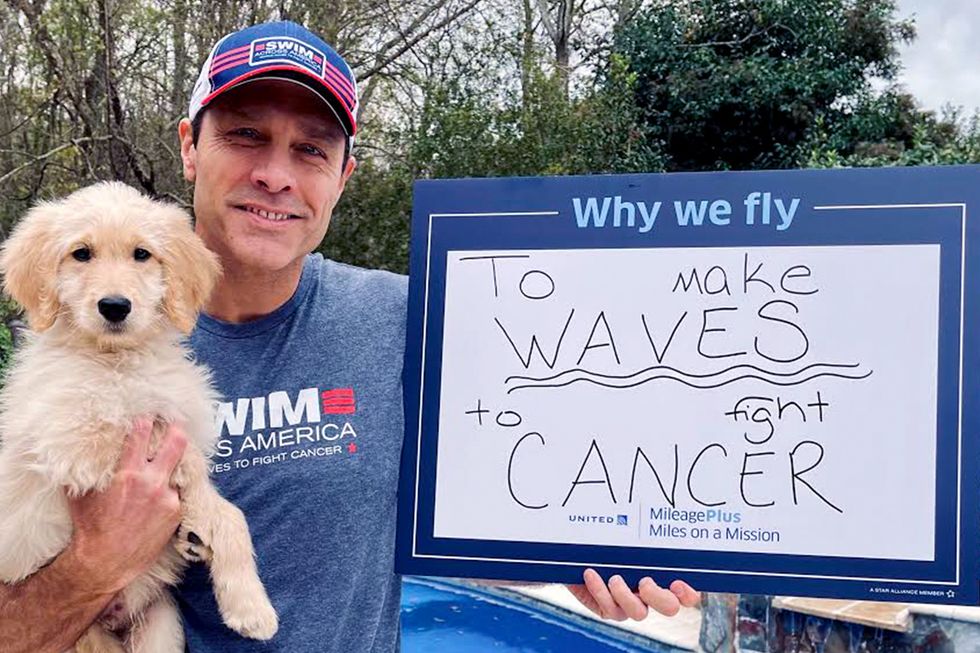 "To make waves to fight cancer."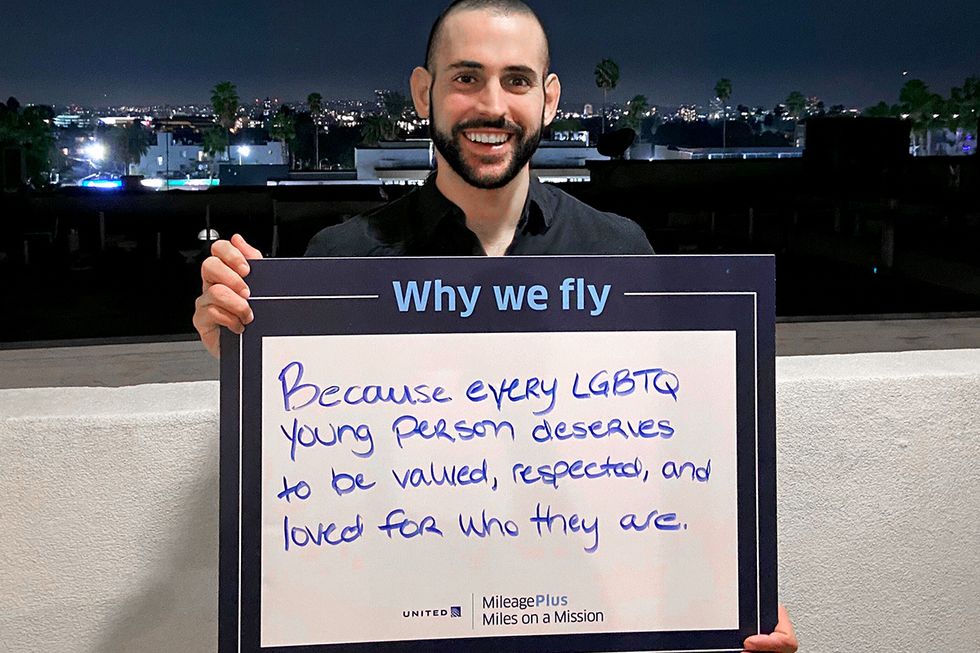 "Because every LGBTQ young person deserves to be valued, respected and loved for who they are."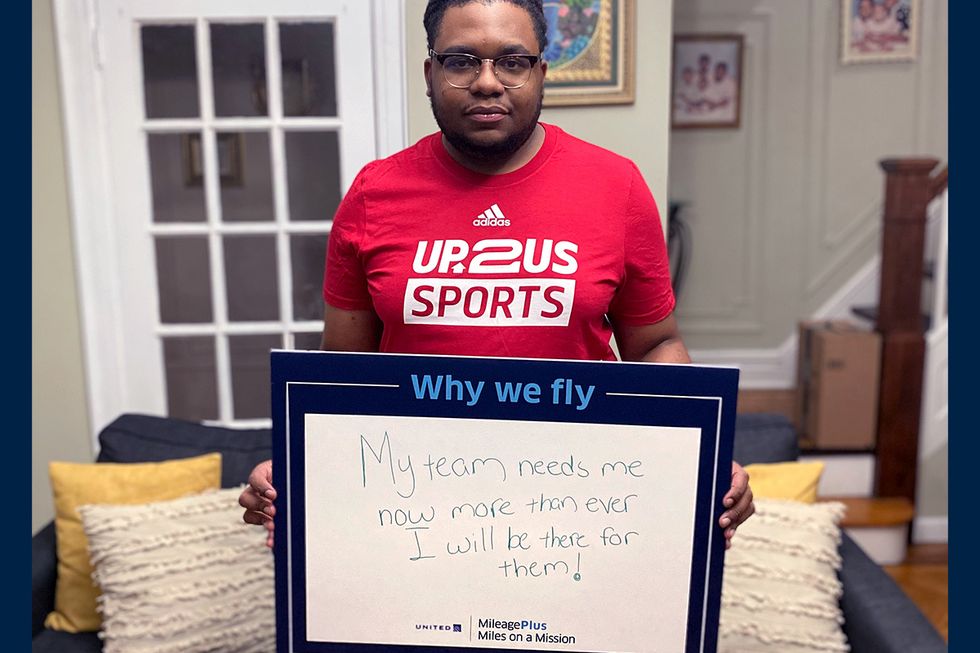 "My team needs me now more than ever. I will be there for them!"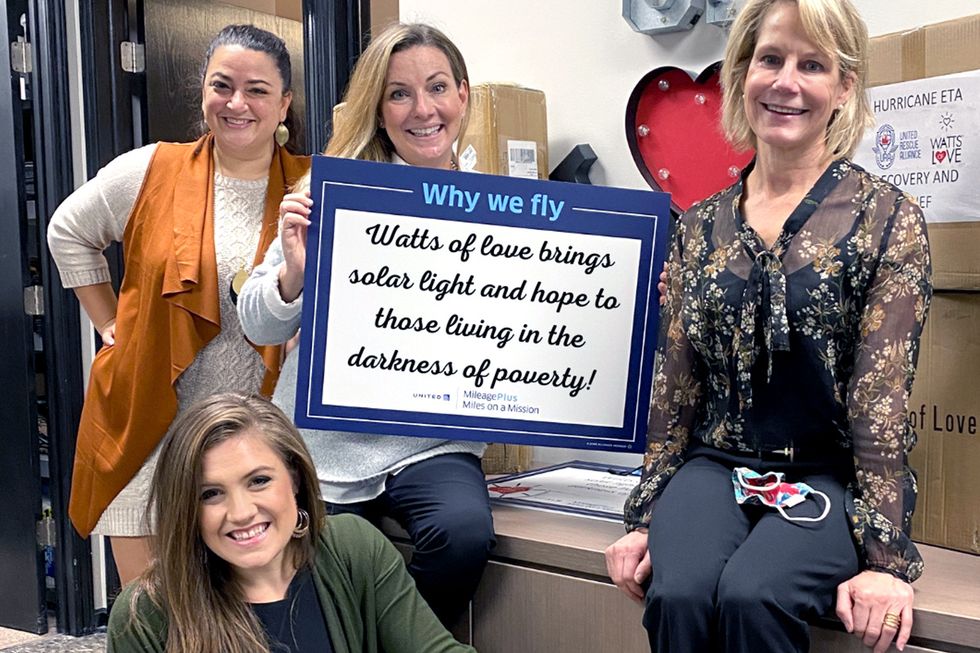 "Watts of Love brings solar light and hope to those living in the darkness of poverty!"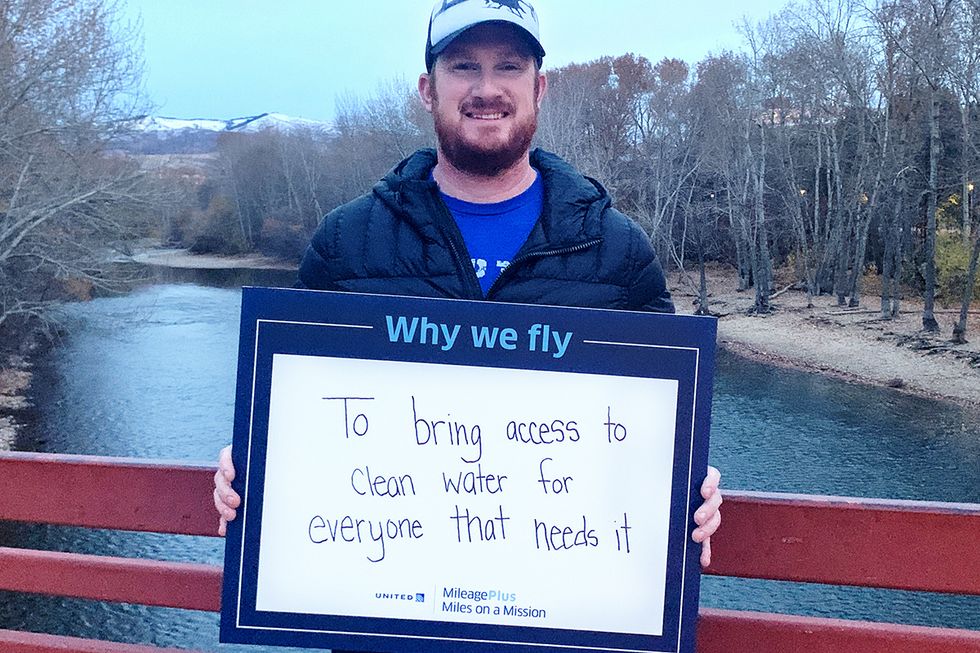 "To bring access to clean water for everyone that needs it."
Scroll to top