Three Perfect Days: Xi'an
Story by Benjamin Carlson | Photography by Jasper James | Hemispheres, March 2016
Even in a country as steeped in history as China, Xi'an is mindbendingly old. National capital for 13 dynasties, city of eight names, anchor of the Silk Road, an ancient metropolis one and a half times the size of Rome, Xi'an has more than 3,000 years under its belt. In the 13th century, one visitor wrote of the city's "noble, rich, and powerful" past—and Marco Polo wasn't easily impressed. Xi'an is a city both blessed and burdened by memories of greatness. Residents still speak of the Tang dynasty as if it ended yesterday (as opposed to AD 907). Every dingy noodle shop boasts of recipes dating back a century or more. Subway construction has hit repeated delays as diggers encounter crypts and other relics beneath the streets. But Xi'an isn't just for history buffs. It's also a loud, teeming city that captures all the glories and growing pains of contemporary China. The contradictions between an illustrious past and the sometimes awkward ambitions of the present are readily apparent: Cranes and concrete towers clutter the skyline beyond the ancient city walls; peasant folkways wend alongside roaring highways. But it's this—the clash of ageless tranquillity and breathless dynamism—that makes Xi'an such a fascinating, exciting place.
In which Ben tries (and fails) to decipher calligraphy, climbs the Little Wild Goose Pagoda, and grapples with one of the "Eight Strangenesses of Shaanxi": chili
In China, power radiates from the center. So, like other Chinese capitals, Xi'an was built outward in rings. Even as it has grown into a city of 8 million, the heart of Xi'an beats inside the huge city walls that enclose an area of about 14 square miles, and the Sofitel Legend People's Grand Hotel sits at the heart of the heart of it. The building, a 1950s Sino-Russian edifice, has two stately wings extending from a cylindrical tower. It was the first grand hotel in modern China, and it remains an anchor of the downtown, with a theater, museum, and serene garden.
I awake in a sumptuous suite and head to breakfast. My butler, a cheerful young woman named Lizzy, who is dressed in a little black tux with swinging coattails, offers me newspapers in French and English. As I tuck into shaved salami on toast and a red currant Danish, caterers hang garlands of green in the gardens outside in preparation for a wedding party.
But I'm not here to luxuriate. I'm here to plumb the depths of Chinese civilization, starting at the Tangbo Art Museum. My cab driver—husky-voiced, chain-smoking—drops me off in the southeast of the city, outside the walls. On the way there, we pass spectral blocks of unfinished apartments, peddlers hawking cabbages, and a dozen aunties waving their hands over their heads as if they were at a luau.
I'm met at the museum by Lei Ling, a graceful curator in a maroon wool coat. The small museum specializes in folk crafts and traditional arts, much of it from the Shaanxi province around Xi'an. Lei, a native of the city, shows me shadow puppets made of donkey skin and posters bearing Cultural Revolutionary slogans ("Smash 1,000 years of chains!"). I ask her about a set of clay statues depicting a family eating and arguing. Lei explains that they relate to the "Eight Strangenesses of Shaanxi," which include squatting while eating, marrying locally, shouting opera, and consuming heroic quantities of chili.
She seats me at a long wooden table, picks up a calligraphy brush, and asks me to guess the meaning of an ancient character she draws. Dragon? "No, that's a woman." She draws another: a 57-stroke character that takes up a whole sheet, made of elements that mean knife, moon, cart, word, distance, and heart. "You cannot find this in the dictionary," she says. "This is the most complicated character in Chinese."
"What does it mean?"
"It's biang biang, a sort of noodle."
Lesson over, Lei takes me to meet the owner of the museum: Ren Jie, a 50-something man in a puffy jacket. He welcomes me into his small, smoky office behind the galleries. Cheerful, with a gravelly laugh, he pours pu-erh tea into small ceramic cups. He founded the museum 15 years ago, he says, because of his passion for the traditional arts of Shaanxi province.
The 13-story Little Wild Goose Pagoda
"You've got to practice the art yourself to understand," he says. "In the West, people get tattoos using Chinese characters, but they make no sense. Those people have no idea what they mean." He is also eager to share his advice on food, urging me to load up on lamb soup with hand-torn bread. "Why do we break the bread ourselves? Because that way we have to sit with our friends a long time. You break bread, you talk. Every day it's like that. That's the Xi'an lifestyle."
As I prepare to leave, I ask Ren what else sets Xi'an apart. "Shanghai is a young city compared to us—Beijing too," he says. "Xi'an, we were the New York of the ancient world. Over a million population in the 8th century."
Despite my increasingly urgent craving for noodles, I decide on a pre-lunch trip to the Xi'an Museum, located on the grounds of the Little Wild Goose Pagoda, just south of the city walls. I start on the lower level, which displays a huge scale model of 8th century Xi'an (then known as Chang'an), when it was the greatest city in the world. Nearby, next to a display case containing the figures of 12 plump Tang dynasty ladies, a little girl in pink silk robes theatrically recites historical details.
"In the Tang dynasty we were the most advanced and populous country in the world," the girl says with the poise of a beauty pageant host. "Many foreigners came to trade and learn from us." She is wearing a sash that says, "Little Explainer."
From here, I pass through a small park to the Little Wild Goose Pagoda, a 13-story tower of tawny brick with a viewing station at the top. Up here, the contrasts of Xi'an are on vivid display: the candy-cane smokestack, the huge 14th-century Drum and Bell towers in the distance. Below, a vendor sells red slips of paper for visitors to write their wishes on. Hundreds hang from a branch. Mine says: biang biang.
My wish is fulfilled just inside the city walls, near the South Gate, down a winding street of bars. I step into a clean, bustling shop called Lao Wan, or Old Bowl, and tuck into a huge portion of noodles the width of a belt, garnished with green onion, white garlic, bok choy, and ample quantities of that most challenging of the Eight Strangenesses: chili.
To work off a few noodles, I ascend the wall near South Gate. Visitors can rent bikes to wheel around the top of the 14th-century structure; one of the largest and most complete city walls left in China, it runs for eight miles, stands almost 40 feet high, and is wide enough for two trucks to drive side by side. A few minutes in, I stop to watch a group of young men wearing flat caps and girls in denim overalls, all standing completely still. A moment later, in silence, the group breaks into a hip-hop dance routine. As a cameraman walks around filming them, a female bystander remarks to no one in particular, "It's weird without the music."
I make my way back to the Sofitel and, after a large Scotch at the lobby bar, head for dinner at the hotel's Dolce Vita Italian restaurant. I opt for the sea-themed menu: a whirlwind of pan-seared octopus over fluffy potatoes and lasagnette ai frutti di mare, followed by a tiny jar of exquisite tiramisu. Up in my room, I gaze at the bamboo-and-ox-hair brushes hanging over the desk, trying to picture the 57 strokes of biang biang. I don't get beyond the knife and the moon before I am asleep.
"Shanghai is a young city compared to us—Beijing too. Xi'an was the New York of the ancient world. Over a million population in the 8th century."
In which Ben tries (and fails) to decipher the species of a peddler's statuette, navigates the Muslim Quarter, and attends an arm-wrestling contest
No matter where you are, there are few better ways to start the day than immersed in a deep tub pungent with Hermès bath salts. I follow my dip with an equally restorative order of dragon fruit with toast in the hotel café, fortifying myself for a shopping spree at the antique market of the Temple of the Eight Immortals, the biggest Taoist temple in Xi'an, located east of the city walls.
Outside the temple, peddlers display an array of baseball caps, incense burners, screwdrivers, and sweet potatoes. I inspect a decorative clay object and am practically charged by a wrinkled old man, who claims it is from the Yuan dynasty of AD 1271. I nod and move on. I ask another vendor the price of two iron tiger statuettes, and she corrects me: "They're unicorns." Nearby, a young woman is involved in a heated conversation with a pipe-smoking man in a military coat.
"Are these yours?" she asks, holding up several "Certificates of Merit" given to comrades for good work.
"My brother's."
"How can you sell them?"
"They're no use to me. He's not around anymore."
"You shouldn't sell them."
"Eh, all right."
Inside the Eight Immortals, where Empress Cixi fled in 1900 during the Boxer Rebellion, worshipers put bundles of incense into iron urns and bow three times. I follow them into a hall where a Taoist priest with a mustache and a black hat listens to a loud audiobook while visitors kneel upon pillows. Nobody else seems bothered, and I wonder if this isn't some kind of test. Isn't Taoism all about accepting contradictions? I leave the temple, passing a food cart selling five spice dog meat. A few feet away, a Chihuahua in a pink vest snoozes on a blanket.
"That's Haohao," his owner says.
I bend to greet Haohao and he bares his teeth, growling until I back away from the pile of onions he seems to believe belong to him.
My next stop is in the South Gate area, at the Forest of Steles, a repository of stone tablets founded in 1087. Housed in the city's Confucian Temple, it contains 3,000 steles that are considered masterpieces of the calligrapher's art—the characters delicately chiseled into the stone—including several complete books written by emperors. By the entrance, four elderly masters demonstrate calligraphy for small crowds of mostly older men. One man yanks a small boy away after he repeatedly bumps a master's elbow with a toy truck. "I'm helping!" the boy cries.
"Foreign goods and ideas traveled along the Silk Road, bringing fruitful infusions of the outside world."
You don't have to know the language to appreciate the wildly diverse styles on show at the museum: some swooping, others dashing, or, in the case of one master called Crazy Zhang, erupting in wild, drunken arcs. In one gallery, I find the Nestorian tablet of 781, a record of Christian pilgrims' first encounters with China. It's a testimony to Xi'an's cosmopolitan past, when foreign goods and ideas traveled along the Silk Road, bringing fruitful infusions of the outside world into Chinese culture and cuisine.
Appropriately, I'm about to visit a real hotbed of cultural fusion: the Muslim Quarter, a sprawling area within the city walls. I've arranged to meet two longtime expat residents: Matt Allen, a San Franciscan entrepreneur married to a local woman, and his friend Marcello, an Italian-Venezuelan guitarist. Matt gives me a bro-bump, then plunges into the crowd.
"Something that doesn't get nearly enough attention is how long Muslims have been a part of Chinese culture," says Matt. "This is a scene that's been humming along 24 hours a day for centuries, and it's gorgeous and humming all day long."
I struggle to keep up as Matt and Marcello dodge vendors selling peanut brittle, walnuts, dates, and deep-fried persimmon cakes. Plumes of smoke swirl around hickory lamb skewers. Matt appears from the crowd to hand me a cup of pomegranate juice. They're in season, so the price is good. "My Muslim friends, they all know the price of, like, six commodities at once," he says over his shoulder. "It's all still Silk Road trader stuff."
Stone tablets at the Forest of Steles.
It's a dizzying scene. Bikes honk. People shout. The three of us surface at a popular shop called Old Sun's Family Beef Lamb Porridge, which serves a dish known as yang rou pao mo. We sit and tear discs of soft, dense bread into tiny pieces to fill a bowl, which will then be ladled with hot, savory lamb or beef stew. Matt points at my crudely torn bits and turns to Marcello. "Man, he is going to have some terrible soup."
Finally, I get it right. The cook, wearing a square white hat, swirls steaming broth into my bowl, adding bok choy and chilies as he goes. As we eat, I ask Matt what makes Xi'an so special. "I love how smart everyone is here without any education," he responds. "All the men can fix everything, and the women can all make 100 soups. The whole country is jerry-rigged, and I feel like this is where that started."
We end the afternoon jostling along alleyways toward the Great Mosque, one of the largest and oldest in China. While the buildings have the graceful eaves of Chinese temples, the vertical inscriptions along the doorframes are written in Arabic script. As we stroll through the mosque gardens, my companions talk hip-hop. A few years earlier, Matt tells me, he and a friend achieved some notoriety with a video of them rapping, in Chinese and English, a piece titled "We Livin' in Xi'an."
After a spritz and snooze at the hotel, I head for the contemporary Spanish eatery DUO, opposite Nanhu Lake. While I chow down on suckling pig croquettes, Galician octopus, and vacuum-cooked codfish, the city's only flamenco band—composed of two locals and a Scotsman—accompany a stomping Chinese woman in a red dress.
My phone buzzes. It's Matt, telling me there's an arm-wrestling competition taking place in a pirate-themed barbecue restaurant across town. I leap into a cab and head over. A smoky room of long tables is filled with beer steins, burly men in Speedos, and girls in red bunny outfits. How they kept the Strangenesses here down to eight, I'll never know.
In which Ben tries a "Chinese hamburger," marvels at the magnificent Terracotta Warriors, and samples a local take on "American" craft beer
I awake in a sleek crimson room at the Gran Melia, a chic Sino-Iberian hotel in Qu Jiang New District, a booming zone of parks and malls. I sit at a booth at the hotel's Red Level lounge, nibbling on a savory rou jia mo, a local pork sandwich sometimes called a "Chinese hamburger." In the perfumed lobby, a concierge calls me a car. Minutes later, a red-gloved attendant opens the door, and we are off to Xi'an's premier attraction: the Terracotta Army, located 45 minutes east of the city.
After living several years in China, I have learned to be wary of certain "marquee" tourist sites. Sure enough, the park that surrounds the warriors is jammed with souvenir stalls and selfie sticks. But then, as I step into the hangar-size hall where thousands of terracotta warriors stand uncovered or lie buried in soil, I am overcome.
Dating back to the third century BC, the site consists of three pits containing as many as 8,000 clay soldiers, along with hundreds of statues of horses, scholars, and officials. These are the guardians of the tomb built by (and for) Emperor Qin Shi Huang, the first ruler to unify what we now recognize as China, in 221 BC. He created the title of emperor, built the first Great Wall, created national roads, and ordered the construction of a vast city of the dead.
Each warrior has slightly different eyebrows, cheekbones, and proportions. It wasn't until 1974, when farmers went to dig a well on this land, that anyone even knew these marvels were here. Six thousand soldiers still lie buried. What else lies beneath the surface of this city?
Leaving the pits, I pass a girl with dyed red hair pretending to play mandolin as friends take her picture. A stylish woman pauses to spit in a trash can. I am firmly back in the present.
Xi'an's premier attraction, the Terracotta Army
The lunch options are iffy among the trinket stalls surrounding the site, so I opt for a noodle stand in the lot where cabbies wait for their fares. A man under a sign that says "Farm Family Little Eats" pulls bands of dough into thin noodles. He smiles when I pull up a stool and order a bowl. It's savory, fortifying, and cheap.
A cab takes me down the road to Emperor Qin Shi Huang's tomb, which looks like a large, pleasant park, because Chinese archaeologists have been waiting for technology to develop that will allow access to the tomb without damaging its contents. According to legend, the emperor rests amid rivers of mercury. (Probes have confirmed that mercury levels are 100 times the norm.) Above ground, people do normal park things: stroll, snooze, eat. It's a strange place.
For dinner, I am meeting a guide from Lost Plate, which organizes food tours to tiny shops around the city. The founder, Ruixi Hu, is a transplant from western China. "There are so many travelers in Xi'an who come, and all they do is see the warriors and go back to their hotel," she says. "They don't get to experience all the awesome food, which is the best part of the city. So we take people off the beaten path, where locals eat."
"I have learned to be wary of 'marquee' tourist sites. But as I step into the hangar-size hall where thousands of terracotta warriors stand or lie buried in soil, I am overcome."
Upon her arrival in Xi'an a little over a year ago, Ruixi bought a map and began exploring, scoring every restaurant she visited on a 10-point scale, compiling a list of ultra-local restaurants worth visiting. "I think I ate at least 50 types of noodle in Xi'an," she says. "I gained 10 pounds, for sure."
She sets me up on a tour with one of her guides, a young university student named Lu, who immediately asks if I want a beer from the cooler. I like this guy already. As we putter off to our first stop in a tuk-tuk, I tell him about my visit to the tombs. "The first time I stood in front of the warriors I, like, felt something," he says. Lu's English is excellent, and conspicuously Americanized. "Oh, I watch a lot of American shows," he explains.
The tuk-tuk winds through the alleyways on the fringes of the Muslim Quarter. Our first stop is a shop where gruff, stocky brothers roll out disks of dough and fling them on top of a tall stove. These honey-coated loaves are then stuffed with radish, carrot, egg, cabbage, pickles, and something called "tofu flower," which is fished from a dark red broth that Lu tells me is "28 years old."
"What?"
"The fire has been going for 28 years. They never let it go out."
"Why?"
He shrugs. "They say the flavor is better."
A band plays at the "American-style" Xi'an Brewery.
The rest of the evening is a blur of tuk-tuk rides, on-the-go beers, and delicacies from unassuming shops: lamb skewers garnished in cumin and chili; soup dumplings and sweet "eight treasure" porridge with osmanthus, hawthorn, jujube, and lotus seeds; and a finale of spinach noodles served with Ice Peak orange soda ("the Xi'an Fanta," Lu says).
Our last stop is Xi'an Brewery, a brewpub by the South Gate of the city. The place is supposed to be American-style, but the customers are mostly local, the decor is Shaanxi-themed (masks and redheaded cranes), and games of dice are going at every table. A Chinese house band plays pop standards.
A kid at the bar has, for some reason, dyed his hair gray. Owner and brewer Jon Therrian, who hails from Ohio, takes me upstairs to a karaoke room where people are playing cards. I shake the hand of his co-owner, a Xi'an native named Lei.
"My parents' generation all drank baijiu,"
Lei says, referring to a hard grain liquor that's popular in northern China. "But our generation, we all are ready for something new."
They serve up a sampling of their wheat beer, seasoned with coriander and orange peel, along with milk stouts and Kölsch, all unpasteurized and unfiltered. "We try to make it in style, but we also try to make it suit local tastes," Therrian says of his beer, which balances the stronger flavors of foreign beer and the Chinese preference for lower alcohol content. I meet the editor of the monthly English magazine of Xi'an and, suffused with beery warmth, ask him what brought him to the city.
"People say, 'I came for the culture,' or 'I heard the food was amazing'," he says. "I even had a guy who said, 'I want to live in a city that starts with X.' But I had no good reason for coming, and it ended up being a good decision. It sounds lame, but Xi'an has a sense of realness—real China—that people always talk about. It's charming and in your face. We're a lot more down and dirty, and that's cool."
Cheers to that, I say, taking another swallow of stout tailored to suit the traditional tastes of the local population, which seems a fitting way to end the day.
Beijing-based writer Ben Carlson has devised a 78-stroke character to describe the feeling of having a piece of biang biang stuck in one's tooth.
This article was written by Benjamin Carlson from Rhapsody Magazine and was legally licensed through the NewsCred publisher network. Please direct all licensing questions to legal@newscred.com.
Porto: Portugal's surprising second city
"Second cities" or those that rank #2 in population often surprise world travelers. And second doesn't mean second-rate. Porto is Portugal's second city — so off-the-radar that many world travelers haven't even heard of it. Yet, Porto and nearby spots in northern Portugal can be delightful destinations even if you don't visit the more well-known city of Lisbon.
Old city by day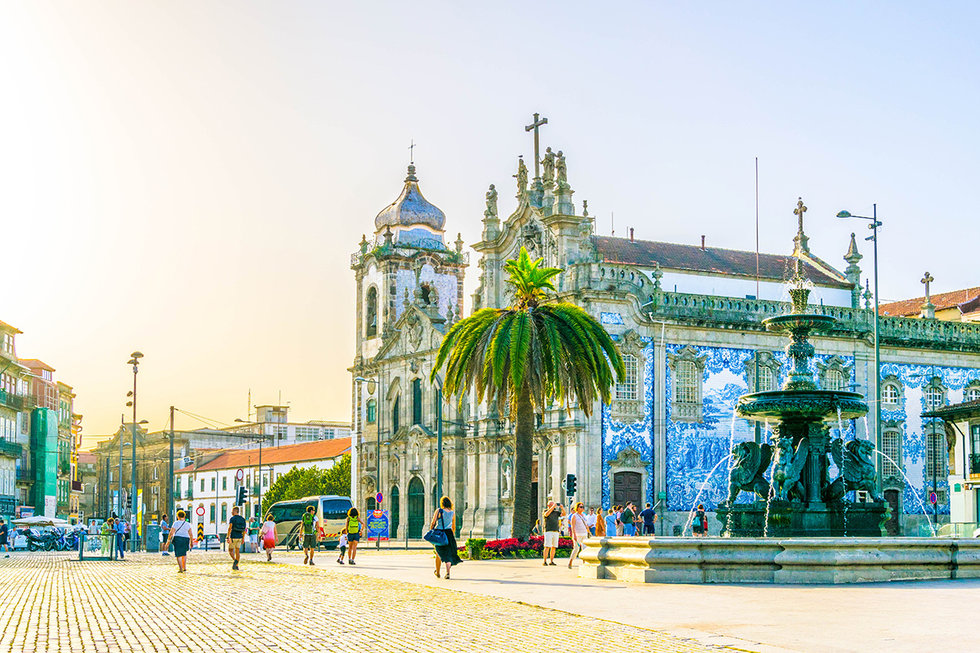 The best place to get oriented, as in most European cities, is in the old city center. Porto's Old City is so well-preserved that it's a UNESCO World Heritage Site. A 12th-century cathedral and the 15th-century Church of St. Francis, notable for interior wood carvings gilded by hundreds of pounds of gold, are mixed in with a rich collection of imposing granite, red-roofed Baroque buildings. Add 225 stairs and a stirring view to your walking tour by ascending the 250-foot-high Clérigos Church bell tower, built in 1754, which dominates the Porto skyline. Historic bridges over the Douro River and Soares dos Reis National Museum, an art museum housed in a palace, are also excellent sites to see.

Food and music by night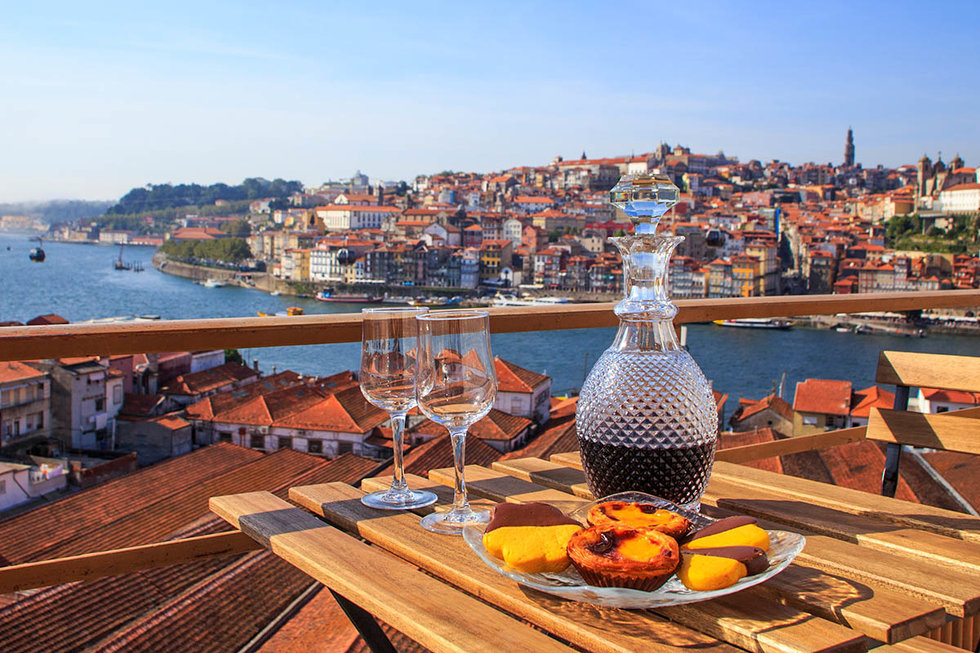 Porto's youthful population has turned it into a lively city after dark. You might start off the evening in the Old City at Abadia do Porto, a 1939 restaurant that serves traditional Portuguese dishes like roasted lamb and grilled octopus, or at Astoria, with its modern Portuguese fare served inside a former palace. Whether you choose a Portuguese, French or fusion restaurant, seafood is likely to be highlighted, drawing on Porto's proximity to the Atlantic and the Douro. Then, you can head to the large collection of bars and nightclubs in the nearby Galerias district, which includes Radio Bar, inside a former court building, and Gare, a disco in a tunnel that stays open until 6 a.m.
Head west to the beaches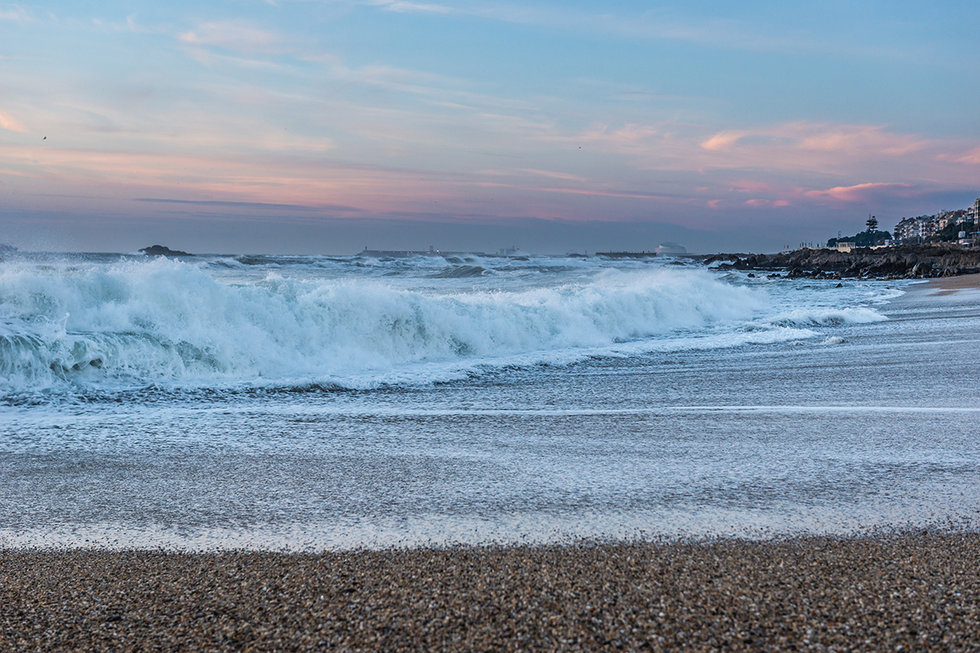 The closest Atlantic beaches to central Porto are at Foz do Douro (mouth of the Douro), just 20 minutes away by city bus. But why settle? In a rental car you can explore Atlantic beaches and beach towns that extend for hundreds of miles along Portugal's coastline. Two of the best are Foz do Minho, the nation's northernmost oceanic beach that's just across the Minho River from Spain, and Quiaios, a dune-fringed paradise of sand south of Porto. Many beaches in northern Portugal are cradled in coves protected by rocky promontories, similar to northern California and Oregon beaches.

Or east to the wine country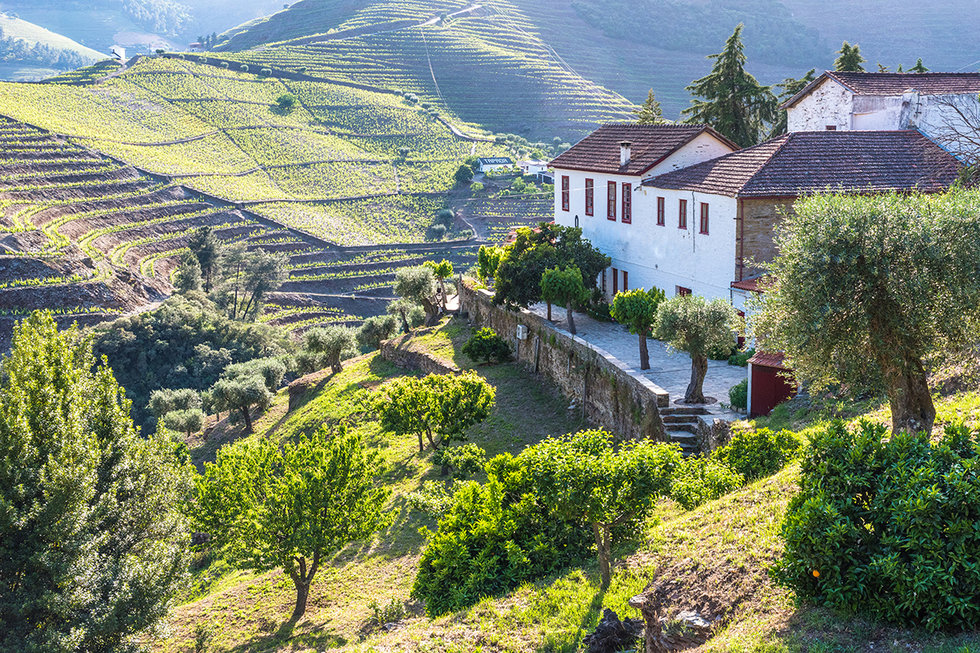 The Douro Valley wine region is another World Heritage Site and one of the world's best and most scenic wine regions. It's up the Douro River from Porto by boat or 90 minutes by road. Namesake port wines and other fortified wines are the region's signature beverages, which can be sampled at tasting rooms on the Douro along N-222, a wine road that's been called the world's most scenic drive. While you're in the area, check out the wine and anthropology museums in the wine towns and yet another World Heritage Site — Coa Valley Archaeological Park — known for its prehistoric rock carvings.
The basics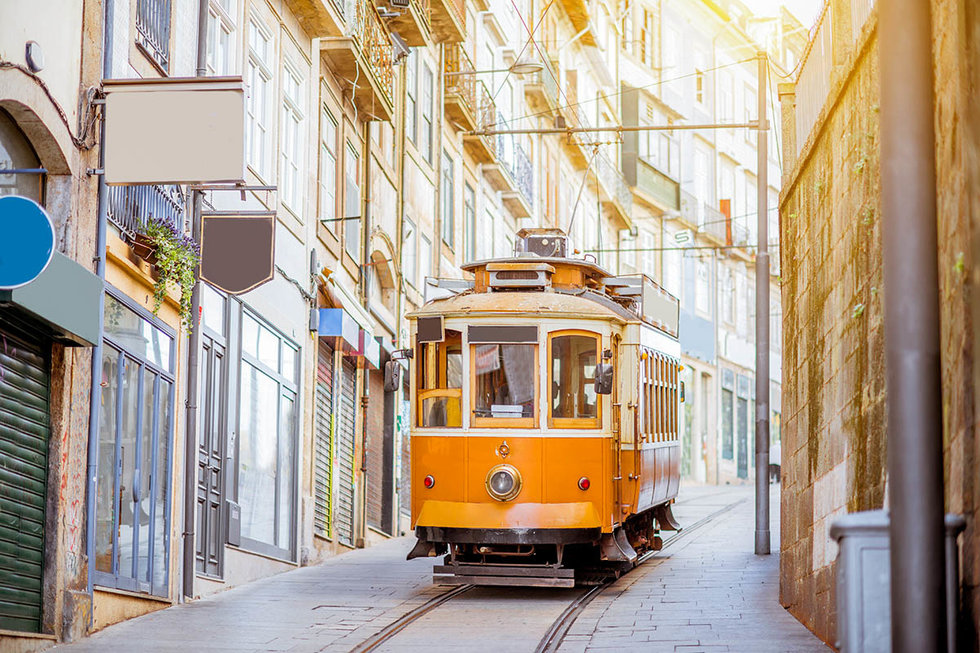 Portugal's Mediterranean climate and coastal breezes bless it with mild weather year round, as the average temperature ranges from 57 degrees (and rain) in January to 78 degrees (and a little rain) in August. Whenever you come, there's no need to learn Portuguese as English is spoken even more widely than elsewhere in Western Europe. Once you arrive, rent a car only if you don't mind ridiculous drivers. The trains are more relaxing — light-rail and subway trains crisscross the Porto area and funicular cable cars climb its steepest hills. There's even a scenic train that follows the Douro nearly to Spain, with a roundtrip fare of only about $30.
Getting there
Portugal requires that visitor passports don't expire until at least three months after the arrival date, so check that. Next, buy some Euros (for a great exchange rate) and reserve a flight. United Airlines flies nonstop from New York/Newark to Porto and MileagePlus® award miles can be redeemed to cover accommodations and Hertz rentals. Go to united.com or use the United app to plan your trip.

United 787-10 Dreamliner launch
Story was contributed by: Jennifer Lake | Photography: Alicia of Aesthetica
It was a typical Monday morning. I'm sitting at my desk at work, drinking coffee, reviewing my to-do list for the week. All around me, heels are clacking through the office and phones ring intermittently. However, this particular Monday morning was different. Ultimately, I would receive an offer from my favorite airline for a collaboration to participate in the United 787-10 Dreamliner launch from Los Angeles LAX to New York/Newark EWR. Read the full story here featured on Style Charade.
Fit for the runway: We begin testing new uniforms
Last year we announced new partnerships with Tracy Reese, Brooks Brothers and Carhartt — best-in-class fashion and apparel designers — to help reimagine uniforms for more than 70,000 of our employees. Focusing on high quality fabrics, improved breathability and overall enhanced fit, our goal is to design and develop a more cohesive collection that looks good, feels good and enables employees to perform at their best on behalf of our customers.
United employees can learn more on the uniform designs by visiting Flying Together.
An insider's guide to Boston
Boston is a pack-it-all-in kind of place. Founded in 1630, one of America's oldest cities does many things well. Boston's many claims to fame include many of America's oldest historic landmarks and one of its oldest ballparks. It's a destination for history buffs, culture vultures, foodies, sports fans, families and more. No matter who your travel companions are or what they're interested in, everyone will find something to pique their interest in Beantown.

Getting there & around town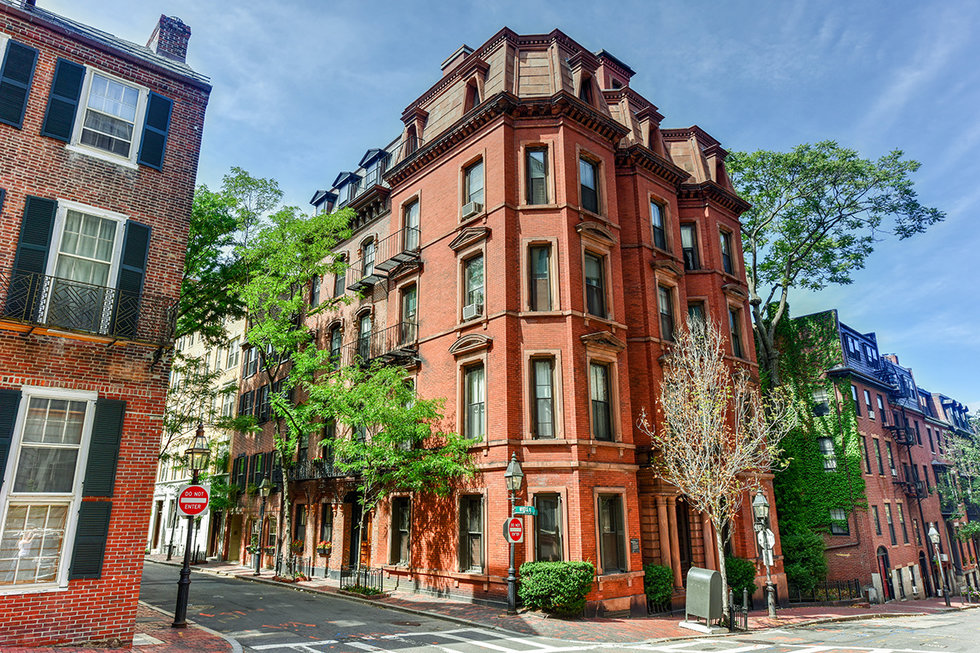 Fly direct to Boston's Logan International Airport (BOS) from many U.S. cities — visit united.com or use the United app to book your flight. Flights are 90 minutes from New York, two hours from Cleveland and five to six hours from California. From Logan International Airport, it's easy to hail a taxi, use ridesharing apps or take public transportation. If you want to take the scenic route, take a water taxi across Boston Harbor directly into downtown.
Downtown Boston is easy to navigate. It's walkable and taxis are plentiful. The MBTA, Boston's public transportation system, offers affordable access to Cambridge, many attractions and the suburbs. Keep in mind it's one of the oldest transportation systems in the country, so expect a few bumps. Because the city is dense, parking can be expensive or hard to find, so avoid driving if you can.
When to visit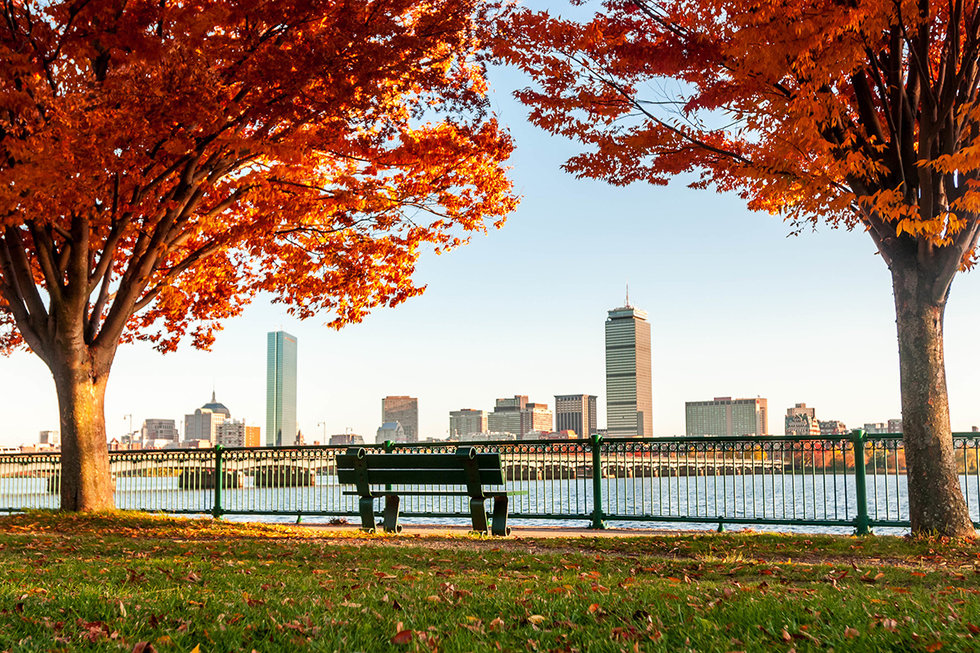 Summer and fall are the most popular seasons to visit. Summer is prime time to enjoy Boston's many parks, outdoor eateries, open-air concerts and baseball games at Fenway Park. Mild fall weather, beautiful autumn foliage and Halloween festivities in nearby Salem, Massachusetts make October one of Boston's busiest months. The city also sees an influx of visitors for the Boston Marathon in April. You'll find smaller crowds and more affordable prices in winter, but brace yourself for the cold.
What to do
There's so much to take in just by walking through Boston's cobblestoned streets. Downtown is quaint, compact and easy to explore by foot. The small city is packed with historic sites, New England's finest food, proud sports fans and friendly locals.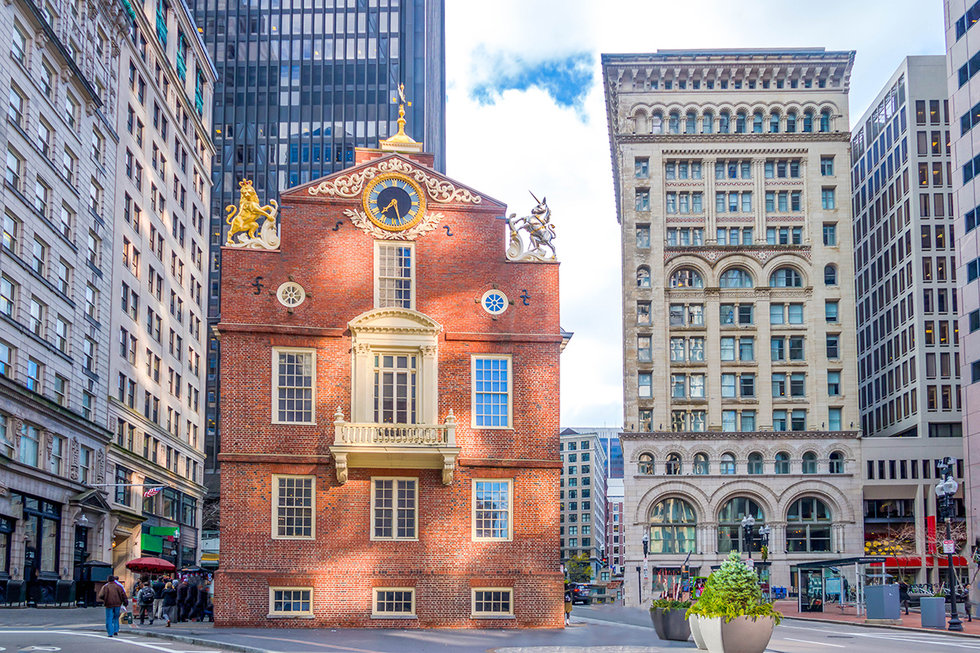 As the birthplace of the American Revolution, Boston's historic sites are an attraction in themselves. Walk the 2.5-mile Freedom Trail to visit 16 of them around the city, including Revolutionary-era museums, churches, buildings and an impressive warship. Faneuil Hall Marketplace is on the trail, too, and is one of Boston's top attractions, with plentiful shopping, dining and live music. Not much of a walker? Boston Duck Tours operate land-and-water historic tours on World War II-inspired vehicles, which transform from truck to boat mid-tour.
Many museums and sites are tucked along Boston Harbor. The waterfront is always bustling with activity year-round. The harborwalk is the perfect place to meander and explore without a strict agenda. Plan to visit a major attraction or two, but leave time to enjoy the scenery or to pop into a café for a coffee and sweet treat (award-winning Flour Bakery + Cafe is a local favorite).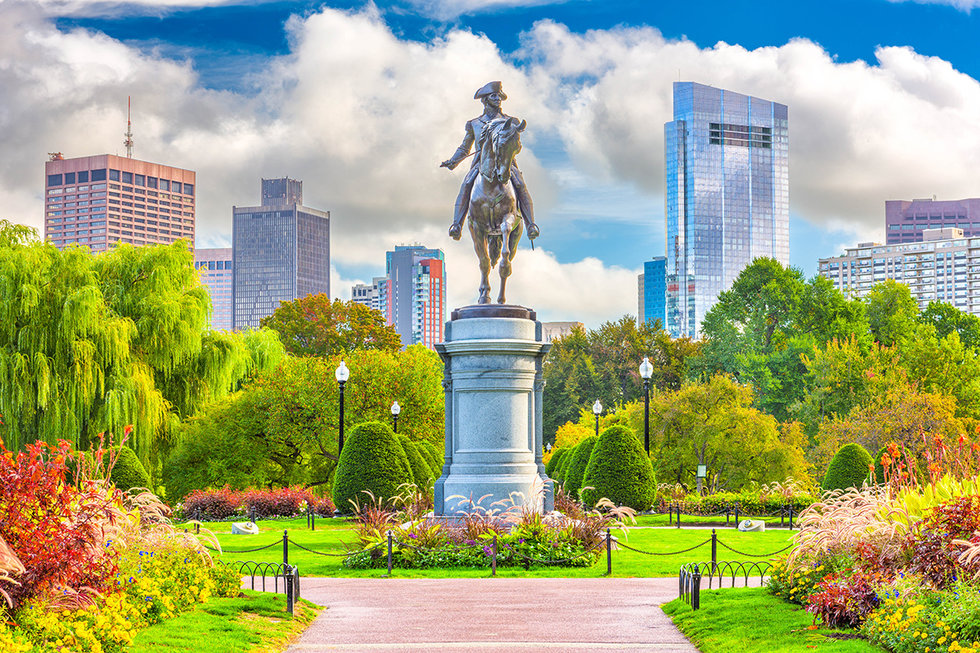 Deemed the "Athens of America," Boston boasts not only some of the country's oldest and most architecturally significant buildings, but also a thriving arts and culture scene. You could spend your entire trip touring its dozens of world-class museums. Take in classical music at the famous Boston Symphony Orchestra, or take a leisurely stroll through Boston Public Garden and Boston Common, the city's most well-known public parks. Riding the giant Swan Boats through the Public Garden lagoon is a kitschy, yet delightful experience, especially for kids.
What to eat
What must you absolutely eat in Boston? In short, everything. Long ago the city was nicknamed Beantown, allegedly after slow-cooked molasses baked beans served to sailors and traders. Today, Boston continues its reputation as a great eating city. From clam chowder to cannoli, the most popular dishes here are often hearty and decadent. Boston is also known for fresh lobster rolls, roast beef sandwiches and, of course, Boston cream pie.
Ask any Bostonian where to find "the best" of anything, and everyone will recommend a different spot. Cannoli from Mike's Pastry, Boston cream pie from Omni Parker House (where it was invented) and the roast beef 1000 sandwich from Cutty's frequently top the must-try lists. If you make it to a ball game at Fenway Park, Fenway Franks are a Boston staple.
Our role in 'Spider-Man™: Far From Home'
In Columbia Pictures upcoming release in association with Marvel Studios, "Spider-Man™: Far From Home," our web-slinging hero finds himself – yep, you guessed it – far from his home in New York City. And since flying is one of the few superpowers Spider-Man doesn't possess, we gave him a little help, meaning United is featured in the film.
The scenes of Peter Parker and his pals traveling to Europe take place on one of our Boeing 777s with the all-new United Polaris® business class, and several of our employees – including members of our Tech Ops, Inflight, Flight Operations and Airport Operations teams – served as actors and production support during shoots at New York/Newark (EWR) and London-Stansted (STN).
London-Heathrow (LHR) Customer Service Representative Manjit Heer and LHR Cargo Warehouse Operations Manager Richard Miller were background extras on board, and multiple flight attendants had a role, including San Francisco (SFO) Flight Attendant Tammy Harris.
"It was extremely surreal," said Tammy. "I was in my element because I was on the plane in uniform, but not really, because I'm not an actor."
Tammy said she hit her mark and delivered her line with gusto, and she's excited to see if she made the final cut when "Spider-Man™: Far From Home" hits worldwide theaters this summer.
"Hopefully, I'll have my two seconds of fame and all will be well," she joked.
Los Angeles (LAX) Aircraft Maintenance Supervisor Fernando Melendez is a veteran of several film shoots but said this one was his favorite. When the production went to London, he was one of five members of LAX Tech Ops who went over to look after our airplane and make adjustments to its interior based on the filmmaker's needs.
"When we parked the plane at Stanstead, there were lights and cameras surrounding us. It was like the plane was the star of the movie," he said. "Each day, we would work with the assistant director; he would go through and say, 'Okay, for this shoot we need these seats, or these panels removed,' so they could get the camera angles. Pretty much, the airplane was our responsibility; we opened it in the morning and closed it at night. We were the first ones there and the last ones to leave every day."
Fernando said the actors were all very gracious and engaging, and said the whole experience was fantastic from start to finish. It also earned him a little cooler cred with his 18-year-old son, who is a massive Marvel fan.
Leading up to the film's premiere this year, there will be plenty of ways for employees and customers to get into the Spidey spirit in anticipation of our cameo. Stay tuned for more details.
---
Peter Parker returns in "Spider-Man™: Far From Home," the next chapter of the Spider-Man™: Homecoming series! Our friendly neighborhood Super Hero decides to join his best friends Ned, MJ, and the rest of the gang on a European vacation. However, Peter's plan to leave super heroics behind for a few weeks are quickly scrapped when he begrudgingly agrees to help Nick Fury uncover the mystery of several elemental creature attacks, creating havoc across the continent!
Directed by Jon Watts, the film is written by Chris McKenna and Erik Sommers based on the Marvel Comic Book by Stan Lee and Steve Ditko. The film is produced by Kevin Feige and Amy Pascal. Louis D'Esposito, Victoria Alonso, Thomas M. Hammel, Eric Hauserman Carroll, Stan Lee, Avi Arad and Matt Tolmach serve as executive producers. The film stars Tom Holland, Samuel L. Jackson, Zendaya, Cobie Smulders, Jon Favreau, JB Smoove, Jacob Batalon, Martin Starr, with Marisa Tomei and Jake Gyllenhaal.
"Spider-Man™: Far From Home" makes its way to North American theaters on July 5, 2019.
What to expect from our improved app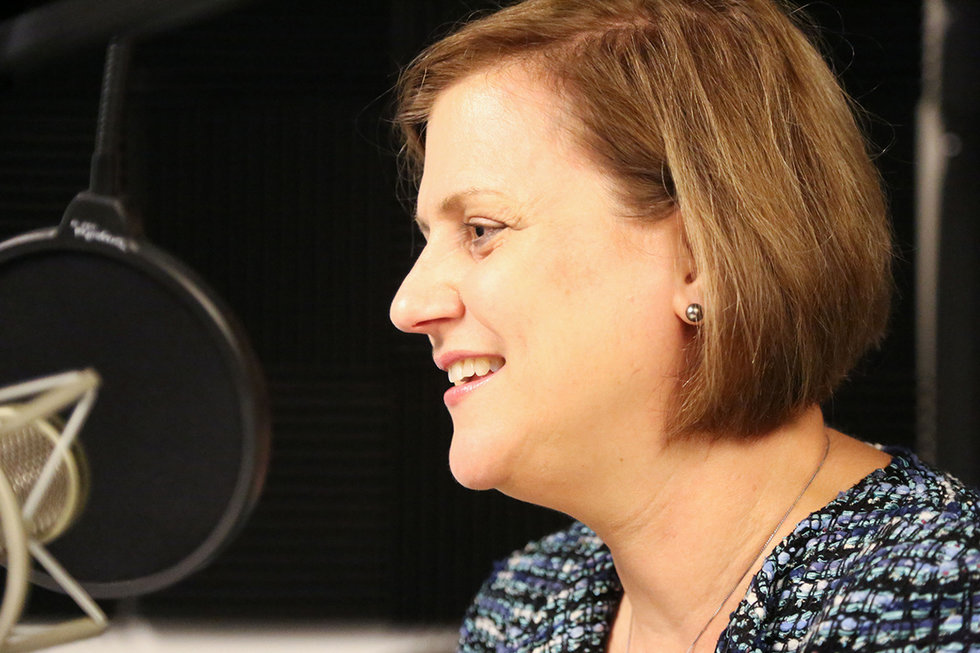 "Talking Points," host Brian Kelly, aka The Points Guy, is joined by Linda Jojo, Executive Vice President for Technology and Chief Digital Officer at United Airlines to discuss what passengers can expect from our improved app.
Read more about the improvements to the United app here.

20 million miles and counting...
On November 7, while flying from Newark Liberty International Airport to Los Angeles International Airport, United customer Tom Stuker made history when he reached 20 million miles flown on a single airline. We were fortunate enough to capture the milestone he reached with us.
To mark the special occasion, we hosted a celebration in Mr. Stuker's honor at the United Polaris lounge at O'Hare International Airport on Saturday. The celebration was delayed a couple of months, so Mr. Stuker could celebrate the event with his family.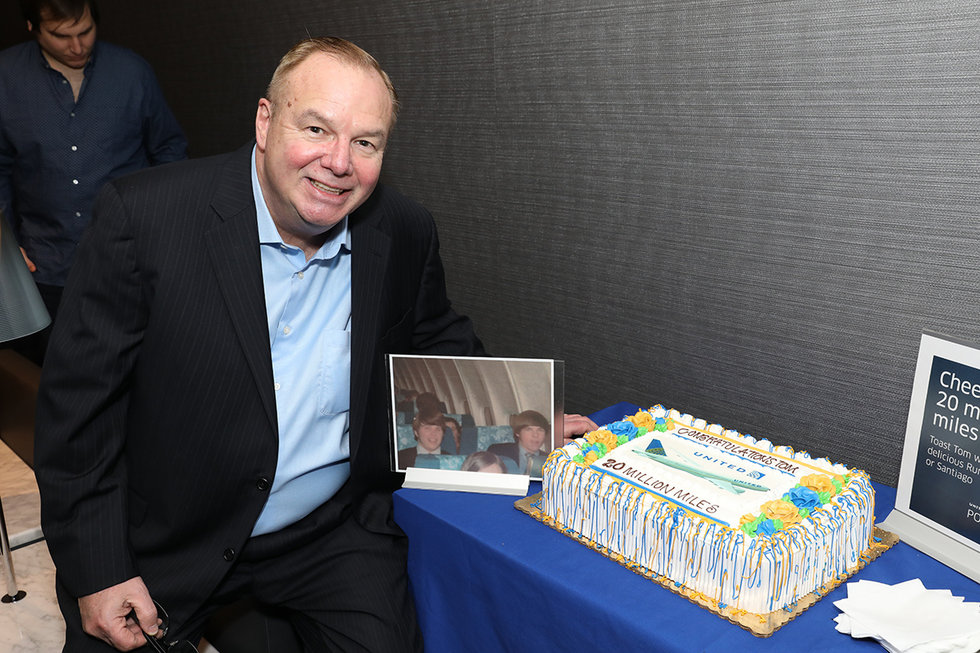 The party included a room full of employees, media members and Mr. Stuker's friends and family enjoying food, cocktails, stories and laughs. To thank him for his long-standing loyalty to United, we also presented Mr. Stuker with gifts made specially for him.
"United makes my dreams come true," Mr. Stuker said to the room full of people.
He also praised United's MileagePlus program, the United Polaris lounges across our system and Oscar's leadership of the airline but, most of all, he praised the service he receives from our employees.
"My favorite part of United is the people. United is such a big part of my life…you are a family to me," he said addressing the United employees. "It would take me days and days and days to say thank you in the right way to the right people. They all know me by now and know how much I care about them as people, how much I care about this airline and its success, and how much I care about the greatest leader this airline has ever had, Oscar."
Bora Bora: The most beautiful island in the world
Each week we will profile one of our employee's adventures across the globe, featuring a new location for every employee's story. Follow along every week to learn more about their travel experiences.
By Chicago-based United Club Customer Service Representative Amile Ribeiro.
They say beauty is in the eye of the beholder. I know it can be very subjective but, once you set your eyes on it, I'm sure you'll agree with me: Bora Bora is the most beautiful island in the world.
There are very few things that can get me out of bed early in the morning, and airplanes are one of those things. We were already in Tahiti and woke up at the crack of dawn to catch our quick flight to Bora Bora. After checking in at the airport and getting a quick breakfast, we headed over to the gate to line up for our flight. Air Tahiti has an open seating arrangement, and we wanted to make sure we got the best possible seats. We were able to secure two windows seats. Travel tip: Sit on the left side of the plane when landing in Bora Bora. We took off from Papeete and within minutes we were flying over Mo'orea. Then we flew around Ra'i ātea and Taha'a, and finally arrived in Bora Bora, the island that Polynesians call "First Born." Pora Pora is the actual local pronunciation, but the first explorers misunderstood it and 'Bora Bora' stuck. Though after setting foot on the island, I've come to call it "Paradise on Earth."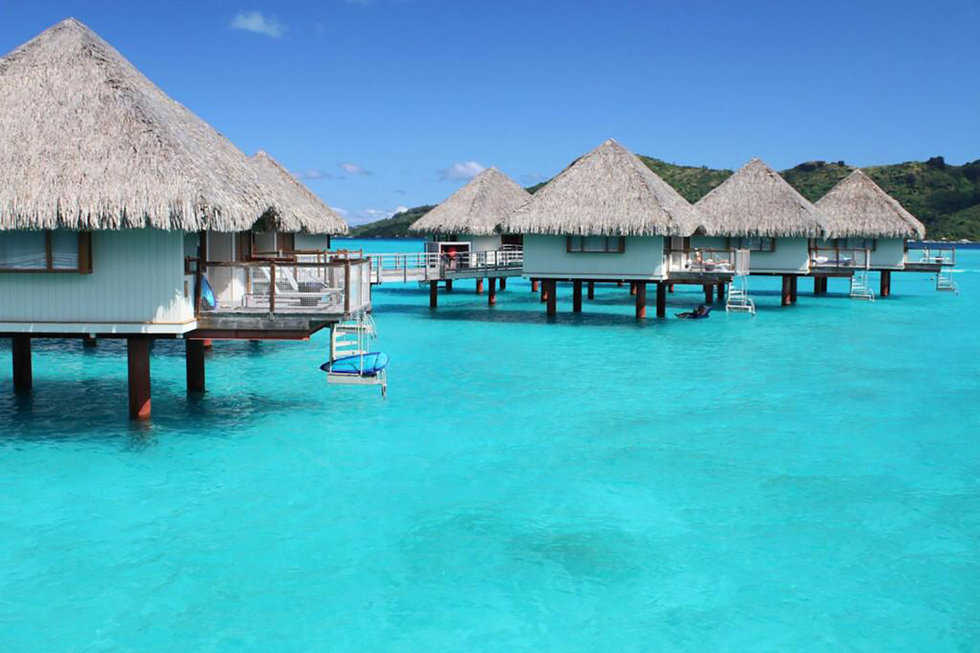 At the airport we were met by a representative of our resort, given flower leis and directed to our high-speed boat. I couldn't believe the color of the water; it was as if Paul Gauguin himself had painted it. After a thrilling ride, we reached our hotel's dock, where a local playing the ukulele welcomed us. We were then given a tour of the astonishing property and were taken by golf cart to our overwater bungalow. We have stayed in many beautiful properties around the world, but when we opened the door of our bungalow our jaws dropped. It is truly a one-of-a-kind experience that all should have at least once in their lifetimes. And worth every penny. The view of majestic Mount Otemanu is something right out of a fairy tale. After the sun set, the nighttime dance show was equally enchanting.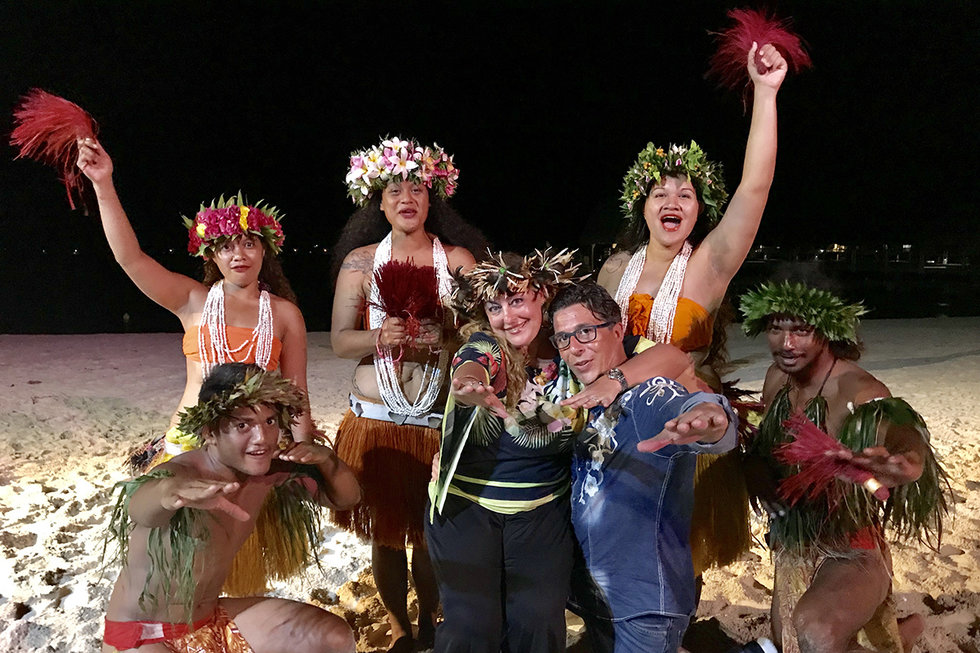 We had planned to be in Bora Bora during the final leg of the famous Hawaiki Nui Va'a canoe competition, which happens to be a major event in the cultural life of French Polynesia and has the reputation for being the toughest canoe race in the world. The center stage was at the island's most beautiful beach, Matira. We stood in awe as the winners reached the finish line after several hours (and days before that) of frantic paddling from island to island, showcasing the power of human strength and endurance. Besides being an incredible sporting challenge, it is also a colorful spectacle that filled the beach with flower-clad women and the air with the pulsating beat of drums. We were also able to celebrate and dance with them later that night at the local ball in Vaitape (Bora Bora's largest city). It was a marvelous way to get a deeper understanding of another culture!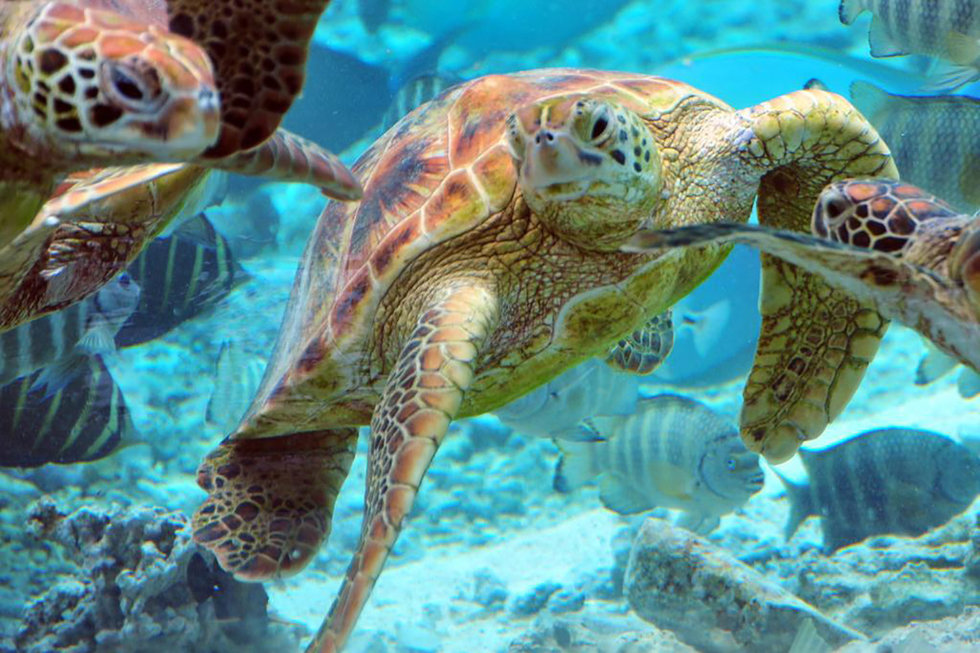 Besides having the time of our lives at the resort's infinity pools, inner lagoons and beach, we also went to the Turtle Center and had a chance to feed these amazing creatures while they're being rehabilitated to go back into open waters. From there, we took a boat tour of the main lagoon and went swimming with stingrays and sharks. Few things scare me in life, and sharks are on the very top of that short list, but I mustered the courage and what a thrill it was! To commemorate my bravery on the last day of our trip, I got my very first tattoo: a hammerhead shark. Polynesians believe that such sharks act as guardian angels to humans and protect us from the Great White. My husband got a Polynesian design that was custom made just for him, and it represents travel, freedom and courage. We also got a set of matching Polynesian wedding bands. Since the art of tattoo originated in Polynesia, this is the most enduring souvenir one can get from such an amazing culture, but I'm sure the memories of our trip will also stay with us forever!

Scroll to top