Travel in sustainable style with a United upcycle travel bag
Earlier this year the Chicago Department of Aviation changed the size of banner advertisements allowed at Chicago O'Hare, which meant that more than 20 United banners were unusable. Our United Eco-Skies team saw this as an opportunity to "upcycle" the materials rather than throw them away. The practice of upcycling allows us to repurpose materials in a creative way to create something truly one of a kind.
We partnered with students at Columbia College Chicago's Fashion School and challenged them to design a mock-up of a travel bag using only upcycled materials.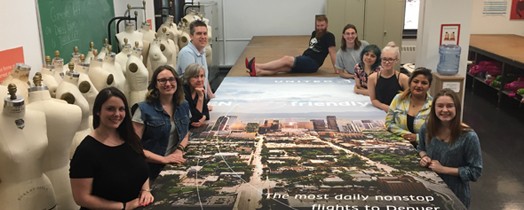 Upcycle challenge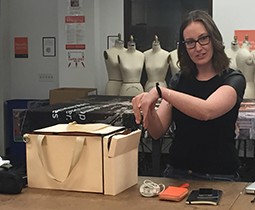 The students were given three days to complete their designs. The guidelines required that they design a bag that was, durable, fashionable, and could fit easily underneath an airplane seat. Additionally, the students were instructed to keep the needs of a busy traveler in mind, whether for an overnight business trip or for the daily work commute. The students received credit hours for participating in the challenge, and also learned how to incorporate sustainability into their designs.
Winning designs
Fashion and design students Anne Tilma and Dillon Halford conceptualized the two winning travel bag designs. Anne's design is a duffel-style bag with a detachable tote, while Dillon's bag is a backpack-style bag designed for the daily commuter.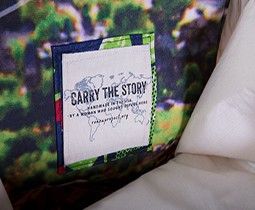 Handcrafted by Re:new artisans
After the winning designs were selected, they were produced by advanced artisans at the Re:new project, a Chicago-area nonprofit providing employment and community for refugee women resettled in the U.S. Each bag carries the story of the remarkable woman who made it.
Buy a bag and give back
Starting on Friday, October 16th you can purchase an upcycled travel bag for a limited time through the United Shop.
The United Eco-Skies Upcycling initiative helps to reduce landfill waste and encourages customers and employees to think differently about waste. All proceeds from the sales of the upcycled bags will benefit the Eco-Skies CarbonChoice Alto Mayo Forest Carbon project. This project provides jobs for local families, incentivizes new approaches to farming and helps to protect a critical watershed in northern Peru that supplies more than 240,000 people and many threatened species found nowhere else on Earth.
For more information on United's commitment to the environment, visit united.com/ecoskies.