Total solar eclipse, a breathtaking sight
Each week we will profile one of our employee's adventures across the globe, featuring a new location for every employee's story. Follow along every week to learn more about their travel experiences.
By London-based Flight Attendant Rebecca Robbins
As the U.S. prepared for the Great American Eclipse on Aug. 21, I, too, planned my own trip to witness what was surely one of the most awe-inspiring spectacles in Mother Nature's extensive repertoire.
I can directly attribute my excitement for total solar eclipses to my job as a flight attendant: I vividly remember in late 1994 - just 18 months after I began my flying career with United - encountering a group of very excited passengers boarding a flight I was working. Having an inquisitive nature, I asked them, "Where are you going? What is all the equipment for?" They replied, "We're going to see the total solar eclipse in Chile!" With those words, a seed was sown deeply and irretrievably in my consciousness, a seed that in future years would take on a life of its own when I would myself become an occasional eclipse chaser.
There is no other way of describing it: To witness a total solar eclipse is breathtaking and humbling. Here is my story of the total solar eclipse I was so fortunate to see in 2015.
It was March 20, 2015, and we were bobbing around in the Norwegian Sea somewhere east of Iceland and north of the Faroe Islands.
Why there and why then? Every so often it happens that in the normal course of their current orbit, the earth and moon align with the sun to create the perfect conditions for something very, very special: a total solar eclipse. On this particular occasion, it coincided with both a supermoon and the spring equinox.
So it was that, in 2015 after negotiating hurricane force 12 winds on our way to reach the area closest to the greatest eclipse and greatest duration, now that the big day had finally arrived, I drew back the curtains at 6 a.m. in great anticipation and ventured excitedly outside.
My heart sank to find leaden, heavily overcast skies where we were hoping for cloudless blue. Instead, we had snow. With little under two-and-a-half hours to go before "first contact," the very special moment when the moon begins its passage over the face of the sun, all we could do was hope that we might be lucky and that something miraculous would happen. I asked the clouds to kindly go away and retreated inside for a cup of steaming hot coffee as I wished for the skies to clear, deciding that a positive mindset was the only order of the day: I truly believed it was possible.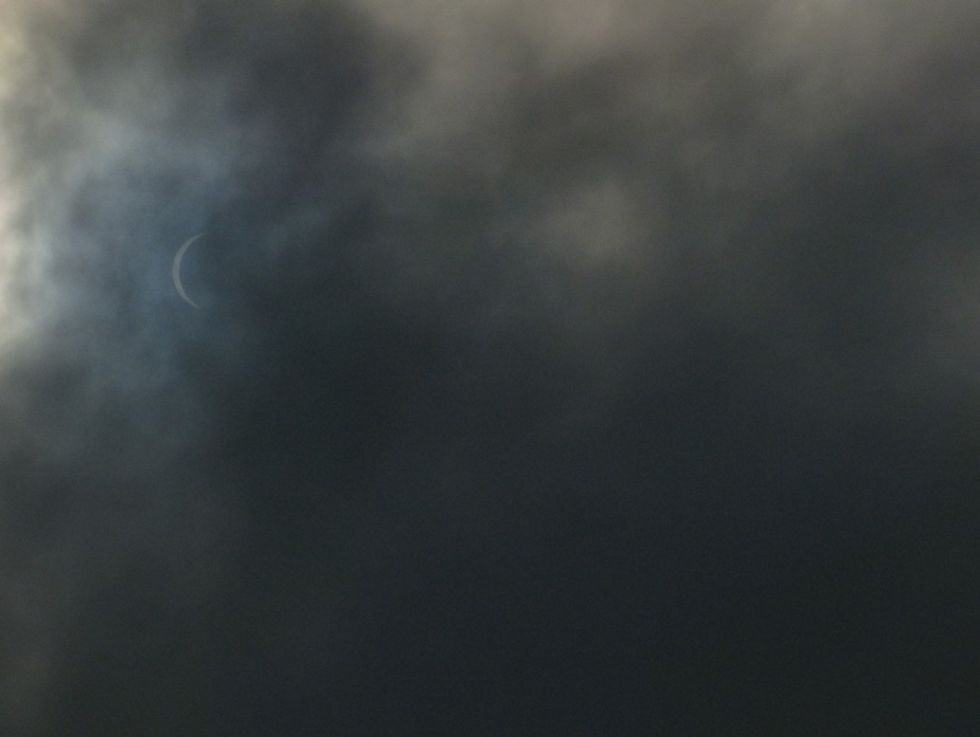 An hour later, it became apparent that dreams really can come true. I could see a slight thinning of the clouds -- things were definitely looking up!
Sure enough, as the first moment of "contact" between moon and sun arrived, the clouds had thinned sufficiently for us to see this long-awaited, momentous event. There it was: a small crescent of the mighty sun disappearing as the relatively tiny moon arrived right on time to begin blotting out its fiery counterpart, seemingly nibbling away at the sun's surface second by second, almost imperceptibly.
As the eclipse progressed over the course of the next hour, we were overjoyed to see the clouds becoming ever thinner. Noticing a large patch of blue sky a little way off, I felt curiously confident that, with gentle winds now blowing in the right direction, this cloud-free spot could actually coincide with the moment we were waiting for... and indeed it did. With the moon moving farther and farther over the face of the sun, the temperature started to fall. By now, the penumbra (the dimmer shadow of the moon cast by the many points of the sun) was very apparent. The penumbra is experienced to some degree in all places that see the partial eclipse. It was as if twilight was falling at 9:30 a.m. Magical.
Those leaden skies of the early morning had almost gone, and the last sliver of sun was clearly visible, a tiny crescent of light: an amazing vision in itself, but what came next was just breathtaking.
I could hardly believe it: The eclipsing sun was now seen in a patch of clear, blue sky. After earlier fears that this marvel of astronomy - so anticipated for many, many months, even years - would be hidden by thick clouds, we watched almost with our breath held as the moon made its final progression over the face of the sun. First, the beautiful "diamond ring" as the last visible rays of sun shone between the deep ridges and valleys of the moon's surface (Baily's beads), then ... totality! The moon eclipsed the sun completely. The only sound was a spontaneous, collective gasp of wonder from everyone gathered there.
In an instant, we were plunged into nighttime as the moon's actual shadow, the umbra, passed directly overhead and all light from the sun was obscured. Now it was possible to take off the protective glasses needed during the partial eclipse and observe features of the sun it is not possible to see with the naked eye.
Around the circumference of the moon, the sun's searing chromosphere could be seen, blazing prominences firing from its surface. Totally lost in the moment, this sight was so magnificent, I felt entirely overwhelmed by its beauty and tears of joy flowed uncontrollably down my face.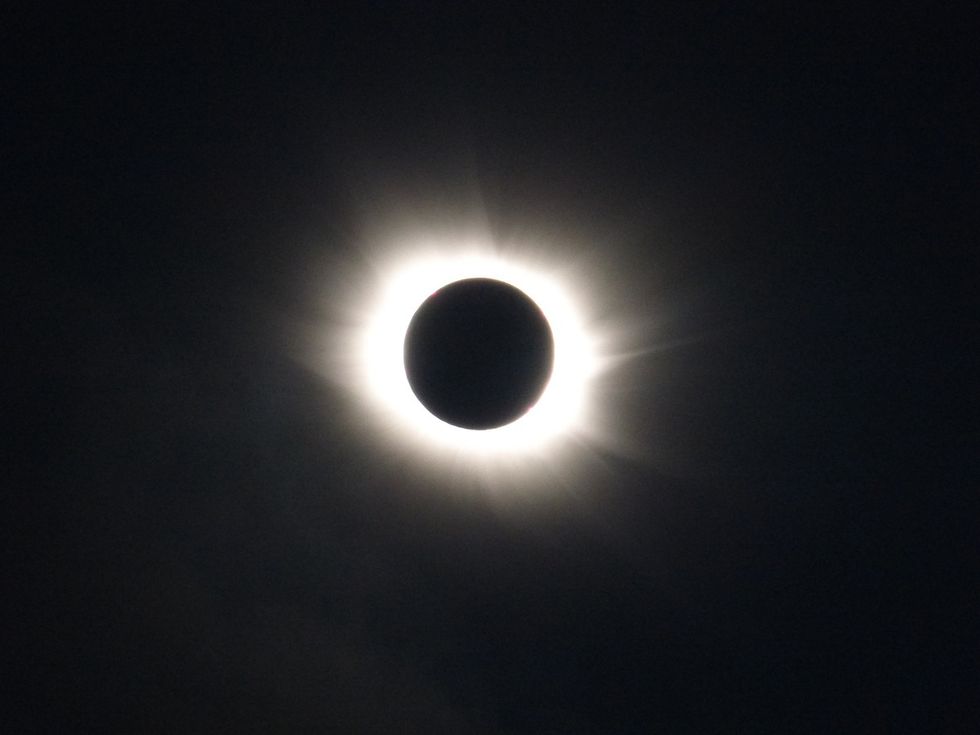 The sun's corona could be seen streaming away from the surface of the sun (as seen in my photo) extending thousands of miles above the surface of the star. It's been determined that the corona can reach super-heated temperatures greater than 1,000,000°C (1,800,000°F).
In the darkness of daytime, stars and planets appeared, the temperature plummeted and it was impossible not to feel deeply thankful at that moment for the light and warmth that the sun provides us day in and day out with no expectation of gratitude. For a while, time seemed to stand still as we stared in wonder at the incredible scene playing out before us. Sadly, after a glorious two minutes and 46 seconds, it was time for the planet to move on.
For a while, it was possible to observe the moon progressing away. Seeing the planet quietly moving on was a little like waving off an old friend after a long-anticipated, particularly joyful reunion, and I couldn't help but feel rather sad that the moment was now over.
Curiously at this point the clouds returned and began in wisps to hide the diminishing eclipse from view. Before long, they had covered it and we were left with only thoughts and memories of a most majestic and unforgettable event.
From the sublime to the ridiculous, with nothing else to see, I headed off to get a celebratory and warming cup of mulled wine and a couple of sausage and bacon sandwiches. But then, whilst most people headed off to the warmth of the bar or to their cabin to grab a sneaky, mid-morning snooze before lunch, I felt unable to allow the moon to finish its eclipse without an audience. Just as I will sit in the cinema at the end of a film to watch the entire credits roll, I wanted to see this show through to the very end in gratitude to the moon for an awe-inspiring performance. Seemingly taking pity on my terrestrial pathos, the clouds offered me a parting gift and drew back to reveal the final moments of the eclipse as if in a final ovation. Back out on deck, leaning on the ship's rail, with the sea foaming noisily below as we headed toward our next destination and with the sun now gently warming my face, I stared up at those two celestial bodies - still partially aligned - for several minutes more until thick, grey clouds literally brought the curtain down on this wondrous show, and for the second time that day it began to snow. The chilly wind sent me scurrying back inside to contemplate the immensity of what I had witnessed. I wondered where the little moon was heading all alone. Two nights later I found out and I will share that with you soon.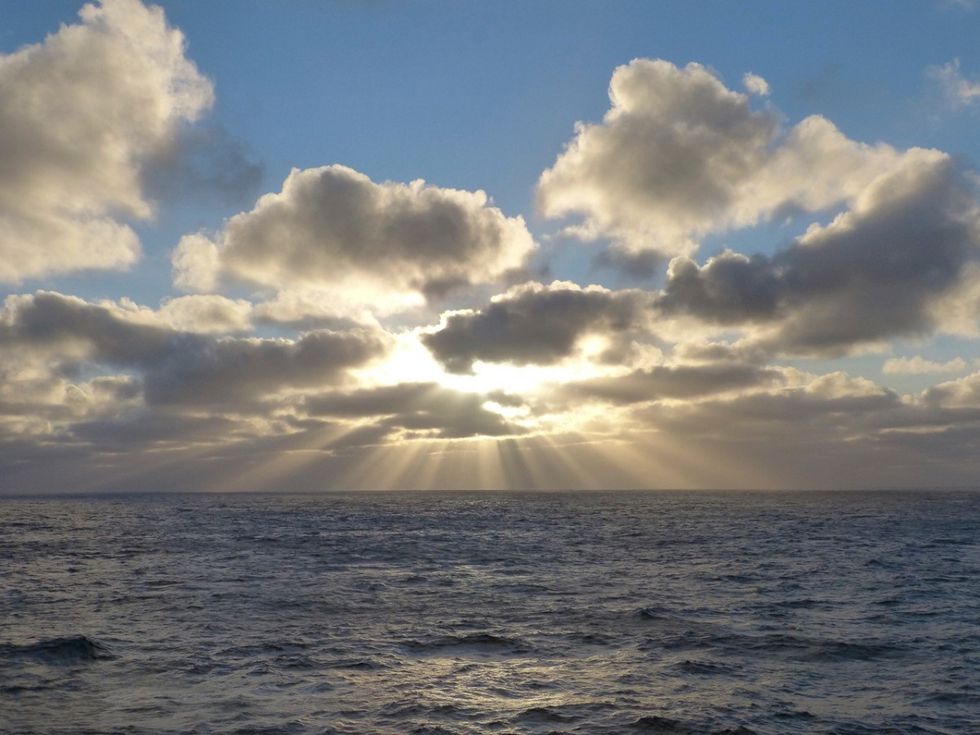 This most stunning spectacle left me in a state of disbelief, and for the remainder of the day I drifted around in a daze, unable to stop reflecting on what we had seen and our extreme good fortune that the weather had been so very favorable. This was due in no small part to the navigational expertise of our ship's captain under the guidance of our brilliant astronomer on board, Pete Lawrence, who had spent many evenings poring over weather projections for a small, remote zone close to the area of maximum totality/maximum duration where the weather was, naturally, largely unpredictable. Fortunately we had the advantage of being aboard a very powerful ship, so we were able to change our position overnight. Eclipse chasers, literally. It could easily have become an unsuccessful game of cat and mouse, but Pete's brilliant foresight took us to exactly where we needed to be and we are all indebted to his tireless efforts on our behalf.
Long after the event, I still find myself pondering on it. I had never imagined that I would be there in that remote place, at that time, to see the remarkable sight. How fortunate indeed I was. On a much greater scale, the knowledge that in years to come this simply won't be possible makes me very philosophical. We do not notice it, but the moon is actually moving away from earth at a rate of almost four centimeters per year, meaning that at some time in the future, total solar eclipses as seen from our earth will cease to be. The perfect alignment of planet and star will still occur, but the relative size of the moon will be too small when seen from the earth to cover the face of the sun in its entirety and only an annular eclipse will be seen, a ring of light around the moon. But don't worry, you still have plenty of opportunity to seek out a total solar eclipse, as this won't happen for approximately 563 million years from now.
We live in times that are more fortunate than we know. Above us, the planets' infinite orbital course continues uninterrupted. The sun and the moon don't even know how special they are, they just do what they have always done. After the glorious eclipse of March 2015, I returned to terra firma, literally and metaphorically (well, almost). Back home, the usual routine resumed for me, too, but I found myself somehow changed by the experience. For whilst the timing and occurrence of the eclipse was a certainty, having traveled to the middle of the ocean and with the best will in the world, there was no guarantee that we would actually see it. But see it we did, and it was (believe it or not, in spite of my ramblings) beautiful beyond words and something I would recommend anyone to try to see once in a lifetime.
Just as I put all my trust in the simple belief that it could indeed be possible for this eclipse to manifest itself to me, I approach the future with the same optimism. If I dare to venture into those places to which my mind guides and tempts me, be they actual locations or ideas in my imagination, why should I not believe that wonderful things can happen there? I just need to go, see, do and believe. With that in mind, I'll share with you a passage by W.H.Murray from "The Scottish Himalayan Expedition, 1951" that sums up precisely how I am left feeling by this moment:
"We had definitely committed ourselves and were halfway out of our ruts. We had put down our passage money, booked a sailing to Bombay. This may sound too simple, but is great in consequence. Until one is committed, there is hesitancy, the chance to draw back, always ineffectiveness.
"Concerning all acts of initiative (and creation) there is one elementary truth the ignorance of which kills countless ideas and splendid plans: that the moment one definitely commits oneself, then providence moves too. A whole stream of events issues from the decision, raising in one's favour all manner of unforeseen incidents, meetings and material assistance, which no man could have dreamt would have come his way." In common, contemporary parlance, "Just do it."
I feel so very fortunate that my chosen career with United affords me endless opportunity for discovery and a constant wellspring of inspiration in the form of the people I meet in the course of my everyday work, both colleagues and customers. It has been almost a quarter of a century since I began flying, and in that time I have been taken to adventures I never imagined. My life changed forever that day I first put on my uniform, and whilst I am no longer able to physically fit into it, I carry with me always the magic it bestowed on me, opening my eyes to potential far beyond my view. All I have to do is reach out my arms and take flight.
On March 19, 2020, United operated its first flight carrying cargo without passengers on board. While the passenger cabin was empty, its cargo hold was completely full, carrying more than 29,000 pounds of commodities from Chicago O'Hare International Airport (ORD) to Frankfurt Airport (FRA).
A year later, United Cargo has operated more than 11,000 cargo-only flights carrying more than 570 million pounds of freight. To support the COVID-19 pandemic recovery efforts, United Cargo has also transported more than 113 million pounds of medical and pharmaceutical products on both cargo-only and passenger flights as well as approximately 10 million COVID-19 vaccines, providing global communities access to the items they have needed most.
"At the beginning of the pandemic, we knew we were uniquely positioned to utilize our widebody aircraft and our network to keep commodities moving, so we quickly mobilized various departments throughout the airline to launch a cargo-only network of flights that would keep commodities moving," said United Cargo President Jan Krems. "Thanks to those efforts, United Cargo has delivered millions of items to countries all around the world. We would not have been successful without the steadfast support of our employees, industry partners and our customers."
Since last March, United Cargo has transported almost 850 million pounds of freight on cargo-only and passenger flights. The airline will continue to monitor market trends adjust its cargo-only flight schedules to help ensure we are meeting our customer's evolving shipping needs.
Whether you haven't flown with us for a while or just need a quick refresher before your spring trip, read this list of tips to know before your flight and arrive at the airport travel-ready:
1. Download the United app for contactless bag check, travel assistance and more
Before your flight, download the United app to view your flight status, check in, sign up for flight notifications, locate departure gates, access our free personal device entertainment when available and more. We've also updated our app with new features that can make your trip a little safer, including contactless bag check.
Don't forget to use Agent on Demand for help with any and all questions you may have before your flight. This new capability is available at all our U.S. hub airports and allows you to use your own mobile device to contact a customer service agent via phone, video or chat to help with day-of-travel questions while you're at the airport. Learn more about Agent on Demand here.
2. Check out the Travel-Ready Center
Our Travel-Ready Center makes it easy to get a personalized overview of everything you need to do in preparation for your flight. Just enter your confirmation number or MileagePlus® number and you'll find detailed information on all the documents, tests and more that you'll need for your trip.
3. Read and sign the Ready-to-Fly checklist
Before completing check-in, all United travelers will need to read our Ready-to-Fly checklist and confirm that they understand and agree to our policies. These include:
Acknowledging that you haven't had any symptoms of COVID-19 in the last 14 days
Agreeing that you will not fly if you have tested positive for COVID-19 within the last 21 days
Confirming that you will follow all policies regarding face masks, social distancing and other health and safety measures we've adopted
4. Arrive early; avoid the stress
Airports can be busy, especially during peak travel periods like spring break season. The TSA advises arriving at the airport two hours before your flight for domestic travel and three hours for international travel in anticipation of long security lines. This can help ease the stress when navigating busy check-in areas, security lines and crowded boarding gates.
5. Get familiar with CleanPlus
United CleanPlus℠ is our commitment to delivering industry-leading cleanliness as we put health and safety at the forefront of your experience. We've teamed up with Clorox to redefine our cleaning and disinfection procedures and Cleveland Clinic to advise us on enhancing our cleaning and disinfection protocols, like:
Disinfecting high-touch areas on board and in the terminal
Using electrostatic spraying, Ultraviolet C lighting wands and more advanced measures to clean aircraft cabins before boarding
Redesigning our mobile app to allow for touchless check-in and contactless payment, along with enhanced travel assistance features
Implementing high-efficiency (HEPA) filters on our aircraft that completely recirculate cabin air every 2-3 minutes and remove 99.97% of airborne particles, including viruses and bacteria
Studies show COVID-19 exposure risk is minimal when air filtration systems and masks are in use, so you can rest assured that the steps we've taken to keep you safe truly make a difference.
6. Wear your mask
Federal law requires all travelers to wear a face mask in the airport, including customer service counters, airport lounges, gates and baggage claim, and on board during their entire flight. Make sure you review the requirements for face masks, including what an acceptable face mask looks like.
7. Get ready for a safer boarding process
To make boarding even safer, we now have travelers board their aircraft from back to front. At the gate, just listen for your row number to be called – we'll ask a few rows at a time to board, starting with the last row of the plane. This helps everyone maintain a safe distance from each other during boarding without slowing things down. As you step onto the plane, flight attendants will hand each passenger a sanitizing towelette, which you can use to wipe down your seat to ensure it's extra clean.
8. Pack smart
Before packing your bags, check to see what exactly you can carry on and what you should plan to check. You can also copy your confirmation number into our Baggage Calculator tool to learn about the bag allowance included with your reservation, as well as the cost of checking any additional bags.
9. Check your flight status, important notices and weather
Check the United app regularly for the latest updates on weather conditions, flight status, gate numbers and seat assignments. You can also visit our Important Notices page to find essential information and updates about travel waivers, international travel, TSA and security, airports and United Club locations.
10. Relax and enjoy your flight
Once you're on board, it's time to sit back and enjoy your flight. Our flight attendants will be happy to help you with anything else you need.
This week, we were honored to become the first U.S. airline to join the UNICEF Humanitarian Airfreight Initiative to combat the COVID-19 pandemic by transporting the vaccine and other critically needed supplies to underserved areas of the globe.
"We are committed to helping the global community in any way we can, and we all must work together to do our part to bring this health and humanitarian crisis to an end," said Director of Cargo Specialty Products Manu Jacobs.
We will leverage our expertise to transport these critical pharmaceutical and healthcare shipments around the world safely, efficiently and expediently. We are proud to partner with the United Nations to support this global effort and provide equitable access to COVID-19 vaccines.
Scroll to top