Total solar eclipse, a breathtaking sight
Each week we will profile one of our employee's adventures across the globe, featuring a new location for every employee's story. Follow along every week to learn more about their travel experiences.
By London-based Flight Attendant Rebecca Robbins
As the U.S. prepared for the Great American Eclipse on Aug. 21, I, too, planned my own trip to witness what was surely one of the most awe-inspiring spectacles in Mother Nature's extensive repertoire.
I can directly attribute my excitement for total solar eclipses to my job as a flight attendant: I vividly remember in late 1994 - just 18 months after I began my flying career with United - encountering a group of very excited passengers boarding a flight I was working. Having an inquisitive nature, I asked them, "Where are you going? What is all the equipment for?" They replied, "We're going to see the total solar eclipse in Chile!" With those words, a seed was sown deeply and irretrievably in my consciousness, a seed that in future years would take on a life of its own when I would myself become an occasional eclipse chaser.
There is no other way of describing it: To witness a total solar eclipse is breathtaking and humbling. Here is my story of the total solar eclipse I was so fortunate to see in 2015.
It was March 20, 2015, and we were bobbing around in the Norwegian Sea somewhere east of Iceland and north of the Faroe Islands.
Why there and why then? Every so often it happens that in the normal course of their current orbit, the earth and moon align with the sun to create the perfect conditions for something very, very special: a total solar eclipse. On this particular occasion, it coincided with both a supermoon and the spring equinox.
So it was that, in 2015 after negotiating hurricane force 12 winds on our way to reach the area closest to the greatest eclipse and greatest duration, now that the big day had finally arrived, I drew back the curtains at 6 a.m. in great anticipation and ventured excitedly outside.
My heart sank to find leaden, heavily overcast skies where we were hoping for cloudless blue. Instead, we had snow. With little under two-and-a-half hours to go before "first contact," the very special moment when the moon begins its passage over the face of the sun, all we could do was hope that we might be lucky and that something miraculous would happen. I asked the clouds to kindly go away and retreated inside for a cup of steaming hot coffee as I wished for the skies to clear, deciding that a positive mindset was the only order of the day: I truly believed it was possible.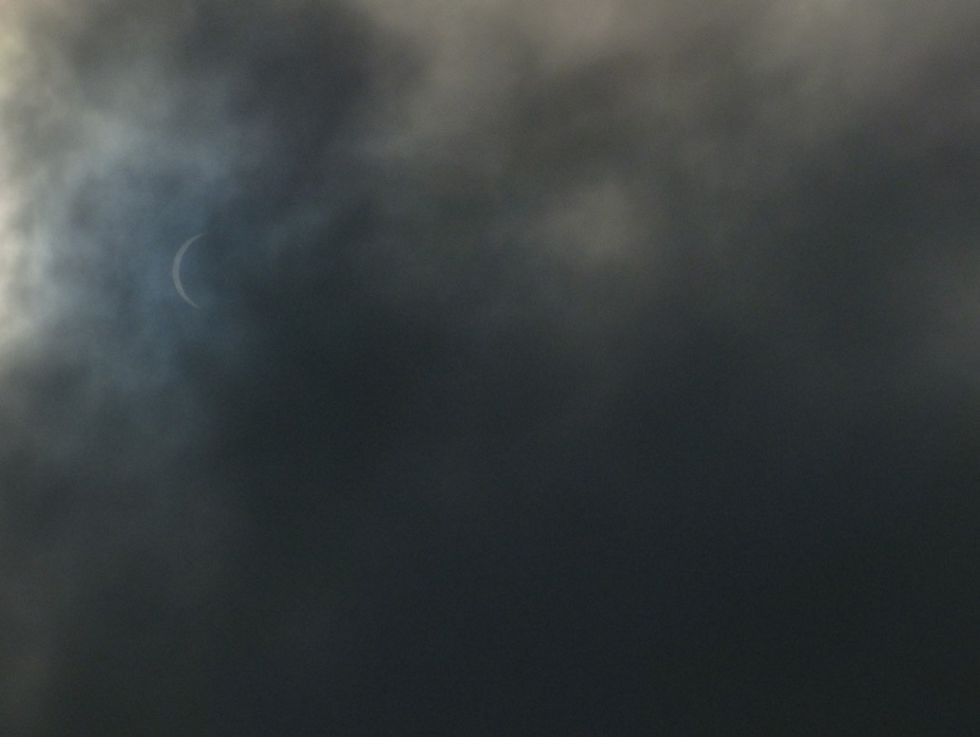 An hour later, it became apparent that dreams really can come true. I could see a slight thinning of the clouds -- things were definitely looking up!
Sure enough, as the first moment of "contact" between moon and sun arrived, the clouds had thinned sufficiently for us to see this long-awaited, momentous event. There it was: a small crescent of the mighty sun disappearing as the relatively tiny moon arrived right on time to begin blotting out its fiery counterpart, seemingly nibbling away at the sun's surface second by second, almost imperceptibly.
As the eclipse progressed over the course of the next hour, we were overjoyed to see the clouds becoming ever thinner. Noticing a large patch of blue sky a little way off, I felt curiously confident that, with gentle winds now blowing in the right direction, this cloud-free spot could actually coincide with the moment we were waiting for... and indeed it did. With the moon moving farther and farther over the face of the sun, the temperature started to fall. By now, the penumbra (the dimmer shadow of the moon cast by the many points of the sun) was very apparent. The penumbra is experienced to some degree in all places that see the partial eclipse. It was as if twilight was falling at 9:30 a.m. Magical.
Those leaden skies of the early morning had almost gone, and the last sliver of sun was clearly visible, a tiny crescent of light: an amazing vision in itself, but what came next was just breathtaking.
I could hardly believe it: The eclipsing sun was now seen in a patch of clear, blue sky. After earlier fears that this marvel of astronomy - so anticipated for many, many months, even years - would be hidden by thick clouds, we watched almost with our breath held as the moon made its final progression over the face of the sun. First, the beautiful "diamond ring" as the last visible rays of sun shone between the deep ridges and valleys of the moon's surface (Baily's beads), then ... totality! The moon eclipsed the sun completely. The only sound was a spontaneous, collective gasp of wonder from everyone gathered there.
In an instant, we were plunged into nighttime as the moon's actual shadow, the umbra, passed directly overhead and all light from the sun was obscured. Now it was possible to take off the protective glasses needed during the partial eclipse and observe features of the sun it is not possible to see with the naked eye.
Around the circumference of the moon, the sun's searing chromosphere could be seen, blazing prominences firing from its surface. Totally lost in the moment, this sight was so magnificent, I felt entirely overwhelmed by its beauty and tears of joy flowed uncontrollably down my face.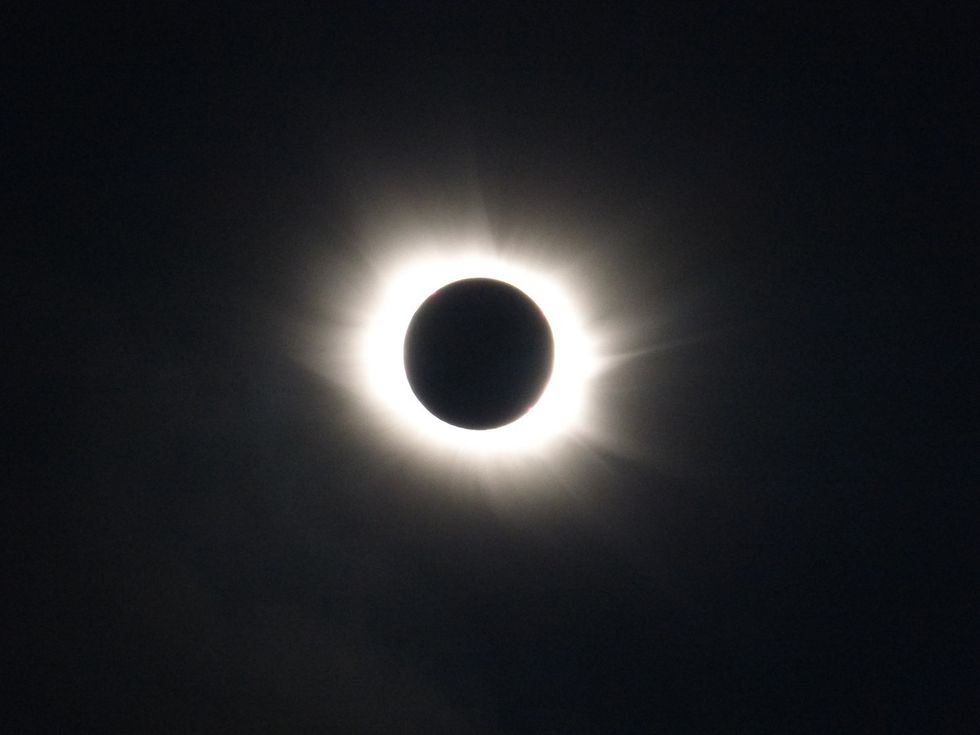 The sun's corona could be seen streaming away from the surface of the sun (as seen in my photo) extending thousands of miles above the surface of the star. It's been determined that the corona can reach super-heated temperatures greater than 1,000,000°C (1,800,000°F).
In the darkness of daytime, stars and planets appeared, the temperature plummeted and it was impossible not to feel deeply thankful at that moment for the light and warmth that the sun provides us day in and day out with no expectation of gratitude. For a while, time seemed to stand still as we stared in wonder at the incredible scene playing out before us. Sadly, after a glorious two minutes and 46 seconds, it was time for the planet to move on.
For a while, it was possible to observe the moon progressing away. Seeing the planet quietly moving on was a little like waving off an old friend after a long-anticipated, particularly joyful reunion, and I couldn't help but feel rather sad that the moment was now over.
Curiously at this point the clouds returned and began in wisps to hide the diminishing eclipse from view. Before long, they had covered it and we were left with only thoughts and memories of a most majestic and unforgettable event.
From the sublime to the ridiculous, with nothing else to see, I headed off to get a celebratory and warming cup of mulled wine and a couple of sausage and bacon sandwiches. But then, whilst most people headed off to the warmth of the bar or to their cabin to grab a sneaky, mid-morning snooze before lunch, I felt unable to allow the moon to finish its eclipse without an audience. Just as I will sit in the cinema at the end of a film to watch the entire credits roll, I wanted to see this show through to the very end in gratitude to the moon for an awe-inspiring performance. Seemingly taking pity on my terrestrial pathos, the clouds offered me a parting gift and drew back to reveal the final moments of the eclipse as if in a final ovation. Back out on deck, leaning on the ship's rail, with the sea foaming noisily below as we headed toward our next destination and with the sun now gently warming my face, I stared up at those two celestial bodies - still partially aligned - for several minutes more until thick, grey clouds literally brought the curtain down on this wondrous show, and for the second time that day it began to snow. The chilly wind sent me scurrying back inside to contemplate the immensity of what I had witnessed. I wondered where the little moon was heading all alone. Two nights later I found out and I will share that with you soon.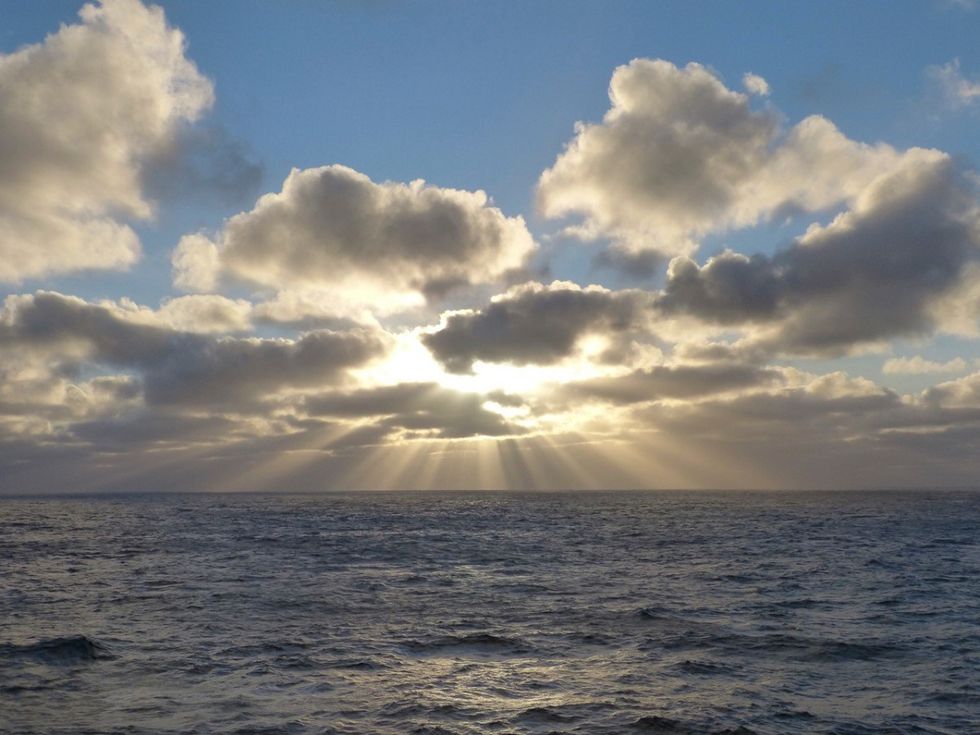 This most stunning spectacle left me in a state of disbelief, and for the remainder of the day I drifted around in a daze, unable to stop reflecting on what we had seen and our extreme good fortune that the weather had been so very favorable. This was due in no small part to the navigational expertise of our ship's captain under the guidance of our brilliant astronomer on board, Pete Lawrence, who had spent many evenings poring over weather projections for a small, remote zone close to the area of maximum totality/maximum duration where the weather was, naturally, largely unpredictable. Fortunately we had the advantage of being aboard a very powerful ship, so we were able to change our position overnight. Eclipse chasers, literally. It could easily have become an unsuccessful game of cat and mouse, but Pete's brilliant foresight took us to exactly where we needed to be and we are all indebted to his tireless efforts on our behalf.
Long after the event, I still find myself pondering on it. I had never imagined that I would be there in that remote place, at that time, to see the remarkable sight. How fortunate indeed I was. On a much greater scale, the knowledge that in years to come this simply won't be possible makes me very philosophical. We do not notice it, but the moon is actually moving away from earth at a rate of almost four centimeters per year, meaning that at some time in the future, total solar eclipses as seen from our earth will cease to be. The perfect alignment of planet and star will still occur, but the relative size of the moon will be too small when seen from the earth to cover the face of the sun in its entirety and only an annular eclipse will be seen, a ring of light around the moon. But don't worry, you still have plenty of opportunity to seek out a total solar eclipse, as this won't happen for approximately 563 million years from now.
We live in times that are more fortunate than we know. Above us, the planets' infinite orbital course continues uninterrupted. The sun and the moon don't even know how special they are, they just do what they have always done. After the glorious eclipse of March 2015, I returned to terra firma, literally and metaphorically (well, almost). Back home, the usual routine resumed for me, too, but I found myself somehow changed by the experience. For whilst the timing and occurrence of the eclipse was a certainty, having traveled to the middle of the ocean and with the best will in the world, there was no guarantee that we would actually see it. But see it we did, and it was (believe it or not, in spite of my ramblings) beautiful beyond words and something I would recommend anyone to try to see once in a lifetime.
Just as I put all my trust in the simple belief that it could indeed be possible for this eclipse to manifest itself to me, I approach the future with the same optimism. If I dare to venture into those places to which my mind guides and tempts me, be they actual locations or ideas in my imagination, why should I not believe that wonderful things can happen there? I just need to go, see, do and believe. With that in mind, I'll share with you a passage by W.H.Murray from "The Scottish Himalayan Expedition, 1951" that sums up precisely how I am left feeling by this moment:
"We had definitely committed ourselves and were halfway out of our ruts. We had put down our passage money, booked a sailing to Bombay. This may sound too simple, but is great in consequence. Until one is committed, there is hesitancy, the chance to draw back, always ineffectiveness.
"Concerning all acts of initiative (and creation) there is one elementary truth the ignorance of which kills countless ideas and splendid plans: that the moment one definitely commits oneself, then providence moves too. A whole stream of events issues from the decision, raising in one's favour all manner of unforeseen incidents, meetings and material assistance, which no man could have dreamt would have come his way." In common, contemporary parlance, "Just do it."
I feel so very fortunate that my chosen career with United affords me endless opportunity for discovery and a constant wellspring of inspiration in the form of the people I meet in the course of my everyday work, both colleagues and customers. It has been almost a quarter of a century since I began flying, and in that time I have been taken to adventures I never imagined. My life changed forever that day I first put on my uniform, and whilst I am no longer able to physically fit into it, I carry with me always the magic it bestowed on me, opening my eyes to potential far beyond my view. All I have to do is reach out my arms and take flight.
Calling all AvGeeks and travelers! Here's a fun way to take your next video call….from a United Polaris seat, the cockpit or cruising altitude. We're introducing United-themed backgrounds for use on Zoom, a video conferencing tool that many people are using to stay connected.
So for your next meeting or catch up with friends and family, download the app to either your computer or mobile device to get started. If you've already downloaded Zoom you can skip ahead to updating your background image (see instructions below).
Start here by downloading your favorite United image to your computer or mobile device. Just click "download" in the bottom left corner of the image.
Next go to your Zoom app (you'll need to download the app to access backgrounds) and click on the arrow to the right of your video camera icon in the bottom of the screen.
From here select, "choose virtual background" to upload your uniquely United photo.
When and where possible, we are working to repatriate travelers who are stranded abroad in the wake of the COVID-19 crisis. Our teams are working closely with government officials here in the U.S. as well as in other countries where flying has been restricted to gain the necessary approvals to operate service. In regions where government actions have barred international flying, we have coordinated with the the U.S. State Department and local government officials to re-instate some flights. Additionally, we have been operating several extra flights to countries in Central America and South America as we continue to play a role in connecting people and uniting the world.
We have operated more than 56 repatriation flights from Panama City, Guatemala City, Quito, Lima, San Pedro Sula, Tegucigalpa and Roatan, bringing nearly 8,000 people home. We will continue working with government officials to operate extra flights to Houston from Quito, San Pedro Sula, Tegucigalpa and from Lima to Washington Dulles and beginning April 5, we will begin operating multiple charter flights between Delhi and San Francisco. We continue to review more opportunities for flights between the United States and other countries to bring citizens home.
Video provided by the U.S. Embassy Ecuador of Americans returning home on United.

Additionally, our Customer Solutions and Recovery team is working with customers in the following markets to rebook them on flights back to the United States as capacity allows, either on our aircraft or on one of our airline partners' planes:

Quito, Ecuador
Managua, Nicaragua
Roatan, Honduras
San Pedro Sula, Honduras
Amsterdam
Brussels
Munich
Singapore
Tokyo-Haneda
Seoul, South Korea
Melbourne, Australia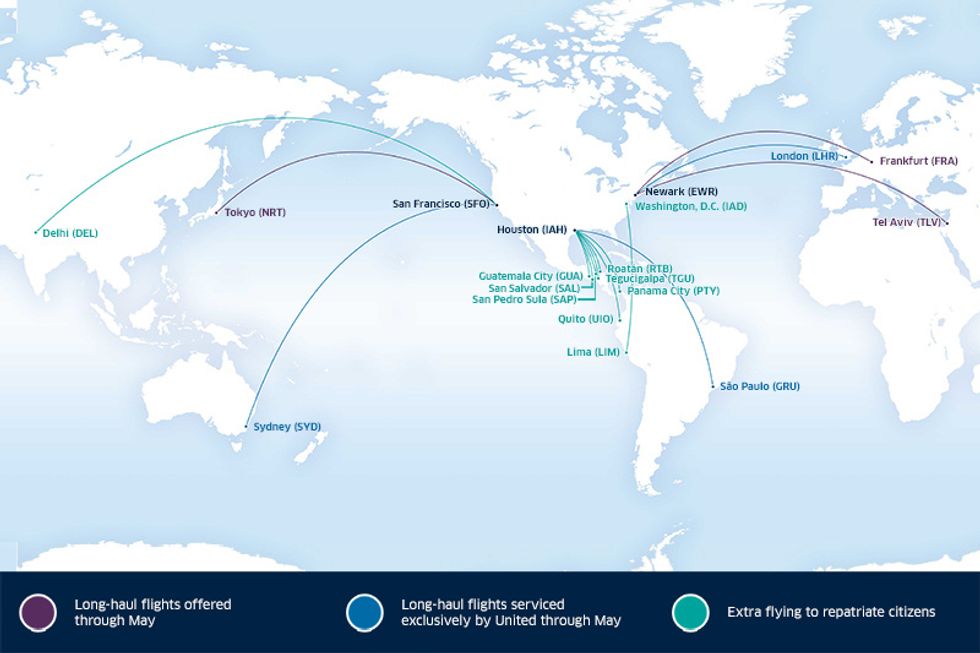 We also recently reinstated several international flights back into our schedule to support customers and essential businesses which depend on these routes. As a result, we will be the only airline to offer service between Newark/New York and London, San Francisco and Sydney, as well as Houston and São Paulo, Brazil.

In the midst of mobilizing our cargo operations, our teams at New York/Newark (EWR) and Jacksonville (JAX) stepped in to assist Roche Diagnostics with transporting a vital component for an instrument being used for COVID-19 testing.
The component was stuck at EWR en route to the Mayo Clinic in Florida after another airline's flights were cancelled. A Roche employee contacted us asking for help and, within a few hours, our teams had the piece loaded onto a Jacksonville-bound aircraft, with arrangements in place to deliver it to the Mayo Clinic.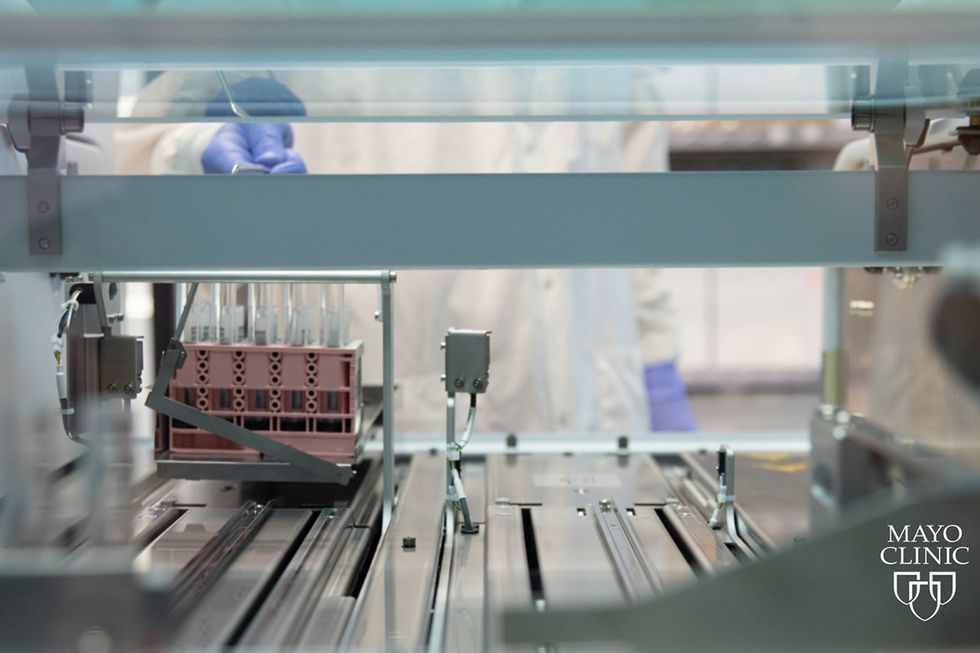 The item we shipped will allow the Mayo Clinic in Florida to process hundreds of COVID-19 tests per day. Mayo Clinic Laboratories has been on the front lines of increasing testing capacity to expedite caring for patients at this critical time and working to ease the burden being felt at test processing laboratories in a growing number of areas.

Together, we are facing an unprecedented challenge. United Together, we rise to meet that challenge.
Check out our newest destinations
United Airlines
united
We continue to work with government officials to bring Americans home. In addition to flights from Central & South America, we have charter flights planned from India. Learn more about our repatriation efforts in the wake of COVID-19 here:
uafly.co/3aExaOL
#UnitedTogether
United Airlines
united
When
@RocheDia
needed to ship a vital component of a COVID-19 testing unit from New Jersey to Florida, United Cargo jumped in to help. Read about how this part will allow
@MayoClinic
to process hundreds of tests per day for cases in the Southeastern U.S.
uafly.co/2UzOAGW
United Airlines
united
International schedule update: We know some people around the globe are displaced and still need to get home. We are reinstating some international flights over the next few days and will continue to fly six daily international flights through May.
uafly.co/3a5Dj6p
United Airlines
united
We have extended our change fee waiver to cover travel through May 31, 2020: - You can change or cancel your flight on
united.com
or through the app – a phone call is not required - For the latest on our commitment to your safety, visit
united.com/coronavirus
We Are United
weareunited
Shoutout to our operations team, who are working to properly park, maintain and store many aircraft in the
#BeingUnited
fleet. These aircraft are being housed across our seven hubs, maintenance facilities in CLE and MCO as well as at offsite facilities in New Mexico and Arizona.
We Are United
weareunited
Tomorrow, Oscar and Scott will host a companywide town hall to discuss the latest developments in managing the effects of the coronavirus (COVID-19). You can join the livestream event at 1:20 p.m. CT here:
uafly.co/39AV25m
We Are United
weareunited
Tomorrow, Oscar and Scott will host a companywide town hall to discuss the latest developments in managing the effects of the coronavirus (COVID-19). You can join the livestream event at 1:20 p.m. CT here:
uafly.co/39AV25m
.
Watch our most popular videos
Copyright © 2020 United Airlines, Inc.
All rights reserved.
Indicates an external site that may or may not meet accessibility guidelines.
Scroll to top
Scroll to top