Total solar eclipse, a breathtaking sight
Each week we will profile one of our employee's adventures across the globe, featuring a new location for every employee's story. Follow along every week to learn more about their travel experiences.
By London-based Flight Attendant Rebecca Robbins
As the U.S. prepared for the Great American Eclipse on Aug. 21, I, too, planned my own trip to witness what was surely one of the most awe-inspiring spectacles in Mother Nature's extensive repertoire.
I can directly attribute my excitement for total solar eclipses to my job as a flight attendant: I vividly remember in late 1994 - just 18 months after I began my flying career with United - encountering a group of very excited passengers boarding a flight I was working. Having an inquisitive nature, I asked them, "Where are you going? What is all the equipment for?" They replied, "We're going to see the total solar eclipse in Chile!" With those words, a seed was sown deeply and irretrievably in my consciousness, a seed that in future years would take on a life of its own when I would myself become an occasional eclipse chaser.
There is no other way of describing it: To witness a total solar eclipse is breathtaking and humbling. Here is my story of the total solar eclipse I was so fortunate to see in 2015.
It was March 20, 2015, and we were bobbing around in the Norwegian Sea somewhere east of Iceland and north of the Faroe Islands.
Why there and why then? Every so often it happens that in the normal course of their current orbit, the earth and moon align with the sun to create the perfect conditions for something very, very special: a total solar eclipse. On this particular occasion, it coincided with both a supermoon and the spring equinox.
So it was that, in 2015 after negotiating hurricane force 12 winds on our way to reach the area closest to the greatest eclipse and greatest duration, now that the big day had finally arrived, I drew back the curtains at 6 a.m. in great anticipation and ventured excitedly outside.
My heart sank to find leaden, heavily overcast skies where we were hoping for cloudless blue. Instead, we had snow. With little under two-and-a-half hours to go before "first contact," the very special moment when the moon begins its passage over the face of the sun, all we could do was hope that we might be lucky and that something miraculous would happen. I asked the clouds to kindly go away and retreated inside for a cup of steaming hot coffee as I wished for the skies to clear, deciding that a positive mindset was the only order of the day: I truly believed it was possible.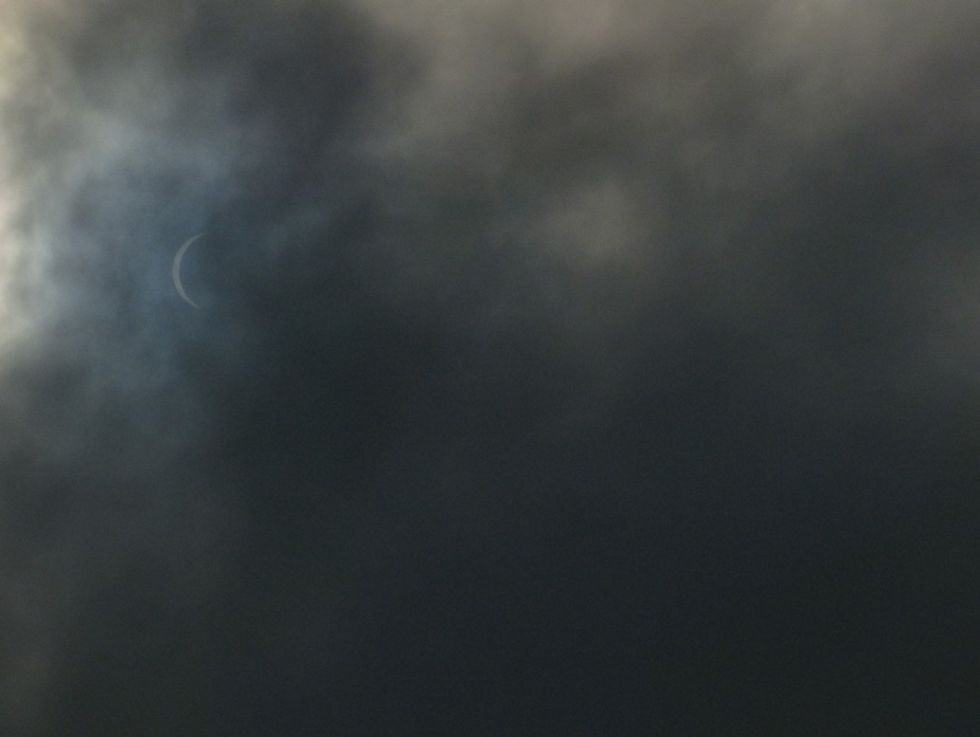 An hour later, it became apparent that dreams really can come true. I could see a slight thinning of the clouds -- things were definitely looking up!
Sure enough, as the first moment of "contact" between moon and sun arrived, the clouds had thinned sufficiently for us to see this long-awaited, momentous event. There it was: a small crescent of the mighty sun disappearing as the relatively tiny moon arrived right on time to begin blotting out its fiery counterpart, seemingly nibbling away at the sun's surface second by second, almost imperceptibly.
As the eclipse progressed over the course of the next hour, we were overjoyed to see the clouds becoming ever thinner. Noticing a large patch of blue sky a little way off, I felt curiously confident that, with gentle winds now blowing in the right direction, this cloud-free spot could actually coincide with the moment we were waiting for... and indeed it did. With the moon moving farther and farther over the face of the sun, the temperature started to fall. By now, the penumbra (the dimmer shadow of the moon cast by the many points of the sun) was very apparent. The penumbra is experienced to some degree in all places that see the partial eclipse. It was as if twilight was falling at 9:30 a.m. Magical.
Those leaden skies of the early morning had almost gone, and the last sliver of sun was clearly visible, a tiny crescent of light: an amazing vision in itself, but what came next was just breathtaking.
I could hardly believe it: The eclipsing sun was now seen in a patch of clear, blue sky. After earlier fears that this marvel of astronomy - so anticipated for many, many months, even years - would be hidden by thick clouds, we watched almost with our breath held as the moon made its final progression over the face of the sun. First, the beautiful "diamond ring" as the last visible rays of sun shone between the deep ridges and valleys of the moon's surface (Baily's beads), then ... totality! The moon eclipsed the sun completely. The only sound was a spontaneous, collective gasp of wonder from everyone gathered there.
In an instant, we were plunged into nighttime as the moon's actual shadow, the umbra, passed directly overhead and all light from the sun was obscured. Now it was possible to take off the protective glasses needed during the partial eclipse and observe features of the sun it is not possible to see with the naked eye.
Around the circumference of the moon, the sun's searing chromosphere could be seen, blazing prominences firing from its surface. Totally lost in the moment, this sight was so magnificent, I felt entirely overwhelmed by its beauty and tears of joy flowed uncontrollably down my face.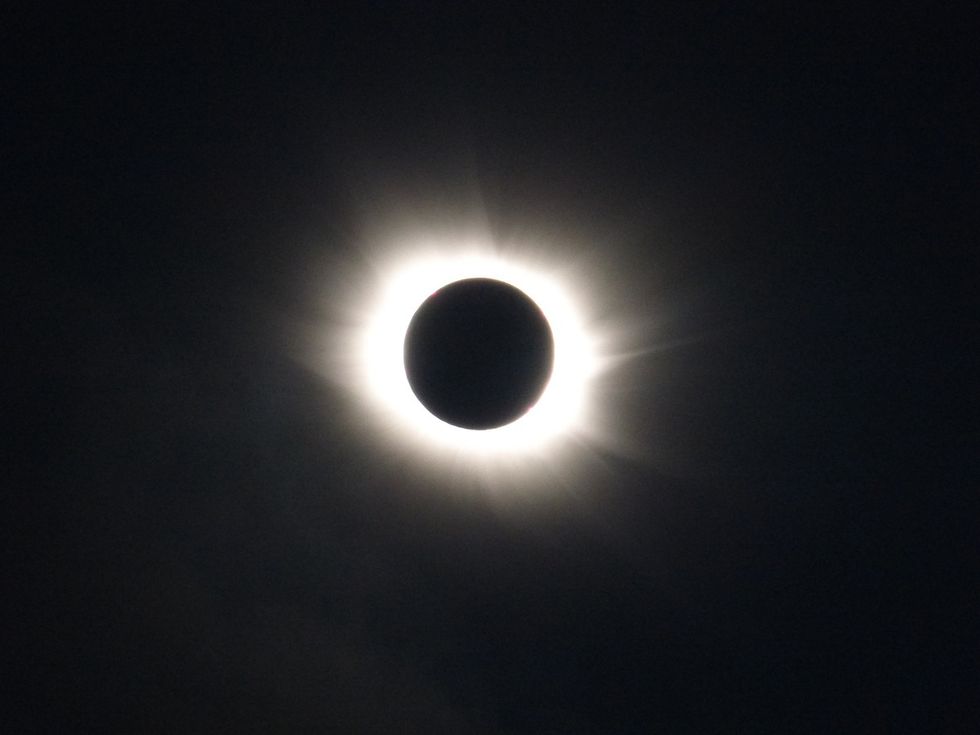 The sun's corona could be seen streaming away from the surface of the sun (as seen in my photo) extending thousands of miles above the surface of the star. It's been determined that the corona can reach super-heated temperatures greater than 1,000,000°C (1,800,000°F).
In the darkness of daytime, stars and planets appeared, the temperature plummeted and it was impossible not to feel deeply thankful at that moment for the light and warmth that the sun provides us day in and day out with no expectation of gratitude. For a while, time seemed to stand still as we stared in wonder at the incredible scene playing out before us. Sadly, after a glorious two minutes and 46 seconds, it was time for the planet to move on.
For a while, it was possible to observe the moon progressing away. Seeing the planet quietly moving on was a little like waving off an old friend after a long-anticipated, particularly joyful reunion, and I couldn't help but feel rather sad that the moment was now over.
Curiously at this point the clouds returned and began in wisps to hide the diminishing eclipse from view. Before long, they had covered it and we were left with only thoughts and memories of a most majestic and unforgettable event.
From the sublime to the ridiculous, with nothing else to see, I headed off to get a celebratory and warming cup of mulled wine and a couple of sausage and bacon sandwiches. But then, whilst most people headed off to the warmth of the bar or to their cabin to grab a sneaky, mid-morning snooze before lunch, I felt unable to allow the moon to finish its eclipse without an audience. Just as I will sit in the cinema at the end of a film to watch the entire credits roll, I wanted to see this show through to the very end in gratitude to the moon for an awe-inspiring performance. Seemingly taking pity on my terrestrial pathos, the clouds offered me a parting gift and drew back to reveal the final moments of the eclipse as if in a final ovation. Back out on deck, leaning on the ship's rail, with the sea foaming noisily below as we headed toward our next destination and with the sun now gently warming my face, I stared up at those two celestial bodies - still partially aligned - for several minutes more until thick, grey clouds literally brought the curtain down on this wondrous show, and for the second time that day it began to snow. The chilly wind sent me scurrying back inside to contemplate the immensity of what I had witnessed. I wondered where the little moon was heading all alone. Two nights later I found out and I will share that with you soon.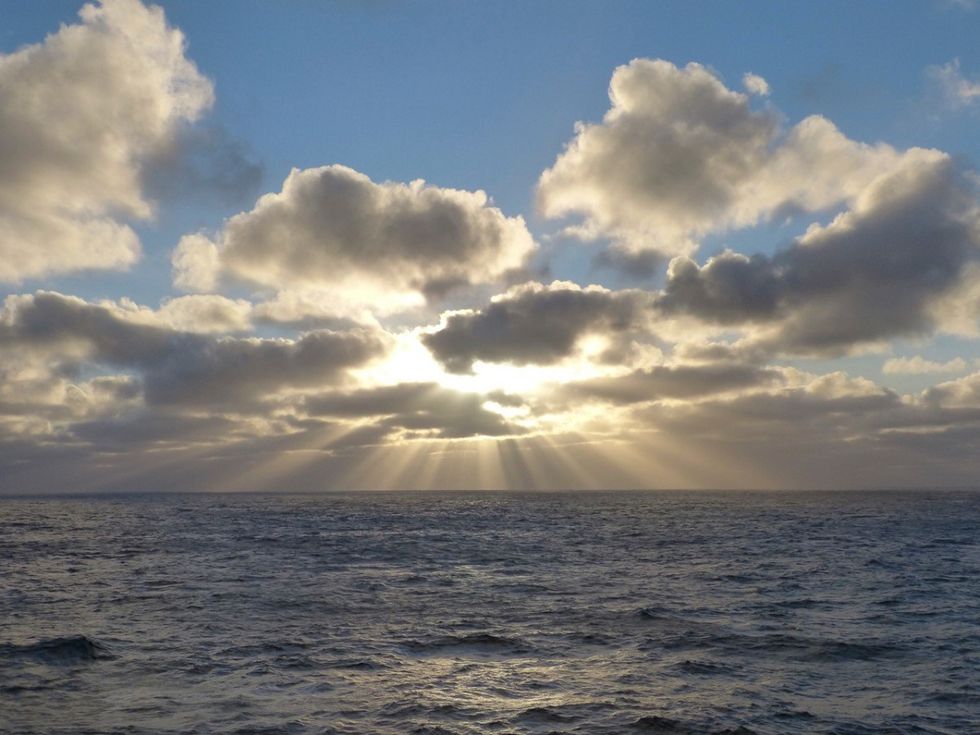 This most stunning spectacle left me in a state of disbelief, and for the remainder of the day I drifted around in a daze, unable to stop reflecting on what we had seen and our extreme good fortune that the weather had been so very favorable. This was due in no small part to the navigational expertise of our ship's captain under the guidance of our brilliant astronomer on board, Pete Lawrence, who had spent many evenings poring over weather projections for a small, remote zone close to the area of maximum totality/maximum duration where the weather was, naturally, largely unpredictable. Fortunately we had the advantage of being aboard a very powerful ship, so we were able to change our position overnight. Eclipse chasers, literally. It could easily have become an unsuccessful game of cat and mouse, but Pete's brilliant foresight took us to exactly where we needed to be and we are all indebted to his tireless efforts on our behalf.
Long after the event, I still find myself pondering on it. I had never imagined that I would be there in that remote place, at that time, to see the remarkable sight. How fortunate indeed I was. On a much greater scale, the knowledge that in years to come this simply won't be possible makes me very philosophical. We do not notice it, but the moon is actually moving away from earth at a rate of almost four centimeters per year, meaning that at some time in the future, total solar eclipses as seen from our earth will cease to be. The perfect alignment of planet and star will still occur, but the relative size of the moon will be too small when seen from the earth to cover the face of the sun in its entirety and only an annular eclipse will be seen, a ring of light around the moon. But don't worry, you still have plenty of opportunity to seek out a total solar eclipse, as this won't happen for approximately 563 million years from now.
We live in times that are more fortunate than we know. Above us, the planets' infinite orbital course continues uninterrupted. The sun and the moon don't even know how special they are, they just do what they have always done. After the glorious eclipse of March 2015, I returned to terra firma, literally and metaphorically (well, almost). Back home, the usual routine resumed for me, too, but I found myself somehow changed by the experience. For whilst the timing and occurrence of the eclipse was a certainty, having traveled to the middle of the ocean and with the best will in the world, there was no guarantee that we would actually see it. But see it we did, and it was (believe it or not, in spite of my ramblings) beautiful beyond words and something I would recommend anyone to try to see once in a lifetime.
Just as I put all my trust in the simple belief that it could indeed be possible for this eclipse to manifest itself to me, I approach the future with the same optimism. If I dare to venture into those places to which my mind guides and tempts me, be they actual locations or ideas in my imagination, why should I not believe that wonderful things can happen there? I just need to go, see, do and believe. With that in mind, I'll share with you a passage by W.H.Murray from "The Scottish Himalayan Expedition, 1951" that sums up precisely how I am left feeling by this moment:
"We had definitely committed ourselves and were halfway out of our ruts. We had put down our passage money, booked a sailing to Bombay. This may sound too simple, but is great in consequence. Until one is committed, there is hesitancy, the chance to draw back, always ineffectiveness.
"Concerning all acts of initiative (and creation) there is one elementary truth the ignorance of which kills countless ideas and splendid plans: that the moment one definitely commits oneself, then providence moves too. A whole stream of events issues from the decision, raising in one's favour all manner of unforeseen incidents, meetings and material assistance, which no man could have dreamt would have come his way." In common, contemporary parlance, "Just do it."
I feel so very fortunate that my chosen career with United affords me endless opportunity for discovery and a constant wellspring of inspiration in the form of the people I meet in the course of my everyday work, both colleagues and customers. It has been almost a quarter of a century since I began flying, and in that time I have been taken to adventures I never imagined. My life changed forever that day I first put on my uniform, and whilst I am no longer able to physically fit into it, I carry with me always the magic it bestowed on me, opening my eyes to potential far beyond my view. All I have to do is reach out my arms and take flight.
Our Marketing Inflight Entertainment and Connectivity team and Bridge, our Business Resource Group (BRG) for people with all abilities, partnered together to test and provide feedback on our award-winning seatback inflight entertainment (IFE) system.
Aptly named "Entertainment for all," our new seatback IFE system offers the an extensive suite of accessibility features, allowing for unassisted use by people of all visual, hearing, mobility and language abilities.
"It's nice to know that I can get on a plane and pick my favorite entertainment to enjoy, just like every customer," said Accessibility Senior Analyst and Developer and Bridge Chief of Staff Ray C., who is blind.
"As a deaf employee, the closed captioning availability on board our aircraft is something I value greatly," added Information Technology Analyst Greg O. "The new IFE further cements United's visibility within the deaf community and elsewhere. It makes me proud to be an employee."
Accessibility features of the new IFE include a text-to-speech option, explore by touch, customizable text size, screen magnification, color correction and inversion modes, and alternative navigation options for those unable to swipe or use a handset. For hearing-impaired and non-English-speaking passengers, customization options provide the ability for customers to be served content and receive inflight notifications based on their preferences and settings —with closed captions, with subtitles or in the language of their choice from the 15 languages supported. Our "Entertainment for all" system won the Crystal Cabin Award in 2019, and recently, the Dr. Margaret Pfanstiehl Research and Development Award for Audio Description by the American Council of the Blind.
"This really showed the benefits of partnering with BRGs in helping us improve products and services for our customers and employees," said Inflight Entertainment and Connectivity Senior Manager Corinne S. "Even though we have been recognized with awards for our IFE accessibility features, we are not resting on our laurels but continuing to work towards improving the inflight entertainment experience for all of our customers to ensure entertainment is available for all."
If your travels have taken you through Chicago O'Hare International Airport anytime since October 2019, you may have had a friendly, caring and jovial exchange with Daniel Smrokowski. Daniel is one of four Service Ambassadors thanks to our ongoing partnership with Special Olympics. This inaugural ambassador program aims to provide Special Olympic athletes employment opportunities within our operation, affording them a unique and meaningful career.
Since 2018, our partnership with Special Olympics has become one of United's most cherished relationships, going beyond the events we take part in and volunteer with. While the plane pull competitions, polar plunges, duck derbies and Special Olympics World Games and other events around the world are a big part of our involvement, the heart of this partnership lies with the athletes and individuals supported by Special Olympics. To advocate for their inclusion in every setting is one of our biggest honors, and we take great pride in the role we play in the organization's inclusion revolution.
Aiding in the success of Special Olympics' mission to create continuing opportunities for individuals with intellectual disabilities, throughout the two-year partnership, United has volunteered over 10,500 hours and donated over $1.2 million in travel to the organization. The impact of this partnership is felt at every level, both at Special Olympics and within our own ranks.
"The Inclusion Revolution campaign, led by our athletes, aims to end discrimination against people with intellectual disabilities. United Airlines has joined in our fight for inclusion, empowering our athletes with the skills needed to succeed and opportunities to contribute their abilities as leaders," said Special Olympics International Chairman Tim Shriver. "United Airlines believes that people with intellectual disabilities should be perceived as they really are: independent, world-class athletes, students, employees, neighbors, travelers, and leaders who contribute to make this world a better place."
Our Service Ambassador program is just one of the many ways Special Olympics has impacted not only our employees, but also our customers. "I see every day how our Service Ambassadors connect with our customers the moment they walk into the airport lobby," said Senior Customer Service Supervisor Steve Suchorabski. "They provide a warm, welcoming smile ad assist in any way they can. To see these young adults hold positions that a society once told them they couldn't is truly the most heartwarming part of my job," Steve continued.
"The opportunity to be a part of the United family means everything to me," Daniel said. "I feel so much pride showing up to work in a Special Olympics/United co-branded uniform, working among such a loving and supportive community. The relationship between these two organizations is truly helping to shape my future while letting me use my gifts of communicating and helping others. Hopefully, I can spend my entire career at United," Daniel added.
In honor of Special Olympics' Global Week of Inclusion in July, we're asking our employees, customers and partners to sign a pledge to #ChooseToInclude at jointherevolution.org/pledge.
And be sure to check out Daniel's podcast The Special Chronicles.

In collaboration with food-logistics company Commodity Forwarders Inc. (CFI), United moved nearly 190,000 pounds of fresh produce to Guam for the U.S. Department of Agriculture's Coronavirus Farm Assistance Program. This new program was created to provide critical support to consumers impacted by the COVID-19 global pandemic.
A variety of fresh fruits were transported from Los Angeles (LAX) to Guam (GUM) on United's newly introduced, non-stop cargo-only flight – a route added to meet cargo demand during the COVID-19 crisis. The fresh food was repacked in 10-pound cases in Los Angeles, prepared for departure at CFI's LAX location, and flown to GUM by the United team. Through this beneficial partnership between United and CFI, the perishable goods were kept cool during every step of the process and distributed as part of the food bank program in Guam.
"Everyone on our team has worked relentlessly during the pandemic to get critical goods to where they are needed most. Establishing a comprehensive network of cargo-only flights have allowed us to keep the supply chain moving even while passenger flight capacity has been reduced," said Regional Senior Manager of Cargo Sales, Marco Vezjak. "Knowing that we are able to help during these difficult times – in this case the Guam community – is our biggest reward and greatest motivation to keep moving forward."
United is proud to play a role in maintaining the global food supply chain and helping people access the supplies they need. Since March 19, United has operated over 4,000 cargo-only flights, moving over 130 million pounds of cargo.

Together, we are facing an unprecedented challenge. United Together, we rise to meet that challenge.
Learn more
United Airlines
united
While electrostatic sprayers are used to disinfect aircraft cabins, the switches & touch screen displays in our flight decks use a different approach. See how ultraviolet C (UVC) lighting is being used to kill viruses that may reside on these sensitive components.
United Airlines
united
A travel waiver is in effect for the East Coast due to Tropical Storm Isaias. If you're traveling 8/4 - 8/5, you can change your flight at no cost on our mobile app, by direct messaging us here or calling 1-800-864-8331. Waiver:
uafly.co/Z04CmP
United Airlines
united
We've issued a travel waiver for Charleston, Wilmington and Norfolk due to Hurricane Isaias. If you're traveling 8/3 - 8/4, you can change your flight at no cost on our mobile app, by direct messaging us or calling 1-800-864-8331. Waiver:
uafly.co/Z04CmP
United Airlines
united
Flights booked now through August 31 can be changed for free over the next 12 months to allow for additional flexibility. All existing travel can be changed without fees as well. See waiver for details:
uafly.co/2M9vgLC
We Are United
weareunited
We've rolled out "Easy Chat" as the Flight Info app on Link devices at DCA, IAD, LAX, ORD and DEN with EWR, IAH and SFO coming this summer. This program offers increased connectivity and transparency between the
#BeingUnited
frontline to keep flights moving and on-time.
We Are United
weareunited
Our digital servicing team has developed an automated assistant to make it easier for our customers to learn about what to expect the next time they fly. Text "Clean" to FLYUA (35982) to give it a try!
We Are United
weareunited
Three-year-old Luna Mei was all smiles on her flight home after 212 days in a San Francisco hospital, thanks to her SFO-based FAs (and undercover angels 👼) Pamela R., Sharon S., Sonja B. and Stacey G. The quartet kept spirits high by singing songs, clapping and playing games.
We Are United
weareunited
So long paper boarding passes, standby and upgrade travel are going touchless! If you've signed up for day-of-travel notifications, you'll now receive a text or email when your seat is assigned.
We Are United
weareunited
Our inaugural flight to Chicago from Toyko Haneda coincided with the annual Japanese celebration known as "Tanabata" or "Star Festival." The
#BeingUnited
team at HND placed their wishes on bamboo trees before the flight departed for ORD.
Watch our most popular videos
Flying UCSF Medical Workers to New York
This is why we fly.
20 UCSF Health workers, who voluntarily set aside their own lives to help save lives, are on their way to New York City.
We are humbled by your selfless sacrifice.
Thank you.
#UnitedTogether #UCSFHeroes
A happy, Hollywood ending
This is the story of Jason and Shantel. You see, Jason and Shantel love each other very much. They also love traveling and they love the classic Adam Sandler film, The Wedding Singer.
It all began when Jason reached out to United's social media team, hoping for assistance with his upcoming plan to propose. Some phone calls and one borrowed guitar later, the stage was set for Jason. Put all that together, mix in some helpful United employees and, voila, you have a truly memorable marriage proposal. Congratulations to this fun-loving and happy couple, and here's to many more years of making beautiful music together.
A big thank you to Chicago-based flight attendants Donna W., Marie M., Karen J. and Mark K. for making this proposal come to life.
Copyright © 2020 United Airlines, Inc.
All rights reserved.
Indicates an external site that may or may not meet accessibility guidelines.
Scroll to top
Scroll to top