How to spend 10 days in Southeast Asia
A veritable feast for the senses in every conceivable way, the 11 countries and 20,000 islands that comprise Southeast Asia offer a travel experience like no other. Whether you're an adventurous foodie looking to sample some of the most deliciously pungent flavors on Earth, a thrill-seeking globetrotter hoping to test your mettle in the region's dense tropical rainforests, or a leisure-loving sunbather in need of a pristine beach to enjoy, you'll find exactly what you're searching for – plus so much more – in this remarkable destination. Yet with such an endless variety of things to do, see and eat, planning your travel schedule ahead of time is essential. To maximize your vacation throughout Southeast Asia, here is a 10-day itinerary that will help you see more than you ever thought possible.
Days 1 & 2
Explore Bali's scenic temples and rice paddies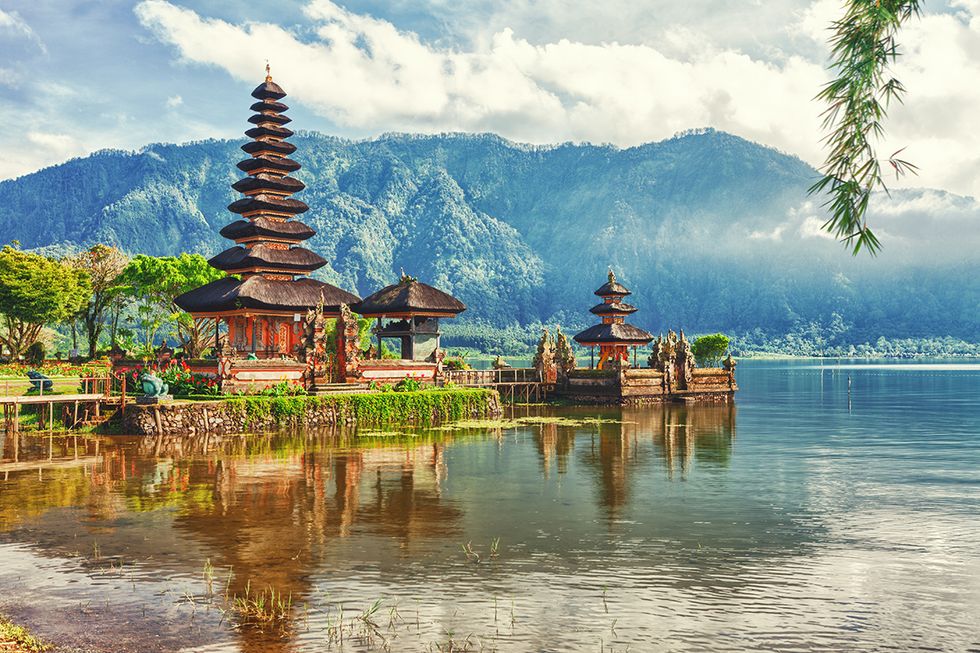 Begin your journey on the Indonesian island of Bali, which is the southernmost destination on your trip. Justifiably famous for its spectacular volcanic mountains, white sand beaches, and iconic rice paddies, Bali is the perfect place to acquaint yourself with the region. After checking in to one of the island's stylish hotels – like the Four Seasons Resort Bali at Sayan – you'll spend your first day exploring the area's many natural wonders. Although the street food in Bali is second to none, there are also dozens of highly rated restaurants to choose from, like the beach-side La Lucciola, which specializes in Asian food with an Italian twist, and MÉTIS, which is part restaurant, part art gallery. On your second day in Bali, it's time to check out a few must-see attractions, including the cliffside Uluwatu Temple, the Ubud Monkey Forest, and a visit to the archeological treasure known at the Elephant Cave.
Days 3 & 4
Get crazy in Singapore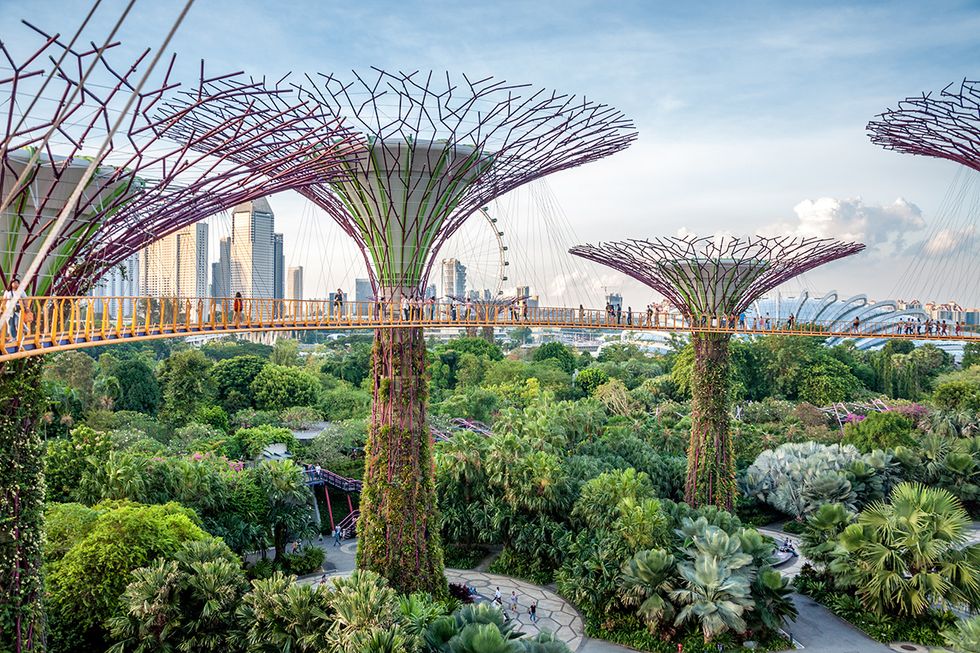 On the third day of your trip you'll head west towards southern Malaysia. Fans of the recent hit movie "Crazy Rich Asians" will definitely want to add the stunning island nation of Singapore to their Southeast Asia travel plans, since many of the most colorful scenes in the film were shot there. Arguably the most thrilling destination in the entire region, the only problem with visiting Singapore is trying to decide what to see, do and eat while you're there. The expert concierge at the historic Raffles Hotel will gladly point you in the right direction, but be sure to include the dazzling Marina Bay entertainment complex, the Clarke Quay riverside shopping and dining area, and the world's largest observation wheel – known as the Singapore Flyer – during your stay on the island.
Day 5
Return to the past on Penang Island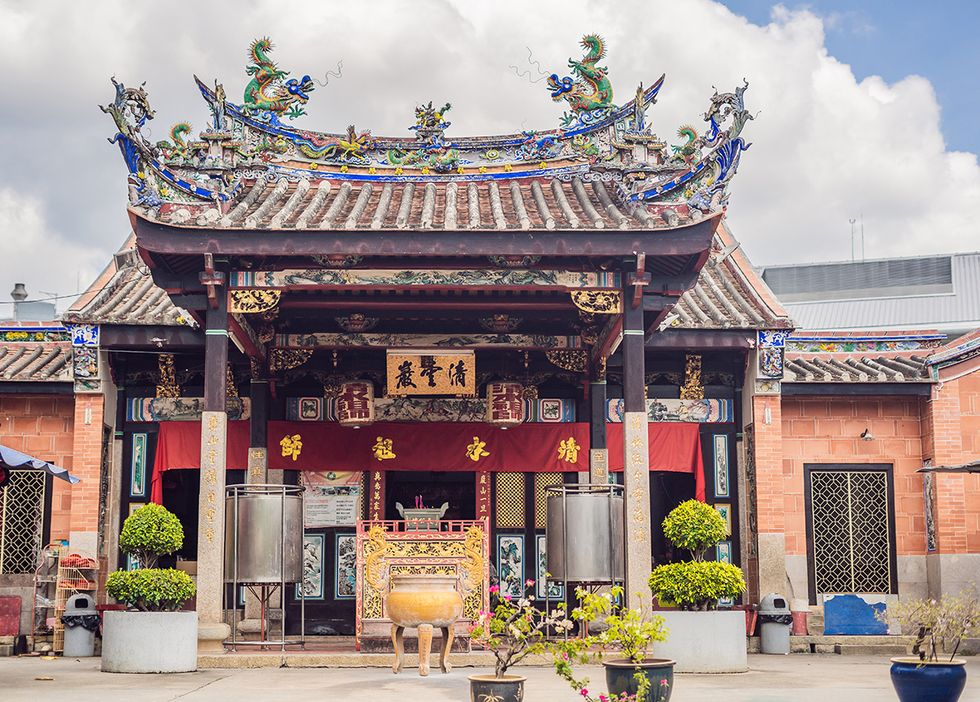 Temple of snakes with real snakes inside on the island of Penang, Malaysia
Next, you'll travel north to Penang Island, just off the Malay Peninsula, where you'll discover an enormous variety of cultural influences on display. This type of dynamic aesthetic mixture is a common feature throughout most of Malaysia, but especially in Penang, where amazing Indian restaurants abound and Chinese elements can be seen and felt across the entire region. Spend your day exploring the capital city of George Town, which is named after England's King George III. It's a multi-cultural destination famous for its historic British colonial architecture. Perhaps more importantly, it's also home to the one-of-a-kind Snake Temple, which proudly features a massive number of slithering pit vipers living in a sacred religious space.
Day 6
Shop the markets in Yangon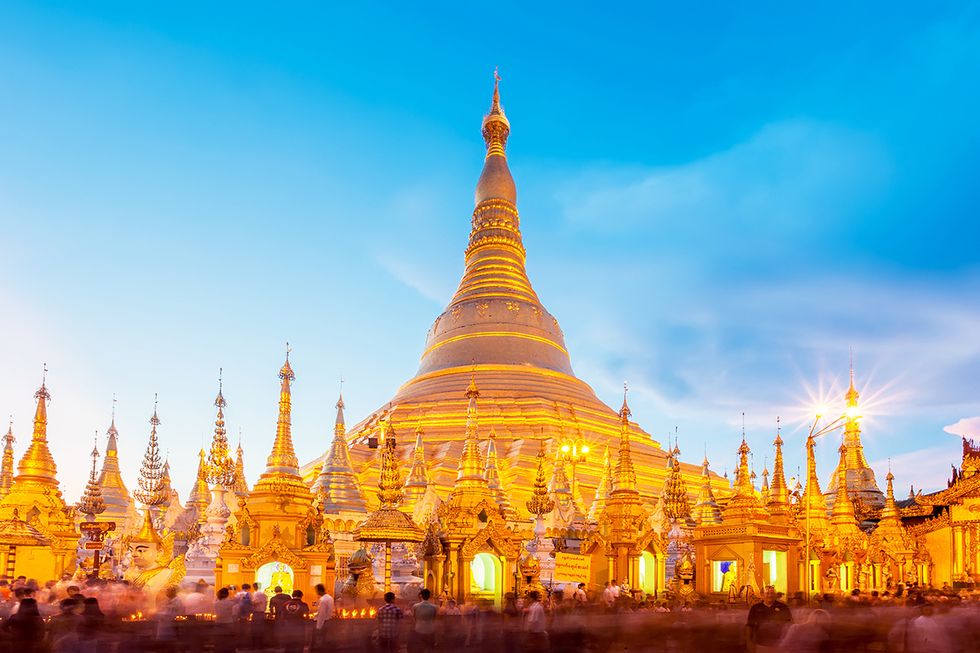 On the sixth day you'll head east to Yangon, which was formerly known as Rangoon. This capital city of Myanmar combines ancient cultural history with modern sophistication, making it the best of both worlds for virtually every type of traveler. Major attractions include the elaborate golden temple called Shwedagon Pagoda, the fascinating National Museum, the 2600-year old Sule Pagoda, which is incongruously nestled in the center of the modern downtown district, and the vibrant Bogyoke Aung San Market where visitors can sample deliciously distinctive Burmese foods while shopping for gorgeous handicrafts, clothing and artwork. If you're in the mood for 5-star luxury accommodations, the lavish Strand Hotel in Yangon is the ultimate place to stay while exploring this unique city.
Day 7
Say hello to Koh Samui's Big Buddha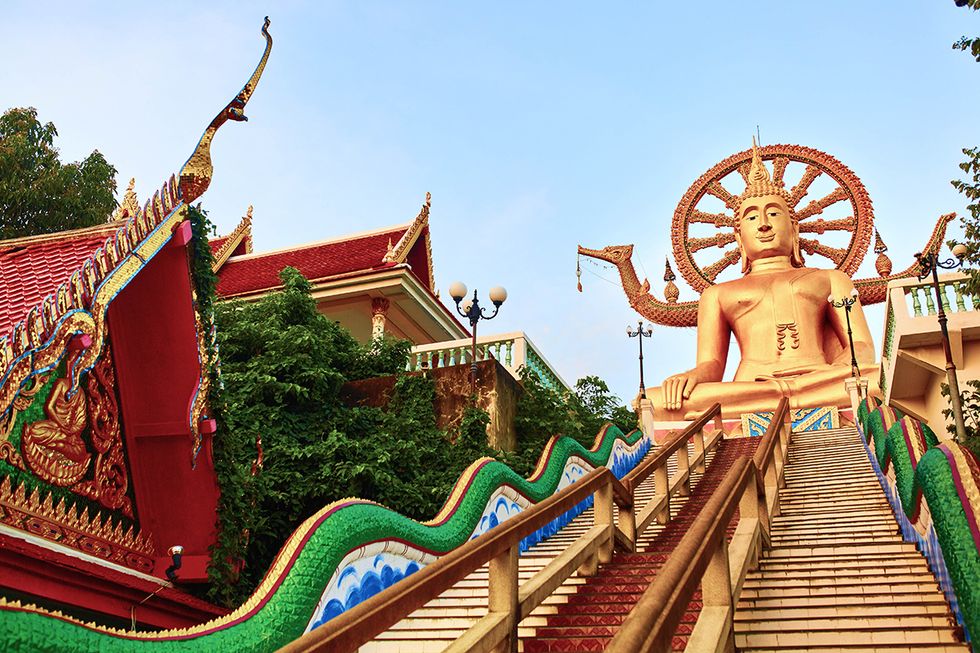 Heading back south again on day seven, you'll arrive at Koh Samui, which is the second largest island in Thailand. This is a solid choice for budget-minded travelers who want to experience all the natural beauty of Southeast Asia without spending a fortune. Instantly recognizable for its lush rainforests, palm-lined beaches, and endless coconut groves, Koh Samui also features a towering golden Buddha statue (nicknamed "The Big Buddha") that has to be seen to be believed. Hungry travelers who want to enjoy a romantic seafood meal directly on the beach at sunset should plan to visit Fisherman's Village in Old Town Samui. If the Thai temperatures get to be too much for you, head to the majestic Namuang Waterfall in Nathon, the island's capital, and take a quick dip in the rejuvenating waters.
Day 8
Relax with a swim on the Cambodian South Coast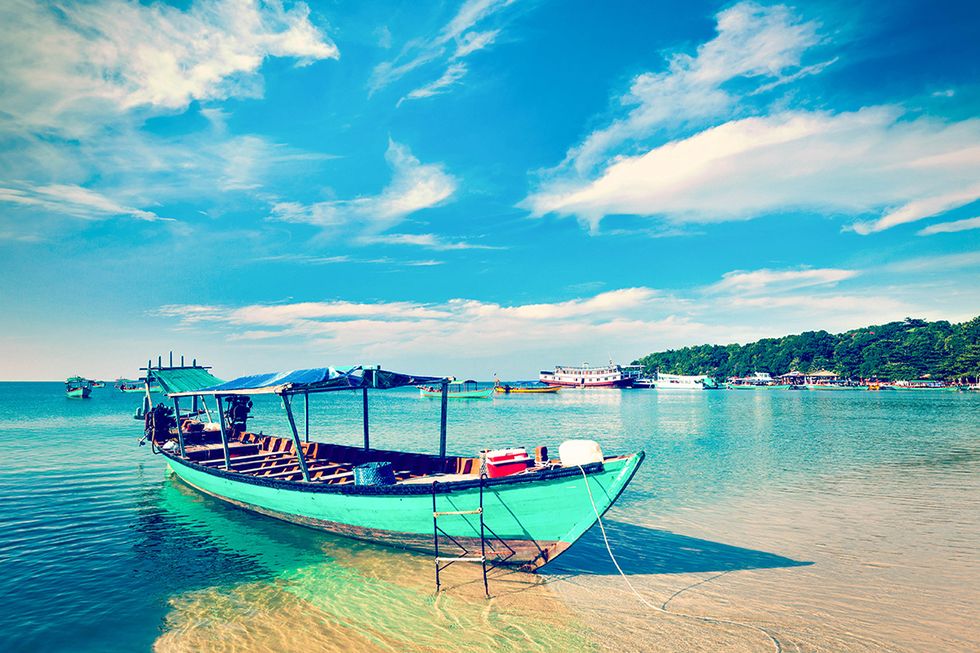 On the eighth day of your adventure you'll probably be ready for some swimming, snorkeling and relaxing, and the Cambodian South Coast is an ideal spot for these kinds of low-stress activities. This resort area has seen an influx of tourism lately thanks to foreign investors helping to re-develop it. Visitors can explore the banks of the Sanke River, admire the historic Old French architecture in the capital city of Kampot, or hike up to the ruins in the Bokor National Park. For some fun in the sun, the coastal city of Sihanoukville – often referred to as the Cambodian Riviera – offers several popular beaches to choose from. For lunch, the nearby town of Kep is the perfect place to go for incredible local seafood, especially their spicy blue crab dishes. And while you're there, be sure to take a short side-trip north to visit the astonishing Angkor Wat temple complex, which is one of the largest religious monuments in the world.
Days 9 & 10
Expand your horizons in Ho Chi Minh City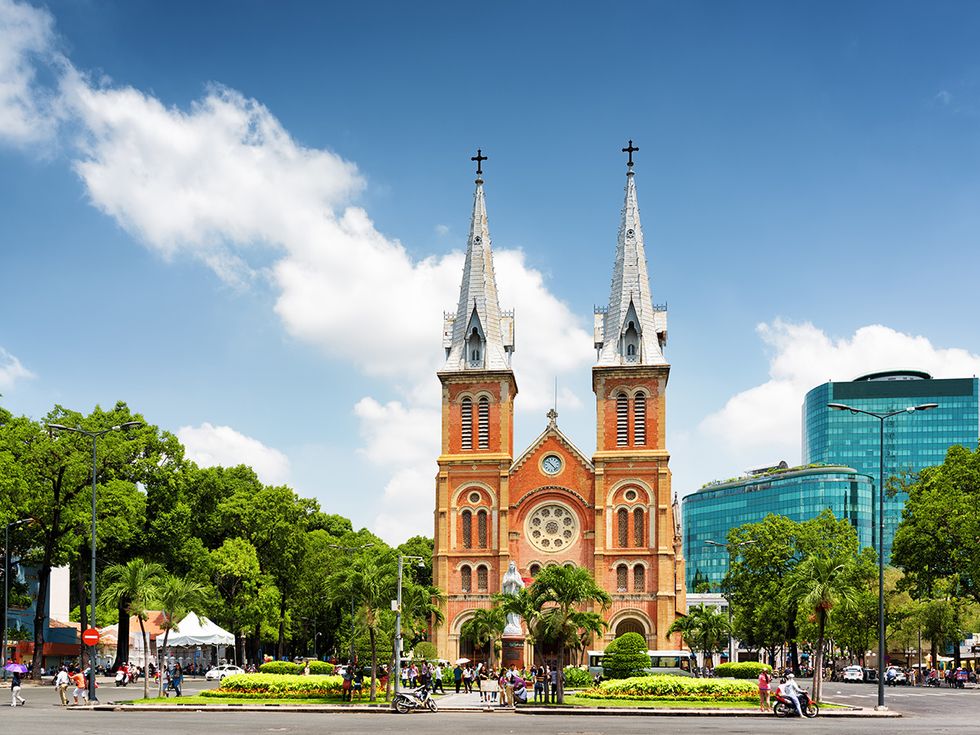 The final two days of your trip will be spent marveling at the unforgettable sights in and around Ho Chi Minh City, which is one of Vietnam's top attractions. This historic city – formerly known as Saigon – is the ultimate Southeast Asian melting pot. Offering everything from luxurious spas and 5-star hotels to delicious casual street food markets and world-class coffee houses, Ho Chi Minh City will present you with an overwhelming sensory experience that will change the way you see the world. In between mouthwatering meals, make plans to visit the Vietnam War Remnants Museum and the Saigon-Notre Dame Cathedral, both of which rank among the most popular destinations in the city.
Getting there
Whether you want to plan your Southeast Asian adventure for 10 days or less, United Airlines can get you there. Visit united.com, or try the United app on your smartphone, to book your trip.
We will continue building out our already expansive route network next year, adding flights to some attractive leisure destinations in the United States and the Caribbean.
Our hometown hub, Chicago O'Hare International Airport, will be the beneficiary of three of those new routes, which include Santa Barbara, California; Pasco, Washington; and Vail, Colorado. Rounding it out, United will add service from Denver to Nassau, Bahamas, and from Houston to Spokane, Washington. Tickets for all of these destinations are on sale now.
The Denver-Nassau route will begin on March 7, 2020, followed by Chicago-Santa Barbara, Chicago-Pasco, Chicago-Vail and Houston-Spokane on June 4. When that time comes, United will be the only airline offering nonstop service between Denver and Nassau and Chicago and Pasco.
All of these routes will open up a world of connection possibilities for customers living in each market. They'll also be scheduled to give flyers optimal arrival and departure time options. For instance, a passenger going from Chicago to Santa Barbara will have a flight option that departs O'Hare at 7:45 p.m. local time, arriving at Santa Barbara Airport at 10:30 p.m. That's ideal for business travelers.
"We want to offer customers the very best schedule, the best network and the most flight options in the industry," said Ankit Gupta, United's vice president of Domestic Network Planning.
The Boeing 737-800 aircraft will serve the Denver-Nassau route. Passengers going from Chicago to Santa Barbara and from Chicago to Vail will fly on the 737-700. United's 76-seat Embraer 175 aircraft, equipped with United First, Economy Plus and United Economy class seats, will operate on the Chicago-Pasco and Houston-Spokane routes.
You'll find flight times and additional details in the grid below. For more information and to book your tickets, visit
united.com
or download the United mobile app.
Depart

Arrive

Frequency

Duration

Chicago (ORD)

7:45 p.m.

Santa Barbara (SBA)

10:30 p.m.

Daily

Year-round

SBA

11:20 p.m.

ORD

5:20 a.m.

Daily

Year-round

ORD

8:00 p.m.

Pasco (PSC)

10:24 p.m.

Daily

Year-round

PSC

11:38 p.m.

ORD

5:20 a.m.

Daily

Year-round

ORD

4:00 p.m.

Vail/Eagle (EGE)

5:54 p.m.

Daily

Summer seasonal

(June 4 through September 6, 2020)

EGE

9:00 a.m.




ORD

12:45 p.m.

Daily

Summer seasonal

(June 4 through September 7, 2020)

Denver (DEN)

9:56 a.m.

Nassau (NAS)

4:00 p.m.

Once a week on Saturdays

Year-round

(with a break from mid-August through late-October)

NAS

11:37 a.m.

DEN

2:43 p.m.

Once a week on Saturdays

Year-round

(with a break from mid-August through late-October)

Houston (IAH)

9:32 p.m.

Spokane (GEG)

11:32 p.m.

Daily

Summer seasonal

(June 4 through August 17, 2020)

GEG

11:55 p.m.

IAH

6:17 a.m.

Daily

Summer seasonal

(June 4 through August 17, 2020)
Right now, around the world, brave members of America's armed forces are on duty, defending our freedom and upholding our values.
When not laser-focused on the mission at hand, they're looking forward to the day when their service to our nation is fulfilled and they can reunite with their families.
They are also imagining how they can use their hard-earned skills to build an exciting, rewarding and important career when they return home.
I want them to look no further than United Airlines.
That's why we are focused on recruiting, developing and championing veterans across our company, demonstrating to our returning women and men in uniform that United is the best possible place for them to put their training, knowledge, discipline and character to the noblest use.
They've developed their knowledge and skills in some of the worst of times. We hope they will use those skills to keep United performing at our best, all of the time.
That's why we are accelerating our efforts to onboard the best and the brightest, and substantially increasing our overall recruitment numbers each year.
We recently launched a new sponsorship program to support onboarding veterans into United and a new care package program to support deployed employees. It's one more reason why United continues to rank high - and rise higher - as a top workplace for veterans. In fact, we jumped 21 spots this year on Indeed.com's list of the top U.S workplaces for veterans. This is a testament to our increased recruiting efforts, as well as our efforts to create a culture where veterans feel valued and supported.
We use the special reach and resources of our global operations to partner with outstanding organizations. This is our way of stepping up and going the extra mile for all those who've stepped forward to answer our nation's call.
We do this year-round, and the month of November is no exception; however, it is exceptional, especially as we mark Veterans Day.
As we pay tribute to all Americans who have served in uniform and carried our flag into battle throughout our history, let's also keep our thoughts with the women and men who are serving around the world, now. They belong to a generation of post-9/11 veterans who've taken part in the longest sustained period of conflict in our history.

Never has so much been asked by so many of so few.... for so long. These heroes represent every color and creed. They are drawn from across the country and many immigrated to our shores.

They then freely choose to serve in the most distant and dangerous regions of the world, to protect democracy in its moments of maximum danger.
Wherever they serve - however they serve - whether they put on a uniform each day, or serve in ways which may never be fully known, these Americans wake up each morning willing to offer the "last full measure of devotion" on our behalf.
Every time they do so, they provide a stunning rebuke to the kinds of voices around the world who doubt freedom and democracy's ability to defend itself.
Unfortunately, we know there are those who seem to not understand – or say they do not - what it is that inspires a free people to step forward, willing to lay down their lives so that their country and fellow citizens might live.
But, we – who are both the wards and stewards of the democracy which has been preserved and handed down to us by veterans throughout our history – do understand.
We know that inciting fear and hatred of others is a source of weakness, not strength. And such divisive rhetoric can never inspire solidarity or sacrifice like love for others and love of country can.
It is this quality of devotion that we most honor in our veterans - those who have served, do serve and will serve.
On behalf of a grateful family of 96,000, thank you for your service.
Humbly,
Oscar
Each year around Veterans Day, Indeed, one of the world's largest job search engines, rates companies based on actual employee reviews to identify which ones offer the best opportunities and benefits for current and former U.S. military members. Our dramatic improvement in the rankings this year reflects a stronger commitment than ever before to actively recruiting, developing and nurturing veteran talent.
"We've spent a lot of time over the past 12 months looking for ways to better connect with our employees who served and attract new employees from the military ranks," said Global Catering Operations and Logistics Managing Director Ryan Melby, a U.S. Army veteran and the president of our United for Veterans business resource group.
"Our group is launching a mentorship program, for instance, where we'll assign existing employee-veterans to work with new hires who come to us from the armed forces. Having a friend and an ally like that, someone who can help you translate the skills you picked up in the military to what we do as a civilian company, is invaluable. That initiative is still in its infancy, but I'm really optimistic about what it can do for United and for our veteran population here."
Impressively, we were the only one of our industry peers to move up on the list, further evidence that we're on a good track as a company.
Scroll to top