How to spend 10 days in Southeast Asia
A veritable feast for the senses in every conceivable way, the 11 countries and 20,000 islands that comprise Southeast Asia offer a travel experience like no other. Whether you're an adventurous foodie looking to sample some of the most deliciously pungent flavors on Earth, a thrill-seeking globetrotter hoping to test your mettle in the region's dense tropical rainforests, or a leisure-loving sunbather in need of a pristine beach to enjoy, you'll find exactly what you're searching for – plus so much more – in this remarkable destination. Yet with such an endless variety of things to do, see and eat, planning your travel schedule ahead of time is essential. To maximize your vacation throughout Southeast Asia, here is a 10-day itinerary that will help you see more than you ever thought possible.
Days 1 & 2
Explore Bali's scenic temples and rice paddies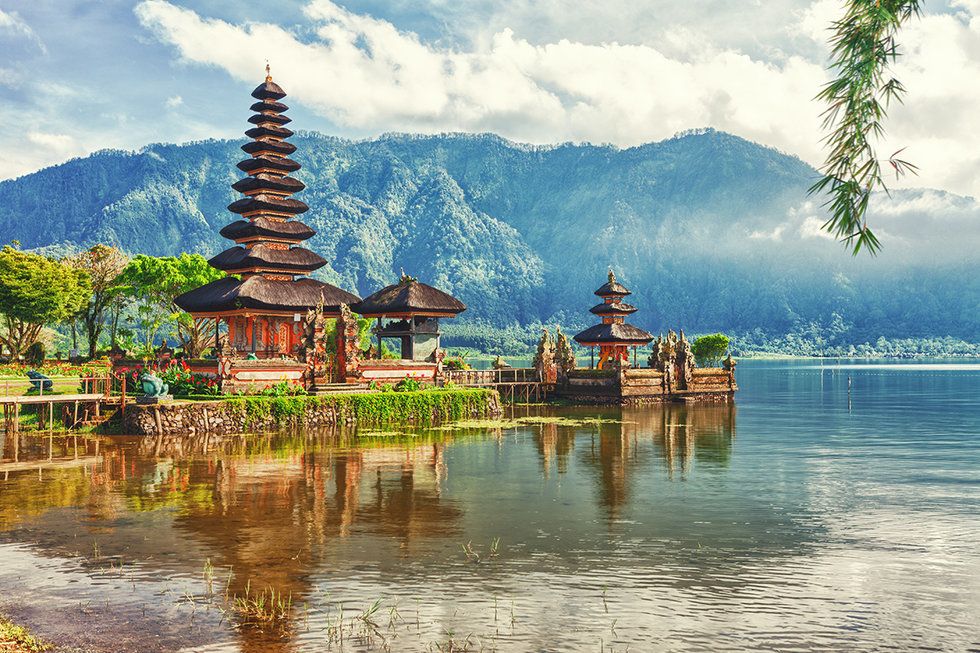 Begin your journey on the Indonesian island of Bali, which is the southernmost destination on your trip. Justifiably famous for its spectacular volcanic mountains, white sand beaches, and iconic rice paddies, Bali is the perfect place to acquaint yourself with the region. After checking in to one of the island's stylish hotels – like the Four Seasons Resort Bali at Sayan – you'll spend your first day exploring the area's many natural wonders. Although the street food in Bali is second to none, there are also dozens of highly rated restaurants to choose from, like the beach-side La Lucciola, which specializes in Asian food with an Italian twist, and MÉTIS, which is part restaurant, part art gallery. On your second day in Bali, it's time to check out a few must-see attractions, including the cliffside Uluwatu Temple, the Ubud Monkey Forest, and a visit to the archeological treasure known at the Elephant Cave.
Days 3 & 4
Get crazy in Singapore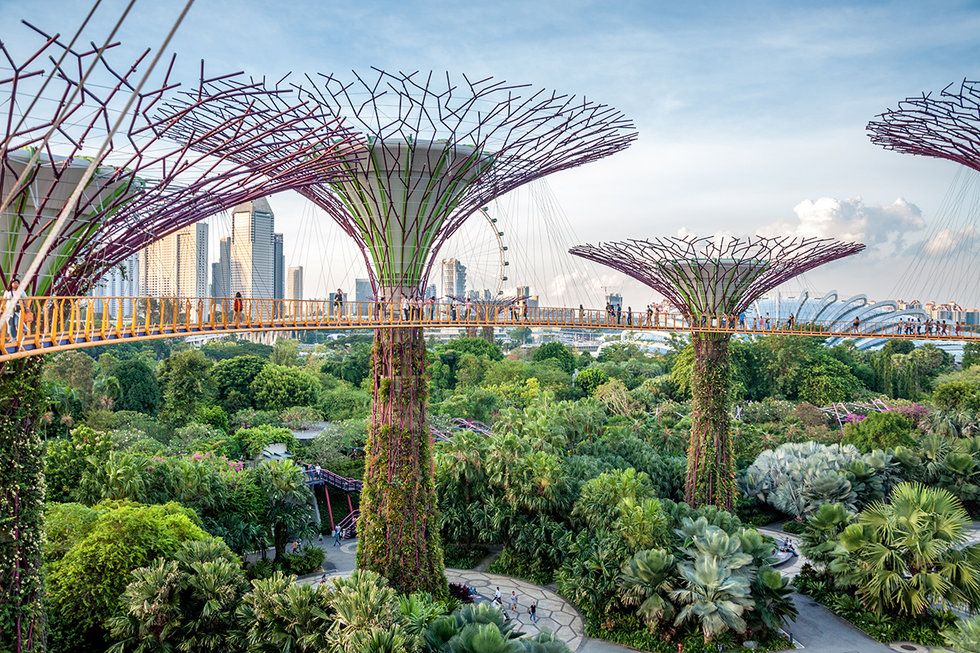 On the third day of your trip you'll head west towards southern Malaysia. Fans of the recent hit movie "Crazy Rich Asians" will definitely want to add the stunning island nation of Singapore to their Southeast Asia travel plans, since many of the most colorful scenes in the film were shot there. Arguably the most thrilling destination in the entire region, the only problem with visiting Singapore is trying to decide what to see, do and eat while you're there. The expert concierge at the historic Raffles Hotel will gladly point you in the right direction, but be sure to include the dazzling Marina Bay entertainment complex, the Clarke Quay riverside shopping and dining area, and the world's largest observation wheel – known as the Singapore Flyer – during your stay on the island.
Day 5
Return to the past on Penang Island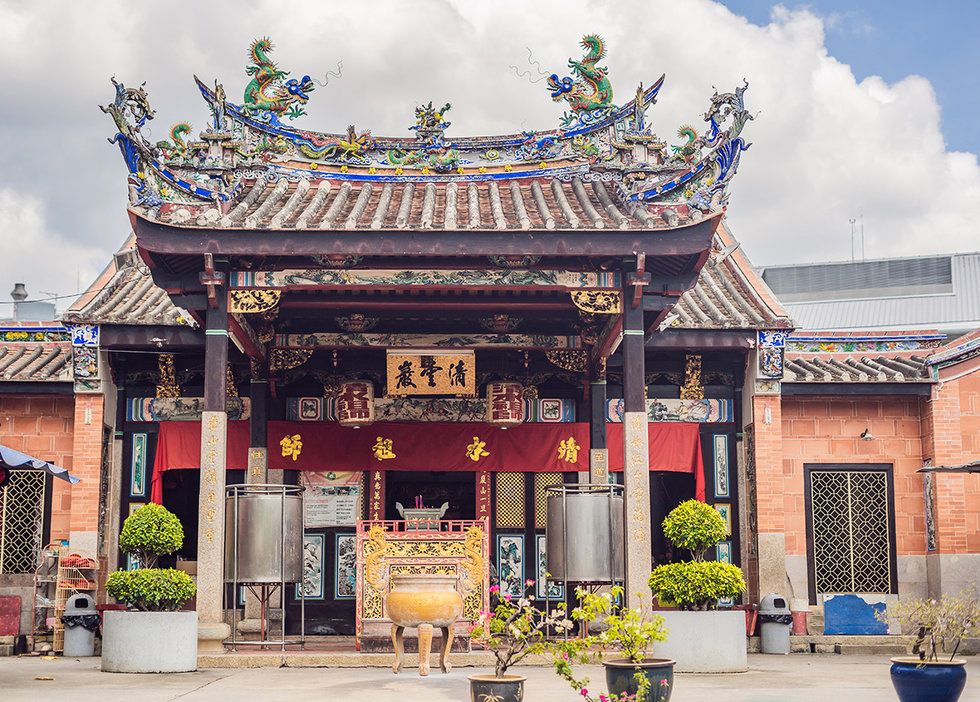 Temple of snakes with real snakes inside on the island of Penang, Malaysia
Next, you'll travel north to Penang Island, just off the Malay Peninsula, where you'll discover an enormous variety of cultural influences on display. This type of dynamic aesthetic mixture is a common feature throughout most of Malaysia, but especially in Penang, where amazing Indian restaurants abound and Chinese elements can be seen and felt across the entire region. Spend your day exploring the capital city of George Town, which is named after England's King George III. It's a multi-cultural destination famous for its historic British colonial architecture. Perhaps more importantly, it's also home to the one-of-a-kind Snake Temple, which proudly features a massive number of slithering pit vipers living in a sacred religious space.
Day 6
Shop the markets in Yangon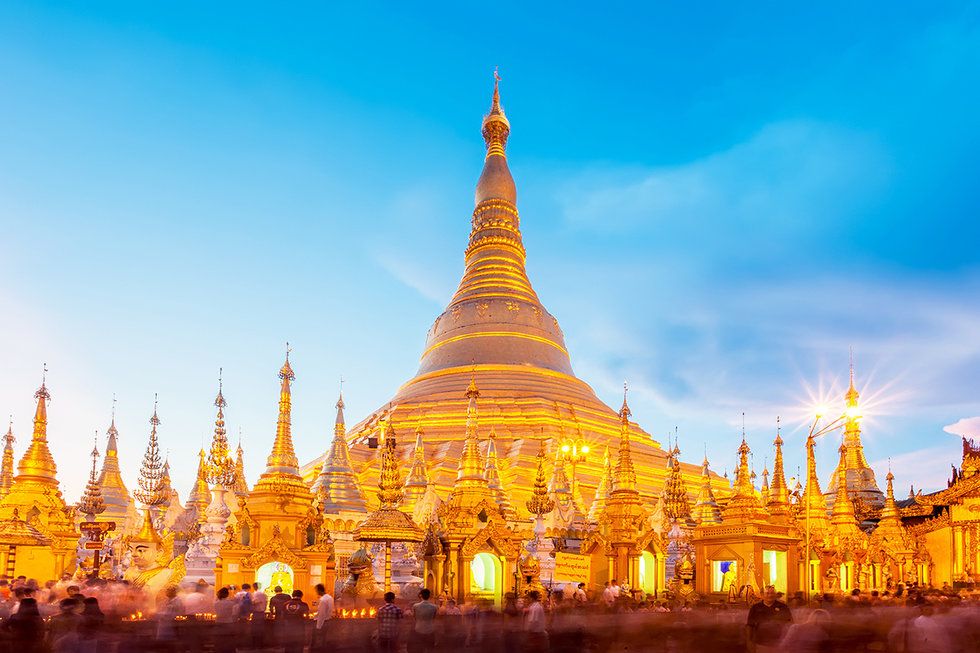 On the sixth day you'll head east to Yangon, which was formerly known as Rangoon. This capital city of Myanmar combines ancient cultural history with modern sophistication, making it the best of both worlds for virtually every type of traveler. Major attractions include the elaborate golden temple called Shwedagon Pagoda, the fascinating National Museum, the 2600-year old Sule Pagoda, which is incongruously nestled in the center of the modern downtown district, and the vibrant Bogyoke Aung San Market where visitors can sample deliciously distinctive Burmese foods while shopping for gorgeous handicrafts, clothing and artwork. If you're in the mood for 5-star luxury accommodations, the lavish Strand Hotel in Yangon is the ultimate place to stay while exploring this unique city.
Day 7
Say hello to Koh Samui's Big Buddha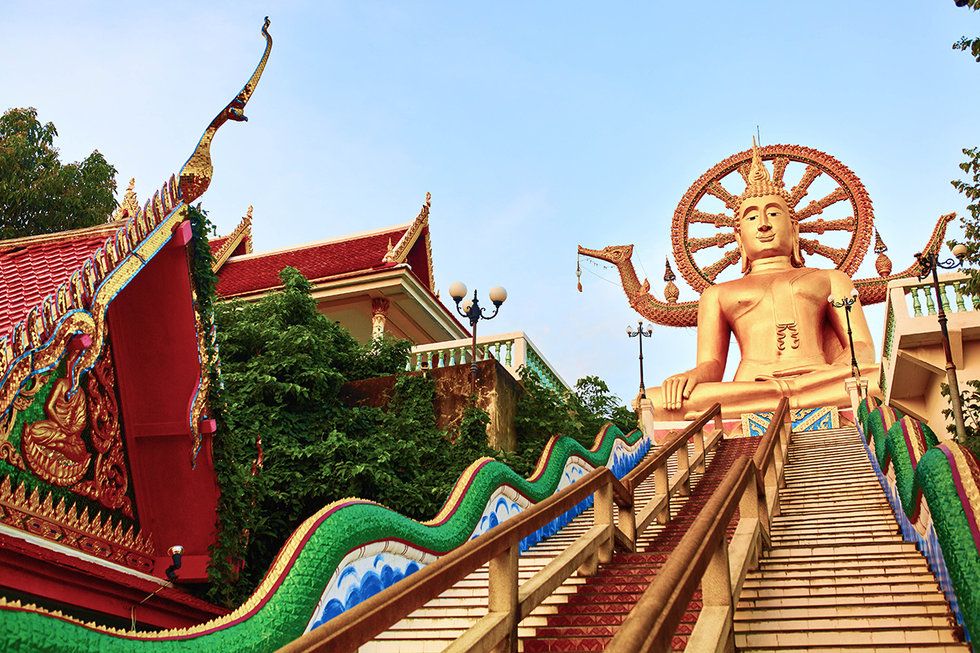 Heading back south again on day seven, you'll arrive at Koh Samui, which is the second largest island in Thailand. This is a solid choice for budget-minded travelers who want to experience all the natural beauty of Southeast Asia without spending a fortune. Instantly recognizable for its lush rainforests, palm-lined beaches, and endless coconut groves, Koh Samui also features a towering golden Buddha statue (nicknamed "The Big Buddha") that has to be seen to be believed. Hungry travelers who want to enjoy a romantic seafood meal directly on the beach at sunset should plan to visit Fisherman's Village in Old Town Samui. If the Thai temperatures get to be too much for you, head to the majestic Namuang Waterfall in Nathon, the island's capital, and take a quick dip in the rejuvenating waters.
Day 8
Relax with a swim on the Cambodian South Coast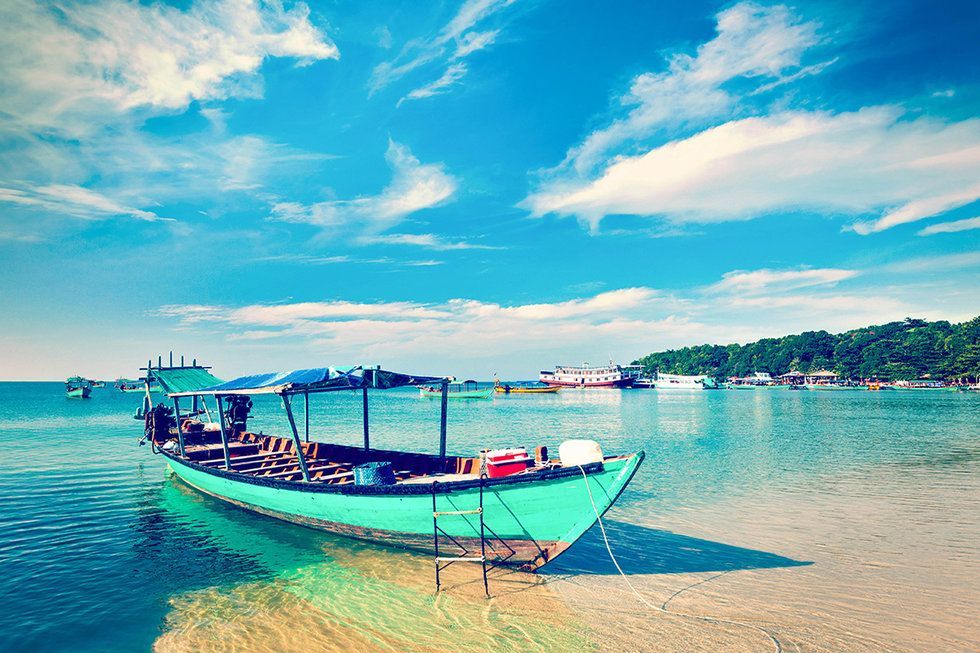 On the eighth day of your adventure you'll probably be ready for some swimming, snorkeling and relaxing, and the Cambodian South Coast is an ideal spot for these kinds of low-stress activities. This resort area has seen an influx of tourism lately thanks to foreign investors helping to re-develop it. Visitors can explore the banks of the Sanke River, admire the historic Old French architecture in the capital city of Kampot, or hike up to the ruins in the Bokor National Park. For some fun in the sun, the coastal city of Sihanoukville – often referred to as the Cambodian Riviera – offers several popular beaches to choose from. For lunch, the nearby town of Kep is the perfect place to go for incredible local seafood, especially their spicy blue crab dishes. And while you're there, be sure to take a short side-trip north to visit the astonishing Angkor Wat temple complex, which is one of the largest religious monuments in the world.
Days 9 & 10
Expand your horizons in Ho Chi Minh City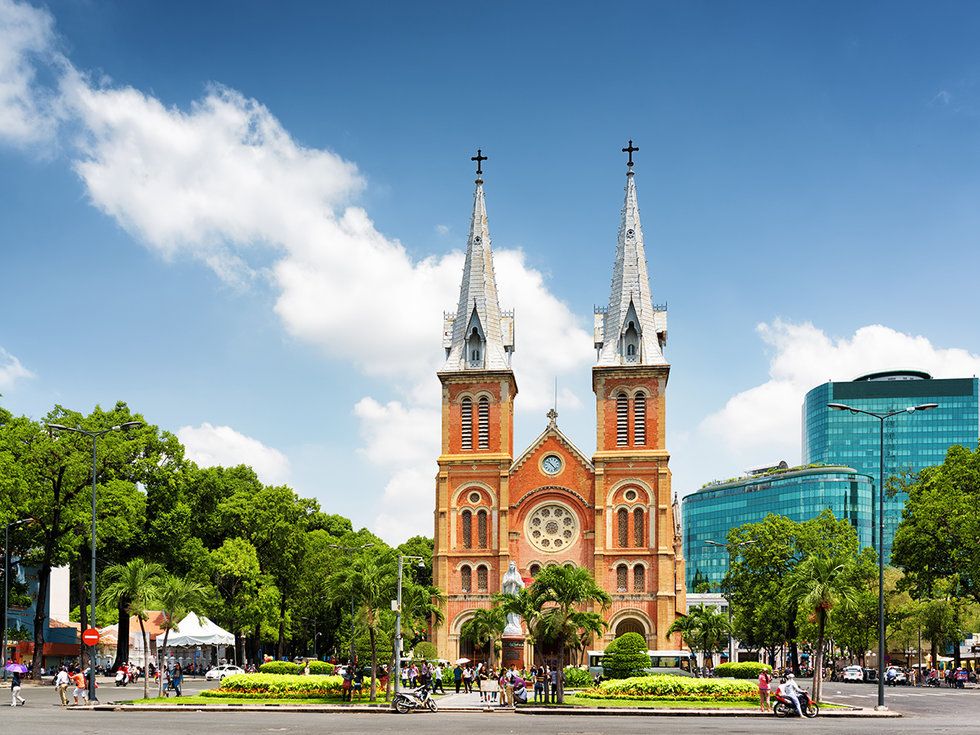 The final two days of your trip will be spent marveling at the unforgettable sights in and around Ho Chi Minh City, which is one of Vietnam's top attractions. This historic city – formerly known as Saigon – is the ultimate Southeast Asian melting pot. Offering everything from luxurious spas and 5-star hotels to delicious casual street food markets and world-class coffee houses, Ho Chi Minh City will present you with an overwhelming sensory experience that will change the way you see the world. In between mouthwatering meals, make plans to visit the Vietnam War Remnants Museum and the Saigon-Notre Dame Cathedral, both of which rank among the most popular destinations in the city.
Getting there
Whether you want to plan your Southeast Asian adventure for 10 days or less, United Airlines can get you there. Visit united.com, or try the United app on your smartphone, to book your trip.
If you can't get to Mars, what's the next best thing? Apparently Iceland. A team of renowned explorers and researchers recently journeyed to Iceland to test a Mars analog suit in a Martian-like environment.
The United sponsored expedition, led by The Explorers Club — an internationally recognized organization that promotes the scientific exploration of land, sea, air and space — and in partnership with Iceland Space Agency, involved the team venturing inside the Grímsvötn volcano and across the Vatnajökull ice cap. The group traveled to the remote location and lived for six days in the Grímsvötn Mountain Huts and endured harsh weather conditions and unstable terrain.
Helga Kristin Torfadöttir, Geologist and glacier guide, using the LiDAR system to map the ground and test the suit's capabilities on the glacier.
The objective of the mission was to explore the potential of concept operations at the Grímsvötn location while testing the suit in an arctic environment similar to what would be found on the surface of Mars. "This mission was an important test of the design of the MS1 suit, but it was also incredibly helpful to understand the how to conduct these sorts of studies in Iceland," said Michael Lye, MS1 designer and NASA consultant and RISD professor. "No matter how thoroughly something is tested in a controlled environment like a lab, studying it in a setting that accurately represents the environment where it will be used is absolutely essential to fully understand the design."
The suit was designed and constructed by faculty and students at the Rhode Island School of Design (RISD) with input and guidance from members of the HI-SEAS IV crew and NASA's Johnson Space Center Space Suit Engineering team. At 50-60 lbs, the suit is similar to what a planetary exploration suit would weigh in Martian gravity. The suit was originally designed to be used in the warm climate of Hawaii, however the martian climate is much closer to what would be found on top of the glaciers in Iceland. The data collected will inform the future of habitat and spacesuit design that can be used to train astronauts on Earth.
Today, we remember the colleagues, customers and every single victim of the terrorist attacks of Sept. 11, 2001.
I know each of us in the United family marks this difficult moment in our own way. Still, we all share a common commitment to honor how our brothers and sisters left us and also celebrate what they gave to us during their lives. We remember their professionalism and heroism. We cherish their camaraderie and friendship. We carry with us the examples they set forth, especially in the heroism and bravery displayed by so many on that terrible day. Above all, we understand a simple truth: While thousands of our fellow human beings lost their lives in New York City, Arlington and Shanksville, the attacks of September 11th were aimed at all people of peace and good will, everywhere. They were attacks on the values that make life worth living, as well as the shared purpose that make us proud of what we do as members of the United family: connecting people and uniting the world.
We may live in times scarred by discord and disagreement, and we know there are those around the world who seek to divide us against one another. But, on this day – above all – we come together, as one. We affirm our core belief that far, far more unites us as citizens and fellow human beings than can ever divide us.
Let us embody that belief as we go about serving our customers and one another – on this day and every day – as we continue to help building a world that's more united. Let that be our memorial to the sisters and brothers we lost, eighteen Septembers ago.
Humbly,
Oscar
A team of search and rescue experts from Empact Northwest departed Newark International Airport (EWR) this morning for Nassau (NSA), the capital of the Bahamas to help meet the pressing need for search and rescue services identified by Bahamian Prime Minister Hubert Minnis in the aftermath of Hurricane Dorian. The Empact Northwest team worked with Airlink, a rapid-response humanitarian relief organization that connects airlines with non-governmental organizations (NGOs), that respond quickly and efficiently in the wake of major disasters.
"We can't thank United enough for allowing us to jump out of the gate right away to aid people devastated by this storm," said Airlink Strategic Advisor Emily Sperling. "Search and rescue, medical care, temporary shelter, food and access to potable water are among the most immediate and pressing needs identified in the region. United's assistance is critical in ensuring that groups like Empact Northwest join others, including Mercy Corps, ADRA, and Heart to Heart International in fulfilling those most basic needs."
Airlink notes that our assistance enables two types of first responders to arrive quickly: those with specialized response capabilities like search and rescue, as well as assessment teams, who identify the most pressing needs and establish partnerships quickly to distribute supplies more efficiently once they are on the ground in country. Our partnership is felt long after the initial outreach after a disaster, too, according to Ms. Sperling. "After Irma and Maria hit the Caribbean in 2017, we received requests to transport relief workers a year or two later, to provide training and rebuilding assistance to help these communities develop future resilience," she said. The partnership also helps move responders into place to assist U.S. East Coast communities in the path of this tremendous storm.
You can join us in our disaster relief efforts by donating to our Crowdrise fundraising page here.

Scroll to top