How to spend 10 days in Southeast Asia
A veritable feast for the senses in every conceivable way, the 11 countries and 20,000 islands that comprise Southeast Asia offer a travel experience like no other. Whether you're an adventurous foodie looking to sample some of the most deliciously pungent flavors on Earth, a thrill-seeking globetrotter hoping to test your mettle in the region's dense tropical rainforests, or a leisure-loving sunbather in need of a pristine beach to enjoy, you'll find exactly what you're searching for – plus so much more – in this remarkable destination. Yet with such an endless variety of things to do, see and eat, planning your travel schedule ahead of time is essential. To maximize your vacation throughout Southeast Asia, here is a 10-day itinerary that will help you see more than you ever thought possible.
Days 1 & 2
Explore Bali's scenic temples and rice paddies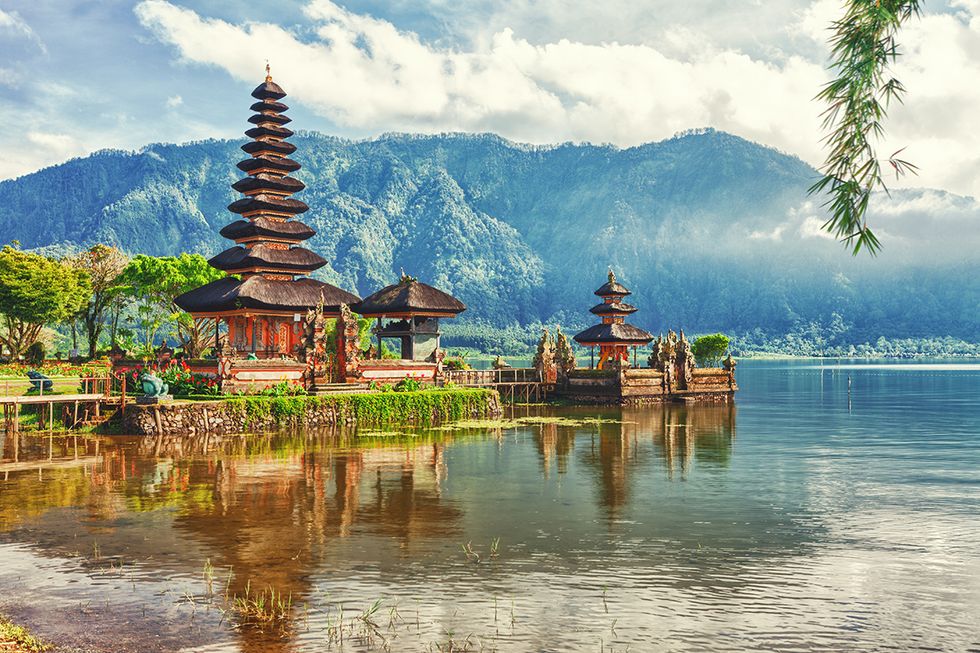 Begin your journey on the Indonesian island of Bali, which is the southernmost destination on your trip. Justifiably famous for its spectacular volcanic mountains, white sand beaches, and iconic rice paddies, Bali is the perfect place to acquaint yourself with the region. After checking in to one of the island's stylish hotels – like the Four Seasons Resort Bali at Sayan – you'll spend your first day exploring the area's many natural wonders. Although the street food in Bali is second to none, there are also dozens of highly rated restaurants to choose from, like the beach-side La Lucciola, which specializes in Asian food with an Italian twist, and MÉTIS, which is part restaurant, part art gallery. On your second day in Bali, it's time to check out a few must-see attractions, including the cliffside Uluwatu Temple, the Ubud Monkey Forest, and a visit to the archeological treasure known at the Elephant Cave.
Days 3 & 4
Get crazy in Singapore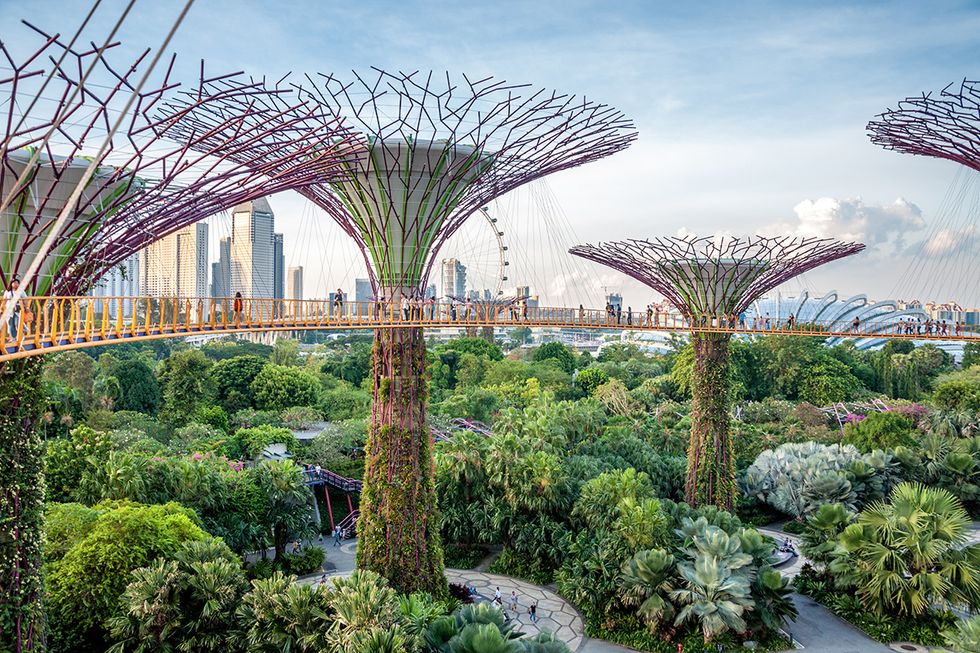 On the third day of your trip you'll head west towards southern Malaysia. Fans of the recent hit movie "Crazy Rich Asians" will definitely want to add the stunning island nation of Singapore to their Southeast Asia travel plans, since many of the most colorful scenes in the film were shot there. Arguably the most thrilling destination in the entire region, the only problem with visiting Singapore is trying to decide what to see, do and eat while you're there. The expert concierge at the historic Raffles Hotel will gladly point you in the right direction, but be sure to include the dazzling Marina Bay entertainment complex, the Clarke Quay riverside shopping and dining area, and the world's largest observation wheel – known as the Singapore Flyer – during your stay on the island.
Day 5
Return to the past on Penang Island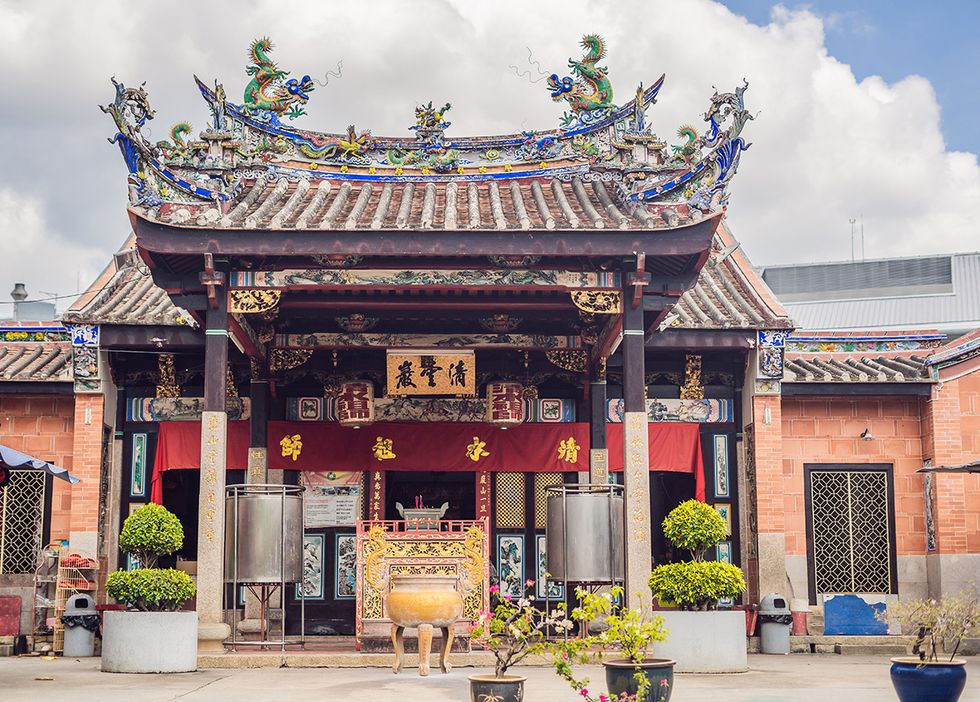 Temple of snakes with real snakes inside on the island of Penang, Malaysia
Next, you'll travel north to Penang Island, just off the Malay Peninsula, where you'll discover an enormous variety of cultural influences on display. This type of dynamic aesthetic mixture is a common feature throughout most of Malaysia, but especially in Penang, where amazing Indian restaurants abound and Chinese elements can be seen and felt across the entire region. Spend your day exploring the capital city of George Town, which is named after England's King George III. It's a multi-cultural destination famous for its historic British colonial architecture. Perhaps more importantly, it's also home to the one-of-a-kind Snake Temple, which proudly features a massive number of slithering pit vipers living in a sacred religious space.
Day 6
Shop the markets in Yangon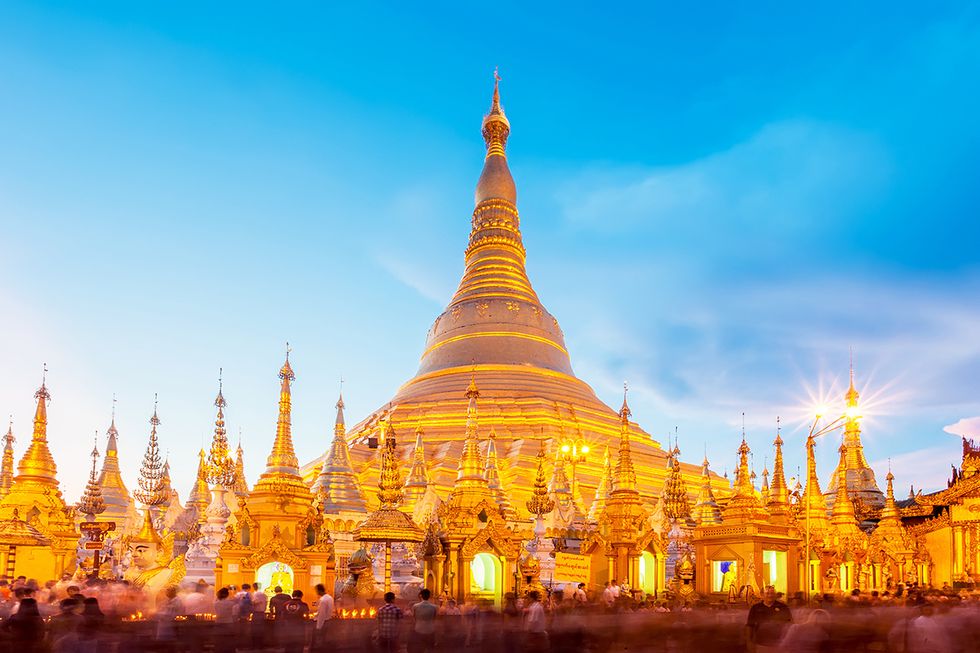 On the sixth day you'll head east to Yangon, which was formerly known as Rangoon. This capital city of Myanmar combines ancient cultural history with modern sophistication, making it the best of both worlds for virtually every type of traveler. Major attractions include the elaborate golden temple called Shwedagon Pagoda, the fascinating National Museum, the 2600-year old Sule Pagoda, which is incongruously nestled in the center of the modern downtown district, and the vibrant Bogyoke Aung San Market where visitors can sample deliciously distinctive Burmese foods while shopping for gorgeous handicrafts, clothing and artwork. If you're in the mood for 5-star luxury accommodations, the lavish Strand Hotel in Yangon is the ultimate place to stay while exploring this unique city.
Day 7
Say hello to Koh Samui's Big Buddha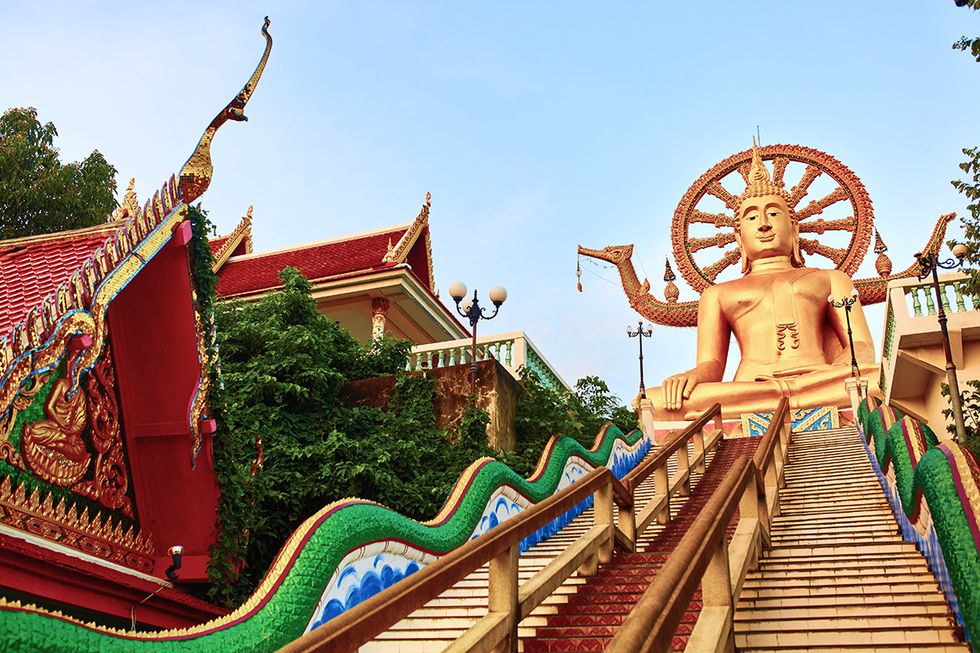 Heading back south again on day seven, you'll arrive at Koh Samui, which is the second largest island in Thailand. This is a solid choice for budget-minded travelers who want to experience all the natural beauty of Southeast Asia without spending a fortune. Instantly recognizable for its lush rainforests, palm-lined beaches, and endless coconut groves, Koh Samui also features a towering golden Buddha statue (nicknamed "The Big Buddha") that has to be seen to be believed. Hungry travelers who want to enjoy a romantic seafood meal directly on the beach at sunset should plan to visit Fisherman's Village in Old Town Samui. If the Thai temperatures get to be too much for you, head to the majestic Namuang Waterfall in Nathon, the island's capital, and take a quick dip in the rejuvenating waters.
Day 8
Relax with a swim on the Cambodian South Coast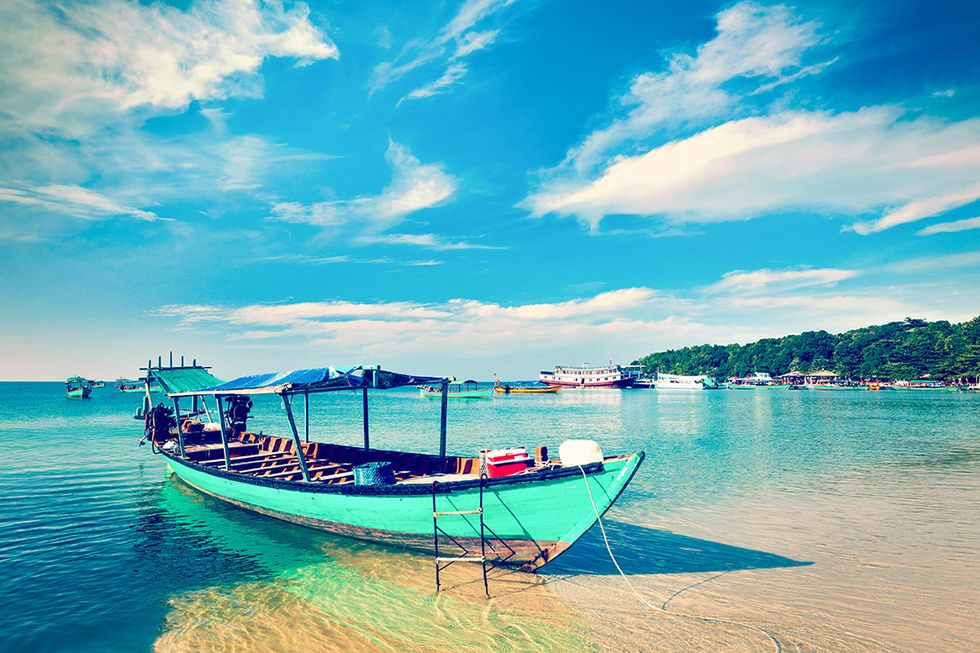 On the eighth day of your adventure you'll probably be ready for some swimming, snorkeling and relaxing, and the Cambodian South Coast is an ideal spot for these kinds of low-stress activities. This resort area has seen an influx of tourism lately thanks to foreign investors helping to re-develop it. Visitors can explore the banks of the Sanke River, admire the historic Old French architecture in the capital city of Kampot, or hike up to the ruins in the Bokor National Park. For some fun in the sun, the coastal city of Sihanoukville – often referred to as the Cambodian Riviera – offers several popular beaches to choose from. For lunch, the nearby town of Kep is the perfect place to go for incredible local seafood, especially their spicy blue crab dishes. And while you're there, be sure to take a short side-trip north to visit the astonishing Angkor Wat temple complex, which is one of the largest religious monuments in the world.
Days 9 & 10
Expand your horizons in Ho Chi Minh City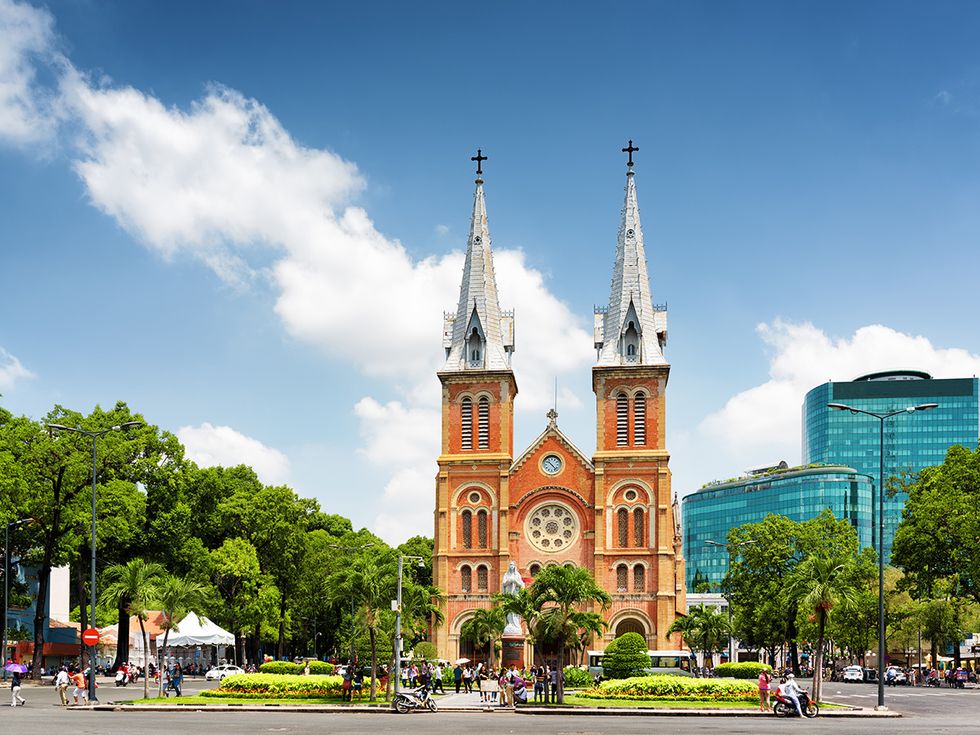 The final two days of your trip will be spent marveling at the unforgettable sights in and around Ho Chi Minh City, which is one of Vietnam's top attractions. This historic city – formerly known as Saigon – is the ultimate Southeast Asian melting pot. Offering everything from luxurious spas and 5-star hotels to delicious casual street food markets and world-class coffee houses, Ho Chi Minh City will present you with an overwhelming sensory experience that will change the way you see the world. In between mouthwatering meals, make plans to visit the Vietnam War Remnants Museum and the Saigon-Notre Dame Cathedral, both of which rank among the most popular destinations in the city.
Getting there
Whether you want to plan your Southeast Asian adventure for 10 days or less, United Airlines can get you there. Visit united.com, or try the United app on your smartphone, to book your trip.
Calling all AvGeeks and travelers! Here's a fun way to take your next video call….from a United Polaris seat, the cockpit or cruising altitude. We're introducing United-themed backgrounds for use on Zoom, a video conferencing tool that many people are using to stay connected.
So for your next meeting or catch up with friends and family, download the app to either your computer or mobile device to get started. If you've already downloaded Zoom you can skip ahead to updating your background image (see instructions below).
Start here by downloading your favorite United image to your computer or mobile device. Just click "download" in the bottom left corner of the image.
Next go to your Zoom app (you'll need to download the app to access backgrounds) and click on the arrow to the right of your video camera icon in the bottom of the screen.
From here select, "choose virtual background" to upload your uniquely United photo.
When and where possible, we are working to repatriate travelers who are stranded abroad in the wake of the COVID-19 crisis. Our teams are working closely with government officials here in the U.S. as well as in other countries where flying has been restricted to gain the necessary approvals to operate service. In regions where government actions have barred international flying, we have coordinated with the the U.S. State Department and local government officials to re-instate some flights. Additionally, we have been operating several extra flights to countries in Central America and South America as we continue to play a role in connecting people and uniting the world.
We have operated more than 56 repatriation flights from Panama City, Guatemala City, Quito, Lima, San Pedro Sula, Tegucigalpa and Roatan, bringing nearly 8,000 people home. We will continue working with government officials to operate extra flights to Houston from Quito, San Pedro Sula, Tegucigalpa and from Lima to Washington Dulles and beginning April 5, we will begin operating multiple charter flights between Delhi and San Francisco. We continue to review more opportunities for flights between the United States and other countries to bring citizens home.
Video provided by the U.S. Embassy Ecuador of Americans returning home on United.

Additionally, our Customer Solutions and Recovery team is working with customers in the following markets to rebook them on flights back to the United States as capacity allows, either on our aircraft or on one of our airline partners' planes:

Quito, Ecuador
Managua, Nicaragua
Roatan, Honduras
San Pedro Sula, Honduras
Amsterdam
Brussels
Munich
Singapore
Tokyo-Haneda
Seoul, South Korea
Melbourne, Australia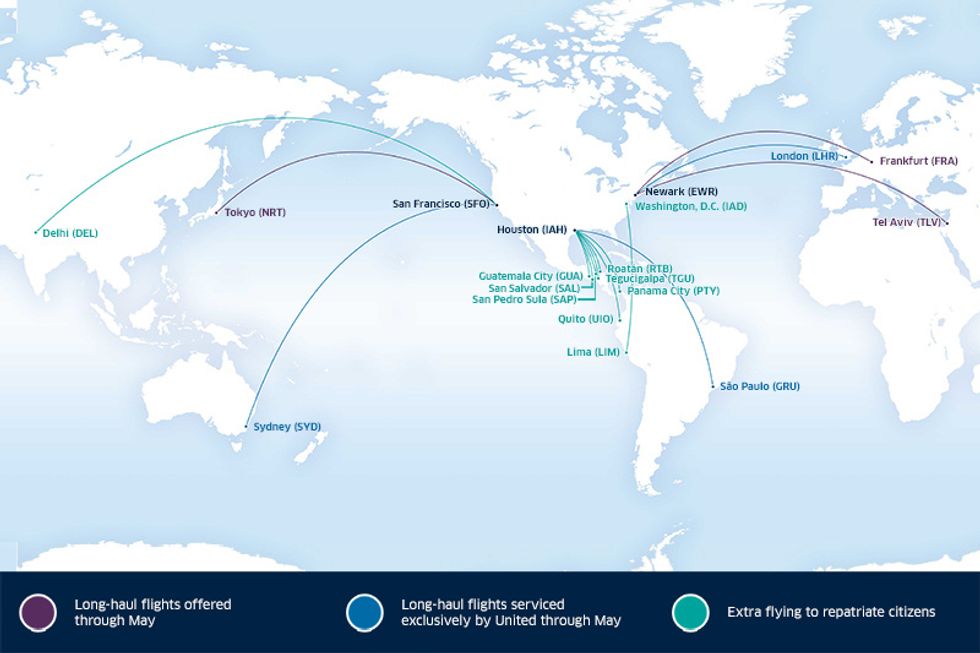 We also recently reinstated several international flights back into our schedule to support customers and essential businesses which depend on these routes. As a result, we will be the only airline to offer service between Newark/New York and London, San Francisco and Sydney, as well as Houston and São Paulo, Brazil.

In the midst of mobilizing our cargo operations, our teams at New York/Newark (EWR) and Jacksonville (JAX) stepped in to assist Roche Diagnostics with transporting a vital component for an instrument being used for COVID-19 testing.
The component was stuck at EWR en route to the Mayo Clinic in Florida after another airline's flights were cancelled. A Roche employee contacted us asking for help and, within a few hours, our teams had the piece loaded onto a Jacksonville-bound aircraft, with arrangements in place to deliver it to the Mayo Clinic.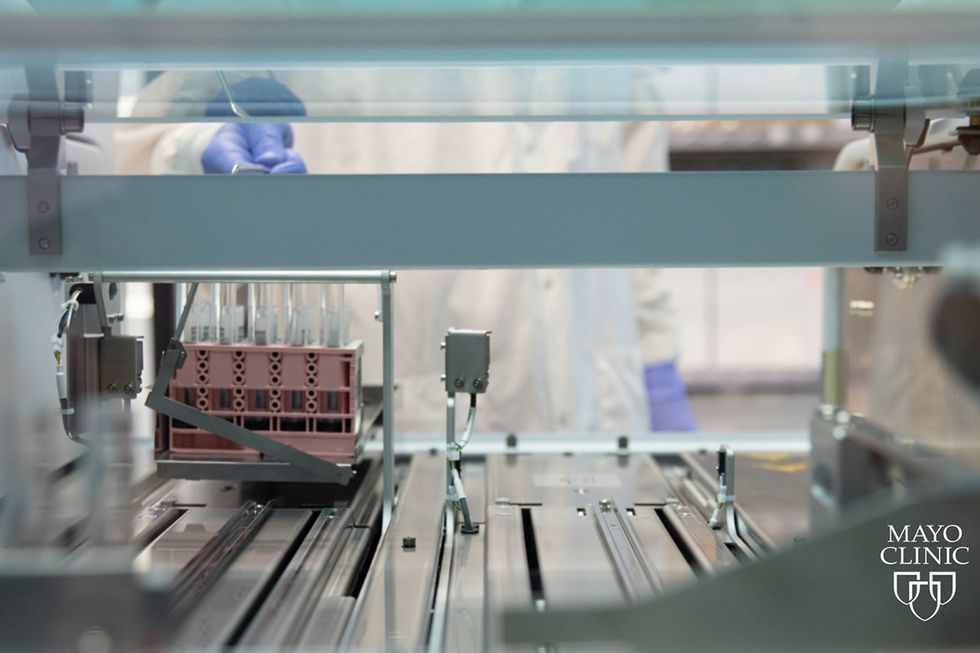 The item we shipped will allow the Mayo Clinic in Florida to process hundreds of COVID-19 tests per day. Mayo Clinic Laboratories has been on the front lines of increasing testing capacity to expedite caring for patients at this critical time and working to ease the burden being felt at test processing laboratories in a growing number of areas.

Together, we are facing an unprecedented challenge. United Together, we rise to meet that challenge.
Check out our newest destinations
United Airlines
united
We continue to work with government officials to bring Americans home. In addition to flights from Central & South America, we have charter flights planned from India. Learn more about our repatriation efforts in the wake of COVID-19 here:
uafly.co/3aExaOL
#UnitedTogether
United Airlines
united
When
@RocheDia
needed to ship a vital component of a COVID-19 testing unit from New Jersey to Florida, United Cargo jumped in to help. Read about how this part will allow
@MayoClinic
to process hundreds of tests per day for cases in the Southeastern U.S.
uafly.co/2UzOAGW
United Airlines
united
International schedule update: We know some people around the globe are displaced and still need to get home. We are reinstating some international flights over the next few days and will continue to fly six daily international flights through May.
uafly.co/3a5Dj6p
United Airlines
united
We have extended our change fee waiver to cover travel through May 31, 2020: - You can change or cancel your flight on
united.com
or through the app – a phone call is not required - For the latest on our commitment to your safety, visit
united.com/coronavirus
We Are United
weareunited
Shoutout to our operations team, who are working to properly park, maintain and store many aircraft in the
#BeingUnited
fleet. These aircraft are being housed across our seven hubs, maintenance facilities in CLE and MCO as well as at offsite facilities in New Mexico and Arizona.
We Are United
weareunited
Tomorrow, Oscar and Scott will host a companywide town hall to discuss the latest developments in managing the effects of the coronavirus (COVID-19). You can join the livestream event at 1:20 p.m. CT here:
uafly.co/39AV25m
We Are United
weareunited
Tomorrow, Oscar and Scott will host a companywide town hall to discuss the latest developments in managing the effects of the coronavirus (COVID-19). You can join the livestream event at 1:20 p.m. CT here:
uafly.co/39AV25m
.
Watch our most popular videos
Copyright © 2020 United Airlines, Inc.
All rights reserved.
Indicates an external site that may or may not meet accessibility guidelines.
Scroll to top
Scroll to top