How to spend 12 days in Italy
Home to so many of the world's great works of art, so much of its most historic monuments and such glorious gastronomy, it's little wonder millions of tourists flock to Italy each year.
What's also great about Italy is that it's quick and easy to drive between its key cities. To experience everything the country has to offer would take a lifetime, but give yourself 12 days and you can easily experience five of the country's most iconic cities. Because United flies to and from most of the cities mentioned, it's easy to shorten or extend the trip to suit your time. But here's what we'd suggest for the ultimate 12-day Italian road trip.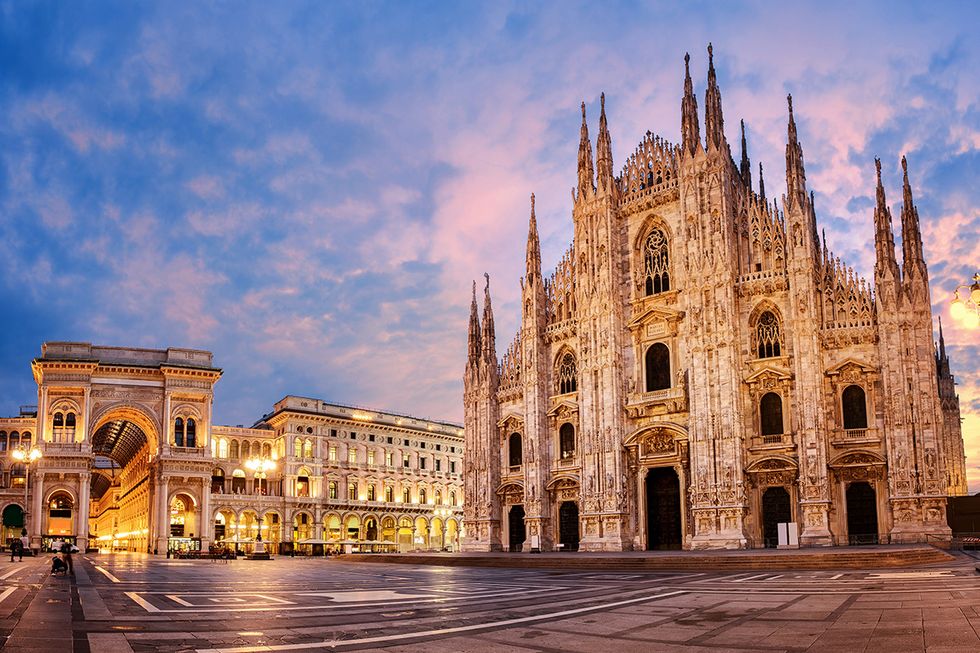 2 days in Milan
Touch down in one of the few Italian cities that doesn't appear to be frozen in time. Milan is a more cosmopolitan and cutting-edge affair, befitting the city's status as the capital of finance and fashion. That isn't to say it lacks history — the grand marble Duomo, the masterpiece-packed Pinacoteca di Brera and the Basilica di Santa Maria delle Grazie will sate your historic hunger, the latter housing Milan's most famous mural, Leonardo Da Vinci's The Last Supper.
But this is a city fixed more on the future than the past, one where its history stands side by side with sleek, modern skyscrapers, vibrant bars and cutting-edge hotels. As a result, you can expect a more frenetic pace of life than you'll find further south.
The must eat Risotto alla Milanese con ossobuco — the classic Milanese saffron risotto with braised veal shank is elevated to a silky, smooth masterpiece at Ratanà in Isola.
The must stay Bulgari Milan ($) — a luxurious hotel in the tranquil artists' quarter. Also consider: NYX Milan ($); The Yard Milano ($).
The next leg Milan to Venice is an easy 173 miles, about a three-hour drive. Take the train and it's around two hours 25 minutes from Milano Centrale to Venezia Santa Lucia.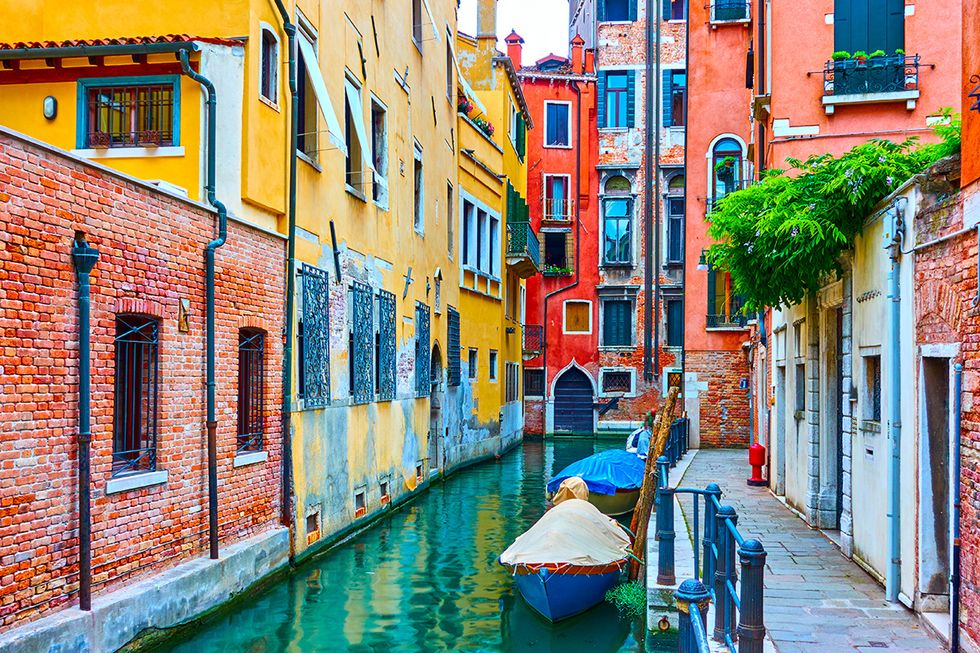 3 days in Venice
Venice is La Serenissima — Italy's Most Serene Republic — a city of your imagination and a place beyond your wildest dreams. A treasure trove of glorious art and extraordinary architecture, of 150 canals and almost 400 bridges, you know the city from the photographs, movies and paintings made famous the world over. As you explore Piazza San Marco or take a tour through history down the Grand Canal, so much here seems reassuringly familiar. Yet nothing can prepare you for the for the reality of stepping out from the station to the site of a glittering canal and the dome of San Simeon Piccolo, with Venice's canals and lanes twisting out before you. At that moment, expect your heart to skip a beat as the reality and romance of La Serenissima hit home.
The must eat Fritto Misto — taking full advantage of Venice's lagoon location, this mix of fried fish usually includes squid, shrimp and moeche, a soft-shell crab available only in autumn and spring.
The must stay Aman Venice ($) — 24 luxury suites in a stunning 16th-century Grand Canal palace. Also consider: La Calcina ($); Palazzo Morosini degli Spezieri ($).
The next leg — Venice to Florence is 160 miles and about two hours and 40 minutes away by car. By train, Venezia Santa Lucia to Firenze Santa Maria Novella takes two hours and five minutes.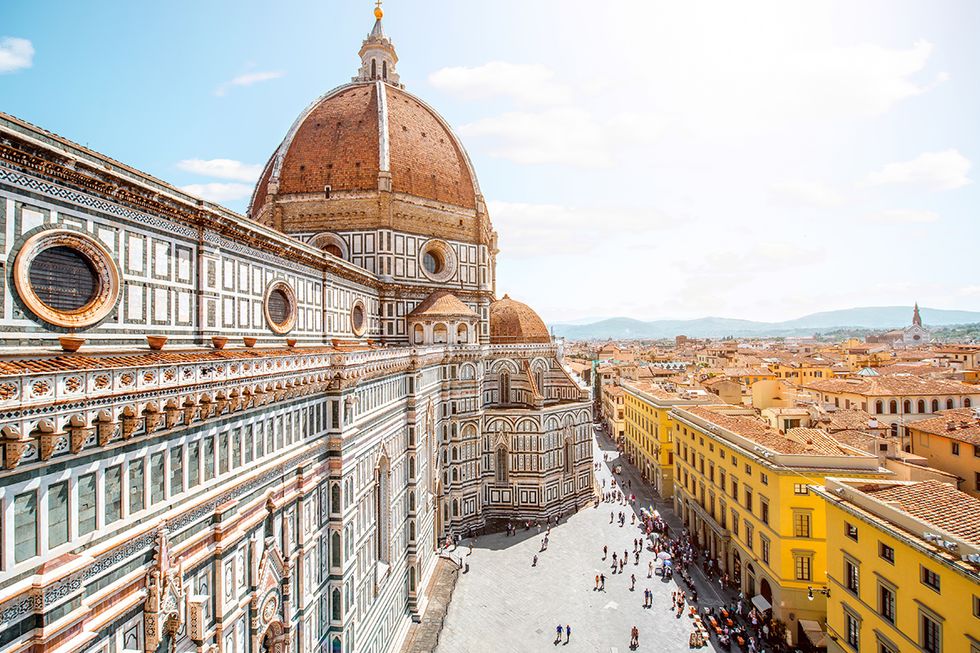 2 days in Florence

The search for la dolce vita will lead you to Florence, the heart of Tuscany, the cradle of the Renaissance and the most beautiful of all the Italian cities. For art enthusiasts, the city has no equal. Its galleries and museums home to so many of the world's finest examples of Renaissance art, much of it housed at the breathtaking Galleria degli Uffizi. The pink, white and green marble facade of the iconic Duomo, or cathedral, is worth the trip alone — without even stepping foot inside its adjoining museum. But, with so many quirky boutiques, trendy cafés, restaurants and bars, not to mention the beautiful Tuscan countryside close by, there is so much more to the city than its glorious history. Indeed, a single visit will never do it justice.
The must eat Bistecca alla Fiorentina — the city's culinary calling card is a vast slab of T-bone steak rubbed with olive oil, chargrilled, seasoned and served al sangue — bloody.

The must stay Portrait Firenze ($) — central hotel offering luxury and astonishing views. Also consider: BBH Firenze ($); AdAstra ($).
The next leg Florence to Rome is 168 miles away, or three hours by car. If traveling by train, Firenze Santa Maria Novella to Roma Termini takes about 90 minutes.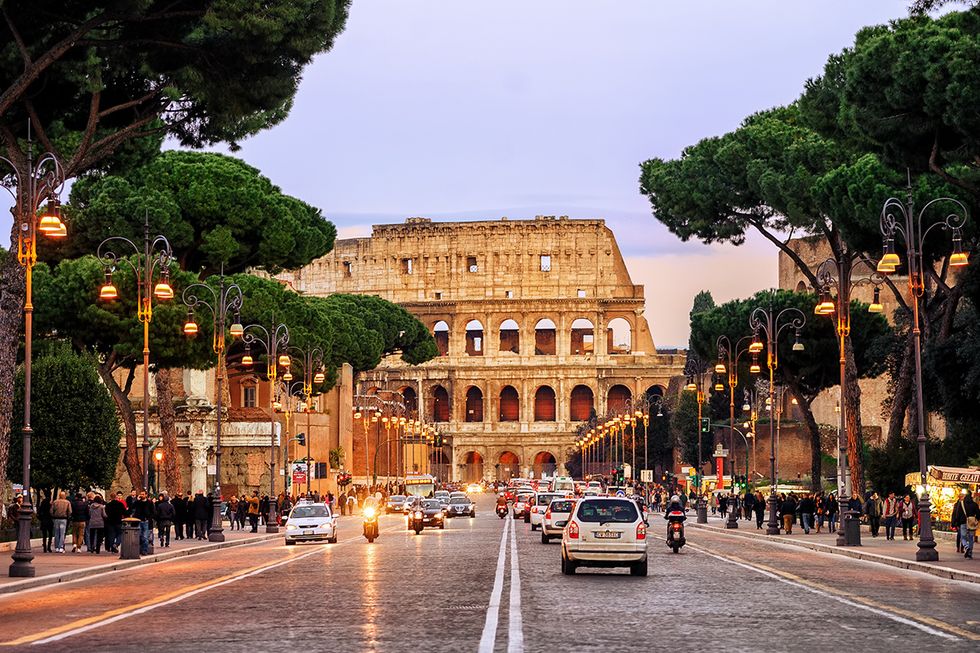 3 days in Rome

In existence for more than three millennia, no other city does history quite like Rome, from its classical ruins and places of worship, to the Renaissance palazzo and the Baroque fountains. You can't leave without having seen the Colosseum, the Pantheon, St Peter's Basilica, the Palatino and the artistic treasures of the Vatican museums. There's also the Roman Forum, the Spanish Steps, the Museo e Galleria Borghese and far too many others to squeeze in a single visit, so throw a coin in the Trevi Fountain to guarantee you return.
For all its history, Rome's past blends effortlessly with the present, through the chic boutique stores, the neighborhood trattorias and the vibrant street life that lingers long into the night. The whole city is a stage — and you have a walk-on role.
The must eat Cacio e pepe — one of Rome's most iconic pasta dishes is also one of its simplest: hand-rolled tonnarelli pasta topped with salty pecorino cheese and black pepper, stirred with pasta water to create a smooth, spicy, simple and sumptuous sauce.
The must stay Hotel Eden ($) — magnificently renovated icon hotel, located beside the Spanish steps. Also consider: Nerva Boutique Hotel ($); Hotel Martis Palace ($).
The next leg The drive from Rome to Naples is 140 miles and a little over two hours south. Taking a train from Roma Termini to Napoli Centrale in one hour and 10 minutes.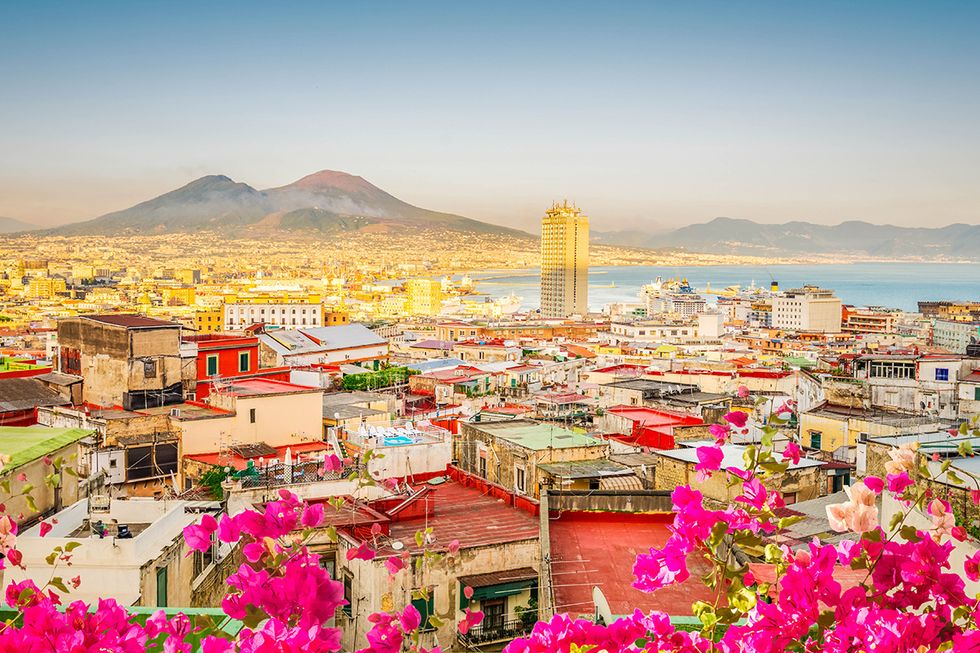 2 days in Naples
For the first-time visitor, the sights and noise of Naples can overwhelm the senses. But at its heart lies a charm and vibrancy that has to be experienced at least once in your life. In the city itself you'll unearth a UNESCO-recognized historic core, vast Romanesque piazzas, world-class museums, castles and a labyrinth of ancient lanes hidden beneath the neighborhood washing.
Just a short journey further on lies the ruined city at Pompeii and Mount Vesuvius, the brooding volcano that looks down on the city and the Bay of Naples.
The must eat Pizza — in the city of its birth, it's hard to find bad pizza. L'Antica Pizzeria da Michele is Naples' original pizzeria, where the options have always been and will always be a Margherita or a Marinara. Chow down on a slice of history.

The must stay Grand Hotel Vesuvio ($) — an understated icon overlooking the Castel dell'Ovo. Also consider: Micalò ($); Hotel Excelsior ($).
The next leg If you have the time, explore the jaw-droppingly beautiful Amalfi Coast or the Bay of Naples' three nearby islands of Capri, Procida and Ischia, the latter made famous by Elena Ferrante's My Brilliant Friend. If your time has run out, fly home or on from Naples International Airport.
United now flies from New York/Newark (EWR) to Naples (NAP), in addition to Rome (FCO), Venice (VCE) and Milan (MXP). To explore further, you can also fly to Ancona, Bari, Bologna, Genoa, Florence, Pisa, Trieste, Turin and Verona with our Star Alliance™ member partner airlines. Book your Italian adventure at united.com or use the United mobile app.
We know people are taking a second look at their travel plans right now. If you're scheduled to travel March 10 – May 31, 2020 and would like to change your plans, there is no fee to do so, regardless of when you purchased your ticket or where you're traveling. This is in addition to our previous waiver, which waives all change fees – domestic and international – for tickets purchased March 3 – April 30, 2020. This is available for any of United's published nonrefundable fares. If you decide to cancel your flight, you can retain the value of your ticket to be applied to a new ticket without a fee. These electronic travel certificates are now valid for 24 months from the date they were issued. This includes all currently valid electronic certificates and all new ones issued on or after April 1, 2020. You might not see this policy change reflected everywhere right away – we appreciate your patience as we work to make that happen.
Eligible travelers on domestic flights and international tickets can request a refund on united.com or may call our contact centers if their flights have been severely adjusted or service to their destination suspended either due to government mandates or United schedule reductions related to COVID-19.
Certain tickets cannot be changed on united.com or the mobile app, including tickets booked through another airline (if the ticket receipt does not begin with 016). Please contact the original ticketing airline for changes.
Follow the steps below to stay up to date, change or cancel your flight.

Change your current flight:
On the united.com homepage, select "My Trips" and enter your flight information to retrieve your flight.
Select "Change flight" and then "Edit" to make the following changes:

Date of travel or destination
Add a flight
Remove a flight

Select "Continue" and choose a new flight option
Continue through booking to confirm your new flight
Note: The change fee will display as waived, but any difference in fare may apply.
Cancel your flight and rebook later:
On the united.com homepage, select "My Trips" and enter your reservation information to retrieve your flight
Select "Cancel flight"
Confirm flight cancellation
If you have future flight credit, when you return to the reservation, select "Use Future Flight Credit" to shop for new flights and apply the credit towards a new flight.
Canceling or changing an award flight:
When you select "Cancel flight," you will have the option to cancel your award reservation and redeposit the miles or to cancel your award reservation and use those miles for another trip in the future.
*We're currently experiencing heavy traffic to united.com. If you experience an error while trying to change or cancel your flight, please try again later.
Click through the slideshow below for more detailed instructions:
​Start on the United homepage: ​
User can select 'My Trips' on the homepage widget to find and retrieve their reservation.
When and where possible, we are working to repatriate travelers who are stranded abroad in the wake of the COVID-19 crisis. Our teams are working closely with government officials here in the U.S. as well as in other countries where flying has been restricted to gain the necessary approvals to operate service. In regions where government actions have barred international flying, we have coordinated with the the U.S. State Department and local government officials to re-instate some flights. Additionally, we have been operating several extra flights to countries in Central America and South America as we continue to play a role in connecting people and uniting the world.
We have operated more than 68 repatriation flights from Panama City, Guatemala City, Quito, Lima, San Pedro Sula, Tegucigalpa and Roatan, bringing nearly 9,200 people home. We will continue working with government officials to operate extra flights to Houston from Quito, San Pedro Sula, Tegucigalpa and from Lima to Washington Dulles and beginning April 5, we will begin operating multiple charter flights between Delhi and San Francisco. We continue to review more opportunities for flights between the United States and other countries to bring citizens home.
Video provided by the U.S. Embassy Ecuador of Americans returning home on United.

Additionally, our Customer Solutions and Recovery team is working with customers in the following markets to rebook them on flights back to the United States as capacity allows, either on our aircraft or on one of our airline partners' planes:

Quito, Ecuador
Managua, Nicaragua
Roatan, Honduras
San Pedro Sula, Honduras
Amsterdam
Brussels
Munich
Singapore
Tokyo-Haneda
Seoul, South Korea
Melbourne, Australia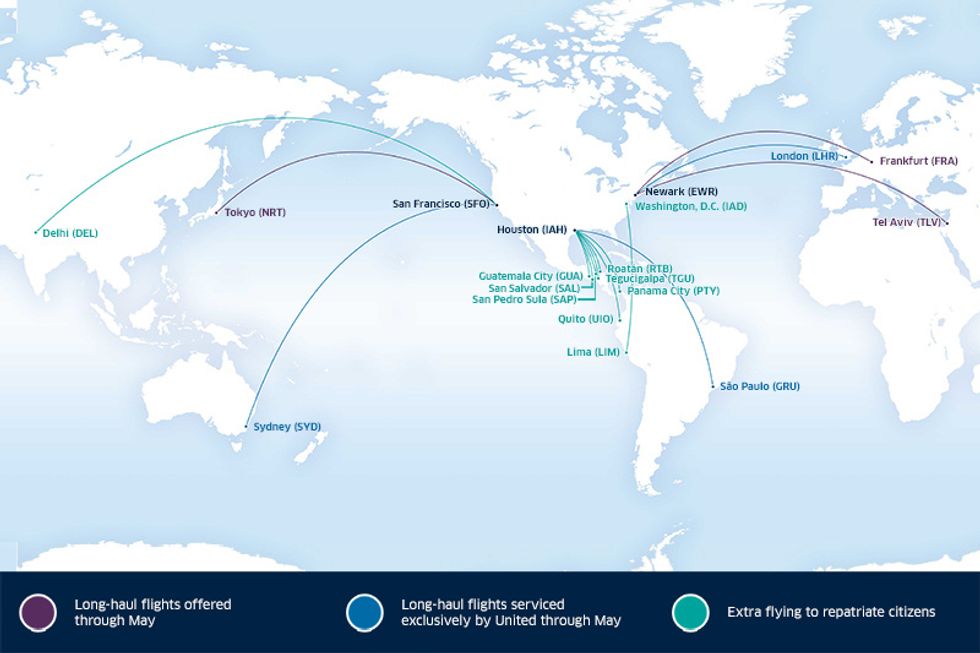 We also recently reinstated several international flights back into our schedule to support customers and essential businesses which depend on these routes. As a result, we will be the only airline to offer service between Newark/New York and London, San Francisco and Sydney, as well as Houston and São Paulo, Brazil.

Calling all AvGeeks and travelers! Here's a fun way to take your next video call….from a United Polaris® seat, the cockpit or cruising altitude. We're introducing United-themed backgrounds for use on Zoom, a video conferencing tool that many people are using to stay connected.
So for your next meeting or catch up with friends and family, download the app to either your computer or mobile device to get started. If you've already downloaded Zoom you can skip ahead to updating your background image (see instructions below).
Start here by downloading your favorite United image to your computer or mobile device. Just click "download" in the bottom left corner of the image.
Next go to your Zoom app (you'll need to download the app to access backgrounds) and click on the arrow to the right of your video camera icon in the bottom of the screen.
From here select, "choose virtual background" to upload your uniquely United photo.
Together, we are facing an unprecedented challenge. United Together, we rise to meet that challenge.
Check out our newest destinations
United Airlines
united
We continue to work with government officials to bring Americans home. In addition to flights from Central & South America, we have charter flights planned from India. Learn more about our repatriation efforts in the wake of COVID-19 here:
uafly.co/3aExaOL
#UnitedTogether
United Airlines
united
When
@RocheDia
needed to ship a vital component of a COVID-19 testing unit from New Jersey to Florida, United Cargo jumped in to help. Read about how this part will allow
@MayoClinic
to process hundreds of tests per day for cases in the Southeastern U.S.
uafly.co/2UzOAGW
United Airlines
united
International schedule update: We know some people around the globe are displaced and still need to get home. We are reinstating some international flights over the next few days and will continue to fly six daily international flights through May.
uafly.co/3a5Dj6p
United Airlines
united
We have extended our change fee waiver to cover travel through May 31, 2020: - You can change or cancel your flight on
united.com
or through the app – a phone call is not required - For the latest on our commitment to your safety, visit
united.com/coronavirus
We Are United
weareunited
Shoutout to our operations team, who are working to properly park, maintain and store many aircraft in the
#BeingUnited
fleet. These aircraft are being housed across our seven hubs, maintenance facilities in CLE and MCO as well as at offsite facilities in New Mexico and Arizona.
We Are United
weareunited
Tomorrow, Oscar and Scott will host a companywide town hall to discuss the latest developments in managing the effects of the coronavirus (COVID-19). You can join the livestream event at 1:20 p.m. CT here:
uafly.co/39AV25m
We Are United
weareunited
Tomorrow, Oscar and Scott will host a companywide town hall to discuss the latest developments in managing the effects of the coronavirus (COVID-19). You can join the livestream event at 1:20 p.m. CT here:
uafly.co/39AV25m
.
Watch our most popular videos
Copyright © 2020 United Airlines, Inc.
All rights reserved.
Indicates an external site that may or may not meet accessibility guidelines.
Scroll to top
Scroll to top