19 things you need to eat in Seattle right now
When it comes to Seattle food, most of us think coffee and salmon. And to be fair, Seattle pretty much nails both of those. But with a citywide enthusiasm for all things edible, Seattle is making a name for itself as one of America's true culinary capitals. Here are 19 of our favorite bites in the Emerald City.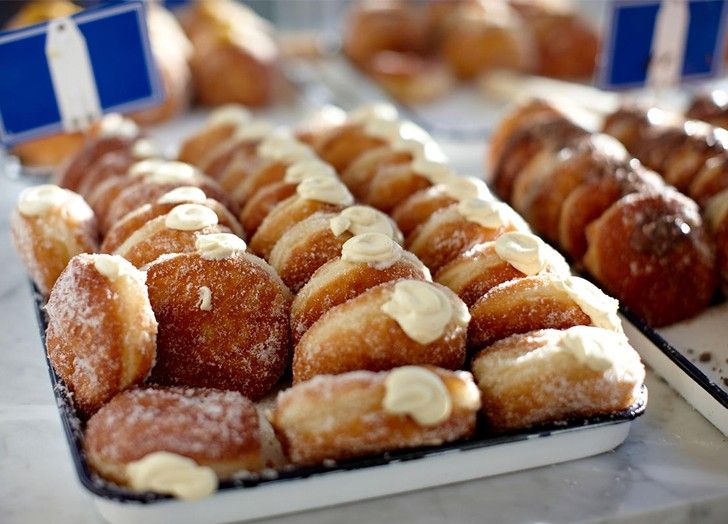 Lemon Curd Doughnut at General Porpoise
First ingredient? Clouds. Second ingredient? Fairy dust. Seriously, we've never tasted anything like these pillowy, sugar-dusted, custard-stuffed yeast doughnuts. All the flavors are fantastic, but we especially love the contrast of the surprisingly tart lemon curd.
1020 E. Union St., 206-900-8700 or gpdoughnuts.com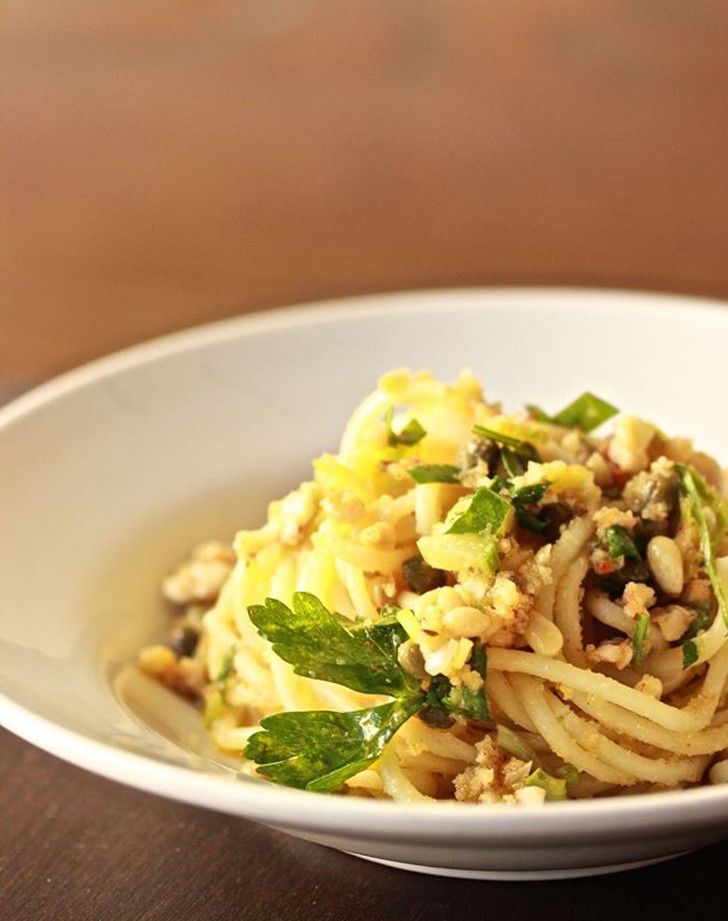 The Daily Special at Il Corvo
A restaurant that's open only at lunchtime on weekdays and serves only pasta seems kind of like a recipe for failure (much as we love a good workday carb coma). But when you serve the best pasta in town (or, arguably, the country), you still get lines around the corner every day. The menu changes daily, but we've yet to get a dud.
217 James St.; 206-538-0999 or ilcorvopasta.com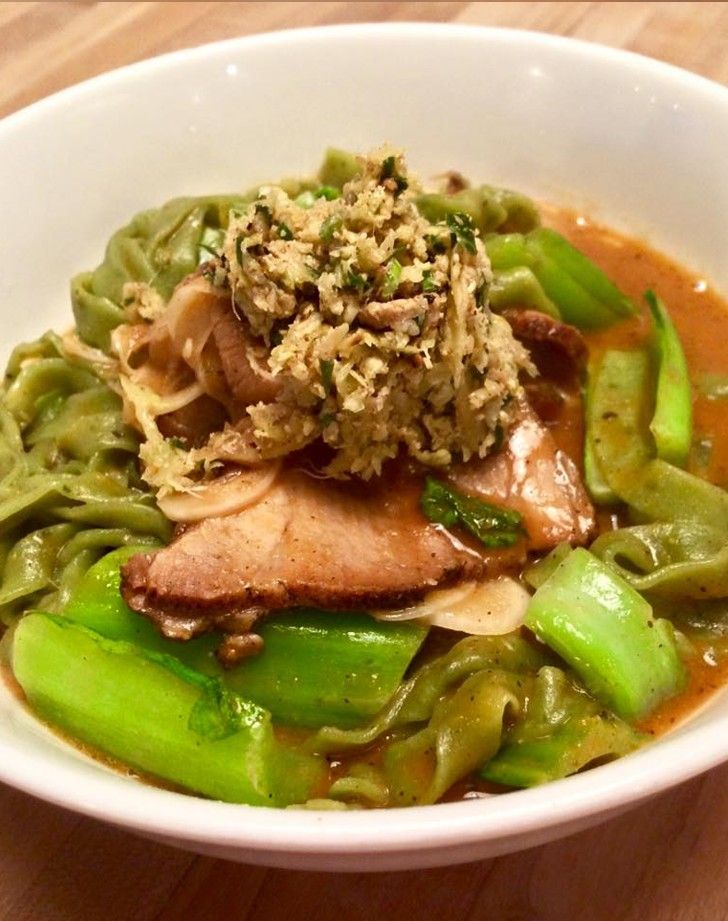 Kale Noodles with Blackened Pork and Spicy Miso at Revel
Everyone raves about the short-rib dumplings at this French-Korean mash-up, and an order of those should certainly be on your table. But we really can't stop thinking about this umami-rich, pleasantly green-hued noodle bowl.
403 N. 36th St.; 206-547-2040 or revelseattle.com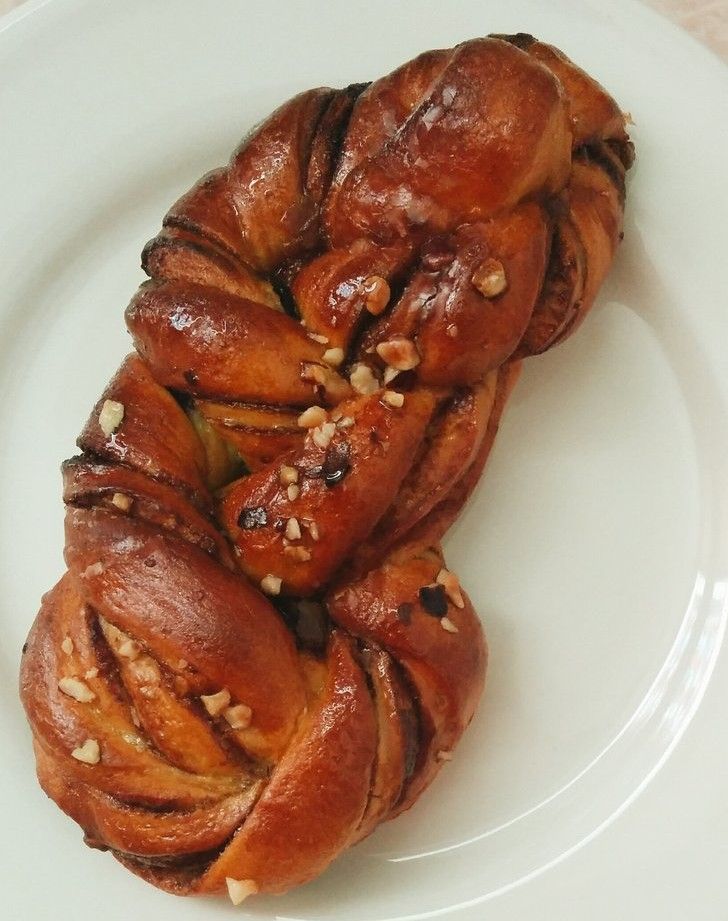 Cinnamon Cardamom Braid at Piroshky Piroshky
Two things will hit you as you approach this 25-year-old Pike Place Market stand: the line of tourists spilling out the door and the incredible smell of butter-rich Russian pastries. Don't let the first detract from the second. You'll want a not-too-sweet cinnamon cardamom braid for breakfast, and probably a smoked-salmon-filled piroshky (or hand-pie) for later.
Multiple locations in Seattle; 206-441-6068 or piroshkybakery.com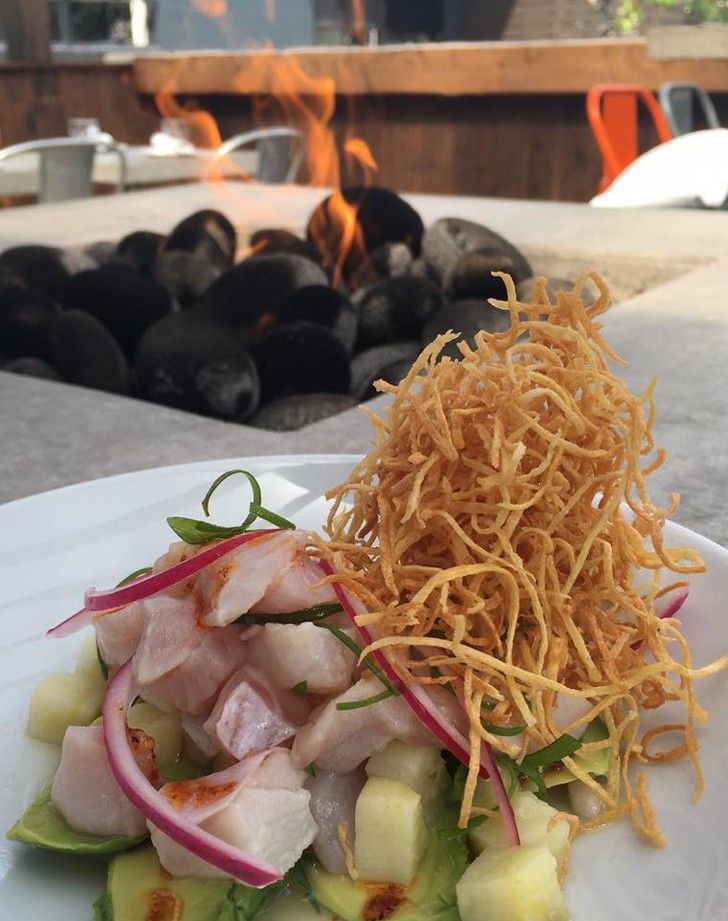 Alabacore Ceviche at Manolin
This Chilean seafood spot is known for its ultra-fresh, creative takes on ceviche. We particularly love the albacore, which comes with toasted quinoa, almonds, habanero chiles and raspberries.
3621 Stone Way N.; 206-294-3331 or manolinseattle.com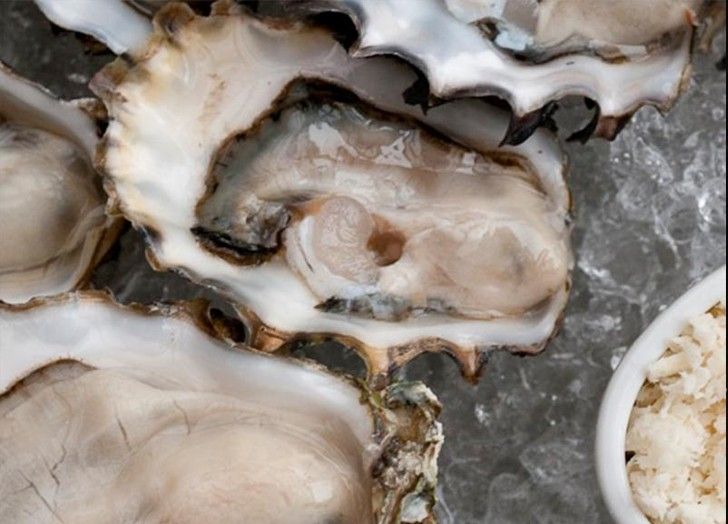 Freshly Shucked Oysters at the Walrus & the Carpenter
It's much lauded as the best oyster bar in the country, and with good reason—the selection of local oysters is unparalleled, and that's not to mention the killer cocktail menu, the inspired small plates and the gorgeous marble bar itself.
4743 Ballard Ave. NW; 206-395-9227 or thewalrusbar.com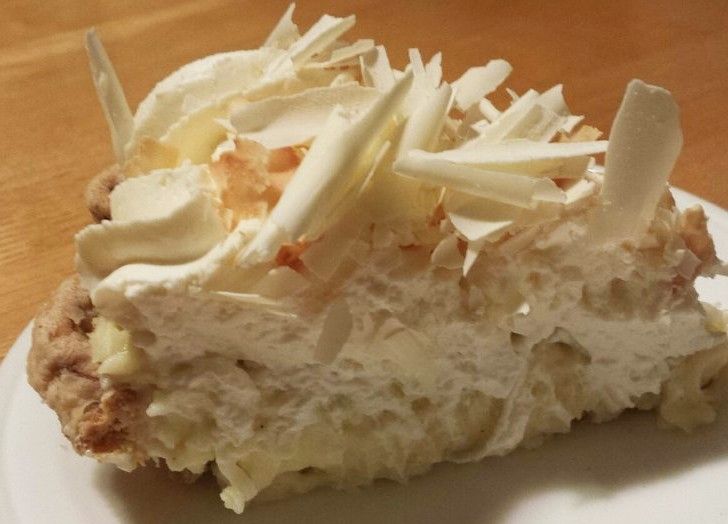 Triple Coconut Cream Pie at Dahlia Lounge
This outrageously decadent pie (a Seattle favorite since the '80s) is so delicious, rumor has it that even über-healthy President Obama orders a full one every time he's in town.
2001 Fourth Ave.; 206-682-4142 or dahlialounge.com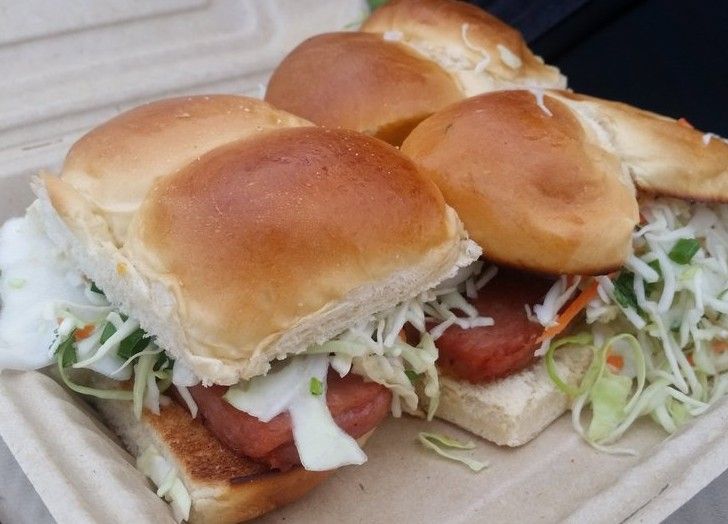 Spam Sliders at Marination Ma Kai
These little slaw-covered Korean-Hawaiian bites will change your feelings on canned meat forever. Plus, the waterfront views are unrivaled.
1412 Harvard Ave.; 206-325-8226 or marinationmobile.com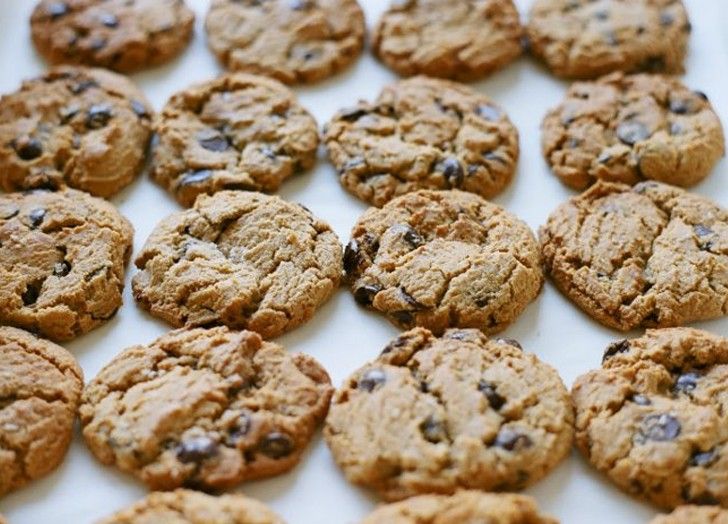 Gray Salt Chocolate-Chip Cookie at Delancey
The pizza at Delancey is indeed terrific, but most locals know to battle the lines for the addictive, salty-sweet chocolate-chip cookies, too.
1415 NW 70th St.; 206-838-1960 or delanceyseattle.com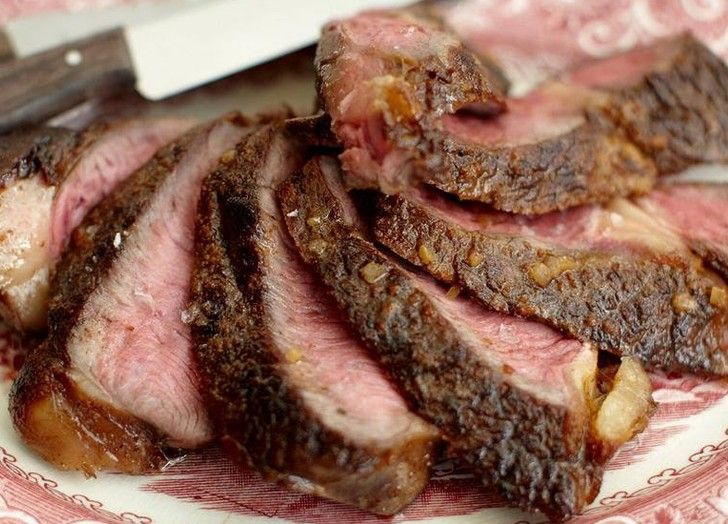 Steak at Bateau
Chef Renee Erickson takes her steaks so seriously, she raises them on her own farm and has an in-house butcher carving each one to order.
1040 E. Union St.; 206-900-8699 or restaurantbateau.com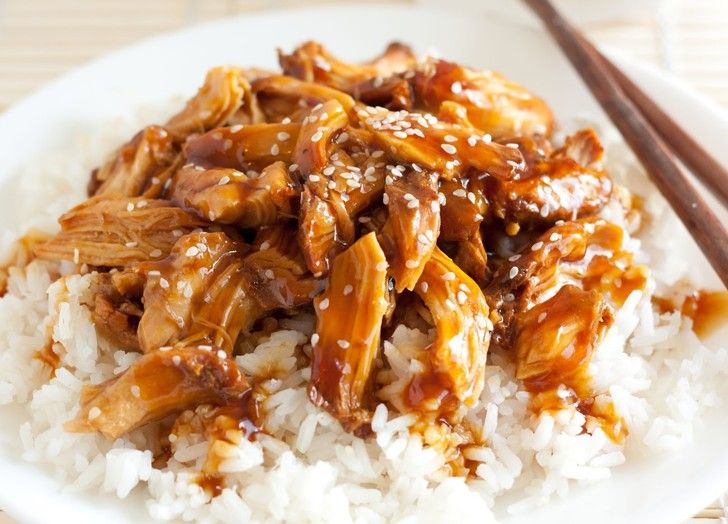 Chicken Teriyaki at Nasai Teriyaki
A true Seattle classic: Chicken thighs smothered in sticky sweet teriyaki sauce and served over white rice. Add gyoza and salad to make it a lunch special—it'll still cost less than a Big Mac.
Multiple locations in Seattle; 425-869-1916 or nasaiteriyaki.com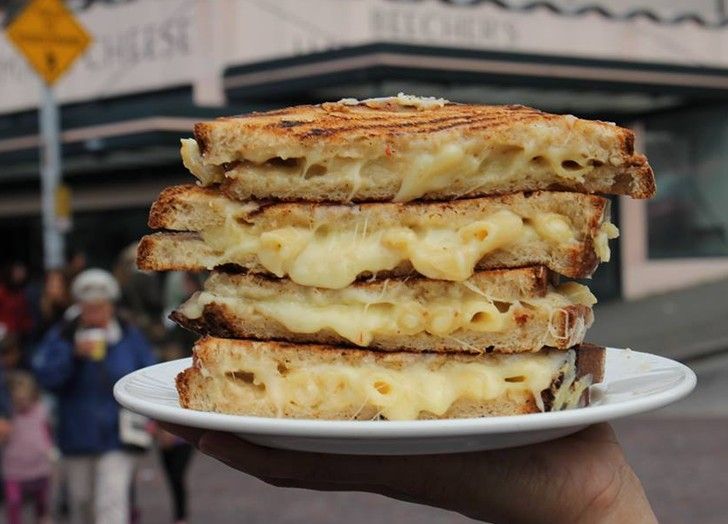 Grilled Cheese at Beecher's Handmade Cheese
If you looked up grilled cheese in the dictionary, this would be it: Golden crust on the outside and warm, stringy melted goodness on the inside. Plus, the cheese is so fresh, you can actually pull up a stool and watch it being made as you chow down.
1600 Pike Pl.; 206-956-1964 or beechershandmadecheese.com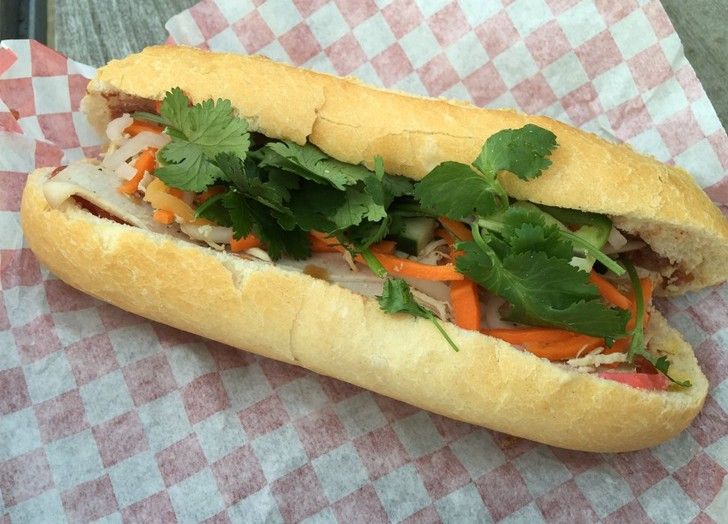 Bánh Mì at Q Café and Bakery
There are excellent Banh Mi all over Seattle, and the secret is always in the crusty baguettes, almost all of which come from one place—Q Bakery. We recommend cutting out the middleman and heading straight there for your sandwich. It doesn't get any fresher, people.
3818 S. Graham St.; 206-725-9193 or facebook.com/pages/Q-Bakery-Sandwiches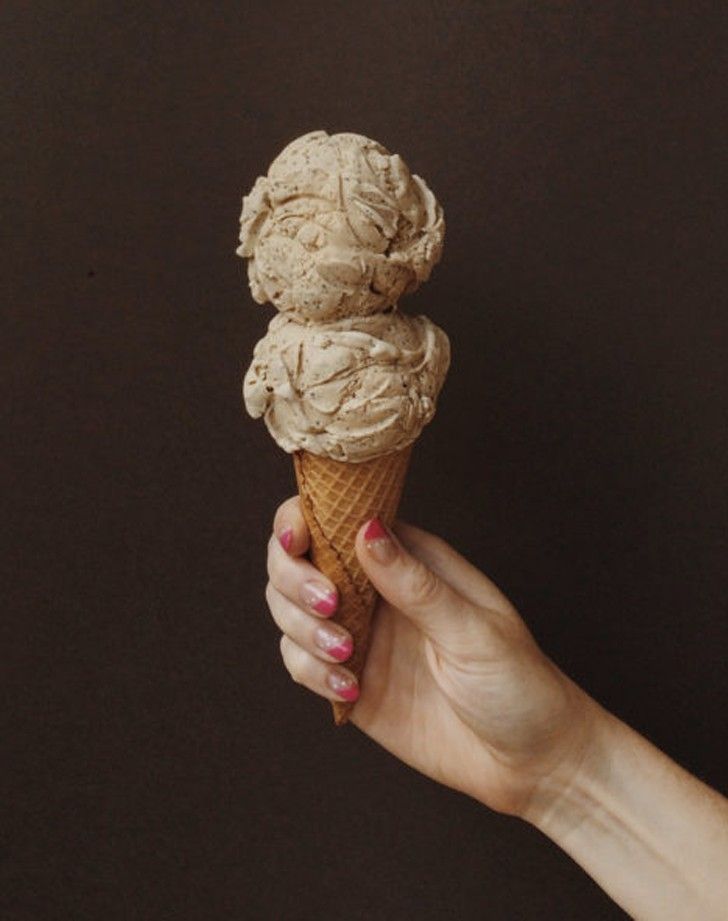 Stumptown Coffee Ice Cream at Molly Moon's Homemade Ice Cream
Hey, we had to get some locally roasted, organic, fair-trade coffee on this list somewhere. When it comes to coffee ice cream, trust us (and the lines that are perpetually out the door): Molly Moon's is the place.
Multiple locations in Seattle; 206-547-5105 or mollymoon.com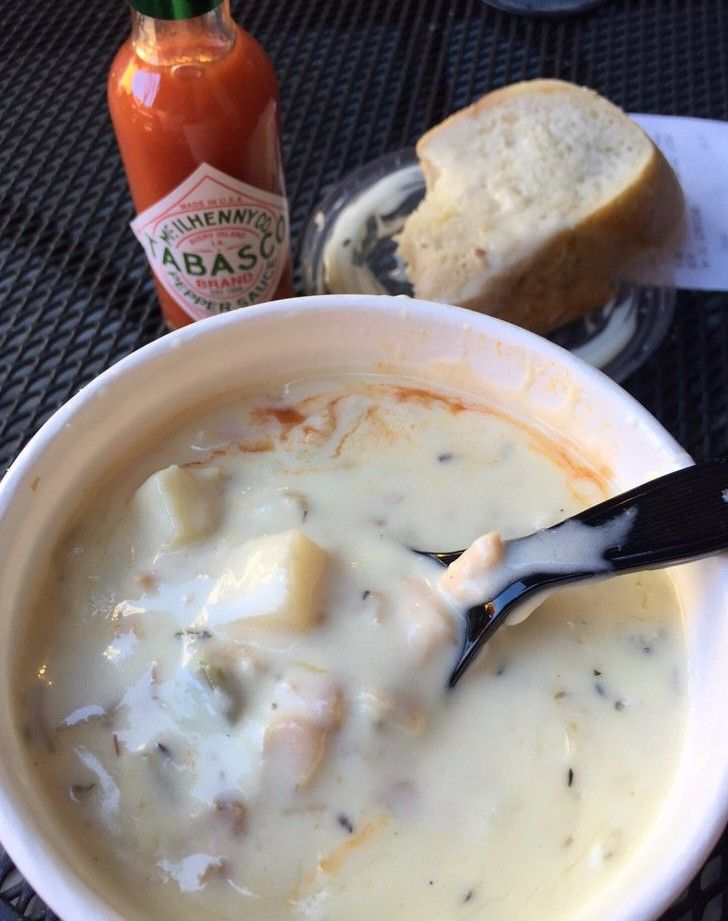 Market Chowder at Pike Place Chowder
You can't go wrong with any of the standard chowders at this Pike Place Market favorite. But for the freshest possible flavors, go for the Market Chowder, which is the chef's choice of whatever was caught that day.
1530 Post Alley; 206-267-2537 or pikeplacechowder.com
Pad Thai at Little Uncle
A far cry from the gummy tangles of noodles that we're used to getting with our standard Thai takeout orders. These are the real deal—toothsome and flavorful, and served with peanuts, roasted chiles, and palm sugar, just like on the streets of Chiang Mai.
1523 E. Madison St., Ste 101; 206-549-6507 or littleuncleseattle.com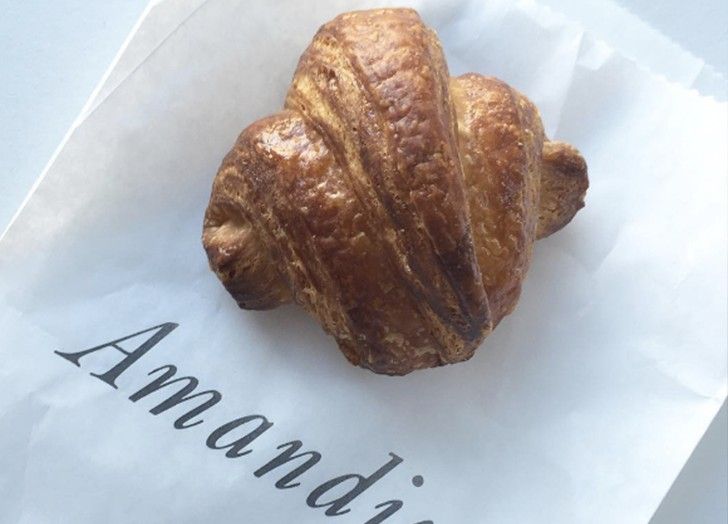 Pistachio Croissant at Amandine Bakeshop
This sophisticated little French bakery has some of our favorite macarons (in fancy-pants flavors like yuzu and blood orange) and a perfectly crackly pistachio croissant.
1424 11th Ave.; 206-948-2097 or amandineseattle.com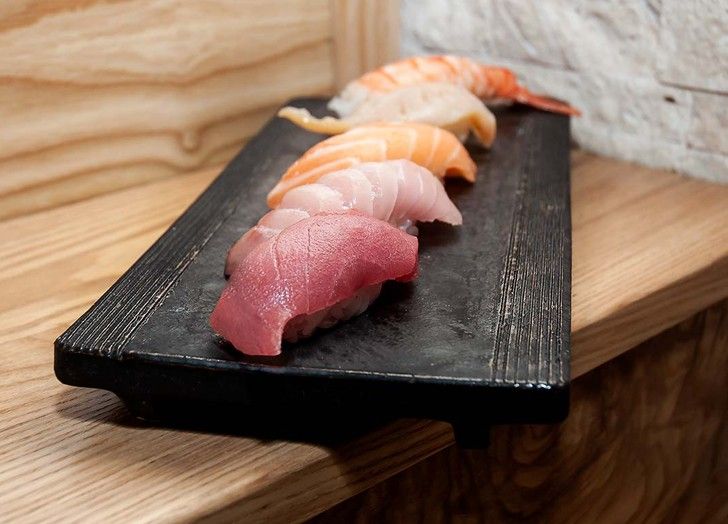 Salmon Nigiri at Sushi Kashiba
As most sushi nerds know, the only way to go is ordering omakase— the chef's tasting menu. But if you're going à la carte, don't miss the nigiri made from locally caught sockeye salmon.
86 Pine St. #1, 206-441-8844 or sushikashiba.com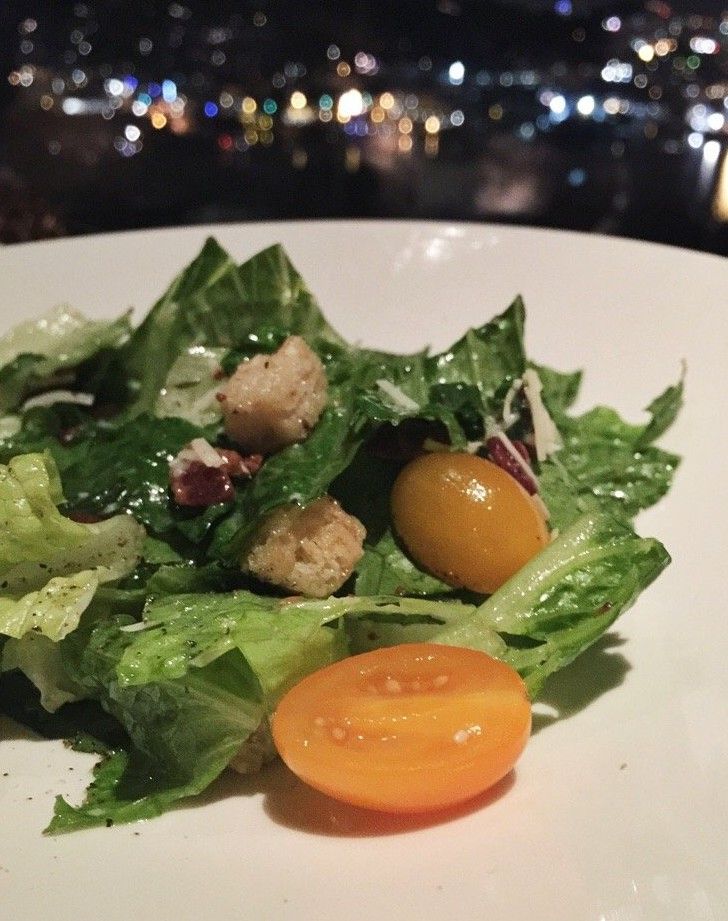 Canlis Salad at Canlis
Since 1950, Canlis has been Seattle's most iconic and revered fine-dining restaurant. Set high in the hills in a gorgeous mid-century modern house (we'd kill for those views), it's a dream dinner location. For 65 years, the eight-course tasting menu has started with the same salad—romaine, bacon, oregano, Parmesan, mint, croutons and the most addictive dressing we've ever had. Swoon.
2576 Aurora Ave. N.; 206-283-3313 or canlis.com
This article was from PureWow and was legally licensed through the NewsCred publisher network.
Our Marketing Inflight Entertainment and Connectivity team and Bridge, our Business Resource Group (BRG) for people with all abilities, partnered together to test and provide feedback on our award-winning seatback inflight entertainment (IFE) system.
Aptly named "Entertainment for all," our new seatback IFE system offers the an extensive suite of accessibility features, allowing for unassisted use by people of all visual, hearing, mobility and language abilities.
"It's nice to know that I can get on a plane and pick my favorite entertainment to enjoy, just like every customer," said Accessibility Senior Analyst and Developer and Bridge Chief of Staff Ray C., who is blind.
"As a deaf employee, the closed captioning availability on board our aircraft is something I value greatly," added Information Technology Analyst Greg O. "The new IFE further cements United's visibility within the deaf community and elsewhere. It makes me proud to be an employee."
Accessibility features of the new IFE include a text-to-speech option, explore by touch, customizable text size, screen magnification, color correction and inversion modes, and alternative navigation options for those unable to swipe or use a handset. For hearing-impaired and non-English-speaking passengers, customization options provide the ability for customers to be served content and receive inflight notifications based on their preferences and settings —with closed captions, with subtitles or in the language of their choice from the 15 languages supported. Our "Entertainment for all" system won the Crystal Cabin Award in 2019, and recently, the Dr. Margaret Pfanstiehl Research and Development Award for Audio Description by the American Council of the Blind.
"This really showed the benefits of partnering with BRGs in helping us improve products and services for our customers and employees," said Inflight Entertainment and Connectivity Senior Manager Corinne S. "Even though we have been recognized with awards for our IFE accessibility features, we are not resting on our laurels but continuing to work towards improving the inflight entertainment experience for all of our customers to ensure entertainment is available for all."
If your travels have taken you through Chicago O'Hare International Airport anytime since October 2019, you may have had a friendly, caring and jovial exchange with Daniel Smrokowski. Daniel is one of four Service Ambassadors thanks to our ongoing partnership with Special Olympics. This inaugural ambassador program aims to provide Special Olympic athletes employment opportunities within our operation, affording them a unique and meaningful career.
Since 2018, our partnership with Special Olympics has become one of United's most cherished relationships, going beyond the events we take part in and volunteer with. While the plane pull competitions, polar plunges, duck derbies and Special Olympics World Games and other events around the world are a big part of our involvement, the heart of this partnership lies with the athletes and individuals supported by Special Olympics. To advocate for their inclusion in every setting is one of our biggest honors, and we take great pride in the role we play in the organization's inclusion revolution.
Aiding in the success of Special Olympics' mission to create continuing opportunities for individuals with intellectual disabilities, throughout the two-year partnership, United has volunteered over 10,500 hours and donated over $1.2 million in travel to the organization. The impact of this partnership is felt at every level, both at Special Olympics and within our own ranks.
"The Inclusion Revolution campaign, led by our athletes, aims to end discrimination against people with intellectual disabilities. United Airlines has joined in our fight for inclusion, empowering our athletes with the skills needed to succeed and opportunities to contribute their abilities as leaders," said Special Olympics International Chairman Tim Shriver. "United Airlines believes that people with intellectual disabilities should be perceived as they really are: independent, world-class athletes, students, employees, neighbors, travelers, and leaders who contribute to make this world a better place."
Our Service Ambassador program is just one of the many ways Special Olympics has impacted not only our employees, but also our customers. "I see every day how our Service Ambassadors connect with our customers the moment they walk into the airport lobby," said Senior Customer Service Supervisor Steve Suchorabski. "They provide a warm, welcoming smile ad assist in any way they can. To see these young adults hold positions that a society once told them they couldn't is truly the most heartwarming part of my job," Steve continued.
"The opportunity to be a part of the United family means everything to me," Daniel said. "I feel so much pride showing up to work in a Special Olympics/United co-branded uniform, working among such a loving and supportive community. The relationship between these two organizations is truly helping to shape my future while letting me use my gifts of communicating and helping others. Hopefully, I can spend my entire career at United," Daniel added.
In honor of Special Olympics' Global Week of Inclusion in July, we're asking our employees, customers and partners to sign a pledge to #ChooseToInclude at jointherevolution.org/pledge.
And be sure to check out Daniel's podcast The Special Chronicles.

In collaboration with food-logistics company Commodity Forwarders Inc. (CFI), United moved nearly 190,000 pounds of fresh produce to Guam for the U.S. Department of Agriculture's Coronavirus Farm Assistance Program. This new program was created to provide critical support to consumers impacted by the COVID-19 global pandemic.
A variety of fresh fruits were transported from Los Angeles (LAX) to Guam (GUM) on United's newly introduced, non-stop cargo-only flight – a route added to meet cargo demand during the COVID-19 crisis. The fresh food was repacked in 10-pound cases in Los Angeles, prepared for departure at CFI's LAX location, and flown to GUM by the United team. Through this beneficial partnership between United and CFI, the perishable goods were kept cool during every step of the process and distributed as part of the food bank program in Guam.
"Everyone on our team has worked relentlessly during the pandemic to get critical goods to where they are needed most. Establishing a comprehensive network of cargo-only flights have allowed us to keep the supply chain moving even while passenger flight capacity has been reduced," said Regional Senior Manager of Cargo Sales, Marco Vezjak. "Knowing that we are able to help during these difficult times – in this case the Guam community – is our biggest reward and greatest motivation to keep moving forward."
United is proud to play a role in maintaining the global food supply chain and helping people access the supplies they need. Since March 19, United has operated over 4,000 cargo-only flights, moving over 130 million pounds of cargo.

Together, we are facing an unprecedented challenge. United Together, we rise to meet that challenge.
Learn more
United Airlines
united
Entertainment for all: the name of our award-winning seatback inflight entertainment system which allows for unassisted use by people of all visual, hearing, mobility and language abilities. See how our employees helped make it the world's most inclusive:
uafly.co/2PwtFRy
United Airlines
united
Next stop: paradise. 🤙 Our San Francisco – Tahiti service is back with flights departing 3x a week. See what travelers need to do before and during their stay in French Polynesia:
uafly.co/33tvK93
United Airlines
united
While electrostatic sprayers are used to disinfect aircraft cabins, the switches & touch screen displays in our flight decks use a different approach. See how ultraviolet C (UVC) lighting is being used to kill viruses that may reside on these sensitive components.
United Airlines
united
A travel waiver is in effect for the East Coast due to Tropical Storm Isaias. If you're traveling 8/4 - 8/5, you can change your flight at no cost on our mobile app, by direct messaging us here or calling 1-800-864-8331. Waiver:
uafly.co/Z04CmP
We Are United
weareunited
The mission of our BRG, Bridge, is to foster an environment where all United employees are able to achieve their maximum potential. Learn about how members of Bridge helped make our award-winning seatback IFE the world's most inclusive.
uafly.co/2PwtFRy
#BeingUnited
We Are United
weareunited
We've rolled out "Easy Chat" as the Flight Info app on Link devices at DCA, IAD, LAX, ORD and DEN with EWR, IAH and SFO coming this summer. This program offers increased connectivity and transparency between the
#BeingUnited
frontline to keep flights moving and on-time.
We Are United
weareunited
Our digital servicing team has developed an automated assistant to make it easier for our customers to learn about what to expect the next time they fly. Text "Clean" to FLYUA (35982) to give it a try!
We Are United
weareunited
Three-year-old Luna Mei was all smiles on her flight home after 212 days in a San Francisco hospital, thanks to her SFO-based FAs (and undercover angels 👼) Pamela R., Sharon S., Sonja B. and Stacey G. The quartet kept spirits high by singing songs, clapping and playing games.
Watch our most popular videos
Flying UCSF Medical Workers to New York
This is why we fly.
20 UCSF Health workers, who voluntarily set aside their own lives to help save lives, are on their way to New York City.
We are humbled by your selfless sacrifice.
Thank you.
#UnitedTogether #UCSFHeroes
A happy, Hollywood ending
This is the story of Jason and Shantel. You see, Jason and Shantel love each other very much. They also love traveling and they love the classic Adam Sandler film, The Wedding Singer.
It all began when Jason reached out to United's social media team, hoping for assistance with his upcoming plan to propose. Some phone calls and one borrowed guitar later, the stage was set for Jason. Put all that together, mix in some helpful United employees and, voila, you have a truly memorable marriage proposal. Congratulations to this fun-loving and happy couple, and here's to many more years of making beautiful music together.
A big thank you to Chicago-based flight attendants Donna W., Marie M., Karen J. and Mark K. for making this proposal come to life.
Copyright © 2020 United Airlines, Inc.
All rights reserved.
Indicates an external site that may or may not meet accessibility guidelines.
Scroll to top
Scroll to top