19 things you need to eat in Seattle right now
When it comes to Seattle food, most of us think coffee and salmon. And to be fair, Seattle pretty much nails both of those. But with a citywide enthusiasm for all things edible, Seattle is making a name for itself as one of America's true culinary capitals. Here are 19 of our favorite bites in the Emerald City.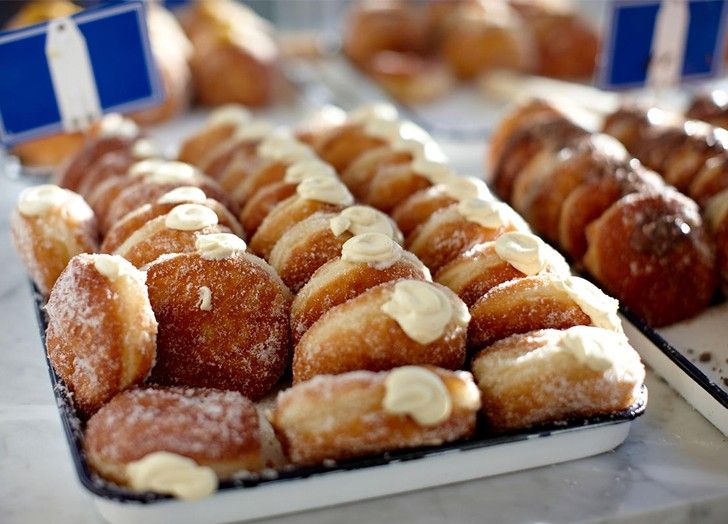 Lemon Curd Doughnut at General Porpoise
First ingredient? Clouds. Second ingredient? Fairy dust. Seriously, we've never tasted anything like these pillowy, sugar-dusted, custard-stuffed yeast doughnuts. All the flavors are fantastic, but we especially love the contrast of the surprisingly tart lemon curd.
1020 E. Union St., 206-900-8700 or gpdoughnuts.com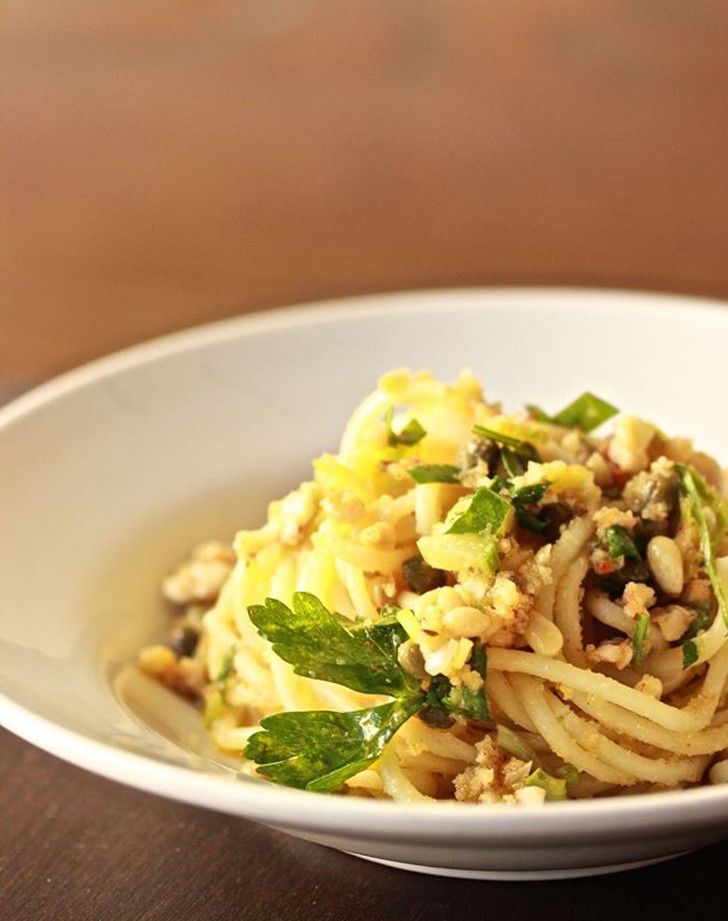 The Daily Special at Il Corvo
A restaurant that's open only at lunchtime on weekdays and serves only pasta seems kind of like a recipe for failure (much as we love a good workday carb coma). But when you serve the best pasta in town (or, arguably, the country), you still get lines around the corner every day. The menu changes daily, but we've yet to get a dud.
217 James St.; 206-538-0999 or ilcorvopasta.com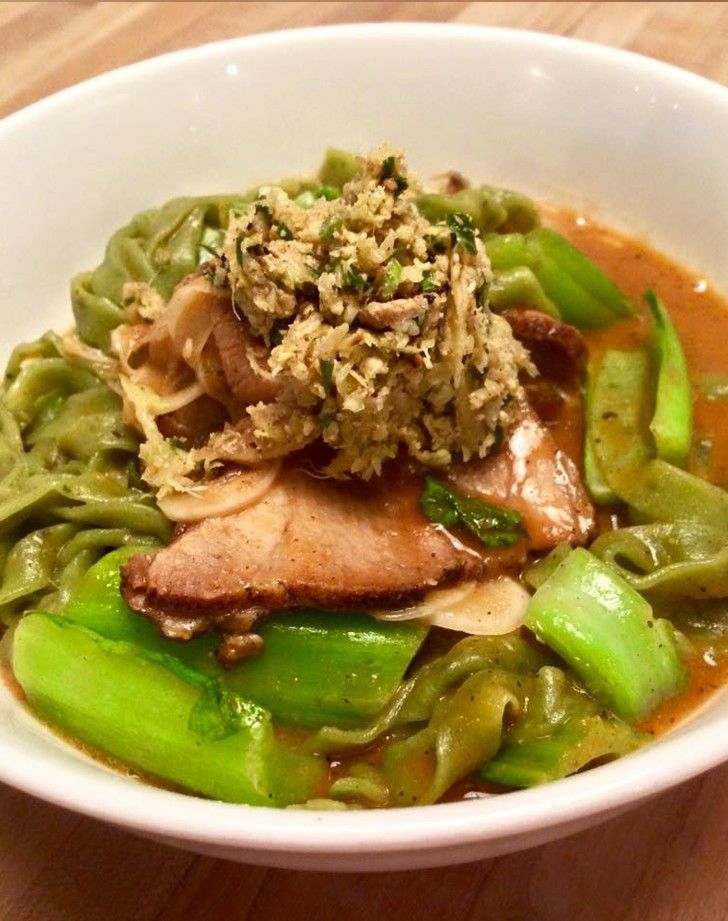 Kale Noodles with Blackened Pork and Spicy Miso at Revel
Everyone raves about the short-rib dumplings at this French-Korean mash-up, and an order of those should certainly be on your table. But we really can't stop thinking about this umami-rich, pleasantly green-hued noodle bowl.
403 N. 36th St.; 206-547-2040 or revelseattle.com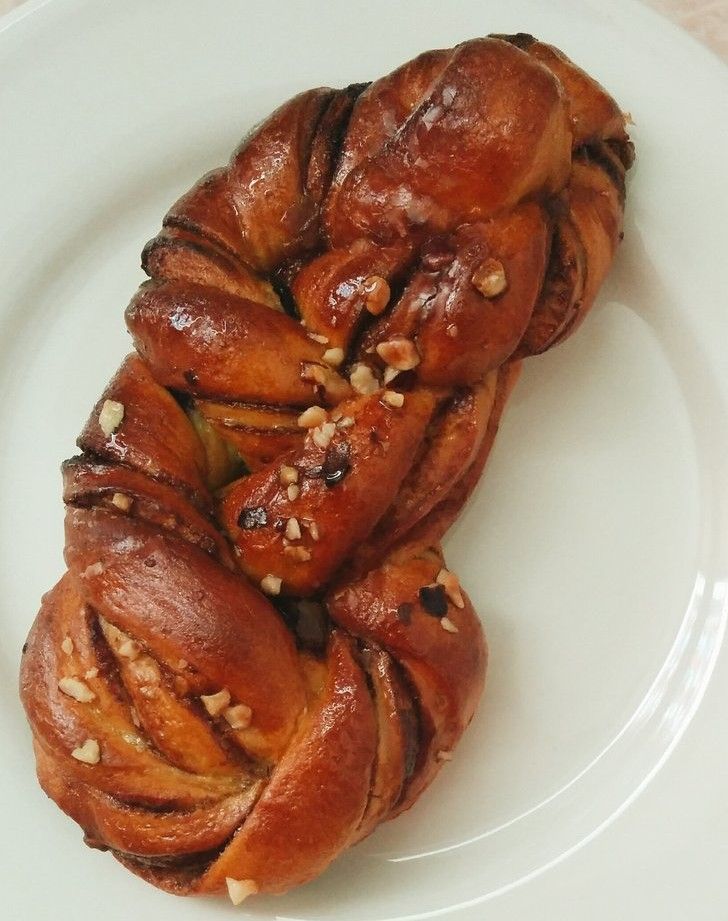 Cinnamon Cardamom Braid at Piroshky Piroshky
Two things will hit you as you approach this 25-year-old Pike Place Market stand: the line of tourists spilling out the door and the incredible smell of butter-rich Russian pastries. Don't let the first detract from the second. You'll want a not-too-sweet cinnamon cardamom braid for breakfast, and probably a smoked-salmon-filled piroshky (or hand-pie) for later.
Multiple locations in Seattle; 206-441-6068 or piroshkybakery.com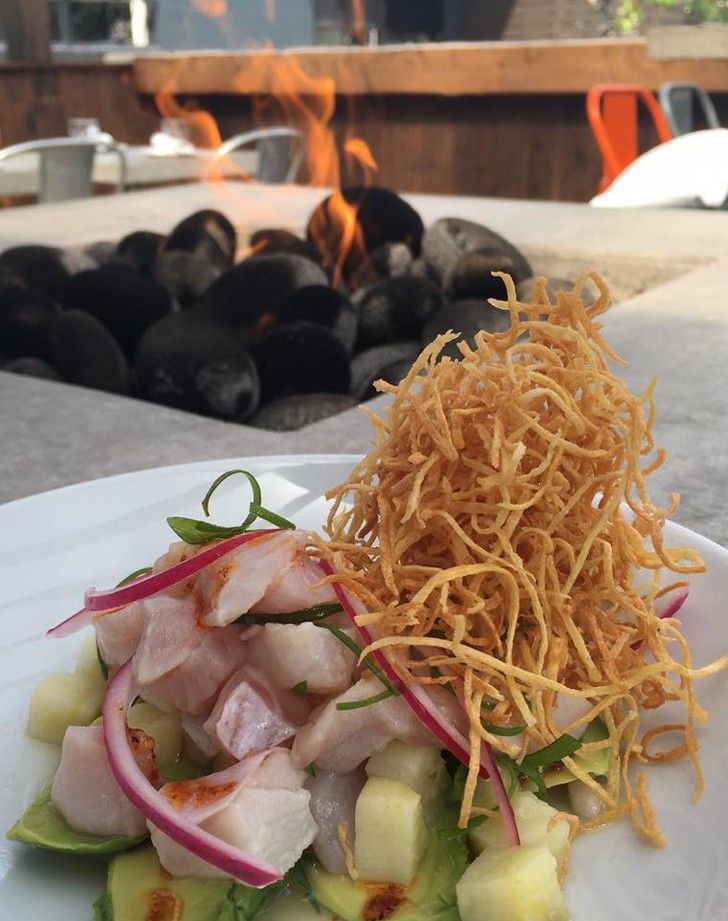 Alabacore Ceviche at Manolin
This Chilean seafood spot is known for its ultra-fresh, creative takes on ceviche. We particularly love the albacore, which comes with toasted quinoa, almonds, habanero chiles and raspberries.
3621 Stone Way N.; 206-294-3331 or manolinseattle.com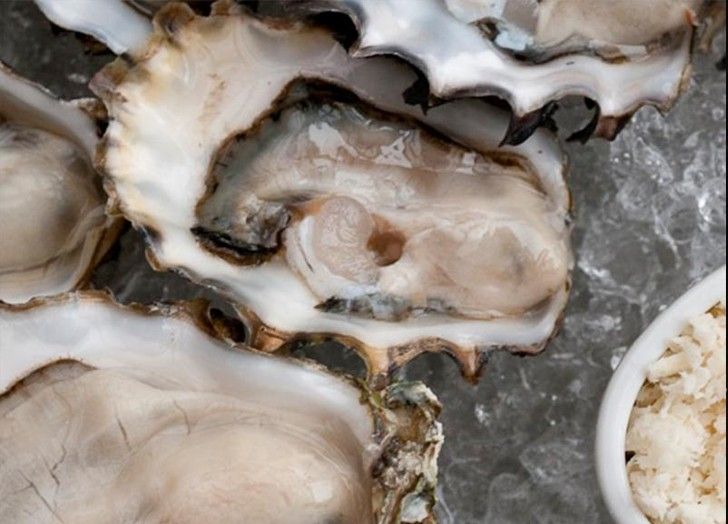 Freshly Shucked Oysters at the Walrus & the Carpenter
It's much lauded as the best oyster bar in the country, and with good reason—the selection of local oysters is unparalleled, and that's not to mention the killer cocktail menu, the inspired small plates and the gorgeous marble bar itself.
4743 Ballard Ave. NW; 206-395-9227 or thewalrusbar.com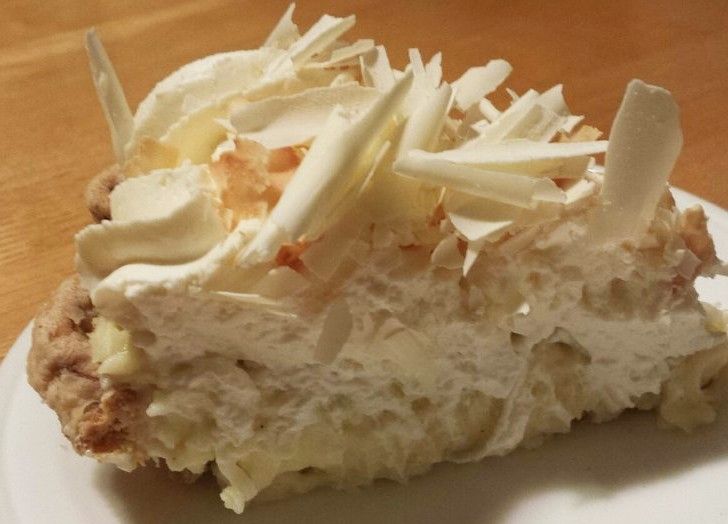 Triple Coconut Cream Pie at Dahlia Lounge
This outrageously decadent pie (a Seattle favorite since the '80s) is so delicious, rumor has it that even über-healthy President Obama orders a full one every time he's in town.
2001 Fourth Ave.; 206-682-4142 or dahlialounge.com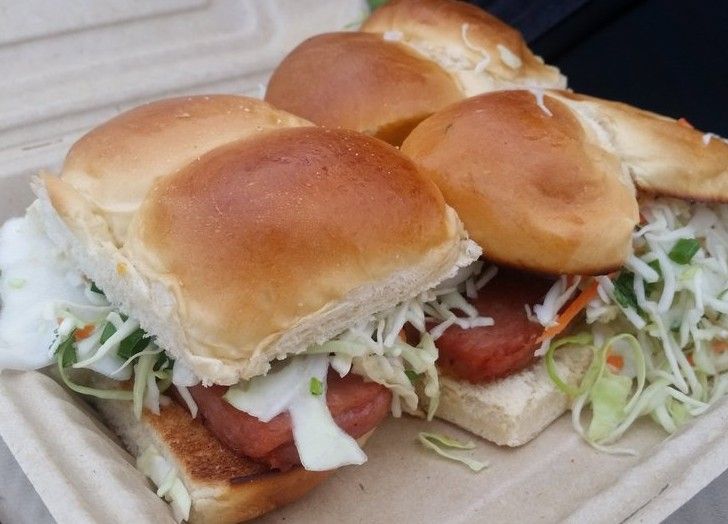 Spam Sliders at Marination Ma Kai
These little slaw-covered Korean-Hawaiian bites will change your feelings on canned meat forever. Plus, the waterfront views are unrivaled.
1412 Harvard Ave.; 206-325-8226 or marinationmobile.com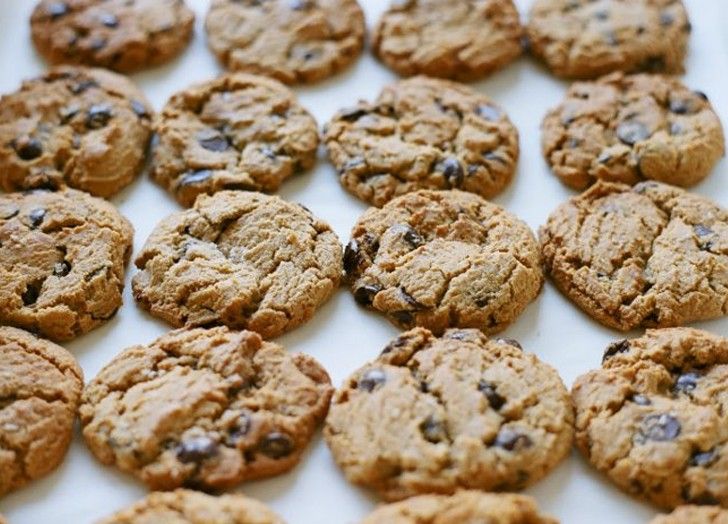 Gray Salt Chocolate-Chip Cookie at Delancey
The pizza at Delancey is indeed terrific, but most locals know to battle the lines for the addictive, salty-sweet chocolate-chip cookies, too.
1415 NW 70th St.; 206-838-1960 or delanceyseattle.com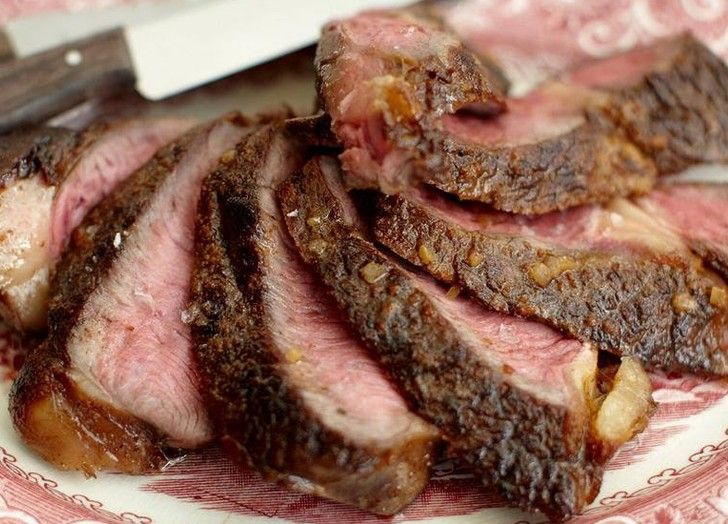 Steak at Bateau
Chef Renee Erickson takes her steaks so seriously, she raises them on her own farm and has an in-house butcher carving each one to order.
1040 E. Union St.; 206-900-8699 or restaurantbateau.com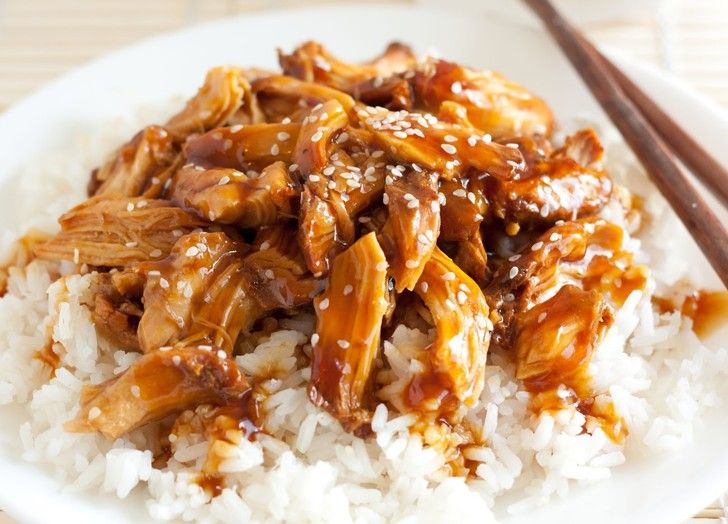 Chicken Teriyaki at Nasai Teriyaki
A true Seattle classic: Chicken thighs smothered in sticky sweet teriyaki sauce and served over white rice. Add gyoza and salad to make it a lunch special—it'll still cost less than a Big Mac.
Multiple locations in Seattle; 425-869-1916 or nasaiteriyaki.com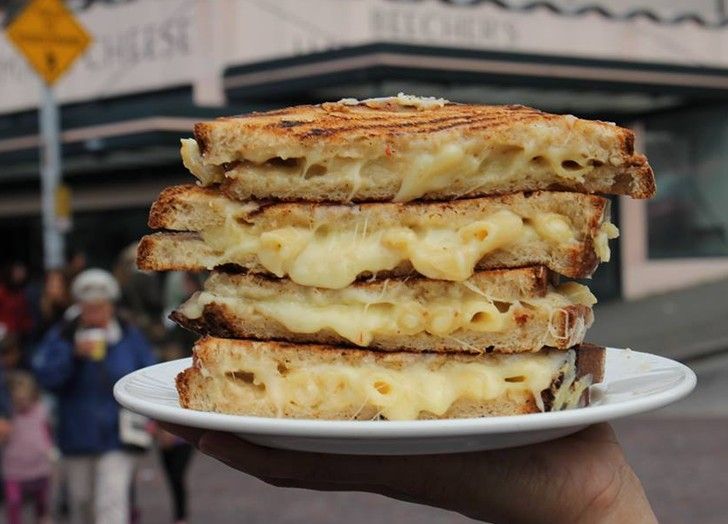 Grilled Cheese at Beecher's Handmade Cheese
If you looked up grilled cheese in the dictionary, this would be it: Golden crust on the outside and warm, stringy melted goodness on the inside. Plus, the cheese is so fresh, you can actually pull up a stool and watch it being made as you chow down.
1600 Pike Pl.; 206-956-1964 or beechershandmadecheese.com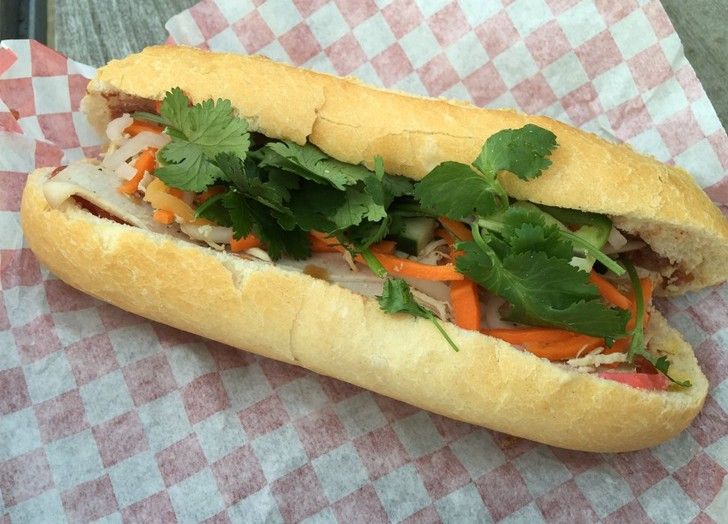 Bánh Mì at Q Café and Bakery
There are excellent Banh Mi all over Seattle, and the secret is always in the crusty baguettes, almost all of which come from one place—Q Bakery. We recommend cutting out the middleman and heading straight there for your sandwich. It doesn't get any fresher, people.
3818 S. Graham St.; 206-725-9193 or facebook.com/pages/Q-Bakery-Sandwiches
Stumptown Coffee Ice Cream at Molly Moon's Homemade Ice Cream
Hey, we had to get some locally roasted, organic, fair-trade coffee on this list somewhere. When it comes to coffee ice cream, trust us (and the lines that are perpetually out the door): Molly Moon's is the place.
Multiple locations in Seattle; 206-547-5105 or mollymoon.com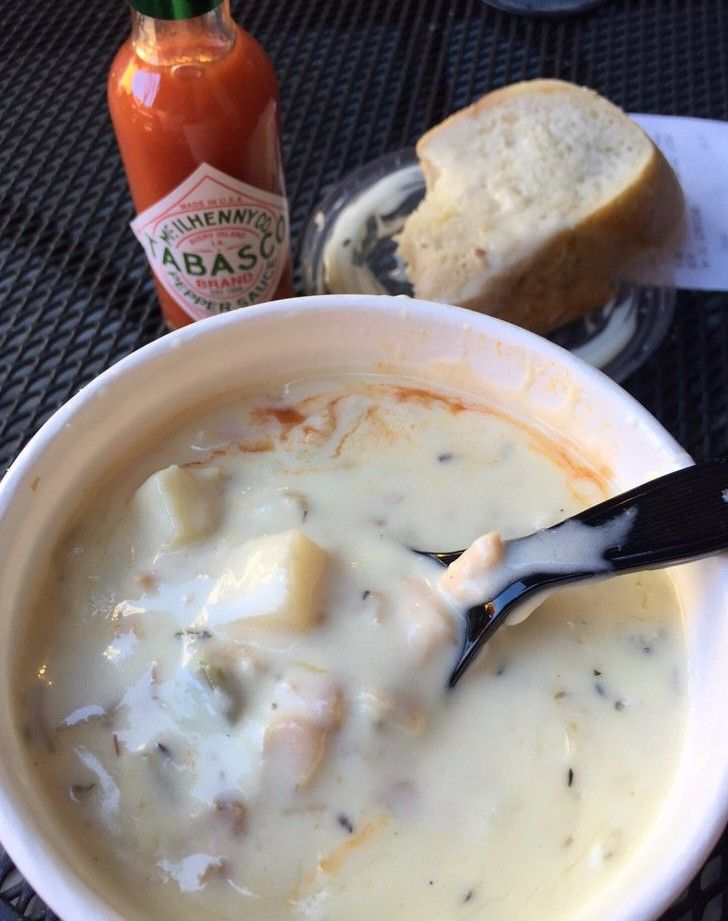 Market Chowder at Pike Place Chowder
You can't go wrong with any of the standard chowders at this Pike Place Market favorite. But for the freshest possible flavors, go for the Market Chowder, which is the chef's choice of whatever was caught that day.
1530 Post Alley; 206-267-2537 or pikeplacechowder.com
Pad Thai at Little Uncle
A far cry from the gummy tangles of noodles that we're used to getting with our standard Thai takeout orders. These are the real deal—toothsome and flavorful, and served with peanuts, roasted chiles, and palm sugar, just like on the streets of Chiang Mai.
1523 E. Madison St., Ste 101; 206-549-6507 or littleuncleseattle.com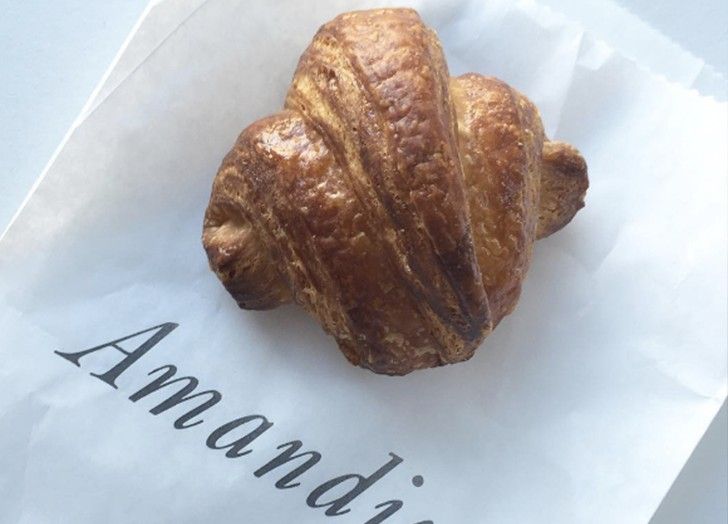 Pistachio Croissant at Amandine Bakeshop
This sophisticated little French bakery has some of our favorite macarons (in fancy-pants flavors like yuzu and blood orange) and a perfectly crackly pistachio croissant.
1424 11th Ave.; 206-948-2097 or amandineseattle.com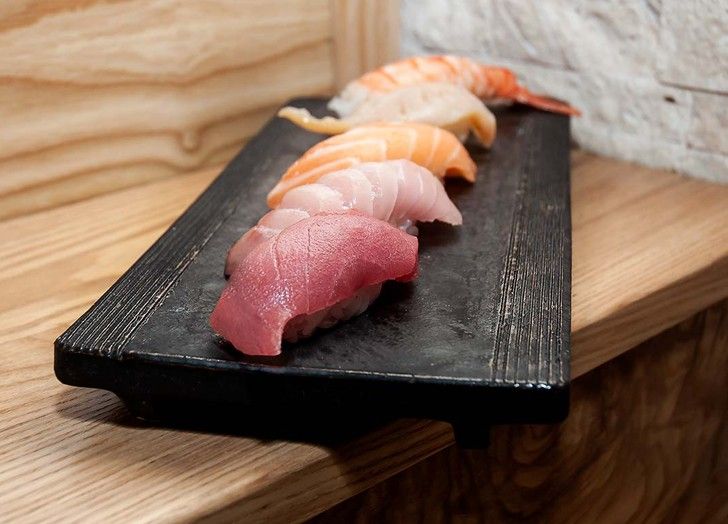 Salmon Nigiri at Sushi Kashiba
As most sushi nerds know, the only way to go is ordering omakase— the chef's tasting menu. But if you're going à la carte, don't miss the nigiri made from locally caught sockeye salmon.
86 Pine St. #1, 206-441-8844 or sushikashiba.com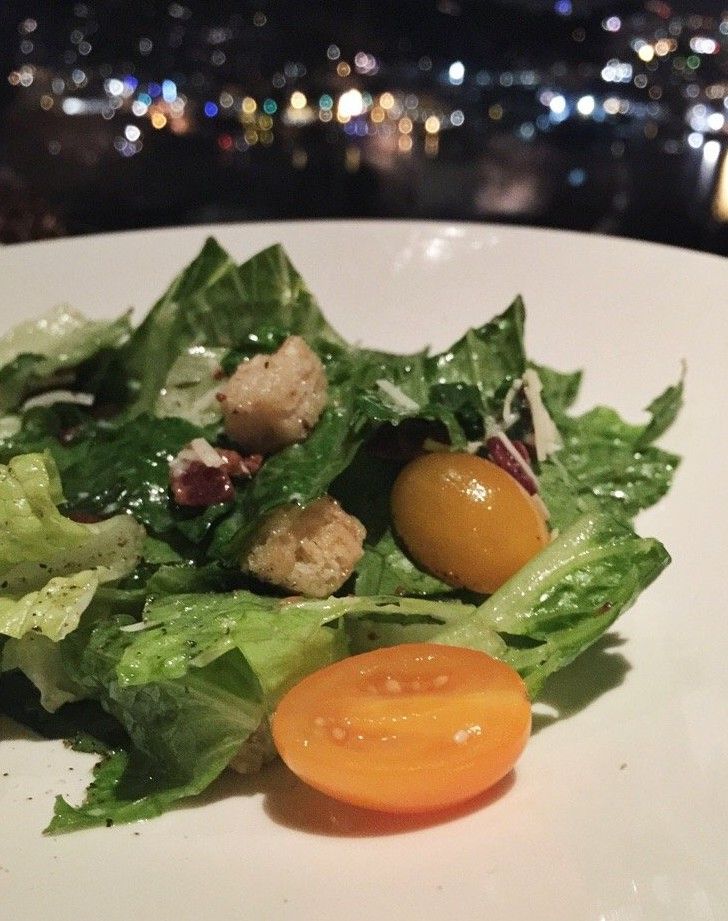 Canlis Salad at Canlis
Since 1950, Canlis has been Seattle's most iconic and revered fine-dining restaurant. Set high in the hills in a gorgeous mid-century modern house (we'd kill for those views), it's a dream dinner location. For 65 years, the eight-course tasting menu has started with the same salad—romaine, bacon, oregano, Parmesan, mint, croutons and the most addictive dressing we've ever had. Swoon.
2576 Aurora Ave. N.; 206-283-3313 or canlis.com
This article was from PureWow and was legally licensed through the NewsCred publisher network.
On March 19, 2020, United operated its first flight carrying cargo without passengers on board. While the passenger cabin was empty, its cargo hold was completely full, carrying more than 29,000 pounds of commodities from Chicago O'Hare International Airport (ORD) to Frankfurt Airport (FRA).
A year later, United Cargo has operated more than 11,000 cargo-only flights carrying more than 570 million pounds of freight. To support the COVID-19 pandemic recovery efforts, United Cargo has also transported more than 113 million pounds of medical and pharmaceutical products on both cargo-only and passenger flights as well as approximately 10 million COVID-19 vaccines, providing global communities access to the items they have needed most.
"At the beginning of the pandemic, we knew we were uniquely positioned to utilize our widebody aircraft and our network to keep commodities moving, so we quickly mobilized various departments throughout the airline to launch a cargo-only network of flights that would keep commodities moving," said United Cargo President Jan Krems. "Thanks to those efforts, United Cargo has delivered millions of items to countries all around the world. We would not have been successful without the steadfast support of our employees, industry partners and our customers."
Since last March, United Cargo has transported almost 850 million pounds of freight on cargo-only and passenger flights. The airline will continue to monitor market trends adjust its cargo-only flight schedules to help ensure we are meeting our customer's evolving shipping needs.
Whether you haven't flown with us for a while or just need a quick refresher before your spring trip, read this list of tips to know before your flight and arrive at the airport travel-ready:
1. Download the United app for contactless bag check, travel assistance and more
Before your flight, download the United app to view your flight status, check in, sign up for flight notifications, locate departure gates, access our free personal device entertainment when available and more. We've also updated our app with new features that can make your trip a little safer, including contactless bag check.
Don't forget to use Agent on Demand for help with any and all questions you may have before your flight. This new capability is available at all our U.S. hub airports and allows you to use your own mobile device to contact a customer service agent via phone, video or chat to help with day-of-travel questions while you're at the airport. Learn more about Agent on Demand here.
2. Check out the Travel-Ready Center
Our Travel-Ready Center makes it easy to get a personalized overview of everything you need to do in preparation for your flight. Just enter your confirmation number or MileagePlus® number and you'll find detailed information on all the documents, tests and more that you'll need for your trip.
3. Read and sign the Ready-to-Fly checklist
Before completing check-in, all United travelers will need to read our Ready-to-Fly checklist and confirm that they understand and agree to our policies. These include:
Acknowledging that you haven't had any symptoms of COVID-19 in the last 14 days
Agreeing that you will not fly if you have tested positive for COVID-19 within the last 21 days
Confirming that you will follow all policies regarding face masks, social distancing and other health and safety measures we've adopted
4. Arrive early; avoid the stress
Airports can be busy, especially during peak travel periods like spring break season. The TSA advises arriving at the airport two hours before your flight for domestic travel and three hours for international travel in anticipation of long security lines. This can help ease the stress when navigating busy check-in areas, security lines and crowded boarding gates.
5. Get familiar with CleanPlus
United CleanPlus℠ is our commitment to delivering industry-leading cleanliness as we put health and safety at the forefront of your experience. We've teamed up with Clorox to redefine our cleaning and disinfection procedures and Cleveland Clinic to advise us on enhancing our cleaning and disinfection protocols, like:
Disinfecting high-touch areas on board and in the terminal
Using electrostatic spraying, Ultraviolet C lighting wands and more advanced measures to clean aircraft cabins before boarding
Redesigning our mobile app to allow for touchless check-in and contactless payment, along with enhanced travel assistance features
Implementing high-efficiency (HEPA) filters on our aircraft that completely recirculate cabin air every 2-3 minutes and remove 99.97% of airborne particles, including viruses and bacteria
Studies show COVID-19 exposure risk is minimal when air filtration systems and masks are in use, so you can rest assured that the steps we've taken to keep you safe truly make a difference.
6. Wear your mask
Federal law requires all travelers to wear a face mask in the airport, including customer service counters, airport lounges, gates and baggage claim, and on board during their entire flight. Make sure you review the requirements for face masks, including what an acceptable face mask looks like.
7. Get ready for a safer boarding process
To make boarding even safer, we now have travelers board their aircraft from back to front. At the gate, just listen for your row number to be called – we'll ask a few rows at a time to board, starting with the last row of the plane. This helps everyone maintain a safe distance from each other during boarding without slowing things down. As you step onto the plane, flight attendants will hand each passenger a sanitizing towelette, which you can use to wipe down your seat to ensure it's extra clean.
8. Pack smart
Before packing your bags, check to see what exactly you can carry on and what you should plan to check. You can also copy your confirmation number into our Baggage Calculator tool to learn about the bag allowance included with your reservation, as well as the cost of checking any additional bags.
9. Check your flight status, important notices and weather
Check the United app regularly for the latest updates on weather conditions, flight status, gate numbers and seat assignments. You can also visit our Important Notices page to find essential information and updates about travel waivers, international travel, TSA and security, airports and United Club locations.
10. Relax and enjoy your flight
Once you're on board, it's time to sit back and enjoy your flight. Our flight attendants will be happy to help you with anything else you need.
This week, we were honored to become the first U.S. airline to join the UNICEF Humanitarian Airfreight Initiative to combat the COVID-19 pandemic by transporting the vaccine and other critically needed supplies to underserved areas of the globe.
"We are committed to helping the global community in any way we can, and we all must work together to do our part to bring this health and humanitarian crisis to an end," said Director of Cargo Specialty Products Manu Jacobs.
We will leverage our expertise to transport these critical pharmaceutical and healthcare shipments around the world safely, efficiently and expediently. We are proud to partner with the United Nations to support this global effort and provide equitable access to COVID-19 vaccines.
Scroll to top