20 most beautiful islands in the world
From Bora Bora to Bali, these are the most beautiful islands in the world to visit.
If you've seen it on a postcard, it's on this list. Beaches, bays, boulders and blowholes. Caves, coves, cliffs and culture. Ruins, reefs, rainforests and rum. Whatever your version of paradise, these 20 islands across the world deliver eye candy galore. Get ready to be blown away by the most beautiful islands in the world.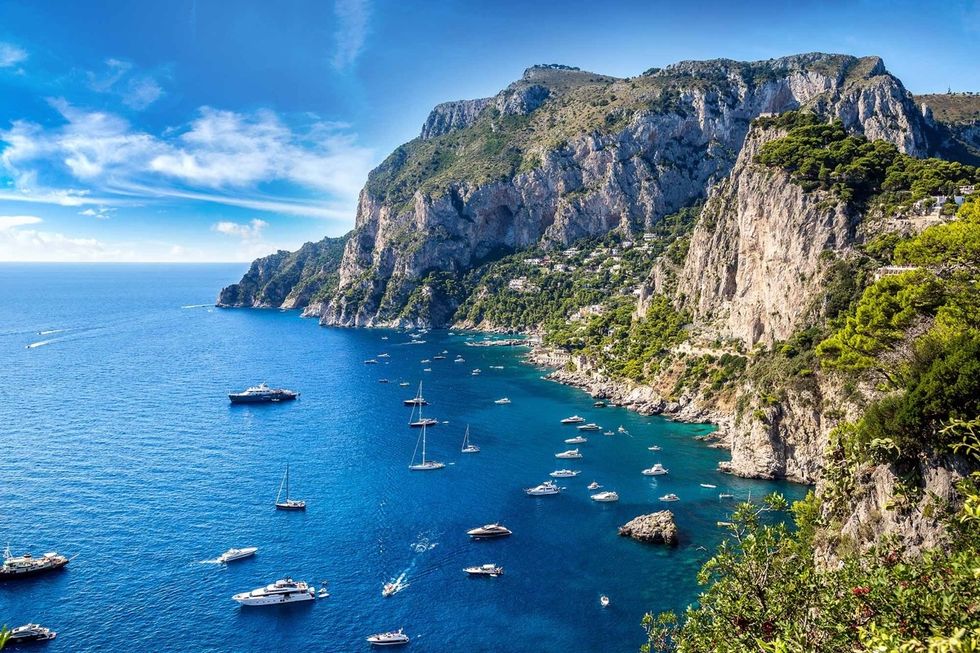 Capri, Italy
Capri, Italy
Who hasn't been spellbound by images of Capri's electric Blue Grotto? This glowing sea cave impresses even veteran globetrotters — and it's only the beginning of the island's marvels. Ash-white limestone cliffs, hidden slivers of beach, a towering natural arch: It's no wonder Capri has been a tourist hub since ancient Roman times. Tip: Climb up to the ruins of Emperor Tiberius' Villa Jovis, circa A.D. 27, for a heart-stopping vista.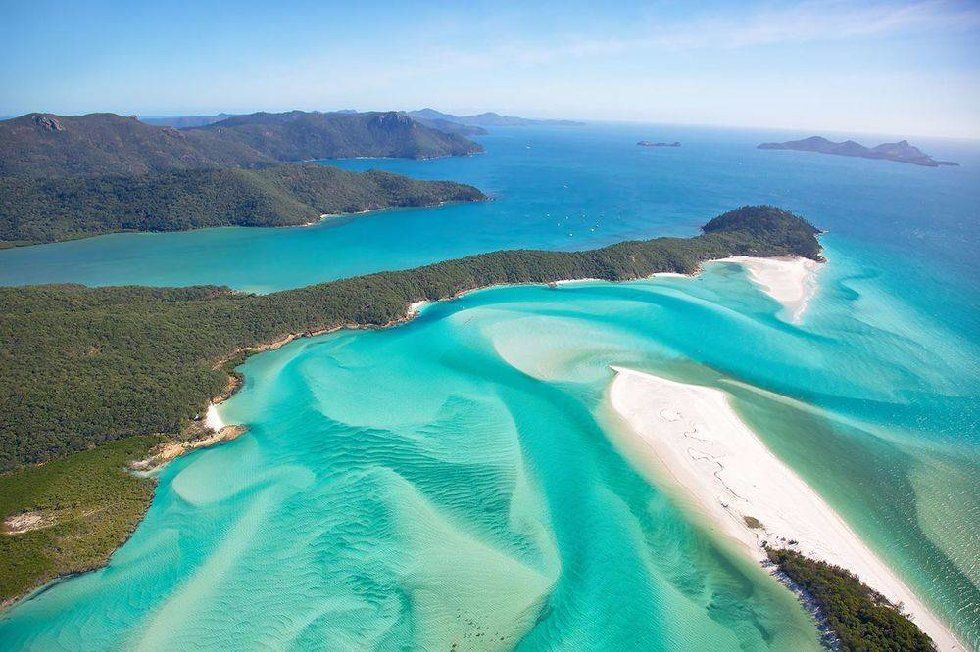 Whitsundays, Australia \Shutterstock
Whitsundays, Australia
The delicate Great Barrier Reef is the earth's most extensive coral-reef system, supporting more than 1,600 species of fish, along with whales, rays, octopuses, dolphins and more. Nestled in the heart of this world wonder are the 74 Whitsunday Islands, all but four of which are protected national parklands. Bask in luxury at a high-end resort like Hamilton Island, and book a seaplane or helicopter flight to admire sights like Heart Reef and the swirling silica sands of Whitehaven Beach's Hill Inlet.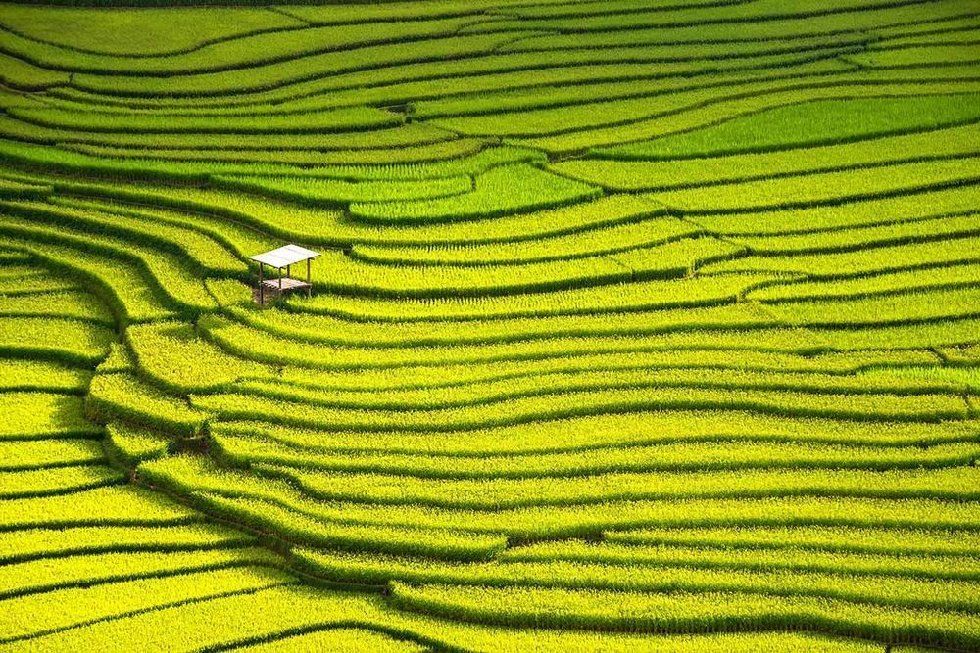 Bali, Indonesia \Shutterstock
Bali, Indonesia
What's most stunning in Bali — dazzling beaches like Nusa Dua, Seminyak and Jimbaran Bay? Ubud's terraced rice fields, sacred forest and ancient monuments? Or the island's 10,000 intricate temples, including Pura Empul (the one you bathe in) and Uluwatu sea temple? Experience all of the above and decide for yourself. The Land of the Gods also boasts a loveliness that is more than skin-deep, thanks to its warm people and ubiquitous, inclusive spirituality.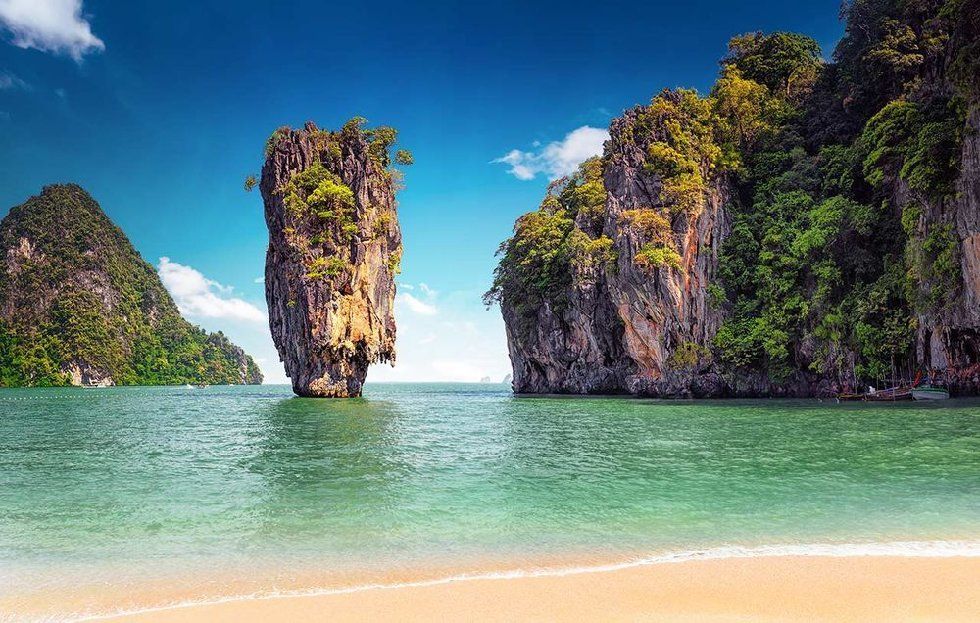 James Bond Island, Southern Thailand \Shutterstock
James Bond Island, Southern Thailand
A limestone spike rising dramatically from the emerald waters of Phang Nga Bay, James Bond Island (Koh Tapu — Nail Island in Thai) earned its moniker from appearing in two 007 movies: The Man with the Golden Gun (1974) and Tomorrow Never Dies (1997). Excursions depart from the popular resort areas of Phuket, Khao Lak and Krabi on photogenic longtail boats. On the tour, explore secret lagoons, craggy sea caves and a floating village.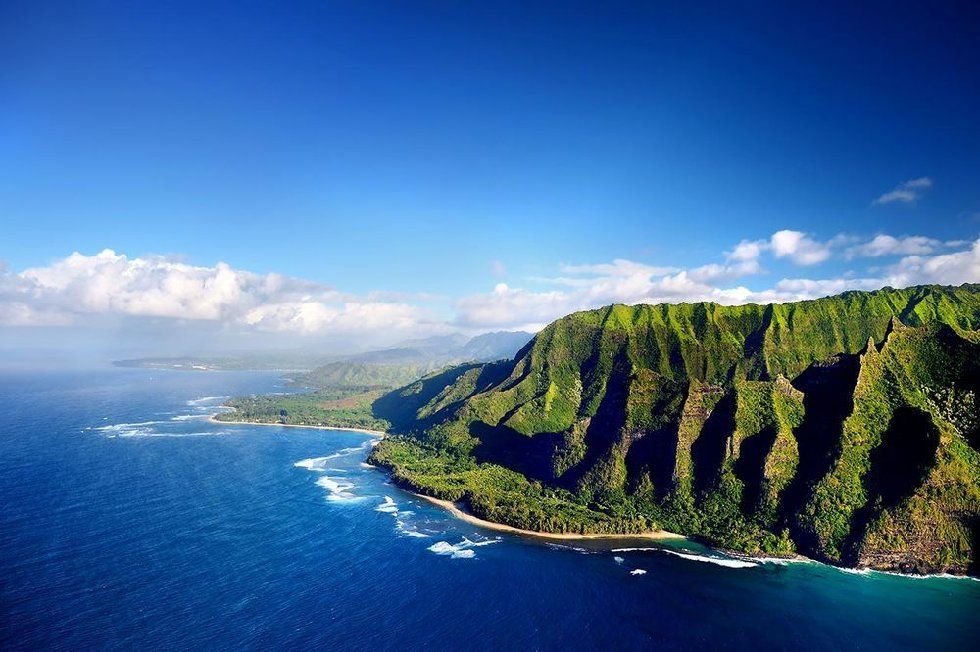 Kauai, HawaiiShutterstock
Kauai, Hawaii
Christened the Garden Island, Kauai's splendor extends from its vermillion Waimea Canyon, plunging down 3,600 feet, to its rugged Napali Cliffs, stretching up 4,000 feet. Often dotted with dozing monk seals, Kauai's Poipu Beach has appeared on Dr. Beach's esteemed list of America's Best Beaches. Rivers, rainforests and waterfalls garnish the interior; don't miss a photo op of Wailua Falls, famously featured in the opening credits of Fantasy Island, which aired from 1977 to 1984.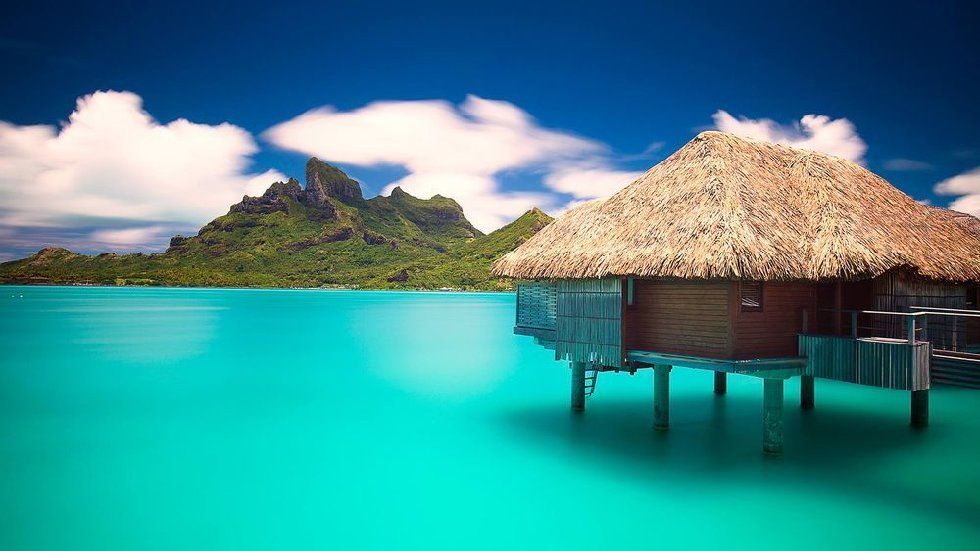 Bora Bora, the Islands of Tahiti \Jon Whittle
Bora Bora, the Islands of Tahiti
Every imaginable shade of blue manifests in the lagoon of Bora Bora, aka, the Jewel of the South Seas. Coral motus ring the main island like a sandy sash, and beneath the surface, dolphins, rays, sharks, turtles and colorful fish throng. Presiding over it all is the moss-green volcanic peak of Mount Otemanu, where god descended to the island on a rainbow, according to local lore. Timeless grass-skirted dancers and exotic overwater bungalows round out the sublime scene.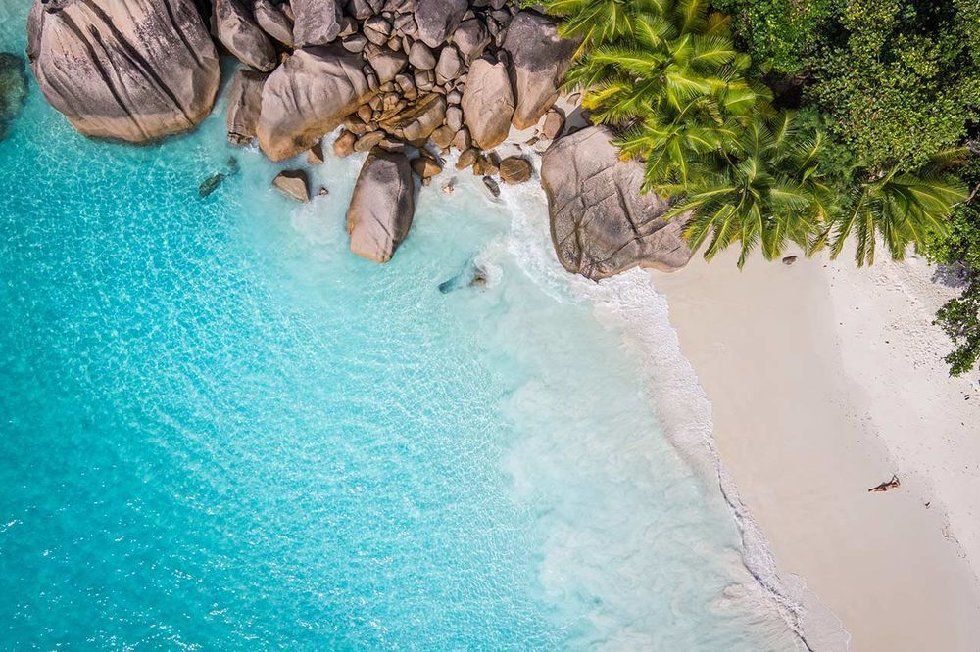 Seychelles \Shutterstock
Seychelles
The Seychelles' towering beach boulders are a mainstay on computer desktops, but they're more than merely aesthetic — they also fascinate geologists, who have identified the Seychelles as the only mid-ocean islands formed of granite. Other superlatives: The archipelago is the oldest on the planet, and it has the cleanest air. Naturally, celebrities flock here; if you want to vacation a la British royalty, stay on North Island, where Prince William and Kate Middleton spent their 2011 honeymoon.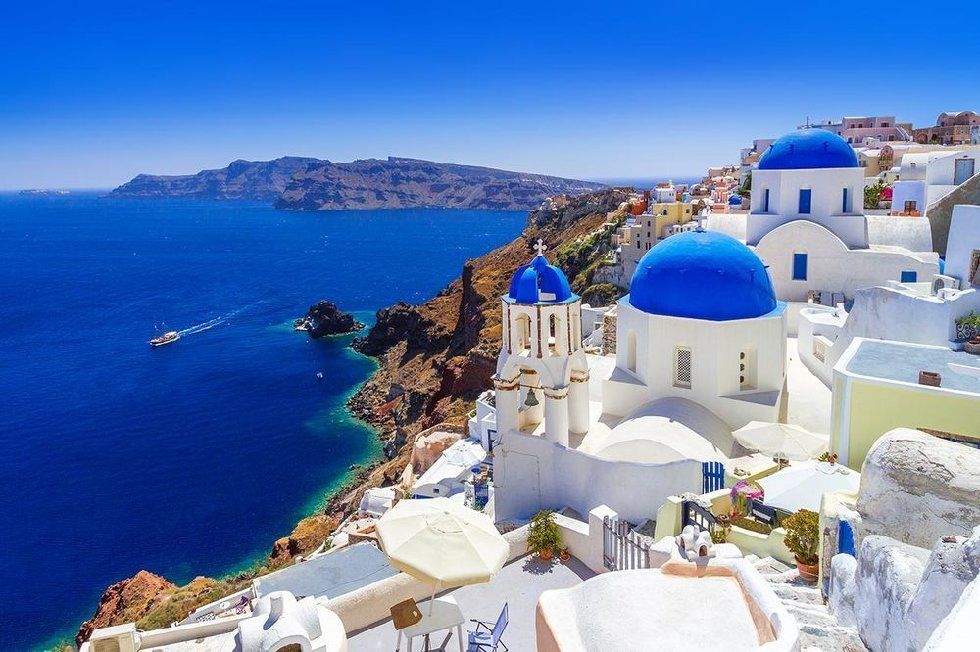 Santorini, Greece \Shutterstock
Santorini, Greece
Possibly the location of the storied island of Atlantis, Santorini is the stuff of screensavers and wall calendars. Red-, black- and white-sand beaches rim its caldera lake — one of the largest in the world — while iconic whitewashed buildings stair-step up the hillside overlooking the Aegean Sea. Photo ops abound, from centuries-old windmills and ancient ruins to blue-domed churches and colorful wooden fishing boats. Stay in a boutique cave hotel for the full experience.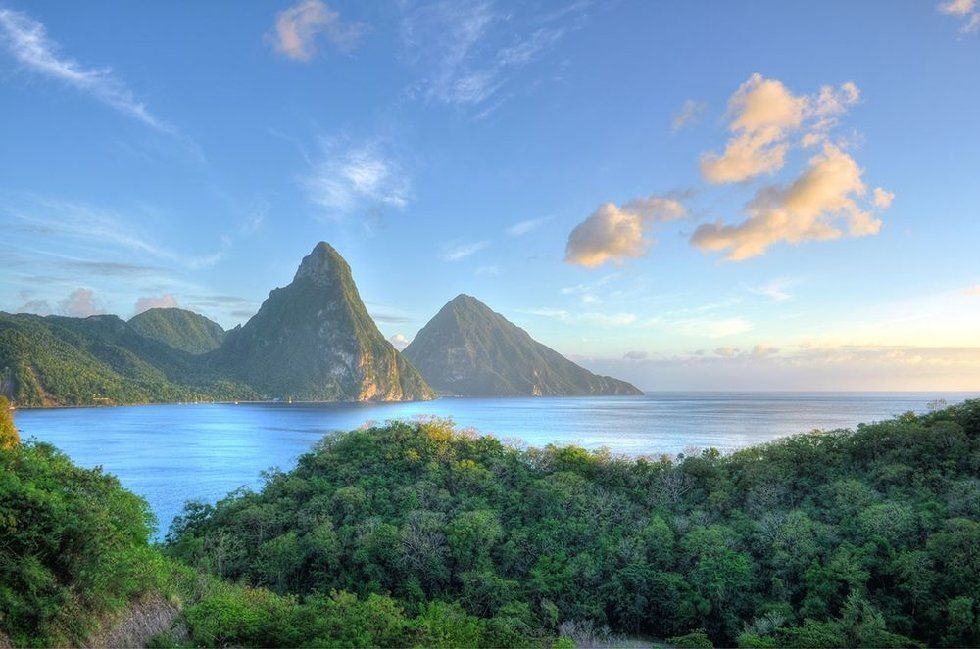 St. Lucia \Shutterstock
St. Lucia, Caribbean
Nicknamed "The Helen of the West" (an allusion to the beauty of Helen of Troy), St. Lucia stuns with its signature feature: the UNESCO-listed twin Pitons. Reaching heights of about 2,500 feet, the voluptuous volcanic spires complement the island's other attractions, including verdant jungles, sparkling silver-sand beaches, haunting sugar-estate ruins, and a mineral-rich natural mud bath. Meanwhile, the island's most famous resort, Jade Mountain, is an architectural gem in its own right.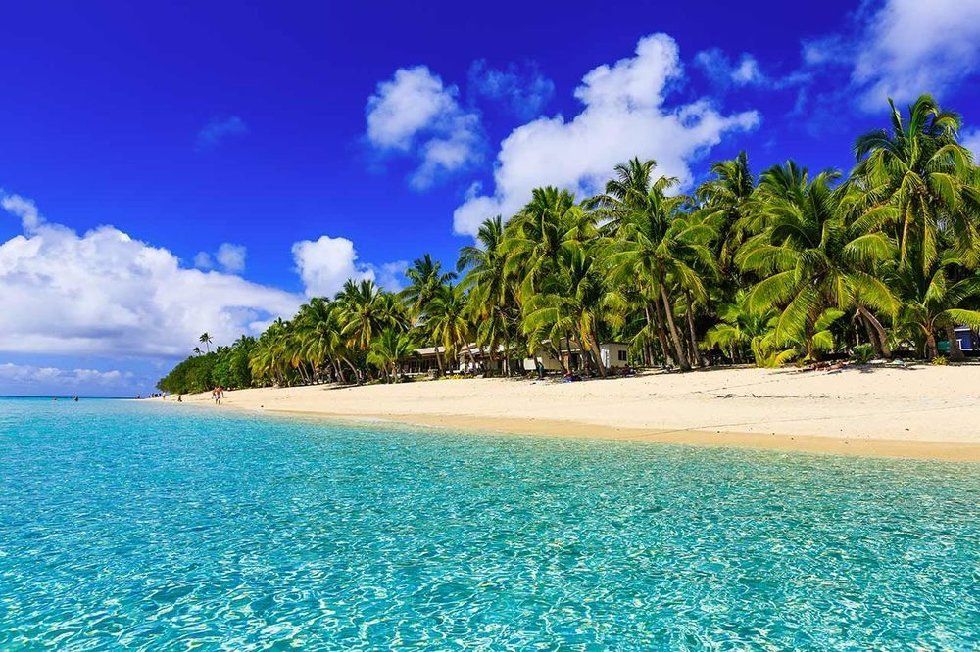 Fiji \Shutterstock
Fiji
Drop-dead gorgeous Fiji is a filmmaker's dream. Spy its Mamanuca island chain in Cast Away and Survivor; ogle its Yasawa archipelago in the 1980 version of Blue Lagoon. A dizzying amount of natural beauty — from mountains and mangroves to rivers and reefs — swathes Fiji's 333 islands, and awe-inspiring wildlife (whales, sea turtles, dolphins, parrots) is the icing on the cake. For scenery with a side of luxury and exclusivity, reserve a bure (villa) at one of Fiji's numerous private-island resorts.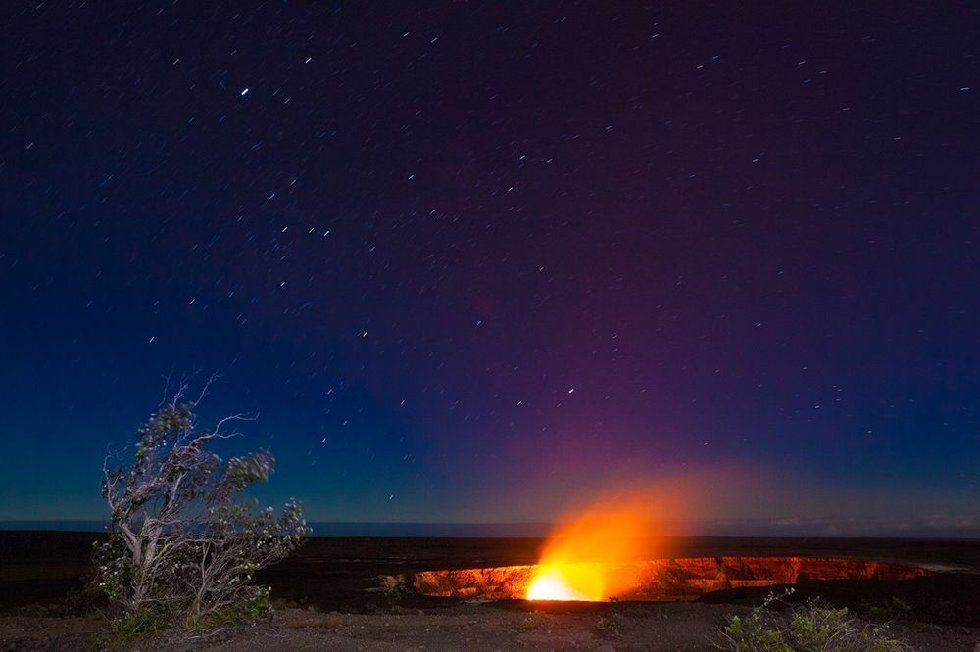 Big Island, Hawaii \Shutterstock
Big Island, Hawaii
The Island of Hawaii (i.e., the Big Island) contains 10 of the world's 14 climate zones — the only spot on the planet with so many condensed into one small region. Lush tropical terrain rules the green, wet, windward side of the island (see Akaka Falls and Waianuenue/Rainbow Falls), while more arid beauty is on display at Hapuna Beach Park. You can even enter an ice climate at the mystical summit of Mauna Kea volcano, as well as Lake Waiau, one of the highest lakes in the United States.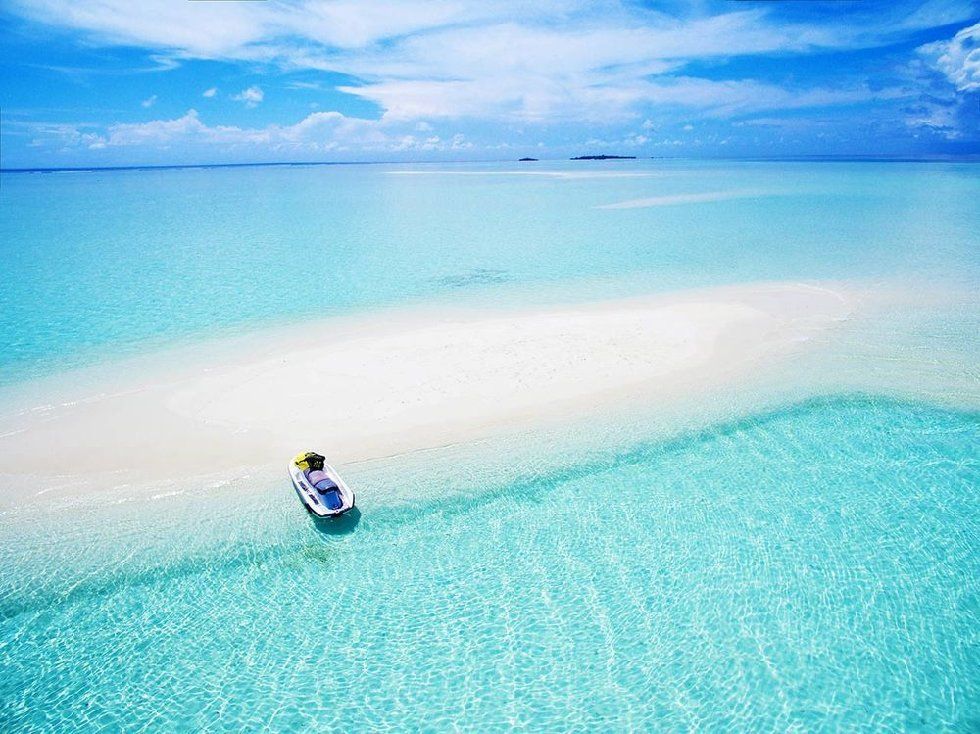 Maldives \Shutterstock
Maldives
Holding the largest number of overwater bungalow resorts in the world (more than 75 and counting), the Maldives understands its best asset is the gin-clear, abundant waters of the Indian Ocean. When you're not snorkeling, diving, or gazing at the rich marine life through the floor windows of your water-top villa, continue enjoying the underwater display while dining at 5.8 Undersea Restaurant, or even while getting pampered in Huvafen Fushi's submerged spa.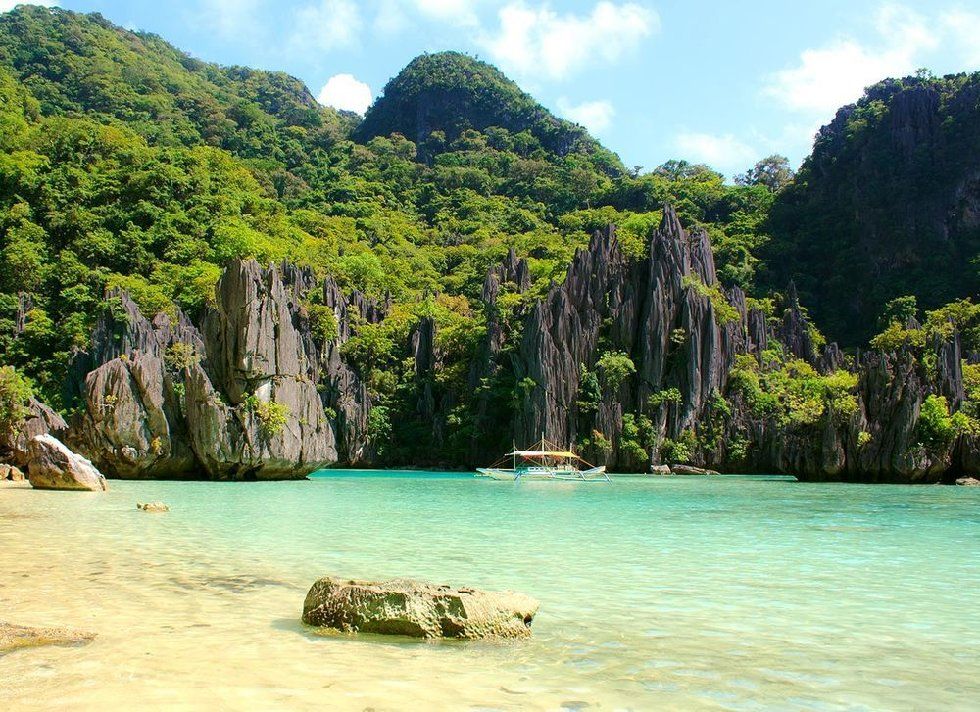 Palawan, Philippines \Shutterstock
Palawan, Philippines
Described as the Philippines' last frontier, Palawan boasts not one but two UNESCO World Heritage sites: Tubbataha Reefs Natural Park (don your dive gear), and the Puerto-Princesa Subterranean River National Park (climb in a canoe for a guided tour). Striking limestone formations like Ugong Rock and Karst Mountain Elephant Cave rise starkly from the rice fields of the interior. You can even find overwater bungalows on outlying islands, courtesy of El Nido Resorts.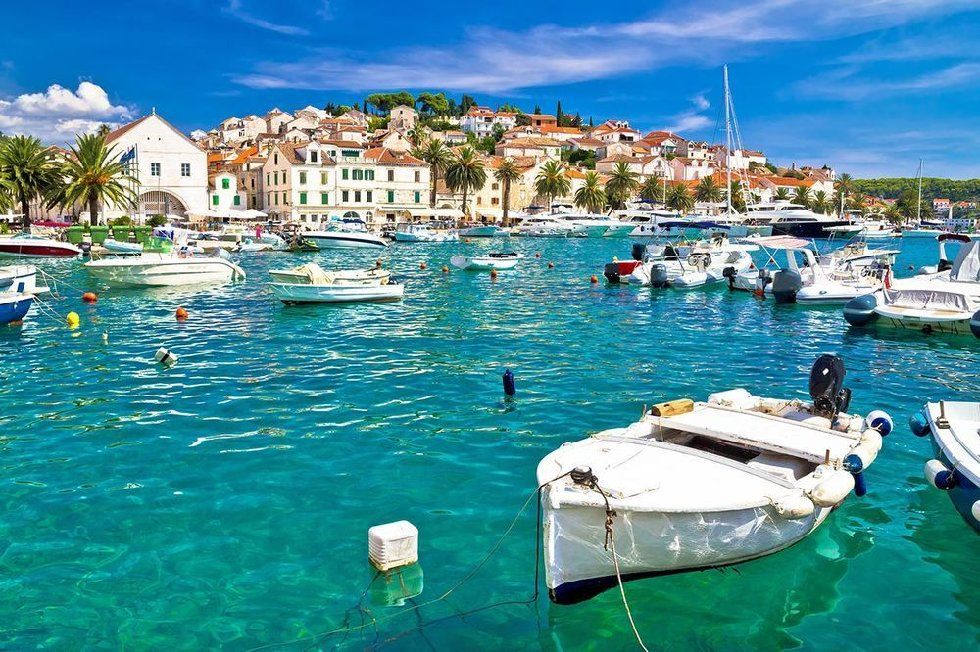 Hvar, Croatia \Shutterstock
Hvar, Croatia
With a history dating to the Stone Age, Hvar is as fascinating as it is beautiful. Thirteenth-century walls surround Hvar Town, with its red-tiled roofs, and the ancient stone ruins of Stari Grad Plain became a UNESCO World Heritage site in 2008. A jaunt to the interior reveals rugged mountains, lush vineyards and fragrant lavender fields. Embark on a boat trip on the Adriatic to snorkel, swim in sea caves, and wander secret beaches and seaside hamlets.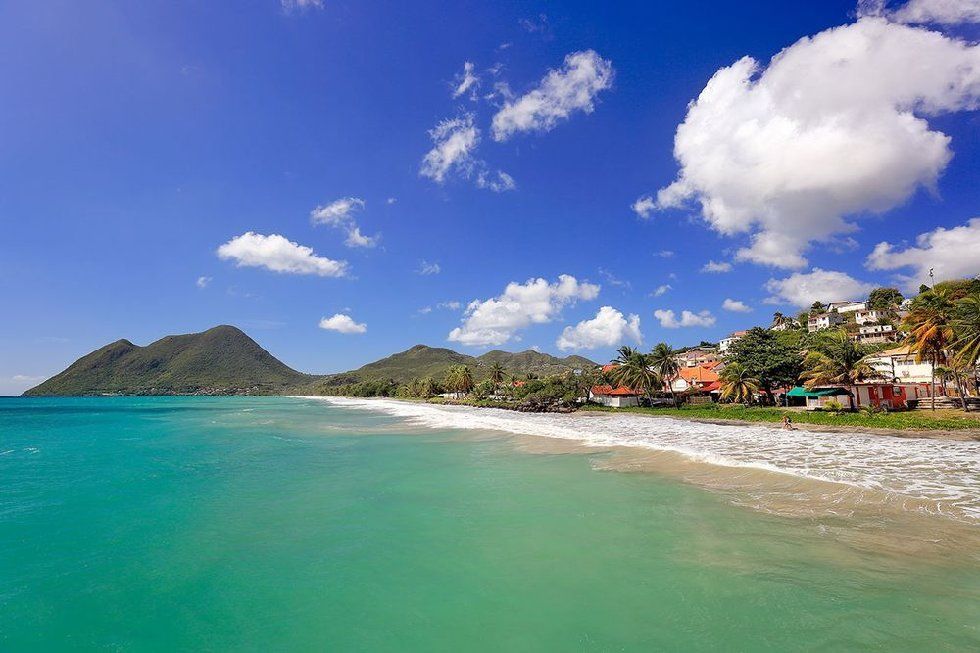 Martinique \Shutterstock
Martinique, Caribbean
Dubbed the Isle of Flowers and crowned by 4,583-foot Mount Pelee, Martinique may just be the Caribbean's best-kept secret. Some exploration is required to uncover the island's treasures, like the Balata Gardens' Treetop Trail of suspension bridges, Saint-Pierre's 18th-century theater ruins, and the poignant Anse Cafard Slave Memorial. This overseas region of France is also considered the rum capital of the world; follow the Route des Rhums to tour esteemed distilleries like Clement and Rhum JM.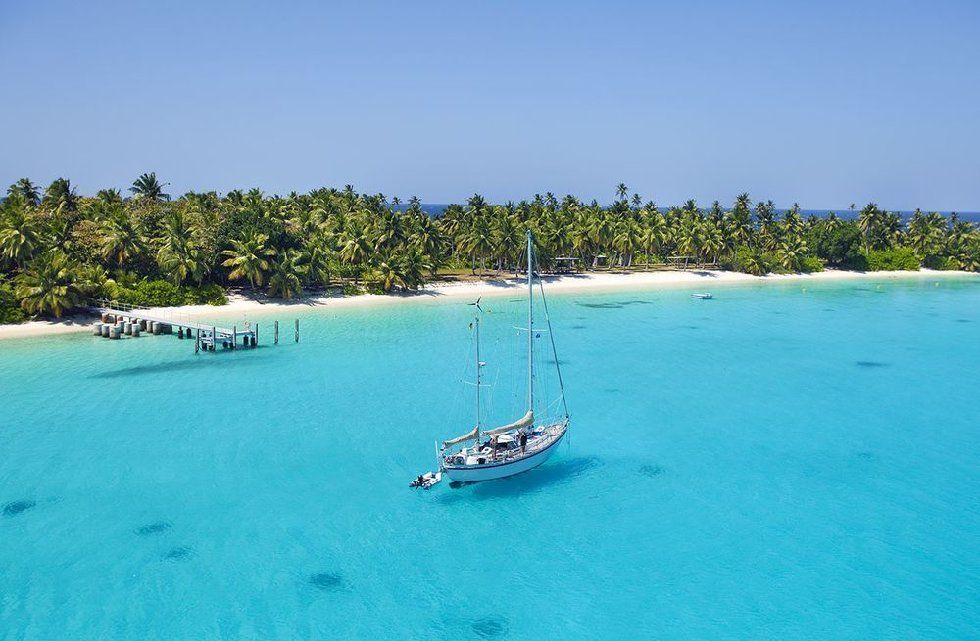 Cocos Keeling, Australia \Shutterstock
Cocos Keeling, Australia

A group of 27 coral islands that form two atolls in the Indian Ocean, the Cocos Keeling Islands were virtually unheard of until beach activists Brad Farmer and Andrew Short named Cocos Keeling's Cossies Beach as the best in Australia for 2017. Called the continent's last unspoiled paradise, the remote destination is as special for what's not there (high-rise resorts, chain restaurants, crowds, traffic) as what is — pristine white sand and a turquoise lagoon that's home to 30,000 sea turtles.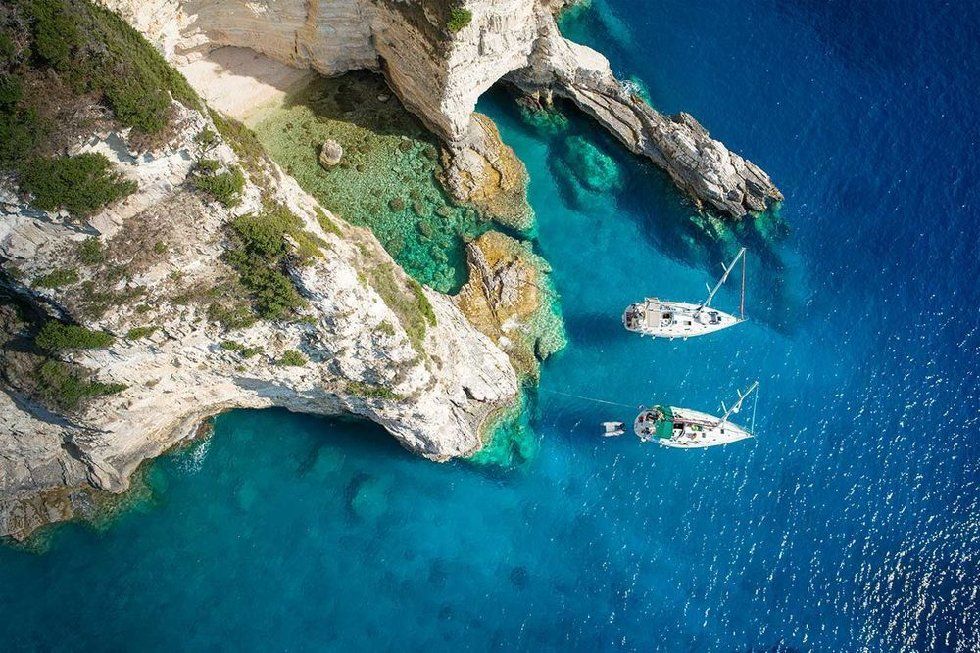 Paxos, Greece \Shutterstock
Paxos, Greece
Take everything you want Greece to be — olive groves and tavernas, fishermen and bakers leading quiet village lives, stone villas and cypress trees and brilliant bougainvillea — and put it on a tiny, Ionian island only reachable by boat: That's Paxos. On the western coast, sheer cliffs, rock arches and 40 sea caves put on a stunning show. Daytrip to the neighboring island of Antipaxos for powder sand and water so aqua, it rivals the Caribbean Sea.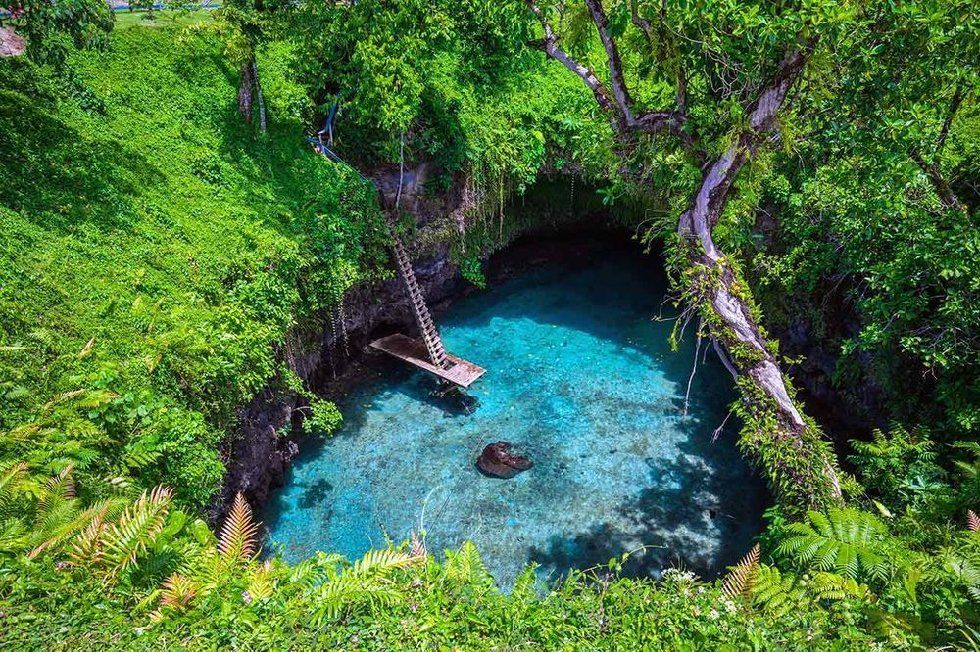 Samoa \Shutterstock
Samoa
Known as the Cradle of Polynesia, Samoa is notable for its Fa'a Samoa way of life — a 3,000-year-old social code that prizes family, tradition and the environment. Happily, the landscape is as lovely as the local culture. On the main island of Upolu, a plunge into the To Sua Ocean Trench swimming grotto is a must. On Savaii, Samoa's largest island, visit caves, waterfalls, blowholes and the Saleaula lava field, formed by a 1905 volcanic eruption that buried five villages.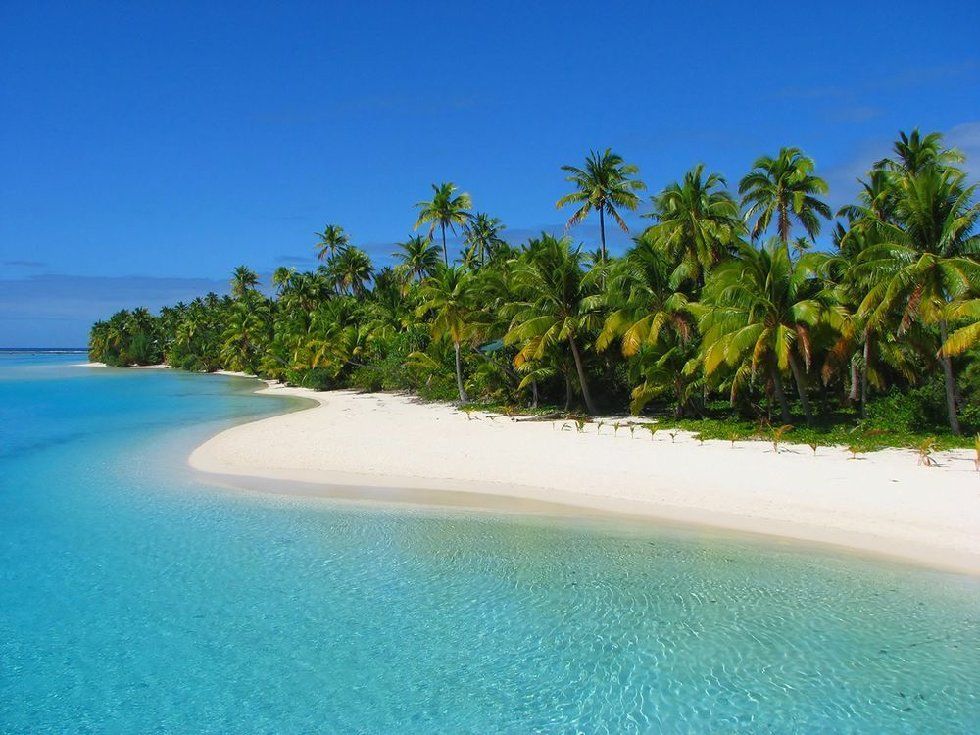 Cook Islands \Shutterstock
Cook Islands
Glass-bottom boats with thatched canopies ply shimmering lagoons. Tanned locals in pareus (sarongs) play ukuleles. Ridged velvet-green mountains punctuate the skyline. Palm trees reach higher than any roof. This is reality in the Cook Islands, a 15-isle archipelago marooned in the South Pacific. Go on a mountain safari on the main island of Rarotonga, or head to Aitutaki to stay in an overwater bungalow and motu-hop to deserted sugar beaches that beg to be Instagrammed.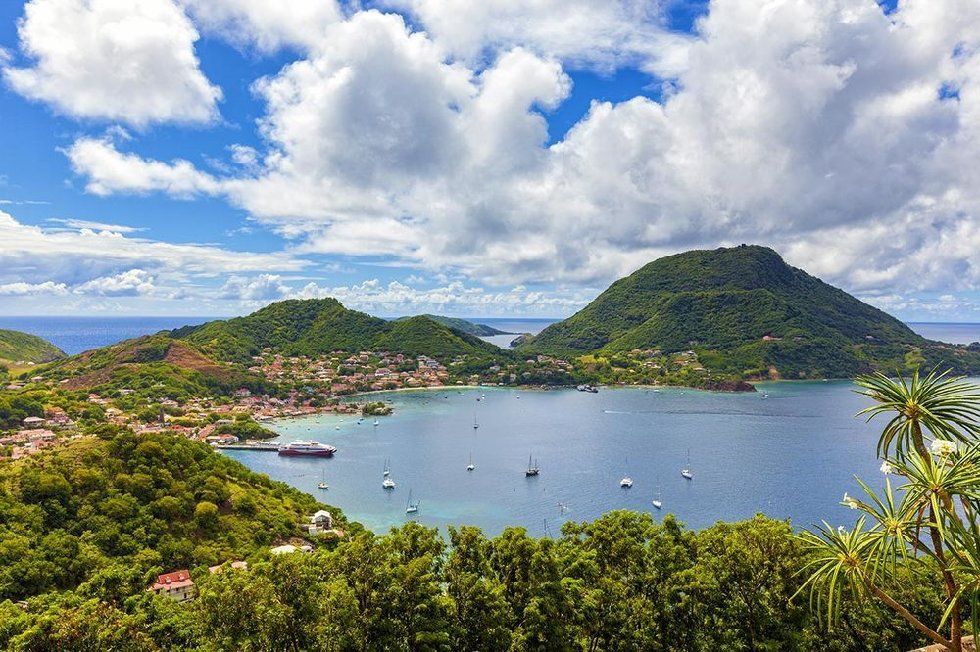 Guadeloupe, Caribbean \Shutterstock
Guadeloupe, Caribbean
The so-called pearl of the French Caribbean, Guadeloupe is a butterfly-shaped archipelago of five main islands where volcanoes tower and 200-plus beaches come in shades from black and white to red and pink. Basse-Terre's tropical forest and the bay of Grand-Cul-de-Sac Marin were declared a UNESCO Biosphere Reserve in 1993. From there, island-hop to discover Grande-Anse beach on Les Saintes; Marie-Galante's rum estates (and old-fashioned oxcarts); and La Desirade's 900-foot plateau.
This article was written by Evan Harris from Islands and was legally licensed through the NewsCred publisher network. Please direct all licensing questions to legal@newscred.com.
Calling all AvGeeks and travelers! Here's a fun way to take your next video call….from a United Polaris seat, the cockpit or cruising altitude. We're introducing United-themed backgrounds for use on Zoom, a video conferencing tool that many people are using to stay connected.
So for your next meeting or catch up with friends and family, download the app to either your computer or mobile device to get started. If you've already downloaded Zoom you can skip ahead to updating your background image (see instructions below).
Start here by downloading your favorite United image to your computer or mobile device. Just click "download" in the bottom left corner of the image.
Next go to your Zoom app (you'll need to download the app to access backgrounds) and click on the arrow to the right of your video camera icon in the bottom of the screen.
From here select, "choose virtual background" to upload your uniquely United photo.
When and where possible, we are working to repatriate travelers who are stranded abroad in the wake of the COVID-19 crisis. Our teams are working closely with government officials here in the U.S. as well as in other countries where flying has been restricted to gain the necessary approvals to operate service. In regions where government actions have barred international flying, we have coordinated with the the U.S. State Department and local government officials to re-instate some flights. Additionally, we have been operating several extra flights to countries in Central America and South America as we continue to play a role in connecting people and uniting the world.
We have operated more than 56 repatriation flights from Panama City, Guatemala City, Quito, Lima, San Pedro Sula, Tegucigalpa and Roatan, bringing nearly 8,000 people home. We will continue working with government officials to operate extra flights to Houston from Quito, San Pedro Sula, Tegucigalpa and from Lima to Washington Dulles and beginning April 5, we will begin operating multiple charter flights between Delhi and San Francisco. We continue to review more opportunities for flights between the United States and other countries to bring citizens home.
Video provided by the U.S. Embassy Ecuador of Americans returning home on United.

Additionally, our Customer Solutions and Recovery team is working with customers in the following markets to rebook them on flights back to the United States as capacity allows, either on our aircraft or on one of our airline partners' planes:

Quito, Ecuador
Managua, Nicaragua
Roatan, Honduras
San Pedro Sula, Honduras
Amsterdam
Brussels
Munich
Singapore
Tokyo-Haneda
Seoul, South Korea
Melbourne, Australia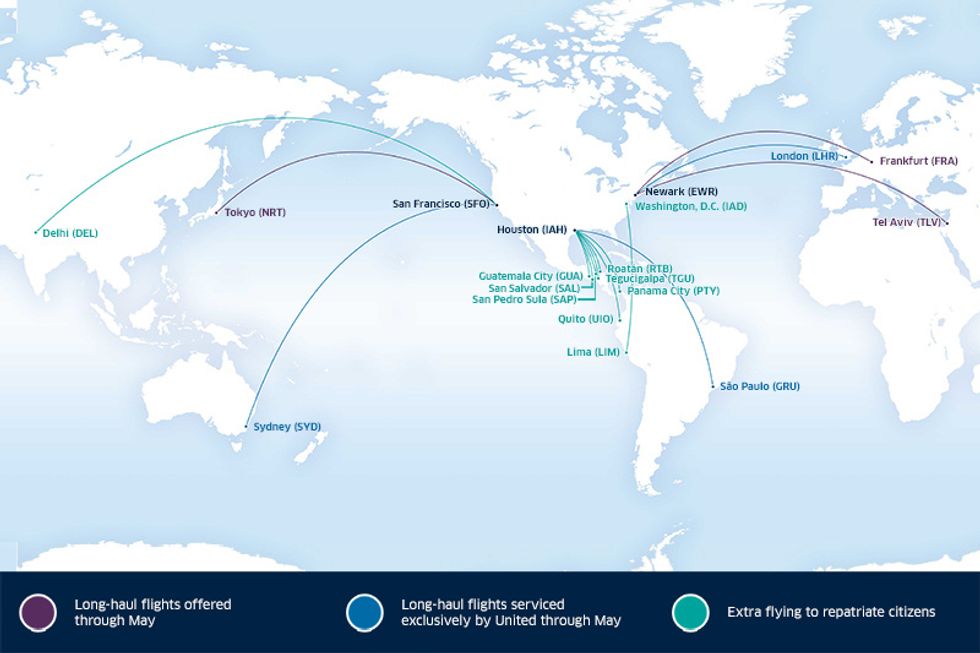 We also recently reinstated several international flights back into our schedule to support customers and essential businesses which depend on these routes. As a result, we will be the only airline to offer service between Newark/New York and London, San Francisco and Sydney, as well as Houston and São Paulo, Brazil.

In the midst of mobilizing our cargo operations, our teams at New York/Newark (EWR) and Jacksonville (JAX) stepped in to assist Roche Diagnostics with transporting a vital component for an instrument being used for COVID-19 testing.
The component was stuck at EWR en route to the Mayo Clinic in Florida after another airline's flights were cancelled. A Roche employee contacted us asking for help and, within a few hours, our teams had the piece loaded onto a Jacksonville-bound aircraft, with arrangements in place to deliver it to the Mayo Clinic.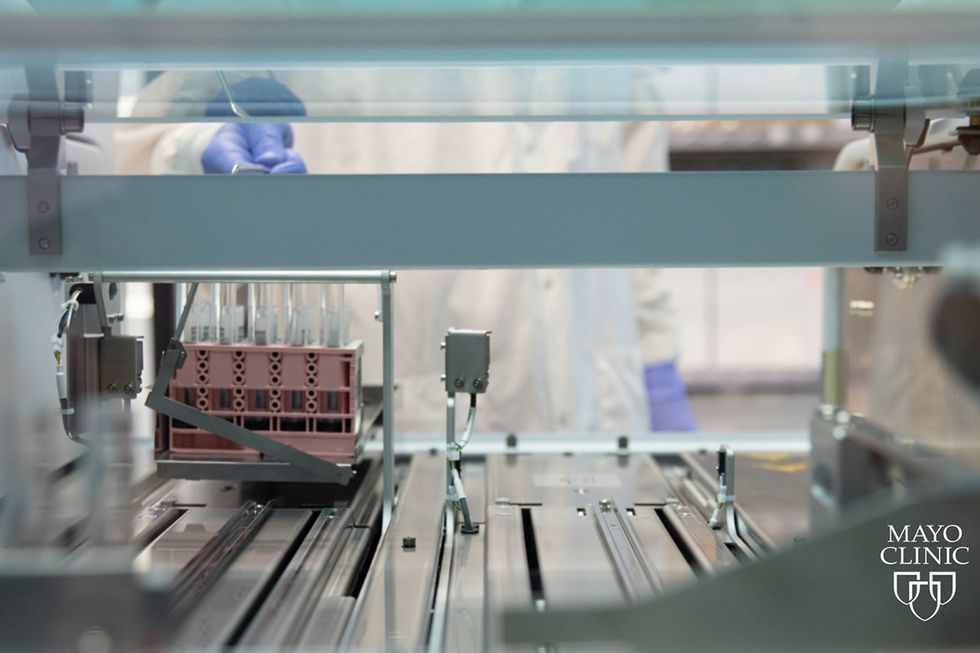 The item we shipped will allow the Mayo Clinic in Florida to process hundreds of COVID-19 tests per day. Mayo Clinic Laboratories has been on the front lines of increasing testing capacity to expedite caring for patients at this critical time and working to ease the burden being felt at test processing laboratories in a growing number of areas.

Together, we are facing an unprecedented challenge. United Together, we rise to meet that challenge.
Check out our newest destinations
United Airlines
united
We continue to work with government officials to bring Americans home. In addition to flights from Central & South America, we have charter flights planned from India. Learn more about our repatriation efforts in the wake of COVID-19 here:
uafly.co/3aExaOL
#UnitedTogether
United Airlines
united
When
@RocheDia
needed to ship a vital component of a COVID-19 testing unit from New Jersey to Florida, United Cargo jumped in to help. Read about how this part will allow
@MayoClinic
to process hundreds of tests per day for cases in the Southeastern U.S.
uafly.co/2UzOAGW
United Airlines
united
International schedule update: We know some people around the globe are displaced and still need to get home. We are reinstating some international flights over the next few days and will continue to fly six daily international flights through May.
uafly.co/3a5Dj6p
United Airlines
united
We have extended our change fee waiver to cover travel through May 31, 2020: - You can change or cancel your flight on
united.com
or through the app – a phone call is not required - For the latest on our commitment to your safety, visit
united.com/coronavirus
We Are United
weareunited
Shoutout to our operations team, who are working to properly park, maintain and store many aircraft in the
#BeingUnited
fleet. These aircraft are being housed across our seven hubs, maintenance facilities in CLE and MCO as well as at offsite facilities in New Mexico and Arizona.
We Are United
weareunited
Tomorrow, Oscar and Scott will host a companywide town hall to discuss the latest developments in managing the effects of the coronavirus (COVID-19). You can join the livestream event at 1:20 p.m. CT here:
uafly.co/39AV25m
We Are United
weareunited
Tomorrow, Oscar and Scott will host a companywide town hall to discuss the latest developments in managing the effects of the coronavirus (COVID-19). You can join the livestream event at 1:20 p.m. CT here:
uafly.co/39AV25m
.
Watch our most popular videos
Copyright © 2020 United Airlines, Inc.
All rights reserved.
Indicates an external site that may or may not meet accessibility guidelines.
Scroll to top
Scroll to top