The 20 best diners in America
There's a time and a place for fine dining, but there's nothing quite like washing down a grilled-cheese sandwich with a chocolate malt at a retro greasy spoon. Here, the 20 best diners across the 50 states.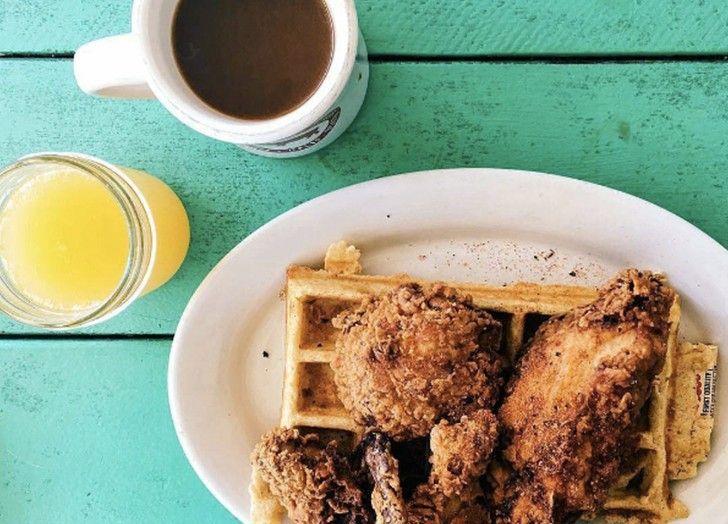 @yelpnorthbay/Instagram
1. Fremont Diner; Sonoma, CA
You might be tempted to pass by this unassuming shack on your drive from Sonoma to Napa Valley…but don't. Instead, grab a table on the outdoor patio and order anything containing fried chicken. The tangy, homemade pickles are a much-welcome addition.
2698 Fremont Dr., Sonoma; 707-938-7370 or thefremontdiner.com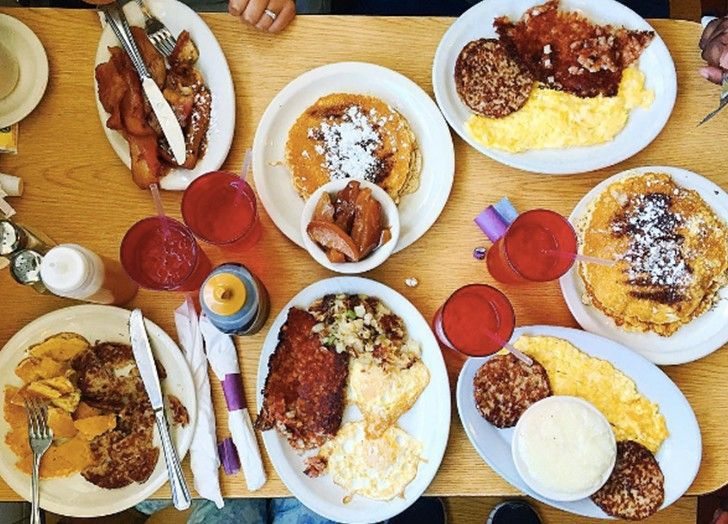 @setarrra/Instagram
2. Florida Avenue Grill; Washington, D.C.
Called the oldest soul food restaurant in Washington, this Southern cookin', U Street spot attracts everyone from politicians to college students for its hot cakes, grits and biscuits.
1100 Florida Ave. NW, Washington, D.C.; 202-265-1586 or floridaavenuegrill.com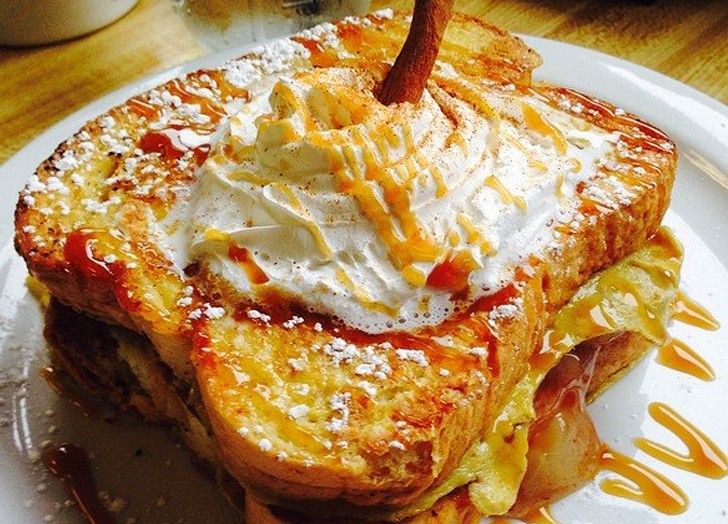 June S./Yelp
3. Miss Worcester Diner; Worcester, MA
Known as Miss Woo, this '50s-style diner in the working-class neighborhood of Worcester specializes in French toast. In fact, the menu offers over a dozen varieties like S'mores and Apple Pie.
300 Southbridge St., Worcester; 508-753-5600 or yelp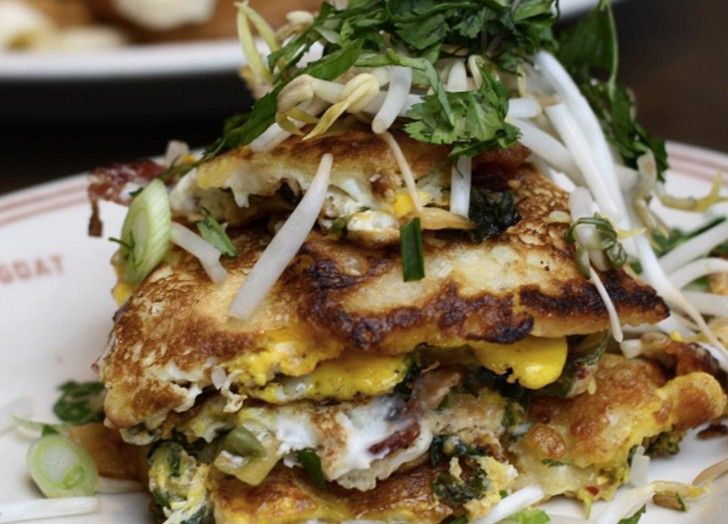 @onemoredish/instagram
4. Little Goat; Chicago
This Chi-town favorite is a classic diner with a modern twist, serving creative interpretations of classic comfort foods. We're talking kimchi, bacon-and-eggs scallion pancakes and Fat Elvis waffles topped with peanut butter, banana and bacon maple syrup.
820 W Randolph St., Chicago; 312-888-3455 or littlegoatchicago.com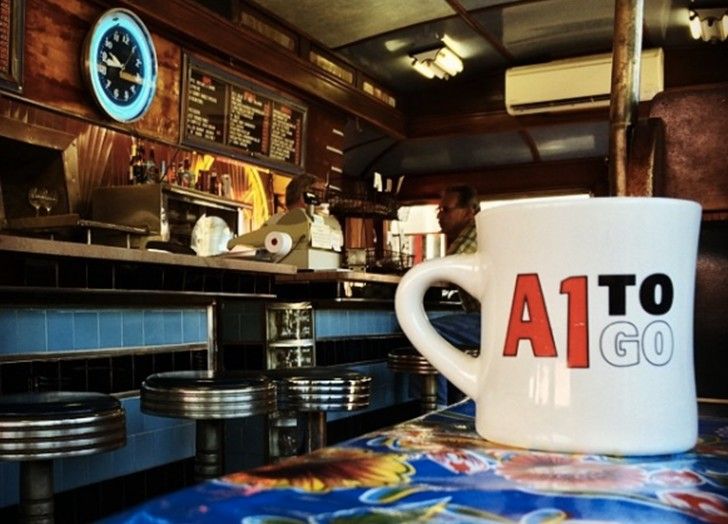 @Roadtrip_newengland/Instagram
5. A1 Diner; Gardiner, ME
A1 Diner--an original Worcester Lunch Car--hasn't changed much in 60 years. Walking into the chrome enclosure and sitting at one of the mahogany booths is like stepping back in time. Make sure to order a side of the famous potato hash.
3 Bridge St., Gardiner; 207-582-4804 or facebook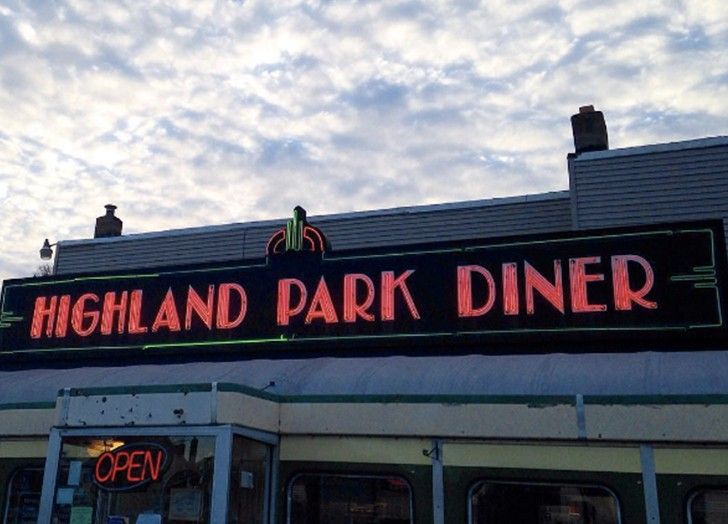 @rochesterny/Instagram
6. Highland Park Diner; Rochester, NY
This '40s-era dining car is as quaint and old school as they come. The milkshakes are phenomenal, and each month you'll find a new special on the menu. Order it.
960 Clinton Ave. S, Rochester; 585-461-5040 or yelp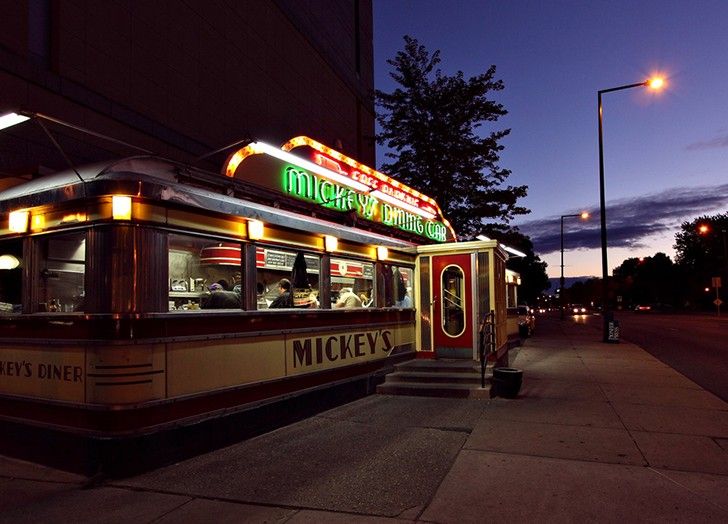 Jerry Huddleston/Flickr
7. Mickey's Diner; St. Paul, MN
This Art-Deco landmark in St. Paul has been run by the same family for three generations. Stop by for breakfast 24 hours a day, 365 days a year, and order a "One Eyed Jack"--an egg-in-a-hole meets a grilled-ham-and-cheese sandwich.
36 Seventh St. W, St. Paul; 651-222-5633 or mickeysdiningcar.com
RELATED: The Best Sandwich Shop in Every Single State (OK, and D.C)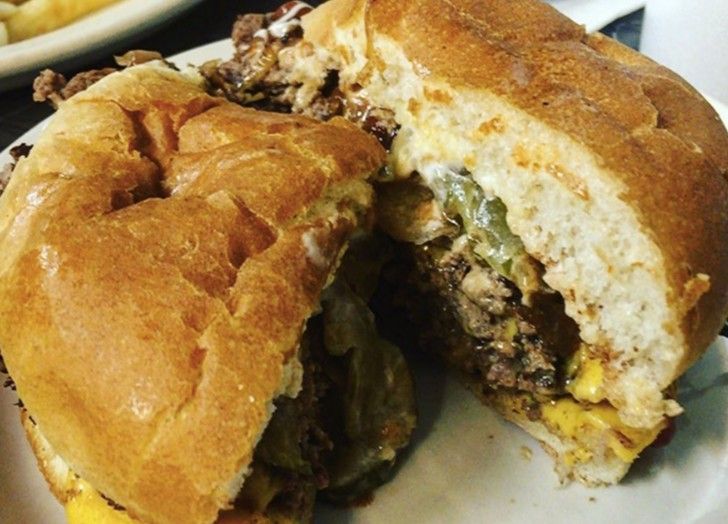 @avalon_allen/Instagram
8. Town Topic Hamburgers; Kansas City, MO
This Kansas City staple has been serving its famous griddled, steamed hamburgers since it opened its doors in 1937. Sure, it puts the "greasy" in greasy spoon, but in the very best way.
2021 Broadway St., Kansas City; 816-842-2298 or towntopic.com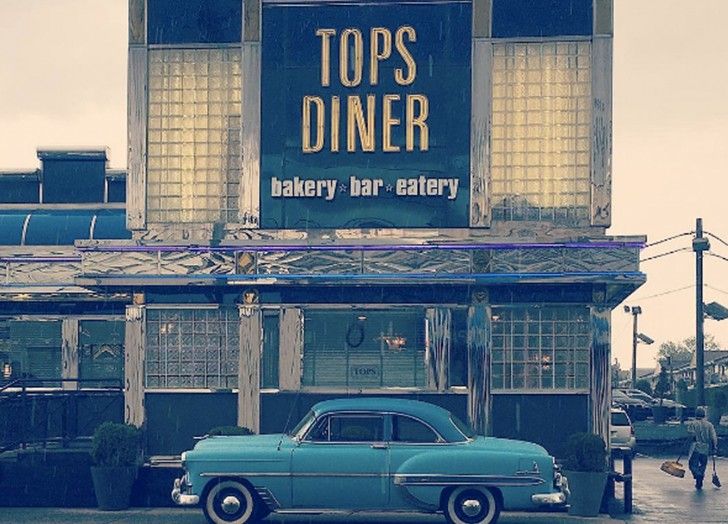 brentfavreau/Instagram
9. Tops Diner; East Newark, NJ
In a state teeming with diners, this is surely "top" dog. The menu is enormous, but the MVP is Tops' famous meatloaf with gravy.
500 Passaic Ave., East Newark; 973-481-0490 or thetopsdiner.com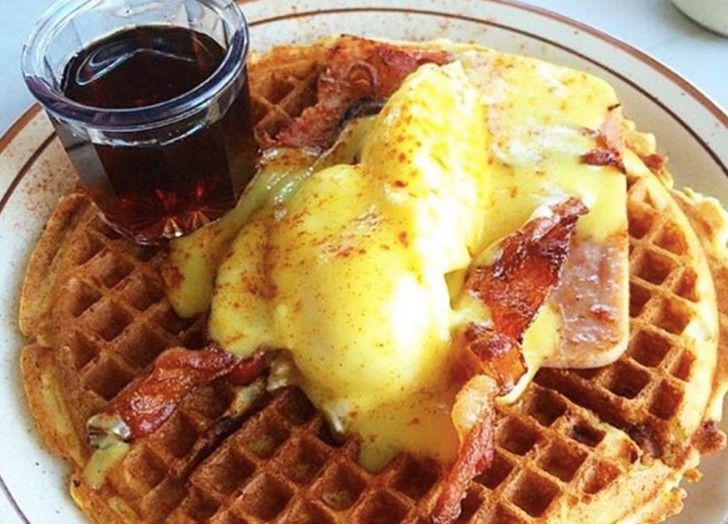 @tastingsandiego/Instagram
10. Harry's Coffee Shop; La Jolla, CA
In 1959, Brooklyn native Harry Rudolph moved to California and opened this blue-collar joint, known for its straightforward all-day breakfast menu. If you've never had eggs Benedict on a waffle, now's your chance.
7545 Girard Ave., La Jolla; 858-454-7381 or harryscoffeeshop.com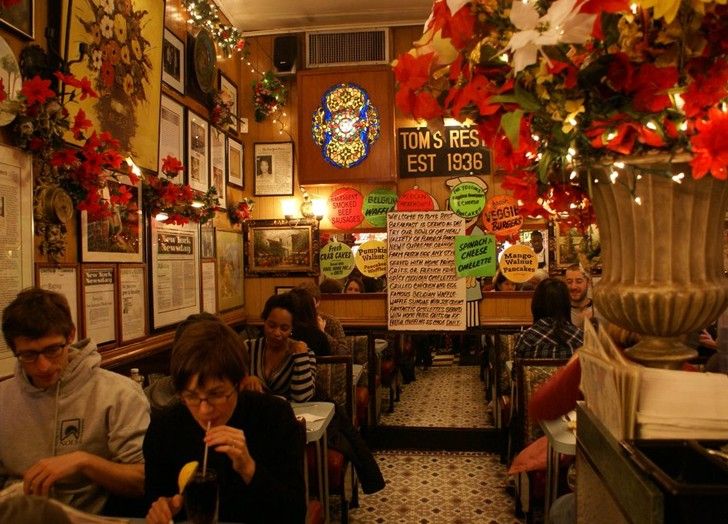 Colleen L./Yelp
11. Tom's Restaurant; Brooklyn
Tom's original Prospect Heights location is certainly one Brooklyn's most beloved breakfast spots. The weekend lines can be rough, but free coffee and the promise of blueberry ricotta pancakes makes it all worthwhile.
782 Washington Ave., Brooklyn; 718-636-9738 or yelp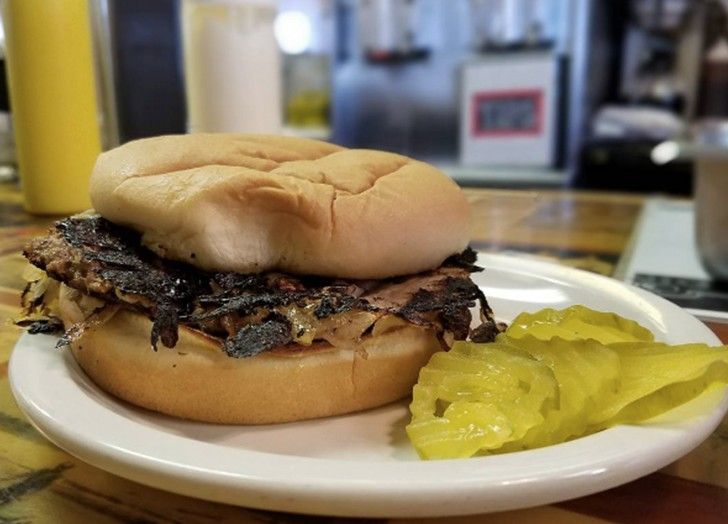 thealcotourist/Instagram
12. Sid's Diner; El Reno, OK
This old-timey spot is known for its signature fried-onion burgers, which are seared on the griddle until crispy. Consider it a necessary pit stop on any Route 66 road trip.
300 S. Choctaw Ave., El Reno; 405-262-7757 or yelp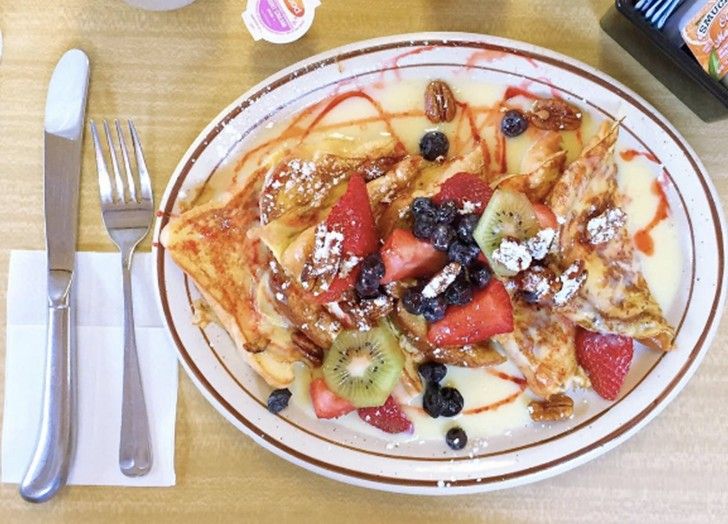 @candyshopvintage/Instagram
13. Modern Diner; Pawtucket, RI
Three words: custard French toast. That's the dish to order at this Ocean State diner, listed on the National Register of Historic Places. The thick-cut French toast layered with a custard-like vanilla pudding, fresh fruit and raspberry syrup puts Modern Diner on the map.
364 East Ave., Pawtucket; 401-726-8390 or themoderndinerri.com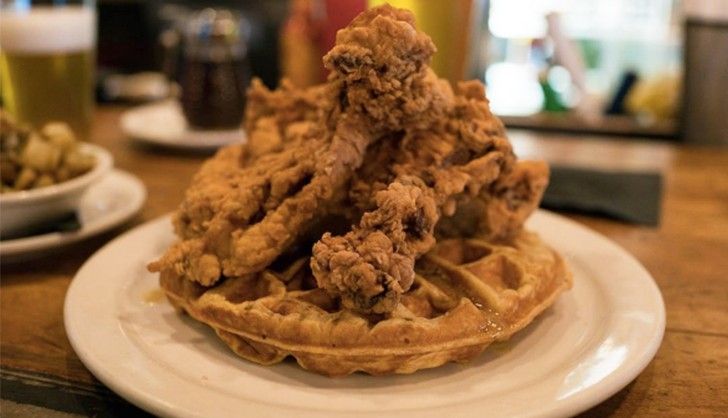 @no_relation_to_shaq/instagram
14. 24 Diner; Austin
Not your run-of-the-mill breakfast spot, this Austin eatery serves what it calls "chef-inspired comfort food." Order up a sourdough, cheddar, Havarti and roasted tomato grilled cheese or fried chicken and waffle at any hour of the day.
600 N. Lamar Blvd., Austin; 512-472-5400 or 24diner.com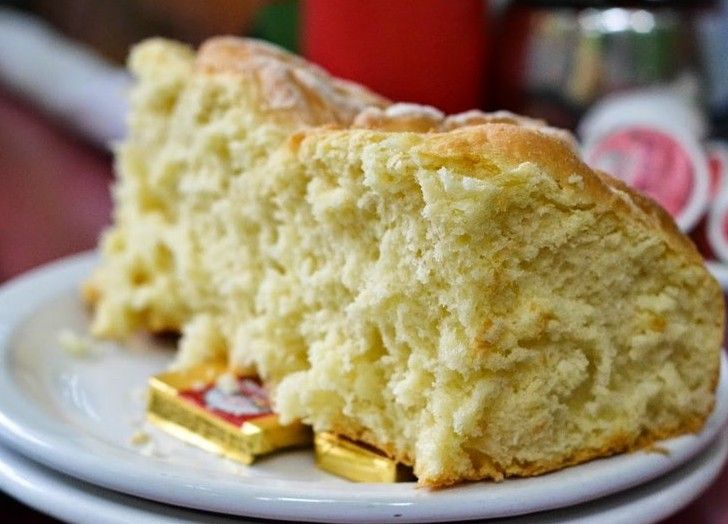 Eat Your Heart Out/Yelp
15. Ruth's Diner; Salt Lake City
This Salt Lake City tradition has been around for nearly 90 years, making it Utah's second oldest restaurant. It's one of few diners that can boast canyon views, but the real reason to visit is for the fluffy "Mile High Biscuits."
4160 Emigration Canyon Rd., Salt Lake City; 801-582-5807 or ruthsdiner.com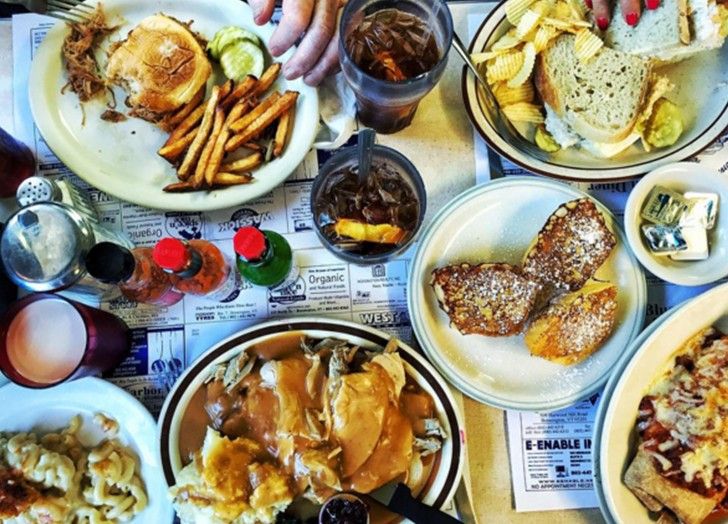 @mariuyehara /Instagram
16. The Blue Benn; Bennington, VT
Step into this old dining car and find a long lunch counter, booths and jukeboxes that'll play your favorite old-time songs for 25 cents. Three generously sized blueberry pancakes will cost you only about $5 at this cash-only establishment.
314 North St, Bennington; 802-442-5140 or yelp.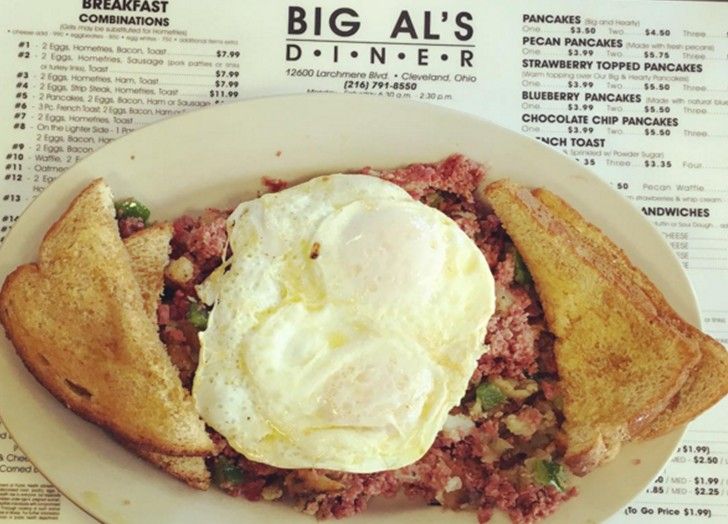 @beccamitro/Instagram
17. Big Al's Diner; Cleveland
Huge, cheap breakfast plates are the specialty at this no-frills Cleveland spot. Big Al's corn beef hash, made with thick, chunky potatoes and green peppers, got a shout-out on Food Network's The Best Thing I Ever Ate, but locals rave about the eggs Benedict.
12600 Larchmere Blvd., Cleveland; 216-791-8550 or yelp.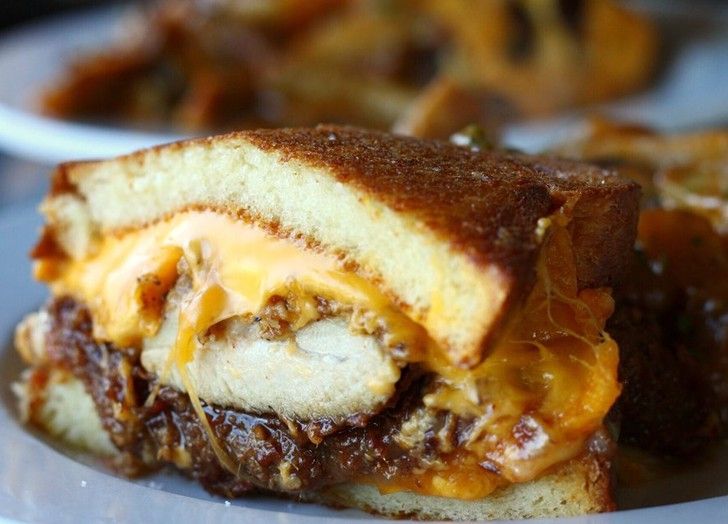 Jenn H./ Yelp
18. Skillet Diner; Seattle
Serving American comfort food from an Airstream trailer, Skillet has become a local favorite in Seattle's Capitol Hill neighborhood. Think: creative twists on classic diner favorites like the "Ultimate Grilled Cheese," served with bacon jam and a fried chicken thigh.
2034 NW 56th St., Seattle; (206) 922-7981 or skilletfood.com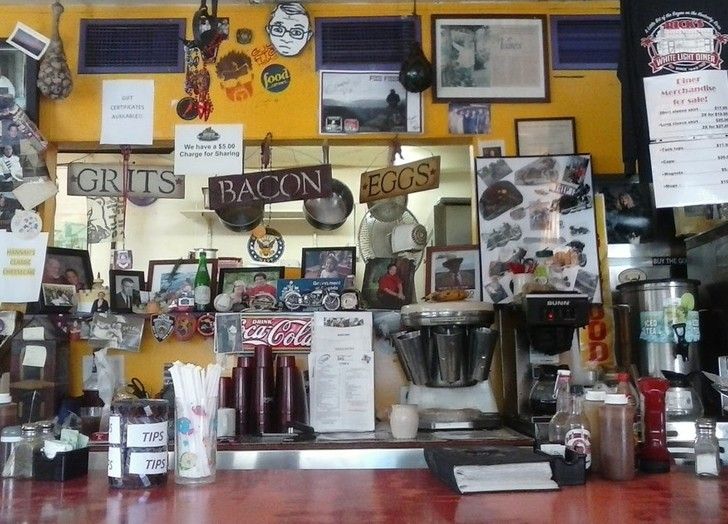 Richard F/Yelp
19. Rick's White Light Diner; Frankfort, KY
This divey hot spot serves Cajun-style dishes like oyster po' boys and crawfish étouffée in a lively setting. With a handful of tables and half a dozen counter stools, it draws a serious lunch hour line.
114 Bridge St., Frankfort; 502-696-9104 or whitelightdiner.com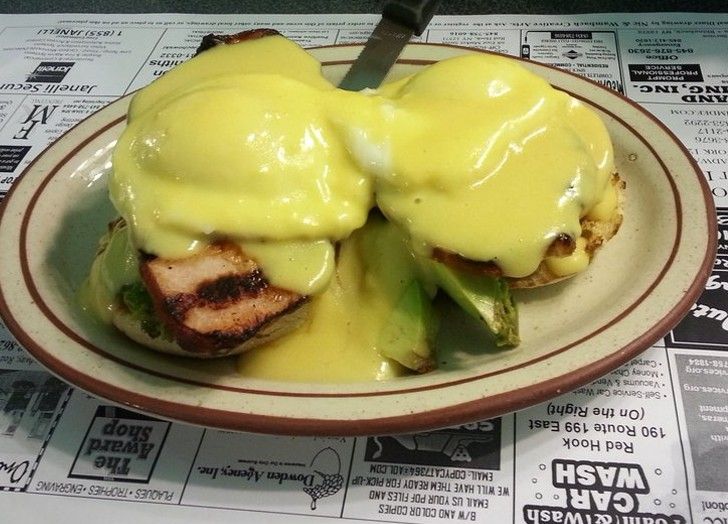 Crys S./Yelp
20. Historic Village Diner; Red Hook, NY
There's always a crowd at this 1920s-style, Hudson Valley diner. On weekend mornings, the booths are packed with road-trippers and locals fueling up on eggs and homemade muffins.
7550 N. Broadway, Red Hook; 845-758-6232 or historic-village-diner.com
This article was from PureWow and was legally licensed through the NewsCred publisher network.
On March 19, 2020, United operated its first flight carrying cargo without passengers on board. While the passenger cabin was empty, its cargo hold was completely full, carrying more than 29,000 pounds of commodities from Chicago O'Hare International Airport (ORD) to Frankfurt Airport (FRA).
A year later, United Cargo has operated more than 11,000 cargo-only flights carrying more than 570 million pounds of freight. To support the COVID-19 pandemic recovery efforts, United Cargo has also transported more than 113 million pounds of medical and pharmaceutical products on both cargo-only and passenger flights as well as approximately 10 million COVID-19 vaccines, providing global communities access to the items they have needed most.
"At the beginning of the pandemic, we knew we were uniquely positioned to utilize our widebody aircraft and our network to keep commodities moving, so we quickly mobilized various departments throughout the airline to launch a cargo-only network of flights that would keep commodities moving," said United Cargo President Jan Krems. "Thanks to those efforts, United Cargo has delivered millions of items to countries all around the world. We would not have been successful without the steadfast support of our employees, industry partners and our customers."
Since last March, United Cargo has transported almost 850 million pounds of freight on cargo-only and passenger flights. The airline will continue to monitor market trends adjust its cargo-only flight schedules to help ensure we are meeting our customer's evolving shipping needs.
Whether you haven't flown with us for a while or just need a quick refresher before your spring trip, read this list of tips to know before your flight and arrive at the airport travel-ready:
1. Download the United app for contactless bag check, travel assistance and more
Before your flight, download the United app to view your flight status, check in, sign up for flight notifications, locate departure gates, access our free personal device entertainment when available and more. We've also updated our app with new features that can make your trip a little safer, including contactless bag check.
Don't forget to use Agent on Demand for help with any and all questions you may have before your flight. This new capability is available at all our U.S. hub airports and allows you to use your own mobile device to contact a customer service agent via phone, video or chat to help with day-of-travel questions while you're at the airport. Learn more about Agent on Demand here.
2. Check out the Travel-Ready Center
Our Travel-Ready Center makes it easy to get a personalized overview of everything you need to do in preparation for your flight. Just enter your confirmation number or MileagePlus® number and you'll find detailed information on all the documents, tests and more that you'll need for your trip.
3. Read and sign the Ready-to-Fly checklist
Before completing check-in, all United travelers will need to read our Ready-to-Fly checklist and confirm that they understand and agree to our policies. These include:
Acknowledging that you haven't had any symptoms of COVID-19 in the last 14 days
Agreeing that you will not fly if you have tested positive for COVID-19 within the last 21 days
Confirming that you will follow all policies regarding face masks, social distancing and other health and safety measures we've adopted
4. Arrive early; avoid the stress
Airports can be busy, especially during peak travel periods like spring break season. The TSA advises arriving at the airport two hours before your flight for domestic travel and three hours for international travel in anticipation of long security lines. This can help ease the stress when navigating busy check-in areas, security lines and crowded boarding gates.
5. Get familiar with CleanPlus
United CleanPlus℠ is our commitment to delivering industry-leading cleanliness as we put health and safety at the forefront of your experience. We've teamed up with Clorox to redefine our cleaning and disinfection procedures and Cleveland Clinic to advise us on enhancing our cleaning and disinfection protocols, like:
Disinfecting high-touch areas on board and in the terminal
Using electrostatic spraying, Ultraviolet C lighting wands and more advanced measures to clean aircraft cabins before boarding
Redesigning our mobile app to allow for touchless check-in and contactless payment, along with enhanced travel assistance features
Implementing high-efficiency (HEPA) filters on our aircraft that completely recirculate cabin air every 2-3 minutes and remove 99.97% of airborne particles, including viruses and bacteria
Studies show COVID-19 exposure risk is minimal when air filtration systems and masks are in use, so you can rest assured that the steps we've taken to keep you safe truly make a difference.
6. Wear your mask
Federal law requires all travelers to wear a face mask in the airport, including customer service counters, airport lounges, gates and baggage claim, and on board during their entire flight. Make sure you review the requirements for face masks, including what an acceptable face mask looks like.
7. Get ready for a safer boarding process
To make boarding even safer, we now have travelers board their aircraft from back to front. At the gate, just listen for your row number to be called – we'll ask a few rows at a time to board, starting with the last row of the plane. This helps everyone maintain a safe distance from each other during boarding without slowing things down. As you step onto the plane, flight attendants will hand each passenger a sanitizing towelette, which you can use to wipe down your seat to ensure it's extra clean.
8. Pack smart
Before packing your bags, check to see what exactly you can carry on and what you should plan to check. You can also copy your confirmation number into our Baggage Calculator tool to learn about the bag allowance included with your reservation, as well as the cost of checking any additional bags.
9. Check your flight status, important notices and weather
Check the United app regularly for the latest updates on weather conditions, flight status, gate numbers and seat assignments. You can also visit our Important Notices page to find essential information and updates about travel waivers, international travel, TSA and security, airports and United Club locations.
10. Relax and enjoy your flight
Once you're on board, it's time to sit back and enjoy your flight. Our flight attendants will be happy to help you with anything else you need.
This week, we were honored to become the first U.S. airline to join the UNICEF Humanitarian Airfreight Initiative to combat the COVID-19 pandemic by transporting the vaccine and other critically needed supplies to underserved areas of the globe.
"We are committed to helping the global community in any way we can, and we all must work together to do our part to bring this health and humanitarian crisis to an end," said Director of Cargo Specialty Products Manu Jacobs.
We will leverage our expertise to transport these critical pharmaceutical and healthcare shipments around the world safely, efficiently and expediently. We are proud to partner with the United Nations to support this global effort and provide equitable access to COVID-19 vaccines.
Scroll to top