20 Reasons to travel in 2020
Here are all the best places to travel in 2020, from following in James Bond's footsteps through Jamaica to soaking up some culture in Galway, Ireland.
20. Spot giant pandas in China
In 2016, giant pandas were removed from the endangered species list, and China would like to keep it that way. This year, the country plans to consolidate the creatures' known habitats into one unified national park system spanning nearly 10,500 square miles across Sichuan, Gansu, and Shaanxi provinces—about the size, in total, of Massachusetts. —Nicholas DeRenzo
19. Follow in James Bond's footsteps in Jamaica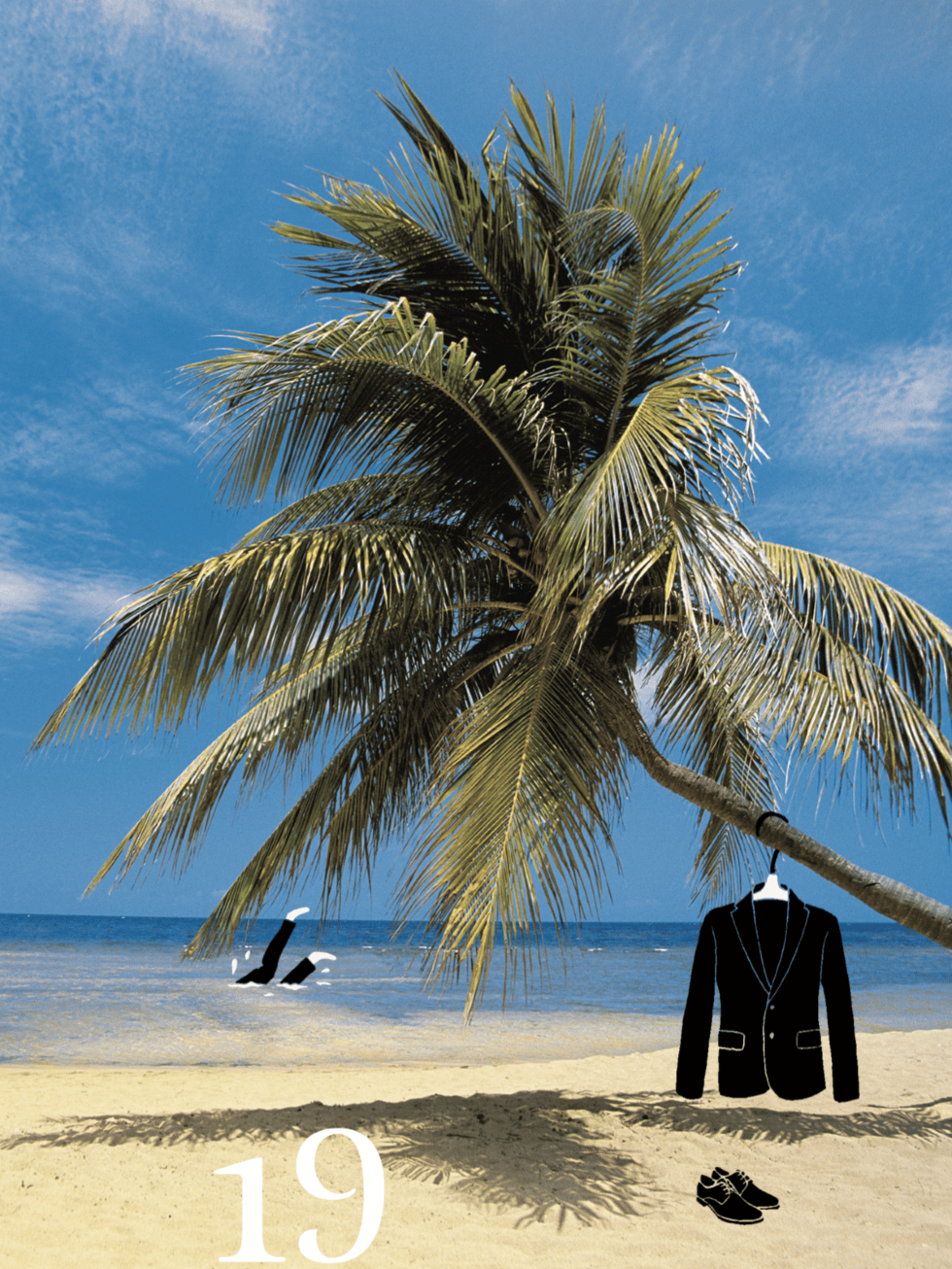 Photo: Design Pics/Carson Ganci/Getty Images
When No Time to Die hits theaters on April 8, it marks a number of returns for the James Bond franchise. The 25th chapter in the Bond saga is the first to come out since 2015's Spectre; it's Daniel Craig's fifth go-round as 007, after rumors the actor was set to move on; and it's the first time the series has filmed in Jamaica since 1973's Live and Let Die. The Caribbean island has always had a special place in Bond lore: It was the location of one of creator Ian Fleming's homes, GoldenEye (which is now a resort), and the setting for the first 007 movie, 1962's Dr. No. Looking to live like a super-spy? You don't need a license to kill—just a ride to Port Antonio, where you can check out filming locations such as San San Beach and colonial West Street. Remember to keep your tux pressed and your Aston Martin on the left side of the road. —Justin Goldman
18. See the Future of Architecture in Venice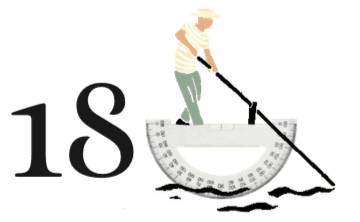 Every other year, Venice hosts the art world's best and brightest during its celebrated Biennale. But the party doesn't stop during off years, when the Architecture Biennale takes place. This year, curator Hashim Sarkis, the dean of MIT's School of Architecture and Planning, has tasked participants with finding design solutions for political divides and economic inequality; the result, on display from May to November, is the intriguing show How Will We Live Together? —Nicholas DeRenzo
17. Celebrate Beethoven's 250th Birthday in Bonn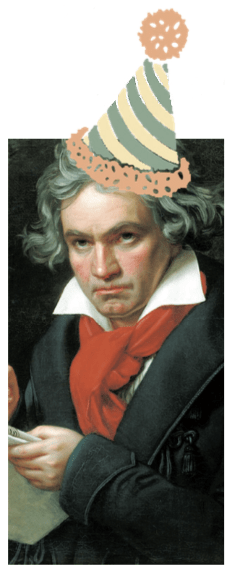 Photo: Universal History Archive/Getty Images
Catch a Beethoven concerto in Bonn, Germany, to celebrate the hometown hero's big 2-5-0.
16. Eat your way through Slovenia
When Ana Roš of Hiša Franko was named the World's Best Female Chef in 2017, food lovers began to wonder: Do we need to pay attention to Slovenia? The answer, it turns out, is definitely yes. This March, the tiny Balkan nation about two hours east of Venice gets its own Michelin Guide. —Nicholas DeRenzo
15. Star- (and sun-) gaze in Patagonia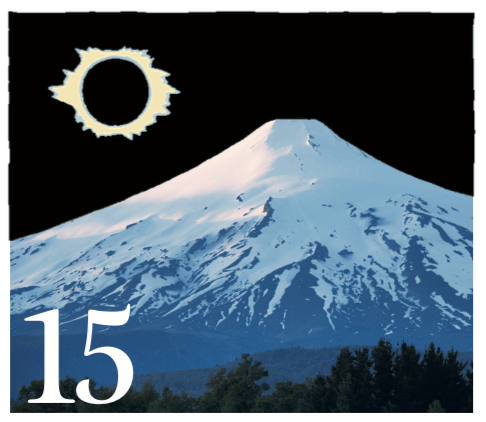 Photo: blickwinkel/Alamy
Come December 13 and 14, there will be no better spot for sky-watchers than northern Patagonia, which welcomes both the peak of the Geminid meteor shower and a total solar eclipse within 24 hours. —Nicholas DeRenzo

14. Explore Miami's game-changing new park
About 70,000 commuters use Miami's Metrorail each day, and city planners aim to turn the unused space beneath its tracks into an exciting new public space, a 10-mile linear park aptly named The Underline. Luckily, the Magic City is in good hands: The project is being helmed by James Corner Field Operations, the geniuses behind New York's High Line. "Both projects share similarities in their overarching goals," says principal designer Isabel Castilla, "to convert a leftover infrastructural space into a public space that connects neighborhoods, generates community, and encourages urban regeneration." When finished, Miami's park will be about seven times as long as its Big Apple counterpart. The first half-mile leg, set to open this June, is the Brickell Backyard, which includes an outdoor gym, a butterfly garden, a dog park, and gaming tables that call to mind the dominoes matches you'll find nearby in Little Havana. "We envision the Underline dramatically changing the way people in Miami engage with public space," Castilla says. —Nicholas DeRenzo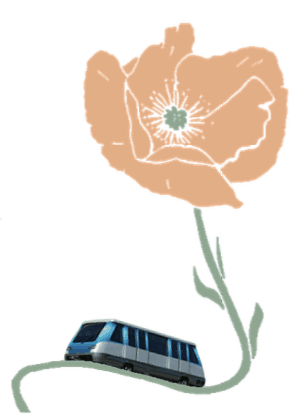 Photo: philipus/Alamy
13. Kick off the NFL in Las Vegas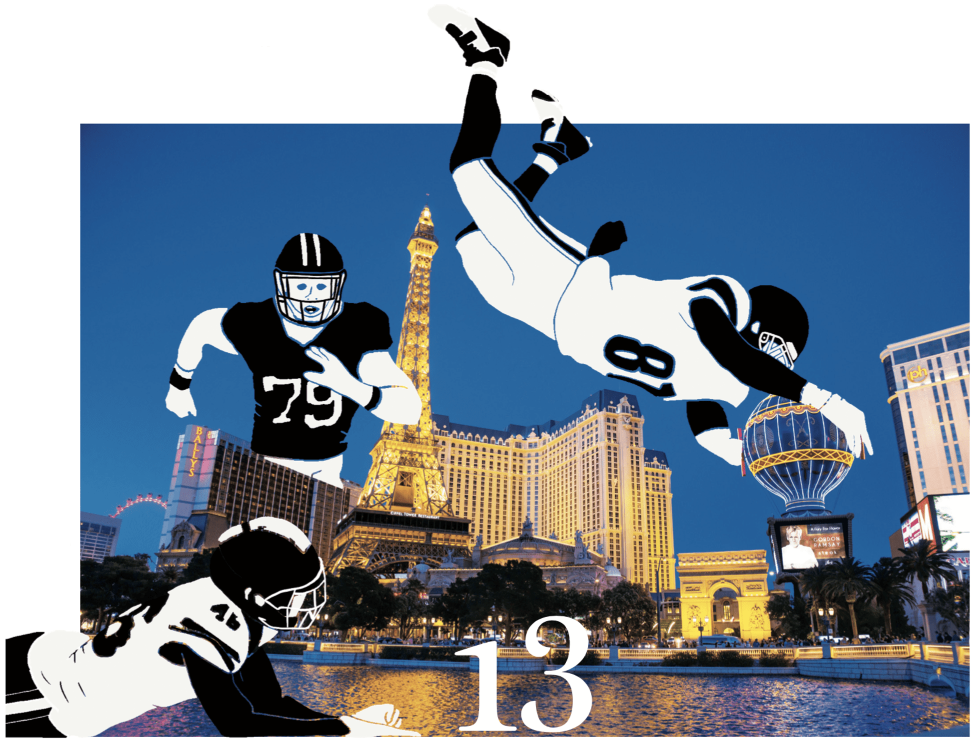 Photo: Littleny/Alamy
Former Raiders owner Al Davis was famous for saying, "Just win, baby." His son, Mark Davis, the team's current owner, is more likely to be shouting "Vegas, baby!" Swingers-style, as his team becomes Sin City's first NFL franchise, the Las Vegas Raiders. After years of threats and lawsuits, the Raiders have finally left Oakland, and this summer they're landing just across the highway from the Mandalay Bay Resort & Casino in a 65,000-seat, $1.8 billion domed stadium that will also host the UNLV football team, the next two Pac-12 championship games, and the Las Vegas Bowl. Construction is slated to be finished July 31, just in time for the NFL preseason—and just in time to lure football fans from the sportsbooks to the grandstand. —Justin Goldman
12. Celebrate the Suffragettes in Washington D.C.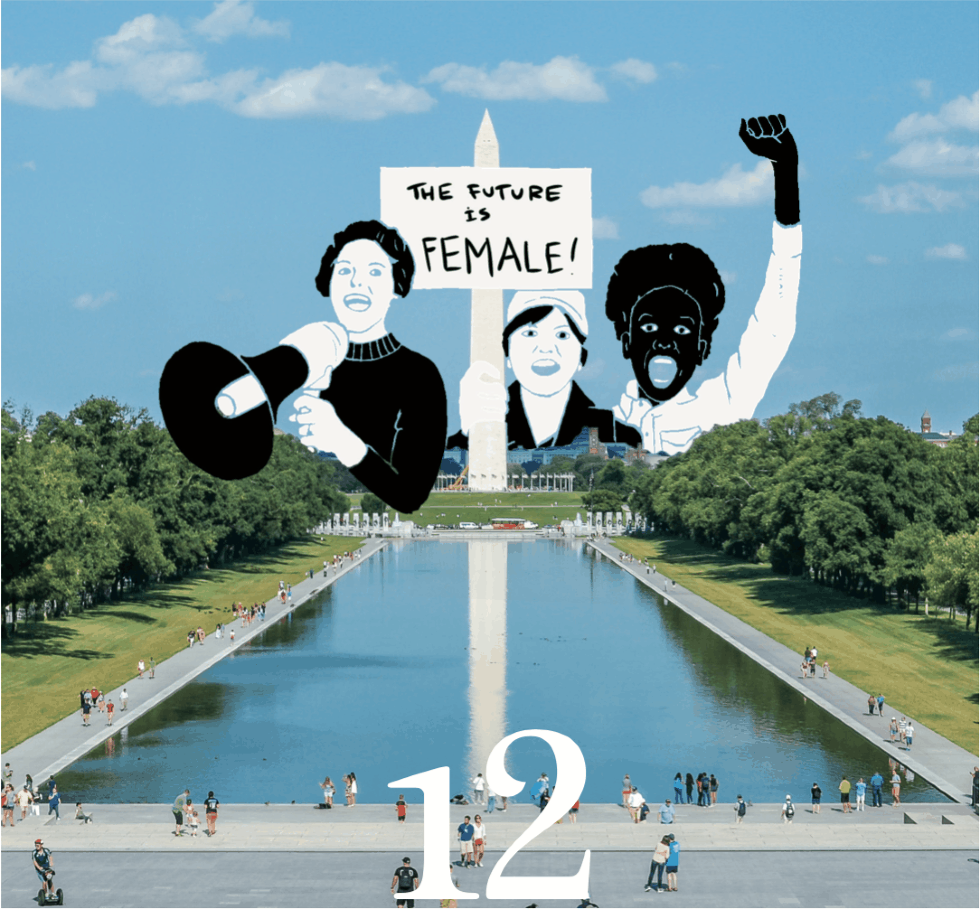 All eyes are on the ballot box this year, but the electorate would look quite different if not for the 19th Amendment, which was ratified 100 years ago this August. Many D.C. institutions, such as the National Archives Museum and the Library of Congress, are honoring the decades-long struggle for women's suffrage with exhibits. In particular, the National Museum of American History unveils Sarah J. Eddy's portrait of Susan B. Anthony this March, before putting on a 'zine-inspired show on girlhood and youth social movements this June. —Nicholas DeRenzo
11. Go for a ride through Mexico City
If you want to get somewhere quickly in Mexico City, try going by bicycle. During peak traffic, bikes average faster speeds than cars or public transportation—which might explain why ridership has gone up almost 50 percent since 2007. And riding on two wheels is getting safer and easier. In 2019, the city announced plans to invest $10 million (more than it had spent in the last six years combined) into the construction of about 50 miles of new paths and lanes. Now, you can cycle on a two-mile separated path along the Paseo de la Reforma, from Colonia Juárez and Roma to Chapultepec Park and Polanco. Future plans include a route along the National Canal between Coyoacán (where Frida Kahlo once lived) and Xochimilco (with its floating flower farms). "The goal is to finish the six-year [presidential] term with 600 kilometers of bike infrastructure," says Roberto Mendoza of the city's Secretariat of Mobility. Time to start pedaling. —Naomi Tomky
10. Consider the Mayflower's legacy in Massachusetts and abroad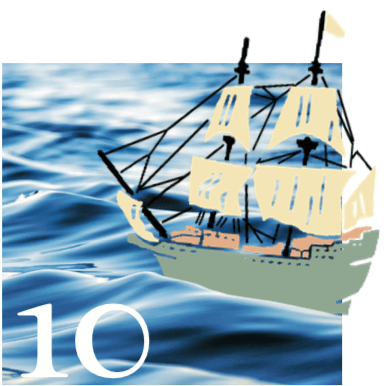 Photo: Thianchai Sitthikongsak
Before they came to America in 1620, the religious separatists now known as the Pilgrims lived in England and the Netherlands. This year, the 400th anniversary of the Mayflower landing will be commemorated not only by those nations but also by a fourth: The Wampanoag, the confederation of tribes that live in New England and whose role in this world-changing event has been at best left out and at worst distorted.
"We're challenging the myths and stereotypes," says Aquinnah Wampanoag author Linda Coombs, a board member of Plymouth 400, Inc., which is planning cultural events such
as an Ancestors Walk to honor the native villages pushed aside by settlers, as well as
an indigenous history conference and powwow (plus an $11 million restoration of the replica Mayflower II).
Kerri Helme, a member of the Mashpee Wampanoag nation and cultural programs manager at Plimoth Plantation, says that "people want to hear the whole story." She notes that it's a commonly held belief that the Pilgrims were welcomed by the natives, when in fact their first encounter was violent, since the English had been stealing the Wampanoags' food.
"The Wampanoag are key players in all of this," says Charles Hackett, CEO of Mayflower 400 in the U.K. "It's a whole other aspect of this history." In England, a Mayflower trail will connect Pilgrim sites in towns such as Southampton and Plymouth, and in Leiden, the Dutch town where the Pilgrims took refuge before embarking for the New World, the ethnology museum will run an exhibit about the natives.
"The most important thing for us, as the Wampanoag people," says Paula Peters, a former Wampanoag council member, "is to be acknowledged as a vital tribe comprised of people that, in spite of everything that's happened, are still here." —Jon Marcus
9. Discover Lille's design scene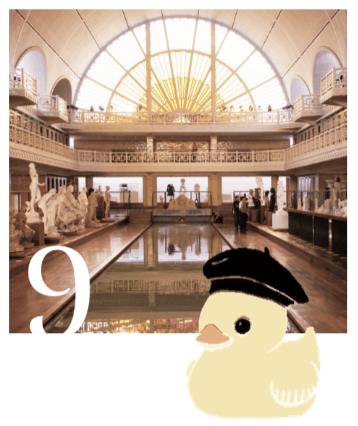 Photo: Mark Bassett/Alamy
Previous World Design Capitals have included major cultural hubs such as Helsinki and Seoul, so it came as a shock when Lille, France's 10th-largest city, beat Sydney for this year's title. Judges cited Lille's use of design to improve its citizens' lives; get a taste for yourself at spots like La Piscine Musée d'Art et d'Industrie, a gallery in a former Art Deco swim center. —Nicholas DeRenzo
8. See stellar space in Rio de Janeiro, the world capital of architecture
Rio de Janeiro is renowned for the beauty of its beaches and mountains, but the Cidade Maravilhosa's man-made structures are as eye-catching as its natural features. For that reason, UNESCO recently designated Rio its first World Capital of Architecture, honoring a city that boasts such landmarks as the stained glass–domed Royal Portuguese Cabinet of Reading, the fairy-tale Ilha Fiscal palace, and the uber-modern Niterói Contemporary Art Museum.
"Rio is an old city by New World standards, having been founded in the mid–16th century," says architectural photographer Andrew Prokos, who took this shot. "So the city has many layers of architectural styles, from Colonial and Rococo to Art Nouveau, Modernist, Brutalist, and contemporary." In the case of this museum, which was designed by perhaps Brazil's greatest architect, Pritzker Prize winner Oscar Niemeyer, Prokos was intrigued by how the 24-year-old building interacts with its surroundings. "The upward slope of the museum complements the slope of the Pão de Açúcar across the bay," he says, "so the two are speaking to each other from across the water." – Tom Smyth
7. Join the Avengers at Disneyland
This summer, Disney California Adventure unveils its Marvel-themed Avengers Campus, with a new Spider-Man attraction, followed later by an Ant-Man restaurant and a ride through Wakanda. If the hype surrounding last year's debut of Disney+ is any indication, Comic-Con types are going to lose their fanboy (and -girl) minds. —Nicholas DeRenzo
6. Listen to jazz in Cape Town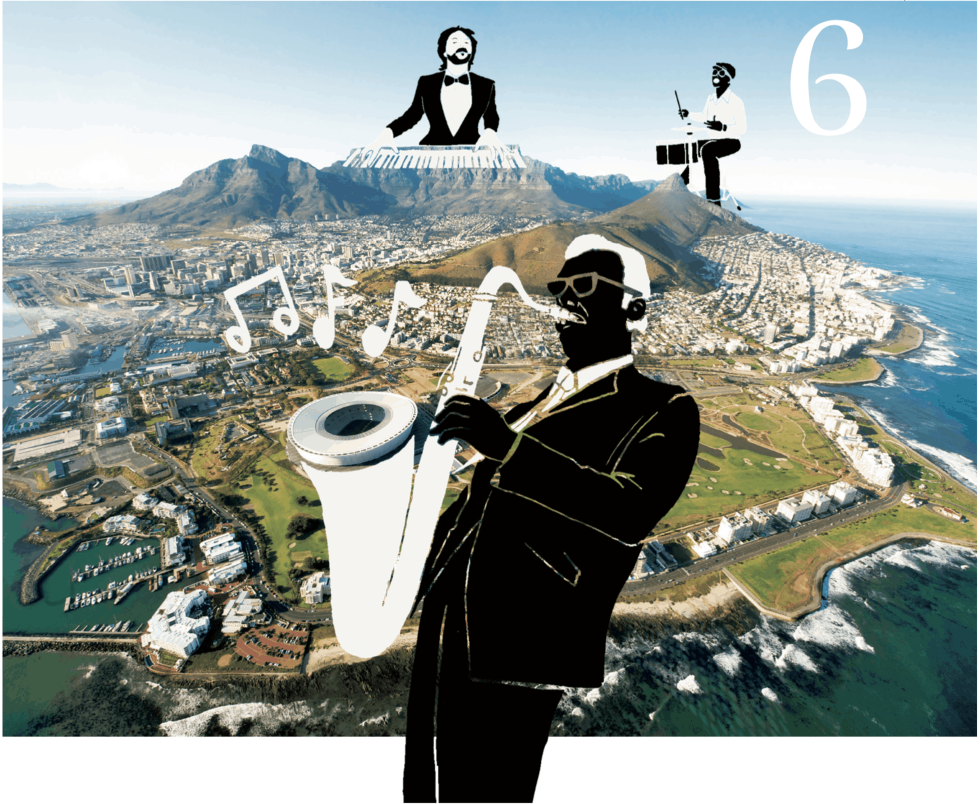 Photo: Eric Nathan/Alamy
Cape Town's natural wonders draw visitors from all over the world, but there's a hidden gem beyond the mountains, beaches, and seas: music. Much as jazz was born from America's diverse peoples, Cape jazz combines the traditions and practices of the city's multiethnic population, creating genres such as goema (named after a type of hand drum) and marabi (a keyboard style that arose in the townships). Cape Town has hosted an International Jazz Festival for
20 years (the 21st edition is this March 27–28), and now UNESCO is giving the Mother City its musical due by naming it the Global Host City of International Jazz Day 2020. The theme of the event—which takes place on April 30, features an All Star Global Concert, and is the climax of Jazz Appreciation Month—is "Tracing the Roots and Routes of African Jazz." During the dark days of slavery and apartheid, music became an outlet through which repressed people could express their struggle for freedom. What better way to mark a quarter century of democracy here than with a celebration of that most free style of music? —Struan Douglas
5. Take a walk around England
Many hikers love walking around England—but how many can say that they've truly walked around England? When it's completed, the England Coast Path will be the longest managed seaside trail in the world, completely circumnavigating the coastline, from the fishing villages of Cornwall and the beaches of Nothumberland to the limestone arches of the Jurassic Coast and the sandy dunes of Norfolk. Much of the trail is already waymarked (the 630-mile South West Coast Path is particularly challenging and beautiful), with new legs set to open throughout the year. If you want to cross the whole thing off your bucket list, be warned that it's no walk in the park: At around 2,795 miles, the completed route is 605 miles longer than the Appalachian Trail and about the same as the distance between New York and Los Angeles. —Nicholas DeRenzo
4. Get refreshed in the Israeli Desert
Six Senses resorts are known for restorative retreats in places like Fiji, Bali, and the Maldives. For its latest location, the wellness-minded brand is heading to a more unexpected locale: the Arava Valley, in the far south of Israel. Opening this spring, the Six Senses Shaharut will offer overnight camel camping, off-roading in the surrounding desert, and restaurants serving food grown in the resort's gardens or sourced from nearby kibbutzim. While the valley is said to be near King Solomon's copper mines, the Six Senses is sure to strike gold. —Nicholas DeRenzo
3. Say konnichiwa on July 24 at the opening ceremonies of the Summer Olympic Games in Tokyo, which plays host for the first time since 1964.
The Japanese capital plays host for the first time since 1964. This year, softball and baseball will return after being absent since 2008, and four new sports—karate, sport climbing, surfing, and skateboarding—will be added to the competition for the first time. Say konnichiwa at the opening ceremonies on July 24, which will be held at renowned architect Kengo Kuma's New National Stadium. – Nicholas DeRenzo
2. Score tickets to Euro 2020
Still feeling World Cup withdrawal? Get your "football" fix at the UEFA European Championship. From June 12 to July 12, 24 qualifying national teams will play games in stadiums from Bilbao to Baku, culminating in the semi-finals and final at London's hallowed Wembley Stadium. Will World Cup champion France bring home another trophy? Will Cristiano Ronaldo's Portugal repeat its 2016 Euro win? Will the tortured English national team finally get its first title? Or will an upstart—like Greece in 2004—shock the world? —Justin Goldman
1. Soak Up Some Culture in Galway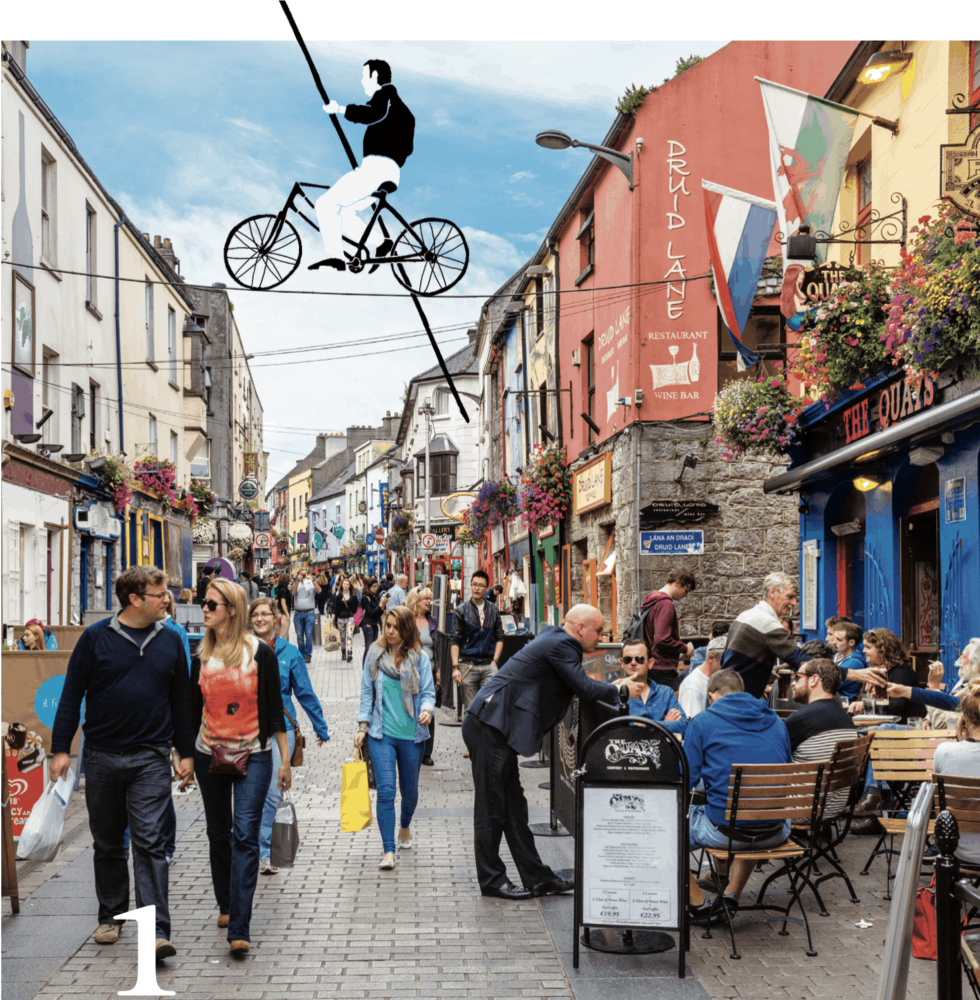 Photo: Ian Dagnall/Alamy
Galway has long been called "the cultural heart of Ireland," so it's no surprise that this bohemian city on the country's wild west coast was named a 2020 European Capital of Culture (along with Rijeka, Croatia). The title puts a spotlight on the city (population 80,000) and County Galway, where more than 1,900 events will take place throughout the year. Things kick off in February with a seven-night opening ceremony featuring a fiery (literally) choreographed celebration starring a cast of 2,020 singing-and-drumming locals in Eyre Square. "This is a once-in-a-generation chance for Galway," says Paul Fahy, a county native and the artistic director of the Galway International Arts Festival (July 13–26). "It's a huge pressure. There's a heightened sense of expectation from audiences, not just from here but from all over the world." Art lovers will no doubt enjoy Kari Kola's illuminating work Savage Beauty, which will wash the Connemara mountains in green light to coincide with St. Patrick's Day, or the Druid Theatre Company's countywide tour of some of the best 20th-century one-act Irish plays. Visitors would also be wise to explore the rugged beauty of Connemara on a day trip with the charismatic Mairtin Óg Lally of Lally Tours, and to eat their way across town with Galway Food Tours. But beware, says Fahy: "Galway has a reputation as a place people came to 20 years ago for a weekend and never left." —Ellen Carpenter
Sisters and United MileagePlus® Premier® 1k members, Kelsey and Courtney Montague, are constantly traveling to create street art pieces for communities around the world. This year they teamed up with us to travel to Peru to explore the beautiful country, and to create a custom mural for a very special group of young women participating in the Peruvian Hearts program. Peruvian Hearts, now part of our Miles on a Mission program, works to support female leaders with access to education, counseling and peer support
Finding tranquility at Machu Picchu
As we hiked up the ancient steps of Machu Picchu, we were surrounded by Incan merchants, servants and townsfolk climbing the stairs to start their day. As foreigners not used to hiking at 7,9000 feet, the locals sprinted by us as we struggled up the steep steps, with the lush rainforest behind us and ancient city just beyond. But even with burning legs and straining lungs, it's likely anyone's breath would be taken away (as ours was) once they reached the clearing above this sprawling city in the clouds. All thoughts of the slightly tortuous route we took to this dazzling ancient city were forgotten the second we laid eyes on this UNESCO World Heritage site.
Along with my sister Kelsey, our Dad and our friend Clay felt the power and mystery when we all arrived at the vantage point over the city of Machu Picchu. The day before we had traveled all day from Denver flying in United's stunning United Polaris®. We slept fully flat on two excellent flights, curled up on down pillows and wrapped in Saks Fifth Avenue comforters. We slept soundly after feasting on steak and chocolate sundaes and spent a layover chatting with bartender, Steven, as he made us cosmos at the United Polaris lounge in Houston. It was wonderful, but the best part? Arriving in Peru so rested and relaxed we were able to completely savor this moment at Machu Picchu. A moment only made sweeter when our Dad turned to us and thanked us for taking him on the trip of a lifetime and giving him the opportunity to see a place he never thought he'd get to visit.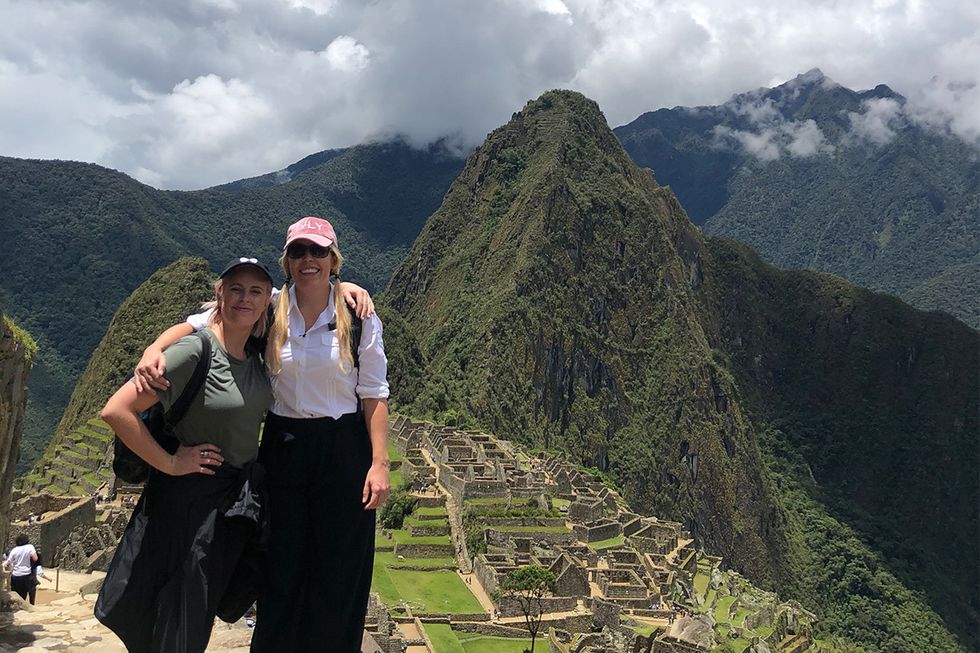 We explore the ruins with the wide eyes of children, enjoying every view and savoring every piece of information from our guide. Llamas 'own' the ruins and gently nudge tourists aside as they scamper between buildings to their favorite pasture. The terraces on the outskirts of the town were used to prevent soil erosion and to farm maize and beans. Condors soar above our heads, their keen eyes hunting for chinchillas tucked into the terrace rock walls.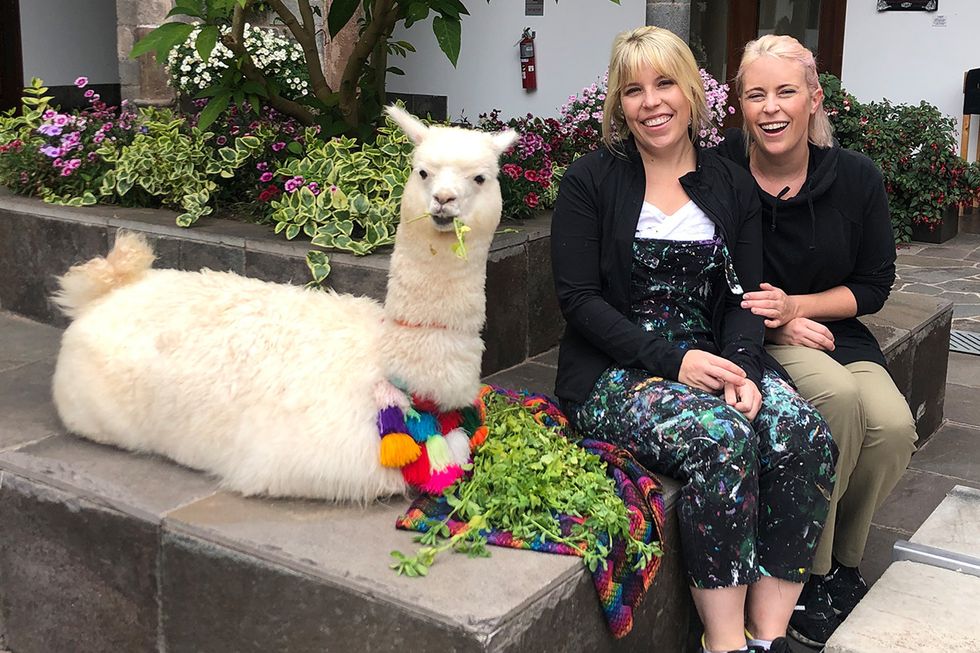 Incan community members that lived or worked in Machu Picchu must have felt the same way we felt the first time they came across this thriving metropolis, situated on top of a mountain. Incan urban planners neatly organized centers for astrological studies, religious ceremonies, sports, commerce and farming. The buildings were built from granite and limestone, likely from a quarry located on the same mountaintop. Some buildings were so finely constructed scientists still don't quite know how the Incans did it.

At the end of the tour we come to the sacred rock — a perfect, flat replica of the Yanantin mountain behind it. Some mystical members of society believe that touching the rock transmits tremendous power. I won't lie that I quietly let my fingers graze the stone as a I walked by. Did I feel a sudden power rush? No. But did I leave Machu Picchu filled with a sense of wonder and a reaffirmed belief that anything is possible? Yes.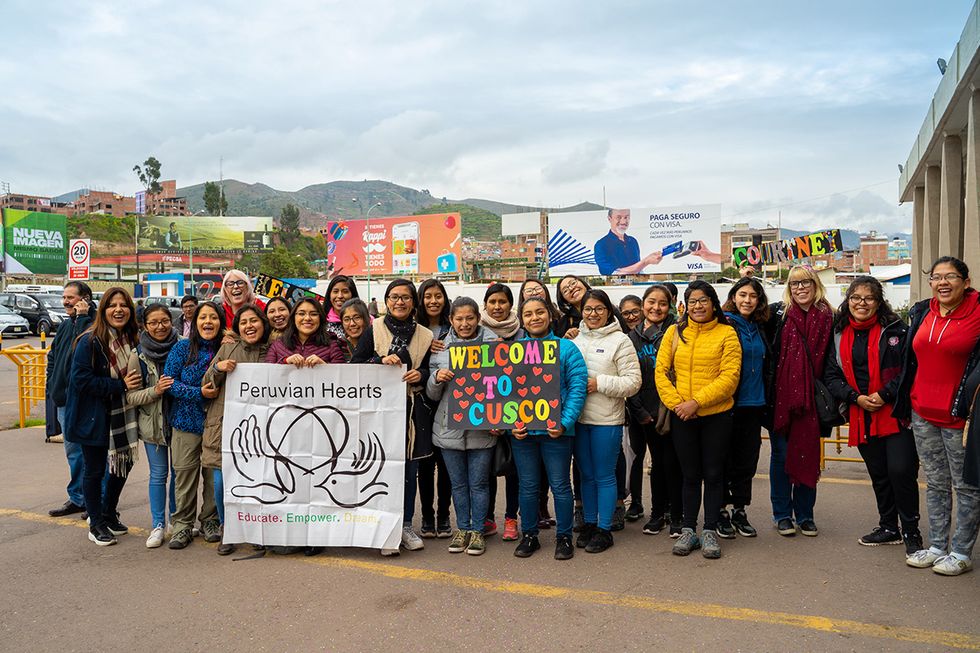 Partnering with Peruvian Hearts

The next morning, we awoke ready to tackle the most meaningful part of our trip to Peru — working with Peruvian Hearts.
Peruvian Hearts works to support women by giving them access to education, counseling and peer support. They are currently working with 32 talented, bright young women who they have hand-picked from secondary institutions across Cusco. They focus on supporting brilliant engineers, psychologists, teachers, scientists and doctors. These are the future female leaders that will change their communities, their country and the world for the better.
When we arrive to meet these scholars, they cheer, and each young woman gives Kelsey and me a hug. Overwhelmed, we both begin to cry. We are so grateful for our job as a traveling street art team, but we are on the road so much we are often very lonely. We can't remember the last time we received so many hugs or saw so many bright smiles.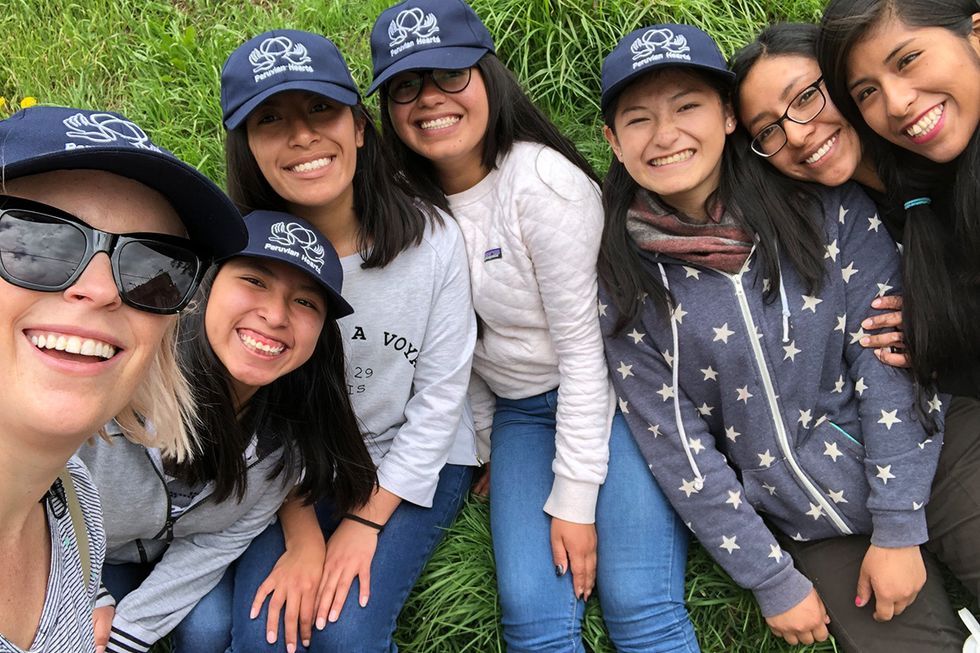 When we arrive to the Peruvian Hearts headquarters a number of the young women tell us how they found Peruvian Hearts. Aldi, a brilliant engineer in training, was asked to join this special organization because she was first in her class in secondary school. She grew up in tough financial circumstances — her mother is ill and unable to work, and her father works in construction. As the only person in her family who has attended university, she is the primary hope of her family. Tears stream down her face as she describes how tough it has been for her family to survive. So many of these young women tell similar stories and carry the weight of their entire family's future squarely and proudly on their shoulders.

These stories reaffirm the reason Kelsey and I decided to join forces with United — we hope to make that weight on their shoulders a little lighter. As we worked on the mock-up for the mural to commemorate Peruvian Hearts, United decided to help in another way by including Peruvian Hearts in their new Miles on a Mission program. A first of its kind program, United MileagePlus members can now donate their miles to nonprofits they care about. Miles that will help young women like Aldi attend conferences in the United States or study abroad in Mexico.
Other women will be able to travel more freely between their studies in Lima and their families in Cusco. The young scholars were so excited to now be part of the United family and to have access to the connections a major airline can bring.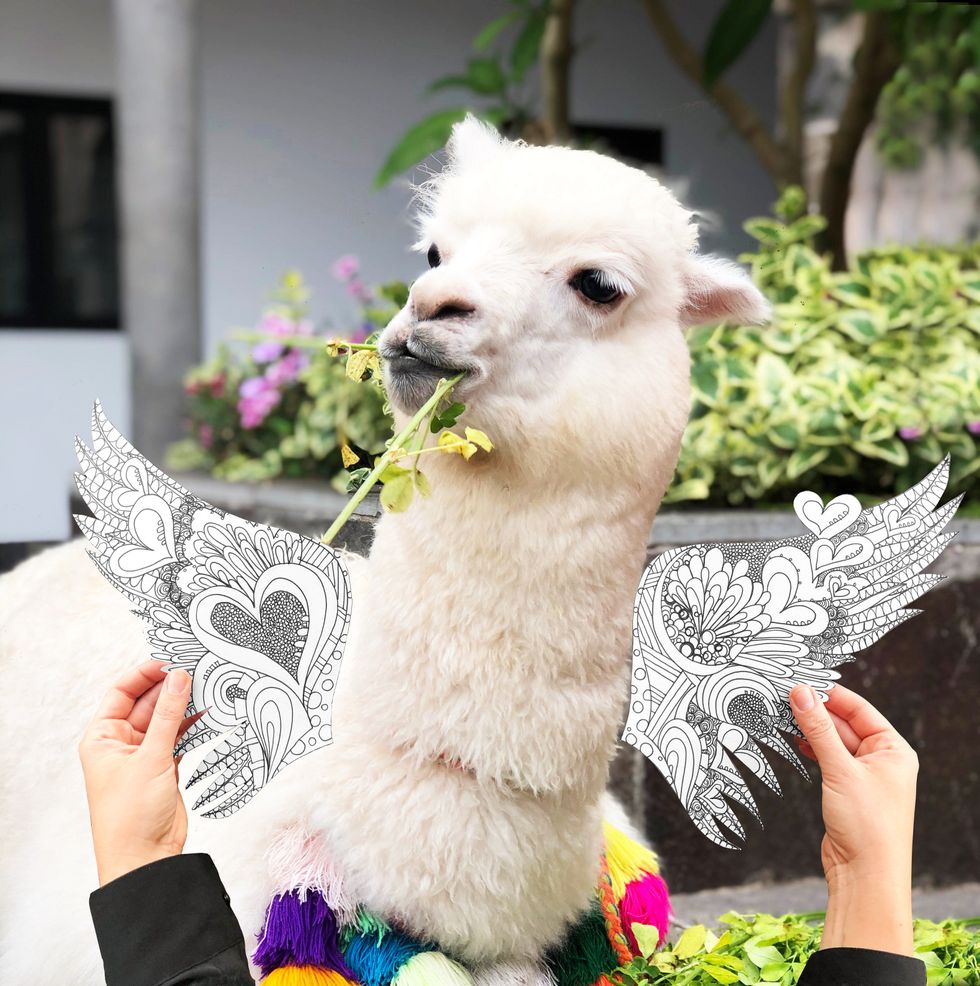 After an ideation period Kelsey decided to create a large-scale heart flock mural with 32 hearts on one side to represent the young women in the program and 32 hearts on the other side to represent those to come. Over two days we painted the piece and filled it with items that represent Peru (a llama, a condor, Peru's national flower and butterflies), Peruvian Hearts (pencils, books, and a shooting star) and a United airplane. As we worked on the piece the ladies sang, danced and told us their dreams. Dreams to travel, learn new languages, start meaningful careers and change their communities for the better.

When we finished the piece — two massive streams of hearts that appear to be coming from the person standing in the middle of the mural — the girls came to thank us. With cheers, hugs and kisses they explained how proud they were that this mural was for them and how it would continue to lift them up as they work hard to improve their circumstances.
At the end of this project Kelsey and I felt so blessed to be connected to such a wonderful group of women. At that moment we realized that is what art and travel should be about. Art and travel should connect us to each other as humans and to something deeper within ourselves — a desire to lift each other up.
Visit United's
Miles on a Mission program
to support Peruvian Hearts .
February 12, 2020
As we continue to evaluate our operation between our U.S. airport hub locations and Beijing, Chengdu, and Shanghai as well as Hong Kong, we have decided to extend the suspension of those flights until April 24. We will continue to monitor the situation and will evaluate our schedule as we remain in close contact with the CDC and other public health experts around the globe.
We suspend travel to Hong Kong
February 4, 2020
In response to the continued drop in demand, we are suspending travel to Hong Kong beginning February 8 until February 20. Our last flights will depart San Francisco on February 5 (flight 877 and flight 869) and the last returning flight will depart Hong Kong on February 7 (flight 862).
Please check united.com for important travel information as well as current travel waivers.

Story by Priya Krishna | Photography by Marco Arguello | Hemispheres February 2020
A term that's often used to describe India's capital city is "organized chaos." This concept applies to every aspect of Delhi: the crowded streets, the boutiques and art galleries coexisting with centuries-old ruins, even the steady rhythms of the fruit vendors and chaiwalas traversing the city with their wares. As the capital, Delhi is home to some of the subcontinent's most famous sites, such as India Gate and Red Fort, but it also bears the scars of colonization—centuries during which it was divided and redeveloped in the name of the British Raj. In recent years, however, the city has undergone a transformation. Interwoven among the stately buildings and relics and beloved food stalls are new restaurants, markets, and developments that are leaning into India's bountiful heritage. Instead of gazing outward, Delhi, it seems, is finally looking inward.
Day 1: Exploring Old Delhi's mosques, street food stalls, and spice markets
There is no better way to deal with jet lag than to dive headfirst into the belly of the beast. Here, that means Old Delhi—the former capital of the Mughal Empire and, as the name suggests, the oldest part of the city. Old Delhi is 1,500 acres of sensory overload: rickshaw horns blaring, frying pooris giving off their nutty scent, and throngs of people (about 20 percent of the city lives here) weaving through narrow alleys and bustling streets.
But first, I load up on breakfast at The Oberoi, New Delhi, a venerable hotel right in the heart of the city. The spread is vast and varied, but I'm here for the idli, fluffy steamed rice cakes that taste like miniature clouds, served with a side of sambar (a tangy lentil and tamarind soup) and coconut chutney. To drink, a cup of milky, cardamom-laced chai. No one does mornings quite like Indians.
I've been visiting this city every couple of years since I was a kid. Also, I recently wrote a cookbook, Indian-ish, which features recipes partially inspired by what my parents ate growing up near Delhi. Indian culture normally dictates that I stay at my aunt's place, so it'll take some time to adjust to having a spacious room (and an automated toilet!) all to myself. But I'm excited to explore the city on my own for the first time.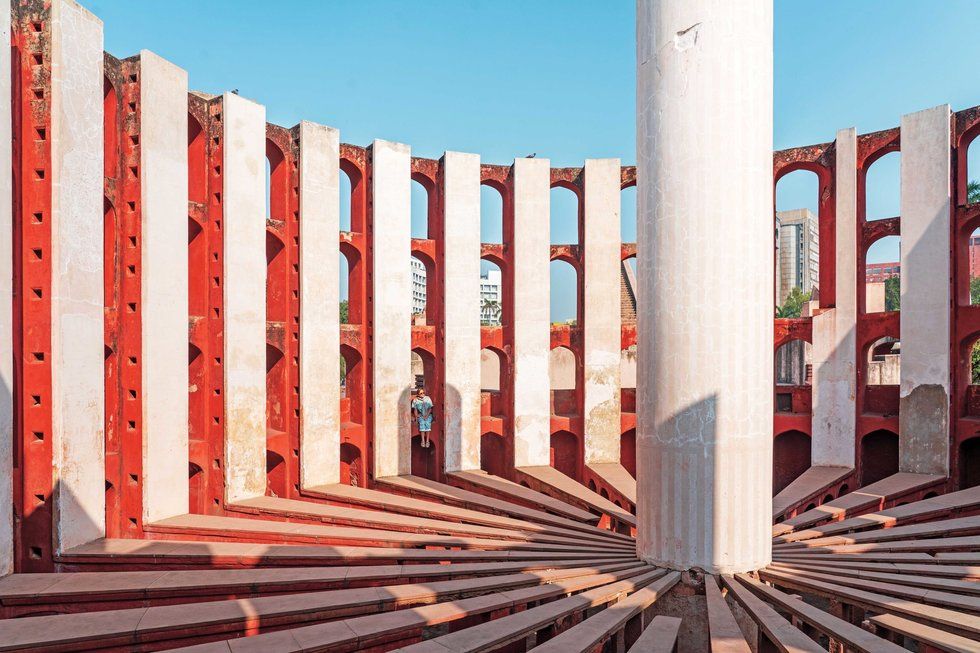 Jantar Mantar, an astronomical observatory that dates to the 1700s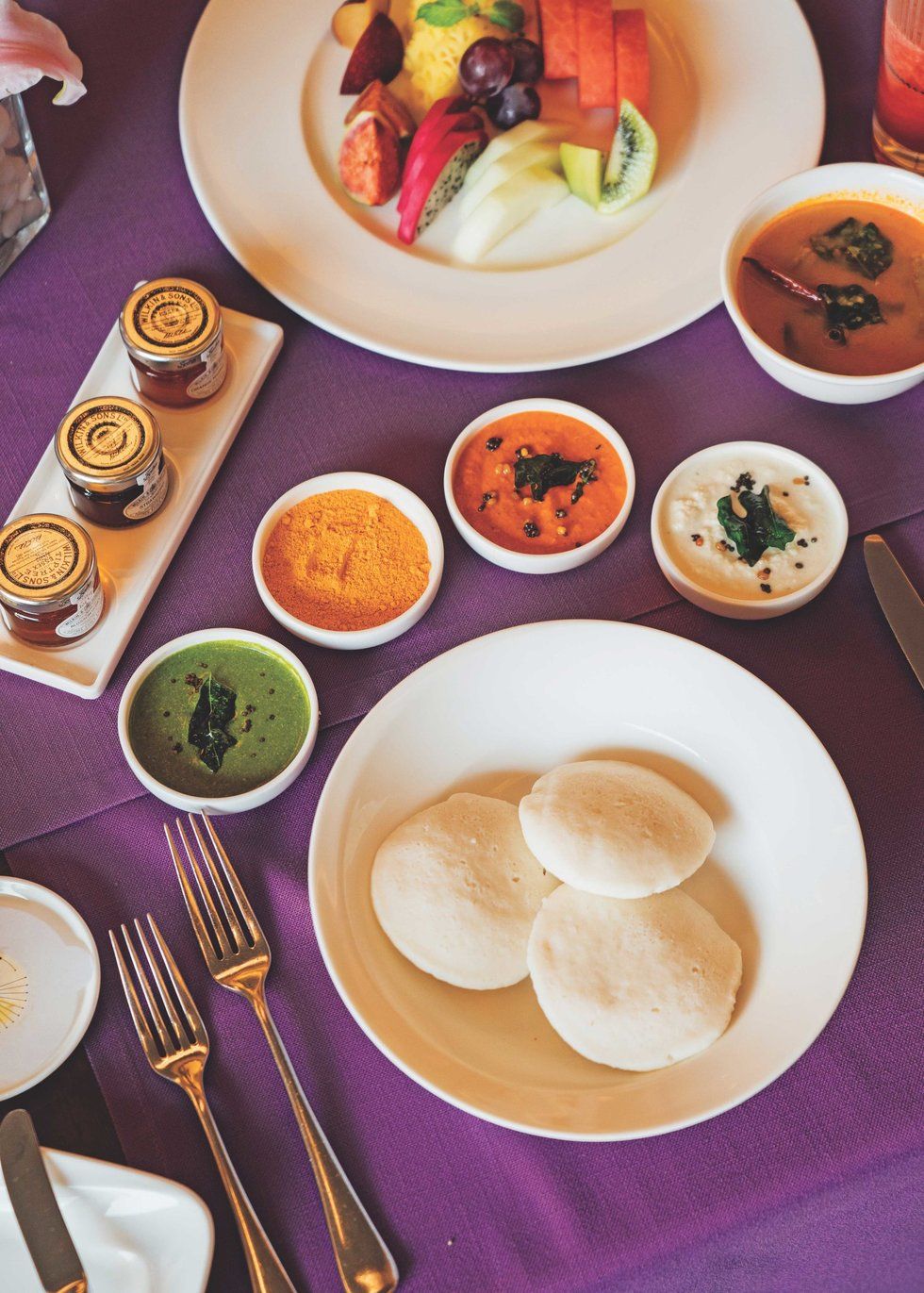 A breakfast of idli and chutneys at the Oberoi
After breakfast, I meet up with a Tours by Locals guide, Vishnu, and we take a short drive to Old Delhi. Along the way, we pass seventh-century ruins and the moat-lined stone wall that separated the palace complex from the rest of the city during Mughal times. I know we've reached our destination when we begin to share the road with cows and sugarcane juice vendors. Our first stop is one of India's largest mosques, the Jama Masjid, which was completed in 1656 to house relics of the prophet Muhammad. I can't help but compare the breathtaking structure—soaring red sandstone minarets, white marble domes, lines from the Quran carved in black onyx, a wide courtyard—to the Taj Mahal. "There's a reason for that," Vishnu says. "Same architect." That is, Persian visionary Ustad Ahmad Lahori, whom emperor Shah Jahan commissioned to design both.
From there, we take a brisk walk into Chandni Chowk, a busy stretch of markets where people are hawking everything from silver jewelry to gulab jamun (rosewater-dipped milk balls). I want to stop and browse at every stand, but Vishnu is on a mission—he wants to show me the havelis, centuries-old townhouses known for their elaborately decorated doors. I see one etched with incredibly detailed roses, another that's bright blue and outlined in mint-green vines. It's amazing that these painstakingly crafted relics are lingering in plain sight—you just have to know which alley to duck into.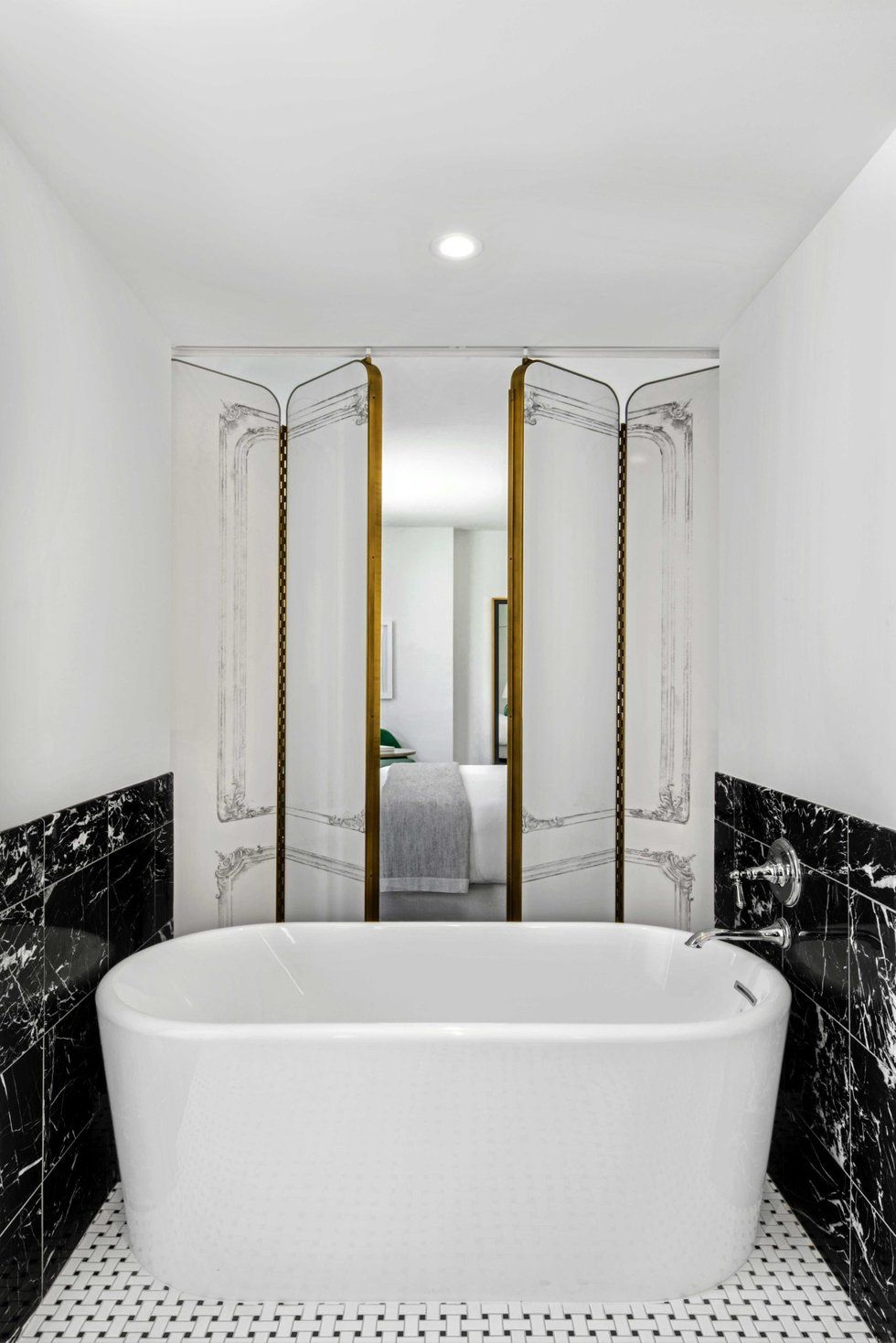 A bathtub with a view at The Oberoi, New Delhi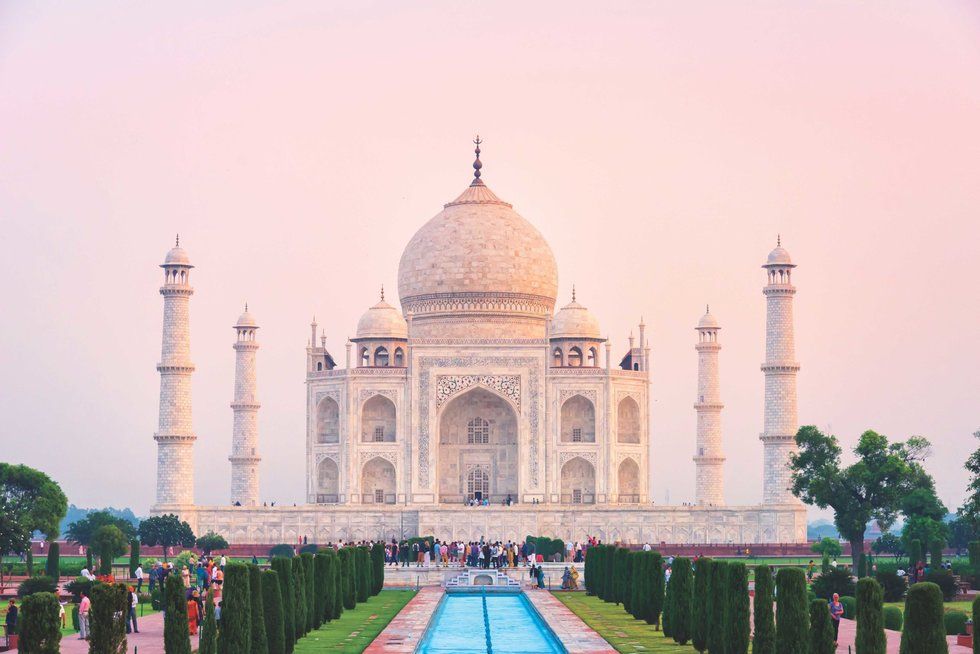 Photo: Phruetthiphong Pawarachan/Getty Images
That last part is tricky, because Chandni Chowk has a lot of alleyways (galis, in Hindi). I have my stomach set on one in particular: Paranthe Wale Gali, which is home to a cluster of stands that sell only stuffed breads called parathas. Vishnu directs me to the oldest of them, a simple setup with just a few tables and no decorations that dates back to 1872. The sign out front says, "Minimum Two Parathas are Necessary." That won't be a problem. I order two stuffed with paneer, a mild, non-melting Indian cheese, and watch as a cook rolls out the dough, folds in crumbled paneer dotted with fenugreek and coriander, rolls it out again, and then slides it into a pan filled with ghee. It's served alongside sabzis (stewed vegetables). I tear a piece off and dip it into a pumpkin sabzi. It's a rich, crisp, spicy, and slightly sweet mess.
I'm struggling to keep up as Vishnu bounds through the crowded streets. Here, pedestrians occupy the same space as animals, rickshaws, and cars. "Walk like an Indian," Vishnu advises as he charges into traffic. Rickshaws magically get out of the way. "It's about walking confidently." I try my best to mimic him, but I can't help but flinch at oncoming cows.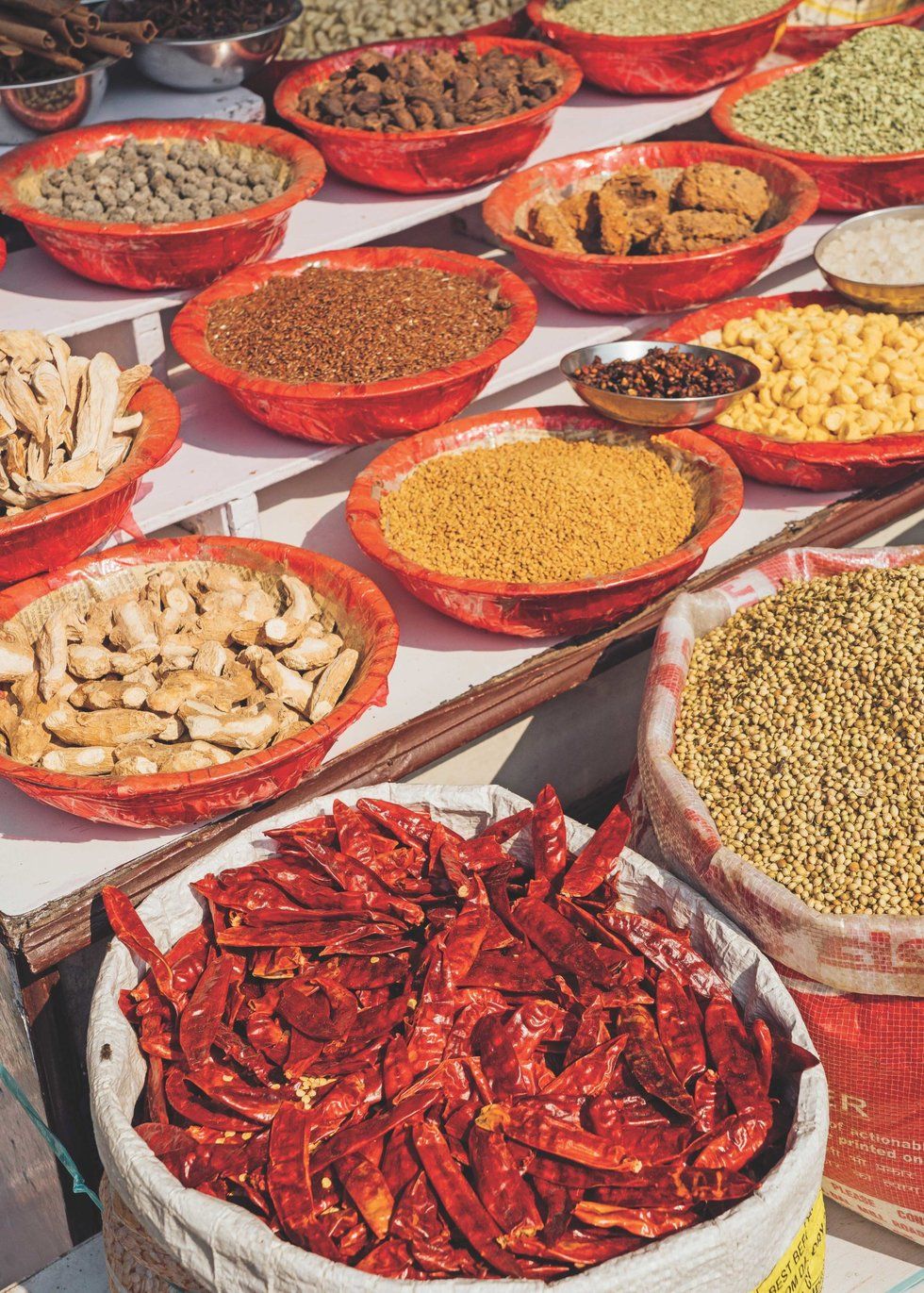 A Chandni Chowk spice market
On Khari Baoli, one of the district's most bustling streets (and that's saying something), we browse a spice market, with its fragrant bags of cardamom pods and saffron threads, and then I pick up a vial of saffron perfume at a 100-year-old perfumery. My stomach rumbles. After all that walking, I'm hungry again.
I've been told that Karim's kebab house in Chandni Chowk is the spot for the city's finest grilled meats. The unadorned restaurant was started more than 100 years ago by the son of a chef who had been a cook in the court of the Mughal emperor, and the seekh kebabs are appropriately splendid. The glistening cubes of beef speckled with cumin and coriander are so tender they literally fall off the skewer.
After our (second) lunch, Vishnu motions me to follow him up a flight of stairs a few blocks from the restaurant. We ascend all the way to the rooftop, which yields a spectacular view. The entire city unfolds before me, from the grandeur of the Jama Masjid to the ornately decorated balconies of Chandni Chowk to the palatial government buildings freckled throughout New Delhi.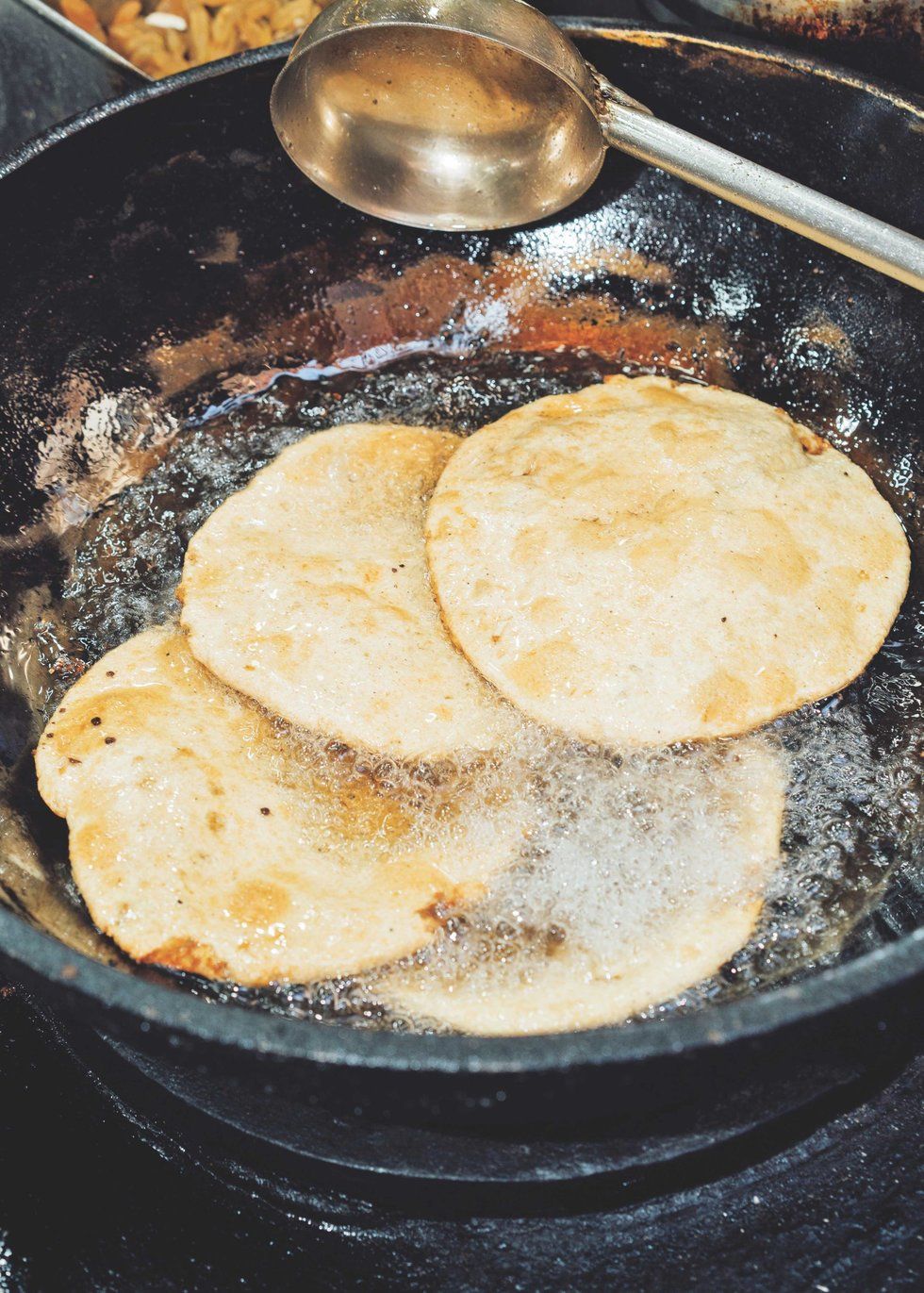 Parathas in Paranthe Wale Gali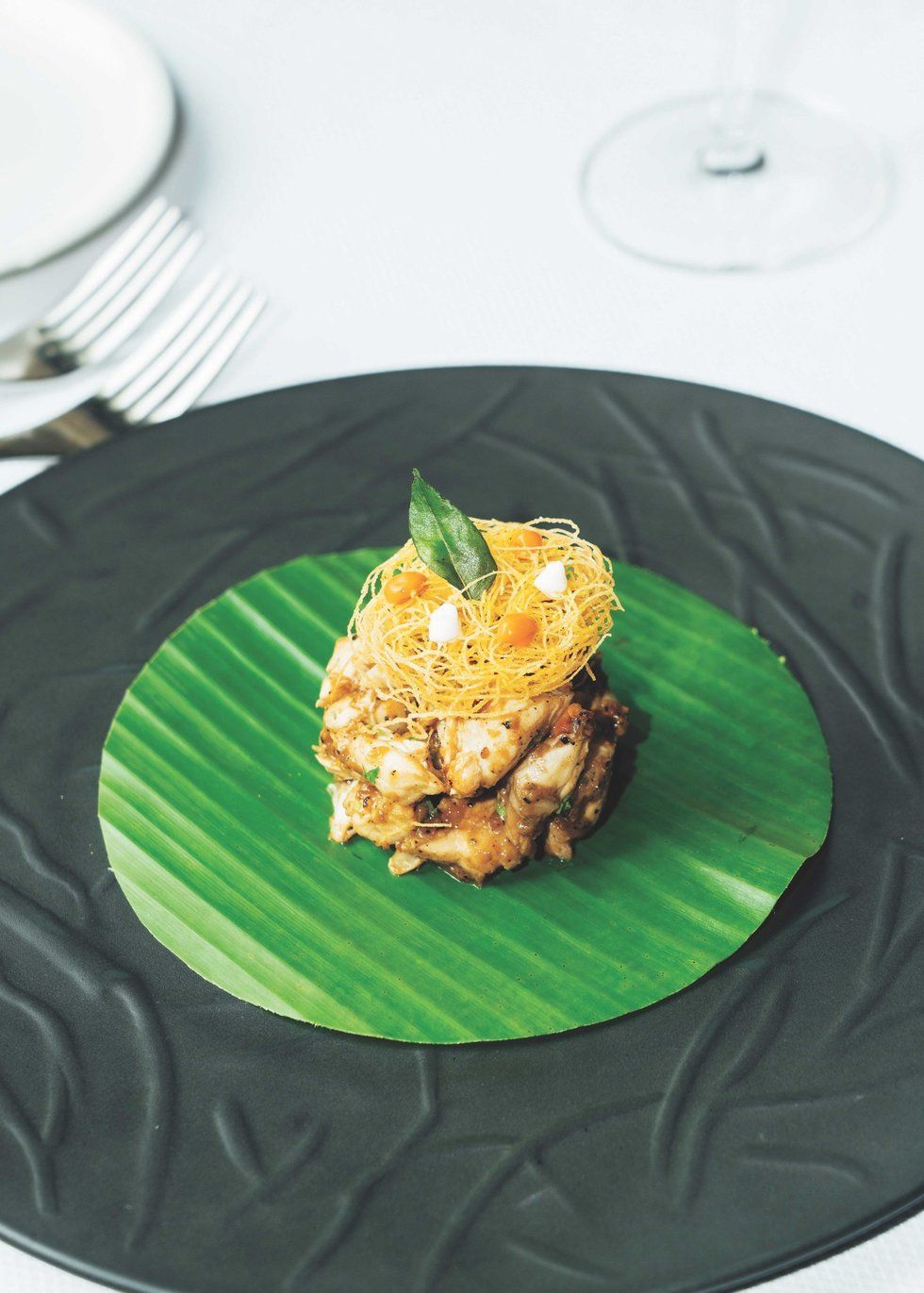 Pepper crab at Indian Accent
Back at street level, I spy a group of plumbers, electricians, and carpenters napping in the shade, awaiting customers. "It's a good system," Vishnu insists. "If you need a plumber, you know exactly where to find one." I've started adjusting to the pace of Old Delhi, but looking at those snoozing handymen, I'm reminded that I could use a nap too. Back to the hotel.
When I wake up, it's time for dinner at Indian Accent. The famed tasting menu restaurant by globe-trotting chef Manish Mehrotra is a far cry from Old Delhi—the dining room is spacious, serene, and dimly lit, with a certain earthy glamour. A parade of dishes appears: pepper crab topped with idiyappam (crisp rice noodles); pork ribs laced with Old Monk rum and mango pickle; and for dessert, makhan malai, impossibly light saffron cream topped with rose-petal jiggery brittle and almonds. "The idea is to do pan-Indian regional food, but make it new," Mehrotra explains as he serves the last course. "The presentations and combinations are unique, but it is all rooted in the food I grew up eating."
Belly full, I head back to The Oberoi and crawl into bed. I may be stuffed, but I'm already looking forward to everything I'll eat tomorrow.
Day 2: Checking out a famous fort, a gorgeous garden, and a giant jewel
Today starts with another round of idli and sambar. I could get used to this. Post-breakfast, my driver (it's relatively cheap to hire one, and you can usually book through your hotel) takes me to Red Fort, a fortress that was the Mughal emperors' primary residence. Considered by many to be Delhi's most important monument, it's surrounded by a mile and a half of imposing red sandstone walls, with ornately carved domes and tall watchtowers. Inside, I explore the houses of the Mughal royals: Rang Mahal, which was home to the emperor's wives and was once painted in bright colors and decorated with mirrors; and Diwan-i-Khas, where the emperor doled out justice from his bejeweled Peacock Throne (which was stolen in the 18th century).
Next on my list: Humayun's Tomb, which was built in 1569 to honor Emperor Humayun. With its triptych-style facade capped by an imposing dome, the tomb served as inspiration for the Taj Mahal, which was erected nearly a century later. As I get closer, I can see all the tiny details that make the 154-foot-tall structure so stunning: the complicated marble inlay patterns that line the facade, the latticed windows where light streams in. Surrounding the building is an almost artificially green garden.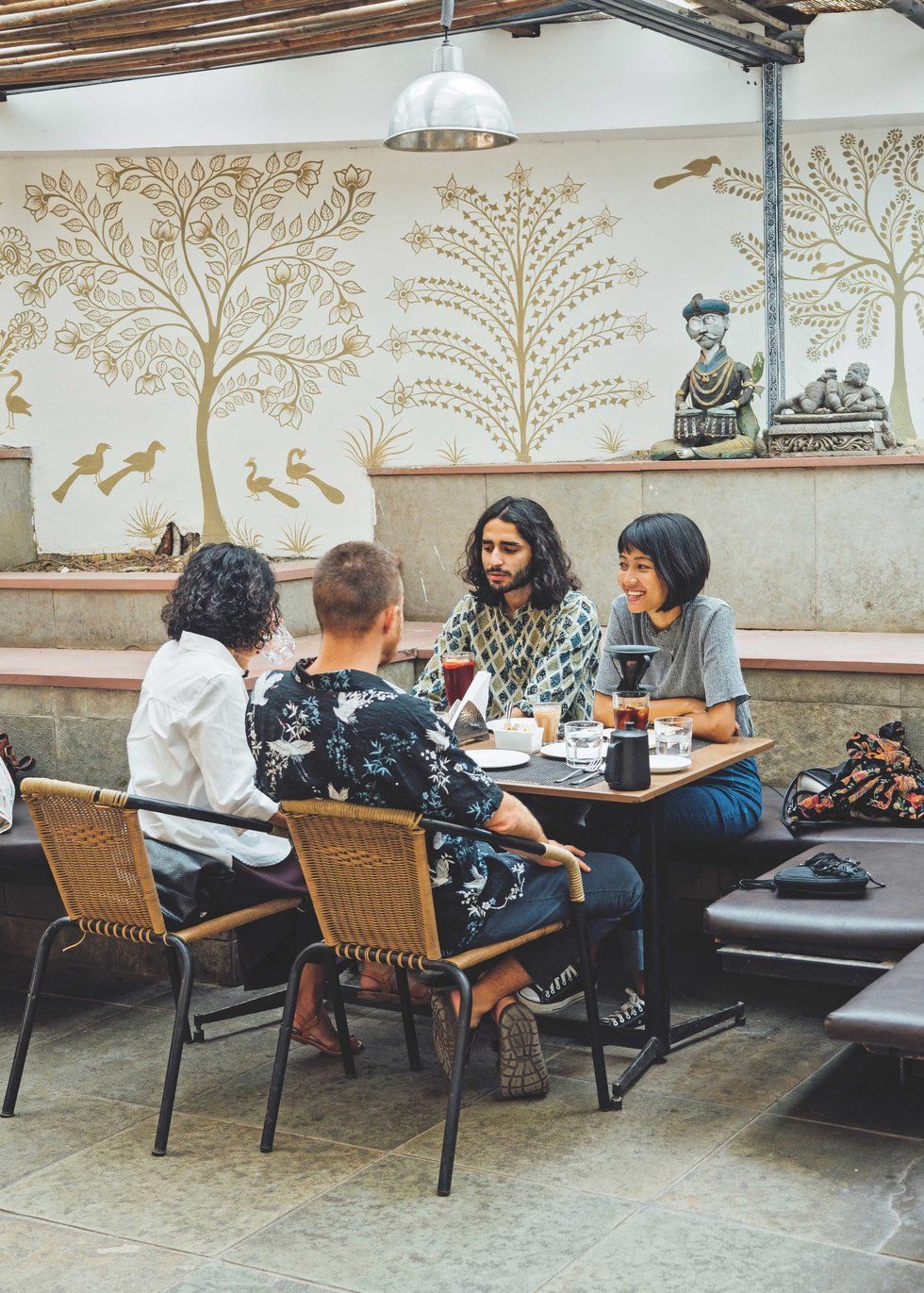 Café Lota, in the National Crafts Museum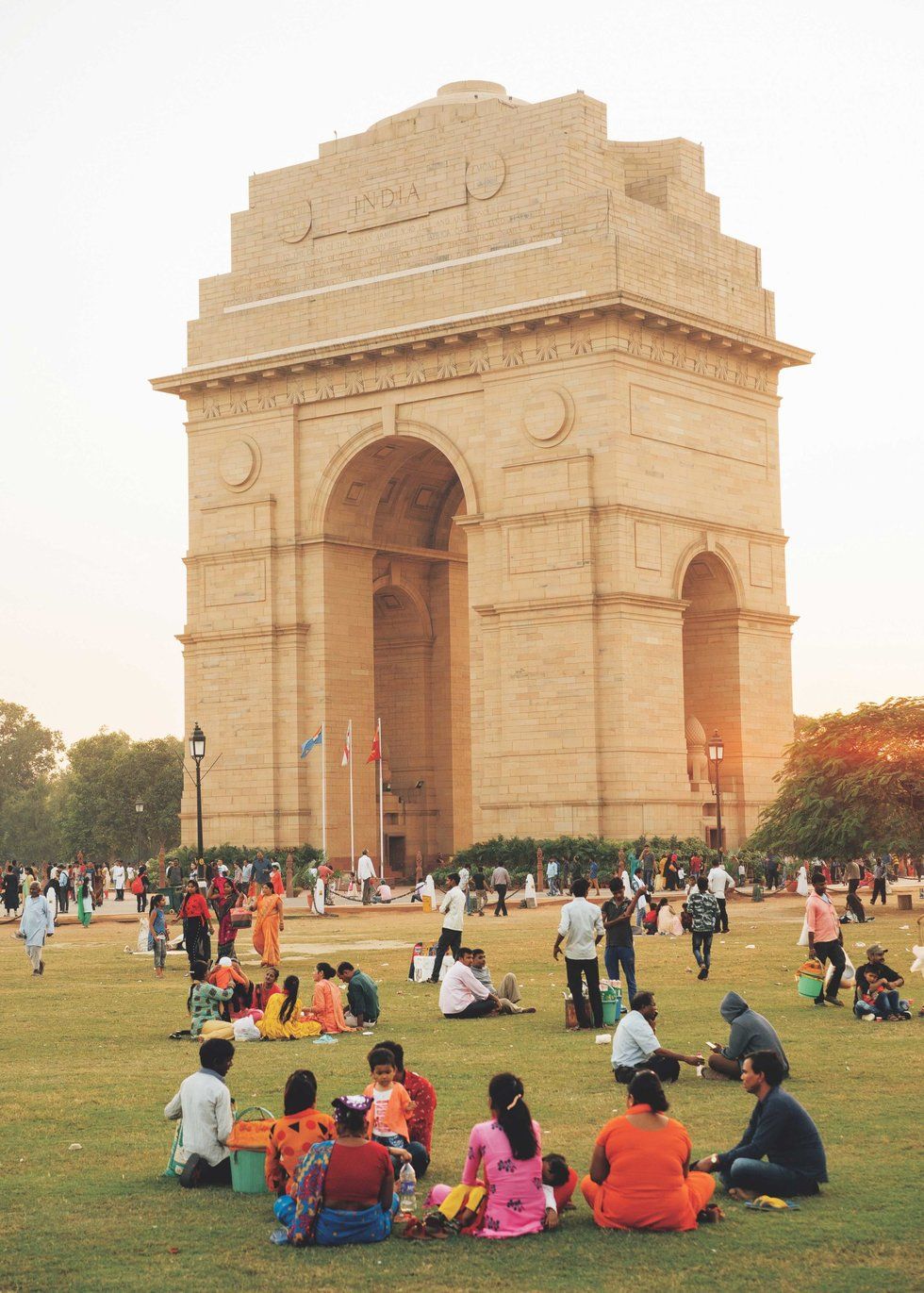 India Gate
Speaking of gardens, you might be surprised to know that Delhi—a city known for its crowded streets—is full of public parks. I'm off to see the most famous one: Lodi Garden, which was both a garden and a tomb for the rulers of the 15th- and 16th-century Lodi dynasty. By the time I arrive, the sun is out, and the infamous Delhi heat is arresting. It's well over 100 degrees Fahrenheit, and I've soaked through my T-shirt before I pass the entrance. That doesn't stop me from being amazed by the little differences in design from all of the other structures I've seen. The tomb of the ruler Muhammad Shah, for example, is octagonal, and the dome is topped with a lotus flower. Around me, I see couples cuddling on benches and elderly aunties out for a stroll, admiring all the native tree varieties.
I'm melting, though. Time for indoor activities.
Back in the car, air conditioner blasting, we drive by India Gate, another of the country's most famous landmarks, a memorial to Indian soldiers who died fighting in World War I. A sturdy 138 feet in height, it's an anchoring point of the city. We drive around the entirety of the monument, which is crowded with tourists taking photos. I'd do the same, but I'm still drying out. Also, I'm hungry.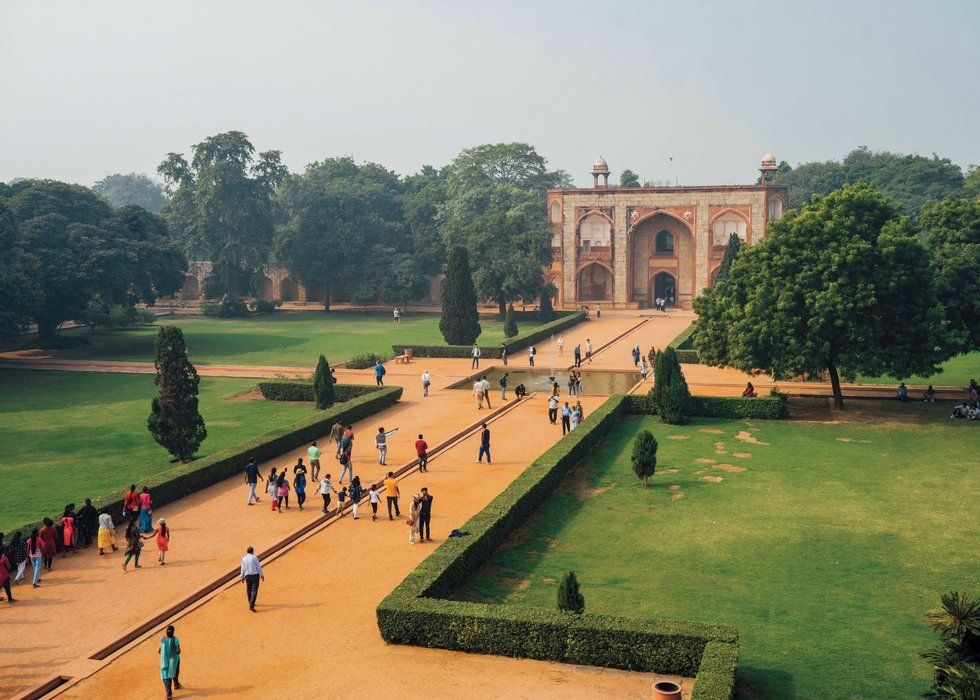 The grounds of Humayun's Tomb
I meet up with my aunt Manisha, who has lived her whole life in Delhi, at Café Lota. We're more than a decade apart in age, but when we're together we gab like old college friends. Warm, bubbly, and open to eating anything, she is also the perfect dining companion. Housed in the National Crafts Museum—a celebration of India's rich history of artisans and textiles—the breezy, indoor-outdoor café serves hyper-regional food showcasing the country's range of heritage lentils and grains. There's corn dhokla, savory fermented cakes from Gujarat adorned with crisped curry leaves, mustard seeds, and a fiery tomato chutney; cheela, a tangy pancake made of millet flour studded with chilies, paneer, cilantro, and green beans; and bhatt ki churkani, a stew of a local variety of black bean paired with rice and spicy potatoes. The flavors are wildly vibrant—unlike anything I've had before. I want to order even more food, but Manisha cuts me off. "We can barely fit what we have on the table," she points out.
The two of us digest our meals with a spin through the museum, where I find an early-20th-century purple sari embroidered with hunting scenes in gold thread. I'm also enamored of two hamsa (swan masks) from West Bengal, used in classical dance.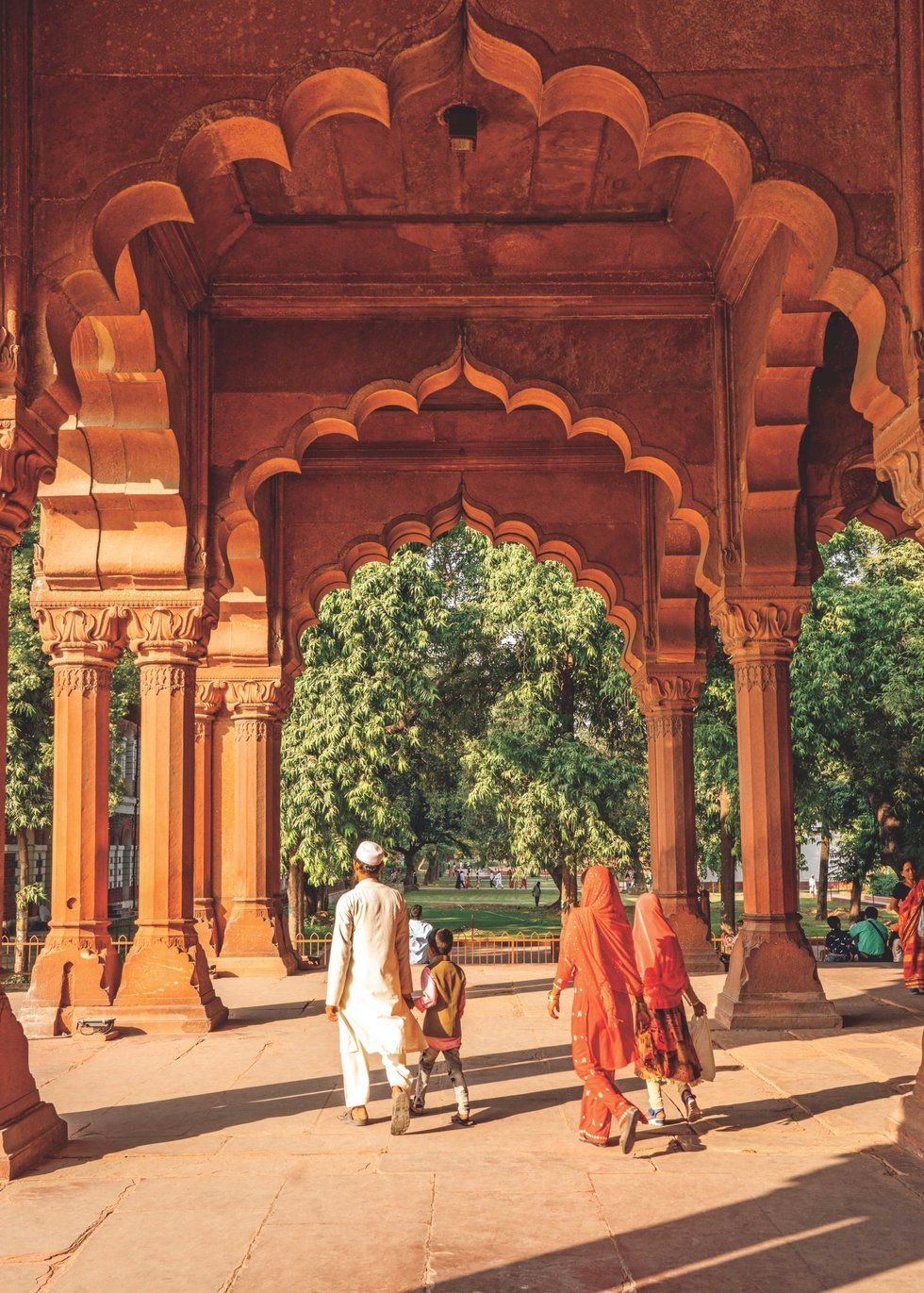 The Red Fort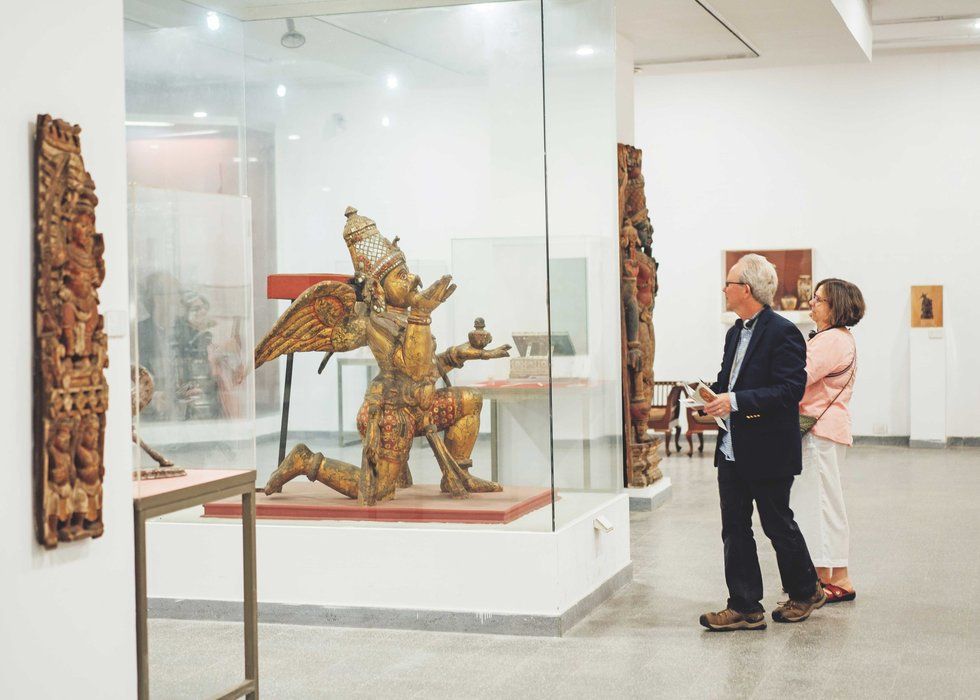 The National Museum
I'm exhausted, but Manisha wants to check out the National Museum—an exhibit called Jewels of India is showing 173 gems and items of jewelry made of precious stones found in India. I'm dazzled by the main attraction, the 184.75-carat Jacob diamond. I also fall in love with a seven-string pearl necklace called a satlarah. Suddenly, my J. Crew silver chain isn't quite cutting it.
My dinner reservation is at NicoCaara, located in the Chanakya, an upscale mall in Chanakyapuri. The restaurant is a collaboration with the chic Delhi clothing brand Nicobar, and the space is appropriately stylish, with botanical wallpaper and plants in gold pots hanging from the ceiling. Cofounder Ambika Seth is one of only a few restaurateurs in India focusing on local sourcing: The goat cheese comes from Rajasthan, the avocados from Bengaluru. "We have this colonial hangover based on this strange complex that imported was always better," Seth tells me over a plate of nutty zarai cheese, made at a farm in Uttarakhand, near the Himalayas. "That's changing with my generation."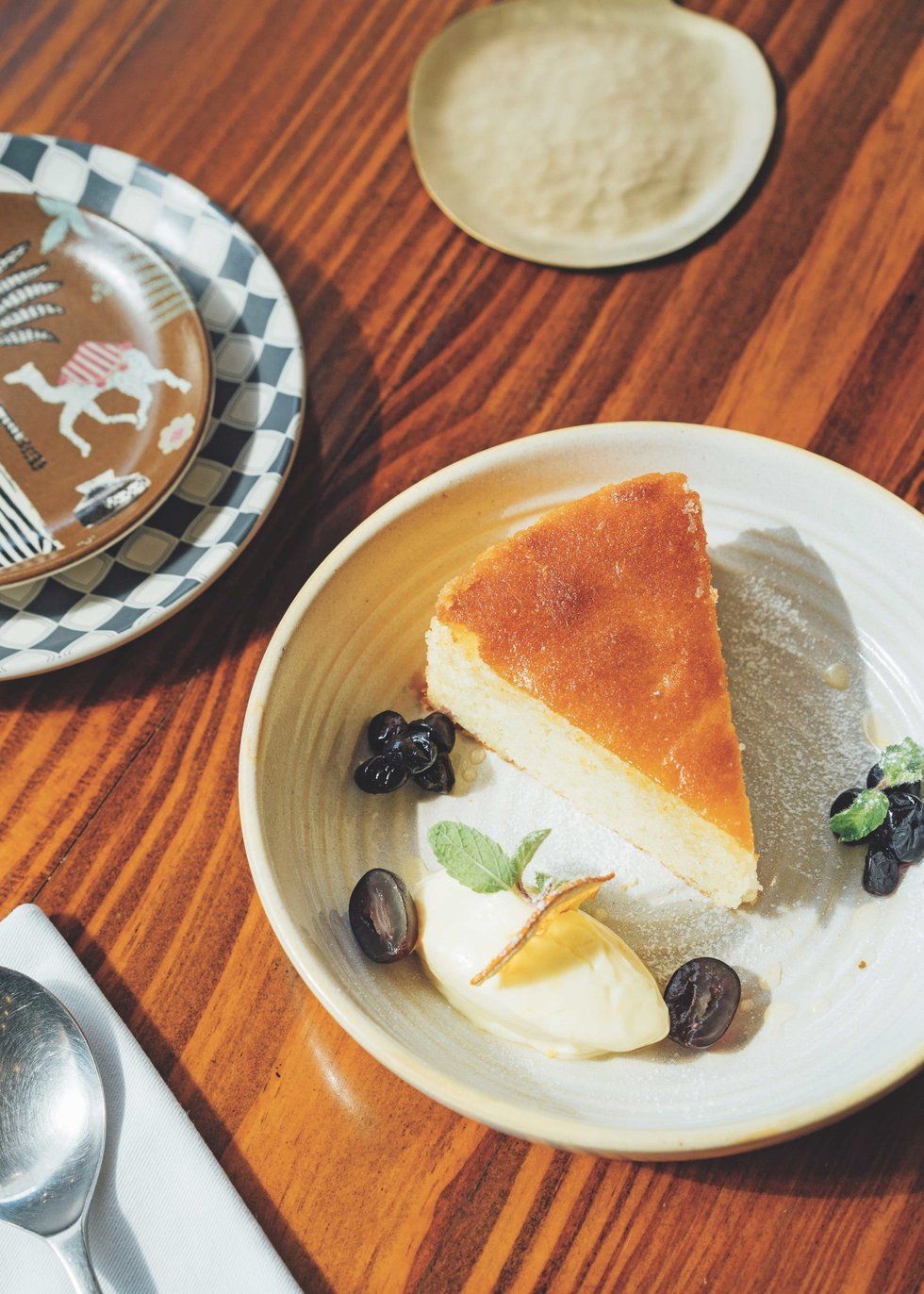 Dessert and design items at NicoCaara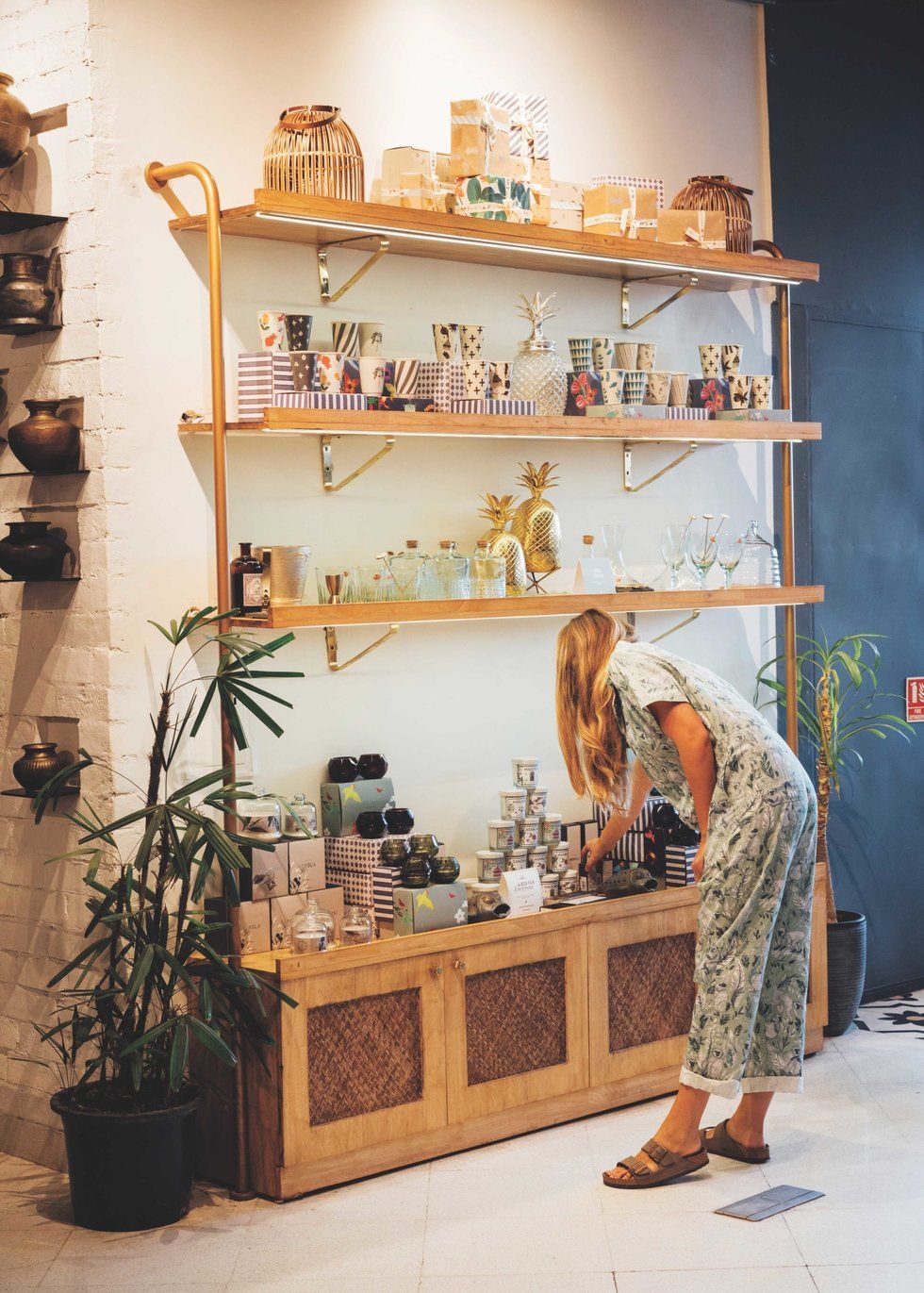 The rest of the meal is a pageant of bold flavors—orecchiette with fresh pesto made using basil grown at Seth's organic farm, and a coconutty prawn stew from Malabar laced with rice noodles, lentils, and earthy mustard seeds. For dessert: a fluffy almond-orange cake with a dollop of not-too-sweet cream. I wish Manisha were here to try this—or at the very least to help me finish it all.
After dinner, I check into Bungalow 99, an apartment-style hotel centrally located in the Defence Colony neighborhood. The design here is minimalist and beautiful, but I barely have time to look around before my head hits the pillow.
Where to stay
More like a bed-and-breakfast than a hotel, Bungalow 99 is the kind of place that makes you feel like a local. This plant-filled family-run spot is wonderfully intimate, and Aditya, the owner, treats everyone like a guest in his home. A full breakfast is served in the dining room each morning, and every floor has a sun-filled living room and balcony, where you can lounge while looking out onto the lively area of Defence Colony.
For a luxurious experience in a convenient location, there's no better place to stay than The Oberoi. Thanks to a 2016 renovation, the hotel has all the modern conveniences you could want—automated Toto toilets in suites, iPads in every room—but the design at this 50-plus-year-old institution still feels timeless. There are yoga classes every morning, and don't miss the breakfast buffet, with its unforgettable selection of regional Indian dishes.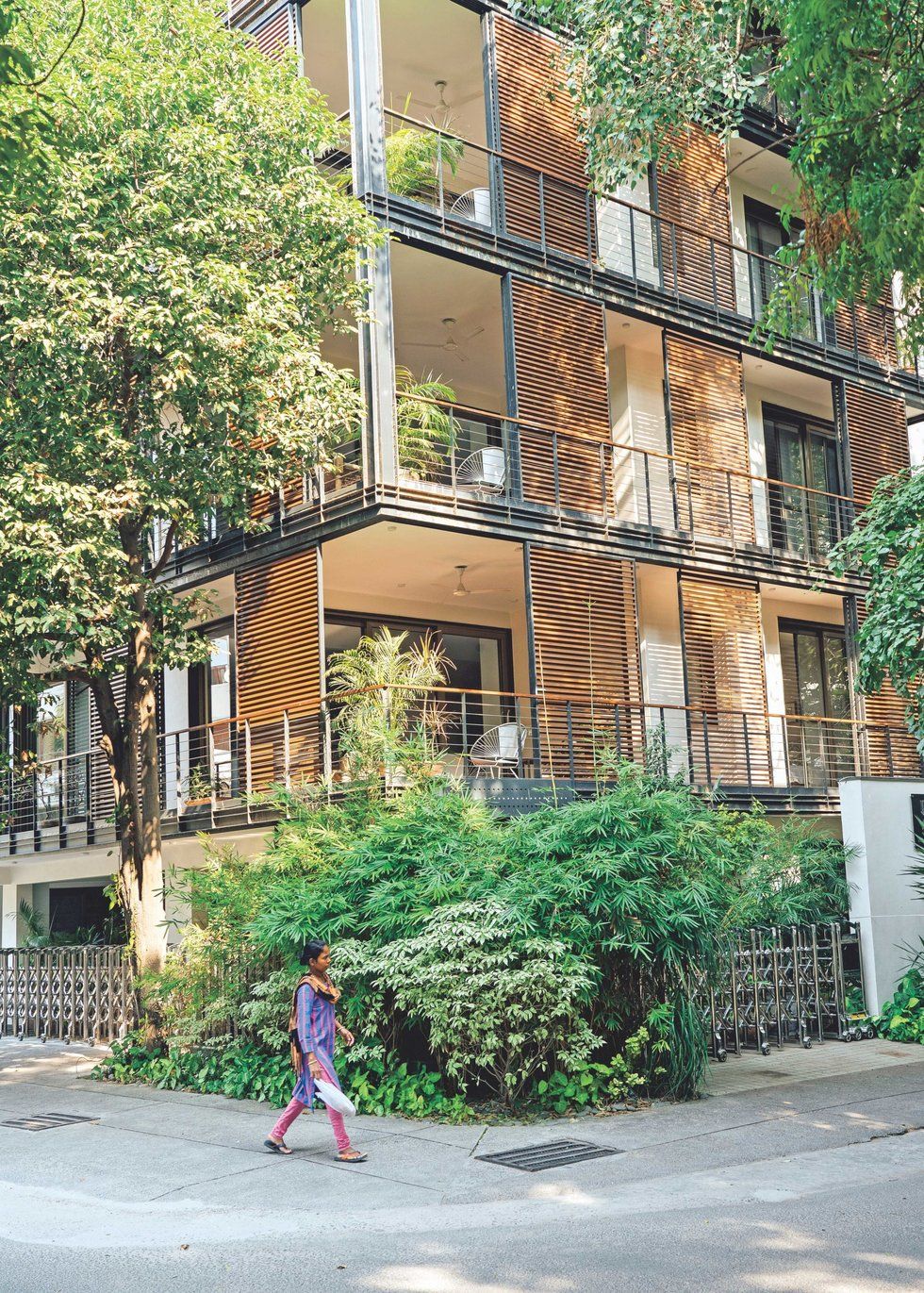 Day 3: Marveling at the Lotus Temple, snacking on sweets, and shopping for saris

I've been told the place to be on Sunday is the farmers market at Bikaner House, a former palace of a maharaja that has been converted into an art gallery and cultural space. Every Sunday, vendors selling everything from fresh dosas to artisanal granola set up shop around the flower-lined entryway. Thankfully, the weather has cooled down, and I have my eye on a family-run stand called The Pickle Studio that specializes in achaar, or Indian pickles. I buy a pungent dry garlic version—whole cloves in chili powder and ghee. I can't wait to mix it into pasta sauce.
From there, I'm off to take in one last architectural marvel: the Lotus Temple, a house of worship for the Baha'i faith. Finished in 1986, it's new by Indian standards, but it's already an icon, drawing 3.5 million visitors a year. The flowering lotus shape, which reminds me of the Sydney Opera House, was chosen because it's a symbol of purity and peace. The petals of the temple are surrounded by nine pools and 26 acres of strikingly groomed gardens. Inside, light soars through the archways, directing my eye to the nine-pointed, gold-embossed star on the ceiling. Crowds of sari-clad elderly women stream by, elbowing me out of the way so they can take selfies against the backdrop of the temple.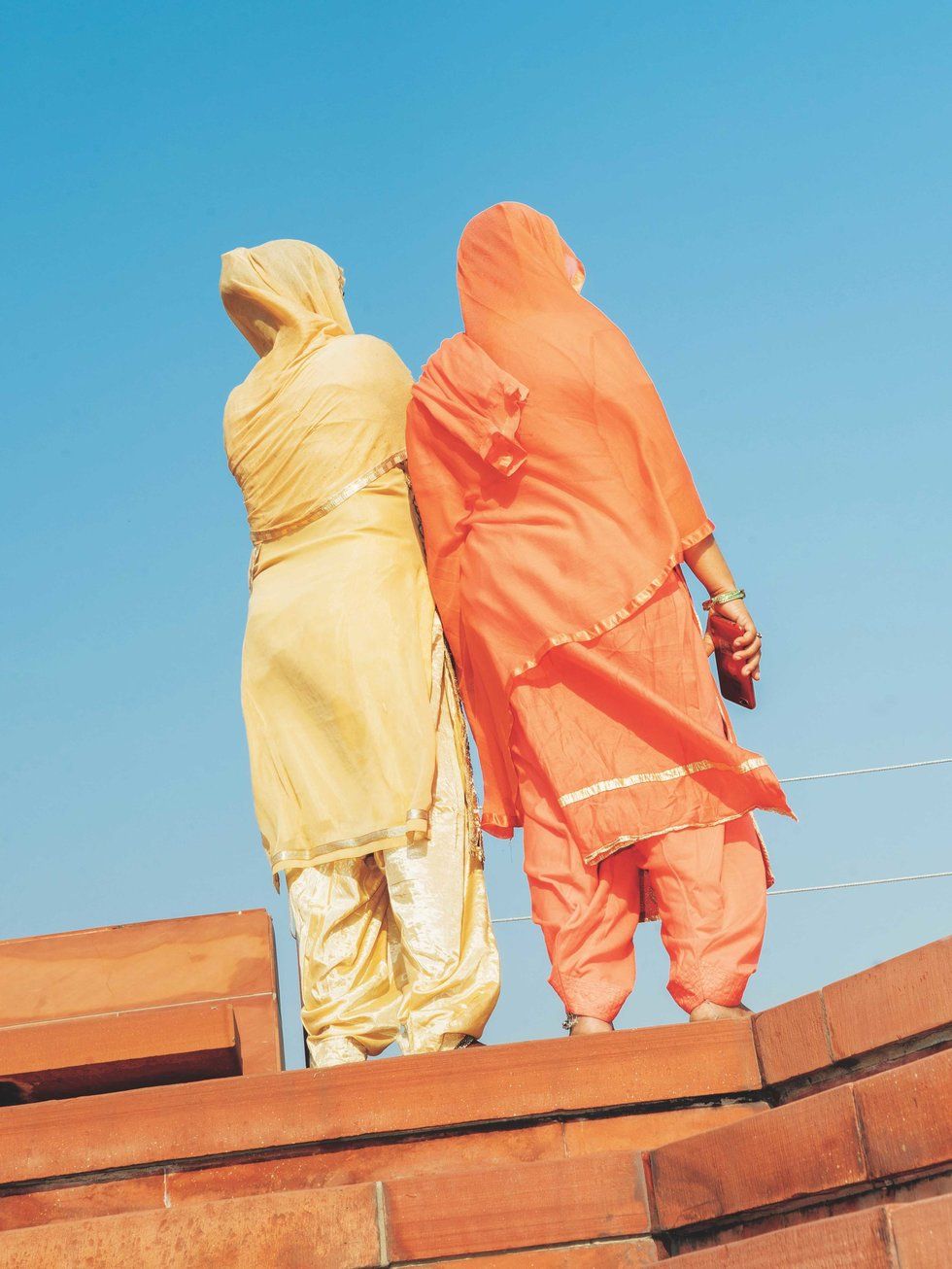 Two of the Lotus Temple's 3.5 million annual visitors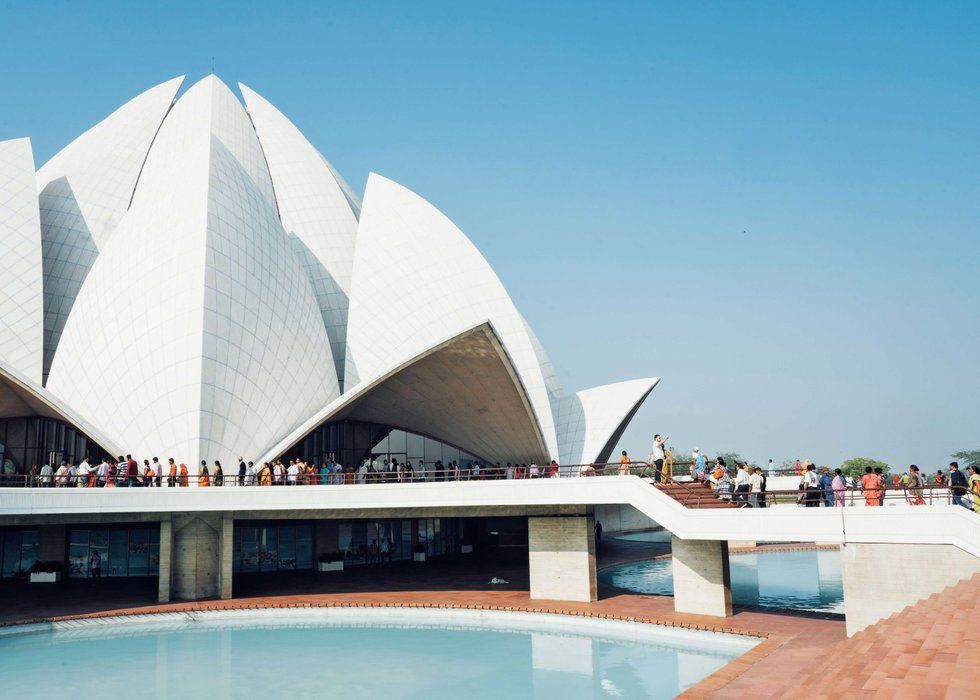 The temple's signature petals
For lunch, a few local food writers told me that one of the best restaurants in town is a tiny spot called Little Saigon in upscale Hauz Khas. Vietnamese food in India? I'm surprised. That was also the thinking of Ho Chi Minh City native Hana Ho, who came to Delhi in 2010 to cook at the Taj Palace hotel and opened this place when she noticed that there wasn't anywhere in town to get a decent banh mi or bowl of pho. "I wanted Indian people to know Vietnamese food the same way they know Thai or Chinese," she says. I enjoy a round of summer rolls that are a respite from the heat outside, followed by a cold noodle salad with homemade pork patties dappled with herbs. "The finishing touch," Ho tells me as she drizzles fish sauce over the top. The noodles sing with sweetness and acidity.
For dessert, I must make a stop at Evergreen Sweet House, one of India's most famous sweetshops and a place I've been frequenting since I was a kid. The store, a five-minute drive from Little Saigon, is a Willy Wonka's factory of activity and color. People visit from all across the country to taste its fresh jalebis and ghee-soaked, fudge-like laddoos. I'm here for the kaju ki barfi, silver foil–topped diamonds of cashew, milk, and sugar. They're soft, creamy, and not too sweet. Just perfect.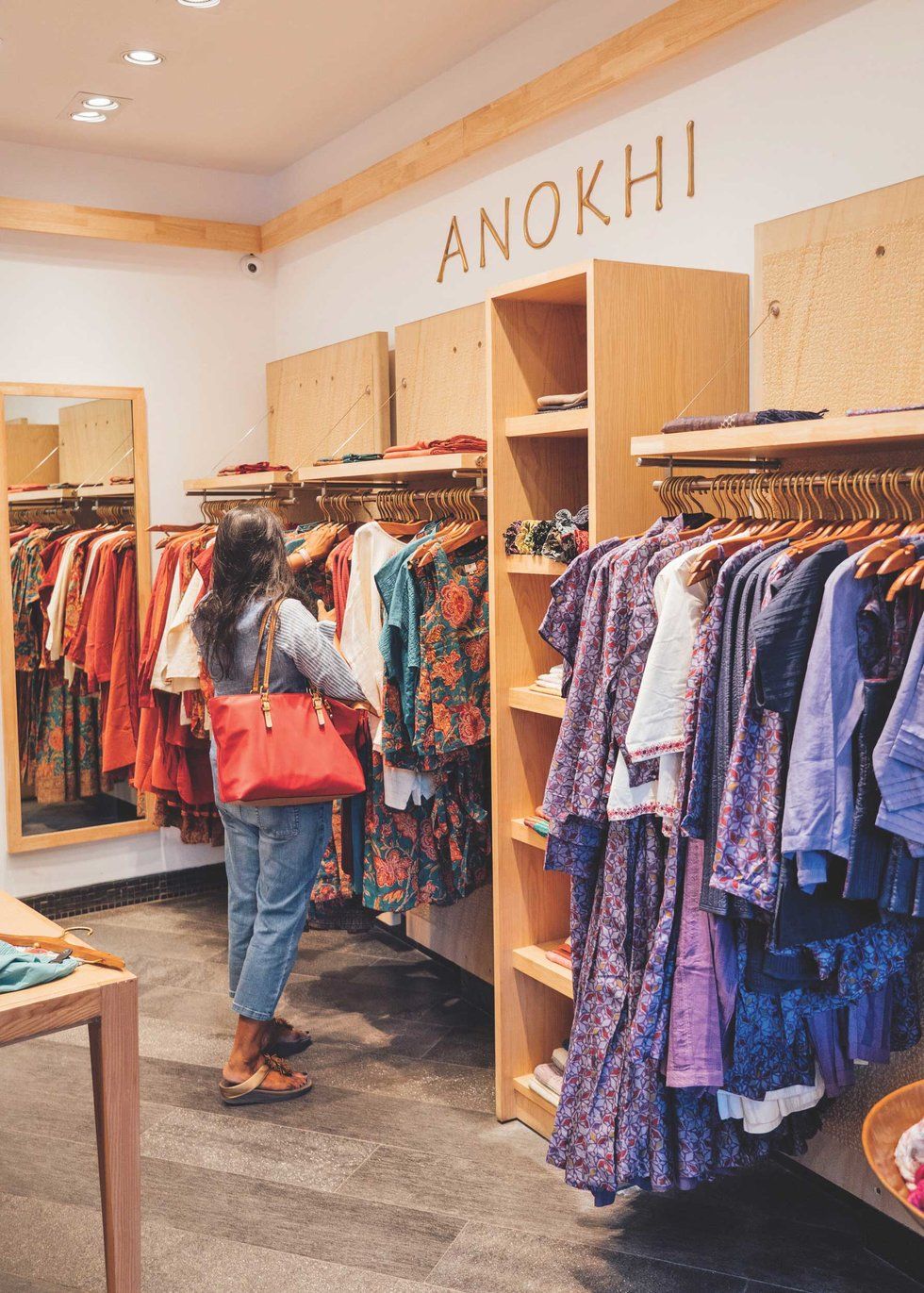 Shopping fortunics at Anokhi
Now, time for a little shopping. First, I pop by Hauz Khas Village, where a string of eclectic shops have popped up around a historic reservoir. I duck into a vintage sign shop, Indian Art Collection, delighted by the old-school Bollywood posters, and then K.R. Stationers, where I pick up emerald-green envelopes embossed in gold lettering for friends back home.
Next, I head for nearby Khan Market—a posh retail district that's home to some of the most expensive boutiques in the city (as well as plenty of affordable shops). I pick up a few short kurtas (loose, collarless shirts) at FabIndia and tunics at Anokhi, which is known for melding traditional textile-making methods with modern designs.
While Delhi may not be India's epicenter of saris, thanks to the tucked-away shop Kamayani, you can peruse the full range of textiles the country has to offer, from the tie-dyed bandhani saris of Gujarat to the striped leheriya style of Rajasthan. The store's eponymous owner buys textiles from artisans all over India who have spent their lifetimes mastering classic sari-making traditions. She shows me close to 50 different pieces, each with its own story to tell. "These saris are works of art and treasures of our country," she says, unfolding a bright yellow linen garment adorned with orange diamonds and colorful tassels. "I am here to share those." I'm tempted to try one on, but I don't trust my clumsiness and mediocre sari-tying skills with the delicate fabric.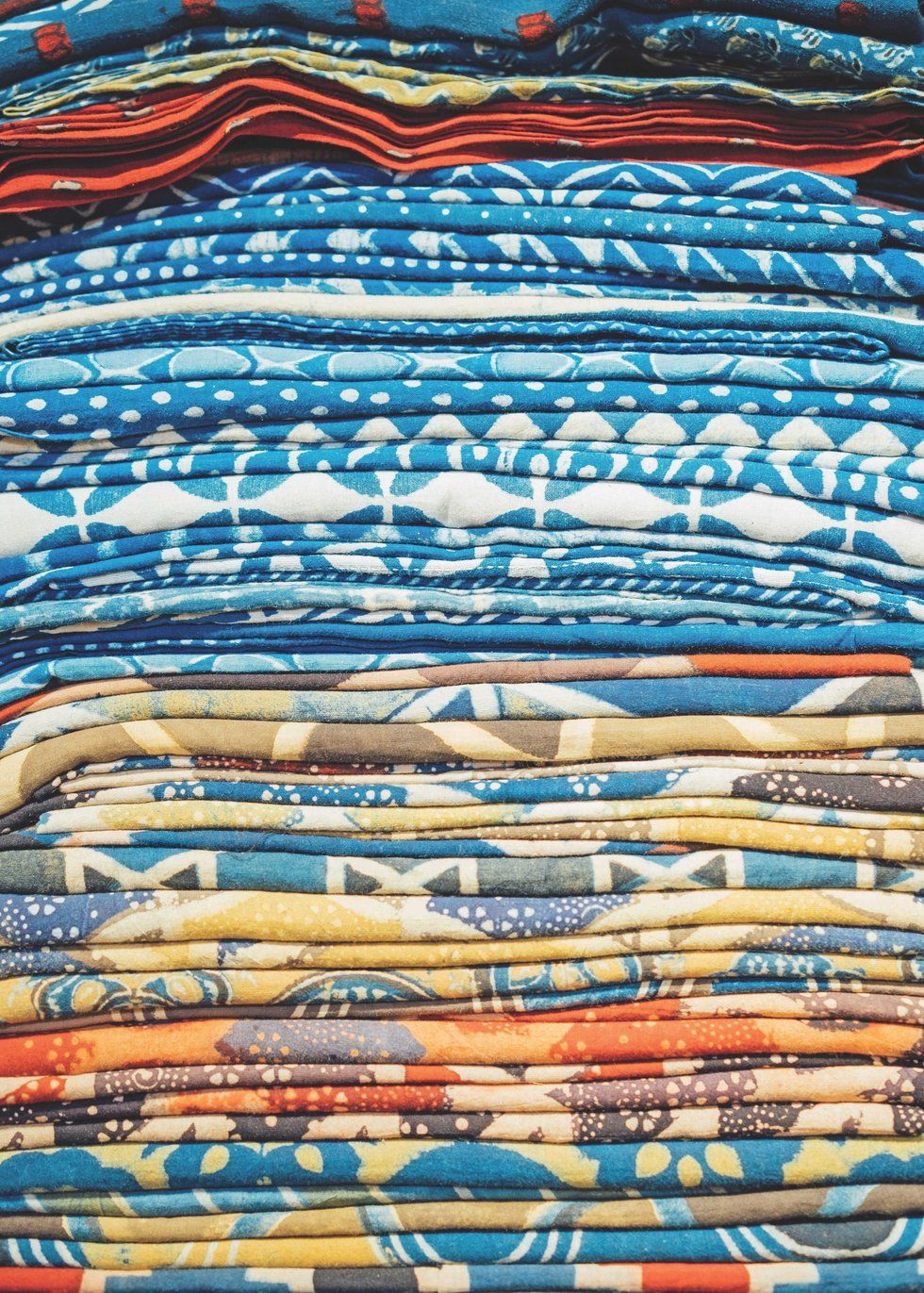 Bright saris at Kamayani
For dinner, I'm excited to try something new at Mizo Diner, which is devoted to the food of Mizoram, a part of northeast India bordering Myanmar and Bangladesh. The cuisine is heavy on rice, pork, and bamboo shoots, and it's not well represented in Indian restaurants, but owner and hip-hop/graffiti artist David Lalrammawia is out to change that. I enjoy vawska rap, a stick-to-your-ribs smoked pork stew with leafy greens, and sawhchiar, a chicken and rice porridge served with an addictive sweet-spicy onion jam. Drum-heavy Mizo music blares on the speakers, purple graffiti lines the walls, and the entrance to the kitchen is adorned with bamboo in a nod to the traditional homes of Mizoram—a region that's now high on my list to visit.
It's late by the time dinner wraps up, but even at 11 p.m. the city shows no sign of slowing. Car horns honk furiously, fruit vendors crowd around me to try and sell the last of their supply, and even with no sun, the air is hot and thick.
I gobbled up all the kaju ki barfi I meant to bring back to friends and family at home, so I make one last pit stop at Evergreen to pick up more sweets. Then I head back to Bungalow 99 and go to bed dreaming of smoky pork and saris the color of cotton candy and all the things I've discovered in a city I thought I knew, and where I've still barely scratched the surface.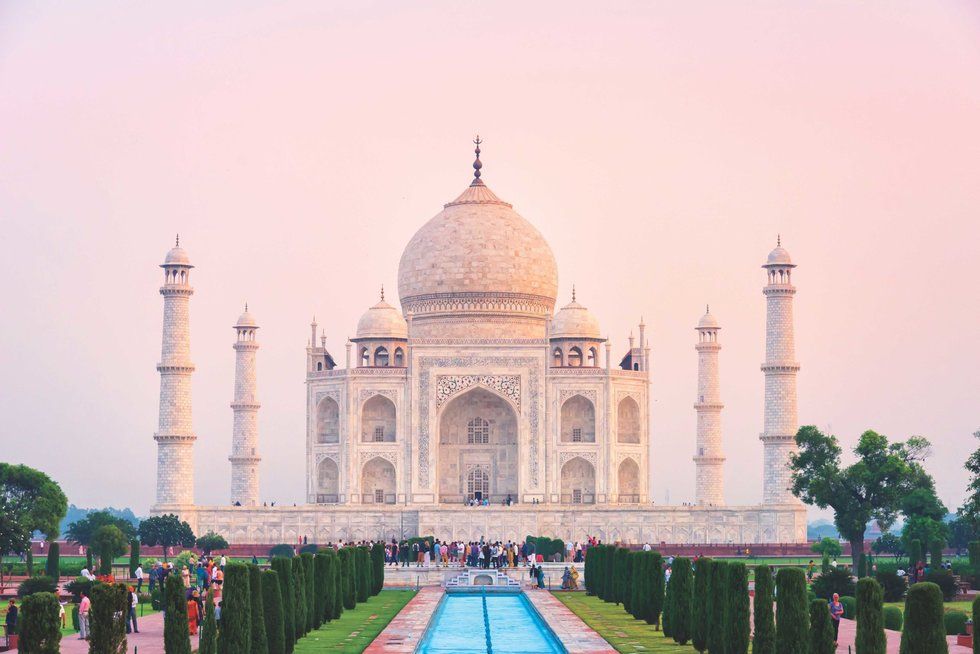 Photo: Phruetthiphong Pawarachan/Getty Images
If you're visiting Delhi, you really should plan a quick overnight trip to Agra to see the Taj Mahal, one of the world's great wonders. The most direct way to get there is to hire a driver—the trip can take anywhere from three and a half to five hours, or longer, depending on traffic. You can also hop on the train, which is less expensive, slightly faster, and an experience unto itself (the New Delhi train station at any time of day makes rush hour at Grand Central Terminal seem tame). It's best to arrive in Agra at night and wake up before sunrise to go to the Taj, as this is when the heat and the crowds are the most manageable. Also: Watching the sun rise over the mausoleum's white domes is one of the most serene, stunning experiences you'll ever have.

Scroll to top