Three Perfect Days: Lisbon
Story by Boyd Farrow | Photography by Pedro Guimarães | Hemispheres Magazine July 2016

It's easy to see why so many people are besotted with Lisbon. It's as gorgeous as Paris, without the attitude; it's as enchanting as Istanbul, without the traffic; and it has the vibrancy of Berlin, with better weather. Each year, more than 4 million visitors come to the city—home to a mere 550,000 people—to get lost in its lively neighborhoods, marvel at its exquisite architecture, and indulge in its thriving culinary and cultural scenes. Indeed, many are moving here permanently, lured in part by the proliferating startup companies, but also by the way of life. The Portuguese capital is steeped in history, much of which concerns the devastating earthquake of 1755 and the subsequent reconstruction—but this former naval power is in the midst of a different kind of revival, one that has as much to do with the spirit of the place as it does with the infrastructure. Famously gloomy Lisbonites, it seems, are rediscovering their sense of fun.
Day 1 Reclining in my Empire-style suite at the Pestana Palace—a fondant-iced mansion in the riverside district of Belém—I'm torn. Do I go for a dip in the garden pool or read the paper in my clawfoot tub? I don't often get to soak under a chandelier. I can swim later.
Breakfast is in a salon that has even more frescoes than my room. Anywhere else, the monster ham burdening the buffet table would be a talking point. I refill my plate so many times I'm pretty sure a cherub is glaring at me.
A short cab ride takes me to Torre de Belém, a dinky fort at the mouth of the Tagus. A launching point for many naval adventures, the structure bears as much symbolism as Game of Thrones—and is just as camp. Maritime motifs meet Moorish and Italian touches in an exuberant architectural mashup known as Manueline, after the 16th-century king Manuel I. Near the fort's tiny drawbridge, a busker plays the Star Wars theme on an electric violin.
Padrão dos Descobrimentos, in Belém
In the 1520s, the fort was farther from the shore, but the 1755 earthquake, which leveled much of the city, also shifted the river. A stroll along its bank leads to Padrão dos Descobrimentos, a 180-foot-tall, ship-shaped monument to the Age of Discovery. Nearby is Mosteiro dos Jerónimos, the blingiest symbol of Portugal's status in that era. With its gables and pinnacles, its lavish altar and atmospheric chapel, the Mosteiro could rival any cathedral in the world. The big draw is its network of cloisters, not least because the delicate stonework withstood the quake. As I pass through a vaulted archway, a boy thwacks a soccer ball against a spindly column. The structure endures this, too.
Outside is another hallowed site, Pastéis de Belém, which has made Portugal's insanely delicious pastel de nata custard tarts since 1837. You see the line snaking around the tiled shopfront long before the buttery waft hits you. With monklike abstemiousness, I buy just one and realize my mistake with the first warm and wobbly bite.
Next to the monastery is Lisbon's blandest building—though, admittedly, the Fundação Centro Cultural de Belém was built to accommodate EU officials. At its core is the Museu Berardo, which houses one of the world's most impressive modern art collections, with around 250 works from the likes of Picasso, Warhol, and Dalí. Amazingly, security seems nonexistent. I resist the temptation to leave with a Miró in my tote.
José Avillez, chef
A 20-minute ride on a pleasantly tilting yellow tram takes me to Pap'Açorda, a popular restaurant recently transplanted to premises above the Mercado da Ribeira, the city's historic food market. Pap'Açorda is named after its specialty, açorda, a massively filling bread-and-vegetable stew. I get one as a starter, followed by a fillet steak, sautéed Portuguese-style in wine and bacon. Dessert is chocolate mousse, which the waiter serves from a mixing bowl, encouraging me to scrape off the spoon. It would be rude not to.
I walk off the mousse by exploring Praça do Comércio, the mosaic-cobbled waterfront square, where custard-colored 18th-century buildings flank a statue of King José I. At the northern end looms the Arco da Rua Augusta, a 100-foot-high, dizzyingly ornate archway celebrating the city's post-earthquake reconstruction. From its frilly summit, reached via corkscrew staircases and an elevator, I survey Baixa, the dense downtown heart of the city, and the rust-roofed clutter of Chiado and Bairro Alto. Chiado, with its theaters, bookshops, and cafés, has long been seen as the city's Montmartre, a magnet for creative types. Bairro Alto is known for its bars, graffiti, and laundry draped on ornate balconies.
"Portuguese food culture is so rich because it is based on stories and history—two things we are hardly short on—and of course there's our fantastic climate. What the Portuguese are not so good at is promoting ourselves. This is why there are French and Italian restaurants everywhere." —José Avillez
No matter where you go here, everything is far more beautiful than it needs to be. The streets are lit by Baroque lanterns. The trams are basically Art Deco cocktail cabinets on rails. Refreshment kiosks are fairground carousels. That tiled facade? The entrance to an underground garage. The shop with the carved columns? Oh, they repair dishwashers. That magnificent Eiffel Tower–like structure? That's the Elevador de Santa Justa; it transports passengers in polished wooden carriages to a wrought-iron skyway, so they can explore the sublime ruins of Carmo Convent without schlepping up the hill.
It's almost a relief to duck into the Igreja de São Domingos, the world's unluckiest church. Having been patched up after two major quakes, the interior was destroyed again by a fire in 1959. This time they just left it: a cavernous, sooty—and poignant—shell. As I leave, a heavily sweating man enters and crosses himself so vigorously I suspect he might have done something really bad.
Outside, the air is aromatic with dried cod, shards of which are stacked in the crammed Manteigaria Silva produce shop, as they have been for more than a century. Inside, the ancient Mr. Silva points to a framed photograph dated 1923. "My father," he explains. "The shop looks exactly the same."
The bustle of Rua Augusta
I've arranged to meet 36-year-old super-chef José Avillez outside the 18th-century São Carlos opera house. Avillez owns five restaurants within a mile of here, including the two-Michelin-starred Belcanto—a first for Lisbon—and a snazzy pizza joint. He lives in Chiado, too, with his young family. "It's my favorite area," he says. "Everything you need is within a few blocks—a cinema, ordinary shops, an old-fashioned barber. Lisbon is not showy or frantic like other cities. You still see people getting their shoes shined in the street, or their umbrellas repaired." We pass a chichi interior design store, and Avillez frowns. "That's new."
While Lisbon is clearly becoming a global city, Avillez says locals are increasingly returning to tradition. "The recent economic woes reminded people what is important: food, family, history, shared experiences." We pass a group of youngsters stumbling into a bar. "See," he says, drily. "We are learning to go out and enjoy ourselves."
For dinner, I visit Avillez's Mini Bar, in Chiado's old Teatro São Luiz, now an arts venue. The tasting menu is as much magic show as gastronomy. It begins with the "Caipirinha," a small green sphere with a crisp shell that bursts in my mouth, and continues through several courses that include a Ferrero Rocher made of foie gras and a scoop of spicy raw tuna in a rolled seaweed cone. It ends with lime cream and dry ice inside another green sphere.
Feeling pretty spherical myself, I'm ready to roll down the hill to my bed. I vow to eat far less tomorrow.
Day 2 I'm having breakfast at Delfina, an all-day Portuguese deli in the AlmaLusa, a stylish hotel recently opened on Praça do Município. I'm here with Miguel Simões de Almeida, who acquired the property in the aftermath of Lisbon's most recent quake—the financial one of 2008. The 18th-century building, with its stone floors and exposed beams, had stood empty for years. Simões de Almeida wants my opinion on the entire menu, which is a worry. Everything's great—including the two types of açorda—but the dishes keep on coming. I smile at the waiter, but my eyes are screaming.
I plod outside and cab it to the Calouste Gulbenkian Museum, which houses a vast collection of Ancient Egyptian, Greek, Roman, Islamic, Asian, and European objects. I browse a mishmash of busy rugs and dainty furniture until I can browse no more. It's like being in Ancient Ikea. In the garden outside, I glimpse a rhinoceros. I'm hallucinating. No, it's part of the sculpture park. Close by, in the modern wing, I also spot a Renoir and a Hockney.
From here, I walk south to Mãe D'Água Amoreiras, the "temple of water" that was once Lisbon's main reservoir. The interior comprises a huge marble chamber with central columns and a deep, clear pool replenished by a waterfall fountain. Now I want that swim—but instead I make do with the view from the building's panoramic terrace. With all these interwoven roofs to scamper over, surely they'll shoot a Bourne movie here.
The Mosteiro de São Vicente de Fora and the rooftops of Alfama
Just west of Avenida da Liberdade, Lisbon's chic shopping boulevard, is leafy Principe Real, which has recently seen an influx of antique shops, designer boutiques, and well-groomed men walking French bulldogs. Several people proudly tell me this is "Lisbon's Soho," sweetly unaware that Soho is now all chain stores and underwear billboards. Here, every inch of pavement is abuzz with artisanal startups and collectives, many showcased in the Embaixada, a new emporium fashioned out of the Venetian-style Ribeiro da Cunha Palace.
I pop into a padaria (bakery) for a caffeine hit and discover that for an extra buck I can get a ham and cheese sandwich. I buckle. As I guiltily chew my second breakfast at the stand-up counter, I realize the ceiling is painted with an exquisite fresco of some 18th-century babe. With bakeries like this, who needs palaces?
Francisco Rebelo de Andrade, nightlife entrepreneur
Just east of here is Miradouro de São Pedro de Alcantara, a lovely lookout terrace that has gardens, a fountain, and a load of statues I'm too tired to investigate. I'm starting to understand that in Lisbon the phrase "amazing view" is redundant. I pop into the Igreja da Nossa Senhora da Encarnação, built in 1708 and rebuilt after the quake. It's low-key on the outside, like Liberace's boudoir within.
I buy some Cohibas from the nearby Casa Havaneza, a grand old cigar store next to A Brasileira, an Art Deco café that opened in 1905. Its historic rival, the 19th-century Café Benard, is two doors away. Many locals say the Benard has better coffee, but visitors are inevitably drawn to A Brasileira's sunny outdoor tables. I sit at one and am immediately set upon by a toothless accordion player. The Benard crowd looks on smugly.
"The financial crash actually did a lot of good. It made young people very proactive and entrepreneurial. It seems everyone here is launching their own business. There is a real creative buzz in Lisbon now, which feeds through the whole city." —Francisco Rebelo de Andrade
Now, onward to the Castle! Well, to lunch, inside the castle walls—at Casa do Leão, a stone-arched restaurant on the site where the Romans kept their lions. First, I have to catch my breath. As if the hills leading to the Castelo de São Jorge weren't steep enough, security-conscious royals have periodically increased the gradient. I recuperate over a seafood risotto, cod steak with vegetables, and most of the dessert trolley. There are no lions here these days, but I do spot a couple of peacocks.
It turns out that most of what I've been admiring for two days was rebuilt in the 1920s, based on medieval plans. While the oldest part dates from the sixth century—before the Visigoths and Moors—most of the walls collapsed in 1755. I light a Cohiba and take in the view for a bit. Then I hop on a tram back to the AlmaLusa to freshen up. I'm hoping Simões de Almeida hasn't left a selection of mints on my pillow for me to try.
Shortly afterward, I'm back in the hilltop muddle of Bairro Alto—life in Lisbon really is a roller coaster. The cab driver is perplexed dropping me at a seven-story parking lot. I squeeze into a graffitied elevator with six excitable Eastern European lads and ascend to Park, the rooftop bar, which, inevitably, offers fine views of the city, including the bell towers of the nearby Santa Catarina church.
Among the improbably beautiful people at Park is Francisco Rebelo de Andrade, a former lawyer who has augmented his food and club empire with the annual music festival Lisb-ON. "We don't have a nightlife in Lisbon," he says over vodka tonics. "We have a multiday life. People surf, work hard, eat well, then go out." On cue, three attractive young women breeze past. "People aren't moping around listening to fado anymore," he adds. "There is a real get-up-and-go spirit."
The ruins of the Convento da Ordem do Carmo, which was destroyed in the 1755 earthquake
Speaking of get up and go: Dinner tonight is at Duplex, in Cais do Sodré, once one of Lisbon's seedier areas but now transformed by the forces of hipsterdom. The moody, modern restaurant is the latest from hot young chef Nuno Bergonse. I opt to eat at the chef's table, in the tiny kitchen, where the music is loud and the tattooed chefs take the odd slug of wine. The result is creative comfort food: scallops with hazelnuts and coconut, grilled octopus with a vegetable fricassè. Afterward, Bergonse joins me for a drink and a mille-feuille with honey custard. "We make exactly what we want to eat," he says. "That's our business plan."
For all its rejuvenation, Cais do Sodré is still raw in places—hipsters in other cities can only dream of such soulful decay. I roam around for a bit, stopping off at a couple of artfully decrepit bars, including one that, as far as I can tell, doesn't have a name. I have a shot of ginjinha, a traditional sticky-sweet cherry liqueur. Then I have a couple more. Then I leave the bar-with-no-name while I can still remember my own.
Day 3 Midmorning at the Museu Nacional de Arte Antiga, and I'm jumping up and down with some children, trying to jiggle a priceless antique. (Hey, they started it.) The wonderfully named Monstrance of Belém is a sacrament repository bearing figures of the apostles under a swinging dove. The kids want to see it move. Clearly, all these big meals are paying off: The enameled bird practically leaves the building.
An hour ago I left my third hotel, the Santiago de Alfama—a delightful boutique in a 15th-century palace near Castelo de São Jorge—to wander the knotted streets of Alfama, Lisbon's oldest quarter. Every turn brings another crooked alleyway, another expanse of exquisite tilework, another ledge of precarious flowerpots, another near-vertical flight of steps. Thankfully, I'm heading down.
Few buildings have had such a tortuous history as the Igreja de Santa Engrácia, whose sky-high, chalk-white dome is a fixture of the Alfama skyline. Begun in 1681, the church wasn't completed until 1966, as a succession of monarchs and municipalities lost interest. Today, it's a pantheon of national heroes, such as the 15th-century explorer-by-proxy Henry the Navigator and Amália Rodrigues, the country's most famous fado diva.
The Praça do Comércio, seen from the top of the Arco Rua da Augusta
Next, I check out the Sé de Lisboa, the city's oldest cathedral. Though its Romanesque towers have been a landmark since 1150, its significance has increased with the discovery of Roman ruins in the cloisters. After I've explored these pre-Christian relics, the Museu Nacional de Arte Antiga, opened a mere 132 years ago, feels like an Apple store. The museum has several major artworks, spanning from medieval times until now, including pieces by Bosch, Dürer, and Raphael. Portugal's most important painting—Nuno Gonçalves's Veneration of St. Vincent, which depicts prominent 15th-century Portuguese figures—is also here. To my eye, it looks as if one face has been repeated, like a Baldwin family photo. I round off my visit with a stroll through the cathedral's beautiful statue garden, with its view across Alcântara's harbor.
After a rustic ham sandwich and a hot chocolate at Café Tati, a shabby-chic joint in a warehouse close to the Cais do Sodré railway terminal, I take the short train trip to Cascais, a coastal suburb 20 miles west that has long been a summer playground for Lisboners.
In its psychedelically mosaicked town square, I meet Miguel Champalimaud, of the Montez Champalimaud wine dynasty, which owns a nearby equestrian center and five-star hotel. We spend an hour pootling around the cobbled old town, but Champalimaud wants to show me the sea. "This is the best thing about Lisbon," he says as his Volvo tears up the coastal highway.
Miguel Champalimaud, hotelier
We pass Praia da Crismina, a small, sandy strip bracketed by cliffs, before reaching Praia do Guincho, which is popular with surfers. There are about 30 people out on boards right now, and they are on them only briefly. We lounge in the sun for a while, savoring the salty air. Then, to my dismay, Champalimaud produces a wetsuit. "Do you surf?" he says, politely ignoring my physique. "Only the Internet," I reply. "Who's hungry?"
Lunch is a feast of fresh hake fillets with cockle rice, consumed on a terrace overlooking the Atlantic at Monte Mar, one of the world's top seafood restaurants. Watching all that surfing has given me an appetite. "Lisbon is so crowded," Champalimaud says, as if it were Tokyo. "Many visitors are now staying in Cascais and going into Lisbon at night. My family has a big responsibility to preserve the beauty of this place and restrict development."
"Everyone leaves Lisbon impressed with our work-life balance. We work hard, but we will go surfing before going to the office, or leave the office to enjoy the sunset. We are also conservative: We might go out on Saturday night, but most people still sit down with their family for Sunday lunch." —Miguel Champalimaud
Fish is still on my mind when I return to the city. Never one to pass up a good cannery, I'm back in Baixa to visit the Loja das Conservas,or House of Canned Goods, a colorful shop-cum-museum that celebrates Portugal's love affair with seafood. There are about 300 varieties of canned fish for sale here, each container adorned with vivid colors, retro images, and exquisite typography. There is also a vending machine shaped like a giant tin and a machine that lets you can anything you like. "Anything?" I ask, and the assistant eyes me suspiciously.
Carrying several tins of incorruptible seafood, I swing by Rua do Carmo to buy gloves at Luvaria Ulisses. The shop has a big reputation, but is only four feet wide. The owner, Carlos Carvalho, studies me for two seconds before stretching a fine black calfskin pair over my hands. In this cubbyhole are 1,200 pairs in tiny drawers. "Organization is everything," he says. I pop my purchase into my pocket, suddenly aware that my fingers smell faintly of sardines.
From here, I head to hilly Mouraria, the former Moorish ghetto, which still resembles a medieval medina. The cobbled Rua São Cristóvão, named after the sweet 16th-century church at one end, might be the last place you'd expect to find the experimental and exceptional cuisine served at Leopold, a white-tiled former bakery. Then again, six months ago a gallery called Ó! opened a few doors along, and the area is being tipped as the city's next hotspot.
The beach at Praia do Guincho
For a maximum of 12 people, chef Tiago Feio offers a seven-course menu that reinterprets Portuguese standards. For one thing, there is no stove here. Instead, all food is either served raw or cooked the sous vide way—placed in vacuum bags, given a hot bath, then seared if necessary. The idea is that the flavors are preserved more fully, and the first bite bears this out. I have blowtorched beef, with mizuna and seaweed, which is so good that only the proximity of other diners stops me from licking my plate. The same goes for the soft-boiled egg with shiitakes, buckwheat, and thyme, and the banana cream dessert with shavings of São Jorge cheese. The most impressive thing of all is how they carry the ingredients up all those steep hills.
I leave Leopold after midnight, but the air is still balmy, bathed in a yellow glow. As I stroll toward my hotel, I hear a twanging acoustic guitar. It's late, but there are moments in Lisbon when you hardly know what century it is, let alone what time. I find the source of the music—a small, dim bar on a ludicrously precipitous hill—and head inside. As Vasco da Gama might have said, "It would be a shame to turn back now."
Berlin-based writer
Boyd Farrow
was so
thoroughly fed while in Lisbon that he can now do a passing impression of the city's Eighth Hill.
If you go
Come see why millions of people visit each year. Visit
united.com
or use the
United app
to book your getaway to Lisbon.
Around the web
Porto: Portugal's surprising second city
"Second cities" or those that rank #2 in population often surprise world travelers. And second doesn't mean second-rate. Porto is Portugal's second city — so off-the-radar that many world travelers haven't even heard of it. Yet, Porto and nearby spots in northern Portugal can be delightful destinations even if you don't visit the more well-known city of Lisbon.
Old city by day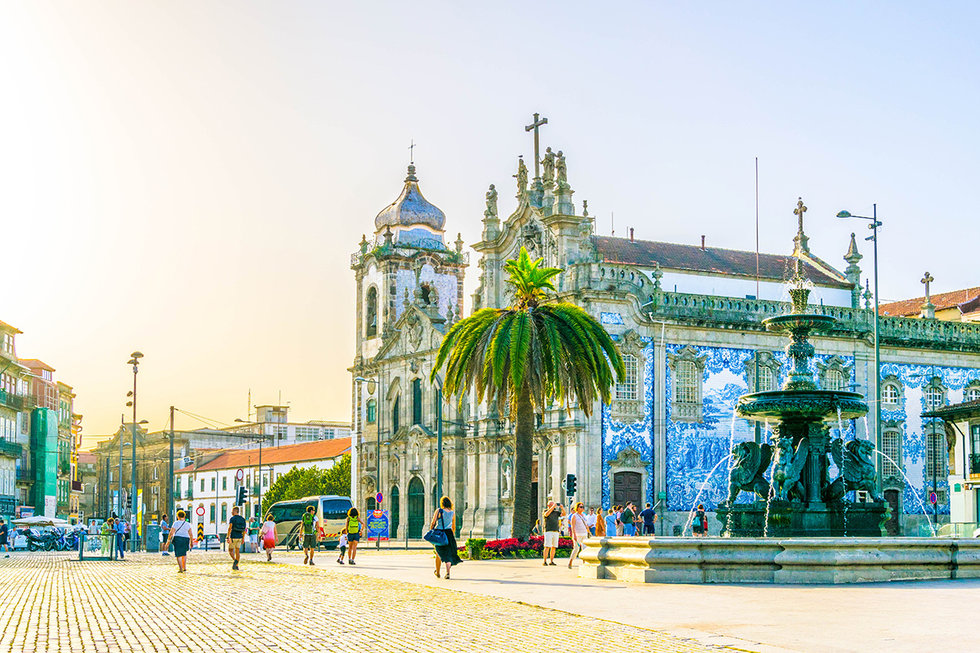 The best place to get oriented, as in most European cities, is in the old city center. Porto's Old City is so well-preserved that it's a UNESCO World Heritage Site. A 12th-century cathedral and the 15th-century Church of St. Francis, notable for interior wood carvings gilded by hundreds of pounds of gold, are mixed in with a rich collection of imposing granite, red-roofed Baroque buildings. Add 225 stairs and a stirring view to your walking tour by ascending the 250-foot-high Clérigos Church bell tower, built in 1754, which dominates the Porto skyline. Historic bridges over the Douro River and Soares dos Reis National Museum, an art museum housed in a palace, are also excellent sites to see.

Food and music by night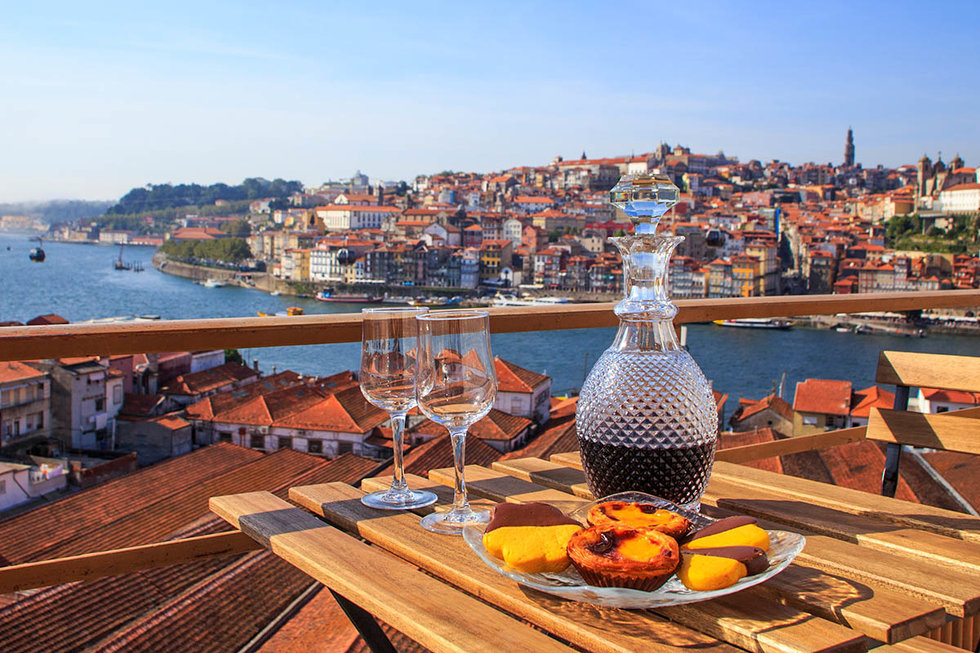 Porto's youthful population has turned it into a lively city after dark. You might start off the evening in the Old City at Abadia do Porto, a 1939 restaurant that serves traditional Portuguese dishes like roasted lamb and grilled octopus, or at Astoria, with its modern Portuguese fare served inside a former palace. Whether you choose a Portuguese, French or fusion restaurant, seafood is likely to be highlighted, drawing on Porto's proximity to the Atlantic and the Douro. Then, you can head to the large collection of bars and nightclubs in the nearby Galerias district, which includes Radio Bar, inside a former court building, and Gare, a disco in a tunnel that stays open until 6 a.m.
Head west to the beaches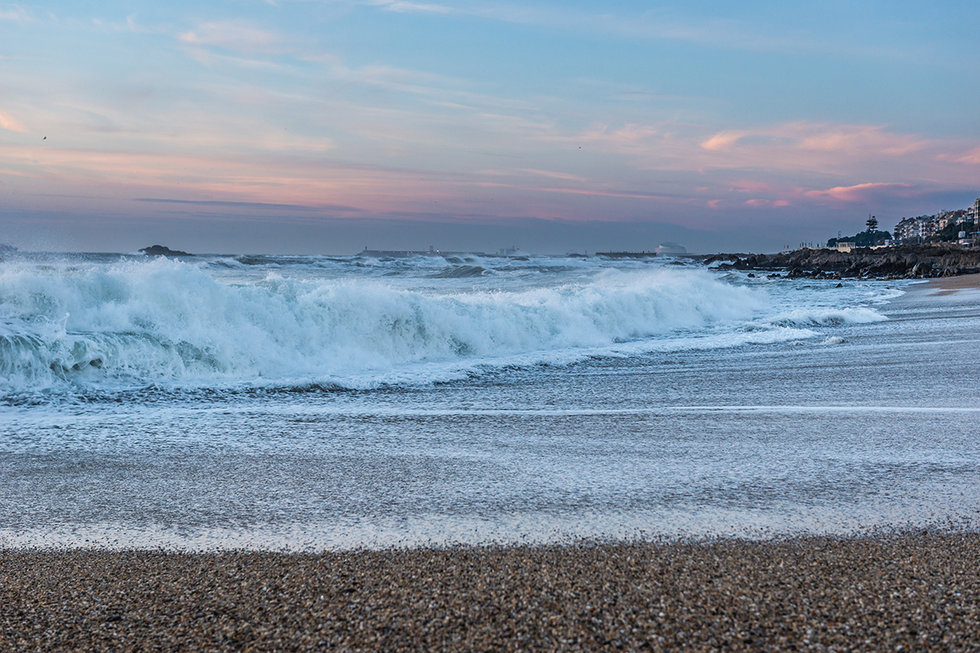 The closest Atlantic beaches to central Porto are at Foz do Douro (mouth of the Douro), just 20 minutes away by city bus. But why settle? In a rental car you can explore Atlantic beaches and beach towns that extend for hundreds of miles along Portugal's coastline. Two of the best are Foz do Minho, the nation's northernmost oceanic beach that's just across the Minho River from Spain, and Quiaios, a dune-fringed paradise of sand south of Porto. Many beaches in northern Portugal are cradled in coves protected by rocky promontories, similar to northern California and Oregon beaches.

Or east to the wine country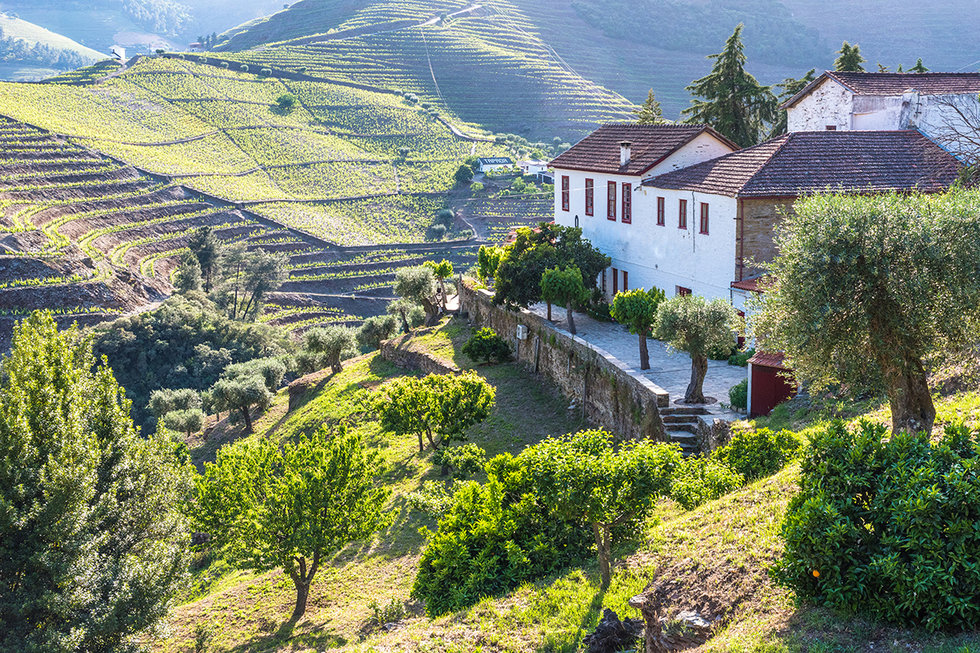 The Douro Valley wine region is another World Heritage Site and one of the world's best and most scenic wine regions. It's up the Douro River from Porto by boat or 90 minutes by road. Namesake port wines and other fortified wines are the region's signature beverages, which can be sampled at tasting rooms on the Douro along N-222, a wine road that's been called the world's most scenic drive. While you're in the area, check out the wine and anthropology museums in the wine towns and yet another World Heritage Site — Coa Valley Archaeological Park — known for its prehistoric rock carvings.
The basics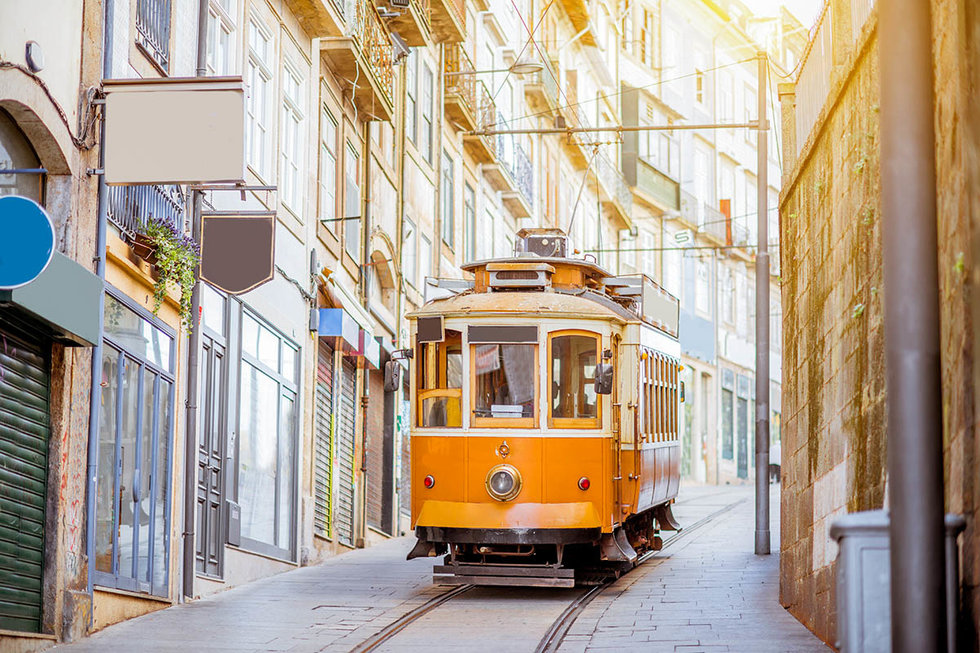 Portugal's Mediterranean climate and coastal breezes bless it with mild weather year round, as the average temperature ranges from 57 degrees (and rain) in January to 78 degrees (and a little rain) in August. Whenever you come, there's no need to learn Portuguese as English is spoken even more widely than elsewhere in Western Europe. Once you arrive, rent a car only if you don't mind ridiculous drivers. The trains are more relaxing — light-rail and subway trains crisscross the Porto area and funicular cable cars climb its steepest hills. There's even a scenic train that follows the Douro nearly to Spain, with a roundtrip fare of only about $30.
Getting there
Portugal requires that visitor passports don't expire until at least three months after the arrival date, so check that. Next, buy some Euros (for a great exchange rate) and reserve a flight. United Airlines flies nonstop from New York/Newark to Porto and MileagePlus® award miles can be redeemed to cover accommodations and Hertz rentals. Go to united.com or use the United app to plan your trip.

United 787-10 Dreamliner launch
Story was contributed by: Jennifer Lake | Photography: Alicia of Aesthetica
It was a typical Monday morning. I'm sitting at my desk at work, drinking coffee, reviewing my to-do list for the week. All around me, heels are clacking through the office and phones ring intermittently. However, this particular Monday morning was different. Ultimately, I would receive an offer from my favorite airline for a collaboration to participate in the United 787-10 Dreamliner launch from Los Angeles LAX to New York/Newark EWR. Read the full story here featured on Style Charade.
Fit for the runway: We begin testing new uniforms
Last year we announced new partnerships with Tracy Reese, Brooks Brothers and Carhartt — best-in-class fashion and apparel designers — to help reimagine uniforms for more than 70,000 of our employees. Focusing on high quality fabrics, improved breathability and overall enhanced fit, our goal is to design and develop a more cohesive collection that looks good, feels good and enables employees to perform at their best on behalf of our customers.
United employees can learn more on the uniform designs by visiting Flying Together.
An insider's guide to Boston
Boston is a pack-it-all-in kind of place. Founded in 1630, one of America's oldest cities does many things well. Boston's many claims to fame include many of America's oldest historic landmarks and one of its oldest ballparks. It's a destination for history buffs, culture vultures, foodies, sports fans, families and more. No matter who your travel companions are or what they're interested in, everyone will find something to pique their interest in Beantown.

Getting there & around town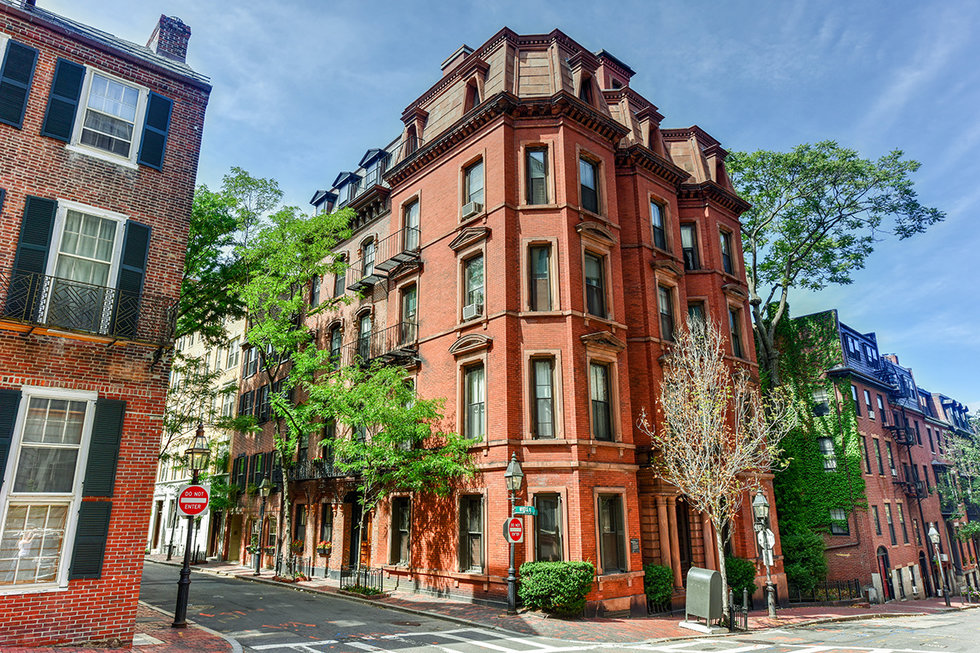 Fly direct to Boston's Logan International Airport (BOS) from many U.S. cities — visit united.com or use the United app to book your flight. Flights are 90 minutes from New York, two hours from Cleveland and five to six hours from California. From Logan International Airport, it's easy to hail a taxi, use ridesharing apps or take public transportation. If you want to take the scenic route, take a water taxi across Boston Harbor directly into downtown.
Downtown Boston is easy to navigate. It's walkable and taxis are plentiful. The MBTA, Boston's public transportation system, offers affordable access to Cambridge, many attractions and the suburbs. Keep in mind it's one of the oldest transportation systems in the country, so expect a few bumps. Because the city is dense, parking can be expensive or hard to find, so avoid driving if you can.
When to visit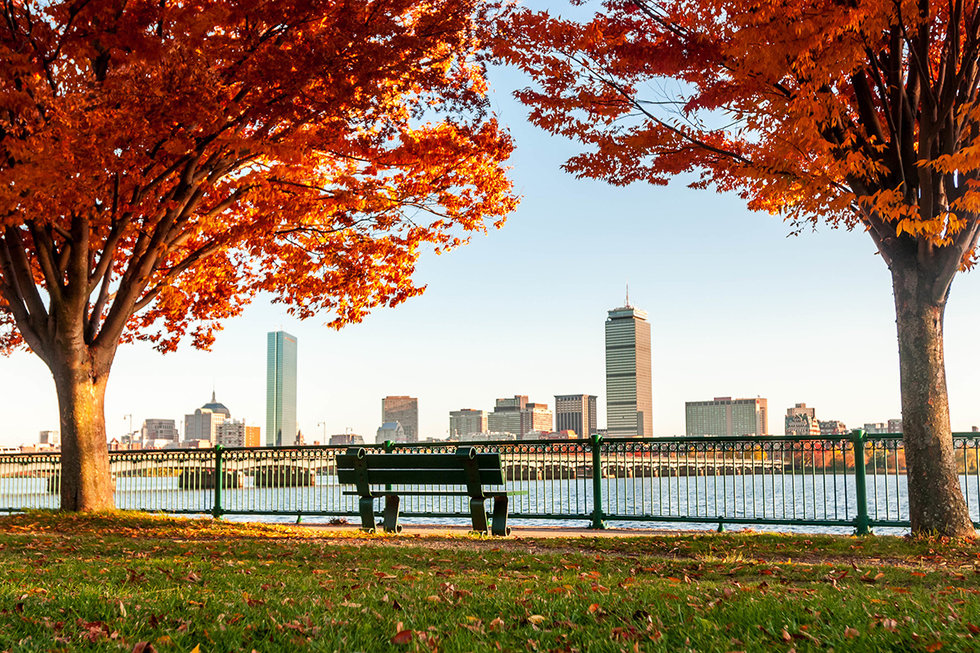 Summer and fall are the most popular seasons to visit. Summer is prime time to enjoy Boston's many parks, outdoor eateries, open-air concerts and baseball games at Fenway Park. Mild fall weather, beautiful autumn foliage and Halloween festivities in nearby Salem, Massachusetts make October one of Boston's busiest months. The city also sees an influx of visitors for the Boston Marathon in April. You'll find smaller crowds and more affordable prices in winter, but brace yourself for the cold.
What to do
There's so much to take in just by walking through Boston's cobblestoned streets. Downtown is quaint, compact and easy to explore by foot. The small city is packed with historic sites, New England's finest food, proud sports fans and friendly locals.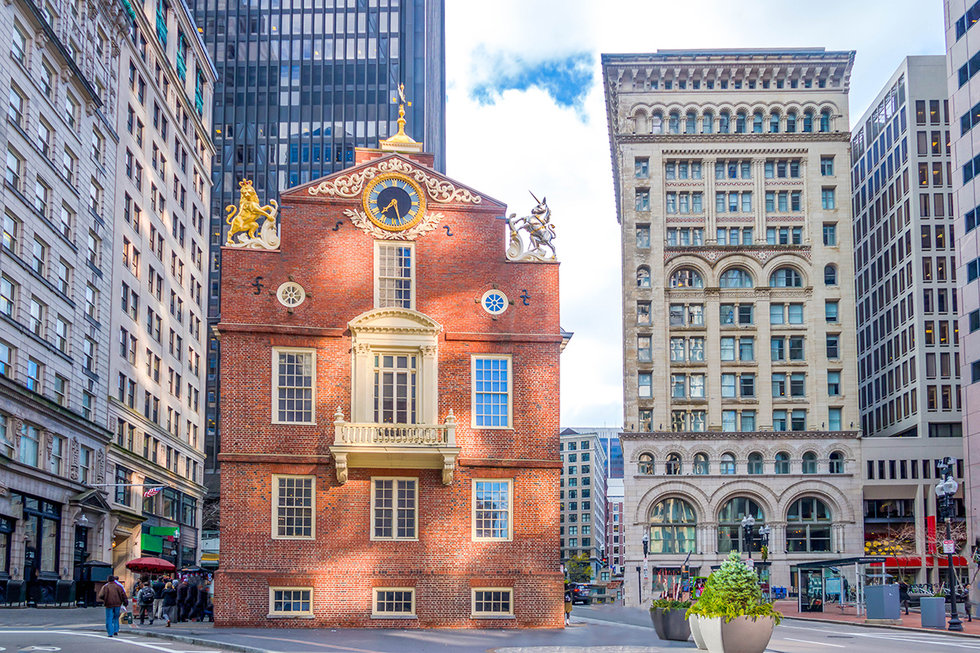 As the birthplace of the American Revolution, Boston's historic sites are an attraction in themselves. Walk the 2.5-mile Freedom Trail to visit 16 of them around the city, including Revolutionary-era museums, churches, buildings and an impressive warship. Faneuil Hall Marketplace is on the trail, too, and is one of Boston's top attractions, with plentiful shopping, dining and live music. Not much of a walker? Boston Duck Tours operate land-and-water historic tours on World War II-inspired vehicles, which transform from truck to boat mid-tour.
Many museums and sites are tucked along Boston Harbor. The waterfront is always bustling with activity year-round. The harborwalk is the perfect place to meander and explore without a strict agenda. Plan to visit a major attraction or two, but leave time to enjoy the scenery or to pop into a café for a coffee and sweet treat (award-winning Flour Bakery + Cafe is a local favorite).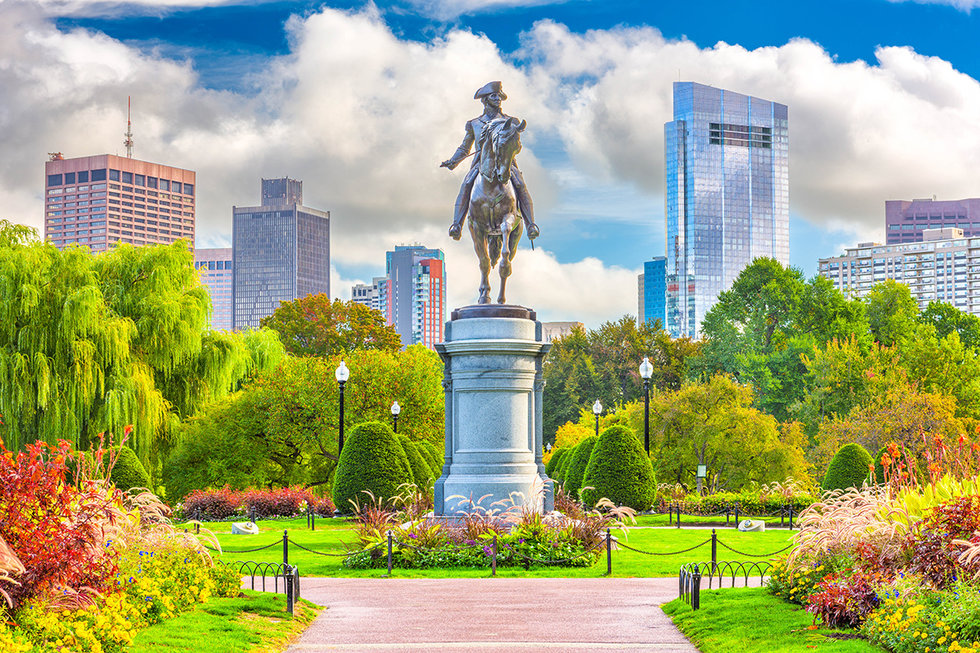 Deemed the "Athens of America," Boston boasts not only some of the country's oldest and most architecturally significant buildings, but also a thriving arts and culture scene. You could spend your entire trip touring its dozens of world-class museums. Take in classical music at the famous Boston Symphony Orchestra, or take a leisurely stroll through Boston Public Garden and Boston Common, the city's most well-known public parks. Riding the giant Swan Boats through the Public Garden lagoon is a kitschy, yet delightful experience, especially for kids.
What to eat
What must you absolutely eat in Boston? In short, everything. Long ago the city was nicknamed Beantown, allegedly after slow-cooked molasses baked beans served to sailors and traders. Today, Boston continues its reputation as a great eating city. From clam chowder to cannoli, the most popular dishes here are often hearty and decadent. Boston is also known for fresh lobster rolls, roast beef sandwiches and, of course, Boston cream pie.
Ask any Bostonian where to find "the best" of anything, and everyone will recommend a different spot. Cannoli from Mike's Pastry, Boston cream pie from Omni Parker House (where it was invented) and the roast beef 1000 sandwich from Cutty's frequently top the must-try lists. If you make it to a ball game at Fenway Park, Fenway Franks are a Boston staple.
Our role in 'Spider-Man™: Far From Home'
In Columbia Pictures upcoming release in association with Marvel Studios, "Spider-Man™: Far From Home," our web-slinging hero finds himself – yep, you guessed it – far from his home in New York City. And since flying is one of the few superpowers Spider-Man doesn't possess, we gave him a little help, meaning United is featured in the film.
The scenes of Peter Parker and his pals traveling to Europe take place on one of our Boeing 777s with the all-new United Polaris® business class, and several of our employees – including members of our Tech Ops, Inflight, Flight Operations and Airport Operations teams – served as actors and production support during shoots at New York/Newark (EWR) and London-Stansted (STN).
London-Heathrow (LHR) Customer Service Representative Manjit Heer and LHR Cargo Warehouse Operations Manager Richard Miller were background extras on board, and multiple flight attendants had a role, including San Francisco (SFO) Flight Attendant Tammy Harris.
"It was extremely surreal," said Tammy. "I was in my element because I was on the plane in uniform, but not really, because I'm not an actor."
Tammy said she hit her mark and delivered her line with gusto, and she's excited to see if she made the final cut when "Spider-Man™: Far From Home" hits worldwide theaters this summer.
"Hopefully, I'll have my two seconds of fame and all will be well," she joked.
Los Angeles (LAX) Aircraft Maintenance Supervisor Fernando Melendez is a veteran of several film shoots but said this one was his favorite. When the production went to London, he was one of five members of LAX Tech Ops who went over to look after our airplane and make adjustments to its interior based on the filmmaker's needs.
"When we parked the plane at Stanstead, there were lights and cameras surrounding us. It was like the plane was the star of the movie," he said. "Each day, we would work with the assistant director; he would go through and say, 'Okay, for this shoot we need these seats, or these panels removed,' so they could get the camera angles. Pretty much, the airplane was our responsibility; we opened it in the morning and closed it at night. We were the first ones there and the last ones to leave every day."
Fernando said the actors were all very gracious and engaging, and said the whole experience was fantastic from start to finish. It also earned him a little cooler cred with his 18-year-old son, who is a massive Marvel fan.
Leading up to the film's premiere this year, there will be plenty of ways for employees and customers to get into the Spidey spirit in anticipation of our cameo. Stay tuned for more details.
---
Peter Parker returns in "Spider-Man™: Far From Home," the next chapter of the Spider-Man™: Homecoming series! Our friendly neighborhood Super Hero decides to join his best friends Ned, MJ, and the rest of the gang on a European vacation. However, Peter's plan to leave super heroics behind for a few weeks are quickly scrapped when he begrudgingly agrees to help Nick Fury uncover the mystery of several elemental creature attacks, creating havoc across the continent!
Directed by Jon Watts, the film is written by Chris McKenna and Erik Sommers based on the Marvel Comic Book by Stan Lee and Steve Ditko. The film is produced by Kevin Feige and Amy Pascal. Louis D'Esposito, Victoria Alonso, Thomas M. Hammel, Eric Hauserman Carroll, Stan Lee, Avi Arad and Matt Tolmach serve as executive producers. The film stars Tom Holland, Samuel L. Jackson, Zendaya, Cobie Smulders, Jon Favreau, JB Smoove, Jacob Batalon, Martin Starr, with Marisa Tomei and Jake Gyllenhaal.
"Spider-Man™: Far From Home" makes its way to North American theaters on July 5, 2019.
What to expect from our improved app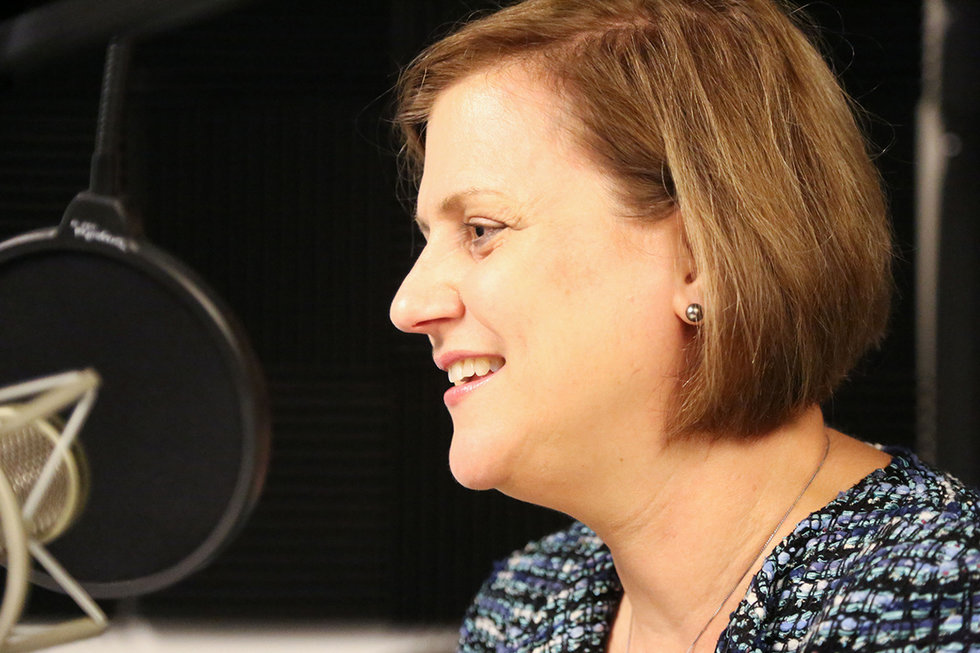 "Talking Points," host Brian Kelly, aka The Points Guy, is joined by Linda Jojo, Executive Vice President for Technology and Chief Digital Officer at United Airlines to discuss what passengers can expect from our improved app.
Read more about the improvements to the United app here.

20 million miles and counting...
On November 7, while flying from Newark Liberty International Airport to Los Angeles International Airport, United customer Tom Stuker made history when he reached 20 million miles flown on a single airline. We were fortunate enough to capture the milestone he reached with us.
To mark the special occasion, we hosted a celebration in Mr. Stuker's honor at the United Polaris lounge at O'Hare International Airport on Saturday. The celebration was delayed a couple of months, so Mr. Stuker could celebrate the event with his family.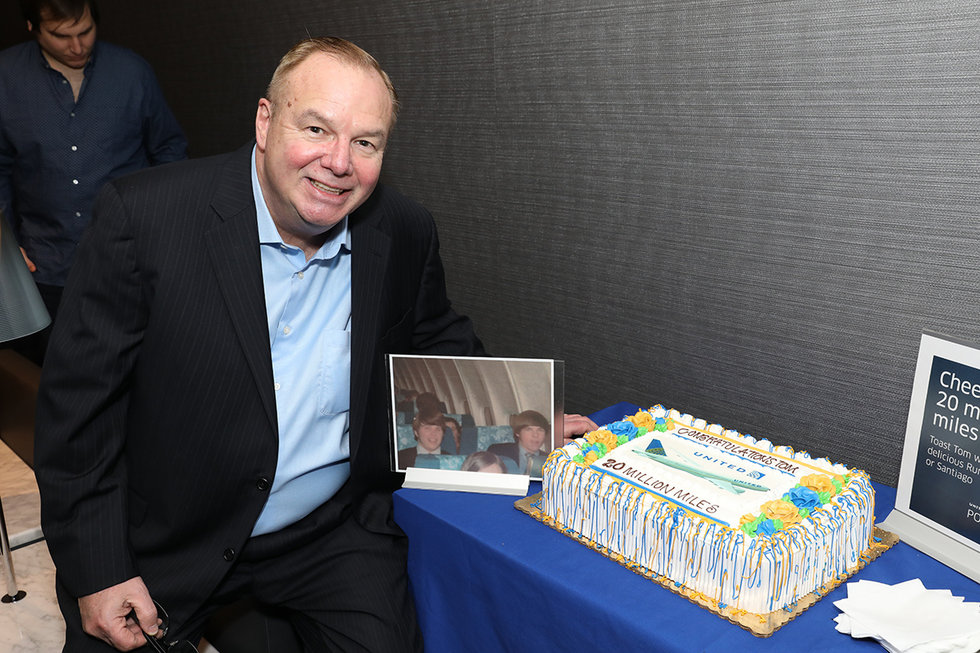 The party included a room full of employees, media members and Mr. Stuker's friends and family enjoying food, cocktails, stories and laughs. To thank him for his long-standing loyalty to United, we also presented Mr. Stuker with gifts made specially for him.
"United makes my dreams come true," Mr. Stuker said to the room full of people.
He also praised United's MileagePlus program, the United Polaris lounges across our system and Oscar's leadership of the airline but, most of all, he praised the service he receives from our employees.
"My favorite part of United is the people. United is such a big part of my life…you are a family to me," he said addressing the United employees. "It would take me days and days and days to say thank you in the right way to the right people. They all know me by now and know how much I care about them as people, how much I care about this airline and its success, and how much I care about the greatest leader this airline has ever had, Oscar."
Bora Bora: The most beautiful island in the world
Each week we will profile one of our employee's adventures across the globe, featuring a new location for every employee's story. Follow along every week to learn more about their travel experiences.
By Chicago-based United Club Customer Service Representative Amile Ribeiro.
They say beauty is in the eye of the beholder. I know it can be very subjective but, once you set your eyes on it, I'm sure you'll agree with me: Bora Bora is the most beautiful island in the world.
There are very few things that can get me out of bed early in the morning, and airplanes are one of those things. We were already in Tahiti and woke up at the crack of dawn to catch our quick flight to Bora Bora. After checking in at the airport and getting a quick breakfast, we headed over to the gate to line up for our flight. Air Tahiti has an open seating arrangement, and we wanted to make sure we got the best possible seats. We were able to secure two windows seats. Travel tip: Sit on the left side of the plane when landing in Bora Bora. We took off from Papeete and within minutes we were flying over Mo'orea. Then we flew around Ra'i ātea and Taha'a, and finally arrived in Bora Bora, the island that Polynesians call "First Born." Pora Pora is the actual local pronunciation, but the first explorers misunderstood it and 'Bora Bora' stuck. Though after setting foot on the island, I've come to call it "Paradise on Earth."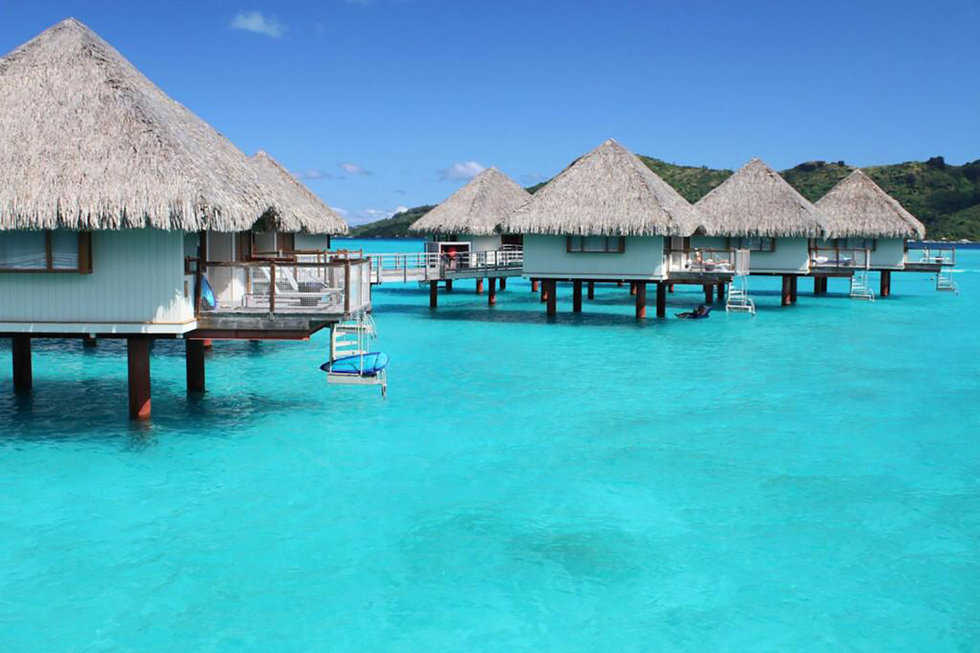 At the airport we were met by a representative of our resort, given flower leis and directed to our high-speed boat. I couldn't believe the color of the water; it was as if Paul Gauguin himself had painted it. After a thrilling ride, we reached our hotel's dock, where a local playing the ukulele welcomed us. We were then given a tour of the astonishing property and were taken by golf cart to our overwater bungalow. We have stayed in many beautiful properties around the world, but when we opened the door of our bungalow our jaws dropped. It is truly a one-of-a-kind experience that all should have at least once in their lifetimes. And worth every penny. The view of majestic Mount Otemanu is something right out of a fairy tale. After the sun set, the nighttime dance show was equally enchanting.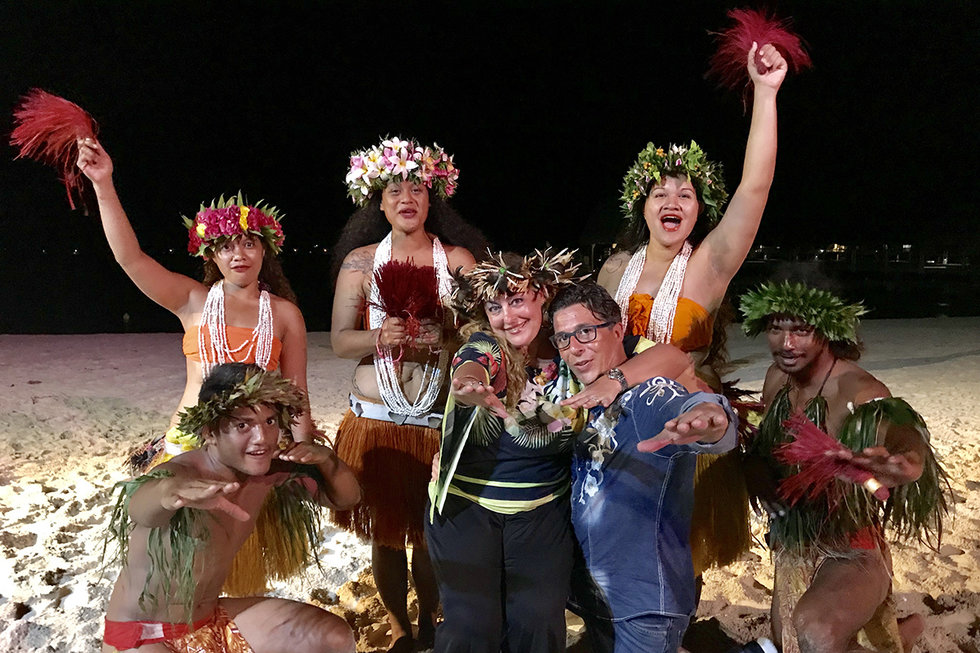 We had planned to be in Bora Bora during the final leg of the famous Hawaiki Nui Va'a canoe competition, which happens to be a major event in the cultural life of French Polynesia and has the reputation for being the toughest canoe race in the world. The center stage was at the island's most beautiful beach, Matira. We stood in awe as the winners reached the finish line after several hours (and days before that) of frantic paddling from island to island, showcasing the power of human strength and endurance. Besides being an incredible sporting challenge, it is also a colorful spectacle that filled the beach with flower-clad women and the air with the pulsating beat of drums. We were also able to celebrate and dance with them later that night at the local ball in Vaitape (Bora Bora's largest city). It was a marvelous way to get a deeper understanding of another culture!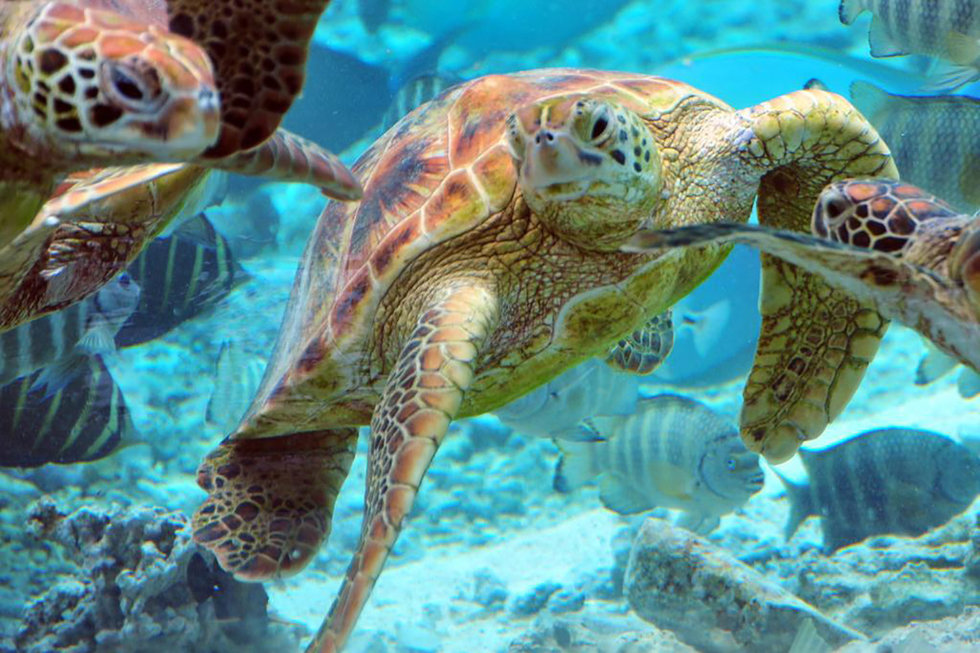 Besides having the time of our lives at the resort's infinity pools, inner lagoons and beach, we also went to the Turtle Center and had a chance to feed these amazing creatures while they're being rehabilitated to go back into open waters. From there, we took a boat tour of the main lagoon and went swimming with stingrays and sharks. Few things scare me in life, and sharks are on the very top of that short list, but I mustered the courage and what a thrill it was! To commemorate my bravery on the last day of our trip, I got my very first tattoo: a hammerhead shark. Polynesians believe that such sharks act as guardian angels to humans and protect us from the Great White. My husband got a Polynesian design that was custom made just for him, and it represents travel, freedom and courage. We also got a set of matching Polynesian wedding bands. Since the art of tattoo originated in Polynesia, this is the most enduring souvenir one can get from such an amazing culture, but I'm sure the memories of our trip will also stay with us forever!

Scroll to top