Three Perfect Days: New Zealand
Story by: Nicholas DeRenzo | Photography by: Camilla Rutherford | Hemispheres June 2016
For most of its history, New Zealand existed at the edge of the world. Before the Maori paddled ashore nearly a thousand years ago, the two main islands of Aotearoa ("the Land of the Long White Cloud") were practically still prehistoric, ruled over by flightless moa birds that stood 12 feet tall. In fact, New Zealand was the last major landmass on Earth touched by human feet. These days, the nation's cultural ambassadors—Peter Jackson, Flight of the Conchords, Lorde—are doing a fairly good job attracting international attention to what is arguably the most remote corner of the planet.Auckland, meanwhile, is investing heavily in its infrastructure (a $350 million convention center and rail system are on their way) and cultural institutions (the reimagined Auckland Art Gallery won the 2013 World Building of the Year award, and the derelict 1928 St. James Theatre is being restored). This year, the country's largest city welcomed the first annual Auckland City Limits concert festival, an Austin spin-off headlined by Kendrick Lamar. You can't help but feel that New Zealand is consistently punching above its weight. But what else would you expect from a country that has the warrior blood of the Maori coursing through its veins?


In which Nicholas gazes into a dormant volcano, takes the wheel on the high seas, and contemplates facial tattoos
I'm standing atop Mount Eden: a dormant volcano, former Maori fort, Auckland's highest natural point at 643 feet above sea level, and now something like the city's backyard. From up here, it's easy to see Auckland as a kind of greatest-hits version of the Pacific Rim: San Francisco's escalator-steep hills, Portland's fanatic coffee culture, Hawaii's volcanic landscape, Los Angeles's sprawl, a Seattle-style observation tower, and fresh seafood that would wow any Tokyoite.It might not be a good idea to get too engrossed in the view from up here. The hilltop trail circles a 160-foot-deep crater named Te Ipu-a-Mataaho, for the Maori volcano god. One wrong step and you're in for quite an adventure. But the bowl-like crater is so tufted with soft grass and pinkish wildflowers that—bless New Zealand—even a tumble into a volcano looks as if it might be pleasant.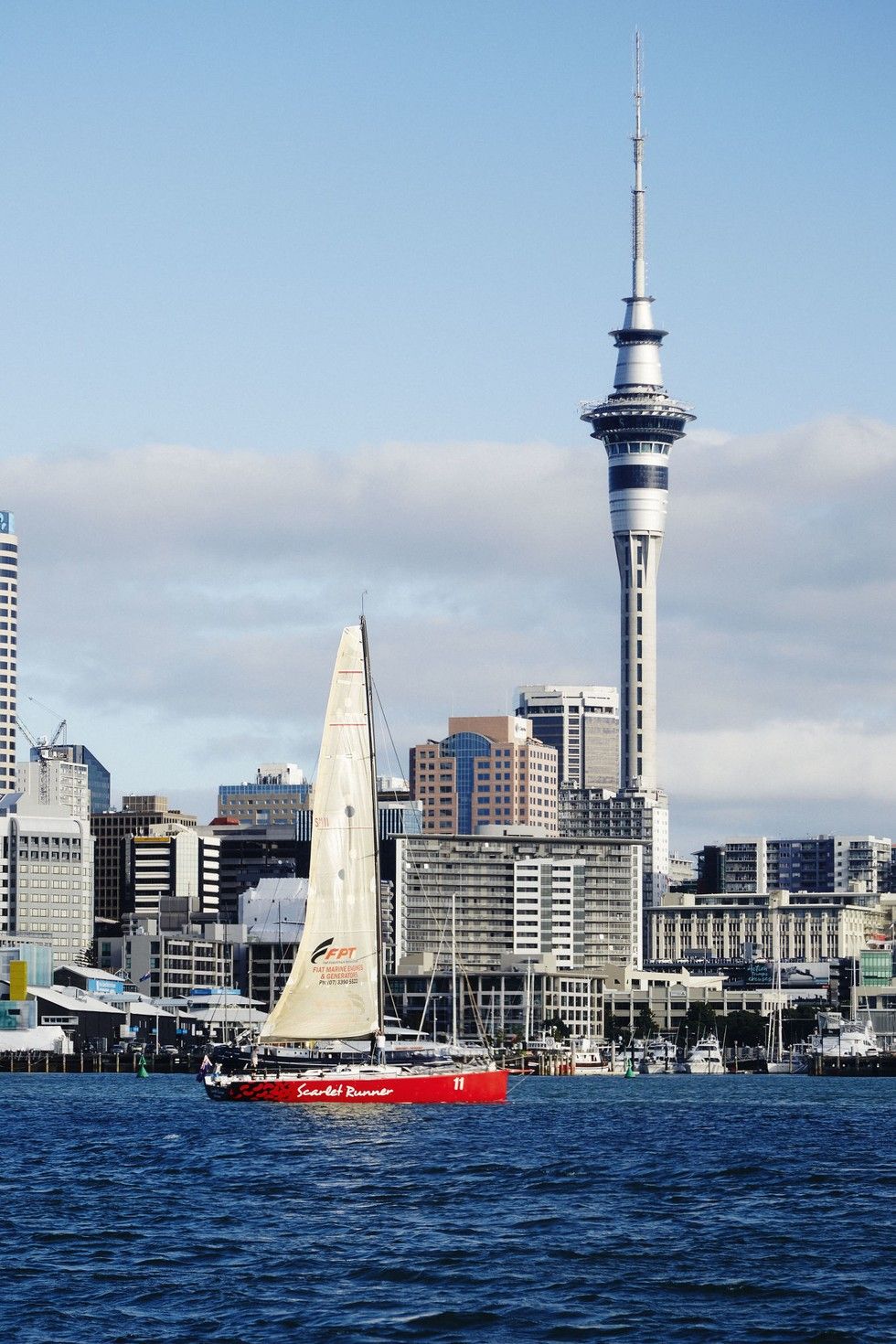 Skyline views at Viaduct Harbour Mount Eden is invigorating, but I probably wouldn't be standing here after an 18-hour flight if it weren't for the two flat whites—New Zealand's favorite coffee, a less foamy cappuccino—I consumed earlier in the sunny atrium of the Hotel DeBrett. Built in 1925, the city's landmark hotel combines sleek Art Deco touches with bright pops of color and quirky minimalist furnishings. The surrounding Central Business District, or CBD, is all sleek boutiques, glossy skyscrapers (some of the only ones in the entire country), and as much bustle as you can expect from a pint-size metropolis. To get acquainted with Auckland's more creative side, I'm off to meet Neala Glass, a whip-smart gallerist who moonlights as a street art guide for Great Auckland Walking Tours, in Ponsonby, a revamped inner suburb a 10-minute cab ride away. Now the haunt of hipsters and artists, this handsome cluster of Victorian villas has become a hotbed of public art—each work a small window into Kiwi culture. "This area has always attracted migrants, bohemians, artists," says Glass. "Polynesian rappers who lived here described it as 'tough but colorful.'" It's not so tough here now, but the color remains. We're standing before the corner of a roof jutting out from the grass in Western Park, the work of local artist John Radford. "He submerges buildings like Roman ruins," Glass says. "He's inspired by the layered, checkered histories that lie beneath the surface." We turn onto Karangahape (known as K Road), a former red-light strip now thick with hip bars and clubs. The street is named for the mythical Maori chief Hape, whose name, Glass tells me, means "clubfoot." "Because of his clubfoot," she explains, "he wasn't chosen to ride here on the Tainui war canoe. So he summoned a giant stingray, surfed here on its back, arrived two weeks early, and let out a wailing welcome call, or
karanga
, when everyone else got here." It's one of the few main roads here that kept its Maori name instead of getting the Victorias and Alberts you see everywhere else.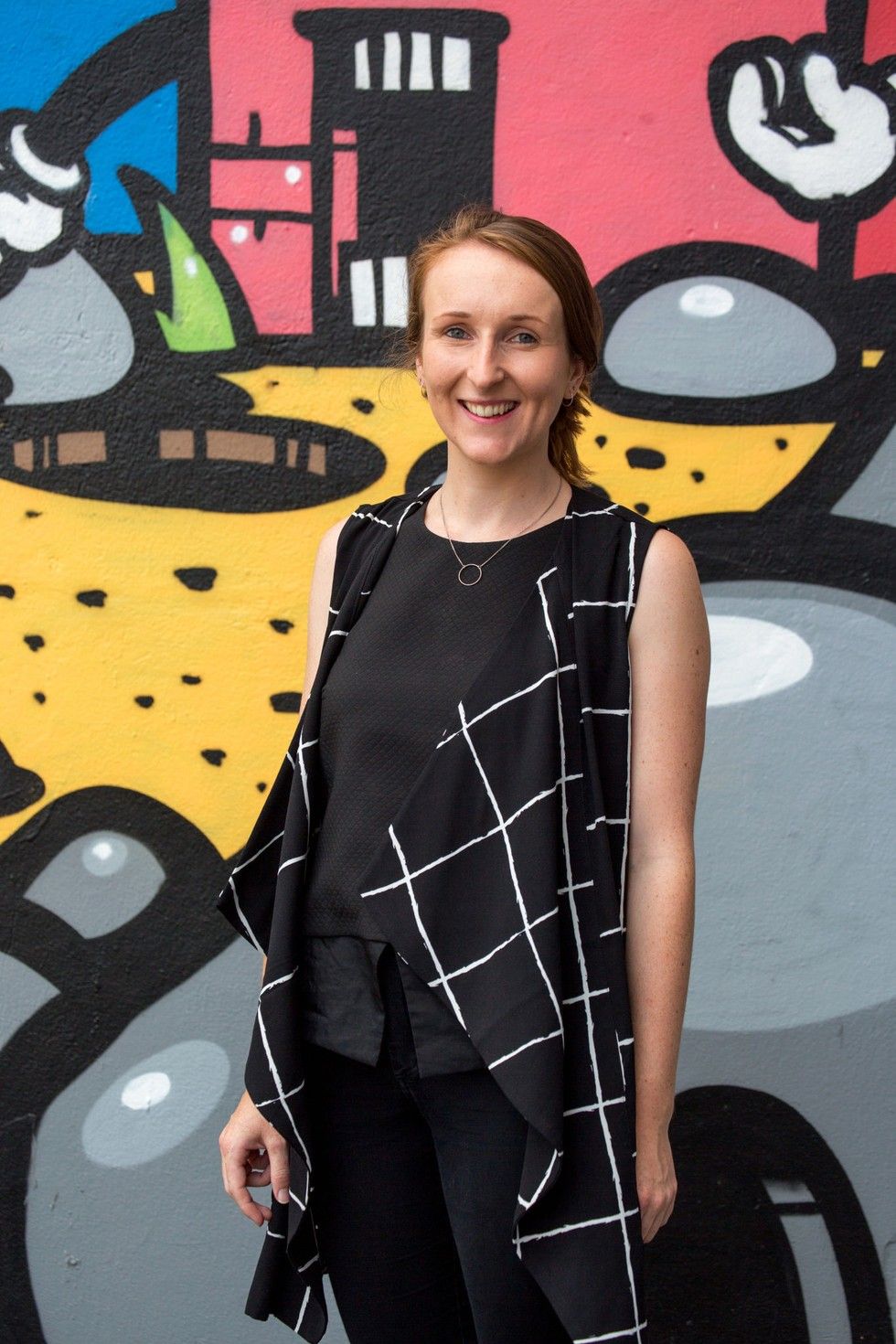 Neala Glass, guide, Great Auckland Walking Tours"This is a nod to our nuclear-free law," says Glass, pointing to a panel of protest posters—the Visual Artists Against Nuclear Arms Peace Mural—tucked behind a gas station. "Artists wanted to make visual their support for the bill. They painted a mural a month, 22 total, until it was passed." From here, we stroll through narrow Myers Park, a palm-lined statue garden between steep grassy slopes."I used to work here," Glass says as we approach the Auckland Art Gallery. Built in the 1880s in the French Château style, the gallery is dominated by a white clock tower with a gleaming annex made from glass and local kauri wood. I pop into the café for a Vanuatu-grown coffee before meeting gallery assistant Alice Ng for a stroll through the collection. We stop in a small room lined with stately 19th-century portraits of Maoris, each with intricate facial tattoos, or
ta moko
.
"Because we grew so quickly as a city between the 1840s and the 1950s, we invited a lot of international architects, each of whom brought their own references. So we're a bit of a hodgepodge!" —Neala Glass
"It's very painful," whispers Ng. "They use a chisel to get the ink into your skin. Different tribes have different designs, so you can look at a face and trace a person's lineage—like a family tree on your face.""What must the Maori think about all the American frat boys with tribal tattoos?" I ask."They actually have a word," she says with a laugh, "for '
ta moko
without meaning.'"I say goodbye to Alice and head toward the Sky Tower, the Southern Hemisphere's tallest structure at 1,076 feet. Daredevils bungee off the top or—yikes—walk on a platform around the observation deck. After a quick ride to the top, during which I grip the side of the glass-bottomed elevator for dear life, I decide an acrophobe like me is much better off back at sea level. I grab an outdoor table at Depot Eatery, a buzzy bistro in the tower's shadow, where I slurp sweet, briny Te Matuku oysters from nearby Waiheke Island and bigger, creamier Bluff oysters dredged up from the sand off the South Island's southern tip.I work off lunch with a midafternoon stroll, taking in a parade of Victorian and Art Deco buildings and a seemingly endless array of parks thick with subtropical plants. Auckland is a young city, founded by the British in 1840. It has the feeling of a colonial outpost that's been jerry-rigged to fit into the nooks and crannies of an untamed volcanic landscape. At the heart of it all is the waterfront, a stretch of working docks that has seen extensive regeneration: The brick warehouses of the Britomart Precinct now host some of the city's top fashion designers, while the reclaimed land of the Wynyard Quarter has brought food trucks and cutting-edge architecture to a post-industrial landscape still dominated by massive cement silos. 5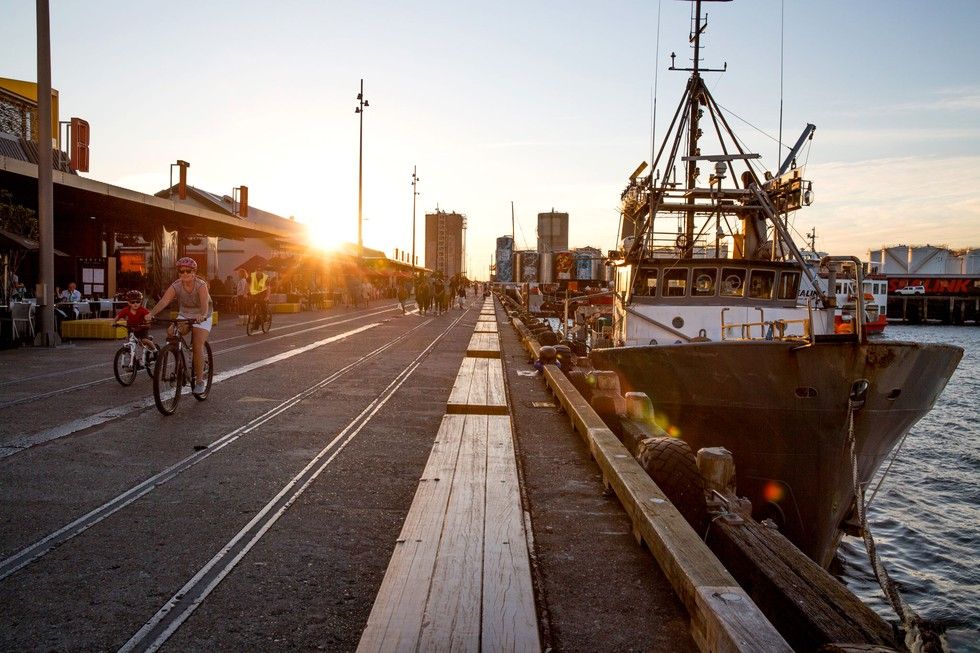 The redeveloped waterfront Wynyard QuarterOne such area is Viaduct Harbour, which got the ball rolling on all this waterfront renewal in the wake of New Zealand's 1995 America's Cup victory. (The winning vessel,
Black Magic
, resides nearby at the National Maritime Museum.) I'm scheduled to head out on a sailing tour of my own with the Explore Group on the 50-foot yacht
Defiance
.The name of Waitemata Harbour derives from the Maori word for "sparkling waters," and the sunlight dancing on the waves tells you why. "Auckland has the largest ratio of boats to people of any city in the world," skipper Charles Scoones says as we set sail. "If you placed everybody on all the boats in Auckland, each boat would only need to hold five people." The city also has the largest marina in the Southern Hemisphere—hence "the City of Sails."As we pass under the imposing Harbour Bridge (nicknamed "the coat hanger"), Scoones points to two flags flapping above. New Zealand is about to vote on whether to change the national flag. The current one has a Union Jack and the red-starred constellation Crux, the Southern Cross. The new design swaps out the Union Jack for a silver fern. This species of tree fern has a silvery underside, which Maori hunters would use to catch the moonlight on late-night hunts.
"Auckland has the feeling of a colonial outpost that's been jerry-rigged to fit into the nooks and crannies of an untamed volcanic landscape."
"Some people say it looks like a tea towel!" says Nick Fewtrell, a young crew member manning the sails."It's all wrong!" agrees Scoones, shaking his head.Each of the passengers takes a turn at the helm, and I'm last to go. I'm wondering if this is an elaborate ruse, suspecting that if I give the wheel a full
Price Is Right
whirl, the boat will barely move an inch to the left or the right. But when I finally grip the wheel, I see how responsive it is—each tiny maneuver breathes life into the sails, catching a new gust. I have to admit, I feel kind of powerful.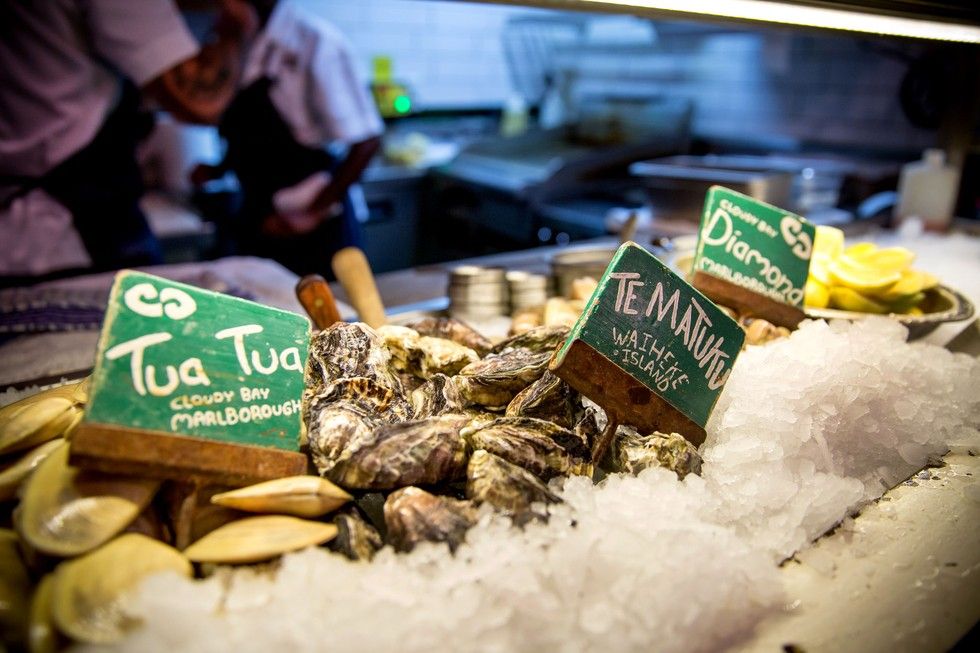 Oysters at Depot EateryI debark for dinner on Princes Wharf. The Culpeper, a sunny new eatery with wicker chairs and palm-frond-patterned banquettes, serves dishes so artful—buttermilk-fried duck with honey-and-pink-peppercorn glaze, hiramasa kingfish and yellowfin sashimi with wasabi-avocado mousse, glazed lamb ribs with brown-butter yogurt and shaved beets—that I Google "time in NYC" to see if it's too late (or too early?) to send my foodie friends photos of my dinner. (It is, but I do it anyway.)I wander down Queen Street to Giapo Haute Ice Cream, where I get a scoop of Keri-keri avocado with macadamia praline, topped with macadamias tweezer-dipped in chocolate. (Other flavors come with piped and brûléed meringue or a miniature chocolate kiwi—the bird, not the fruit.) As I make my way back to the hotel, I'm reminded of a quote: "Modern Auckland is a perky gold-digger, over-talkative but full of ideas … and much in love with life." This much sugar will do that to you.

In which Nicholas learns about extinct giants, gets schooled in "cuddly dudley" wines, and dines on the spoils of Waiheke Island
Eat your heart out, seven-hilled Rome: Auckland boasts a whopping 48 volcanic cones. Few of these are as starkly beautiful as Pukekawa, or "the hill of bitter memories," atop which sits the neoclassical Auckland War Memorial Museum. I've taxied up here from the DeBrett to avoid the punishing incline—though if you're going to get leg cramps, this green and lovely hillside is the place to do it.Opened in 1929, the blindingly white marble museum is pure Western pomp, but it is filled with elegant nods to local Maori tradition (such as carved wreaths of kawakawa leaves instead of laurel). With a mission similar to the Smithsonian's, it's also a repository for Kiwi cultural treasures, like the ice axe of New Zealand–born Everest-summiter Sir Edmund Hillary and a 10-foot-tall recreation of a giant moa, a massive flightless bird hunted to extinction by the Maori some 600 years ago.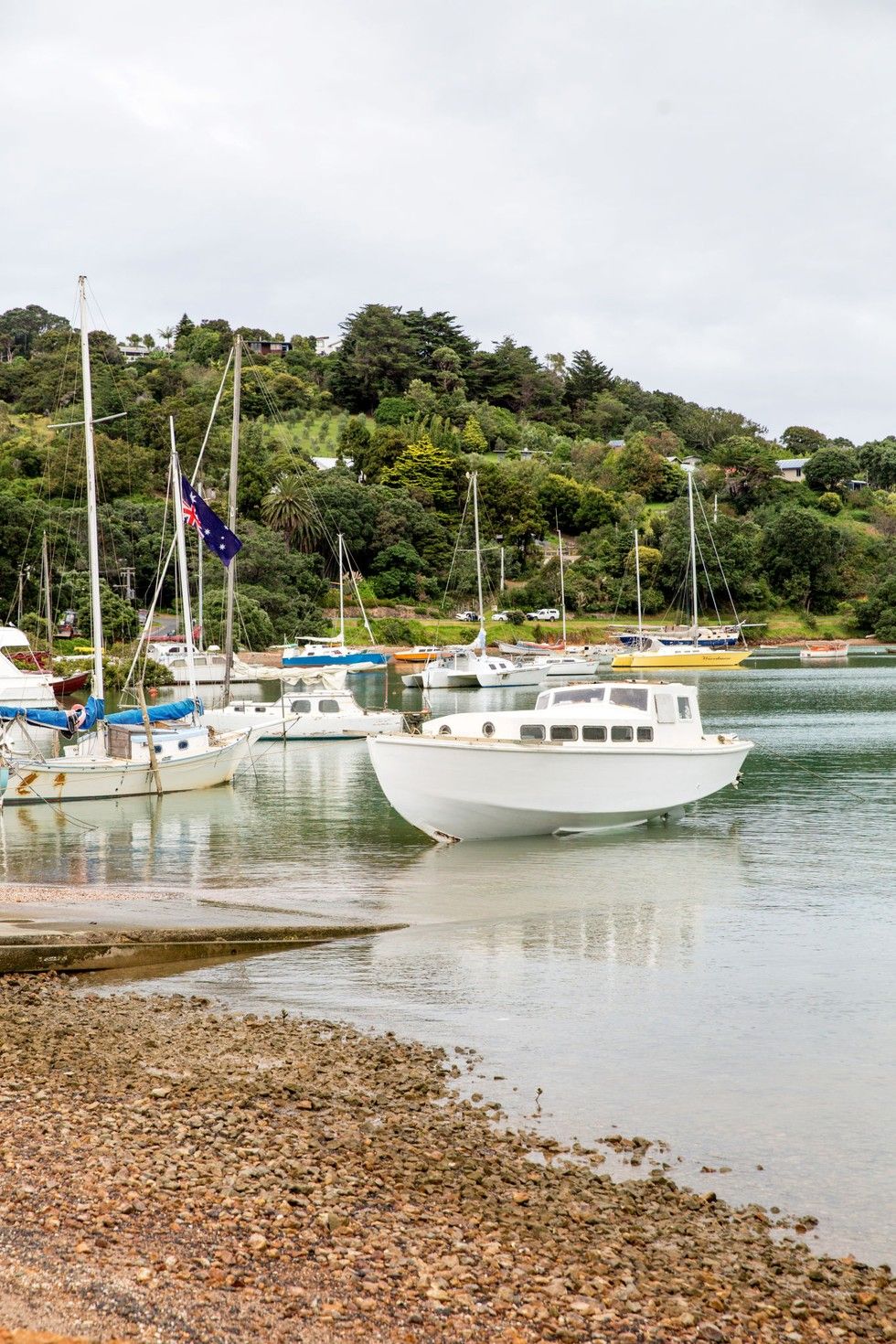 A boat-filled harbor on Waiheke Island
I cab it back to the DeBrett to grab my bags, then walk to the Auckland Ferry Terminal, a brick-and-sandstone colossus now over-shadowed by office buildings. A 35-minute ferry ride across Hauraki Gulf takes me to Waiheke Island, a 36-square-mile retreat that is part Hamptons (posh weekenders), part Napa Valley (wineries and olive groves), part Scottish Highlands (hordes of sheep), and part Kauai (hidden coves).My first stop is the hillside Mudbrick Vineyard & Restaurant, where I'm having lunch with Aussie-born expat Mike Beagley, managing director of New Zealand luxury menswear brand Rodd & Gunn. Though his store sits on the CBD's tony Queen Street, on the same block as Prada and Dior, Beagley is the definition of a charmingly approachable bloke."Ralph Lauren has a polo model. Rodd & Gunn has a polo team that actually plays polo," he says, chuckling. "One of our players got smacked in the face with a mallet and got blood all over his uniform. It was fantastic!" I look down at my blood-red Angus beef tartare with mango mustard, daikon, coconut, and egg yolk, and I can't help but join him in a laugh.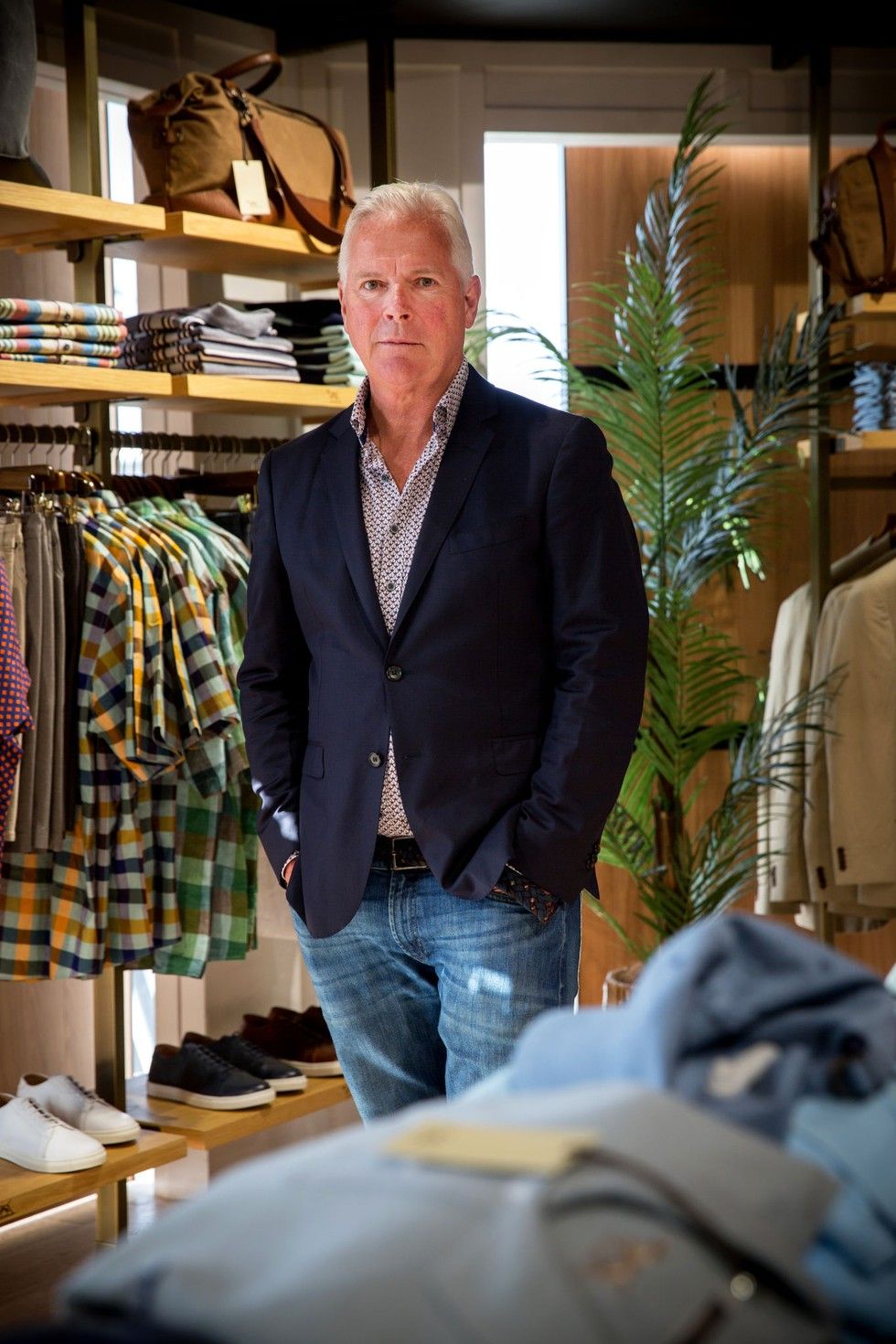 Mike Beagley, Managing Director, Rodd & Gunn"The real New Zealand is this beautiful view," he says, gesturing at the vine-covered hills and the skyline in the distance. "It's an appreciation for great wine, great food, for life." I have to agree that there is a dolce vita vibe to Waiheke—la dolce kiwita?—as I tuck into my second course of sweet corn and truffle ravioli with black trumpet mushrooms, watercress, and parmesan."This is refined," he says, pointing to our food. "This is rustic," he continues, nodding outside. "And that's New Zealand."Beagley heads back to work, but I stick around at Mudbrick to meet Steve Robinson, a guide with the island's family-owned Ananda Tours. He used to play in a rock band called the Heartbreakers ("This was before Tom Petty thought of the name!") and co-owns the studio that produced the 1995 hit "How Bizarre" by OMC—the biggest pre-Lorde hit by a New Zealander. Today, he's volunteered to be my designated driver.
"New Zealand is a very green country, ecologically sustainable. I think part of that is Maori—there's a spiritual connection to the land and to the idea of passing along nature to future generations." —Mike Beagley
"Waiheke is a Jurassic-era island with mineral-rich soils," Robinson says as we hit the Mudbrick tasting bar. "We're primarily an island of red wines and olives." In fact, the island is perfect for growing the kinds of grapes you'd find in Bordeaux. Cellar master Bob Scott, who has a way with words, describes the country's wines with phrases like "gooseberry with a slight hint of armpit," "creamy richness that doesn't go butter," "pencil shavings and leather," and "cuddly dudley." From here, Robinson drives me to a succession of hidden vineyards, along winding roads so narrow that we have to pull into the brush to allow cars to pass. We get to talking about the flag referendum: "I voted for the new flag, because my wife thinks I'm resistant to change," he jokes, "and I wanted to prove her wrong."At Stonyridge Vineyard, which is tucked into a picturesque valley, I meet winemaker Marty Pickering, the son of a dairy farmer. "You know, I got all those practical, tractor-driving skills from him," he says over a glass of Bordeaux-style Larose, "but then I don't really like milk all that much. This end product is so much better."Farther on, at Obsidian Vineyards, which is run from a corrugated metal quonset hut, we sip Syrah with cellar master Martin Owens. "Australian Shiraz is a punch in the face," he says. "New Zealand Syrah is a pat on the back."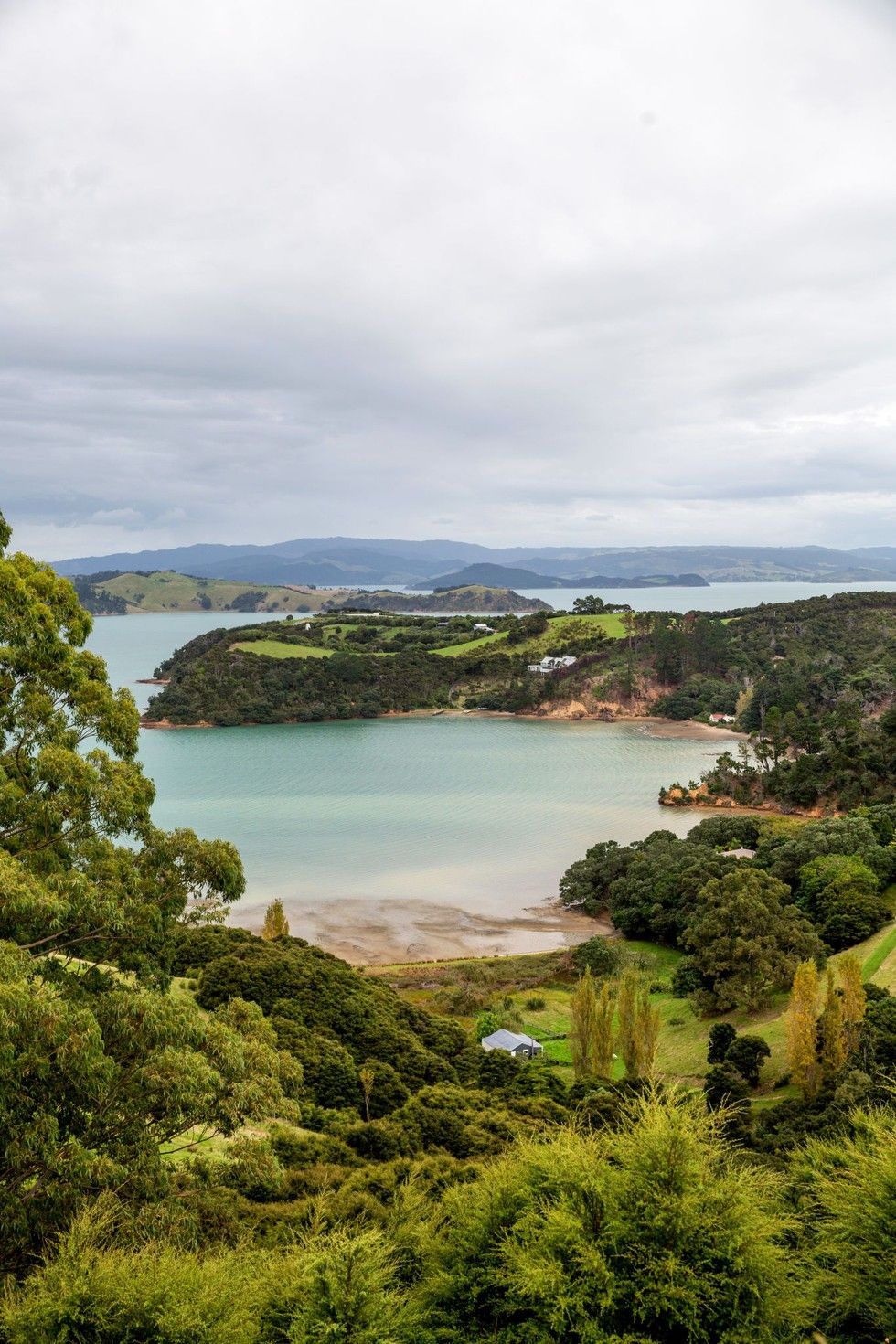 The rugged, lush coastline of Waiheke Island
We continue past stands of flowering manuka trees, wetlands teeming with pukeko (long-legged purple swamphens), and sheltered coves like Little Oneroa Beach. Just up the hill from here is my next hotel, The Boatshed, a stylish update of a "bach"—Kiwi for a modest holiday home; the term is derived from either "bachelor pad" or the Welsh word for "small." The digs are neither padlike nor cramped. In fact, the palette of whites and creams and the breezy nautical theme (model yachts, an old ship's funnel, a chess set with puffin and seagull pawns) call to mind a Nantucket-set Nancy Meyers rom-com.Guests assemble for dinner at tables that fill the cozy living room and spill out onto the patio. Using produce grown on-site in the hotel's veggie patch, chef Adam Rickett creates the kind of fare you might find at a sophisticated friend's backyard barbecue: dry-aged ribeye with yellow tomatoes, leeks, and zucchini; grapefruit-cured salmon with whipped avocado; salt-roasted beets, pickled fennel, lemon yogurt, and toasted hazelnuts; and a classic iceberg wedge salad.Later, back in my room, I fall asleep with the door open, lulled by a sea breeze and the sound of waves crashing. I could get used to this.

In which Nicholas tubes through a glowworm-lit cave, gawks at slime-green springs, and eats like a Maori
I wake up before sunrise to catch a ferry back to the mainland. I flip on the radio in my rental car to news that the old flag has won out, and then begin a 120-mile drive south to Waitomo, home of the famous glowworm caves.I embrace the road-trip vibe and make a breakfast of gas-station snacks: chicken crisps, hokey pokey (honeycomb) biscuits, and Lemon & Paeroa soda ("World Famous in New Zealand"). The whole left-side-of-the-road thing isn't as hard as I'd expected—though I do switch on the wipers every time I try to signal a turn.I pass through countryside populated by cows and sheep, suburbs turning to fields turning to gentle hills. Soon, I'm in the unassuming village of Waitomo, which sits atop 25 miles of caves lit by millions of beautiful glowworms.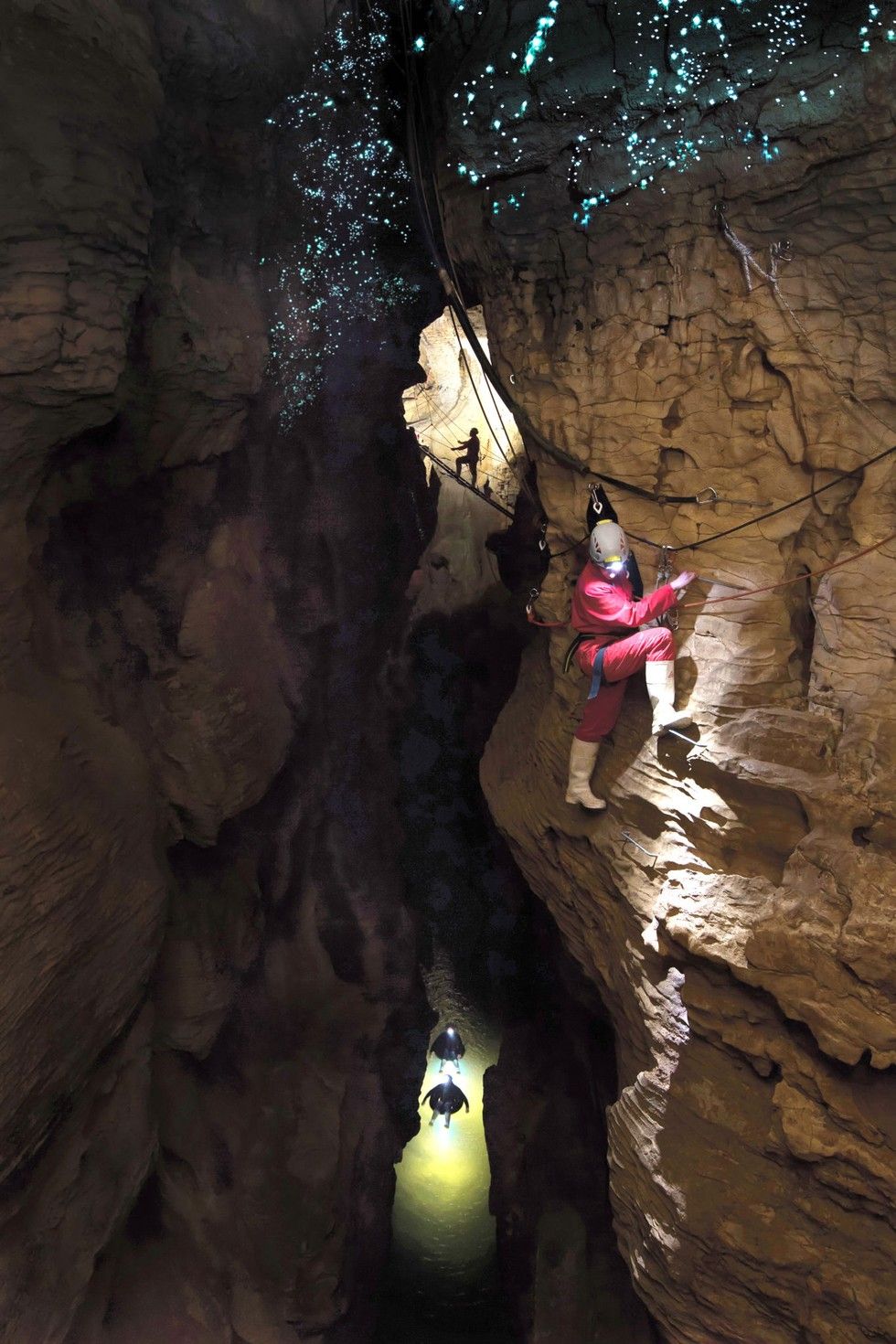 Tubing and climbing through caves"They're officially maggots!" exclaims Angus Stubbs, of The Legendary Black Water Rafting Co., an outfit that drops people like me into a pitch-black labyrinth of subterranean streams."But that doesn't market too well," says his colleague Logan Doull."What strikes me is how bizarre it is that we're selling you a ticket to see performing insects," says Stubbs. "I can't think of anywhere else…""Maybe a flea circus?" adds Doull.The larvae of the fungus gnat, carnivorous glowworms attach themselves to cave ceilings by silk threads covered in mucus, and put on a bioluminescent display to attract unsuspecting prey that have flown into the darkness.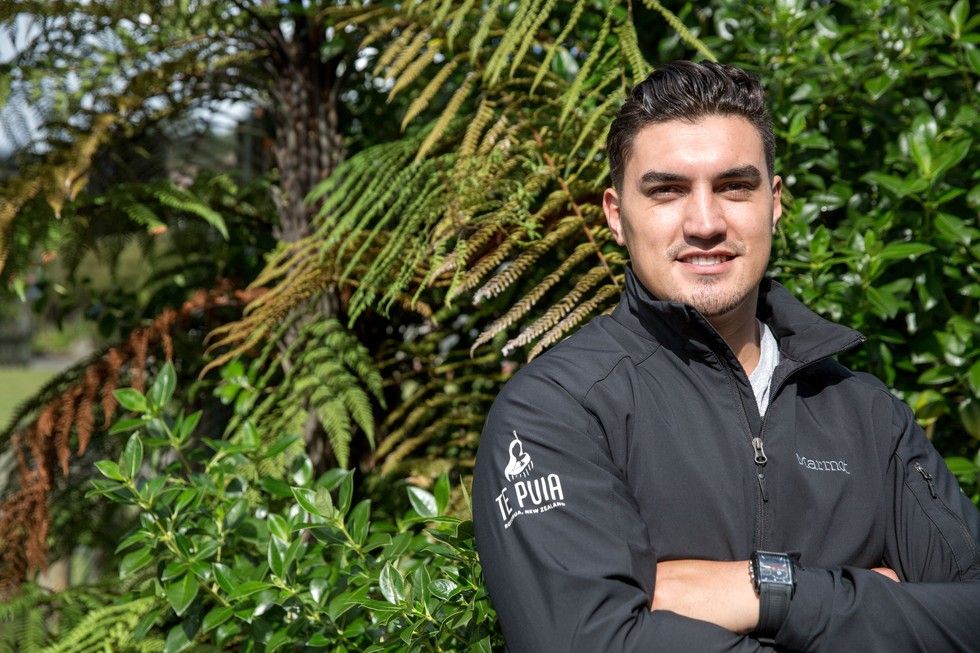 Eruera "Eru" West, Marketing Manager, Te PuiaI'm led to a rack of insulated wetsuits, along with a young couple from Melbourne and a seven-girl netball team from Australia's Gold Coast. "Netball? Is that an Aussie name for volleyball?" I ask, my Americanness glaring. I'm met with a nine-person barrage of shouts and groans. (It's more like basketball, it turns out.)"I shouldn't have had that last basket of chips," yells one of the girls, squeezing into her suit. "I have a food baby!" "A food baby?" cries her teammate. "Mine's full-grown!"
"The Maori have been involved in tourism for more than 150 years. We use the money we earn to fund schools of Maori performance and art to keep our culture alive." —Eruera "Eru" West
We're set to explore the cave system via a network of underground streams, which will require us to place our backsides into rubber tubes and plunge butt-first off subterranean waterfalls. We practice our technique off a dock, aided by guides who are more than happy to offer helpful shoves. Screaming is optional, but I do feel that the expulsion of air might stop the murky cave water from going up my nose.As we duck into the maw of Ruakuri Cave (Maori for "den of dogs"), a guide tells us to point our headlamps toward the hand-size, spidery-legged, grasshopperlike cave wetas on the ceiling. I don't usually have a problem with bugs—but I have a problem with these beasts.Once inside, we zip along lugelike, bouncing off limestone walls, bobbing over rapids, our noses inches from dangling stalactites. We're told that we're sharing these waters with crayfish and three-foot longfin eels (they bite!), but luckily I don't meet any in the darkness.Every few minutes, our tube caravan slides into a cavern, some with 60-foot-high ceilings. It's not often that nature lives up to its Instagram-filtered, color-corrected photographic approximations, but this, a twinkling galaxy in miniature, is the closest I've come to feeling that I'm in the presence of magic. And to think, it's all just gleaming mucus.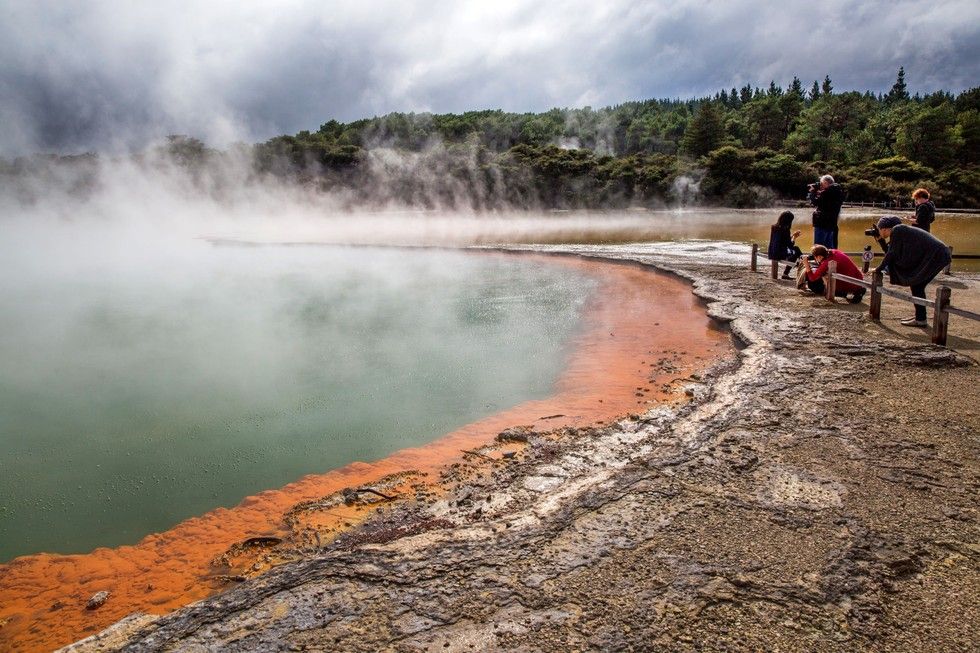 The Champagne PoolAs we towel off back in the sunlight, my fellow spelunkers ask me where I'm headed next. I tell them I'll be driving to a town called Rotorua, known for its Maori culture and hot springs, and they giggle-shriek: "It stinks!"A harsh assessment, I think, until I approach the town about two hours later. The healing waters, which transformed this sleepy lakeside town into a tourist spa in the 1870s, give off the rotten-egg aroma of hydrogen sulfide. Luckily, your nostrils adjust quickly.My first stop is south of Rotorua, at Wai-O-Tapu Thermal Wonderland, which, despite its endearingly cheesy roadside attraction name, is actually a brilliant collection of hot springs, geysers, and boiling mud pools—all in surreal, otherworldly hues. The Champagne Pool, which fizzes with carbon dioxide, has a rust-red rim; the Devil's Bath is a shockingly unnatural shade of slime green due to suspended sulfur crystals. The candy-store colors may look enticing, but some of these pools can quite literally boil you alive or acid-burn you to bits. Intact, I head back to town, where I check into The Regent of Rotorua, a modish boutique hotel with an indoor pool fed by thermal waters of up to 104 degrees Fahrenheit. Next, I'm off to meet Eruera "Eru" West at Te Puia, a family-run Maori cultural center that is part handicraft workshop, part history museum, and part aviary (they have a pair of kiwi birds). The grounds are dotted with spectacular hot springs, steam vents, and geysers. For West, the place is more second home than workplace.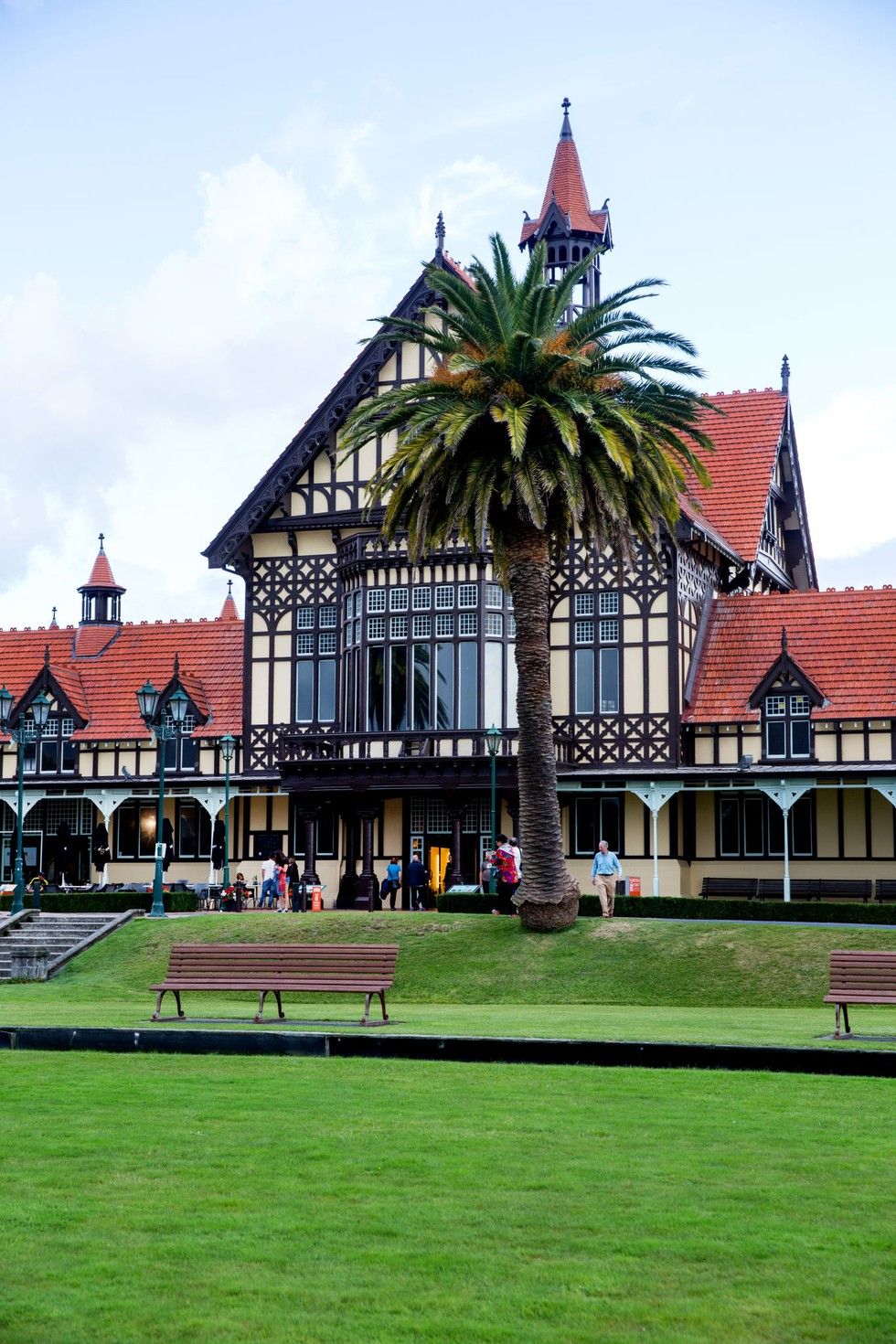 The Rotorua Museum in the city's old Bath House building"This is my tribal area," he says. "There have been five generations of my heritage doing this. My mom is still my boss!" His aunt Teresa works here too—she's the one who teaches me how to strip flax leaves and twist them into ropes at the on-site weaving school.
As evening falls, West and I join a group gathered in front of the
wharenui
, or meeting house. Elaborate eave carvings, with a head at the peak and fingertips at the bottom, are meant to evoke outstretched arms of welcome. It's time for the
te po
, a Maori take on the luau."
Kia ora
," says our host, Robert Piripi, offering up the traditional greeting, a phrase that has also been embraced by the
pakeha
, or white New Zealanders. "For me, this is home," he continues. "We cook our food on the steam vents every day. We bathe inside the mineral waters every night."
"Our word for 'tourism,' maanakitanga, means to increase your visitors' mana."
A middle-aged American man is chosen as the
pakeha
leader. The Maori blow a conch shell and send out a warrior to offer a token of friendship. Our "chief" accepts the gift, and he and the warrior press noses twice to mark the coming together of families and ancestors. The Maori then sweep the ground (to represent a clean slate), slap their thighs (to show no harm will come), and let out a wailing call (to symbolize a rope pulling a guest's canoe to shore). Far from being a cheesy floor show for tourists, this is a culturally important ritual that dates back centuries. It's a privilege to be a part of it.After we're ushered inside, the women perform with
poi
, twirling balls on a string, slapping them rhythmically against the palms and backs of their hands. The men flick out their tongues and widen their eyes, shouting and grunting their way through a
haka
, the war dance commonly associated with the All Blacks, New Zealand's national rugby team. "It was designed to make the enemy turn around and run," whispers West. "Sticking out your tongue shows that your mouth is watering for flesh."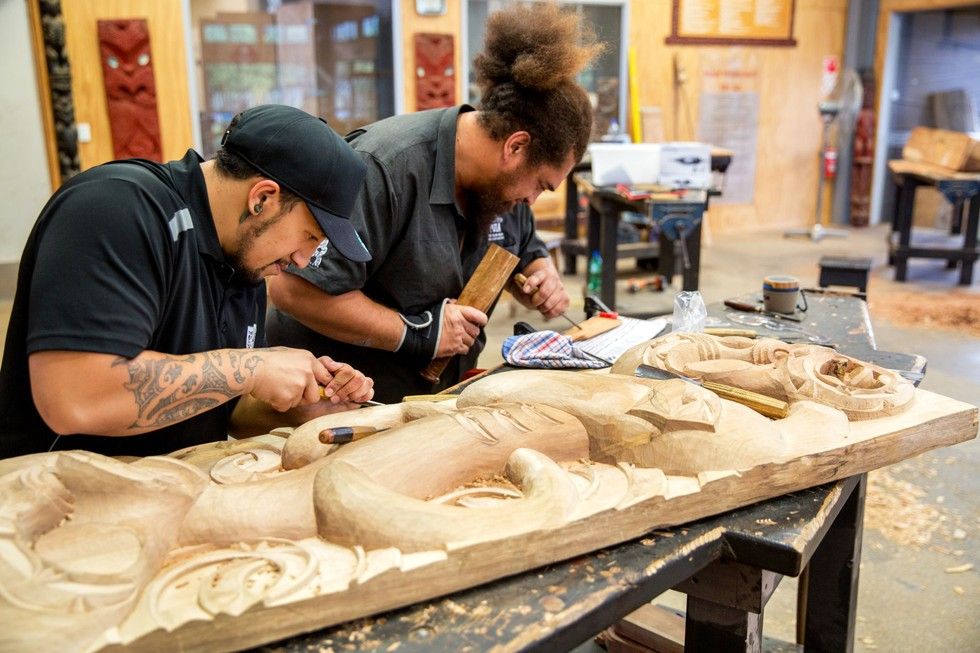 The Maori carving school at Te PuiaSpeaking of which: The dance is followed by a feast, cooked in giant boxes over natural steam vents called
hangi
. In Maori neighborhoods, women still leave baskets of food over these seething holes for hours on end—something like geothermal slow cookers.We start with a nonalcoholic shot of lemon, kawakawa herb, and manuka honey, which is said to have medicinal qualities (and sells for up to $50 per jar). After a quick "
amene
" (Maori for "amen"), we dig into a buffet of
kumara
(sweet potato) soup;
hangi
-steamed lamb, chicken, and pumpkin; and finally the iconic Wellington-born, kiwi-topped meringue dessert pavlova."Our word for 'tourism,'
maanakitanga
, actually has a much deeper meaning," says West. "It means to increase your visitor's
mana
—worth, prestige, importance—and that's what we're all about. Tribes would value themselves on their ability to accommodate and be hospitable." A smiling Welsh woman sitting next to West at the table puts it a little more succinctly: "Doesn't this whole entire country just ooze charm?"
Hemispheres senior editor Nicholas DeRenzo is looking into importing a few thousand glowworms to decorate his bedroom ceiling.


If you go

Check out
united.com
or use the
United app
to book your three day adventure to New Zealand.
Around the web
Following the devastating wildfires in Australia and powerful earthquakes that shook Puerto Rico last week, we're taking action to make a global impact through our international partnerships as well as nonprofit organizations Afya Foundation and ADRA (Adventist Development and Relief Agency).
Helping Puerto Rico recover from earthquakes
Last week, Puerto Rico was hit with a 5.2 magnitude earthquake, following a 6.4 magnitude earthquake it experienced just days before. The island has been experiencing hundreds of smaller quakes during the past few weeks.
These earthquakes destroyed crucial infrastructure and left 4,000 people sleeping outside or in shelters after losing their homes. We've donated $50,000 to our partner charity organization Airlink and through them, we've helped transport disaster relief experts and medical supplies for residents, as well as tents and blankets for those who have lost their homes. Funding will go towards organizations within Airlink's partner network, which includes Habitat for Humanity, Mercy Corps and Americares, to help with relief efforts and long-term recovery.
Australian wildfire relief efforts

Our efforts to help Australia have inspired others to make their own positive impact. In addition to teaming up with Ellen DeGeneres to donate $250,000 and launching a fundraising campaign with GlobalGiving to benefit those impacted by the devastating wildfires in the country known for its open spaces and wildlife, our cargo team is helping to send more than 600 pounds of medical supplies to treat injured animals in the region.
Helping us send these supplies is the Afya Foundation, a New York-based nonprofit that seeks to improve global health by collecting surplus medical supplies and delivering them to parts of the world where they are most needed. Through Airlink, the Afya Foundation will send more than $18,000 worth of materials that will be used to treat animals injured in the Australian fires.
These medical supplies will fly to MEL (Melbourne) and delivered to The Rescue Collective. This Australian organization is currently focused on treating the massive population of wildlife, such as koalas, kangaroos, and birds, that have had their habitats destroyed by the recent wildfires. The supplies being sent include wound dressings, gloves, catheters, syringes and other items that are unused but would otherwise be disposed of.
By working together, we can continue to make a global impact and help those affected by natural disasters to rebuild and restore their lives
Australia needs our help as wildfires continue to devastate the continent that's beloved by locals and travelers alike. In times like these, the world gets a little smaller and we all have a responsibility to do what we can.
On Monday, The Ellen DeGeneres Show announced a campaign to raise $5 million to aid in relief efforts. When we heard about Ellen's effort, we immediately reached out to see how we could help.
Today, we're committing $250,000 toward Ellen's campaign so we can offer support now and help with rebuilding. For more on The Ellen DeGeneres Show efforts and to donate yourself, you can visit www.gofundme.com/f/ellenaustraliafund
We're also matching donations made to the Australian Wildfire Relief Fund, created by GlobalGiving's Disaster Recovery Network. This fund will support immediate relief efforts for people impacted by the fires in the form of emergency supplies like food, water and medicine. Funds will also go toward long-term recovery assistance, helping residents recover and rebuild. United will match up to $50,000 USD in donations, and MileagePlus® members who donate $50 or more will receive up to 1,000 award miles from United. Donate to GlobalGiving.
Please note: Donations made toward GlobalGiving's fund are only eligible for the MileagePlus miles match.
In addition to helping with fundraising, we're staying in touch with our employees and customers in Australia. Together, we'll help keep Australia a beautiful place to live and visit in the years to come.
20. Spot Giant Pandas in China
In 2016, giant pandas were removed from the endangered species list, and China would like to keep it that way. This year, the country plans to consolidate the creatures' known habitats into one unified national park system spanning nearly 10,500 square miles across Sichuan, Gansu, and Shaanxi provinces—about the size, in total, of Massachusetts. —Nicholas DeRenzo
19. Follow in James Bond's Footsteps in Jamaica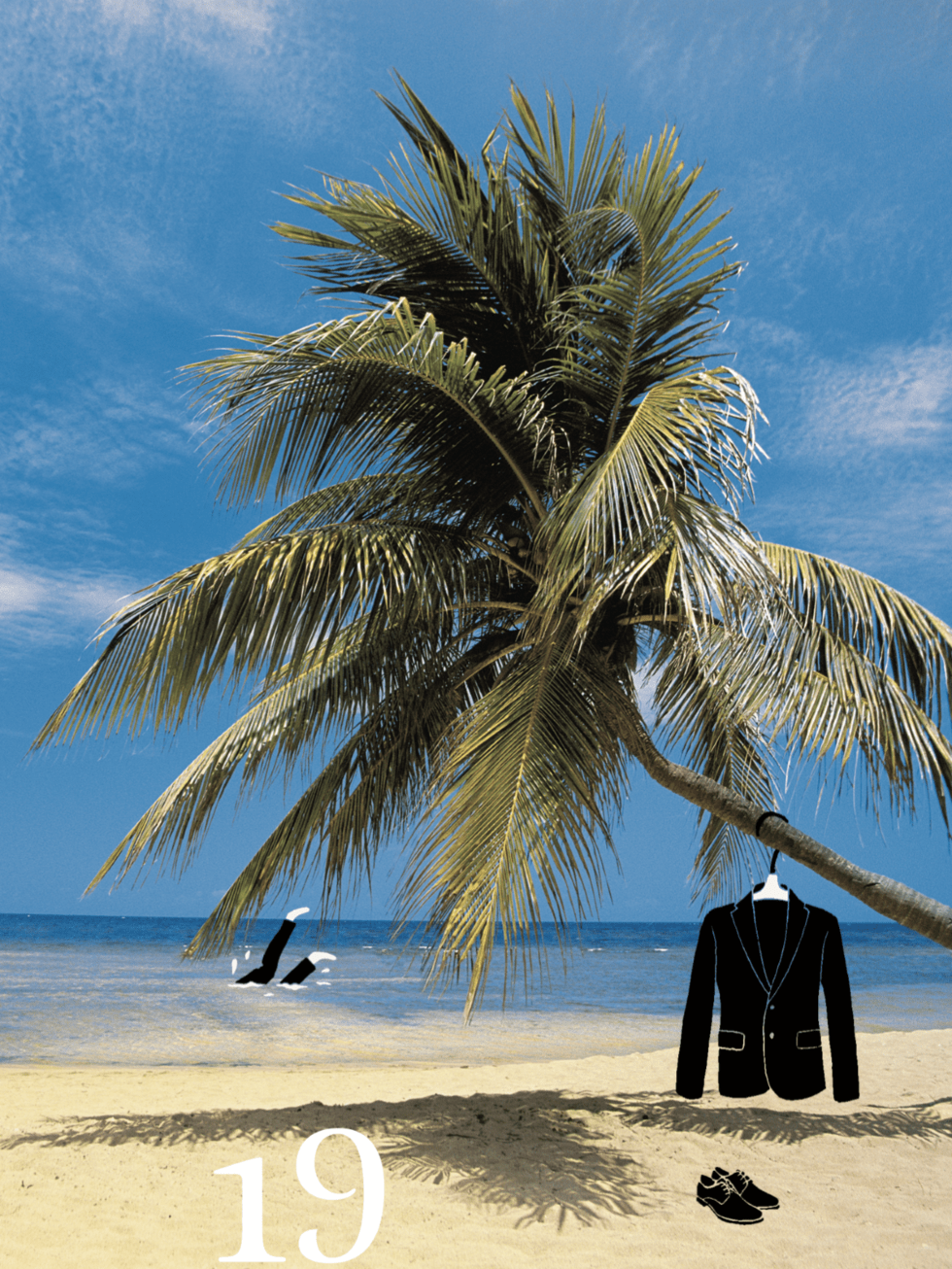 Photo: Design Pics/Carson Ganci/Getty Images
When No Time to Die hits theaters on April 8, it marks a number of returns for the James Bond franchise. The 25th chapter in the Bond saga is the first to come out since 2015's Spectre; it's Daniel Craig's fifth go-round as 007, after rumors the actor was set to move on; and it's the first time the series has filmed in Jamaica since 1973's Live and Let Die. The Caribbean island has always had a special place in Bond lore: It was the location of one of creator Ian Fleming's homes, GoldenEye (which is now a resort), and the setting for the first 007 movie, 1962's Dr. No. Looking to live like a super-spy? You don't need a license to kill—just a ride to Port Antonio, where you can check out filming locations such as San San Beach and colonial West Street. Remember to keep your tux pressed and your Aston Martin on the left side of the road. —Justin Goldman
18. See the Future of Architecture in Venice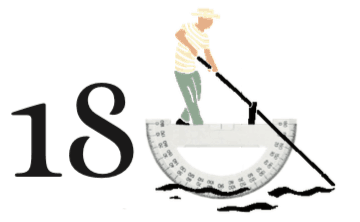 Every other year, Venice hosts the art world's best and brightest during its celebrated Biennale. But the party doesn't stop during off years, when the Architecture Biennale takes place. This year, curator Hashim Sarkis, the dean of MIT's School of Architecture and Planning, has tasked participants with finding design solutions for political divides and economic inequality; the result, on display from May to November, is the intriguing show How Will We Live Together? —Nicholas DeRenzo
17. Celebrate Beethoven's 250th Birthday in Bonn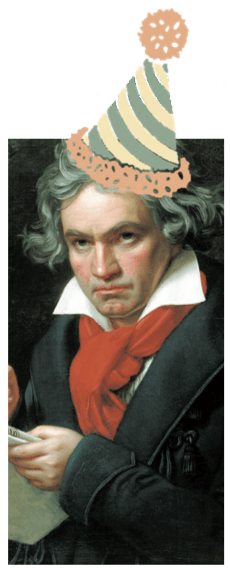 Photo: Universal History Archive/Getty Images
Catch a Beethoven concerto in Bonn, Germany, to celebrate the hometown hero's big 2-5-0.
16. Eat Your Way Through Slovenia
When Ana Roš of Hiša Franko was named the World's Best Female Chef in 2017, food lovers began to wonder: Do we need to pay attention to Slovenia? The answer, it turns out, is definitely yes. This March, the tiny Balkan nation about two hours east of Venice gets its own Michelin Guide. —Nicholas DeRenzo
15. Star- (and Sun-) Gaze in Patagonia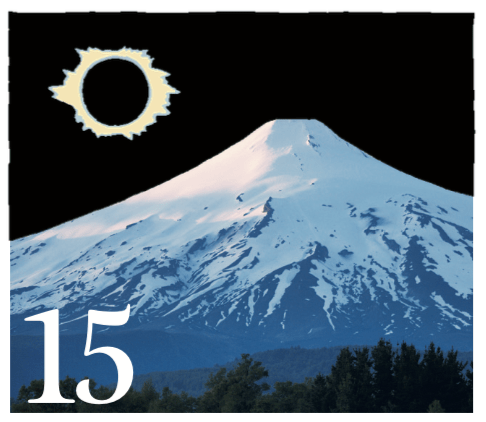 Photo: blickwinkel/Alamy
Come December 13 and 14, there will be no better spot for sky-watchers than northern Patagonia, which welcomes both the peak of the Geminid meteor shower and a total solar eclipse within 24 hours. —Nicholas DeRenzo

14. Explore Miami's Game-Changing New Park
About 70,000 commuters use Miami's Metrorail each day, and city planners aim to turn the unused space beneath its tracks into an exciting new public space, a 10-mile linear park aptly named The Underline. Luckily, the Magic City is in good hands: The project is being helmed by James Corner Field Operations, the geniuses behind New York's High Line. "Both projects share similarities in their overarching goals," says principal designer Isabel Castilla, "to convert a leftover infrastructural space into a public space that connects neighborhoods, generates community, and encourages urban regeneration." When finished, Miami's park will be about seven times as long as its Big Apple counterpart. The first half-mile leg, set to open this June, is the Brickell Backyard, which includes an outdoor gym, a butterfly garden, a dog park, and gaming tables that call to mind the dominoes matches you'll find nearby in Little Havana. "We envision the Underline dramatically changing the way people in Miami engage with public space," Castilla says. —Nicholas DeRenzo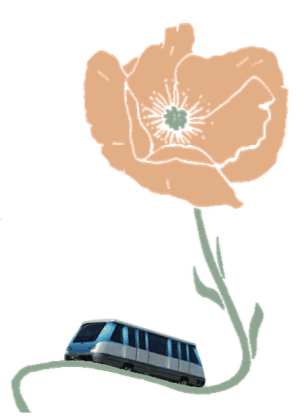 Photo: philipus/Alamy
13. Kick Off the NFL in Las Vegas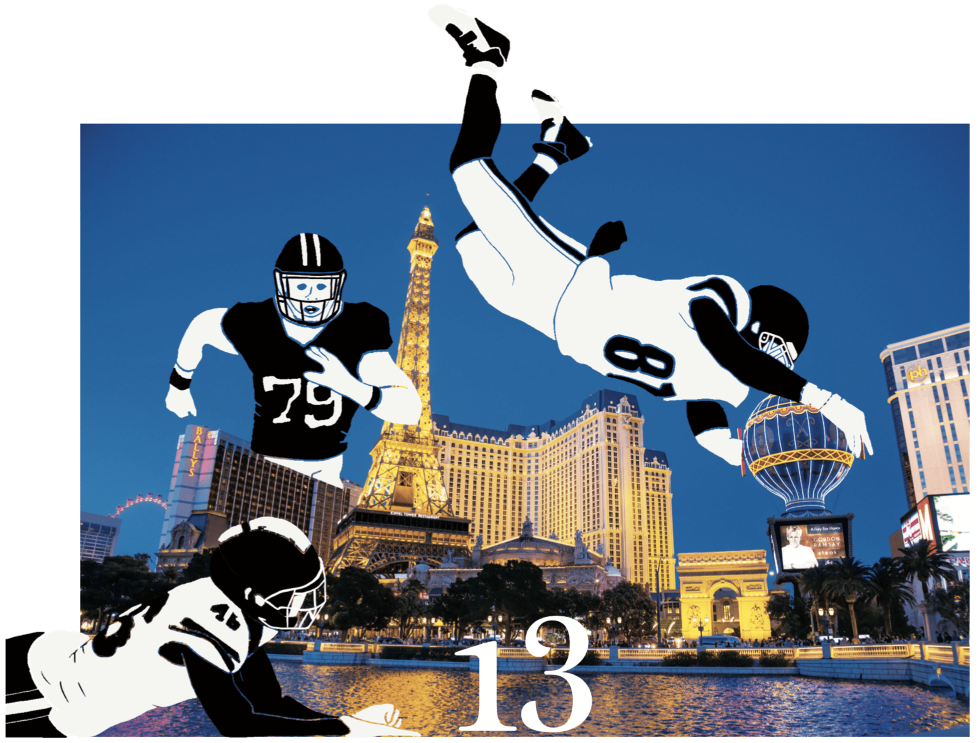 Photo: Littleny/Alamy
Former Raiders owner Al Davis was famous for saying, "Just win, baby." His son, Mark Davis, the team's current owner, is more likely to be shouting "Vegas, baby!" Swingers-style, as his team becomes Sin City's first NFL franchise, the Las Vegas Raiders. After years of threats and lawsuits, the Raiders have finally left Oakland, and this summer they're landing just across the highway from the Mandalay Bay Resort & Casino in a 65,000-seat, $1.8 billion domed stadium that will also host the UNLV football team, the next two Pac-12 championship games, and the Las Vegas Bowl. Construction is slated to be finished July 31, just in time for the NFL preseason—and just in time to lure football fans from the sportsbooks to the grandstand. —Justin Goldman
12. Celebrate the Suffragettes in Washington D.C.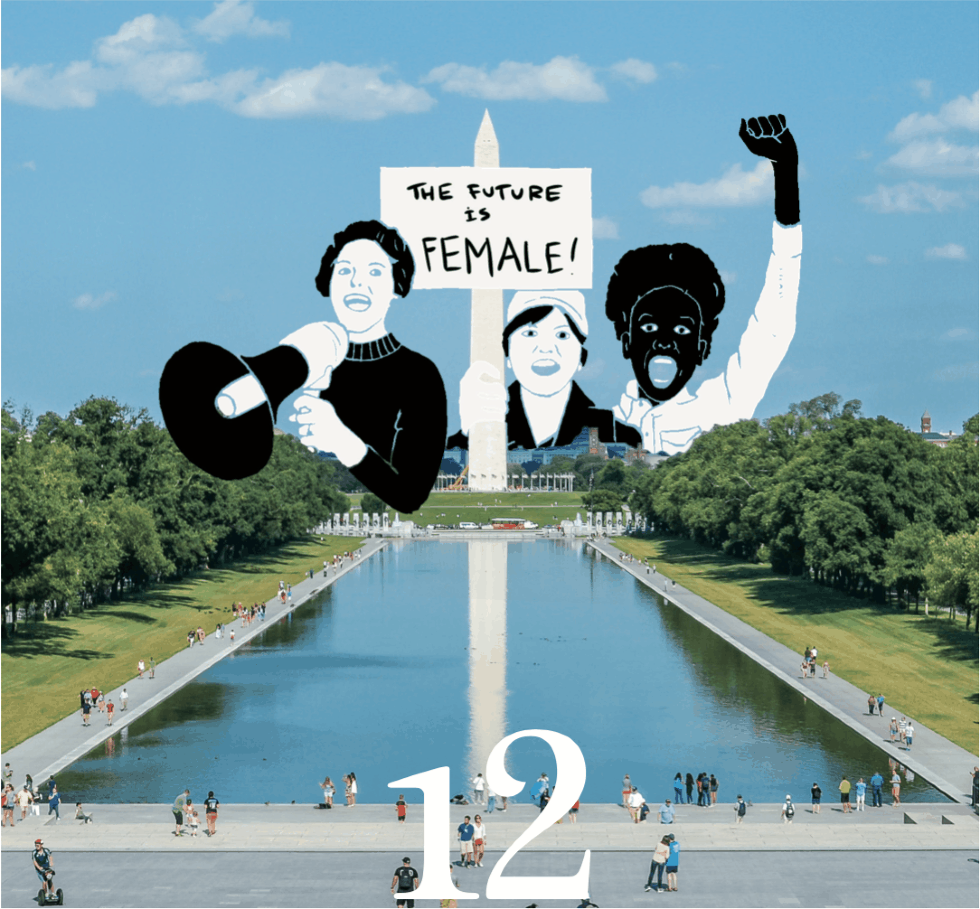 All eyes are on the ballot box this year, but the electorate would look quite different if not for the 19th Amendment, which was ratified 100 years ago this August. Many D.C. institutions, such as the National Archives Museum and the Library of Congress, are honoring the decades-long struggle for women's suffrage with exhibits. In particular, the National Museum of American History unveils Sarah J. Eddy's portrait of Susan B. Anthony this March, before putting on a 'zine-inspired show on girlhood and youth social movements this June. —Nicholas DeRenzo
11. Go for a Ride Through Mexico City
If you want to get somewhere quickly in Mexico City, try going by bicycle. During peak traffic, bikes average faster speeds than cars or public transportation—which might explain why ridership has gone up almost 50 percent since 2007. And riding on two wheels is getting safer and easier. In 2019, the city announced plans to invest $10 million (more than it had spent in the last six years combined) into the construction of about 50 miles of new paths and lanes. Now, you can cycle on a two-mile separated path along the Paseo de la Reforma, from Colonia Juárez and Roma to Chapultepec Park and Polanco. Future plans include a route along the National Canal between Coyoacán (where Frida Kahlo once lived) and Xochimilco (with its floating flower farms). "The goal is to finish the six-year [presidential] term with 600 kilometers of bike infrastructure," says Roberto Mendoza of the city's Secretariat of Mobility. Time to start pedaling. —Naomi Tomky
10. Consider the Mayflower's Legacy in Massachusetts and Abroad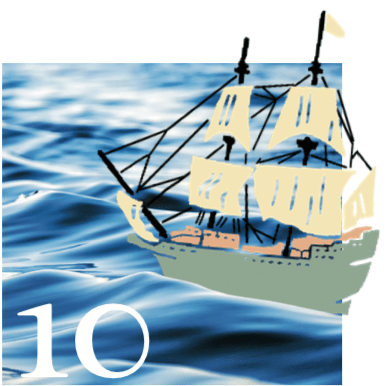 Photo: Thianchai Sitthikongsak
Before they came to America in 1620, the religious separatists now known as the Pilgrims lived in England and the Netherlands. This year, the 400th anniversary of the Mayflower landing will be commemorated not only by those nations but also by a fourth: The Wampanoag, the confederation of tribes that live in New England and whose role in this world-changing event has been at best left out and at worst distorted.
"We're challenging the myths and stereotypes," says Aquinnah Wampanoag author Linda Coombs, a board member of Plymouth 400, Inc., which is planning cultural events such
as an Ancestors Walk to honor the native villages pushed aside by settlers, as well as
an indigenous history conference and powwow (plus an $11 million restoration of the replica Mayflower II).
Kerri Helme, a member of the Mashpee Wampanoag nation and cultural programs manager at Plimoth Plantation, says that "people want to hear the whole story." She notes that it's a commonly held belief that the Pilgrims were welcomed by the natives, when in fact their first encounter was violent, since the English had been stealing the Wampanoags' food.
"The Wampanoag are key players in all of this," says Charles Hackett, CEO of Mayflower 400 in the U.K. "It's a whole other aspect of this history." In England, a Mayflower trail will connect Pilgrim sites in towns such as Southampton and Plymouth, and in Leiden, the Dutch town where the Pilgrims took refuge before embarking for the New World, the ethnology museum will run an exhibit about the natives.
"The most important thing for us, as the Wampanoag people," says Paula Peters, a former Wampanoag council member, "is to be acknowledged as a vital tribe comprised of people that, in spite of everything that's happened, are still here." —Jon Marcus
9. Discover Lille's Design Scene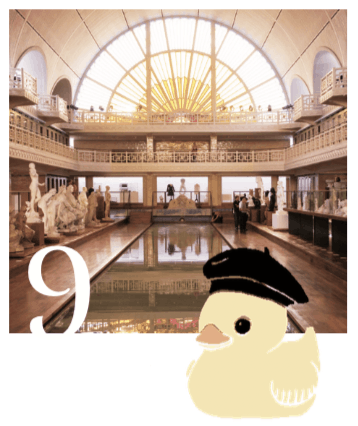 Photo: Mark Bassett/Alamy
Previous World Design Capitals have included major cultural hubs such as Helsinki and Seoul, so it came as a shock when Lille, France's 10th-largest city, beat Sydney for this year's title. Judges cited Lille's use of design to improve its citizens' lives; get a taste for yourself at spots like La Piscine Musée d'Art et d'Industrie, a gallery in a former Art Deco swim center. —Nicholas DeRenzo
8. See Stellar Space in Rio de Janeiro, the World Capital of Architecture
Rio de Janeiro is renowned for the beauty of its beaches and mountains, but the Cidade Maravilhosa's man-made structures are as eye-catching as its natural features. For that reason, UNESCO recently designated Rio its first World Capital of Architecture, honoring a city that boasts such landmarks as the stained glass–domed Royal Portuguese Cabinet of Reading, the fairy-tale Ilha Fiscal palace, and the uber-modern Niterói Contemporary Art Museum.
"Rio is an old city by New World standards, having been founded in the mid–16th century," says architectural photographer Andrew Prokos, who took this shot. "So the city has many layers of architectural styles, from Colonial and Rococo to Art Nouveau, Modernist, Brutalist, and contemporary." In the case of this museum, which was designed by perhaps Brazil's greatest architect, Pritzker Prize winner Oscar Niemeyer, Prokos was intrigued by how the 24-year-old building interacts with its surroundings. "The upward slope of the museum complements the slope of the Pão de Açúcar across the bay," he says, "so the two are speaking to each other from across the water." – Tom Smyth
7. Join the Avengers at Disneyland
This summer, Disney California Adventure unveils its Marvel-themed Avengers Campus, with a new Spider-Man attraction, followed later by an Ant-Man restaurant and a ride through Wakanda. If the hype surrounding last year's debut of Disney+ is any indication, Comic-Con types are going to lose their fanboy (and -girl) minds. —Nicholas DeRenzo
6. Listen to Jazz in Cape Town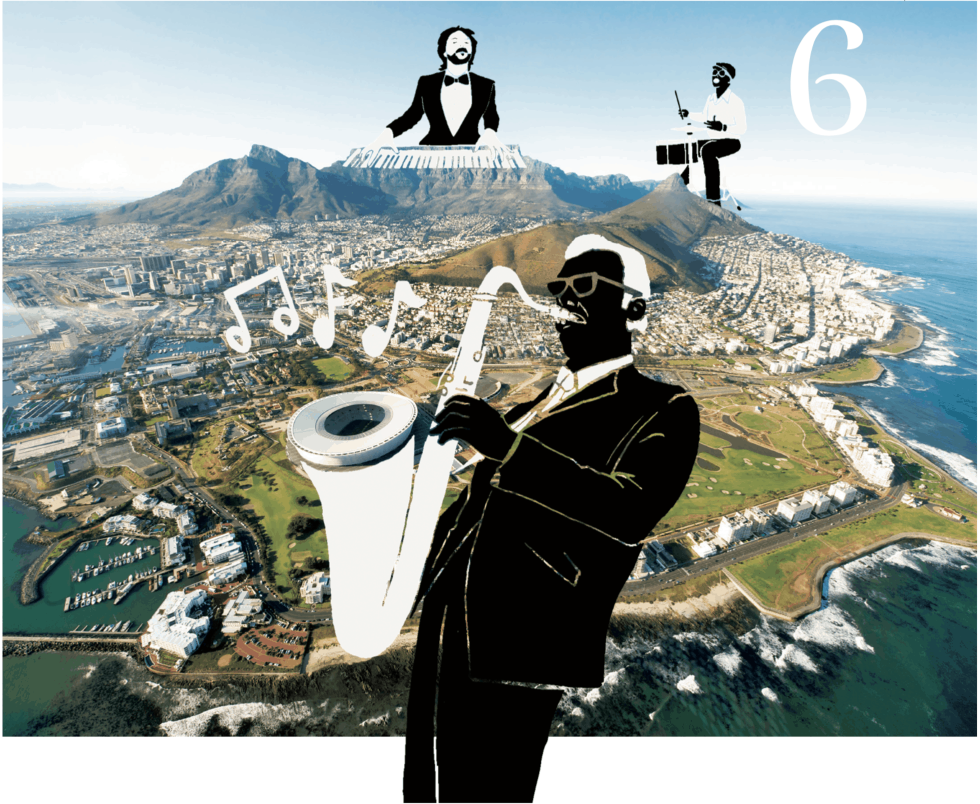 Photo: Eric Nathan/Alamy
Cape Town's natural wonders draw visitors from all over the world, but there's a hidden gem beyond the mountains, beaches, and seas: music. Much as jazz was born from America's diverse peoples, Cape jazz combines the traditions and practices of the city's multiethnic population, creating genres such as goema (named after a type of hand drum) and marabi (a keyboard style that arose in the townships). Cape Town has hosted an International Jazz Festival for
20 years (the 21st edition is this March 27–28), and now UNESCO is giving the Mother City its musical due by naming it the Global Host City of International Jazz Day 2020. The theme of the event—which takes place on April 30, features an All Star Global Concert, and is the climax of Jazz Appreciation Month—is "Tracing the Roots and Routes of African Jazz." During the dark days of slavery and apartheid, music became an outlet through which repressed people could express their struggle for freedom. What better way to mark a quarter century of democracy here than with a celebration of that most free style of music? —Struan Douglas
5. Take a Walk Around England
Many hikers love walking around England—but how many can say that they've truly walked around England? When it's completed, the England Coast Path will be the longest managed seaside trail in the world, completely circumnavigating the coastline, from the fishing villages of Cornwall and the beaches of Nothumberland to the limestone arches of the Jurassic Coast and the sandy dunes of Norfolk. Much of the trail is already waymarked (the 630-mile South West Coast Path is particularly challenging and beautiful), with new legs set to open throughout the year. If you want to cross the whole thing off your bucket list, be warned that it's no walk in the park: At around 2,795 miles, the completed route is 605 miles longer than the Appalachian Trail and about the same as the distance between New York and Los Angeles. —Nicholas DeRenzo
4. Get Refreshed in the Israeli Desert
Six Senses resorts are known for restorative retreats in places like Fiji, Bali, and the Maldives. For its latest location, the wellness-minded brand is heading to a more unexpected locale: the Arava Valley, in the far south of Israel. Opening this spring, the Six Senses Shaharut will offer overnight camel camping, off-roading in the surrounding desert, and restaurants serving food grown in the resort's gardens or sourced from nearby kibbutzim. While the valley is said to be near King Solomon's copper mines, the Six Senses is sure to strike gold. —Nicholas DeRenzo
3. Say konnichiwa on July 24 at the opening ceremonies of the Summer Olympic Games in Tokyo, which plays host for the first time since 1964.
The Japanese capital plays host for the first time since 1964. This year, softball and baseball will return after being absent since 2008, and four new sports—karate, sport climbing, surfing, and skateboarding—will be added to the competition for the first time. Say konnichiwa at the opening ceremonies on July 24, which will be held at renowned architect Kengo Kuma's New National Stadium. – Nicholas DeRenzo
2. Score Tickets to Euro 2020
Still feeling World Cup withdrawal? Get your "football" fix at the UEFA European Championship. From June 12 to July 12, 24 qualifying national teams will play games in stadiums from Bilbao to Baku, culminating in the semi-finals and final at London's hallowed Wembley Stadium. Will World Cup champion France bring home another trophy? Will Cristiano Ronaldo's Portugal repeat its 2016 Euro win? Will the tortured English national team finally get its first title? Or will an upstart—like Greece in 2004—shock the world? —Justin Goldman
1. Soak Up Some Culture in Galway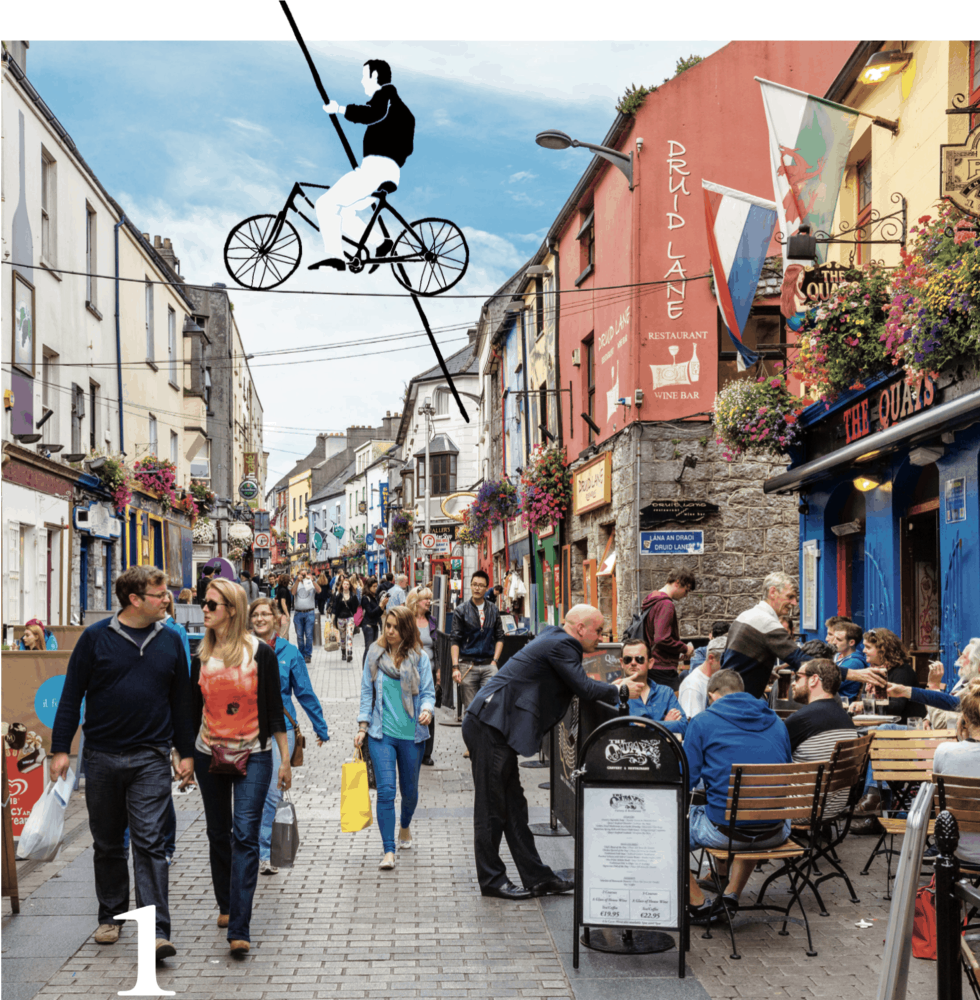 Photo: Ian Dagnall/Alamy
Galway has long been called "the cultural heart of Ireland," so it's no surprise that this bohemian city on the country's wild west coast was named a 2020 European Capital of Culture (along with Rijeka, Croatia). The title puts a spotlight on the city (population 80,000) and County Galway, where more than 1,900 events will take place throughout the year. Things kick off in February with a seven-night opening ceremony featuring a fiery (literally) choreographed celebration starring a cast of 2,020 singing-and-drumming locals in Eyre Square. "This is a once-in-a-generation chance for Galway," says Paul Fahy, a county native and the artistic director of the Galway International Arts Festival (July 13–26). "It's a huge pressure. There's a heightened sense of expectation from audiences, not just from here but from all over the world." Art lovers will no doubt enjoy Kari Kola's illuminating work Savage Beauty, which will wash the Connemara mountains in green light to coincide with St. Patrick's Day, or the Druid Theatre Company's countywide tour of some of the best 20th-century one-act Irish plays. Visitors would also be wise to explore the rugged beauty of Connemara on a day trip with the charismatic Mairtin Óg Lally of Lally Tours, and to eat their way across town with Galway Food Tours. But beware, says Fahy: "Galway has a reputation as a place people came to 20 years ago for a weekend and never left." —Ellen Carpenter
Scroll to top