Three Perfect Days: New Zealand

Story by: Nicholas DeRenzo | Photography by: Camilla Rutherford | Hemispheres June 2016
For most of its history, New Zealand existed at the edge of the world. Before the Maori paddled ashore nearly a thousand years ago, the two main islands of Aotearoa ("the Land of the Long White Cloud") were practically still prehistoric, ruled over by flightless moa birds that stood 12 feet tall. In fact, New Zealand was the last major landmass on Earth touched by human feet. These days, the nation's cultural ambassadors—Peter Jackson, Flight of the Conchords, Lorde—are doing a fairly good job attracting international attention to what is arguably the most remote corner of the planet.Auckland, meanwhile, is investing heavily in its infrastructure (a $350 million convention center and rail system are on their way) and cultural institutions (the reimagined Auckland Art Gallery won the 2013 World Building of the Year award, and the derelict 1928 St. James Theatre is being restored). This year, the country's largest city welcomed the first annual Auckland City Limits concert festival, an Austin spin-off headlined by Kendrick Lamar. You can't help but feel that New Zealand is consistently punching above its weight. But what else would you expect from a country that has the warrior blood of the Maori coursing through its veins?

In which Nicholas gazes into a dormant volcano, takes the wheel on the high seas, and contemplates facial tattoos
I'm standing atop Mount Eden: a dormant volcano, former Maori fort, Auckland's highest natural point at 643 feet above sea level, and now something like the city's backyard. From up here, it's easy to see Auckland as a kind of greatest-hits version of the Pacific Rim: San Francisco's escalator-steep hills, Portland's fanatic coffee culture, Hawaii's volcanic landscape, Los Angeles's sprawl, a Seattle-style observation tower, and fresh seafood that would wow any Tokyoite.It might not be a good idea to get too engrossed in the view from up here. The hilltop trail circles a 160-foot-deep crater named Te Ipu-a-Mataaho, for the Maori volcano god. One wrong step and you're in for quite an adventure. But the bowl-like crater is so tufted with soft grass and pinkish wildflowers that—bless New Zealand—even a tumble into a volcano looks as if it might be pleasant.
Skyline views at Viaduct Harbour Mount Eden is invigorating, but I probably wouldn't be standing here after an 18-hour flight if it weren't for the two flat whites—New Zealand's favorite coffee, a less foamy cappuccino—I consumed earlier in the sunny atrium of the Hotel DeBrett. Built in 1925, the city's landmark hotel combines sleek Art Deco touches with bright pops of color and quirky minimalist furnishings. The surrounding Central Business District, or CBD, is all sleek boutiques, glossy skyscrapers (some of the only ones in the entire country), and as much bustle as you can expect from a pint-size metropolis. To get acquainted with Auckland's more creative side, I'm off to meet Neala Glass, a whip-smart gallerist who moonlights as a street art guide for Great Auckland Walking Tours, in Ponsonby, a revamped inner suburb a 10-minute cab ride away. Now the haunt of hipsters and artists, this handsome cluster of Victorian villas has become a hotbed of public art—each work a small window into Kiwi culture. "This area has always attracted migrants, bohemians, artists," says Glass. "Polynesian rappers who lived here described it as 'tough but colorful.'" It's not so tough here now, but the color remains. We're standing before the corner of a roof jutting out from the grass in Western Park, the work of local artist John Radford. "He submerges buildings like Roman ruins," Glass says. "He's inspired by the layered, checkered histories that lie beneath the surface." We turn onto Karangahape (known as K Road), a former red-light strip now thick with hip bars and clubs. The street is named for the mythical Maori chief Hape, whose name, Glass tells me, means "clubfoot." "Because of his clubfoot," she explains, "he wasn't chosen to ride here on the Tainui war canoe. So he summoned a giant stingray, surfed here on its back, arrived two weeks early, and let out a wailing welcome call, or
karanga
, when everyone else got here." It's one of the few main roads here that kept its Maori name instead of getting the Victorias and Alberts you see everywhere else.
Neala Glass, guide, Great Auckland Walking Tours"This is a nod to our nuclear-free law," says Glass, pointing to a panel of protest posters—the Visual Artists Against Nuclear Arms Peace Mural—tucked behind a gas station. "Artists wanted to make visual their support for the bill. They painted a mural a month, 22 total, until it was passed." From here, we stroll through narrow Myers Park, a palm-lined statue garden between steep grassy slopes."I used to work here," Glass says as we approach the Auckland Art Gallery. Built in the 1880s in the French Château style, the gallery is dominated by a white clock tower with a gleaming annex made from glass and local kauri wood. I pop into the café for a Vanuatu-grown coffee before meeting gallery assistant Alice Ng for a stroll through the collection. We stop in a small room lined with stately 19th-century portraits of Maoris, each with intricate facial tattoos, or
ta moko
.
"Because we grew so quickly as a city between the 1840s and the 1950s, we invited a lot of international architects, each of whom brought their own references. So we're a bit of a hodgepodge!" —Neala Glass
"It's very painful," whispers Ng. "They use a chisel to get the ink into your skin. Different tribes have different designs, so you can look at a face and trace a person's lineage—like a family tree on your face.""What must the Maori think about all the American frat boys with tribal tattoos?" I ask."They actually have a word," she says with a laugh, "for '
ta moko
without meaning.'"I say goodbye to Alice and head toward the Sky Tower, the Southern Hemisphere's tallest structure at 1,076 feet. Daredevils bungee off the top or—yikes—walk on a platform around the observation deck. After a quick ride to the top, during which I grip the side of the glass-bottomed elevator for dear life, I decide an acrophobe like me is much better off back at sea level. I grab an outdoor table at Depot Eatery, a buzzy bistro in the tower's shadow, where I slurp sweet, briny Te Matuku oysters from nearby Waiheke Island and bigger, creamier Bluff oysters dredged up from the sand off the South Island's southern tip.I work off lunch with a midafternoon stroll, taking in a parade of Victorian and Art Deco buildings and a seemingly endless array of parks thick with subtropical plants. Auckland is a young city, founded by the British in 1840. It has the feeling of a colonial outpost that's been jerry-rigged to fit into the nooks and crannies of an untamed volcanic landscape. At the heart of it all is the waterfront, a stretch of working docks that has seen extensive regeneration: The brick warehouses of the Britomart Precinct now host some of the city's top fashion designers, while the reclaimed land of the Wynyard Quarter has brought food trucks and cutting-edge architecture to a post-industrial landscape still dominated by massive cement silos. 5
The redeveloped waterfront Wynyard QuarterOne such area is Viaduct Harbour, which got the ball rolling on all this waterfront renewal in the wake of New Zealand's 1995 America's Cup victory. (The winning vessel,
Black Magic
, resides nearby at the National Maritime Museum.) I'm scheduled to head out on a sailing tour of my own with the Explore Group on the 50-foot yacht
Defiance
.The name of Waitemata Harbour derives from the Maori word for "sparkling waters," and the sunlight dancing on the waves tells you why. "Auckland has the largest ratio of boats to people of any city in the world," skipper Charles Scoones says as we set sail. "If you placed everybody on all the boats in Auckland, each boat would only need to hold five people." The city also has the largest marina in the Southern Hemisphere—hence "the City of Sails."As we pass under the imposing Harbour Bridge (nicknamed "the coat hanger"), Scoones points to two flags flapping above. New Zealand is about to vote on whether to change the national flag. The current one has a Union Jack and the red-starred constellation Crux, the Southern Cross. The new design swaps out the Union Jack for a silver fern. This species of tree fern has a silvery underside, which Maori hunters would use to catch the moonlight on late-night hunts.
"Auckland has the feeling of a colonial outpost that's been jerry-rigged to fit into the nooks and crannies of an untamed volcanic landscape."
"Some people say it looks like a tea towel!" says Nick Fewtrell, a young crew member manning the sails."It's all wrong!" agrees Scoones, shaking his head.Each of the passengers takes a turn at the helm, and I'm last to go. I'm wondering if this is an elaborate ruse, suspecting that if I give the wheel a full
Price Is Right
whirl, the boat will barely move an inch to the left or the right. But when I finally grip the wheel, I see how responsive it is—each tiny maneuver breathes life into the sails, catching a new gust. I have to admit, I feel kind of powerful.
Oysters at Depot EateryI debark for dinner on Princes Wharf. The Culpeper, a sunny new eatery with wicker chairs and palm-frond-patterned banquettes, serves dishes so artful—buttermilk-fried duck with honey-and-pink-peppercorn glaze, hiramasa kingfish and yellowfin sashimi with wasabi-avocado mousse, glazed lamb ribs with brown-butter yogurt and shaved beets—that I Google "time in NYC" to see if it's too late (or too early?) to send my foodie friends photos of my dinner. (It is, but I do it anyway.)I wander down Queen Street to Giapo Haute Ice Cream, where I get a scoop of Keri-keri avocado with macadamia praline, topped with macadamias tweezer-dipped in chocolate. (Other flavors come with piped and brûléed meringue or a miniature chocolate kiwi—the bird, not the fruit.) As I make my way back to the hotel, I'm reminded of a quote: "Modern Auckland is a perky gold-digger, over-talkative but full of ideas … and much in love with life." This much sugar will do that to you.
In which Nicholas learns about extinct giants, gets schooled in "cuddly dudley" wines, and dines on the spoils of Waiheke Island
Eat your heart out, seven-hilled Rome: Auckland boasts a whopping 48 volcanic cones. Few of these are as starkly beautiful as Pukekawa, or "the hill of bitter memories," atop which sits the neoclassical Auckland War Memorial Museum. I've taxied up here from the DeBrett to avoid the punishing incline—though if you're going to get leg cramps, this green and lovely hillside is the place to do it.Opened in 1929, the blindingly white marble museum is pure Western pomp, but it is filled with elegant nods to local Maori tradition (such as carved wreaths of kawakawa leaves instead of laurel). With a mission similar to the Smithsonian's, it's also a repository for Kiwi cultural treasures, like the ice axe of New Zealand–born Everest-summiter Sir Edmund Hillary and a 10-foot-tall recreation of a giant moa, a massive flightless bird hunted to extinction by the Maori some 600 years ago.
A boat-filled harbor on Waiheke Island
I cab it back to the DeBrett to grab my bags, then walk to the Auckland Ferry Terminal, a brick-and-sandstone colossus now over-shadowed by office buildings. A 35-minute ferry ride across Hauraki Gulf takes me to Waiheke Island, a 36-square-mile retreat that is part Hamptons (posh weekenders), part Napa Valley (wineries and olive groves), part Scottish Highlands (hordes of sheep), and part Kauai (hidden coves).My first stop is the hillside Mudbrick Vineyard & Restaurant, where I'm having lunch with Aussie-born expat Mike Beagley, managing director of New Zealand luxury menswear brand Rodd & Gunn. Though his store sits on the CBD's tony Queen Street, on the same block as Prada and Dior, Beagley is the definition of a charmingly approachable bloke."Ralph Lauren has a polo model. Rodd & Gunn has a polo team that actually plays polo," he says, chuckling. "One of our players got smacked in the face with a mallet and got blood all over his uniform. It was fantastic!" I look down at my blood-red Angus beef tartare with mango mustard, daikon, coconut, and egg yolk, and I can't help but join him in a laugh.
Mike Beagley, Managing Director, Rodd & Gunn"The real New Zealand is this beautiful view," he says, gesturing at the vine-covered hills and the skyline in the distance. "It's an appreciation for great wine, great food, for life." I have to agree that there is a dolce vita vibe to Waiheke—la dolce kiwita?—as I tuck into my second course of sweet corn and truffle ravioli with black trumpet mushrooms, watercress, and parmesan."This is refined," he says, pointing to our food. "This is rustic," he continues, nodding outside. "And that's New Zealand."Beagley heads back to work, but I stick around at Mudbrick to meet Steve Robinson, a guide with the island's family-owned Ananda Tours. He used to play in a rock band called the Heartbreakers ("This was before Tom Petty thought of the name!") and co-owns the studio that produced the 1995 hit "How Bizarre" by OMC—the biggest pre-Lorde hit by a New Zealander. Today, he's volunteered to be my designated driver.
"New Zealand is a very green country, ecologically sustainable. I think part of that is Maori—there's a spiritual connection to the land and to the idea of passing along nature to future generations." —Mike Beagley
"Waiheke is a Jurassic-era island with mineral-rich soils," Robinson says as we hit the Mudbrick tasting bar. "We're primarily an island of red wines and olives." In fact, the island is perfect for growing the kinds of grapes you'd find in Bordeaux. Cellar master Bob Scott, who has a way with words, describes the country's wines with phrases like "gooseberry with a slight hint of armpit," "creamy richness that doesn't go butter," "pencil shavings and leather," and "cuddly dudley." From here, Robinson drives me to a succession of hidden vineyards, along winding roads so narrow that we have to pull into the brush to allow cars to pass. We get to talking about the flag referendum: "I voted for the new flag, because my wife thinks I'm resistant to change," he jokes, "and I wanted to prove her wrong."At Stonyridge Vineyard, which is tucked into a picturesque valley, I meet winemaker Marty Pickering, the son of a dairy farmer. "You know, I got all those practical, tractor-driving skills from him," he says over a glass of Bordeaux-style Larose, "but then I don't really like milk all that much. This end product is so much better."Farther on, at Obsidian Vineyards, which is run from a corrugated metal quonset hut, we sip Syrah with cellar master Martin Owens. "Australian Shiraz is a punch in the face," he says. "New Zealand Syrah is a pat on the back."
The rugged, lush coastline of Waiheke Island
We continue past stands of flowering manuka trees, wetlands teeming with pukeko (long-legged purple swamphens), and sheltered coves like Little Oneroa Beach. Just up the hill from here is my next hotel, The Boatshed, a stylish update of a "bach"—Kiwi for a modest holiday home; the term is derived from either "bachelor pad" or the Welsh word for "small." The digs are neither padlike nor cramped. In fact, the palette of whites and creams and the breezy nautical theme (model yachts, an old ship's funnel, a chess set with puffin and seagull pawns) call to mind a Nantucket-set Nancy Meyers rom-com.Guests assemble for dinner at tables that fill the cozy living room and spill out onto the patio. Using produce grown on-site in the hotel's veggie patch, chef Adam Rickett creates the kind of fare you might find at a sophisticated friend's backyard barbecue: dry-aged ribeye with yellow tomatoes, leeks, and zucchini; grapefruit-cured salmon with whipped avocado; salt-roasted beets, pickled fennel, lemon yogurt, and toasted hazelnuts; and a classic iceberg wedge salad.Later, back in my room, I fall asleep with the door open, lulled by a sea breeze and the sound of waves crashing. I could get used to this.
In which Nicholas tubes through a glowworm-lit cave, gawks at slime-green springs, and eats like a Maori
I wake up before sunrise to catch a ferry back to the mainland. I flip on the radio in my rental car to news that the old flag has won out, and then begin a 120-mile drive south to Waitomo, home of the famous glowworm caves.I embrace the road-trip vibe and make a breakfast of gas-station snacks: chicken crisps, hokey pokey (honeycomb) biscuits, and Lemon & Paeroa soda ("World Famous in New Zealand"). The whole left-side-of-the-road thing isn't as hard as I'd expected—though I do switch on the wipers every time I try to signal a turn.I pass through countryside populated by cows and sheep, suburbs turning to fields turning to gentle hills. Soon, I'm in the unassuming village of Waitomo, which sits atop 25 miles of caves lit by millions of beautiful glowworms.
Tubing and climbing through caves"They're officially maggots!" exclaims Angus Stubbs, of The Legendary Black Water Rafting Co., an outfit that drops people like me into a pitch-black labyrinth of subterranean streams."But that doesn't market too well," says his colleague Logan Doull."What strikes me is how bizarre it is that we're selling you a ticket to see performing insects," says Stubbs. "I can't think of anywhere else…""Maybe a flea circus?" adds Doull.The larvae of the fungus gnat, carnivorous glowworms attach themselves to cave ceilings by silk threads covered in mucus, and put on a bioluminescent display to attract unsuspecting prey that have flown into the darkness.
Eruera "Eru" West, Marketing Manager, Te PuiaI'm led to a rack of insulated wetsuits, along with a young couple from Melbourne and a seven-girl netball team from Australia's Gold Coast. "Netball? Is that an Aussie name for volleyball?" I ask, my Americanness glaring. I'm met with a nine-person barrage of shouts and groans. (It's more like basketball, it turns out.)"I shouldn't have had that last basket of chips," yells one of the girls, squeezing into her suit. "I have a food baby!" "A food baby?" cries her teammate. "Mine's full-grown!"
"The Maori have been involved in tourism for more than 150 years. We use the money we earn to fund schools of Maori performance and art to keep our culture alive." —Eruera "Eru" West
We're set to explore the cave system via a network of underground streams, which will require us to place our backsides into rubber tubes and plunge butt-first off subterranean waterfalls. We practice our technique off a dock, aided by guides who are more than happy to offer helpful shoves. Screaming is optional, but I do feel that the expulsion of air might stop the murky cave water from going up my nose.As we duck into the maw of Ruakuri Cave (Maori for "den of dogs"), a guide tells us to point our headlamps toward the hand-size, spidery-legged, grasshopperlike cave wetas on the ceiling. I don't usually have a problem with bugs—but I have a problem with these beasts.Once inside, we zip along lugelike, bouncing off limestone walls, bobbing over rapids, our noses inches from dangling stalactites. We're told that we're sharing these waters with crayfish and three-foot longfin eels (they bite!), but luckily I don't meet any in the darkness.Every few minutes, our tube caravan slides into a cavern, some with 60-foot-high ceilings. It's not often that nature lives up to its Instagram-filtered, color-corrected photographic approximations, but this, a twinkling galaxy in miniature, is the closest I've come to feeling that I'm in the presence of magic. And to think, it's all just gleaming mucus.
The Champagne PoolAs we towel off back in the sunlight, my fellow spelunkers ask me where I'm headed next. I tell them I'll be driving to a town called Rotorua, known for its Maori culture and hot springs, and they giggle-shriek: "It stinks!"A harsh assessment, I think, until I approach the town about two hours later. The healing waters, which transformed this sleepy lakeside town into a tourist spa in the 1870s, give off the rotten-egg aroma of hydrogen sulfide. Luckily, your nostrils adjust quickly.My first stop is south of Rotorua, at Wai-O-Tapu Thermal Wonderland, which, despite its endearingly cheesy roadside attraction name, is actually a brilliant collection of hot springs, geysers, and boiling mud pools—all in surreal, otherworldly hues. The Champagne Pool, which fizzes with carbon dioxide, has a rust-red rim; the Devil's Bath is a shockingly unnatural shade of slime green due to suspended sulfur crystals. The candy-store colors may look enticing, but some of these pools can quite literally boil you alive or acid-burn you to bits. Intact, I head back to town, where I check into The Regent of Rotorua, a modish boutique hotel with an indoor pool fed by thermal waters of up to 104 degrees Fahrenheit. Next, I'm off to meet Eruera "Eru" West at Te Puia, a family-run Maori cultural center that is part handicraft workshop, part history museum, and part aviary (they have a pair of kiwi birds). The grounds are dotted with spectacular hot springs, steam vents, and geysers. For West, the place is more second home than workplace.
The Rotorua Museum in the city's old Bath House building"This is my tribal area," he says. "There have been five generations of my heritage doing this. My mom is still my boss!" His aunt Teresa works here too—she's the one who teaches me how to strip flax leaves and twist them into ropes at the on-site weaving school.
As evening falls, West and I join a group gathered in front of the
wharenui
, or meeting house. Elaborate eave carvings, with a head at the peak and fingertips at the bottom, are meant to evoke outstretched arms of welcome. It's time for the
te po
, a Maori take on the luau."
Kia ora
," says our host, Robert Piripi, offering up the traditional greeting, a phrase that has also been embraced by the
pakeha
, or white New Zealanders. "For me, this is home," he continues. "We cook our food on the steam vents every day. We bathe inside the mineral waters every night."
"Our word for 'tourism,' maanakitanga, means to increase your visitors' mana."
A middle-aged American man is chosen as the
pakeha
leader. The Maori blow a conch shell and send out a warrior to offer a token of friendship. Our "chief" accepts the gift, and he and the warrior press noses twice to mark the coming together of families and ancestors. The Maori then sweep the ground (to represent a clean slate), slap their thighs (to show no harm will come), and let out a wailing call (to symbolize a rope pulling a guest's canoe to shore). Far from being a cheesy floor show for tourists, this is a culturally important ritual that dates back centuries. It's a privilege to be a part of it.After we're ushered inside, the women perform with
poi
, twirling balls on a string, slapping them rhythmically against the palms and backs of their hands. The men flick out their tongues and widen their eyes, shouting and grunting their way through a
haka
, the war dance commonly associated with the All Blacks, New Zealand's national rugby team. "It was designed to make the enemy turn around and run," whispers West. "Sticking out your tongue shows that your mouth is watering for flesh."
The Maori carving school at Te PuiaSpeaking of which: The dance is followed by a feast, cooked in giant boxes over natural steam vents called
hangi
. In Maori neighborhoods, women still leave baskets of food over these seething holes for hours on end—something like geothermal slow cookers.We start with a nonalcoholic shot of lemon, kawakawa herb, and manuka honey, which is said to have medicinal qualities (and sells for up to $50 per jar). After a quick "
amene
" (Maori for "amen"), we dig into a buffet of
kumara
(sweet potato) soup;
hangi
-steamed lamb, chicken, and pumpkin; and finally the iconic Wellington-born, kiwi-topped meringue dessert pavlova."Our word for 'tourism,'
maanakitanga
, actually has a much deeper meaning," says West. "It means to increase your visitor's
mana
—worth, prestige, importance—and that's what we're all about. Tribes would value themselves on their ability to accommodate and be hospitable." A smiling Welsh woman sitting next to West at the table puts it a little more succinctly: "Doesn't this whole entire country just ooze charm?"
Hemispheres senior editor Nicholas DeRenzo is looking into importing a few thousand glowworms to decorate his bedroom ceiling.


If you go

Check out
united.com
or use the
United app
to book your three day adventure to New Zealand.
Around the web
Porto: Portugal's surprising second city
"Second cities" or those that rank #2 in population often surprise world travelers. And second doesn't mean second-rate. Porto is Portugal's second city — so off-the-radar that many world travelers haven't even heard of it. Yet, Porto and nearby spots in northern Portugal can be delightful destinations even if you don't visit the more well-known city of Lisbon.
Old city by day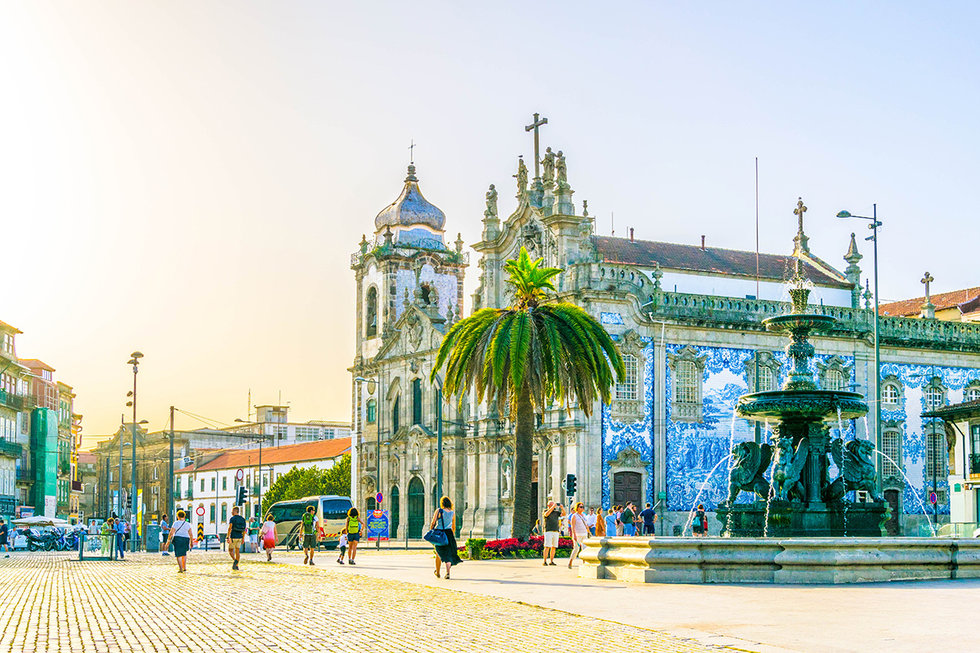 The best place to get oriented, as in most European cities, is in the old city center. Porto's Old City is so well-preserved that it's a UNESCO World Heritage Site. A 12th-century cathedral and the 15th-century Church of St. Francis, notable for interior wood carvings gilded by hundreds of pounds of gold, are mixed in with a rich collection of imposing granite, red-roofed Baroque buildings. Add 225 stairs and a stirring view to your walking tour by ascending the 250-foot-high Clérigos Church bell tower, built in 1754, which dominates the Porto skyline. Historic bridges over the Douro River and Soares dos Reis National Museum, an art museum housed in a palace, are also excellent sites to see.

Food and music by night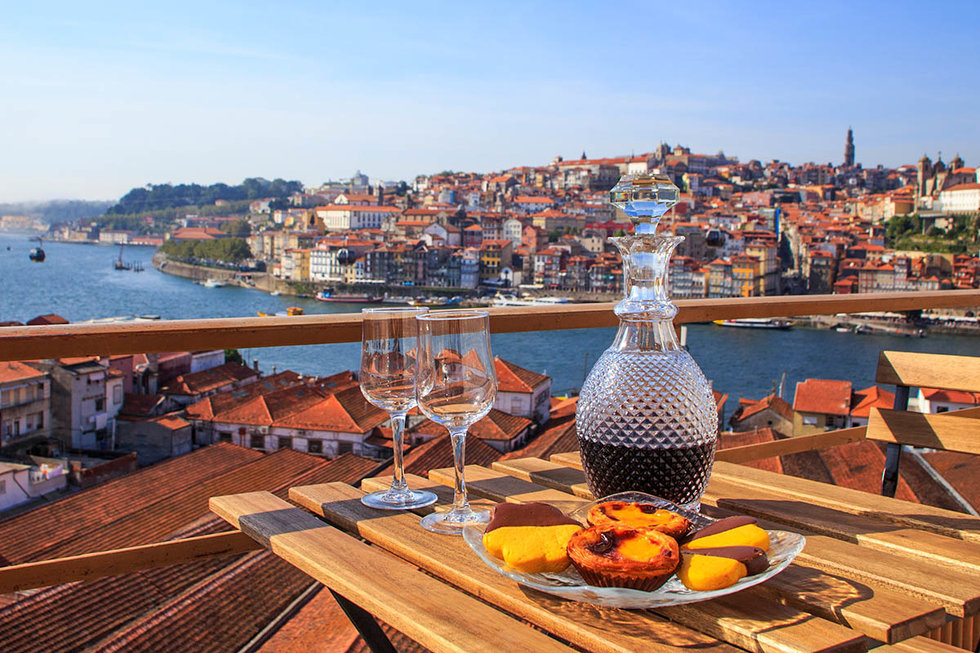 Porto's youthful population has turned it into a lively city after dark. You might start off the evening in the Old City at Abadia do Porto, a 1939 restaurant that serves traditional Portuguese dishes like roasted lamb and grilled octopus, or at Astoria, with its modern Portuguese fare served inside a former palace. Whether you choose a Portuguese, French or fusion restaurant, seafood is likely to be highlighted, drawing on Porto's proximity to the Atlantic and the Douro. Then, you can head to the large collection of bars and nightclubs in the nearby Galerias district, which includes Radio Bar, inside a former court building, and Gare, a disco in a tunnel that stays open until 6 a.m.
Head west to the beaches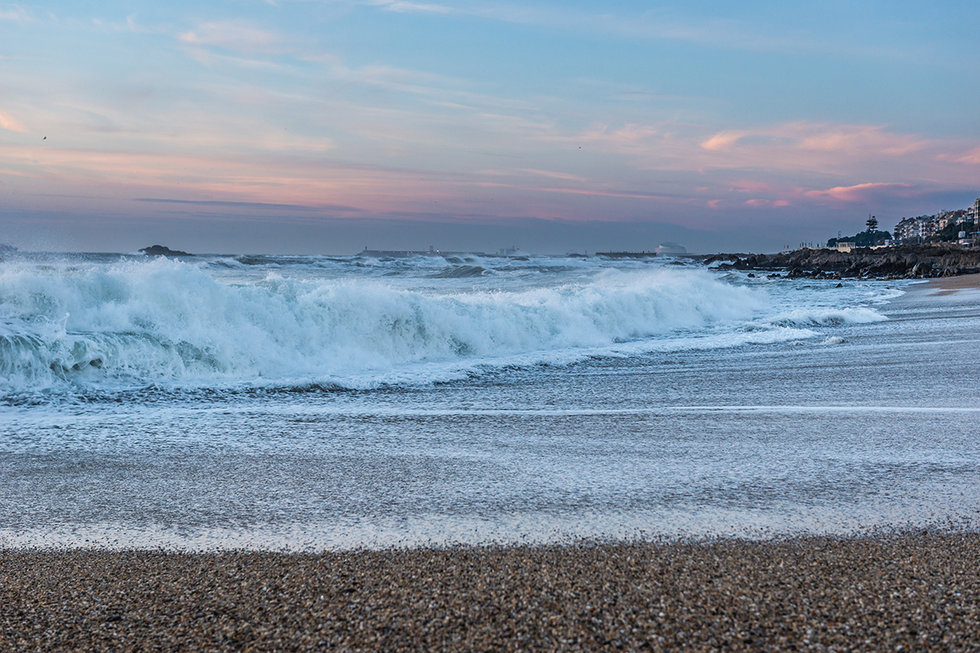 The closest Atlantic beaches to central Porto are at Foz do Douro (mouth of the Douro), just 20 minutes away by city bus. But why settle? In a rental car you can explore Atlantic beaches and beach towns that extend for hundreds of miles along Portugal's coastline. Two of the best are Foz do Minho, the nation's northernmost oceanic beach that's just across the Minho River from Spain, and Quiaios, a dune-fringed paradise of sand south of Porto. Many beaches in northern Portugal are cradled in coves protected by rocky promontories, similar to northern California and Oregon beaches.

Or east to the wine country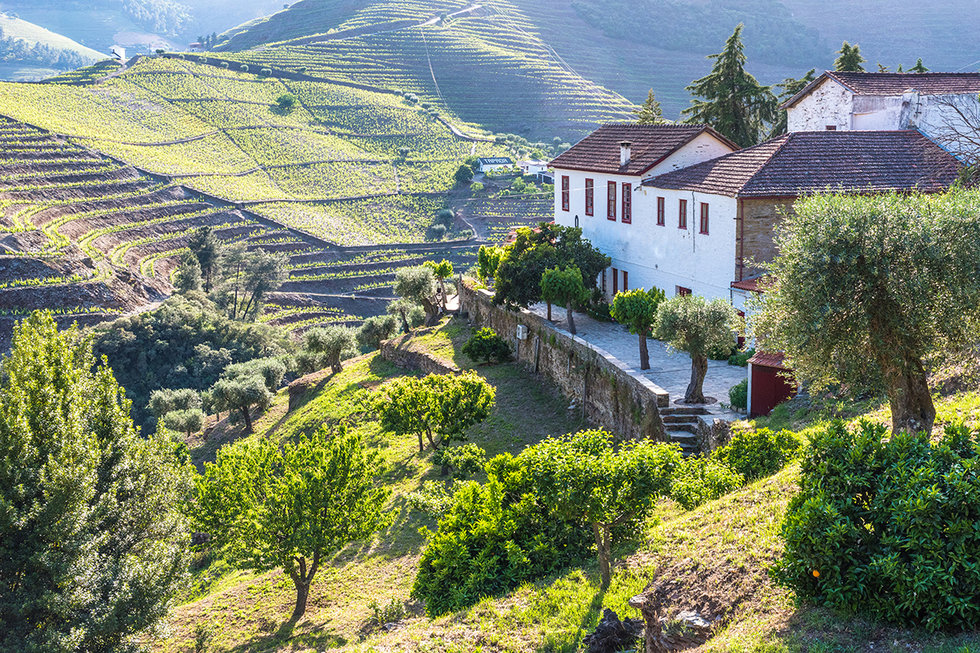 The Douro Valley wine region is another World Heritage Site and one of the world's best and most scenic wine regions. It's up the Douro River from Porto by boat or 90 minutes by road. Namesake port wines and other fortified wines are the region's signature beverages, which can be sampled at tasting rooms on the Douro along N-222, a wine road that's been called the world's most scenic drive. While you're in the area, check out the wine and anthropology museums in the wine towns and yet another World Heritage Site — Coa Valley Archaeological Park — known for its prehistoric rock carvings.
The basics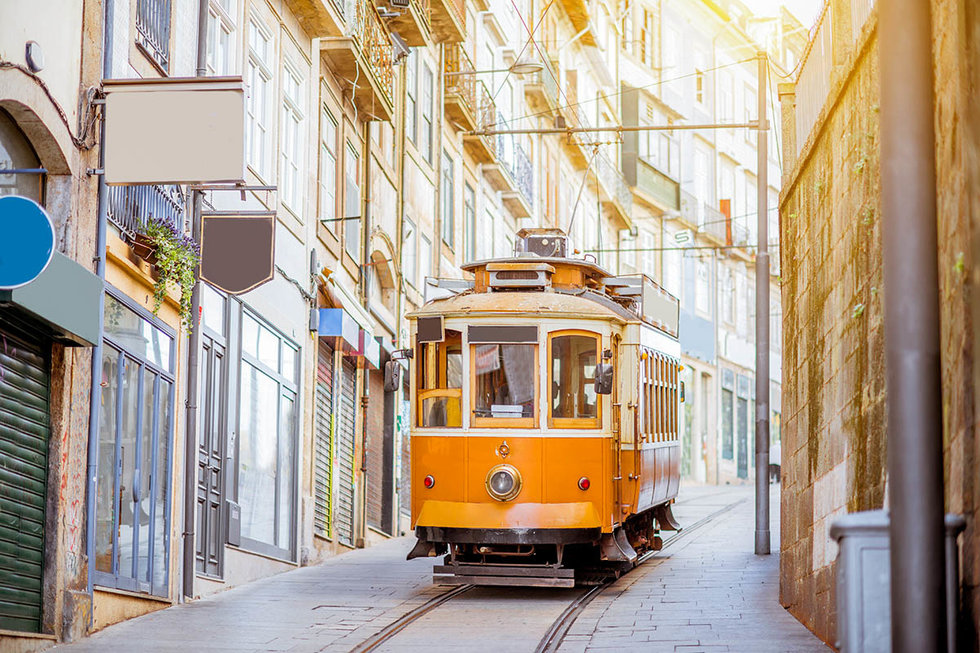 Portugal's Mediterranean climate and coastal breezes bless it with mild weather year round, as the average temperature ranges from 57 degrees (and rain) in January to 78 degrees (and a little rain) in August. Whenever you come, there's no need to learn Portuguese as English is spoken even more widely than elsewhere in Western Europe. Once you arrive, rent a car only if you don't mind ridiculous drivers. The trains are more relaxing — light-rail and subway trains crisscross the Porto area and funicular cable cars climb its steepest hills. There's even a scenic train that follows the Douro nearly to Spain, with a roundtrip fare of only about $30.
Getting there
Portugal requires that visitor passports don't expire until at least three months after the arrival date, so check that. Next, buy some Euros (for a great exchange rate) and reserve a flight. United Airlines flies nonstop from New York/Newark to Porto and MileagePlus® award miles can be redeemed to cover accommodations and Hertz rentals. Go to united.com or use the United app to plan your trip.

United 787-10 Dreamliner launch
Story was contributed by: Jennifer Lake | Photography: Alicia of Aesthetica
It was a typical Monday morning. I'm sitting at my desk at work, drinking coffee, reviewing my to-do list for the week. All around me, heels are clacking through the office and phones ring intermittently. However, this particular Monday morning was different. Ultimately, I would receive an offer from my favorite airline for a collaboration to participate in the United 787-10 Dreamliner launch from Los Angeles LAX to New York/Newark EWR. Read the full story here featured on Style Charade.
Fit for the runway: We begin testing new uniforms
Last year we announced new partnerships with Tracy Reese, Brooks Brothers and Carhartt — best-in-class fashion and apparel designers — to help reimagine uniforms for more than 70,000 of our employees. Focusing on high quality fabrics, improved breathability and overall enhanced fit, our goal is to design and develop a more cohesive collection that looks good, feels good and enables employees to perform at their best on behalf of our customers.
United employees can learn more on the uniform designs by visiting Flying Together.
An insider's guide to Boston
Boston is a pack-it-all-in kind of place. Founded in 1630, one of America's oldest cities does many things well. Boston's many claims to fame include many of America's oldest historic landmarks and one of its oldest ballparks. It's a destination for history buffs, culture vultures, foodies, sports fans, families and more. No matter who your travel companions are or what they're interested in, everyone will find something to pique their interest in Beantown.

Getting there & around town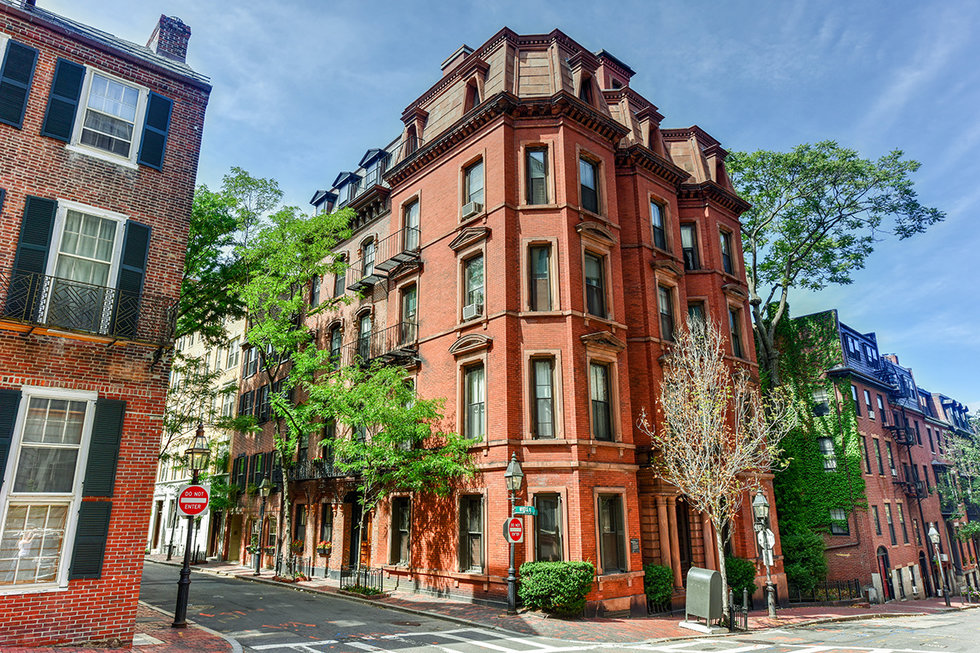 Fly direct to Boston's Logan International Airport (BOS) from many U.S. cities — visit united.com or use the United app to book your flight. Flights are 90 minutes from New York, two hours from Cleveland and five to six hours from California. From Logan International Airport, it's easy to hail a taxi, use ridesharing apps or take public transportation. If you want to take the scenic route, take a water taxi across Boston Harbor directly into downtown.
Downtown Boston is easy to navigate. It's walkable and taxis are plentiful. The MBTA, Boston's public transportation system, offers affordable access to Cambridge, many attractions and the suburbs. Keep in mind it's one of the oldest transportation systems in the country, so expect a few bumps. Because the city is dense, parking can be expensive or hard to find, so avoid driving if you can.
When to visit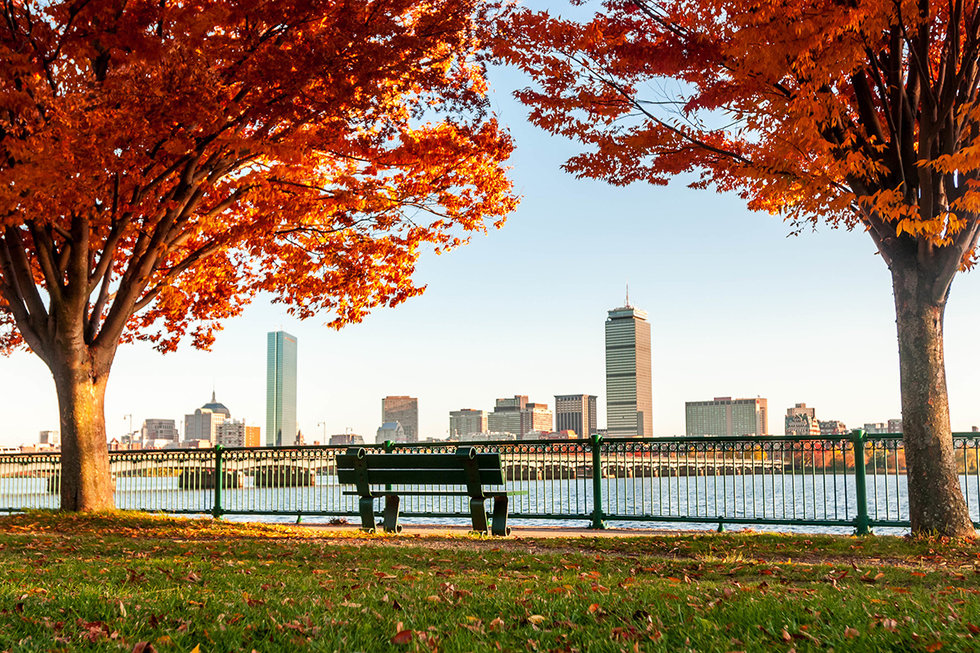 Summer and fall are the most popular seasons to visit. Summer is prime time to enjoy Boston's many parks, outdoor eateries, open-air concerts and baseball games at Fenway Park. Mild fall weather, beautiful autumn foliage and Halloween festivities in nearby Salem, Massachusetts make October one of Boston's busiest months. The city also sees an influx of visitors for the Boston Marathon in April. You'll find smaller crowds and more affordable prices in winter, but brace yourself for the cold.
What to do
There's so much to take in just by walking through Boston's cobblestoned streets. Downtown is quaint, compact and easy to explore by foot. The small city is packed with historic sites, New England's finest food, proud sports fans and friendly locals.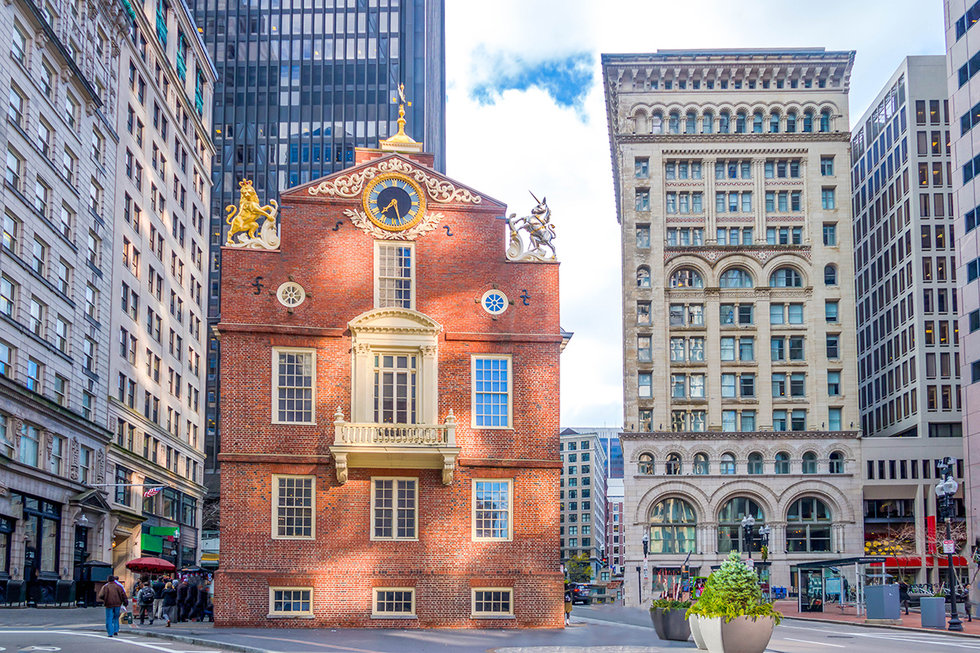 As the birthplace of the American Revolution, Boston's historic sites are an attraction in themselves. Walk the 2.5-mile Freedom Trail to visit 16 of them around the city, including Revolutionary-era museums, churches, buildings and an impressive warship. Faneuil Hall Marketplace is on the trail, too, and is one of Boston's top attractions, with plentiful shopping, dining and live music. Not much of a walker? Boston Duck Tours operate land-and-water historic tours on World War II-inspired vehicles, which transform from truck to boat mid-tour.
Many museums and sites are tucked along Boston Harbor. The waterfront is always bustling with activity year-round. The harborwalk is the perfect place to meander and explore without a strict agenda. Plan to visit a major attraction or two, but leave time to enjoy the scenery or to pop into a café for a coffee and sweet treat (award-winning Flour Bakery + Cafe is a local favorite).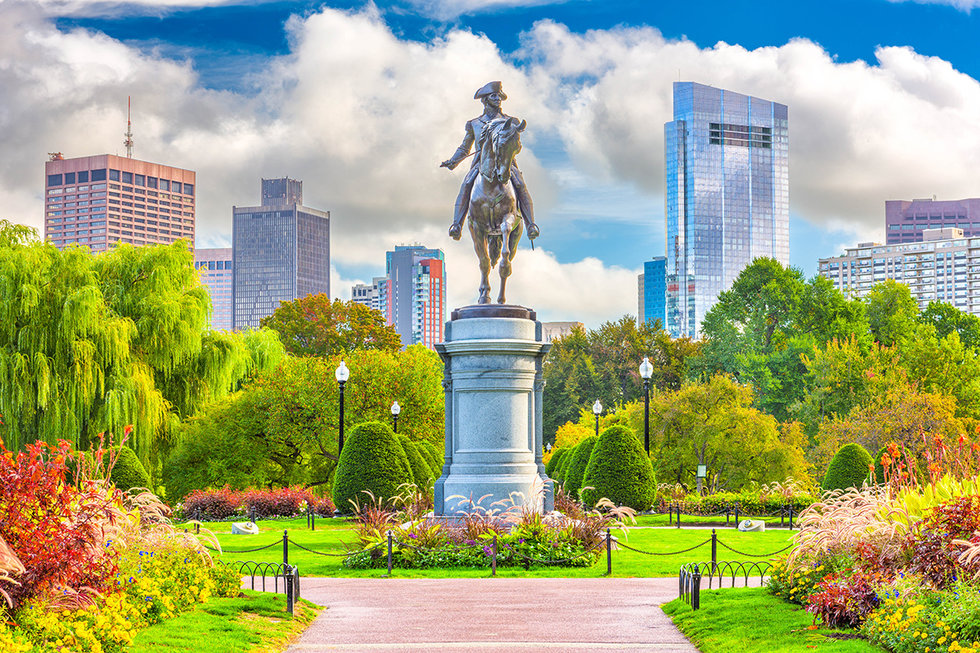 Deemed the "Athens of America," Boston boasts not only some of the country's oldest and most architecturally significant buildings, but also a thriving arts and culture scene. You could spend your entire trip touring its dozens of world-class museums. Take in classical music at the famous Boston Symphony Orchestra, or take a leisurely stroll through Boston Public Garden and Boston Common, the city's most well-known public parks. Riding the giant Swan Boats through the Public Garden lagoon is a kitschy, yet delightful experience, especially for kids.
What to eat
What must you absolutely eat in Boston? In short, everything. Long ago the city was nicknamed Beantown, allegedly after slow-cooked molasses baked beans served to sailors and traders. Today, Boston continues its reputation as a great eating city. From clam chowder to cannoli, the most popular dishes here are often hearty and decadent. Boston is also known for fresh lobster rolls, roast beef sandwiches and, of course, Boston cream pie.
Ask any Bostonian where to find "the best" of anything, and everyone will recommend a different spot. Cannoli from Mike's Pastry, Boston cream pie from Omni Parker House (where it was invented) and the roast beef 1000 sandwich from Cutty's frequently top the must-try lists. If you make it to a ball game at Fenway Park, Fenway Franks are a Boston staple.
Our role in 'Spider-Man™: Far From Home'
In Columbia Pictures upcoming release in association with Marvel Studios, "Spider-Man™: Far From Home," our web-slinging hero finds himself – yep, you guessed it – far from his home in New York City. And since flying is one of the few superpowers Spider-Man doesn't possess, we gave him a little help, meaning United is featured in the film.
The scenes of Peter Parker and his pals traveling to Europe take place on one of our Boeing 777s with the all-new United Polaris® business class, and several of our employees – including members of our Tech Ops, Inflight, Flight Operations and Airport Operations teams – served as actors and production support during shoots at New York/Newark (EWR) and London-Stansted (STN).
London-Heathrow (LHR) Customer Service Representative Manjit Heer and LHR Cargo Warehouse Operations Manager Richard Miller were background extras on board, and multiple flight attendants had a role, including San Francisco (SFO) Flight Attendant Tammy Harris.
"It was extremely surreal," said Tammy. "I was in my element because I was on the plane in uniform, but not really, because I'm not an actor."
Tammy said she hit her mark and delivered her line with gusto, and she's excited to see if she made the final cut when "Spider-Man™: Far From Home" hits worldwide theaters this summer.
"Hopefully, I'll have my two seconds of fame and all will be well," she joked.
Los Angeles (LAX) Aircraft Maintenance Supervisor Fernando Melendez is a veteran of several film shoots but said this one was his favorite. When the production went to London, he was one of five members of LAX Tech Ops who went over to look after our airplane and make adjustments to its interior based on the filmmaker's needs.
"When we parked the plane at Stanstead, there were lights and cameras surrounding us. It was like the plane was the star of the movie," he said. "Each day, we would work with the assistant director; he would go through and say, 'Okay, for this shoot we need these seats, or these panels removed,' so they could get the camera angles. Pretty much, the airplane was our responsibility; we opened it in the morning and closed it at night. We were the first ones there and the last ones to leave every day."
Fernando said the actors were all very gracious and engaging, and said the whole experience was fantastic from start to finish. It also earned him a little cooler cred with his 18-year-old son, who is a massive Marvel fan.
Leading up to the film's premiere this year, there will be plenty of ways for employees and customers to get into the Spidey spirit in anticipation of our cameo. Stay tuned for more details.
---
Peter Parker returns in "Spider-Man™: Far From Home," the next chapter of the Spider-Man™: Homecoming series! Our friendly neighborhood Super Hero decides to join his best friends Ned, MJ, and the rest of the gang on a European vacation. However, Peter's plan to leave super heroics behind for a few weeks are quickly scrapped when he begrudgingly agrees to help Nick Fury uncover the mystery of several elemental creature attacks, creating havoc across the continent!
Directed by Jon Watts, the film is written by Chris McKenna and Erik Sommers based on the Marvel Comic Book by Stan Lee and Steve Ditko. The film is produced by Kevin Feige and Amy Pascal. Louis D'Esposito, Victoria Alonso, Thomas M. Hammel, Eric Hauserman Carroll, Stan Lee, Avi Arad and Matt Tolmach serve as executive producers. The film stars Tom Holland, Samuel L. Jackson, Zendaya, Cobie Smulders, Jon Favreau, JB Smoove, Jacob Batalon, Martin Starr, with Marisa Tomei and Jake Gyllenhaal.
"Spider-Man™: Far From Home" makes its way to North American theaters on July 5, 2019.
What to expect from our improved app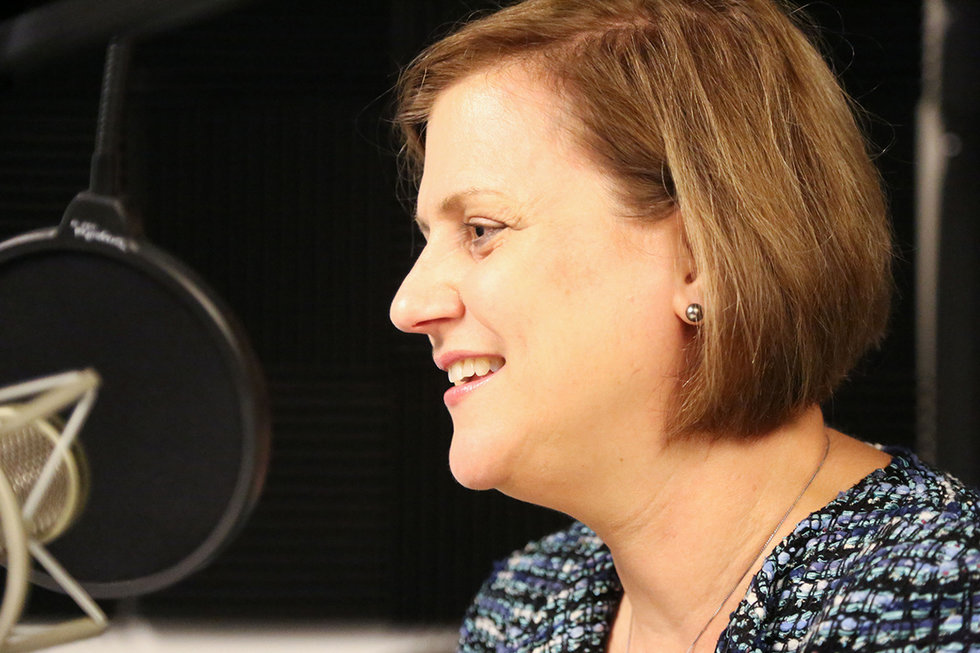 "Talking Points," host Brian Kelly, aka The Points Guy, is joined by Linda Jojo, Executive Vice President for Technology and Chief Digital Officer at United Airlines to discuss what passengers can expect from our improved app.
Read more about the improvements to the United app here.

20 million miles and counting...
On November 7, while flying from Newark Liberty International Airport to Los Angeles International Airport, United customer Tom Stuker made history when he reached 20 million miles flown on a single airline. We were fortunate enough to capture the milestone he reached with us.
To mark the special occasion, we hosted a celebration in Mr. Stuker's honor at the United Polaris lounge at O'Hare International Airport on Saturday. The celebration was delayed a couple of months, so Mr. Stuker could celebrate the event with his family.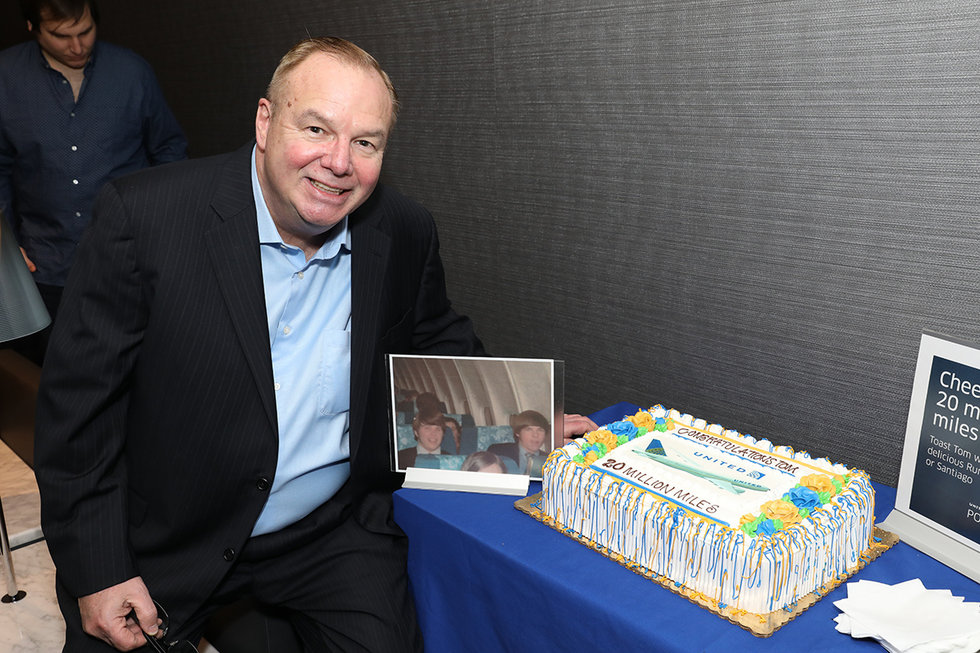 The party included a room full of employees, media members and Mr. Stuker's friends and family enjoying food, cocktails, stories and laughs. To thank him for his long-standing loyalty to United, we also presented Mr. Stuker with gifts made specially for him.
"United makes my dreams come true," Mr. Stuker said to the room full of people.
He also praised United's MileagePlus program, the United Polaris lounges across our system and Oscar's leadership of the airline but, most of all, he praised the service he receives from our employees.
"My favorite part of United is the people. United is such a big part of my life…you are a family to me," he said addressing the United employees. "It would take me days and days and days to say thank you in the right way to the right people. They all know me by now and know how much I care about them as people, how much I care about this airline and its success, and how much I care about the greatest leader this airline has ever had, Oscar."
Bora Bora: The most beautiful island in the world
Each week we will profile one of our employee's adventures across the globe, featuring a new location for every employee's story. Follow along every week to learn more about their travel experiences.
By Chicago-based United Club Customer Service Representative Amile Ribeiro.
They say beauty is in the eye of the beholder. I know it can be very subjective but, once you set your eyes on it, I'm sure you'll agree with me: Bora Bora is the most beautiful island in the world.
There are very few things that can get me out of bed early in the morning, and airplanes are one of those things. We were already in Tahiti and woke up at the crack of dawn to catch our quick flight to Bora Bora. After checking in at the airport and getting a quick breakfast, we headed over to the gate to line up for our flight. Air Tahiti has an open seating arrangement, and we wanted to make sure we got the best possible seats. We were able to secure two windows seats. Travel tip: Sit on the left side of the plane when landing in Bora Bora. We took off from Papeete and within minutes we were flying over Mo'orea. Then we flew around Ra'i ātea and Taha'a, and finally arrived in Bora Bora, the island that Polynesians call "First Born." Pora Pora is the actual local pronunciation, but the first explorers misunderstood it and 'Bora Bora' stuck. Though after setting foot on the island, I've come to call it "Paradise on Earth."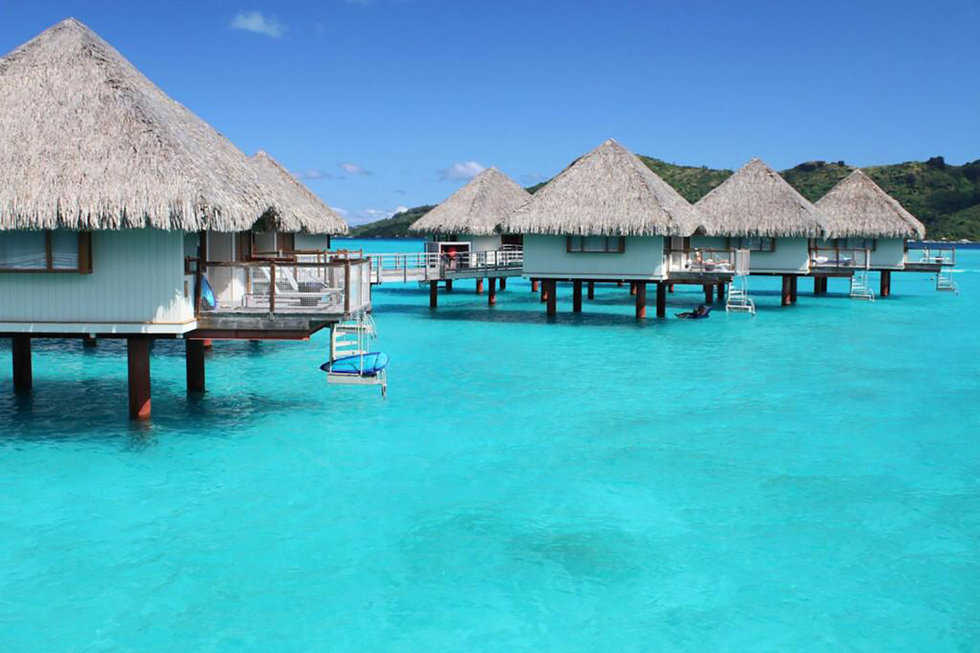 At the airport we were met by a representative of our resort, given flower leis and directed to our high-speed boat. I couldn't believe the color of the water; it was as if Paul Gauguin himself had painted it. After a thrilling ride, we reached our hotel's dock, where a local playing the ukulele welcomed us. We were then given a tour of the astonishing property and were taken by golf cart to our overwater bungalow. We have stayed in many beautiful properties around the world, but when we opened the door of our bungalow our jaws dropped. It is truly a one-of-a-kind experience that all should have at least once in their lifetimes. And worth every penny. The view of majestic Mount Otemanu is something right out of a fairy tale. After the sun set, the nighttime dance show was equally enchanting.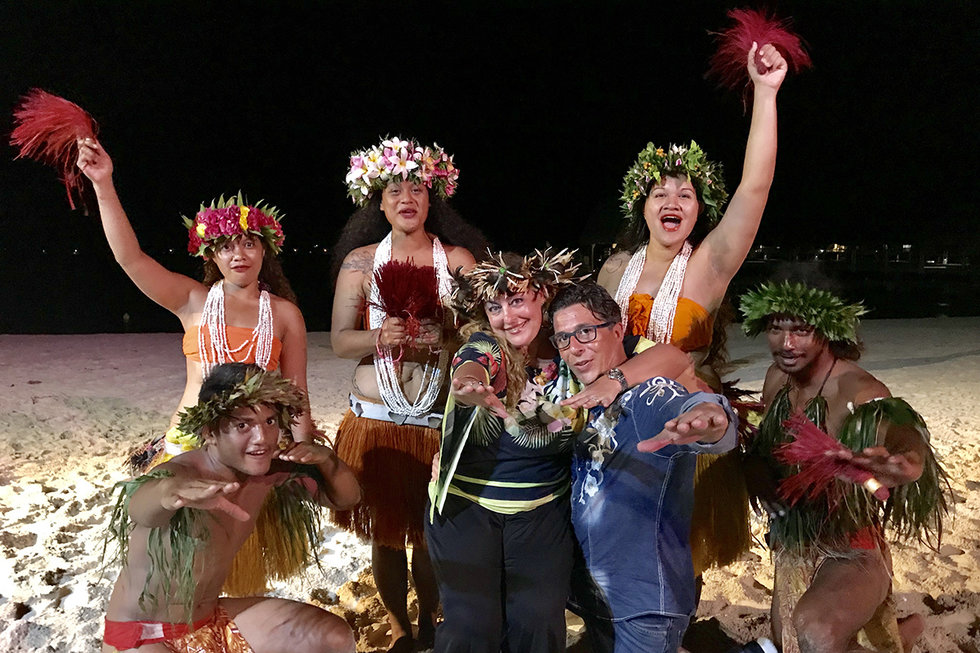 We had planned to be in Bora Bora during the final leg of the famous Hawaiki Nui Va'a canoe competition, which happens to be a major event in the cultural life of French Polynesia and has the reputation for being the toughest canoe race in the world. The center stage was at the island's most beautiful beach, Matira. We stood in awe as the winners reached the finish line after several hours (and days before that) of frantic paddling from island to island, showcasing the power of human strength and endurance. Besides being an incredible sporting challenge, it is also a colorful spectacle that filled the beach with flower-clad women and the air with the pulsating beat of drums. We were also able to celebrate and dance with them later that night at the local ball in Vaitape (Bora Bora's largest city). It was a marvelous way to get a deeper understanding of another culture!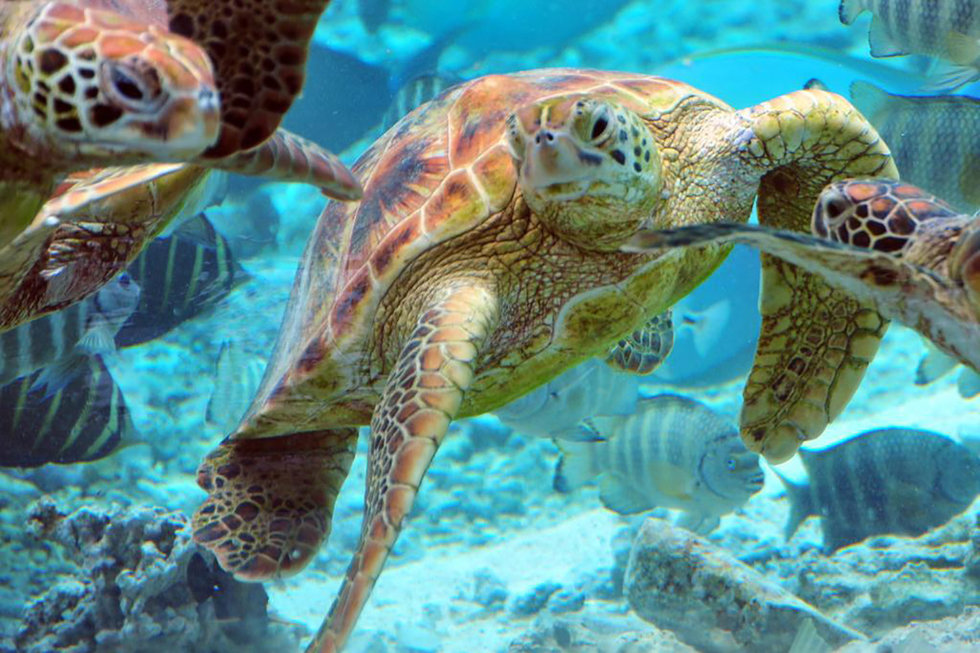 Besides having the time of our lives at the resort's infinity pools, inner lagoons and beach, we also went to the Turtle Center and had a chance to feed these amazing creatures while they're being rehabilitated to go back into open waters. From there, we took a boat tour of the main lagoon and went swimming with stingrays and sharks. Few things scare me in life, and sharks are on the very top of that short list, but I mustered the courage and what a thrill it was! To commemorate my bravery on the last day of our trip, I got my very first tattoo: a hammerhead shark. Polynesians believe that such sharks act as guardian angels to humans and protect us from the Great White. My husband got a Polynesian design that was custom made just for him, and it represents travel, freedom and courage. We also got a set of matching Polynesian wedding bands. Since the art of tattoo originated in Polynesia, this is the most enduring souvenir one can get from such an amazing culture, but I'm sure the memories of our trip will also stay with us forever!

Scroll to top