Three Perfect Days: New Zealand
Story by: Nicholas DeRenzo | Photography by: Camilla Rutherford | Hemispheres June 2016
For most of its history, New Zealand existed at the edge of the world. Before the Maori paddled ashore nearly a thousand years ago, the two main islands of Aotearoa ("the Land of the Long White Cloud") were practically still prehistoric, ruled over by flightless moa birds that stood 12 feet tall. In fact, New Zealand was the last major landmass on Earth touched by human feet. These days, the nation's cultural ambassadors—Peter Jackson, Flight of the Conchords, Lorde—are doing a fairly good job attracting international attention to what is arguably the most remote corner of the planet.Auckland, meanwhile, is investing heavily in its infrastructure (a $350 million convention center and rail system are on their way) and cultural institutions (the reimagined Auckland Art Gallery won the 2013 World Building of the Year award, and the derelict 1928 St. James Theatre is being restored). This year, the country's largest city welcomed the first annual Auckland City Limits concert festival, an Austin spin-off headlined by Kendrick Lamar. You can't help but feel that New Zealand is consistently punching above its weight. But what else would you expect from a country that has the warrior blood of the Maori coursing through its veins?


In which Nicholas gazes into a dormant volcano, takes the wheel on the high seas, and contemplates facial tattoos
I'm standing atop Mount Eden: a dormant volcano, former Maori fort, Auckland's highest natural point at 643 feet above sea level, and now something like the city's backyard. From up here, it's easy to see Auckland as a kind of greatest-hits version of the Pacific Rim: San Francisco's escalator-steep hills, Portland's fanatic coffee culture, Hawaii's volcanic landscape, Los Angeles's sprawl, a Seattle-style observation tower, and fresh seafood that would wow any Tokyoite.It might not be a good idea to get too engrossed in the view from up here. The hilltop trail circles a 160-foot-deep crater named Te Ipu-a-Mataaho, for the Maori volcano god. One wrong step and you're in for quite an adventure. But the bowl-like crater is so tufted with soft grass and pinkish wildflowers that—bless New Zealand—even a tumble into a volcano looks as if it might be pleasant.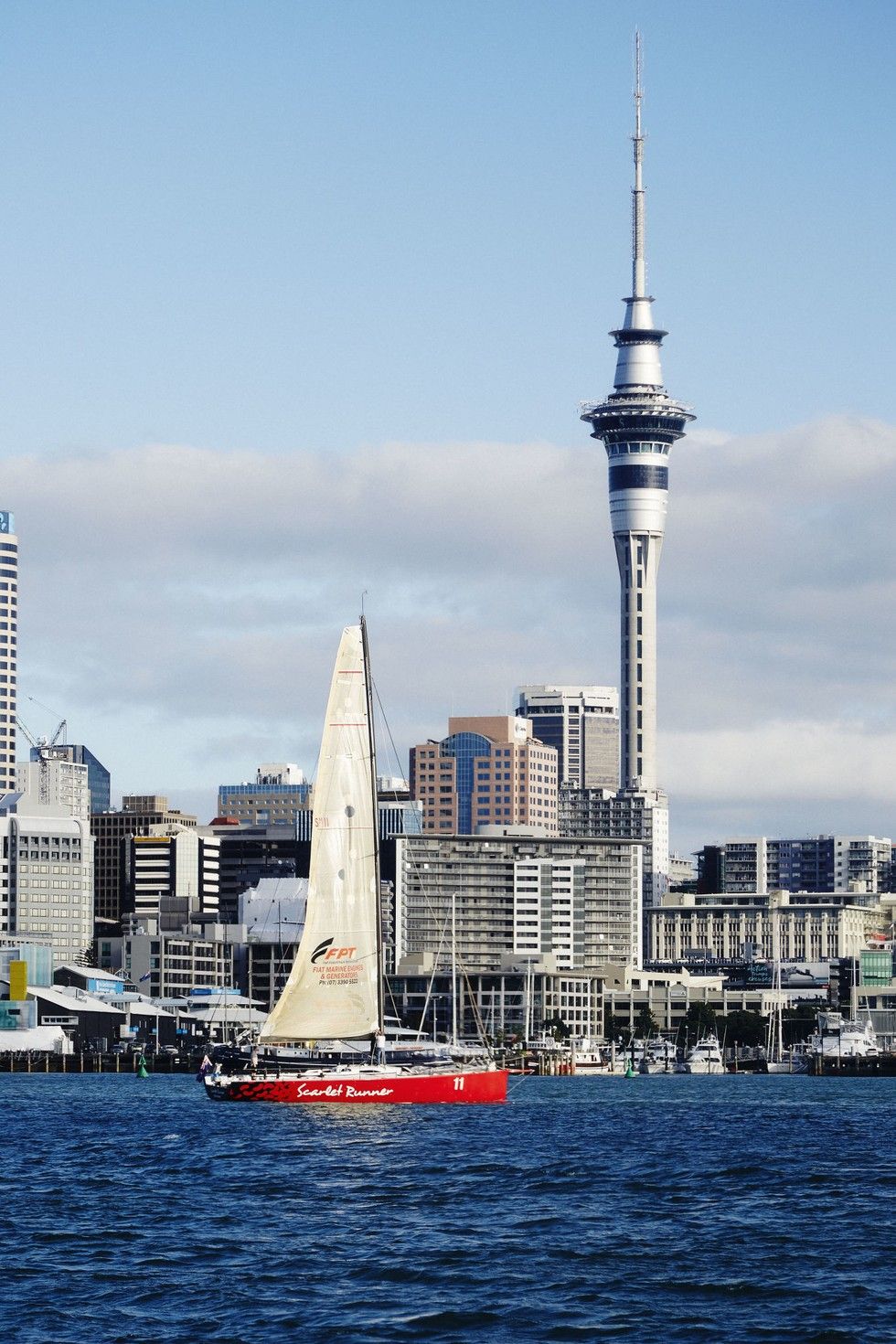 Skyline views at Viaduct Harbour Mount Eden is invigorating, but I probably wouldn't be standing here after an 18-hour flight if it weren't for the two flat whites—New Zealand's favorite coffee, a less foamy cappuccino—I consumed earlier in the sunny atrium of the Hotel DeBrett. Built in 1925, the city's landmark hotel combines sleek Art Deco touches with bright pops of color and quirky minimalist furnishings. The surrounding Central Business District, or CBD, is all sleek boutiques, glossy skyscrapers (some of the only ones in the entire country), and as much bustle as you can expect from a pint-size metropolis. To get acquainted with Auckland's more creative side, I'm off to meet Neala Glass, a whip-smart gallerist who moonlights as a street art guide for Great Auckland Walking Tours, in Ponsonby, a revamped inner suburb a 10-minute cab ride away. Now the haunt of hipsters and artists, this handsome cluster of Victorian villas has become a hotbed of public art—each work a small window into Kiwi culture. "This area has always attracted migrants, bohemians, artists," says Glass. "Polynesian rappers who lived here described it as 'tough but colorful.'" It's not so tough here now, but the color remains. We're standing before the corner of a roof jutting out from the grass in Western Park, the work of local artist John Radford. "He submerges buildings like Roman ruins," Glass says. "He's inspired by the layered, checkered histories that lie beneath the surface." We turn onto Karangahape (known as K Road), a former red-light strip now thick with hip bars and clubs. The street is named for the mythical Maori chief Hape, whose name, Glass tells me, means "clubfoot." "Because of his clubfoot," she explains, "he wasn't chosen to ride here on the Tainui war canoe. So he summoned a giant stingray, surfed here on its back, arrived two weeks early, and let out a wailing welcome call, or
karanga
, when everyone else got here." It's one of the few main roads here that kept its Maori name instead of getting the Victorias and Alberts you see everywhere else.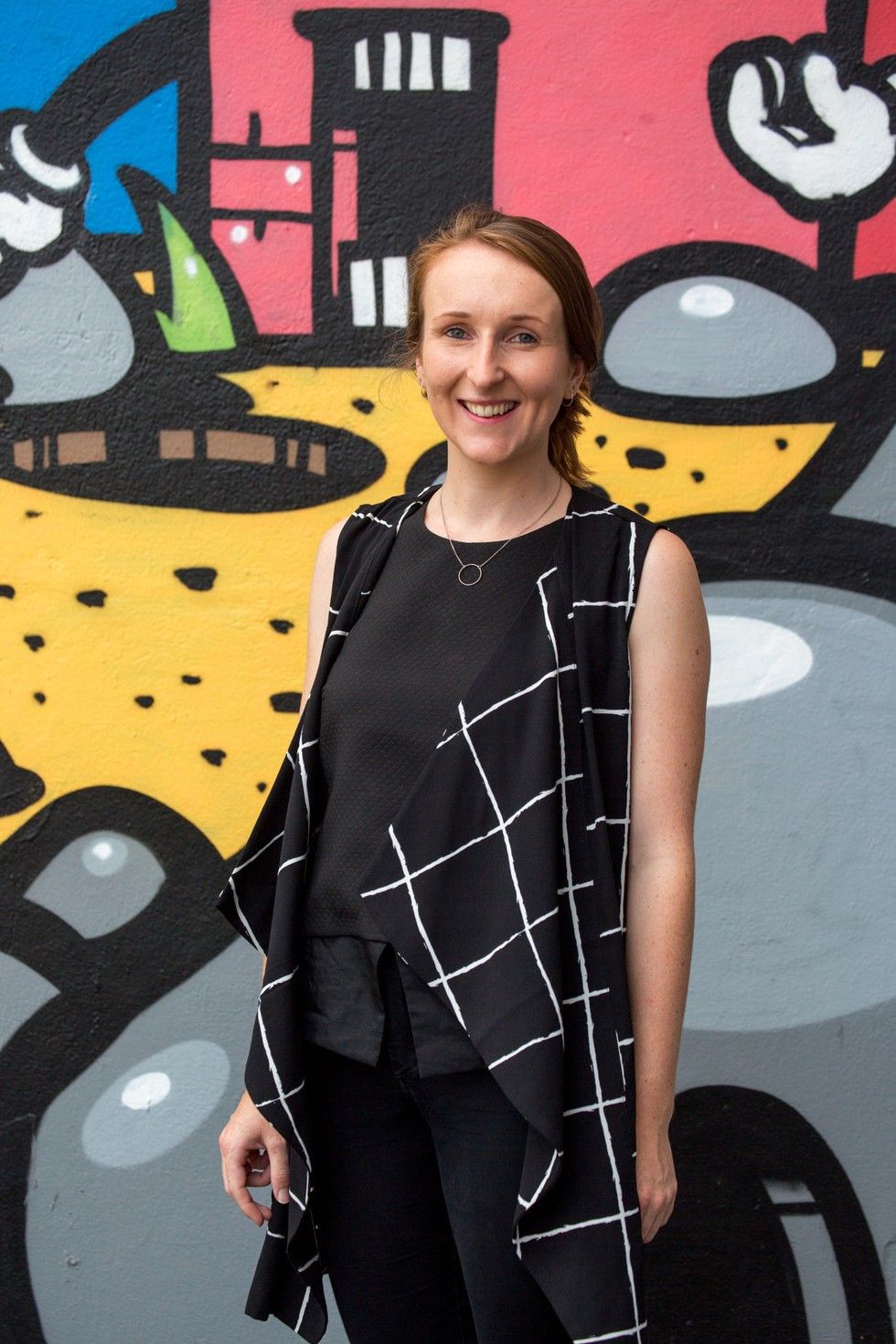 Neala Glass, guide, Great Auckland Walking Tours"This is a nod to our nuclear-free law," says Glass, pointing to a panel of protest posters—the Visual Artists Against Nuclear Arms Peace Mural—tucked behind a gas station. "Artists wanted to make visual their support for the bill. They painted a mural a month, 22 total, until it was passed." From here, we stroll through narrow Myers Park, a palm-lined statue garden between steep grassy slopes."I used to work here," Glass says as we approach the Auckland Art Gallery. Built in the 1880s in the French Château style, the gallery is dominated by a white clock tower with a gleaming annex made from glass and local kauri wood. I pop into the café for a Vanuatu-grown coffee before meeting gallery assistant Alice Ng for a stroll through the collection. We stop in a small room lined with stately 19th-century portraits of Maoris, each with intricate facial tattoos, or
ta moko
.
"Because we grew so quickly as a city between the 1840s and the 1950s, we invited a lot of international architects, each of whom brought their own references. So we're a bit of a hodgepodge!" —Neala Glass
"It's very painful," whispers Ng. "They use a chisel to get the ink into your skin. Different tribes have different designs, so you can look at a face and trace a person's lineage—like a family tree on your face.""What must the Maori think about all the American frat boys with tribal tattoos?" I ask."They actually have a word," she says with a laugh, "for '
ta moko
without meaning.'"I say goodbye to Alice and head toward the Sky Tower, the Southern Hemisphere's tallest structure at 1,076 feet. Daredevils bungee off the top or—yikes—walk on a platform around the observation deck. After a quick ride to the top, during which I grip the side of the glass-bottomed elevator for dear life, I decide an acrophobe like me is much better off back at sea level. I grab an outdoor table at Depot Eatery, a buzzy bistro in the tower's shadow, where I slurp sweet, briny Te Matuku oysters from nearby Waiheke Island and bigger, creamier Bluff oysters dredged up from the sand off the South Island's southern tip.I work off lunch with a midafternoon stroll, taking in a parade of Victorian and Art Deco buildings and a seemingly endless array of parks thick with subtropical plants. Auckland is a young city, founded by the British in 1840. It has the feeling of a colonial outpost that's been jerry-rigged to fit into the nooks and crannies of an untamed volcanic landscape. At the heart of it all is the waterfront, a stretch of working docks that has seen extensive regeneration: The brick warehouses of the Britomart Precinct now host some of the city's top fashion designers, while the reclaimed land of the Wynyard Quarter has brought food trucks and cutting-edge architecture to a post-industrial landscape still dominated by massive cement silos. 5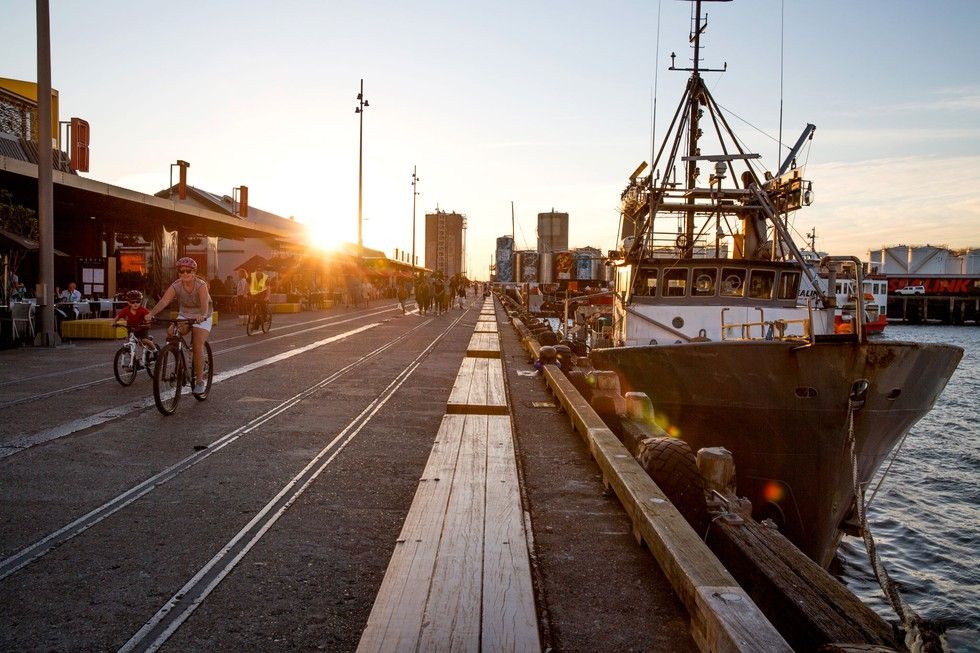 The redeveloped waterfront Wynyard QuarterOne such area is Viaduct Harbour, which got the ball rolling on all this waterfront renewal in the wake of New Zealand's 1995 America's Cup victory. (The winning vessel,
Black Magic
, resides nearby at the National Maritime Museum.) I'm scheduled to head out on a sailing tour of my own with the Explore Group on the 50-foot yacht
Defiance
.The name of Waitemata Harbour derives from the Maori word for "sparkling waters," and the sunlight dancing on the waves tells you why. "Auckland has the largest ratio of boats to people of any city in the world," skipper Charles Scoones says as we set sail. "If you placed everybody on all the boats in Auckland, each boat would only need to hold five people." The city also has the largest marina in the Southern Hemisphere—hence "the City of Sails."As we pass under the imposing Harbour Bridge (nicknamed "the coat hanger"), Scoones points to two flags flapping above. New Zealand is about to vote on whether to change the national flag. The current one has a Union Jack and the red-starred constellation Crux, the Southern Cross. The new design swaps out the Union Jack for a silver fern. This species of tree fern has a silvery underside, which Maori hunters would use to catch the moonlight on late-night hunts.
"Auckland has the feeling of a colonial outpost that's been jerry-rigged to fit into the nooks and crannies of an untamed volcanic landscape."
"Some people say it looks like a tea towel!" says Nick Fewtrell, a young crew member manning the sails."It's all wrong!" agrees Scoones, shaking his head.Each of the passengers takes a turn at the helm, and I'm last to go. I'm wondering if this is an elaborate ruse, suspecting that if I give the wheel a full
Price Is Right
whirl, the boat will barely move an inch to the left or the right. But when I finally grip the wheel, I see how responsive it is—each tiny maneuver breathes life into the sails, catching a new gust. I have to admit, I feel kind of powerful.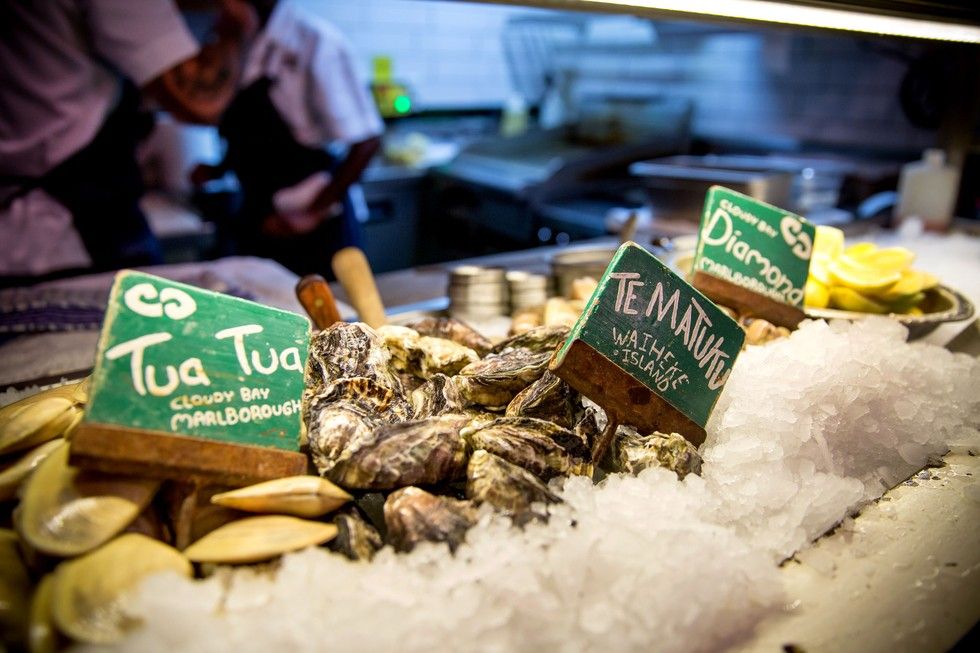 Oysters at Depot EateryI debark for dinner on Princes Wharf. The Culpeper, a sunny new eatery with wicker chairs and palm-frond-patterned banquettes, serves dishes so artful—buttermilk-fried duck with honey-and-pink-peppercorn glaze, hiramasa kingfish and yellowfin sashimi with wasabi-avocado mousse, glazed lamb ribs with brown-butter yogurt and shaved beets—that I Google "time in NYC" to see if it's too late (or too early?) to send my foodie friends photos of my dinner. (It is, but I do it anyway.)I wander down Queen Street to Giapo Haute Ice Cream, where I get a scoop of Keri-keri avocado with macadamia praline, topped with macadamias tweezer-dipped in chocolate. (Other flavors come with piped and brûléed meringue or a miniature chocolate kiwi—the bird, not the fruit.) As I make my way back to the hotel, I'm reminded of a quote: "Modern Auckland is a perky gold-digger, over-talkative but full of ideas … and much in love with life." This much sugar will do that to you.

In which Nicholas learns about extinct giants, gets schooled in "cuddly dudley" wines, and dines on the spoils of Waiheke Island
Eat your heart out, seven-hilled Rome: Auckland boasts a whopping 48 volcanic cones. Few of these are as starkly beautiful as Pukekawa, or "the hill of bitter memories," atop which sits the neoclassical Auckland War Memorial Museum. I've taxied up here from the DeBrett to avoid the punishing incline—though if you're going to get leg cramps, this green and lovely hillside is the place to do it.Opened in 1929, the blindingly white marble museum is pure Western pomp, but it is filled with elegant nods to local Maori tradition (such as carved wreaths of kawakawa leaves instead of laurel). With a mission similar to the Smithsonian's, it's also a repository for Kiwi cultural treasures, like the ice axe of New Zealand–born Everest-summiter Sir Edmund Hillary and a 10-foot-tall recreation of a giant moa, a massive flightless bird hunted to extinction by the Maori some 600 years ago.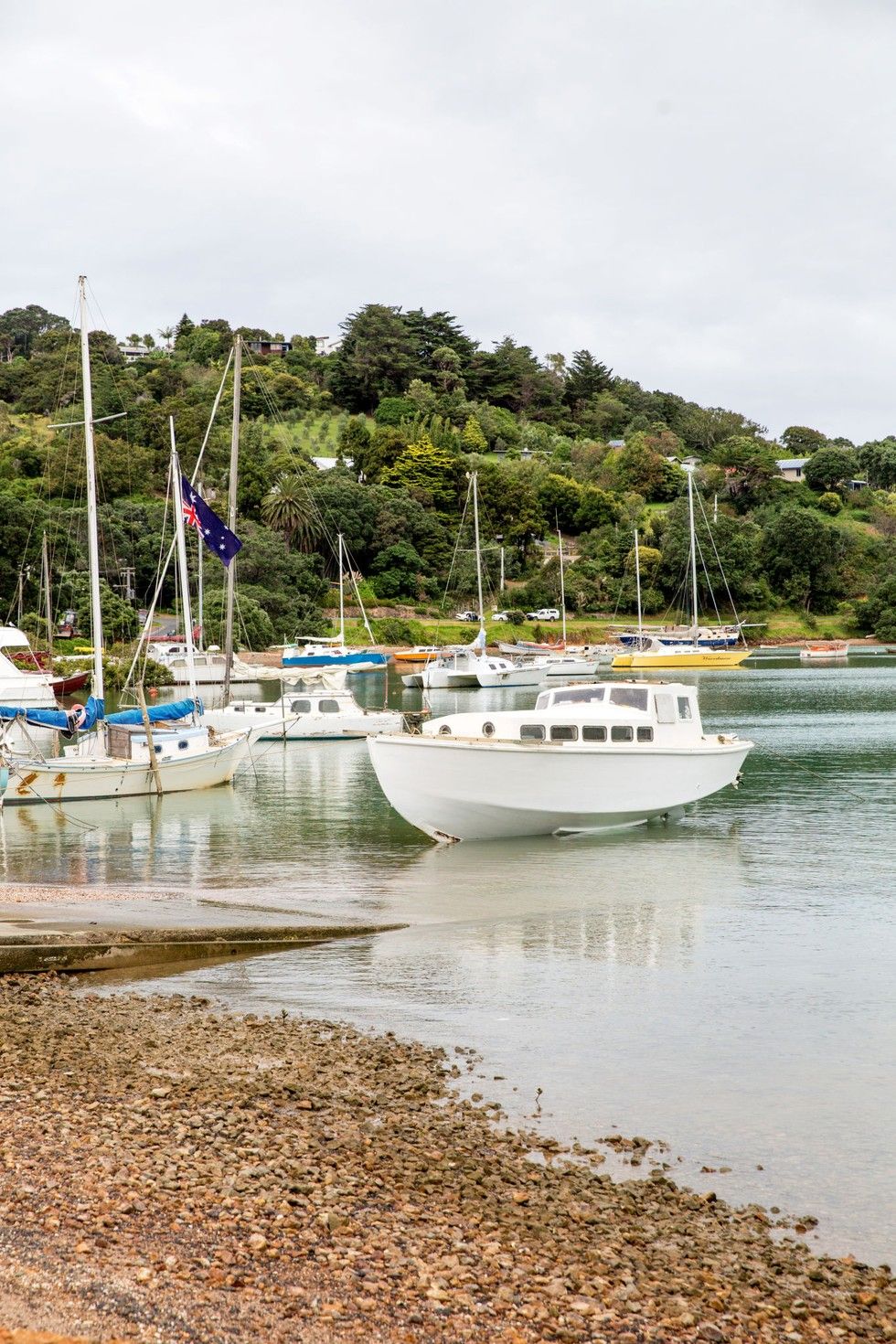 A boat-filled harbor on Waiheke Island
I cab it back to the DeBrett to grab my bags, then walk to the Auckland Ferry Terminal, a brick-and-sandstone colossus now over-shadowed by office buildings. A 35-minute ferry ride across Hauraki Gulf takes me to Waiheke Island, a 36-square-mile retreat that is part Hamptons (posh weekenders), part Napa Valley (wineries and olive groves), part Scottish Highlands (hordes of sheep), and part Kauai (hidden coves).My first stop is the hillside Mudbrick Vineyard & Restaurant, where I'm having lunch with Aussie-born expat Mike Beagley, managing director of New Zealand luxury menswear brand Rodd & Gunn. Though his store sits on the CBD's tony Queen Street, on the same block as Prada and Dior, Beagley is the definition of a charmingly approachable bloke."Ralph Lauren has a polo model. Rodd & Gunn has a polo team that actually plays polo," he says, chuckling. "One of our players got smacked in the face with a mallet and got blood all over his uniform. It was fantastic!" I look down at my blood-red Angus beef tartare with mango mustard, daikon, coconut, and egg yolk, and I can't help but join him in a laugh.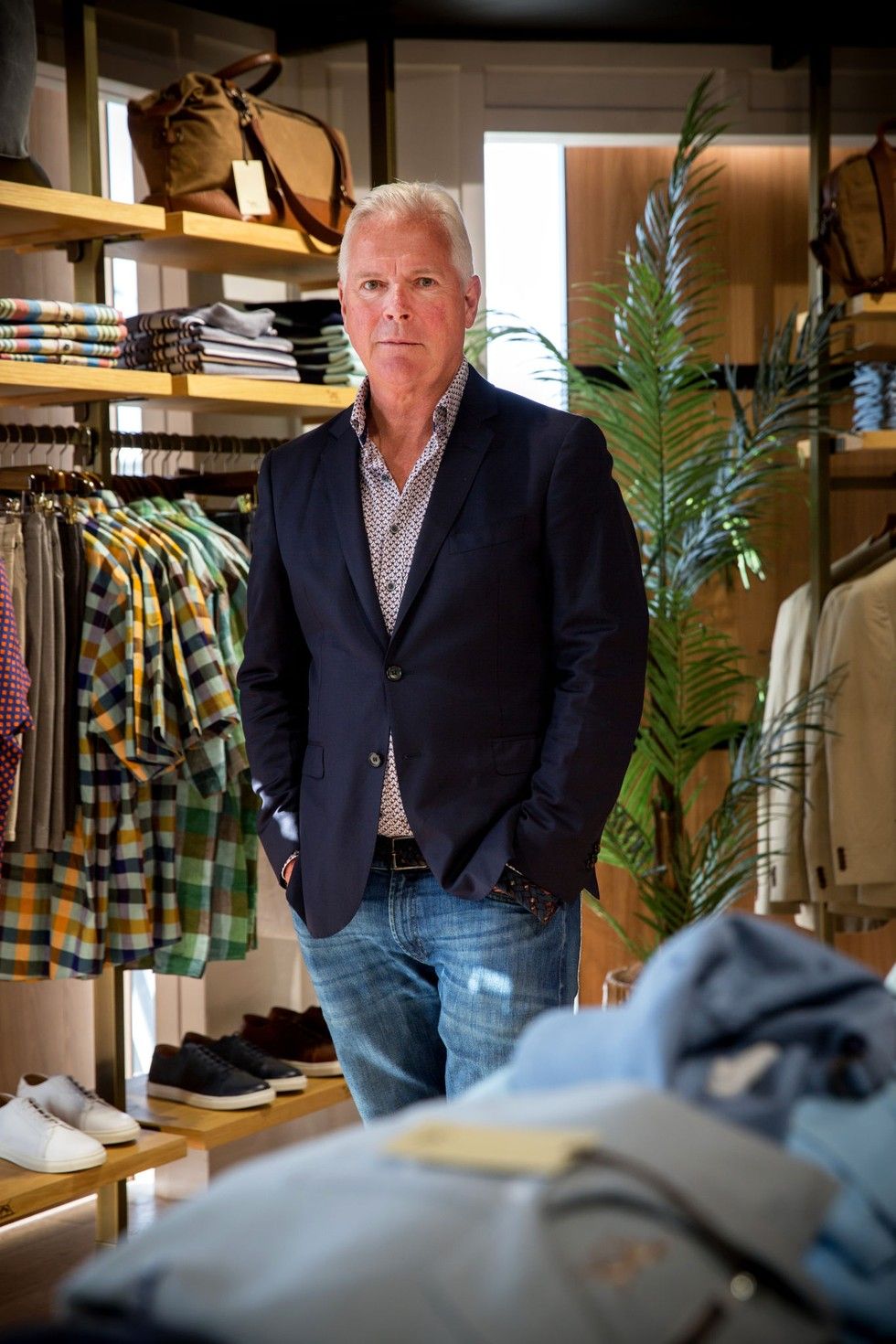 Mike Beagley, Managing Director, Rodd & Gunn"The real New Zealand is this beautiful view," he says, gesturing at the vine-covered hills and the skyline in the distance. "It's an appreciation for great wine, great food, for life." I have to agree that there is a dolce vita vibe to Waiheke—la dolce kiwita?—as I tuck into my second course of sweet corn and truffle ravioli with black trumpet mushrooms, watercress, and parmesan."This is refined," he says, pointing to our food. "This is rustic," he continues, nodding outside. "And that's New Zealand."Beagley heads back to work, but I stick around at Mudbrick to meet Steve Robinson, a guide with the island's family-owned Ananda Tours. He used to play in a rock band called the Heartbreakers ("This was before Tom Petty thought of the name!") and co-owns the studio that produced the 1995 hit "How Bizarre" by OMC—the biggest pre-Lorde hit by a New Zealander. Today, he's volunteered to be my designated driver.
"New Zealand is a very green country, ecologically sustainable. I think part of that is Maori—there's a spiritual connection to the land and to the idea of passing along nature to future generations." —Mike Beagley
"Waiheke is a Jurassic-era island with mineral-rich soils," Robinson says as we hit the Mudbrick tasting bar. "We're primarily an island of red wines and olives." In fact, the island is perfect for growing the kinds of grapes you'd find in Bordeaux. Cellar master Bob Scott, who has a way with words, describes the country's wines with phrases like "gooseberry with a slight hint of armpit," "creamy richness that doesn't go butter," "pencil shavings and leather," and "cuddly dudley." From here, Robinson drives me to a succession of hidden vineyards, along winding roads so narrow that we have to pull into the brush to allow cars to pass. We get to talking about the flag referendum: "I voted for the new flag, because my wife thinks I'm resistant to change," he jokes, "and I wanted to prove her wrong."At Stonyridge Vineyard, which is tucked into a picturesque valley, I meet winemaker Marty Pickering, the son of a dairy farmer. "You know, I got all those practical, tractor-driving skills from him," he says over a glass of Bordeaux-style Larose, "but then I don't really like milk all that much. This end product is so much better."Farther on, at Obsidian Vineyards, which is run from a corrugated metal quonset hut, we sip Syrah with cellar master Martin Owens. "Australian Shiraz is a punch in the face," he says. "New Zealand Syrah is a pat on the back."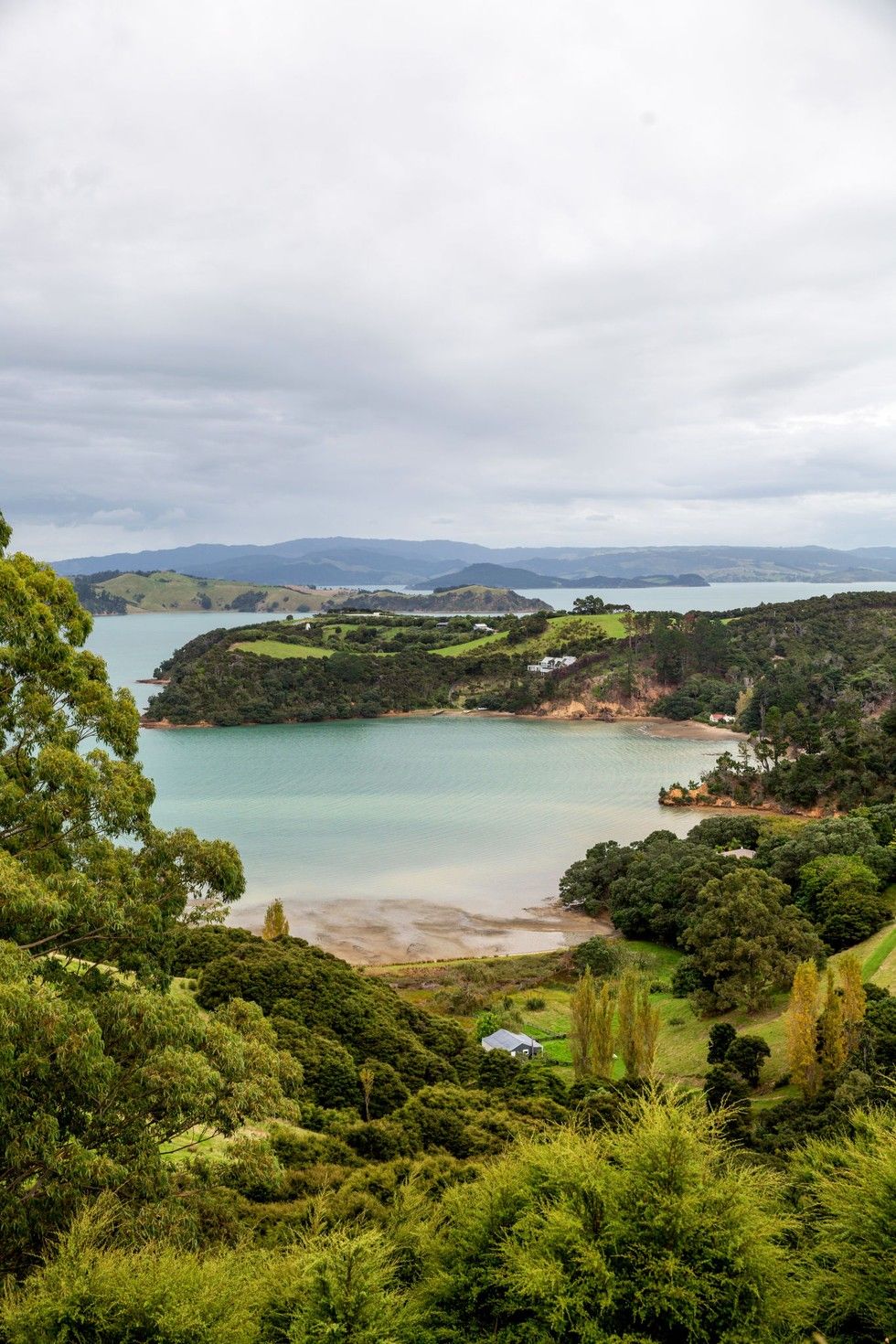 The rugged, lush coastline of Waiheke Island
We continue past stands of flowering manuka trees, wetlands teeming with pukeko (long-legged purple swamphens), and sheltered coves like Little Oneroa Beach. Just up the hill from here is my next hotel, The Boatshed, a stylish update of a "bach"—Kiwi for a modest holiday home; the term is derived from either "bachelor pad" or the Welsh word for "small." The digs are neither padlike nor cramped. In fact, the palette of whites and creams and the breezy nautical theme (model yachts, an old ship's funnel, a chess set with puffin and seagull pawns) call to mind a Nantucket-set Nancy Meyers rom-com.Guests assemble for dinner at tables that fill the cozy living room and spill out onto the patio. Using produce grown on-site in the hotel's veggie patch, chef Adam Rickett creates the kind of fare you might find at a sophisticated friend's backyard barbecue: dry-aged ribeye with yellow tomatoes, leeks, and zucchini; grapefruit-cured salmon with whipped avocado; salt-roasted beets, pickled fennel, lemon yogurt, and toasted hazelnuts; and a classic iceberg wedge salad.Later, back in my room, I fall asleep with the door open, lulled by a sea breeze and the sound of waves crashing. I could get used to this.

In which Nicholas tubes through a glowworm-lit cave, gawks at slime-green springs, and eats like a Maori
I wake up before sunrise to catch a ferry back to the mainland. I flip on the radio in my rental car to news that the old flag has won out, and then begin a 120-mile drive south to Waitomo, home of the famous glowworm caves.I embrace the road-trip vibe and make a breakfast of gas-station snacks: chicken crisps, hokey pokey (honeycomb) biscuits, and Lemon & Paeroa soda ("World Famous in New Zealand"). The whole left-side-of-the-road thing isn't as hard as I'd expected—though I do switch on the wipers every time I try to signal a turn.I pass through countryside populated by cows and sheep, suburbs turning to fields turning to gentle hills. Soon, I'm in the unassuming village of Waitomo, which sits atop 25 miles of caves lit by millions of beautiful glowworms.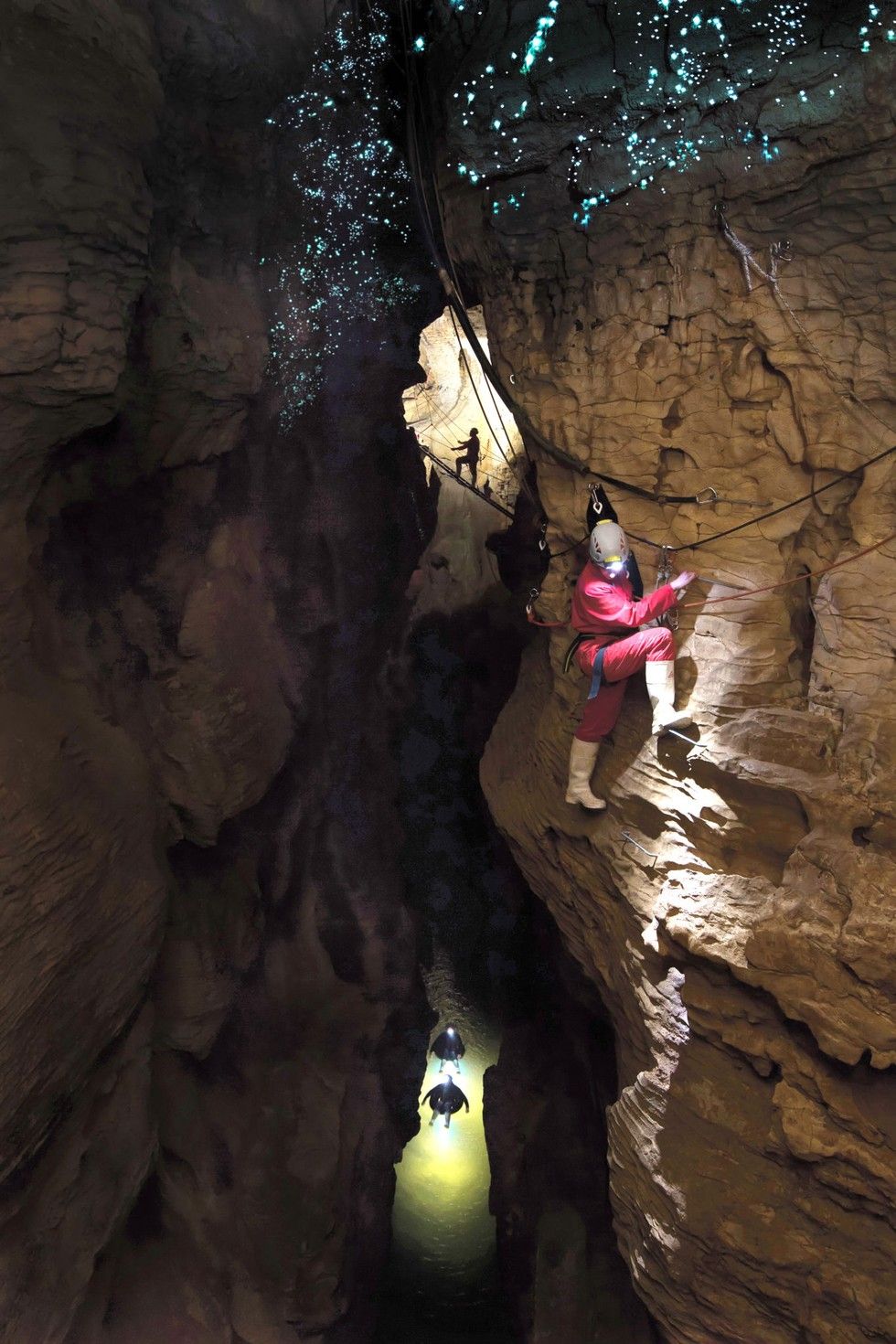 Tubing and climbing through caves"They're officially maggots!" exclaims Angus Stubbs, of The Legendary Black Water Rafting Co., an outfit that drops people like me into a pitch-black labyrinth of subterranean streams."But that doesn't market too well," says his colleague Logan Doull."What strikes me is how bizarre it is that we're selling you a ticket to see performing insects," says Stubbs. "I can't think of anywhere else…""Maybe a flea circus?" adds Doull.The larvae of the fungus gnat, carnivorous glowworms attach themselves to cave ceilings by silk threads covered in mucus, and put on a bioluminescent display to attract unsuspecting prey that have flown into the darkness.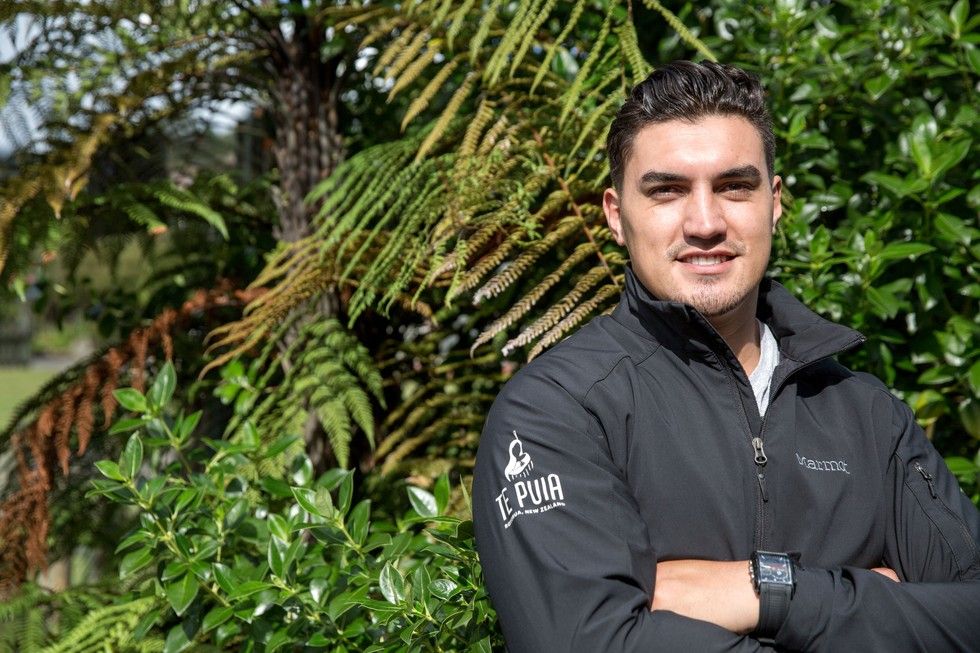 Eruera "Eru" West, Marketing Manager, Te PuiaI'm led to a rack of insulated wetsuits, along with a young couple from Melbourne and a seven-girl netball team from Australia's Gold Coast. "Netball? Is that an Aussie name for volleyball?" I ask, my Americanness glaring. I'm met with a nine-person barrage of shouts and groans. (It's more like basketball, it turns out.)"I shouldn't have had that last basket of chips," yells one of the girls, squeezing into her suit. "I have a food baby!" "A food baby?" cries her teammate. "Mine's full-grown!"
"The Maori have been involved in tourism for more than 150 years. We use the money we earn to fund schools of Maori performance and art to keep our culture alive." —Eruera "Eru" West
We're set to explore the cave system via a network of underground streams, which will require us to place our backsides into rubber tubes and plunge butt-first off subterranean waterfalls. We practice our technique off a dock, aided by guides who are more than happy to offer helpful shoves. Screaming is optional, but I do feel that the expulsion of air might stop the murky cave water from going up my nose.As we duck into the maw of Ruakuri Cave (Maori for "den of dogs"), a guide tells us to point our headlamps toward the hand-size, spidery-legged, grasshopperlike cave wetas on the ceiling. I don't usually have a problem with bugs—but I have a problem with these beasts.Once inside, we zip along lugelike, bouncing off limestone walls, bobbing over rapids, our noses inches from dangling stalactites. We're told that we're sharing these waters with crayfish and three-foot longfin eels (they bite!), but luckily I don't meet any in the darkness.Every few minutes, our tube caravan slides into a cavern, some with 60-foot-high ceilings. It's not often that nature lives up to its Instagram-filtered, color-corrected photographic approximations, but this, a twinkling galaxy in miniature, is the closest I've come to feeling that I'm in the presence of magic. And to think, it's all just gleaming mucus.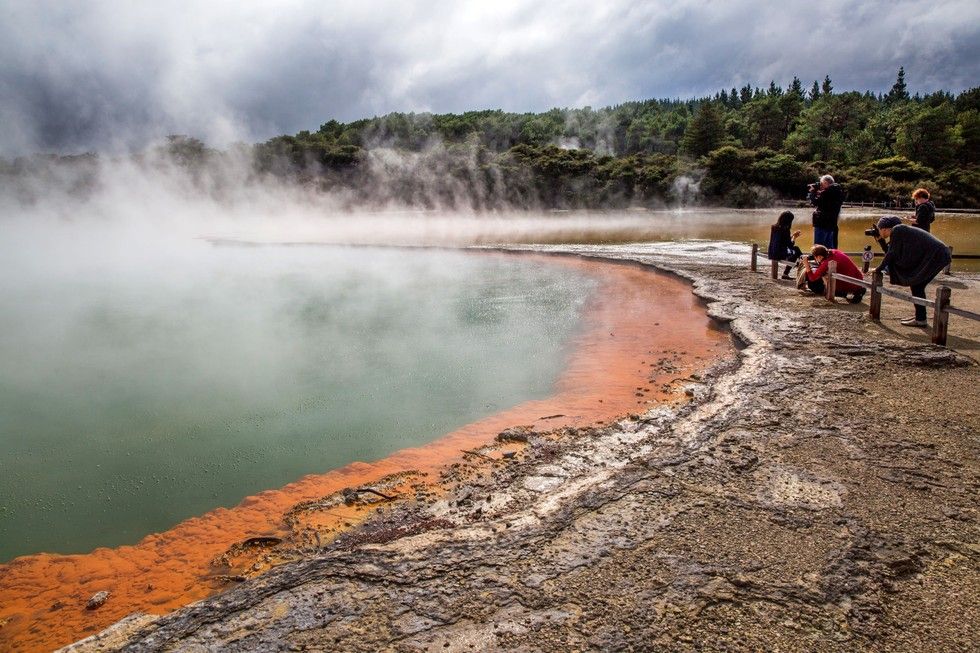 The Champagne PoolAs we towel off back in the sunlight, my fellow spelunkers ask me where I'm headed next. I tell them I'll be driving to a town called Rotorua, known for its Maori culture and hot springs, and they giggle-shriek: "It stinks!"A harsh assessment, I think, until I approach the town about two hours later. The healing waters, which transformed this sleepy lakeside town into a tourist spa in the 1870s, give off the rotten-egg aroma of hydrogen sulfide. Luckily, your nostrils adjust quickly.My first stop is south of Rotorua, at Wai-O-Tapu Thermal Wonderland, which, despite its endearingly cheesy roadside attraction name, is actually a brilliant collection of hot springs, geysers, and boiling mud pools—all in surreal, otherworldly hues. The Champagne Pool, which fizzes with carbon dioxide, has a rust-red rim; the Devil's Bath is a shockingly unnatural shade of slime green due to suspended sulfur crystals. The candy-store colors may look enticing, but some of these pools can quite literally boil you alive or acid-burn you to bits. Intact, I head back to town, where I check into The Regent of Rotorua, a modish boutique hotel with an indoor pool fed by thermal waters of up to 104 degrees Fahrenheit. Next, I'm off to meet Eruera "Eru" West at Te Puia, a family-run Maori cultural center that is part handicraft workshop, part history museum, and part aviary (they have a pair of kiwi birds). The grounds are dotted with spectacular hot springs, steam vents, and geysers. For West, the place is more second home than workplace.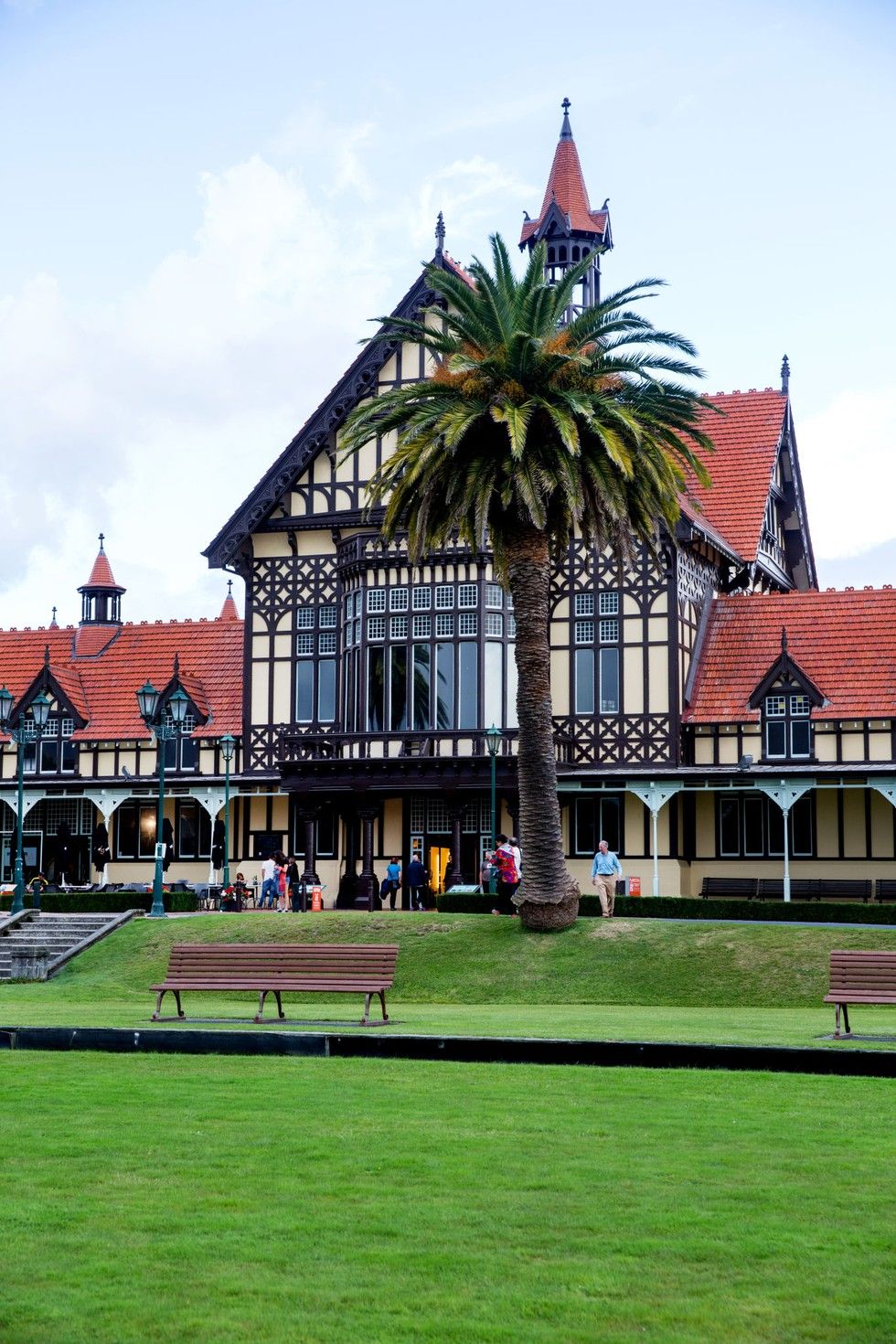 The Rotorua Museum in the city's old Bath House building"This is my tribal area," he says. "There have been five generations of my heritage doing this. My mom is still my boss!" His aunt Teresa works here too—she's the one who teaches me how to strip flax leaves and twist them into ropes at the on-site weaving school.
As evening falls, West and I join a group gathered in front of the
wharenui
, or meeting house. Elaborate eave carvings, with a head at the peak and fingertips at the bottom, are meant to evoke outstretched arms of welcome. It's time for the
te po
, a Maori take on the luau."
Kia ora
," says our host, Robert Piripi, offering up the traditional greeting, a phrase that has also been embraced by the
pakeha
, or white New Zealanders. "For me, this is home," he continues. "We cook our food on the steam vents every day. We bathe inside the mineral waters every night."
"Our word for 'tourism,' maanakitanga, means to increase your visitors' mana."
A middle-aged American man is chosen as the
pakeha
leader. The Maori blow a conch shell and send out a warrior to offer a token of friendship. Our "chief" accepts the gift, and he and the warrior press noses twice to mark the coming together of families and ancestors. The Maori then sweep the ground (to represent a clean slate), slap their thighs (to show no harm will come), and let out a wailing call (to symbolize a rope pulling a guest's canoe to shore). Far from being a cheesy floor show for tourists, this is a culturally important ritual that dates back centuries. It's a privilege to be a part of it.After we're ushered inside, the women perform with
poi
, twirling balls on a string, slapping them rhythmically against the palms and backs of their hands. The men flick out their tongues and widen their eyes, shouting and grunting their way through a
haka
, the war dance commonly associated with the All Blacks, New Zealand's national rugby team. "It was designed to make the enemy turn around and run," whispers West. "Sticking out your tongue shows that your mouth is watering for flesh."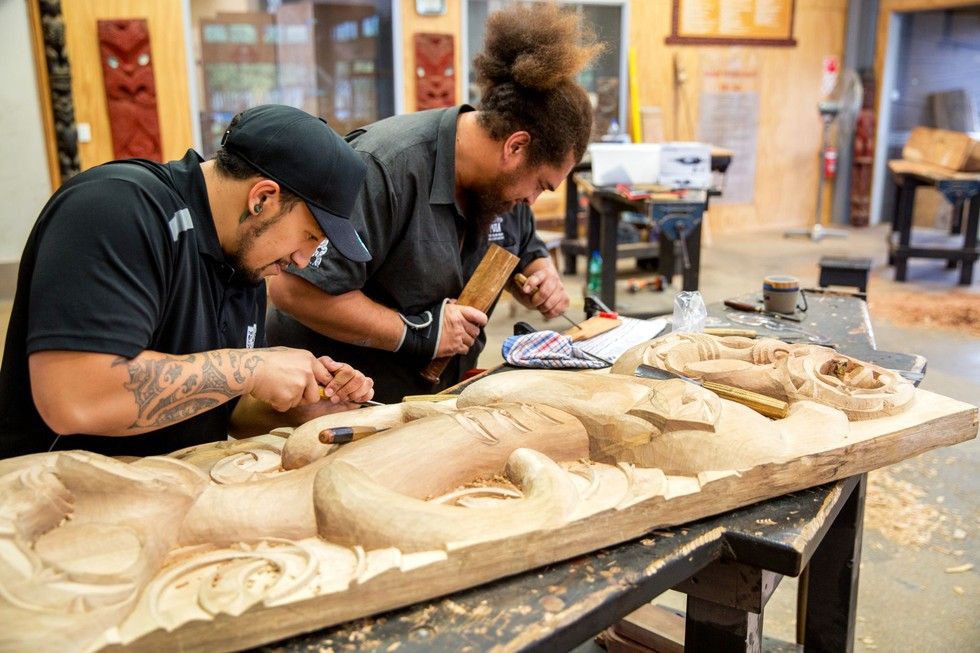 The Maori carving school at Te PuiaSpeaking of which: The dance is followed by a feast, cooked in giant boxes over natural steam vents called
hangi
. In Maori neighborhoods, women still leave baskets of food over these seething holes for hours on end—something like geothermal slow cookers.We start with a nonalcoholic shot of lemon, kawakawa herb, and manuka honey, which is said to have medicinal qualities (and sells for up to $50 per jar). After a quick "
amene
" (Maori for "amen"), we dig into a buffet of
kumara
(sweet potato) soup;
hangi
-steamed lamb, chicken, and pumpkin; and finally the iconic Wellington-born, kiwi-topped meringue dessert pavlova."Our word for 'tourism,'
maanakitanga
, actually has a much deeper meaning," says West. "It means to increase your visitor's
mana
—worth, prestige, importance—and that's what we're all about. Tribes would value themselves on their ability to accommodate and be hospitable." A smiling Welsh woman sitting next to West at the table puts it a little more succinctly: "Doesn't this whole entire country just ooze charm?"
Hemispheres senior editor Nicholas DeRenzo is looking into importing a few thousand glowworms to decorate his bedroom ceiling.


If you go

Check out
united.com
or use the
United app
to book your three day adventure to New Zealand.
Around the web
Family friendly cities: Summer fun in Seattle
A newly renovated Space Needle, fantastic flight museums and nearby national parks are among the attractions that families visiting Seattle can enjoy on a summer or holiday getaway. Summer is also a good time to visit for the comfortably mild weather — typically in the seventies — and weeks-long Seafair celebration.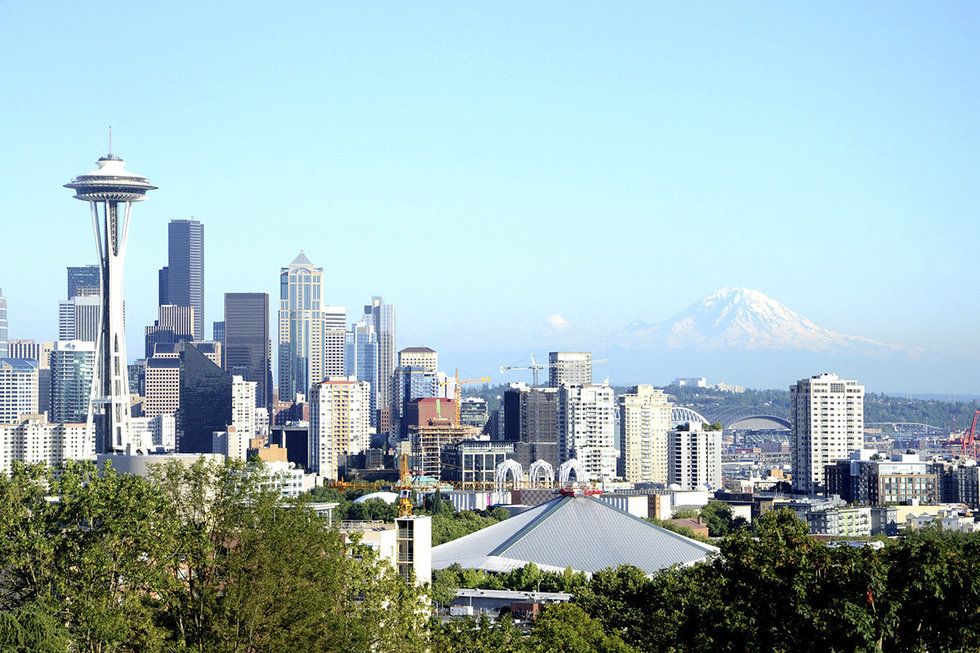 Needle of glass
The 605-foot-tall Space Needle has been a leading "point" of interest in Seattle since it sprouted as the futuristic icon of the 1962 World's Fair. The view from atop the landmark tower's elevator ride is now better than ever, with nearly 200 tons of glass added to upper, lower and outer observation levels that permit an unobstructed view in all directions. One floor below is the world's first and only glass rotating observation deck and lounge, with the glass floor revealing a unique downward view of the Needle.
Seattle Center
Riding the Space Needle elevator is only one of many options at Seattle Center, the city's art, museum and entertainment hub. After arriving from downtown on the Seattle Monorail ($1.25-$2.50 per person), you can let the kids indulge their imagination at the Seattle Children's Museum; enjoy sci-fi and pop-music interactive exhibits at the Museum of Pop Culture; or take in the stimulating shows at the planetarium, Laser Dome theater or IMAX theaters at the Pacific Science Center. Not enough? Chihuly Garden and Glass displays homegrown glass artist Dale Chihuly's dazzling creations, and the Artists at Play playground beckons with a 50-foot tube slide and 30-foot climbing tower.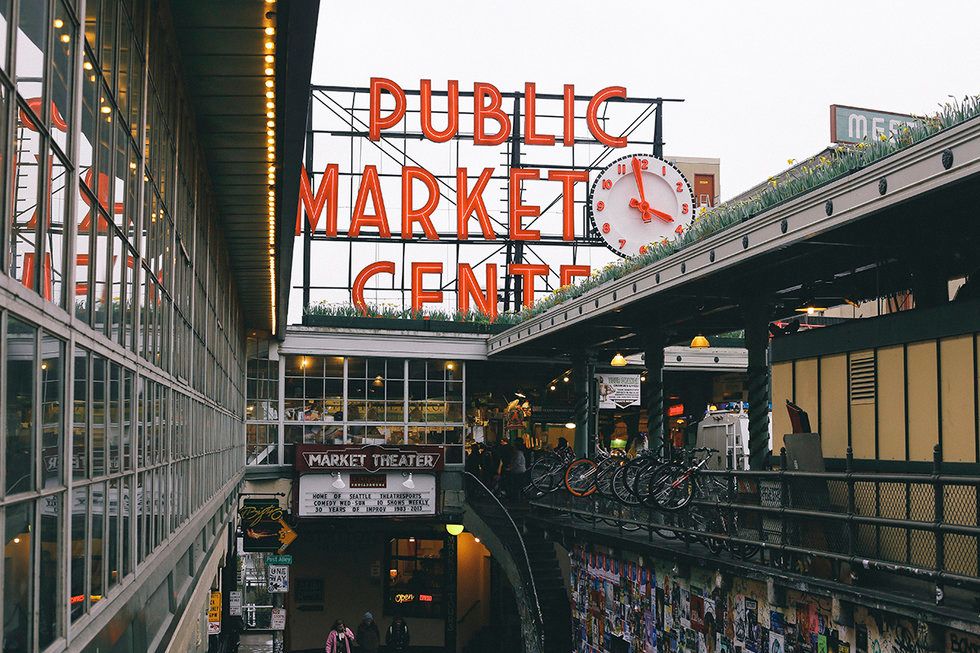 Pike Place Market

Seattle visitors eager to enjoy an authentic experience where the only price of admission is an appetite for food and fun have to fit in a visit to Pike Place Market. At Seattle's most visited venue, newly expanded in 2017, everyone in the family will smile while watching fishmongers toss salmon through the air as street entertainers perform nearby. Food, beverage and craft purveyors sell their wares at more than 500 shops and stalls at the century-old farmers market that overlooks Puget Sound.
Flight of fancy
A 3D theater, flight simulators and the Kids' Flight Zone are indoor highlights of Seattle's Museum of Flight. Just outside is an unrivaled collection of major commercial jets, including the only Concorde on the West Coast, the first Air Force One jet and the first Boeing 747 and 787 Dreamliner. Boeing jets-to-be can be seen north of Seattle at the Future of Flight Aviation Center, the only place in North America where you can watch commercial jets being assembled on a Boeing factory tour.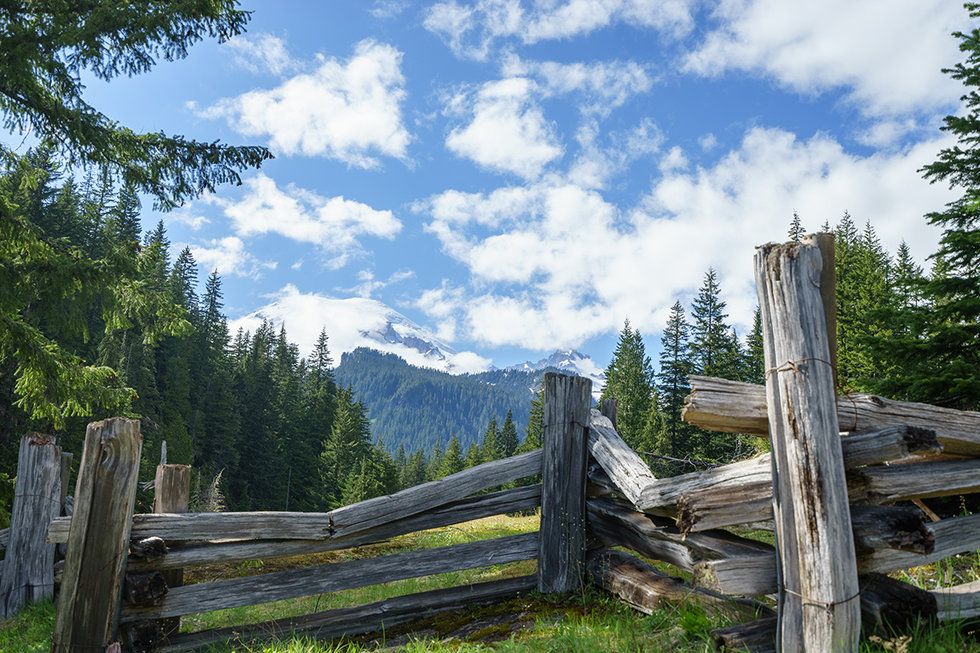 Mountains, islands and lakes
Visitors renting a car can reach Mt. Rainier National Park, or be on board a ferry bound for the San Juan Islands (where there's a national historic park), in less than two hours. Both are breathtaking family destinations. But there are also many outdoor summer recreational activities available right in Seattle, a city surrounded by water on three sides and home to several lakes. Seattle's zoo is in Woodland Park on Green Lake, where you can rent all sorts of boats. There are also kayak and paddleboard rentals at Lake Union, and great tide pools to explore at Discovery Park on Puget Sound.
Summer celebrations
Seafair is a series of Seattle events that span most of the summer. Surely the loudest is the Seafair Summer 4th festival and fireworks show. Also on the Seafair calendar are big food events, cultural festivals and air-and-boat festivals. Nearly all are free.
If you go
United Airlines offers numerous flights to Seattle-Tacoma International Airport from several U.S. cities. MileagePlus Rewards can help cover your hotel room and rental car once you arrive. Go to united.com or use the United app to plan your Pacific Northwest family vacation.

How to spend 12 days in Italy
Home to so many of the world's great works of art, so much of its most historic monuments and such glorious gastronomy, it's little wonder millions of tourists flock to Italy each year.
What's also great about Italy is that it's quick and easy to drive between its key cities. To experience everything the country has to offer would take a lifetime, but give yourself 12 days and you can easily experience five of the country's most iconic cities. Because United flies to and from most of the cities mentioned, it's easy to shorten or extend the trip to suit your time. But here's what we'd suggest for the ultimate 12-day Italian road trip.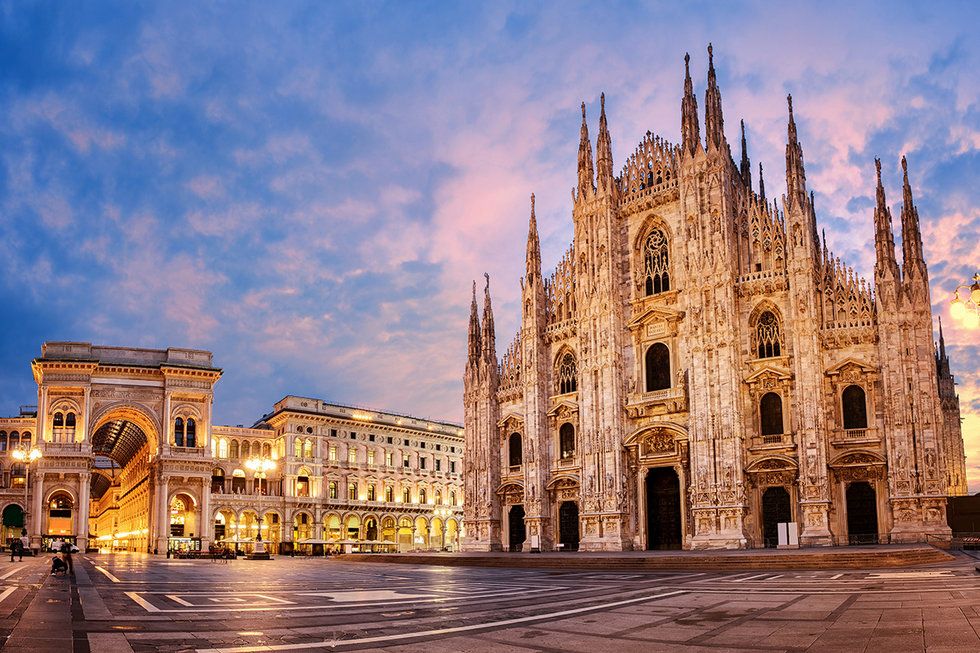 2 days in Milan
Touch down in one of the few Italian cities that doesn't appear to be frozen in time. Milan is a more cosmopolitan and cutting-edge affair, befitting the city's status as the capital of finance and fashion. That isn't to say it lacks history — the grand marble Duomo, the masterpiece-packed Pinacoteca di Brera and the Basilica di Santa Maria delle Grazie will sate your historic hunger, the latter housing Milan's most famous mural, Leonardo Da Vinci's The Last Supper.
But this is a city fixed more on the future than the past, one where its history stands side by side with sleek, modern skyscrapers, vibrant bars and cutting-edge hotels. As a result, you can expect a more frenetic pace of life than you'll find further south.
The must eat Risotto alla Milanese con ossobuco — the classic Milanese saffron risotto with braised veal shank is elevated to a silky, smooth masterpiece at Ratanà in Isola.
The must stay Bulgari Milan ($) — a luxurious hotel in the tranquil artists' quarter. Also consider: NYX Milan ($); The Yard Milano ($).
The next leg Milan to Venice is an easy 173 miles, about a three-hour drive. Take the train and it's around two hours 25 minutes from Milano Centrale to Venezia Santa Lucia.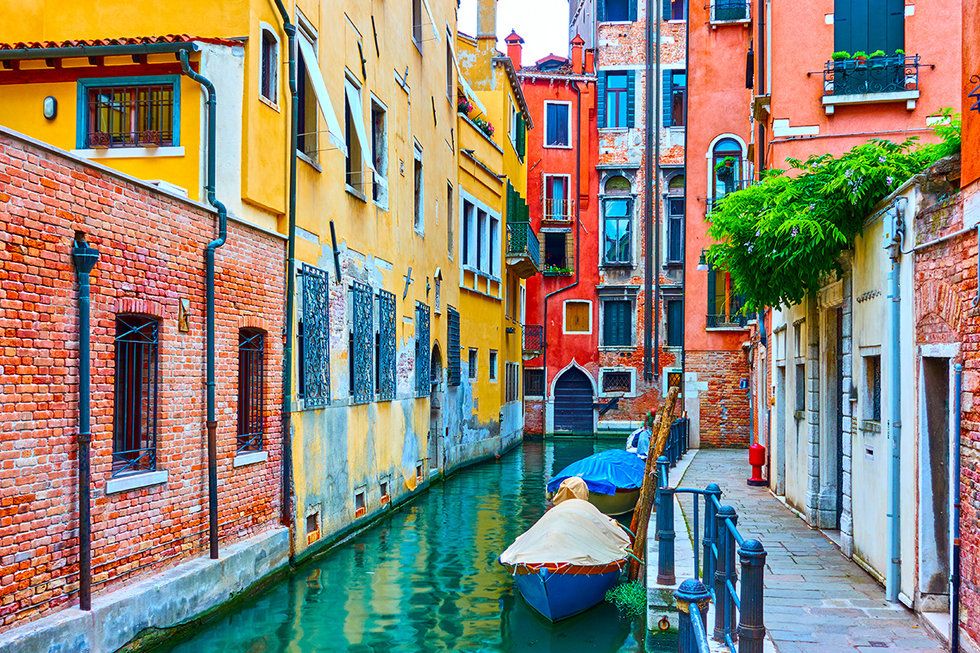 3 days in Venice
Venice is La Serenissima — Italy's Most Serene Republic — a city of your imagination and a place beyond your wildest dreams. A treasure trove of glorious art and extraordinary architecture, of 150 canals and almost 400 bridges, you know the city from the photographs, movies and paintings made famous the world over. As you explore Piazza San Marco or take a tour through history down the Grand Canal, so much here seems reassuringly familiar. Yet nothing can prepare you for the for the reality of stepping out from the station to the site of a glittering canal and the dome of San Simeon Piccolo, with Venice's canals and lanes twisting out before you. At that moment, expect your heart to skip a beat as the reality and romance of La Serenissima hit home.
The must eat Fritto Misto — taking full advantage of Venice's lagoon location, this mix of fried fish usually includes squid, shrimp and moeche, a soft-shell crab available only in autumn and spring.
The must stay Aman Venice ($) — 24 luxury suites in a stunning 16th-century Grand Canal palace. Also consider: La Calcina ($); Palazzo Morosini degli Spezieri ($).
The next leg — Venice to Florence is 160 miles and about two hours and 40 minutes away by car. By train, Venezia Santa Lucia to Firenze Santa Maria Novella takes two hours and five minutes.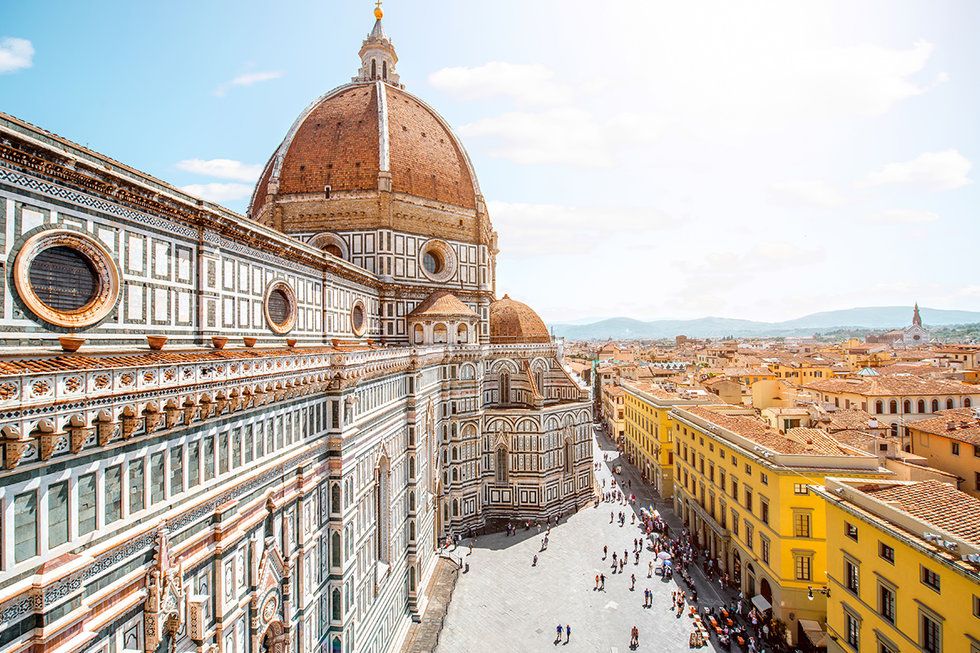 2 days in Florence

The search for la dolce vita will lead you to Florence, the heart of Tuscany, the cradle of the Renaissance and the most beautiful of all the Italian cities. For art enthusiasts, the city has no equal. Its galleries and museums home to so many of the world's finest examples of Renaissance art, much of it housed at the breathtaking Galleria degli Uffizi. The pink, white and green marble facade of the iconic Duomo, or cathedral, is worth the trip alone — without even stepping foot inside its adjoining museum. But, with so many quirky boutiques, trendy cafés, restaurants and bars, not to mention the beautiful Tuscan countryside close by, there is so much more to the city than its glorious history. Indeed, a single visit will never do it justice.
The must eat Bistecca alla Fiorentina — the city's culinary calling card is a vast slab of T-bone steak rubbed with olive oil, chargrilled, seasoned and served al sangue — bloody.

The must stay Portrait Firenze ($) — central hotel offering luxury and astonishing views. Also consider: BBH Firenze ($); AdAstra ($).
The next leg Florence to Rome is 168 miles away, or three hours by car. If traveling by train, Firenze Santa Maria Novella to Roma Termini takes about 90 minutes.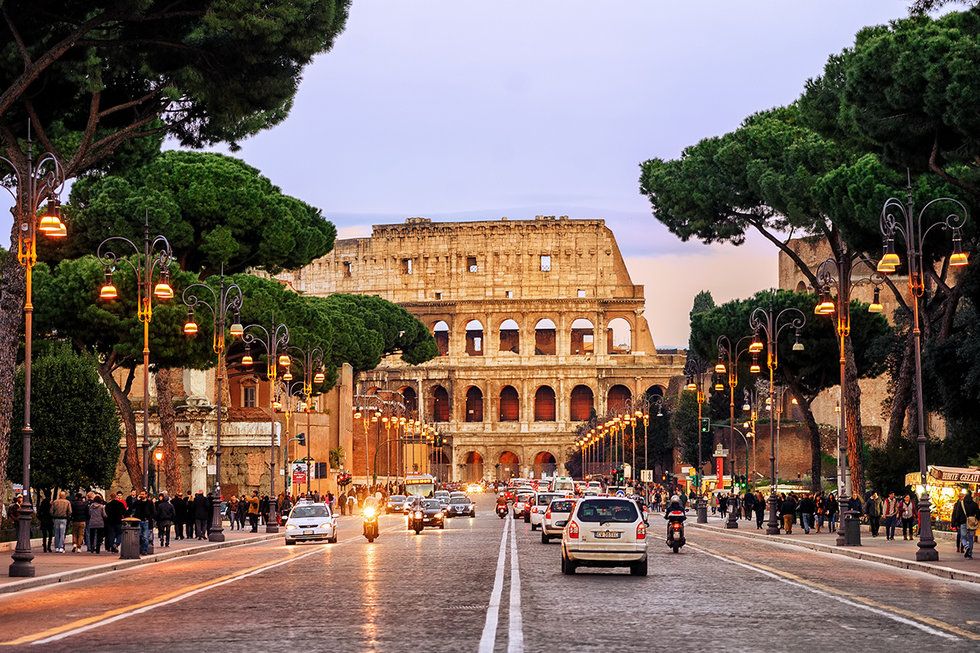 3 days in Rome

In existence for more than three millennia, no other city does history quite like Rome, from its classical ruins and places of worship, to the Renaissance palazzo and the Baroque fountains. You can't leave without having seen the Colosseum, the Pantheon, St Peter's Basilica, the Palatino and the artistic treasures of the Vatican museums. There's also the Roman Forum, the Spanish Steps, the Museo e Galleria Borghese and far too many others to squeeze in a single visit, so throw a coin in the Trevi Fountain to guarantee you return.
For all its history, Rome's past blends effortlessly with the present, through the chic boutique stores, the neighborhood trattorias and the vibrant street life that lingers long into the night. The whole city is a stage — and you have a walk-on role.
The must eat Cacio e pepe — one of Rome's most iconic pasta dishes is also one of its simplest: hand-rolled tonnarelli pasta topped with salty pecorino cheese and black pepper, stirred with pasta water to create a smooth, spicy, simple and sumptuous sauce.
The must stay Hotel Eden ($) — magnificently renovated icon hotel, located beside the Spanish steps. Also consider: Nerva Boutique Hotel ($); Hotel Martis Palace ($).
The next leg The drive from Rome to Naples is 140 miles and a little over two hours south. Taking a train from Roma Termini to Napoli Centrale in one hour and 10 minutes.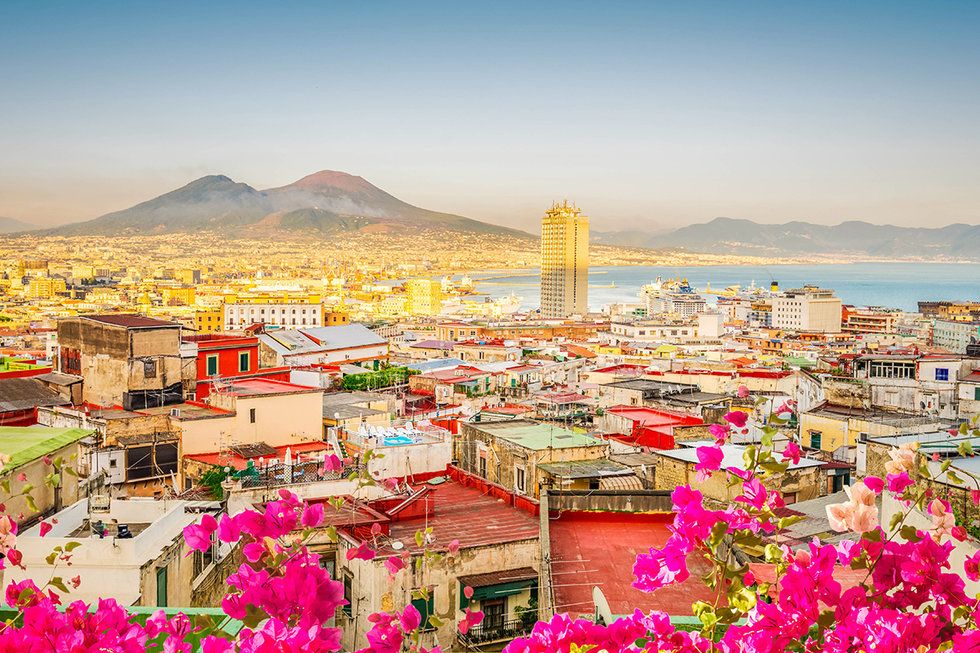 2 days in Naples
For the first-time visitor, the sights and noise of Naples can overwhelm the senses. But at its heart lies a charm and vibrancy that has to be experienced at least once in your life. In the city itself you'll unearth a UNESCO-recognized historic core, vast Romanesque piazzas, world-class museums, castles and a labyrinth of ancient lanes hidden beneath the neighborhood washing.
Just a short journey further on lies the ruined city at Pompeii and Mount Vesuvius, the brooding volcano that looks down on the city and the Bay of Naples.
The must eat Pizza — in the city of its birth, it's hard to find bad pizza. L'Antica Pizzeria da Michele is Naples' original pizzeria, where the options have always been and will always be a Margherita or a Marinara. Chow down on a slice of history.

The must stay Grand Hotel Vesuvio ($) — an understated icon overlooking the Castel dell'Ovo. Also consider: Micalò ($); Hotel Excelsior ($).
The next leg If you have the time, explore the jaw-droppingly beautiful Amalfi Coast or the Bay of Naples' three nearby islands of Capri, Procida and Ischia, the latter made famous by Elena Ferrante's My Brilliant Friend. If your time has run out, fly home or on from Naples International Airport.
United now flies from New York/Newark (EWR) to Naples (NAP), in addition to Rome (FCO), Venice (VCE) and Milan (MXP). To explore further, you can also fly to Ancona, Bari, Bologna, Genoa, Florence, Pisa, Trieste, Turin and Verona with our Star Alliance™ member partner airlines. Book your Italian adventure at united.com or use the United mobile app.
10 essential tips for the solo traveler
Are you a solo traveler? The sort of person who wants to head out into the world and experience whatever you like, wherever you like, whenever you like? You're not alone.
Research shows a spike in bookings for solo travelers across almost all age groups in recent years — from baby boomers to millennials. More and more of us want the freedom to travel on our own terms, and more and more of us are turning those dreams into reality.
If you're a first-time solo traveler, you'll feel liberated, but before you head out on your first solo journey, here are 10 things you should know.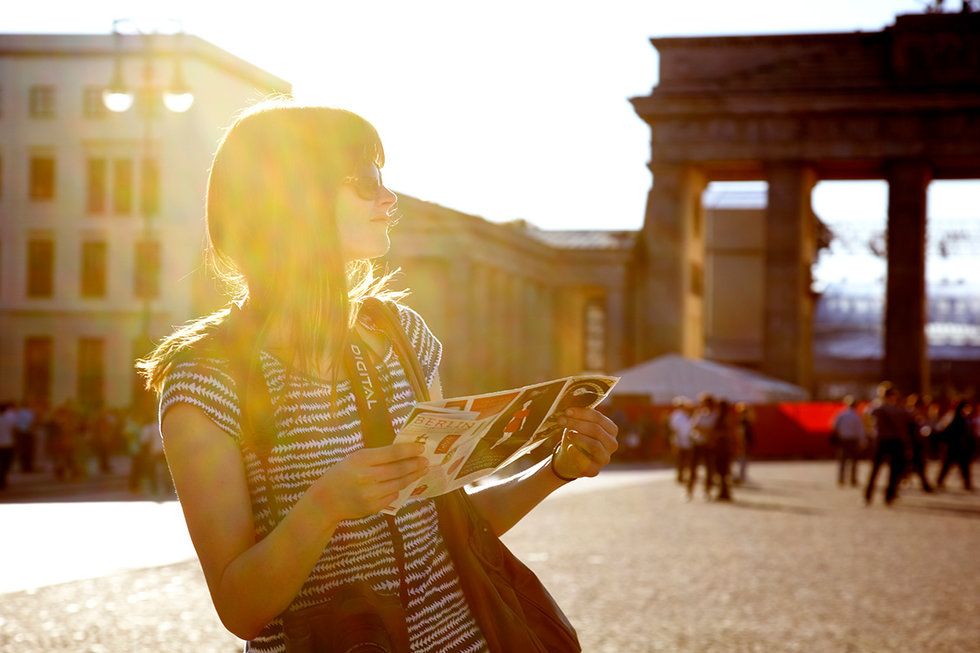 1. You'll come back a better person
Of the many benefits of solo travel is that you'll come back a more confident, independent person, regardless of how confident you were when you set out. When you travel in a group, or even just a pair, you're free to fall back on others and let them decide for you. But when you're traveling solo, every decision is ultimately up to you. And with each decision you make, you'll grow as a person.
2. You need to tell people where you're going
While solo travel isn't unsafe, you won't have anyone to watch your back, or your bags. Give yourself, your friends and your family peace of mind by leaving a copy of your itinerary that includes your flight times, accommodations and anything that helps them keep track of your whereabouts. Then, make another list with international emergency lines, U.S. embassy numbers, toll-free and international numbers for your credit card company, travel insurance documents and anything you might need in an emergency. And before you travel, register your trip with the U.S. State Department's STEP program, so that the local embassy or consulate can assist you if they need to.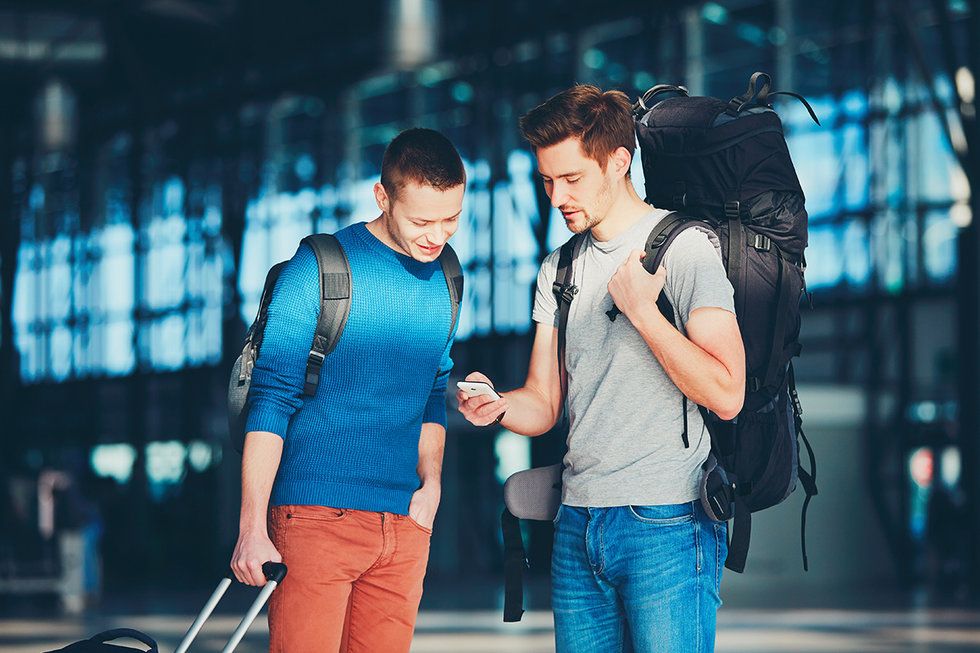 3. You don't have to go solo all the way
It's very easy to make friends on a solo vacation, should you choose to. Stay in lodges or hostels rather than hotels and you'll share space with like-minded travelers but be prepared: you probably won't have peace and quiet like you would in a hotel room). If you're up for meeting other solo travelers, choose small group or escorted travel, particularly to destinations that are off-the-beaten-path. Expedition cruises and safaris are two other popular options if you're looking for more social experiences.
4. Buddying up can be good for your budget
Two words send shivers down the spines of solo travelers: single supplement. Since hotels charge by the room — not by the number of people using the room — you'll likely be charged the same rate as two people sharing a room if you book alone. . Try to reserve a single room well in advance, but if you can't do that, check any single supplement charges before you book. You can also ask about a roommate option where you sign up to share a room with another solo traveler, saving money and making a friend.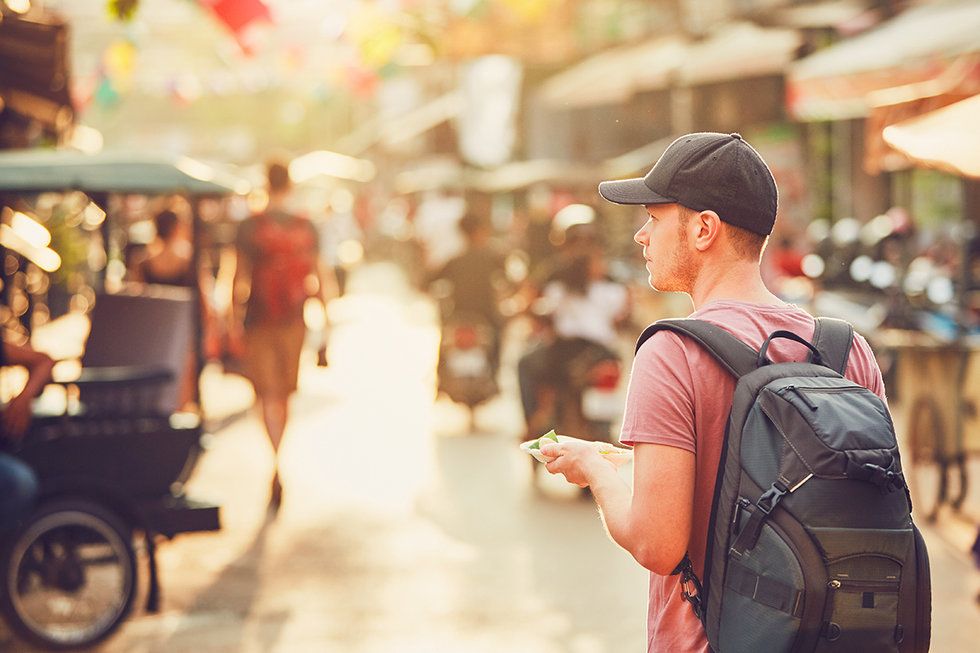 5. Choose your destination wisely
The world is your oyster but be careful not to bite off more than you can chew. A shorter trip somewhere close to home will give you a good idea of how solo travel works. From there you can work up to bigger adventures. London, Tokyo, Sydney, Melbourne and Bangkok all rank very highlywith solo travelers from the U.S. And there are plenty of great U.S. destinations, like New York, Seattle, San Diego and Washington, D.C., and lots of great options on a smaller scale, like Austin, Texas; Charleston, South Carolina; Asheville, North Carolina; and Boulder, Colorado. Most of those are big, vibrant, bustling cities with enough to keep you entertained around the clock, and each gives you the chance to meet other travelers or explore on your own.
6. You're free to make it up as you go
Solo trips mean every decision you make is up to you and only affects only you. Want to ride a mule deep into the Grand Canyon? You can. Want to spend three days in the Louvre? That's your call. Want to sleep in until midday? Go for it.
Perhaps the greatest benefit of traveling alone is that you can do what you want whenever you want, and you can change your plans at any time. The freedom to make it up as you go is rare in everyday life and it won't last forever, so embrace it while you can.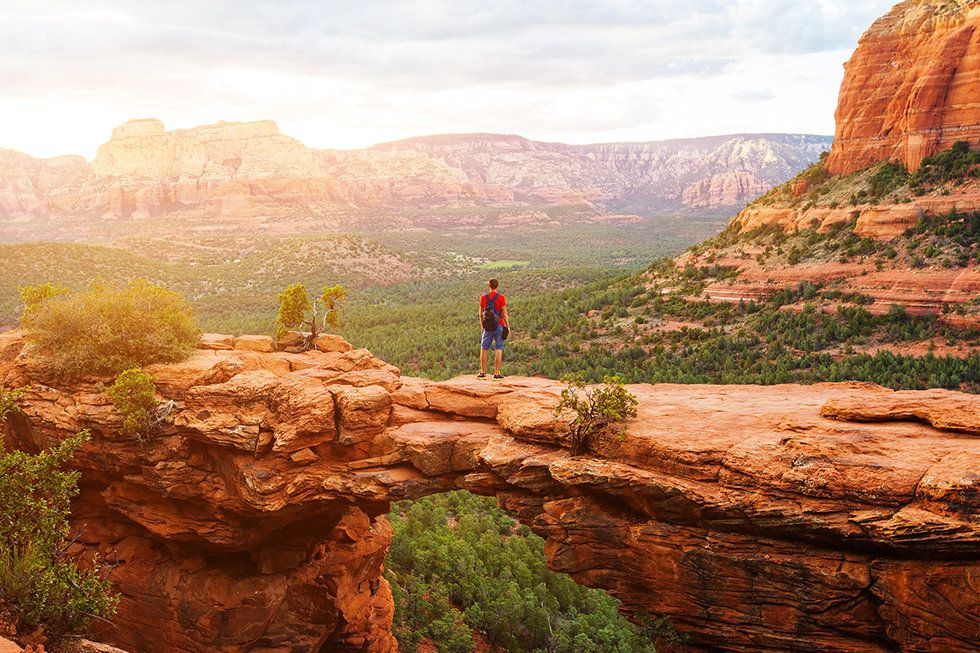 7. You may encounter and defeat a new phobia
Solomangarephobia is the fear of eating alone in public. The dreaded table for one can be the most difficult and awkward part of solo travel, but it doesn't have to be. Seek out a casual cafe rather than a fancy restaurant. Then find a seat at the bar, on a terrace or in a booth, bring a book or your diary and chat to the restaurant staff. And from time to time, you can avoid the awkwardness completely by ordering room service and eating dinner on your bed.
8. You'll learn more by talking to the locals
Travel guide books and apps are great for gaining a better understanding of a place, but they're never as effective as speaking to the locals. An all-night salsa dancing joint in Havana, a secretive speakeasy in Brooklyn, the hands-down best street food in all of Bangkok — nobody knows the local scene like a local. Smile, attempt to say hello in their language, ask questions and you'll end up with a far better experience — and maybe even a friend for life.
9. You'll need a secret stash of cash
Running out of money a long way from home is never fun, but it's even more of a problem if you're all by yourself. To guard against an unexpected emergency, take a $100 bill and tuck it under the sole of your shoe. You might not need it, but if you do, that little piece of paper might just get you out of a scrape.
10. And you'll need to act appropriately
When you're traveling on your own, a little caution goes a long way. Research which neighborhoods are and aren't safe to roam, particularly alone and after dark. If you get lost, avoid standing around poring over maps like an obvious out-of-towner. If you drink, don't drink too much that you can't easily find your way back home. And as cynical as it might sound, keep an open mind but trust no one. The world is a big and beautiful place, but trust your common sense.
Solotravelerworld.com is an excellent resource to find out more.
And wherever you choose to travel, begin your solo trip by booking your flights via united.com or the United mobile app.
New York City celebrates Stonewall 50
Story by Matthew Wexler | Illustration by Made Up | Hemispheres June 2019
This month, New York City celebrates the 50th anniversary of the Stonewall riots—which sparked the modern LGBTQ rights movement—and hosts the first WorldPride event to be held in the U.S. Here, five artists and activists who are participating in the festivities share what Pride means to them.
Melissa Etheridge
Singer-Songwriter
"I grew up in Kansas, and it was the late '70s when I started hearing rumblings of the gay liberation movement. I remember looking at my mom's copy of Life magazine and seeing a photo of women sitting next to each other in a bar. I exploded inside. The LGBTQ community reaches across every ethnicity and every country on earth. WorldPride is a celebration of love and something we still have to fight for. It reminds me of where we were 50 years ago, when we said, 'We're not going to hate ourselves anymore.' It's my honor to create art that reflects what we're going through—the worries, hopes, and dreams of our times."
The Grammy-and Oscar-winning singer-songwriter will headline the WorldPride Closing Ceremony in Times Square (June 30)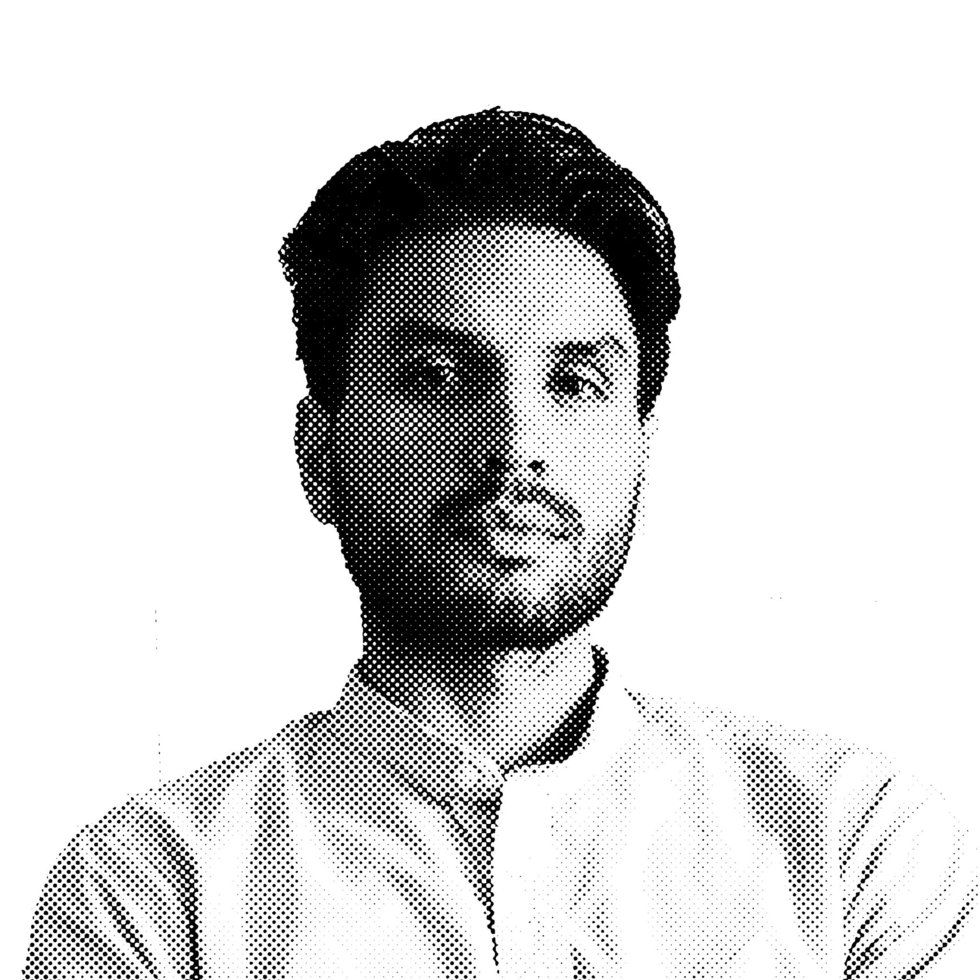 Camilo Godoy
Artist
"There's a long history of presenting queerness and eroticism through photography, showing bodies in ways that are beautiful, poetic, and disruptive. Part of my recent project Amigxs appears in the
[current] Brooklyn Museum exhibit and explores the intersection of desire and activism in public space. I think of mentors—artists like Félix González-Torres and David Wojnarowicz—who died because of political inaction during the AIDS crisis. I'm thrilled this exhibit can be a place for people to learn about communities not at the center of our collective narrative."
The Colombian-born artist's work appears in the Brooklyn Museum's Nobody Promised You Tomorrow: Art 50 Years After Stonewall (through December 8)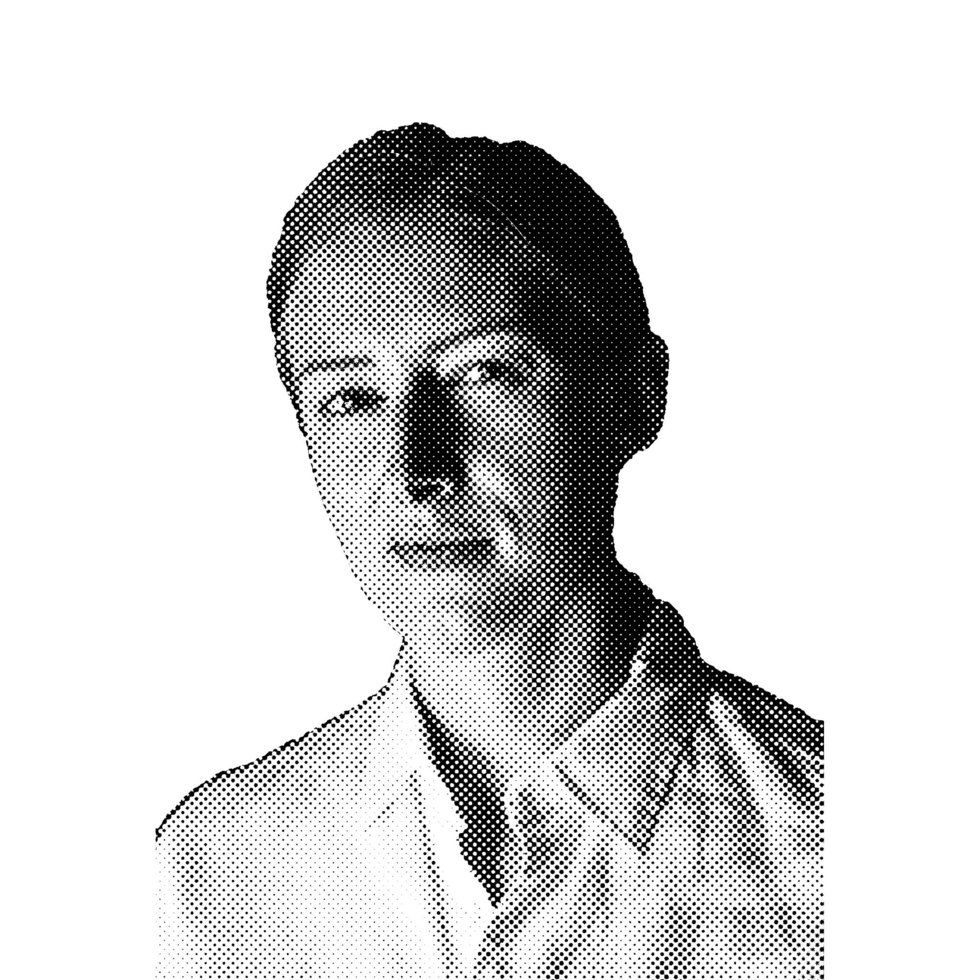 Liz Bouk
Opera Singer
"A lot led up to the moment in 2017 when I looked in the mirror and said, 'Oh my gosh, I'm a man.' After walking in my first Pride March last year with my family, I grabbed a bunch of books about Stonewall to understand how the current transgender movement fits into history. People like Sylvia Rivera, Lou Sullivan, and Marsha P. Johnson
were fearless and gave themselves permission to live their truths. In New York City Opera's Stonewall, I'll be portraying a transgender character created specifically for a transgender singer. I hope people leave celebrating the progress we've made and also feel moved to advocate for change and acceptance of all LGBTQ people."
The mezzo-soprano appears in Stonewall at New York City Opera (June 21–28)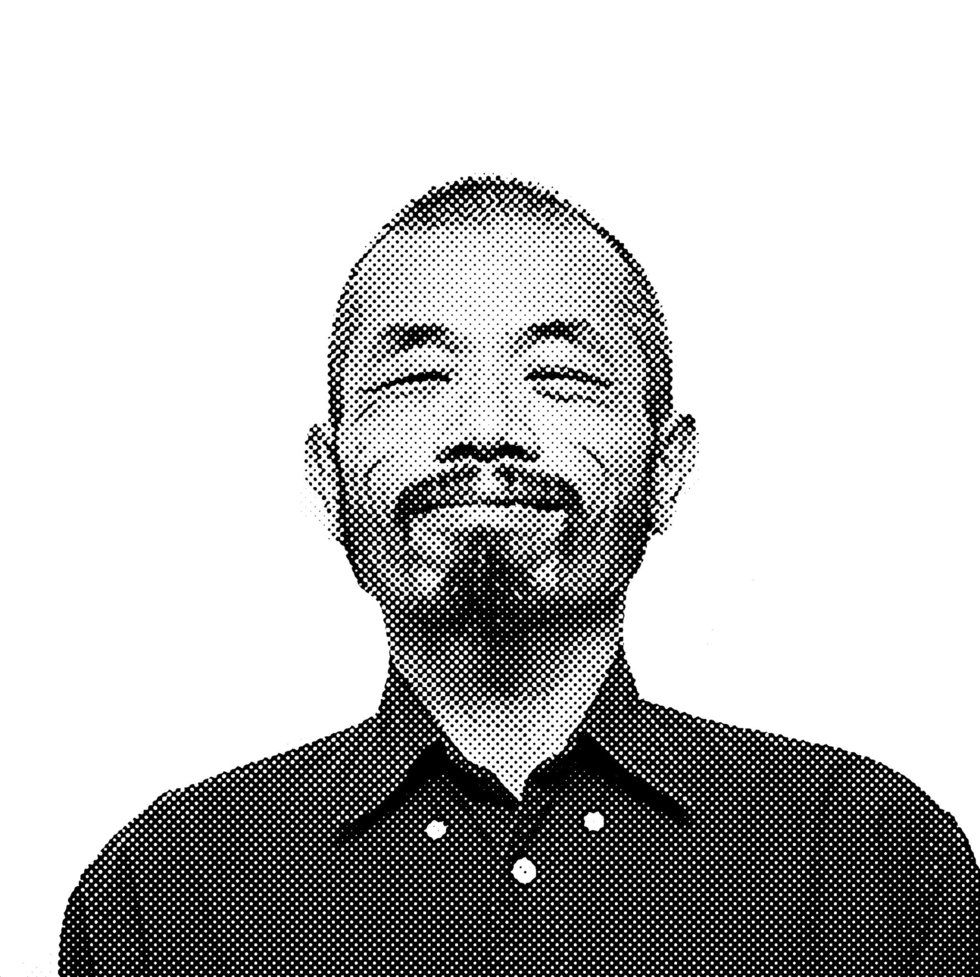 Tommy Hom
Stonewall 50 Director
"I was born and raised in New York City and attended my first Pride event in 1985. My friends brought me to the Village, and I wound up in the middle of the crowd among so many diverse people, thinking, 'I'm not the only one.' I've discovered through my lifetime that we're constantly coming out as we evolve as individuals and as a community. Stonewall is a pivotal point in our history, and this commemoration takes it back to the streets. We should never forget that dancing under starlight or holding hands in public was once an act of rebellion. It's a rallying call, because we're not finished with the fight for equality."
The Stonewall 50 director spearheads a rally at the site of the original uprising, Christopher Street and Waverly Place (June 28)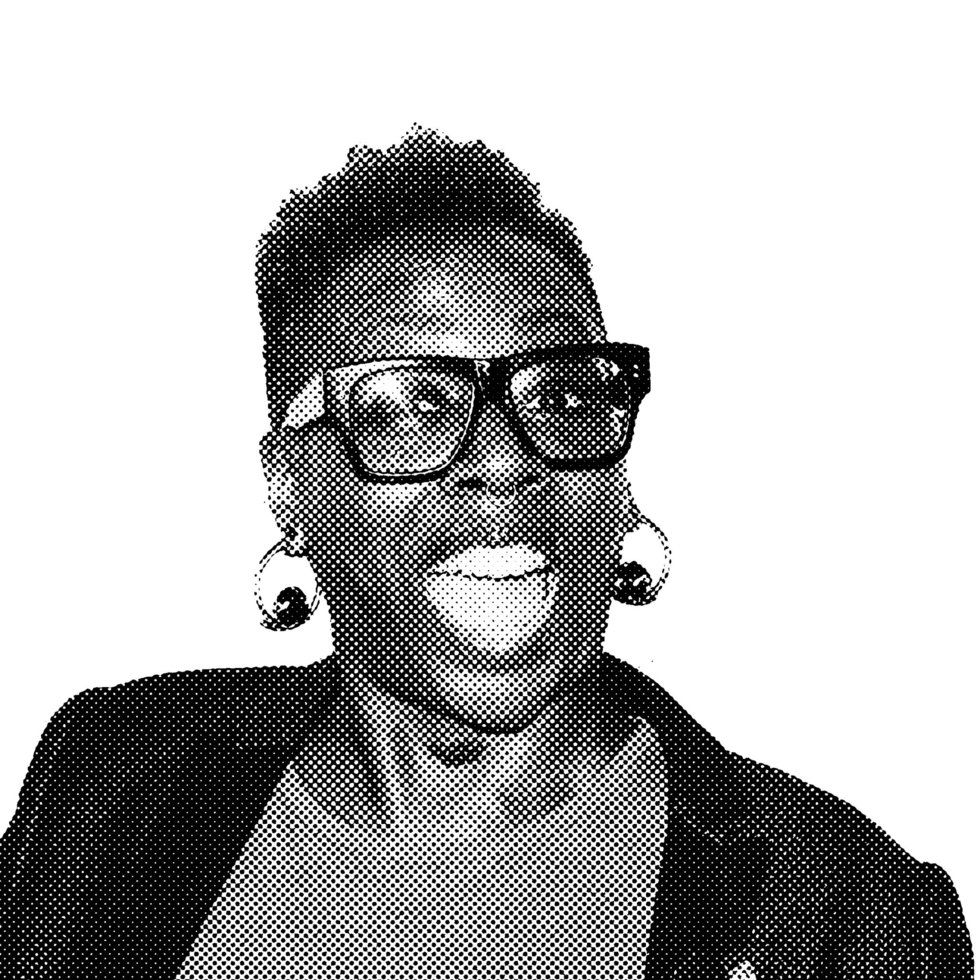 Gina Yashere
Comedian
"I've never seen myself as an activist—I'm a straight-up entertainer. I fell into comedy by accident when I wrote a skit for a charity talent show, and people were pissing themselves laughing. I thought, 'Oh, this is comedy!' I talk about myself and my life experiences, and so I'm political just by virtue of who I am: a black, female, gay immigrant. I discovered and came to admire people like Wanda Sykes and Whoopi Goldberg, black women making it in the industry against the odds. Let's suspend the doctrine of what we've been fed. See people as people. At the end of the day, we're all just walking hunks of meat."
The British comedian will appear at Levity & Justice for All, a comedy benefit for Project LPAC, at PlayStation Theater (June 25)
Photo Credits: Rob Kim/Wireimage (Etheridge); Courtesy of the artist (Godoy); Sarah Shatz (Bouk); Courtesy of Tommy Hom (Hom); Gabriel Olsen/FilmMagic (Yashere)
Denver's airport in full bloom
With our summer schedule in effect, we set a new record at Denver International Airport today by offering more than 500 daily departures from our Rocky Mountain hub for the first time ever. Since January 1, 2018, we've added 32 new domestic and international routes out of Denver, creating more than 2,600 additional connection opportunities for our customers there. The 500-plus-daily-flights milestone is a result of those efforts, which are all part of our strategy to significantly grow our presence in our mid-continent hubs.
"Denver's record growth symbolizes the investments we're making in our people and our company, both in Denver and throughout our network," said President Scott Kirby. "As we focus on strengthening our mid-continent hubs, our record schedule allows us to provide our customers with a better travel experience by offering more connections and more destinations."
Along with being the airport's largest airline, we are also one of the region's biggest employers and economic drivers. The city is home to our brand-new, state-of-the-art flight training center, the largest single-site flight training center in the world, and we've increased our employee headcount in the area by 970 in recent years. This growth is all about giving our Denver customers unrivaled choice and convenience when it comes to destinations and flight times. Along with that, thanks to our new Denver flight banks, we have increased the number of morning flights available to business customers traveling from Denver to the East and West Coasts, while improving connectivity to Midwest and mountain region destinations.
For more on our Denver operation, see the infographic below.

Denver celebrates record-breaking flight schedule

United in Denver is operating more than 500 daily departures this summer† – the largest schedule in our history.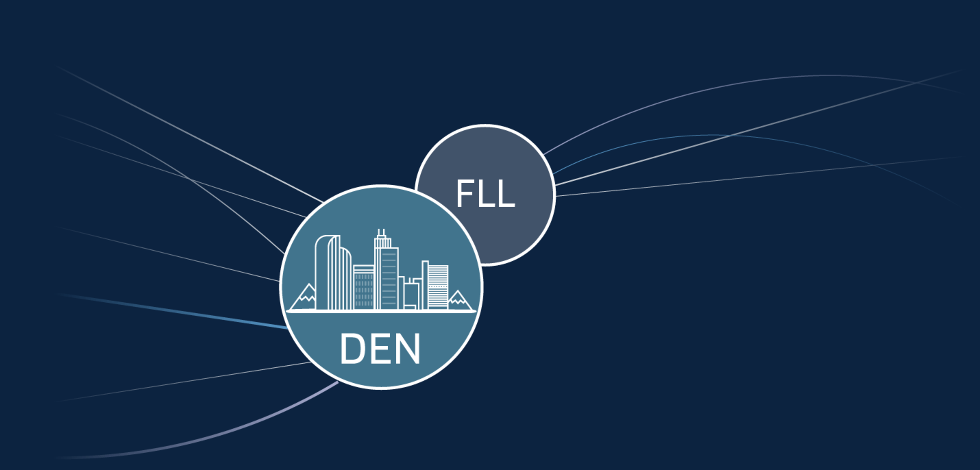 DEN – FLL is the 500th daily flight out of DEN
The historic milestone is a testament to United's commitment to Denver and our overall growth strategy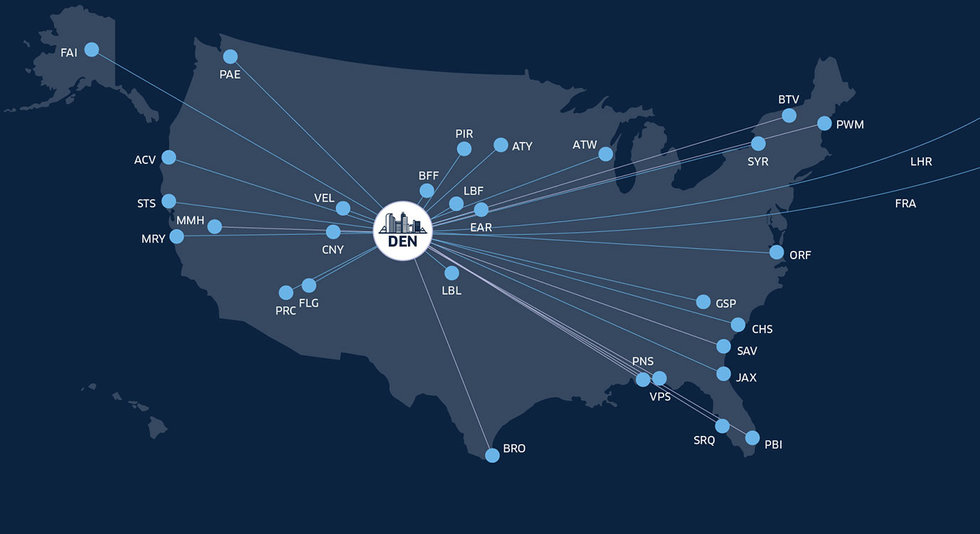 32 domestic and international routes have been added out of DEN*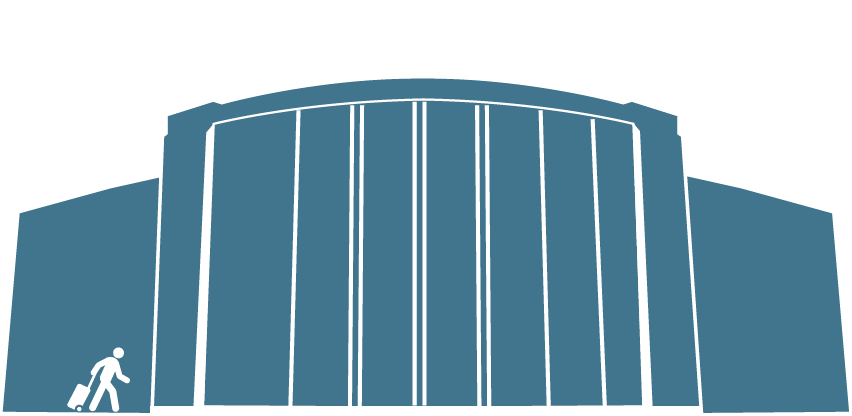 Unveiled world's largest single site flight training center *
United's employees are the foundation of our success
Everyone is key to continuing to provide our customers with excellent service while we grow to provide them access to the places they want to go.
970 employees hired in Denver*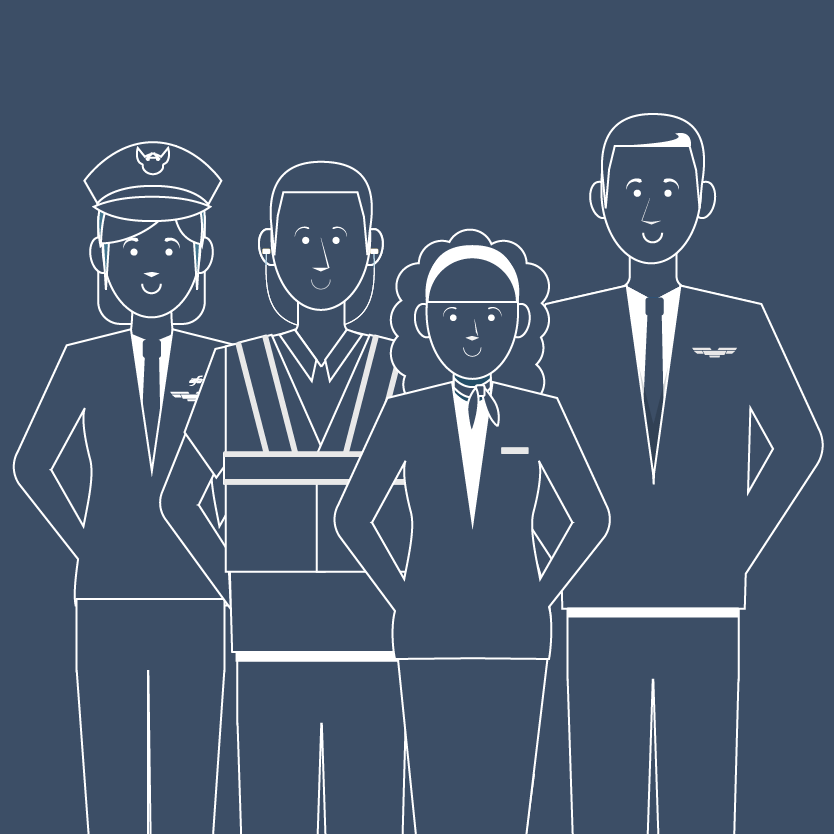 Denver is proof that the growth strategy we rolled out in 2018 is working
2,600 new connection opportunities for our customers flying through DEN since last year

† three days per week
* since Jan. 1 2018
Flying our heroes for the 75th anniversary of D-Day
Over the past several days, on flights out of Washington D.C., Houston, Chicago, San Francisco, Los Angeles, Denver and others, we had the distinct honor and privilege of welcoming more than two dozen World War II veterans en route to Holland and France, back to the places where many of them fought 75 years ago during the Allied D-Day landings and associated battles.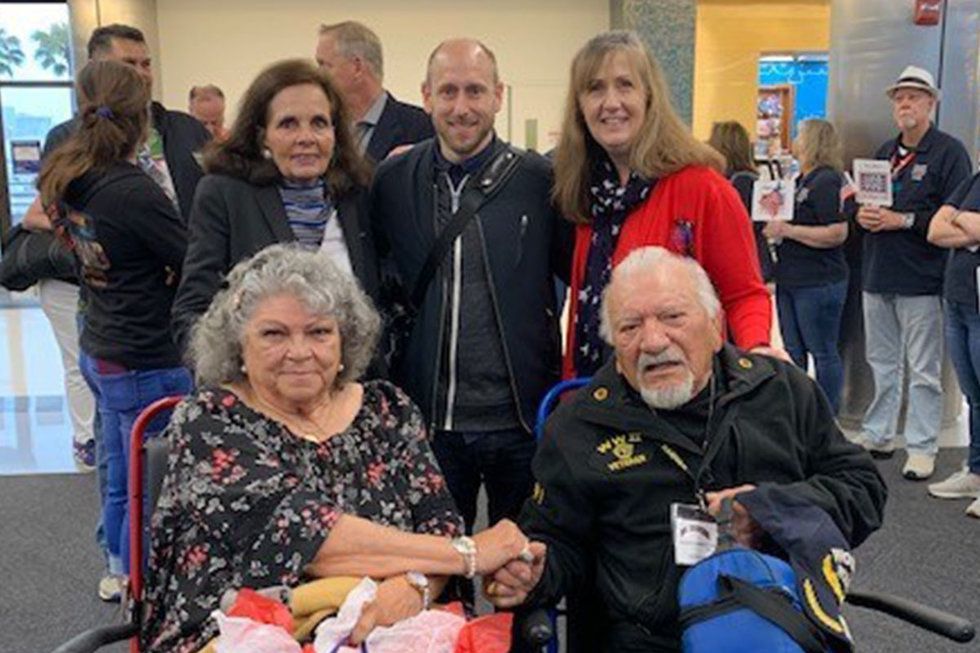 At Los Angeles International Airport, Customer Service Representative Cindy Good, whose uncle, Eric Meissner, took part in the invasion of Normandy, France that began on June 6, 1944 — D-Day — said a few words to the assembled crowd of onlookers who had gathered to see veteran Rudolfo Huereque off before he boarded his flight.

"My mom and family grew up in Austria under Hitler's rule, so if it were not for the Americans and Allied Forces that liberated countries across Europe, I know that I would not be here today," Cindy said. "Many World War II veterans will say 'they didn't do anything,' or 'they were only doing their job.' To those, I will say, 'You did everything… you saved the world.'"
Owing to that debt of gratitude she feels, Cindy works year-round with organizations that arrange for veterans to revisit the former battlefields where they served. Leading up to the 75th anniversary of D-Day, she contacted the airports from which a number of veterans would depart for remembrance trips, working with local employees who ensured the veterans received the hero's welcome they deserve when arriving at the airport.
In a particularly powerful scene at Washington D.C.'s Dulles Airport, a group of the veterans spoke with area high school students before leaving for Europe. As the veterans recounted their experiences, the students listened in intense silence, seeing the war for the first time through the eyes of the men who lived it.
"What was amazing to see is how they expressed no regret, and that they knew it was their duty and honor," said Dulles Airport Managing Director Omar Idris, who led the proceedings alongside members of our United for Veterans business resource group.
Among was 100-year-old Sidney Walton, who served in the China-India-Burma theater of World War II and is one of the oldest surviving veterans of the war. He's been on a mission to visit all 50 states, in addition to battle sites overseas, so that he can tell his story as a living link to a past that is quickly fading as more and more World War II veterans pass away.
At Denver's International Airport, employees and customers paid their respects to Ronald Scharfe, an Iwo Jima veteran, and Leila Morrison, who served on the front lines as a U.S. Army nurse and 2nd lieutenant during the war. We threw them a catered reception at the gate, where they were met with a round of applause, and arranged a water cannon salute as they taxied before takeoff.
"We owe so much to them that this is the least we can do for our 'Greatest Generation' American heroes," said Denver Airport's Customer Service Supervisor Cheryl Searle. "It felt like a Fourth of July parade in small town USA with American flags waving throughout the concourse."
Elsewhere, we had veterans depart from Birmingham, Alabama), San Diego, Las Vegas, Rochester, New York, Little Rock, Arkansas, Chattanooga, Tennessee, Akron/Canton, Ohio, Dallas/Ft. Worth, Minneapolis/St. Paul, San Antonio, Greensboro, North Carolina, Savannah, Georgia, Charlotte, North Carolina and Missoula, Montana.
United captain retraces historic D-Day flight
They came through the clouds from across the English Channel, dozens of Douglas C-47s in tight formation, just as they had 75 years earlier, when the low hum of their propellers signaled the coming liberation of Europe.
As the squadron soared over the beaches of Normandy in France, a swarm of dark specks suddenly appeared beneath them, silhouetted against the bright sky. Hundreds of men and women wearing period-correct parachutes and World War II uniforms drifted down from the planes toward the original drop zones the Allies used on D-Day in 1944.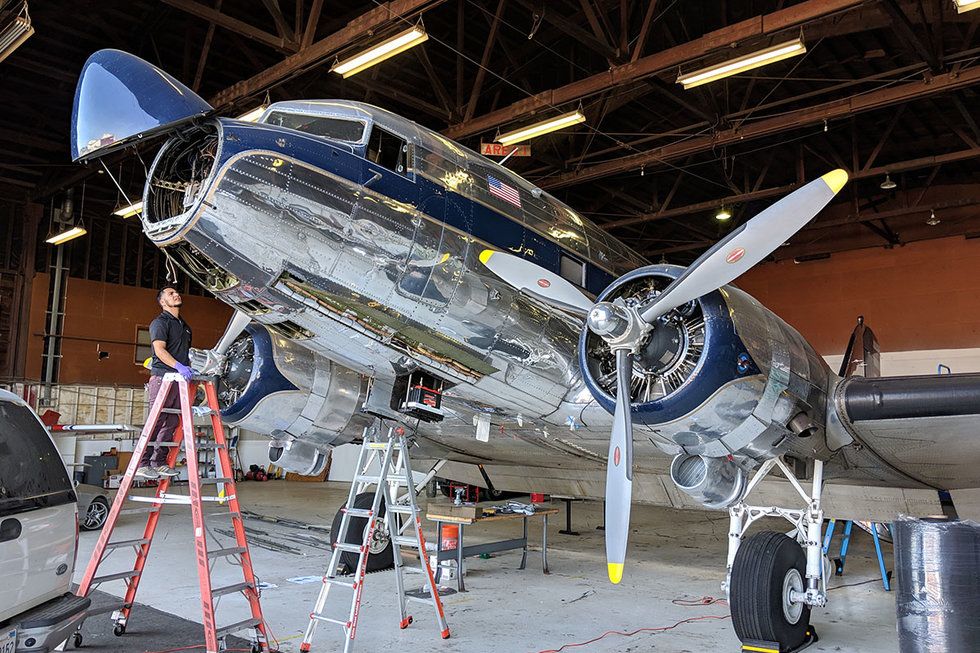 With the last parachutist clear, the aircraft proceeded eastward to Caen, France. San Francisco-based 787 Captain Steve Craig, who piloted one of the C-47s, looked down upon the rolling green meadows below, where the Battle of Normandy had raged following D-Day, and tried to imagine it as it was all those years ago.
This flight was a dream come true for Steve, an aviation history buff with a keen interest in old warbirds. He earned his chops flying Douglas DC-3s, the civilian version of the C-47, back in the 1980s, transporting crates of fish between Seattle and Anchorage, Alaska, and to hear him tell it, that plane was his first love. Even after joining United as a pilot in 1990, he sat for check rides on the DC-3, and today he is one of perhaps 100 pilots in the United States still qualified to fly the aircraft.
That put him in a unique position when, several months ago, private DC-3 and C-47 owners were finalizing plans for a Normandy flyover commemorating the 75th anniversary of D-Day. Hundreds of C-47s had transported thousands of paratroopers from England to Normandy during the invasion, making it the plane most synonymous with D-Day. Now, they needed pilots like Steve so they could fly once more.
The mission was known as Daks Over Normandy, "Dak" being short for "Dakota," which is what the British called the C-47 (in the U.S. it was known as the "Skytrain"). Starting late last month, roughly 30 Daks from around the world converged upon the Duxford Aerodrome, an airfield in Cambridgeshire, England, for a military aircraft show. On the night of June 5, they departed for France, following the same flight path and schedule Allied airmen used on D-Day, arriving over Normandy early on the morning of June 6.
The aircraft Steve flew, tail number N341A, was actually designated as a C-41 during World War II, which was a version of the C-47 modified for VIP travel. It was one of two identical aircraft that U.S. General Henry "Hap" Arnold used as aerial command posts in the theater.
Polished silver aluminum, with a red-and-white tail rudder, it was delivered to U.S. Army Air Command in 1939 and subsequently based at Bolling Army Airfield in Washington, D.C., before serving overseas. Knowing his reputation and experience with this kind of aircraft, the C-41's owner contacted Steve this past February and arranged for him to fly the plane in the Daks Over Normandy event.
Steve's journey started in Oakland, California, where N341A resides, on May 26. It took him seven days, with all the fuel stops, to make the trip to Duxford, where he arrived on June 1. Once there, he had a few days to take care of general maintenance while the aircraft was on display before departing for the historic flight over the channel, the largest single gathering of Dakotas since the war.
ABC News correspondent David Kerley covered the Daks Over Normandy flyover, highlighting the efforts that made it possible. Click here for the video. You can also relive Steve's trip through his blog here.
The ultimate guide to San Francisco's top neighborhoods
Seeing the sights of San Francisco is fun, but once you've been to Fisherman's Wharf, Pier 39, Union Square, the waterfront and the major museums — what's next? Try venturing out to San Francisco's colorful, eclectic neighborhoods for a more authentic experience.
Each major neighborhood is filled with pleasant people-watching, rave-worthy restaurants and a major upcoming festival. And each is within 20 minutes of downtown hotels on foot or by light-rail, streetcar, bus, taxi or ride-share.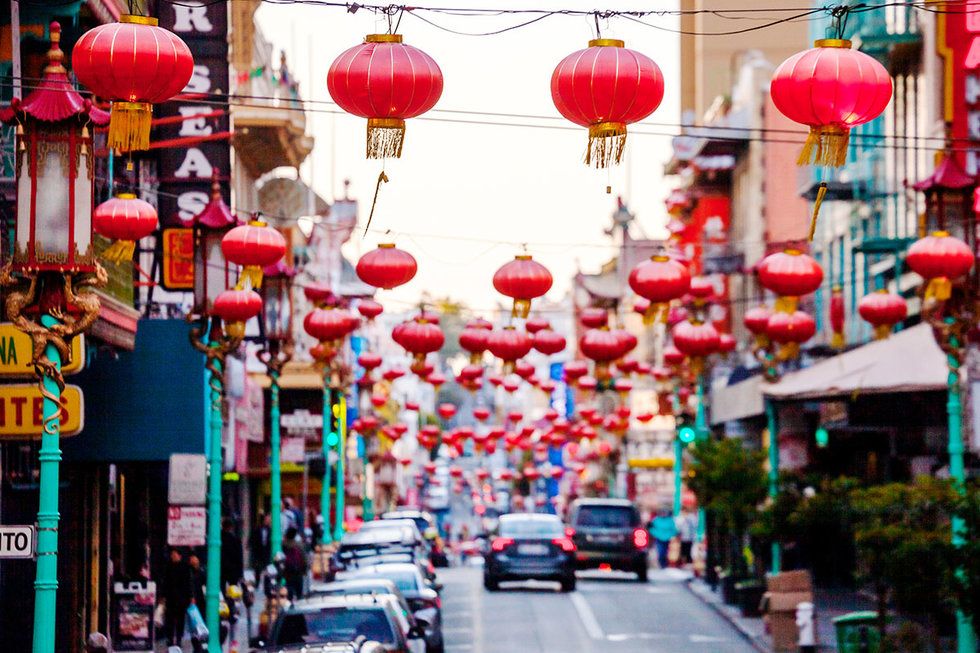 Chinatown
Chinatown
First generation Chinese-Americans have crowded into America's oldest
Chinatown
for more than a century, so it feels like a slice of China with its hundreds of shops, produce markets, teahouses and restaurants (check out
China Live
). Visitors should explore Stockton Street and the alleys where locals shop — not just tourist-oriented Grant Avenue.
North Beach
Italian-Americans rebuilt San Francisco after the 1906 earthquake and fire and settled in North Beach, where you can still enjoy pasta and Italian espresso. (Try crazy-fun Stinking Rose, the iconic Caffe Trieste or America's oldest Italian restaurant, Fior d'Italia.) And if you're in town in June, check out the North Beach Festival (June 15-16) and in October, the 151st Italian Heritage Parade (October 13).

The Marina
Marina residents enjoy the city's best Golden Gate Bridge views, and it's the best place by far to watch the Blue Angels perform over the bay during the San Francisco Fleet Week Air Show, presented by none other than United (October 11-13). It's also a bonanza for the upscale shopping and dining — try Pacific Catch or Kaiyo — on two parallel commercial streets: Union Street attracts a well-heeled older crowd and Chestnut Street attracts a livelier and younger crowd.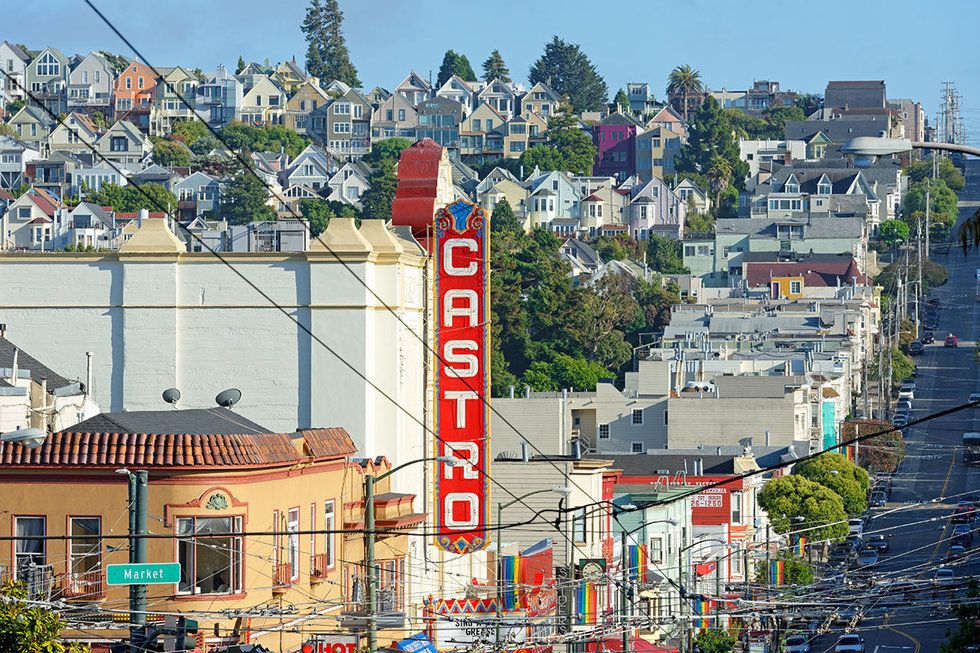 Castro neighborhood
The Castro
The Castro has been at the heart of LGBTQ culture in the U.S. for 50 years, and the neighborhood is as vibrant as ever. Visitors should stop by the GLBT Museum, enjoy lunch and a chamtini (champagne/martini) at Harvey's — named after "Mayor of Castro Street" Harvey Milk, and catch a classic movie at the Castro Theatre, a 1,400-seat art-deco gem. The Castro is at its liveliest during San Francisco's Pride Parade & Celebration (June 29-30).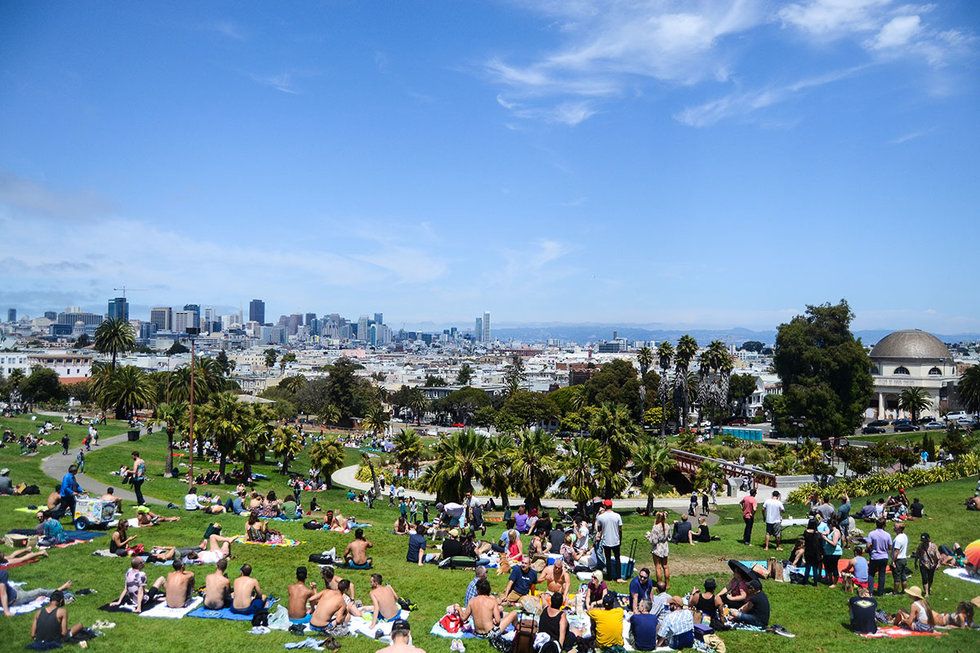 Summer at Dolores Park
The Mission
In the heavily Hispanic Mission District, rapidly gentrifying Valencia Street is just edgy enough to be a favorite of millennials. Taco joints stand alongside fine dining, but affordable, restaurants like Locanda and Al's Place — the least-expensive Michelin-star restaurant in America. Between meals, check out Mission Dolores, the oldest building in the city (1791), and Dolores Park, millennial central on sunny days. Valencia Street teems with 10,000 bookworms during Lit Crawl (October 19), a three-hour circus of 108 readings by authors and poets.
The Haight
Fifty-two years after the Summer of Love, there's still a lot to love about the Haight besides taking a selfie at the famed intersection of Haight and Ashbury. The hippie vibe still lives on even as once-radical concepts like socialism and marijuana use are now more accepted. On the street once prowled by Janis Joplin, Jimi Hendrix and the Grateful Dead are Hippie Thai, the world's largest independent music store, a dazzling Buddhist-merchandise shop and a unique tie-dye shop, Love on Haight.
Fillmore/Japantown
Japantown is the Bay Area's cultural hub for Japanese-Americans and the Fillmore District is a hub of African-American culture. They are side-by-side on Fillmore Street, with the Japan Center Mall the focal point of Japantown and the Fillmore District stretching north along Fillmore. Enjoy Waraku's ramen for lunch or nightly jazz and Italian fare at Zingari. The Fillmore's rich jazz history is celebrated during the Fillmore Jazz Festival (July 6-7) and Japantown's big festival is the Nihonmachi Street Fair (August 4-5).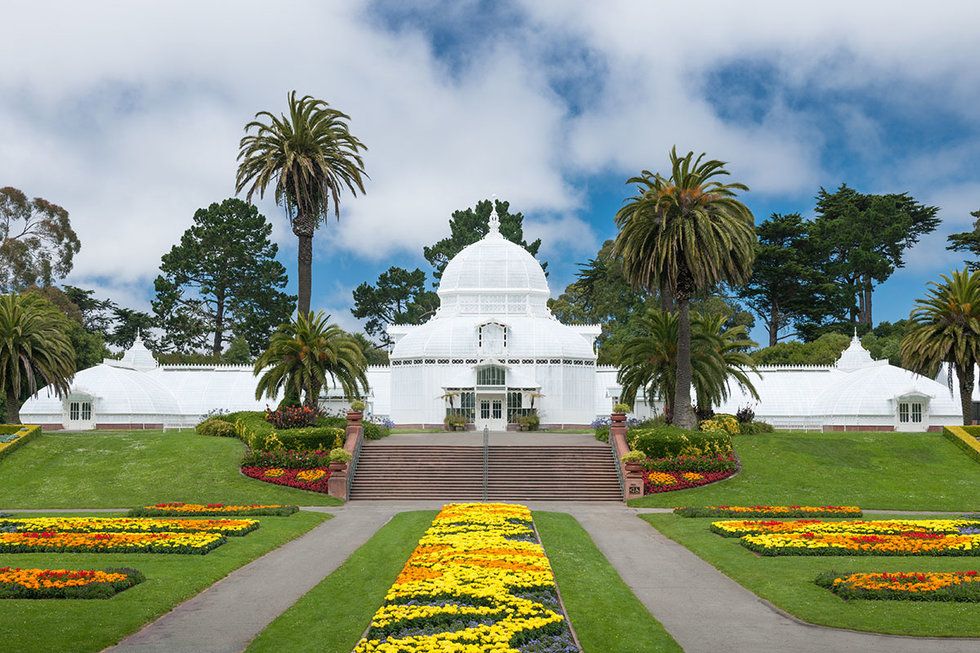 Conservatory of Flowers in Golden Gate Park
Inner Richmond
The predominantly Asian-American Inner Richmond District is the thickest concentration of Asian restaurants in the city outside Chinatown. The 12-block-long buffet line of eateries on Clement Street includes memorable spots like Chili House, where you can enjoy a dim sum lunch between visits to the Conservatory of Flowers and the California Academy of Sciences and De Young museums in nearby Golden Gate Park. Also in the park on October 4-6 is Hardly Strictly Bluegrass, a free, six-stage outdoor concert that draws more than a half-million people.
If you go
A San Francisco visit is a great escape from summer heat or for a fall getaway when the weather is the most pleasant. United offers numerous flights to San Francisco from cities throughout the U.S. and worldwide. MileagePlus® Rewards can help pay for your hotel room. Go to united.com or use the United app to plan your San Francisco vacation.
We're listening
Check out our newest destinations
United Airlines
united
It's easy for Captain Brian Walsh and First Officer Brian Walsh Jr. to name their favorite Father's Day memory. That'd be Father's Day 2017, when they shared the flight deck for the first time. Here's to following in dad's footsteps.
#HappyFathersDay
United Airlines
united
We've issued a travel waiver for Newark due to runway operational disruptions. If you're traveling 6/15 or 6/16, you can change your flight at no cost on our mobile app, by direct messaging us here or calling Reservations at 1-800-864-8331. Waiver:
uafly.co/Z04CmP
United Airlines
united
As many as 150,000 customers make connections on United flights every day. Our new ConnectionSaver tool is making the experience better than ever. Here's how:
uafly.co/A6kQz9
We Are United
weareunited
As part of our longstanding relationship with
@SpecialOlympics
, Team LAX volunteered at this year's
@SOSoCal
Summer Games last weekend at Cal State Long Beach, helping more than 1,100 athletes with intellectual disabilities compete in the sports they love!
We Are United
weareunited
EWR-based FA Alberto G. is making a name for himself around the bases! His newest artwork of a 777 flying over the 7 continents with Willis Tower in the background, was unveiled at ORD this week!
#BeingUnited
We Are United
weareunited
These cards are signed, sealed and on their way to being delivered in time for Father's Day! Thanks to uIMPACT for organizing card-writing opportunities at their chapters around the system. 🙌🙌🙌
#BeingUnited
We Are United
weareunited
All 7 hubs welcomed 188 college students into this year's United Summer Associates program! Be sure to welcome the associates to the
#BeingUnited
family as you see them in our airports assisting customers and learning behind-the-scenes.
We Are United
weareunited
Recently, two of our stations in Mexico have achieved status recognition as a part of our Safety Excellence Program. Congratulations to Team MTY for their Silver status and Team GDL for their Gold status!
We Are United
weareunited
This week, Oscar stopped by each
#BeingUnited
station in Hawaii to talk about our growth and meet with those who run service on the islands day-in and day-out! 🌴✈️
Watch our most popular videos
Watch the new Big Metal Bird: Veterans
Neighbors, coworkers, parents, protectors, heroes. All of these labels and more encompass the men and women whose devotion to our country serves as the truest embodiment of the American spirit. We're talking about Veterans. Join host Phil Torres as he heads to our nation's capital to learn more about these heroes and to explore just how many United employees are veterans on this Big Metal Bird.
Watch the new Big Metal Bird: Charters
From players and personnel to thousands of pounds of equipment, it takes not only a game plan, but a team to get the San Francisco 49ers to their next game and back all within 24 hours. This process is a little thing in the airline business we call chartering. Learn more about how our Charter team gets professional sports teams to their away games and back on the newest episode of Big Metal Bird.
Copyright © 2019 United Airlines, Inc.
All rights reserved.
Indicates an external site that may or may not meet accessibility guidelines.
Scroll to top
Scroll to top