Three Perfect Days: Rio de Janeiro
Story by Justin Goldman | Photography by Lianne Milton | Hemispheres August 2016

You can have your Paris, your Istanbul, your San Francisco. Ask the Cariocas, as the residents of Rio de Janeiro are known, and they'll tell you that any city claiming to be the most beautiful in the world is really just vying for silver, after the Cidade Maravilhosa.
At this month's Summer Olympics, the world will see a Marvelous City that's gotten a makeover—to the tune of about $10 billion. But Rio doesn't need to be gussied up to take your breath away. As a visitor, you'll likely spend much of your time atop one of the city's spectacular mountains, looking down at Copacabana Beach, the Maracanã, Guanabara Bay, Lagoa Rodrigo de Freitas. Even the notorious favelas possess a strange, aspirational beauty in the way they climb the forested hillsides.
But it's at ground level that you'll see Rio's real beauty. The Cariocas are a famously friendly, fun-loving people—and famously attractive—and you'll feel this vibe constantly, from your early-morning jog on the beach to your late-night samba singalong. If travel is about opening your eyes, no city will stretch them wider than this one.
In which Justin sees girls from Ipanema, takes a ride up sugarloaf mountain, and samples Brazilian-French cuisine
"Glass of Champagne?" a lovely young woman in a navy skirtsuit asks me as I check into the Miramar Hotel. It's only morning, but since one of my rules in life is to never turn down bubbly, I accept and head up to my 15th-floor room, where I stand at a picture window and watch the Atlantic Ocean break onto perhaps the world's most famous strip of sand: Copacabana Beach.
For a different kind of buzz, I slip on my sneakers and cross Avenida Atlântica to the wave-patterned mosaic walkway, where I join a stream of runners, bikers, tourists, and locals moving along the crescent-shaped beach. I jog north, past elaborate sand castles, beach soccer games, kiosks already serving beer and cocktails, vendors selling kangas (beach towels) and handmade bracelets. Finally I reach the fortified hillside of Morro do Leme, from which fishermen cast their lines into the waves.
A stained-glass window at the Catedral Metropolitana
By the time I make it back to Posto 5, the lifeguard station across from the Miramar, I've got a serious sweat going, so I cut a couple of blocks over and dip into one of the suco (juice) stands that line Avenida Nossa Senhora de Copacabana. I'm struck with indecision by the various tropical fruits on the counter—guava, mango, papaya, things I don't recognize—before settling on a smoothie made from the Amazonian superberry açaí. I'm pleasantly surprised when the cashier hands me the suco, which crowns over the top of the glass like soft-serve ice cream. Mister Softee's got nothing on this.
After a shower and a liberal application of sunblock, I'm ready to check out Rio's other world-famous beach. I stop in at a sandal shop to buy a pair of Havaianas, Brazil's signature flip-flops, then pick up a wave-patterned kanga from a beach vendor. Moving south, I pass blocky beachfront towers, eventually reaching Parque Garota de Ipanema, where I can't help but start humming the Tom Jobim and Vinícius de Moraes classic "Girl From Ipanema."
On the far side of the park, I climb a cactus-lined trail to the top of Ponta do Arpoador, a rocky bluff with a sweeping view. To my left, there's the small Praia do Diablo cove, where surfers crowd the water and the air cracks with the thwock of old men striking paddleballs. To my right curves Ipanema Beach, the stretch of sand immortalized by Jobim and favored by high-society Cariocas. In the distance, the twin granite peaks of Morro Dois Irmãos (Two Brothers Mountain) lean out over the beach, separating Rio's toniest neighborhood from Vidigal, the favela that climbs the mountain's far foothill.
Thomas Troisgros, Chef, Olympe
I head down along Ipanema to Posto 9, the station around which Rio's chicest sunbathers gather. I rent a chair and an umbrella, and stake out a patch of microscopically grained white sand for people-watching. Speaking of microscopic: You've probably heard that the bathing suits here are small. I can confirm that this is true, and my powers of deduction lead me to conclude that Brazilians lead active, outdoor lifestyles. I'd better head out before I get caught staring.
I walk back toward Arpoador, through palm-shaded Praça General Osório, to my lunch spot, Casa da Feijoada. The restaurant's namesake dish is a stew that's traditionally reserved for Saturday afternoons (when it was eaten by plantation slaves), but it's been served daily here for 28 years. I sit in the cozy dining room, the green walls decorated with line drawings of workers preparing feijoada, and my waiter pours me a batida, a shot of lime juice and cachaça, Brazil's fiery national sugarcane liquor. Soon, he's loading my table with bowls of white rice, black beans, sausage and pork chunks in black broth, farofa (toasted flour made from manioc root), chunks of fried bacon, stewed greens, and orange slices. I am a plate-cleaner by nature, but even for me this is a mighty task—one that I manage only because of how fantastic the feast is.
"Rio has a big bar scene, the botecos. Bar Urca, by Sugarloaf, is really nice. Bar da Gema is really cool also—a lot of beef tongue and hearts. Beef tongue is huge in bars. And those little cakes. But the thing is, there's no such thing as 'high' food or 'low' food in Rio. It's either good or bad." —Thomas Troisgros
Clutching my stomach, I head out and catch a cab, which zips me back across Copacabana. We slow to a crawl passing the palatial Federal University of Rio de Janeiro, then enter a parking lot at the base of Pão de Açúcar, the famed Sugarloaf Mountain. Watching climbers tackle the granite walls inspires me to stand in line for the cable car, which rises to the top in two stages. At the end of the first leg, atop Morro da Urca, I find a preserved car from the original system, which was completed in 1913. It looks like a cross between an open school bus and a cigarette carton and makes me grateful for the glassed-in pod that now serves visitors. After a glance at the huge wheelworks that once operated the cables, I take a second car, which carries me above the villagelike neighborhood of Urca and its tiny beach, then up to the 1,299-foot peak of Sugarloaf. I look around and see Copacabana Beach, Guanabara Bay, and above it all the Cristo Redentor statue at the 2,329-foot summit of Corcovado, its arms outstretched as if to say, "Not bad, huh?"
I stroll around the pathways atop the mountain for a bit, lizards scampering by my feet and parrots cackling overhead, before returning to sea level and the hotel. Between my long flight and all the time I've spent on my feet today, my body's feeling a bit battered. The jets in my whirlpool bath are just the thing to work out the kinks.
Corcovado and the Cristo Redentor statue seen from the Jardim Botânic
Refreshed and ready for dinner, I cab it to the Lagoa neighborhood, named for its location on the bank of the 590-acre saltwater lagoon Lagoa Rodrigo de Freitas. Tucked onto a quiet side street between the lagoon and the upscale thoroughfare Rua Jardim Botânico, Michelin-starred Olympe has been serving Brazilian-French cuisine since chef Claude Troisgros opened it 33 years ago. He now runs it with his son, Thomas, who trained with Daniel Boulud in New York. Over the course of three hours, a parade of small plates arrives: cured amberjack with beet puree, soft egg in chicken broth with parmesan crumbs, heart of palm in fermented tucupi (manioc) sauce, crispy red mullet in red wine sauce with kimchi and bone marrow, two preparations of beef tongue—each dish complemented by a perfect wine or beer pairing. By the time chef Thomas comes out to ask me how the meal was, I'm reeling.
"The chefs in Rio all have different backgrounds," he tells me. "If you go to Roberta Sudbrack, she has a country background. If you go to Rafa [Costa e Silva] at Lasai, he has more of a connection with the Basque country. I have more of a French background, the butters and creams, but applied to Brazilian ingredients. And here you get to see the family traditions. My father's legacy, to me, is crunchiness in every dish. When you talk about food, you can see the beauty of the dish, you can smell it, you can feel the heat, but how can you hear the food? Only through crunchiness."
Seeing that I'm a bit crunched out, the staff is kind enough to hail me a cab back to the hotel. A block short of home, I notice a crowd outside a hole-in-the-wall bar, and I tell the driver to stop. Since 1968, Bip Bip has been known for its informal samba jams, and a few musicians are inside now, playing acoustic guitars and hand drums. Locals sing along in Portuguese. A cute kid with an afro dances on the sidewalk with his mother. Patrons help themselves to beers from a fridge at the back of the narrow space. At a small table in front, an old man who looks like a miniature Ernest Hemingway sits tallying drinks and shushing anyone whose voice rises above a whisper. A smiling woman next to me sees my head bobbing to the beat. "Deutsch?" she asks. "Americano," I reply. Hemingway shushes us.
In which Justin gets down with Rio's graffiti scene, checks into Hollywood's favorite hotel, and finds Jesus on a mountaintop
I open my eyes and drift downstairs, still feeling the rhythm of "Samba Madrugada" in my stride as I cross the lobby to the hotel restaurant. The first thing I see is a mimosa bar, but I pass by (no one explicitly offered me any Champagne, so my life rule remains unbroken) to survey the breakfast buffet. I'm still full from last night's epic meal, so I opt for a light bite of flaky croissant and fresh mango. The morning sunlight floods the dining room, and I can see that many of my fellow diners already have their beachwear on, but my plan today is to see a less lounged-upon side of Rio.
I walk a few blocks up to the Siqueira Campos subway station, where I meet Nina Chini Gani, a lively 29-year-old Carioca in movie-star sunglasses and a flowery bucket hat who runs Rio Street Art Tour, for a drive around the city. "Artful" graffiti (as opposed to tagging) is legal here, and Nina knows pretty much every street artist in the city. As she drives, she points out the brightly spray-painted designs that appear on seemingly every wall: the angel with a soccer ball that was a protest against the 2014 World Cup; the cartoony yellow birds that say "Bom Día" to the old woman who runs a nearby snack cart; the wall where an artist who suffered a nervous breakdown painted over his compatriots' murals with a roller.
The Bonde streetcar runs atop the Arcos de Lapa
"For me, to have open art galleries on the streets, it's heaven," Nina says. At one point, she pulls up onto the sidewalk—in extremely illegal fashion—in front of a stretch of stylistically diverse murals dedicated to the Brazilian pop star Roberto Carlos. "I'm really excited to show you this," she says, "so I'm just going to park here and hope I don't get a ticket."
We drive up a long, winding road that skirts the bohemian quarter of Santa Teresa, and then back down through the patchworked buildings of a favela. "You can't say 'favela' anymore," Nina notes. "It's un-PC. We have to say 'community.'" In this community, the street-facing walls of the houses feature murals dedicated to their residents. "The government doesn't care about these people," Nina says. "No one cares about them. So for the artists to come and do this just to make them feel special, to show them that they are people and that they matter, is really touching."
By the end of the tour, in the far Southern Zone neighborhood of Leblon, I feel as if I've seen every wall in the city. Our last stop is the Jeffrey Store, a graffiti-decorated (of course) space tucked into a row of auto shops. The main attraction here isn't the walls but the beer, which has been voted the best microbrew in Rio. We sip a couple of Niña witbiers, after which co-owner Eduardo Brand takes us up to his lab, where we taste his latest experiment: a light but spicy brew laced with anise, cardamom, and cayenne pepper. "We try to do beers that have a Carioca vibe," he tells us. "It's hot here, so they need to be refreshing."
I thank Eduardo for the beer, and Nina gives me a hug goodbye, with one parting piece of advice: "Go next door and get a hot dog." At the corner is Da Roberta, a food truck parked in a graffiti-decorated (of course) garage that's run by Michelin-starred chef Roberta Sudbrack. I order the SudDog, a lightly spiced sausage under a blanket of Pernambuco cheese and a generous glob of Dijon mustard, with a side of salty fried potatoes and creamy achiote aioli. It's an unthinkably elevated version of the old ballpark dog-and-fries combo, and it calls for a brew—a Jeffrey Niña, to be precise.
Lunch over, it's time to move my luggage to my second hotel, the Belmond Copacabana Palace. The imposing Art Deco building evokes the palaces of the French Riviera, and its 1923 construction signaled the beginning of Rio's status as an international destination (hanging on the walls are signed photos of the stars who've stayed here: Paul McCartney, Tom Cruise, Arnold Schwarzenegger). A stunningly beautiful desk attendant named Jessica checks me in, and an impeccably handsome hospitality manager named Cesar shows me up to my room. Even the janitors in this joint are good-looking.
"From Ponta do Arpoador, a rocky bluff with a sweeping view, I see surfers crowd the water. The air cracks with the thwock of old men striking paddleballs."
Cesar asks about my plans, and I tell him I want to meet Jesus. He directs me to a shuttle stop two blocks away, where I hop into an air-conditioned van to Corcovado. The van circles the sparking Lagoa and then climbs (and climbs and climbs) through a dense forest to the top of the mountain. From here I ascend a few flights of stone stairs and find myself in the shadow of the Cristo Redentor. The 98-foot-tall, 700-ton soapstone figure, completed in 1931, is the world's largest Art Deco statue and one of the New Seven Wonders of the World. To me, the most impressive thing isn't Jesus so much as the view that he presides over, a 360-degree panorama of Rio: Sugarloaf, the Bay, the Lagoa, the Maracanã soccer stadium, the highrise hotels and shambling favelas, the sprawling cemetery where Jobim and Carmen Miranda are buried, and beyond it all the endless Atlantic. I half expect the stray clouds that dot the sky to be carrying harp-playing (or perhaps samba-drumming) angels.
Nina Chini Gani, guide, Rio street art tour
Back at the hotel, I'm ready for another heavenly interlude. I rinse off under my rain shower, slip on a bathrobe, and flop down on my bed, where I pluck espresso-chocolate truffles from a tin and watch through the French windows as the glow of evening settles over Copacabana Beach.
After nightfall, I head downstairs to Mee, the Palace's Michelin-starred pan-Asian eatery, overseen by celebrity chef Ken Hom. The space has a definite LA vibe—dim lighting, clubby music, Pop Art geishas on the walls—and I take a seat at the sushi bar, where executive chef Kazuo Harada slings a succession of imaginative dishes: seared salmon with spicy miso sauce and quail egg, scallop sashimi with black and white truffle, tuna tartare that I watch the sushi chef scrape by hand, and about a million other sushi dishes that blend together in a fog of gluttony. I wash it all down with a sommelier-recommended Kuentz-Bas Pinot Noir that's almost rosé-light.
"Nightlife in Lapa, if you go during the weekend, it's insane. You have all sorts of different people. Like, you'll see this girl with a flowery skirt and this guy that looks like Marilyn Manson standing next to each other. It's just a huge variety." —Nina Chini Gani
I'm full but feeling the samba itch again, so I hail a cab and head to Lapa, a lively nightlife district near the city center that's home to the Arcos da Lapa, an 18th-century Portuguese aqueduct. A couple of blocks over from the Arcos is Rua do Lavradio, a cobblestone pedestrian walk lined with colonial buildings, most of which are home to bars. The king of these is Rio Scenarium, a three-story club that also seems to aspire to be the world's greatest antique store. The space is crammed with curios: a cluster of chandeliers here, an orchestra of horns there, a vintage motorcycle that looks an awful lot like the one Che Guevara rode across the continent in the early '50s. From the second floor, I look down on the stage, where a colorful chanteuse leads a high-energy six-piece band. On the dance floor, people of all races and ages groove to the music. I don't initially have the courage to join them, but the Brazilians have invented the ultimate antidote to inhibition: the caipirinha, a powerful cocktail of cachaça and lime juice. After a couple of these things, I'm burning the soles off my shoes.
In which Justin meets monkeys, eats enough steak to kill an apex predator, and barhops through the city's biggest street party
I spend my first few minutes of the day lying in bed, listening to the ocean. A guy could get used to this. Eventually, I roust myself and head down to grab a poolside table at the hotel's breakfast restaurant, Pérgula, where I munch on banana pastries, smoked salmon, and impossibly tender mango. Brazilians definitely know how to do a breakfast buffet.
The sky is a flawless blue, so I settle on an outdoor activity: a visit to the Jardim Botânico. Rio's botanical garden was founded more than 200 years ago by King João VI of Portugal, who intended it as a repository for vegetal plunder from around the Portuguese Empire. Today, the 345-acre park contains more than 9,000 specimens—prickly cacti, bright orchids, alien-looking insectivores, Amazonian lily pads. There's plenty of fauna to go with the flora, too. As I walk past a towering silk cotton tree, under which Jobim used to compose songs, I see three toucans. Farther along, I run into a troop of capuchin monkeys. There must be a dozen of them romping through the trees and strolling on the grass—enough to outnumber the people quietly snapping photos. On my way out of the garden, I come across a wall bearing an almost Guernica-size graffiti mural of native animals. I recognize the style: This was painted by Bruno Big, the artist who designed Neymar's Nike soccer cleats. Nina would be so proud!
Heart of palm in fermented tucupi sauce at Olympe
I've had a nice long walk, which is a good thing, as I have a Herculean gastronomic task ahead of me. At the Churrascaria Palace, back in Copacabana, I sit beneath a caricature mural of bossa nova legends and ready myself for an onslaught of white-jacketed waiters. They come to the table in waves, each offering a skewer of grilled meat that is carved directly onto my plate. Linguiça sausage. Lamb with mint jelly. Barbecued ribs. Chicken hearts. Prime rib. Filet mignon crusted with blue cheese. I have seen my death, and it comes with a side of farofa.
Just in case I survive the digestion process, I check into the JW Marriott. The J-Dub has one of the most distinctive architectural features in the city's South Zone: a four-story pentagonal window in the middle of the building that's visible from much of Copacabana. I stop in the ninth-floor lounge to enjoy the view. I don't think I'll ever get tired of looking at that beach.
My seagazing is short-lived, however. I've got plans to meet Letícia Novaes, lead singer of Letuce, a rock band that's a fixture at Festival Path in São Paulo (Brazil's answer to South by Southwest). I ride an impeccable metro train to the Uruguai station, in the middle-class North Zone neighborhood of Tijuca, where Letícia grew up. Standing at the station entrance, she's hard to miss: Dressed in a flowing gray jumpsuit, she's well over six feet tall, with tight curls in her hair. "If I had grown up in Ipanema, maybe I would have been a model," she tells me with a light laugh. "But because I grew up in Tijuca, I'm a funny girl."
The crowd of tourists at the Cristo Redentor
We walk uphill from the metro station, trailed by a friendly neighborhood mutt, and climb a quiet street lined with trees and colonial homes that dead-ends at the foot of the Tijuca Forest. Just before the forest entrance, there's a small, shaded children's park, Praça Hans Klussmann, dotted with sculptures of animals and folkloric figures: a mermaid, a gnome, an elephant, a polar bear, a T-Rex slide that Letícia zips down. "I'm not seven anymore, but I have to try," she says.
We take a seat in a small gazebo, and she applies a line of glitter to her forehead. "I'm from Rio, and Carnival is very strong in our culture," she says. "I like things that are sparkling. Sometimes I wear the classic makeup, but I'd rather do the mystic, Carnival-like thing." I ask her why everyone here seems to have such a vibrant personality, and she grins. "I think it's the heat."
I say goodbye to Letícia and take the metro back to the city center. Rio is an old city by New World standards—451 years old, to be exact—but the center features several modern marvels. I stop first at the Catedral Metropolitana, a conical, anthill-like church that was completed in 1976. Inside, a giant rosary hangs from the ceiling, and four tremendous stained-glass windows tower above a nave that can seat 5,000 worshippers.
Letícia Novaes, musician, Letuce
A quick cab ride down Avenida Rio Branco, which was conceived of as Rio's Champs-Élysées but is now mostly just a desperately clogged artery, brings me to the Museu do Amanhã—the Museum of Tomorrow. The Santiago Calatrava–designed building, which opened in December next to an old cruise-ship terminal, looks like the skeleton of some prehistoric predator of the seas. Inside, patrons engage with about 70 interactive monitors that are meant to make them consider how they interact with each other and the natural world. One quiz I take reveals that I use 3.9 times the resources that an average citizen of the planet does. That said, I am having a responsible evening meal.
From the city center, I head up the swirly, stairway-laced streets of newly hip Santa Teresa to Largo do Guimarães, the neighborhood's central intersection. Stepping across the Bonde streetcar tracks, I find Café do Alto, a restaurant that specializes in Amazonian cuisine. The room is humble, decorated with Brazilian folk art; the waiters are casual; and the eats are sublime. I start with a grilled octopus salad and a tapioca—a traditional pancake made from yuca starch—and for an entree I order moqueca, a hearty stew of fish and sweet peppers in coconut milk that I ladle over rice and then top with an almost unbearably hot pepper sauce.

"Tijuca means a lot to me. It's a very different place from Zona Sul, which is Ipanema, Copacabana. There's all the craziness down there, but here it's peaceful. I love Ipanema, I live for the beach, but you can't just define Rio as that." —Letícia Novaes
After dinner, I take a walk down Rua Paschoal Carlos Magno, a graffitied row of bars with crowds spilling from their doorways. I opt for Mike's Haus, which has a four-piece samba band playing at the front table. I find a seat and order an Antarctica beer, smiling when I recognize the opening notes of "Samba Madrugada."
I'd be perfectly happy listening to this band until the sun comes up, but it's my last night in one of the world's great party cities, and I need some stories to tell the peeps back home. So I cab it back down to Lapa, where throngs of people pile through the Arcos and into the clubs on Avenida Mem de Sá. The scene is overwhelming—imagine a less organized Bourbon Street. I enter Sacrilégio, an old mansion that's been converted into a venue for traditional samba, and grab a seat and drink a couple of pints of chopp (tap beer) as dancers swing around the smoky room to the energetic beat of the band.
Dancers at Rio Scenarium
Next, I do something I know I'm not supposed to. Even though it's late, and I've had a few drinks, and this area has a reputation for being a bit sketchy, I walk away from the crowds on Mem de Sá and duck down a dark, quiet side street. I don't know exactly what I'm trying to find—until there it is. A narrow bar, no signage, packed with people. I squeeze inside and fight my way to the counter to order a beer. The room is long and low, a thunderously loud samba band in the middle of the floor. The crowd pushes in around the band, everyone singing, clapping, dancing, drinking. The room shakes with the energy of it. This is it, the real Rio. This is what we look for when we travel: a place that we didn't know existed, that we may never be able to find again, that stamps itself into our consciousness, that opens up our world.
Hemispheres
managing editor
Justin Goldman
is trying to figure out how to get back to Brazil before his visa expires.
If you go
Visit united.com or use the United app to plan your trip to Rio de Janeiro
Around the web
Independence Day celebrations in 5 countries
Every country celebrates a birthday, and some celebrations are bigger than others. Here are five of the biggest birthday celebrations, which also happen to occur in the summer months in places worth paying a visit, birthday or not.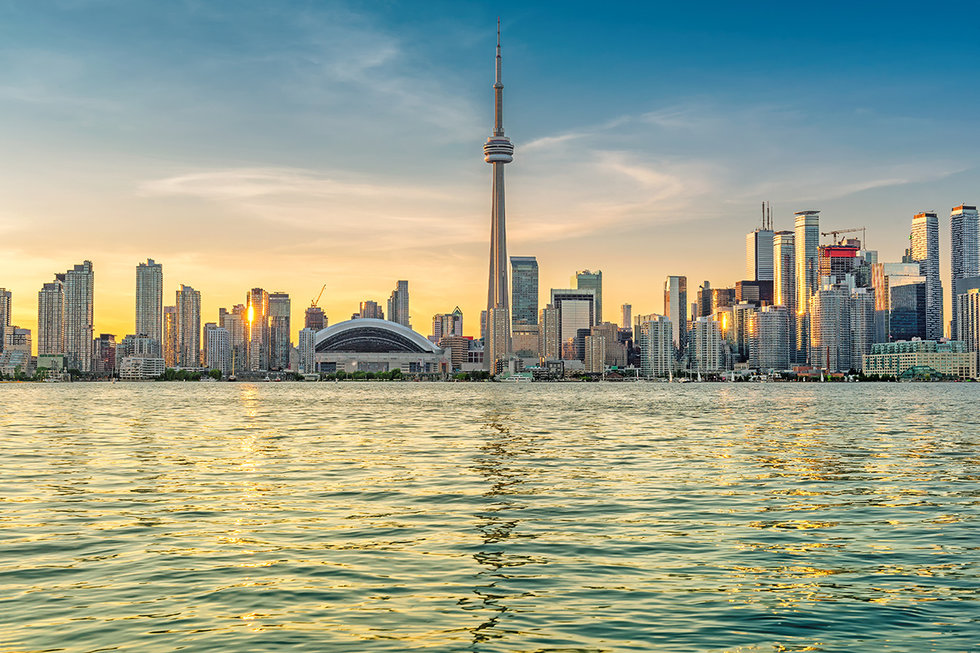 Canada Day – Canada
July 1 in Canada has a lot in common with its southern neighbor's celebration three days later. Many Canadian cities stage concerts, carnivals, parades and fireworks to celebrate the British Empire's 1867 recognition of the Dominion of Canada. Canada Day festivities in the capital city of Ottawa are the most robust, as the city center shuts down for the day for an acrobatic air show by the Snowbirds (the Royal Canadian Air Force's version of the Blue Angels), 10 hours of free concerts, a big fireworks show and a speech by Prime Minister Justin Trudeau. Even the color scheme is similar: red and white, but skip the blue.
Independence Day – USA
July 4 was the date in 1776 when colonists declared their independence from England—and Americans have been commemorating it since 1785 in Bristol, Rhode Island. That's the site of the oldest and longest celebration—three weeks of events that climax with a big parade and fireworks over Bristol Harbor. America's most-watched pyrotechnic spectacle is the Macy's 4th of July Fireworks Show, best viewed from Manhattan's Lower East Side (or on NBC). The Fourth is also celebrated with a massive fireworks display in Washington, D.C., where crowds pack the National Mall to see them illuminate the monuments, and in Chicago where they're admired from Navy Pier as they dazzle over Lake Michigan.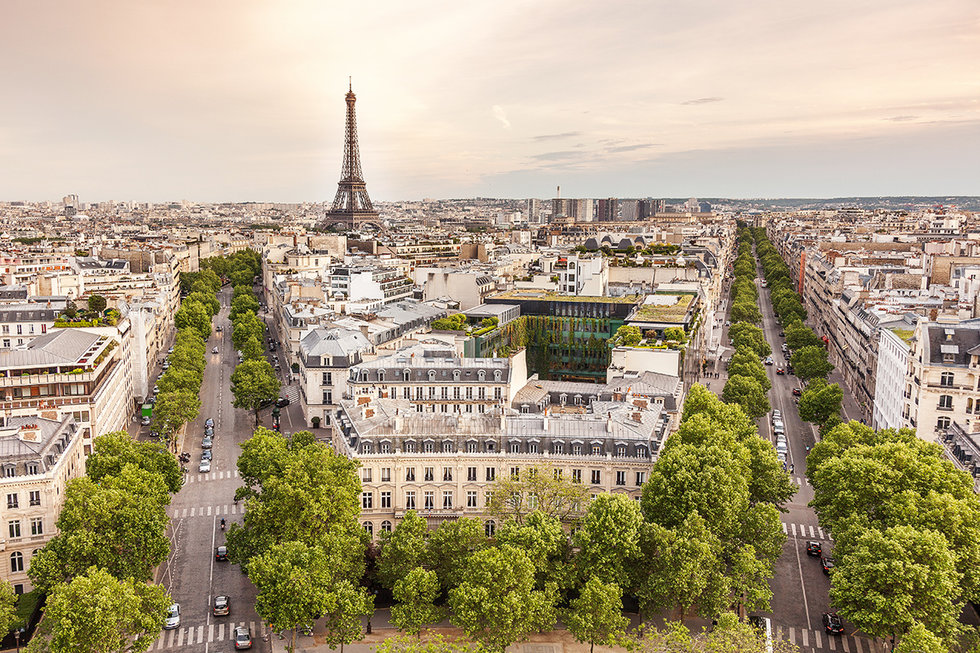 Bastille Day – France

July 14 is the day when the 1789 "Storming of the Bastille" is celebrated. The rebellious act to free seven political prisoners was the flashpoint for the French Revolution, which ended the monarchy of Louis XVI. Celebrations in Paris conclude with fireworks that gush dramatically from the Eiffel Tower, best viewed from the adjacent Parc du Champ-de-Mars or from one of the nearby bridges over the Seine. A morning military parade on Champs-Elysees is also a Bastille Day tradition. Fireworks and other celebrations are enjoyed in many other French cities, too, including a big pyrotechnic show in Marseilles over the Mediterranean Sea.
National Day – Switzerland
August 1 was the date in 1291 that the Swiss Federal Charter was signed, uniting the three original cantons (states) of the Swiss Confederation that would become modern-day Switzerland. The Swiss only began observing the occasion on the 600th anniversary in 1891, but it's become a big deal. Parades, carnivals, traditional folk music performances and fireworks enliven many Swiss cities and towns on National Day, as do special brunches in many restaurants, public bonfires and the ringing of every church bell from 8:00 to 8:15 p.m. Festivities in Zurich are the biggest, although celebrations in Geneva, Bern, Lausanne and Basel are also exuberant.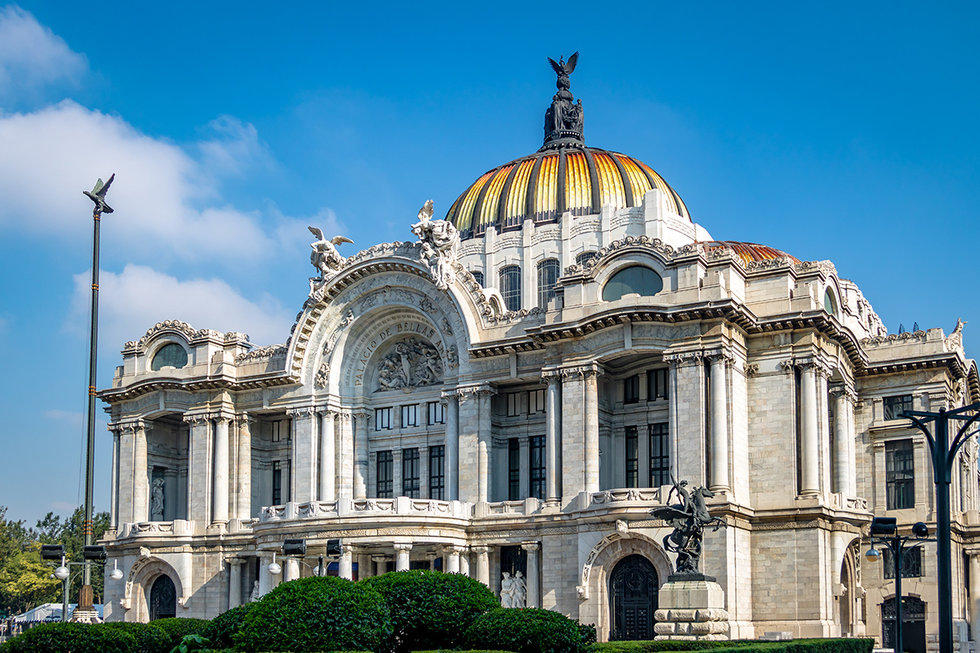 Independence Day – Mexico
September 16 is Mexico's Independence Day—not May 5, the date of a heroic battle and the excuse for so many Cinco de Mayo celebrations in the U.S. It was on September 16, 1810, when the rebellion that eventually toppled the Spanish colonial rulers began. The holiday is observed most heartily in Mexico City, where the biggest celebration, following a speech by President Enrique Peña Nieto, takes place in the massive Zócalo Square. But there are also celebrations in every part of the city and in every city in Mexico, typically featuring a parade, street parties and fireworks.
If you go
United Airlines offers numerous flights to all of these countries. MileagePlus® Rewards can help pay for your hotel room and rental car once you arrive. Go to united.com or use the United app to celebrate the birthday of a country.


United offers Star Alliance flight status information
We're expanding the availability of flight status (FLIFO) information for our customers and employees. On June 14, we began offering access to flight status information for all Star Alliance member flights within the United app, and through Google Home and Amazon Alexa (e.g. "Alexa, ask United to check the status of my flight on Lufthansa").
We're committed to providing our customers and employees with the tools they need to ensure a seamless journey when connecting with our partners," said Alliance Partner Operations Senior Manager Katie Russell. "These enhancements will allow our employees to make real-time decisions for customers with connecting flights and provide our customers with easy access to information from partner carriers without requiring them to use another app.
While onboard United flights, customers can even check the most current status of their connecting Star Alliance member flight utilizing our complimentary access to the United app through United Wi-Fi℠, available on all mainline and two-cabin regional aircraft.
After a tragic accident, a father's lessons resonate with his daughter
As far as fatherly wisdom was concerned, there were a few things that Ramp Service Employee Allen Gullang was determined to pass along to his daughters, Heather and Amanda.
Under his guidance, they learned the importance of hard work and the virtue of putting the needs of others first. They also developed a love of the outdoors and of travel that bonds them as a family to this day. But it's what they learned from their dad when he didn't think they were looking that made the biggest impact of all.
On a snowy March afternoon 12 years ago, Allen and two of his ramp colleagues were driving home from their shift at O'Hare International Airport when a car drifted over the center line and hit them head on. The next thing Allen remembers is waking up in a hospital bed weeks later, lucky to be alive but left with permanent disabilities.
Heather, who was 10-years-old at the time, watched as her father fought his way through a year-long rehabilitation, re-learning how to walk and talk, slowly regaining his memories and putting his life back together, piece by piece. Though his frustrations mounted at times, his will never waned, a lesson in perseverance that Heather has not forgotten. It's one of the attributes that she brought with her when she joined United herself last December, realizing a life-long dream of following in Allen's footsteps.
In honor of Father's Day, watch the video above to hear the Gullangs' story of how a single moment forever changed their family, leading Heather to a greater admiration for the man she not only calls Dad, but also her colleague.
A final farewell to the Queen of the Skies
Have you ever wondered what happens to an aircraft after the end of its useful life? Well 13 lucky MileagePlus® members and two of our employees got to find out after winning an Exclusives auction.
The auction prize was a behind-the-scenes trip to Universal Asset Management's (UAM) facility in Tupelo, Mississippi, where our last four Boeing 747s are being disassembled and the parts prepared for recycling. It also included a champagne toast onboard N118UA, our last 747, and dinner under the stars with the Queen of the Skies.
As we arrived at the facility, adjacent to Tupelo Regional Airport, several of us were a little emotional when we saw the aircraft in different stages of disassembly. But in the company's lunch room — decked out with Malaysia Air first class seats, airplane art and a table made from a stabilizer — Keri Wright, UAM's CEO was firm about her company's mission. "We don't tear down or scrap aircraft. We focus on recycling," she stated. "Think of it like organ donation. These parts can help other aircraft continue to fly. And you are among the few people in the world to see all of this from behind the scenes."
We then headed to the facility's Global Distribution Center warehouse. The lobby of the facility featured our first class seats and galley carts, along with a tire rim-and-glass coffee table and a credenza/bar made from the window section of a 737 fuselage.
Wright, along with Senior Manager, Fleet Transactions Jim Garcia walked us through the warehouse and explained how parts were tracked and cataloged. Among the items we saw were two wrapped helicopters, Boeing 777 landing gears, 747 tire rims, thrust reversers and a cowling from the center engine of a McDonnell Douglas DC-10.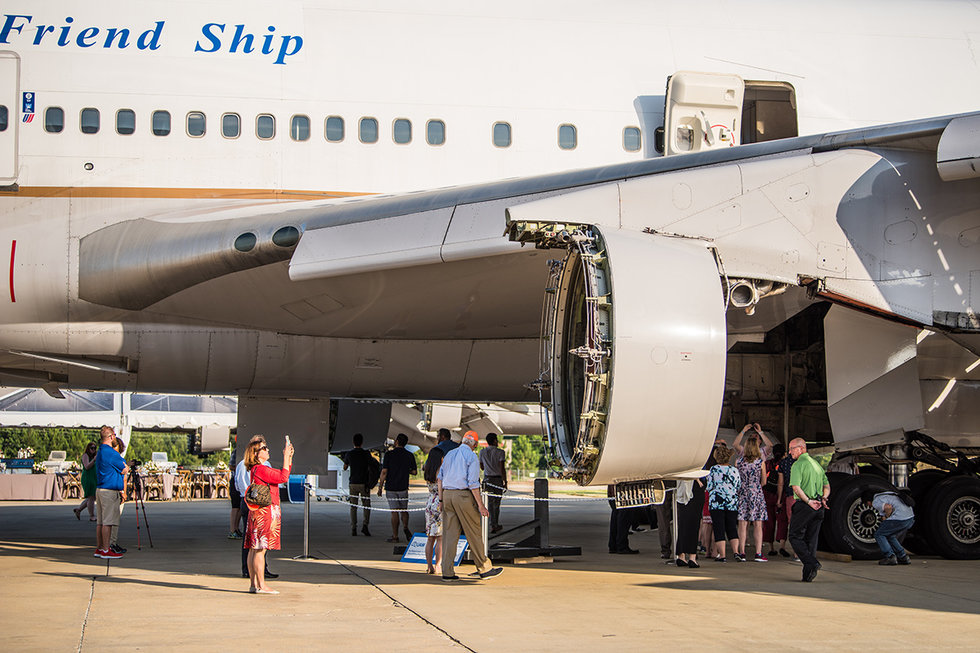 When the warehouse tour ended, it was back to the airport facility. We went out on the tarmac and took pictures of the 747s, including the star of the show — N118UA. Though, all four jets' engines had been removed already.

After a series of photos, we climbed the air stair onto N118UA, where we were able to walk around. I had the honor of being on the last United 747 flight in November 2017, so I grabbed a glass of champagne and sat in my seat — 8C — one last time. We all joined in a final champagne toast to the jet, then deplaned for dinner.
One of the lucky winners was Eric Chiang, an economics professor at Florida Atlantic University, who brought his friend Vicky Chiu, who flew in from Hawaii. "We've been friends for years and we love to travel. I was onboard a flight to London and read a short newspaper article about this auction," he recalled. "We were about to take off and I called Vicky and asked her to bid on this event. I bid 168,000 miles, but got it for less.
Chiang and Chiu are both 1K flyers on United. "I expect to do around 15 international trips this year. I love United because they're able to reach more global destinations than any other airlines," said Chiang.
They both appreciated the chance to attend such a unique event. "Experiences like these are different. We really appreciate the chance for this behind-the-scenes event," said Chiang. "It was also a great chance to meet United executives and share feedback on what's going on at the airline."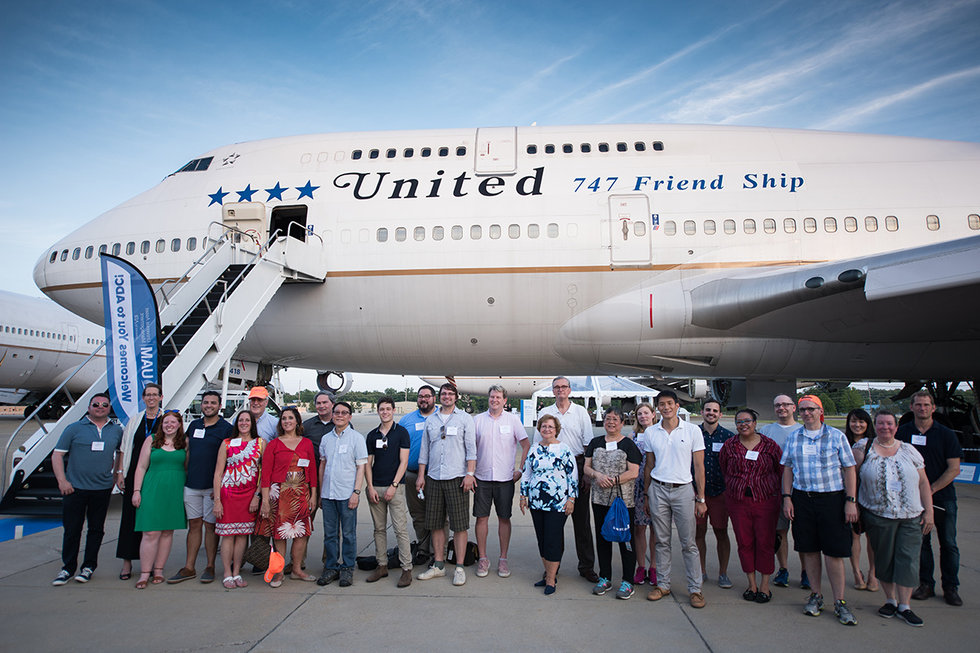 John Ikeda, a United Global Services member who is approaching two million miles, brought his partner Michael Phelps to the event. He also read about the event in a newspaper article, but he also had a special reason for wanting to attend the 747 farewell.

At the last MileagePlus® Experiences auction, I won an altimeter that was on an older 747, and I wanted to see if I could trace where it came from," said Ikeda. "Jim Garcia was able to trace it for me. I was thrilled that I was able to see other parts from that same 747 in the UAM warehouse.
The event exceeded Ikeda's expectations. "I thought it would just be a warehouse tour, a walk on a plane and not much else," he said. "It was great to hear Keri and Jim discuss this side of the business. It was fascinating to learn that this place wasn't about scrapping aircraft, but giving them new life."
Although this event has passed, it's not too late to bid on hardware from N118UA, including single window and American flag cuts out and tail numbers. Join the MileagePlus® Exclusives email list to stay in the know on the hardware auction and other future events.
Bay Area youth surprised with spots in Warriors championship parade
San Francisco-based Customer Service Manager O'Morris Adams has volunteered at local Boys & Girls Clubs for more than 20 years, so it wasn't a surprise when he stopped by one of the Bay Area clubhouses Monday afternoon.
This visit was about more than just spending time with local youth, though. O'Morris knew he would be in the Golden State Warriors championship parade on Tuesday, since as the official airline of the Warriors, United would have a float in the parade. So this particular visit to the club was to let two of its kids know they'd be joining him and two dozen of his United colleagues on the float, in the parade. Coolest field trip ever.
Watch the surprise and the unforgettable day that followed.
3 under the radar places to travel to in July
July is a popular travel month, which means you may be sharing your vacation with scores of fellow travelers if you choose to travel to a popular destination. This summer, expand your horizons and travel to these under-the-radar destinations for a more off-the-beaten-path experience.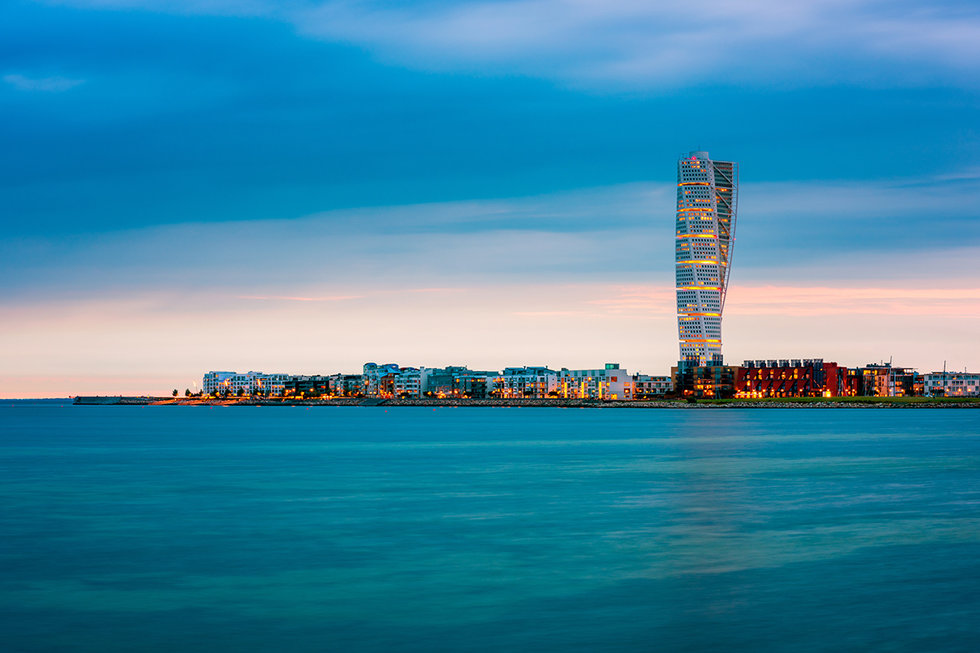 Malmö, Sweden

When you think of Sweden, Stockholm and Gothenburg might be the first cities to come to mind, but Malmö is an underrated gem. Sweden's third-largest city blends medieval Scandinavian charm with modern urban appeal. Malmö sits on the southeast coast and is a 45-minute train ride or drive from Copenhagen, connected by the iconic Øresund Bridge.
This picturesque beach-side town was first established in the 13th century, but Malmö has undergone a massive revitalization over the last two decades. Walk along the cobblestone streets and take in beautiful old buildings and centuries-old statues alongside cutting-edge architecture, public art and plazas. The city has an abundance of greenery and parks, including five public beaches. Ribersborg Beach is the most visited beach and is a leisurely walk or bike ride from the city center.
Some of the city's most popular attractions include Malmö City Square, which you'll find in the heart of old town (Gamla Staden); St. Peter's Church, the oldest building in the city; and Malmöhus Castle, a 16th-century fortress and the oldest castle in Sweden. Explore the history of the castle and Renaissance art in the Malmö Art Museum inside the castle. The nearby Moderna Museet Malmö and Malmö Konsthall house permanent collections and exhibitions.
Malmö is also a worthwhile destination for foodies. National Geographic named it one of the best places to visit in 2018 thanks to its global food culture. From casual cafes and food carts to a few Michelin-starred restaurants, you can sample a variety of cuisines during your stay in Malmö.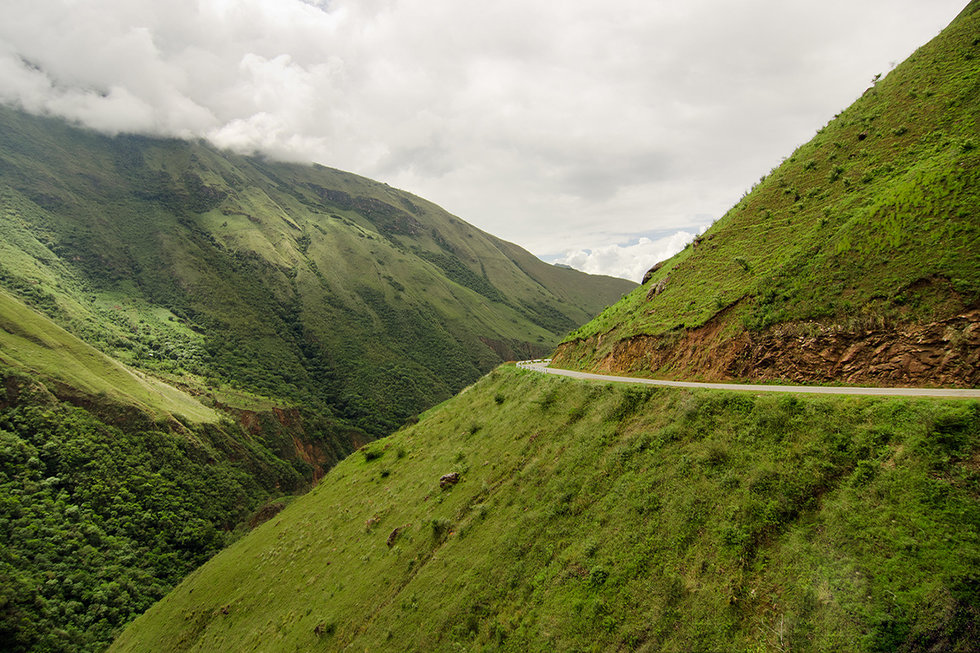 Chachapoyas, Peru
Many flock to experience the Incan ruins of Machu Picchu, but the high traffic of visitors is threatening the sustainability of the site. For those who want to visit an ancient marvel that's less trodden with tourists, Chachapoyas fits the bill. Archaeological and natural wonders abound in this region once inhabited by a pre-Incan civilization. Chachapoyas stands for "The Cloud Warriors," who called this region home about 1,500 years ago.
The town of Chachapoyas serves as a home base to explore several breathtaking sites of ancient Peru. This town is nestled in a valley surrounded by the Andes Mountains and a cloudy forest in northern Peru, and offers an opportunity to explore waterfalls, archeological ruins, burial sites and even a mummy museum.
There are also numerous treks for experienced hikers, including the Chachapoyas' mountaintop fortress Kuelap, built 600 to 900 years before Machu Picchu. Kuelap has largely flown under the radar because this region is so remote and it's difficult to cover much ground by foot or car. But cable cars installed last year make it possible to cover about 2.5 miles of Kuelap in just 20 minutes. When you disembark the cable car, you can explore the vast complex and the remains of hundreds of structures, homes, buildings and other remnants of the ancient Chachapoyas civilization.
Other attractions close to Chachapoyas include hiking to the Gocta Waterfall. It's one of the tallest waterfalls in the world and was only made known to the public in 2005. The Leymebamba Museum is also well worth a visit, housing mummies and other remains from the civilization that once thrived here.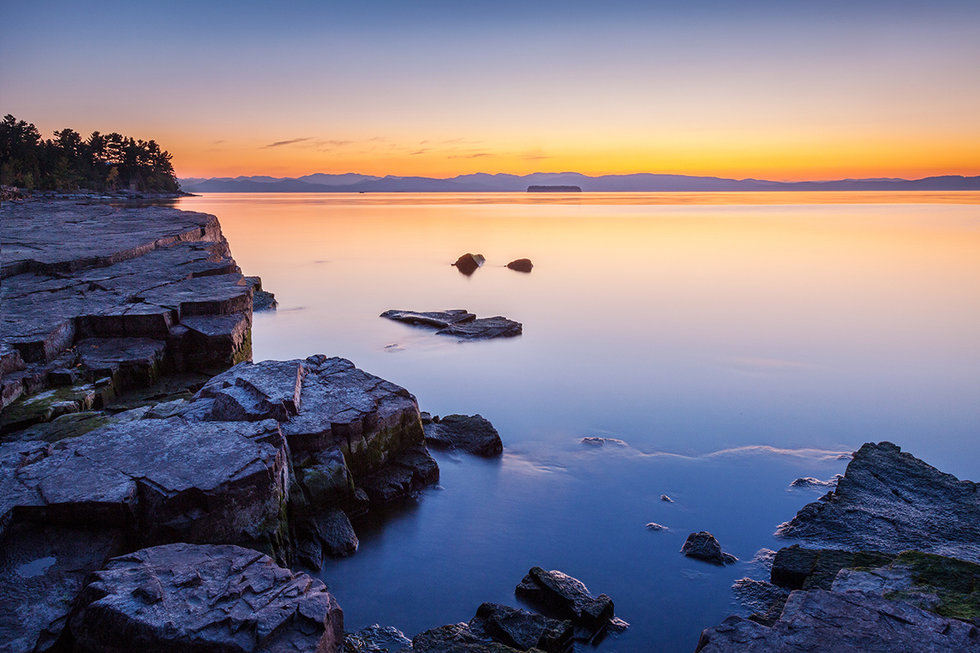 Burlington, Vermont
Best known for its vibrant fall foliage and top-rated ski resorts, Vermont can be easily overlooked as a summer destination. But there's still plenty to experience in July, especially in and around Burlington. Vermont's largest city is also home to the state's largest university. Visiting in July means you can expect fewer students crowding restaurants and bars, but no lack of shopping, entertainment and festivals. Burlington serves as an excellent hub for outdoor activities in the region.
The center of downtown Burlington is Church Street Marketplace. The open-air pedestrian-only mall spans four blocks and has over 100 major retailers, boutiques and restaurants with events and live entertainment. July's events include free concerts sponsored by Burlington City Arts, a farmer's market every Saturday, fitness classes and the month's biggest event for craft beer drinkers: The Vermont Brewers Festival, which features breweries from all over the state.
Nearby beaches include the beautiful sandy Blanchard Beach, the secluded Oakledge Cove and the picnic-perfect Leddy Beach with its grassy picnic areas, grills and tables. North Beach is Burlington's largest beach and the only one with active lifeguards on duty. You can also rent kayaks, canoes and stand up paddleboards at North Beach.
Getting there
United Airlines offers service from U.S. cities to Burlington International Airport. To travel to Malmö, it's more direct to fly to Copenhagen than Stockholm. Lima is the closest international airport to Chachapoyas. United and our Star Alliance™ partner airlines offer service to Copenhagen and Lima from multiple U.S. cities. Visit united.com or use the United app to plan your vacation to one of these under-the-radar destinations this July.

Guide to Singapore: An island apart
Singapore is about the size of New York City, and like The Big Apple, it's a small place surrounded by water, but packed with people, intriguing attractions and great restaurants.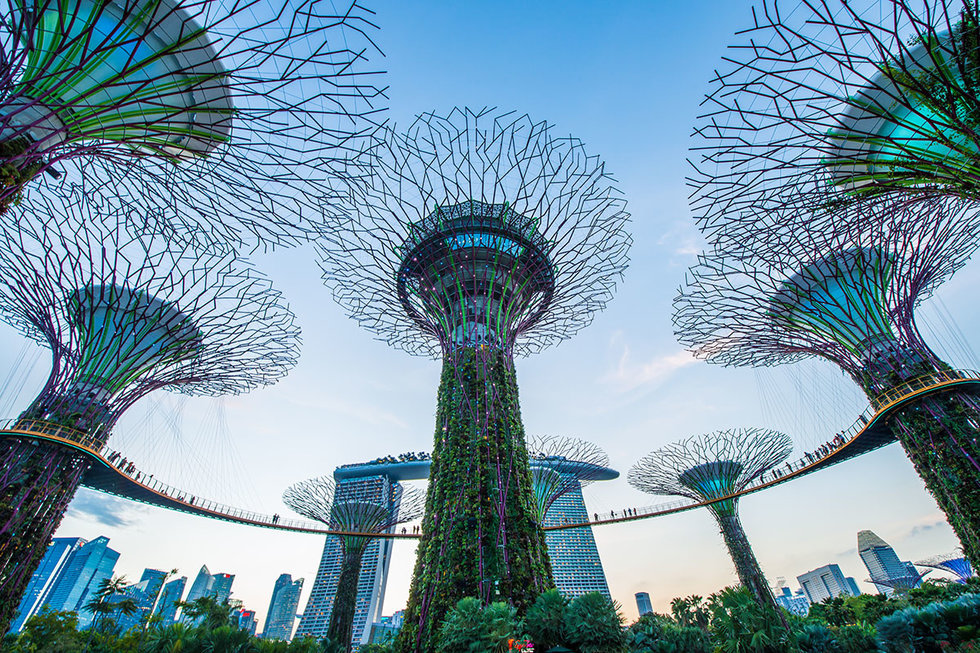 Garden City

Singapore is more densely populated than New York City with 5.6 million people packed on the island, but tucked in the shadows of its 4,300 high-rises are two world-class gardens that have helped Singapore earn its nickname of "The Garden City." The Singapore Botanic Gardens is a 200-acre oasis of green established in 1859 where the revered National Orchid Garden is one of dozens of unique gardens. In 2015, it became one of only three gardens to be named a UNESCO World Heritage Site. An equally impressive contemporary take on botanic gardens is Gardens by the Bay, a waterfront collection of gardens, massive glass conservatories and the awe-inspiring Supertrees.
Cultural landmarks
The National Gallery Singapore opened in November 2015. The gallery holds the world's largest public collection of Singaporean and Southeast Asian art displayed inside two stately buildings that previously served as City Hall and the Supreme Court during Singapore's British colonial days. A few blocks away on the waterfront are two iconic contemporary landmarks: the bowl-shaped ArtScience Museum (part of the $8-billion Marina Bay Sands casino and resort that opened in 2010) and Singapore's honeycomb-like performing arts center, Esplanade Theatres on the Bay.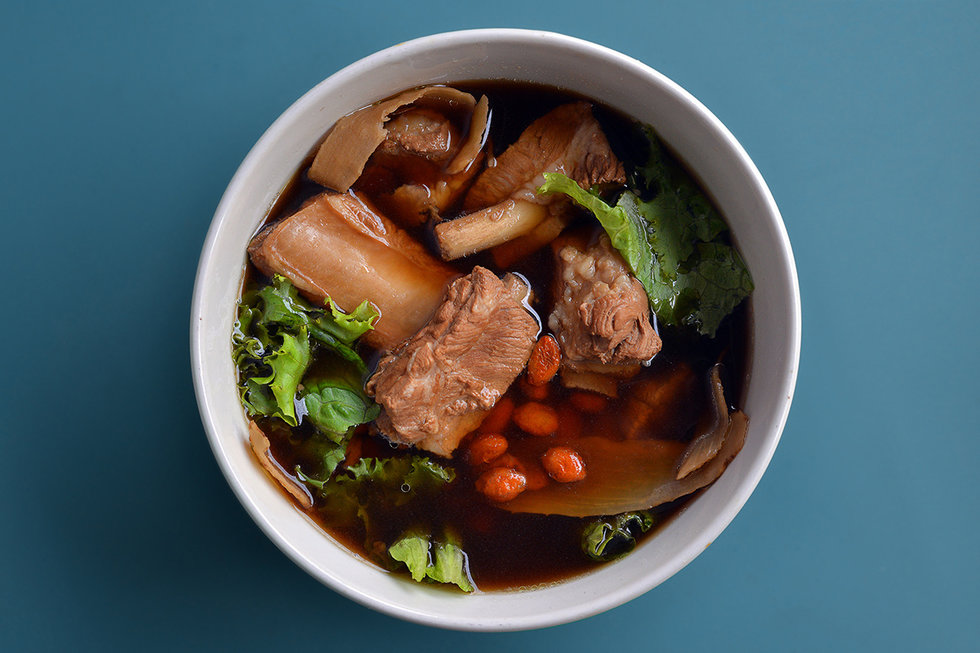 Fusion of flavors
Singapore has a long history of colonization, occupation and trade with European and other Asian countries, which is reflected in the variety of cuisines expertly presented in its best restaurants. Of 37 Michelin-star restaurants in the city, five serve Japanese fare, eight serve Chinese food and, oddly enough, eight serve French cuisine. Surprisingly, none of the restaurants on the list serve uniquely Singaporean food, although you can get a taste of local favorites like Bak kut teh (pork rib soup) and Wanton Mee (noodles with pork dumplings) at the city's open-air street food markets.
Cool adventures
For a place that's so compact, Singapore offers a wealth of outdoor-activities. Most are found at the 10-mile-long, beach-hugging East Coast Park, where you can choose to hike, bike, swim or wakeboard. Further inland, you can take advantage of Singapore's distinction as one of only two cities in the world with a significant rainforest inside its boundaries. Hike the trails in Bukit Timah Nature Reserve to reach the island nation's highest point, 537-foot Bukit Timah. Although there are more than 50 Singapore skyscrapers that are taller than this hilltop, taking the elevator to a top-floor bar just isn't the same.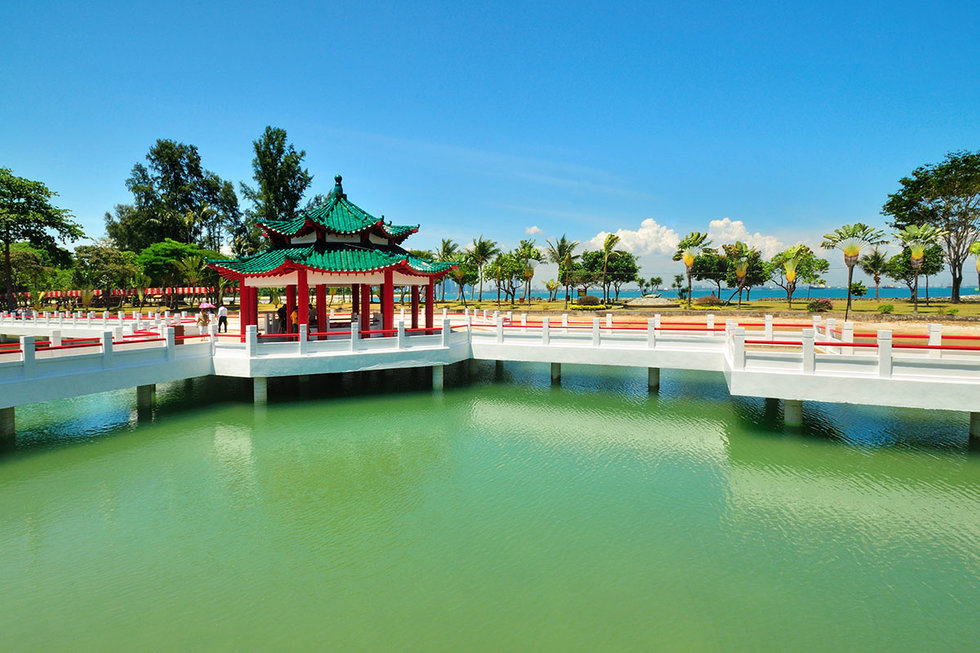 Offshore islands

The island of Singapore has many of its own islands and islets, and the small islands of Kusu and Sentosa just off its southern shore have a lot to offer. Kusu, which means tortoise in Chinese, can be reached by ferry in one hour — the perfect day trip to escape Singapore's urban buzz. Kusu is known for its swimming lagoons, quiet beaches, Malay shrines and a tortoise sanctuary. Sentosa is quite different — a buzzy resort island accessible by monorail or a pedestrian bridge. It has its own beaches, spas, a world-class golf course and several adventure-oriented theme parks.
Practicalities
Singapore's equatorial location ensures warm weather year round as the average highs range from 86 to 90 each month. The monsoon season from November to January brings the most rain with about 11 inches per month compared to 6 inches the rest of the year. Singapore is also known for safety, and Tokyo is the only city worldwide that's considered safer. Hotel prices are comparable to New York City and London, and English is one of the official languages. Most Singaporeans speak English as their primary or secondary language, so no need to worry about anything being lost in translation.
If you go
United Airlines offers flights to Singapore from numerous U.S. cities, including nonstops from San Francisco and Los Angeles, and from cities worldwide. MileagePlus® Rewards can help pay for your hotel room once you arrive. Go to united.com or use the United app to plan your Singapore vacation.

Tips for traveling with children
Flying with kids can be a source of anxiety for parents. In addition to all the details you have to remember for yourself, you're also responsible for tiny travelers whose schedules and comfort zones can be disrupted when they take a trip.
We welcome families with children, and we do our best to make the experience smooth and comfortable. But, as many of our employees who travel with kids can attest, a little information goes a long way. We've outlined a few of our policies on child and infant travel here.
Ticketing and seat assignments
When you're looking at United's reservation system or policies, an infant is any child under two years old. Children under two can travel on an adult's lap without a seat assignment.
You'll need to add all children to your reservation regardless of their ages, but whether or not your infant gets a ticket depends on your itinerary. If you're traveling within the U.S., Puerto Rico or the U.S. Virgin Islands, your infant will not be a ticketed passenger; for all other destinations, you'll purchase an infant fare.
As soon as your child turns two, the child must have a ticket and occupy a seat. That means if you leave for your vacation before your child turns two, but return after the child's second birthday, the child will require a ticket for the return portion of your flight.
Another reason your young child might need a seat? Only one infant is allowed to sit on each adult's lap during the flight. That means if you're the only adult traveling with two or more children under two years old, you'll need to purchase seats for all but one of the children.
For all families that want to sit together, we recommend booking in advance and either choosing a fare category that lets you select seats, or purchasing advance seat assignments if you're flying on a Basic Economy ticket.
FAA-approved child restraint systems, child safety seats, and car seats manufactured after 1985 are safe to use, and necessary if your infant is traveling in his or her own seat. Booster seats, belly belts attached to adult seat belts, and vests or harnesses that hold an infant to an adult's chest cannot be used for safety reasons.
Traveling with strollers, breast pumps and other necessities
In addition to your normal baggage allowance, you can check a stroller free of charge. Some travelers prefer to use their strollers in the airport and check them at the gate, but be sure your stroller is collapsible. Strollers can't be carried onto the aircraft — you'll be able to pick up your stroller at the aircraft door in your connecting or destination city.
Nursing mothers are welcome to breastfeed or pump on United aircraft or in our facilities. In fact, many of our airports have dedicated rooms and Mamava nursing pods. Breast pumps are also allowed in addition to your normal carry-on baggage allowance.
Staying comfortable during the flight
Changing tables are available on many of our larger aircraft. Your flight attendant will be able to direct you to the correct lavatory.
On international flights, a complimentary bassinet may be available for use in flight, when the seatbelt sign is off. You can request bassinets by calling the United Customer Contact Center, which we recommend doing early since there are a limited number available.
For more on our policies, visit https://www.united.com/ual/en/us/fly/travel/special-needs/infants.html