Three Perfect Days: Barcelona

Story by Boyd Farrow | Photography by Salva López | Hemispheres October 2016
Spain's El Gordo may be the world's biggest national lottery, but Barcelona residents have already hit the jackpot. The capital city of Catalonia, a semiautonomous region in the country's northeast, has a culture—and language—all its own. It has extraordinary architecture (from the medieval clutter of the Barri Gòtic to the Modernist apparitions of Antoni Gaudí), a lively arts scene, some of the world's most inventive cuisine (22 Michelin-starred restaurants), as well as a perfect climate and more than three miles of sand for its beautiful people to strut their stuff on. All this is hardly a secret: Nearly 25 years after the 1992 Olympics propelled Barcelona into the global spotlight, its 1.6 million residents are vastly outnumbered by the people who come to visit. Many leave their hearts in the city—and many simply decide to stay.

In which Boyd gets a glimpse of a Gaudí dreamscape, climbs a mountain to look at modern art, and peruses the world's greatest collection of fresh produce
It's midmorning at Caelum, a cryptlike cafe in Barcelona's Barri Gòtic (Gothic Quarter) where the cakes are made by nuns. I am contemplating a cup of "Blessed Chocolate"—thick as asphalt and almost as dark—when my companion, Lynette Kucsma, whispers: "Try one of these." From her bag she produces a handful of chocolate cookies shaped like spoons, and we cackle like hens.
Half an hour ago, I watched Lynette make these cookies using a 3-D printer created by the tech startup she co-founded, Natural Machines. The company headquarters are surrounded by a 14th-century cathedral, a 15th-century palace, and the remnants of a Roman wall. In this city, the ancient and the cutting-edge collide like giddy toddlers.
Indeed, much of Barcelona seems like a playpen for surrealists and mad scientists—a Terry Gilliam fantasy brought to life. I woke this morning in the Neoclassical Majestic Hotel, a century-old five-star property on the shopping avenue Passeig de Gràcia. From the balcony of my suite, I looked out at fairytale turrets, pillars of bone, and a roof that resembles an iridescent armadillo.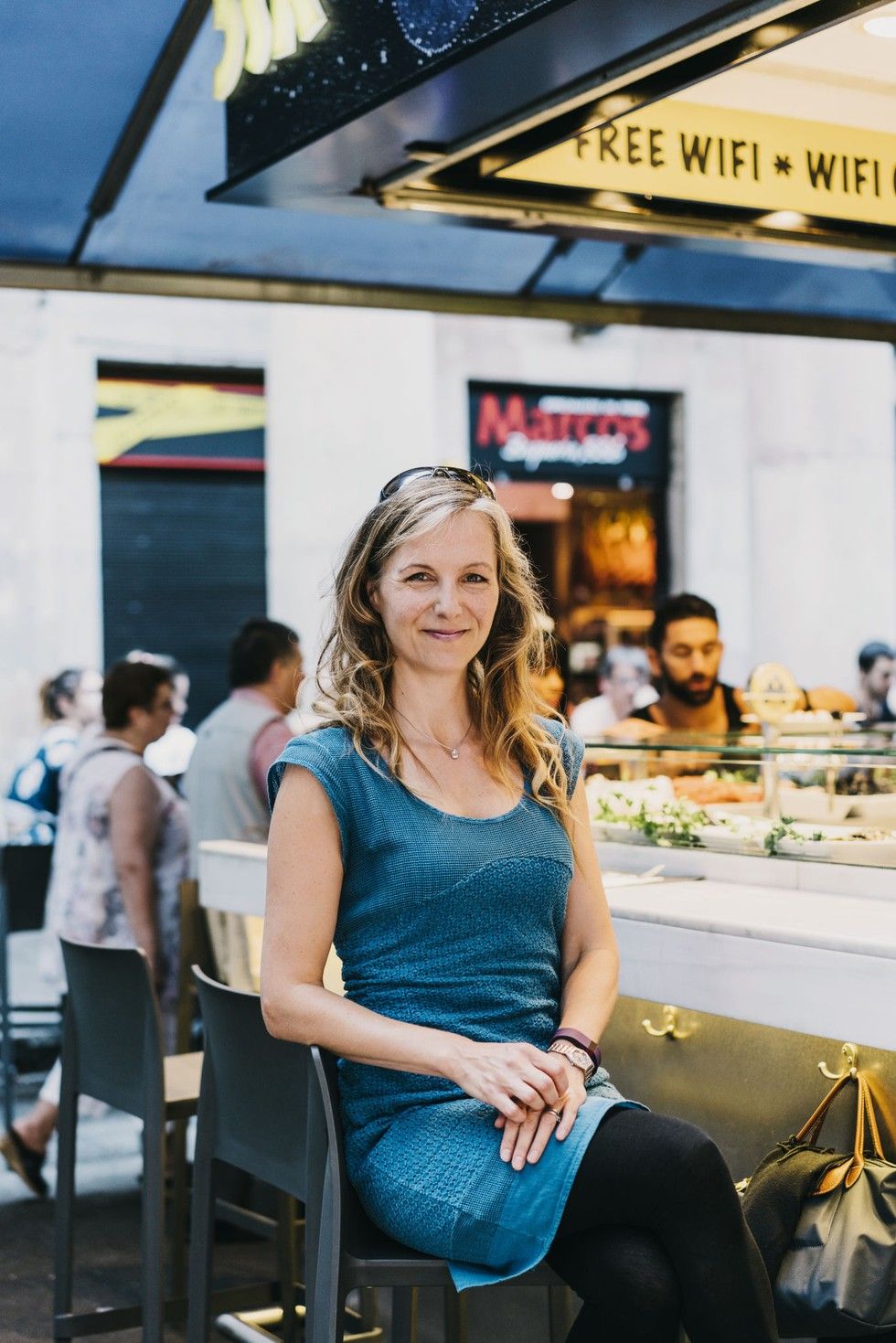 Lynette Kucsma, Tech entrepreneur
Lynette Kucsma, Tech entrepreneur
This turns out to be Casa Batlló, designed by visionary Catalan architect Antoni Gaudí, the man who, more than any other, manifests the spirit of Barcelona. Later, having demolished the Modernist breakfast buffet tower I made out of Manchego cheese and Ibérico ham, I cross the road for a closer look. Built in the early 20th century as a private residence, Casa Batlló is more dream sequence than domicile: ceilings swirl, walls convulse, windows bulge. The roof terrace has multicolored mushroom-shaped chimney pots. You can only imagine Gaudí's meetings with the client, textile titan Josep Batlló: "Hey, Joe, how about skylights shaped like tortoise shells?"
Passeig de Gràcia is situated in Eixample, Barcelona's commercial hub. It extends from Gràcia, a former village in the north, to Plaça Catalunya, the huge, teeming square where the Ciutat Vella (Old Town) meshes with the 19th-century grid. After a half-dozen or so tactile sales pitches, I am tempted to buy a selfie stick from a hawker to beat my way through the other hawkers.
South of here is Barcelona's most famous street, La Rambla, a tree-lined pedestrian boulevard that nuzzles the Barri Gòtic and runs all the way to the port. Near the waterfront is the Monument a Colom, a 195-foot iron column with Christopher Columbus on top, pointing out to sea. This is said to be the exact spot that the explorer returned to after discovering the New World. If he'd turn around, he'd have a great view of what is often called Barcelona's "emotional hub."
"I wouldn't go as far as to call it smugness, but people here know how lucky they are—the weather, the food, the mountains, the sea. Let's just say they are proud, but with justification." —Lynette Kucsma
As for me, I'm mainly seeing the backs of people's heads and the tops of kiosks. Barcelona attracts 9 million visitors a year, and this morning most of them are shuffling in front of me. At one point I find myself jostling before the ornate Font de Canaletes—built in the 19th century over an ancient watering hole—around which people, even today, congregate to refill their Evian bottles.
Barcelona's real treasures tend to be above eye level: the multipronged street lamps, the licorice balustrades of the townhouses, the Rococo flourishes of the 18th-century Palau de la Virreina, and the Baroque stylings of the Gran Teatre del Liceu opera house, which was Europe's largest theater when it opened in 1847. The Liceu's woes eclipse any tragedy it has staged: A fire in 1861 destroyed everything but its facade, and three decades later the auditorium was re-destroyed by anarchists. Another rebuild was needed following a blaze in 1994.
Feeling a little overheated myself, I duck down a side street, then weave my way through the Roman ruins to find Lynette and her sci-fi snacks. "Barcelona is great for startups," she says as we wander the Barri Gòtic, stopping to take in the deliriously latticed bridge on the much-photographed Carrer del Bisbe. "Where else can you get cheap office space in a place like this?"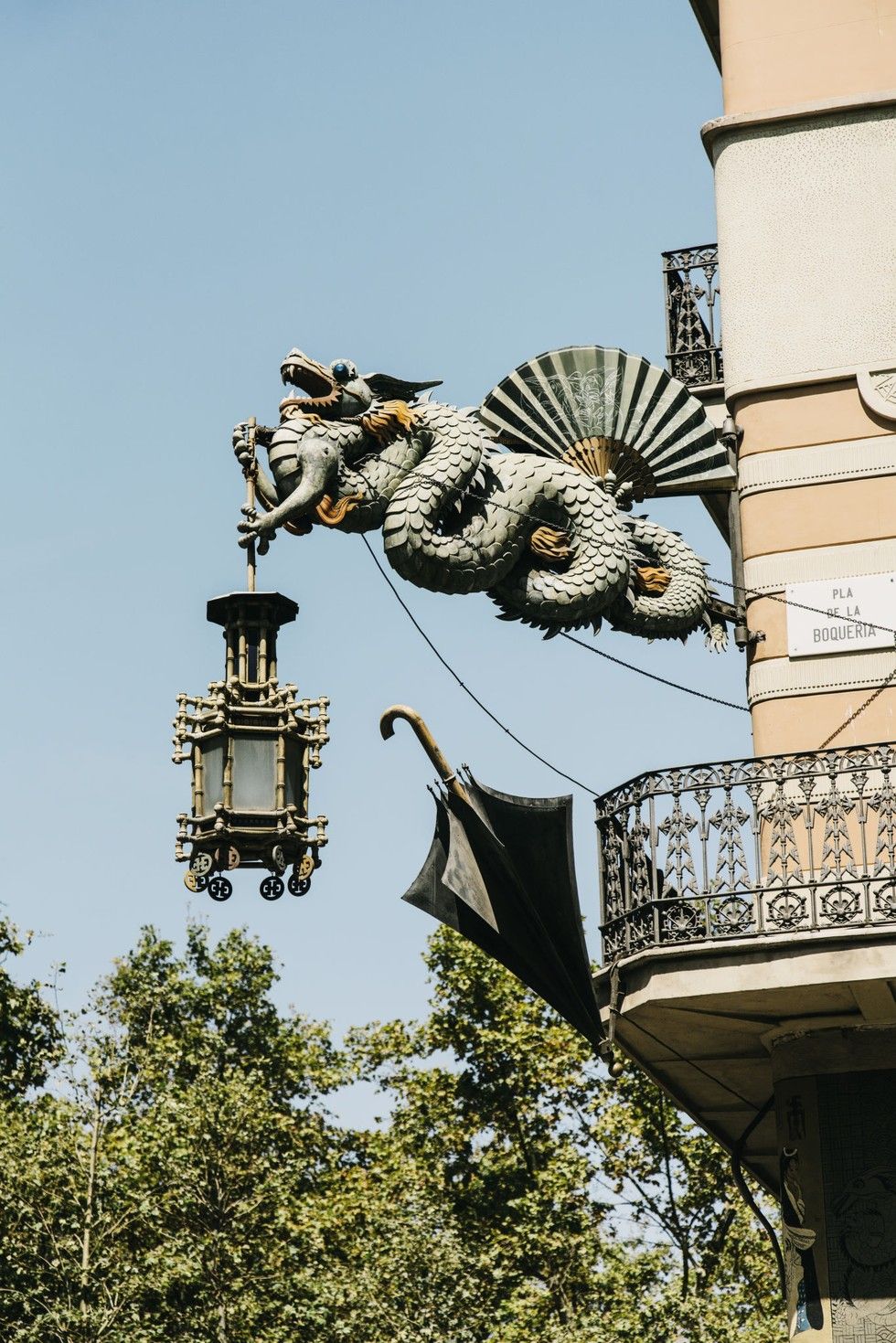 A Chinese dragon sign on a former umbrella shop on La Rambla
A Chinese dragon sign on a former umbrella shop on La Rambla
We zigzag on, past the looming cathedral, which teems with so many spires it looks like a polygraph test set in stone, and through cobbled Plaça Sant Jaume. In front of the grand Casa de la Ciutat, we look for a group of castellers, multistory human towers that are wildly popular here (presumably for selfies and jailbreaks), but it's too sticky today for such exertions, so we continue on to the adjacent Plaça de Sant Miquel, where we take in a 90-foot Antoni Llena sculpture that seems to have been built from the world's largest wire coat hangers.
From here, Lynette leads me to the iron and stained-glass entryway of La Boqueria, a monument to the region's passion for gastronomy. Inside, locals browse stalls selling glossy olives, bouncy mushrooms, Botoxed fruit, wriggling seafood, and heaving slabs of meat. I see a whorl of saffron worth more than my apartment. One stall sells nothing but eggs: white goose eggs, blue duck eggs, green emu eggs, and huge yellow ostrich eggs.
At Kiosko Universal, one of the market's bustling eateries, grilled squid and blistered Padrón peppers are thrown on a busy grill beneath a slightly alarming sculpture made from cutlery. Usually, out of a plateful of these small green peppers only a couple will be fiery, but for some reason, every one of mine goes up to 11. Eyes streaming, I discover the one thing not available at the market: water by the gallon.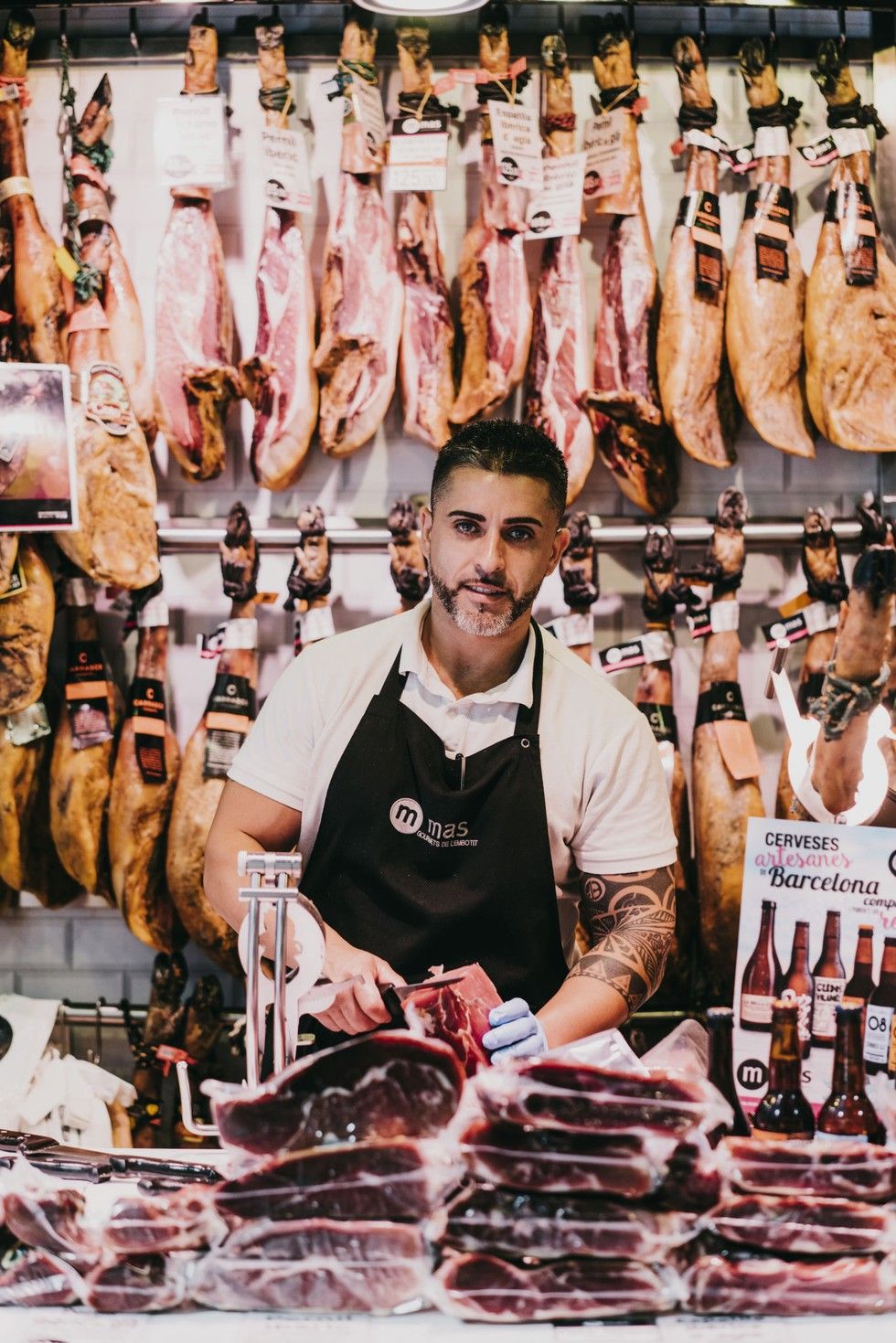 A jamón vendor at La Boqueria
A jamón vendor at La Boqueria
Four stops from the nearby Liceu metro station is the Museu Nacional d'Art de Catalunya, a palace built on a hilltop for the 1929 International Exposition. Two escalators hidden in the topiary take you some of the way up, but there are still several hundred steps before you reach the museum's entrance. At the door, they are handing out oxygen masks. No, wait, they're just audio guides. The exhibits, however, are worth the climb. Among the big draws here are the Romanesque and Gothic works, but I linger over Joaquim Mir's vivid Modernist landscapes, then pause to covet a gorgeous Jujol cabinet. The most popular spot for selfies is in front of Miró's Mural per a IBM, 1978, which once brightened the entrance of the computer giant's local HQ. Now it is worth more than IBM.
Another quick metro ride takes me to Gràcia, which has retained its simple charms despite an influx of trendsetters. Rising 110 feet in Vila de Gràcia, the colorful main square, is a stone clock tower surrounded by boys showing off their soccer skills. I have a vermouth in the shade and watch for a bit.
I've been starving since the Renaissance (all those still-life bowls of quince at the museum), but nobody here seems to eat dinner until two in the morning. The concept of a proper night's sleep seems alien to Spaniards. Eventually, I arrive at Petit Comitè, on the -upmarket Pasaje de la Concepción. Here, Michelin-starred chef Nandu Jubany has created updated versions of a lengthy list of traditional Catalan dishes. I try most of them: l'Escala anchovies and pickled oysters with seaweed, baked monkfish with ham and fried garlic, suckling pig with apricot and pineapple. A vanilla brioche with flaming rum arrives, and while it may not have been meant for my table, it is delicious.
It's past midnight but still warm when I exit the restaurant. Although my bags have already been dispatched to my next hotel, I decide to try the Majestic's rooftop bar, where a DJ does his best to get the well-groomed clientele to throw shapes around the swimming pool. I've noticed that a popular cocktail in Barcelona is a localized version of the Aperol Spritz, in which the vivid orange Italian aperitif is served with ice, soda, and cava, and this seems a good time to try one. I sip the bittersweet drink and watch the Aperol-tinted street below, until I feel myself slumping into an unflattering shape, close to the water's edge.

In which Boyd sleeps beside an ancient roman wall, impersonates a filmmaker at the Sagrada Família, and sparks a war of words between two designers
Many grand palaces were built along the Roman wall of Barcino, as the Catalan city was known in the Middle Ages. This morning, I wake up in The Mercer, a chichi hotel that has been fashioned out of one of them. Here, famed architect Rafael Moneo has created an extraordinary amalgam of materials and styles. Through the restaurant's glass floor, I can see the base of the first-century Roman wall, but right now I am distracted by a pastry that has rolled off my table and ended up splatted in the middle of the room. Luckily, there is an adorable moppet in a highchair at the next table. She can take the rap, I decide.
Soon I'm heading north to another Gaudí masterpiece, the Surrealist-Gothic Sagrada Família—which has been under construction since 1882 and won't be completed until 2026. One look at the vast church and you understand the delay. Comprising eight tapering 328-foot towers (there will be 18 when the project is finished), every inch oozing with detail, every detail an allusion, it looks like several hundred monumental structures rolled into one.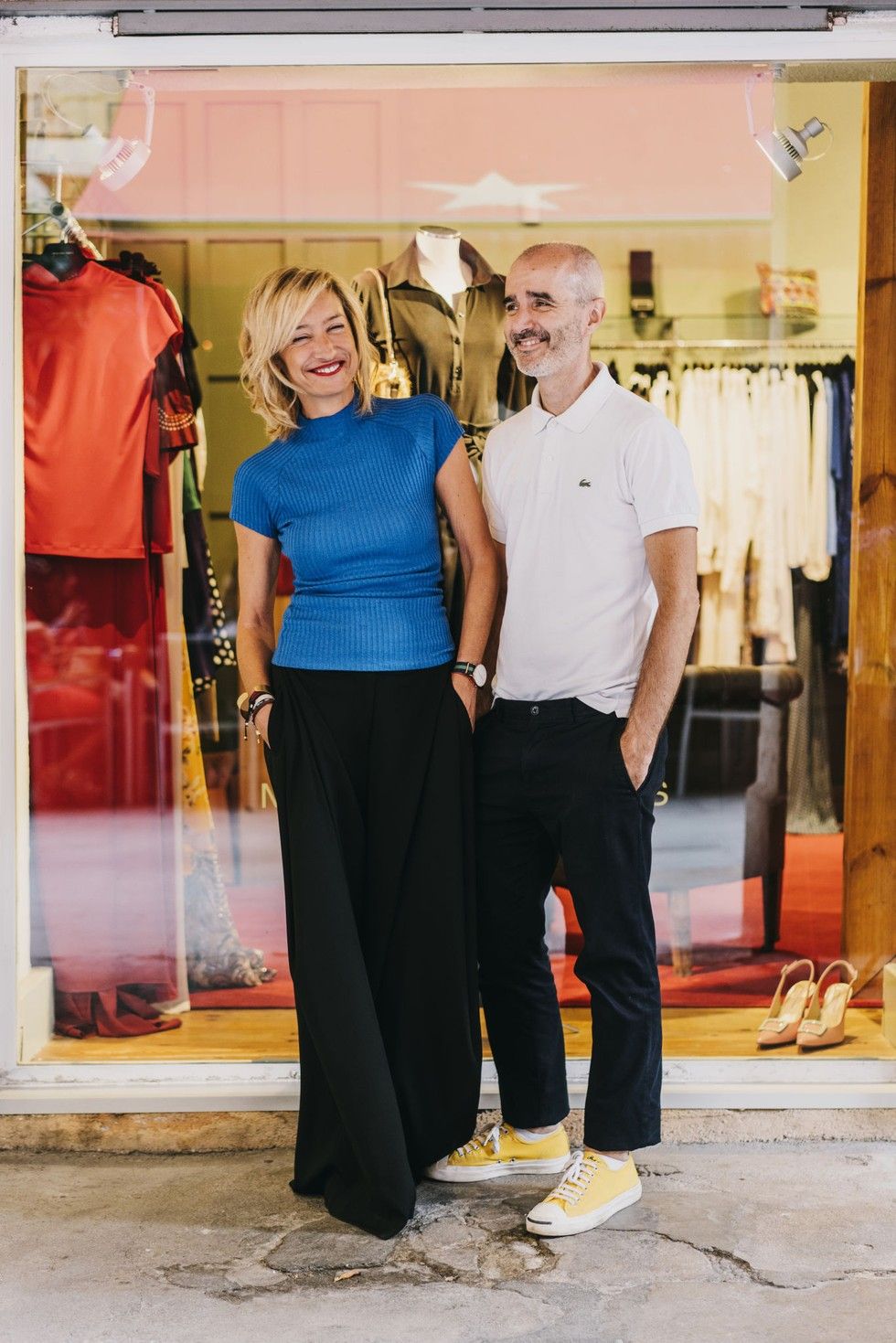 Olga Menchén, Fashion designer (with Francesc Grau Tomàs, right)
Olga Menchén, Fashion designer (with Francesc Grau Tomàs, right)
As I enter, the woman at the desk mistakes me for a member of a TV crew and fast-tracks me to a Passion Tower. Seeing the line for the tiny elevator, I decide to roll with it. Then she hands me a 28-page contract, which I must sign on every page. "This is just to say you are liable for damage." Later, inching down the tower's 350 terrifying corkscrew steps, I'm convinced I'm going to slip and take down everyone ahead of me. I picture the faces of the network's lawyers when they're hit with the class-action lawsuit.
Love it or hate it, the Sagrada Família is a triumph of structural engineering and a brain-twister for scholars of ecclesiastical symbolism. But it also crowns the architect's career-spanning celebration of nature: every tile is a honey-comb, every column a tree, every staircase a shell. I crick my neck staring at the ceiling's frills and jags, the skylights of glowing green and gold, and suddenly wonder how they change the lightbulbs in here. Do they call in the castellers?
A short cab ride takes me to the Horta-Guinardó district and up to Gaudí's Park Güell, a 45-acre pleasure garden seemingly landscaped by Dr. Seuss. Teeming with gingerbread houses, kooky water features, and crazy tiled critters, the park is the legacy of Eusabi Güell, a 19th-century industrialist who commissioned Gaudí to build a residential estate on Muntanya Pelada (Bare Mountain). In 1922 the Güell family gifted it to the city, and today it is one of Barcelona's most popular destinations. Entrance is restricted to 400 visitors in each prebooked 30-minute slot. I am 10 minutes early, and the ticket collector glares at me. Inside, people are clustered around an Imperial staircase, which leads to the Roman-inspired Salon of the Hundred Columns, atop which is a large viewing terrace.
"People tend to think that Spain has a machismo culture, but Barcelona women are strong, powerful, and confident. There is always a sexiness about people who dress completely for themselves." —Olga Menchén
Here, I rest on a bench in the form of a sea serpent and enjoy panoramic views of the city. Salvador Dalí called this bench a precursor of Surrealism, but after a morning of wall-to-wall Gaudí, it's starting to look like run-of-the-mill garden furniture. All these cracked tiles, though, remind me that my unmoisturized head is flaying in the heat. If I sit here any longer, I too will become glazed.
After all the stimulation, I decide lunch should be simple, so I turn to London-born chef Alan Stewart, who is getting rave reviews for his year-old restaurant, La Esquina. Part Shoreditch pub, part Soho loft, the eatery bucks Spanish culinary trends by giving vegetables equal billing with meat. "The markets here sell the most fantastic vegetables, yet most places still serve a big chunk of meat with half a tomato," says Stewart, who came to Barcelona two years ago. The locals seem to have embraced his approach: By 2 p.m., the place is crammed. I get chilled cream of cucumber soup with crusty bread, and couscous with pomegranates and feta—but before leaving I discreetly wolf down a plate of robust pork sausages, ignoring the lentils.
Onward to El Born, the commercial heart of the medieval city, wedged between the wall and the port. The district, already brimming with galleries and funky shops, is now attracting droves of artisans. I can practically taste leather and single-bean chocolate in the air.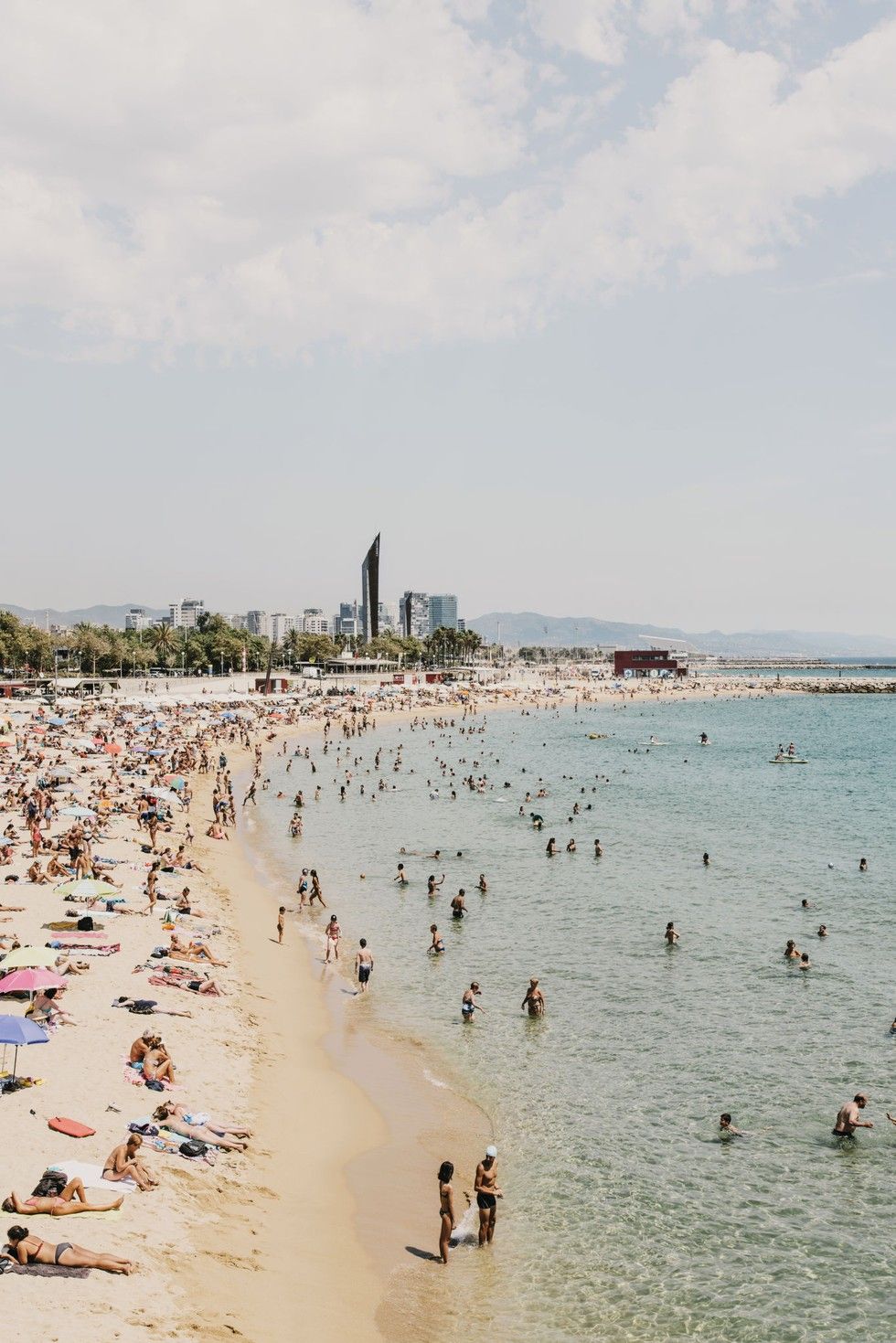 Barcelona's man-made beach
Barcelona's man-made beach
Among the great Renaissance mansions of Carrer de Montcada is the cloistered Museu Picasso. Many early works from the Barcelona-trained artist are on display here, including an 1896 self-portrait in which he looks spookily like Prince. One of the pleasures of the museum is seeing how versatile Picasso was: Of all the artworks here, there is very little in the way of messed-up guitars or people with noses on the sides of their heads.
Around the corner from here is the Basílica de Santa Maria del Mar, considered the city's finest and most complete example of Catalan Gothic architecture, on account of its relatively prompt construction. Begun in 1329, this compact church was completed a mere 55 years later. In 1936, during the Spanish Civil War, the interior was burned out, but the soot-blackened vault only heightens the eerie beauty of the space.
At the nearby Super Super Bar, I meet Francesc Grau Tomàs and Olga Menchén, who own Menchén Tomàs, one of Barcelona's leading fashion labels. Francesc says that design startups are on the rise here, as talented youngsters move to the city. "It takes time for a new generation to learn old techniques, but it is exciting to see," he says. "Hopefully they won't all go off and work for Zara."
I ask if Barcelona is a well-dressed city, and Francesc says "yes" at the same time Olga says "no." They then argue in Spanish (or maybe Catalan?), as I silently sip my sangria, wondering if I've just ended their fruitful partnership. "It is stylish compared to other Spanish cities, certainly more than Madrid," Olga clarifies eventually. "But it is not London or Milan." Francesc risks adding: "The weather is far hotter here."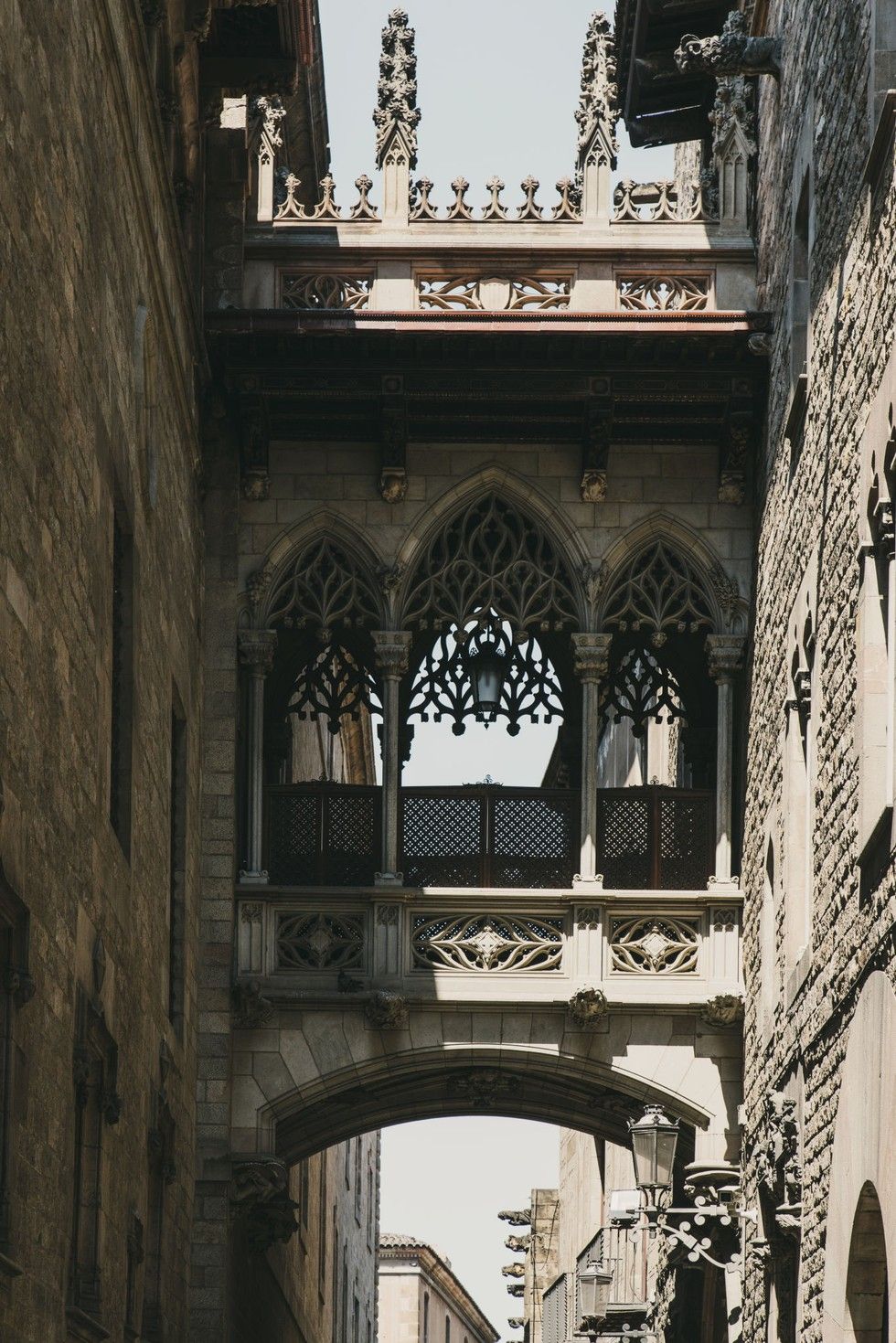 The bridge over the Barri Gòtic's Carrer del Bisbe
The bridge over the Barri Gòtic's Carrer del Bisbe
"Let's go for a walk," I suggest tactfully. Weaving southwest toward the port, they agree that the city is undergoing a period of rapid gentrification, particularly around the patch north of the Passeig de Colom, the wide palm-lined avenue that separates the jumble of Born streets from the port. We stop for more sangria on the roof of The Serras, a Design Hotel that overlooks Port Vell, the marina created for the 1992 Summer Olympics. This fall an outpost of the Manhattan members-only club Soho House is opening in once-seedy Plaça del Duc de Medinaceli. Olga has been quietly reassessing. "The city is getting more stylish," she declares.
And so am I. A little later, in a crisp white linen shirt, I enter Paco Pérez's Michelin-starred Enoteca, at the seafront Hotel Arts, the sleek latticed skyscraper where I'm staying tonight. Behind my crisp white tablecloth in the all-white room, I all but disappear. I'm surprised no one screams at the sight of my levitating, crazy-tiled head. I order lobster with chanterelles, almonds, and zucchini, followed by "Sole and the Mediterranean Sea," which is tasty but not as comprehensive as it sounds. I'm also cajoled into getting the white chocolate soup with passion fruit, before a plate of intricate petit fours arrives, reminding me of Park Güell.
Later, exhausted and stuffed, I make my way up to my room on the 30th floor. I leave the blinds fully open and fall asleep gazing out at the twinkling harbor lights far below.

In which Boyd meets a movie star, joins a Spanish square dance, and eats his way up the food chain
I am swimming alongside a fish. It's a whopper—170 feet or so from end to end—looming over the pool at the Hotel Arts. Created for the 1992 Olympics, Frank Gehry's latticed, gold-colored El Peix d'Or is now one of Barcelona's best-known landmarks.
The Catalan capital, famously, used to be a city with its back to the sea. Before the Olympic Games, this area was largely wasteland. The Port Olímpic marina was created from scratch, part of a $12 billion makeover that included shipping in enough sand to extend the city's beach at Barceloneta—the wedge-shaped district bordered by El Born, the sea, and the Port Vell site—to three miles.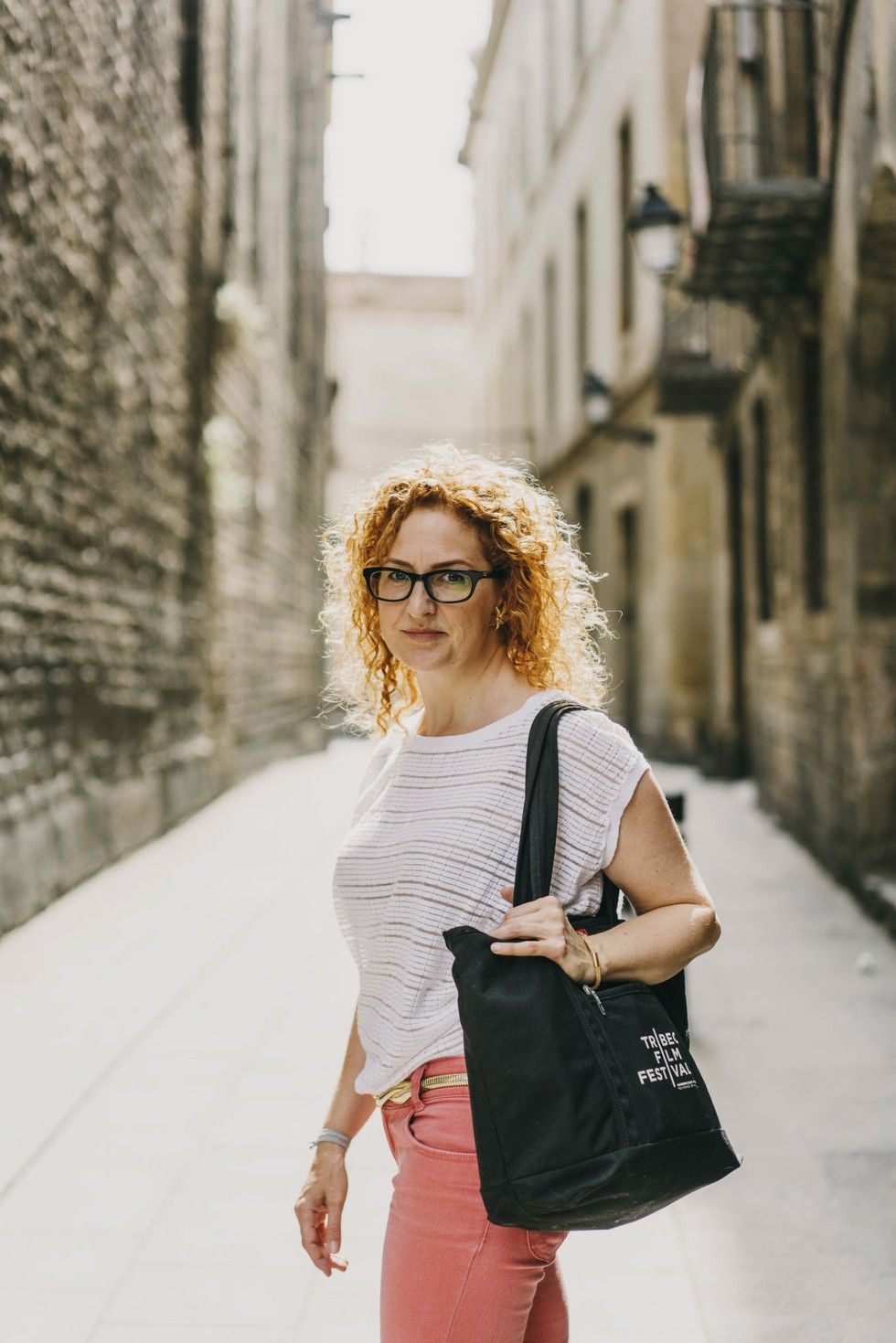 Danielle Schleif, film producer
Danielle Schleif, film producer
Post-swim, I stroll along a boardwalk past rows of restaurants and shops selling seafood and souvenirs. It's all very orderly—what Cancún might look like if it were run by the Swiss—but it's remarkable that there even is a beach here, four short metro stops from Plaça Catalunya, Barcelona's bustling answer to Times Square.
I stop for a café con leche at Vai Moana, a "gourmet beach bar" on Bogatell beach, about half a mile from Port Olímpic. My server, Luciana, seems mildly surprised that I'm not ordering anything stronger. "The Spanish come late in the afternoon for drinks," she says. "Tourists are more likely to have a gin and tonic for breakfast." From here, Gehry's sculpture glistens like a huge carp bobbing along on the sea.
I take the metro from Ciutadella Vila Olímpica to the Passeig de Gràcia. I am having brunch at a curious place called L'Eggs. Owned by Paco Perez, the restaurant is a plush upmarket joint serving eclectic local fare. The ingredient that binds most things on the menu—often literally—is eggs. Everything looks good, but, inspired by my earlier exertions in the pool, I opt for restraint, ordering Andalusian-style baked eggs with baby cuttlefish and tartar sauce, followed by cubes of fried hake with a creamy miso mayonnaise. Then the wry German chef, Alexander Stelzer, foils me. "Try a crema catalana," he suggests, delivering a ramekin of rich orange-flavored custard with a caramelized crust. I can hear my belt straining with every spoonful.
"When you are making a film here, you're seen as preserving cultural identity, so there is a real familial feeling among the entire cast and crew. It starts to feel less about doing a job and more about lifestyle." —Danielle Schleif
I take a redemptive stroll toward the galleries and boutiques that have sprung up around the Museu d'Art Contemporani de Barcelona, in the once seedy El Raval district. This modern, glass-fronted building is a nod to Le Corbusier in a city dominated by Gaudí. Inside, I pause before a five-pound note, and the face of Queen Elizabeth, upon which the German artist Hans-Peter Feldmann has added a clown nose. It's part of an exhibition exploring punk's influence on visual culture—although for that you can simply look at the street art sprayed on every wall outside.
From here, I wander through another rough-and-ready district, Poble-sec, which is becoming a stomping ground for the creative classes and adventurous Airbnb-ers. In charming Plaça del Sortidor, children run around the fountain while old men chat quietly on the benches. I realize that people tend to talk in hushed tones in Barcelona. Maybe General Francisco Franco's rule, which lasted from the late 1930s to 1975, took its toll, or maybe it's because they always feel as if they're extras on a film set.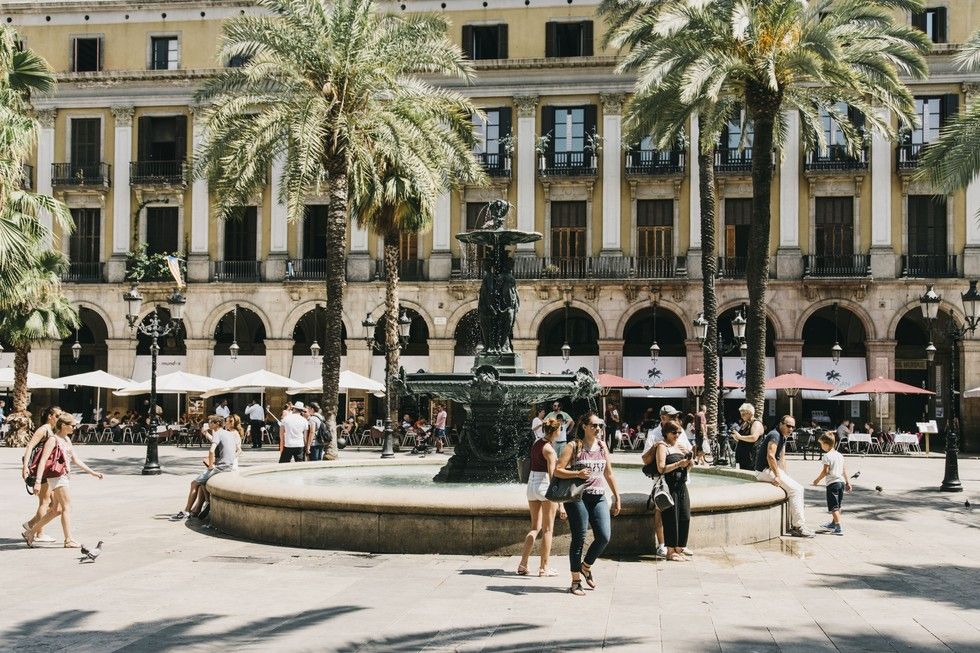 The Plaça Reial fountain
The Plaça Reial fountain
The metro from Poble-sec takes me to Liceu, on La Rambla, from which I make my way back through the Barri Gòtic. I stop for a mint tea at a brasserie in the magnificently porticoed Plaça Reial, with its palm trees and central fountain between two elaborate lampposts designed by you-know-who.
I'm heading for the beloved tapas joint Bar del Pla to meet film producer Danielle Schleif, a New Yorker married to a local man. I find her seated next to David Verdaguer, star of Danielle's steamy rom-com 10,000 Km. Over mojama (salt-cured tuna), suckling pig with tomatoes, and wine from the local grape Xarel•lo, the actor describes how he moved here from Girona 17 years ago, and how the city still fills him with delight.
"People here know how to enjoy life," he says. "They don't work insanely hard and then have a big blowout at weekends. They have perfected moderation. People live well every day. They appreciate everything—the food, the weather, the beauty of the place."
"You never leave your apartment," Danielle teases him.
"I come here all the time," he says, hugging the sommelier as she passes. He gestures at the muddle of alleys around us, which is more than an open-air museum, he says: It is a real, living community, inhabited by "princes and thieves." I think he means that the neighborhood is diverse.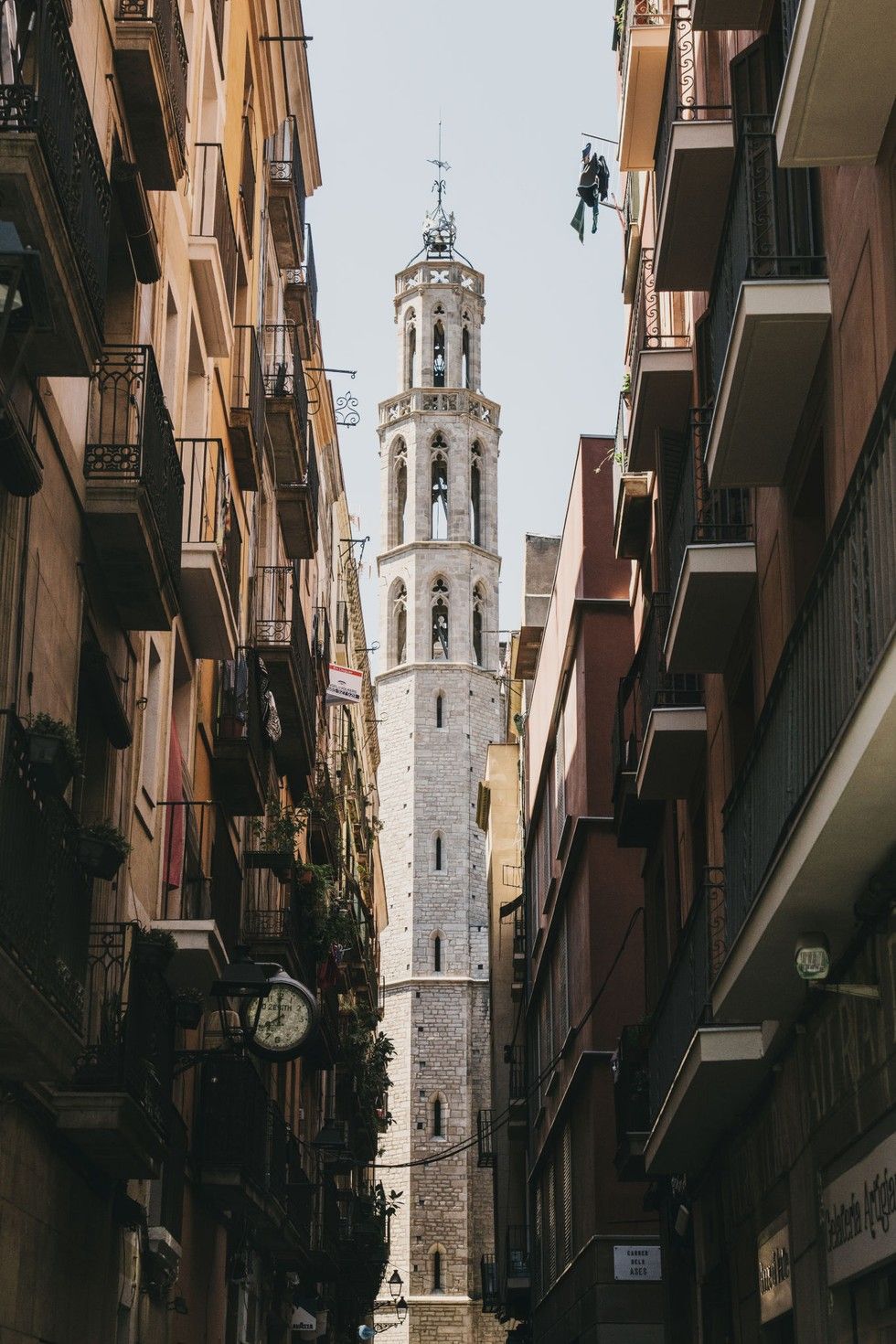 The Gothic Basílica de Santa Maria del Mar
The Gothic Basílica de Santa Maria del Mar
Danielle and I have a table booked for dinner uptown, so we decide on a leisurely walk, which takes us past the cathedral. On the steps, a brass band is playing, and the plaza is filled with locals dancing the sardana. The routine involves circles of people joining hands and raising them as they move with small, precise steps, around and around. As others join, and the circle gets too large, it splits into another one, until the entire square is a mass of slowly spinning bodies. "The sardana is a powerful symbol of Catalan unity and pride," Danielle says. "Although," she adds in a stage whisper, "it's hard to believe that such an attractive people have a dance that is this unsexy."
We are heading for BistrEau, run by the Michelin-starred "Chef of the Sea," Ángel León, at the Mandarin Oriental. Sitting beneath a metal lattice that filters light, there's a sense that we are underwater. We opt for the ominous-sounding Discovery Menu, and the waiter asks if I have any allergies. I've noticed they serve plankton here. "We'll see," I mumble.
It turns out that I can eat plankton (and cockles in seawater jelly, squid-ink risotto, sea snails, and even raw shrimp), so I'll be fine when it turns out to be the next superfood. "My husband would love it here," Danielle says. "I'm sure there are some things here that even he hasn't tried." I smile, discreetly trying to dislodge a barnacle from the roof of my mouth.
After eating our way through the first few links of the food chain, we head for the Caribbean Club, a wood-paneled rum bar midway down a narrow back lane in a 12th-century building in El Raval. The joint is so small there are only four stools; two are occupied by heavily tattooed women, and we perch awkwardly on the other two. My cocktail seems to contain only alcohol, and I am suddenly grateful there is nowhere for me to fall—I can prop myself against the bar, the wall, or an extra from Orange Is the New Black.
When we stumble out of the bar, around 3 a.m., the grittily beautiful streets are full of young people laughing and talking. No one appears particularly drunk or bedraggled. It just seems nobody wants to go home. As David Verdaguer said, people here have nailed the art of enjoying themselves.
Berlin-based writer Boyd Farrow attempted to follow the Spanish dining schedule, but had to give it up when he started having dinner for breakfast.
If you go
Visit united.com or use the United app to plan your Barcelona getaway.
Our Marketing Inflight Entertainment and Connectivity team and Bridge, our Business Resource Group (BRG) for people with all abilities, partnered together to test and provide feedback on our award-winning seatback inflight entertainment (IFE) system.
Aptly named "Entertainment for all," our new seatback IFE system offers the an extensive suite of accessibility features, allowing for unassisted use by people of all visual, hearing, mobility and language abilities.
"It's nice to know that I can get on a plane and pick my favorite entertainment to enjoy, just like every customer," said Accessibility Senior Analyst and Developer and Bridge Chief of Staff Ray C., who is blind.
"As a deaf employee, the closed captioning availability on board our aircraft is something I value greatly," added Information Technology Analyst Greg O. "The new IFE further cements United's visibility within the deaf community and elsewhere. It makes me proud to be an employee."
Accessibility features of the new IFE include a text-to-speech option, explore by touch, customizable text size, screen magnification, color correction and inversion modes, and alternative navigation options for those unable to swipe or use a handset. For hearing-impaired and non-English-speaking passengers, customization options provide the ability for customers to be served content and receive inflight notifications based on their preferences and settings —with closed captions, with subtitles or in the language of their choice from the 15 languages supported. Our "Entertainment for all" system won the Crystal Cabin Award in 2019, and recently, the Dr. Margaret Pfanstiehl Research and Development Award for Audio Description by the American Council of the Blind.
"This really showed the benefits of partnering with BRGs in helping us improve products and services for our customers and employees," said Inflight Entertainment and Connectivity Senior Manager Corinne S. "Even though we have been recognized with awards for our IFE accessibility features, we are not resting on our laurels but continuing to work towards improving the inflight entertainment experience for all of our customers to ensure entertainment is available for all."
If your travels have taken you through Chicago O'Hare International Airport anytime since October 2019, you may have had a friendly, caring and jovial exchange with Daniel Smrokowski. Daniel is one of four Service Ambassadors thanks to our ongoing partnership with Special Olympics. This inaugural ambassador program aims to provide Special Olympic athletes employment opportunities within our operation, affording them a unique and meaningful career.
Since 2018, our partnership with Special Olympics has become one of United's most cherished relationships, going beyond the events we take part in and volunteer with. While the plane pull competitions, polar plunges, duck derbies and Special Olympics World Games and other events around the world are a big part of our involvement, the heart of this partnership lies with the athletes and individuals supported by Special Olympics. To advocate for their inclusion in every setting is one of our biggest honors, and we take great pride in the role we play in the organization's inclusion revolution.
Aiding in the success of Special Olympics' mission to create continuing opportunities for individuals with intellectual disabilities, throughout the two-year partnership, United has volunteered over 10,500 hours and donated over $1.2 million in travel to the organization. The impact of this partnership is felt at every level, both at Special Olympics and within our own ranks.
"The Inclusion Revolution campaign, led by our athletes, aims to end discrimination against people with intellectual disabilities. United Airlines has joined in our fight for inclusion, empowering our athletes with the skills needed to succeed and opportunities to contribute their abilities as leaders," said Special Olympics International Chairman Tim Shriver. "United Airlines believes that people with intellectual disabilities should be perceived as they really are: independent, world-class athletes, students, employees, neighbors, travelers, and leaders who contribute to make this world a better place."
Our Service Ambassador program is just one of the many ways Special Olympics has impacted not only our employees, but also our customers. "I see every day how our Service Ambassadors connect with our customers the moment they walk into the airport lobby," said Senior Customer Service Supervisor Steve Suchorabski. "They provide a warm, welcoming smile ad assist in any way they can. To see these young adults hold positions that a society once told them they couldn't is truly the most heartwarming part of my job," Steve continued.
"The opportunity to be a part of the United family means everything to me," Daniel said. "I feel so much pride showing up to work in a Special Olympics/United co-branded uniform, working among such a loving and supportive community. The relationship between these two organizations is truly helping to shape my future while letting me use my gifts of communicating and helping others. Hopefully, I can spend my entire career at United," Daniel added.
In honor of Special Olympics' Global Week of Inclusion in July, we're asking our employees, customers and partners to sign a pledge to #ChooseToInclude at jointherevolution.org/pledge.
And be sure to check out Daniel's podcast The Special Chronicles.

In collaboration with food-logistics company Commodity Forwarders Inc. (CFI), United moved nearly 190,000 pounds of fresh produce to Guam for the U.S. Department of Agriculture's Coronavirus Farm Assistance Program. This new program was created to provide critical support to consumers impacted by the COVID-19 global pandemic.
A variety of fresh fruits were transported from Los Angeles (LAX) to Guam (GUM) on United's newly introduced, non-stop cargo-only flight – a route added to meet cargo demand during the COVID-19 crisis. The fresh food was repacked in 10-pound cases in Los Angeles, prepared for departure at CFI's LAX location, and flown to GUM by the United team. Through this beneficial partnership between United and CFI, the perishable goods were kept cool during every step of the process and distributed as part of the food bank program in Guam.
"Everyone on our team has worked relentlessly during the pandemic to get critical goods to where they are needed most. Establishing a comprehensive network of cargo-only flights have allowed us to keep the supply chain moving even while passenger flight capacity has been reduced," said Regional Senior Manager of Cargo Sales, Marco Vezjak. "Knowing that we are able to help during these difficult times – in this case the Guam community – is our biggest reward and greatest motivation to keep moving forward."
United is proud to play a role in maintaining the global food supply chain and helping people access the supplies they need. Since March 19, United has operated over 4,000 cargo-only flights, moving over 130 million pounds of cargo.

Together, we are facing an unprecedented challenge. United Together, we rise to meet that challenge.
Learn more
United Airlines
united
While electrostatic sprayers are used to disinfect aircraft cabins, the switches & touch screen displays in our flight decks use a different approach. See how ultraviolet C (UVC) lighting is being used to kill viruses that may reside on these sensitive components.
United Airlines
united
A travel waiver is in effect for the East Coast due to Tropical Storm Isaias. If you're traveling 8/4 - 8/5, you can change your flight at no cost on our mobile app, by direct messaging us here or calling 1-800-864-8331. Waiver:
uafly.co/Z04CmP
United Airlines
united
We've issued a travel waiver for Charleston, Wilmington and Norfolk due to Hurricane Isaias. If you're traveling 8/3 - 8/4, you can change your flight at no cost on our mobile app, by direct messaging us or calling 1-800-864-8331. Waiver:
uafly.co/Z04CmP
United Airlines
united
Flights booked now through August 31 can be changed for free over the next 12 months to allow for additional flexibility. All existing travel can be changed without fees as well. See waiver for details:
uafly.co/2M9vgLC
We Are United
weareunited
We've rolled out "Easy Chat" as the Flight Info app on Link devices at DCA, IAD, LAX, ORD and DEN with EWR, IAH and SFO coming this summer. This program offers increased connectivity and transparency between the
#BeingUnited
frontline to keep flights moving and on-time.
We Are United
weareunited
Our digital servicing team has developed an automated assistant to make it easier for our customers to learn about what to expect the next time they fly. Text "Clean" to FLYUA (35982) to give it a try!
We Are United
weareunited
Three-year-old Luna Mei was all smiles on her flight home after 212 days in a San Francisco hospital, thanks to her SFO-based FAs (and undercover angels 👼) Pamela R., Sharon S., Sonja B. and Stacey G. The quartet kept spirits high by singing songs, clapping and playing games.
We Are United
weareunited
So long paper boarding passes, standby and upgrade travel are going touchless! If you've signed up for day-of-travel notifications, you'll now receive a text or email when your seat is assigned.
We Are United
weareunited
Our inaugural flight to Chicago from Toyko Haneda coincided with the annual Japanese celebration known as "Tanabata" or "Star Festival." The
#BeingUnited
team at HND placed their wishes on bamboo trees before the flight departed for ORD.
Watch our most popular videos
Flying UCSF Medical Workers to New York
This is why we fly.
20 UCSF Health workers, who voluntarily set aside their own lives to help save lives, are on their way to New York City.
We are humbled by your selfless sacrifice.
Thank you.
#UnitedTogether #UCSFHeroes
A happy, Hollywood ending
This is the story of Jason and Shantel. You see, Jason and Shantel love each other very much. They also love traveling and they love the classic Adam Sandler film, The Wedding Singer.
It all began when Jason reached out to United's social media team, hoping for assistance with his upcoming plan to propose. Some phone calls and one borrowed guitar later, the stage was set for Jason. Put all that together, mix in some helpful United employees and, voila, you have a truly memorable marriage proposal. Congratulations to this fun-loving and happy couple, and here's to many more years of making beautiful music together.
A big thank you to Chicago-based flight attendants Donna W., Marie M., Karen J. and Mark K. for making this proposal come to life.
Copyright © 2020 United Airlines, Inc.
All rights reserved.
Indicates an external site that may or may not meet accessibility guidelines.
Scroll to top
Scroll to top