Three Perfect Days: Barcelona

Story by Boyd Farrow | Photography by Salva López | Hemispheres October 2016
Spain's El Gordo may be the world's biggest national lottery, but Barcelona residents have already hit the jackpot. The capital city of Catalonia, a semiautonomous region in the country's northeast, has a culture—and language—all its own. It has extraordinary architecture (from the medieval clutter of the Barri Gòtic to the Modernist apparitions of Antoni Gaudí), a lively arts scene, some of the world's most inventive cuisine (22 Michelin-starred restaurants), as well as a perfect climate and more than three miles of sand for its beautiful people to strut their stuff on. All this is hardly a secret: Nearly 25 years after the 1992 Olympics propelled Barcelona into the global spotlight, its 1.6 million residents are vastly outnumbered by the people who come to visit. Many leave their hearts in the city—and many simply decide to stay.

In which Boyd gets a glimpse of a Gaudí dreamscape, climbs a mountain to look at modern art, and peruses the world's greatest collection of fresh produce
It's midmorning at Caelum, a cryptlike cafe in Barcelona's Barri Gòtic (Gothic Quarter) where the cakes are made by nuns. I am contemplating a cup of "Blessed Chocolate"—thick as asphalt and almost as dark—when my companion, Lynette Kucsma, whispers: "Try one of these." From her bag she produces a handful of chocolate cookies shaped like spoons, and we cackle like hens.
Half an hour ago, I watched Lynette make these cookies using a 3-D printer created by the tech startup she co-founded, Natural Machines. The company headquarters are surrounded by a 14th-century cathedral, a 15th-century palace, and the remnants of a Roman wall. In this city, the ancient and the cutting-edge collide like giddy toddlers.
Indeed, much of Barcelona seems like a playpen for surrealists and mad scientists—a Terry Gilliam fantasy brought to life. I woke this morning in the Neoclassical Majestic Hotel, a century-old five-star property on the shopping avenue Passeig de Gràcia. From the balcony of my suite, I looked out at fairytale turrets, pillars of bone, and a roof that resembles an iridescent armadillo.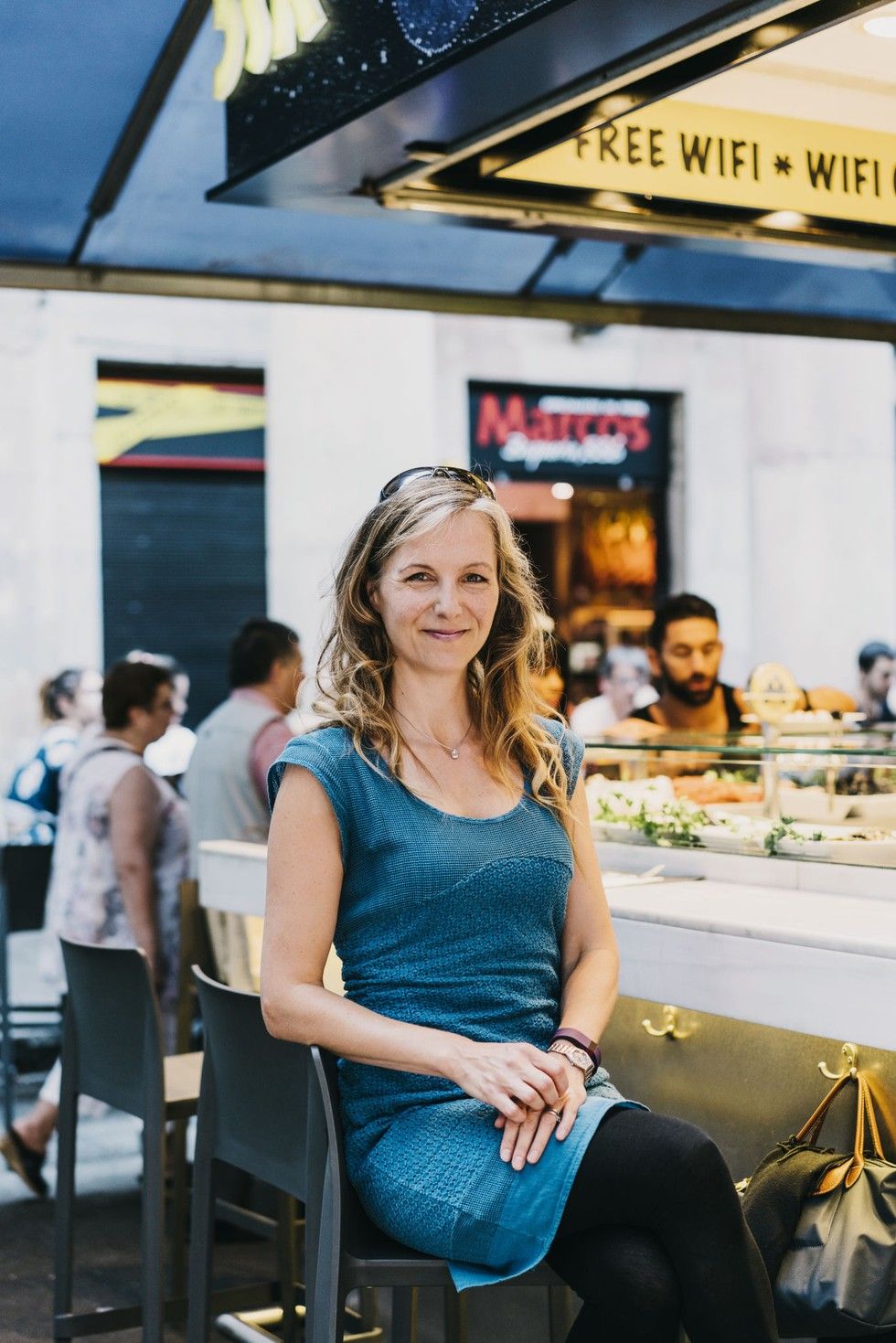 Lynette Kucsma, Tech entrepreneur
Lynette Kucsma, Tech entrepreneur
This turns out to be Casa Batlló, designed by visionary Catalan architect Antoni Gaudí, the man who, more than any other, manifests the spirit of Barcelona. Later, having demolished the Modernist breakfast buffet tower I made out of Manchego cheese and Ibérico ham, I cross the road for a closer look. Built in the early 20th century as a private residence, Casa Batlló is more dream sequence than domicile: ceilings swirl, walls convulse, windows bulge. The roof terrace has multicolored mushroom-shaped chimney pots. You can only imagine Gaudí's meetings with the client, textile titan Josep Batlló: "Hey, Joe, how about skylights shaped like tortoise shells?"
Passeig de Gràcia is situated in Eixample, Barcelona's commercial hub. It extends from Gràcia, a former village in the north, to Plaça Catalunya, the huge, teeming square where the Ciutat Vella (Old Town) meshes with the 19th-century grid. After a half-dozen or so tactile sales pitches, I am tempted to buy a selfie stick from a hawker to beat my way through the other hawkers.
South of here is Barcelona's most famous street, La Rambla, a tree-lined pedestrian boulevard that nuzzles the Barri Gòtic and runs all the way to the port. Near the waterfront is the Monument a Colom, a 195-foot iron column with Christopher Columbus on top, pointing out to sea. This is said to be the exact spot that the explorer returned to after discovering the New World. If he'd turn around, he'd have a great view of what is often called Barcelona's "emotional hub."
"I wouldn't go as far as to call it smugness, but people here know how lucky they are—the weather, the food, the mountains, the sea. Let's just say they are proud, but with justification." —Lynette Kucsma
As for me, I'm mainly seeing the backs of people's heads and the tops of kiosks. Barcelona attracts 9 million visitors a year, and this morning most of them are shuffling in front of me. At one point I find myself jostling before the ornate Font de Canaletes—built in the 19th century over an ancient watering hole—around which people, even today, congregate to refill their Evian bottles.
Barcelona's real treasures tend to be above eye level: the multipronged street lamps, the licorice balustrades of the townhouses, the Rococo flourishes of the 18th-century Palau de la Virreina, and the Baroque stylings of the Gran Teatre del Liceu opera house, which was Europe's largest theater when it opened in 1847. The Liceu's woes eclipse any tragedy it has staged: A fire in 1861 destroyed everything but its facade, and three decades later the auditorium was re-destroyed by anarchists. Another rebuild was needed following a blaze in 1994.
Feeling a little overheated myself, I duck down a side street, then weave my way through the Roman ruins to find Lynette and her sci-fi snacks. "Barcelona is great for startups," she says as we wander the Barri Gòtic, stopping to take in the deliriously latticed bridge on the much-photographed Carrer del Bisbe. "Where else can you get cheap office space in a place like this?"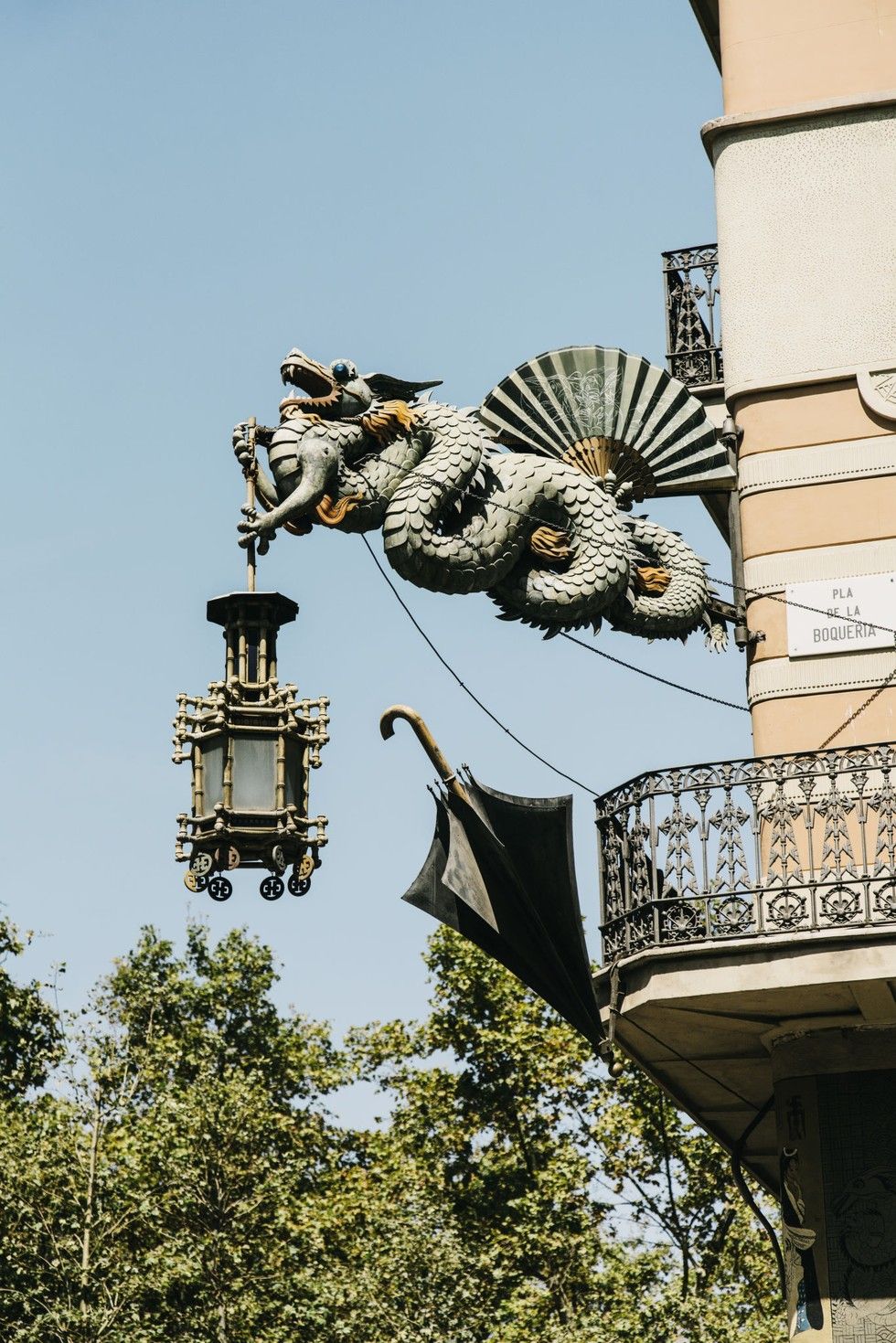 A Chinese dragon sign on a former umbrella shop on La Rambla
A Chinese dragon sign on a former umbrella shop on La Rambla
We zigzag on, past the looming cathedral, which teems with so many spires it looks like a polygraph test set in stone, and through cobbled Plaça Sant Jaume. In front of the grand Casa de la Ciutat, we look for a group of castellers, multistory human towers that are wildly popular here (presumably for selfies and jailbreaks), but it's too sticky today for such exertions, so we continue on to the adjacent Plaça de Sant Miquel, where we take in a 90-foot Antoni Llena sculpture that seems to have been built from the world's largest wire coat hangers.
From here, Lynette leads me to the iron and stained-glass entryway of La Boqueria, a monument to the region's passion for gastronomy. Inside, locals browse stalls selling glossy olives, bouncy mushrooms, Botoxed fruit, wriggling seafood, and heaving slabs of meat. I see a whorl of saffron worth more than my apartment. One stall sells nothing but eggs: white goose eggs, blue duck eggs, green emu eggs, and huge yellow ostrich eggs.
At Kiosko Universal, one of the market's bustling eateries, grilled squid and blistered Padrón peppers are thrown on a busy grill beneath a slightly alarming sculpture made from cutlery. Usually, out of a plateful of these small green peppers only a couple will be fiery, but for some reason, every one of mine goes up to 11. Eyes streaming, I discover the one thing not available at the market: water by the gallon.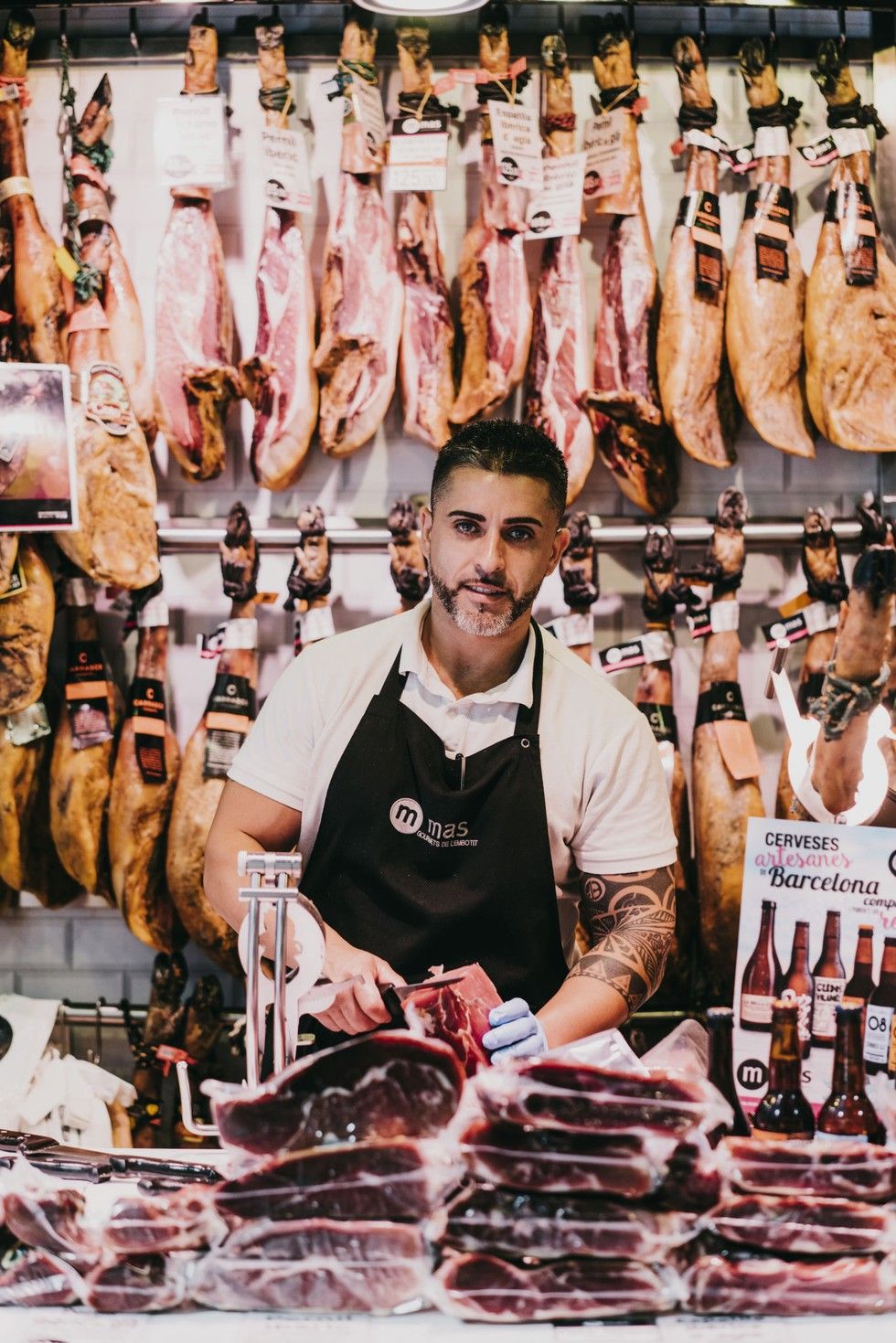 A jamón vendor at La Boqueria
A jamón vendor at La Boqueria
Four stops from the nearby Liceu metro station is the Museu Nacional d'Art de Catalunya, a palace built on a hilltop for the 1929 International Exposition. Two escalators hidden in the topiary take you some of the way up, but there are still several hundred steps before you reach the museum's entrance. At the door, they are handing out oxygen masks. No, wait, they're just audio guides. The exhibits, however, are worth the climb. Among the big draws here are the Romanesque and Gothic works, but I linger over Joaquim Mir's vivid Modernist landscapes, then pause to covet a gorgeous Jujol cabinet. The most popular spot for selfies is in front of Miró's Mural per a IBM, 1978, which once brightened the entrance of the computer giant's local HQ. Now it is worth more than IBM.
Another quick metro ride takes me to Gràcia, which has retained its simple charms despite an influx of trendsetters. Rising 110 feet in Vila de Gràcia, the colorful main square, is a stone clock tower surrounded by boys showing off their soccer skills. I have a vermouth in the shade and watch for a bit.
I've been starving since the Renaissance (all those still-life bowls of quince at the museum), but nobody here seems to eat dinner until two in the morning. The concept of a proper night's sleep seems alien to Spaniards. Eventually, I arrive at Petit Comitè, on the -upmarket Pasaje de la Concepción. Here, Michelin-starred chef Nandu Jubany has created updated versions of a lengthy list of traditional Catalan dishes. I try most of them: l'Escala anchovies and pickled oysters with seaweed, baked monkfish with ham and fried garlic, suckling pig with apricot and pineapple. A vanilla brioche with flaming rum arrives, and while it may not have been meant for my table, it is delicious.
It's past midnight but still warm when I exit the restaurant. Although my bags have already been dispatched to my next hotel, I decide to try the Majestic's rooftop bar, where a DJ does his best to get the well-groomed clientele to throw shapes around the swimming pool. I've noticed that a popular cocktail in Barcelona is a localized version of the Aperol Spritz, in which the vivid orange Italian aperitif is served with ice, soda, and cava, and this seems a good time to try one. I sip the bittersweet drink and watch the Aperol-tinted street below, until I feel myself slumping into an unflattering shape, close to the water's edge.

In which Boyd sleeps beside an ancient roman wall, impersonates a filmmaker at the Sagrada Família, and sparks a war of words between two designers
Many grand palaces were built along the Roman wall of Barcino, as the Catalan city was known in the Middle Ages. This morning, I wake up in The Mercer, a chichi hotel that has been fashioned out of one of them. Here, famed architect Rafael Moneo has created an extraordinary amalgam of materials and styles. Through the restaurant's glass floor, I can see the base of the first-century Roman wall, but right now I am distracted by a pastry that has rolled off my table and ended up splatted in the middle of the room. Luckily, there is an adorable moppet in a highchair at the next table. She can take the rap, I decide.
Soon I'm heading north to another Gaudí masterpiece, the Surrealist-Gothic Sagrada Família—which has been under construction since 1882 and won't be completed until 2026. One look at the vast church and you understand the delay. Comprising eight tapering 328-foot towers (there will be 18 when the project is finished), every inch oozing with detail, every detail an allusion, it looks like several hundred monumental structures rolled into one.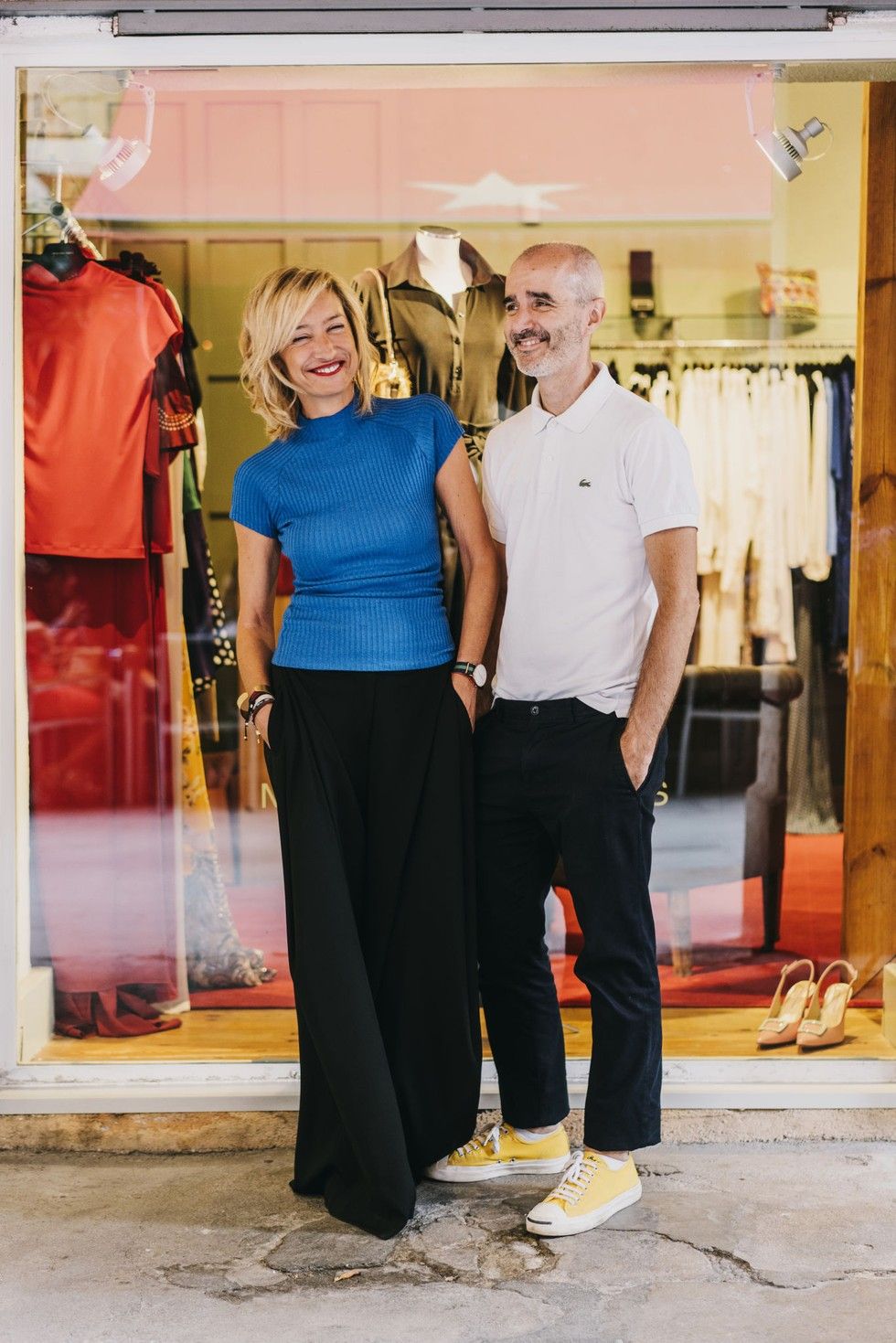 Olga Menchén, Fashion designer (with Francesc Grau Tomàs, right)
Olga Menchén, Fashion designer (with Francesc Grau Tomàs, right)
As I enter, the woman at the desk mistakes me for a member of a TV crew and fast-tracks me to a Passion Tower. Seeing the line for the tiny elevator, I decide to roll with it. Then she hands me a 28-page contract, which I must sign on every page. "This is just to say you are liable for damage." Later, inching down the tower's 350 terrifying corkscrew steps, I'm convinced I'm going to slip and take down everyone ahead of me. I picture the faces of the network's lawyers when they're hit with the class-action lawsuit.
Love it or hate it, the Sagrada Família is a triumph of structural engineering and a brain-twister for scholars of ecclesiastical symbolism. But it also crowns the architect's career-spanning celebration of nature: every tile is a honey-comb, every column a tree, every staircase a shell. I crick my neck staring at the ceiling's frills and jags, the skylights of glowing green and gold, and suddenly wonder how they change the lightbulbs in here. Do they call in the castellers?
A short cab ride takes me to the Horta-Guinardó district and up to Gaudí's Park Güell, a 45-acre pleasure garden seemingly landscaped by Dr. Seuss. Teeming with gingerbread houses, kooky water features, and crazy tiled critters, the park is the legacy of Eusabi Güell, a 19th-century industrialist who commissioned Gaudí to build a residential estate on Muntanya Pelada (Bare Mountain). In 1922 the Güell family gifted it to the city, and today it is one of Barcelona's most popular destinations. Entrance is restricted to 400 visitors in each prebooked 30-minute slot. I am 10 minutes early, and the ticket collector glares at me. Inside, people are clustered around an Imperial staircase, which leads to the Roman-inspired Salon of the Hundred Columns, atop which is a large viewing terrace.
"People tend to think that Spain has a machismo culture, but Barcelona women are strong, powerful, and confident. There is always a sexiness about people who dress completely for themselves." —Olga Menchén
Here, I rest on a bench in the form of a sea serpent and enjoy panoramic views of the city. Salvador Dalí called this bench a precursor of Surrealism, but after a morning of wall-to-wall Gaudí, it's starting to look like run-of-the-mill garden furniture. All these cracked tiles, though, remind me that my unmoisturized head is flaying in the heat. If I sit here any longer, I too will become glazed.
After all the stimulation, I decide lunch should be simple, so I turn to London-born chef Alan Stewart, who is getting rave reviews for his year-old restaurant, La Esquina. Part Shoreditch pub, part Soho loft, the eatery bucks Spanish culinary trends by giving vegetables equal billing with meat. "The markets here sell the most fantastic vegetables, yet most places still serve a big chunk of meat with half a tomato," says Stewart, who came to Barcelona two years ago. The locals seem to have embraced his approach: By 2 p.m., the place is crammed. I get chilled cream of cucumber soup with crusty bread, and couscous with pomegranates and feta—but before leaving I discreetly wolf down a plate of robust pork sausages, ignoring the lentils.
Onward to El Born, the commercial heart of the medieval city, wedged between the wall and the port. The district, already brimming with galleries and funky shops, is now attracting droves of artisans. I can practically taste leather and single-bean chocolate in the air.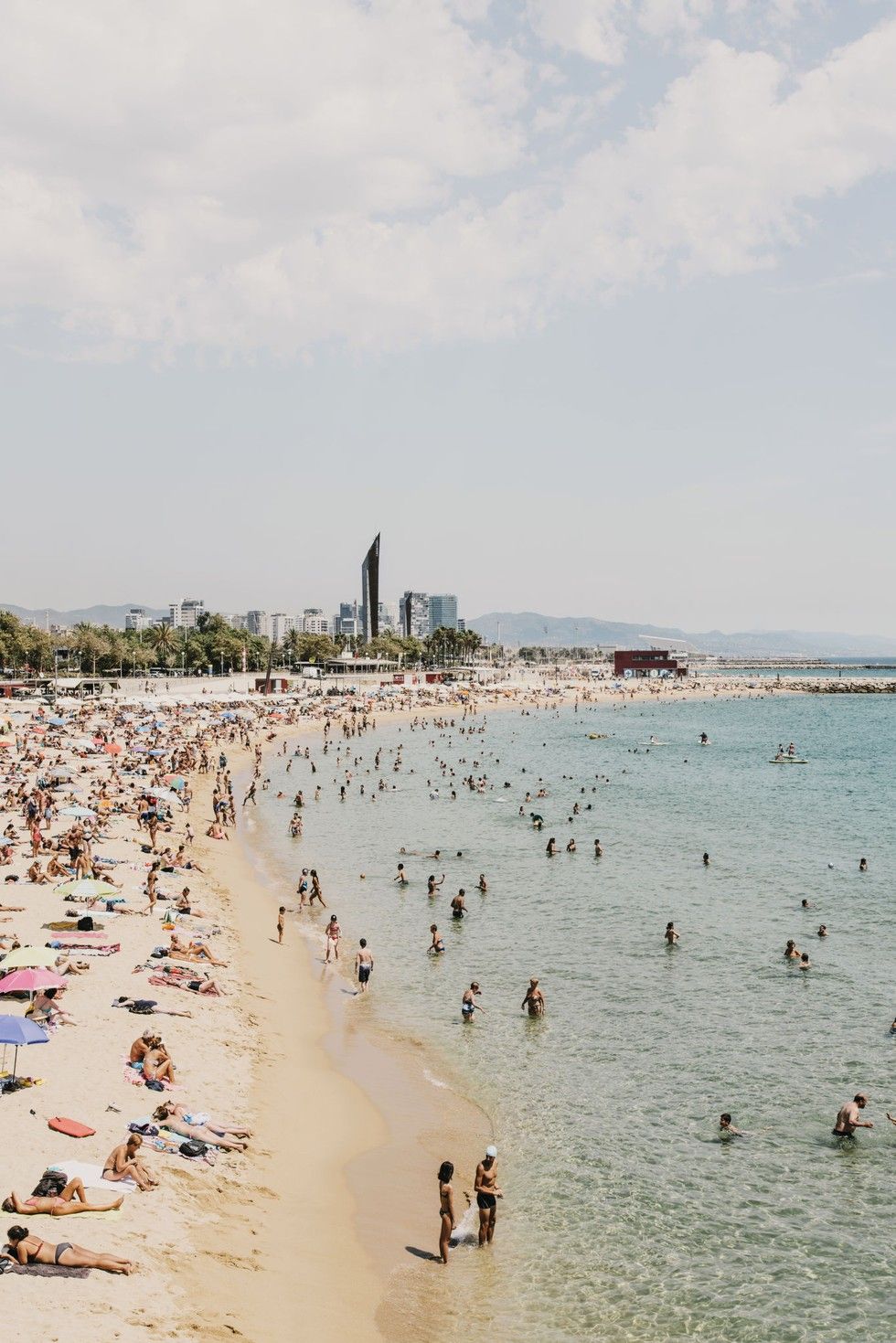 Barcelona's man-made beach
Barcelona's man-made beach
Among the great Renaissance mansions of Carrer de Montcada is the cloistered Museu Picasso. Many early works from the Barcelona-trained artist are on display here, including an 1896 self-portrait in which he looks spookily like Prince. One of the pleasures of the museum is seeing how versatile Picasso was: Of all the artworks here, there is very little in the way of messed-up guitars or people with noses on the sides of their heads.
Around the corner from here is the Basílica de Santa Maria del Mar, considered the city's finest and most complete example of Catalan Gothic architecture, on account of its relatively prompt construction. Begun in 1329, this compact church was completed a mere 55 years later. In 1936, during the Spanish Civil War, the interior was burned out, but the soot-blackened vault only heightens the eerie beauty of the space.
At the nearby Super Super Bar, I meet Francesc Grau Tomàs and Olga Menchén, who own Menchén Tomàs, one of Barcelona's leading fashion labels. Francesc says that design startups are on the rise here, as talented youngsters move to the city. "It takes time for a new generation to learn old techniques, but it is exciting to see," he says. "Hopefully they won't all go off and work for Zara."
I ask if Barcelona is a well-dressed city, and Francesc says "yes" at the same time Olga says "no." They then argue in Spanish (or maybe Catalan?), as I silently sip my sangria, wondering if I've just ended their fruitful partnership. "It is stylish compared to other Spanish cities, certainly more than Madrid," Olga clarifies eventually. "But it is not London or Milan." Francesc risks adding: "The weather is far hotter here."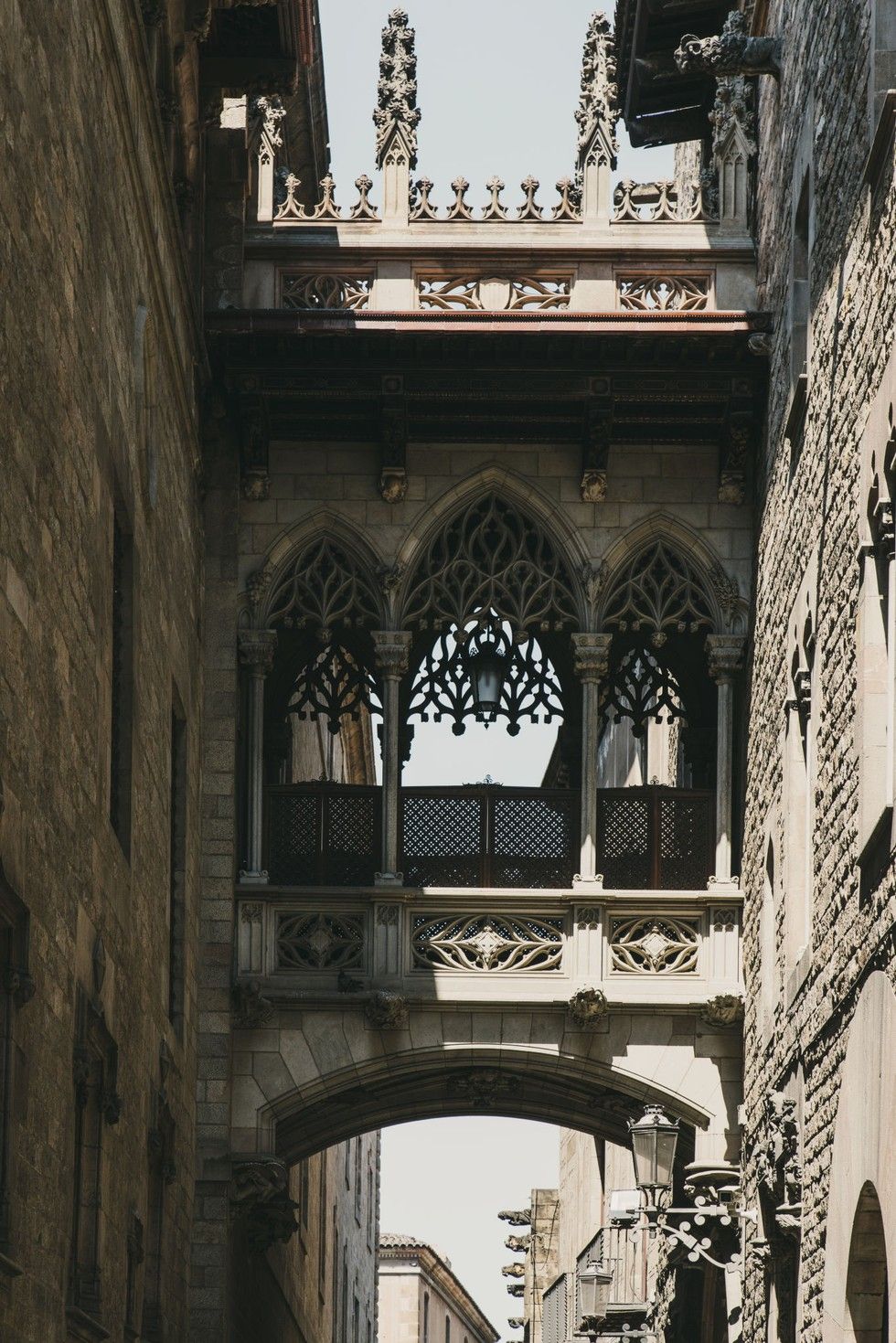 The bridge over the Barri Gòtic's Carrer del Bisbe
The bridge over the Barri Gòtic's Carrer del Bisbe
"Let's go for a walk," I suggest tactfully. Weaving southwest toward the port, they agree that the city is undergoing a period of rapid gentrification, particularly around the patch north of the Passeig de Colom, the wide palm-lined avenue that separates the jumble of Born streets from the port. We stop for more sangria on the roof of The Serras, a Design Hotel that overlooks Port Vell, the marina created for the 1992 Summer Olympics. This fall an outpost of the Manhattan members-only club Soho House is opening in once-seedy Plaça del Duc de Medinaceli. Olga has been quietly reassessing. "The city is getting more stylish," she declares.
And so am I. A little later, in a crisp white linen shirt, I enter Paco Pérez's Michelin-starred Enoteca, at the seafront Hotel Arts, the sleek latticed skyscraper where I'm staying tonight. Behind my crisp white tablecloth in the all-white room, I all but disappear. I'm surprised no one screams at the sight of my levitating, crazy-tiled head. I order lobster with chanterelles, almonds, and zucchini, followed by "Sole and the Mediterranean Sea," which is tasty but not as comprehensive as it sounds. I'm also cajoled into getting the white chocolate soup with passion fruit, before a plate of intricate petit fours arrives, reminding me of Park Güell.
Later, exhausted and stuffed, I make my way up to my room on the 30th floor. I leave the blinds fully open and fall asleep gazing out at the twinkling harbor lights far below.

In which Boyd meets a movie star, joins a Spanish square dance, and eats his way up the food chain
I am swimming alongside a fish. It's a whopper—170 feet or so from end to end—looming over the pool at the Hotel Arts. Created for the 1992 Olympics, Frank Gehry's latticed, gold-colored El Peix d'Or is now one of Barcelona's best-known landmarks.
The Catalan capital, famously, used to be a city with its back to the sea. Before the Olympic Games, this area was largely wasteland. The Port Olímpic marina was created from scratch, part of a $12 billion makeover that included shipping in enough sand to extend the city's beach at Barceloneta—the wedge-shaped district bordered by El Born, the sea, and the Port Vell site—to three miles.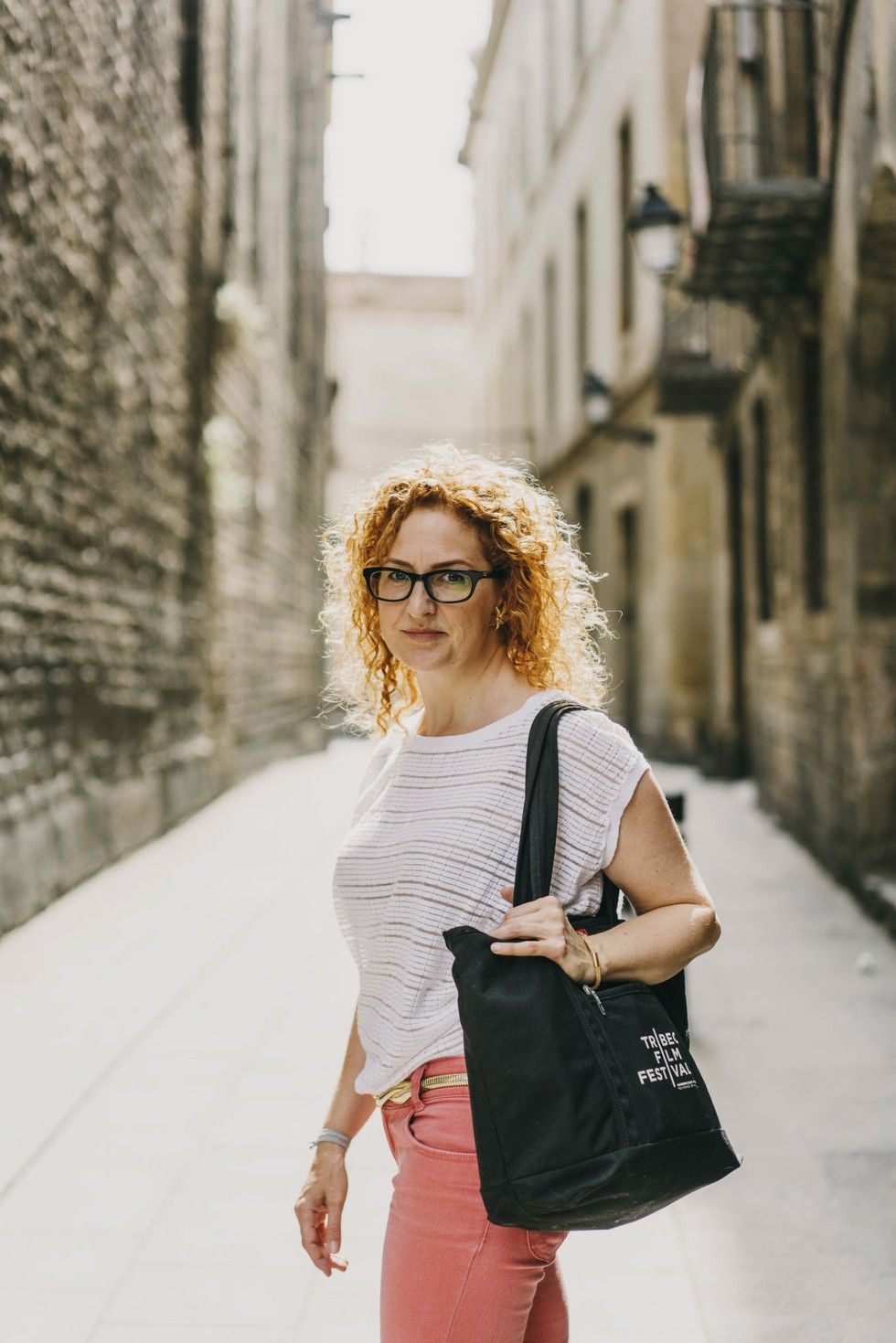 Danielle Schleif, film producer
Danielle Schleif, film producer
Post-swim, I stroll along a boardwalk past rows of restaurants and shops selling seafood and souvenirs. It's all very orderly—what Cancún might look like if it were run by the Swiss—but it's remarkable that there even is a beach here, four short metro stops from Plaça Catalunya, Barcelona's bustling answer to Times Square.
I stop for a café con leche at Vai Moana, a "gourmet beach bar" on Bogatell beach, about half a mile from Port Olímpic. My server, Luciana, seems mildly surprised that I'm not ordering anything stronger. "The Spanish come late in the afternoon for drinks," she says. "Tourists are more likely to have a gin and tonic for breakfast." From here, Gehry's sculpture glistens like a huge carp bobbing along on the sea.
I take the metro from Ciutadella Vila Olímpica to the Passeig de Gràcia. I am having brunch at a curious place called L'Eggs. Owned by Paco Perez, the restaurant is a plush upmarket joint serving eclectic local fare. The ingredient that binds most things on the menu—often literally—is eggs. Everything looks good, but, inspired by my earlier exertions in the pool, I opt for restraint, ordering Andalusian-style baked eggs with baby cuttlefish and tartar sauce, followed by cubes of fried hake with a creamy miso mayonnaise. Then the wry German chef, Alexander Stelzer, foils me. "Try a crema catalana," he suggests, delivering a ramekin of rich orange-flavored custard with a caramelized crust. I can hear my belt straining with every spoonful.
"When you are making a film here, you're seen as preserving cultural identity, so there is a real familial feeling among the entire cast and crew. It starts to feel less about doing a job and more about lifestyle." —Danielle Schleif
I take a redemptive stroll toward the galleries and boutiques that have sprung up around the Museu d'Art Contemporani de Barcelona, in the once seedy El Raval district. This modern, glass-fronted building is a nod to Le Corbusier in a city dominated by Gaudí. Inside, I pause before a five-pound note, and the face of Queen Elizabeth, upon which the German artist Hans-Peter Feldmann has added a clown nose. It's part of an exhibition exploring punk's influence on visual culture—although for that you can simply look at the street art sprayed on every wall outside.
From here, I wander through another rough-and-ready district, Poble-sec, which is becoming a stomping ground for the creative classes and adventurous Airbnb-ers. In charming Plaça del Sortidor, children run around the fountain while old men chat quietly on the benches. I realize that people tend to talk in hushed tones in Barcelona. Maybe General Francisco Franco's rule, which lasted from the late 1930s to 1975, took its toll, or maybe it's because they always feel as if they're extras on a film set.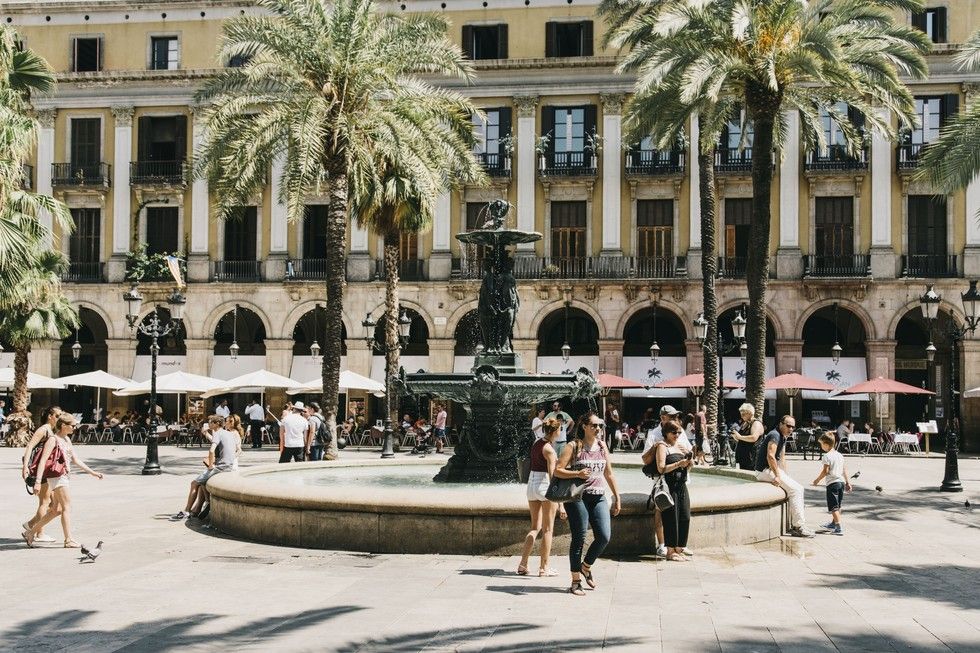 The Plaça Reial fountain
The Plaça Reial fountain
The metro from Poble-sec takes me to Liceu, on La Rambla, from which I make my way back through the Barri Gòtic. I stop for a mint tea at a brasserie in the magnificently porticoed Plaça Reial, with its palm trees and central fountain between two elaborate lampposts designed by you-know-who.
I'm heading for the beloved tapas joint Bar del Pla to meet film producer Danielle Schleif, a New Yorker married to a local man. I find her seated next to David Verdaguer, star of Danielle's steamy rom-com 10,000 Km. Over mojama (salt-cured tuna), suckling pig with tomatoes, and wine from the local grape Xarel•lo, the actor describes how he moved here from Girona 17 years ago, and how the city still fills him with delight.
"People here know how to enjoy life," he says. "They don't work insanely hard and then have a big blowout at weekends. They have perfected moderation. People live well every day. They appreciate everything—the food, the weather, the beauty of the place."
"You never leave your apartment," Danielle teases him.
"I come here all the time," he says, hugging the sommelier as she passes. He gestures at the muddle of alleys around us, which is more than an open-air museum, he says: It is a real, living community, inhabited by "princes and thieves." I think he means that the neighborhood is diverse.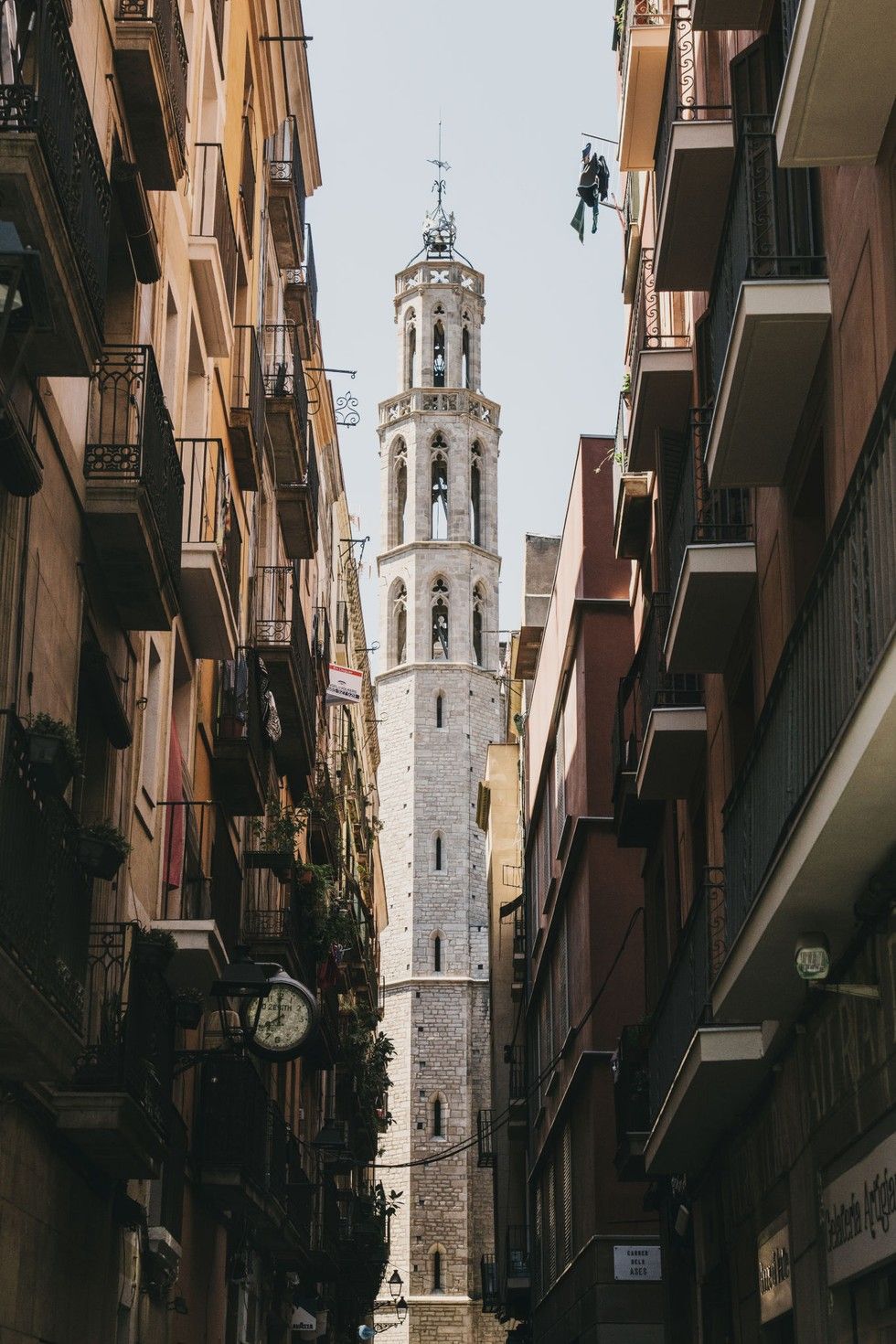 The Gothic Basílica de Santa Maria del Mar
The Gothic Basílica de Santa Maria del Mar
Danielle and I have a table booked for dinner uptown, so we decide on a leisurely walk, which takes us past the cathedral. On the steps, a brass band is playing, and the plaza is filled with locals dancing the sardana. The routine involves circles of people joining hands and raising them as they move with small, precise steps, around and around. As others join, and the circle gets too large, it splits into another one, until the entire square is a mass of slowly spinning bodies. "The sardana is a powerful symbol of Catalan unity and pride," Danielle says. "Although," she adds in a stage whisper, "it's hard to believe that such an attractive people have a dance that is this unsexy."
We are heading for BistrEau, run by the Michelin-starred "Chef of the Sea," Ángel León, at the Mandarin Oriental. Sitting beneath a metal lattice that filters light, there's a sense that we are underwater. We opt for the ominous-sounding Discovery Menu, and the waiter asks if I have any allergies. I've noticed they serve plankton here. "We'll see," I mumble.
It turns out that I can eat plankton (and cockles in seawater jelly, squid-ink risotto, sea snails, and even raw shrimp), so I'll be fine when it turns out to be the next superfood. "My husband would love it here," Danielle says. "I'm sure there are some things here that even he hasn't tried." I smile, discreetly trying to dislodge a barnacle from the roof of my mouth.
After eating our way through the first few links of the food chain, we head for the Caribbean Club, a wood-paneled rum bar midway down a narrow back lane in a 12th-century building in El Raval. The joint is so small there are only four stools; two are occupied by heavily tattooed women, and we perch awkwardly on the other two. My cocktail seems to contain only alcohol, and I am suddenly grateful there is nowhere for me to fall—I can prop myself against the bar, the wall, or an extra from Orange Is the New Black.
When we stumble out of the bar, around 3 a.m., the grittily beautiful streets are full of young people laughing and talking. No one appears particularly drunk or bedraggled. It just seems nobody wants to go home. As David Verdaguer said, people here have nailed the art of enjoying themselves.
Berlin-based writer Boyd Farrow attempted to follow the Spanish dining schedule, but had to give it up when he started having dinner for breakfast.
If you go
Visit united.com or use the United app to plan your Barcelona getaway.
When the pandemic began, United Cargo knew it would be critical to utilize its fleet, network and industry-leading pharmaceutical handling processes to transport a COVID-19 vaccine when the time came.
Connecting vaccines to the world: United responds to mass distribution effort
December 22, 2020
On November 27, United Airlines became the first commercial airline to safely deliver the first batch of Pfizer and BioNTech's COVID-19 vaccine into the U.S. thanks to a coordinated effort between United's cargo, safety, technical operations, flight operations, regulatory and legal teams.
Now as the entire shipping and logistics industry bands together to widely distribute vaccines, United is leveraging all of its flights, including cargo-only and those carrying passengers, to transport millions of vaccines to destinations throughout our network, including Honolulu, Guam and Saipan – the first of any carrier to do so.
"United's cargo service has helped safely deliver many essential goods during this pandemic, but there is no shipment that gives me more personal pride than helping bring this life-saving vaccine to our communities," said Jan Krems, United Cargo President. "While we still face a long road ahead the promise of a widely distributed vaccine gives us hope that we are one step closer to putting this pandemic behind us and moving forward together toward a brighter future."
And United is shipping more than just vaccines to help during the pandemic in keeping the lines of commerce flowing and goods getting to where they need to be. Since mid-March, United has operated 9,000 cargo-only flights carrying more than 435 million pounds of cargo. By using a combination of cargo-only flights and passenger flights, United Cargo has also transported 80 million pounds of medical supplies this year.
In coordination with our shipping and logistics partners, United will continue to distribute COVID-19 treatments to destinations throughout its network. The real heroes are the scientists who created these life-saving vaccines and the frontline workers who are not only administering them, but also helping care for and tend to those suffering from this virus. United is proud to do its part in helping to get this precious cargo to the people and communities who need them, and looks forward to doing our part in the months ahead.
United Cargo responds to COVID-19 challenges, prepares for what's next

September 30, 2020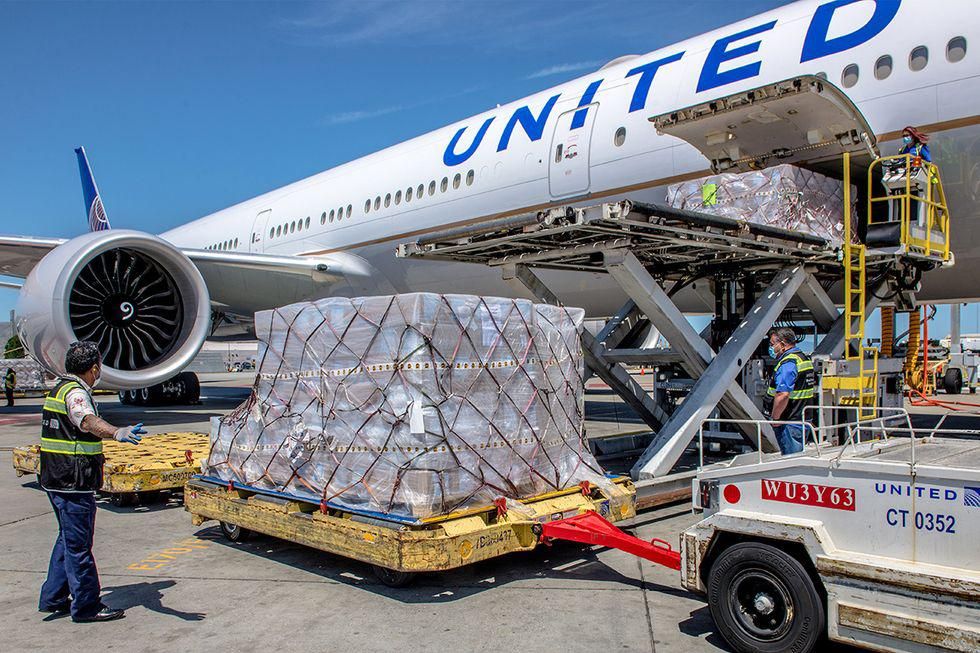 Even before the COVID-19 pandemic, United Cargo has supported a variety of customers within the healthcare industry for over 10 years. Three key solutions – TempControl, LifeGuard and QuickPak – protect the integrity of vital shipments such as precision medicine, pharmaceuticals, biologics, medical equipment and vaccines. By utilizing processes like temperature monitoring, thermodynamic management, and priority boarding and handling, United Cargo gives customers the peace of mind that their shipments will be protected throughout their journey.

With the global demand for tailored pharmaceutical solutions at an all-time high, we've made investments to help ensure we provide the most reliable air cargo options for cold chain shipping. In April this year, we became the first U.S. carrier to lease temperature-controlled shipping containers manufactured by DoKaSch Temperature Solutions. We continue to partner with state-of-the-art container providers to ensure we have options that meet our customers' ever-changing needs.
"Providing safe air cargo transport for essential shipments has been a top priority since the pandemic began. While the entire air cargo industry has had its challenges, I'm proud of how United Cargo has adapted and thrived despite a significant reduction in network capacity and supply," said United Cargo President Jan Krems. "We remain committed to helping our customers make it through the pandemic, as well as to doing everything we can to be prepared for the COVID-19 vaccine distribution when the time comes."
Our entire team continues to prioritize moving critical shipments as part of our commitment to supporting the global supply chain. We've assembled a COVID readiness task team to ensure we have the right people in place and are preparing our airports as we get ready for the industry-wide effort that comes next.
In cooperation with our partners all over the world, United Cargo has helped transport nearly 145 million pounds of medical supplies to aid in the fight against COVID-19, using a combination of cargo-only flights and passenger flig­hts. To date, United Cargo has operated more than 6,300 cargo-only flights and has transported more than 213 million pounds of cargo worldwide.
United Cargo responds to global needs, celebrates 5000th cargo-only flight

August 18, 2020
By Jan Krems, President, United Cargo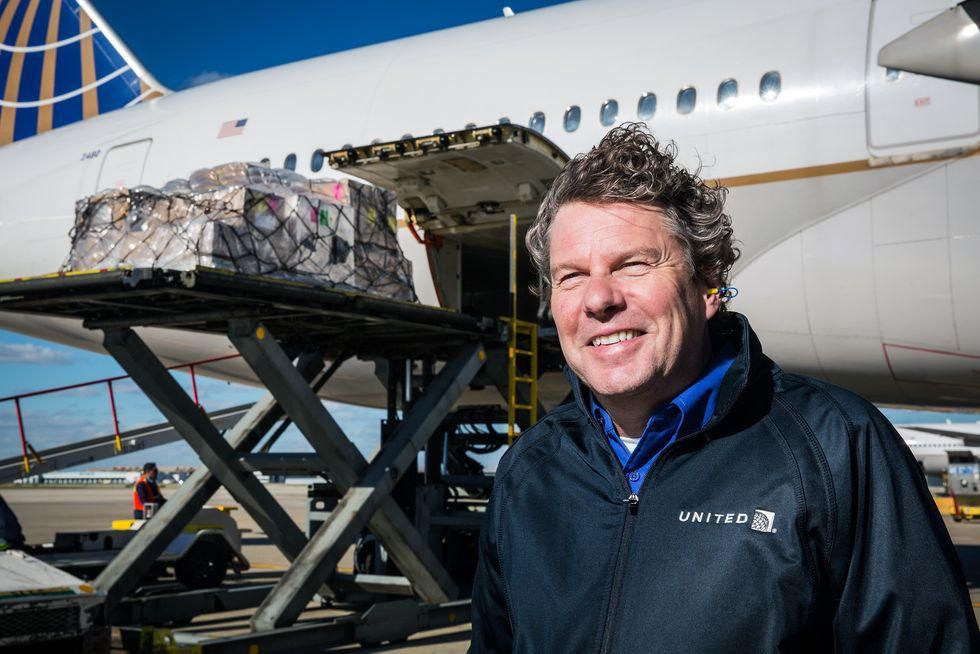 In mid-March, United took steps to manage the historic impact of COVID-19 and began flying a portion of our Boeing 777 and 787 fleets as dedicated cargo-only flights to transport air freight to and from U.S. hubs and key international business locations. More than ever, providing reliable cargo transportation was vitally important and I'm proud say our United Cargo team stepped up to support our customers.

Although we're facing the most challenging environment our industry has ever experienced, I'm very excited to celebrate a major milestone. Since March 19, United has operated over 5,000 cargo-only flights transporting nearly 170 million pounds of cargo on these flights alone. With an increased need to keep the global supply chain moving, and an even more urgent need for medical supplies, we knew we had to utilize our network capabilities and personnel to move vital shipments, such as medical kits, personal protective equipment (PPE), pharmaceuticals and medical equipment between U.S. hubs and key international destinations.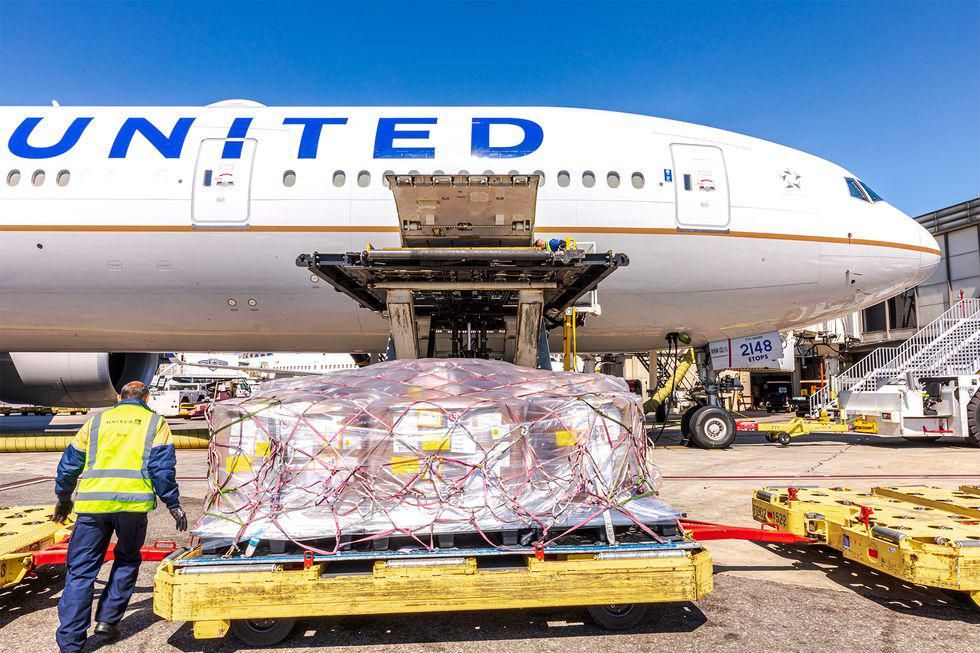 In cooperation with freight forwarders and partners all over the world, United Cargo helped transport more than 107 million pounds of medical supplies to aid in the fight against COVID-19 using a combination of cargo-only flights as well as passenger flights.

To keep military families connected, we increased the frequency of cargo-only flights between the U.S. and military bases in various parts of the world — including bases located in Guam, Kwajalein and several countries in Europe. We know how critically important it is for these families to stay connected, and I'm honored that we were able to utilize our network and our aircraft to fly nearly 3 million pounds of military supplies.
In collaboration with food-logistics company Commodity Forwarders Inc. (CFI), our cargo teams moved nearly 190,000 pounds of fresh produce to Guam for the U.S. Department of Agriculture's Coronavirus Farm Assistance Program. This new program was created to provide critical support to consumers impacted by the coronavirus pandemic.
United has played a critical role in keeping global supply chains stable during the pandemic as we deliver urgently needed goods around the world. These past few months have created challenges that I have never seen in my 30-plus years of experience working within the air cargo and freight forwarding industry. However, I'm proud of our teams for staying focused on our mission to provide high-quality service and to keep our customers connected with the goods they need most.
United Cargo and logistics partners keep critical medical shipments moving
July 02, 2020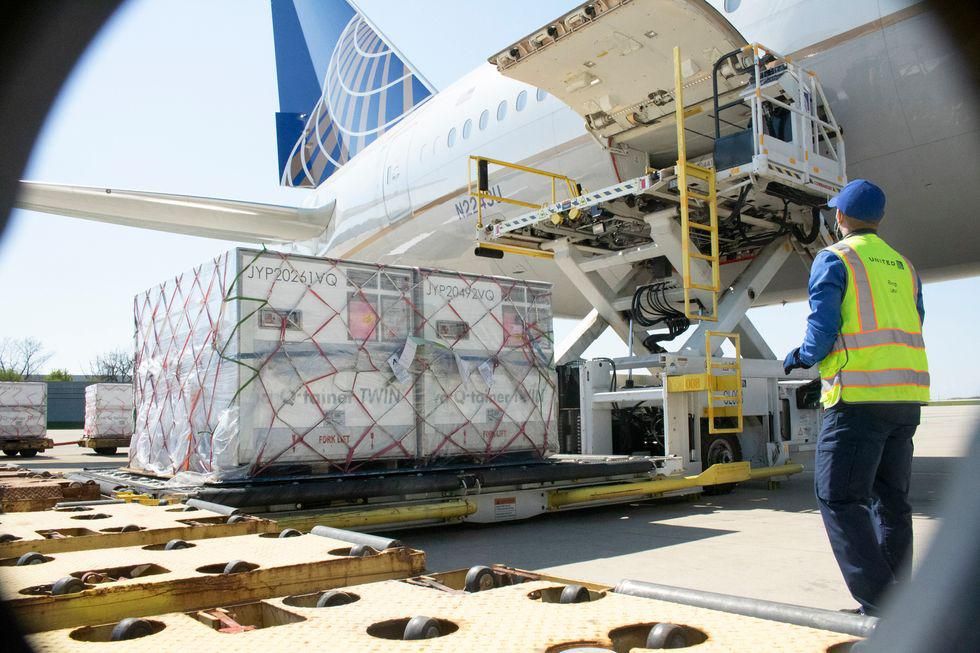 By working together and strengthening partnerships during these unprecedented times, our global community has overcome challenges and created solutions to keep the global supply chain moving. As COVID-19 continues to disrupt the shipping landscape, United and our industry partners have increasingly demonstrated our commitment to the mission of delivering critical medical supplies across the world.

United Cargo has partnered with DSV Air and Sea, a leading global logistics company, to transport important pharmaceutical materials to places all over the world. One of the items most critical during the current crisis is blood plasma.
Plasma is a fragile product that requires very careful handling. Frozen blood plasma must be kept at a very low, stable temperature of negative 20 degrees Celsius or less – no easy task considering it must be transported between trucks, warehouses and airplanes, all while moving through the climates of different countries. Fortunately, along with our well-developed operational procedures and oversight, temperature-controlled shipping containers from partners like va-Q-tec can help protect these sensitive blood plasma shipments from temperature changes.
A single TWINx shipping container from va-Q-tec can accommodate over 1,750 pounds of temperature-sensitive cargo. Every week, DSV delivers 20 TWINx containers, each one filled to capacity with human blood plasma, for loading onto a Boeing 787-9 for transport. The joint effort to move thousands of pounds of blood plasma demonstrates that despite the distance, challenges in moving temperature-sensitive cargo and COVID-19 obstacles, we continue to find creative solutions with the help of our strong partnerships.
United Cargo is proud to keep the commercial air bridges open between the U.S. and the rest of the world. Since March 19, we have operated over 3,200 cargo-only flights between six U.S. hubs and over 20 cities in Asia, Australia, Europe, South America, India, the Caribbean and the Middle East.
United further expands cargo-only operations to key international markets
June 9, 2020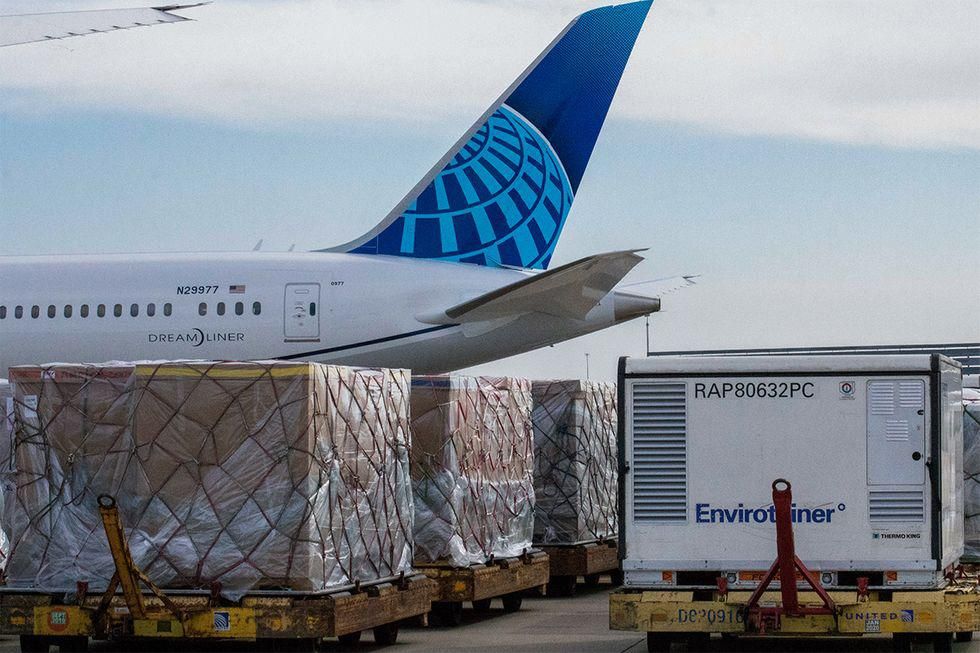 United has played a vital role in helping keep the global supply chains stable during the COVID-19 pandemic so urgently needed goods can get to the places that need them most.

In addition to current service from the U.S. to Asia, Australia, Europe, India, Latin America and the Middle East, we are proud to now offer cargo-only flights to key international markets including Dublin, Paris, Rome, Santiago and Zurich. These new routes will connect our freight customers and further extend our air cargo network throughout the world – for example connecting major pharmaceutical hubs in Europe and perishable markets in Latin America.
"Air cargo continues to be more important than ever," says United Cargo President Jan Krems. "This network expansion helps our customers continue to facilitate trade and contribute to global economic development and recovery. I'm proud of our team for mobilizing our cargo-only flights program that enables the shipment of critical goods that will support global economies."
Since we began our program March 19, we have completed more than 2,400 cargo-only flights, transporting over 77 million pounds of cargo. We have over 1,100 cargo-only flights scheduled for the month of June, operating between six U.S. hubs and over 20 cities all over the world.
United's first flight carrying cargo in-cabin takes off
May 13, 2020

United continues to keep supply chains moving and to meet the demand for critical shipments around the globe. Recently, United received approval from the Federal Aviation Administration (FAA) to carry cargo in approved storage areas in the passenger cabin.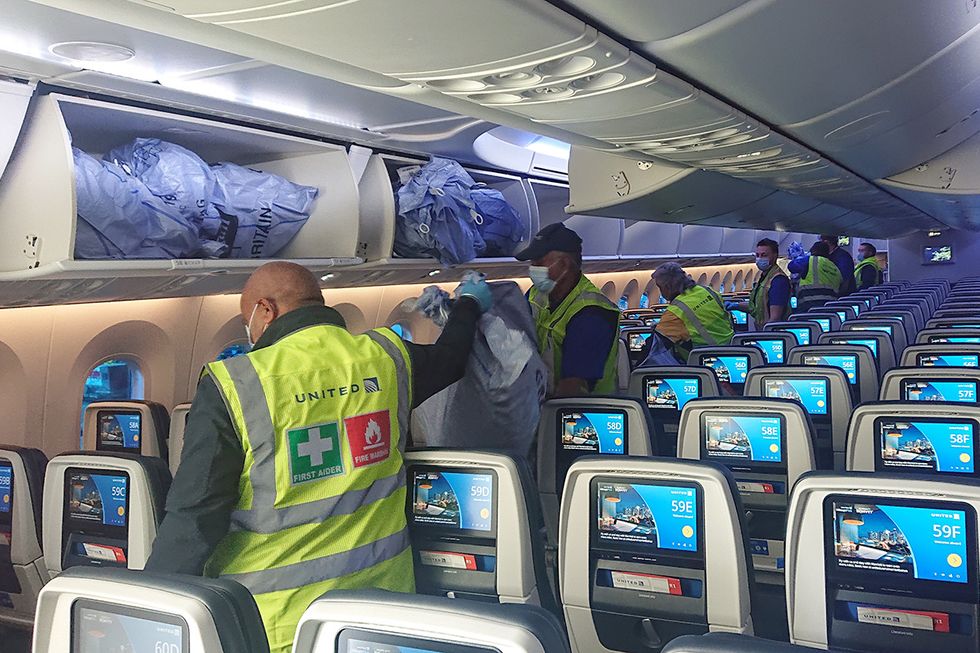 Our inaugural cargo-in-cabin flight flew from London (LHR) to Chicago (ORD) carrying over 4,200 pounds of mail in the passenger cabin, plus a full payload of freight in the belly of the aircraft. Initially, cargo-in-cabin shipments will be loaded on the 777 and 787 aircraft operating our cargo-only flights. We will continue to evaluate additional opportunities to use this space to meet the growing cargo demand.
"We send our sincere thanks to the FAA for working with our team to enable the transport of more critical goods on United's cargo-only flights," said Jan Krems, President of United Cargo. "By loading existing cabin storage areas with cargo and mail, we can move even more critical medical equipment, PPE, and other vital shipments the world needs to manage through the pandemic."

United's cargo-only network continues to expand in order to help bring vital shipments to the people that need it most. We're now offering service between six of our U.S. hubs and 18 airports worldwide: CTU, HKG, ICN, MEL, PEK, PVG, SIN, SYD and TPE in the Asia-Pacific; AMS, BOM, BRU, DUB, FRA, LHR, TLV and ZRH in EMEIA; and SJU in the Caribbean.
Since the start of its cargo-only flights program March 19, United has operated over 1,300 cargo-only flights transporting over 44 million pounds of cargo.
For more information, visit unitedcargo.com.
United expands cargo-only flights to additional global destinations
April 16, 2020
Getting vital goods, especially medical relief supplies, into the hands of the businesses and people who need them has never been more critically important. To meet the overwhelming demand, United began operating cargo-only flights on March 19. Since we began using Boeing 777 and 787 aircraft from United's passenger fleet for this purpose, we have operated over 400 flights carrying more than 6 million kilos of cargo.
"With the global community in need, we are doing everything we can to keep supply chains moving worldwide and support the battle against COVID-19," said United Cargo President Jan Krems. "We're proud to play an active role in connecting vital medical supplies like test kits and personal protective equipment with healthcare professionals around the world."
We are now operating more than 150 cargo-only flights per week between six of our U.S. hubs and 13 cities worldwide: CTU, HKG, PEK, PVG, SYD and TPE in the Asia Pacific; AMS, BRU, DUB, FRA and LHR in Europe; SJU in the Caribbean and TLV in the Middle East. We expect to add new cities soon and will continue to expand our cargo-only flights program.
Hub
Cargo-only flights operating through May
Chicago (ORD)
ORD - AMS (Amsterdam)
ORD - FRA (Frankfurt)
ORD - HKG (Hong Kong)
ORD - LHR (London)
ORD - NRT (Tokyo Narita) - PEK (Beijing)

Houston (IAH)
IAH - AMS (Amsterdam)
IAD - FRA (Frankfurt)
Los Angeles (LAX)
LAX - HKG (Hong Kong)
LAX - LHR (London Heathrow)
LAX - NRT (Tokyo Narita) - PVG (Shanghai)
LAX - SYD (Sydney)
New York/Newark (EWR)
EWR - AMS (Amsterdam)
EWR - FRA (Frankfurt)
EWR - LHR (London)
San Francisco (SFO)
SFO - AMS (Amsterdam)
SFO - NRT (Tokyo Narita) - PEK (Beijing)
SFO - NRT (Tokyo Narita) - PVG (Shanghai)
SFO - NRT (Tokyo Narita) - TPE (Taipei)
SFO - TLV (Tel Aviv)
SFO - SYD (Sydney)
Washington, D.C. (IAD)
IAD - BRU (Brussels)
IAD - DUB (Dublin)
IAD - FRA (Frankfurt)
IAD - NRT (Tokyo Narita) - PEK (Beijing)
IAD - SJU (San Juan)
Flight details are subject to change, for the most up-to-date schedules, please visit https://ual.unitedcargo.com/covid-updates.
Cargo-only flights support U.S. military and their families
March 30, 2020
We are helping to keep military families connected by increasing the frequency of cargo-only flights between the United States and military bases in various parts of the world — including Guam, Kwajalein, and several countries in Europe. Last week we began operating a minimum of 40 cargo-only flights weekly — using Boeing 777 and 787 aircraft to fly freight and mail to and from U.S. hubs and key international business and military locations.
We are going above and beyond to find creative ways to transport fresh food and produce, as well as basic essentials from the U.S. mainland to military and their families in Guam/Micronesia. On Saturday, March 28, we operated an exclusive cargo-only B777-300 charter to transport nearly 100,000 pounds of food essentials to Guam to support our troops.
In addition, we move mail year-round all over the world. In response to COVID-19, and in support of the military members and their families overseas, we implemented a charter network, transporting military mail to Frankfurt, which is then transported all over Europe and the Middle East. Since March 20, we have flown 30,000+ pounds of military mail every day between Chicago O'Hare (ORD) and Frankfurt (FRA). On the return flight from Frankfurt to Chicago, we have carried an average of 35,000 pounds of mail to help families stay connected.

"Keeping our military families connected with the goods they need, and keeping them connected with loved ones to feel a sense of home, is of critical importance. As a company that has long supported our military families and veterans, our teams are proud to mobilize to lend a hand." — United Cargo President Jan Krems.
Our cargo-only flights support customers, keep planes moving

March 22, 2020
We have begun flying a portion of our Boeing 777 and 787 fleet as dedicated cargo charter aircraft to transfer freight to and from U.S. hubs and key international business locations. The first of these freight-only flights departed on March 19 from Chicago O'Hare International Airport (ORD) to Frankfurt International Airport (FRA) with the cargo hold completely full, with more than 29,000 lbs. of goods.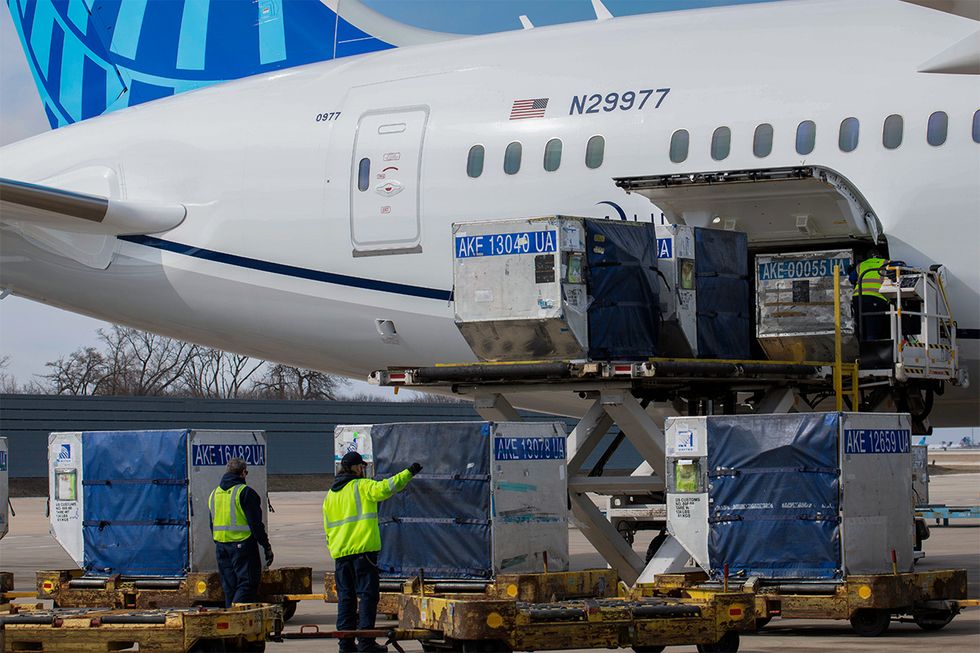 Getting critical goods into the hands of the businesses and people who need them most is extremely important right now. To support customers, employees and the global economy, we will initially operate a schedule of 40 cargo charters each week targeting international destinations and will continue to seek additional opportunities.

With coronavirus (COVID-19) creating an increased need to keep the global supply chain moving, we are utilizing our network capabilities and personnel to get vital shipments, such as medical supplies, to areas that need them most.
"Connecting products to people around the world is the United Cargo mission," said United Cargo President Jan Krems. "That role has never been more crucial than during the current crisis. Our team is working around the clock to provide innovative solutions for our customers and support the global community."
On average, we ship more than 1 billion pounds of cargo every year on behalf of domestic and international customers. For more information, visit unitedcargo.com.
Airline and its customers use crowdsourcing platform - Miles on a Mission - to donate more than 11 million miles for charities like the Thurgood Marshall College Fund, College to Congress and Compass to Care
CHICAGO, Dec. 1, 2020 /PRNewswire/ -- United is inviting MileagePlus members to give back on Giving Tuesday and throughout the holiday season by donating miles to nearly 40 non-profits through United Airlines' crowdsourcing platform, Miles on a Mission. Non-profits like Thurgood Marshall College Fund, College to Congress and Compass to Care are attempting to raise a total of more than 11 million miles to be used for travel for life-saving health care, continued education, humanitarian aid and more. United will match the first 125,000 miles raised for each of these organizations to help ensure they meet their goals.
"This year has posed unprecedented challenges for us all and has been especially devastating to some of the most vulnerable members within the communities we serve," said Suzi Cabo, managing director of global community engagement, United Airlines. "The need for charitable giving has not stopped during the pandemic, and neither has United. This Giving Tuesday marks an opportunity for us to all come together for the greater good and we are proud to provide a platform to support organizations with upcoming travel needs that will enable them to continue supporting the communities they serve."
The launch of these campaigns is part of United's ongoing Miles on a Mission program, which began in October 2019 and has raised more than 92 million miles to-date. Past campaigns have helped organizations travel children for life-saving medical treatment and unite parents with newly adopted children from foreign countries. Participating non-profits have 28-days to reach their mile raising goals through the platform.
The organizations that are raising miles in this campaign include:
College to Congress: The organization provides support including travel for disadvantaged college students who otherwise could not afford to intern in Washington, D.C.
Thurgood Marshall College Fund: This is the only national organization representing America's 47 publicly-supported Historically Black Colleges and Universities (HBCUs), and the nearly 300,000 students that attend them each year. The miles raised will cover the travel expenses to and from campus for students unable to afford them.
My Block, My Hood, My City: This organization provides underprivileged youth with an awareness of the world and opportunities beyond their neighborhood. Miles will be used to fund educational trips for Chicago youths to help them gain a greater understanding of the world outside of their comfort zones.
Compass to Care: The non-profit ensures all children, whose parents have a financial need, can access life-saving cancer treatment. Compass to Care is raising miles to fund travel to get children from their homes to hospitals for cancer treatment.
Luke's Wings: This organization is dedicated to the support of service members who have been wounded in battle. Raised miles will be used to purchase plane tickets for families to visit wounded soldiers recovering in Army medical centers.
Rainbow Railroad USA: The organization's mission is to help persecuted LGBTQI+ individuals around the world travel to safety as they seek a haven from persecution. Miles will support the organization's core Emergency Travel Support program.
This year, United's legal partner Kirkland & Ellis will also be donating $50,000 to My Block, My Hood, My City and the Thurgood Marshall College Fund. Other organizations launching campaigns on the platform include: Sisters of the Skies, Inc., Up2Us Sports, Airline Ambassadors International, Austin Smiles, AWS Foundation, Crazy Horse Memorial, FLYTE, Higher Orbits, Lily's Hope Foundation, Miles4Migrants, Support Utila Inc. and Watts of Love. MileagePlus members can also donate to United's 20 other existing partner charities including, Airlink, American Red Cross, Make-A-Wish, Shriners Hospitals; Clean the World, Special Olympics and more. To learn more or donate to these organizations, please visit donate.mileageplus.com.
Visit www.united.com/everyactioncounts to learn more about our pledge to put our people and planes to work for the greater good.
About United
United's shared purpose is "Connecting People. Uniting the World." For more information, visit united.com, follow @United on Twitter and Instagram or connect on Facebook. The common stock of United's parent, United Airlines Holdings, Inc., is traded on the Nasdaq under the symbol "UAL".

SOURCE United Airlines
For further information: United Airlines Worldwide Media Relations, +1-872-825-8640, media.relations@united.com

In October 2019, we launched a first-of-its-kind airline miles donation platform, Miles on a Mission. In the inaugural year, MileagePlus members donated over 70 million miles, with United matching over 20 million miles, to 51 organizations. These miles have allowed for these organizations to do important, life-changing, life-saving work in the communities we serve around the globe.
Whether it's visiting friends and relatives, traveling for work or simply exploring a new corner of the world, we all have a reason as to why we fly. No matter the reason you fly, the miles you earn and donate help our Miles on a Mission partners soar. Take a look at how some of our partner organizations have put our MileagePlus Members' donations to work.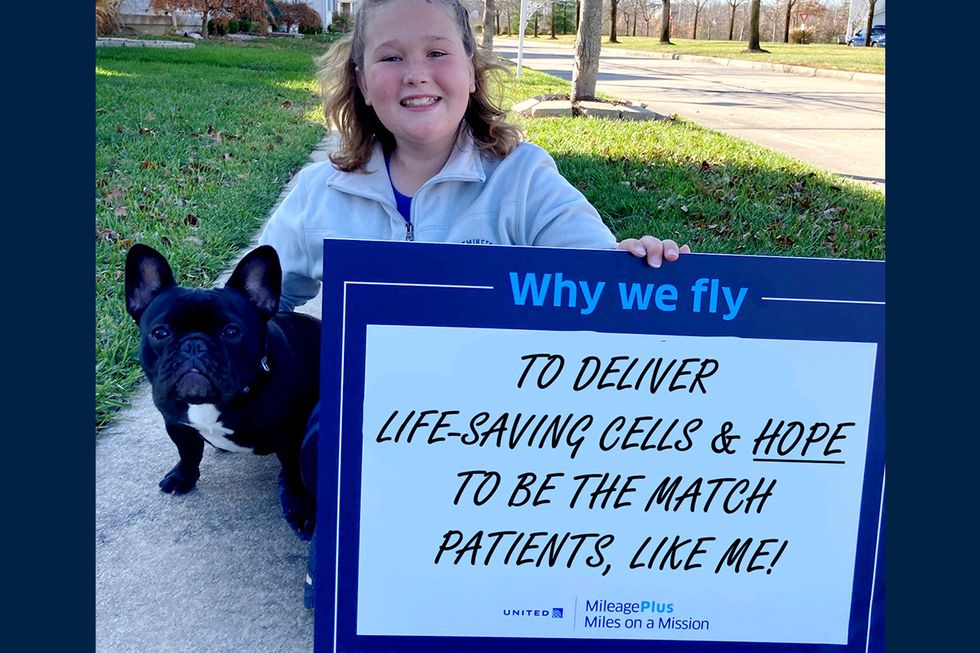 "To deliver life-saving cells and hope to Be the Match patients, like me!"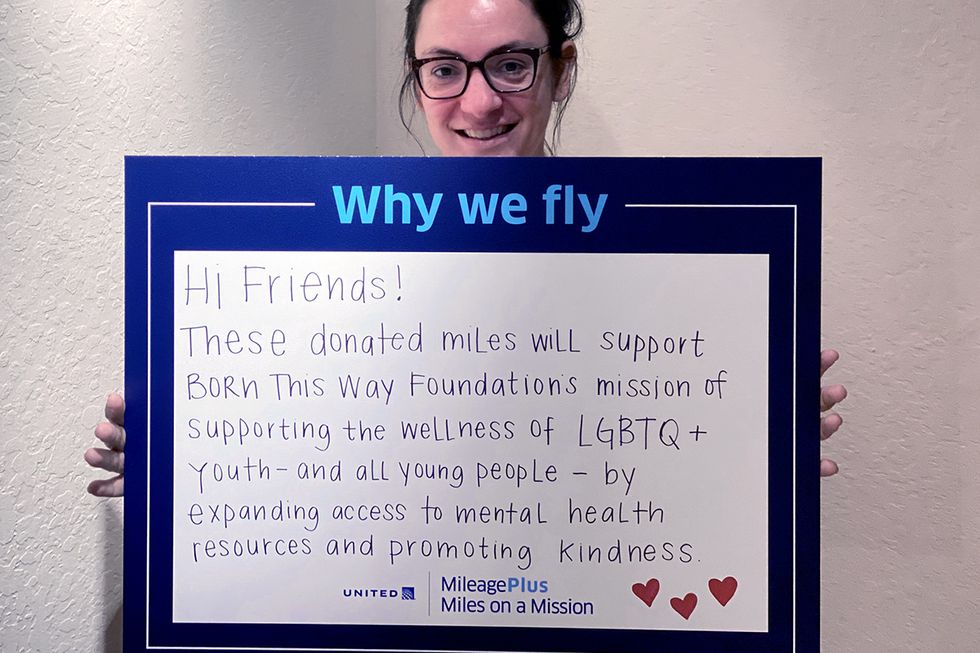 "These donated miles will support Born This Way Foundation's mission of supporting the wellness of LGBTQ+ youth — and all young people — by expanding access to mental health resources and promoting kindness."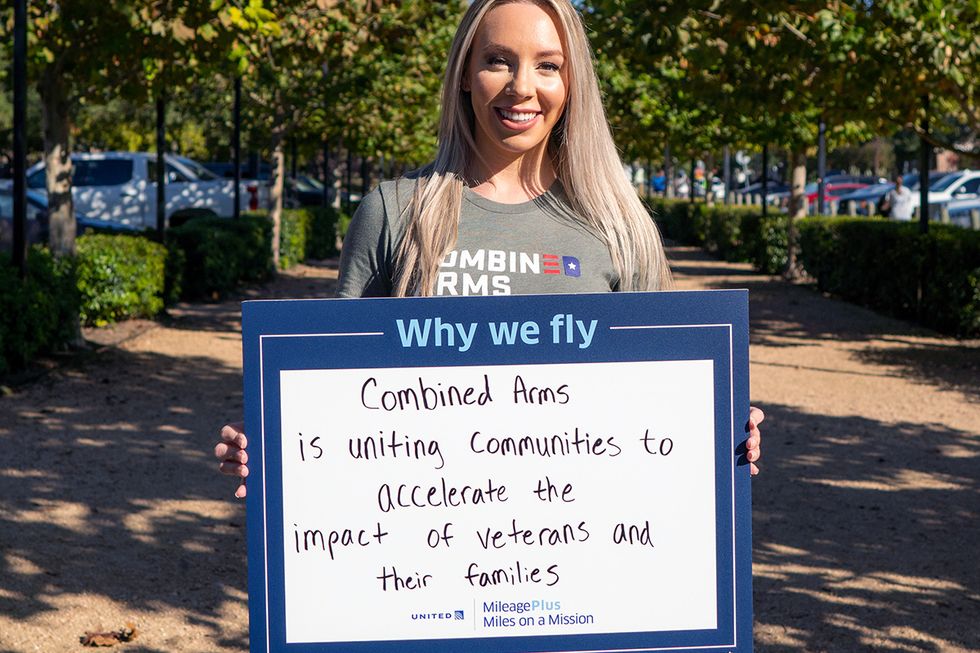 "Combined Arms is uniting communities to accelerate the impact of veterans and their families."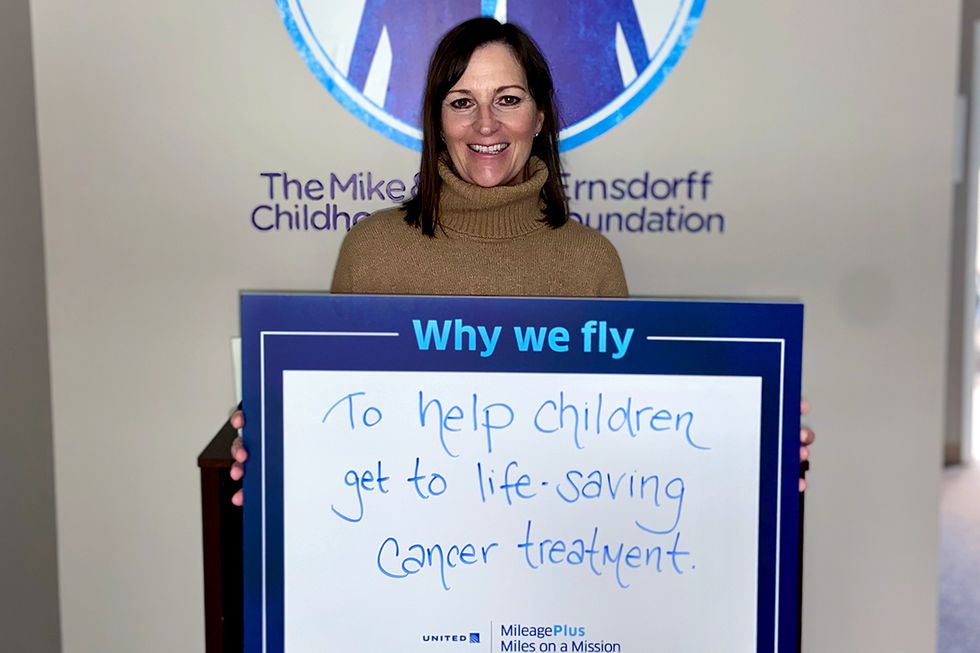 "To help children get to life-saving cancer treatment"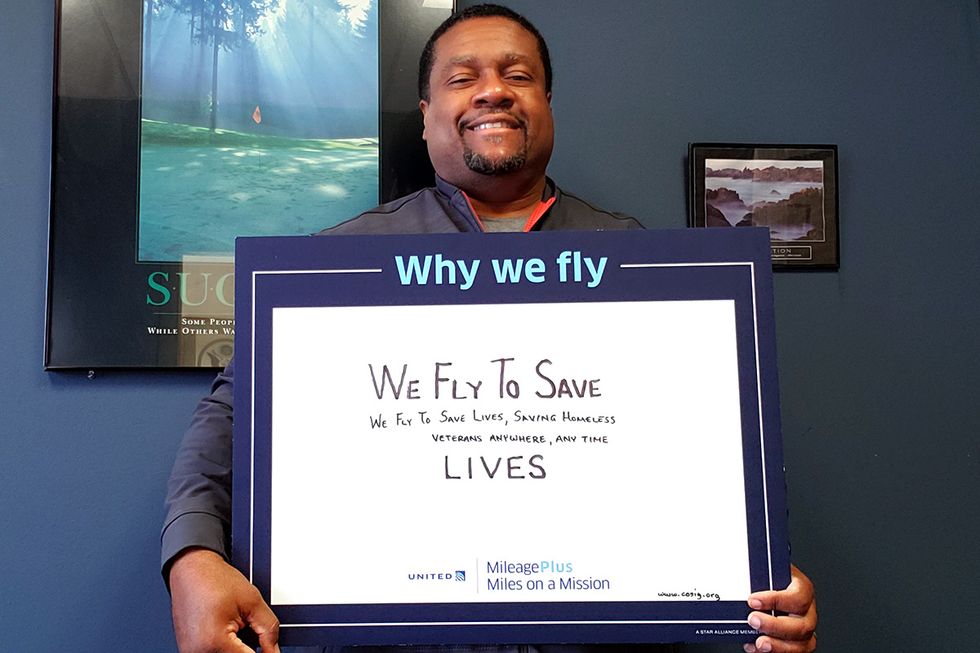 "We fly to save. We fly to save lives, saving homeless veterans anywhere, any time."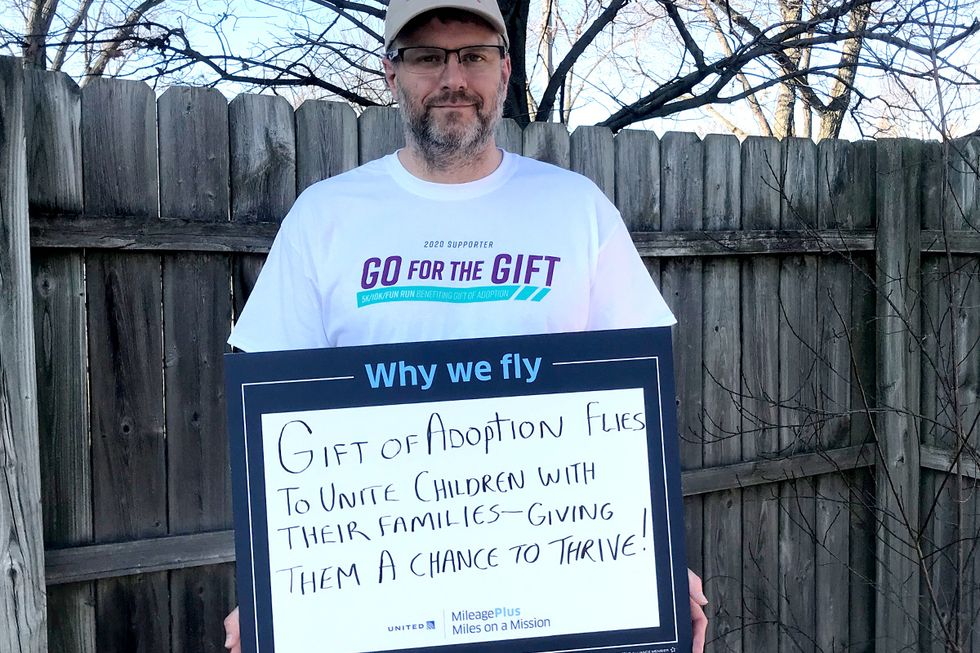 "Gift of Adoption flies to unite children with their families — giving them a chance to thrive!"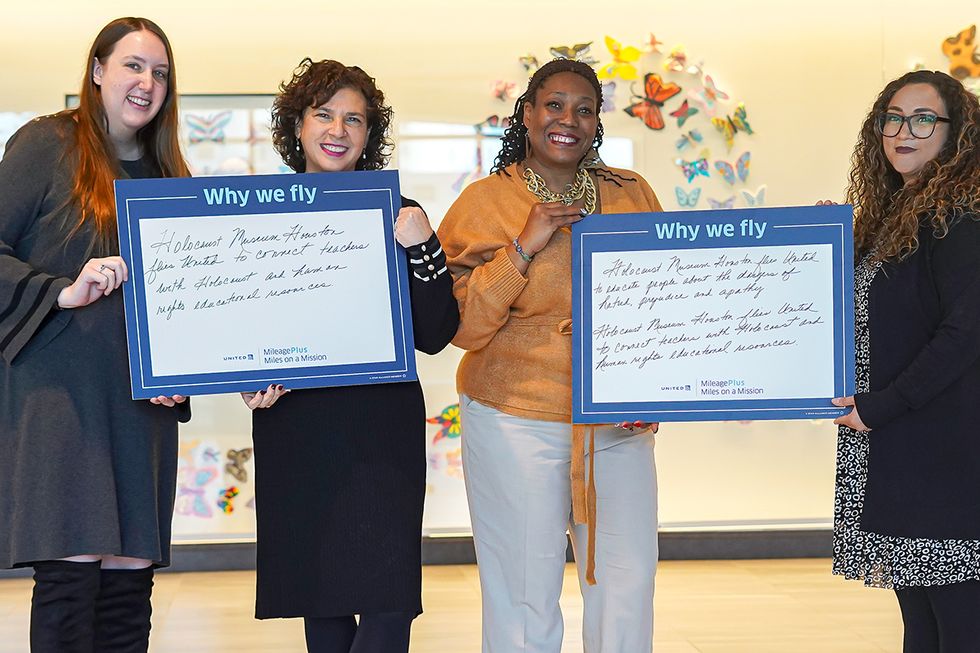 "Holocaust Museum Houston flies United to educate people about the dangers of hatred, prejudice and apathy. Holocaust Museum Houston flies United to connect teachers with Holocaust and human rights educational resources."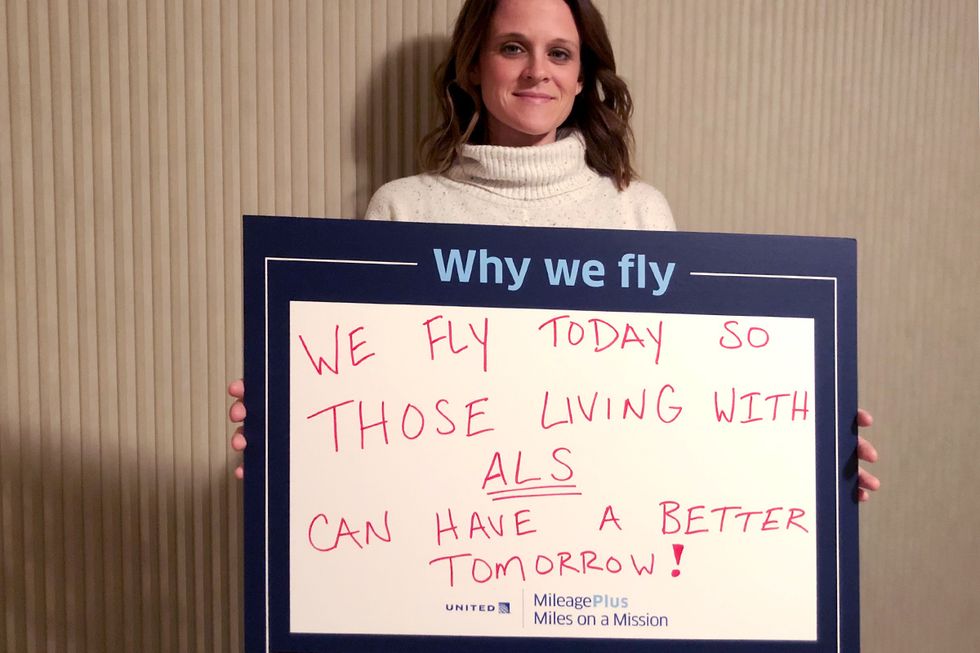 "We fly today so those living with ALS can have a better tomorrow."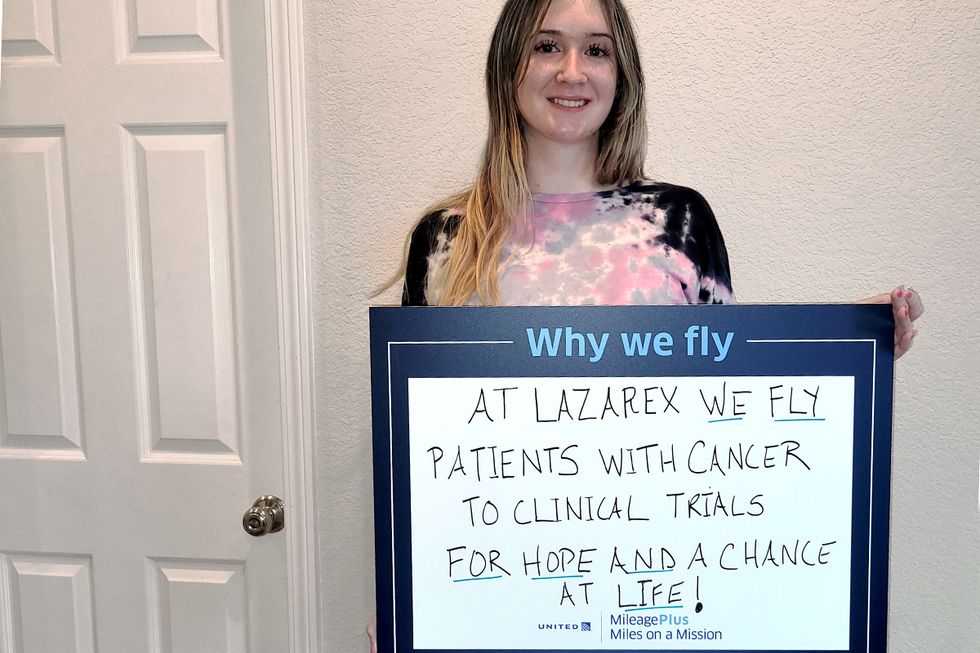 "At Lazarex we fly patients with cancer to clinical trials for hope and a chance at life!"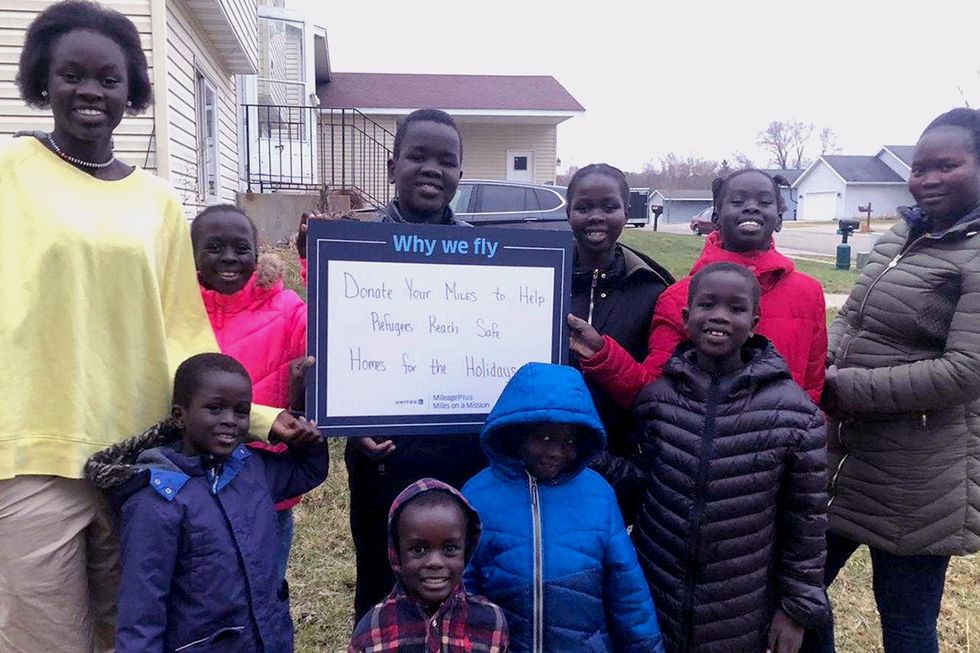 "Donate your miles to help refugees reach safe homes for the holidays."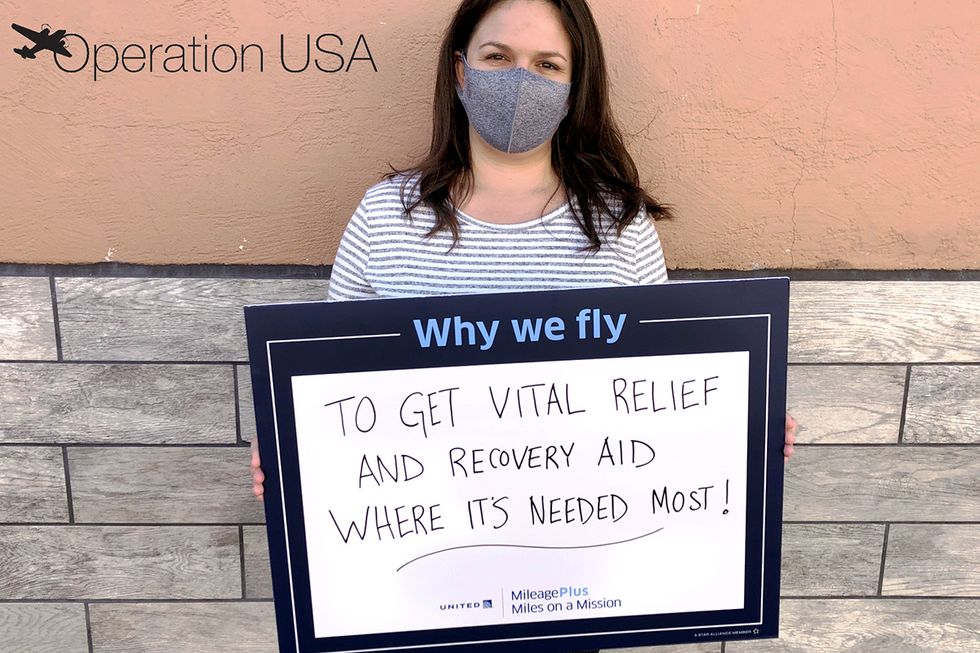 "To get vital relief and recovery aid where it's needed most!"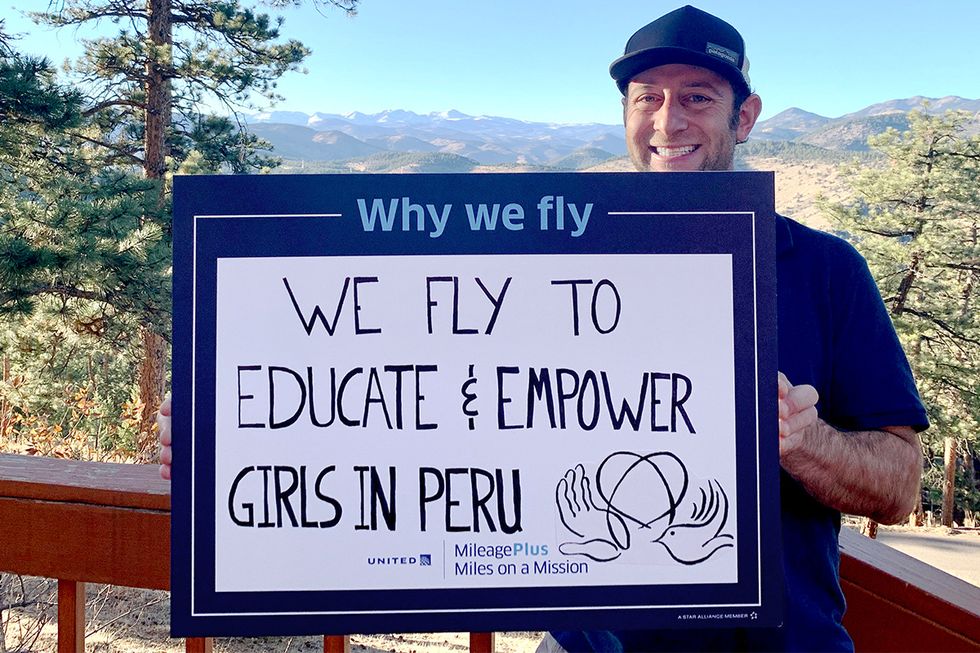 "We fly to educate and empower girls in Peru."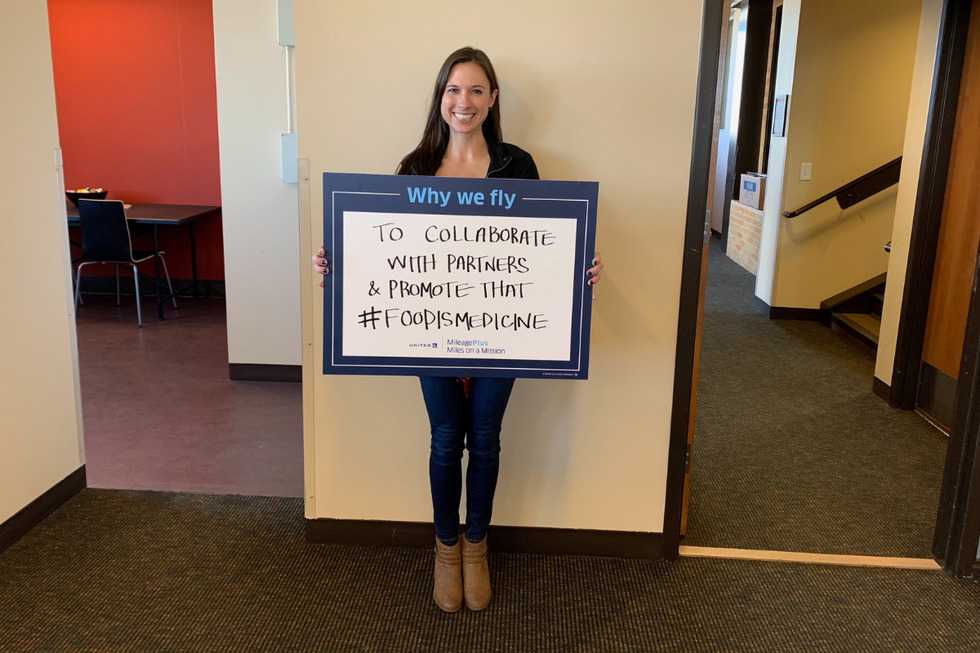 "To collaborate with partners & promote that #FoodIsMedicine"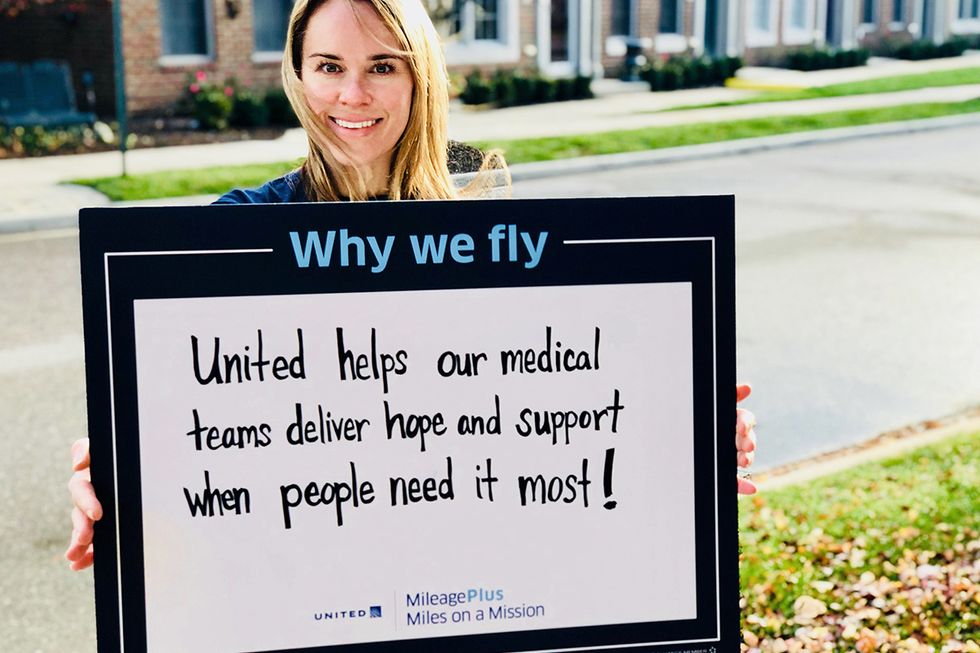 "United helps our medical teams deliver hope and support when people need it most!"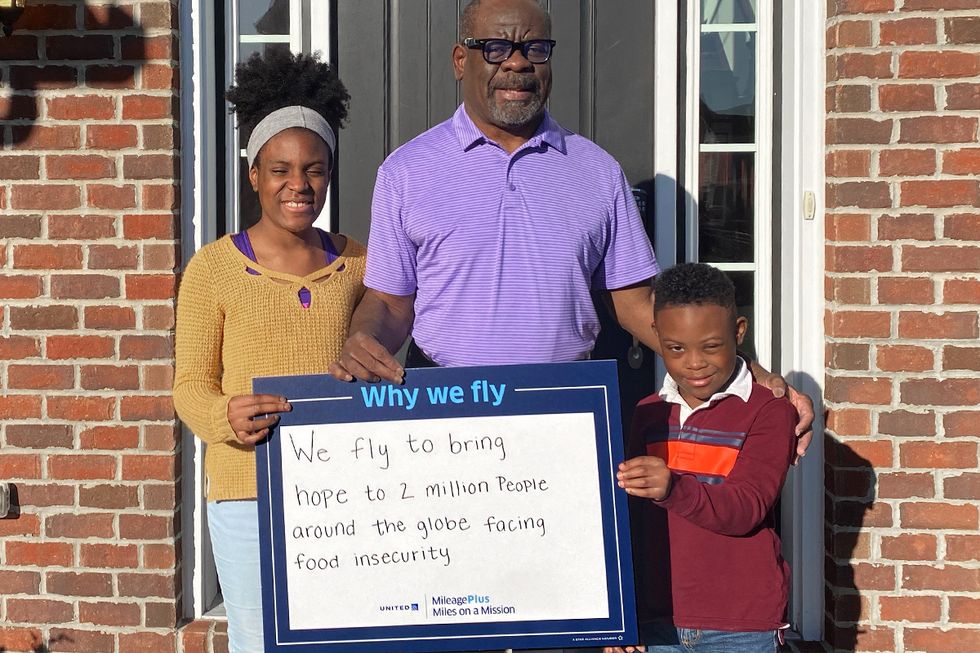 "We fly to bring hope to 2 million people around the globe facing food insecurity."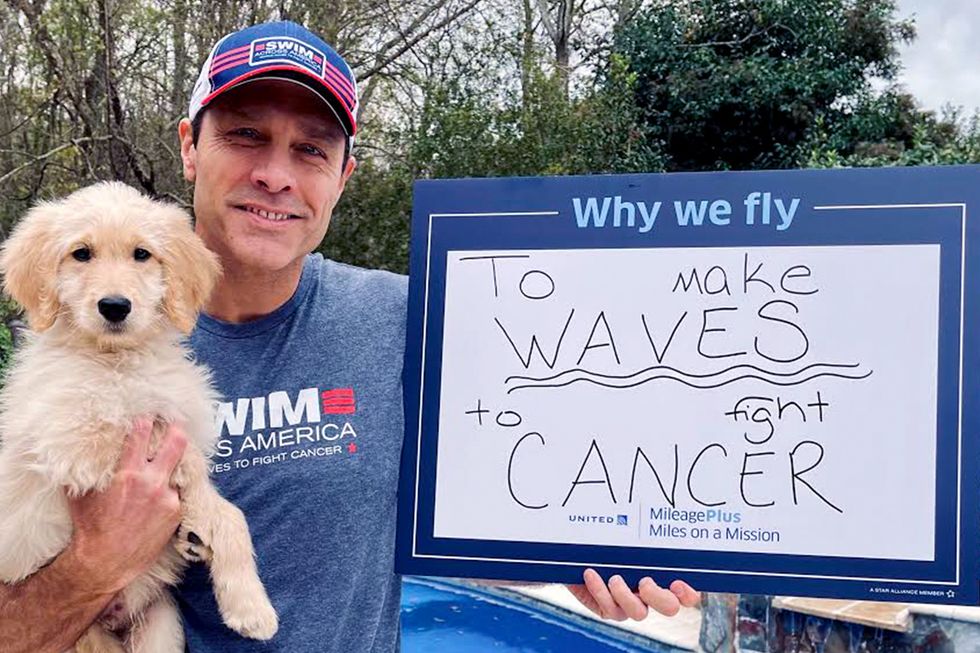 "To make waves to fight cancer."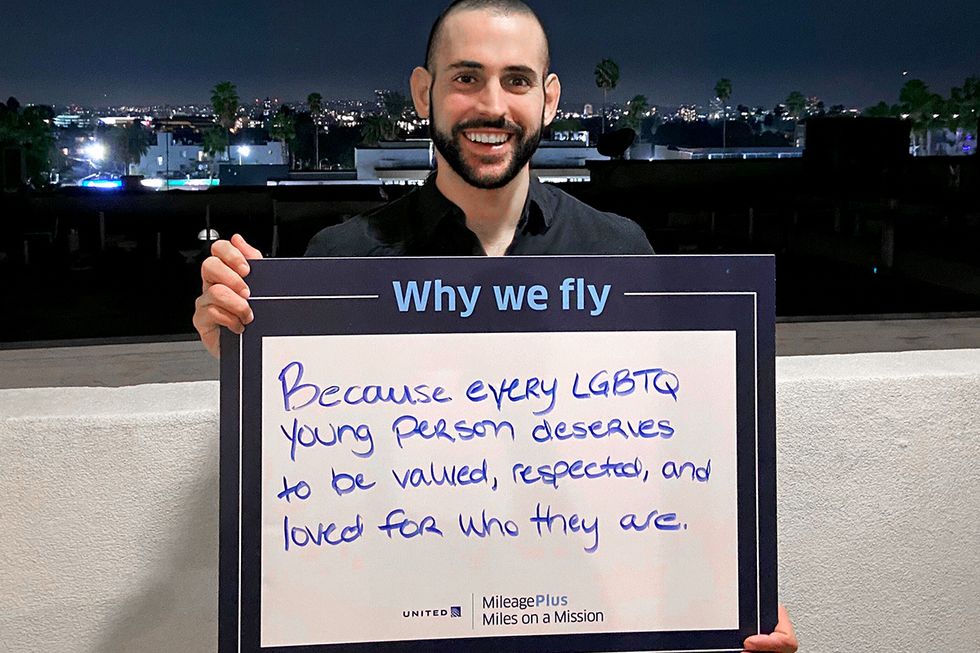 "Because every LGBTQ young person deserves to be valued, respected and loved for who they are."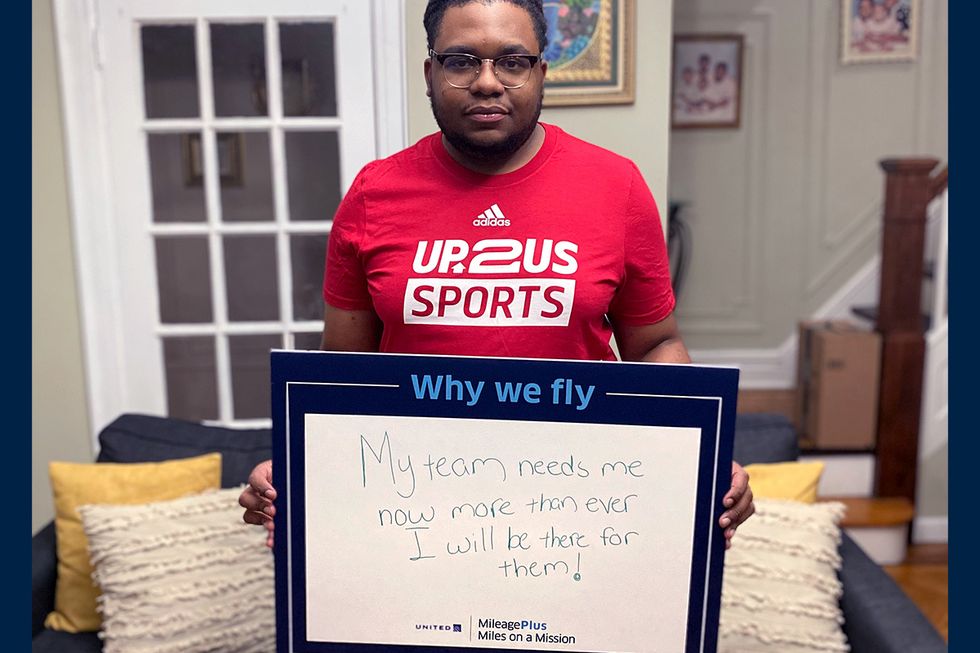 "My team needs me now more than ever. I will be there for them!"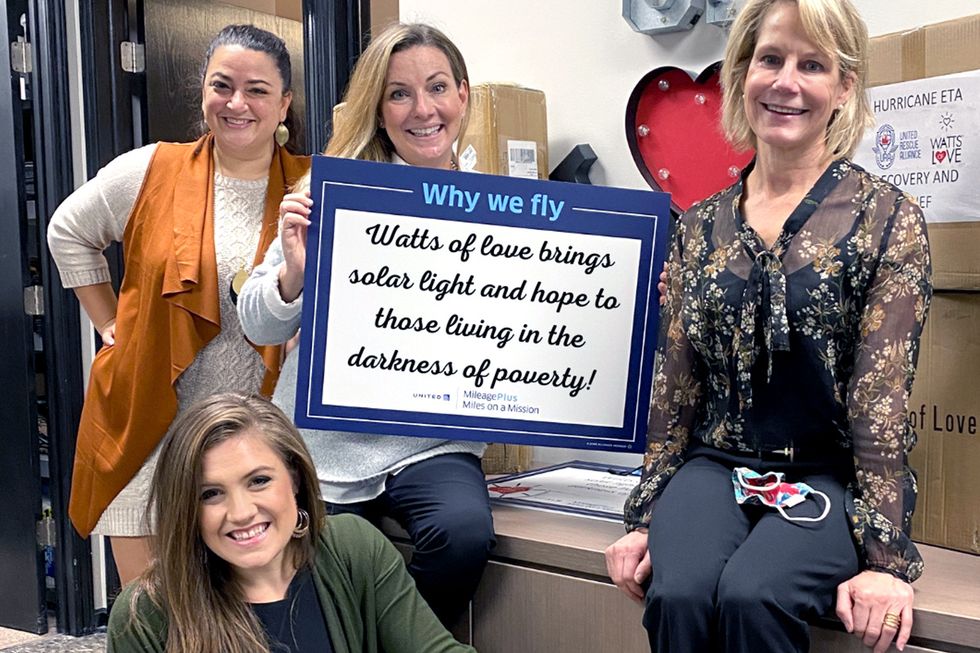 "Watts of Love brings solar light and hope to those living in the darkness of poverty!"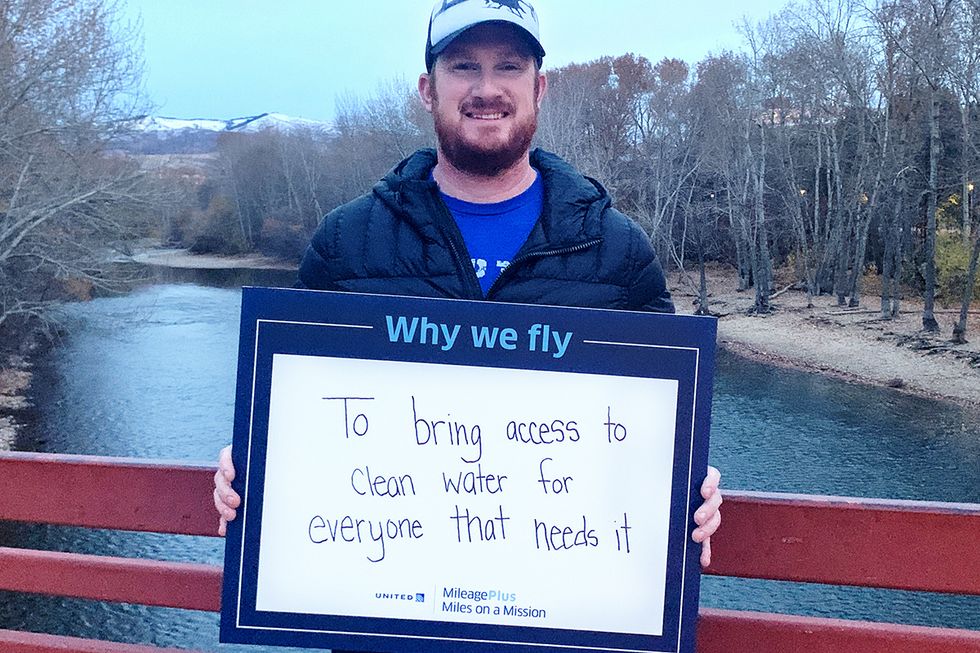 "To bring access to clean water for everyone that needs it."
Scroll to top