Three Perfect Days: Cape Town
Story by Nicholas DeRenzo | Photography by Stephanie Veldman | Hemispheres December 2019
Perched on the southwesternmost edge of the continent, Cape Town can feel like the tip of the African iceberg—and many visitors don't realize how much depth lies beneath the surface. They sunbathe on its beaches, cage-dive with its great white sharks, summit its skyline-defining Table Mountain by cableway, skirt its rocky coastline on cliffside drives, sip its wine—but do they ever truly engage with its people? Now, 25 years after the end of apartheid, a new generation of creative Capetonians is hoping to change all that, as it demands to be seen and heard for the first time. Formerly ignored Xhosa and Cape Malay cuisines are going fine-dining; African contemporary art has finally gotten a museum that feels as vital as the Guggenheim or Centre Pompidou; and even the townships are embracing their status as creative entrepreneurial hubs. As Cape Town begins to shake off its colonial-era clichés and tell its own story, there's never been a better time to visit, slow down, and listen.
Day 1: Motorcycle sidecars, penguin colonies and prodigious plant life
It's easy to start the morning with a positive outlook when you wake up at the Belmond Mount Nelson. Opened in 1899 as a luxury palace for ocean liner passengers, the tranquil old garden estate sits tucked down a long lane lined with 57 Canary Island date palms, across from the city center's historic Company's Garden. The building was painted a cheerful pink 101 years ago last month to mark the end of World War I. Churchill once called the place "a most excellent and well-appointed establishment which may be thoroughly appreciated after a sea voyage." It works with air voyages, too.
Today, to help me squeeze in as much of the region's dramatic scenery as possible, the hotel has arranged a half-day tour with Cape Sidecar Adventures, which offers rides on a fleet of '50s and '60s motorcycles. Or, if you're like me and the thought of navigating cliffside byways on the "wrong" side of the road gives you hives, you can stick to the comfort of a sidecar.
Owner Tim Clarke outfits me in a leather jacket, helmet, goggles, and gloves and introduces me to the company's "marketing manager": a rescue mutt named Brody who wears "doggles." Brody and I hop into the tandem sidecar. I'm avowedly not a dog person, but it's can't-fight-this-feeling-anymore cute when he rests his head on my shoulder throughout the drive.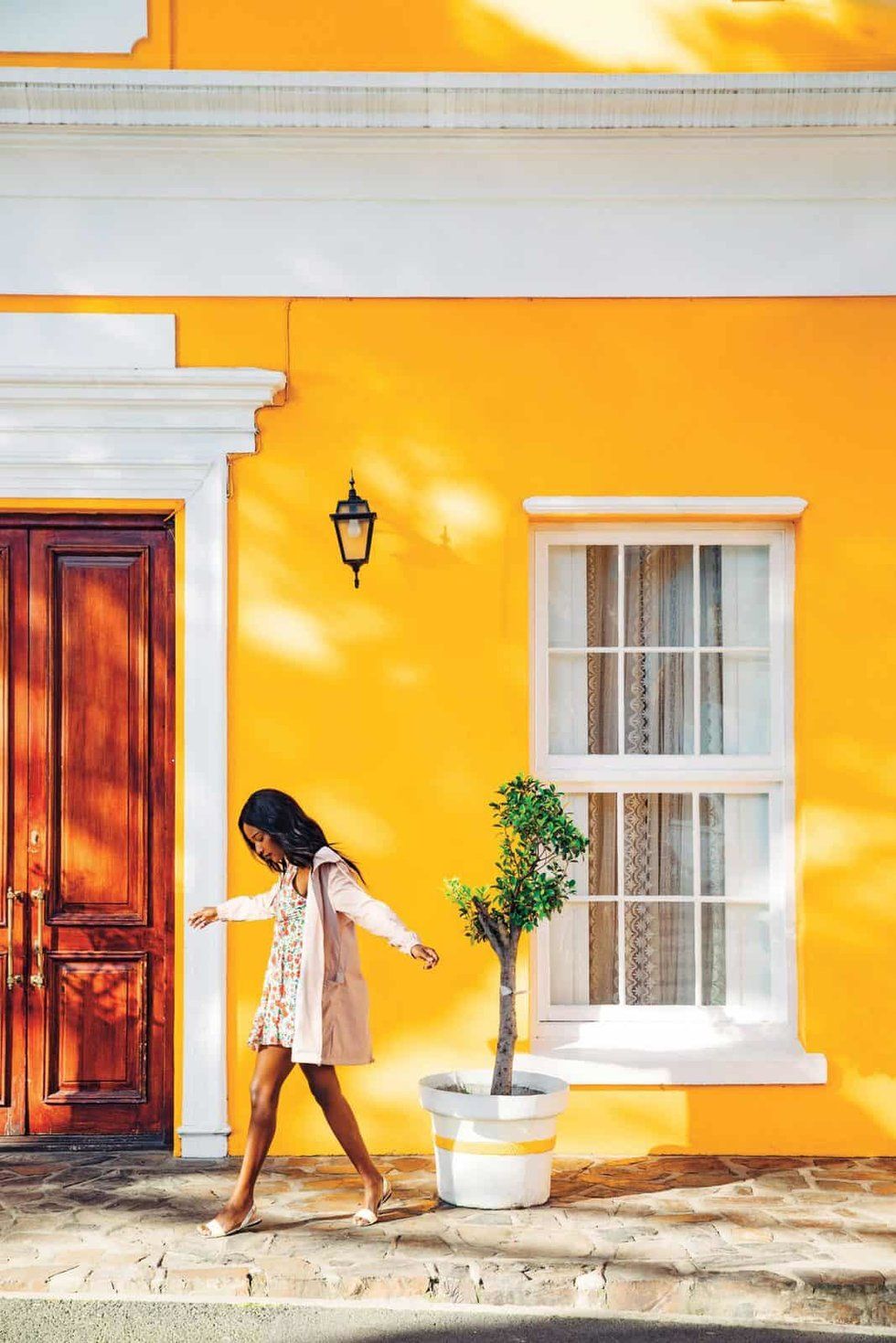 A colorful house in the Bo-Kaap district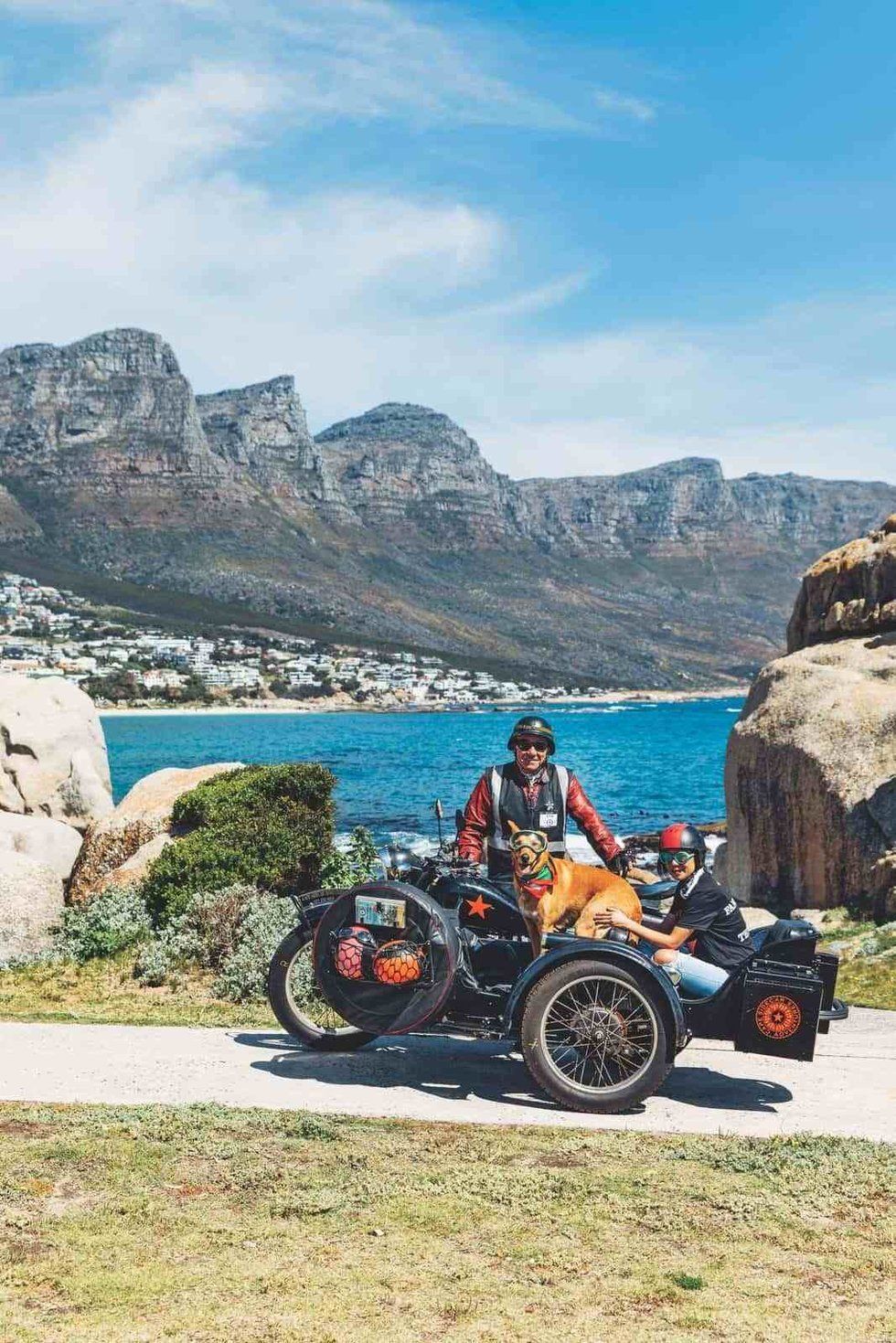 Owner Tim Clarke, marketing manager Brody, and a happy passenger on a Cape Sidecar Adventures tour
In the fishing village of Hout Bay, we wait for the coastal fog to lift inside Bay Harbour Market. I drink a red latte, made with rooibos "tea"—actually a scrubby bush that grows in the Western Cape—and then protein-load on the country's twin favorite snacks: biltong (dried, cured meat) and droëwors (dried sausage). On our way out of town, Brody gets in a barking match with a fur seal sitting up on the dock. People walking down the street grin and flail their arms like kids as we pass. I wave back, and Clarke shouts over the motor, pointing at Brody, "They're not smiling at you!"

We zigzag along the scenic paths south of the city center on the Cape Peninsula—the jutting landmass that ends in the famed Cape of Good Hope, the continent's southwesternmost point. As we hug the cliffs on snaking Chapman's Peak Drive, I keep my eyes peeled for breaching right whales or the fins of great white sharks. No such luck.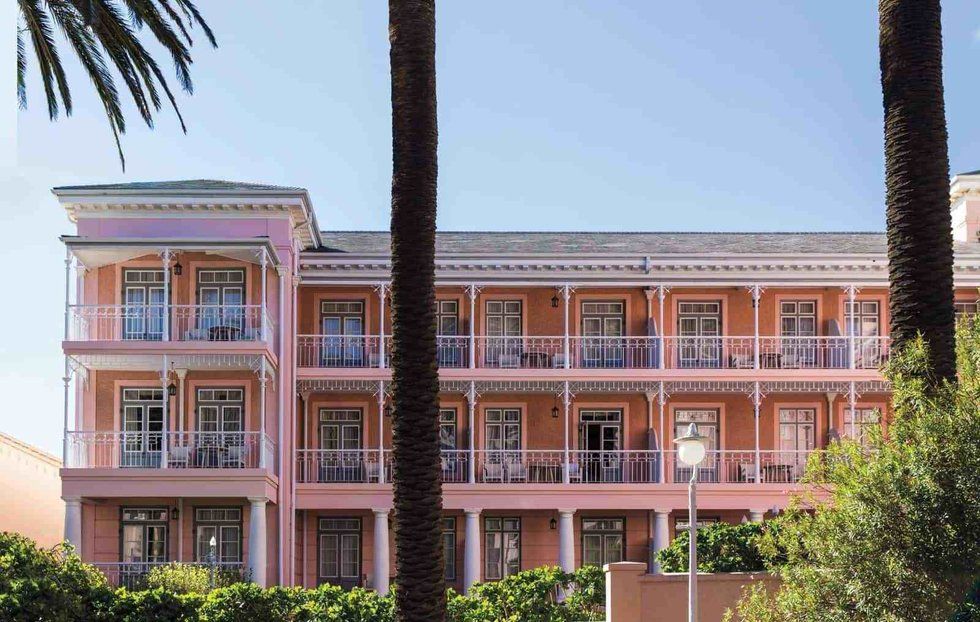 The Belmond Mount Nelson's pink exterior
Our next stop is the one I'm most excited about: the penguin colony at Boulders Beach. "We used to take our kids to swim with them," Clarke tells me, as we turn into Simon's Town, passing shops filled with penguin souvenirs. He drops me off, and I make my way down a long boardwalk to the beach, where dozens of penguins squawk, waddle, burrow, and roll around in the surf as if they're reenacting From Here to Eternity. Tourists huddle in a giant clump, oohing and aahing at fluffy chicks and wildly snapping photos. It feels a bit like the Mona Lisa room at the Louvre, if the Mona Lisa room at the Louvre smelled vaguely of dead fish, but it's impossible not to be swept up in the scene.

Dozens of penguins squawk, waddle, burrow, and roll around in the surf as if they're reenacting From Here to Eternity

After the tour ends, I grab a rideshare to Woodstock, a burgeoning but still scrappy neighborhood where factories are being converted into galleries and high-end restaurants and the walls of buildings burst with vibrant street art. At the Old Biscuit Mill, a 19th-century red-brick factory that's now filled with galleries and boutiques, I ride an elevator up to The Pot Luck Club, Luke Dale Roberts's fun-loving sister restaurant to The Test Kitchen (Africa's only entry on the World's 50 Best Restaurants list) downstairs. Up here, with outlandish views toward flat-topped Table Mountain, I order a Thai green curry martini and chef Jason Kosmas's springbok antelope loin (when in Africa…) with fermented black beans and vermicelli rice noodles, plus deboned lamb ribs with Willy Wonka–ish tomatoes infused with pomegranate juice.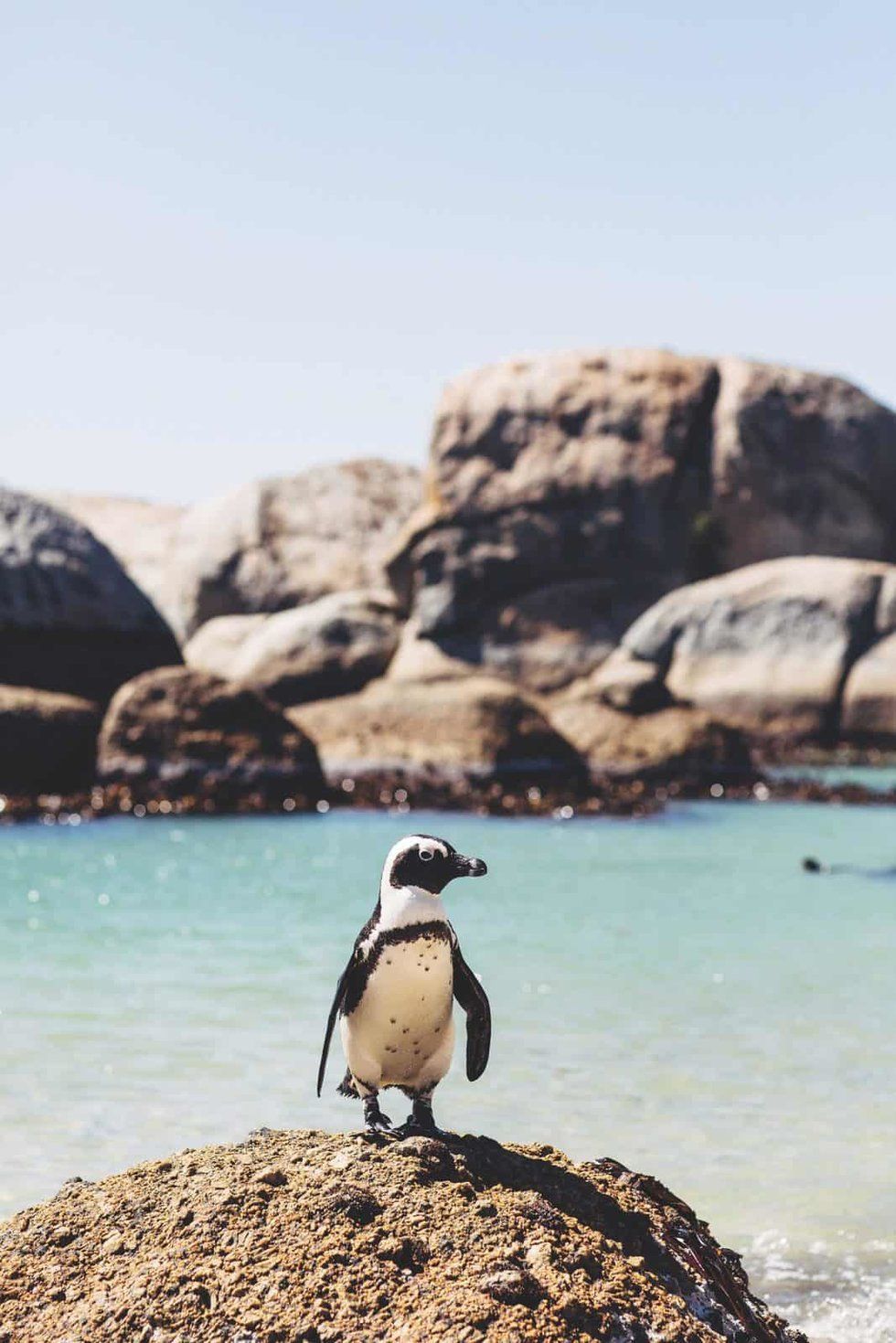 An African penguin on Boulders Beach
I want to work off that hearty lunch outdoors. While many visitors ascend Table Mountain by cable car, I'm looking to get a little more immersed, so I head to Kirstenbosch National Botanical Garden, at the mountain's eastern foot. South Africa's plants don't get equal billing with its lions and elephants and giraffes, but this mountain has more botanical diversity than the entire United Kingdom. Around town, you'll hear people talk about the fynbos, the scrubby, hardy vegetation that grows in these parts. The Cape Floristic Kingdom is one of the planet's six plant kingdoms, stretching in a 2.7 million-acre belt; when you consider that another of those kingdoms occupies nearly all of North America, Central Asia, and Europe, you understand just how special this smaller-than-Connecticut patch is.

In the park, I track mongoose, chubby guinea fowl, and partridge-like Cape francolins, and then climb onto a wooden platform that snakes over the canopy. Back down on land, I marvel at the wild varieties of indigenous proteas, flowering plants that look like Seussian artichokes (and that gave their name to the national cricket team). Succulent-loving millennials would be obsessed.
For dinner, I head back downtown to meet chef Ash Heeger, South Africa's representative on Netflix's The Final Table. Her restaurant, Riverine Rabbit, is named for a highly endangered species of rabbit ("They're just not good at breeding, unlike other rabbits!") from the Karoo Desert.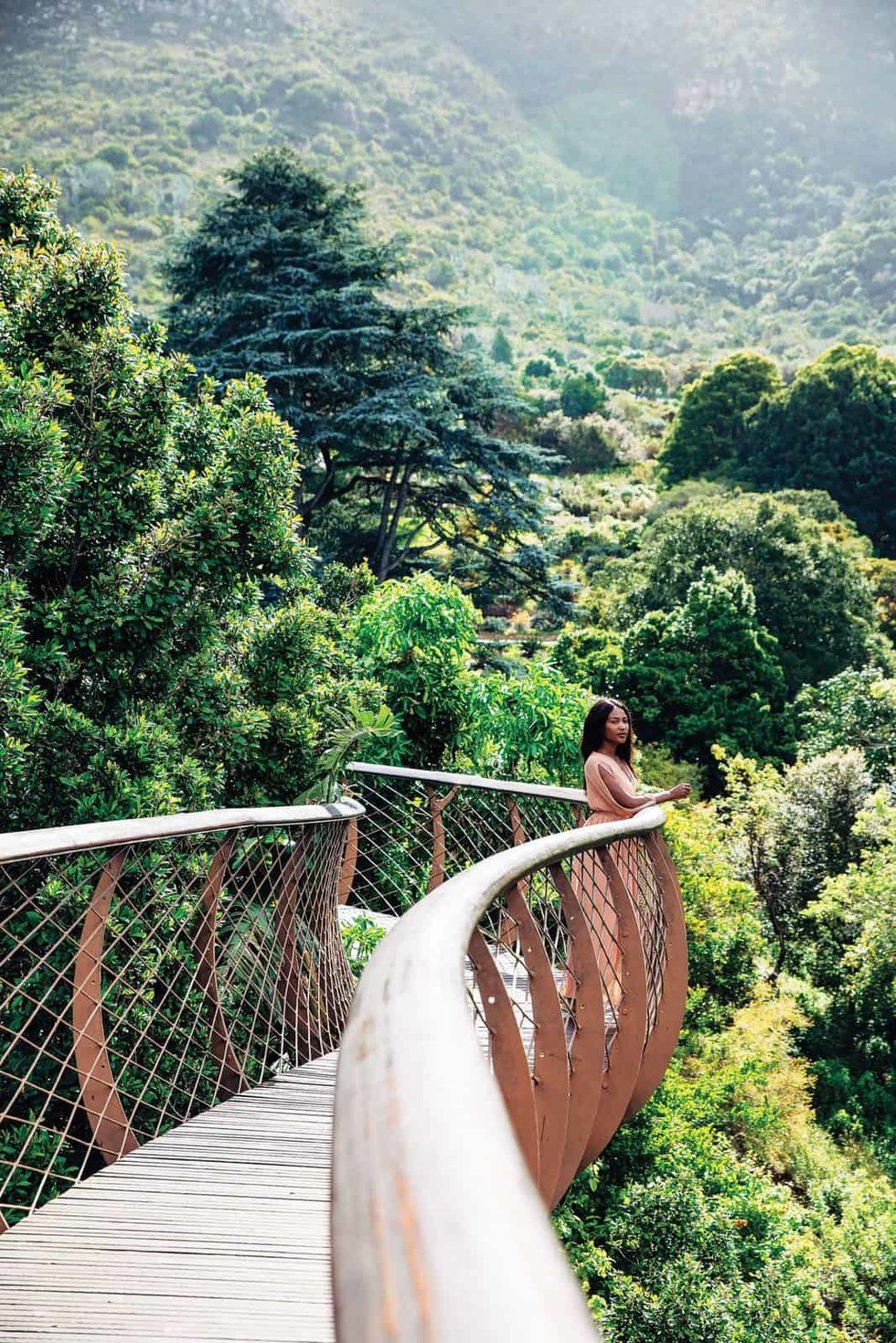 The Kirstenbosch National Botanical Garden canopy walkway
"In terms of culture, we don't have a very defined identity," Heeger says, as she sends a parade of small plates, including chickpea curry pani puri and croquettes made from eel-like kingklip, to my seat at the kitchen-adjacent chef's table. "We're quite a young country with a sketchy past, so I take influence from all the places I've worked."

She works particular magic with meat, such as seared kudu (yes, another antelope) loin with red cabbage, or braised lamb belly. "We have the best lamb in the world," Heeger says. "The fodder in the Karoo is hard, dry fynbos shrubs with aromatic oils. You can't compare it to Welsh lamb; you just bang it on the fire." In a sense it comes premarinated, from the inside out.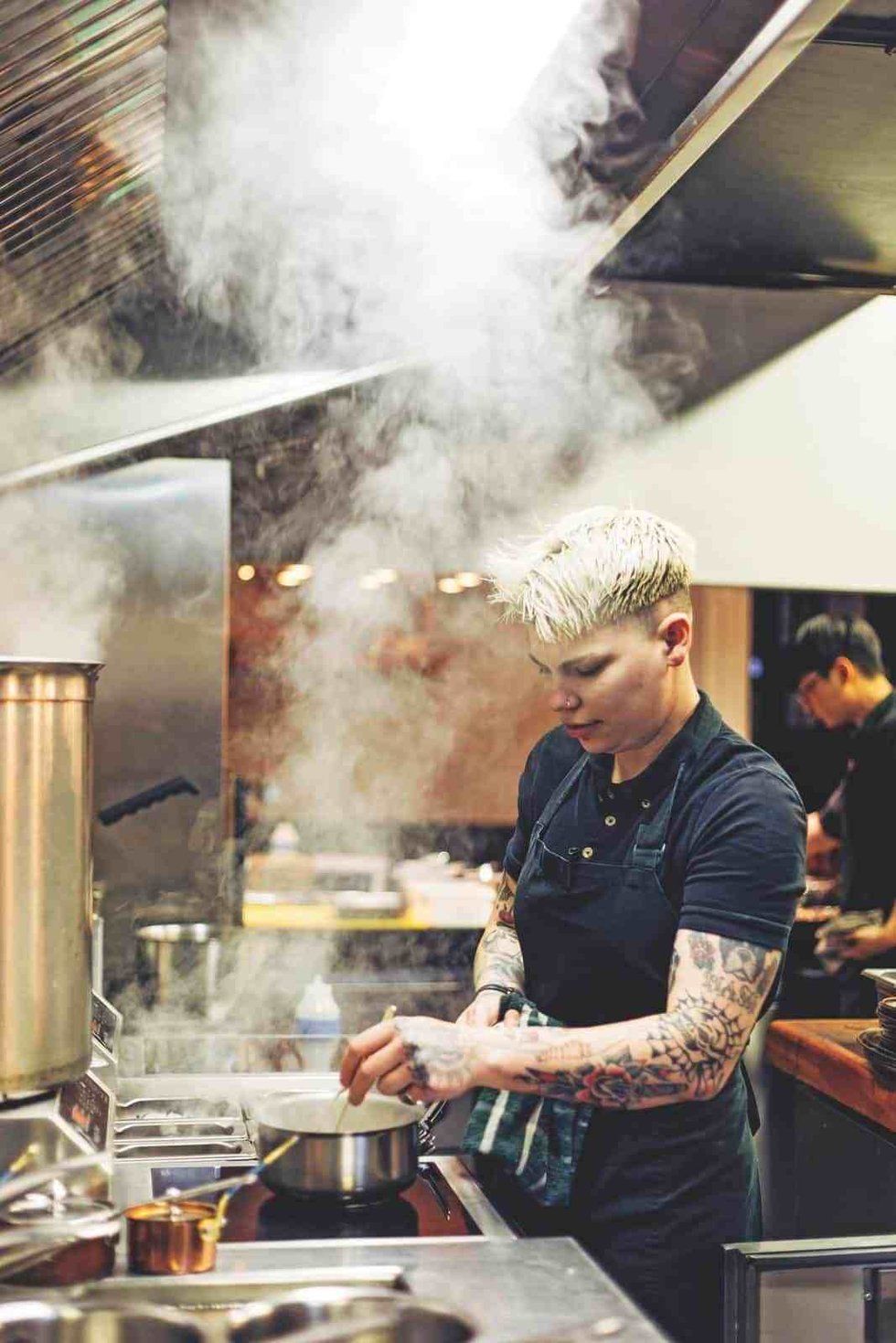 Riverine Rabbit chef Ash Heeger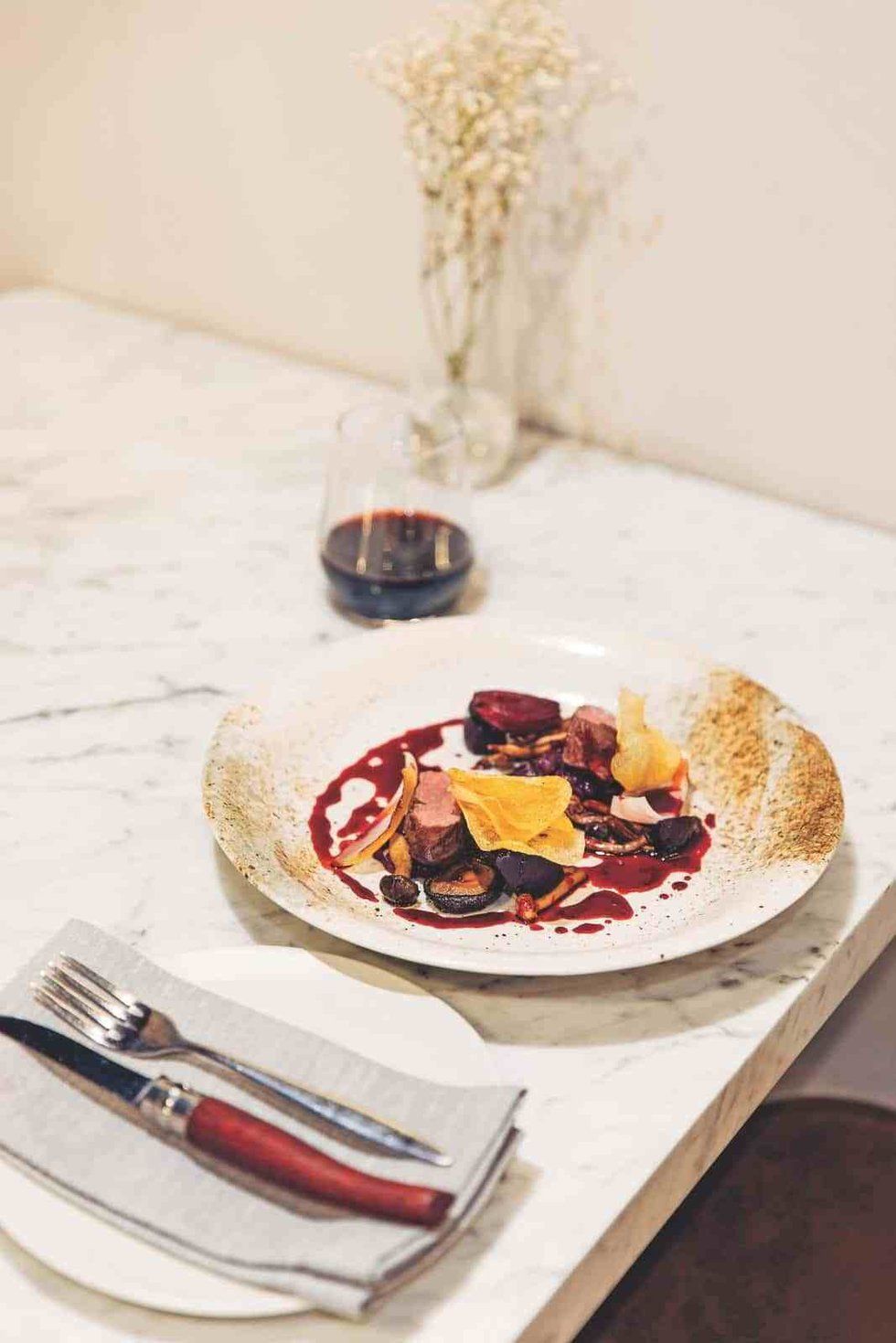 Kudu and cabbage at Riverine Rabbit
In an attempt to do the same to myself, I slip down the road for a nightcap at The House of Machines, a café and bike shop by day, music venue and bar by night. I order a Blou Baadjie (Blue Blazer), which is basically a hot toddy made with rum and rooibos. The bartender heats the drink over a butane burner and then lights it on fire, pouring the blue flaming liquid back and forth between two pitchers until it cools—just the kind of pyrotechnics I'm looking for on my first night on a new continent.
Day 2: Touring the townships and tasting Xhosa and Cape Malay cuisine
This morning, I'm moving my bags to the One&Only Cape Town, a glitzy resort in the Victoria & Alfred Waterfront, Cape Town's answer to Fisherman's Wharf. Everything in this part of town is forward-thinking and shiny—see the stadium, which was built for the 2010 FIFA World Cup—but history is never far away. At check-in, I'm warned about the ear-splitting noon gun, one of two Dutch naval cannons atop Signal Hill that have taken turns firing six times a week (minus Sundays, public holidays, and a few rare exceptions) since 1806. I put a literal trigger warning in my phone.
My goal for today is to do a deep dive into the city's townships, formerly segregated neighborhoods that are a lasting reminder of the apartheid era. Some 60 percent of Capetonians make their homes in townships or other informal settlements. Despite a reputation for crime, these areas are hotbeds of creativity. The tour company Coffeebeans Routes and its City Futures itinerary come highly recommended, and in the Gardens area of downtown, I meet guide Keith Sparks.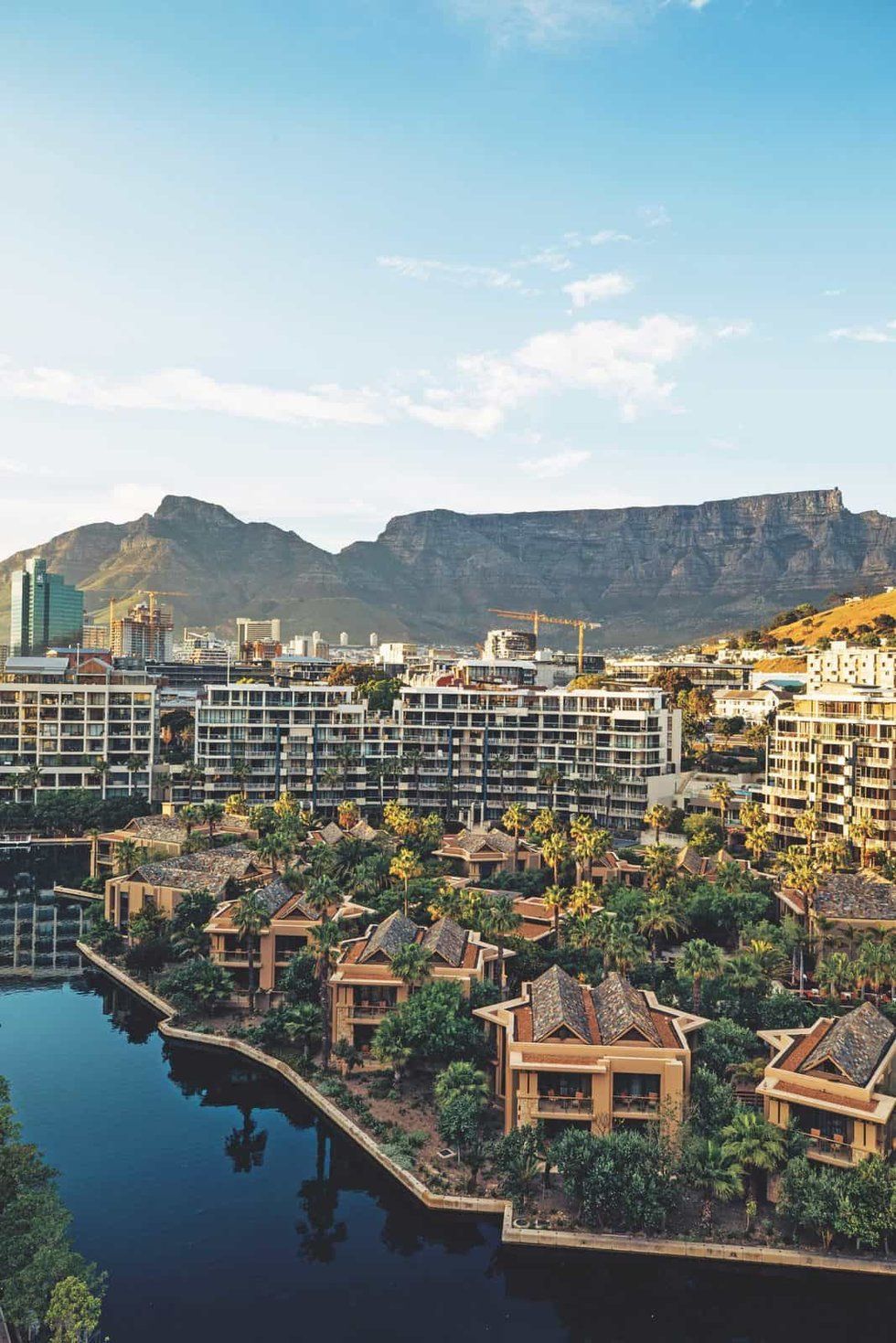 Table Mountain, seen from the One&Only Cape Town resort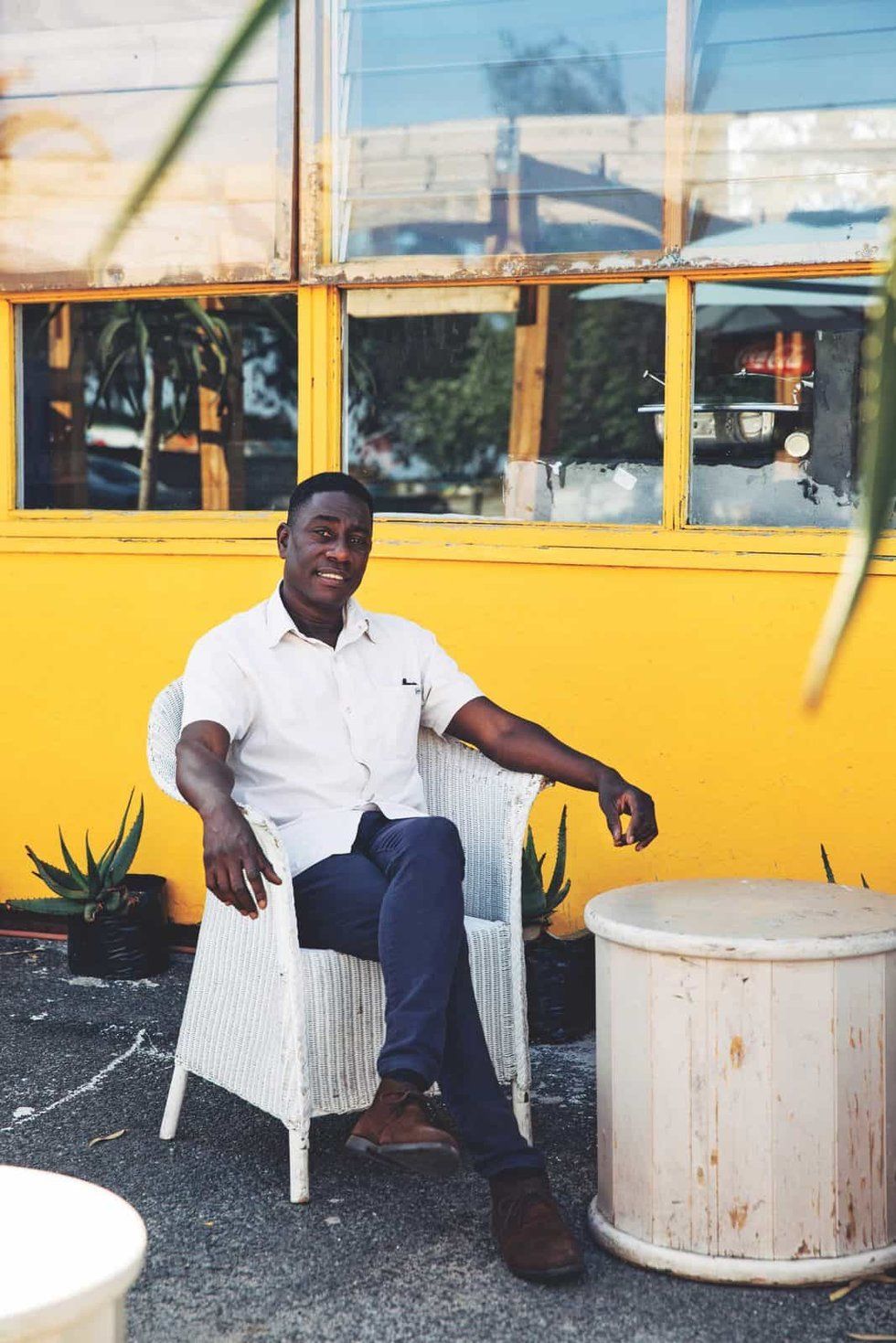 Tony Elvin of iKhaya le Langa NPC
"City Futures was born out of something unpalatable—what was generally known as a township tour," Sparks says as we drive east, past the orderly grid of downtown. "I used to see these buses pull up on the highway, and people would jump out and take photos at the fence. It was almost like a zoo experience." This tour, on the other hand, is based on the idea that the city's entrepreneurial future lies here, in a former tourist no-go zone.

In Langa, the region's oldest township, British-Jamaican social impresario Tony Elvin—who moved here to open a restaurant with Jamie Oliver and decided to stay—welcomes us to iKhaya le Langa NPC, his arts hub and business incubator, which houses some 106 enterprises, from artists to jewelers to hot-sauce makers.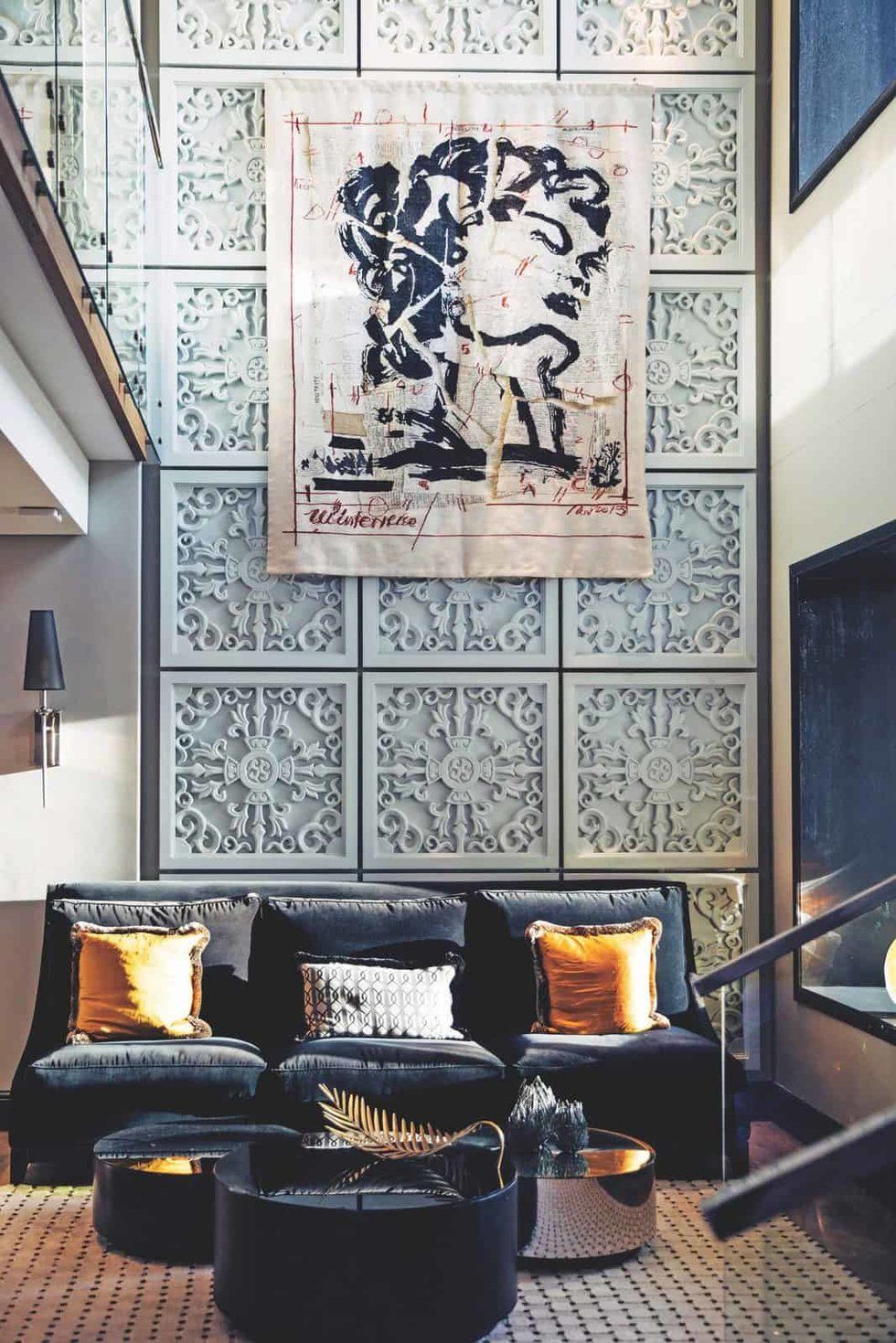 The One&Only's lobby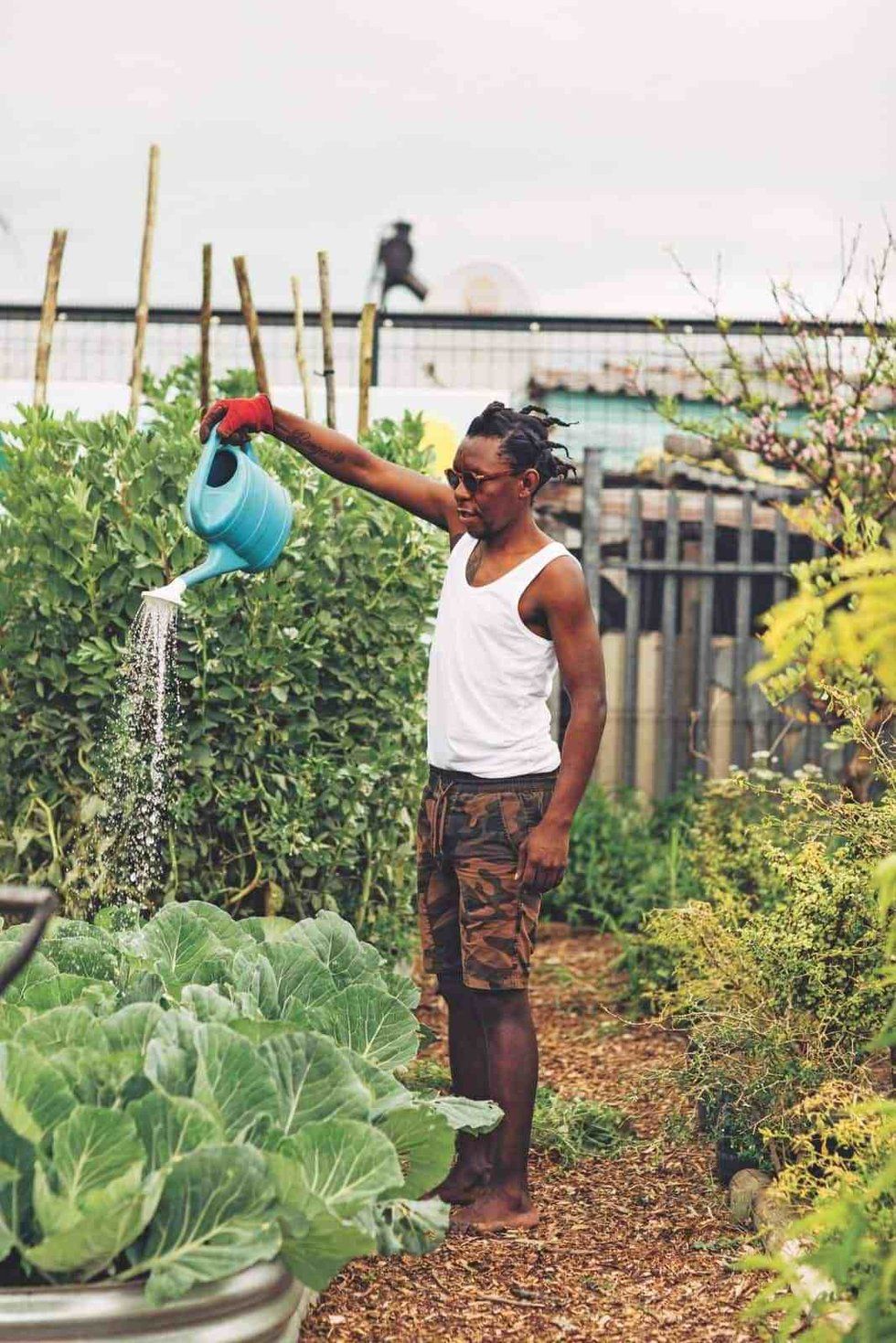 A volunteer at iKhaya Kulture Garden
"Cape Town is a very Eurocentric city, but apart from Robben Island, the black narrative is all a bit negative," Elvin says, as he leads me into the complex's Sun Diner—probably the only café in the city where customers can pay with cryptocurrency. "They say don't go to the townships, but Langa is a gateway into another Cape Town that's bubbling up. We're calling Langa the new city center—the Afrocentric heart of the city."

Sparks and I say goodbye to Elvin and head back out onto the highway, toward Khayelitsha, which he compares to Johannesburg's
city-size township, Soweto. We drive past people braaiing (barbecuing) fragrant meats outside colorful corrugated tin houses and pull into a school parking lot to meet gardener Athi Ndulula of iKhaya Kulture Garden.
" iKhaya means home, so I want you to feel at home," Ndulula says as he ushers us past living walls and soil-filled tires. "We're using decolonized indigenous gardening methods. We wanted to show the youth what they can do with minimal space." We sample crisp dune spinach, naartjie (a citrus fruit), and spekboom, a lemony succulent that's 10 times as good as the Amazon rainforest at removing carbon dioxide from the atmosphere.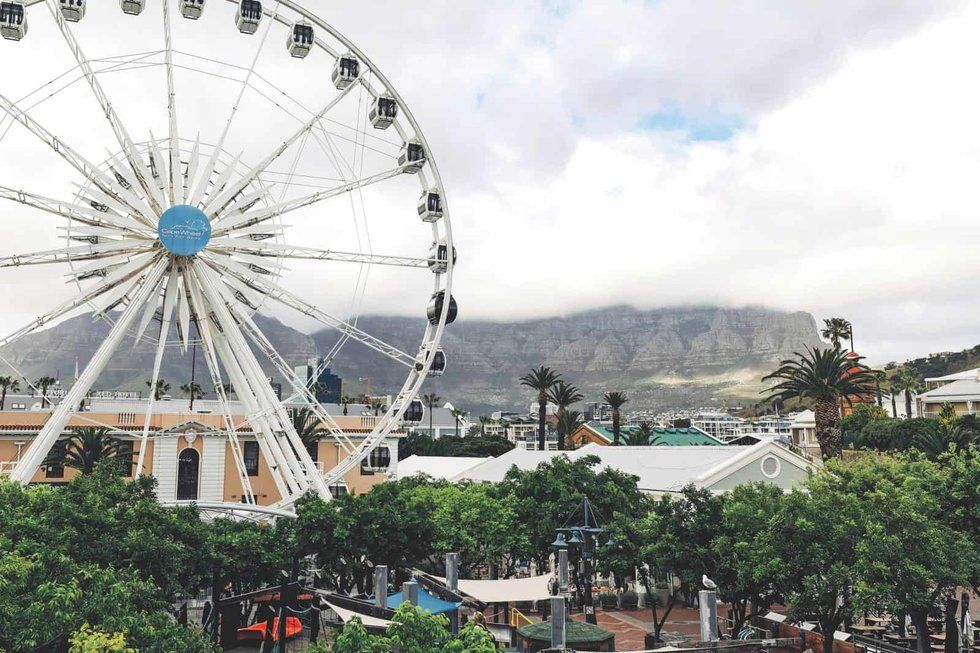 The Cape Town Wheel at the Victoria & Alfred Waterfront
Before I leave, Ndulula tells me to check out his side gig: He's an aspiring rapper who goes by Artist-X_7784. "People think the 'X' is for Malcolm X, but it's just for my mother tongue, Xhosa," he says. "I'm just an average Joe with a garden in the ghetto!"
All that nibbling has stoked my appetite, so I thank Sparks and depart for chef Abigail Mbalo-Mokoena's place in Khayelitsha, 4Roomed The Restaurant. A former dental technician and home cook, Mbalo-Mokoena applied for MasterChef South Africa when her family "tired of being guinea pigs." She didn't win, but she's getting the last laugh: This year, Food & Wine and Travel + Leisure jointly named 4Roomed one of the world's 30 best restaurants. She greets me warmly, dressed in a T-shirt that says "Africa Your Time is Now" and sporting one large African continent–shaped earring. "We love heavy spice," she says, as she serves Xhosa-inspired dishes: isonka samanzi (steamed bread), umqa (pap with butternut and truffle oil), sous vide beef, and samp (mashed corn kernels) and beans, reportedly Nelson Mandela's favorite food. Her take, made with hominy, tarragon, and coconut cream, tastes so good I wish I had a Xhosa grandma to cook it for me back home.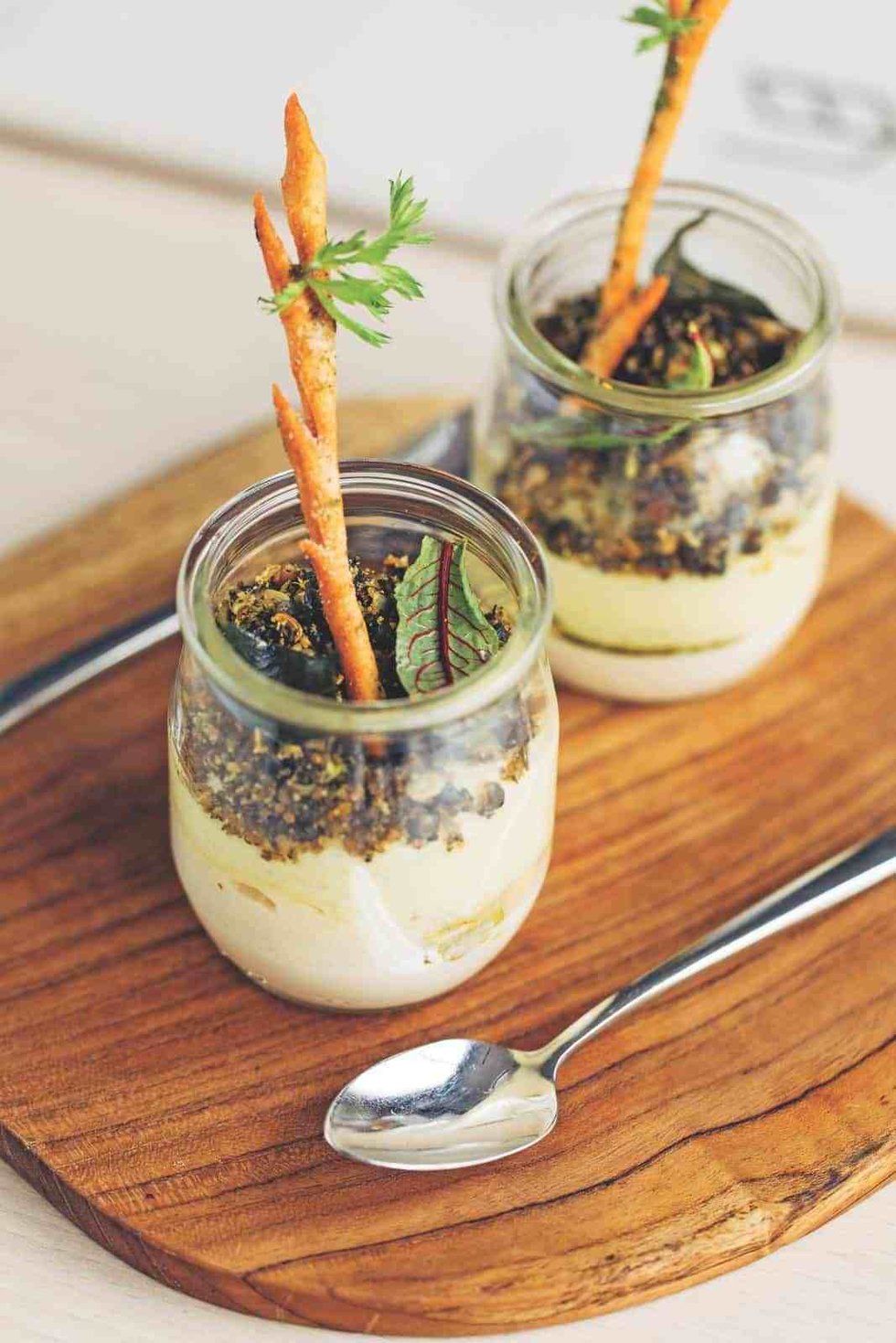 "My dental profession was a ticket out of the 'hood, but [people leaving] was depriving the area of black professionals," she says. "We were not playing our role. I needed a purpose, and my purpose was to move back to the townships—to use food to bring people together."
I tell Mbalo-Mokoena she should run for office (I mean it!), and then I take a car back to the Waterfront. I stroll through The Watershed market to stock up on souvenirs: sleek ostrich-eggshell jewelry for my sister's birthday and a small herd of animal figurines carved from upcycled flip-flops found on the beach.
Nearby, I stop into the experimental Cause Effect Cocktail Kitchen and Cape Brandy Bar. Before I can open the menu, bar manager Justin Shaw is pouring me a South African brandy. It's Cognac-smooth, although it was born of necessity: Apartheid-era sanctions limited booze from abroad, so South Africans crafted their own spirits. "People here grew up drinking brandy and Coke," Shaw says. "It's our duty to retell the story of brandy in a non-pretentious way. It's hard for many to understand the heritage, the romance, the prestige."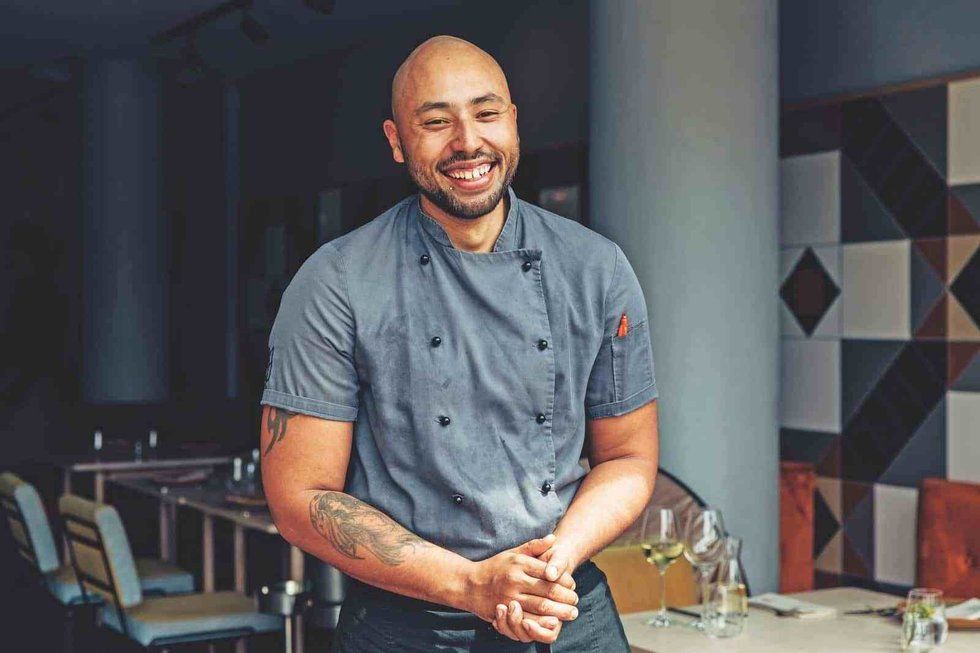 Upper Bloem chef Andre Hill
Brandy isn't the only local product on the menu. Baskets of botanicals that guests can use for custom infusions hang over the bar. "Fynbos has been a part of the food culture here from before the Ice Age," Shaw says, "before the settlers arrived, before the Central African Bantu arrived." He hands me some dried mopane worms to munch on, as if I'm Timon or Pumbaa. I'm happy to have a hot, spiced negroni—made with fynbos-infused gin and vermouth—to wash those suckers down.

Food like this being recognized teaches everyone in the kitchen that your history and background are relevant.

Dinner is a quick car ride away, in bustling Green Point, at chef Andre Hill's Upper Bloem. The restaurant takes its name from the street where he grew up in nearby Bo-Kaap, an area that's known for its crayon-box houses and for being the historic heart of the Muslim-majority Cape Malay population.
"This is the first time I'm cooking food that I grew up with," Hill says. "Because of the way South Africa was segregated, this type of food was irrelevant. The majority of the population couldn't even sit in restaurants like this." He takes humble dishes and remixes them into clever small plates. Bunny chow—a gut-busting Durban-born fast food comprised of a hollowed-out loaf of bread overflowing with curry—is reborn as an ostrich-filled dumpling, topped with buffalo fromage blanc and shallot crumbs. His version of samp and beans is gussied up with Saldanha mussels and coconut curry. And the roti recipe? "We stole it off my mom," Hill says with a laugh. "Food like this being recognized teaches everyone in the kitchen that your history and background are relevant. It's not about me, it's about the history of Cape Town."
The wild, wild east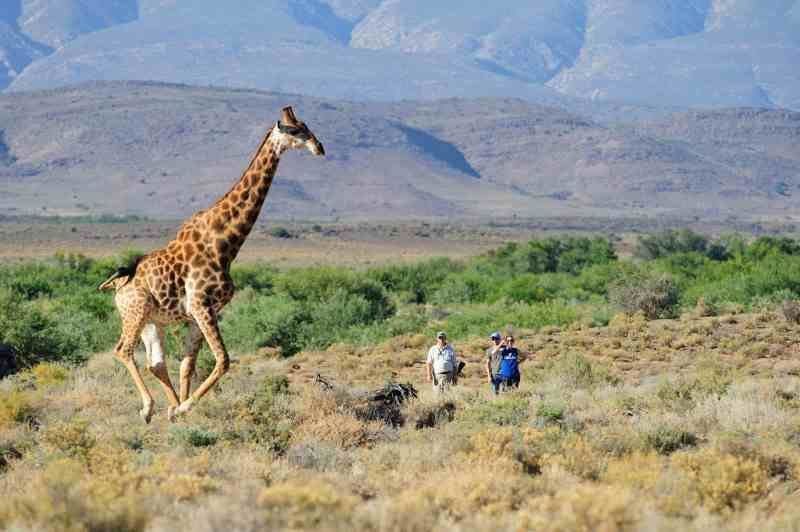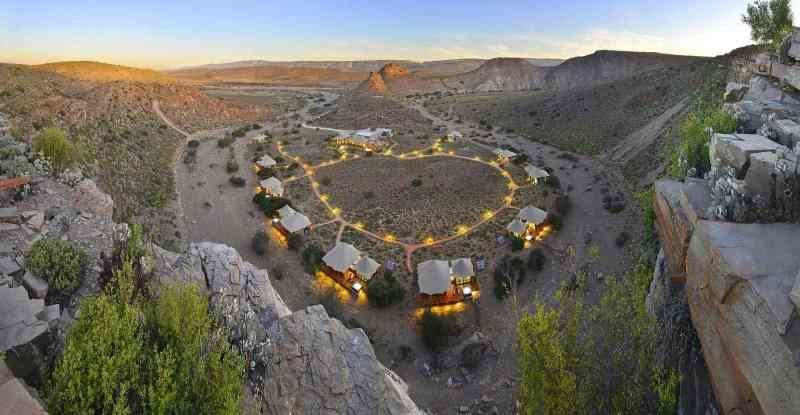 Cape Town is better known for its marine wildlife (like great white sharks) than its big land game, so if you feel that your trip to Africa won't be complete without a safari, you'll want to head east. A three-hour drive into the arid Little Karoo brings you to the private Sanbona Wildlife Reserve—which, at 224 square miles, is bigger than Guam. Of its four lodging options, perhaps the most exciting is Dwyka Tented Lodge, a nine-suite glamping enclave with outdoor showers and hot tubs set in a horseshoe-shaped ravine. Morning and evening game drives mean you'll catch the local fauna at its most active. Try to keep your pulse from quickening when you're arm's-length from an elephant or giraffe, facing down a crash of rhinos (from the safety of your Land Cruiser, of course), or drinking sundowner brandies on plains that are home to lions and cheetahs. History buffs should ask their guides to show them the reserve's 3,500-year-old San rock art paintings. From $468; includes meals, game drives, guided wilderness walks, and nonalcoholic beverages; sanbona.com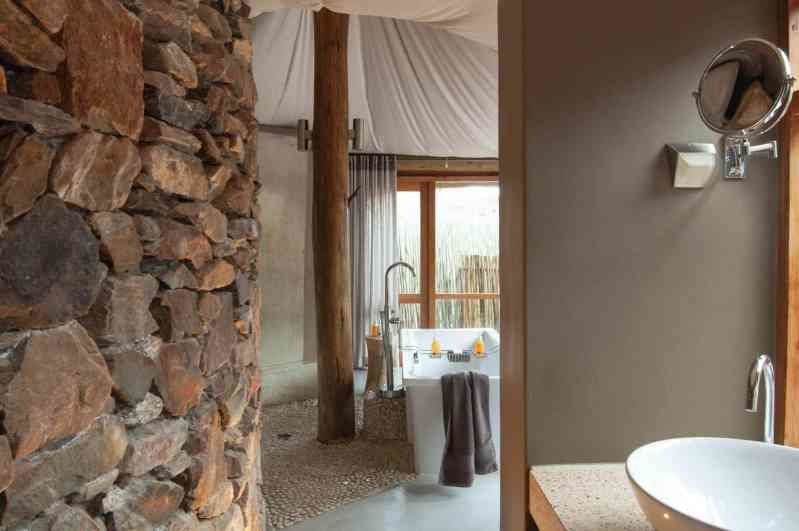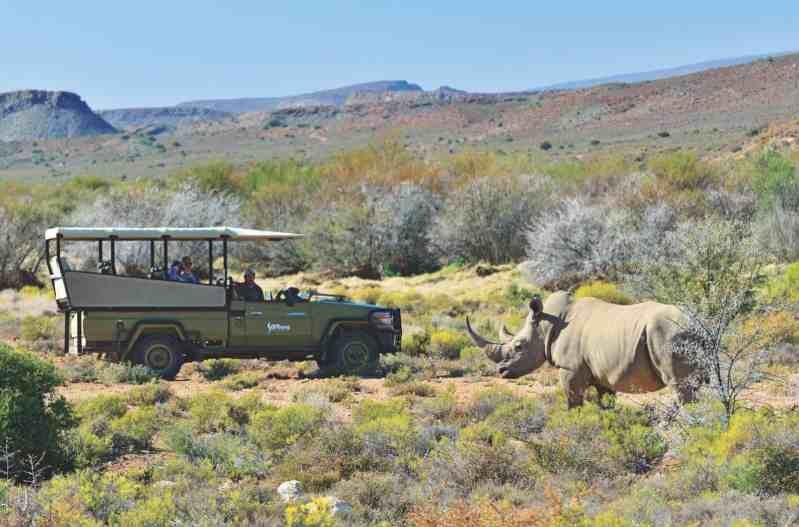 Day 3: Contemporary architecture and the world's poshest farm
I awake at the One&Only, and though the views of Table Mountain from my balcony are bracing, I need something stronger to start my day. I wander 10 minutes to Jason Bakery for an espresso and a lamb kofta sausage roll, and then continue to the Waterfront's Zeitz Museum of Contemporary Art Africa (MOCAA), which opened in 2017. Architect Thomas Heatherwick converted a 1921 grain silo, carving out the walls of its 42 concrete cylinders, creating an atrium run through with curves, ovals, and parabolas.
I join a tour with a beret-wearing guide, Siseko Maweyi. "I was always taught to crave aesthetic symmetry, but none of these spaces are perfect," he says, as I try to fit the cathedral-like interior into my phone's camera frame. "Many people compared this building to Gaudí, but where that was intentional, here it happened organically."
Maweyi points up to a 51-by-82-foot wall hanging by Ghana's El Anatsui. What looks like a luxurious textile is made from valueless scraps of copper wire and smashed bottle caps. "It confronts notions of consumerism and waste," he says. "It's almost an abstract world map—it speaks to histories of spice routes, trade routes, slave routes."
Many people compared this building to Gaudí, but where that was intentional, here it happened organically.

Maweyi points up to a 51-by-82-foot wall hanging by Ghana's El Anatsui. What looks like a luxurious textile is made from valueless scraps of copper wire and smashed bottle caps. "It confronts notions of consumerism and waste," he says. "It's almost an abstract world map—it speaks to histories of spice routes, trade routes, slave routes."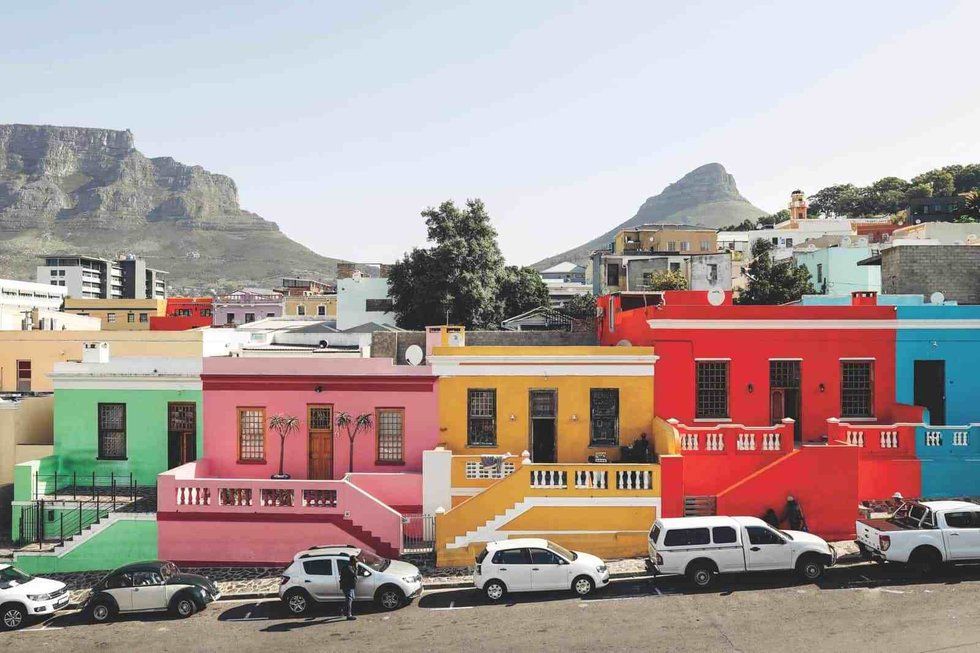 The crayon-box Cape Malay houses of Bo-Kaap
I pick up a rental car and drive south for an extravagant meal at La Colombe, a fine-dining restaurant on a hilltop at the Silvermist Organic Wine Estate, in the wine-growing suburb of Constantia. There's a theatricality to the proceedings here. Upon arrival, I forage for a calamansi juice–filled white chocolate egg in an underbrush-covered log. Later, I cut open a charred passion fruit with bird-shaped scissors to reveal a stew of mussels and smoked snoek fish. Yellowfin tuna comes to the table inside a closed tin, with guacamole, citrus foam, and tiger's milk espuma. Even the simple bread course is an event: Wagyu beef-fat butter, smoked oxtail jus, and bone marrow are heated tableside in a little copper pot and served with dippable sweet potato pain d'epi. It's a baroque, over-the-top meal, but there's one bite that I'll remember for years: a simple foie gras mousse with springbok tartare on a paper-thin wafer. Is any other country, I wonder, so comfortable eating its national mascot?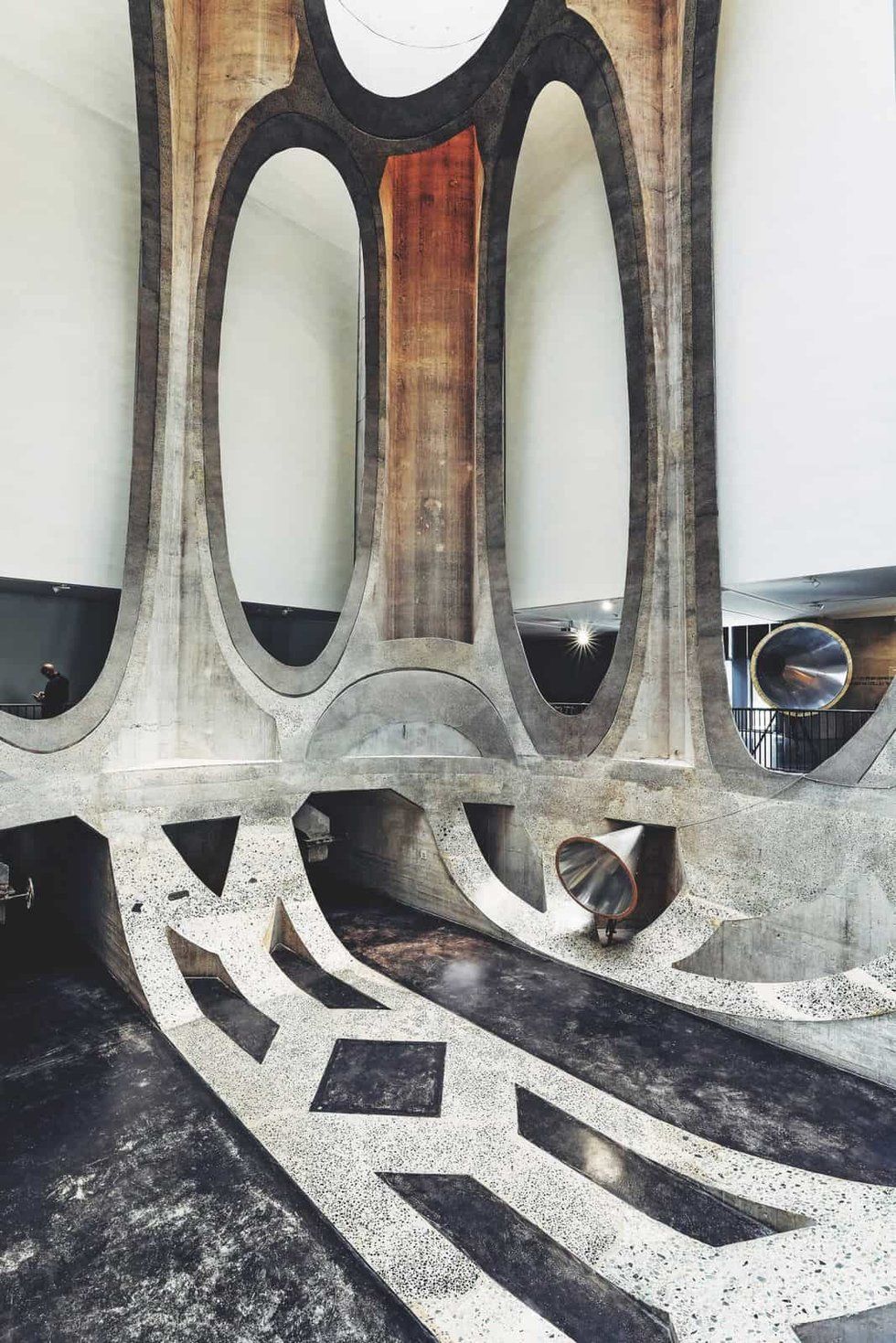 The atrium at the Zeitz Museum of Contemporary Art Africa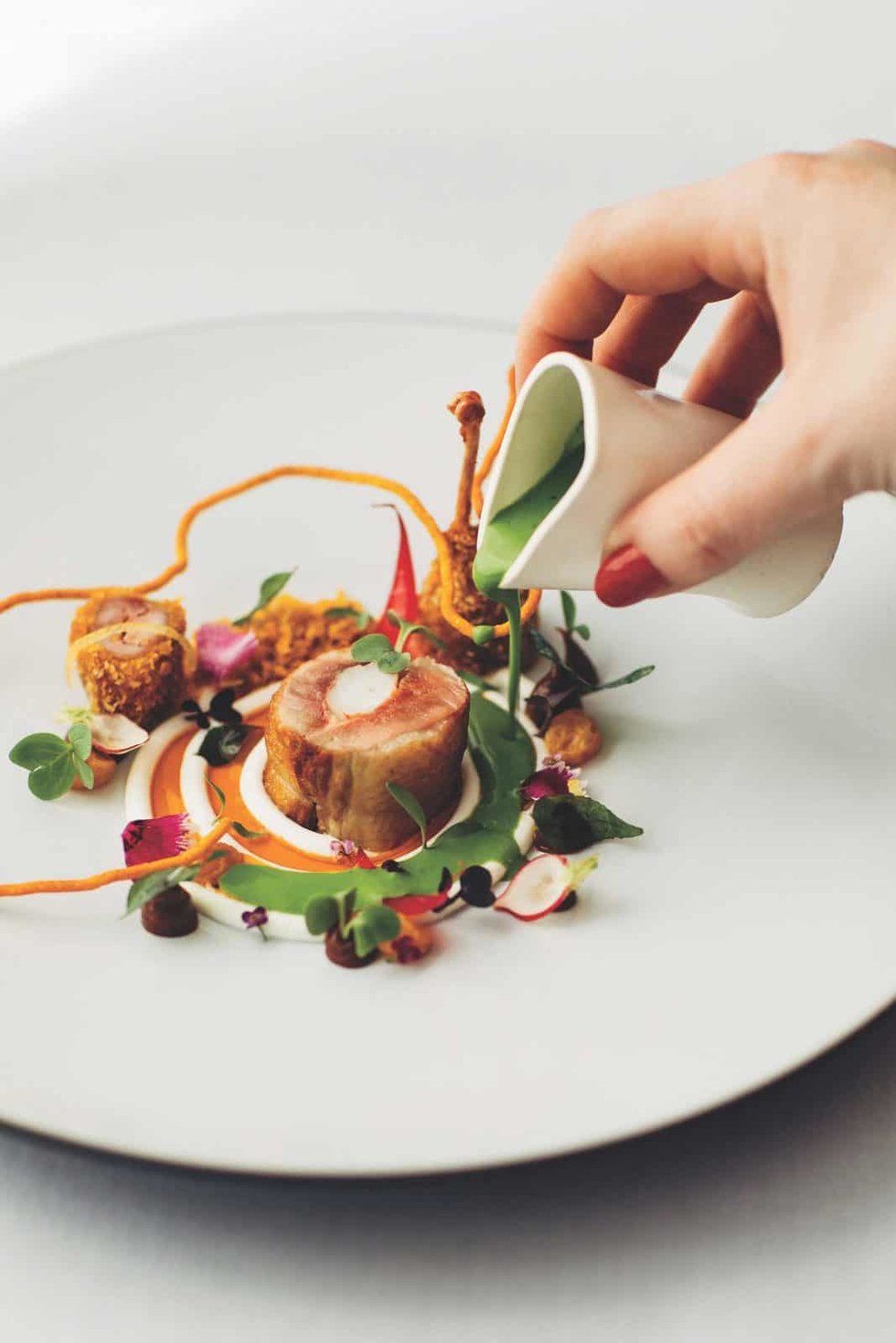 La Colombe's langoustine-stuffed quail
It's early afternoon by the time I'm done, and my next and final stop is about 45 minutes outside of the city: an exceedingly peaceful retreat called Babylonstoren, near the Franschhoek Valley, a wine region and onetime French Huguenot haven. Born in the 1600s as a Cape Dutch farm, the estate takes its name from a pyramidal hill on the property that reminded early settlers of the Tower of Babel. (If you recall the story from the Book of Genesis, it's a particularly apt allusion, given that this country has 11 official languages.)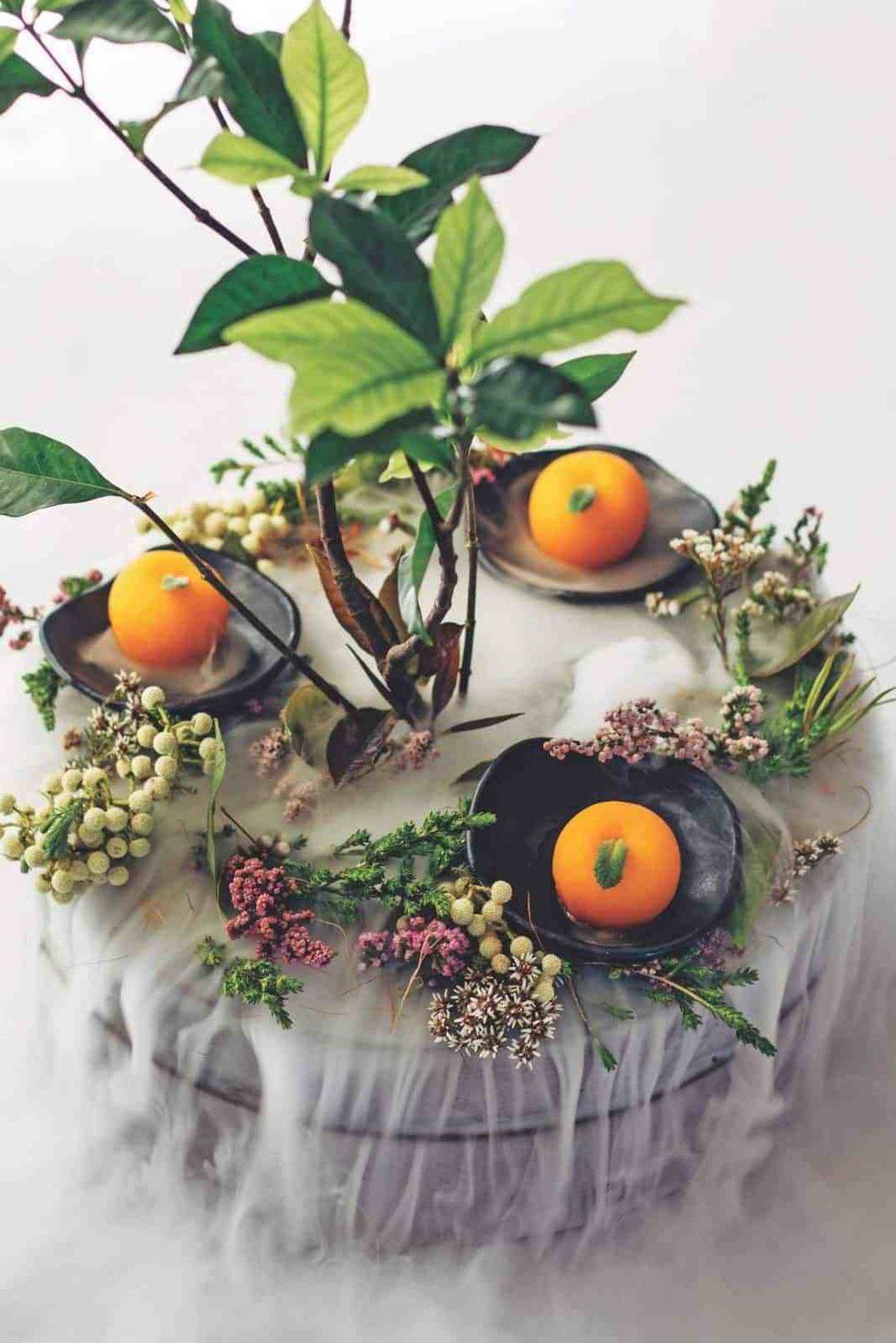 La Colombe's naartjie sorbet palate cleanser
I drive through miles and miles of vineyard, braking hard once or twice to let baboons cross the road, and pull into the 500-acre wonderland, which looks a bit like a theme park Martha Stewart would create if she were given a blank check. I drop my bags off at my cottage and head out to explore the grounds on a complimentary bicycle, seeing orchards filled with stone fruits and citrus fruits, ripe for picking; olive groves, from which fruit is cold-pressed into extra virgin oil; a chamomile lawn for ultra-relaxing naps in the sun; human-size bird nests, perfect for curling up with a book; and a veritable zoo's worth of turkeys, chickens, ducks, geese, bees, and hammy donkeys that run to the fence for behind-ear scritches.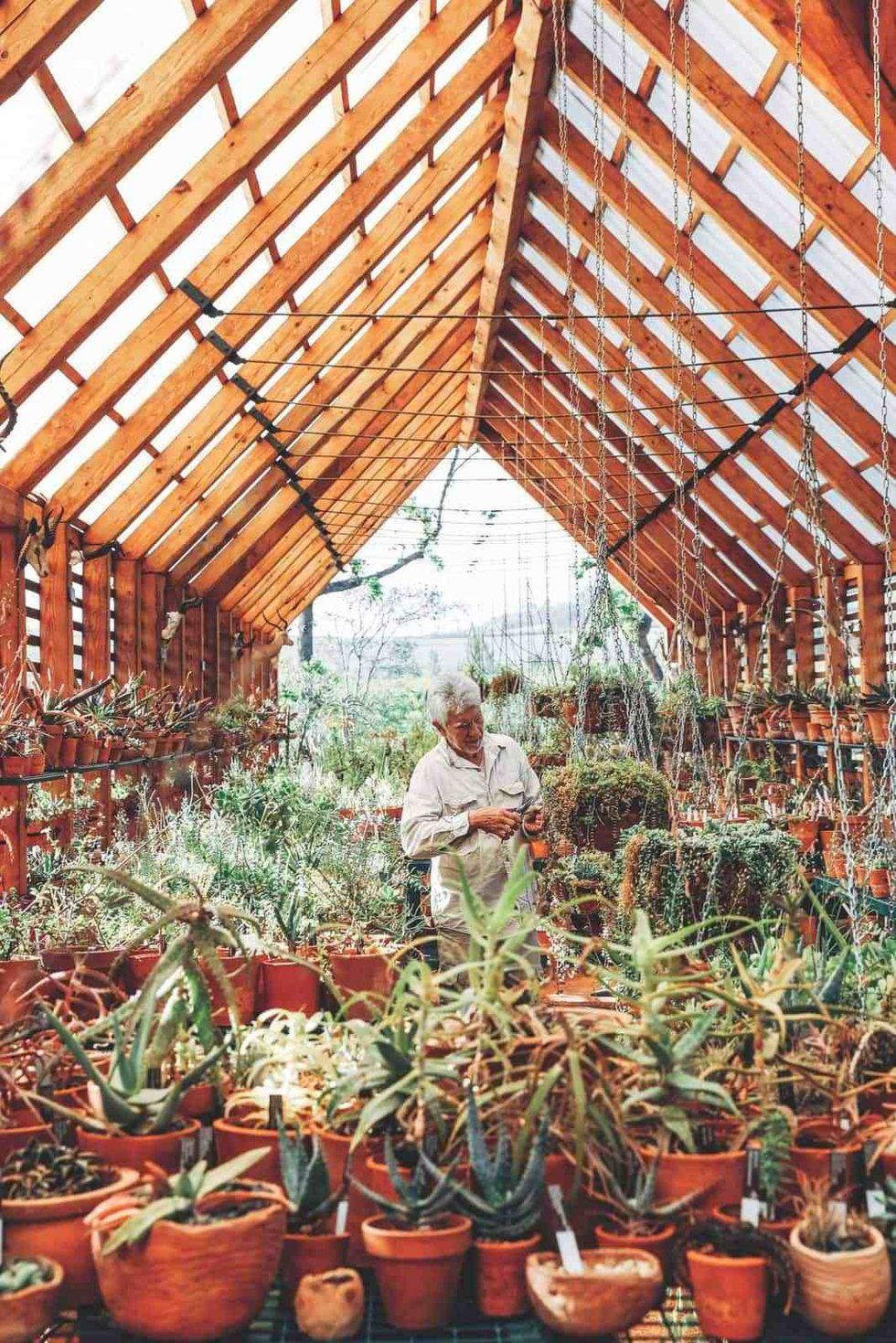 Babylonstoren's succulent house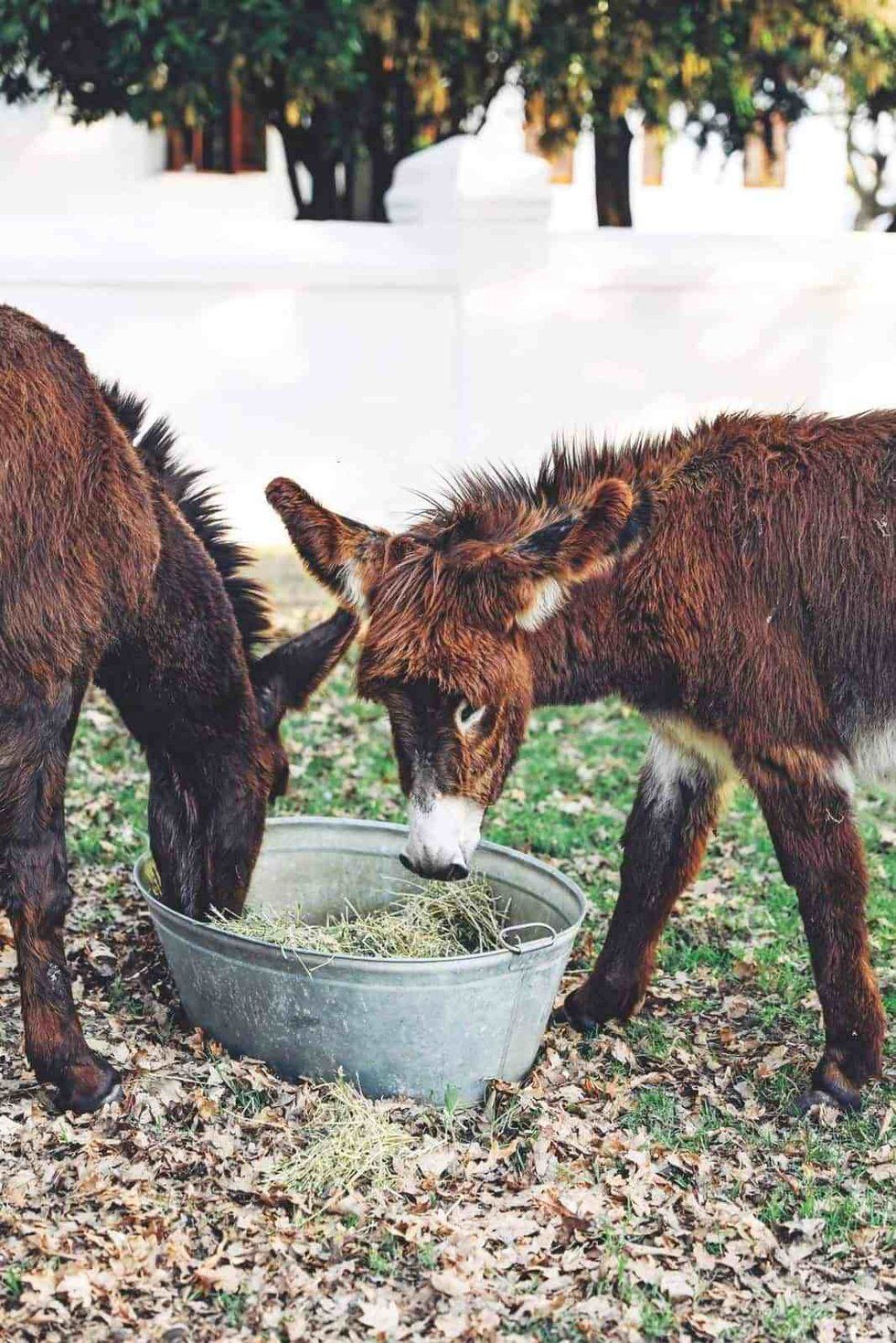 Friendly donkeys
Before I know it, it's dinner-time. The hotel's Bakery Restaurant is hosting its weekly Carnivore Evening, a communal five-course feast featuring the meat from Babylonstoren-reared Chianina cattle—the breed that becomes bistecca alla fiorentina—and pairings with wines made on the farm. As the staff serves family-style boerewors (coriander-spiced sausages), chargrilled biltong, and dry-aged cuts cooked over hot coals, a duo sits to the side playing Afrikaner folk music on guitar and accordion. The wine is flowing, and a tipsy mom at the end of the table accidentally AirDrops me her photos of the Boulders Beach penguins. "They're the best!" I shout. Waiters and waitresses begin grabbing guests and twirling them around between the tables. It feels as if I've stumbled into a 19th-century Boer harvest festival.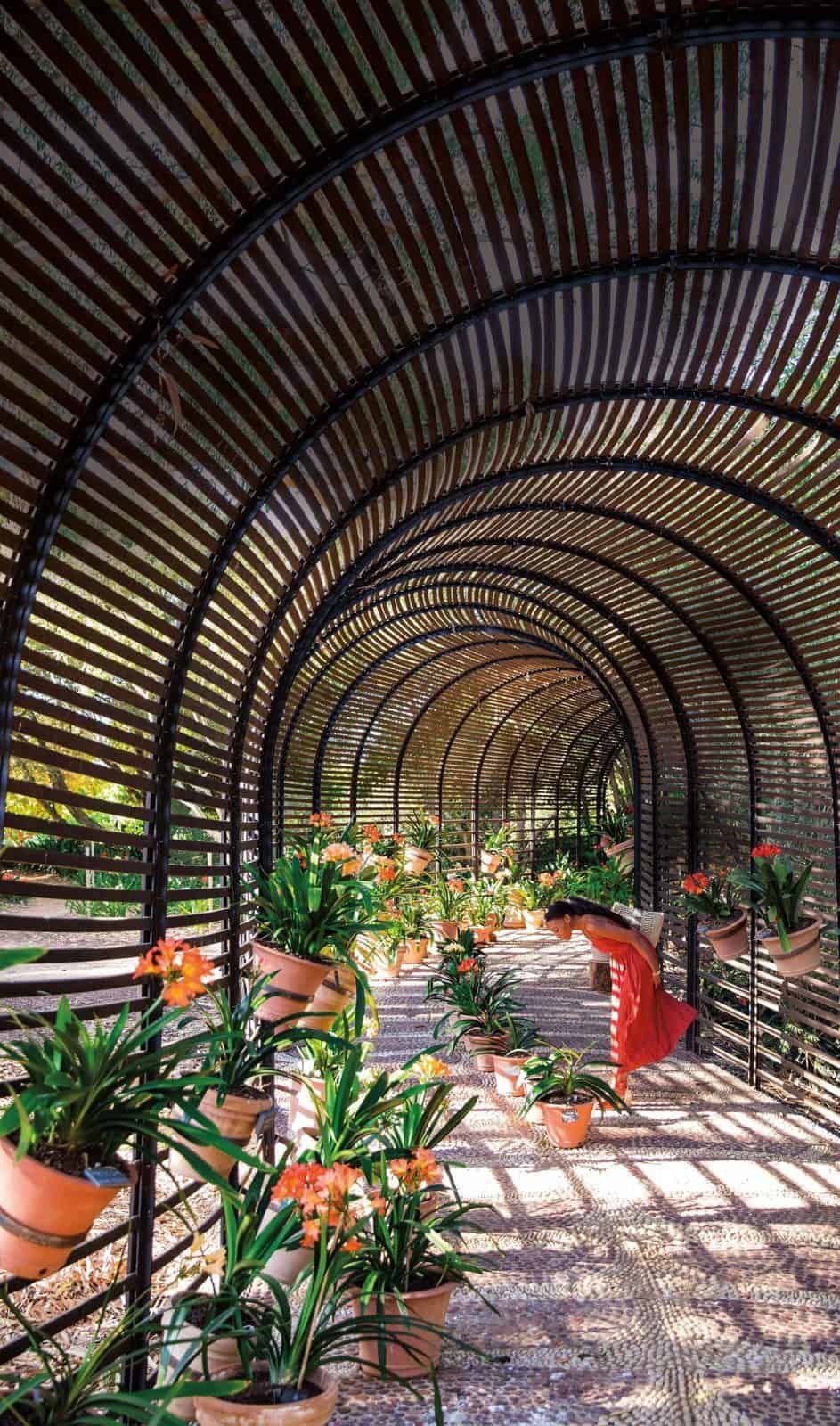 Puff Adder path
On the walk back to my cottage, I'm literally starstruck by how dazzling the constellations and the Milky Way are out here, miles from the city lights. I think of the song "Under African Skies" from my all-time favorite album, Paul Simon's Graceland. And Toto's "Africa." And generations of American novelists and film directors and, more recently, social media influencers who come here and talk about how South Africa has forever changed them. I may not be willing to let myself indulge in those clichés, but I have to admit there's something immensely special and satisfying about being welcomed into the South African family—if only for a night.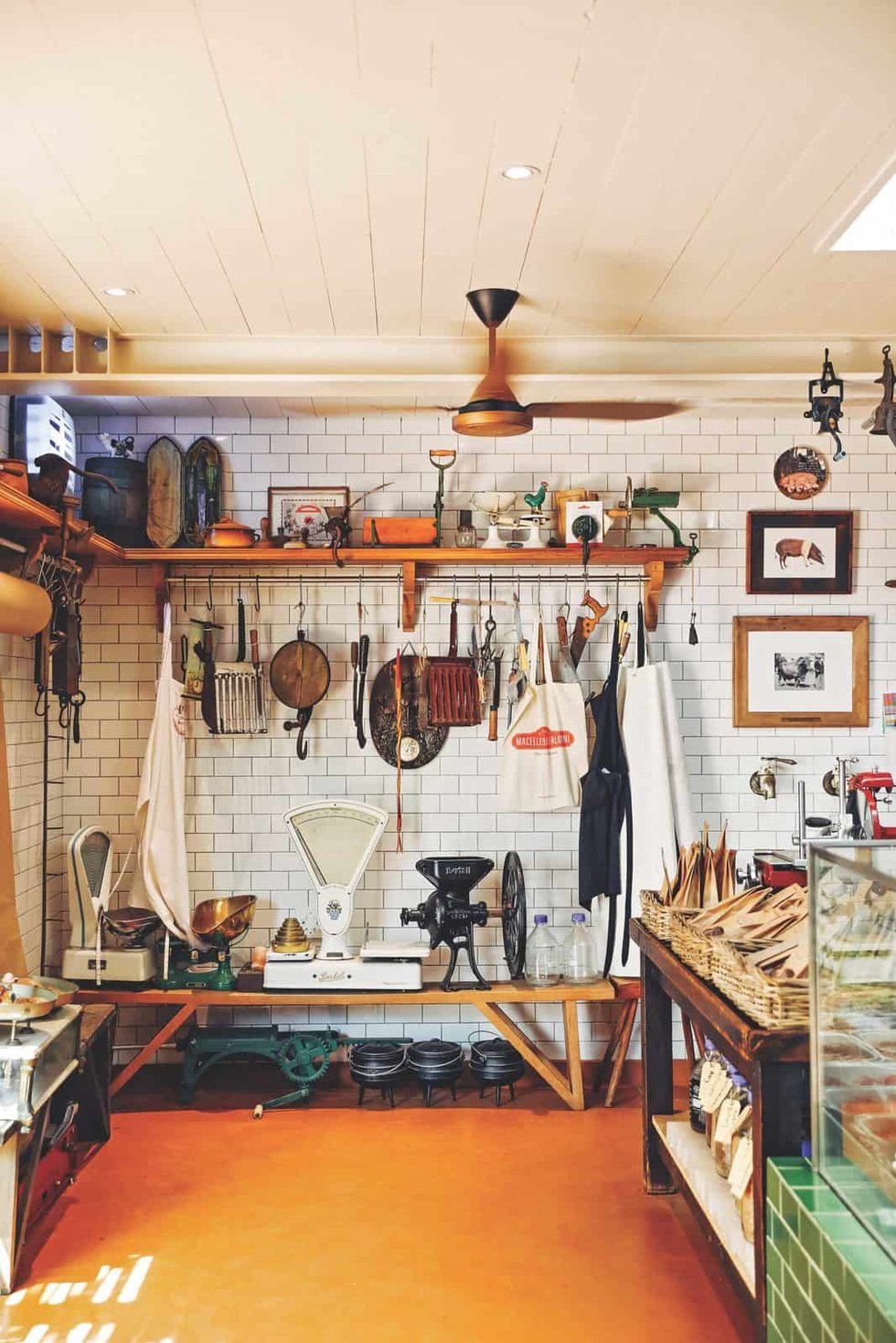 The bakery at the Babylonstoren Farm Shop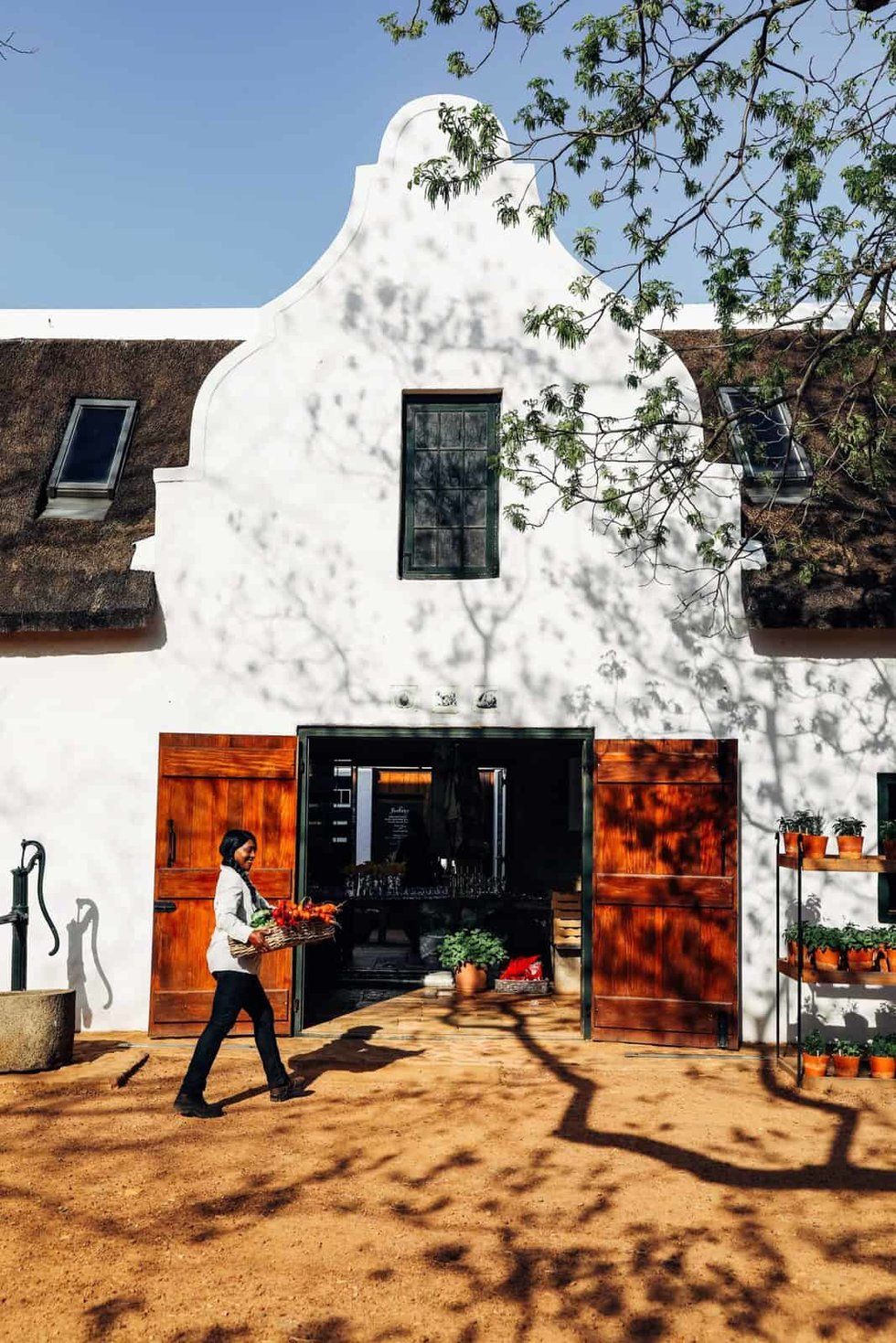 Gardener Constance Stuurmer outside the Farm Shop
Where to stay

The 120-year-old grande dame ("Nellie" to friends) has hosted such world-changing guests as Nelson Mandela and the Dalai Lama, but you don't have to be a Nobel laureate to seek some peace in the pink palace, where the daily social calendar revolves around afternoon tea.
This gleaming 131-room resort near the V&A Waterfront curves around an artificial "spa island," where treatments often involve indigenous botanicals. Book a private tasting with sommeliers Luvo Ntezo or Pearl Oliver at Ochre, a restaurant with a tri-level Wine Loft.
From its winery to its greenhouse to its gardens, this historic Cape Dutch farm was made for exploring. The interiors of the thick-walled cottages are just as special, with deep soaking tubs, fireplaces, and modern furnishings as sleek and white as the architecture.
Sisters and United MileagePlus® Premier® 1k members, Kelsey and Courtney Montague, are constantly traveling to create street art pieces for communities around the world. This year they teamed up with us to travel to Peru to explore the beautiful country, and to create a custom mural for a very special group of young women participating in the Peruvian Hearts program. Peruvian Hearts, now part of our Miles on a Mission program, works to support female leaders with access to education, counseling and peer support
Finding tranquility at Machu Picchu
As we hiked up the ancient steps of Machu Picchu, we were surrounded by Incan merchants, servants and townsfolk climbing the stairs to start their day. As foreigners not used to hiking at 7,9000 feet, the locals sprinted by us as we struggled up the steep steps, with the lush rainforest behind us and ancient city just beyond. But even with burning legs and straining lungs, it's likely anyone's breath would be taken away (as ours was) once they reached the clearing above this sprawling city in the clouds. All thoughts of the slightly tortuous route we took to this dazzling ancient city were forgotten the second we laid eyes on this UNESCO World Heritage site.
Along with my sister Kelsey, our Dad and our friend Clay felt the power and mystery when we all arrived at the vantage point over the city of Machu Picchu. The day before we had traveled all day from Denver flying in United's stunning United Polaris®. We slept fully flat on two excellent flights, curled up on down pillows and wrapped in Saks Fifth Avenue comforters. We slept soundly after feasting on steak and chocolate sundaes and spent a layover chatting with bartender, Steven, as he made us cosmos at the United Polaris lounge in Houston. It was wonderful, but the best part? Arriving in Peru so rested and relaxed we were able to completely savor this moment at Machu Picchu. A moment only made sweeter when our Dad turned to us and thanked us for taking him on the trip of a lifetime and giving him the opportunity to see a place he never thought he'd get to visit.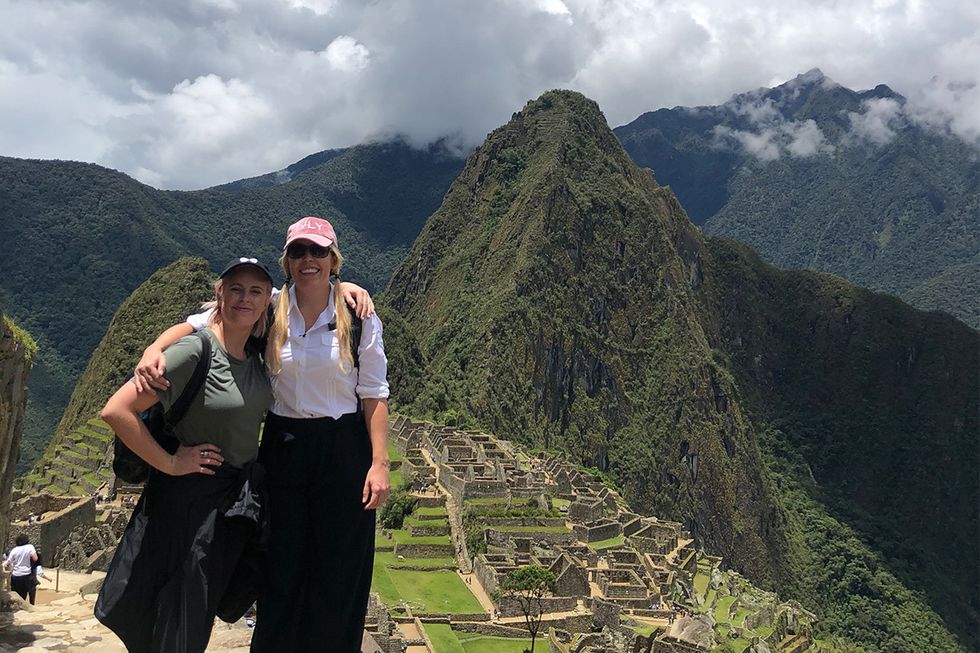 We explore the ruins with the wide eyes of children, enjoying every view and savoring every piece of information from our guide. Llamas 'own' the ruins and gently nudge tourists aside as they scamper between buildings to their favorite pasture. The terraces on the outskirts of the town were used to prevent soil erosion and to farm maize and beans. Condors soar above our heads, their keen eyes hunting for chinchillas tucked into the terrace rock walls.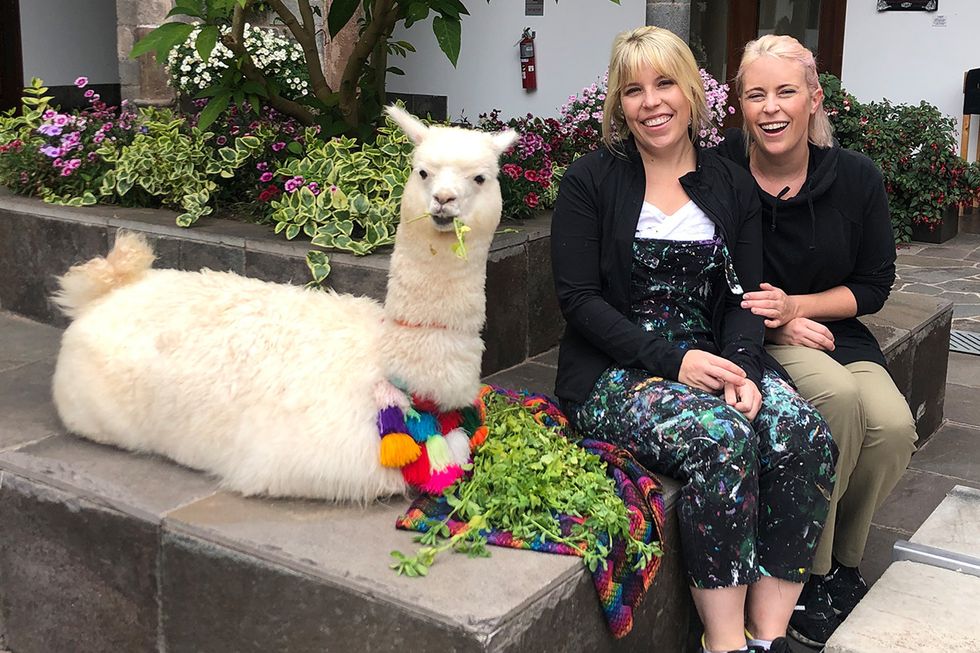 Incan community members that lived or worked in Machu Picchu must have felt the same way we felt the first time they came across this thriving metropolis, situated on top of a mountain. Incan urban planners neatly organized centers for astrological studies, religious ceremonies, sports, commerce and farming. The buildings were built from granite and limestone, likely from a quarry located on the same mountaintop. Some buildings were so finely constructed scientists still don't quite know how the Incans did it.

At the end of the tour we come to the sacred rock — a perfect, flat replica of the Yanantin mountain behind it. Some mystical members of society believe that touching the rock transmits tremendous power. I won't lie that I quietly let my fingers graze the stone as a I walked by. Did I feel a sudden power rush? No. But did I leave Machu Picchu filled with a sense of wonder and a reaffirmed belief that anything is possible? Yes.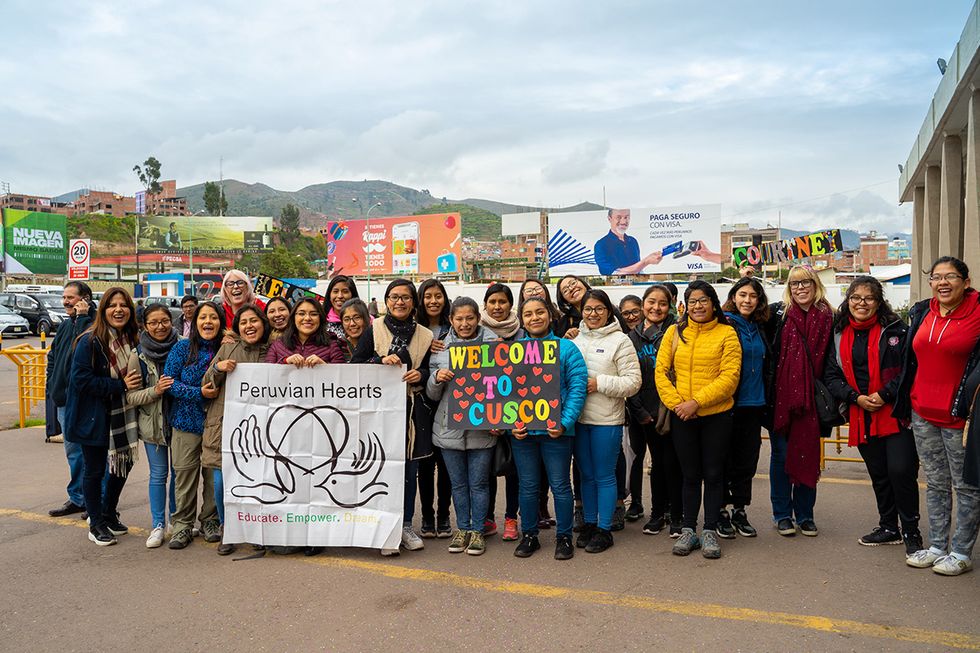 Partnering with Peruvian Hearts

The next morning, we awoke ready to tackle the most meaningful part of our trip to Peru — working with Peruvian Hearts.
Peruvian Hearts works to support women by giving them access to education, counseling and peer support. They are currently working with 32 talented, bright young women who they have hand-picked from secondary institutions across Cusco. They focus on supporting brilliant engineers, psychologists, teachers, scientists and doctors. These are the future female leaders that will change their communities, their country and the world for the better.
When we arrive to meet these scholars, they cheer, and each young woman gives Kelsey and me a hug. Overwhelmed, we both begin to cry. We are so grateful for our job as a traveling street art team, but we are on the road so much we are often very lonely. We can't remember the last time we received so many hugs or saw so many bright smiles.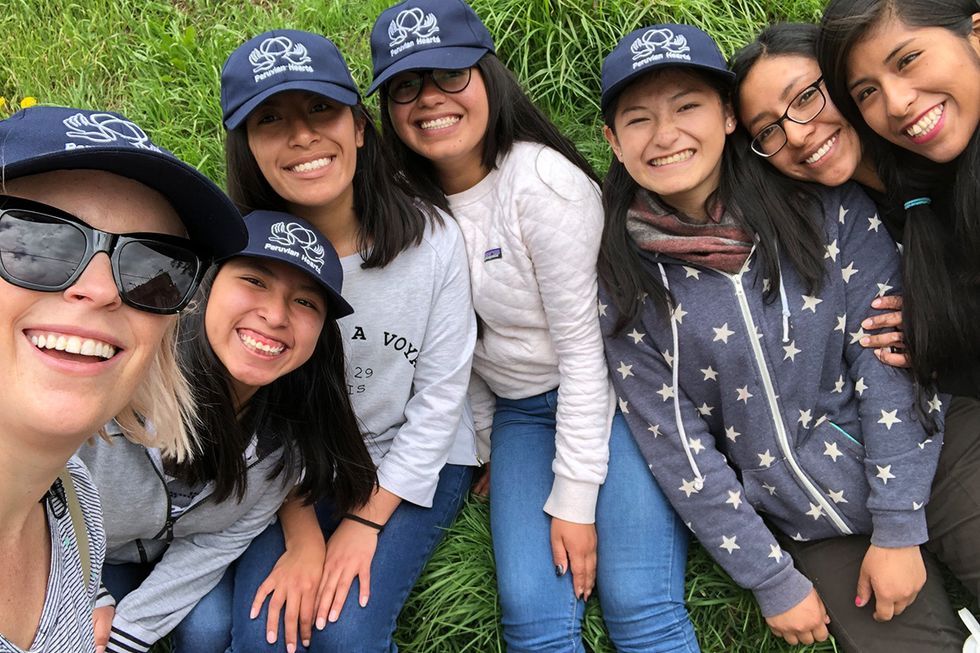 When we arrive to the Peruvian Hearts headquarters a number of the young women tell us how they found Peruvian Hearts. Aldi, a brilliant engineer in training, was asked to join this special organization because she was first in her class in secondary school. She grew up in tough financial circumstances — her mother is ill and unable to work, and her father works in construction. As the only person in her family who has attended university, she is the primary hope of her family. Tears stream down her face as she describes how tough it has been for her family to survive. So many of these young women tell similar stories and carry the weight of their entire family's future squarely and proudly on their shoulders.

These stories reaffirm the reason Kelsey and I decided to join forces with United — we hope to make that weight on their shoulders a little lighter. As we worked on the mock-up for the mural to commemorate Peruvian Hearts, United decided to help in another way by including Peruvian Hearts in their new Miles on a Mission program. A first of its kind program, United MileagePlus members can now donate their miles to nonprofits they care about. Miles that will help young women like Aldi attend conferences in the United States or study abroad in Mexico.
Other women will be able to travel more freely between their studies in Lima and their families in Cusco. The young scholars were so excited to now be part of the United family and to have access to the connections a major airline can bring.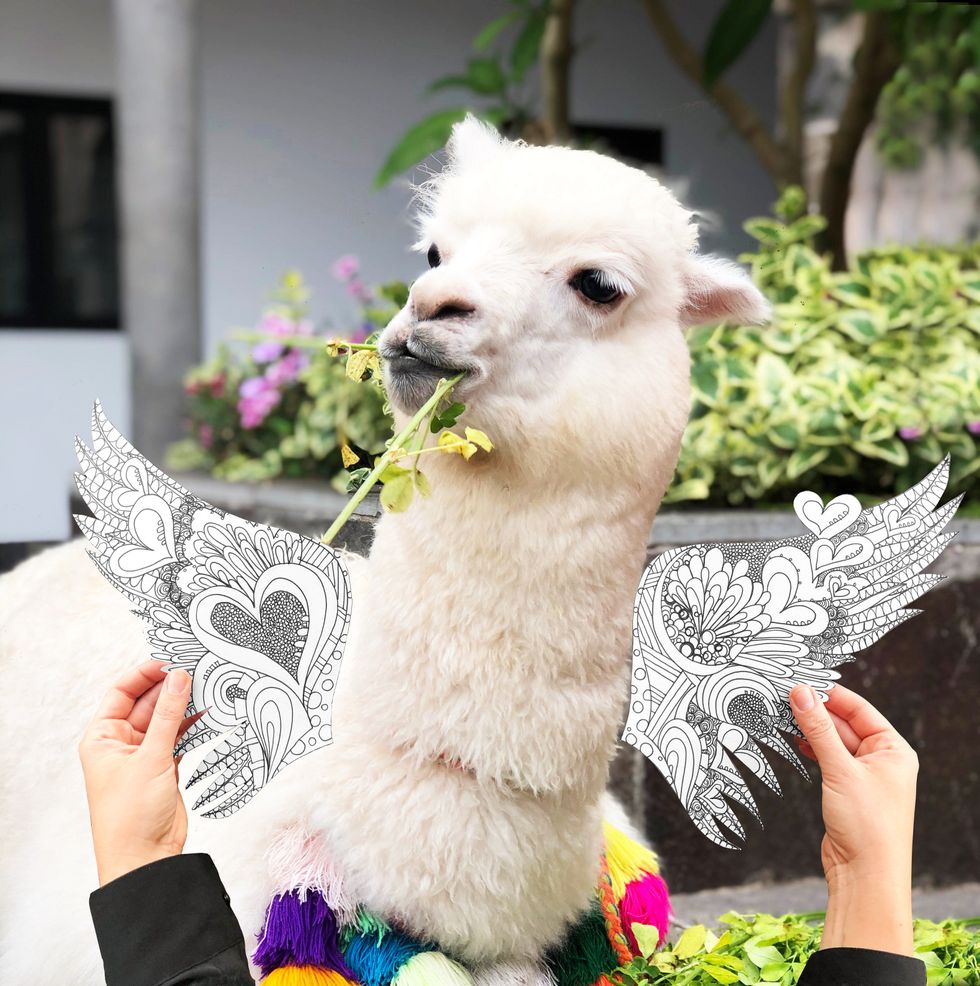 After an ideation period Kelsey decided to create a large-scale heart flock mural with 32 hearts on one side to represent the young women in the program and 32 hearts on the other side to represent those to come. Over two days we painted the piece and filled it with items that represent Peru (a llama, a condor, Peru's national flower and butterflies), Peruvian Hearts (pencils, books, and a shooting star) and a United airplane. As we worked on the piece the ladies sang, danced and told us their dreams. Dreams to travel, learn new languages, start meaningful careers and change their communities for the better.

When we finished the piece — two massive streams of hearts that appear to be coming from the person standing in the middle of the mural — the girls came to thank us. With cheers, hugs and kisses they explained how proud they were that this mural was for them and how it would continue to lift them up as they work hard to improve their circumstances.
At the end of this project Kelsey and I felt so blessed to be connected to such a wonderful group of women. At that moment we realized that is what art and travel should be about. Art and travel should connect us to each other as humans and to something deeper within ourselves — a desire to lift each other up.
Visit United's
Miles on a Mission program
to support Peruvian Hearts .
February 12, 2020
As we continue to evaluate our operation between our U.S. airport hub locations and Beijing, Chengdu, and Shanghai as well as Hong Kong, we have decided to extend the suspension of those flights until April 24. We will continue to monitor the situation and will evaluate our schedule as we remain in close contact with the CDC and other public health experts around the globe.
We suspend travel to Hong Kong
February 4, 2020
In response to the continued drop in demand, we are suspending travel to Hong Kong beginning February 8 until February 20. Our last flights will depart San Francisco on February 5 (flight 877 and flight 869) and the last returning flight will depart Hong Kong on February 7 (flight 862).
Please check united.com for important travel information as well as current travel waivers.

Story by Priya Krishna | Photography by Marco Arguello | Hemispheres February 2020
A term that's often used to describe India's capital city is "organized chaos." This concept applies to every aspect of Delhi: the crowded streets, the boutiques and art galleries coexisting with centuries-old ruins, even the steady rhythms of the fruit vendors and chaiwalas traversing the city with their wares. As the capital, Delhi is home to some of the subcontinent's most famous sites, such as India Gate and Red Fort, but it also bears the scars of colonization—centuries during which it was divided and redeveloped in the name of the British Raj. In recent years, however, the city has undergone a transformation. Interwoven among the stately buildings and relics and beloved food stalls are new restaurants, markets, and developments that are leaning into India's bountiful heritage. Instead of gazing outward, Delhi, it seems, is finally looking inward.
Day 1: Exploring Old Delhi's mosques, street food stalls, and spice markets
There is no better way to deal with jet lag than to dive headfirst into the belly of the beast. Here, that means Old Delhi—the former capital of the Mughal Empire and, as the name suggests, the oldest part of the city. Old Delhi is 1,500 acres of sensory overload: rickshaw horns blaring, frying pooris giving off their nutty scent, and throngs of people (about 20 percent of the city lives here) weaving through narrow alleys and bustling streets.
But first, I load up on breakfast at The Oberoi, New Delhi, a venerable hotel right in the heart of the city. The spread is vast and varied, but I'm here for the idli, fluffy steamed rice cakes that taste like miniature clouds, served with a side of sambar (a tangy lentil and tamarind soup) and coconut chutney. To drink, a cup of milky, cardamom-laced chai. No one does mornings quite like Indians.
I've been visiting this city every couple of years since I was a kid. Also, I recently wrote a cookbook, Indian-ish, which features recipes partially inspired by what my parents ate growing up near Delhi. Indian culture normally dictates that I stay at my aunt's place, so it'll take some time to adjust to having a spacious room (and an automated toilet!) all to myself. But I'm excited to explore the city on my own for the first time.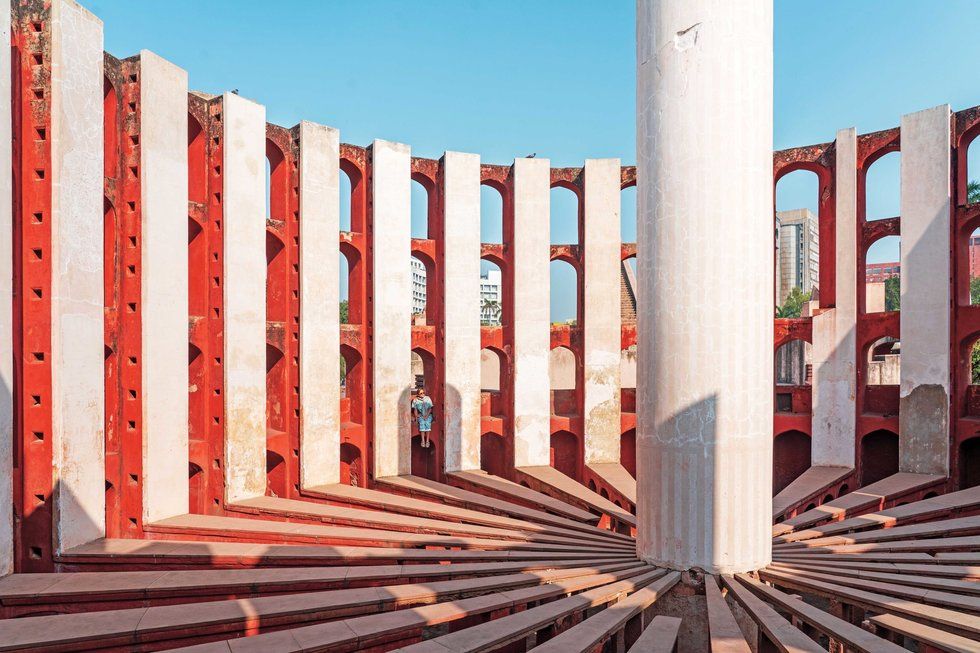 Jantar Mantar, an astronomical observatory that dates to the 1700s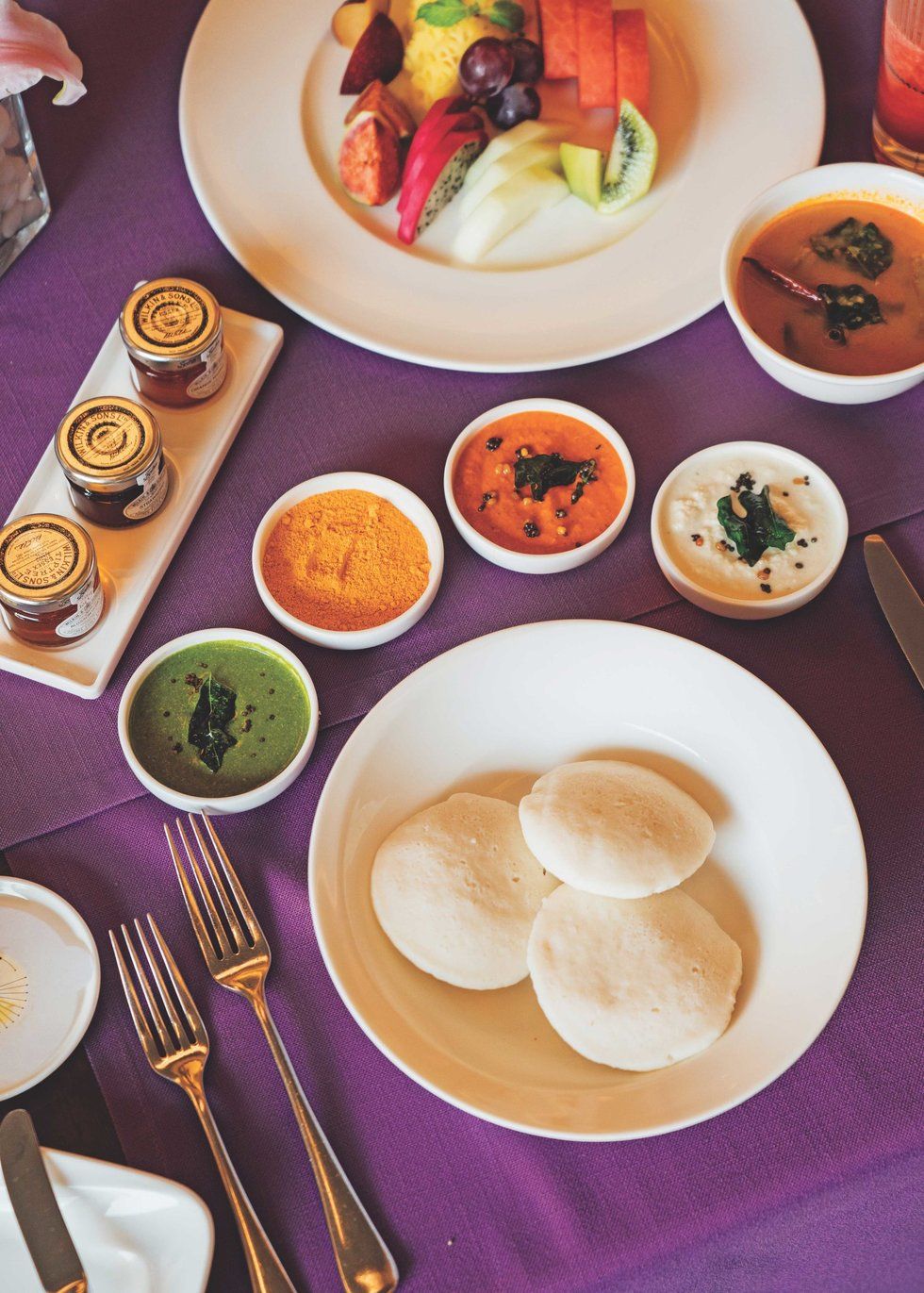 A breakfast of idli and chutneys at the Oberoi
After breakfast, I meet up with a Tours by Locals guide, Vishnu, and we take a short drive to Old Delhi. Along the way, we pass seventh-century ruins and the moat-lined stone wall that separated the palace complex from the rest of the city during Mughal times. I know we've reached our destination when we begin to share the road with cows and sugarcane juice vendors. Our first stop is one of India's largest mosques, the Jama Masjid, which was completed in 1656 to house relics of the prophet Muhammad. I can't help but compare the breathtaking structure—soaring red sandstone minarets, white marble domes, lines from the Quran carved in black onyx, a wide courtyard—to the Taj Mahal. "There's a reason for that," Vishnu says. "Same architect." That is, Persian visionary Ustad Ahmad Lahori, whom emperor Shah Jahan commissioned to design both.
From there, we take a brisk walk into Chandni Chowk, a busy stretch of markets where people are hawking everything from silver jewelry to gulab jamun (rosewater-dipped milk balls). I want to stop and browse at every stand, but Vishnu is on a mission—he wants to show me the havelis, centuries-old townhouses known for their elaborately decorated doors. I see one etched with incredibly detailed roses, another that's bright blue and outlined in mint-green vines. It's amazing that these painstakingly crafted relics are lingering in plain sight—you just have to know which alley to duck into.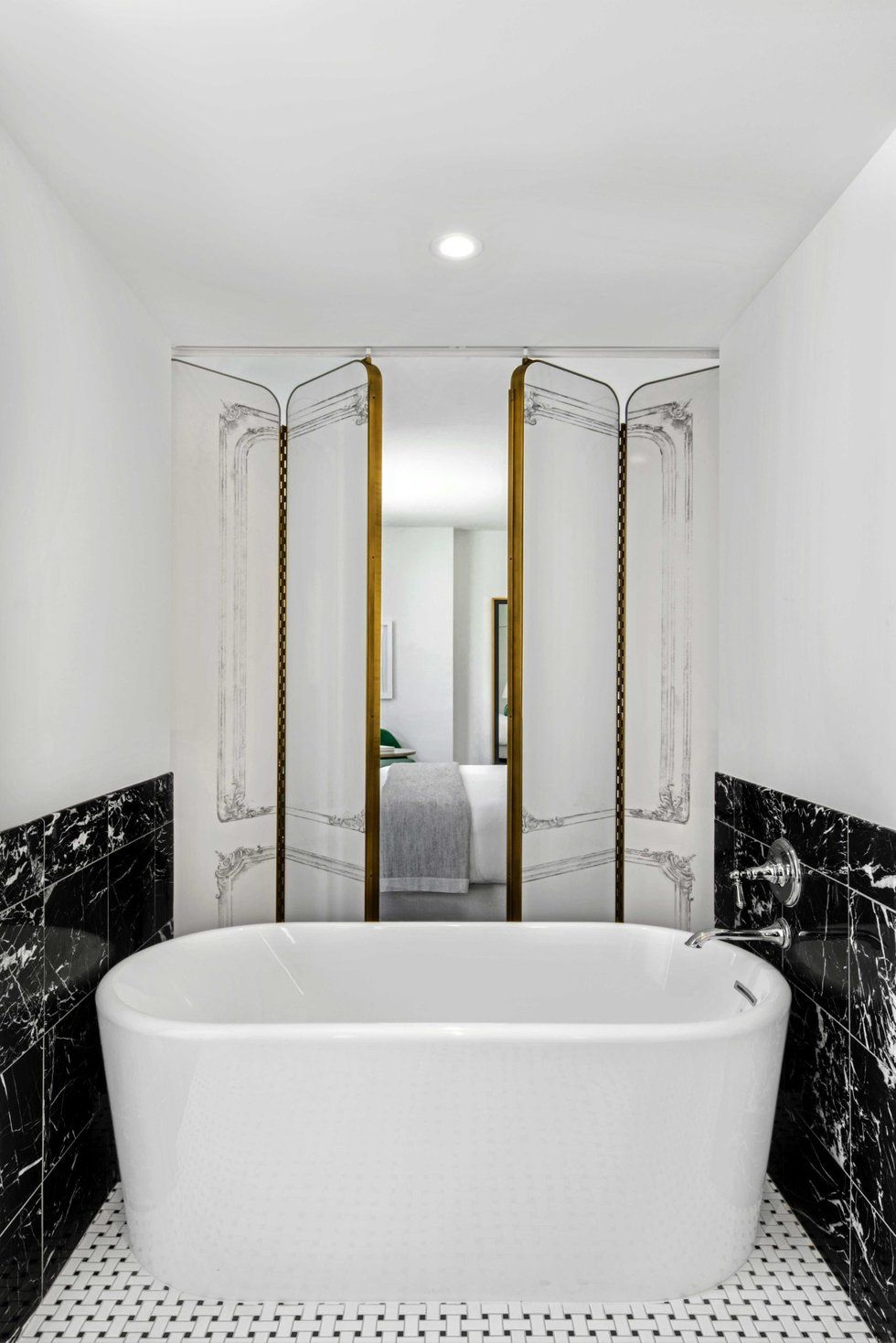 A bathtub with a view at The Oberoi, New Delhi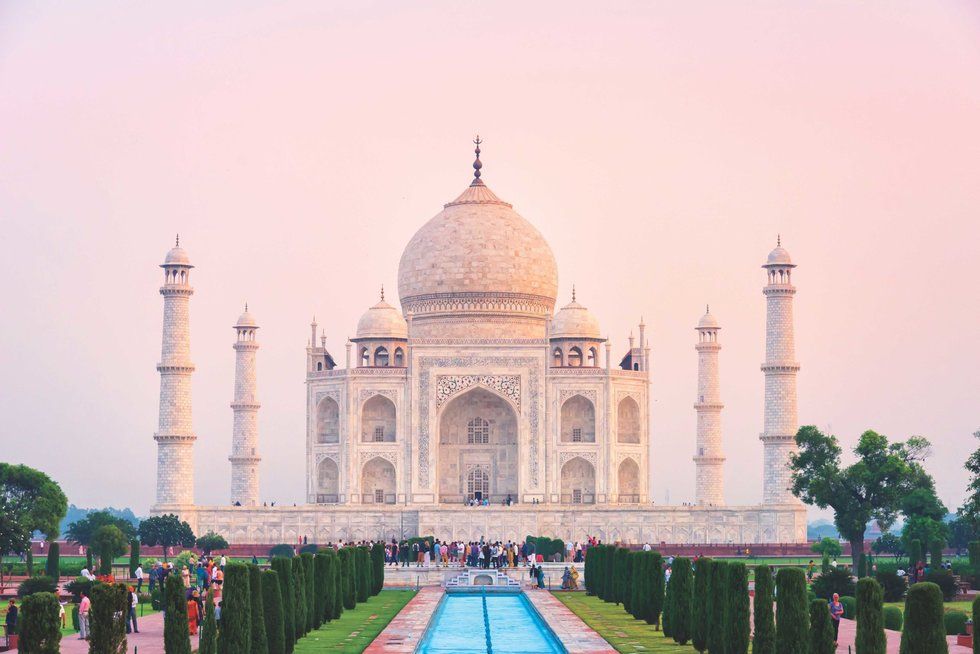 Photo: Phruetthiphong Pawarachan/Getty Images
That last part is tricky, because Chandni Chowk has a lot of alleyways (galis, in Hindi). I have my stomach set on one in particular: Paranthe Wale Gali, which is home to a cluster of stands that sell only stuffed breads called parathas. Vishnu directs me to the oldest of them, a simple setup with just a few tables and no decorations that dates back to 1872. The sign out front says, "Minimum Two Parathas are Necessary." That won't be a problem. I order two stuffed with paneer, a mild, non-melting Indian cheese, and watch as a cook rolls out the dough, folds in crumbled paneer dotted with fenugreek and coriander, rolls it out again, and then slides it into a pan filled with ghee. It's served alongside sabzis (stewed vegetables). I tear a piece off and dip it into a pumpkin sabzi. It's a rich, crisp, spicy, and slightly sweet mess.
I'm struggling to keep up as Vishnu bounds through the crowded streets. Here, pedestrians occupy the same space as animals, rickshaws, and cars. "Walk like an Indian," Vishnu advises as he charges into traffic. Rickshaws magically get out of the way. "It's about walking confidently." I try my best to mimic him, but I can't help but flinch at oncoming cows.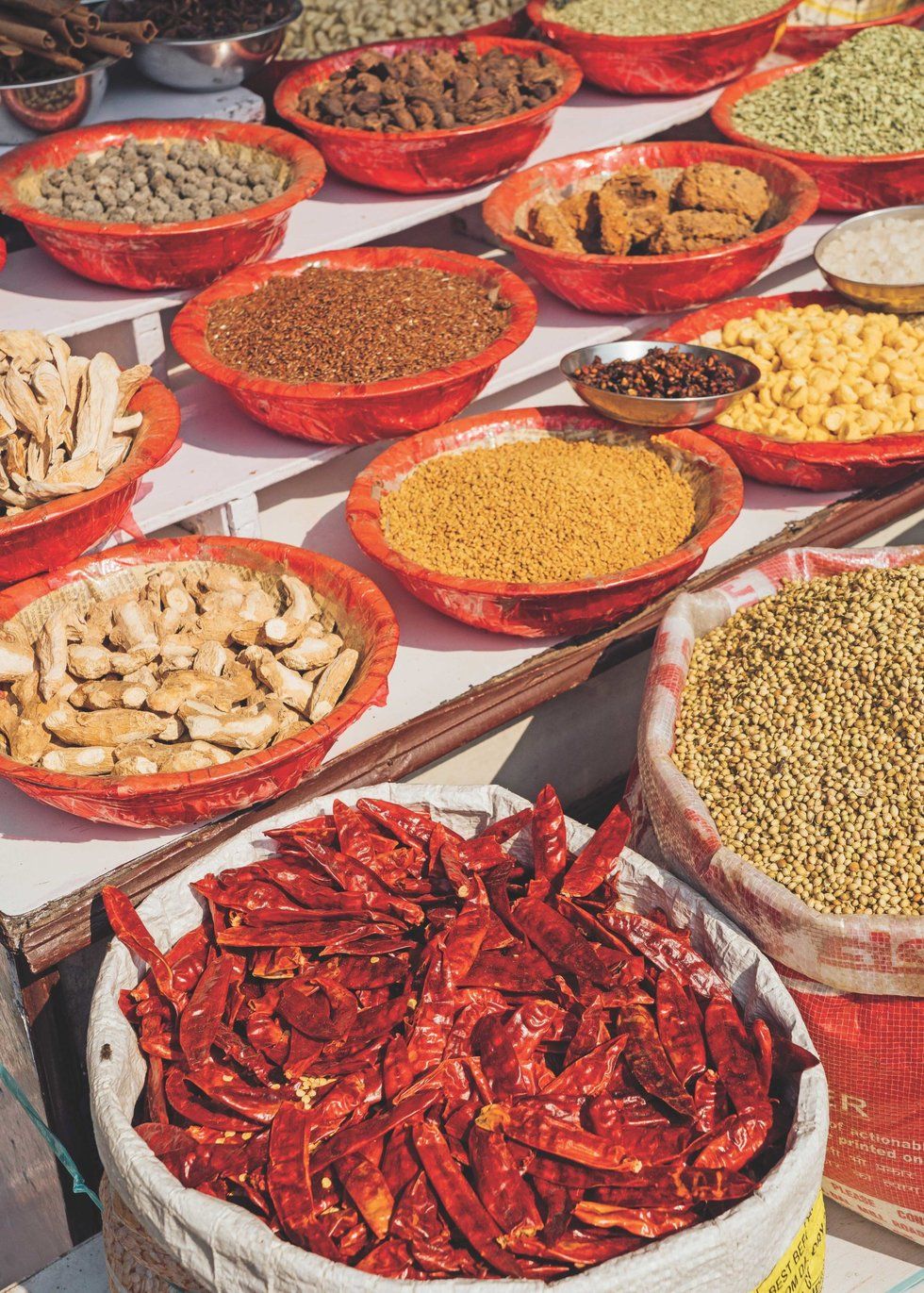 A Chandni Chowk spice market
On Khari Baoli, one of the district's most bustling streets (and that's saying something), we browse a spice market, with its fragrant bags of cardamom pods and saffron threads, and then I pick up a vial of saffron perfume at a 100-year-old perfumery. My stomach rumbles. After all that walking, I'm hungry again.
I've been told that Karim's kebab house in Chandni Chowk is the spot for the city's finest grilled meats. The unadorned restaurant was started more than 100 years ago by the son of a chef who had been a cook in the court of the Mughal emperor, and the seekh kebabs are appropriately splendid. The glistening cubes of beef speckled with cumin and coriander are so tender they literally fall off the skewer.
After our (second) lunch, Vishnu motions me to follow him up a flight of stairs a few blocks from the restaurant. We ascend all the way to the rooftop, which yields a spectacular view. The entire city unfolds before me, from the grandeur of the Jama Masjid to the ornately decorated balconies of Chandni Chowk to the palatial government buildings freckled throughout New Delhi.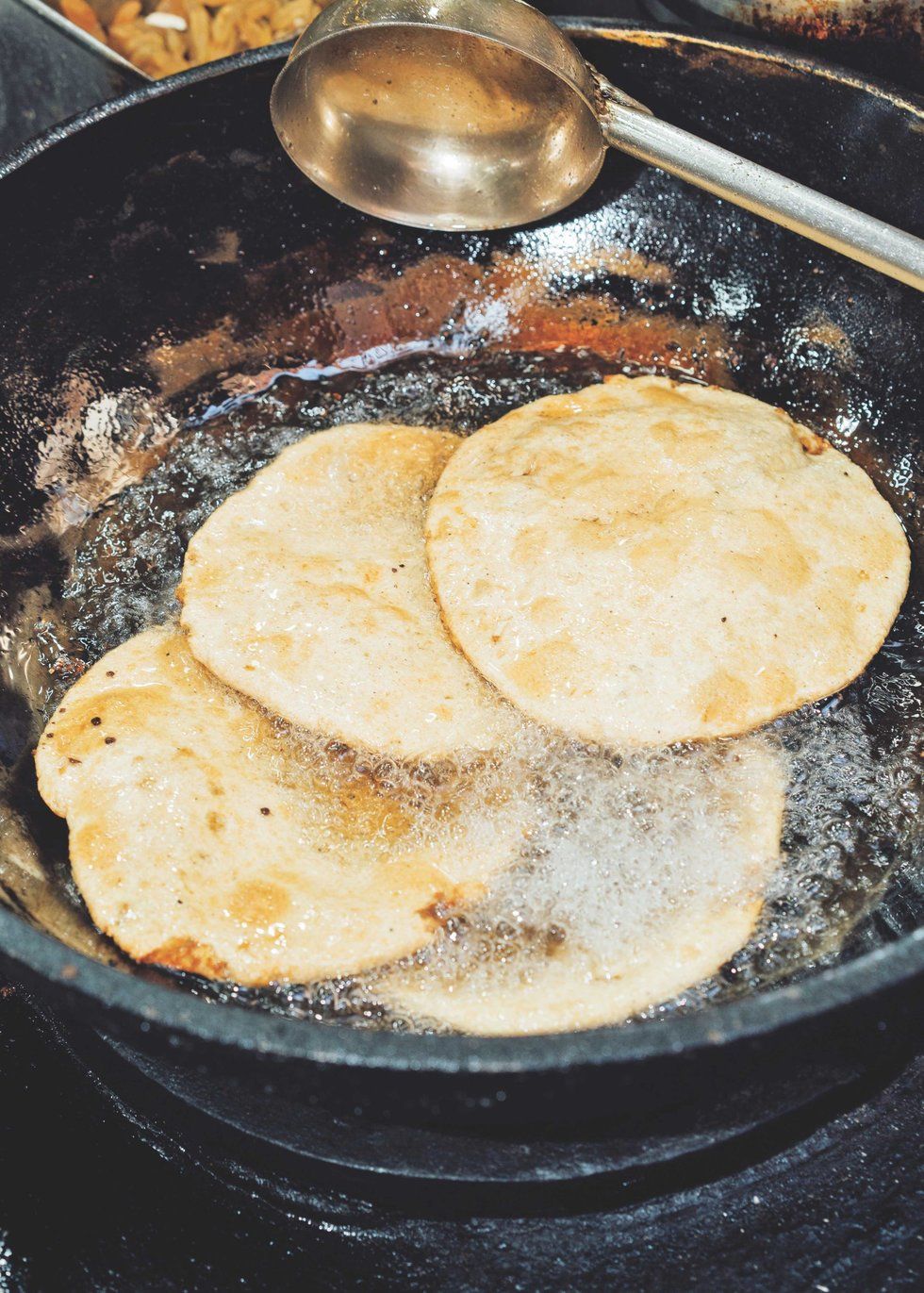 Parathas in Paranthe Wale Gali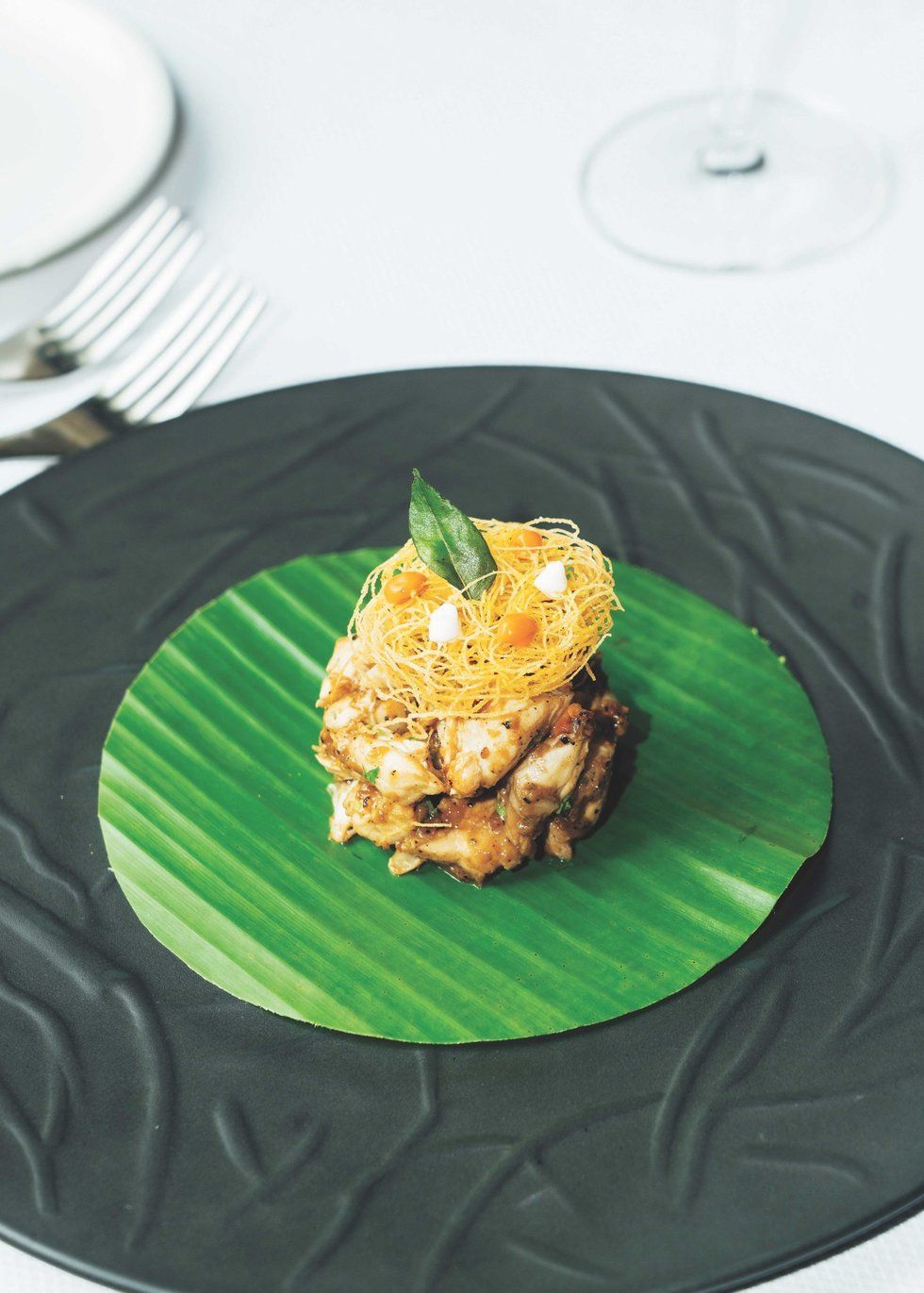 Pepper crab at Indian Accent
Back at street level, I spy a group of plumbers, electricians, and carpenters napping in the shade, awaiting customers. "It's a good system," Vishnu insists. "If you need a plumber, you know exactly where to find one." I've started adjusting to the pace of Old Delhi, but looking at those snoozing handymen, I'm reminded that I could use a nap too. Back to the hotel.
When I wake up, it's time for dinner at Indian Accent. The famed tasting menu restaurant by globe-trotting chef Manish Mehrotra is a far cry from Old Delhi—the dining room is spacious, serene, and dimly lit, with a certain earthy glamour. A parade of dishes appears: pepper crab topped with idiyappam (crisp rice noodles); pork ribs laced with Old Monk rum and mango pickle; and for dessert, makhan malai, impossibly light saffron cream topped with rose-petal jiggery brittle and almonds. "The idea is to do pan-Indian regional food, but make it new," Mehrotra explains as he serves the last course. "The presentations and combinations are unique, but it is all rooted in the food I grew up eating."
Belly full, I head back to The Oberoi and crawl into bed. I may be stuffed, but I'm already looking forward to everything I'll eat tomorrow.
Day 2: Checking out a famous fort, a gorgeous garden, and a giant jewel
Today starts with another round of idli and sambar. I could get used to this. Post-breakfast, my driver (it's relatively cheap to hire one, and you can usually book through your hotel) takes me to Red Fort, a fortress that was the Mughal emperors' primary residence. Considered by many to be Delhi's most important monument, it's surrounded by a mile and a half of imposing red sandstone walls, with ornately carved domes and tall watchtowers. Inside, I explore the houses of the Mughal royals: Rang Mahal, which was home to the emperor's wives and was once painted in bright colors and decorated with mirrors; and Diwan-i-Khas, where the emperor doled out justice from his bejeweled Peacock Throne (which was stolen in the 18th century).
Next on my list: Humayun's Tomb, which was built in 1569 to honor Emperor Humayun. With its triptych-style facade capped by an imposing dome, the tomb served as inspiration for the Taj Mahal, which was erected nearly a century later. As I get closer, I can see all the tiny details that make the 154-foot-tall structure so stunning: the complicated marble inlay patterns that line the facade, the latticed windows where light streams in. Surrounding the building is an almost artificially green garden.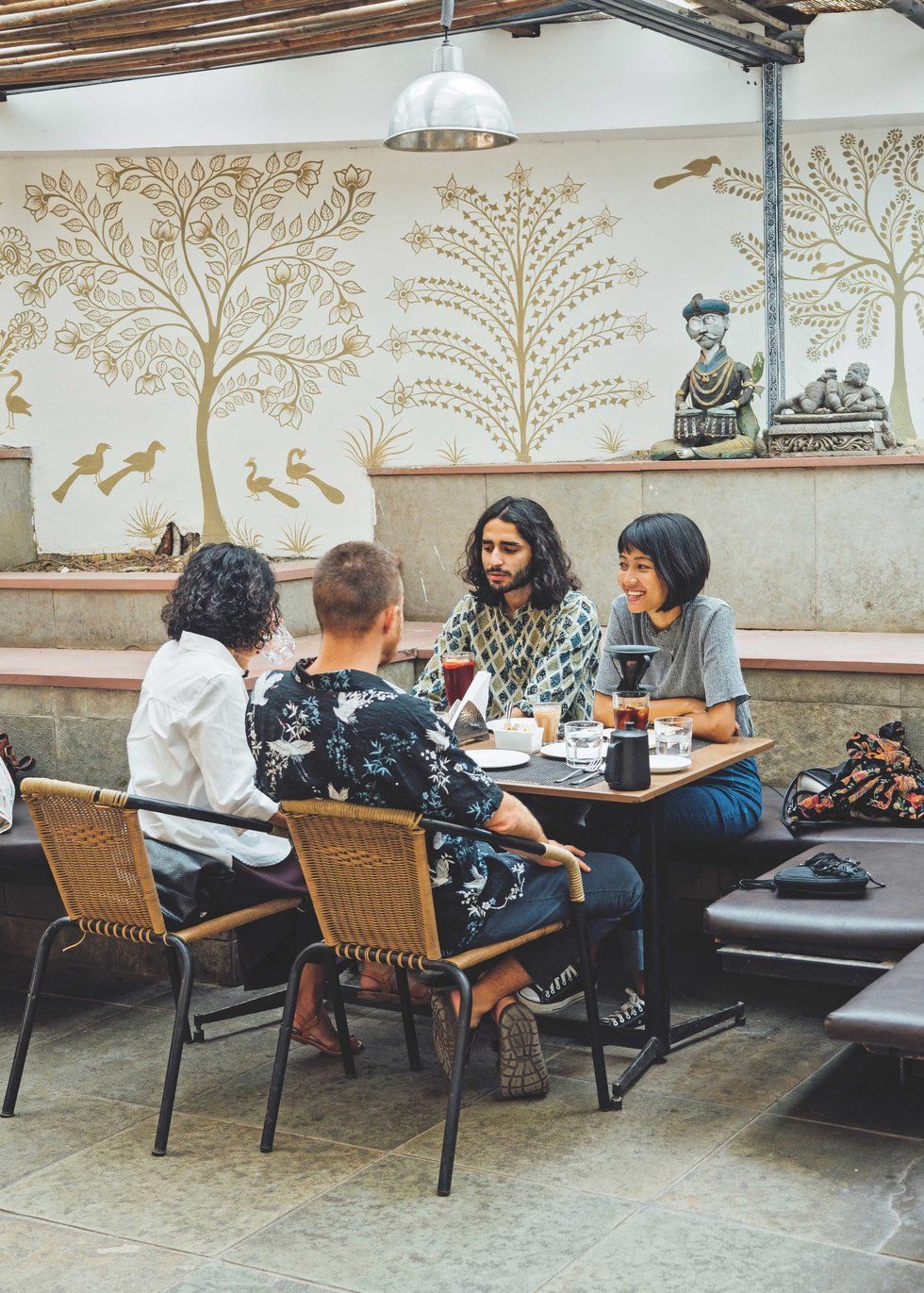 Café Lota, in the National Crafts Museum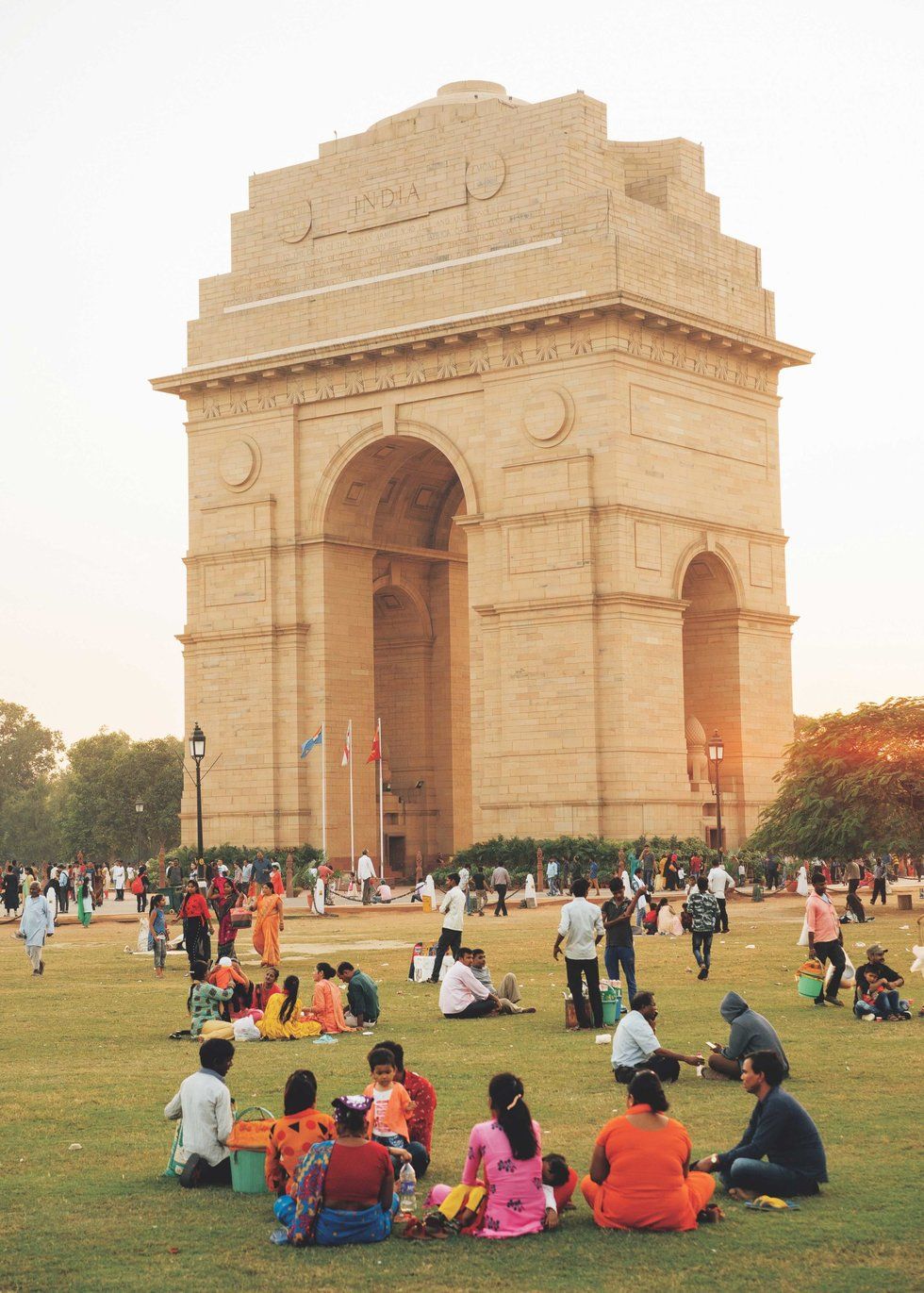 India Gate
Speaking of gardens, you might be surprised to know that Delhi—a city known for its crowded streets—is full of public parks. I'm off to see the most famous one: Lodi Garden, which was both a garden and a tomb for the rulers of the 15th- and 16th-century Lodi dynasty. By the time I arrive, the sun is out, and the infamous Delhi heat is arresting. It's well over 100 degrees Fahrenheit, and I've soaked through my T-shirt before I pass the entrance. That doesn't stop me from being amazed by the little differences in design from all of the other structures I've seen. The tomb of the ruler Muhammad Shah, for example, is octagonal, and the dome is topped with a lotus flower. Around me, I see couples cuddling on benches and elderly aunties out for a stroll, admiring all the native tree varieties.
I'm melting, though. Time for indoor activities.
Back in the car, air conditioner blasting, we drive by India Gate, another of the country's most famous landmarks, a memorial to Indian soldiers who died fighting in World War I. A sturdy 138 feet in height, it's an anchoring point of the city. We drive around the entirety of the monument, which is crowded with tourists taking photos. I'd do the same, but I'm still drying out. Also, I'm hungry.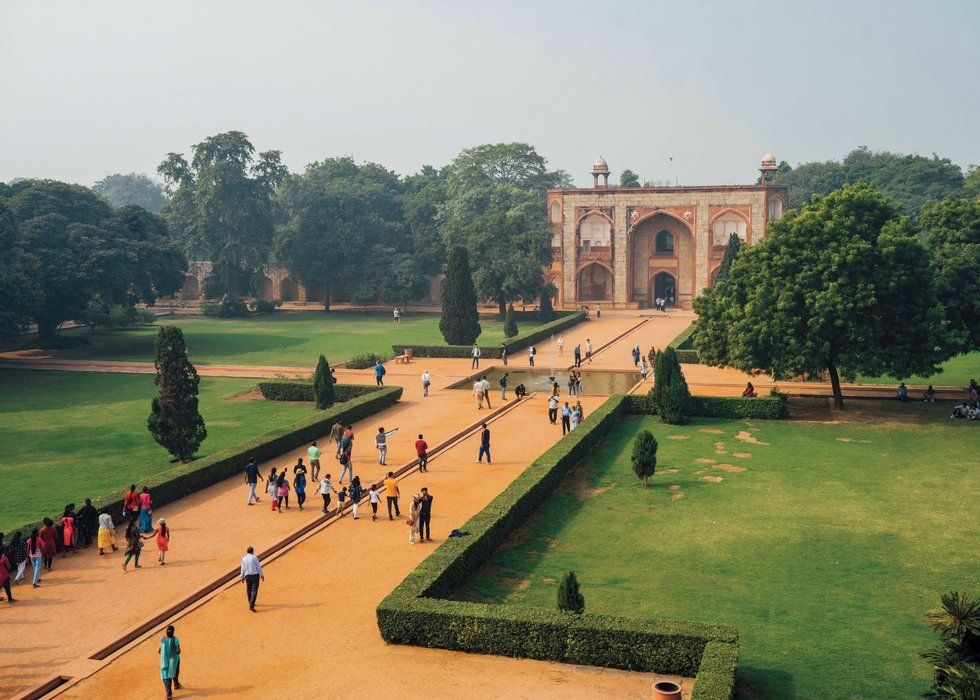 The grounds of Humayun's Tomb
I meet up with my aunt Manisha, who has lived her whole life in Delhi, at Café Lota. We're more than a decade apart in age, but when we're together we gab like old college friends. Warm, bubbly, and open to eating anything, she is also the perfect dining companion. Housed in the National Crafts Museum—a celebration of India's rich history of artisans and textiles—the breezy, indoor-outdoor café serves hyper-regional food showcasing the country's range of heritage lentils and grains. There's corn dhokla, savory fermented cakes from Gujarat adorned with crisped curry leaves, mustard seeds, and a fiery tomato chutney; cheela, a tangy pancake made of millet flour studded with chilies, paneer, cilantro, and green beans; and bhatt ki churkani, a stew of a local variety of black bean paired with rice and spicy potatoes. The flavors are wildly vibrant—unlike anything I've had before. I want to order even more food, but Manisha cuts me off. "We can barely fit what we have on the table," she points out.
The two of us digest our meals with a spin through the museum, where I find an early-20th-century purple sari embroidered with hunting scenes in gold thread. I'm also enamored of two hamsa (swan masks) from West Bengal, used in classical dance.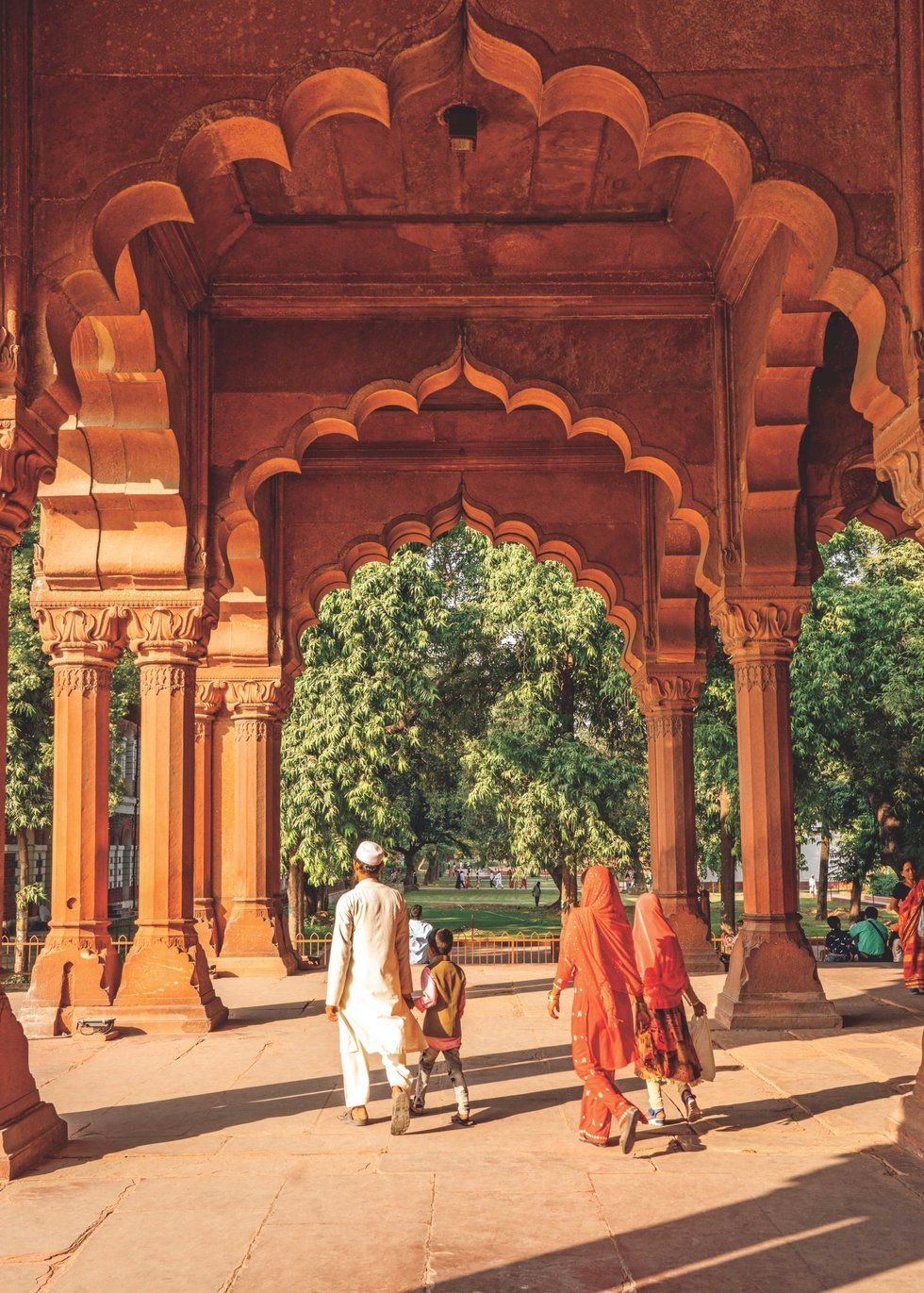 The Red Fort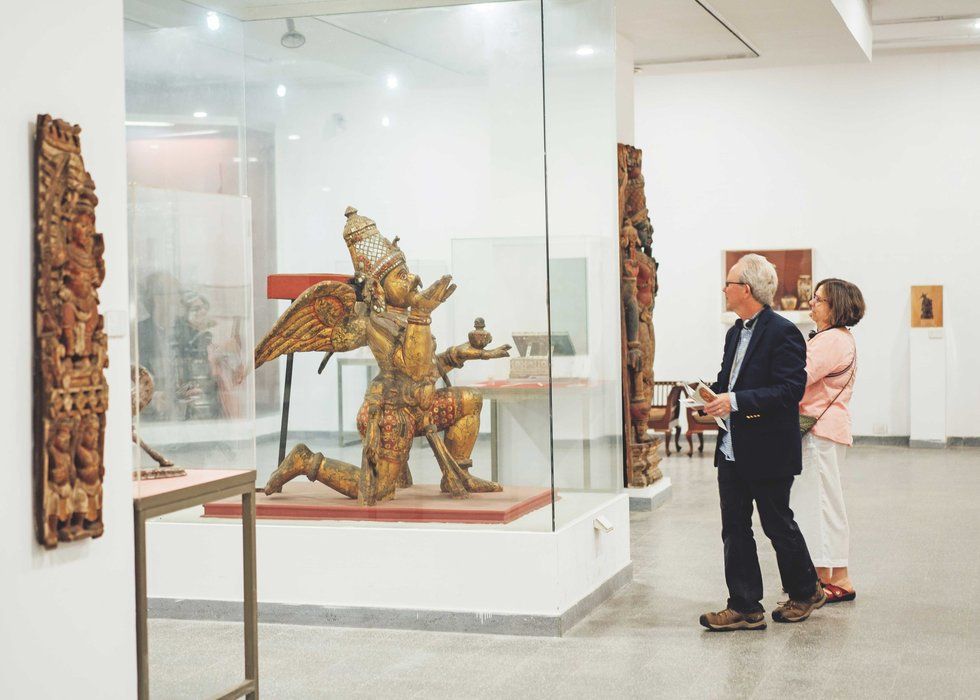 The National Museum
I'm exhausted, but Manisha wants to check out the National Museum—an exhibit called Jewels of India is showing 173 gems and items of jewelry made of precious stones found in India. I'm dazzled by the main attraction, the 184.75-carat Jacob diamond. I also fall in love with a seven-string pearl necklace called a satlarah. Suddenly, my J. Crew silver chain isn't quite cutting it.
My dinner reservation is at NicoCaara, located in the Chanakya, an upscale mall in Chanakyapuri. The restaurant is a collaboration with the chic Delhi clothing brand Nicobar, and the space is appropriately stylish, with botanical wallpaper and plants in gold pots hanging from the ceiling. Cofounder Ambika Seth is one of only a few restaurateurs in India focusing on local sourcing: The goat cheese comes from Rajasthan, the avocados from Bengaluru. "We have this colonial hangover based on this strange complex that imported was always better," Seth tells me over a plate of nutty zarai cheese, made at a farm in Uttarakhand, near the Himalayas. "That's changing with my generation."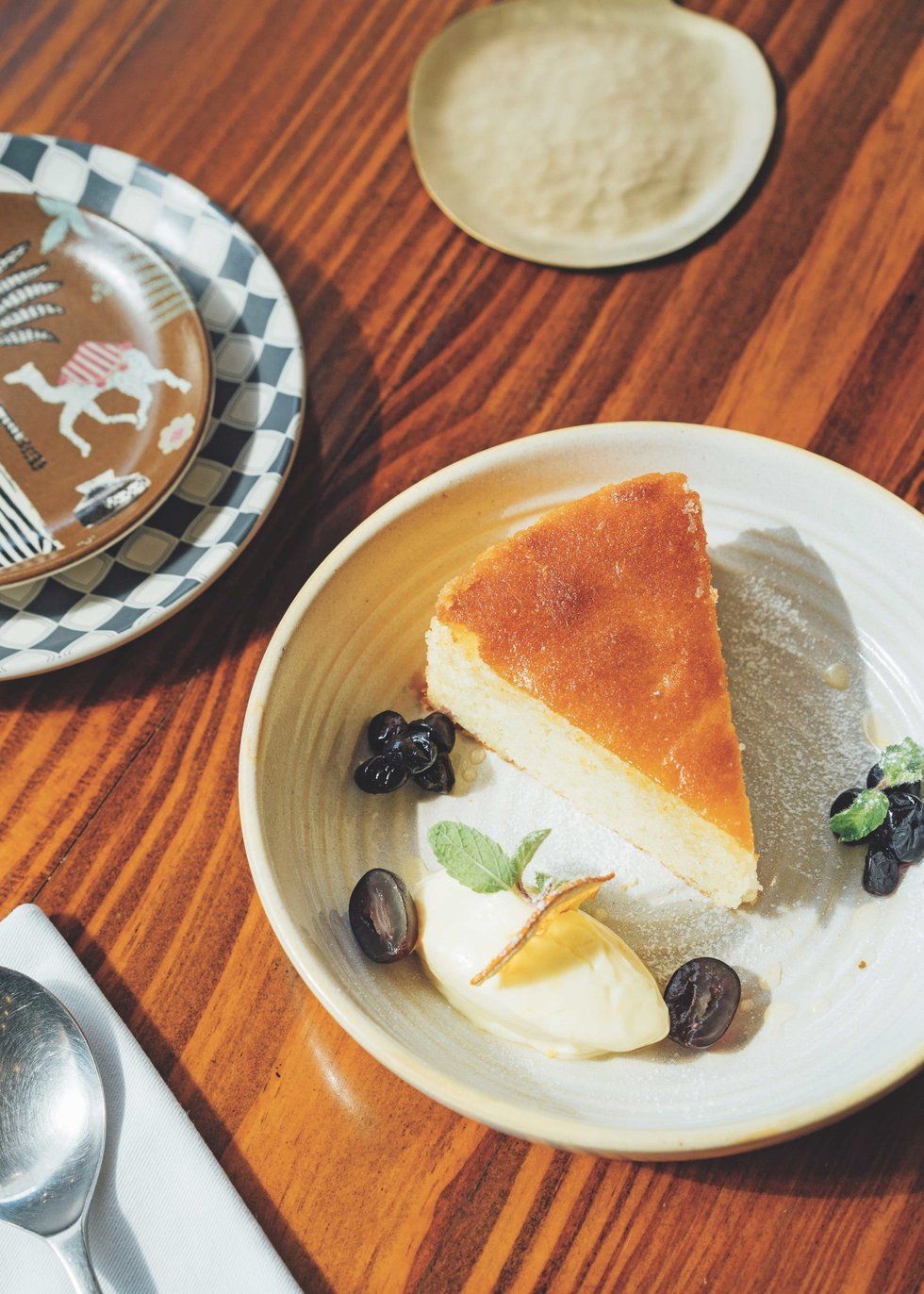 Dessert and design items at NicoCaara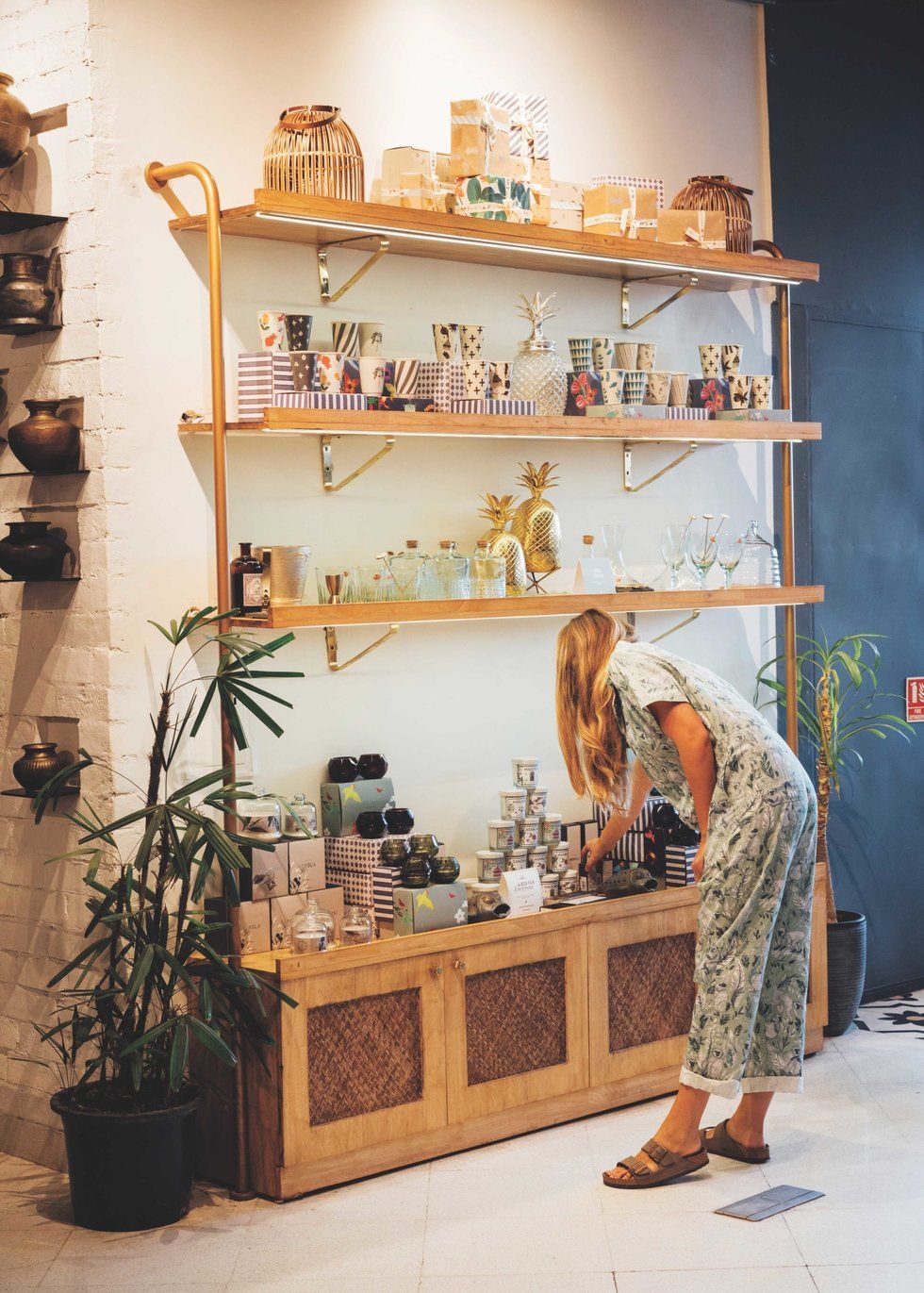 The rest of the meal is a pageant of bold flavors—orecchiette with fresh pesto made using basil grown at Seth's organic farm, and a coconutty prawn stew from Malabar laced with rice noodles, lentils, and earthy mustard seeds. For dessert: a fluffy almond-orange cake with a dollop of not-too-sweet cream. I wish Manisha were here to try this—or at the very least to help me finish it all.
After dinner, I check into Bungalow 99, an apartment-style hotel centrally located in the Defence Colony neighborhood. The design here is minimalist and beautiful, but I barely have time to look around before my head hits the pillow.
Where to stay
More like a bed-and-breakfast than a hotel, Bungalow 99 is the kind of place that makes you feel like a local. This plant-filled family-run spot is wonderfully intimate, and Aditya, the owner, treats everyone like a guest in his home. A full breakfast is served in the dining room each morning, and every floor has a sun-filled living room and balcony, where you can lounge while looking out onto the lively area of Defence Colony.
For a luxurious experience in a convenient location, there's no better place to stay than The Oberoi. Thanks to a 2016 renovation, the hotel has all the modern conveniences you could want—automated Toto toilets in suites, iPads in every room—but the design at this 50-plus-year-old institution still feels timeless. There are yoga classes every morning, and don't miss the breakfast buffet, with its unforgettable selection of regional Indian dishes.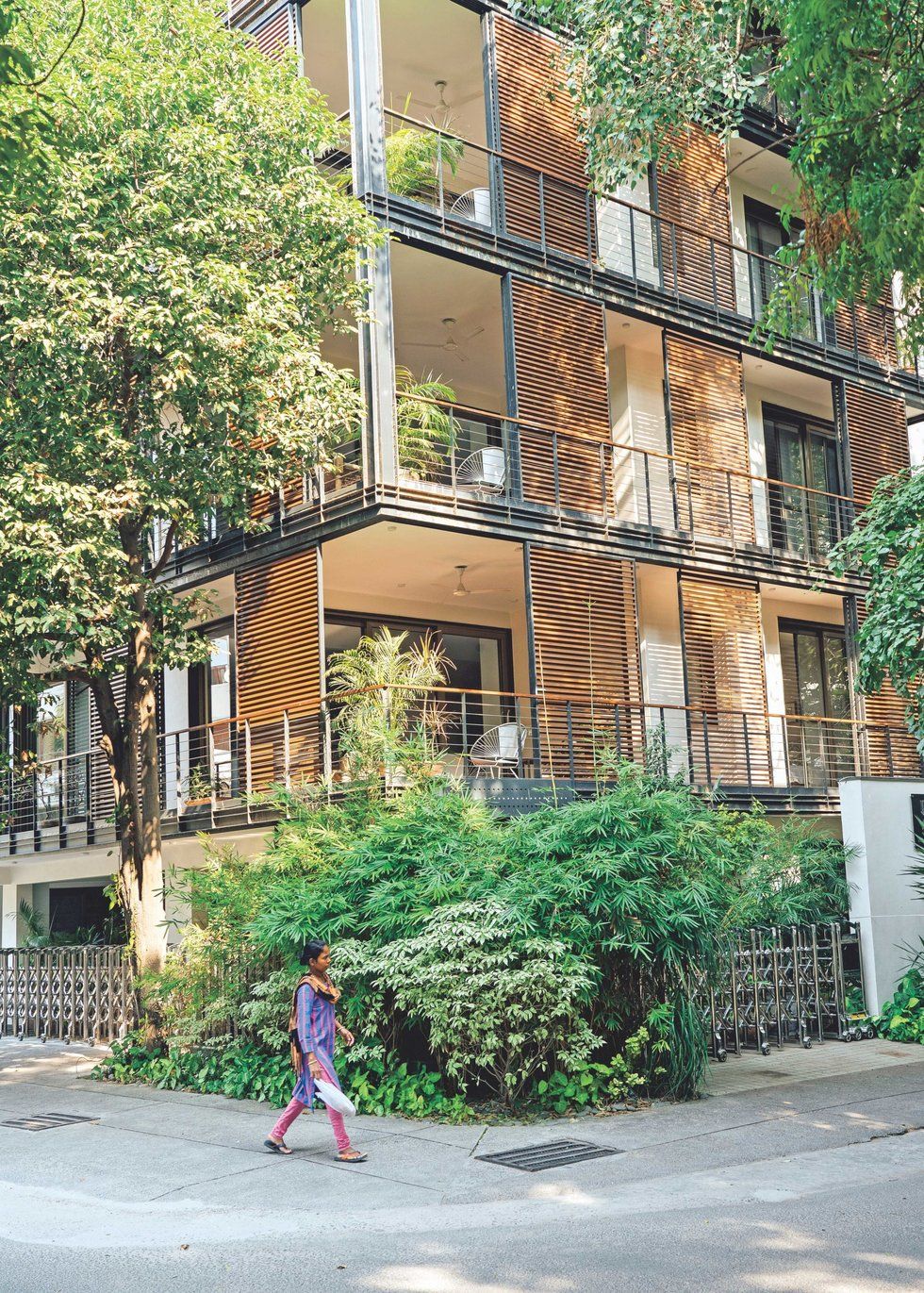 Day 3: Marveling at the Lotus Temple, snacking on sweets, and shopping for saris

I've been told the place to be on Sunday is the farmers market at Bikaner House, a former palace of a maharaja that has been converted into an art gallery and cultural space. Every Sunday, vendors selling everything from fresh dosas to artisanal granola set up shop around the flower-lined entryway. Thankfully, the weather has cooled down, and I have my eye on a family-run stand called The Pickle Studio that specializes in achaar, or Indian pickles. I buy a pungent dry garlic version—whole cloves in chili powder and ghee. I can't wait to mix it into pasta sauce.
From there, I'm off to take in one last architectural marvel: the Lotus Temple, a house of worship for the Baha'i faith. Finished in 1986, it's new by Indian standards, but it's already an icon, drawing 3.5 million visitors a year. The flowering lotus shape, which reminds me of the Sydney Opera House, was chosen because it's a symbol of purity and peace. The petals of the temple are surrounded by nine pools and 26 acres of strikingly groomed gardens. Inside, light soars through the archways, directing my eye to the nine-pointed, gold-embossed star on the ceiling. Crowds of sari-clad elderly women stream by, elbowing me out of the way so they can take selfies against the backdrop of the temple.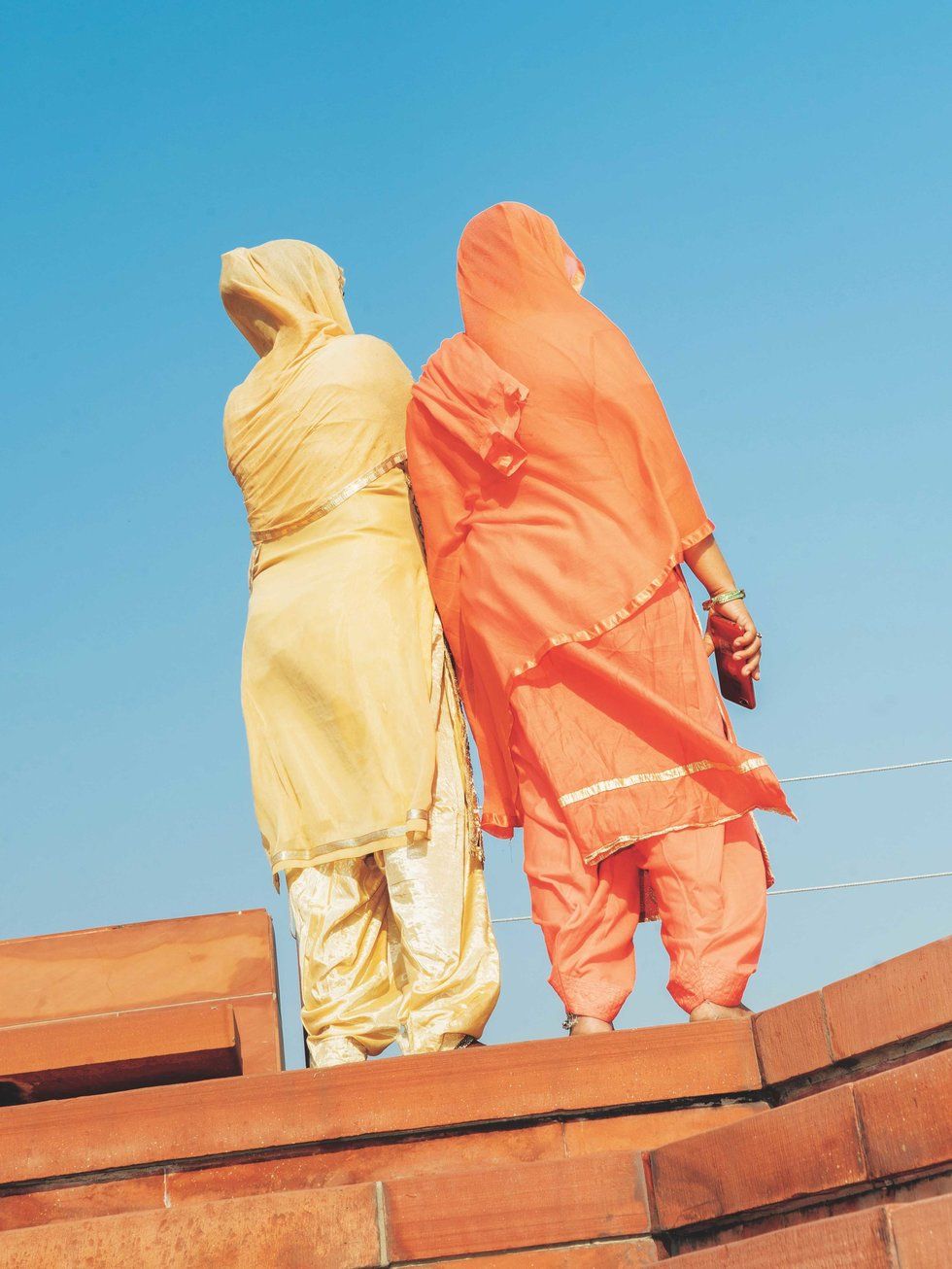 Two of the Lotus Temple's 3.5 million annual visitors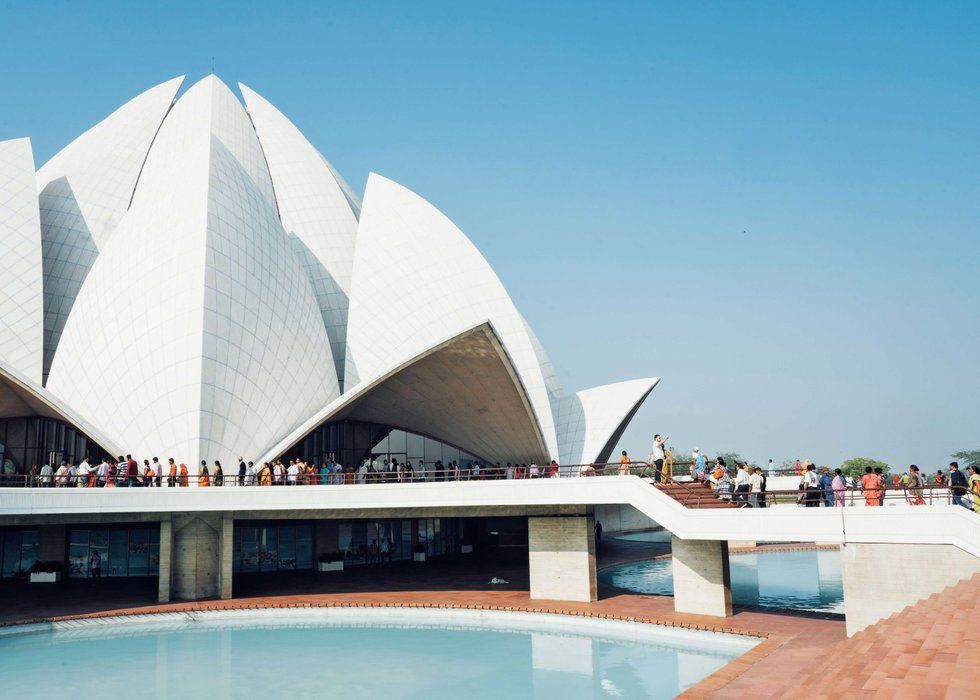 The temple's signature petals
For lunch, a few local food writers told me that one of the best restaurants in town is a tiny spot called Little Saigon in upscale Hauz Khas. Vietnamese food in India? I'm surprised. That was also the thinking of Ho Chi Minh City native Hana Ho, who came to Delhi in 2010 to cook at the Taj Palace hotel and opened this place when she noticed that there wasn't anywhere in town to get a decent banh mi or bowl of pho. "I wanted Indian people to know Vietnamese food the same way they know Thai or Chinese," she says. I enjoy a round of summer rolls that are a respite from the heat outside, followed by a cold noodle salad with homemade pork patties dappled with herbs. "The finishing touch," Ho tells me as she drizzles fish sauce over the top. The noodles sing with sweetness and acidity.
For dessert, I must make a stop at Evergreen Sweet House, one of India's most famous sweetshops and a place I've been frequenting since I was a kid. The store, a five-minute drive from Little Saigon, is a Willy Wonka's factory of activity and color. People visit from all across the country to taste its fresh jalebis and ghee-soaked, fudge-like laddoos. I'm here for the kaju ki barfi, silver foil–topped diamonds of cashew, milk, and sugar. They're soft, creamy, and not too sweet. Just perfect.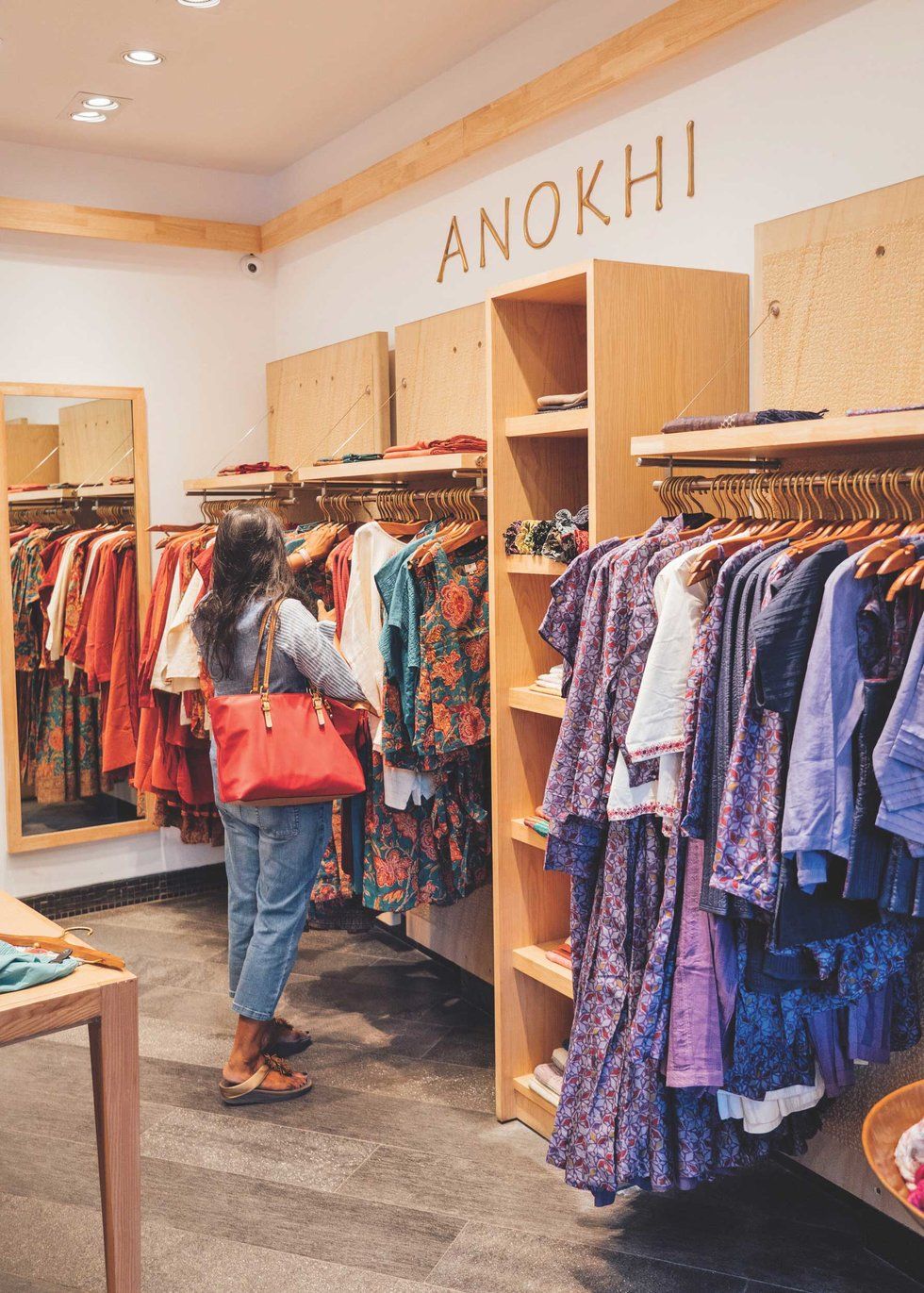 Shopping fortunics at Anokhi
Now, time for a little shopping. First, I pop by Hauz Khas Village, where a string of eclectic shops have popped up around a historic reservoir. I duck into a vintage sign shop, Indian Art Collection, delighted by the old-school Bollywood posters, and then K.R. Stationers, where I pick up emerald-green envelopes embossed in gold lettering for friends back home.
Next, I head for nearby Khan Market—a posh retail district that's home to some of the most expensive boutiques in the city (as well as plenty of affordable shops). I pick up a few short kurtas (loose, collarless shirts) at FabIndia and tunics at Anokhi, which is known for melding traditional textile-making methods with modern designs.
While Delhi may not be India's epicenter of saris, thanks to the tucked-away shop Kamayani, you can peruse the full range of textiles the country has to offer, from the tie-dyed bandhani saris of Gujarat to the striped leheriya style of Rajasthan. The store's eponymous owner buys textiles from artisans all over India who have spent their lifetimes mastering classic sari-making traditions. She shows me close to 50 different pieces, each with its own story to tell. "These saris are works of art and treasures of our country," she says, unfolding a bright yellow linen garment adorned with orange diamonds and colorful tassels. "I am here to share those." I'm tempted to try one on, but I don't trust my clumsiness and mediocre sari-tying skills with the delicate fabric.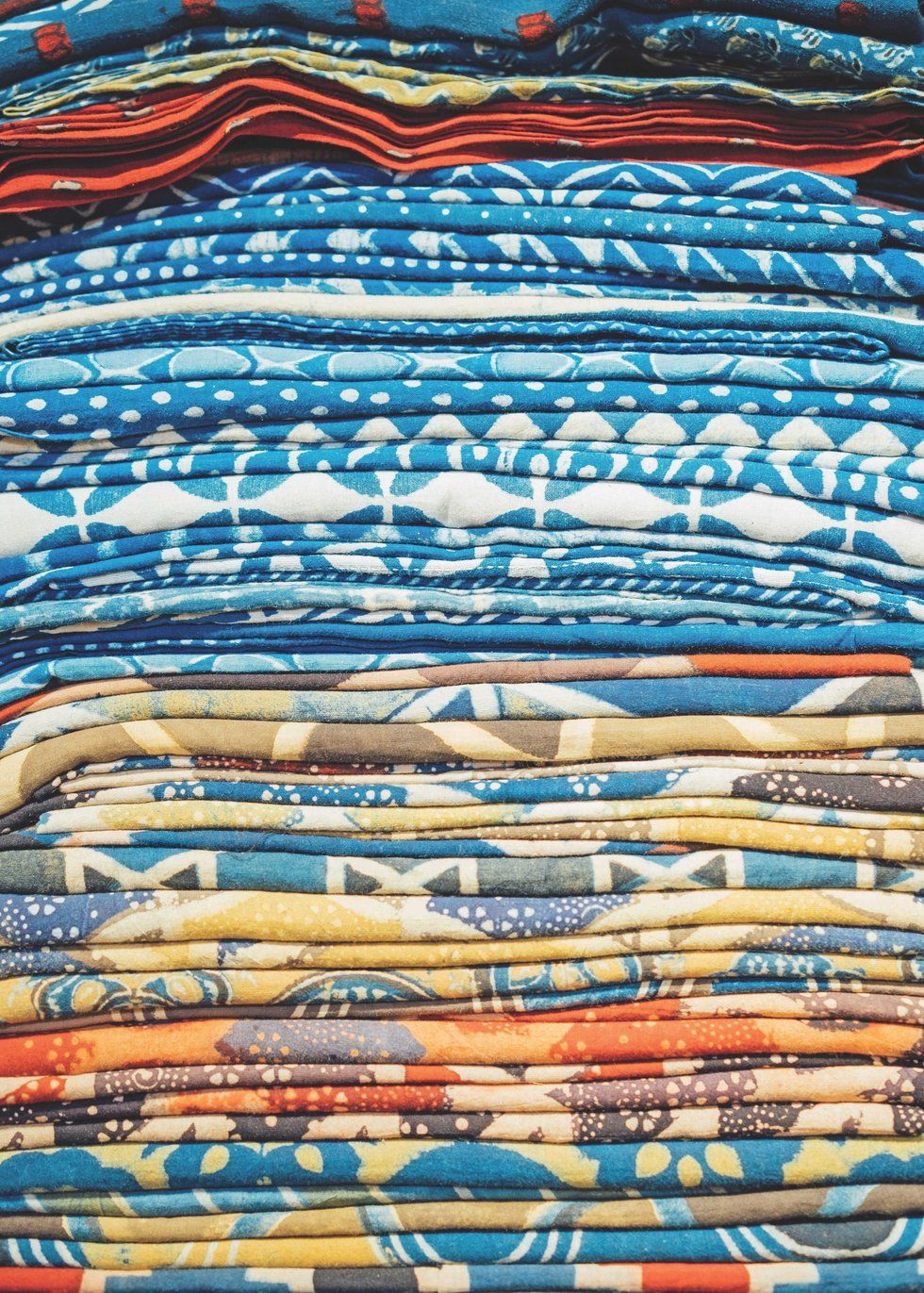 Bright saris at Kamayani
For dinner, I'm excited to try something new at Mizo Diner, which is devoted to the food of Mizoram, a part of northeast India bordering Myanmar and Bangladesh. The cuisine is heavy on rice, pork, and bamboo shoots, and it's not well represented in Indian restaurants, but owner and hip-hop/graffiti artist David Lalrammawia is out to change that. I enjoy vawska rap, a stick-to-your-ribs smoked pork stew with leafy greens, and sawhchiar, a chicken and rice porridge served with an addictive sweet-spicy onion jam. Drum-heavy Mizo music blares on the speakers, purple graffiti lines the walls, and the entrance to the kitchen is adorned with bamboo in a nod to the traditional homes of Mizoram—a region that's now high on my list to visit.
It's late by the time dinner wraps up, but even at 11 p.m. the city shows no sign of slowing. Car horns honk furiously, fruit vendors crowd around me to try and sell the last of their supply, and even with no sun, the air is hot and thick.
I gobbled up all the kaju ki barfi I meant to bring back to friends and family at home, so I make one last pit stop at Evergreen to pick up more sweets. Then I head back to Bungalow 99 and go to bed dreaming of smoky pork and saris the color of cotton candy and all the things I've discovered in a city I thought I knew, and where I've still barely scratched the surface.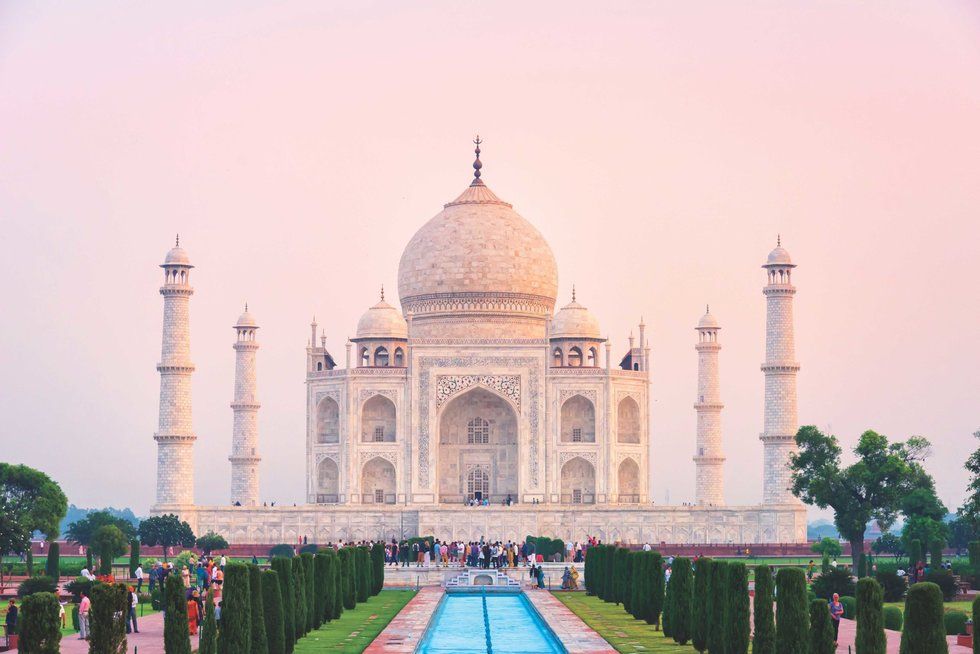 Photo: Phruetthiphong Pawarachan/Getty Images
If you're visiting Delhi, you really should plan a quick overnight trip to Agra to see the Taj Mahal, one of the world's great wonders. The most direct way to get there is to hire a driver—the trip can take anywhere from three and a half to five hours, or longer, depending on traffic. You can also hop on the train, which is less expensive, slightly faster, and an experience unto itself (the New Delhi train station at any time of day makes rush hour at Grand Central Terminal seem tame). It's best to arrive in Agra at night and wake up before sunrise to go to the Taj, as this is when the heat and the crowds are the most manageable. Also: Watching the sun rise over the mausoleum's white domes is one of the most serene, stunning experiences you'll ever have.

Scroll to top