Three Perfect Days: The Florida Keys
Story by Jacqueline Detwiler | Photography by Tristan Wheelock | Hemispheres December 2016
The moment you set foot in the Florida Keys, you see them: Conch Republic flags, a seashell on a yellow sun in a blue field of stars. The flags stem from a quixotic secession campaign the islanders hatched in 1982, after the U.S. Border Patrol set up a checkpoint near Homestead, Florida, about 45 minutes south of Miami, that effectively cut the Keys off from the mainland. The U.S. government, unsurprisingly, rejected the proposal, and the Keys did not secede. But, in a way, they never really had to. This pleasing, sun-bleached archipelago has been its own thing from the very beginning. Just 45 of the 1,000 or so tropical islands are connected to Florida by a single road; the rest are accessible only by boat. (Everyone has a boat.) In many places, chickens walk the streets. The lobsters are striped, and people eat meat out of conch shells. The Keys are still a little wild in all the best ways. They're the kind of place where you can still legitimately get lost — which is when things get really interesting.


In which Jacqueline catches mutton snapper, meets some turtles, and spends time at the preferred resorts of two former U.S. presidents.
The gentleman at the other end of the bar at Mangrove Mike's is wearing an eye-popping Hawaiian shirt that is completely unbuttoned. It is blearily early, and it's all I can do to focus on my Mangrove Oscar — an English muffin topped with poached eggs, béarnaise sauce, spinach, and blue crab. The man is absorbed in the TV on the wall, which is playing sport fishing's equivalent of a big-wave-surfing highlight reel.
"Have a nice day, Pete," the waitress says as the man pays his bill.
"You too, sweetie."
Pete must be going fishing. There is no other reason to be awake at 6:30 a.m. in Islamorada, a sandy village that spans six islands about a third of the way down the Florida Keys. Snapper, bonefish, tarpon, marlin, mahi-mahi, wahoo, amberjack, goliath grouper — the waters here teem so heartily with marine life it doesn't seem fair to try to catch it. But people do: More saltwater sport fishing records have been established here than anywhere else in the world.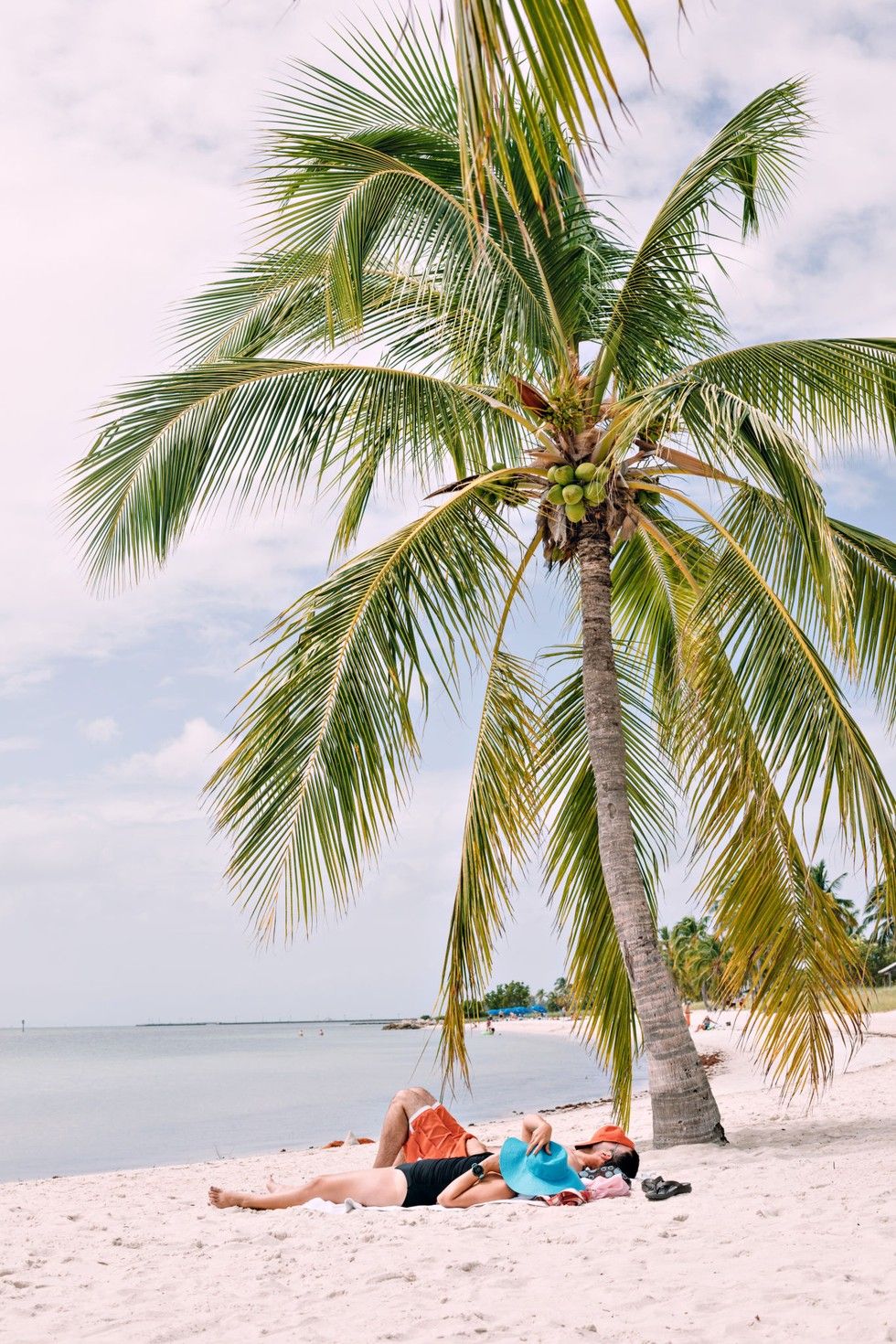 Smathers Beach in Key West
With about 6,500 residents, Islamorada is one of the larger communities in the Keys, the homes set back from the road along the water, most with a boat docked at a slip. Alongside the electric-blue sea, the buildings look blanched and bony, a row of pastel shells. Shops sell their mementos — sea sponges, wind chimes — along either side of U.S. 1, which evolved from the "railroad into the sea," built by oil tycoon Henry Flagler in 1912, into a highway that now connects the archipelago to the mainland.

I've dragged my boyfriend, Alex, along on this trip because we're both keen sport fishers. Actually, that isn't true. I've brought Alex along because I'm from Orlando, which makes the Keys a sort of idyllic backyard to the Disney- and alligator-filled jungle of my youth, and I feel he should see it. Also: I've brought him because my parents fell in love here, and I figure I should too. But let's not get ahead of ourselves — maybe we'll just start with some fishing.
Down the road from Mangrove Mike's, Captain Randy Towe's boat is docked in a small marina behind Lorelei Restaurant & Cabana Bar. When we find him, he's already hopping on and off the boat, tying knots and placing important doodads in necessary locations. Captain Randy has lived in the Keys for 35 years, since an injury ended his minor-league pitching career, at which point he started a rod-making business. (He counts former President George H.W. Bush among his clients.)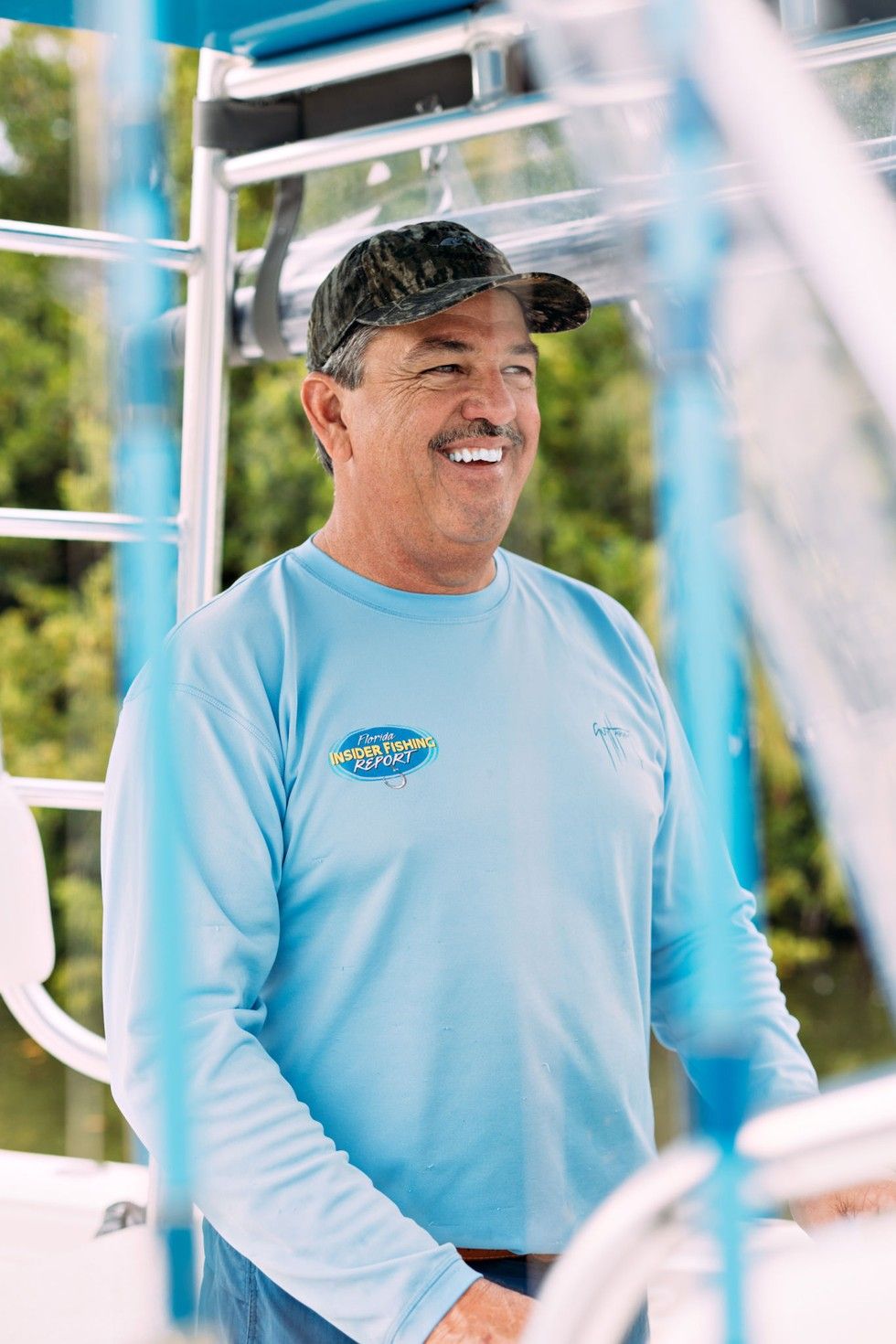 Randy Towe, fishing guide
We step aboard Captain Randy's boat, a 34-foot Pursuit Center Console with twin 300 Yamaha engines — which in English means midsize and fast. About 20 minutes later, we reach a spot where he's had luck catching mutton snapper. The current tugs us slowly over the Crocker Reef as Captain Randy baits the lines and casts for us. Almost immediately, the lines zing with bites, and soon I've reeled in three flapping fish. Nothing to it.

Having tossed our haul into chilled seawater, the captain steers us back to dry land. "These'll be the best fish you ever tasted," he says, deftly stripping the fillets from the bones. "Because I don't put them in fresh water. If you rinse them in saltwater, like I do, they'll last a week. If you freeze these, they'll last a year." Captain Randy is not a man of many words, but the words he does say are awfully useful.
Like most restaurants in the Keys, the Lorelei does "catch and cook." I hand over our fillets and the chef pan-fries them in blackening spices and serves them with fries. While we wait on the deck, we order a round of key lime coladas, which taste as if someone dropped a slice of key lime pie into a blender full of rum. The snapper is indeed some of the best fish I've ever tasted. The key lime colada, however, is the best thing I have ever tasted.
"The best time to see the bars and restaurants in Islamorada is at sunset. The Lorelei goes crazy every night. Another good place is the Tiki Bar at Holiday Isle, which they're famous for. And the Postcard Inn is kind of a landmark." –Randy Towe
Fed and buzzed, we return to our previous night's hotel, Cheeca Lodge & Spa, an oceanfront resort that opened in 1946. A siesta is probably in order, but instead we head to the nearby beach to borrow paddleboards from the activities desk. We paddle out to a submerged log. I make the first complete circumnavigation, and Alex claims it in the name of room 403.
Back ashore, we wander past photos of the Lodge's notable visitors, who have included Bing Crosby, Paul Newman, and Jack Nicklaus. (It was also a favorite of the senior President Bush.) Our room has an open-air terrace and a soaker tub that fills from a faucet in the ceiling. I lie on the bed under an old wicker fan until the tub is full, then take a bath in the fresh air to wash off what's left of the ocean salt.
On our way down to Marathon Key, we stop at Robbie's Marina, where they'll let you look at tarpon for a buck and feed them for three and change. At first I think this is a scam. Then I hear the screams. I walk to the end of a dock and hold a limp fish over the water. One second. Two seconds. Three. A tarpon appears and opens its weird bony mouth under my hand. Its jaw looks like the prongs on a Trapper Keeper. Alex gets a slow-motion video of my face contorting as I recoil in horror. It's definitely worth $4.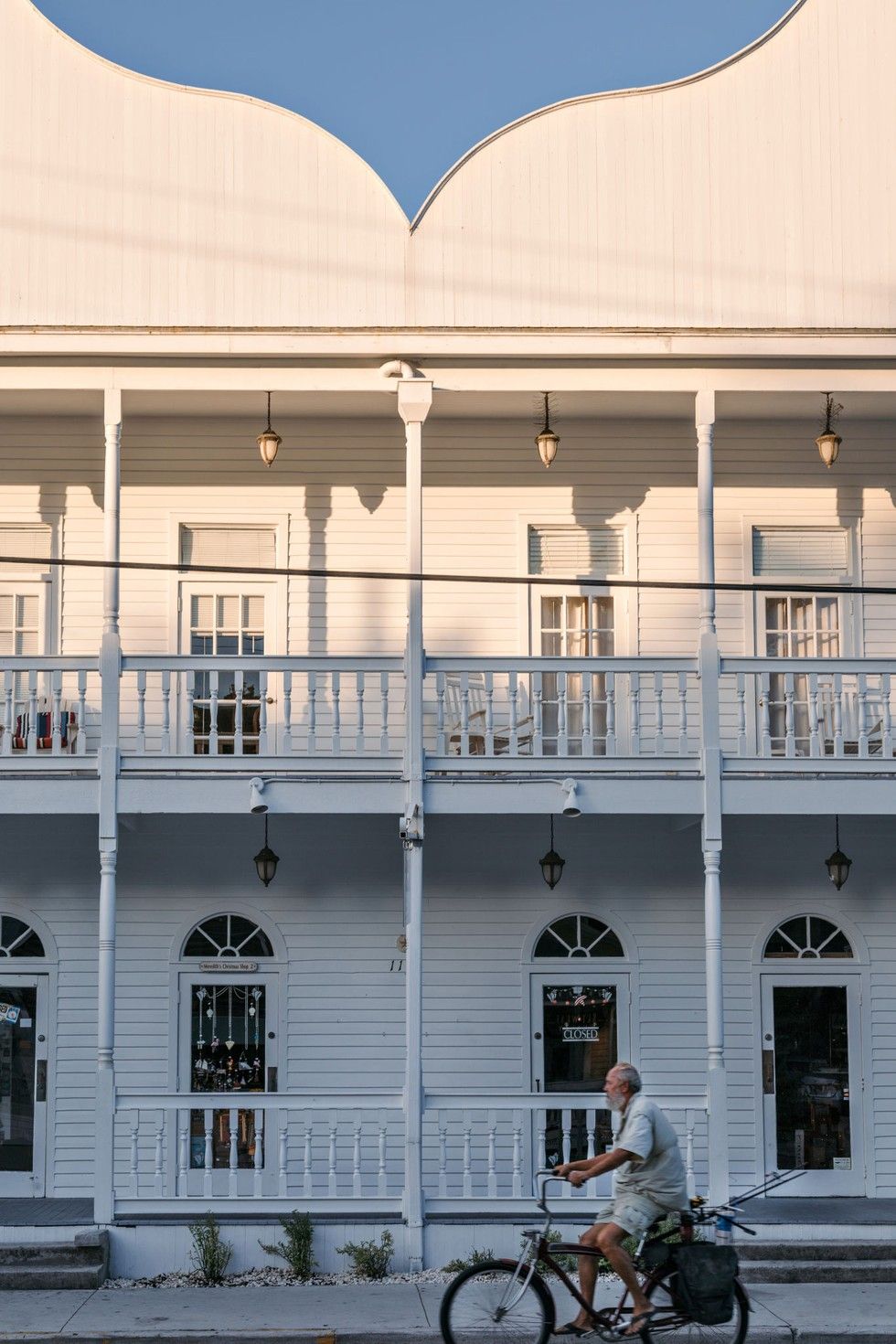 Colonial architecture on Key West's Duval Street
Back on the elevated highway, I get the sense we're following the perspective line in a painting of the sea. We are surrounded by water, and the view is so beautiful that, over the next half-hour, we see three people driving convertibles while holding GoPros on selfie sticks.

We stop at Marathon because I am determined to see the Turtle Hospital, a former motel where vets rehabilitate ailing rescued turtles before releasing them back into the sea. One tank is full of turtle hatchlings the size of key limes. These guys aren't sick; they just got lost and need a ride back out to the ocean. They are unreasonably cute.
Back on U.S. 1, we drive 20 minutes to the check-in desk of Little Palm Island Resort and Spa, on Little Torch Key, to board a boat to the resort's private island. The boat is named the Truman, largely because the former president and his wife were regulars on the island. Our room is a thatch-roofed cabin with a private deck and hot tub. There's a four-poster bed trailing mosquito netting, and a standalone bath fitted with a candleholder. A path down to the water leads to a secret nook with a firepit and two chairs. Other paths lead to small clearings with white hammocks. If I can't fall in love at a place like this, I'm a lost cause.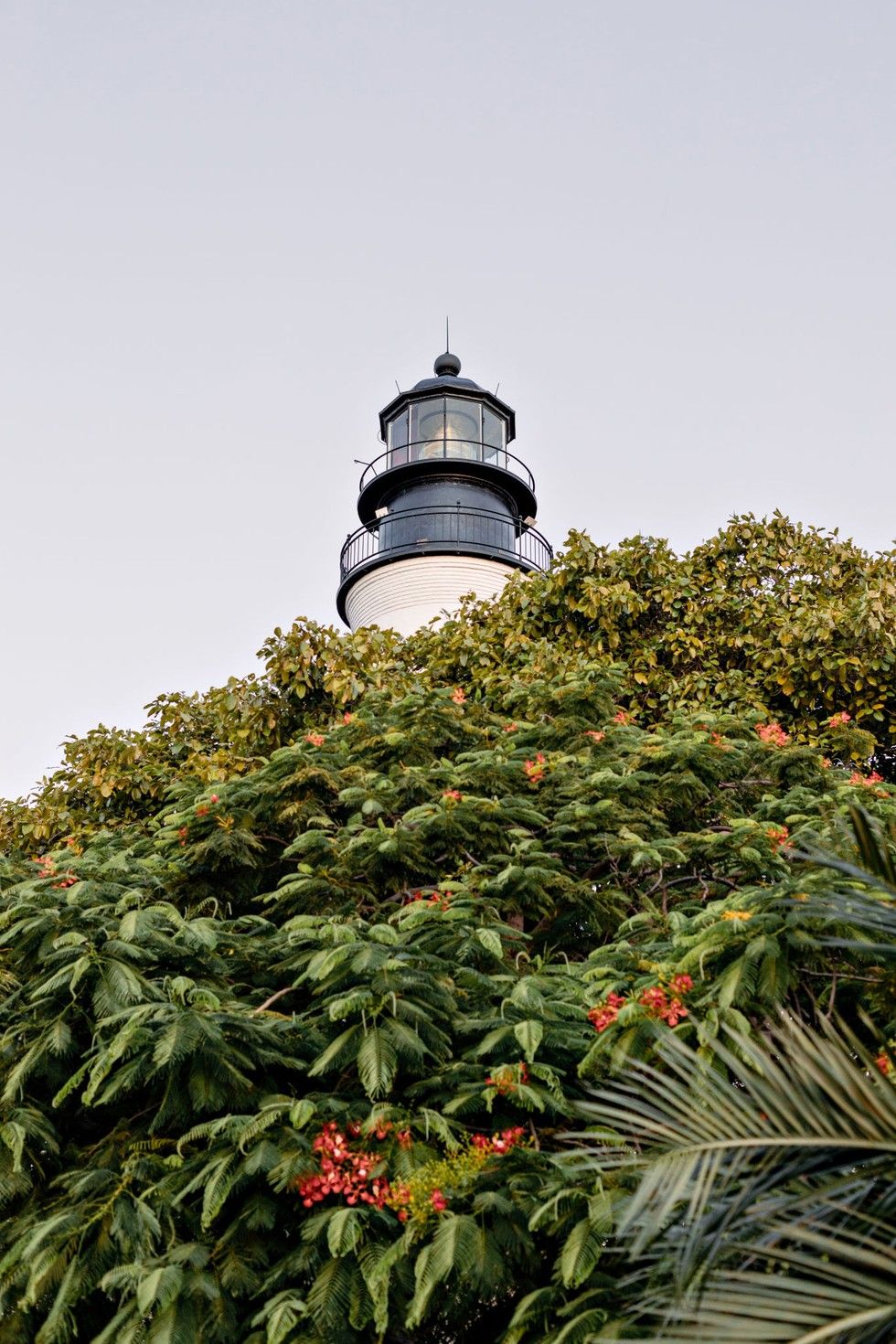 The Key West lighthouse
Dinner is at The Dining Room at Little Palm, which won Zagat's Best Hotel Dining award in Florida in 2010, achieving "extraordinary to perfection" ratings in every category. At a table by the sea, we completely overorder: raw oysters, wahoo in coconut milk, butter-poached lobster, steak, corn biscuits, wine. More wine.

After dinner, we head down to our little cove, where we find a crackling fire, lit by some secret handyman while we were away. We lie back, listening to lapping waves and flip-flopping fish trying to escape tiny sharks, looking up at the stars and thinking about nothing at all. A storm rumbles off in the distance, but it, like everything else, is too far away to worry about.

In which Jacqueline stumbles on a shark, staples a dollar to a bar wall for all eternity, and goes to a bar that's unsuitable for children — or anyone, really.
Breakfast this morning shows up at a more reasonable hour, and we eat it in bed because it's a bed that's exceedingly difficult to leave. Eventually, we head off to meet Ray Scarborough, an adventure guide at the resort who also leads spearfishing, sunset sailing, and fishing charters.
Scarborough is the first person I've met in the Keys who didn't come on vacation and just decide to stay. He was born in Miami but grew up here and has been a boat captain since he was 20. "I've had a boat since before I had a car," he says. "I used to drive it to high school. At Key West High School, the beach is about a block away." I imagine the kind of grades I would have gotten at a school like that and shudder.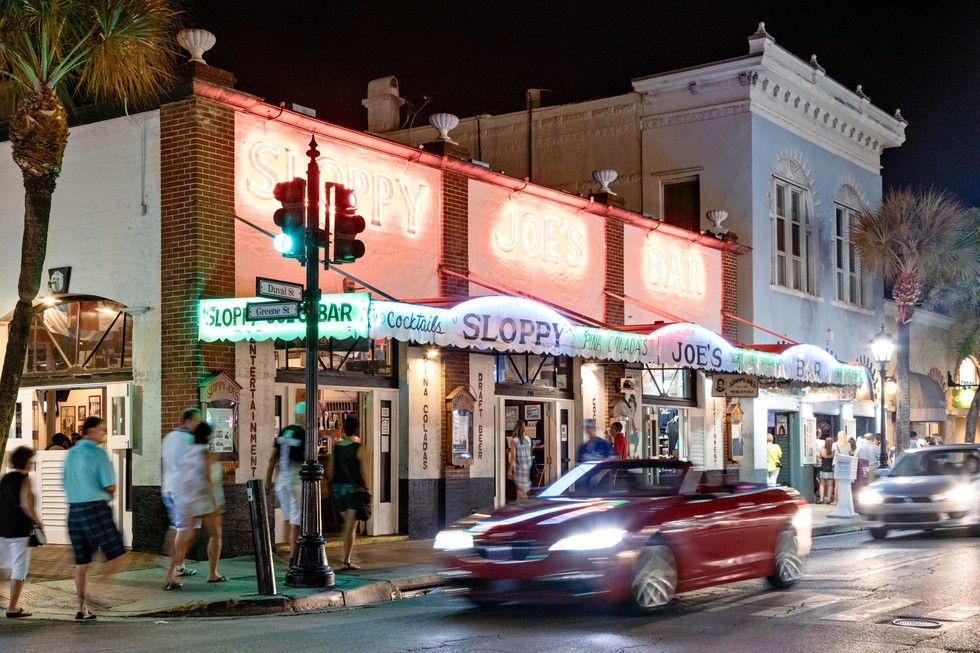 The old Hemingway haunt Sloppy Joe's, on Duval Street
Scarborough is taking us to Looe Key, which is not a Key in the shops-and-sandy-beaches sense but rather a part of one of the largest coral reefs in the world, which skirts the Keys along the Atlantic Ocean side like an eyebrow. When we arrive, there's a sense of utter isolation. We are in the middle of the sea. Underwater, though, it's like an aquatic rainforest. Purple fan corals wave. Iridescent parrotfish make audible crunching noises as they chip bits of algae off the coral with their beaks. Eventually, a four-foot reef shark appears out of the murk and heads straight for us, which we take as our cue to head back to the boat. Reef sharks usually aren't dangerous if you leave them alone, Scarborough tells us, but swimming mere feet from one is about as much adrenaline as I can handle before lunch.

Back on dry land, we check out of Little Palm, taking a boat back to Little Torch Key and our car, which waits, A/C on, in front of the check-in office. On the dash is a small bottle of the mango-coconut scent used in the hotel's shampoo and conditioner. Was it all a dream? It already seems like it.
Before following U.S. 1 to its terminus, at Key West, we double back to Big Pine Key, to eat lunch at a strange little bar called No Name Pub. Once a bait and tackle shop, it's spent several decades as a popular and quirky watering hole, completely papered in signed dollar bills. "About $250,000 worth," says the bartender when I ask. "It's 20 layers deep in places." We eat spicy Caribbean-style wings and sweet, vinegary smoked fish dip, washing it all down with the house ale, No Name Amber. All the while, we doodle on a dollar bill with markers supplied by the friendly bartender. On the way out, we staple the bill below the TV stand. "Jacqui + Alex," it says. May we last as long as this bar.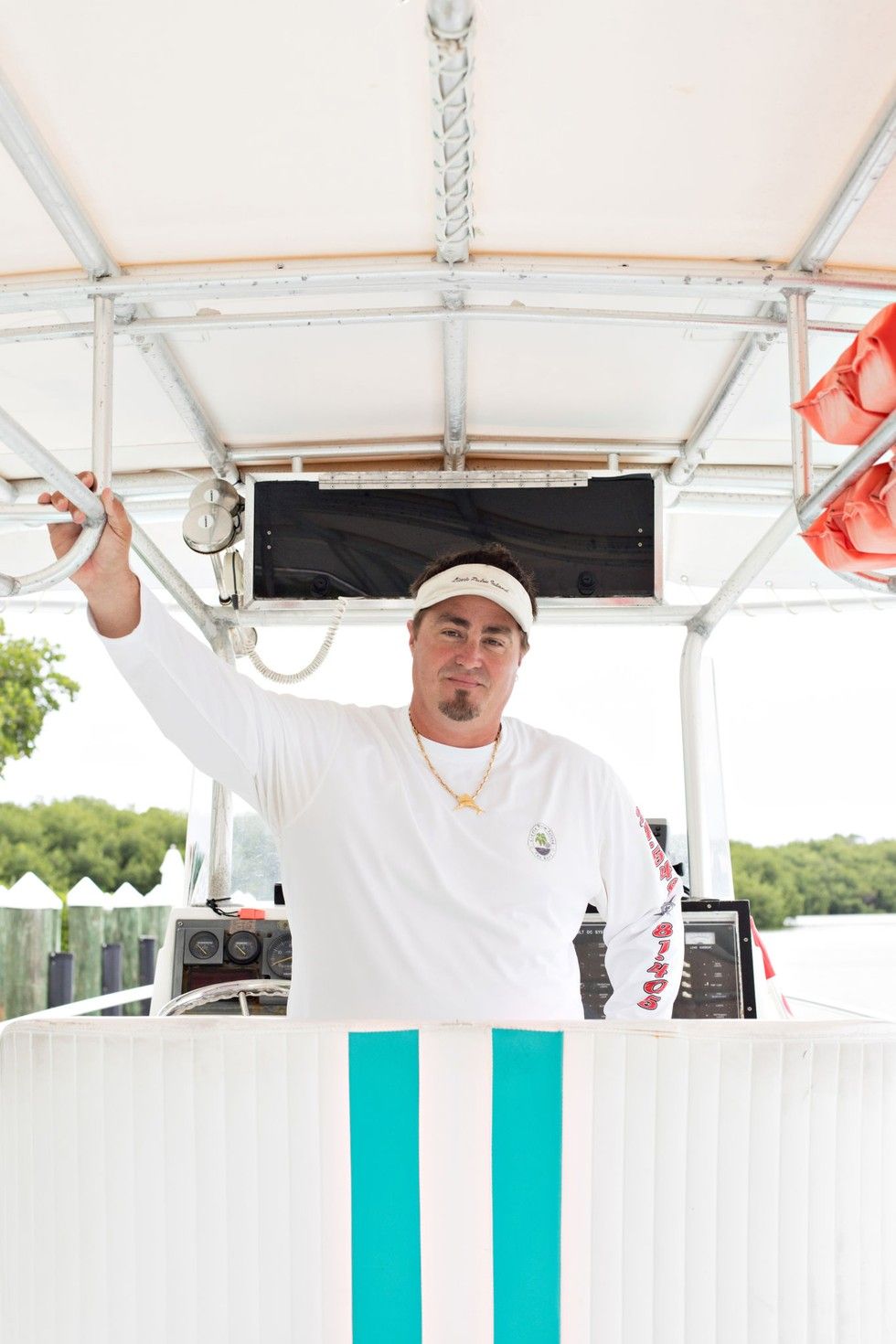 Ray Scarborough, adventure guide
Also on Big Pine, we find the National Key Deer Refuge, which is home to about a thousand of the smallest subspecies of white-tailed deer in North America. We take a short walk to Blue Hole, a small freshwater-surfaced lake in an abandoned rock quarry, and, lo, a Key deer comes rustling through the leaves for something to nibble on.

Adorable deer photo secured, we drive to Hogfish Bar and Grill on Stock Island for even more food. Hogfish is a sprawling tiki-roofed garage bar in the back of a working marina covered in out-of-state license plates. Because it serves only fresh-caught seafood (and because the species, sadly, is overfished), Hogfish doesn't always offer its namesake. If it is available, order it — the flesh is uniquely flaky and tasty. We try it fried in taco form, and it's even better than the snapper we caught yesterday.
Next, it's on to Key West, which has an architectural style similar to New Orleans' French Quarter, as well as the same laissez les bon temps rouler spirit. We drop our bags at the Cypress House Hotel, which consists of three traditional 19th-century Conch houses — the homes of the descendants of Bahamian settlers known as Conchs. The hotel's main building is a frothy double-porched thing with a green pool grotto made mostly out of palm fronds.
"There are about a thousand islands in the Keys, and a lot of them are secluded and uninhabited. It's beautiful, and you can just get in the water and swim. When I'm off work I do pretty much the same thing. I can't say I hate my job at all." –Ray Scarborough
After stopping in at the Ibis Bay Resort and renting a couple of bikes, which we take cruising along the waterfront to soak in the salty air, we decide that we're ready for another drink. So we stroll down to Duval Street, Key West's equivalent of Bourbon Street, to see what's what. Live music issues from dozens of open bars and porches. Cover bands play Led Zeppelin, Sublime, the Red Hot Chili Peppers. Most people look at least slightly soused.
Two bars, Sloppy Joe's and Captain Tony's Saloon, claim to have been the preferred watering hole of the notoriously booze-soaked writer Ernest Hemingway, who once lived down the street. As far as I can tell, Papa drank at both. Alex and I end up in a mint green Victorian mansion with white trim, where the cocktail bar Caroline's Other Side is hopping. I order a Hemingway daiquiri — a concoction of rum, lime and grapefruit juices, simple syrup, and maraschino liqueur that its eponymous author was rumored to double fist during his time in Cuba.
Hemingway daiquiris are quite strong, which is the best excuse I have for our next stop: Garden of Eden, a clothing-optional bar up a wrought-iron staircase from Bull & Whistle Bar. Inside, the scene feels a lot like a middle school dance—most of the patrons line the walls, nervously sipping well drinks, while an uninhibited middle-aged gentleman dances, well, uninhibitedly, in the center. We take this as our cue that it's bedtime.

In which Jacqueline goes exploring with a photographer, visits the home of a great American author, and chows down on some ribs.
I awake bleary-eyed and demand a heavy breakfast before I'll set foot on another boat. We walk three blocks to 2¢ Restaurant and Pub, a brunch spot with a large garden and a polished wood interior that looks like the inside of an expensive yacht. I order the Thai chicken wings and waffles. Alex orders something healthy and then steals some of my wings.
After breakfast, we walk to the Key West Yacht Club to meet Jeffrey Cardenas, a gallery owner and photographer who once wrote a Walden-esque memoir about living alone on a boat. Right now, he's working on a project about the Keys and Cuba called Twins of Nature. He has graciously offered to take us on a trip to nearby Woman Key, where he's shooting some landscapes.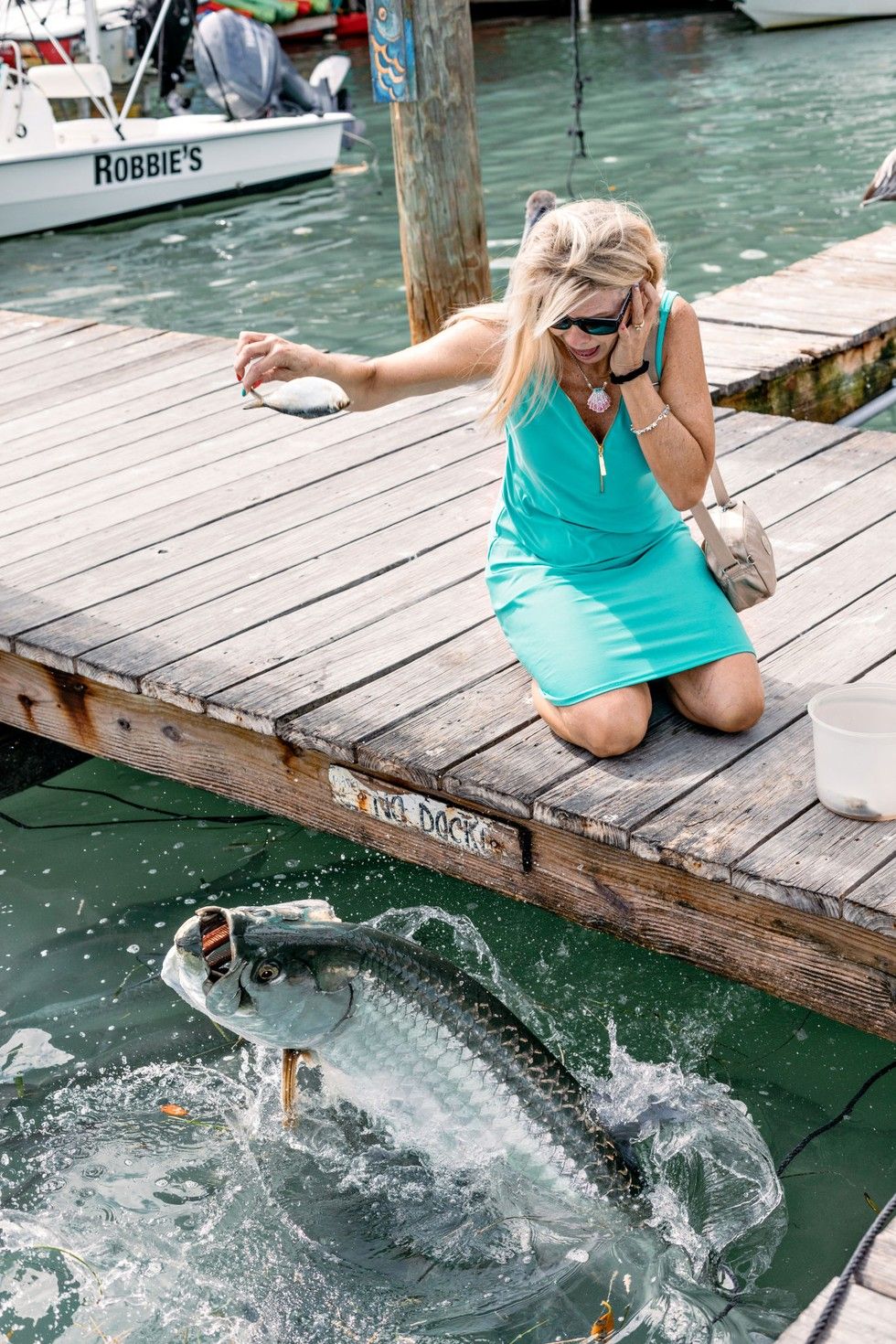 Feeding a tarpon at Robbie's Marina
Cardenas drops anchor about 50 feet offshore, near a feeding frenzy. "It's like the Serengeti out here, only wet," he says, watching brown pelicans dive into a school of glass minnows so large it darkens the water to a deep gray. He hops out of the boat and wades up to a small island. On shore there's an impromptu art project created by the island's sporadic visitors — a towering heap of driftwood, netting, buoys, and found objects that looks a bit like a parade float created by a magpie. "Anyone can add to it," Cardenas says. "If you see something you like, pick it up and put it here."

We walk the beach in search of goodies. Camera in hand, Cardenas sits in the sand to get an angle on a piece of driftwood that looks like a cow skull.
"It's hard to believe we're still in America," I say.
"Not for long," Cardenas says. "America ends 20 miles from here."
Before we leave, we add an old milk crate and some sea glass to the construction. Cardenas hangs a piece of string from a stick so that it looks as if the parade float is going fishing. Artists are so creative.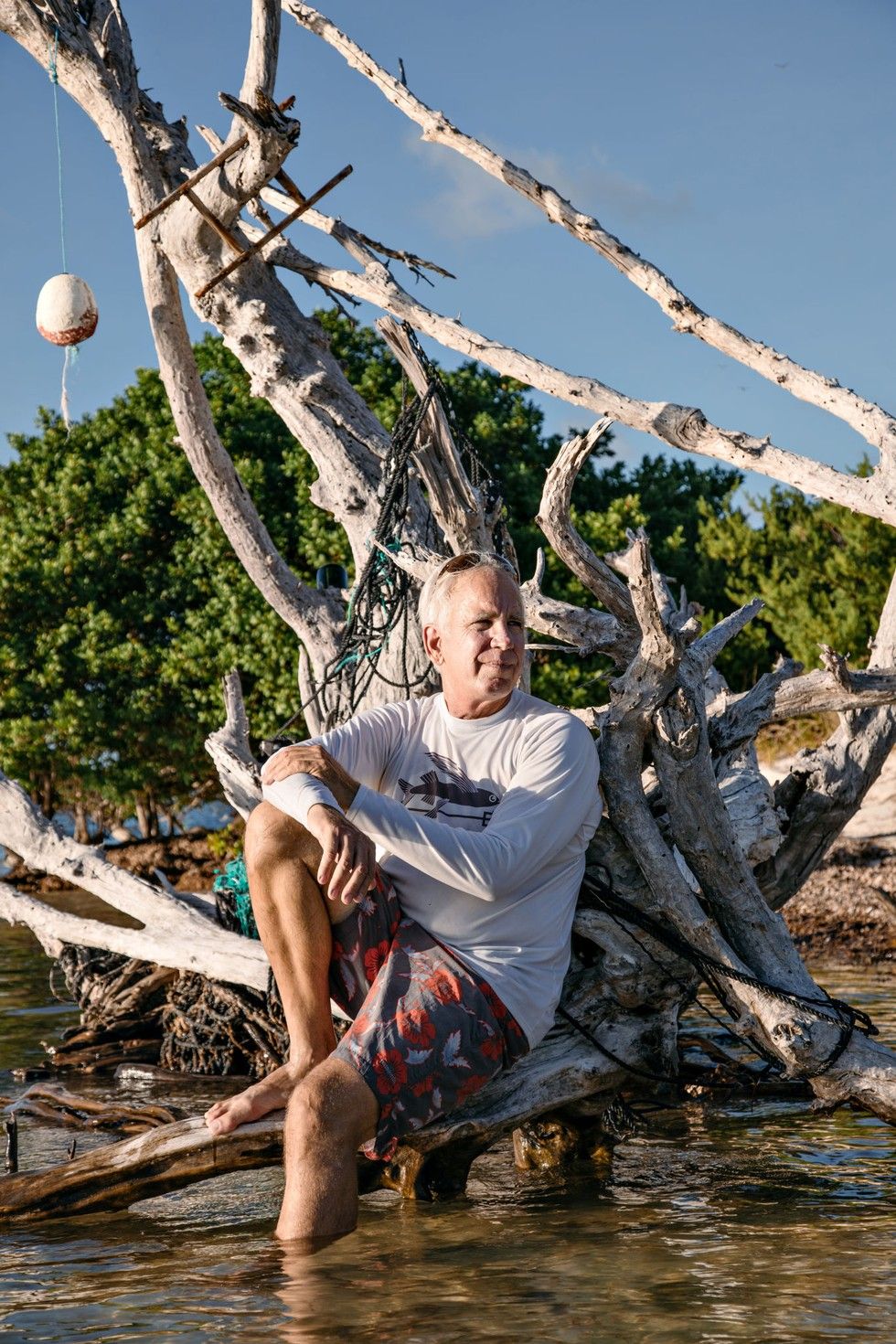 Jeffrey Cardenas, photographer
On the way back, Cardenas drops us off at his gallery/shop, Salt, a couple of blocks from Key West Cemetery, where we pick up salt scrubs and locally crafted jewelry for friends back home. Most of the houses around here are candy-colored Victorians bestrewn with wind chimes and flying Conch Republic flags. A person could walk here all day, imagining buying a house with a hammock and starting, say, a combination yoga studio and laundromat.

The heat down here can be exhausting, which is one reason (along with proximity to Cuba) the coffee's so strong. We stop at Cuban Coffee Queen, a cheery roadside stand in a tin-roofed hut, for a pair of buccis — thick and sugary espresso shots — along with Cuban bread topped with cream cheese and guava jam. It's sweet and rich and pairs beautifully with the taste of coffee and salt.
"There's a guy who makes honey from the mangrove trees here, and another couple has the Earth and Sea Farm — they evaporate the Gulf Stream water and make sea salt out of it for eating. You can buy both at Salt Gallery in Key West." –Jeffrey Cardenas
Now it's time to see the home of the man himself, Hemingway, who lived, boated, and drank in Key West from 1928 to 1939. The house is a bit touristy, but its mystique is powerful enough that it doesn't matter. It's an old place, creaky, with rambling porches and a pool and the writer's peaceful studio up a flight of steps in a separate building. He wrote much of For Whom the Bell Tolls here, surrounded by a rabble of six-toed cats, the descendants of whom still roam the grounds, hoping for snacks.
The fish in the Keys is so fresh it seems like sacrilege to cry uncle, but we do anyway and head to Firefly, a Key West soul-food-fusion restaurant in a two-story Southern-style house that's run by Tricia Coyne, who went to culinary school in Atlanta. We order fluffy bacon-and-crab beignets, deviled eggs, fried green tomatoes, bison short ribs that are falling off the bone, and a pair of beers we've never heard of from an eclectic booze list. Everything is rich and fatty and wonderful and, yes, not fish.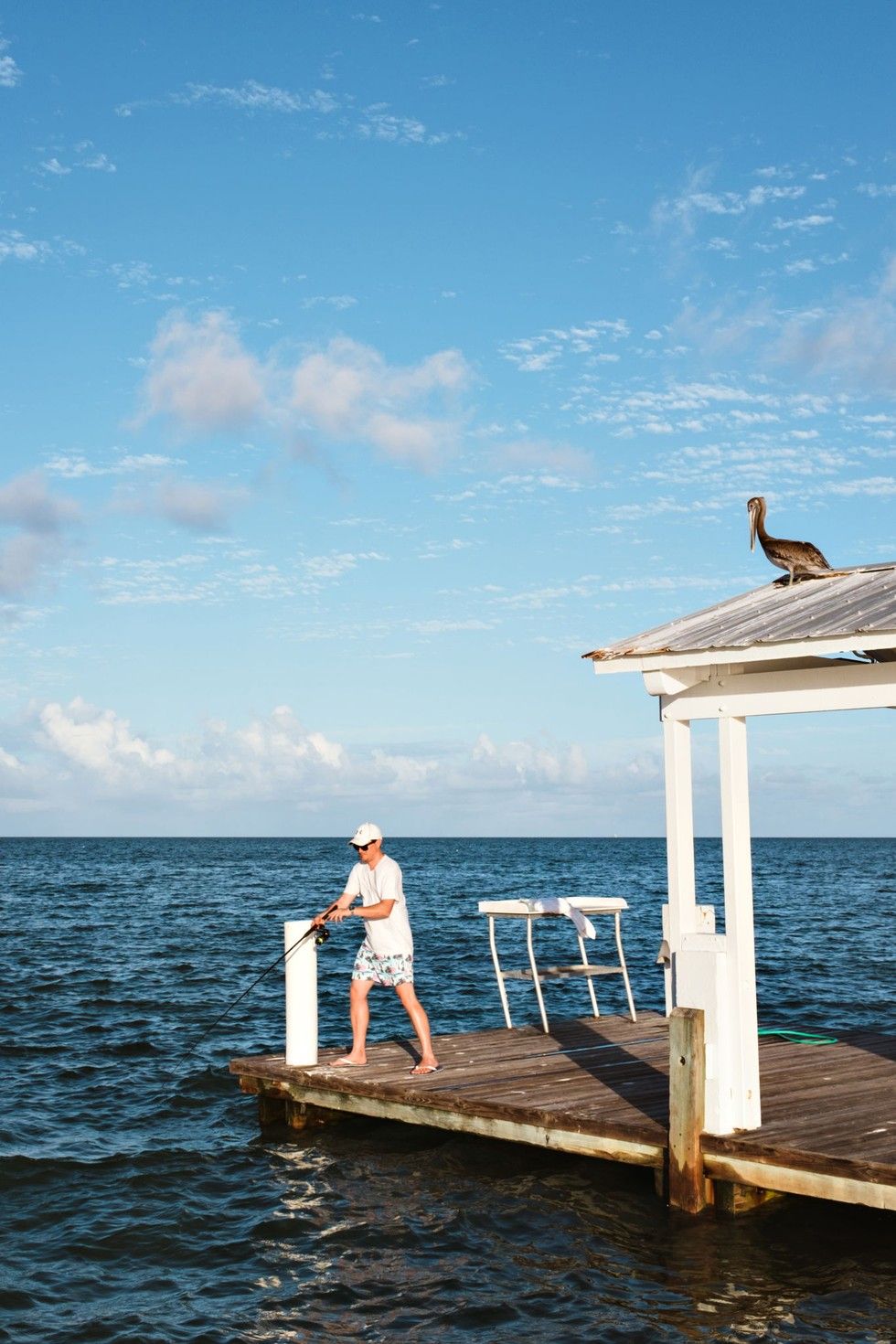 Fishing off the dock at Cheeca Lodge
We are starting to get into the idea of spending the rest of the evening doing nothing, and there's a fine porch waiting for us back at the Cypress House, so we stop at a gas station to pick up a pair of Landshark Lagers, the house beer from local hero Jimmy Buffett's Margaritaville. The foliage beyond the porch is thick and glossy, and we peer through it at people riding by on bikes on their way down to Duval.

"What's so interesting about the Keys is how seriously people take relaxation," Alex says. He mentions the "no public cell phone use" signs staked all over Little Palm Island, and the man we saw at a bar on Duval who'd brought his own beer koozie. He has a point. We've met so many people who came here on vacation and decided to stay. It's such a common story that there's a look people give you when they tell it, a twitch of a smile and a raised brow that says, "Are you next?"
A decision like that might come easily, but it's a decision nonetheless: Leave the malls and entertainment centers and office buildings to move to a place that is exceptionally beautiful and full of life, but faraway and slower-paced. Risk the hurricanes for a shot at real happiness. Live more, by doing less.
Popular Mechanics
articles editor
Jacqueline Detwiler
wonders if her boss would notice if she installed a hammock behind her desk.
Around the web
When the pandemic began, United Cargo knew it would be critical to utilize its fleet, network and industry-leading pharmaceutical handling processes to transport a COVID-19 vaccine when the time came.
Connecting vaccines to the world: United responds to mass distribution effort
December 22, 2020
On November 27, United Airlines became the first commercial airline to safely deliver the first batch of Pfizer and BioNTech's COVID-19 vaccine into the U.S. thanks to a coordinated effort between United's cargo, safety, technical operations, flight operations, regulatory and legal teams.
Now as the entire shipping and logistics industry bands together to widely distribute vaccines, United is leveraging all of its flights, including cargo-only and those carrying passengers, to transport millions of vaccines to destinations throughout our network, including Honolulu, Guam and Saipan – the first of any carrier to do so.
"United's cargo service has helped safely deliver many essential goods during this pandemic, but there is no shipment that gives me more personal pride than helping bring this life-saving vaccine to our communities," said Jan Krems, United Cargo President. "While we still face a long road ahead the promise of a widely distributed vaccine gives us hope that we are one step closer to putting this pandemic behind us and moving forward together toward a brighter future."
And United is shipping more than just vaccines to help during the pandemic in keeping the lines of commerce flowing and goods getting to where they need to be. Since mid-March, United has operated 9,000 cargo-only flights carrying more than 435 million pounds of cargo. By using a combination of cargo-only flights and passenger flights, United Cargo has also transported 80 million pounds of medical supplies this year.
In coordination with our shipping and logistics partners, United will continue to distribute COVID-19 treatments to destinations throughout its network. The real heroes are the scientists who created these life-saving vaccines and the frontline workers who are not only administering them, but also helping care for and tend to those suffering from this virus. United is proud to do its part in helping to get this precious cargo to the people and communities who need them, and looks forward to doing our part in the months ahead.
United Cargo responds to COVID-19 challenges, prepares for what's next

September 30, 2020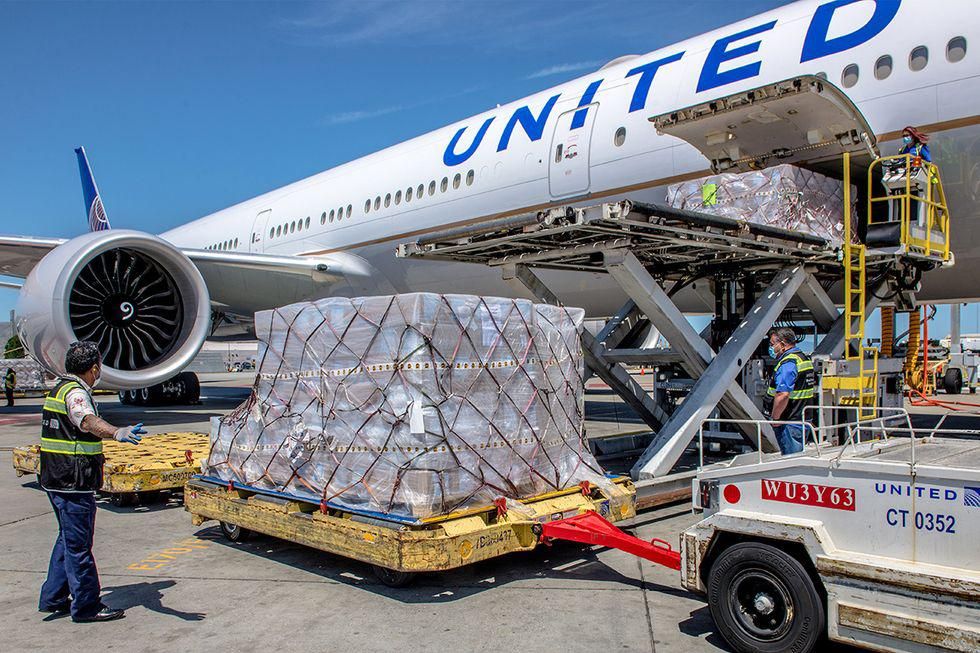 Even before the COVID-19 pandemic, United Cargo has supported a variety of customers within the healthcare industry for over 10 years. Three key solutions – TempControl, LifeGuard and QuickPak – protect the integrity of vital shipments such as precision medicine, pharmaceuticals, biologics, medical equipment and vaccines. By utilizing processes like temperature monitoring, thermodynamic management, and priority boarding and handling, United Cargo gives customers the peace of mind that their shipments will be protected throughout their journey.

With the global demand for tailored pharmaceutical solutions at an all-time high, we've made investments to help ensure we provide the most reliable air cargo options for cold chain shipping. In April this year, we became the first U.S. carrier to lease temperature-controlled shipping containers manufactured by DoKaSch Temperature Solutions. We continue to partner with state-of-the-art container providers to ensure we have options that meet our customers' ever-changing needs.
"Providing safe air cargo transport for essential shipments has been a top priority since the pandemic began. While the entire air cargo industry has had its challenges, I'm proud of how United Cargo has adapted and thrived despite a significant reduction in network capacity and supply," said United Cargo President Jan Krems. "We remain committed to helping our customers make it through the pandemic, as well as to doing everything we can to be prepared for the COVID-19 vaccine distribution when the time comes."
Our entire team continues to prioritize moving critical shipments as part of our commitment to supporting the global supply chain. We've assembled a COVID readiness task team to ensure we have the right people in place and are preparing our airports as we get ready for the industry-wide effort that comes next.
In cooperation with our partners all over the world, United Cargo has helped transport nearly 145 million pounds of medical supplies to aid in the fight against COVID-19, using a combination of cargo-only flights and passenger flig­hts. To date, United Cargo has operated more than 6,300 cargo-only flights and has transported more than 213 million pounds of cargo worldwide.
United Cargo responds to global needs, celebrates 5000th cargo-only flight

August 18, 2020
By Jan Krems, President, United Cargo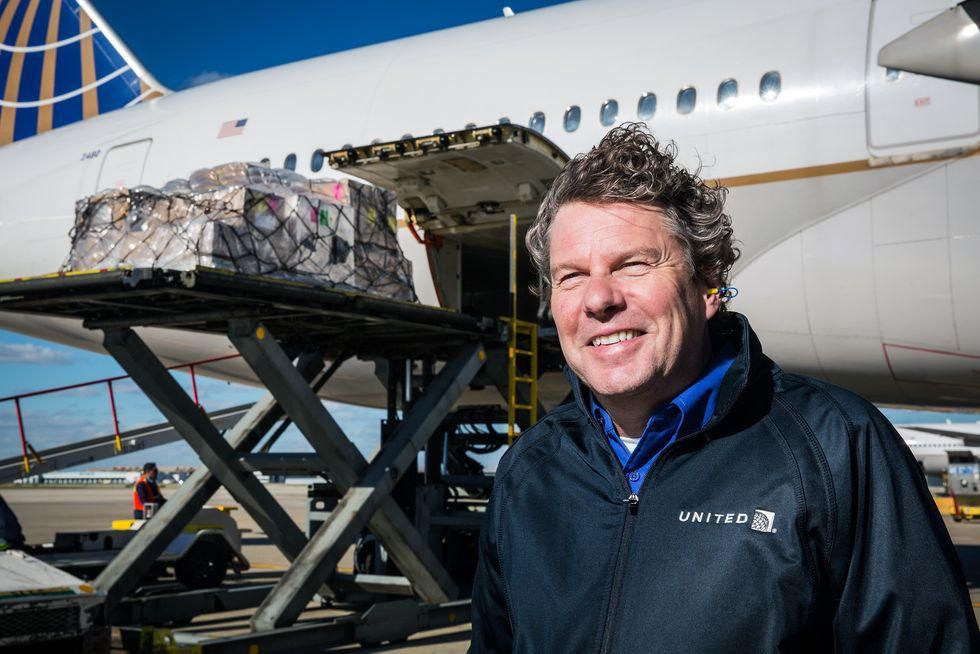 In mid-March, United took steps to manage the historic impact of COVID-19 and began flying a portion of our Boeing 777 and 787 fleets as dedicated cargo-only flights to transport air freight to and from U.S. hubs and key international business locations. More than ever, providing reliable cargo transportation was vitally important and I'm proud say our United Cargo team stepped up to support our customers.

Although we're facing the most challenging environment our industry has ever experienced, I'm very excited to celebrate a major milestone. Since March 19, United has operated over 5,000 cargo-only flights transporting nearly 170 million pounds of cargo on these flights alone. With an increased need to keep the global supply chain moving, and an even more urgent need for medical supplies, we knew we had to utilize our network capabilities and personnel to move vital shipments, such as medical kits, personal protective equipment (PPE), pharmaceuticals and medical equipment between U.S. hubs and key international destinations.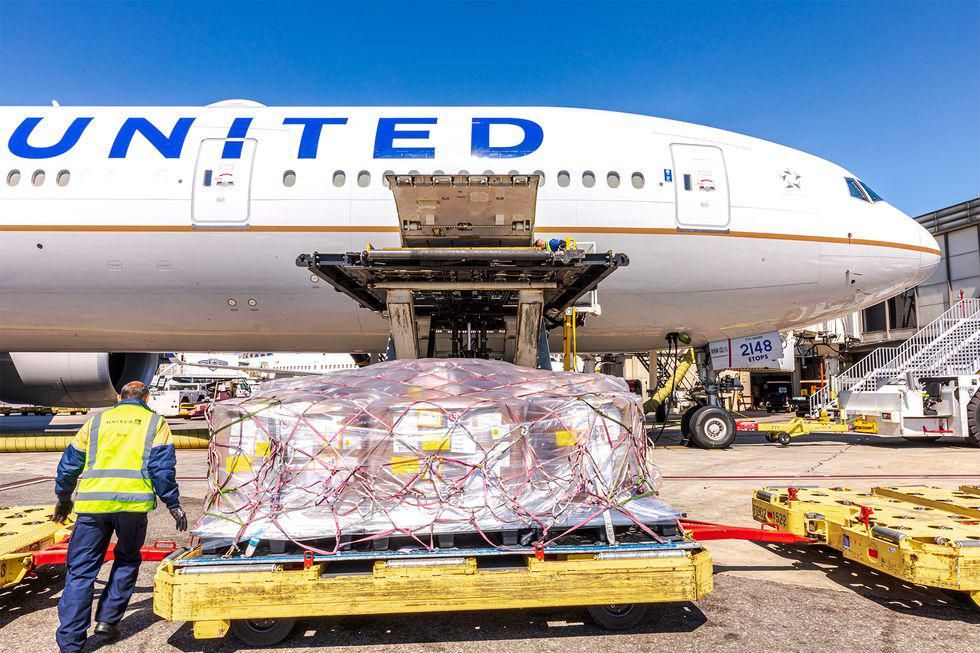 In cooperation with freight forwarders and partners all over the world, United Cargo helped transport more than 107 million pounds of medical supplies to aid in the fight against COVID-19 using a combination of cargo-only flights as well as passenger flights.

To keep military families connected, we increased the frequency of cargo-only flights between the U.S. and military bases in various parts of the world — including bases located in Guam, Kwajalein and several countries in Europe. We know how critically important it is for these families to stay connected, and I'm honored that we were able to utilize our network and our aircraft to fly nearly 3 million pounds of military supplies.
In collaboration with food-logistics company Commodity Forwarders Inc. (CFI), our cargo teams moved nearly 190,000 pounds of fresh produce to Guam for the U.S. Department of Agriculture's Coronavirus Farm Assistance Program. This new program was created to provide critical support to consumers impacted by the coronavirus pandemic.
United has played a critical role in keeping global supply chains stable during the pandemic as we deliver urgently needed goods around the world. These past few months have created challenges that I have never seen in my 30-plus years of experience working within the air cargo and freight forwarding industry. However, I'm proud of our teams for staying focused on our mission to provide high-quality service and to keep our customers connected with the goods they need most.
United Cargo and logistics partners keep critical medical shipments moving
July 02, 2020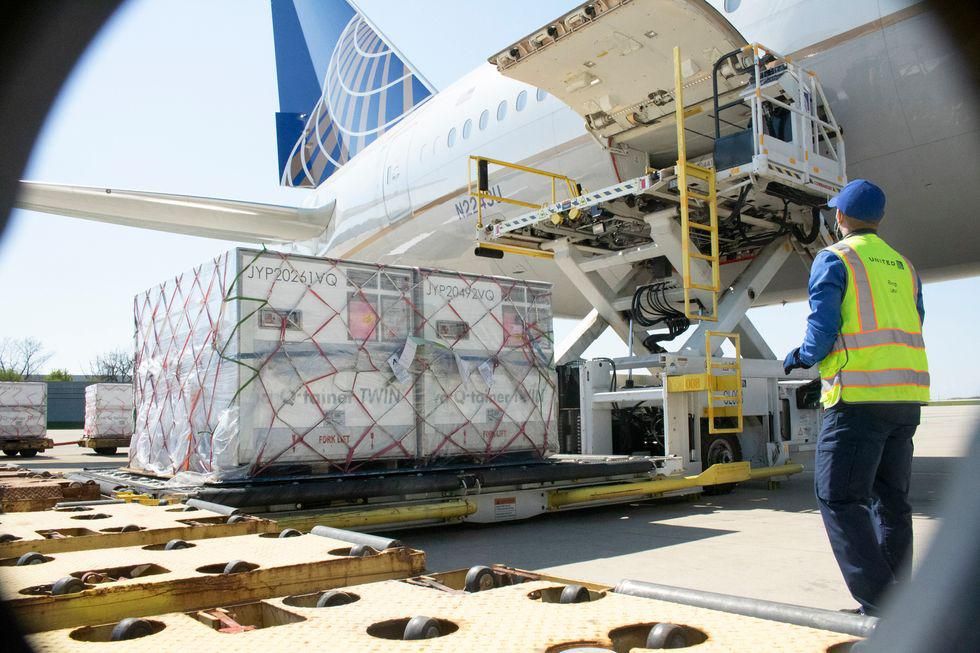 By working together and strengthening partnerships during these unprecedented times, our global community has overcome challenges and created solutions to keep the global supply chain moving. As COVID-19 continues to disrupt the shipping landscape, United and our industry partners have increasingly demonstrated our commitment to the mission of delivering critical medical supplies across the world.

United Cargo has partnered with DSV Air and Sea, a leading global logistics company, to transport important pharmaceutical materials to places all over the world. One of the items most critical during the current crisis is blood plasma.
Plasma is a fragile product that requires very careful handling. Frozen blood plasma must be kept at a very low, stable temperature of negative 20 degrees Celsius or less – no easy task considering it must be transported between trucks, warehouses and airplanes, all while moving through the climates of different countries. Fortunately, along with our well-developed operational procedures and oversight, temperature-controlled shipping containers from partners like va-Q-tec can help protect these sensitive blood plasma shipments from temperature changes.
A single TWINx shipping container from va-Q-tec can accommodate over 1,750 pounds of temperature-sensitive cargo. Every week, DSV delivers 20 TWINx containers, each one filled to capacity with human blood plasma, for loading onto a Boeing 787-9 for transport. The joint effort to move thousands of pounds of blood plasma demonstrates that despite the distance, challenges in moving temperature-sensitive cargo and COVID-19 obstacles, we continue to find creative solutions with the help of our strong partnerships.
United Cargo is proud to keep the commercial air bridges open between the U.S. and the rest of the world. Since March 19, we have operated over 3,200 cargo-only flights between six U.S. hubs and over 20 cities in Asia, Australia, Europe, South America, India, the Caribbean and the Middle East.
United further expands cargo-only operations to key international markets
June 9, 2020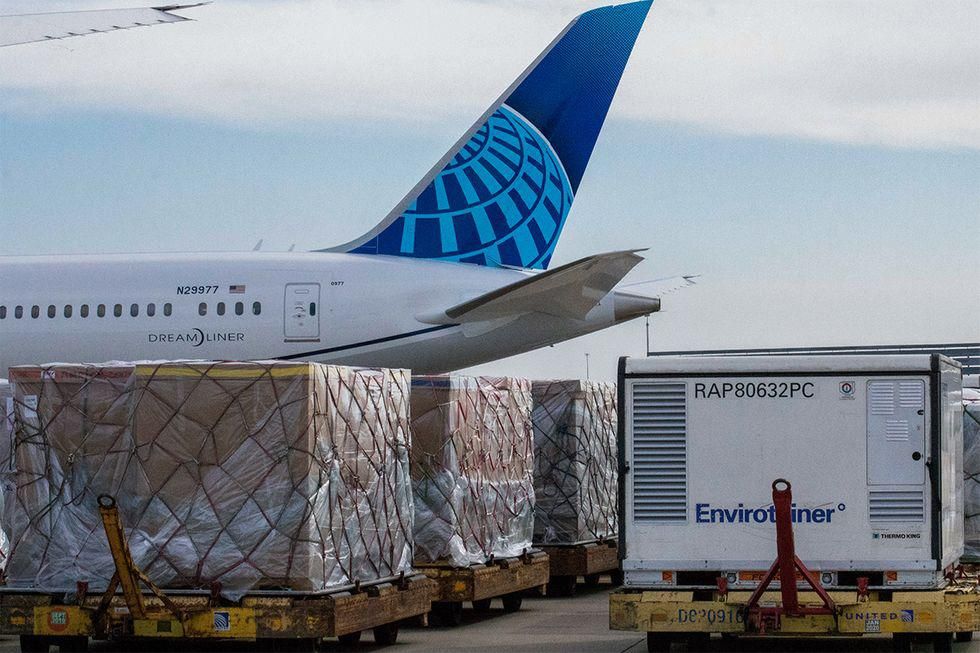 United has played a vital role in helping keep the global supply chains stable during the COVID-19 pandemic so urgently needed goods can get to the places that need them most.

In addition to current service from the U.S. to Asia, Australia, Europe, India, Latin America and the Middle East, we are proud to now offer cargo-only flights to key international markets including Dublin, Paris, Rome, Santiago and Zurich. These new routes will connect our freight customers and further extend our air cargo network throughout the world – for example connecting major pharmaceutical hubs in Europe and perishable markets in Latin America.
"Air cargo continues to be more important than ever," says United Cargo President Jan Krems. "This network expansion helps our customers continue to facilitate trade and contribute to global economic development and recovery. I'm proud of our team for mobilizing our cargo-only flights program that enables the shipment of critical goods that will support global economies."
Since we began our program March 19, we have completed more than 2,400 cargo-only flights, transporting over 77 million pounds of cargo. We have over 1,100 cargo-only flights scheduled for the month of June, operating between six U.S. hubs and over 20 cities all over the world.
United's first flight carrying cargo in-cabin takes off
May 13, 2020

United continues to keep supply chains moving and to meet the demand for critical shipments around the globe. Recently, United received approval from the Federal Aviation Administration (FAA) to carry cargo in approved storage areas in the passenger cabin.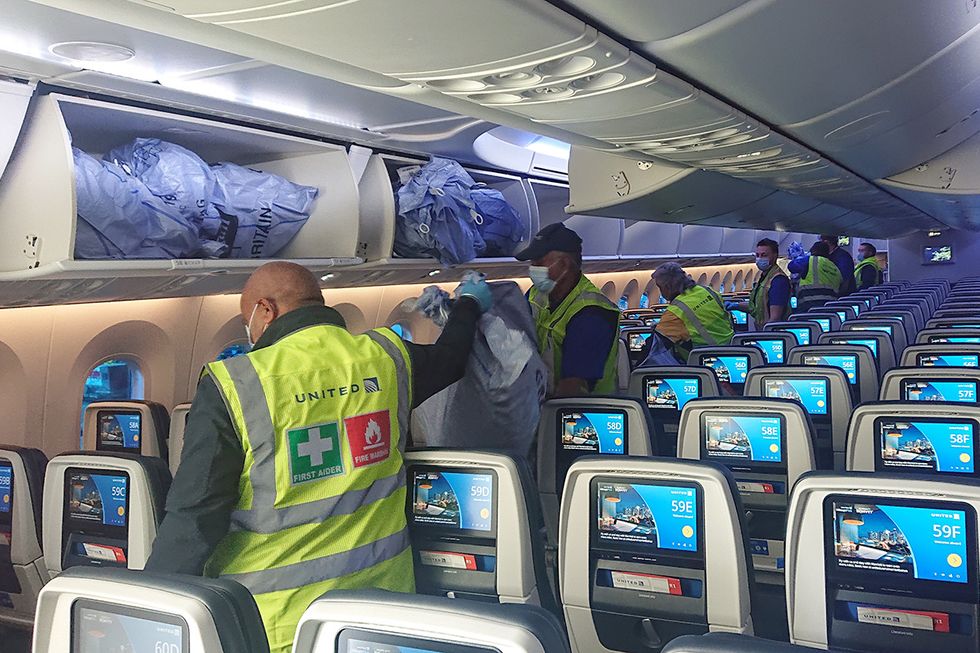 Our inaugural cargo-in-cabin flight flew from London (LHR) to Chicago (ORD) carrying over 4,200 pounds of mail in the passenger cabin, plus a full payload of freight in the belly of the aircraft. Initially, cargo-in-cabin shipments will be loaded on the 777 and 787 aircraft operating our cargo-only flights. We will continue to evaluate additional opportunities to use this space to meet the growing cargo demand.
"We send our sincere thanks to the FAA for working with our team to enable the transport of more critical goods on United's cargo-only flights," said Jan Krems, President of United Cargo. "By loading existing cabin storage areas with cargo and mail, we can move even more critical medical equipment, PPE, and other vital shipments the world needs to manage through the pandemic."

United's cargo-only network continues to expand in order to help bring vital shipments to the people that need it most. We're now offering service between six of our U.S. hubs and 18 airports worldwide: CTU, HKG, ICN, MEL, PEK, PVG, SIN, SYD and TPE in the Asia-Pacific; AMS, BOM, BRU, DUB, FRA, LHR, TLV and ZRH in EMEIA; and SJU in the Caribbean.
Since the start of its cargo-only flights program March 19, United has operated over 1,300 cargo-only flights transporting over 44 million pounds of cargo.
For more information, visit unitedcargo.com.
United expands cargo-only flights to additional global destinations
April 16, 2020
Getting vital goods, especially medical relief supplies, into the hands of the businesses and people who need them has never been more critically important. To meet the overwhelming demand, United began operating cargo-only flights on March 19. Since we began using Boeing 777 and 787 aircraft from United's passenger fleet for this purpose, we have operated over 400 flights carrying more than 6 million kilos of cargo.
"With the global community in need, we are doing everything we can to keep supply chains moving worldwide and support the battle against COVID-19," said United Cargo President Jan Krems. "We're proud to play an active role in connecting vital medical supplies like test kits and personal protective equipment with healthcare professionals around the world."
We are now operating more than 150 cargo-only flights per week between six of our U.S. hubs and 13 cities worldwide: CTU, HKG, PEK, PVG, SYD and TPE in the Asia Pacific; AMS, BRU, DUB, FRA and LHR in Europe; SJU in the Caribbean and TLV in the Middle East. We expect to add new cities soon and will continue to expand our cargo-only flights program.
Hub
Cargo-only flights operating through May
Chicago (ORD)
ORD - AMS (Amsterdam)
ORD - FRA (Frankfurt)
ORD - HKG (Hong Kong)
ORD - LHR (London)
ORD - NRT (Tokyo Narita) - PEK (Beijing)

Houston (IAH)
IAH - AMS (Amsterdam)
IAD - FRA (Frankfurt)
Los Angeles (LAX)
LAX - HKG (Hong Kong)
LAX - LHR (London Heathrow)
LAX - NRT (Tokyo Narita) - PVG (Shanghai)
LAX - SYD (Sydney)
New York/Newark (EWR)
EWR - AMS (Amsterdam)
EWR - FRA (Frankfurt)
EWR - LHR (London)
San Francisco (SFO)
SFO - AMS (Amsterdam)
SFO - NRT (Tokyo Narita) - PEK (Beijing)
SFO - NRT (Tokyo Narita) - PVG (Shanghai)
SFO - NRT (Tokyo Narita) - TPE (Taipei)
SFO - TLV (Tel Aviv)
SFO - SYD (Sydney)
Washington, D.C. (IAD)
IAD - BRU (Brussels)
IAD - DUB (Dublin)
IAD - FRA (Frankfurt)
IAD - NRT (Tokyo Narita) - PEK (Beijing)
IAD - SJU (San Juan)
Flight details are subject to change, for the most up-to-date schedules, please visit https://ual.unitedcargo.com/covid-updates.
Cargo-only flights support U.S. military and their families
March 30, 2020
We are helping to keep military families connected by increasing the frequency of cargo-only flights between the United States and military bases in various parts of the world — including Guam, Kwajalein, and several countries in Europe. Last week we began operating a minimum of 40 cargo-only flights weekly — using Boeing 777 and 787 aircraft to fly freight and mail to and from U.S. hubs and key international business and military locations.
We are going above and beyond to find creative ways to transport fresh food and produce, as well as basic essentials from the U.S. mainland to military and their families in Guam/Micronesia. On Saturday, March 28, we operated an exclusive cargo-only B777-300 charter to transport nearly 100,000 pounds of food essentials to Guam to support our troops.
In addition, we move mail year-round all over the world. In response to COVID-19, and in support of the military members and their families overseas, we implemented a charter network, transporting military mail to Frankfurt, which is then transported all over Europe and the Middle East. Since March 20, we have flown 30,000+ pounds of military mail every day between Chicago O'Hare (ORD) and Frankfurt (FRA). On the return flight from Frankfurt to Chicago, we have carried an average of 35,000 pounds of mail to help families stay connected.

"Keeping our military families connected with the goods they need, and keeping them connected with loved ones to feel a sense of home, is of critical importance. As a company that has long supported our military families and veterans, our teams are proud to mobilize to lend a hand." — United Cargo President Jan Krems.
Our cargo-only flights support customers, keep planes moving

March 22, 2020
We have begun flying a portion of our Boeing 777 and 787 fleet as dedicated cargo charter aircraft to transfer freight to and from U.S. hubs and key international business locations. The first of these freight-only flights departed on March 19 from Chicago O'Hare International Airport (ORD) to Frankfurt International Airport (FRA) with the cargo hold completely full, with more than 29,000 lbs. of goods.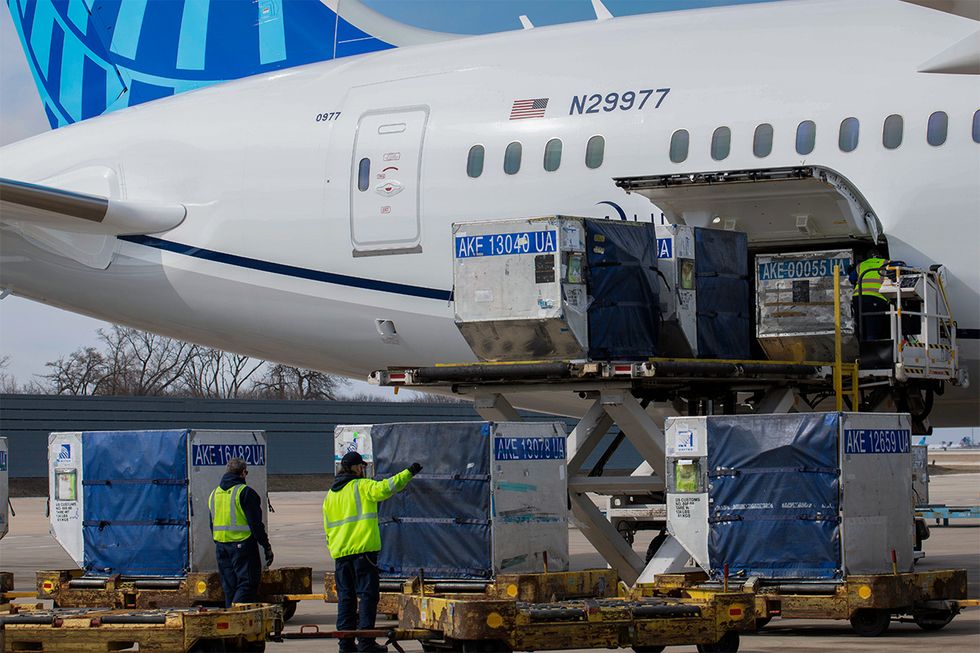 Getting critical goods into the hands of the businesses and people who need them most is extremely important right now. To support customers, employees and the global economy, we will initially operate a schedule of 40 cargo charters each week targeting international destinations and will continue to seek additional opportunities.

With coronavirus (COVID-19) creating an increased need to keep the global supply chain moving, we are utilizing our network capabilities and personnel to get vital shipments, such as medical supplies, to areas that need them most.
"Connecting products to people around the world is the United Cargo mission," said United Cargo President Jan Krems. "That role has never been more crucial than during the current crisis. Our team is working around the clock to provide innovative solutions for our customers and support the global community."
On average, we ship more than 1 billion pounds of cargo every year on behalf of domestic and international customers. For more information, visit unitedcargo.com.
Airline and its customers use crowdsourcing platform - Miles on a Mission - to donate more than 11 million miles for charities like the Thurgood Marshall College Fund, College to Congress and Compass to Care
CHICAGO, Dec. 1, 2020 /PRNewswire/ -- United is inviting MileagePlus members to give back on Giving Tuesday and throughout the holiday season by donating miles to nearly 40 non-profits through United Airlines' crowdsourcing platform, Miles on a Mission. Non-profits like Thurgood Marshall College Fund, College to Congress and Compass to Care are attempting to raise a total of more than 11 million miles to be used for travel for life-saving health care, continued education, humanitarian aid and more. United will match the first 125,000 miles raised for each of these organizations to help ensure they meet their goals.
"This year has posed unprecedented challenges for us all and has been especially devastating to some of the most vulnerable members within the communities we serve," said Suzi Cabo, managing director of global community engagement, United Airlines. "The need for charitable giving has not stopped during the pandemic, and neither has United. This Giving Tuesday marks an opportunity for us to all come together for the greater good and we are proud to provide a platform to support organizations with upcoming travel needs that will enable them to continue supporting the communities they serve."
The launch of these campaigns is part of United's ongoing Miles on a Mission program, which began in October 2019 and has raised more than 92 million miles to-date. Past campaigns have helped organizations travel children for life-saving medical treatment and unite parents with newly adopted children from foreign countries. Participating non-profits have 28-days to reach their mile raising goals through the platform.
The organizations that are raising miles in this campaign include:
College to Congress: The organization provides support including travel for disadvantaged college students who otherwise could not afford to intern in Washington, D.C.
Thurgood Marshall College Fund: This is the only national organization representing America's 47 publicly-supported Historically Black Colleges and Universities (HBCUs), and the nearly 300,000 students that attend them each year. The miles raised will cover the travel expenses to and from campus for students unable to afford them.
My Block, My Hood, My City: This organization provides underprivileged youth with an awareness of the world and opportunities beyond their neighborhood. Miles will be used to fund educational trips for Chicago youths to help them gain a greater understanding of the world outside of their comfort zones.
Compass to Care: The non-profit ensures all children, whose parents have a financial need, can access life-saving cancer treatment. Compass to Care is raising miles to fund travel to get children from their homes to hospitals for cancer treatment.
Luke's Wings: This organization is dedicated to the support of service members who have been wounded in battle. Raised miles will be used to purchase plane tickets for families to visit wounded soldiers recovering in Army medical centers.
Rainbow Railroad USA: The organization's mission is to help persecuted LGBTQI+ individuals around the world travel to safety as they seek a haven from persecution. Miles will support the organization's core Emergency Travel Support program.
This year, United's legal partner Kirkland & Ellis will also be donating $50,000 to My Block, My Hood, My City and the Thurgood Marshall College Fund. Other organizations launching campaigns on the platform include: Sisters of the Skies, Inc., Up2Us Sports, Airline Ambassadors International, Austin Smiles, AWS Foundation, Crazy Horse Memorial, FLYTE, Higher Orbits, Lily's Hope Foundation, Miles4Migrants, Support Utila Inc. and Watts of Love. MileagePlus members can also donate to United's 20 other existing partner charities including, Airlink, American Red Cross, Make-A-Wish, Shriners Hospitals; Clean the World, Special Olympics and more. To learn more or donate to these organizations, please visit donate.mileageplus.com.
Visit www.united.com/everyactioncounts to learn more about our pledge to put our people and planes to work for the greater good.
About United
United's shared purpose is "Connecting People. Uniting the World." For more information, visit united.com, follow @United on Twitter and Instagram or connect on Facebook. The common stock of United's parent, United Airlines Holdings, Inc., is traded on the Nasdaq under the symbol "UAL".

SOURCE United Airlines
For further information: United Airlines Worldwide Media Relations, +1-872-825-8640, media.relations@united.com

In October 2019, we launched a first-of-its-kind airline miles donation platform, Miles on a Mission. In the inaugural year, MileagePlus members donated over 70 million miles, with United matching over 20 million miles, to 51 organizations. These miles have allowed for these organizations to do important, life-changing, life-saving work in the communities we serve around the globe.
Whether it's visiting friends and relatives, traveling for work or simply exploring a new corner of the world, we all have a reason as to why we fly. No matter the reason you fly, the miles you earn and donate help our Miles on a Mission partners soar. Take a look at how some of our partner organizations have put our MileagePlus Members' donations to work.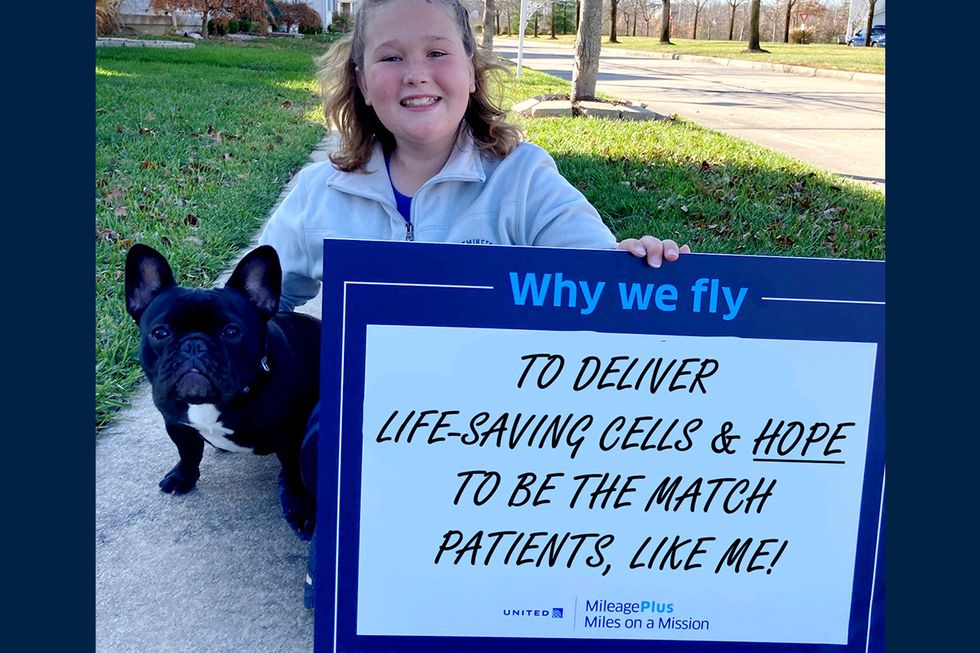 "To deliver life-saving cells and hope to Be the Match patients, like me!"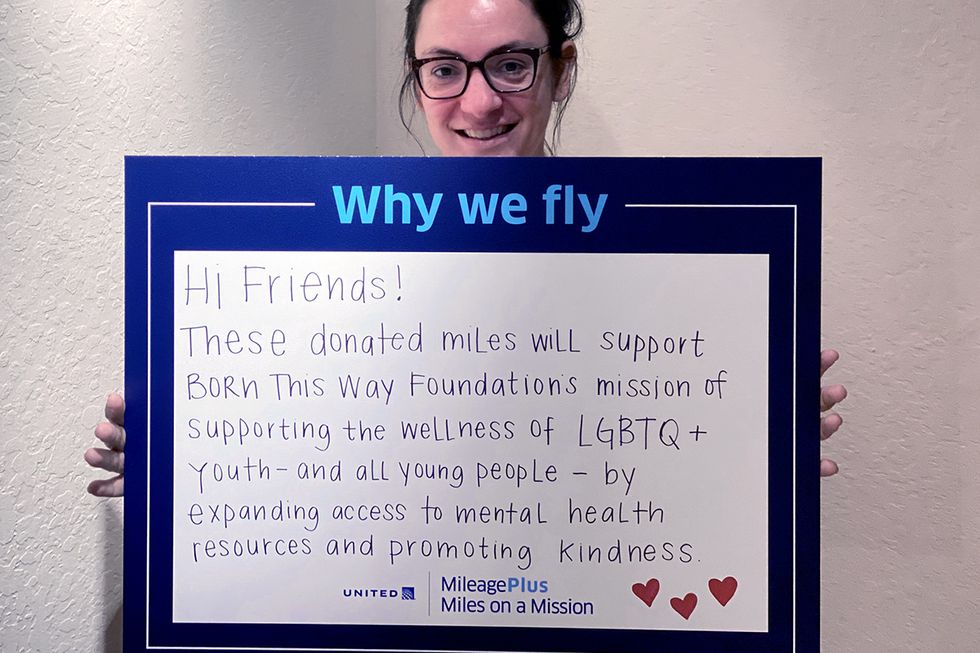 "These donated miles will support Born This Way Foundation's mission of supporting the wellness of LGBTQ+ youth — and all young people — by expanding access to mental health resources and promoting kindness."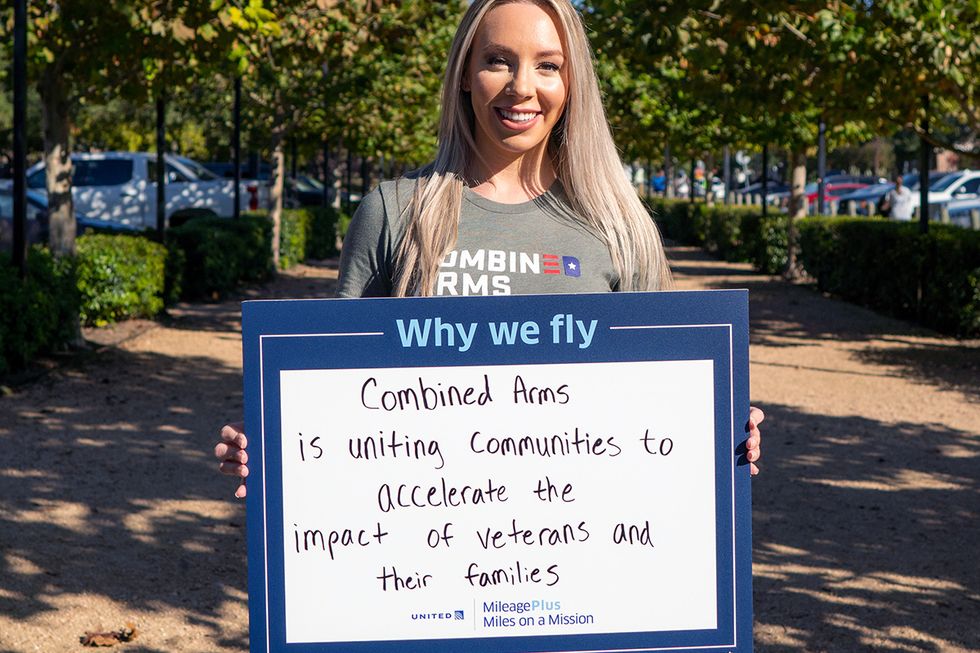 "Combined Arms is uniting communities to accelerate the impact of veterans and their families."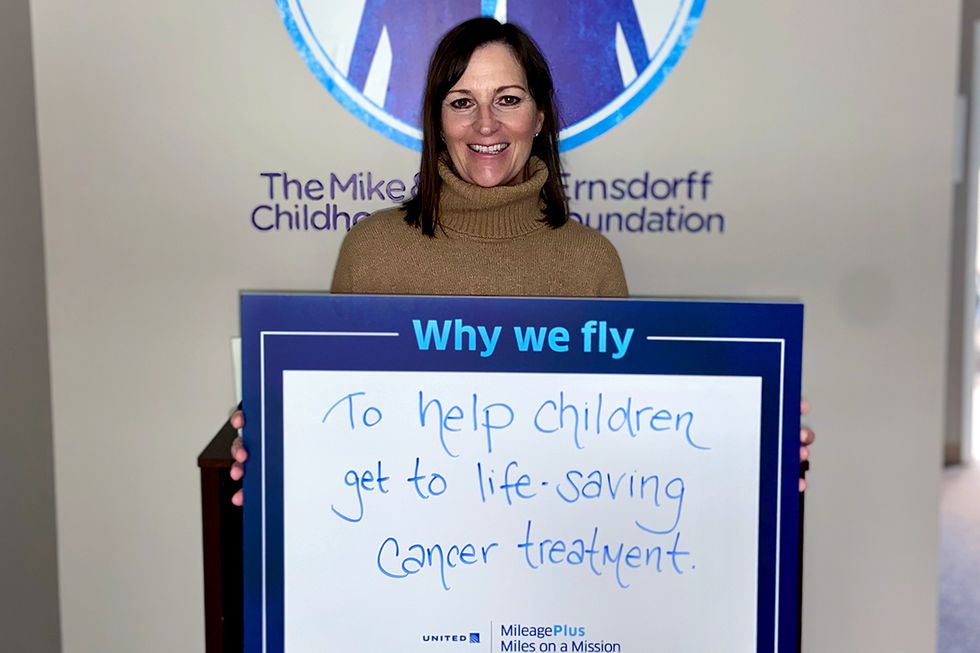 "To help children get to life-saving cancer treatment"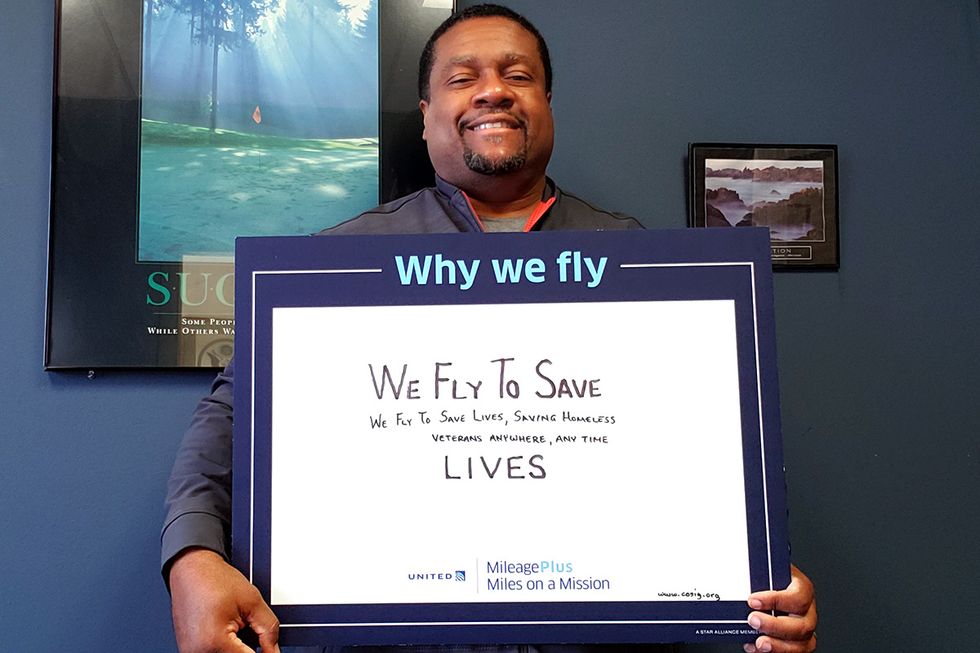 "We fly to save. We fly to save lives, saving homeless veterans anywhere, any time."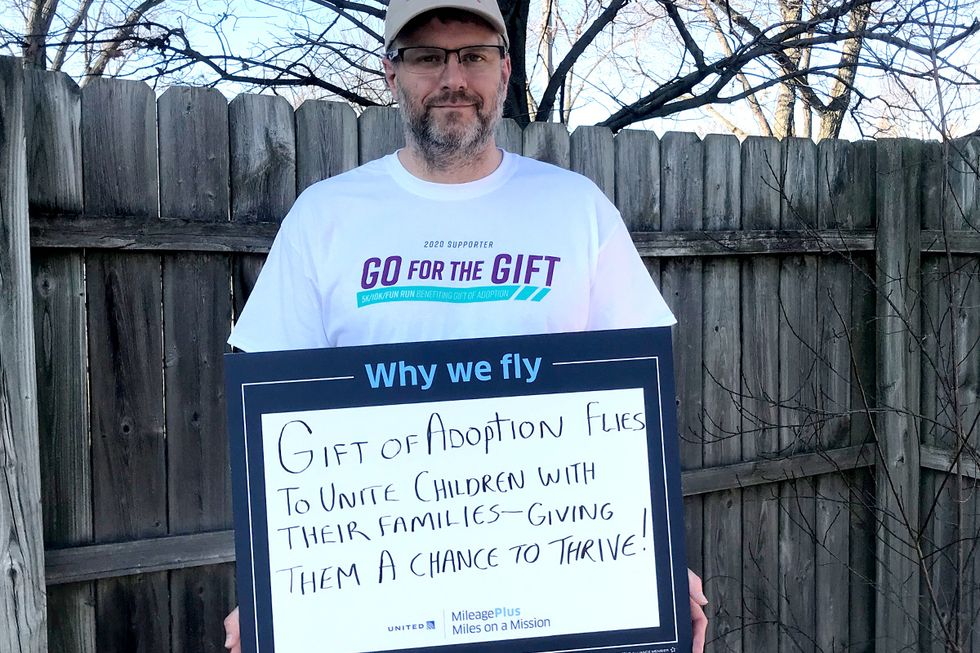 "Gift of Adoption flies to unite children with their families — giving them a chance to thrive!"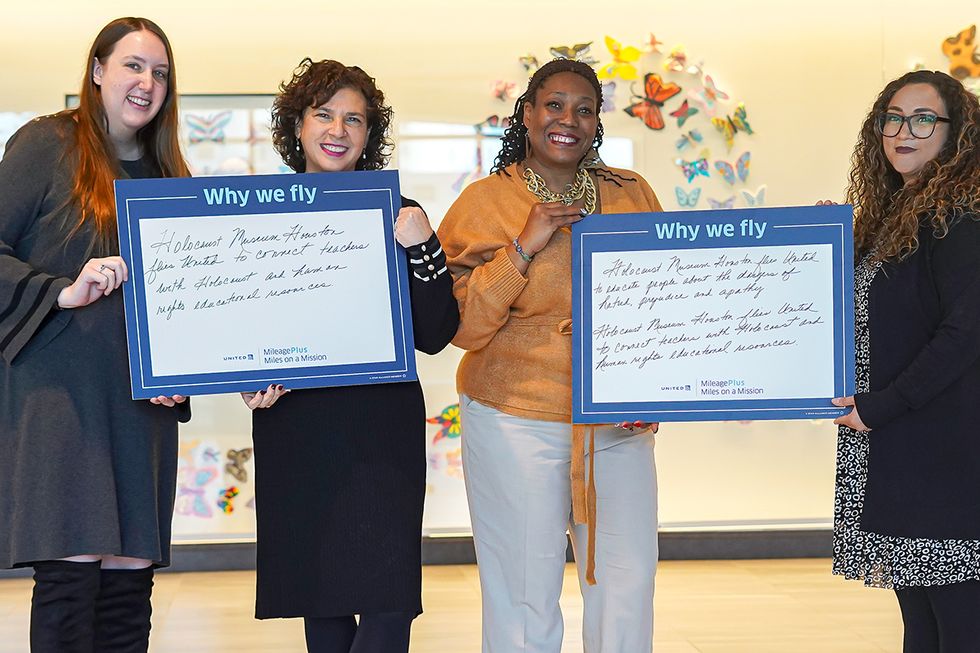 "Holocaust Museum Houston flies United to educate people about the dangers of hatred, prejudice and apathy. Holocaust Museum Houston flies United to connect teachers with Holocaust and human rights educational resources."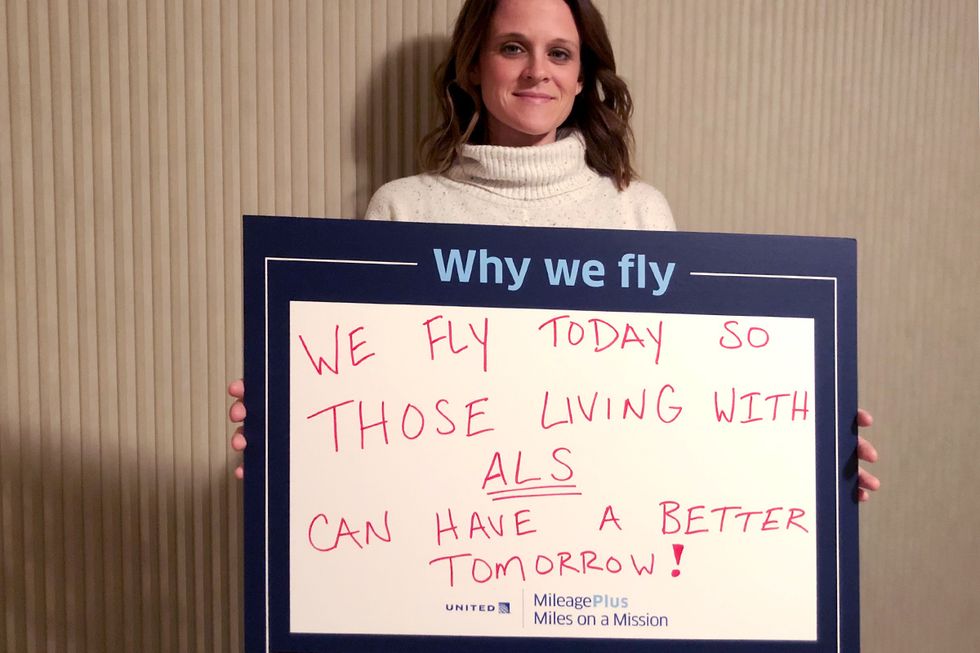 "We fly today so those living with ALS can have a better tomorrow."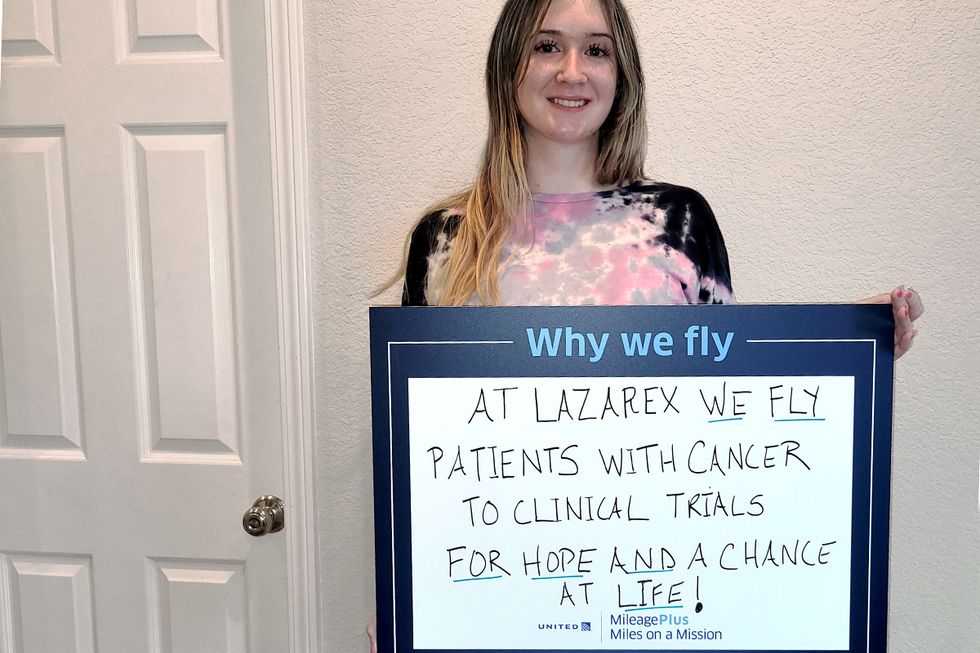 "At Lazarex we fly patients with cancer to clinical trials for hope and a chance at life!"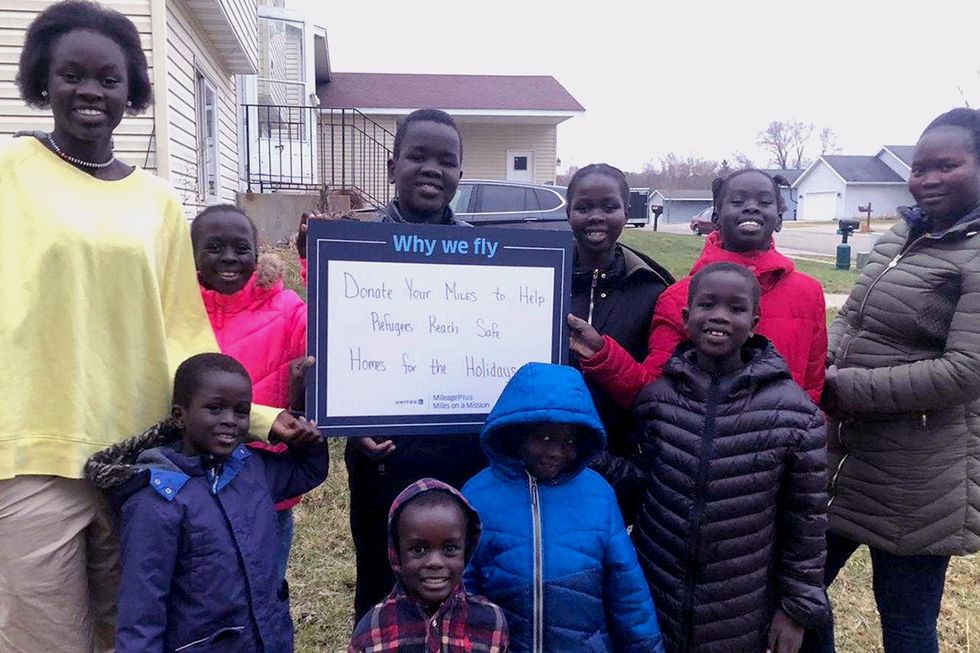 "Donate your miles to help refugees reach safe homes for the holidays."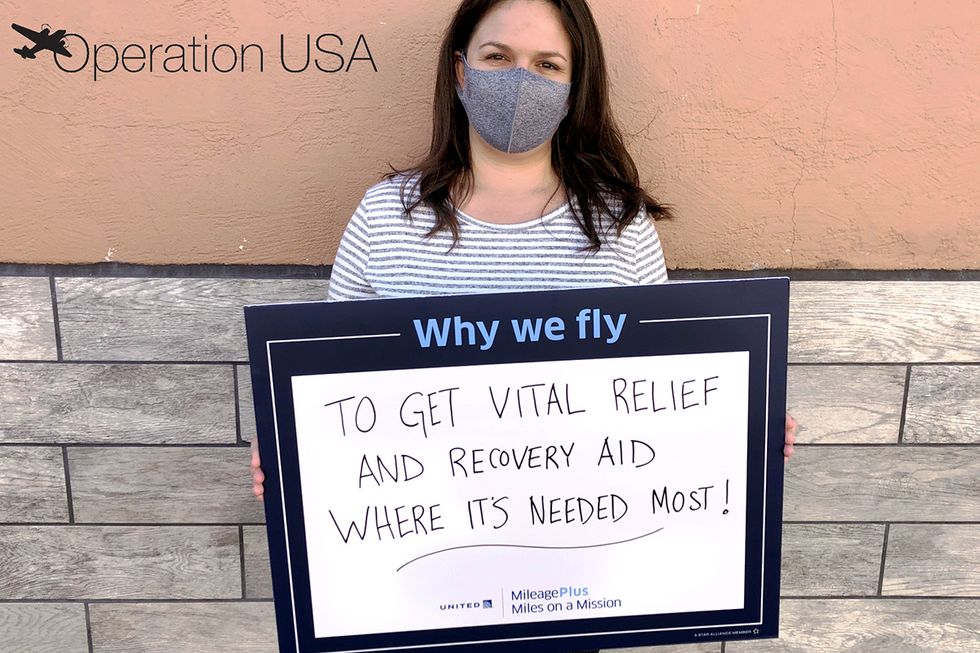 "To get vital relief and recovery aid where it's needed most!"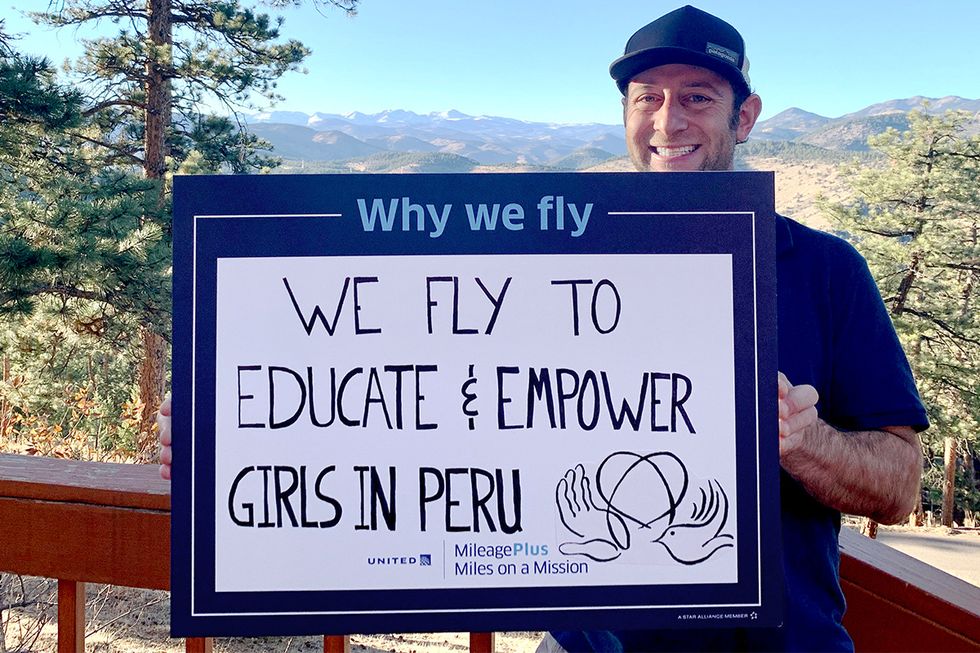 "We fly to educate and empower girls in Peru."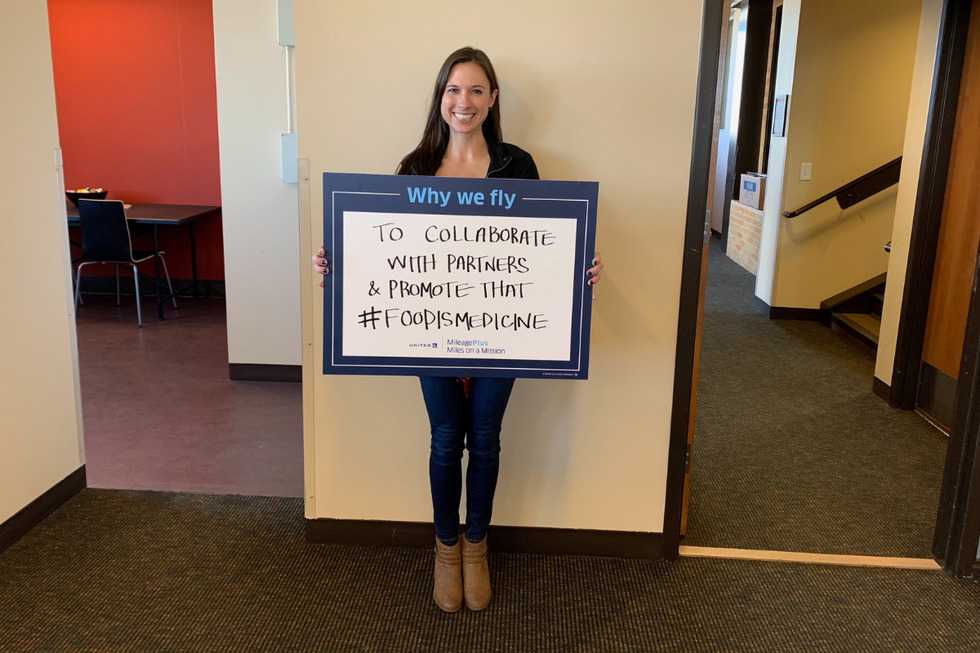 "To collaborate with partners & promote that #FoodIsMedicine"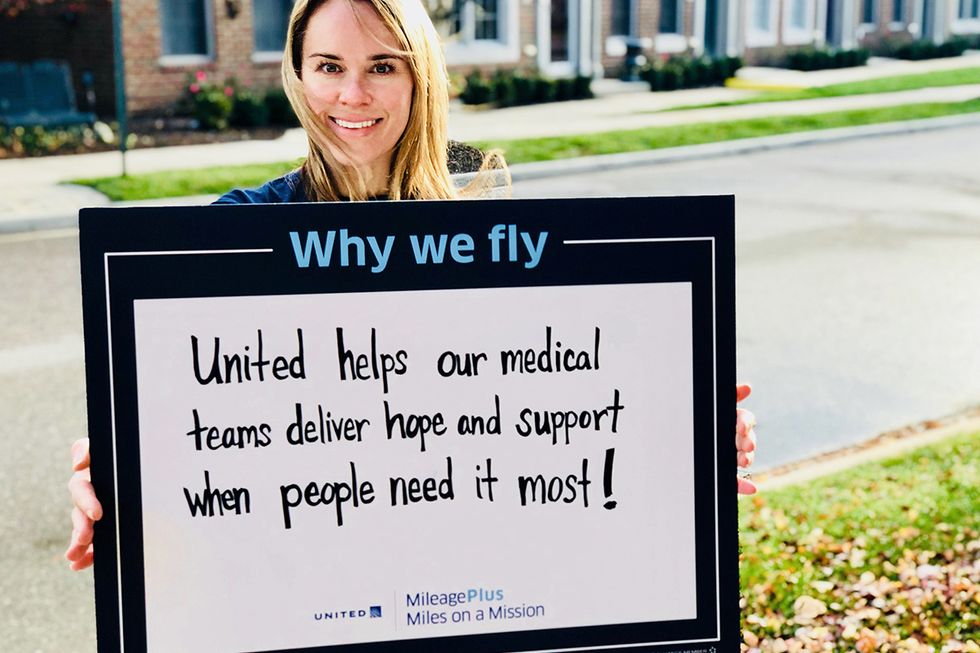 "United helps our medical teams deliver hope and support when people need it most!"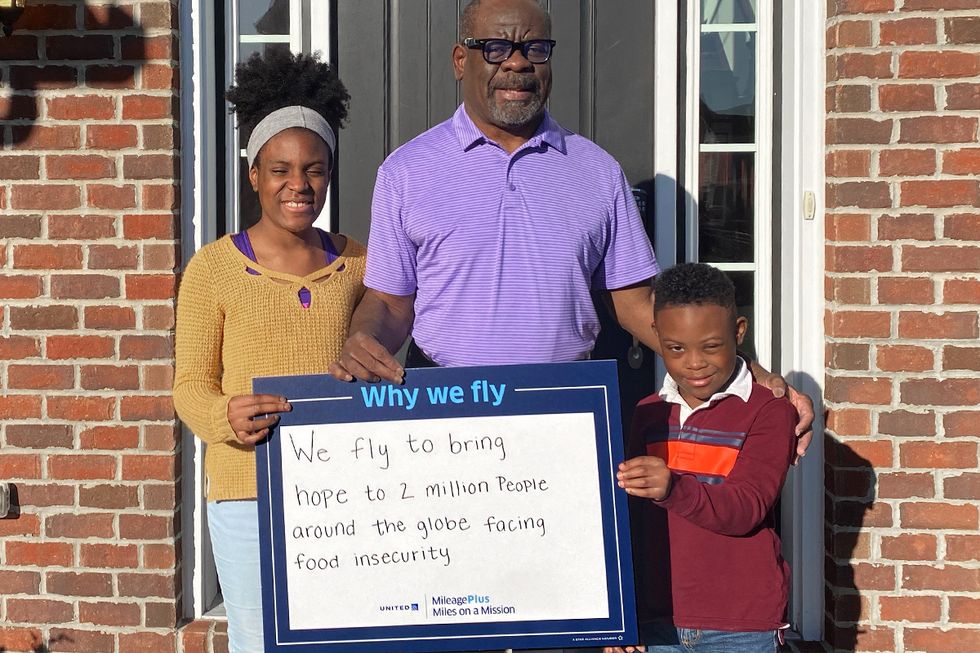 "We fly to bring hope to 2 million people around the globe facing food insecurity."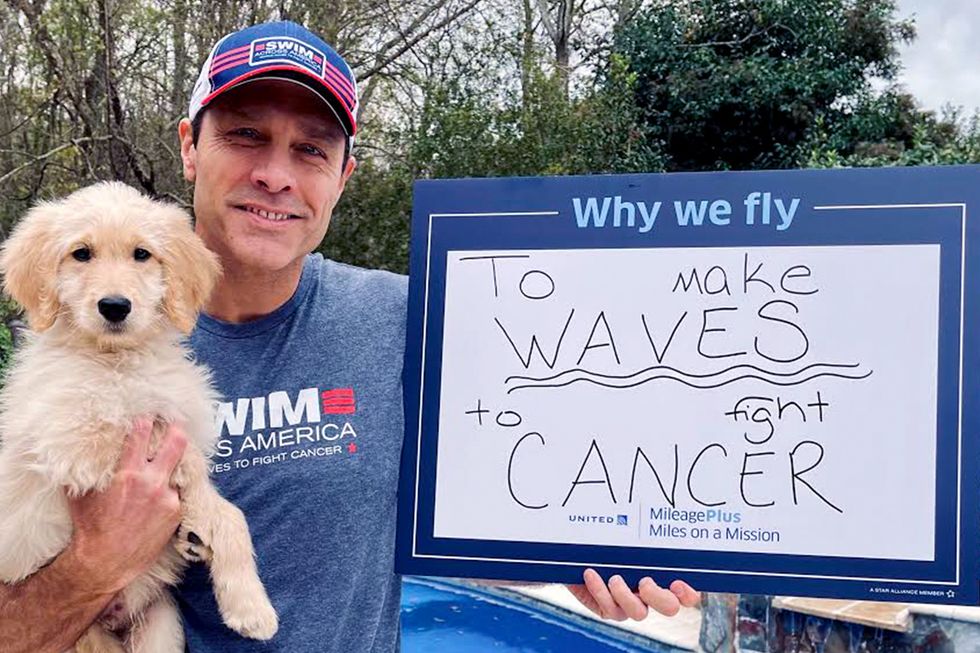 "To make waves to fight cancer."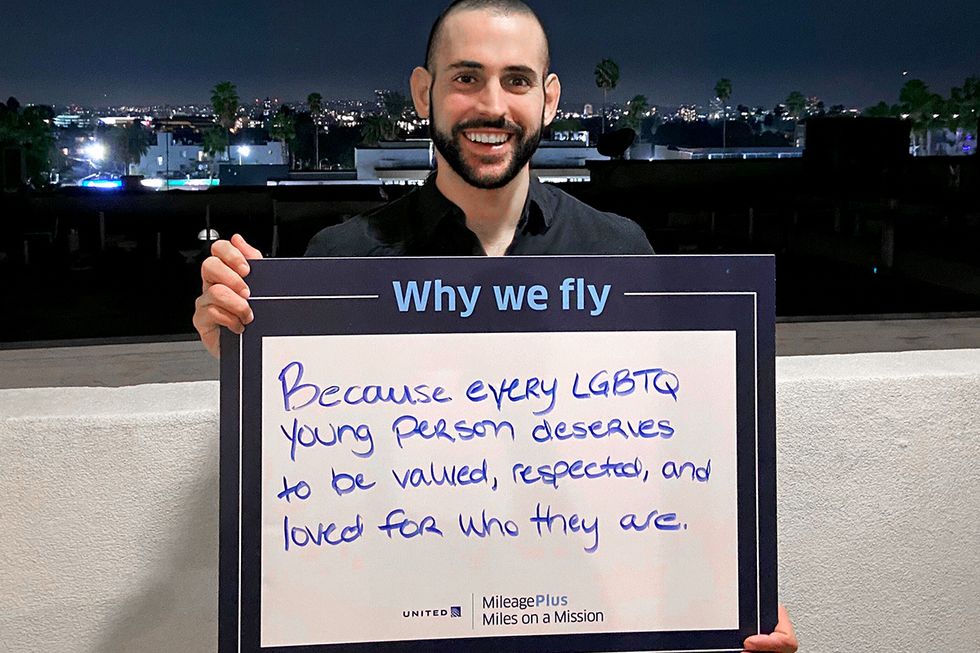 "Because every LGBTQ young person deserves to be valued, respected and loved for who they are."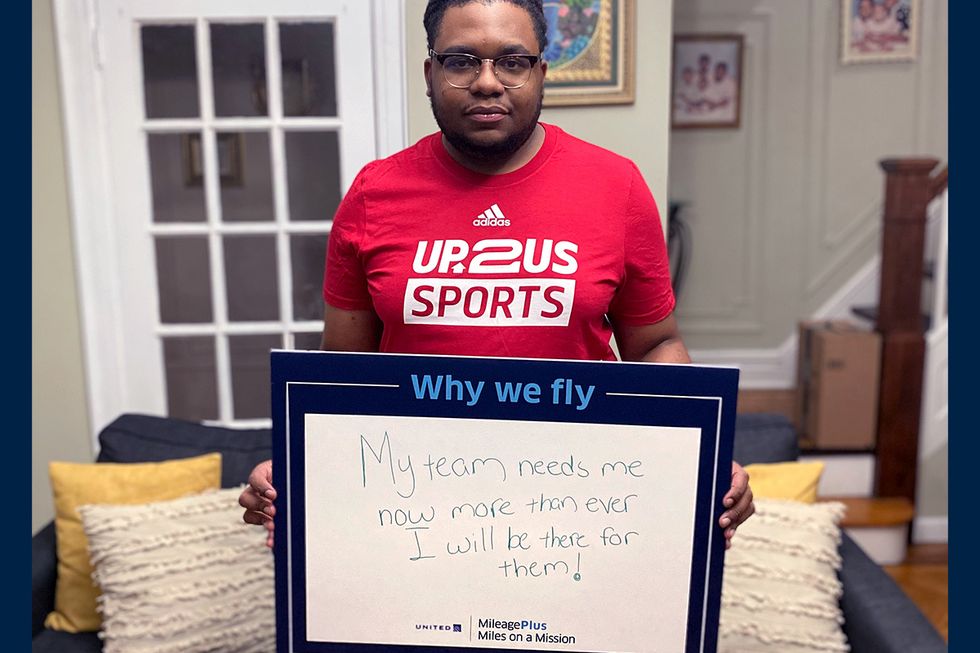 "My team needs me now more than ever. I will be there for them!"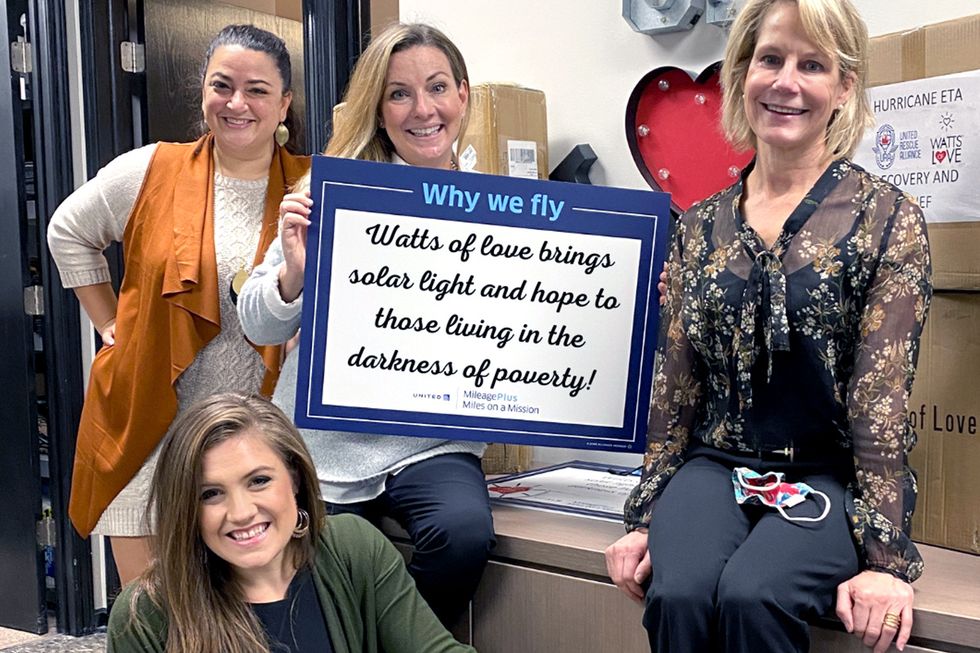 "Watts of Love brings solar light and hope to those living in the darkness of poverty!"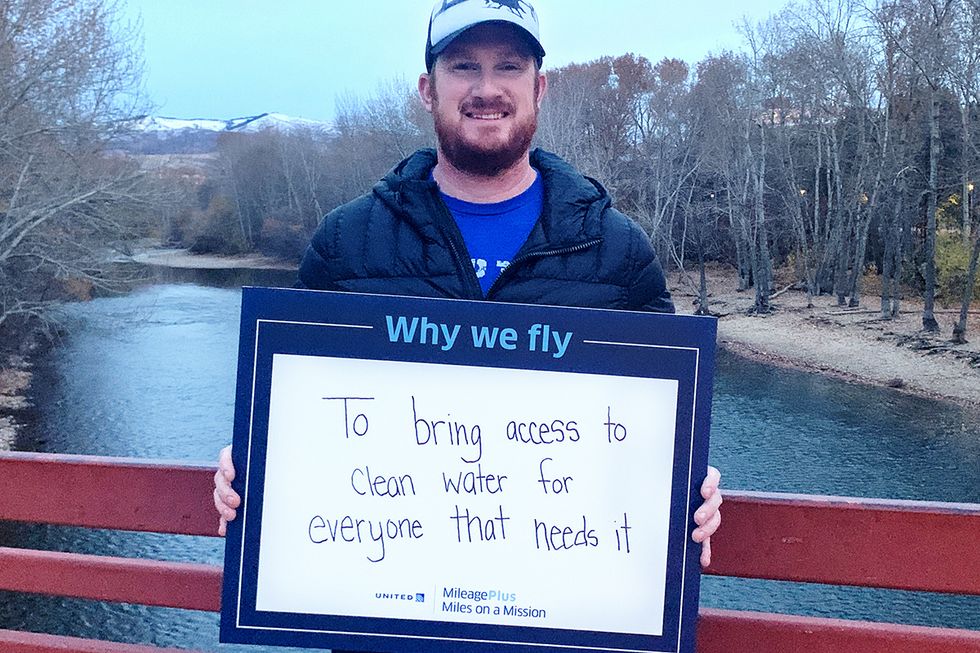 "To bring access to clean water for everyone that needs it."
Scroll to top