Three Perfect Days: The Florida Keys
Story by Jacqueline Detwiler | Photography by Tristan Wheelock | Hemispheres December 2016
The moment you set foot in the Florida Keys, you see them: Conch Republic flags, a seashell on a yellow sun in a blue field of stars. The flags stem from a quixotic secession campaign the islanders hatched in 1982, after the U.S. Border Patrol set up a checkpoint near Homestead, Florida, about 45 minutes south of Miami, that effectively cut the Keys off from the mainland. The U.S. government, unsurprisingly, rejected the proposal, and the Keys did not secede. But, in a way, they never really had to. This pleasing, sun-bleached archipelago has been its own thing from the very beginning. Just 45 of the 1,000 or so tropical islands are connected to Florida by a single road; the rest are accessible only by boat. (Everyone has a boat.) In many places, chickens walk the streets. The lobsters are striped, and people eat meat out of conch shells. The Keys are still a little wild in all the best ways. They're the kind of place where you can still legitimately get lost — which is when things get really interesting.


In which Jacqueline catches mutton snapper, meets some turtles, and spends time at the preferred resorts of two former U.S. presidents.
The gentleman at the other end of the bar at Mangrove Mike's is wearing an eye-popping Hawaiian shirt that is completely unbuttoned. It is blearily early, and it's all I can do to focus on my Mangrove Oscar — an English muffin topped with poached eggs, béarnaise sauce, spinach, and blue crab. The man is absorbed in the TV on the wall, which is playing sport fishing's equivalent of a big-wave-surfing highlight reel.
"Have a nice day, Pete," the waitress says as the man pays his bill.
"You too, sweetie."
Pete must be going fishing. There is no other reason to be awake at 6:30 a.m. in Islamorada, a sandy village that spans six islands about a third of the way down the Florida Keys. Snapper, bonefish, tarpon, marlin, mahi-mahi, wahoo, amberjack, goliath grouper — the waters here teem so heartily with marine life it doesn't seem fair to try to catch it. But people do: More saltwater sport fishing records have been established here than anywhere else in the world.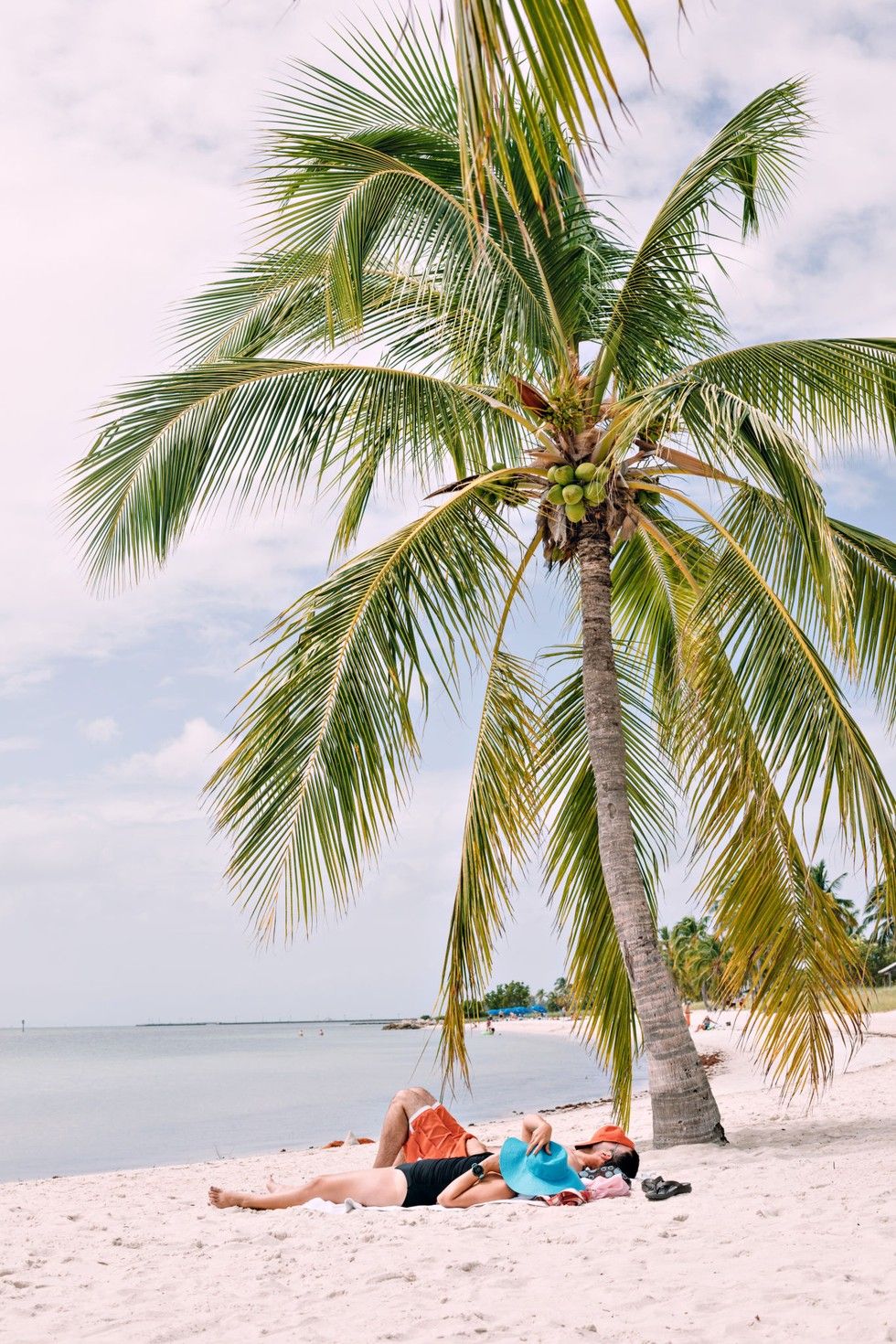 Smathers Beach in Key West
With about 6,500 residents, Islamorada is one of the larger communities in the Keys, the homes set back from the road along the water, most with a boat docked at a slip. Alongside the electric-blue sea, the buildings look blanched and bony, a row of pastel shells. Shops sell their mementos — sea sponges, wind chimes — along either side of U.S. 1, which evolved from the "railroad into the sea," built by oil tycoon Henry Flagler in 1912, into a highway that now connects the archipelago to the mainland.

I've dragged my boyfriend, Alex, along on this trip because we're both keen sport fishers. Actually, that isn't true. I've brought Alex along because I'm from Orlando, which makes the Keys a sort of idyllic backyard to the Disney- and alligator-filled jungle of my youth, and I feel he should see it. Also: I've brought him because my parents fell in love here, and I figure I should too. But let's not get ahead of ourselves — maybe we'll just start with some fishing.
Down the road from Mangrove Mike's, Captain Randy Towe's boat is docked in a small marina behind Lorelei Restaurant & Cabana Bar. When we find him, he's already hopping on and off the boat, tying knots and placing important doodads in necessary locations. Captain Randy has lived in the Keys for 35 years, since an injury ended his minor-league pitching career, at which point he started a rod-making business. (He counts former President George H.W. Bush among his clients.)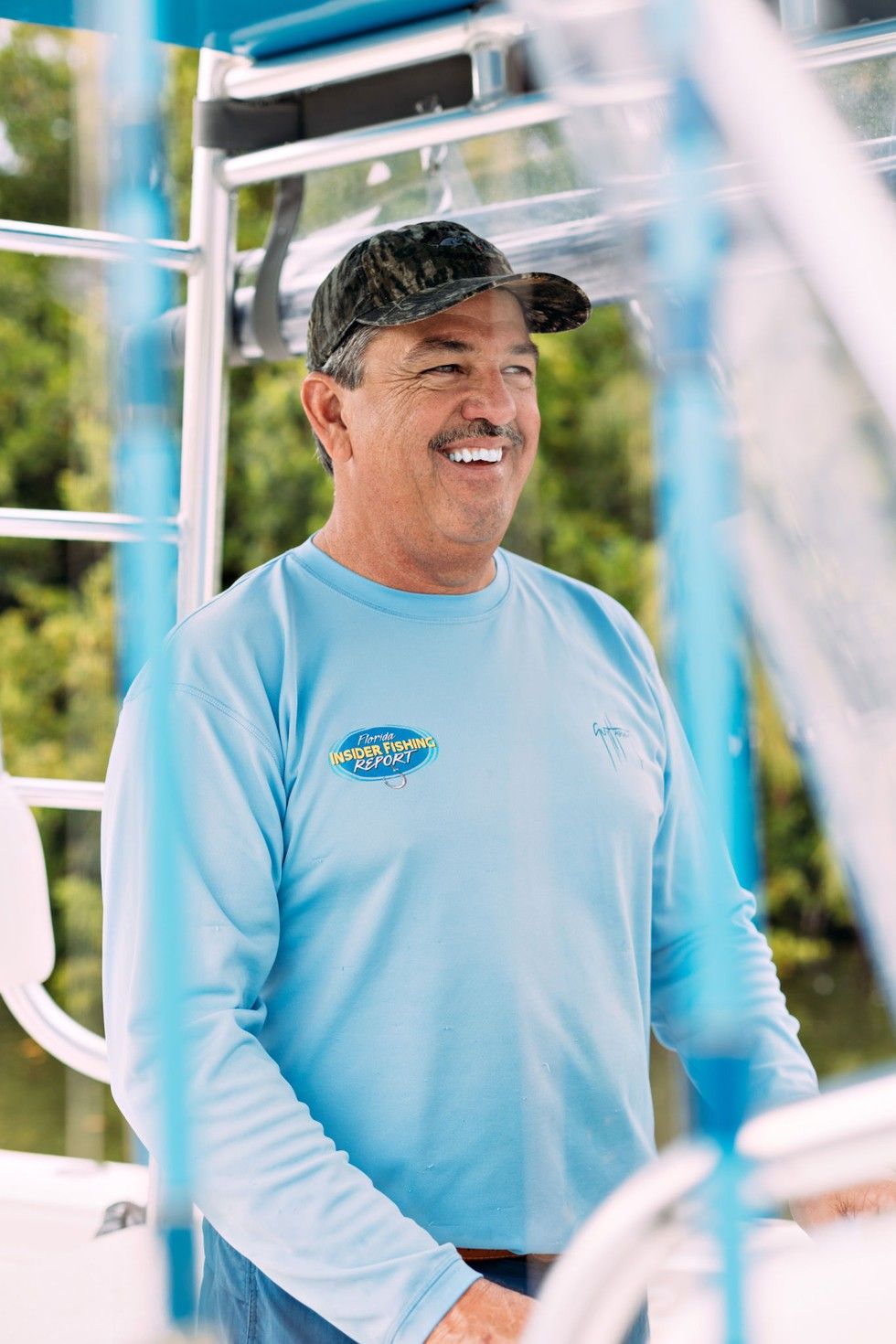 Randy Towe, fishing guide
We step aboard Captain Randy's boat, a 34-foot Pursuit Center Console with twin 300 Yamaha engines — which in English means midsize and fast. About 20 minutes later, we reach a spot where he's had luck catching mutton snapper. The current tugs us slowly over the Crocker Reef as Captain Randy baits the lines and casts for us. Almost immediately, the lines zing with bites, and soon I've reeled in three flapping fish. Nothing to it.

Having tossed our haul into chilled seawater, the captain steers us back to dry land. "These'll be the best fish you ever tasted," he says, deftly stripping the fillets from the bones. "Because I don't put them in fresh water. If you rinse them in saltwater, like I do, they'll last a week. If you freeze these, they'll last a year." Captain Randy is not a man of many words, but the words he does say are awfully useful.
Like most restaurants in the Keys, the Lorelei does "catch and cook." I hand over our fillets and the chef pan-fries them in blackening spices and serves them with fries. While we wait on the deck, we order a round of key lime coladas, which taste as if someone dropped a slice of key lime pie into a blender full of rum. The snapper is indeed some of the best fish I've ever tasted. The key lime colada, however, is the best thing I have ever tasted.
"The best time to see the bars and restaurants in Islamorada is at sunset. The Lorelei goes crazy every night. Another good place is the Tiki Bar at Holiday Isle, which they're famous for. And the Postcard Inn is kind of a landmark." –Randy Towe
Fed and buzzed, we return to our previous night's hotel, Cheeca Lodge & Spa, an oceanfront resort that opened in 1946. A siesta is probably in order, but instead we head to the nearby beach to borrow paddleboards from the activities desk. We paddle out to a submerged log. I make the first complete circumnavigation, and Alex claims it in the name of room 403.
Back ashore, we wander past photos of the Lodge's notable visitors, who have included Bing Crosby, Paul Newman, and Jack Nicklaus. (It was also a favorite of the senior President Bush.) Our room has an open-air terrace and a soaker tub that fills from a faucet in the ceiling. I lie on the bed under an old wicker fan until the tub is full, then take a bath in the fresh air to wash off what's left of the ocean salt.
On our way down to Marathon Key, we stop at Robbie's Marina, where they'll let you look at tarpon for a buck and feed them for three and change. At first I think this is a scam. Then I hear the screams. I walk to the end of a dock and hold a limp fish over the water. One second. Two seconds. Three. A tarpon appears and opens its weird bony mouth under my hand. Its jaw looks like the prongs on a Trapper Keeper. Alex gets a slow-motion video of my face contorting as I recoil in horror. It's definitely worth $4.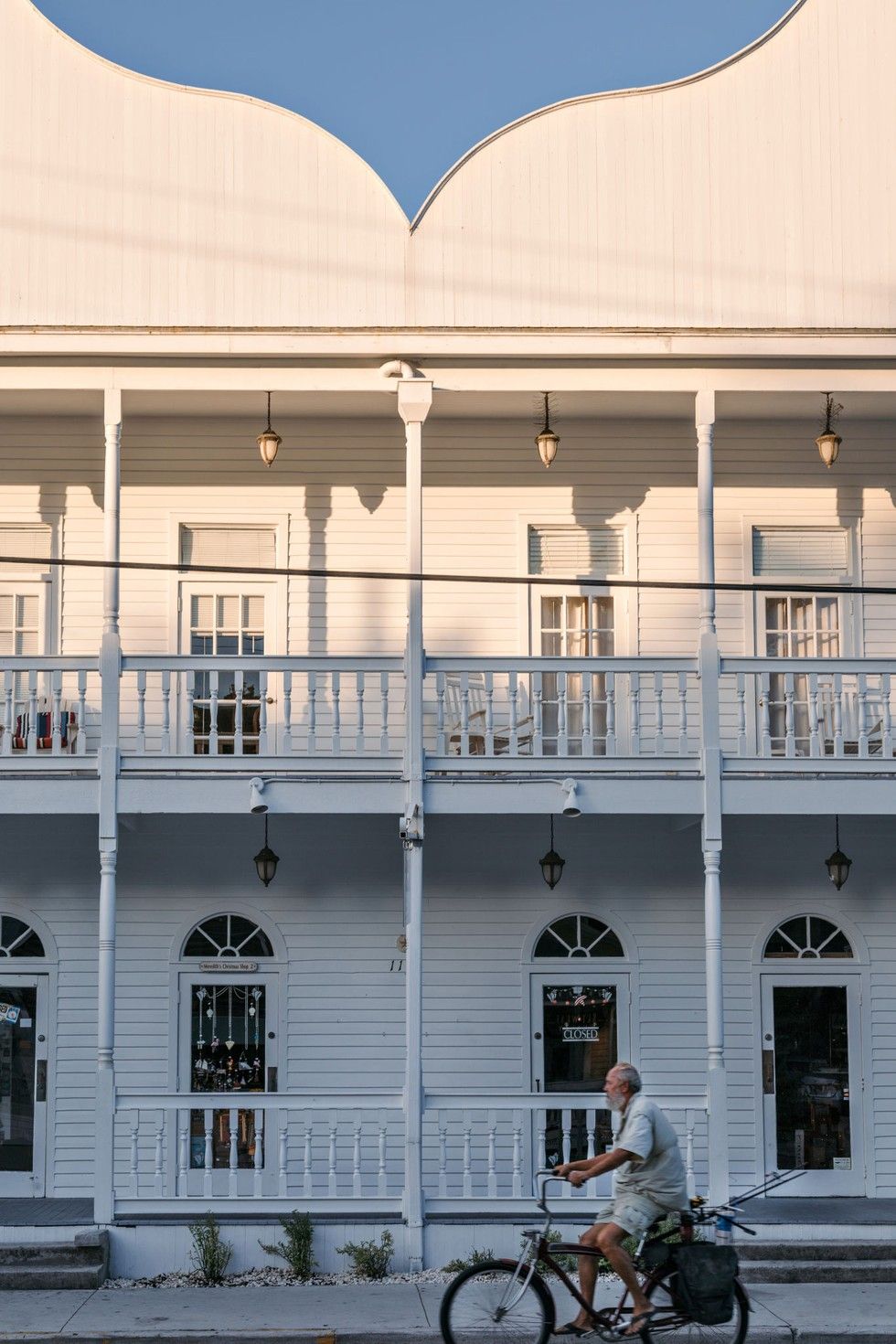 Colonial architecture on Key West's Duval Street
Back on the elevated highway, I get the sense we're following the perspective line in a painting of the sea. We are surrounded by water, and the view is so beautiful that, over the next half-hour, we see three people driving convertibles while holding GoPros on selfie sticks.

We stop at Marathon because I am determined to see the Turtle Hospital, a former motel where vets rehabilitate ailing rescued turtles before releasing them back into the sea. One tank is full of turtle hatchlings the size of key limes. These guys aren't sick; they just got lost and need a ride back out to the ocean. They are unreasonably cute.
Back on U.S. 1, we drive 20 minutes to the check-in desk of Little Palm Island Resort and Spa, on Little Torch Key, to board a boat to the resort's private island. The boat is named the Truman, largely because the former president and his wife were regulars on the island. Our room is a thatch-roofed cabin with a private deck and hot tub. There's a four-poster bed trailing mosquito netting, and a standalone bath fitted with a candleholder. A path down to the water leads to a secret nook with a firepit and two chairs. Other paths lead to small clearings with white hammocks. If I can't fall in love at a place like this, I'm a lost cause.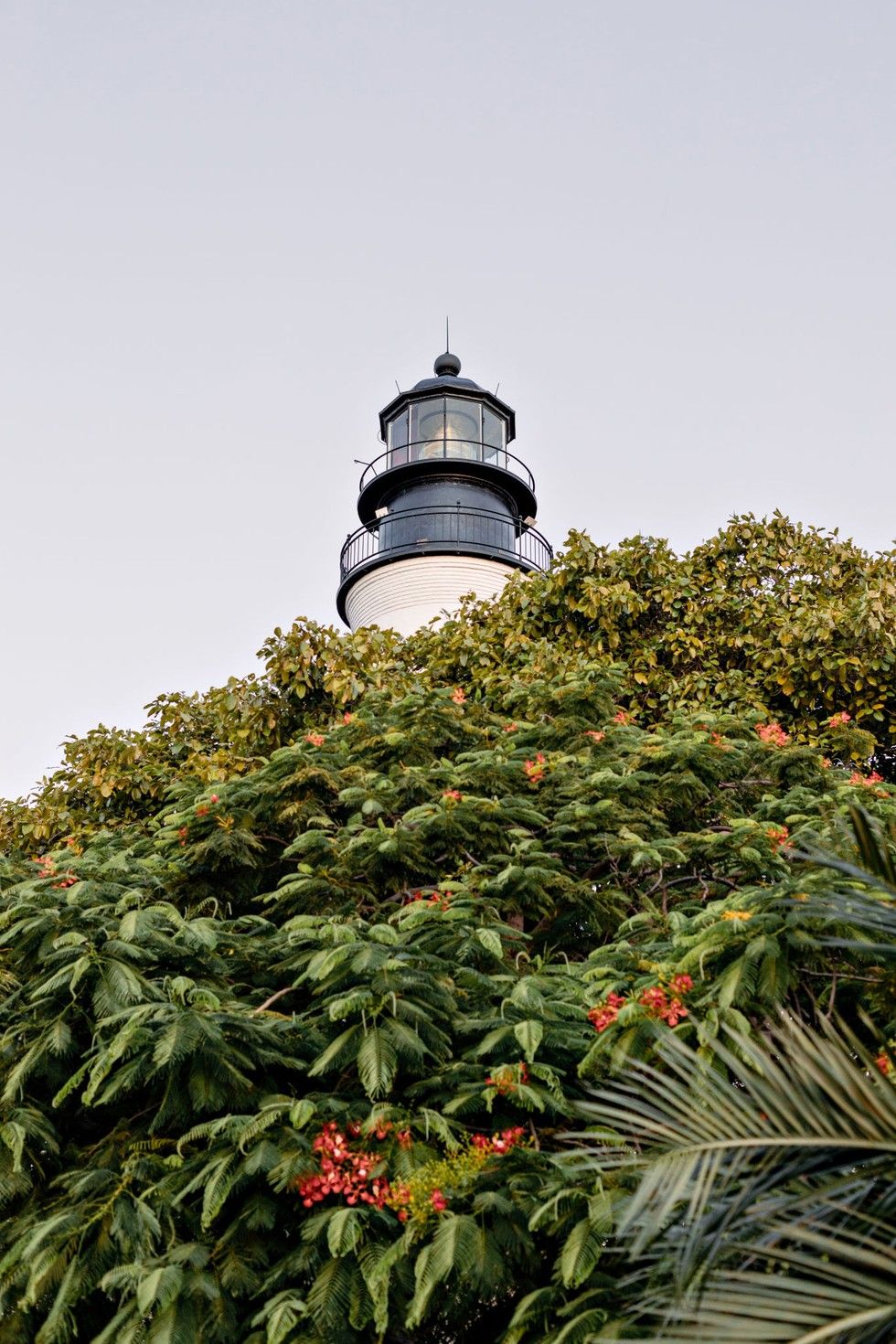 The Key West lighthouse
Dinner is at The Dining Room at Little Palm, which won Zagat's Best Hotel Dining award in Florida in 2010, achieving "extraordinary to perfection" ratings in every category. At a table by the sea, we completely overorder: raw oysters, wahoo in coconut milk, butter-poached lobster, steak, corn biscuits, wine. More wine.

After dinner, we head down to our little cove, where we find a crackling fire, lit by some secret handyman while we were away. We lie back, listening to lapping waves and flip-flopping fish trying to escape tiny sharks, looking up at the stars and thinking about nothing at all. A storm rumbles off in the distance, but it, like everything else, is too far away to worry about.

In which Jacqueline stumbles on a shark, staples a dollar to a bar wall for all eternity, and goes to a bar that's unsuitable for children — or anyone, really.
Breakfast this morning shows up at a more reasonable hour, and we eat it in bed because it's a bed that's exceedingly difficult to leave. Eventually, we head off to meet Ray Scarborough, an adventure guide at the resort who also leads spearfishing, sunset sailing, and fishing charters.
Scarborough is the first person I've met in the Keys who didn't come on vacation and just decide to stay. He was born in Miami but grew up here and has been a boat captain since he was 20. "I've had a boat since before I had a car," he says. "I used to drive it to high school. At Key West High School, the beach is about a block away." I imagine the kind of grades I would have gotten at a school like that and shudder.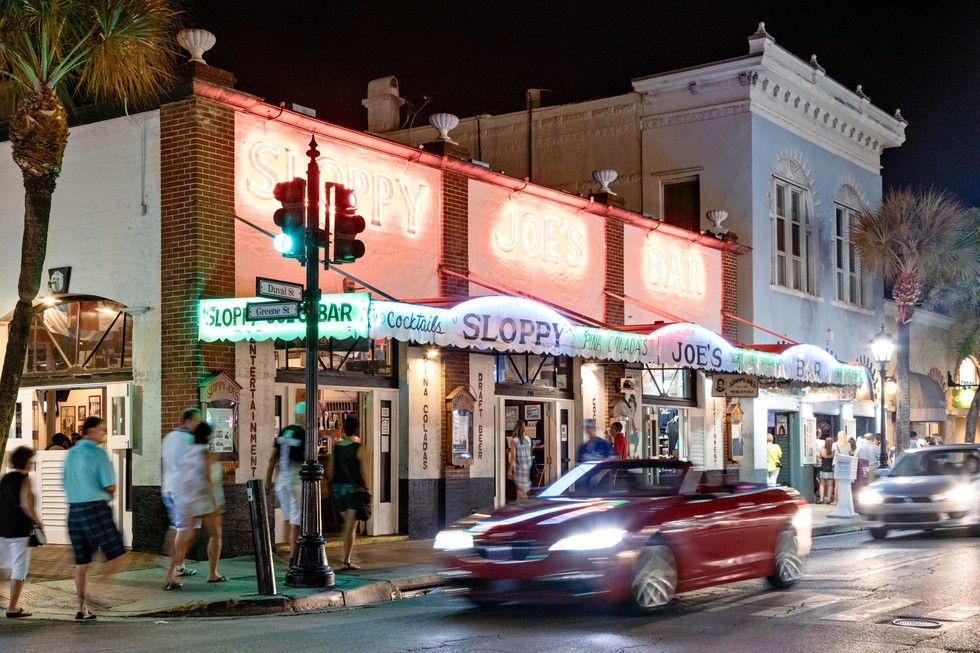 The old Hemingway haunt Sloppy Joe's, on Duval Street
Scarborough is taking us to Looe Key, which is not a Key in the shops-and-sandy-beaches sense but rather a part of one of the largest coral reefs in the world, which skirts the Keys along the Atlantic Ocean side like an eyebrow. When we arrive, there's a sense of utter isolation. We are in the middle of the sea. Underwater, though, it's like an aquatic rainforest. Purple fan corals wave. Iridescent parrotfish make audible crunching noises as they chip bits of algae off the coral with their beaks. Eventually, a four-foot reef shark appears out of the murk and heads straight for us, which we take as our cue to head back to the boat. Reef sharks usually aren't dangerous if you leave them alone, Scarborough tells us, but swimming mere feet from one is about as much adrenaline as I can handle before lunch.

Back on dry land, we check out of Little Palm, taking a boat back to Little Torch Key and our car, which waits, A/C on, in front of the check-in office. On the dash is a small bottle of the mango-coconut scent used in the hotel's shampoo and conditioner. Was it all a dream? It already seems like it.
Before following U.S. 1 to its terminus, at Key West, we double back to Big Pine Key, to eat lunch at a strange little bar called No Name Pub. Once a bait and tackle shop, it's spent several decades as a popular and quirky watering hole, completely papered in signed dollar bills. "About $250,000 worth," says the bartender when I ask. "It's 20 layers deep in places." We eat spicy Caribbean-style wings and sweet, vinegary smoked fish dip, washing it all down with the house ale, No Name Amber. All the while, we doodle on a dollar bill with markers supplied by the friendly bartender. On the way out, we staple the bill below the TV stand. "Jacqui + Alex," it says. May we last as long as this bar.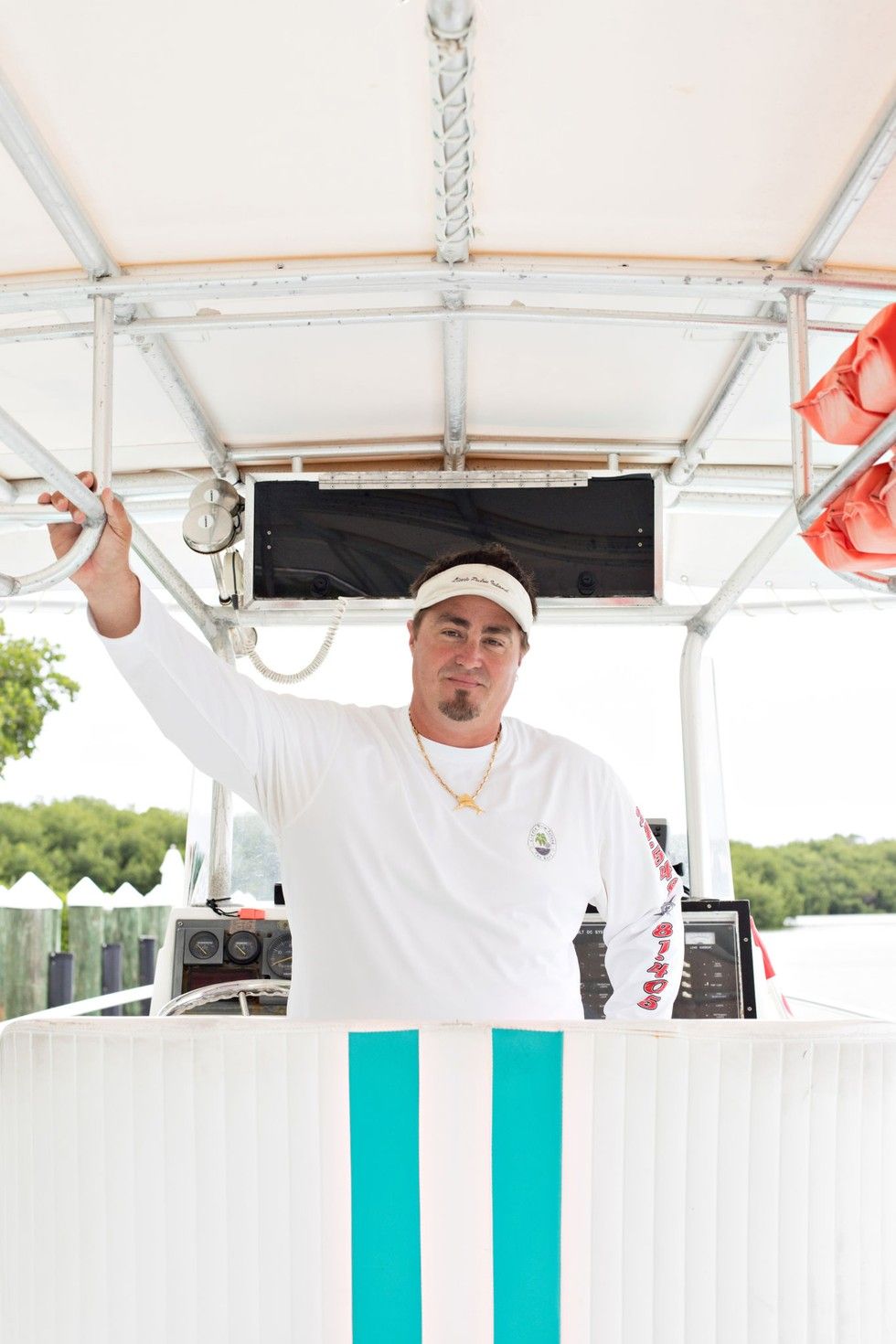 Ray Scarborough, adventure guide
Also on Big Pine, we find the National Key Deer Refuge, which is home to about a thousand of the smallest subspecies of white-tailed deer in North America. We take a short walk to Blue Hole, a small freshwater-surfaced lake in an abandoned rock quarry, and, lo, a Key deer comes rustling through the leaves for something to nibble on.

Adorable deer photo secured, we drive to Hogfish Bar and Grill on Stock Island for even more food. Hogfish is a sprawling tiki-roofed garage bar in the back of a working marina covered in out-of-state license plates. Because it serves only fresh-caught seafood (and because the species, sadly, is overfished), Hogfish doesn't always offer its namesake. If it is available, order it — the flesh is uniquely flaky and tasty. We try it fried in taco form, and it's even better than the snapper we caught yesterday.
Next, it's on to Key West, which has an architectural style similar to New Orleans' French Quarter, as well as the same laissez les bon temps rouler spirit. We drop our bags at the Cypress House Hotel, which consists of three traditional 19th-century Conch houses — the homes of the descendants of Bahamian settlers known as Conchs. The hotel's main building is a frothy double-porched thing with a green pool grotto made mostly out of palm fronds.
"There are about a thousand islands in the Keys, and a lot of them are secluded and uninhabited. It's beautiful, and you can just get in the water and swim. When I'm off work I do pretty much the same thing. I can't say I hate my job at all." –Ray Scarborough
After stopping in at the Ibis Bay Resort and renting a couple of bikes, which we take cruising along the waterfront to soak in the salty air, we decide that we're ready for another drink. So we stroll down to Duval Street, Key West's equivalent of Bourbon Street, to see what's what. Live music issues from dozens of open bars and porches. Cover bands play Led Zeppelin, Sublime, the Red Hot Chili Peppers. Most people look at least slightly soused.
Two bars, Sloppy Joe's and Captain Tony's Saloon, claim to have been the preferred watering hole of the notoriously booze-soaked writer Ernest Hemingway, who once lived down the street. As far as I can tell, Papa drank at both. Alex and I end up in a mint green Victorian mansion with white trim, where the cocktail bar Caroline's Other Side is hopping. I order a Hemingway daiquiri — a concoction of rum, lime and grapefruit juices, simple syrup, and maraschino liqueur that its eponymous author was rumored to double fist during his time in Cuba.
Hemingway daiquiris are quite strong, which is the best excuse I have for our next stop: Garden of Eden, a clothing-optional bar up a wrought-iron staircase from Bull & Whistle Bar. Inside, the scene feels a lot like a middle school dance—most of the patrons line the walls, nervously sipping well drinks, while an uninhibited middle-aged gentleman dances, well, uninhibitedly, in the center. We take this as our cue that it's bedtime.

In which Jacqueline goes exploring with a photographer, visits the home of a great American author, and chows down on some ribs.
I awake bleary-eyed and demand a heavy breakfast before I'll set foot on another boat. We walk three blocks to 2¢ Restaurant and Pub, a brunch spot with a large garden and a polished wood interior that looks like the inside of an expensive yacht. I order the Thai chicken wings and waffles. Alex orders something healthy and then steals some of my wings.
After breakfast, we walk to the Key West Yacht Club to meet Jeffrey Cardenas, a gallery owner and photographer who once wrote a Walden-esque memoir about living alone on a boat. Right now, he's working on a project about the Keys and Cuba called Twins of Nature. He has graciously offered to take us on a trip to nearby Woman Key, where he's shooting some landscapes.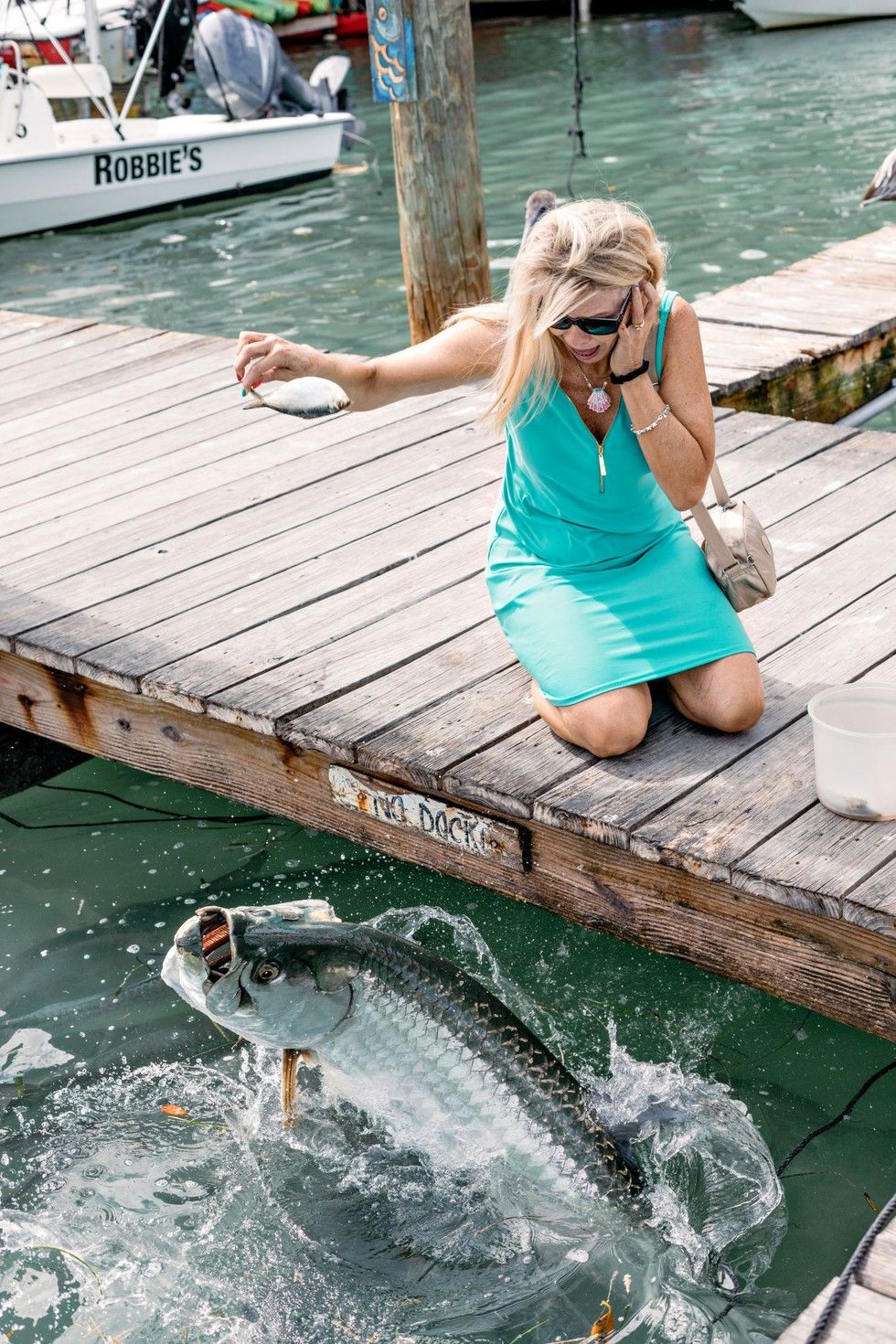 Feeding a tarpon at Robbie's Marina
Cardenas drops anchor about 50 feet offshore, near a feeding frenzy. "It's like the Serengeti out here, only wet," he says, watching brown pelicans dive into a school of glass minnows so large it darkens the water to a deep gray. He hops out of the boat and wades up to a small island. On shore there's an impromptu art project created by the island's sporadic visitors — a towering heap of driftwood, netting, buoys, and found objects that looks a bit like a parade float created by a magpie. "Anyone can add to it," Cardenas says. "If you see something you like, pick it up and put it here."

We walk the beach in search of goodies. Camera in hand, Cardenas sits in the sand to get an angle on a piece of driftwood that looks like a cow skull.
"It's hard to believe we're still in America," I say.
"Not for long," Cardenas says. "America ends 20 miles from here."
Before we leave, we add an old milk crate and some sea glass to the construction. Cardenas hangs a piece of string from a stick so that it looks as if the parade float is going fishing. Artists are so creative.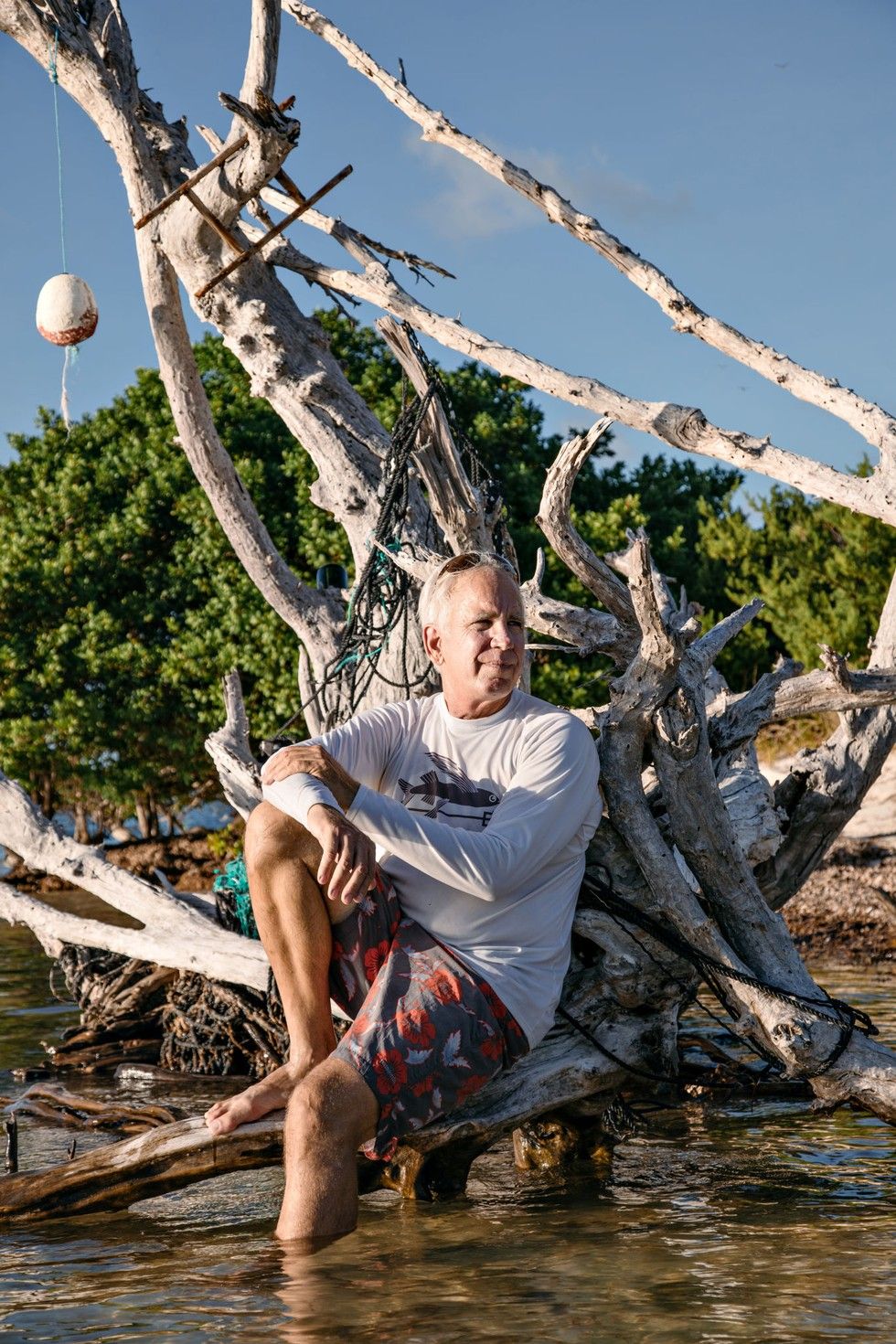 Jeffrey Cardenas, photographer
On the way back, Cardenas drops us off at his gallery/shop, Salt, a couple of blocks from Key West Cemetery, where we pick up salt scrubs and locally crafted jewelry for friends back home. Most of the houses around here are candy-colored Victorians bestrewn with wind chimes and flying Conch Republic flags. A person could walk here all day, imagining buying a house with a hammock and starting, say, a combination yoga studio and laundromat.

The heat down here can be exhausting, which is one reason (along with proximity to Cuba) the coffee's so strong. We stop at Cuban Coffee Queen, a cheery roadside stand in a tin-roofed hut, for a pair of buccis — thick and sugary espresso shots — along with Cuban bread topped with cream cheese and guava jam. It's sweet and rich and pairs beautifully with the taste of coffee and salt.
"There's a guy who makes honey from the mangrove trees here, and another couple has the Earth and Sea Farm — they evaporate the Gulf Stream water and make sea salt out of it for eating. You can buy both at Salt Gallery in Key West." –Jeffrey Cardenas
Now it's time to see the home of the man himself, Hemingway, who lived, boated, and drank in Key West from 1928 to 1939. The house is a bit touristy, but its mystique is powerful enough that it doesn't matter. It's an old place, creaky, with rambling porches and a pool and the writer's peaceful studio up a flight of steps in a separate building. He wrote much of For Whom the Bell Tolls here, surrounded by a rabble of six-toed cats, the descendants of whom still roam the grounds, hoping for snacks.
The fish in the Keys is so fresh it seems like sacrilege to cry uncle, but we do anyway and head to Firefly, a Key West soul-food-fusion restaurant in a two-story Southern-style house that's run by Tricia Coyne, who went to culinary school in Atlanta. We order fluffy bacon-and-crab beignets, deviled eggs, fried green tomatoes, bison short ribs that are falling off the bone, and a pair of beers we've never heard of from an eclectic booze list. Everything is rich and fatty and wonderful and, yes, not fish.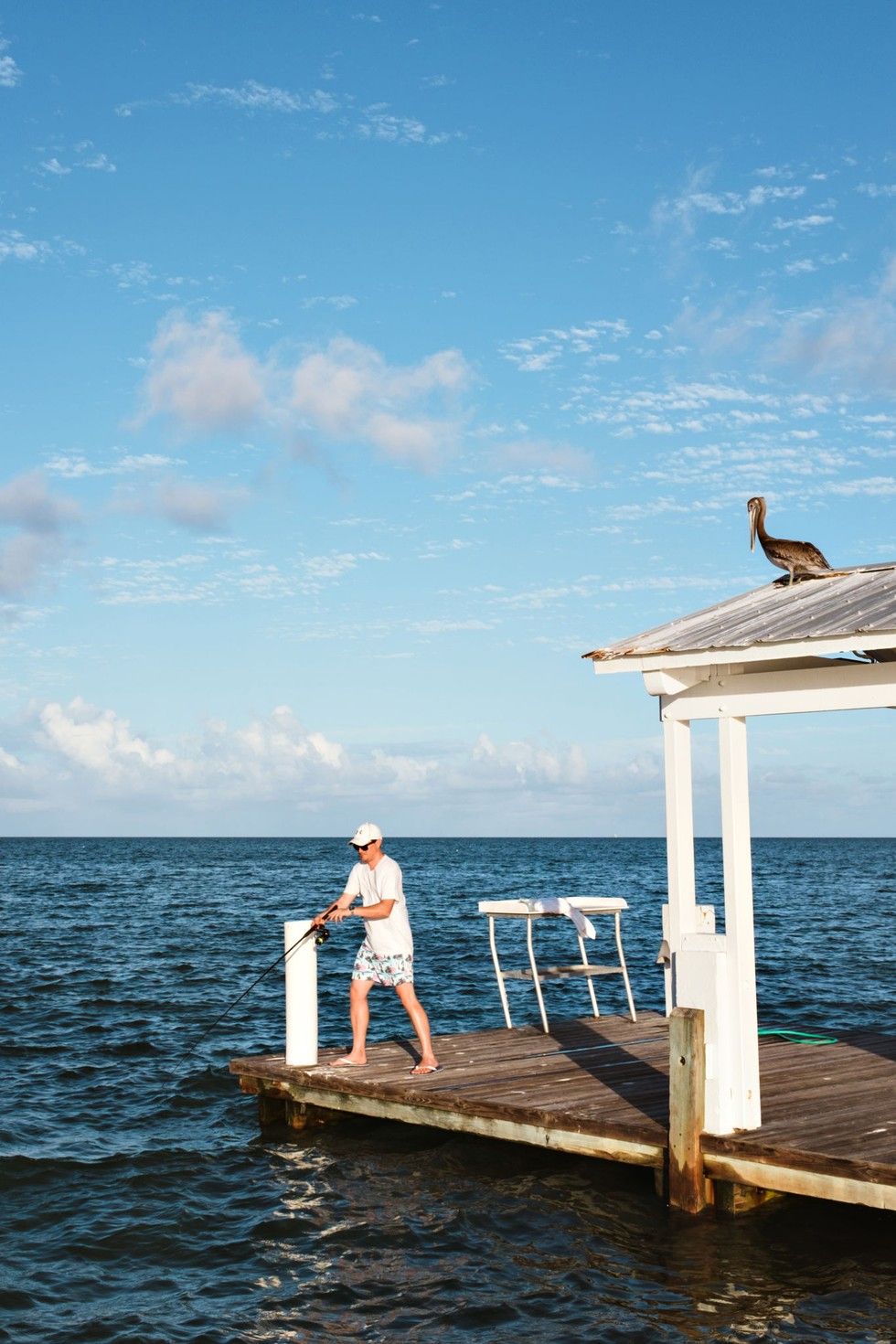 Fishing off the dock at Cheeca Lodge
We are starting to get into the idea of spending the rest of the evening doing nothing, and there's a fine porch waiting for us back at the Cypress House, so we stop at a gas station to pick up a pair of Landshark Lagers, the house beer from local hero Jimmy Buffett's Margaritaville. The foliage beyond the porch is thick and glossy, and we peer through it at people riding by on bikes on their way down to Duval.

"What's so interesting about the Keys is how seriously people take relaxation," Alex says. He mentions the "no public cell phone use" signs staked all over Little Palm Island, and the man we saw at a bar on Duval who'd brought his own beer koozie. He has a point. We've met so many people who came here on vacation and decided to stay. It's such a common story that there's a look people give you when they tell it, a twitch of a smile and a raised brow that says, "Are you next?"
A decision like that might come easily, but it's a decision nonetheless: Leave the malls and entertainment centers and office buildings to move to a place that is exceptionally beautiful and full of life, but faraway and slower-paced. Risk the hurricanes for a shot at real happiness. Live more, by doing less.
Popular Mechanics
articles editor
Jacqueline Detwiler
wonders if her boss would notice if she installed a hammock behind her desk.
Around the web
Calling all AvGeeks and travelers! Here's a fun way to take your next video call….from a United Polaris seat, the cockpit or cruising altitude. We're introducing United-themed backgrounds for use on Zoom, a video conferencing tool that many people are using to stay connected.
So for your next meeting or catch up with friends and family, download the app to either your computer or mobile device to get started. If you've already downloaded Zoom you can skip ahead to updating your background image (see instructions below).
Start here by downloading your favorite United image to your computer or mobile device. Just click "download" in the bottom left corner of the image.
Next go to your Zoom app (you'll need to download the app to access backgrounds) and click on the arrow to the right of your video camera icon in the bottom of the screen.
From here select, "choose virtual background" to upload your uniquely United photo.
When and where possible, we are working to repatriate travelers who are stranded abroad in the wake of the COVID-19 crisis. Our teams are working closely with government officials here in the U.S. as well as in other countries where flying has been restricted to gain the necessary approvals to operate service. In regions where government actions have barred international flying, we have coordinated with the the U.S. State Department and local government officials to re-instate some flights. Additionally, we have been operating several extra flights to countries in Central America and South America as we continue to play a role in connecting people and uniting the world.
We have operated more than 56 repatriation flights from Panama City, Guatemala City, Quito, Lima, San Pedro Sula, Tegucigalpa and Roatan, bringing nearly 8,000 people home. We will continue working with government officials to operate extra flights to Houston from Quito, San Pedro Sula, Tegucigalpa and from Lima to Washington Dulles and beginning April 5, we will begin operating multiple charter flights between Delhi and San Francisco. We continue to review more opportunities for flights between the United States and other countries to bring citizens home.
Video provided by the U.S. Embassy Ecuador of Americans returning home on United.

Additionally, our Customer Solutions and Recovery team is working with customers in the following markets to rebook them on flights back to the United States as capacity allows, either on our aircraft or on one of our airline partners' planes:

Quito, Ecuador
Managua, Nicaragua
Roatan, Honduras
San Pedro Sula, Honduras
Amsterdam
Brussels
Munich
Singapore
Tokyo-Haneda
Seoul, South Korea
Melbourne, Australia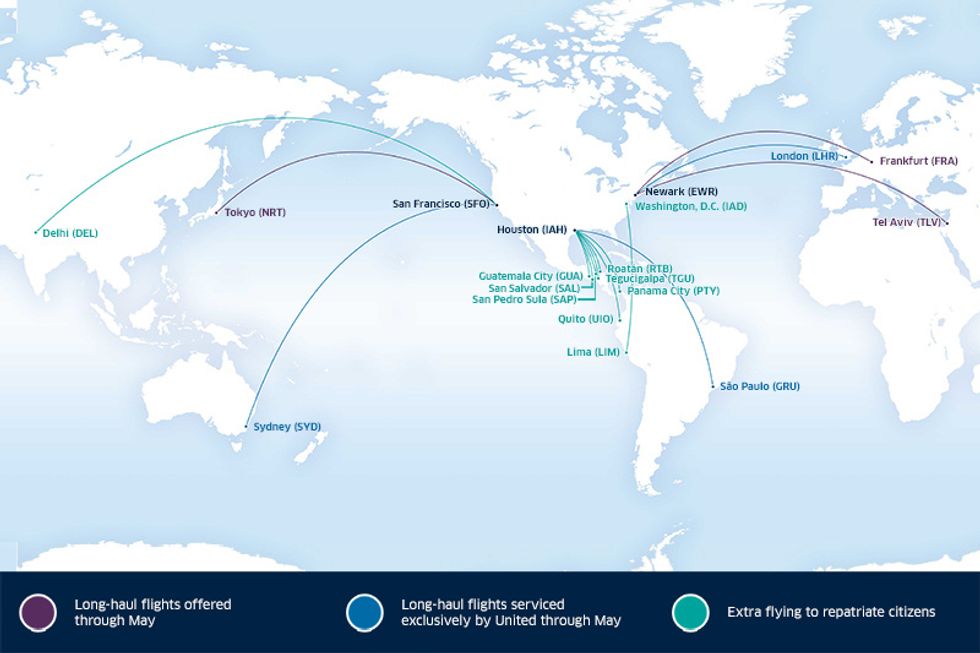 We also recently reinstated several international flights back into our schedule to support customers and essential businesses which depend on these routes. As a result, we will be the only airline to offer service between Newark/New York and London, San Francisco and Sydney, as well as Houston and São Paulo, Brazil.

In the midst of mobilizing our cargo operations, our teams at New York/Newark (EWR) and Jacksonville (JAX) stepped in to assist Roche Diagnostics with transporting a vital component for an instrument being used for COVID-19 testing.
The component was stuck at EWR en route to the Mayo Clinic in Florida after another airline's flights were cancelled. A Roche employee contacted us asking for help and, within a few hours, our teams had the piece loaded onto a Jacksonville-bound aircraft, with arrangements in place to deliver it to the Mayo Clinic.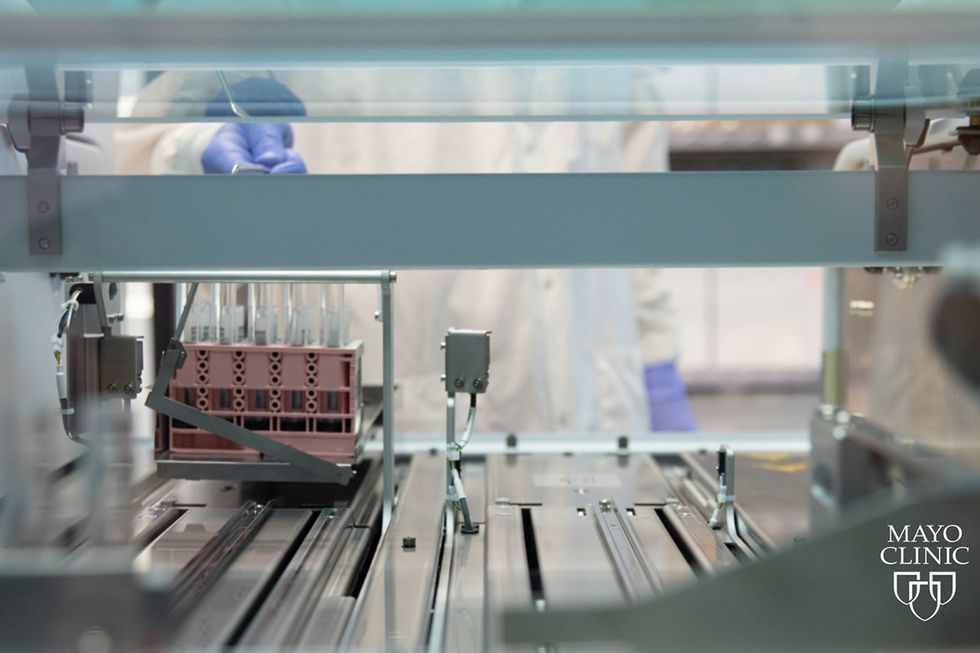 The item we shipped will allow the Mayo Clinic in Florida to process hundreds of COVID-19 tests per day. Mayo Clinic Laboratories has been on the front lines of increasing testing capacity to expedite caring for patients at this critical time and working to ease the burden being felt at test processing laboratories in a growing number of areas.

Together, we are facing an unprecedented challenge. United Together, we rise to meet that challenge.
Check out our newest destinations
United Airlines
united
We continue to work with government officials to bring Americans home. In addition to flights from Central & South America, we have charter flights planned from India. Learn more about our repatriation efforts in the wake of COVID-19 here:
uafly.co/3aExaOL
#UnitedTogether
United Airlines
united
When
@RocheDia
needed to ship a vital component of a COVID-19 testing unit from New Jersey to Florida, United Cargo jumped in to help. Read about how this part will allow
@MayoClinic
to process hundreds of tests per day for cases in the Southeastern U.S.
uafly.co/2UzOAGW
United Airlines
united
International schedule update: We know some people around the globe are displaced and still need to get home. We are reinstating some international flights over the next few days and will continue to fly six daily international flights through May.
uafly.co/3a5Dj6p
United Airlines
united
We have extended our change fee waiver to cover travel through May 31, 2020: - You can change or cancel your flight on
united.com
or through the app – a phone call is not required - For the latest on our commitment to your safety, visit
united.com/coronavirus
We Are United
weareunited
Shoutout to our operations team, who are working to properly park, maintain and store many aircraft in the
#BeingUnited
fleet. These aircraft are being housed across our seven hubs, maintenance facilities in CLE and MCO as well as at offsite facilities in New Mexico and Arizona.
We Are United
weareunited
Tomorrow, Oscar and Scott will host a companywide town hall to discuss the latest developments in managing the effects of the coronavirus (COVID-19). You can join the livestream event at 1:20 p.m. CT here:
uafly.co/39AV25m
We Are United
weareunited
Tomorrow, Oscar and Scott will host a companywide town hall to discuss the latest developments in managing the effects of the coronavirus (COVID-19). You can join the livestream event at 1:20 p.m. CT here:
uafly.co/39AV25m
.
Watch our most popular videos
Copyright © 2020 United Airlines, Inc.
All rights reserved.
Indicates an external site that may or may not meet accessibility guidelines.
Scroll to top
Scroll to top