Three Perfect Days: Los Angeles
Story by: David A. Keeps | Photography by Joe Schmelzer | Hemispheres January 2014
Although it's known for its sunshine, celebrities and laid-back attitude, L.A. offers a lot more variety for anyone willing to do more than just scratch the surface. Then again, the sun, celebs and lazy days on the beach are pretty nice too.
Among its many nicknames—some descriptive, others dismissive—the one that best fits Los Angeles is the Dream Factory. It is here, after all, that fortunes were made in oil and gold, where lush citrus groves emerged from parched soil and where a handful of entrepreneurs built Hollywood, an enterprise whose prime currency is dreams.
Founded in 1781 (with the unsnappy name El Pueblo de Nuestra Señora la Reina de los Ángeles del Río de Porciúncula), L.A. has emerged as one of the world's biggest and brightest urban centers—albeit one that isn't to everyone's taste. As local folkie Joni Mitchell lamented: "They paved paradise and put up a parking lot." Others snipe at the city for its obsession with celebrity culture. These criticisms, however, tend to overlook the many facets that make L.A. what it is. While it's true that the city is best known for film and television, it has long been an incubator for go-getters of every conceivable kind, pumping out architecture and design, airplanes and spacecraft, surfwear and haute couture, computer components and contemporary art, and, of course, West Coast rap.
Meanwhile, in addition to its large Latino and African-American populations, L.A. has dozens of ethnic enclaves—Koreatown, Chinatown, Thai Town, Little Tokyo, an Iranian section known as Tehrangeles. On top of this you have the beach bums, the bohemians, the billionaires. And this diversity, in turn, is echoed in the range of food, entertainment and retail opportunities on offer. Like any city, Los Angeles has its failings, but being boring isn't one of them.
DAY ONE | In Los Angeles, waking up to discover that you're not Daniel Craig is harder than in most places. The disappointment, however, is mitigated when you open your eyes to a gorgeous Philippe Starck–designed suite in the city's SLS Hotel. By the time you emerge from that ultramodern bathtub, filled from a ceiling spout, you feel a little celebrity may have rubbed off on you. Later, passing through the hotel lobby, you put on your shades and pluck an apple from a tray mounted on the back of a life-size black plastic pig.
The first thing you're going to need to make your way in this city, you think as you munch on your stylishly acquired fruit, is a little perspective. The plan is to take an early morning drive to Griffith Park, then hike up Mount Hollywood, visiting the observatory immortalized in Rebel Without a Cause along the way. The introduction of words like "hike" and "up," however, makes you rethink your priorities. First, you'll need some real food.
You opt for Little Dom's, a grotto-like 1930s tavern where Jon Hamm gets his eggs—in a window booth with his name on it. You order wood-fired eggs and blueberry ricotta pancakes as sweetly appealing as the 1940s swing tunes coming from the sound system.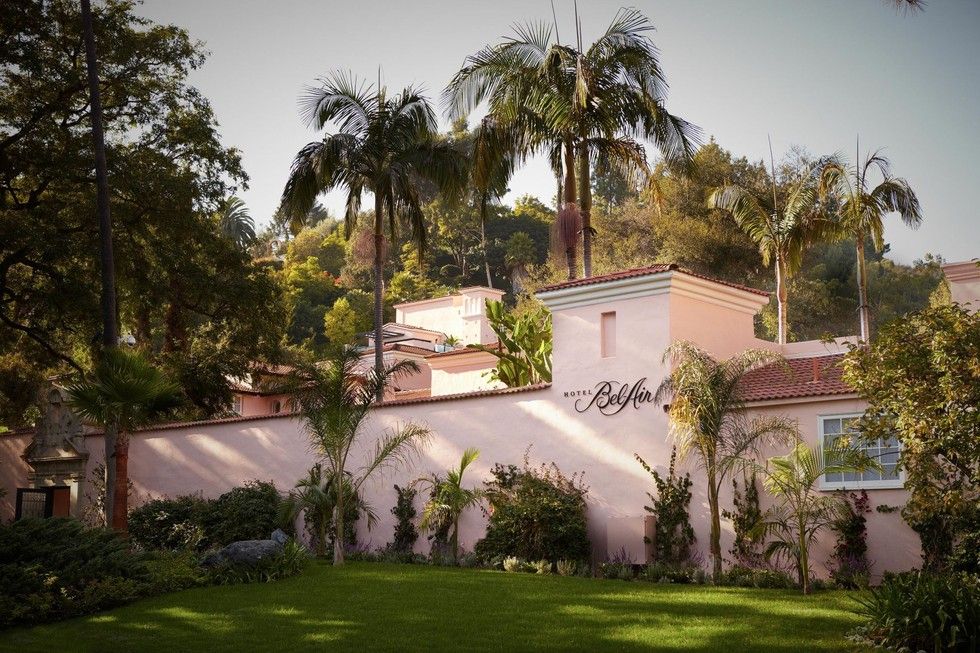 The posh-pink environs of the Hotel Bel-Air
Fortified, you head to the nearby Fern Dell playground and climb a steep, scrubby trail that's right out of a Spaghetti Western. At the top is the Griffith Observatory, a stately 1935 art deco edifice with domes that give it a Moorish air. Built to provide glimpses of the stars, the observatory also affords fine views of the Hollywood sign, the surrounding hills and the apparently endless sprawl of metropolitan L.A.

Given the city's role as a major player in the aerospace industry, it seems fitting that your third stop of the day is a huge, Area 51–style hangar at the California Science Center at Exposition Park, inside which you find the decommissioned space shuttle Endeavour. You've seen this craft countless times on television, but nothing can prepare you for the jolt you get from encountering it in person.
This sprawling cultural complex also incorporates the Natural History Museum, home to "Becoming Los Angeles," a handsomely staged exhibit tracing the city's evolution from Spanish territory to Mexican ranchland to entertainment mecca and tech center, with vitrines containing artifacts like the first car manufactured in L.A., Charlie Chaplin's tramp suit and a Hang Ten skateboard. Who says Los Angeles has no history?
From here, you head to where it all began, downtown, for lunch at Bar Amá, a fashionable new eatery on West 4th St. Snagging an industrial stool at the reclaimed wood bar, you are bedeviled by chef Josef Centeno's wily take on Tex-Mex classics. The chile shrimp ceviche is fiery and tangy, sweetened by a bed of pureed yam; the pork belly chicharrón swims in a bowl of poblano cream. "A house-made chocolate root beer?" the ponytailed barkeep suggests. Why not?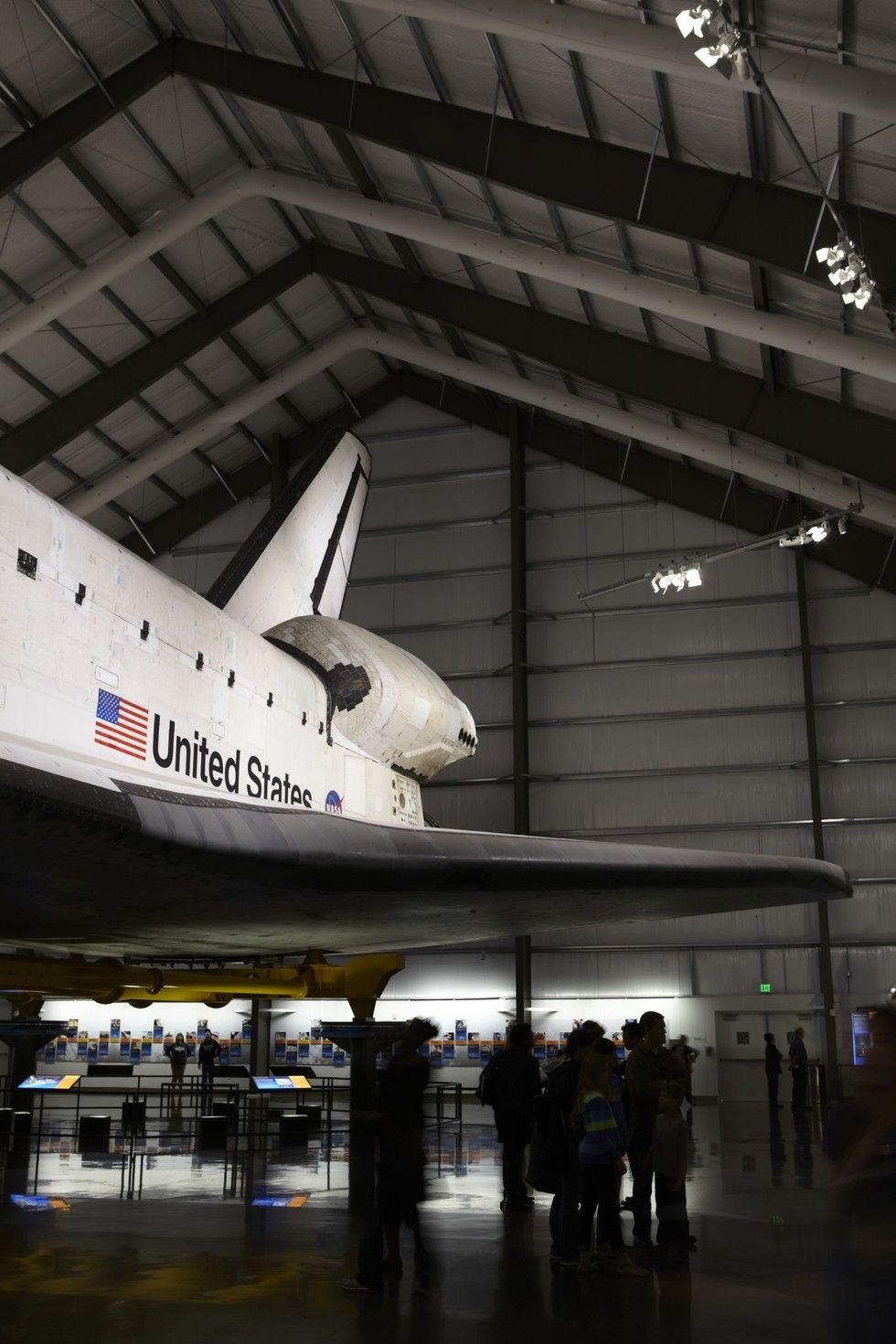 The space shuttle Endeavour at Exposition Park
Gritty and grand, downtown L.A. is a great place for architecture junkies. From the restaurant, it's a short stroll to the Bradbury Building, the 19th-century glass-roofed office complex depicted in Blade Runner. With an atrium of lacework iron, it looks both antique and futuristic, an icon of the steampunk style. A block away is another engineering marvel: Angel's Flight, the 1901 298-foot funicular touted as the world's shortest railway. And then, of course, there is the wonderful silvered shambles of Frank Gehry's Walt Disney Concert Hall. Despite the imposing otherworldliness of the building's exterior, it is a place of whimsy and repose: The interior has Douglas fir columns, and its elevated public garden has a rose-shaped fountain made from fragments of Delft vases and tiles. With its trumpet trees and slanted sunshine, the garden is the perfect place to read a book or simply stare into space for a while, as many of the business-suited visitors are doing right now.

Back at the hotel, you take a dip in the rooftop pool before heading out for dinner at RivaBella, a place with potted trees and cushioned iron furniture that offers alfresco dining for the pasta aficionado. You try three sinfully rich dishes: spinach pappardelle with lamb ragu, risotto with crab, and nidi di rondine, a pasta nest with prosciutto and parmesan cream—because, well, you are on vacation.
You're at the top of the Sunset Strip, within waddling distance of storied clubs like the Roxy and Whiskey a Go Go. You head instead to The Standard, Hollywood, where the hotel's doorman ushers you into Giorgio's, a dauntingly dark party with a mirror ball, police flashers and a smoke machine at the club mmhmmm. DJ Adam XII, who has spun for the Obamas, is pumping '70s disco for a studiedly chic crowd. "It's every age and style, from the sublime to the surreal," Giorgio impresario Bryan Rabin yells above the din. "And yes," he adds, pointing to the crowded dance floor. "That is Queen Latifah."
DAY TWO | Today you're doing Holly-wood. First, though, you cab it to the Farmers Market, a noisy, fragrant carnival of candy counters, souvenir shops and food stands, including the Lotería Grill, where you plow through a plate of huevos divorciados ("divorced eggs") smothered with green and red salsas, with smoky black beans on the side. Next, you experience L.A. in all its consumerist glory at The Grove, the adjacent mall, which is styled in Main Street Disneyland fashion, complete with a trolley and a Vegasy fountain that spritzes to Sinatra tunes, before heading to the Chinese Theatre.
"The show starts at the sidewalk," the theater's founder, Sid Grauman, used to say, referring to the forecourt of his famous cinema, which is dotted with the handprints of movie stars. True to the showman's words, the street outside is clogged with costumed characters (think Superman, Marilyn Monroe and SpongeBob) offering photo ops for tips. After passing beneath a towering dragon bas-relief, you are met by Levi Tinker, the cinema's director of tours. He leads you past bronze incense burners and movie costumes into the enormous, velvety auditorium. "The first Star Wars played here for 62 weeks," he says authoritatively. "There was so much traffic, the carpet had to be replaced."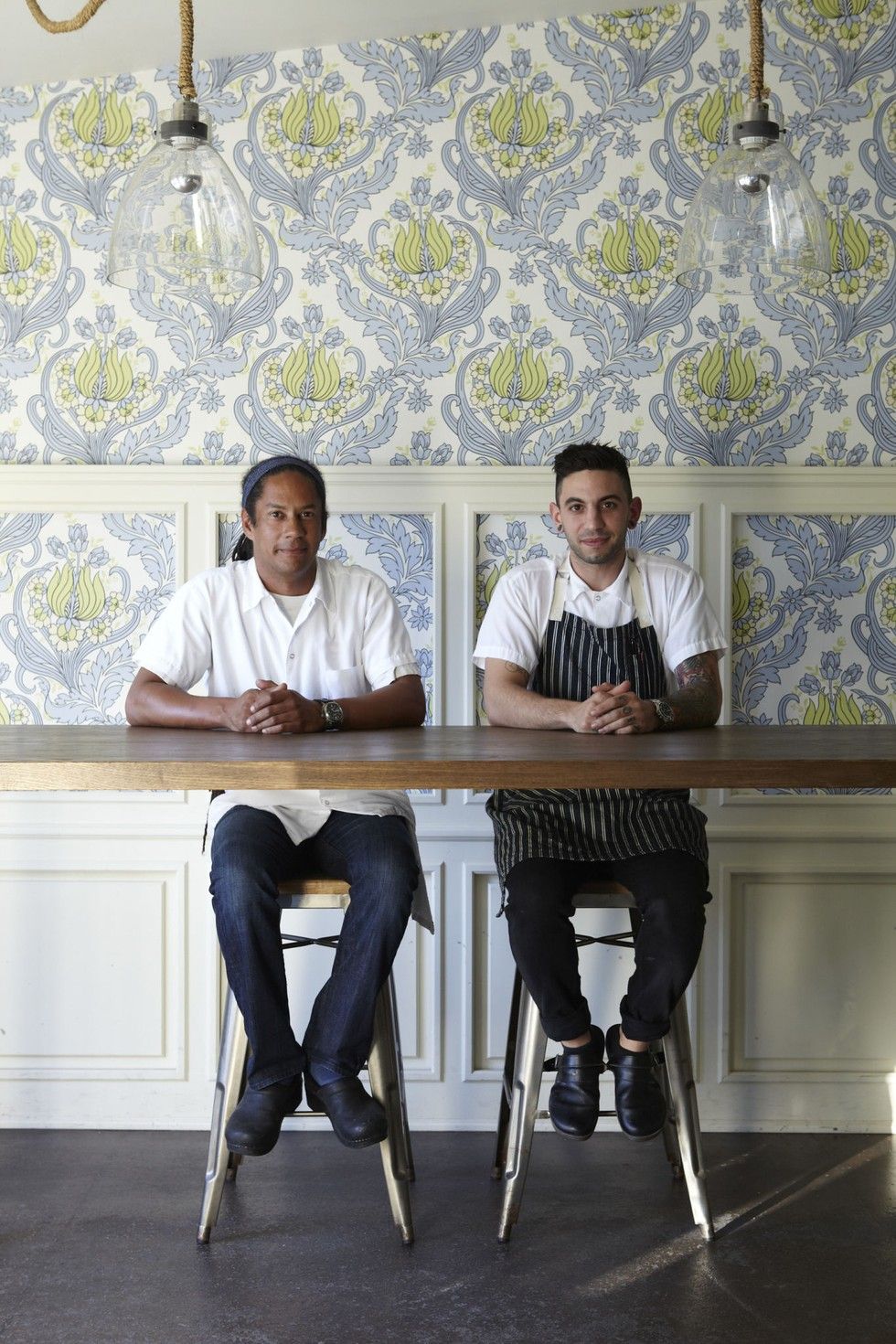 Executive Chef Govind Armstrong and Chef de Cuisine Ryan Costanza at Willie Jane
Outside, following the trail of inlaid stars along Hollywood Boulevard's Walk of Fame, you resist the overtures of the bustling tour guides, making your way past neon-lit taverns, trendy nightclubs and down to Sunset and the indie record mecca Amoeba Music before you spot a sign for Dearly Departed Tours. "We spotlight the Hollywood history of death and scandal," says founder Scott Michaels. How could you resist? (See "Horrible Histories," page 86).

For lunch, you head to Cooks County, in the heart of the design district on Beverly Boulevard. The décor here tends toward exposed beams and basic furniture, but the farmers market menu is anything but austere. You start with a creamy chicken liver crostini with crunchy frisée and mouth-puckering cornichons. Next, it's an L.A. classic, the Cobb salad. Invented in Hollywood nearly 80 years ago, it is pretty much perfected here, with the addition of crunchy green beans and zesty red wine vinaigrette.
A short trip south takes you to the Miracle Mile, a museum-heavy stretch of Wilshire Boulevard. The smell of asphalt isn't from road repairs but from the bubbling La Brea Tar Pits, repository of Ice Age fossils. Standing sentry is Charlie Cox, who's been picking out tunes on the guitar, mandolin and banjo here since the mid-1970s. "I get requests for the Deliverance theme constantly," he says, "but it makes money, honey." You drop a dollar in his case.
Down the street, you switch from fossils to fossil fuel at the Petersen Automotive Museum, where some 150 historic cars—including Evita Peron's 1939 Packard—are parked in historic dioramas. "My favorite is the gold-plated DeLorean," says ticket-taker King Montero, whose own ride is a reliable 1996 Honda Accord. Next, at the nearby Los Angeles County Museum of Art, you pop into Ray's and Stark Bar, a modernist glass-box restaurant with its own water sommelier. You try the Berg, derived from 15,000-year-old glaciers and going for $20 a bottle. Refreshing indeed.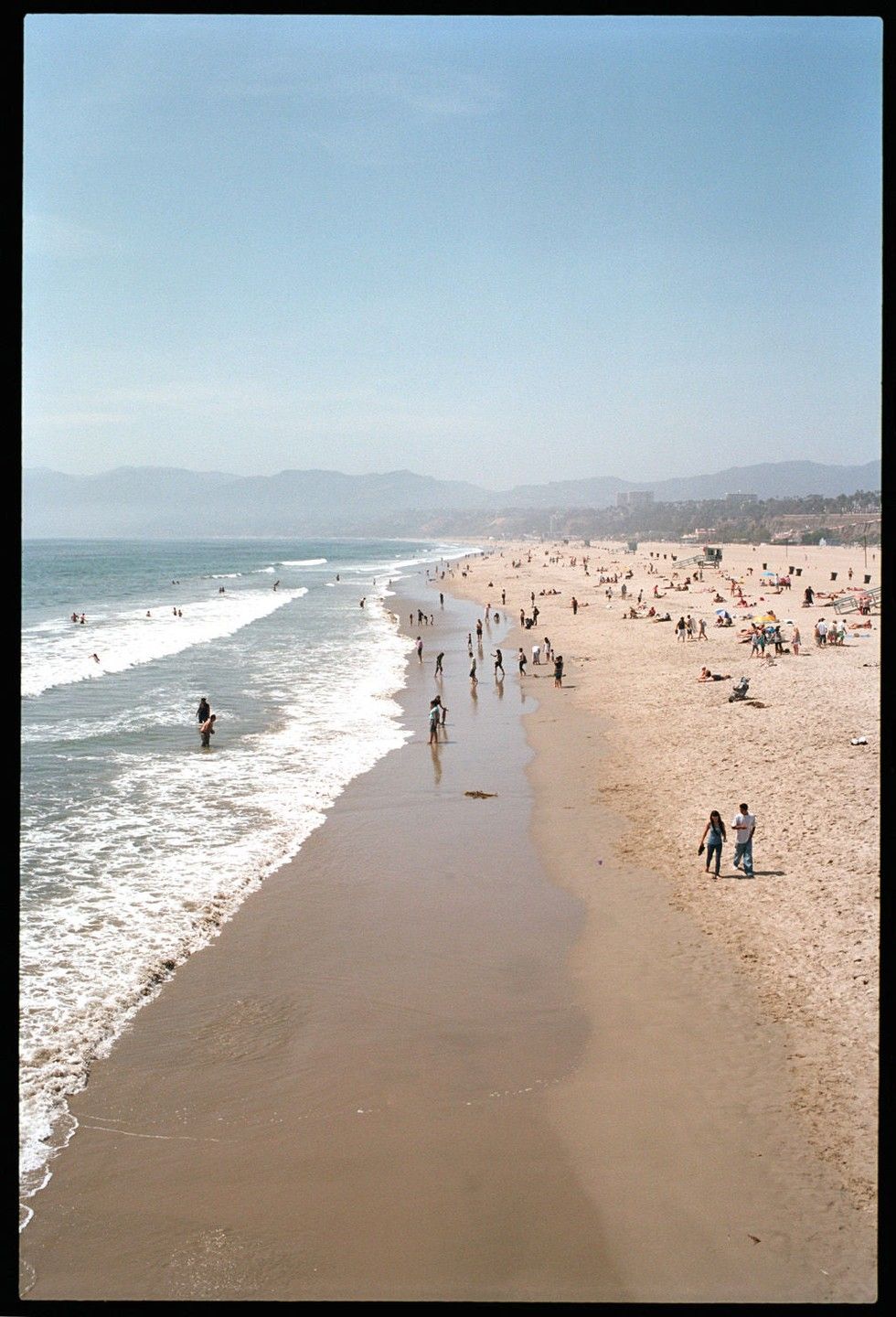 Santa Monica State Beach
It's almost check-in time at the Hotel Bel-Air, so you mosey through Beverly Hills, window-shopping at the designer boutiques on Rodeo Drive. Turning onto South Santa Monica Boulevard, you spot a line of well-heeled women at Sprinkles, the world's first automatic cupcake dispenser. You swipe your credit card and duly receive a cream cheese–frosted Red Velvet. Standing in line for another, you wonder if there's any kind of withdrawal limit on these things.

Approaching your pink stucco bungalow at the Bel-Air, a 1946 hideaway with its own swan lake, you smell jasmine and eucalyptus in the air. Your room has been stocked with the French macarons that, you are told, are favored by frequent guest Oprah Winfrey. The suite is enchanting and high-tech; you happily get your geek on, sitting out the rush-hour traffic and playing with the in-room iPad. The marble floors of the bathroom are heated (as is the seat of the commode), and your post-shower robe is the cuddliest you have ever worn. Only a pang of hunger can lure you from your cocoon.
For dinner, it's back to Hollywood and Chi Spacca, the latest eatery from the uber-foodie trio Mario Batali, Joe Bastianich and Nancy Silverton. "I believe in food that is glorious and generous," says chef Chad Colby, dropping a 60-ounce, $250 Florentine steak onto the grill. Beside you sits Giuseppe Mangano, an Italian restaurateur from Columbus, Ohio, with whom you share dishes: dry-rubbed lamb shoulder, a peppery prawn and testa frittata, charred cauliflower with a lemon anchovy bagna cauda. It is, as your newfound friend remarks with a theatrical flourish, "Delizioso!"
As you make your way outside, a passing pedestrian accidentally a-choos in your direction. It's Jesse Tyler Ferguson from the hit ABC show "Modern Family." "I'm sorry I sneezed all over you," he says.
DAY THREE | You haven't really done Los Angeles until you've had a day at the beach, but you can't be blamed for spending a little time with a latte on your private patio at the Bel-Air, which recently emerged from a two-year restoration looking so hip it's attracting a new generation of showbiz royalty. Christina Aguilera is camped out here while her house is being renovated, and that dapper young fellow walking toward the lobby in front of you is Usher. "Good morning," he says, gently busting you for staring. Then, for good measure, he dances down the hallway.
You're having breakfast at Farm Shop, located in an adorable cluster of rustic buildings called the Brentwood Country Mart, 15 minutes from the hotel on the way to the beach. Combining a gourmet grocery with a sit-down restaurant, it offers specialties that include pastrami and eggs with hen-of-the-woods mushrooms and green tomato ketchup with a bacon cheddar scone on the side. Your savory tooth satisfied, you poke around the warren of shops until you stumble across Edelweiss Chocolates, whose chocolate-covered orange peel takes care of the sweet side.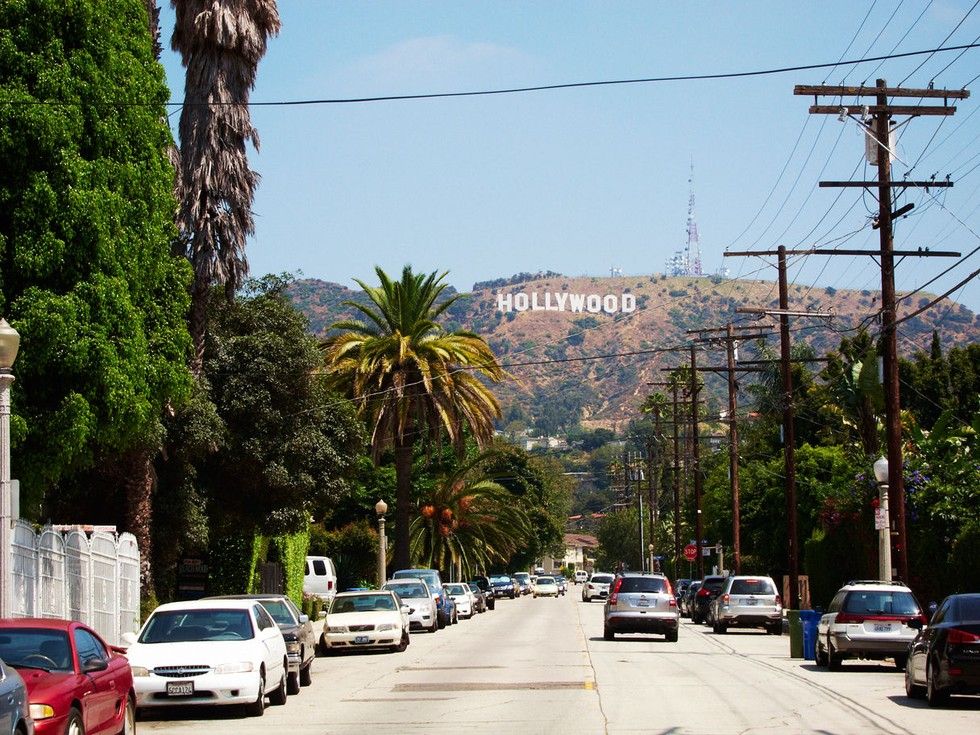 View of the Hollywood sign from Bronson Avenue
Sunset Boulevard wends its way to the Pacific Coast Highway, which takes you north toward Malibu. About eight miles up, you pass a palm-shrouded Italian Renaissance mansion—Cher's beach house—and swoop down to Corral State Beach. You park on the side of the road like everyone else and join the surfers, swimmers and sunbathers on the sand. The air is brisk and the water bracing, even though you're only in it up to your shins. You walk down the beach a bit to see if Cher's home. She's not.

After a postcard-quality half-hour drive down the coast to Venice, you're hungry again. You pull up at Sunny Spot, which has the air of a Jamaican seafood shack, complete with floral oilcloth on the stools and reggae on the sound system. There's shrimp and jerk chicken on the menu, but chef Roy Choi, famed for his fusion street-food restaurants, also offers a Two-Fisted Cheeseburger made with cheddar, arugula and tomato jam on a brioche bun. Yes, you do want yucca fries with that.
Ten minutes away, off Santa Monica's Main Street, you meet Barb Wittels, co-owner of the electric bike tour outfit Pedal … or Not. Barb, who wears the company colors of purple and green right down to her nail polish, leads you to a well-traveled path, where you join a steady stream of runners, skaters, strollers and Segway riders. "Johnny Depp and Jack Nicholson lived here," she says as you ride by an oceanfront apartment, the first of many celebrity homes you'll pass today. You stop at one of them, the Annenberg Community Beach House, built by William Randolph Hearst for his mistress, Marion Davies, and for 10 bucks take a dip where the newspaper magnate did.
A few blocks inland, Barb pauses to explain the origins of the famed Venice Canals: In the early 1900s, developer Abbot Kinney excavated swamplands with the intention of creating 16 miles of waterways lined with bungalows and boats. "But the area declined; by the end of the 1960s Venice was all hippies and artists saying 'Come and share my love shack, baby.'" Today, there are only six canals remaining, but at least Abbot Kinney got the city's hippest street named after him.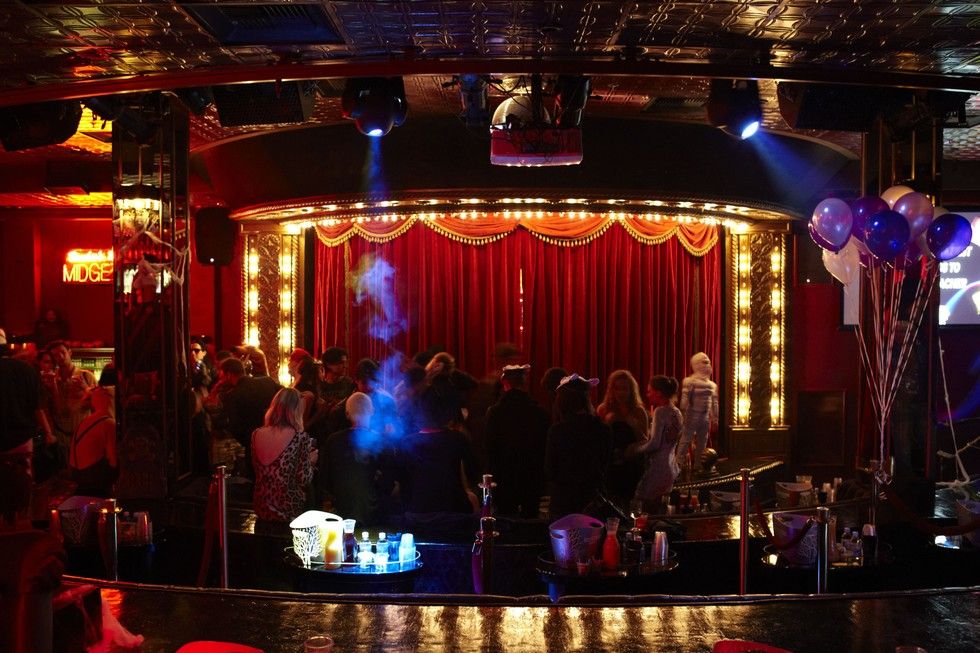 Cabaret at Beacher's Madhouse
After turning in your bike, you explore Abbot Kinney Boulevard on foot, pausing occasionally to poke around in the various homeware stores and indie boutiques. All around you are men wearing horn-rimmed glasses and tanned women with shaggy dogs. "Venice was the stomping ground of artists like Jack Kerouac and Dennis Hopper, and the neighborhood embraces creativity," says William Adler, owner of Will Leather Goods, who started out selling belts on the boardwalk 30 years ago. "Everyone I know, from Florence to Tokyo, comes to Abbot Kinney," he adds. "It's better than the Champs-Élysées."

Dinner tonight is on a brick patio at the nearby soul food spot Willie Jane, where you enjoy, with equal relish, some Southern blues and the greens (grown in a garden next door) that accompany your sweet tea–brined pork chop. For dessert, you have a Crispy, Chewy Golden Raisin Oatmeal Cookie Sandwich with mascarpone filling, washed down with a strong cup of coffee. You'll need it: It's your last night in town and you want to go out with a bang. That means Hollywood. Your destination is Beacher's Madhouse, a crazy cabaret in a bordello-style basement theater at the Hollywood Roosevelt Hotel. Soon, you're surrounded by guys with skinny jeans and starter scruff and girls in miniskirts with color-coordinated phones, all grinding to a thumping mash-up of pop and hip-hop.
The rest of the night is a bit of a blur, but it includes—you're fairly sure—dancing pandas, nimble hula-hoopers and little people lip-synching to Eminem. Taking bottle service to a new level, the club employs diminutive waiters who deliver the prime bubbly by flying in on wires through a burst of confetti. "When you've got a glow-in-the-dark champagne bottle," emcee Pete Giovine hollers from the stage, "you're making all the right life choices."
David A. Keeps is an L.A.-based writer who, despite considerable Hollywood savvy, has to restrain himself from gawking at celebrities.
Around the web

On March 19, 2020, United operated its first flight carrying cargo without passengers on board. While the passenger cabin was empty, its cargo hold was completely full, carrying more than 29,000 pounds of commodities from Chicago O'Hare International Airport (ORD) to Frankfurt Airport (FRA).
A year later, United Cargo has operated more than 11,000 cargo-only flights carrying more than 570 million pounds of freight. To support the COVID-19 pandemic recovery efforts, United Cargo has also transported more than 113 million pounds of medical and pharmaceutical products on both cargo-only and passenger flights as well as approximately 10 million COVID-19 vaccines, providing global communities access to the items they have needed most.
"At the beginning of the pandemic, we knew we were uniquely positioned to utilize our widebody aircraft and our network to keep commodities moving, so we quickly mobilized various departments throughout the airline to launch a cargo-only network of flights that would keep commodities moving," said United Cargo President Jan Krems. "Thanks to those efforts, United Cargo has delivered millions of items to countries all around the world. We would not have been successful without the steadfast support of our employees, industry partners and our customers."
Since last March, United Cargo has transported almost 850 million pounds of freight on cargo-only and passenger flights. The airline will continue to monitor market trends adjust its cargo-only flight schedules to help ensure we are meeting our customer's evolving shipping needs.
Whether you haven't flown with us for a while or just need a quick refresher before your spring trip, read this list of tips to know before your flight and arrive at the airport travel-ready:
1. Download the United app for contactless bag check, travel assistance and more
Before your flight, download the United app to view your flight status, check in, sign up for flight notifications, locate departure gates, access our free personal device entertainment when available and more. We've also updated our app with new features that can make your trip a little safer, including contactless bag check.
Don't forget to use Agent on Demand for help with any and all questions you may have before your flight. This new capability is available at all our U.S. hub airports and allows you to use your own mobile device to contact a customer service agent via phone, video or chat to help with day-of-travel questions while you're at the airport. Learn more about Agent on Demand here.
2. Check out the Travel-Ready Center
Our Travel-Ready Center makes it easy to get a personalized overview of everything you need to do in preparation for your flight. Just enter your confirmation number or MileagePlus® number and you'll find detailed information on all the documents, tests and more that you'll need for your trip.
3. Read and sign the Ready-to-Fly checklist
Before completing check-in, all United travelers will need to read our Ready-to-Fly checklist and confirm that they understand and agree to our policies. These include:
Acknowledging that you haven't had any symptoms of COVID-19 in the last 14 days
Agreeing that you will not fly if you have tested positive for COVID-19 within the last 21 days
Confirming that you will follow all policies regarding face masks, social distancing and other health and safety measures we've adopted
4. Arrive early; avoid the stress
Airports can be busy, especially during peak travel periods like spring break season. The TSA advises arriving at the airport two hours before your flight for domestic travel and three hours for international travel in anticipation of long security lines. This can help ease the stress when navigating busy check-in areas, security lines and crowded boarding gates.
5. Get familiar with CleanPlus
United CleanPlus℠ is our commitment to delivering industry-leading cleanliness as we put health and safety at the forefront of your experience. We've teamed up with Clorox to redefine our cleaning and disinfection procedures and Cleveland Clinic to advise us on enhancing our cleaning and disinfection protocols, like:
Disinfecting high-touch areas on board and in the terminal
Using electrostatic spraying, Ultraviolet C lighting wands and more advanced measures to clean aircraft cabins before boarding
Redesigning our mobile app to allow for touchless check-in and contactless payment, along with enhanced travel assistance features
Implementing high-efficiency (HEPA) filters on our aircraft that completely recirculate cabin air every 2-3 minutes and remove 99.97% of airborne particles, including viruses and bacteria
Studies show COVID-19 exposure risk is minimal when air filtration systems and masks are in use, so you can rest assured that the steps we've taken to keep you safe truly make a difference.
6. Wear your mask
Federal law requires all travelers to wear a face mask in the airport, including customer service counters, airport lounges, gates and baggage claim, and on board during their entire flight. Make sure you review the requirements for face masks, including what an acceptable face mask looks like.
7. Get ready for a safer boarding process
To make boarding even safer, we now have travelers board their aircraft from back to front. At the gate, just listen for your row number to be called – we'll ask a few rows at a time to board, starting with the last row of the plane. This helps everyone maintain a safe distance from each other during boarding without slowing things down. As you step onto the plane, flight attendants will hand each passenger a sanitizing towelette, which you can use to wipe down your seat to ensure it's extra clean.
8. Pack smart
Before packing your bags, check to see what exactly you can carry on and what you should plan to check. You can also copy your confirmation number into our Baggage Calculator tool to learn about the bag allowance included with your reservation, as well as the cost of checking any additional bags.
9. Check your flight status, important notices and weather
Check the United app regularly for the latest updates on weather conditions, flight status, gate numbers and seat assignments. You can also visit our Important Notices page to find essential information and updates about travel waivers, international travel, TSA and security, airports and United Club locations.
10. Relax and enjoy your flight
Once you're on board, it's time to sit back and enjoy your flight. Our flight attendants will be happy to help you with anything else you need.
This week, we were honored to become the first U.S. airline to join the UNICEF Humanitarian Airfreight Initiative to combat the COVID-19 pandemic by transporting the vaccine and other critically needed supplies to underserved areas of the globe.
"We are committed to helping the global community in any way we can, and we all must work together to do our part to bring this health and humanitarian crisis to an end," said Director of Cargo Specialty Products Manu Jacobs.
We will leverage our expertise to transport these critical pharmaceutical and healthcare shipments around the world safely, efficiently and expediently. We are proud to partner with the United Nations to support this global effort and provide equitable access to COVID-19 vaccines.
Scroll to top