Three Perfect Days: Los Angeles
Story by Justin Goldman | Photography by Tanveer Badal | Hemispheres September 2019
No one comes to Los Angeles without having at least a little foreknowledge. If you're a film geek (like me), you know where the heist crew had breakfast in Reservoir Dogs and which building was Nakatomi Plaza in Die Hard. If you're a music geek (like me) you can name the clubs Guns N' Roses welcomed to the jungle and the streets Dr. Dre went rollin' in his '64. If you're from New York or San Francisco (like me), you probably hate LA on principle—for the smog, the Lakers fans, the fame-seeking ethos of Hollywood. And yet, no matter how much you think you know the City of Angels, there's always something more to learn, something real to find. LA County, after all, comprises more than 4,000 square miles and 10 million people (including the largest Mexican and Asian immigrant communities in the U.S.), with a GDP of $700 billion. It's impossible to make an LA guide for everyone, but if you (like me) are a fan of Chinatown and Charles Bukowski, beaches and bowling alleys, Michelin stars and micheladas, here's one for you.
Day 1
Beaches and speakeasies on the Westside
I'm in Los Angeles, so of course I'm eating breakfast by the pool. More specifically, I'm in the lovely atrium at FIG, the poolside restaurant at the Fairmont Miramar Hotel in Santa Monica. In the water, a couple of kids are splashing around in unicorn floaties. On the wall above, Muscle Beach's best-known lifter, Arnold Schwarzenegger, flexes in a mural. On my plate is a scramble chock-full of fresh produce—tomatoes, asparagus, peppers, spinach—from Santa Monica's famed farmers market.
The pool may be Hockney-worthy, but these flip-flops were made for walking. Five minutes down Ocean Avenue, I cross a bridge over the Pacific Coast Highway and onto the Santa Monica Pier, passing the Route 66 sign, caricature artists, funnel cake stands, and carnival rides on my way to the end of the pier, where fishermen toss their lines in the water and tourists snap photos of a sea lion barking for scraps. The sharp salt smell of the ocean beckons, so I backtrack to the sand, where I roll up my jeans and watch the surf slide over my feet. I lose my thoughts in the rhythm of the waves, until a big one crashes in. Reverie over.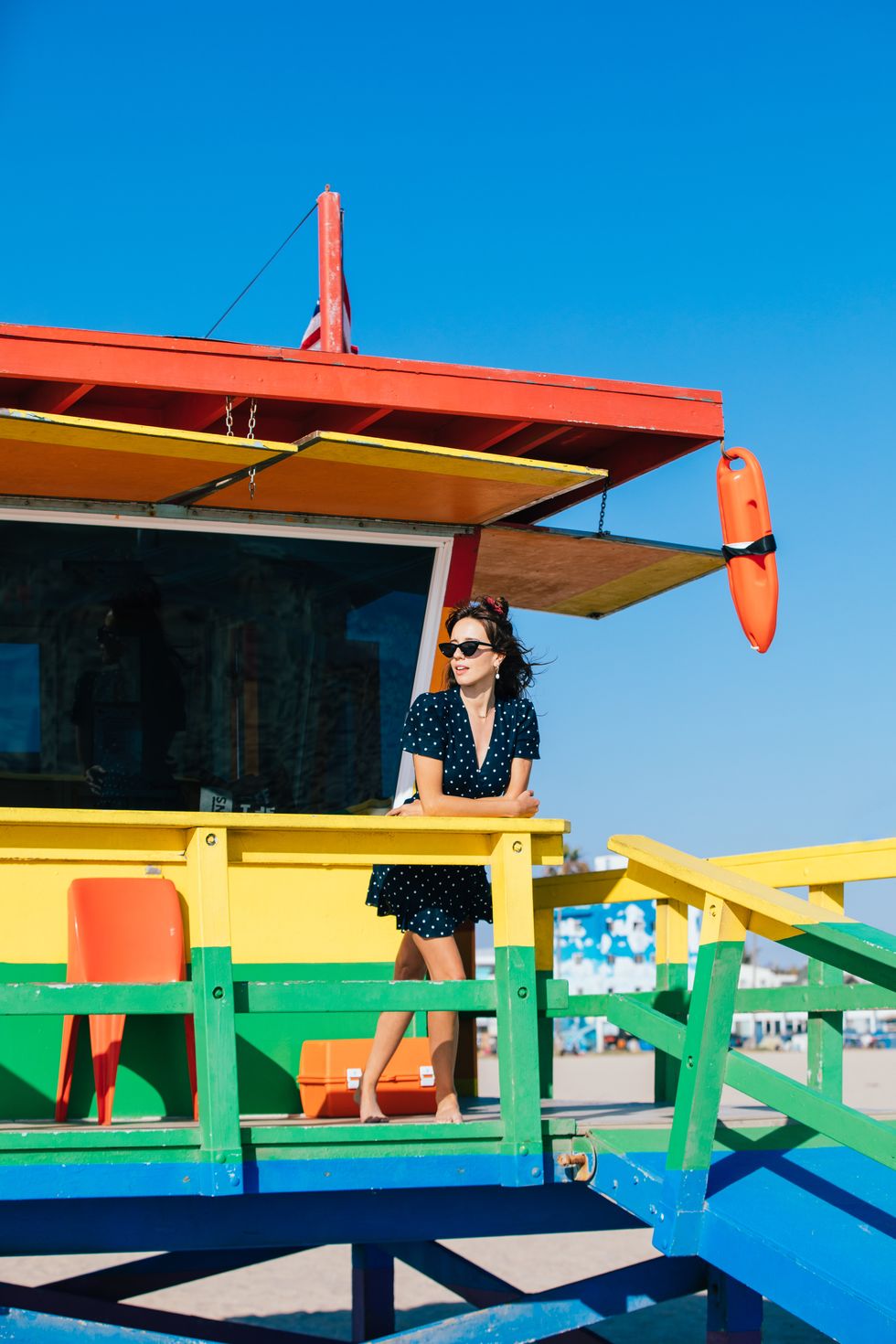 A prideful lifeguard tower on Venice Beach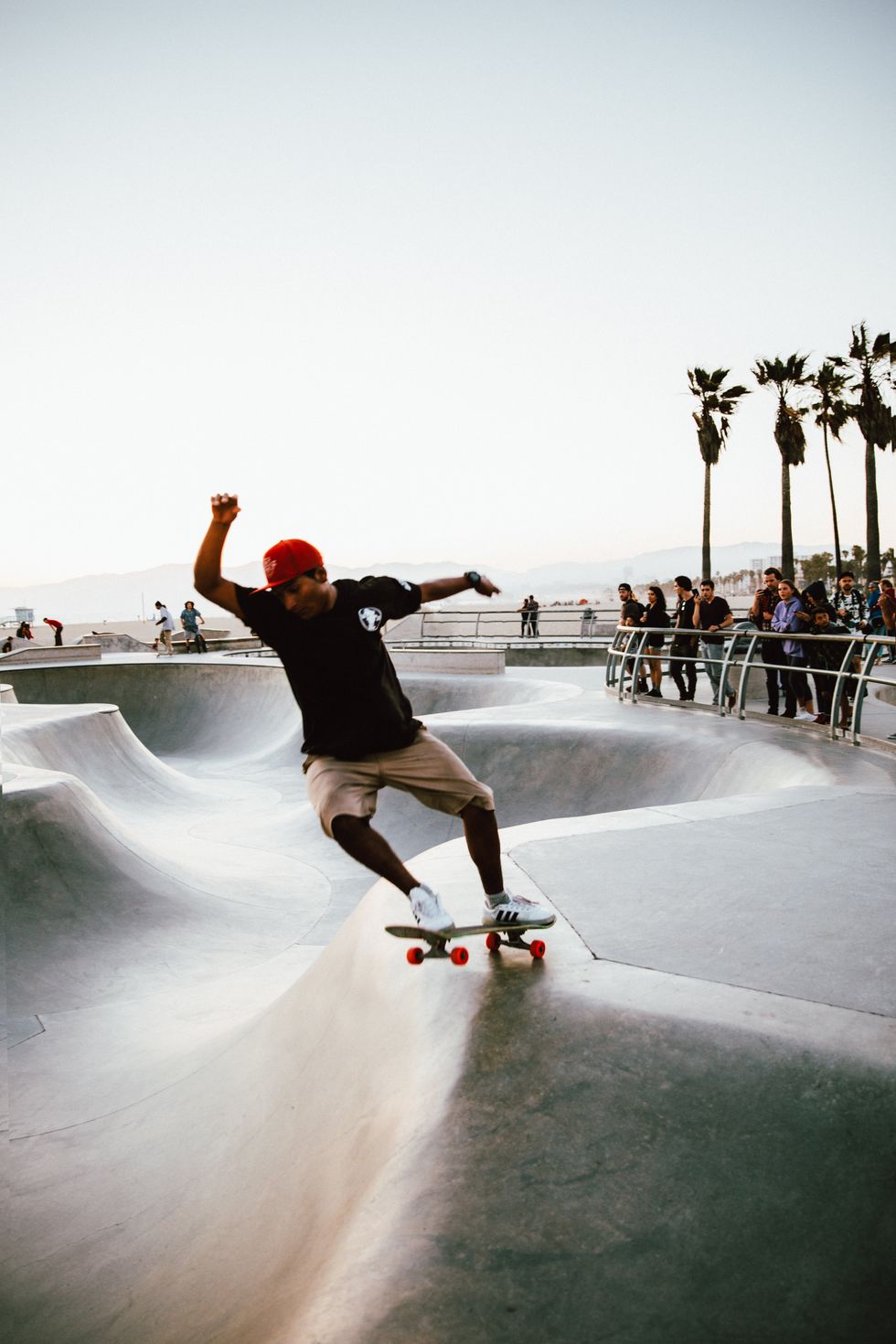 Going wheels-up at the Venice Skatepark
I watch the surf slide over my feet, losing my thoughts in the rhythm of the waves, until a big one crashes in.
I keep flippin' and floppin' my way south toward Venice Beach, the epicenter of Southern California's grungy, punky beach culture. Snatches of the Doors leak from surf shops and sunglass stands on the very strip where Jim Morrison and Ray Manzarek formed the band. Are you a lucky little lady in the City of Light? Or just another lost angel… I kill a few minutes watching skaters ollie along the undulating walls of the Venice Skatepark, and then I exit the beach, going a few blocks inland to the Venice Canals. Developer Abbot Kinney built these narrow waterways in 1905 to evoke some other Venice, and while I don't see any gondoliers, the homes lining the canals make for a fun self-guided architecture tour, veering from glass-walled Modernist structures to mosaic-tiled hippie bungalows.
A few more blocks up Venice Boulevard, I reach the town's main drag, Abbot Kinney Boulevard. I'm having lunch at Gjelina, which for more than a decade has offered the sort of farm-fresh cuisine and casual-yet-sceney vibe that the rest of the world thinks is LA. I sit at a distressed-wood table and chow down on California king salmon tataki; grilled peaches with burrata, prosciutto, and chicory greens; and a perfectly cooked black bass with olives and heirloom tomatoes. If this is what people associate with LA, I can see why everyone wants to move here.
My feet are flip-flopped out, so it's a good thing my college buddy Matt, who lives in Hermosa Beach, has loaned me his car—a cobalt Chevy Volt we call the Blue Dragon—to help me navigate this unending city. Fortunately, you don't need to be a Targaryen to ride this dragon, so after retrieving the car from the Fairmont valet, I fly up the 405 to the J. Paul Getty Museum, which stands on a hill above the most heavily trafficked freeway in the U.S. I park and take the tram up, then meander through the Robert Irwin–designed Central Garden, following a trickling waterfall to a reflecting pool and an X-Files-esque azalea labyrinth. The scene is so transporting that it's easy to pass a couple of hours without even entering the galleries. Oops.

No time for regrets, though. The afternoon has begun to wane, so I drive back to the Fairmont and take a seat on my balcony to watch the curtain fall on another day in America. Once night has settled and the lights have come up on the pier, I walk over to the Third Street Promenade, an outdoor mallwhere fairy lights twinkle and purple jacarandas bloom above shoppers and buskers singing Justin Timberlake. At the food court, I go up an escalator and tap a code into a black door marked "private." When it opens, I enter Dialogue, an 18-seat tasting-menu hideaway that was one of just 24 restaurants in LA to receive a Michelin star this June. As he passes me the gorgeous plates (21 of them!), chef Dave Beran explains how the Roots' album …And Then You Shoot Your Cousin inspired his menu.
"I reached out to Questlove, and he told me they wrote that album over the course of the last year of their manager's life," Beran says. "It's essentially their progression emotionally. You had to experience that album the way they intended it, and that led us to the idea of writing a tasting menu that had to be experienced the way we intended. Just as the seasons look forward and backward, the dishes do as well. Every dish has something in it from the last one and something to look forward to in the next. Your snapper had a ginger mist on it, which went into the ginger-rhubarb foam, which leads to a rhubarb chip with matcha and lilac pudding, followed by a cucumber-lilac soda. None of our dishes are intended to be complete thoughts as much as completing each other's thoughts." Food for thought, indeed.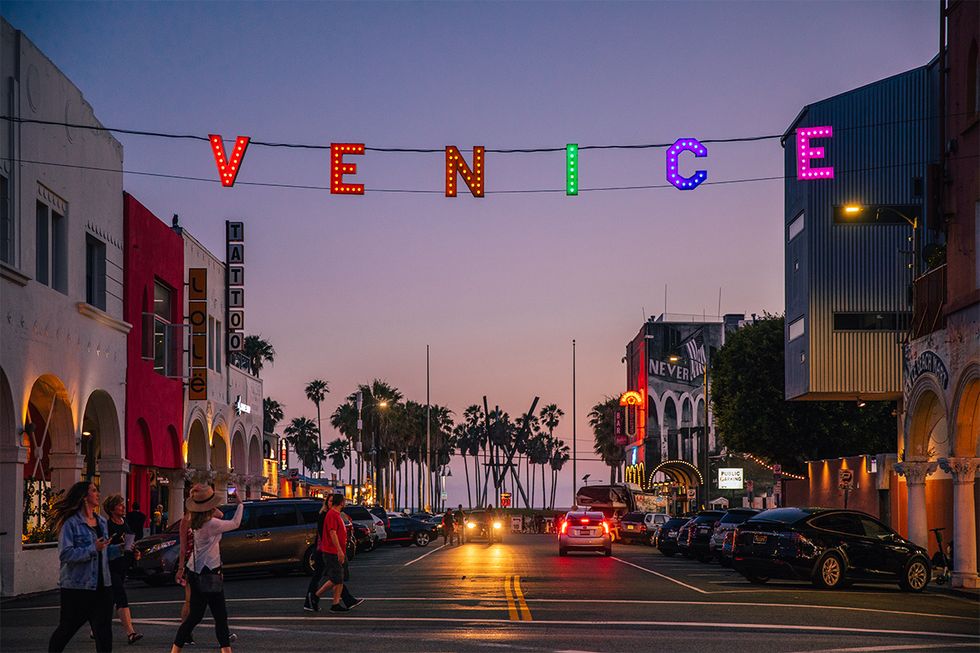 The landmark Venice Sign at sunset
After dinner, I'm buying Matt a drink as a thanks for lending me the Blue Dragon. I take a cab to Abbot Kinney and meet him at the restaurant Scopa Italian Roots, where we tell the maître d' we have a reservation at Old Lightning. He promptly confiscates our phones and leads us around to the side of the building, through an unmarked door, and into LA's premier bourbon bar. The glass case along the wall taunts us with shelf after shelf of nigh-impossible-to-find vintage bottles. Matt leers covetously at a collection of limited-edition Willett, while I pine for the Pappy. I tell the bartender, Jesús, that I love the wheated flavor profile of the Van Winkles but can't shell out $3,000 for a flight. He brings me a more affordable sampler: a delectably corn-sweet Old Taylor 6-year from 1980; an Old Fitzgerald made by a legendary Kentucky warehouse manager who stole from his stores to create his own sought-after blends; and a 101-proof Evan Williams 12-year that's normally available only in the Bluegrass State. "I hope you didn't drive," Matt deadpans, although I think he's just trying to confiscate my Old Fitzgerald. Not a chance, pal.
Day 2
Artful architecture and swinging nightlife in DTLA
Los Angeles may have an underrated metro system, but the city's true essence is found where the Blue Dragon and I now sit: in bumper-to-bumper traffic on the 10. I pull up my rush-hour playlist, and Guy Clark sings, If I can just get off of this LA freeway, without getting killed or caught…
Eventually, I reach the center of the city, which the Spanish founded in 1781 as El Pueblo de Nuestra Señora la Reina de los Ángeles but has in recent years been rebranded simply as DTLA. I'm starting the morning with a bite at Grand Central Market, a 1917 building that's home to all sorts of hip food stalls. I stop at the G&B Coffee counter and get an almond macadamia latte to sip while I wriggle to the Clark Street Bread stand, where I order avocado toast. It tastes like California.
On the other side of the market, I spot one of LA's signature architectural sights, the Bradbury Building. The interior of this National Historic Landmark, which was built in 1893 and features five floors of ornate iron railings and elevator shafts climbing toward an expansive skylight, looks both stunningly vintage and eerily futuristic. It's little wonder Ridley Scott chose it as the setting for the climactic scene of Blade Runner.
I exit through the side door and gawp at the Pope of Broadway, a soaring mural of Anthony Quinn on the former Victor Clothing Company building across the way, before continuing on through DTLA. This area was once so rundown that it wasn't much of a leap for Scott to imagine that by 2019 it would look like a post-apocalyptic dystopia, but over the last decade it has become the reenergized hub of the city, thanks to places like The Last Bookstore. This temple to the written word is probably best known for its second-floor book tunnel, which tourists and wannabe influencers line up to snap selfies in. I ask a clerk what he thinks is the definitive LA novel, and he points me to John Fante's Ask the Dust, which local literary god Charles Bukowski called "a wild and enormous miracle."
It's a good thing I picked up the reading material, because I'm going to have a wait at my next stop. One of the wonderful, contradictory things about this wonderful, contradictory city is that some of its best restaurants are in run-of-the-mill strip malls. One of these is Sushi Gen, in DTLA's Little Tokyo, where a long line has formed before the doors even open. I take my spot and read for a few minutes—Los Angeles, come to me the way I came to you, my feet over your streets … you sad flower in the sand—before I'm seated at the sushi bar, where a chef slings slices of Tsukiji Market–quality fish (buttery tuna, briney sea bream, sweet shrimp, creamy uni) at me until I wave my napkin in the air like a white flag.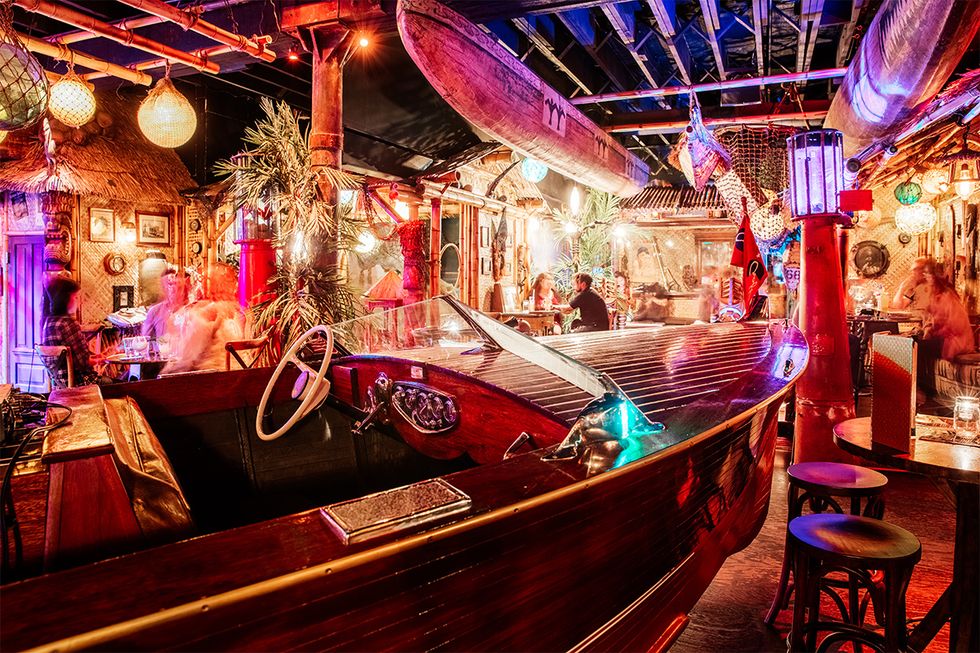 The Pacific Seas bar at Clifton's
The afternoon sun is beating down and bouncing up off the pavement, so I elect to walk off my meal indoors, at The Broad Museum. The four-year-old building, which entrepreneur Eli Broad and his wife, Edythe, created to house their 2,000-piece collection, stands like a square of honeycomb next to the flamboyantly curvaceous Walt Disney Concert Hall next door—a contrast that associate curator Sarah Loyer tells me was very much intentional.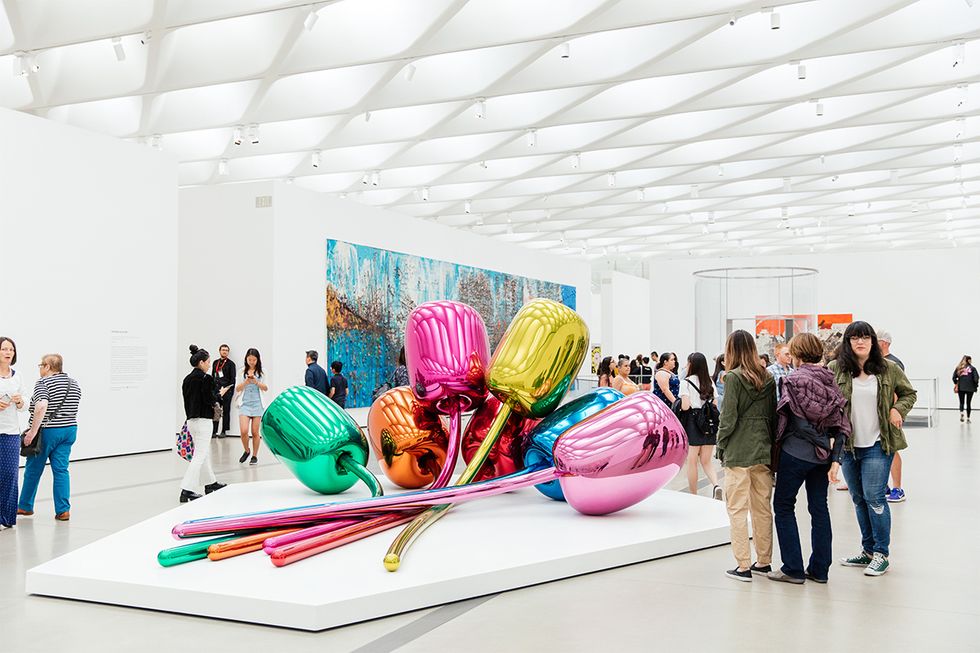 Jeff Koon's "Tulips" at the Broad Museum
"Where the Disney Concert Hall reflects light, our building draws light in," she explains. "The ceiling has 318 individual skylights that light the collection gallery. At peak sun hours we have all natural light." We ride the escalator up to the third-floor gallery, an acre of column-free space where pieces by Jeff Koons, Takashi Murakami, Yayoi Kusama, and Kara Walker are on display. I'm particularly struck by Deep Blue, an expansive mixed-media canvas by Los Angeles artist Mark Bradford. "It's inspired by the 1965 Watts Rebellion," Loyer notes. "You can see the map of the city grid, and the different dots and colors represent historic losses from that event."
We ride the Broad's escalator up to an acre of column-free space to see pieces by Jeff Koons and Yayoi Kusama
I thank Loyer for enlightening me and then zip over to the recently restored Hotel Figueroa, which features works from a new artist—often a Southern California woman—every quarter. I valet the Blue Dragon and take a few minutes to peruse Topanga-based painter Sophie Kipner's blind-contour portraits before stretching out on a poolside lounge chair with a Bohemia beer. When I mention to the waitress that something about the pool seems odd, she tells me it's shaped like a coffin. That seems like a bad omen for tonight…
But hey, if I gotta go, there are worse places to have my last meal than Nightshade, Top Chef winner Mei Lin's much-hyped new restaurant in the up-and-coming Arts District. A taxi drops me at a converted warehouse space that's an Instagrammer's dream—blond wood, white brick, mint and emerald green upholstery, and hanging plants—surpassed only by the presentation of the dishes: Hokkaido scallops in a coconut vinaigrette, chicharrón chunks with a bright green coconut and trout roe dipping sauce, prawn toast that tastes like Vietnamese spring rolls, Szechuan hot quail served atop Japanese milk bread (à la Nashville hot chicken). If the atmosphere is heavenly, that last plate is hellish; my eyes start burning upon its arrival, and it takes an extra glass of grüner to cool my mouth after its departure.
Let's keep turning up the heat! Clifton's is a DTLA institution, a Depression-era cafeteria that fed 10,000 people a day, eventually fell into disrepair, and was ultimately reborn as a four-story nightlife bazaar following a 2015 renovation. I climb past the giant trunk of an (admittedly fake) redwood tree to the top-floor Pacific Seas tiki bar, where I sit in a wicker chair under a mermaid statue and sip a Scorpion Bowl (rum, gin, cognac, orgeat, and god knows what else) that is, yes, set on fire by my waitress. Before I get stung, I descend one floor to the Brookdale Ballroom, where dancers in Gatsby-esque getups swing to a New Orleans jazz band. A woman sashays by me in a peacock-feather outfit, but she's gone before I can ask her if this is real or if I've been consumed by the flames of Szechuan pepper and Polynesian mixology.
Day 3
Hollywood history and Eastside eats
It was all real, and I'm paying for it now. Good thing I know the perfect place for a clean-living kind of breakfast. Sqirl is on the edge of East Hollywood, in an area that's still dotted with 99-cent stores, but the line of part-time models waiting outside betrays its hip quotient. I make my way to the counter, order an Horchoffee (vegan horchata shaken with a double espresso) and a Crispy Disco (brown rice with mint, cilantro, cucumber, scallion, avocado, fried egg, and sausage), and grab a seat at the sideboard. The restaurant's sprightly owner, Jessica Koslow, brings over my food and gives me a playful punch on the knee as she takes the stool next to mine.
"It was a lot of pressure to be this funky place and be like, 'Here's what's happening in Los Angeles,'" the Long Beach native says, recalling the rapturous reviews she received after opening in 2012. However, she does take pride in being an evangelist for SoCal cooking. "There are so many different pockets of LA that [its cuisine] is hard to describe, but if you want a neighborhood restaurant for LA, you're here."
The Angel of Breakfast gives me a hug and waves me back to my food. After devouring the Crispy Disco, I head to The Hollywood Roosevelt hotel. Upon checking in, I rendezvous with Tours by Locals guide Jasmine Jia, who takes me on a winding drive through Griffith Park to the Griffith Observatory. The triple-domed Greek Revival building is one of LA's most recognizable—it can be seen in Rebel Without a Cause and La La Land—but Jia tells me it almost didn't get built. The city turned down funding from tycoon Griffith J. Griffith in 1912 because he had infamously shot his wife (who survived) a decade earlier. "There was a sensational trial," Jia says. Griffith re-donated the money when he died in 1919, and the Observatory was completed by the WPA in 1935. Today it's both an interactive astronomy museum and a spot from which you can see the Pacific Ocean, DTLA, Dodger Stadium, and the Hollywood sign.
The soup bowl–size chalices of salty, limey beer are garnished with shrimp, and the straws are even crusted with tamarind candy.
Now, the question every tourist in LA inevitably faces: Should I take a picture with the sign? As we drive over, Jia tells me it was erected as a real estate advertisement in 1923, when it originally read "Hollywoodland." "The land was sold, and the sign should have been taken down," she says, "but it became associated with the movie industry and LA and became a landmark." It was later shortened to Hollywood—better to fit the photo Jia snaps of me from the vista point in Lake Hollywood Park below.
Jia drops me back at the Blue Dragon, and I head to a far less touristed part of the city. Another college buddy of mine, Rob, was born and raised in Cypress Park, his parents among the tens of thousands of Mexican immigrants who settled on the east side of the Los Angeles River, and I've asked him to show me a couple of off-the-radar spots. I cross the concrete riverbed into Boyle Heights and meet him at El Tepeyac Café, an institution that serves old-school Mexican food. Rob points me toward the gargantuan chile verde–slathered Original Hollenbeck burrito, which is stuffed with rice and beans and guacamole and pork and comfort. Next, we zip over to La Chupería, in neighboring Lincoln Heights, where the bartender brings us two micheladas, soup bowl–size chalices of salty, limey beer (a Modelo bottle floats mouth-down in each cup) rimmed with chili sauce and garnished with cucumber, celery, and shrimp. The straws are even crusted with tamarind candy. As we slurp our drinks and watch a replay of the previous night's Dodgers game on the TV, I ask Rob what places like this mean to LA, and if he's worried about them disappearing as the city changes.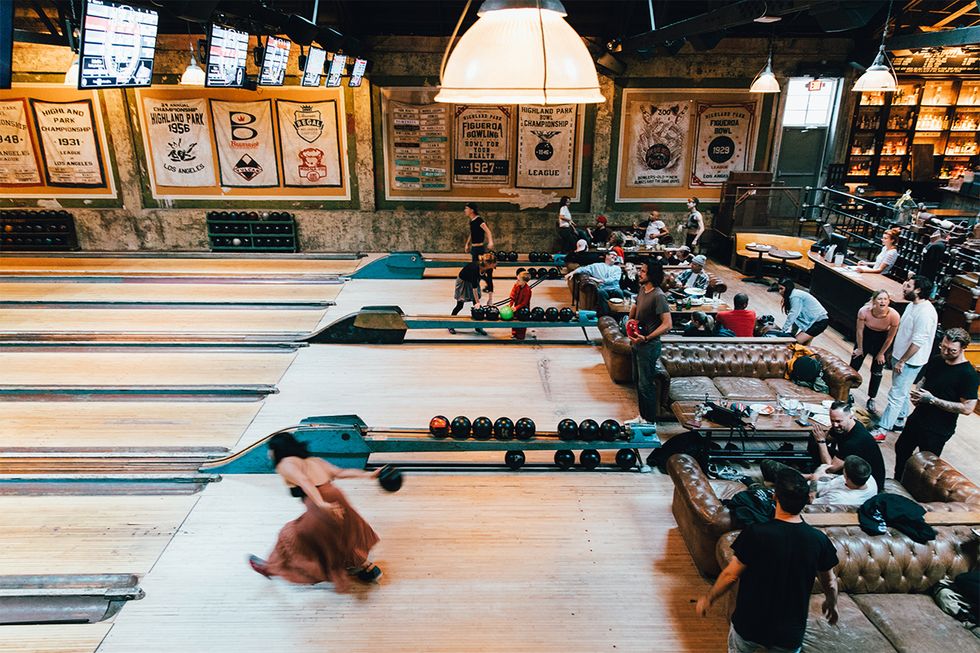 The busy lanes at Highland Park Bowl
"Gentrification brings restaurants and nightlife to areas that were overlooked, but now you have these immigrant-run mom-and-pop businesses, which have contributed so much to LA's cultural identity, operating under the threat of extinction," he tells me. "Without culture, LA risks losing its home too."
I thank the homie for the knowledge, and we split up with plans to meet later. I really need to stretch my legs, so I head to Echo Park. A popular walking path circles the lake where Jack Nicholson's J.J. Gittes snapped compromising photos of Hollis Mulwray in Chinatown, but today it's strangely calm: just a couple of teenagers lazily peddling swan boats and a few kids quacking at the ducks near the shore.
Feeling a little lighter, I get back in the car and cruise up Sunset Boulevard, shopping my way through LA's hippest 'hood, Silver Lake. I browse kid-centric bios of Prince and Bowie at MRKT, whip-stitched watchbands at Dean, and vintage rock 'n' roll tees at Sick City Records. Past the junction with Hollywood Boulevard, I make a pilgrimage to the swirling mural that appeared on the cover of Elliott Smith's Figure 8 album. The storefront has changed tenants several times—it's now a well-regarded Filipino restaurant—but most of the artwork remains, serving as a shrine where fans of the deceased songwriter still leave remembrances.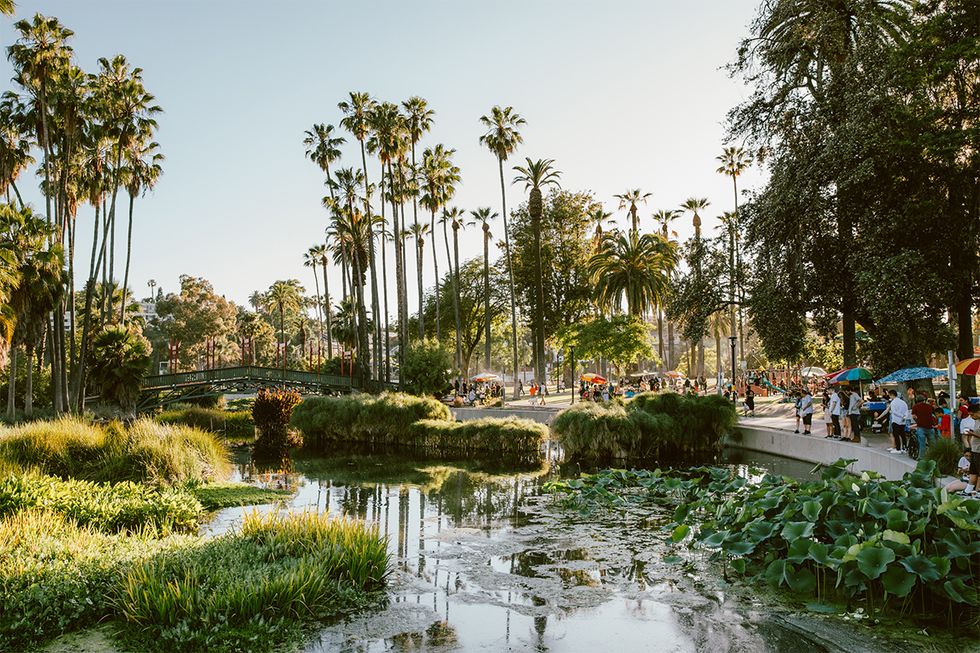 Echo Park Lake
We order frozen White Russians and 'Dead Flowers' comes on. I'm pretty sure we're in a Big Lebowski dream sequence.
Nostalgia makes me hungry. Dinner is at Majordomo, superstar chef David Chang's first California restaurant. I'm joined by Rob and Matt (who has come to reclaim the Blue Dragon) at a table beneath a skylit warehouse ceiling, and we go in on silky tofu topped with uni and avocado, dungeness crab mafaldine pasta, and a pot of boneless chuck short rib onto which our waiter slices a hunk of raclette. "Has anyone ever asked you to carve it straight into their mouth?" Matt asks. "All the time," the waiter replies.
We continue the impromptu reunion at another one of Rob's favorite spots, Highland Park Bowl. A diverse young crowd rolls strikes inside the 92-year-old bowling alley, LA's oldest, which is decorated with league championship banners from decades gone by. We order a round of frozen White Russians, a cocktail the bar calls The Dude Abides, and as we lace up our shoes, the Rolling Stones' "Dead Flowers" comes on. I'm pretty sure we're in a Big Lebowski dream sequence, but I don't see any purple jumpsuits, and the only thing that's nihilistic is the score of our game.
I hug my friends goodbye and hail a ride back to the Roosevelt, where I slip into a robe and look out the window of my suite. Hollywood Boulevard is asleep; the only stars sparkling are the ones embedded in the sidewalk. Good night, stars. Good night, moon. Good night, Los Angeles. I'll see you soon.
To our customers,
I hope this note finds you and your loved ones healthy and well.
It is safe to say these past weeks have been among some of the most tumultuous and emotional that any of us can remember in our lifetimes. The impact of the coronavirus outbreak has been felt by individuals and families, companies and communities, across the United States and around the world.
The response to this crisis has been extraordinary; as much for what it has required from our society as for what it has revealed of us as a people.
Far from causing division and discord, this crisis and the social distancing it has required, has allowed us to witness something profound and moving about ourselves: our fond and deeply felt wish to be connected with one another.
The role of connector is one we're privileged to play in the moments that matter most in your life – weddings and graduations, birthdays and business trips, events large and small – and it's that responsibility that motivates us most to get back to our regular service, as soon as possible.
That is why it is so important our government acted on a comprehensive relief act to ensure our airline – and our industry – are ready and able to serve you again when this crisis abates.
I want to relay to you, in as deeply personal a way I can, the heartfelt appreciation of my 100,000 United team members and their families for this vital public assistance to keep America and United flying for you.
This support will save jobs in our business and many others. And it allows us time to make decisions about the future of our airline to ensure that we can offer you the service you deserve and have come to expect as our customers.
While consumer demand has fallen, we have seen the need for our service and capabilities shifted. And, we've adapted to help meet those needs.
Right now, aircraft flying the United livery and insignia, flown by our aviation professionals, have been repurposed to deliver vital medical supplies and goods to some of the places that need it most. We're also using several of our idle widebody aircraft to use as dedicated charter cargo flights, at least 40 times per week, to transfer freight to and from U.S. locations as well as to key international business locations. At the same time, we are working in concert with the U.S. State Department to bring stranded Americans who are trying to return home back to their loved ones.
While much remains uncertain right now, one thing is for sure: this crisis will pass. Our nation and communities will recover and United will return to service you, our customers. When that happens, we want you to fly United with even greater pride because of the actions we took on behalf of our customers, our employees and everyone we serve.
Stay safe and be well,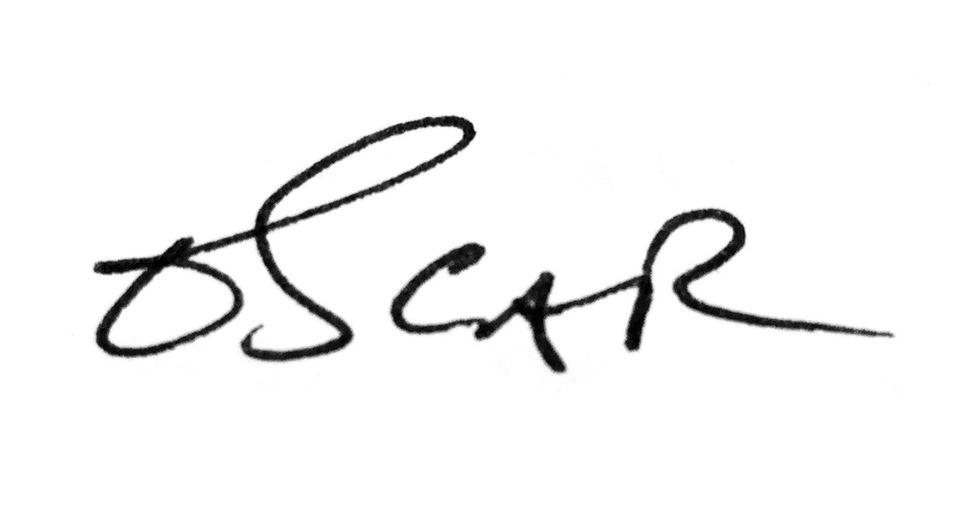 Oscar Munoz
CEO
When and where possible, we are working to repatriate travelers who are stranded abroad in the wake of the COVID-19 crisis. Our teams are working closely with government officials here in the U.S. as well as in other countries where flying has been restricted to gain the necessary approvals to operate service. In regions where government actions have barred international flying, we have coordinated with the the U.S. State Department and local government officials to re-instate some flights. Additionally, we have been operating several extra flights to countries in Central America and South America as we continue to play a role in connecting people and uniting the world.
This week, we are operating 21 flights from Panama City, Quito, Lima, San Pedro Sula, Tegucigalpa and Roatan, to bring nearly 2,500 Americans home. We will continue working with government officials to operate extra flights to Houston from Quito, San Pedro Sula, Tegucigalpa and from Lima to Washington Dulles. We continue to review more opportunities for flights between the United States and other countries to bring citizens home.
Video provided by the U.S. Embassy Ecuador of Americans returning home on United.

Additionally, our Customer Solutions and Recovery team is working with customers in the following markets to rebook them on flights back to the United States as capacity allows, either on our aircraft or on one of our airline partners' planes:

Quito, Ecuador
Managua, Nicaragua
Roatan, Honduras
San Pedro Sula, Honduras
Amsterdam
Brussels
Munich
Singapore
Tokyo-Haneda
Seoul, South Korea
Melbourne, Australia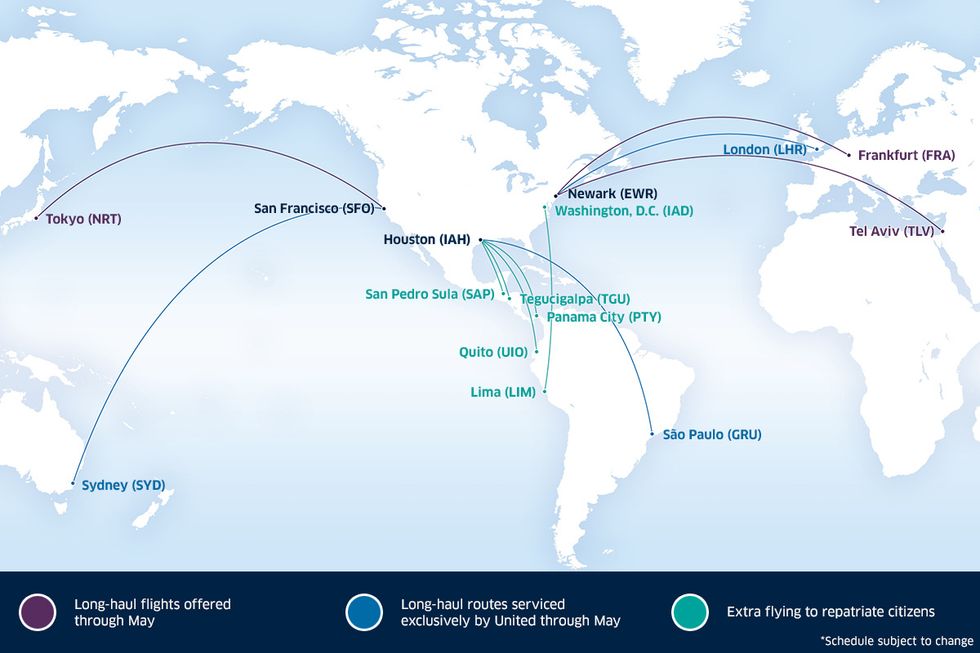 We also recently reinstated several international flights back into our schedule to support customers and essential businesses which depend on these routes. As a result, we will be the only airline to offer service between Newark/New York and London, San Francisco and Sydney, as well as Houston and São Paulo, Brazil.
While travel demand and government restrictions continue to impact our schedule, we know some people around the globe are displaced and still need to get home. While our international schedule will be reduced by about 90% in April, we will continue flying six daily operations to and from the following destinations — covering Asia, Australia, Latin America, the Middle East and Europe — in an effort to get customers where they need to be. This remains a fluid situation, but United continues to play a role in connecting people and uniting the world, especially in these challenging times. Learn more about what we're doing to keep customers and employees safe.
Flights continuing from now through May schedule:
New York/Newark – Frankfurt (Flights 960/961)
New York/Newark – London (Flights 16/17)
New York/Newark – Tel Aviv (Flights 90/91)
Houston – Sao Paulo (Flights 62/63)
San Francisco – Tokyo-Narita (Flights 837/838)
San Francisco – Sydney (Flights 863/870)
In addition to the above, we will continue to operate the following flights to help displaced customers who still need to get home. In destinations where government actions have barred us from flying, we are actively looking for ways to bring customers who have been impacted by travel restrictions back to the United States. This includes working with the U.S. State Department and the local governments to gain permission to operate service.
Atlantic
The following flights will continue through March 28 westbound:

New York/Newark – Amsterdam (Flights 70/71)
New York/Newark – Munich (Flights 30/31)
New York/Newark – Brussels (Flights 999/998)
New York/Newark – Cape Town (Flights 1122/1123)
Washington-Dulles – London (Flights 918/919)
San Francisco – Frankfurt (Flights 58/59)
The final westbound departures on all other Atlantic routes will take place on March 25.
Pacific
We will continue to fly San Francisco-Seoul (Flights 893/892) through March 29 and San Francisco-Tahiti (Flights 115/114) through March 28.
Our final eastbound departures on all other Pacific routes will take place on March 25.
We will maintain some Guam flights as well as a portion of our Island Hopper service.
Hawaii's governor issued a mandatory 14-day self-quarantine order for all travelers arriving or returning to Hawaii. Travelers must complete a Hawaii Department of Agriculture form that will be distributed on board their flight which will also include the requirements for the 14-day quarantine, as well as the penalties. You must show a government issued ID upon arrival along with your form. You can find more information on the governor's website.
Latin America/South America
We will continue to fly Newark/New York – Sao Paulo (Flights 149/148) through March 27 outbound.
The last southbound departures on most other routes will take place March 24.
Mexico
We will reduce our Mexico operation over the next five days. After March 24, we will maintain a small number of daytime flights to certain destinations in Mexico — more to come in the next few days.
Canada
We will suspend all flying to Canada effective April 1.
In destinations where government actions have barred us from flying, we are actively looking for ways to bring customers who have been impacted by travel restrictions back to the United States. This includes working with the U.S. State Department and the local governments to gain permission to operate service.
The revised international schedule will be viewable on united.com on Sunday, March 22. We will continue to update our customers with information as it's available.
If you're scheduled to travel through May 31, 2020, and would like to change your plans, there is no fee to do so, regardless of when you purchased your ticket or where you're traveling. Please visit united.com for more information, or reference our step-by-step guide on how to change your flight, cancel and rebook later.
For any customer, including residents from other countries, whose international travel is disrupted by more than six hours because of schedule changes resulting from government restrictions, they will retain a travel credit equal to the value of their ticket. That credit can be used towards any flight, to any destination, for 12 months from the time of purchase. If the customer chooses not to use the credit, they will receive a cash refund at the end of that 12-month period.We continue to aggressively manage the impact of the coronavirus (COVID-19) outbreak on our employees, our customers and our business. Due to government mandates or restrictions in place prohibiting travel, we are reducing our international schedule by 95% for April. The revised international schedule will be viewable on united.com on Sunday, March 22.
Domestic schedule
We're also making changes to our domestic schedule. While we don't plan to suspend service to any single U.S. city now — with the exception of Mammoth Lakes and Stockton, CA — we are closely monitoring demand as well as changes in state and local curfews and government restrictions across the U.S. and will adjust our schedule accordingly throughout the month.
Additionally, today we announced a further reduction in our domestic schedule — the changes will result in a 52% overall domestic reduction from a previous 42%, and our overall capacity will now be down 68% overall.
Hub city
Route suspensions
Remaining service
Denver
Arcata/Eureka
Amarillo
Kona
Kauai Island
SFO
IAH
SFO
SFO
New York/Newark
Akron/Canton
Grand Rapids
Hilton Head
Honolulu
Milwaukee
Madison
Omaha
Portland, Oregon
Providence
Seattle
Salt Lake City
Sacramento
Knoxville
Fayetteville

ORD
ORD, DEN
IAD
ORD, IAH, DEN, SFO, LAX
ORD, IAH, DEN
ORD, DEN
ORD, IAH, DEN
ORD, IAH, DEN, SFO
IAD, ORD
IAD, ORD, IAH, DEN, SFO, LAX
ORD, IAH, DEN, SFO, LAX
ORD, IAH, DEN, SFO, LAX
IAD, ORD, IAH, DEN, SFO, LAX
ORD, IAH, DEN
Washington-Dulles
Grand Rapids
Portland, Oregon
Sacramento
ORD, DEN
ORD, IAH, DEN, SFO, LAX
ORD, IAH, DEN, SFO, LAX
Houston
Hartford
Boise
Grand Rapids
Lexington
Ontario, California
Palm Springs
San Jose, California
Akron/Canton
Reno

IAD, ORD, DEN
ORD, DEN, SFO, LAX
ORD
ORD, DEN
IAD, ORD
DEN, SFO
DEN, SFO, LAX
DEN, SFO
DEN
Los Angeles
Arcata/Eureka
Austin
Boston
Baltimore
Bozeman
Cleveland
Kona
Kauai Island
Orlando
Madison
Kahului
Redding
Reno
San Antonio
St George

SFO
EWR, IAD, ORD, IAH, DEN, SFO
EWR, IAD, ORD, IAH, DEN, SFO
ORD, IAH, DEN
DEN
EWR, IAD, ORD, IAH, DEN, SFO
SFO
SFO
EWR, IAD, ORD, IAH, DEN, SFO
ORD, DEN
DEN, SFO
SFO
DEN, SFO
EWR, IAD, ORD, IAH, DEN
DEN

Chicago
Asheville
Bismarck/Mandan
Bozeman
Kearney
Panama City
Eugene
Fresno
Spokane
Hilton Head
Wilmington
Jackson
Kahului
Palm Springs
Reno
San Jose
Valparaiso
IAD
DEN
DEN
DEN
IAH
DEN, SFO, LAX
DEN, SFO, LAX
DEN, SFO
IAD
IAD
IAH
DEN, SFO
DEN, SFO, LAX
DEN, SFO
DEN
IAH
San Francisco
Atlanta
Nashville
Baltimore
Bozeman
Columbus
Detroit
Fort Lauderdale
Indianapolis
Kansas City
Madison
New Orleans
Omaha
Philadelphia
Pittsburgh
Raleigh/Durham
San Antonio
St Louis
Tampa
Fayetteville
EWR, IAD, ORD, IAH, DEN
EWR, IAD, ORD, IAH, DEN
ORD, IAH, DEN
DEN
EWR, IAD, ORD, IAH, DEN
EWR, IAD, ORD, IAH, DEN
EWR, IAD, ORD, IAH, DEN
EWR, IAD, ORD, IAH, DEN
EWR, IAD, ORD, IAH, DEN
ORD, DEN
EWR, IAD, ORD, IAH, DEN
ORD, IAH, DEN
ORD, IAH, DEN
ORD, IAH, DEN
EWR, IAD, ORD, IAH, DEN
EWR, IAD, ORD, IAH, DEN
EWR, IAD, ORD, IAH, DEN
EWR, IAD, ORD, IAH, DEN
ORD, IAH, DEN
Together, we are facing an unprecedented challenge. United Together, we rise to meet that challenge.
Check out our newest destinations
United Airlines
united
International schedule update: We know some people around the globe are displaced and still need to get home. We are reinstating some international flights over the next few days and will continue to fly six daily international flights through May.
uafly.co/3a5Dj6p
United Airlines
united
We have extended our change fee waiver to cover travel through May 31, 2020: - You can change or cancel your flight on
united.com
or through the app – a phone call is not required - For the latest on our commitment to your safety, visit
united.com/coronavirus
United Airlines
united
Our site,
united.com/coronavirus
, is regularly updated with the latest on travel restrictions, rebooking instructions and health and safety information. Today's updates: - An expanded, more flexible international rebooking policy - Schedule changes for U.K. & Ireland
United Airlines
united
If you're scheduled to travel March 10 - April 30, 2020 and would like to change your plans, there is no fee to do so, regardless of when you purchased your ticket or where you're traveling. Learn more:
uafly.co/2IpMCBX
We Are United
weareunited
Tomorrow, Oscar and Scott will host a companywide town hall to discuss the latest developments in managing the effects of the coronavirus (COVID-19). You can join the livestream event at 1:20 p.m. CT here:
uafly.co/39AV25m
We Are United
weareunited
Tomorrow, Oscar and Scott will host a companywide town hall to discuss the latest developments in managing the effects of the coronavirus (COVID-19). You can join the livestream event at 1:20 p.m. CT here:
uafly.co/39AV25m
.
Watch our most popular videos
Copyright © 2020 United Airlines, Inc.
All rights reserved.
Indicates an external site that may or may not meet accessibility guidelines.
Scroll to top
Scroll to top