Three Perfect Days: Seoul
Story by: Leslie Patrick Moore | Photography by: Marco Argüello | Hemispheres November 2016
Since the Korean War ended in 1953, South Korea has undertaken an unrelenting drive toward modernization, nowhere more so than in its capital. The fifth-largest metropolitan area on Earth, Seoul is buzzing with energy and ambition, epitomized as much by the near-universal wireless access as by the brand-new Lotte World Tower, the planet's fifth-tallest building. And yet, despite the frenetic pace of change, the city has not lost its sense of history, thanks to its many ancient temples, traditional houses, and tranquil palace gardens. Indeed, it's the ever-shifting swirl of the old and the new that makes Seoul such an intriguing, enchanting place to be.
In which Leslie fails chopsticks 101, joins the k-beauty craze, and loses a Korean drinking game
A cough jolts me awake. "Who's in my room?" I think. Then, "Why am I on the floor?" It takes a moment to remember I'm staying at Secret Retreats Rak Ko Jae, a boutique hotel set in a 130-year-old hanok, a traditional type of wooden house that's still common throughout Seoul. I shift on my floor mat, lifting my head from the seed-filled headrest I gamely chose over a fluffy pillow, and look out through the papery window shade. Outside, I see wooden decks, a tranquil courtyard dotted with pine trees and huge brown kimchi pots, and the source of the cough, a smiling woman who shuffles in with my breakfast of eggs and bacon.
After my meal, I take the short stroll to nearby Gyeongbokgung, the largest of Seoul's five palaces, arriving just in time to watch the changing of the royal guard. Brandishing pikes and colorful shields, the bearded guards march past the imposing stone gate, Bugaksan Mountain rising darkly in the distance. After the ceremony, I meet Young Sun Nam, a guide with the Korea Tourism Organization. Young Sun tells me that the palace was built in 1395 during the Joseon Dynasty but has since been destroyed several times by aggressors (more than once by the Japanese, who ended Korea's imperial period when they annexed the country in 1910). We walk through the outer courtyards and into the palace complex through a series of diminishing gates, each topped with a curving dancheong roof, elaborately painted in burnt reds and pale greens. At one gate, a weathered ticket collector mumbles something, then bursts out laughing. "He said we're looking really hot," Young Sun tells me afterward, "and this is only the second gate."
The royal guard at Gyeongbokgung Palace; opening spread: women in hanbok dresses at the palace
Indeed, it is uncommonly hot today, and I wonder why so many women are wearing hanboks, high-waisted, floor-dusting dresses that date back to the 14th century. But for the sneakers visible beneath the colorful skirts, I could have stepped back in time. A teenage girl tells me she's renting hers by the hour. "You must try," she says, perspiration sparkling on her forehead. "It's actually very comfortable in the hot weather." I smile and shake my head, fanning my face with the palace visitor's brochure.

Young Sun and I continue on, wandering through clusters of buildings bristling with dragons, pigs, and monkeys, supposedly Buddhist messengers sent to protect the royal family. Queen Inhyeon's quarters are tucked away in the back, the elegant painted doors of the inner chamber opening onto a tiered garden. "This is the crying garden," Young Sun says. "The queen cried because she wasn't allowed to be jealous, even though she had to raise the children of the concubines." I may cry too if I don't find an air conditioner soon.
After a quick spin through the National Folk Museum of Korea—a pagoda-topped structure on the palace grounds that houses thousands of cultural artifacts, ranging from shards of ancient pottery to photographs from the Japanese occupation in the first half of the 20th century—we catch a cab to Myeong-dong, Seoul's buzziest shopping district, for a more modern cultural experience. The shoppers here are packed in shoulder to shoulder, buying everything from foot-tall ice cream cones to Obama-themed socks, and it takes 15 minutes of squeezing and sliding to reach Myeong-dong Kyoja, a no-frills eatery known for its bibimkuksu, a traditional dish of noodles with sesame oil and spicy pepper paste. Sitting at a stark wooden table, I watch as diners move flailing noodles from bowl to lip with silvery flashes of chopsticks. My sticks are slippery with steam and oil, and when it becomes apparent I might starve, Young Sun conjures up a fork.
Daniel Gray, President, Delectable Travels
My next cross-cultural challenge is to decide which of Myeong-dong's many K-Beauty stores I'll be entrusting my skin to. I settle on Olive Young—the Sephora of South Korea, according to Young Sun—where a saleswoman inspects my face with an expression of pity. "N.M.F. Aquaring Ampoule Mask Rex," she says, bowing as she hands me a sheet mask. I have no idea what that means, but I pay up and slip the mask into my purse, hoping I'll remember to put it on before bed.

At nearby Anguk subway station, I meet Korean-American Daniel Gray, owner of food tour outfit Delectable Travels. We grab iced coffees at one of Seoul's omnipresent cafés, and Daniel provides a primer on the history of Korean cuisine. "Traditionally, average Koreans didn't eat a big variety of food because the best was reserved for the royal court," he says. "For a long time, there was a big barrier because the taste [of high cuisine] was so strong, but now it's the fighting between all the different flavors that Koreans really love."
A couple of trains later we arrive in Hapjeong-dong, a formerly rundown riverside neighborhood in western Seoul that now buzzes with bars and restaurants. We meet up with a few more tour-takers, then head for the famed Korean barbecue joint Seo-Seo Galbi, where the staff greets us with a synchronized bow before offering chilled emerald bottles of the country's favorite liquor, soju. "Gun-bae," Daniel says, Korean for "cheers," then downs his shot.
"Meat was a luxury in Korea 20 or 30 years ago. People would dress in their Sunday best and drive out to the countryside to eat at restaurants called gardens, then sit around with a toothpick in their mouth to show off. Eating beef was such a special thing, but now it's become mainstream." —Daniel Gray
After that first clink, things happen fast. Galbi, beef on-the-bone, sizzles on a central grill as the table heaves beneath an ever-increasing selection of sides—kimchi, pickled radishes, bean paste—delivered by ostentatiously polite waiters. Daniel uses giant scissors to cut the meat into bite-size bits, while I clumsily fumble garlic toward the grill with my chopsticks. "This garlic has a bite," Daniel warns. "Vampires don't do well in Korea." He's right, and I regret popping the entire clove into my mouth at once. Luckily, soju is the perfect salve.
Our next stop is Mangwon Market, where we try pan-fried jeon pancakes and sticky rice doughnuts called chapssal. Mangwon isn't Seoul's glitziest shopping destination, but it's where locals go to buy things like kitchen sponges and ingredients for the night's dinner. The din is deafening, and every square inch is taken up with vendors hawking miniature crabs, dried turnips, sesame leaves, and just about anything else you can imagine. I'm particularly intrigued by a stall that sells rice cakes shot from a machine at warp speed, like clay pigeons. We finish the tour at one of Korea's 36,000-plus fried chicken joints—a figure that's about the same as the number of McDonald's restaurants globally. While waiting, Daniel leads our little group in lively Korean drinking games that involve a lot of clapping and counting. My mind's addled by the heat and soju, so I lose repeatedly, which means I drink repeatedly. It's a vicious cycle.
The Zaha Hadid–designed Dongdaemun Design Plaza
Somewhat woozily, I check into the glossy, hyper-modern Conrad Seoul, in the city's main financial district, Yeoeuido, which takes up a large island in the Han River, Seoul's version of the Seine. Before bed I head up to the 37 Grill & Bar, where I sip a Tanqueray and tonic nightcap and watch the blinking lights atop the rocketlike N Seoul Tower. Back in my room, there's a jar of tiny candy letters that I munch on while applying the facial mask I bought earlier. The mask is cold to the touch and a bit slimy, and it takes a few moments to properly align the eye, nose, and mouth holes. When I spot my reflection in the mirror, I instantly think of Halloween. This is the last thing I remember.

In which Leslie snaps selfies with an actress, dons a batting helmet, and loses her voice at a karaoke bar
Overly moisturized and sticky-mouthed, I decide to start the day with a dip in the Conrad's 8th-floor indoor pool, only to find a cluster of women bopping along to K-Pop in a water aerobics class. So I skip the healthful bopping in favor of a quiet bath in my room. Breakfast is back up on the 37th floor, where I consume ample quantities of pan-fried mandu, beef dumplings that come with spicy soy sauce, while watching water-skiers create sparkling silver stripes on the river far below.
I'm spending the rest of the morning at Siloam Fire Pot Sauna, a traditional jjimjilbang bathhouse back across the river in Jung-gu. Immediately, I am faced with a dilemma: Do I start in the ice room? The jade room? The salt room? I decide to stew in one of the hot pools. I feel a bit out of place as the lone oversize foreigner amid the little old local women wearing towels on their heads, but I close my eyes and focus on the healing qualities of the natural germanium water lapping at my chin.
Byeokje Galbi's marbled hanwoo beef
I end my treatment with a remarkably vigorous body scrub, then zip off to check into the Four Seasons Hotel Seoul, an unremittingly luxurious property that opened late last year in the Central Business District. The cavernous lobby leaves me momentarily dumbstruck, but I snap out of it when I remember I have an appointment across the city, in the south-eastern residential district of Songpa-gu.

From the window of my cab, I spy what looks like an alien spacecraft that has landed in the middle of the city, but it turns out to be the Zaha Hadid–designed Dongdaemun Design Plaza, an innovative venue housing galleries and concert halls. While I'm pondering the consequences of an extraterrestrial invasion, my cabbie announces that we've arrived at Byeokje Galbi, a wood-and-glass-paneled restaurant known for its highly marbled hanwoo beef.
Waiting for me is Seoul native Hyun Ah Han, a poised starlet with coiffed brown hair and a wide smile. As I scan the menu, the actress launches into a soliloquy about Korean beauty—of which she is a particularly fine example. "Korean women are known for having nice skin," she says. "We have high quality beauty products in Korea, but we also eat a lot of green food, and we have good weather."
Hyun Ah Han, actress
I've had the rejuvenating face mask, but based on "beefmaster" chef Won Suk Yoon's rundown of the menu, my lunch isn't going to be very green. I order a dish with a name that translates to "char-grilled chef's special assorted Korean prime beef steaks with sea salt," which comes with sides of thick bokki noodles, pungent kimchi, and yellow root vegetables (good for digestion, the beefmaster tells me).

After lunch, Hyun Ah takes me to Garosugil, the most popular shopping spot in Gangnam, the district immortalized by the K-Popster Psy. The name Gangnam means "south of the river," but many Seoulites refer to it as "Beverly Hills," due to its profusion of high-end retailers and pocketbook-size dogs. On tree-lined streets, fashionable young women totter about on vertiginous heels, flitting in and out of shops with names like Skin Food. We stop at chic café C27 Cheesecake and Coffee, where a sign reads: "A-musement park for women." I probe Hyun Ah about it. "It's because the light is good and the cake is good. It's perfect for taking selfies, which is what Korean girls do these days."
"One of my favorite things to do is to see the night view of Seoul from the mountains or from the top of N Seoul Tower. I suggest it to everyone because it's such a unique perspective of the city." —Hyun Ah Han
As we nibble photogenic slices of green-tea cheesecake, Hyun Ah outlines the historical roots of local fashion tastes. "We are a Confucian society, so we have always followed our elders, which in the past used to be royalty," she says. "Now, celebrities are like the new royalty, and Koreans will buy a shade of red lipstick or an off-the-shoulder top if their favorite celebrity is wearing it." She confesses she would like to become an "it" actress responsible for starting such trends, which doesn't seem like a stretch to me.
I say good-bye to Hyun Ah and make a dash to nearby Jamsil Baseball Stadium, arriving well into the first inning of a game between the LG Twins and KT Wiz, rival members of the 10-team KBO, the country's highest league. At the ticket booth, a woman produces a rapid burst of Korean accompanied by hand motions that resemble a flapping bird. I shrug, and the bird sighs, then calls over a baby-faced guard to help her handle the American woman. "You must wear helmet," he says in adorably broken English. "Follow me."
A statue of King Sejong at Gwanghwamun Plaza, outside the main gate of Gyeongbokgung Palace
At a nearby counter, I'm instructed to hand over my driver's license as collateral for the battered black batting helmet they insist I wear because I'm sitting in the "exciting" section. I put it on and find my exciting seat, where I notice that the only other helmeted fan is a 5-year-old boy. I grab a beer and watch the game, trying not to think about the countless sweaty heads that have donned this piece of plastic. Fans around me cheer demurely as the hometown Twins hit two home runs in a row, then they continue munching on dried squid—the Korean version of ballgame popcorn. At the end of a 10-4 Twins victory, I return my helmet and head to the Sports Complex subway stop.

I exit the subway back across the river at City Hall, a grand municipal building dating from 1926 that's now dwarfed by the Space-Age glass extension hovering behind it. I walk past a jazz band that's singing in Spanish, then pop into the popular chain restaurant Bonjuk for a late dinner. Juk is a rice porridge traditionally served to the elderly, the infirm, and babies. I order a version with mixed vegetables, served with a side of kimchi, naturally.
I finish the night by meeting one of the couples from last night's food tour (he is from Slovakia, she from New York City) at Luxury Su Noraebang, a karaoke bar in the clubby Hongdae neighborhood. We immediately set about mangling the most popular karaoke song in Seoul, "Let It Go" from Frozen. "I won't have a voice tomorrow," my Slovak friend croaks. Later, I ask him what his favorite thing about Seoul has been so far. "It's either this or eating kimchi," he replies. I can't argue.
In which Leslie eats silkworm larvae, listens to a gargling artist, and takes a cocktail cruise with her former student
The windows in my plush purple-and-gray room at the Four Seasons overlook Gyeongbokgung Palace, allowing me an encore viewing of the changing of the guard. Beyond the compound, I spot the sloping roof of the Blue House, home to President Geun Hye Park. It's pretty far off, but I offer a small bow, just in case, before I head to breakfast at Boccalino, a bright, Milan-inspired restaurant that overlooks commuters hustling to work below. There's a Western-style buffet, but the Korean menu of ginseng salad, grilled mackerel, and baechu kimchi is too good to resist.
Walking down the broad and busy avenue Sejong-daero, I spot a large bronze statue of Sejong the Great, the 15th-century monarch who created Korea's modern alphabet. Not far from here is Cheonggyecheon, a man-made stream that flows for seven miles through the gleaming office blocks of central Seoul. Lost in appreciation of a waterfall, I almost step on a white miniature poodle in a bumblebee outfit, then notice another pup high-stepping down the sidewalk in shiny pink shoes. Apparently humans aren't the only stylish residents in South Korea's capital.
Shoppers at Olive Young, "the Sephora of South Korea"
After soaking my tired feet in the stream, I continue on to Insa-dong, a traditional neighborhood in Jongno characterized by small alleys, tea rooms, and impossibly quaint hanok houses. The main drag, Insadong-gil, is chock-a-block with antique shops and chichi boutiques, but the real attraction is its street food, which includes swirling cauldrons of beondegi (boiled silkworm pupae). The plump, wormy niblets aren't my idea of a hearty snack, but I decide to try one. The vendor, a short woman in a very large hat, laughs uproariously as I steel myself for a bite. The earthy taste isn't exactly unpleasant, but the texture (let's call it "bursting") is. "Ha ha!" the vendor says. "Ho ho!"

Now that I've begun to expand my gastronomic horizons, I'm ready to meet Derek Iwanuk, a Canadian expat and travel blogger who wrote the guidebook Itaewon Eats: Where the World Meets to Eat in Seoul. Derek reckons that the local food scene is on the up, and that Itaewon-dong, the city's most international neighborhood and the subject of his book, is the center of it all. "Seven years ago, you were lucky to find a half-decent burger," he says. "Over the years, there's been a food revolution, and now there are little pockets of world cuisine."
Yoon Kyung Kim, artist
One of those pockets is Coreanos Kitchen, a hip Korean-Mexican restaurant opened in 2013 by two Korean-Americans who badly missed tacos. We order fries topped with galbi, hot sauce, and cilantro, plus a couple of burritos loaded with kimchi and braised pork belly. For Derek, a meal like this speaks to Seoul's ongoing emergence as a global destination. It is, he says, a city that is vying desperately for attention.

I thank Derek for the burritos, then run through the rain to hail a cab. The car whisks me back past Gyeongbokgung and up to Samcheong-dong, a hip, gallery-rich neighborhood that's home to the National Museum of Modern and Contemporary Art. Waiting for me inside is Yoon Kyung Kim, a petite installation artist whose nose crinkles when she laughs. We browse for a while, contemplating avant-garde paintings and multimedia works, ending up at an interactive exhibit by acclaimed Korean artist Soo Ja Kim. In a vast black room, we're invited to sit around a circular table and given pieces of clay to mold into balls. I frown at an unsettling noise. "It's a recording of the artist gargling," the curator explains. "It's the artist's intention while you make the ball that the shape of your mind is visualized." I'm not sure what shape my mind is exactly, but I hope it's not the lumpy brown blob I've created. Yoon, meanwhile, has formed two balls, one grapefruit sized and the other just a grape. "This is my brain," she says, pointing to the small one.
"Koreans are becoming more open-minded to art, especially in Seoul. They're starting to see the importance of balancing life with art and to realize the reason you go to art museums and galleries is to free yourself." —Yoon Kyung Kim
Creating brains is thirsty work, so we head to the Kraze Burgers down the block to discuss art over beers. "Korean parents are usually very focused on math and English," Yoon says as we sip from frosty glasses. "They need to realize that, even if their children don't become artists, if they're exposed to art they'll become better at other subjects."
I pop back to the Four Seasons for a massage at the spa, then hit happy hour at the 28th-floor Executive Club Lounge, whose defining feature is its wraparound floor-to-ceiling windows. I sip a sauvignon blanc and watch the setting sun light up the surrounding skyscrapers—one of which is home to my dinner destination.
In the rotating n.Grill, at the top of the 775-foot N Seoul Tower, I'm led to a secluded booth with a sweeping view of the city backed by craggy hills stretching toward the North Korean border, 30-odd miles away. As a well-groomed waiter pours me a glass of pink sparkling wine, I'm greeted by Michelin-starred English chef Duncan Robertson, who moved to Seoul after meeting his Korean wife in France. I sip my bubbly and ask Duncan for his take on the food scene here.
Man-made Cheonggyecheon streams through downtown Seoul
"Seoul's becoming more and more open," he says. "When I first came six years ago and baked baguette-style bread with a crusty exterior, everyone was complaining and trying to eat it with a fork and knife. Now, artisanal bakeries here are a niche market, and people are becoming very open-minded about food."

My meal begins with a parade of appetizers, including a savory parmesan soup and poached salmon topped with potato cream, basil sauce, and salmon roe. Next come three different cuts of beef, topped with grilled green chilies and buttery roasted garlic. I top it off with a passion-fruit tart and a dollop of gingery chocolate cream, then sit back with Ol' Blue Eyes crooning in the background and look out at the glinting gold facade of the 63 Building.
To end the evening, I board an E-land Cruise boat, where I meet Myo Jung Kim, an all-grown-up former middle-school student of mine from when I taught ESL here. As we head for the top-deck bar, past bubblegum-pink blossoms of faux cherry trees, I tell Myo Jung that it feels odd to be drinking with her—like I'm being a bad influence. "Don't worry, teacher," she says, ordering us a pair of fruity cocktails. "Times change."
Mexico-based writer Leslie Patrick Moore lived in South Korea for three years, during which time she spent far too much energy and money shopping for beauty products.
3 under the radar places to travel to in October
For travelers who enjoy cooler temperatures and fall festivals, these are the perfect under-the-radar destinations to check out this October.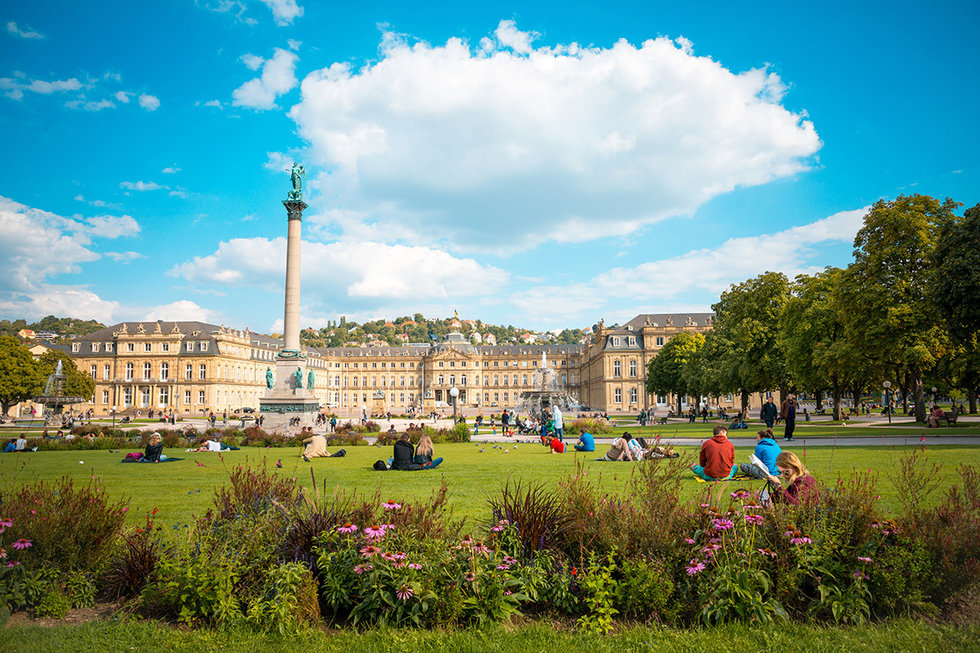 Stuttgart, Germany
Head to Stuttgart in Southern Germany to experience a combination of German culture and a passion for fast cars and innovation. Here, you'll also find the country's second largest beer festival. It's considered the ideal home base for exploring the Black Forest mountain range and its surrounding towns. Throughout the city, historic government buildings coexist with contemporary architecture with green spaces and parks galore. Germany's sixth largest city is also home to the Porsche and Mercedes-Benz headquarters, both of which have impressive automobile museums that are open to the public.
What to do
The main event attracting visitors in October is the Stuttgart Beer Festival. Second in size only to Munich's Oktoberfest, this fairground-style festival presents more activities for all ages. There are still plenty of beer tents for adults, as well as theme-park style rides for kids. Everyone will enjoy the authentic German food stalls, music and dancing.
Stuttgart is also home to two car museums, the Mercedes-Benz Museum and the Porsche Museum. You don't have to be a car buff to enjoy their contemporary architecture and elegant interiors, both of which feature impressive collections of pristine historic cars. Visit Market Hall Stuttgart in the city center to peruse booths and stalls from local farmers, restaurants, producers and artisans. Another unique Stuttgart attraction is the Wilhelma zoological-botanical garden, which houses the largest collection of exotic animal and plant species in Europe. Spend a leisurely afternoon strolling through Wilhelma's many gardens and footpaths, which were previously a king's private retreat.
Getting there
Our Star Alliance™ partner airlines offer service to Stuttgart (STR) from multiple U.S. cities, including direct flights from New York/Newark (EWR).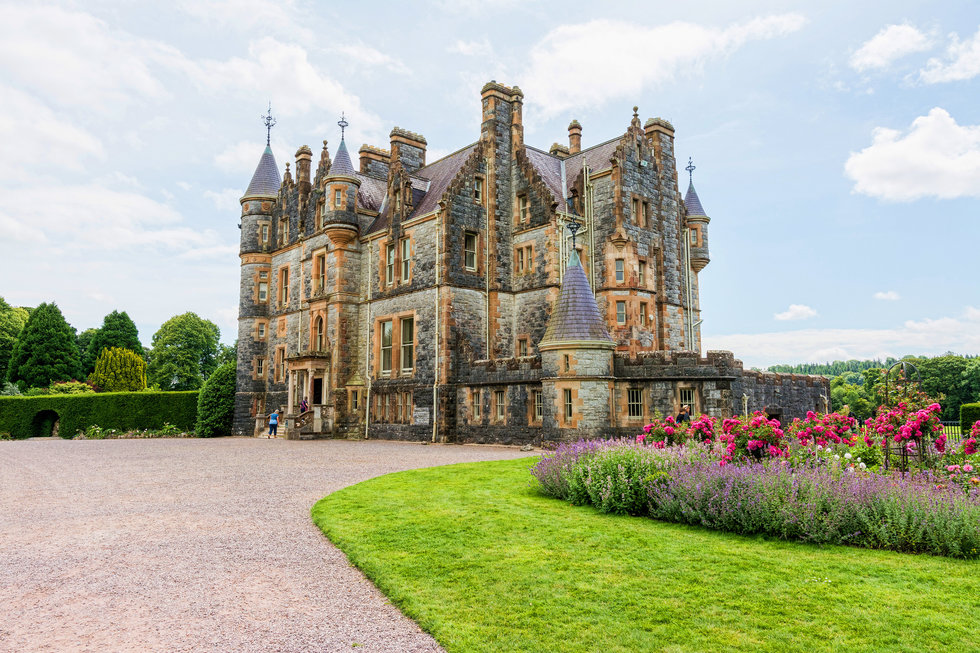 Cork, Ireland
Jazz, food and friendly locals in Ireland's unofficial capital
Often overshadowed by Dublin, you might be surprised by everything that Ireland's second-largest city has to offer. Some even refer to Cork as the unofficial capital of Ireland. The city's smaller footprint makes it easier to navigate, and Cork's genuinely friendly locals are more than happy to rub elbows with visitors at its cozy pubs and restaurants. Cork was even recently named the world's third friendliest city by Condé Nast Traveler, and October is an especially good time to visit. Cork's long-running jazz festival brings international talent and well-known acts to the stage. Lastly, Cork is known as Ireland's food capital thanks to its many world-class restaurants and delicious local specialties.
What to do
The Guinness Cork Jazz Festival held at the end of October gets a little bigger and better every year. The music festival has been running since 1978 and welcomes famous talent and up-and-coming jazz performers alike. It kicks off with a jazz parade that winds its way through the city streets. If you're not a jazz enthusiast, The Fringe Festival runs in parallel with live theater and musical performances from other genres.
The heart of the city's lively food scene is the English Market, an 18th-century covered market that's Ireland's most famous food emporium. Shop for produce, meat and other provisions alongside Cork's chefs on the ground level, or sample traditional Irish fare at restaurants on the second floor. After you've had your fill, make your way to one of Cork's most popular and peculiar attractions — Cork City Gaol — a castle-like building that was once a 19th-century prison. Ireland's famous Blarney Castle (and home of the Blarney Stone) is also just a 20-minute drive from Cork.
Getting there
United and our Star Alliance™ partner airlines offer services to Cork (ORK) from multiple U.S. cities.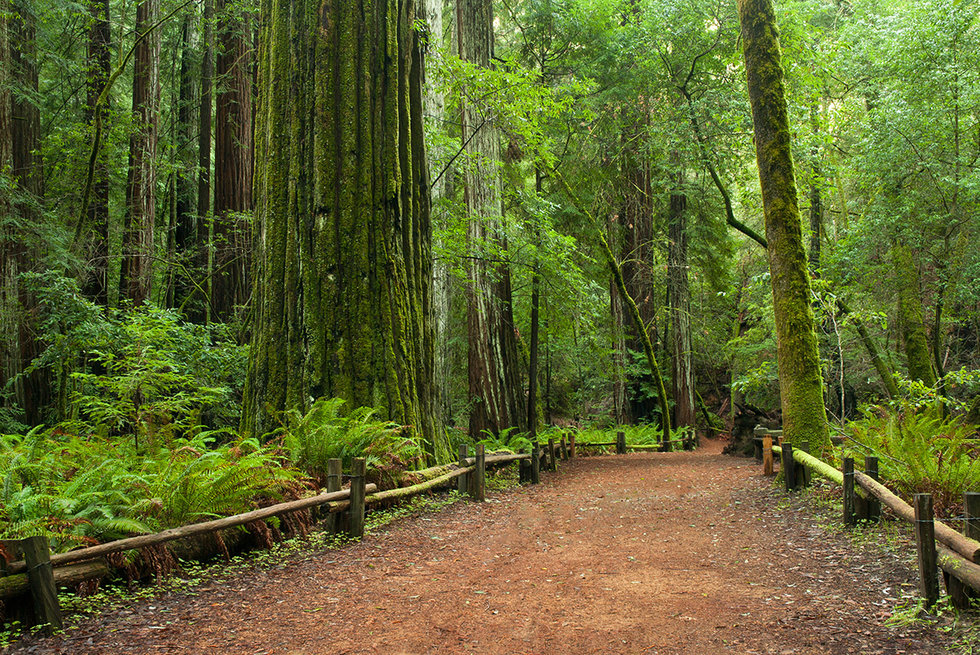 Guerneville, California
An underrated Sonoma destination with rustic charm
Though Sonoma welcomes fewer visitors come October, wine country is a popular year-round destination. Do as the locals do and head to Guerneville for a charming wine country getaway, just a 90-minute drive from San Francisco. This rustic ex-logging town in the Russian River Valley has welcomed several new restaurants, art galleries and shops over the last few years. Spend your time visiting tasting rooms at the many nearby wineries. Stroll underneath majestic coastal redwoods in the 806-acre state park just a few minutes from town, or pop into the eclectic storefronts along Guerneville's Main Street. This casual, unpretentious town is an ideal destination for a couple or a relaxing getaway with a group of friends.
What to do
Guerneville sits in the heart of the Russian River Valley, where pinot noir and chardonnay grow plentifully in the cool climate. More than 50 wineries are within a 20-minute drive. Between established Champagne houses like Korbel to the many family-owned wineries dotting the region, you can easily spend a day or two sampling the region's wines while taking in the valley's scenic vineyards. Beer lovers can make the short trip to Russian River Brewing Company, one of California's most well-known craft breweries.
Back in town, enjoy the retro vibe strolling along Guerneville's Main Street. From antiques and used books to clothing and collectibles, you'll find an eclectic variety of shops and boutiques. The Main Street dining scene has many options, including San Francisco-inspired farm-to-table bistros and more casual, laid-back eateries with live music. To see the nearby redwood forest, head north, just a short drive to the Armstrong Redwoods State Natural Reserve. The reserve has many self-guided trails ranging from an easy one-mile walk to a more strenuous nine-mile hike. The Russian River runs right next to Guerneville, where outdoor adventurers will enjoy fishing, kayaking or swimming.
Getting there
United offers service to San Francisco (SFO) from multiple U.S. cities. Guerneville is a quick 90-minute drive from San Francisco.
United and Special Olympics
Taking inclusion to new heights
Our shared purpose is to connect people and unite the world — and no organization better embodies that principle than Special Olympics.
Learn more
What to do in Zurich
Passion Passport is a community-based website that tells meaningful travel stories and facilitates global connections. Our team hails from across the United States and Canada and is always up for an adventure. To learn more about where we're going and what we're doing, visit our website: PassionPassport.com
On the surface, Zurich, Switzerland, is known for banking and finance — but those who dig a little deeper discover just how enchanting the city really is. If you have the opportunity to visit, check out some of our favorite spots in this charming, upscale destination.
Enjoy the view
Known for its scenic environments and outdoor attractions, Zurich is a perfectly walkable city. The waterfront is also a great location for picnicking and sailing. To refuel after your lakeside adventures, head to one of the area's charming restaurants — we loved Seerestaurant Quai 61 and Fischers Fritz.
After you've refueled, embark on a shopping trip for Swiss goods and souvenirs in Bahnhofstrasse, a thoroughfare that connects Lake Zurich with the city's main railway station. Home to an array of boutiques and department stores, this area presents countless opportunities to soak up the surrounding views.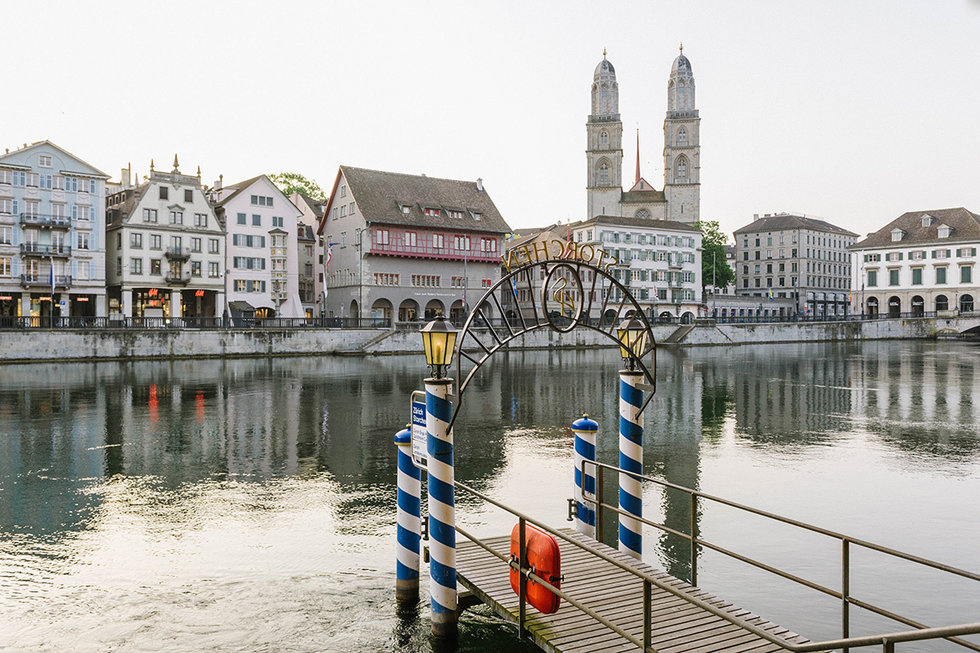 Since Bahnhofstrasse is a highly popular locale, you'll get a more intimate experience if you venture off of the main thoroughfare and explore the areas of Augustinergasse and Rennweg Street. While they are home to a number of beautiful shops, they also acted as the city's most significant streets during the Middle Ages. Today, the popular areas are filled with boutiques, but photographers will attest that the historic, pastel buildings are now the streets' biggest draw.
For a closer look at Zurich's history, visit one of the city's most famous landmarks: the Grossmünster Cathedral, a Protestant church dating back to 1100. If you climb to the top of one of the building's two towers, you'll be greeted with views of Zurich's lake and rooftops beyond.
Another one of Zurich's famed churches is St. Peterskirche, which also happens to be the oldest in the region. Built in the ninth century, St. Peterskirche is home to the largest clock face in all of Europe, measuring 28.5 feet (8.7 meters) in diameter. The tower also features five bells that date back to the late 1800s. Visitors can explore the stunning clocktower and tour the church's minimal — yet historical — interior, which features remnants of a medieval mural.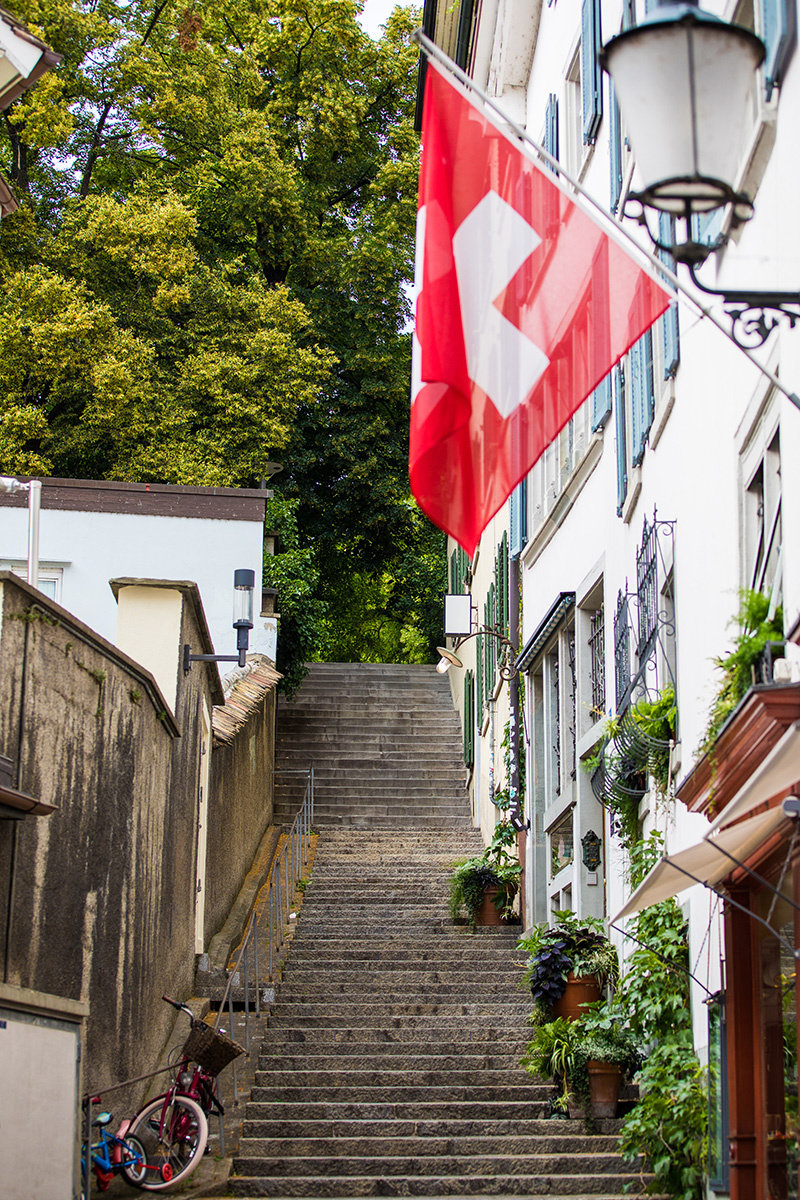 Swiss flag along stairwell in Zurch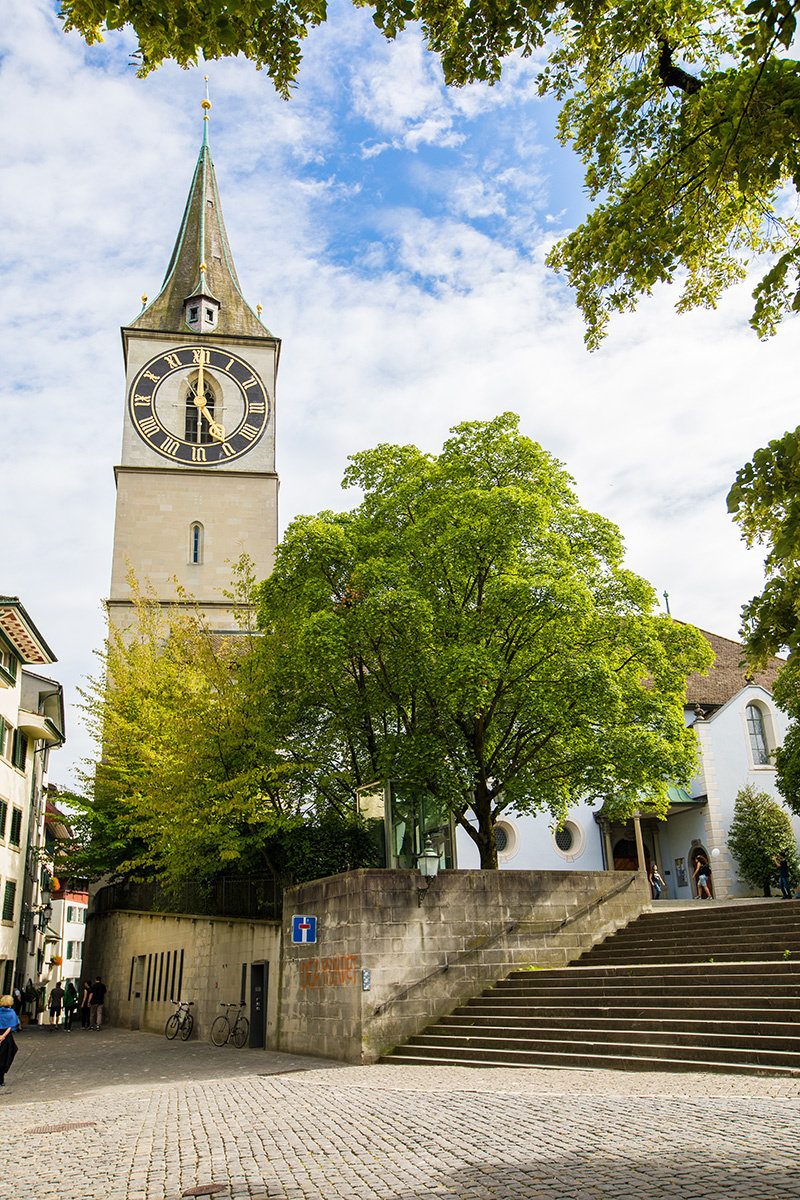 St. Peterskirche in Zurich
Taste the traditions

No visit to Switzerland would be complete without sampling the country's sweetest delicacy — chocolate. Zurich's famous confectioner Confiserie Sprungli is a dream for visitors with a sweet tooth. With a legacy of over 175 years, the shop's popularity endures with delicious handmade desserts ranging from truffles to cakes.
Another favorite of ours is Zeughauskeller, a locale serving traditional Swiss cuisine and local beer. Built in 1487, Zeughauskeller is also historically significant, as the building was initially used to store weapons in medieval times — though in 1926, it evolved to be a welcoming social spot for hungry patrons. As an added bonus, the menu is traveler-friendly — meaning it's written in eight different languages — and includes Zurich specialities like zürcher geschnetzeltes (sliced veal in gravy) and rösti (Swiss hash browns).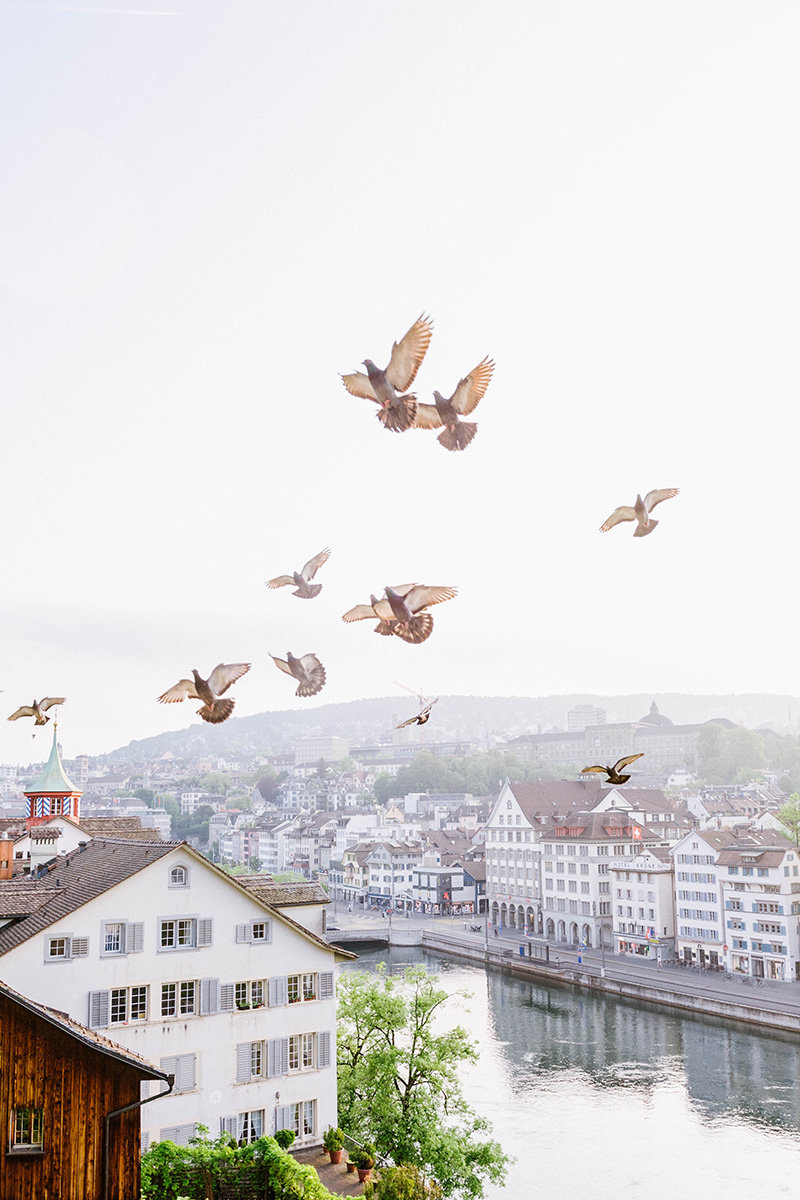 Bask in beauty
After taking in Zurich's stunning sights, you might want to view them from an entirely different perspective. If that's the case, consider embarking on a Limmat River Cruise. While riding a motorized boat along the Limmat River, you'll pass the quaint features of Old Town and Lake Zurich — so be sure to bring your camera along! A round-trip cruise lasts about 50 minutes and costs 4.40 CHF (roughly 4.43 USD) for adults.
Regardless of what time of year you visit, Zurich always has plenty to offer.
Great places to enjoy a Fall weekend
Just because summer is nearly over, it doesn't mean that the travel season is over. Cities across America continue their efforts to attract autumn tourists wanting to take a trip somewhere new. Here are seven cities that offer plenty of things for you to do over a weekend.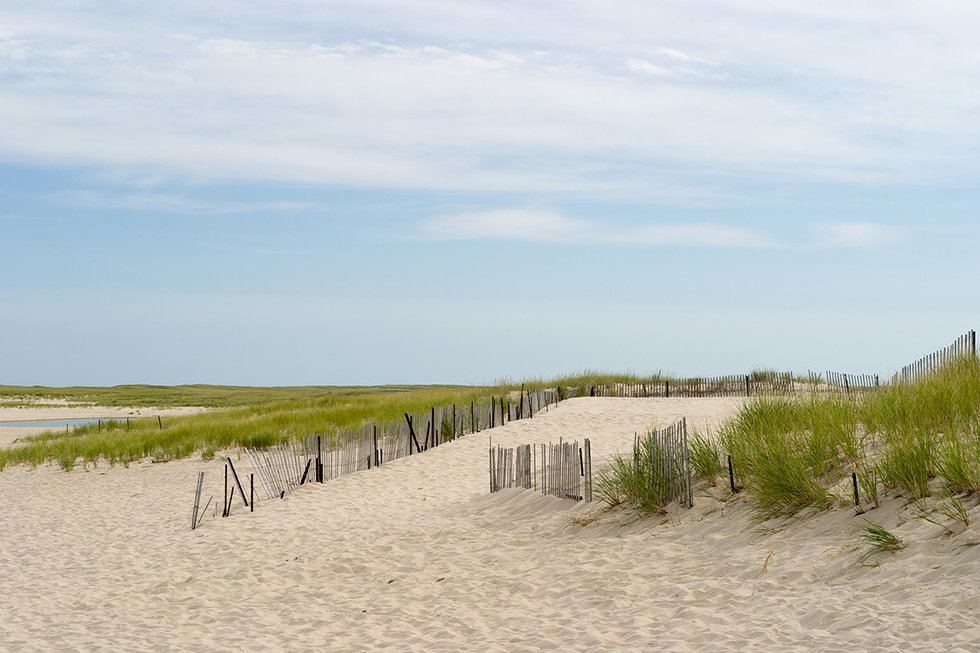 Cape Cod, Massachusetts
This region, located on a hook-shaped peninsula, is known mainly for its beaches and busy summer season. While fall is still warm enough to visit the beach, there's even more to do with less crowds and no "Cape traffic". There are plenty of fall festivals to choose from to celebrate the season. From the 6th Annual PumpkinFest to Martha's Vineyard Food and Wine Festival — there is no shortage of events. Additionally, take a free, self-guided walking tour on the 1.6 mile Kennedy Legacy Trail, which celebrates the role the family played in the history of Hyannis and Cape Cod. Or visit the Hyannis HyArts Cultural District, home to local artists, galleries, concerts, theatrical performances and classes year-round. Indulge in the bounty of the sea at restaurants like Hyannis institution Cooke's Seafood, known for its fried clam strips, or Ocean House if you want to enjoy a meal with a view.
Denver, Colorado
The Mile High City has recently become one of the hottest craft brew cities in the country. Be sure to check a few out on the Denver Beer Trail, which covers more than 100 brewpubs, breweries and taprooms. Beer lovers should plan their trip around the Great American Beer Festival that takes over Denver in September with brews from 800 breweries. Take a stroll or a shuttle bus down the 16th Street Mall and indulge in outdoor cafes, shopping and the D&F Tower, a two-thirds replica of the Campanile of St. Mark's in Venice built in 1909. Depending on the venue's schedule, you can also catch a concert at the city's famous Red Rocks Park & Amphitheatre or hike the trails around the park which is especially beautiful in the fall. Other must-see places include the Colorado Railroad Museum, Denver Union Station and Punch Bowl Social, a restaurant and entertainment venue that used to house the old Stapleton International Airport's air traffic control tower.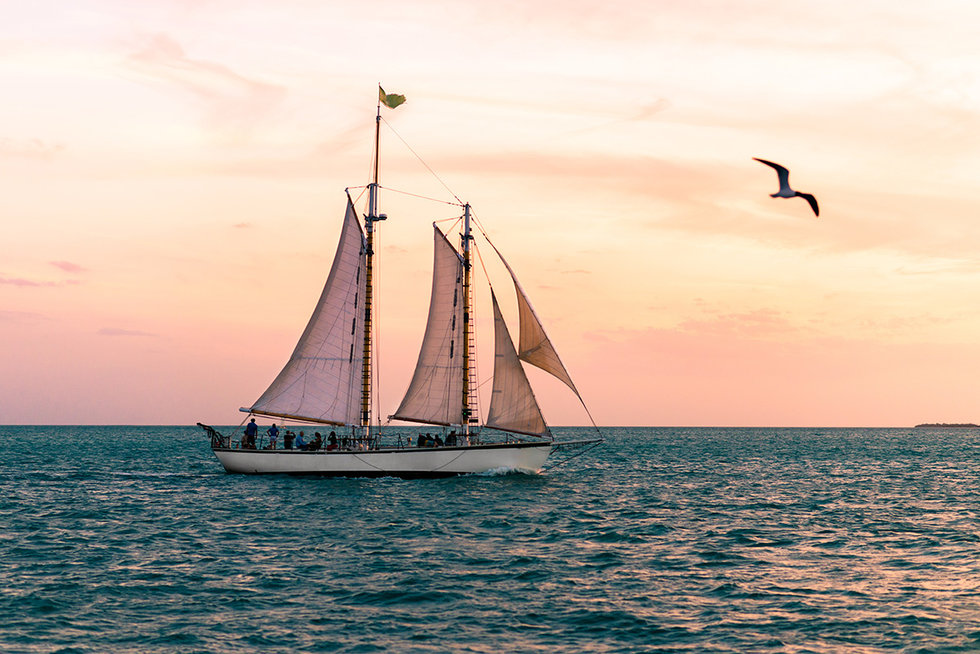 Key West, Florida
Florida's southernmost point — a mere 90 miles from Cuba — is known for its diving, snorkeling and beaches. And visiting during the fall means the humid summer months are over, bringing cooler ocean breezes and refreshing water temperatures making outdoor activities great options. Go on a sunset cruise, take a tour of the island on a wave runner, participate in a pub crawl or rent a moped, a scooter or a bike to explore the Keys. Sunbathe at beaches like Fort Zachary Taylor, an 87-acre state park that is home to a pre-Civil War Fort. And make sure to visit author Ernest Hemingway's home, where he lived from 1931 to 1939 and where he wrote a few classics including the novel, To Have And Have Not.
Memphis, Tennessee
The tagline for this Southern city is the Home of Blues, Soul and Rock 'n' Roll. You can hit iconic locations covering all three by visiting the Blues Hall of Fame, the Stax Museum of American Soul Music and Sun Studio, the birthplace of Rock 'N' Roll. Walk down the city's iconic Beale Street, where you can check out bars, restaurants, clubs and shops. Take a cruise on a Memphis Riverboat and indulge in a barbecue dinner at the famous Rendezvous. Cooler temperatures also mean a variety of festivals to choose from, including Gonerfest, — Goner Records' annual music festival —Mempho music festival, Memphis Pride Festival and more. And no visit to Memphis is complete without visits to the National Civil Rights Museum at the Lorraine Motel where Dr. Martin Luther King Jr. passed away and Elvis Presley's Graceland.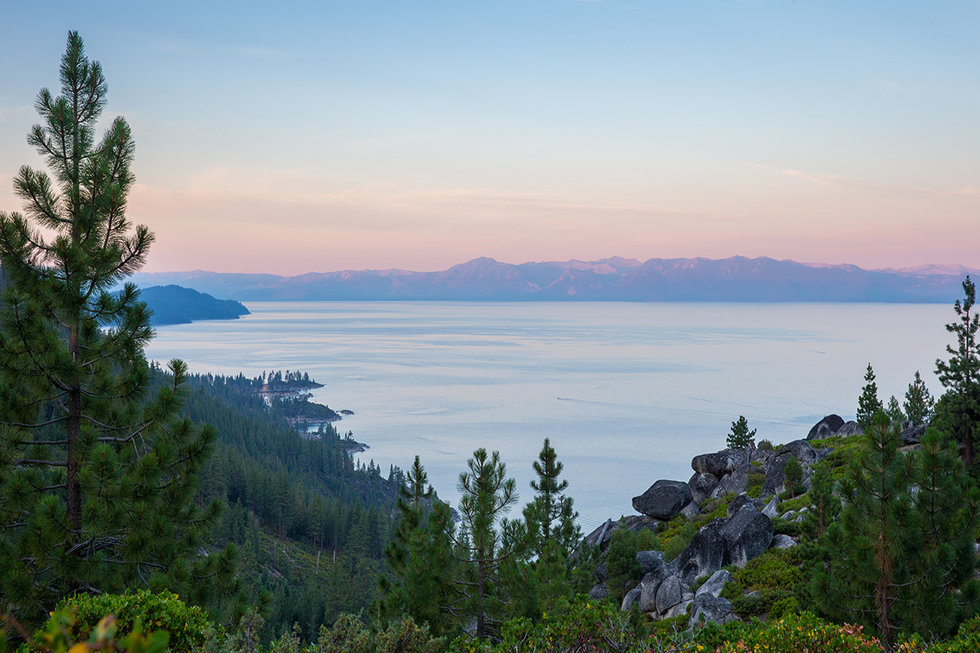 Lake Tahoe, Nevada
Located 154 miles north of San Francisco, this region is mostly known for ski resorts like Squaw Valley, home of the 1960 Winter Olympic Games. But there are still plenty of things to do in the fall with fewer crowds and off-season specials with lower prices. For example, take a hike along the 1.9-mile Lake of the Sky Trail, ride on the M.S. Dixie II Paddlewheeler or play a round of golf at the Lake Tahoe Golf Course. But the best way to take in all that Lake Tahoe has to offer is to do the 72-mile most beautiful drive in America, where you can take a ride on the Heavenly Gondola, visit the historic Donner Memorial State Park or try your luck at the Crystal Bay Casino.
Shenandoah National Park, Virginia
Shenandoah National Park is located 124 miles west of Washington, D.C. and one of the best places in the country to enjoy fall foliage along the 105-mile Skyline Drive. View the leaves changing colors and enjoy beautiful scenery by going on a hike in the park — home to 101 miles of the Appalachian Trail along the ridge of the Blue Ridge Mountains. Take a guided tour through Luray Caverns, a series of large rooms with 10-feet-high ceilings, stone columns and pools. Go horseback riding or do a tour of the Blue Ridge Whisky Wine Loop, which showcases the region's wineries, a whiskey distillery, breweries and dining.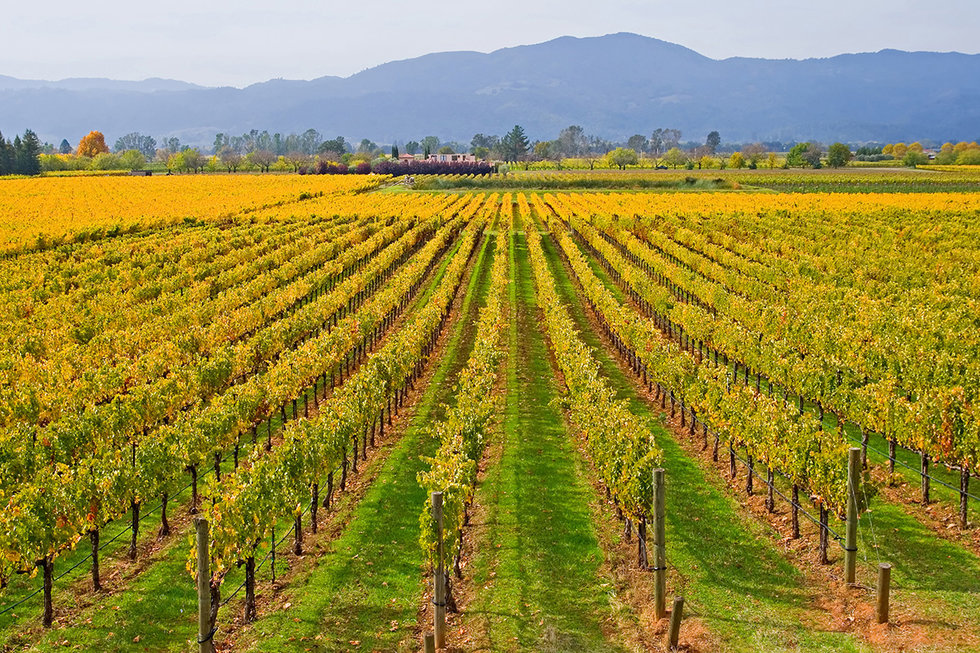 Napa, California
It's a given that you'll do a wine tasting or two in this world-famous region, though keep in mind that during fall months, wineries tend to close by 5 pm so plan to start early. And even if wine tasting isn't for you, witnessing the fall foliage while driving on the Silverado Trail from Napa to Calistoga is worth it. Or indulge yourself by visiting one of Calistoga's wonderful day spas, play a round of golf at the Vintner's Golf Club in Yountville or take a sunrise hot air balloon ride. There are no shortages of delicious restaurants — the valley is home to six Michelin-starred restaurants, including Chef Thomas Keller's French Laundry. Or you can scout out the next generation of dining talent at the Culinary Institute of America's The Restaurant at CIA Copia. If you're looking for a unique wine experience, consider doing the Art in the Afternoon tour at the Robert Mondavi Winery in Oakville, which pairs a tasting with a tour of its world-class collection.
Getting there
When you've decided where to go for your Fall weekend getaway, visit united.com or us the United app, and share your story on social media with the #myunitedjourney hashtag.
We view New Jersey's success and ours inextricably linked
As a proud resident of the New Jersey and New York area for the past thirty years, I know firsthand how vitally important Newark Liberty International Airport is to the success of the communities and families throughout the state – the jobs it creates, the economic activity it generates and the businesses and people it connects to markets around the globe.
We are one of the top ten employers in the state, with 14,000 employees as part of the United family and are Newark Airport's largest airline, together with our Star Alliance partners, account for more than two-thirds of both total flights and passengers. It's obvious that keeping Newark competitive requires a competitive United Airlines.
That's why we've invested more in Newark Airport than any other airline, making both our service and the airport better. We've committed $2 billion in unsubsidized airport investments since 2000 and nearly $400 million over the past two years alone.
Not only are we giving back at the airport, but we are also supporting the communities we call home. This July, we announced two new partnership grants totaling $1 million for the cities of Newark and Elizabeth supporting the Community Foodbank of New Jersey and Urban League of Essex County. These grants will greatly expand opportunities in each city, helping hundreds of young people and adults on the path to meaningful carriers and economic mobility. This commitment complements our longstanding support across New Jersey, from schools to local shelters, to vital community anchors such as the Newark Museum, the Liberty Science Center and New Jersey Performing Arts Center.
We view New Jersey's success and United's as inextricably linked, which is why the negative tone that's been adopted recently has been extremely disappointing. I am determined to get us back on the right track.
Case in point: the discussion regarding our recent decision to transition some of our operations from ABM Aviation to United Ground Express (UGE) has been unfair. Let me clarify a few things.
The current contract held by ABM was up for renewal and we began a competitive bidding process in order to improve our customers' experience at Newark Airport. After our review, we determined that UGE was the right vendor to achieve this for United's passengers and in turn, our overall operation at Newark airport.
To date, we've hosted seven job fairs and received hundreds of applications, many from current talented ABM employees and, we expect our employment figures to remain where they were before the transition to UGE. These newly created jobs will be represented by IAM, one of our union partners.
As a company we believe it's appropriate for the state to determine the minimum wage and as a good corporate citizen we continue to observe and comply with all applicable federal, state and local laws and regulations. We remain committed to treating all of our employees fairly, providing them with competitive compensation and benefit packages which feature a progression wage scale, paid time off (PTO), double-time holiday pay and company subsidized health care plan for full-time employees. Under UGE, employees also receive United flight benefits, which is a notable and unique addition to our employees' overall compensation.
United is important to the region. Without United's continuing investment in the airport, not only would jobs be lost, but also it would be a major blow to the state's economy and to the New Jersey taxpayer. We pay local taxes; the Corporate Business Tax (which was increased earlier this session); and the jet fuel tax and in addition, we pay more than $400 million a year in rates, charges and fees to the Port Authority to fund operations and infrastructure development at Newark airport. All told, United pays our fair share and creates nearly $16 billion in economic output in New Jersey and we're very proud to be doing our part to drive the New Jersey economy.
The stakes are too high for this issue to be turned into a political football and subject to overheated, misleading rhetoric.
We care deeply about our employees, our customers and our state and take our responsibilities as a good corporate citizen very seriously. We're determined to remain competitive so we can continue offering the service and standards our customers and this community deserve. United is proud to call Newark home, I hope you'll support our efforts to continue investing and growing in the great state of New Jersey.
Introducing Better Boarding
The feedback from customers and employees was clear: we needed to improve our boarding process. As part of our ongoing efforts to put customers at the center of everything we do, we identified boarding as an opportunity to improve the airport experience. We tested a variety of different boarding processes on thousands of flights across multiple airports. Best practices emerged from each test, and combined, they now form what we are calling "Better Boarding".
Better Boarding consists of three key improvements

Less time in line:
By reducing the number of boarding lanes, there is more space for customers to enjoy the gate areas, many of which have been completely remodeled with more comfortable seating and in some airports, the ability to have food and drinks from within the airport delivered directly to the gate area. Over the years, we have invested millions of dollars in our terminals, and now with less time spent standing in line, customers will have more time to dine, shop, relax, work or enjoy a United Club℠.
Simplified gate layout
Say goodbye to the five long lines we see today
Group 1 will board through the blue lane.
Group 2 will board through the green lane, followed by groups 3, 4, and 5.

Late arriving customers in Group 1 and 2 will use the blue lane.
Customers in groups 3, 4, and 5 always use the green lane.
Better information:
We are providing customers with more information throughout the boarding process so that they feel more at ease, and more equipped with the latest information about their flight. Customers with the United app can receive a push notification once their flight starts boarding. Customers will only receive the notification if they've opted in for push notifications and have a mobile boarding pass in the app's wallet.
Enhanced communications
Be in the know about boarding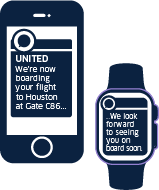 Customers will receive boarding notifications through the United app (if they've opted in for notifications).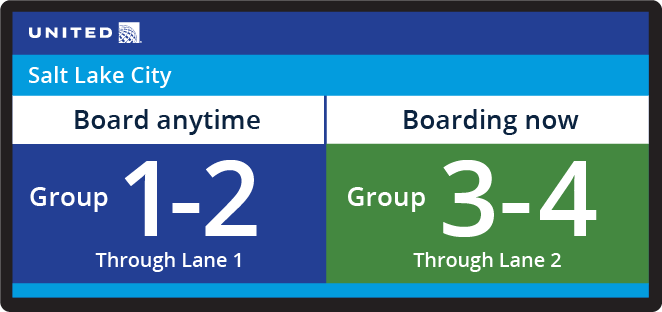 Improved gate area digital signage to guide customers through boarding.
Balanced groups and better recognition:
United MileagePlus® Premier 1K® customers will now pre-board and United MileagePlus Premier Gold customers will be boarding in Group 1. For more information on our boarding groups, visit: https://www.united.com/web/en-us/content/travel/airport/boarding-process.aspx
Improved premier customer recognition
We're happy to make them happy

Improved premier recognition and better positioning of customers to create balanced boarding groups.
The new Better Boarding process is just one of the steps we are taking to improve the customer experience. We will continue to collect feedback from customers on ways we can further improve boarding and you may receive a post-travel survey to tell us more about your experience
Towns in the U.S. with unusual names
You don't have to travel to Timbuktu or Dull, Scotland to check out a uniquely named place — there are plenty in the United States. It's true that you might not find much to do in Boring, Oregon, or anything peculiar about Peculiar, Missouri — and who wants to go to Hell, Michigan? But there are even more places with strange names worth seeing.
Lake Chargoggagoggmanchauggagoggchaubunagungamaugg, Massachusetts
And you thought "supercalifragilisticexpialidocious" was a mouthful. The 45 letters in the name of this lake in Webster, Massachusetts, makes it America's longest-named place. The lake's name means, "English knifeman and Nipmuck Indians at the boundary or neutral fishing place." Hundreds of pricey homes on its shoreline can be seen during a ride aboard the Indian Princess, one of America's last authentic paddle wheel boats. For those looking to do more than laze along the shorelines, unique fishing spots and a range of water activities are popular attractions in this town. The nearest airports are Boston and Hartford/Springfield (Bradley), each a 75-minute drive away.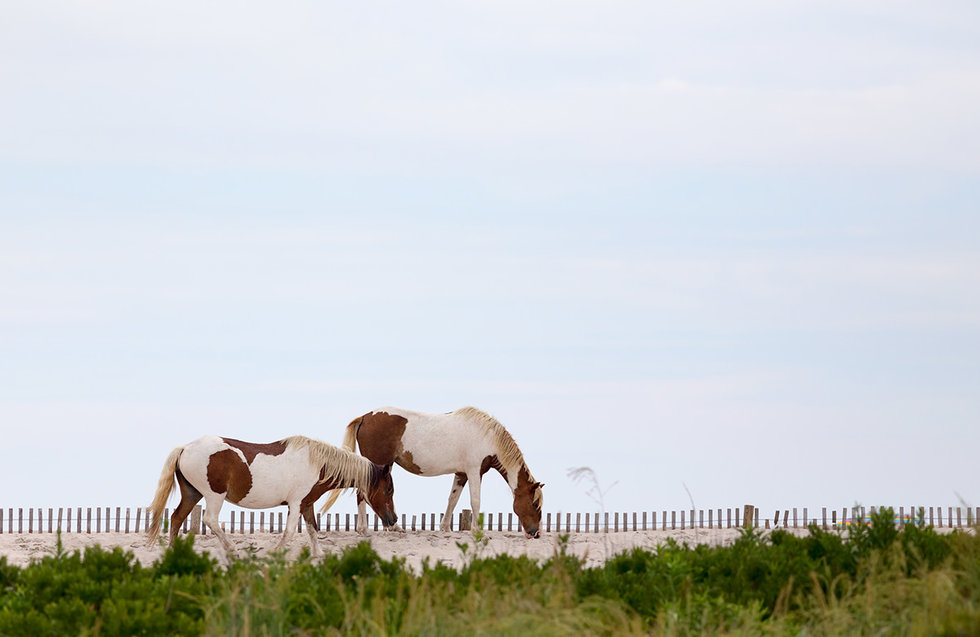 Chincoteague, Virginia
This easternmost town in Virginia, with a name derived from its Native American name, is the southern gateway to Assateague Island National Seashore, best known for its wild horses. About 150 Chincoteague ponies, which stand only four-and-a-half feet tall, roam the island where visitors also can tour Assateague Lighthouse, a candy cane-striped 1867 national landmark that stands 142 feet tall. The nearest airport to Chincoteague is Norfolk, Virginia, approximately a two-hour drive away.
Kalamazoo, Michigan
The Glenn Miller Orchestra's "(I've Got a Gal in) Kalamazoo" was the #1 hit song of 1942, putting the Michigan town on the map. How can you not like a song with lyrics like, "I liked her looks / when I carried her books / in Kalamazoo"? Even now, it's performed by the Western Michigan University marching band at football games. The college town is also known for being home to prestigious Kalamazoo College, many brewpubs, the nearby wine village of Paw Paw and the Gilmore Car Museum. United flies to Kalamazoo/Battle Creek International Airport.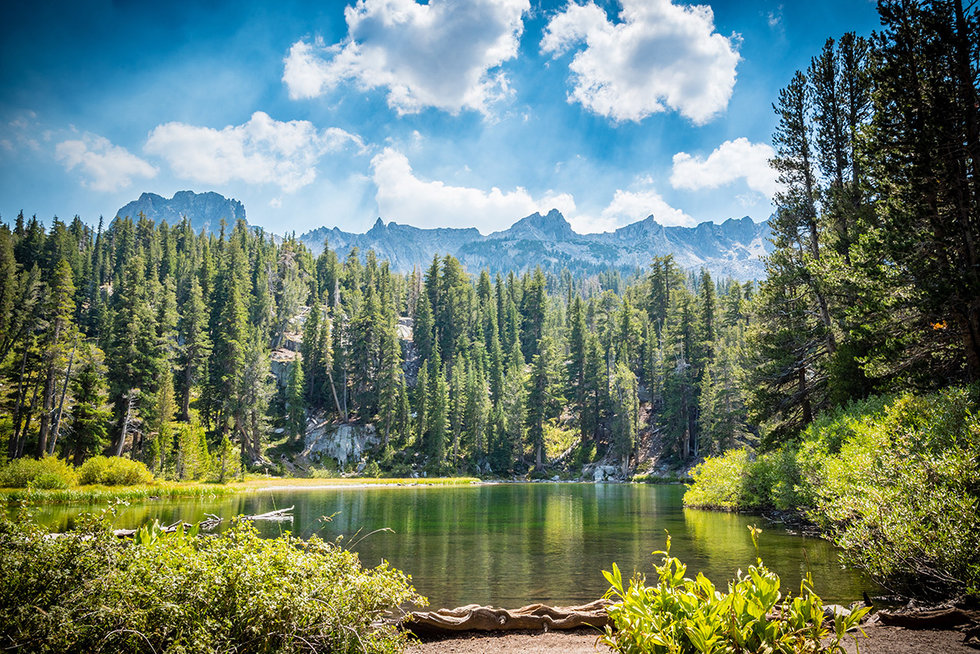 Mammoth Lakes, California
Mammoth Lakes was named after the Mammoth Mining Company, which brought it into existence as a gold rush boomtown. It's a fitting name because it also describes the mammoth-sized Sierra Nevada mountains that surround it, including the famed granite rock faces of nearby Yosemite National Park. Mammoth Lakes has emerged as one of America's leading destinations for trout fishing, hiking, mountain biking — and most of all — snowboarding and skiing. The Mammoth Ski Museum is a big draw. United flies into Mammoth Yosemite Airport from San Francisco December through April.
Wahoo, Nebraska
It's not a tech company or an expression of joy. Wahoo is a town named after the native eastern wahoo shrub. The town of 4,500 is best known for being named "home office" of the David Letterman Wahoo Gazette Top-10 List after town boosters bribed Dave with a wall clock made of cow dung and free checkups at Wahoo Medical Center. Wahoo Creek feeds into the town's biggest attraction, Lake Wanahoo, where you can hike, kayak, fish and camp. The nearest airport is in Omaha, Nebraska, a one-hour drive away.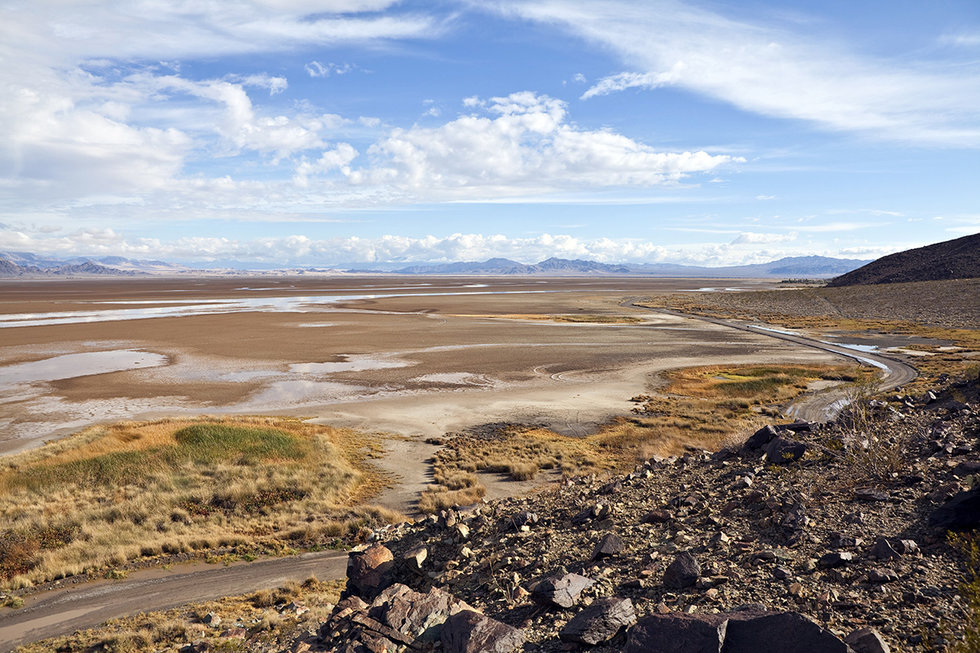 Zzyzx, California
This spot in the Mojave National Preserve is last on any alphabetical list of places and not far behind on any list of Southern California hotspots (except literally in the heat of summer). Many drive past Zzyzx Road on road trips from Las Vegas to L.A., but few know what's at the end of the road or the history behind the small town. Today, the only thing you'll find there, after taking Zzyzx Road off I-15, is the California State University-run Desert Studies Center on the land of a former hot springs resort. But the hiking is a treat if you like desert-mountain solitude. The nearest airport is an 80-minute drive away in Las Vegas.
Getting there
United Airlines flies to these places or to airports within a two-hour drive. MileagePlus® Rewards can help pay for your accommodations. Go to united.com or use the United app to plan your trip,
Spending a week in Iceland
Passion Passport is a community-based website that tells meaningful travel stories and facilitates global connections. Our team hails from across the United States and Canada and is always up for an adventure. To learn more about where we're going and what we're doing, visit our website: PassionPassport.com
Iceland is a place of incomparable beauty. We recently visited some of the country's most popular destinations and explored the stunning landscapes that it is most known for. If you have the opportunity to travel to this country full of otherworldly views, be sure to check out some of our favorite places.
Visit the capital city
Reykjavík may not be a large city, but it still offers plenty to do and see. The capital's relatively small size makes it easy to visit its most notable attractions on foot or by bicycle. Architecture enthusiasts should stop by Harpa Concert Hall to marvel at the iconic glass building, while music lovers should check out the hall's events and enjoy its array of shows, such as Iceland's Symphony Orchestra performances.
For great photo opportunities and gravity defying architecture, seek out Hallgrimskirikja, the largest church in all of Iceland. Designed by Guðjón Samúelsson in 1937 and inspired by the shapes that emerge when lava cools, the church can be spotted from almost anywhere in the city. Visitors can also climb to the top of its tower for the best views of the city below — so don't forget your camera! Once you've seen this architectural beauty, explore the city center on foot. If you're looking for a place to shop, visit Laugavegur Street, Bankastræti, Skólavörðustígur, and Lækjargata.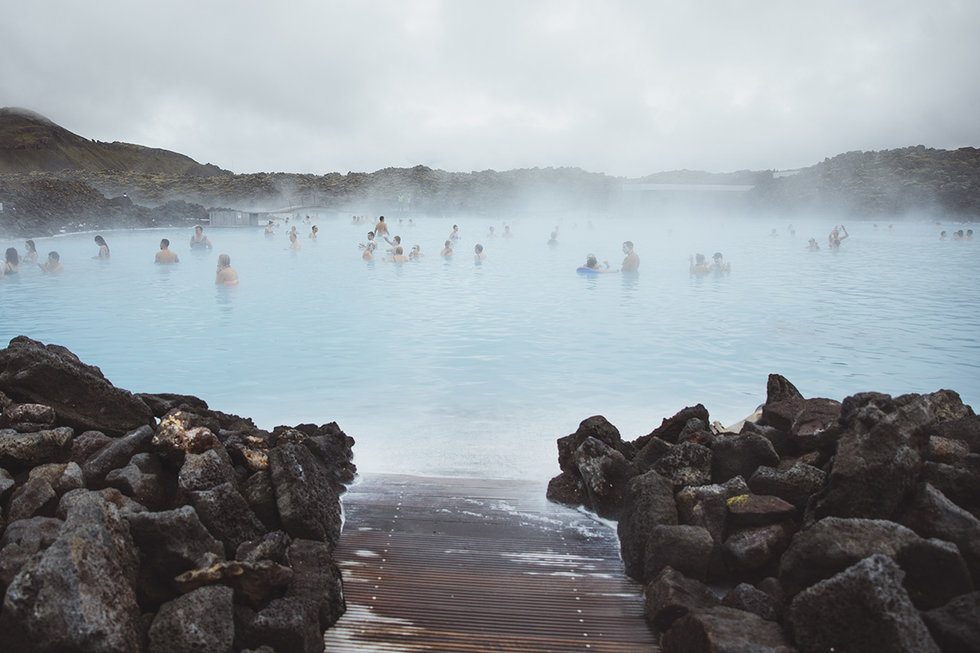 If you want a truly Icelandic experience, visit one of the many swimming pools in the Reykjavík area. Located behind Hallgrimskirikja, Sundhöll Reykjavíkur is the country's oldest public bath. Or, take some time to relax at Iceland's famous Blue Lagoon Geothermal Spa, located just 30 minutes from the capital city by car — though, if you're not looking to rent a car, you can also take a bus from Reykjavík to the spa. The locale is open year-round, and the water in the large lake is always warm and beautifully hued. Experience the seemingly magical powers of geothermal seawater at this natural spa and enjoy a mask bar, a massage, an in-water bar, and a sauna and steam room. Note: this is a popular activity, so be sure to book in advance.
Travel along the Golden Circle
If you want to road-trip around iceland, the Golden Circle is the perfect route for you. It features three of Iceland's most popular destinations: Thingvellir National Park, Geysir Hot Springs Area, and Gullfoss Waterfall. There are also many Golden Circle tours to choose from, if you prefer to sit back, relax, and enjoy the scenery without the hassle of driving.
Your first stop will likely be Thingvellir, which became a national park in 1930 and later, a UNESCO World Heritage Site. Due to Thingvellir's fascinating geology and unique history, visitors are often enchanted by its proximity to tectonic plates, lava rocks, and surrounding volcanoes. Interestingly, the land was once used as a meeting place for the parliament of the Viking Age commonwealth (its name actually means "the fields of parliament"). Today, the park is also a popular draw for those interested in bird-watching, diving, snorkeling, and viewing the Northern Lights (come winter).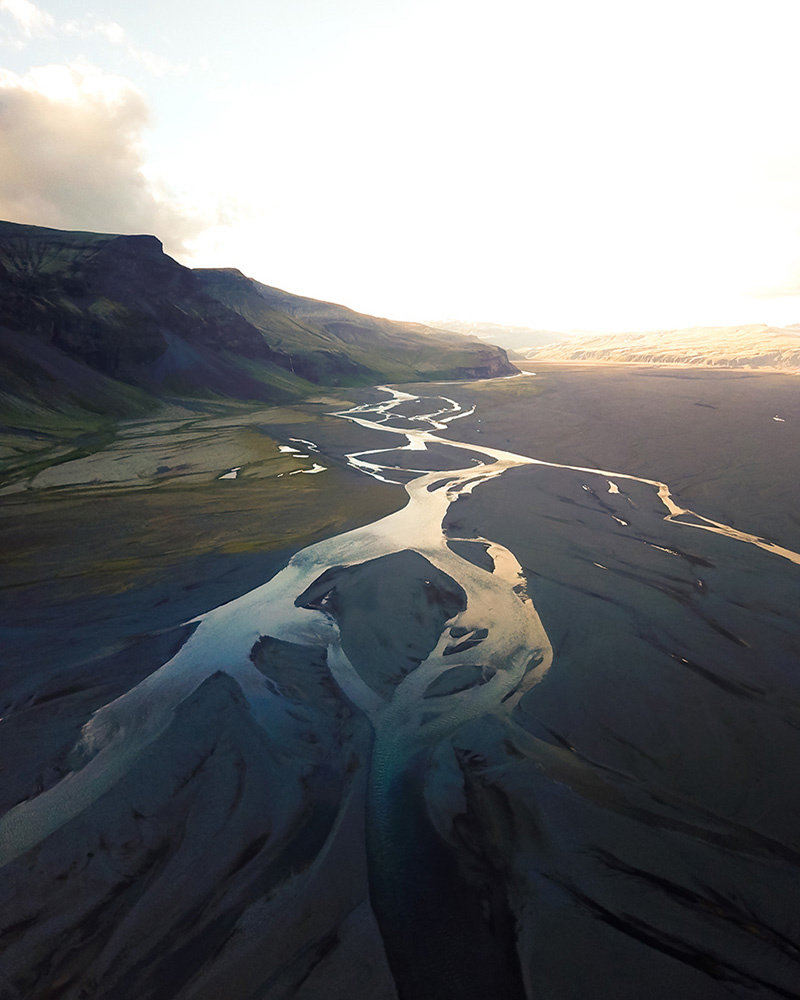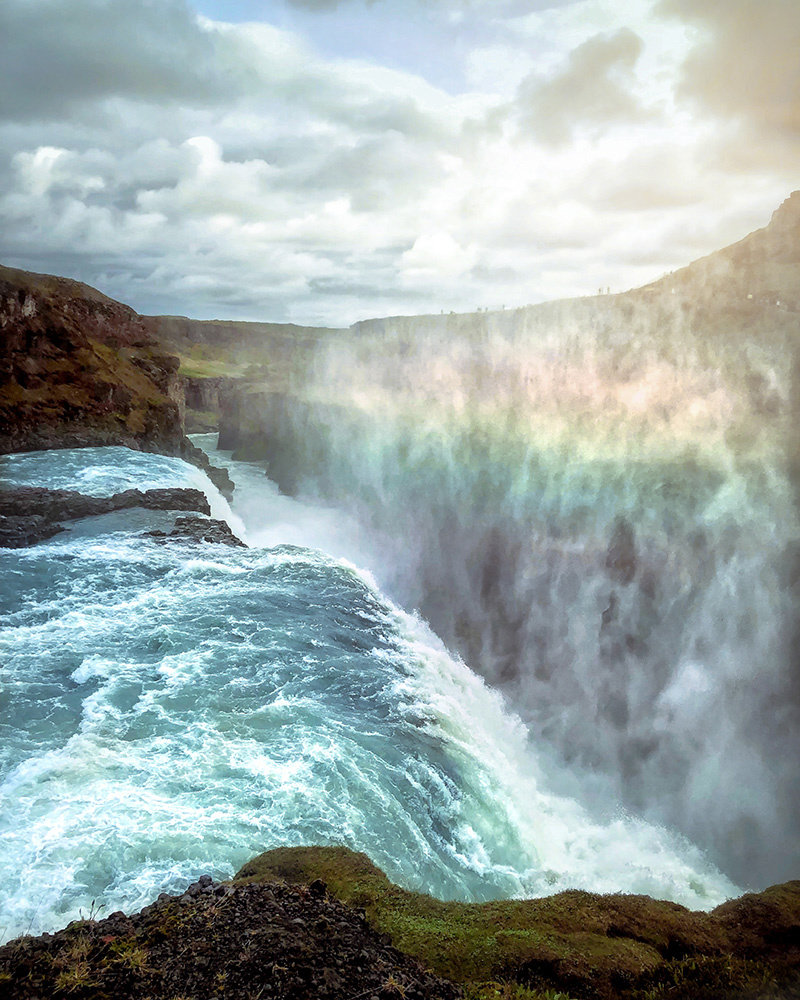 The second stop along the route is Gullfoss Waterfall, a stunning waterfall located in an ancient valley. The two-tiered fall is beautiful during both the winter and the summer, offering cascades of ice in cold weather and an abundance of rainbows just after the spring thaw.

From here, Geysir Hot Springs Area is just a short drive away and a 50-minute trip from Thingvellir. Although the geysir is a famous hot spring, it isn't the only geyser in this geothermal area. Keep an eye out for the region's most active, Strokkur, which sprouts hot water approximately every few minutes. Have your camera ready and keep a safe distance from the boiling eruption.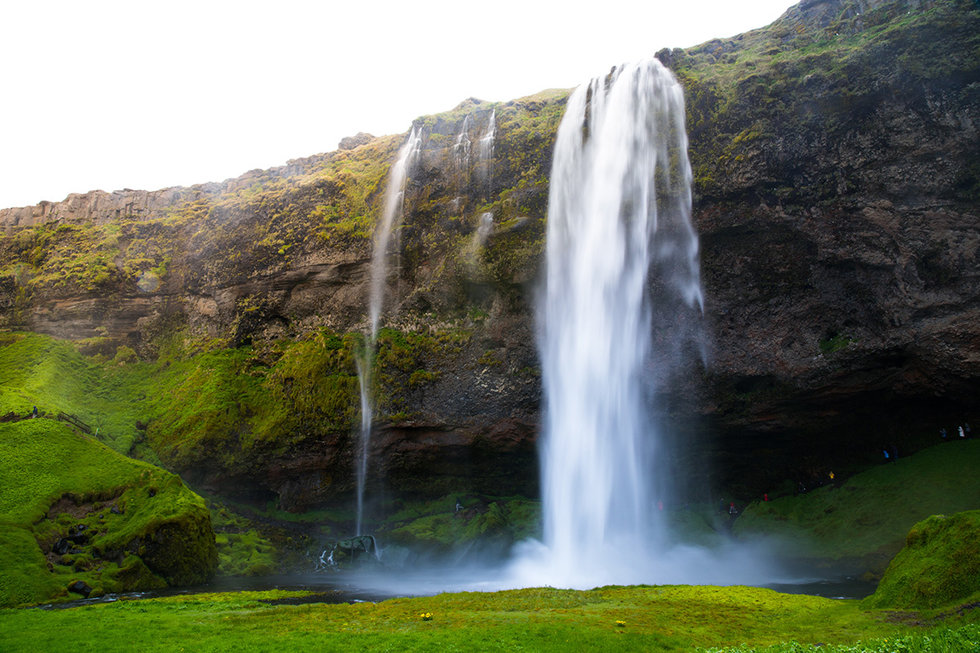 Immerse yourself in beauty
Stunning vistas are not uncommon in Iceland. It seems like everywhere you look, there are natural wonders to observe and photograph. One of Iceland's most beautiful destinations is Jokulsarlon Glacier Lagoon, an area filled with blue waters dotted with glistening icebergs. What's more, this particular location is also popular among those aspiring to spot the Northern Lights. If you want to get up close and personal with the frozen landscape, the lagoon hosts amphibian boat tours, which allow you to sail alongside the icebergs. You might even spot some seals leading the way. While the lagoon is nearly six hours from Iceland's capital, it's a beautiful drive, which offers roadtrippers the chance to observe a range of Icelandic scenery along the way.
Update on Tropical Depression Florence
September 17, 2018
Today, we've resumed normal operations at all impacted airport locations with the exception of Wilmington (ILM), which is expected to reopen Thursday, September 20 once power is restored.
See below for a full list of our current operations:
Airport
Monday, 9/17
Tuesday, 9/18
Asheville, NC (AVL)
Normal operations
Normal operations
Columbia, SC (CAE)
Normal operations
Normal operations
Charlottesville, VA (CHO)
Normal operations
Normal operations
Charleston, SC (CHS)
Normal operations
Normal operations
Charlotte, NC (CLT)
Normal operations
Normal operations
Charleston, WV (CRW)
Normal operations
Normal operations
Fayetteville, NC (FAY)
Normal operations
Normal operations
Greensboro, NC (GSO)
Normal operations
Normal operations
Greensville, SC (GSP)
Normal operations
Normal operations
Wilmington, NC (ILM)
No operations


No operations;
Expected to resume on
Thursday, 9/20
Myrtle Beach, SC (MYR)
Normal operations
Normal operations
Norfolk, VA (ORF)
Normal operations
Normal operations
Raleigh/Durham, NC (RDU)
Normal operations
Normal operations
Richmond, VA (RIC)
Normal operations
Normal operations
Roanoke, VA (ROA)
Normal operations
Normal operations
Savannah, GA (SAV)
Normal operations
Normal operations
Shenandoah Valley, VA (SHD)
Normal operations
Normal operations
September 16, 2018
We continue monitoring the latest weather forecasts, airport conditions, road closures and other activities as a result of Hurricane Florence which has been downgraded to a tropical depression. We are resuming normal operations at all stations today, with the exception of Myrtle Beach (MYR), where we expect to resume service Monday and Wilmington (ILM) which is expected to reopen Tuesday. A travel waiver is in place for customers traveling to, from or through locations impacted by the storm, offering additional flexibility to change or cancel their travel plans, and waiving baggage and pet-in-cabin fees.
Our thoughts are with all those impacted by the storm. We continue to encourage customers to check their flights on united.com or the United app for the latest flight status prior to leaving for the airport.

Stay tuned for more information as the storm progresses.
Scroll to top