48 hours in Boston: Where to eat and drink this fall
When the leaves start changing colors, Boston stands out as one of the great cities to watch foliage turn from green to orange and gold. It's a sight best seen on foot, which means finding proper fuel is critical. Over the years, Cambridge and Boston have welcomed impressive new ventures from local chefs like Barbara Lynch, Joanne Chang and Matt Jennings, who've proven their skills at everything from concocting variations on traditional New England staples to building the city's reputation as a developing hub for creative cocktails. Catching foliage may be the reason for your visit, but there's nothing to ruin a good vacation like underwhelming meals and overpriced drinks. Here are the spots that won't let you down.
FRIDAY
To kick off any weekend trip to Boston, head to Alden & Harlow (40 Brattle St, Cambridge) for dinner. It's tucked away in a basement off the bustling Brattle Square, but once you're inside, you'll want to settle in for a while. A&H owns the innovative-preparations-of-vegetables game; there are very few places in the world that will make you as excited about broccoli, which they char and pile on top of a butternut squash hummus with crispy cashews. Chef Michael Scelfo's famed raw sugar pumpkin salad changes every autumn, and past variations have included jalapeños and Cotija cheese. Don't miss the pickled Verrill Farm corn pancakes with maple and shishito, either. If all those veggies have you craving red meat, A&H's "secret" burger has a cult following—but make sure to order early in the evening, because they run out.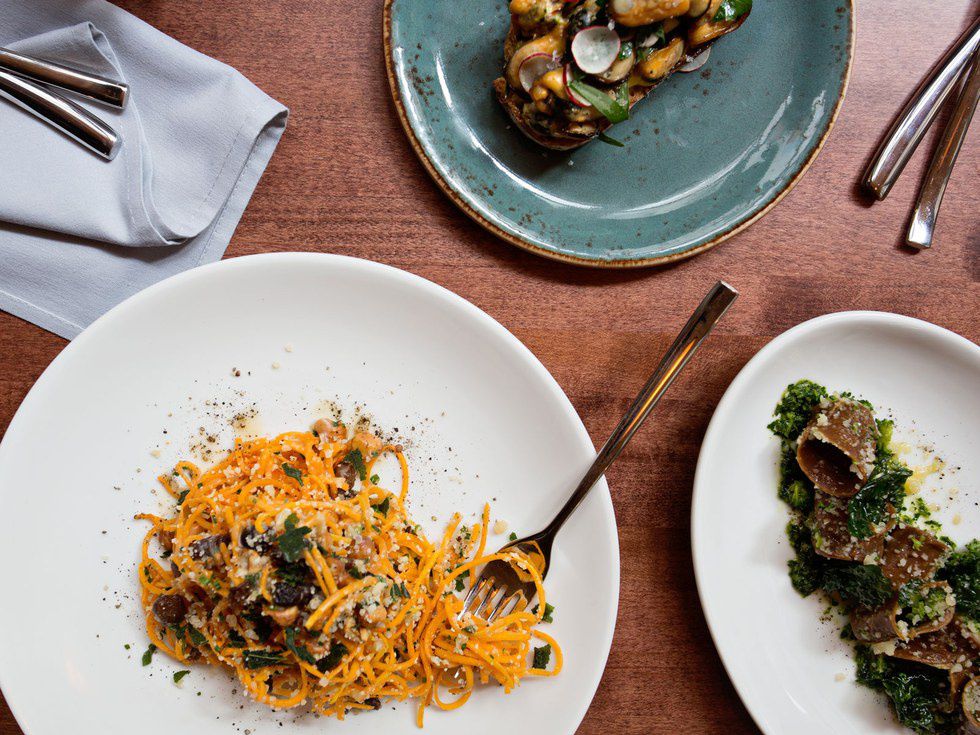 If you're staying around Harvard Square after dinner, you can't go wrong with Russell House Tavern (14 JFK St, Cambridge), beloved by Harvard faculty and of-age students alike. Their cocktail menu is expansive and ever-changing. For fall, try the 1836, which includes bourbon, rum and crème de cacao. Also, be warned: their fries are spectacular, and you might think you're ordering a plate to share, but you'll rethink that offer as soon as you dip into the tiny tub of aioli.
To venture further into Cambridge, hop on the Red Line just one stop to Central Square and check out Little Donkey (505 Mass Ave, Cambridge), which is always reassuringly packed. Order their rotating cocktail with tequila, St. Germain and Pacifico beer that comes served in a grapefruit, or the Bench Warmer, a tequila cocktail served in a pouch, Capri Sun-style. If you need some snacks to go with your drinks, Little Donkey rolls out a late-night eats menu between 11 p.m. and 12:30 a.m.; it includes edible cookie dough served on a beater with cacao chips.
SATURDAY
Before a long day of admiring the scenery across Cambridge and Boston, fuel up with a world-class brunch at Mamaleh's Delicatessen (15 Hampshire St, Cambridge.) Although it's only been open for a year, Mamaleh's has quickly become the darling of Cambridge. The decor is lifted straight out of the coziest diner from the town you grew up in, and the menu is packed with Jewish comfort foods, including matzo ball soup, latkes and bagels and lox. The kreplach, triangular little wontons filled with brisket and doused in chicken jus, are heavenly. You'll have to order a side of latkes to mop up the jus; these are not the kinds of fluids to waste.
With its imposing cement structures and businesses-only vibe, downtown Boston isn't exactly the liveliest part of town, but swing by to grab lunch at Townsman (120 Kingston St, Boston) Chef Matt Jennings is a native Bostonian, and he proudly shows off his roots in the grilled rabe with honey, crispy garlic and fermented chilies, as well as the roasted duck breast with flannel hash, pear butter and seared livers, a dish that may very well be the plated personification of a New England fall. Townsman is also one of the many Boston establishments that serves offerings from Mem Tea (196 Elm St, Cambridge), a local tea importer; the baked gaba oolong is a doughy, almost savory blend that seals off any hearty lunch or dinner. If you fall in love with Townsman's menu, chef Jennings' new cookbook Homegrown (out October 17) has recipes that reinvent New England favorites from steamed clams to pot roast.
After a day of walking across the city, Saturday night dinner must be filling and exciting enough to look forward to all day. That's where UNI (370 Commonwealth Avenue, Boston) comes in. Izakaya might not be the first thing that comes to mind when you think "fall," but with surprising dishes like the Shima Aji sashimi with smoked apple pie purée and pickled cranberries, and the barracuda nigiri with burnt ginger, pickled quince and pear ash, UNI is a stand-out for those looking to venture beyond the traditional definition of New England cuisine. Don't: miss the Korean rice cakes with kale oxtail, kimchee butter and gremolata. Do: let them make you a sake cocktail.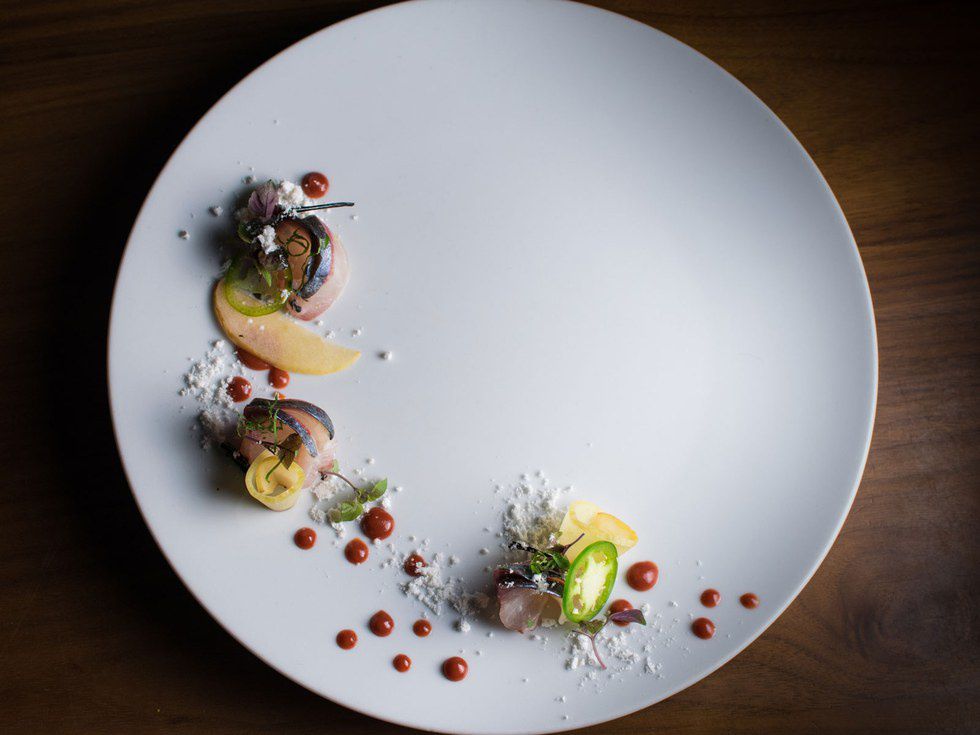 If you're craving a nightcap after UNI, hit up RUKA (505 Washington St, Boston), located in the heart of Downtown Crossing. Served in a champagne flute, the Peruvian Pearl includes shochu, bergamot and sparkling wine—it's so delicate and smooth that you'll suspect there's no alcohol in it, but there is … a lot. The salmon ceviche, with its layers of avocado, jalapeño potatoes and salmon (plus a convenient side of chips), is perfect for sharing with a group and soaking up all the cocktails you'll want to try once you've had the Peruvian Pearl. (The Sea and Smoke cocktail is brand new for fall: whiskey, yuzu, smoked tea and sake.)
SUNDAY
For your final brunch in Boston, try Tatte Bakery (70 Charles St, Boston) Owner Tzurit Or has five locations across Boston, Brookline and Cambridge (with two more on the way), and all of her locations are still packed every weekend morning and most weekdays. With good reason, you'll find the shakshuka with lamb meatballs and labneh on every other table, and you can't leave town without sharing their pastry basket, which will change how you think about brioche forever.
From Tatte, head to Saltie Girl (281 Dartmouth St, Boston), a Back Bay favorite that does New England seafood in a refreshingly unpretentious way. The small space doesn't take reservations, which means you'll probably be waiting for a bit. If you're trying to fit in as many stops as possible, pass the time by taking a quick ten-minute walk to Terra (800 Boylston St, Boston), Eataly Boston's brand new restaurant and bar. The highlight of their delightful cocktail menu is the Paper Plane, made with bourbon, Aperol, Amaro Nonino and lemon. When you get that call from Saltie Girl, rush back for the "salt and pepper" sweet bread nuggets with cauliflower and raisins, and add on the pan-roasted Nantucket Bay scallops served with pumpkin purée and pork jowl.
After sampling some of the best restaurants in Boston and their new offerings for fall, there's only one thing left to do: eat some excellent pasta. The North End is the city's most popular spot for Italian, and Pomodoro (351 Hanover St, Boston), with its warm service (by which we mean: complimentary crostini) and quaint atmosphere is a great finale to the weekend. Order the creamy mushroom rag with thick pappardelle, and remember to bring cash––they don't take cards.
Willing to travel even farther for the city's absolute best pasta? Giulia (1682 Mass Ave, Cambridge) between Harvard Square and Porter Square is worth the pilgrimage. The wild boar pappardelle and duck confit tortellini are impossible to choose between, so go with a friend and order both. The staff is so knowledgeable about wine pairings that you can't go wrong putting your fate in their hands. If you're thinking about burrata—of course you are—Giulia is the place to spring for that, too.
This article was written by Oset Babur from Food & Wine and was legally licensed through the NewsCred publisher network. Please direct all licensing questions to legal@newscred.com.
If your travels have taken you through Chicago O'Hare International Airport anytime since October 2019, you may have had a friendly, caring and jovial exchange with Daniel Smrokowski. Daniel is one of four Service Ambassadors thanks to our ongoing partnership with Special Olympics. This inaugural ambassador program aims to provide Special Olympic athletes employment opportunities within our operation, affording them a unique and meaningful career.
Since 2018, our partnership with Special Olympics has become one of United's most cherished relationships, going beyond the events we take part in and volunteer with. While the plane pull competitions, polar plunges, duck derbies and Special Olympics World Games and other events around the world are a big part of our involvement, the heart of this partnership lies with the athletes and individuals supported by Special Olympics. To advocate for their inclusion in every setting is one of our biggest honors, and we take great pride in the role we play in the organization's inclusion revolution.
Aiding in the success of Special Olympics' mission to create continuing opportunities for individuals with intellectual disabilities, throughout the two-year partnership, United has volunteered over 10,500 hours and donated over $1.2 million in travel to the organization. The impact of this partnership is felt at every level, both at Special Olympics and within our own ranks.
"The Inclusion Revolution campaign, led by our athletes, aims to end discrimination against people with intellectual disabilities. United Airlines has joined in our fight for inclusion, empowering our athletes with the skills needed to succeed and opportunities to contribute their abilities as leaders," said Special Olympics International Chairman Tim Shriver. "United Airlines believes that people with intellectual disabilities should be perceived as they really are: independent, world-class athletes, students, employees, neighbors, travelers, and leaders who contribute to make this world a better place."
Our Service Ambassador program is just one of the many ways Special Olympics has impacted not only our employees, but also our customers. "I see every day how our Service Ambassadors connect with our customers the moment they walk into the airport lobby," said Senior Customer Service Supervisor Steve Suchorabski. "They provide a warm, welcoming smile ad assist in any way they can. To see these young adults hold positions that a society once told them they couldn't is truly the most heartwarming part of my job," Steve continued.
"The opportunity to be a part of the United family means everything to me," Daniel said. "I feel so much pride showing up to work in a Special Olympics/United co-branded uniform, working among such a loving and supportive community. The relationship between these two organizations is truly helping to shape my future while letting me use my gifts of communicating and helping others. Hopefully, I can spend my entire career at United," Daniel added.
In honor of Special Olympics' Global Week of Inclusion in July, we're asking our employees, customers and partners to sign a pledge to #ChooseToInclude at jointherevolution.org/pledge.
And be sure to check out Daniel's podcast The Special Chronicles.

In collaboration with food-logistics company Commodity Forwarders Inc. (CFI), United moved nearly 190,000 pounds of fresh produce to Guam for the U.S. Department of Agriculture's Coronavirus Farm Assistance Program. This new program was created to provide critical support to consumers impacted by the COVID-19 global pandemic.
A variety of fresh fruits were transported from Los Angeles (LAX) to Guam (GUM) on United's newly introduced, non-stop cargo-only flight – a route added to meet cargo demand during the COVID-19 crisis. The fresh food was repacked in 10-pound cases in Los Angeles, prepared for departure at CFI's LAX location, and flown to GUM by the United team. Through this beneficial partnership between United and CFI, the perishable goods were kept cool during every step of the process and distributed as part of the food bank program in Guam.
"Everyone on our team has worked relentlessly during the pandemic to get critical goods to where they are needed most. Establishing a comprehensive network of cargo-only flights have allowed us to keep the supply chain moving even while passenger flight capacity has been reduced," said Regional Senior Manager of Cargo Sales, Marco Vezjak. "Knowing that we are able to help during these difficult times – in this case the Guam community – is our biggest reward and greatest motivation to keep moving forward."
United is proud to play a role in maintaining the global food supply chain and helping people access the supplies they need. Since March 19, United has operated over 4,000 cargo-only flights, moving over 130 million pounds of cargo.

Jessica Kimbrough, currently Labor Relations and Legal Strategy Managing Director, will take on the new role of Chief Diversity, Equity and Inclusion Officer Managing Director.
Jessica assumes this new and expanded position to focus on global inclusion and equity as part of our enhanced commitment to ensure best practices across the business to strengthen our culture.
In this role, Jessica will be responsible for helping United redefine our efforts on diversity, equity and inclusion – ensuring that our programs and approach are strategic, integrated and outcome-oriented, while we continue to build a culture that reflects our core values. She will report to Human Resources and Labor Relations EVP Kate Gebo.
"Jessica's appointment to this role is another critical step our executive team is taking to ensure diversity, equity and inclusion remains a top priority at United," said CEO Scott Kirby. "Given her drive, experience and commitment to champion collaboration and allyship among our employee business resource groups, she is uniquely qualified to take on this position and I look forward to working closely with her."
As Labor Relations and Legal Strategy Managing Director, Jessica worked closely with senior management to create and maintain positive labor relations among our unionized workforce, providing counsel on labor litigation, negotiations, contract administration, organizing issues and managing attorneys who represent United in labor relations. Previously, she served as Labor and Employment Counsel in our legal department.
Jessica has a passion for creating a pipeline of diverse lawyers and leaders, and was honored as one of Chicago Defender's "Women of Excellence" for excellence in her career and civic engagement in 2017. She currently serves as President of uIMPACT, our women's employee business resource group.
Jessica's new role is effective immediately.

Together, we are facing an unprecedented challenge. United Together, we rise to meet that challenge.
Learn more
United Airlines
united
We've issued a travel waiver for Charleston, Wilmington and Norfolk due to Hurricane Isaias. If you're traveling 8/3 - 8/4, you can change your flight at no cost on our mobile app, by direct messaging us or calling 1-800-864-8331. Waiver:
uafly.co/Z04CmP
United Airlines
united
Flights booked now through August 31 can be changed for free over the next 12 months to allow for additional flexibility. All existing travel can be changed without fees as well. See waiver for details:
uafly.co/2M9vgLC
United Airlines
united
Flights booked now through August 31 can be changed for free over the next 12 months to allow for additional flexibility. All existing travel can be changed without fees as well. See waiver for details:
uafly.co/2M9vgLC
United Airlines
united
Questions about what to expect next time you fly? Text "Clean" to FLYUA (35982) to learn how we're making every step of the travel journey safer for you.
United Airlines
united
Our High Efficiency Particulate Air (HEPA) filters recirculate the cabin air every 2-3 minutes helping make an aircraft a cleaner environment than restaurants, grocery stores and even some hospitals. Learn more ➡️
uafly.co/ReadyToFly
United Airlines
united
Today we honor the 30th anniversary of the Americans with Disabilities Act by reinforcing our commitment to continue to build a company and create customer experiences that advocate for people of all abilities.
#ADA30
We Are United
weareunited
Our digital servicing team has developed an automated assistant to make it easier for our customers to learn about what to expect the next time they fly. Text "Clean" to FLYUA (35982) to give it a try!
We Are United
weareunited
Three-year-old Luna Mei was all smiles on her flight home after 212 days in a San Francisco hospital, thanks to her SFO-based FAs (and undercover angels 👼) Pamela R., Sharon S., Sonja B. and Stacey G. The quartet kept spirits high by singing songs, clapping and playing games.
We Are United
weareunited
So long paper boarding passes, standby and upgrade travel are going touchless! If you've signed up for day-of-travel notifications, you'll now receive a text or email when your seat is assigned.
We Are United
weareunited
Our inaugural flight to Chicago from Toyko Haneda coincided with the annual Japanese celebration known as "Tanabata" or "Star Festival." The
#BeingUnited
team at HND placed their wishes on bamboo trees before the flight departed for ORD.
Watch our most popular videos
Flying UCSF Medical Workers to New York
This is why we fly.
20 UCSF Health workers, who voluntarily set aside their own lives to help save lives, are on their way to New York City.
We are humbled by your selfless sacrifice.
Thank you.
#UnitedTogether #UCSFHeroes
A happy, Hollywood ending
This is the story of Jason and Shantel. You see, Jason and Shantel love each other very much. They also love traveling and they love the classic Adam Sandler film, The Wedding Singer.
It all began when Jason reached out to United's social media team, hoping for assistance with his upcoming plan to propose. Some phone calls and one borrowed guitar later, the stage was set for Jason. Put all that together, mix in some helpful United employees and, voila, you have a truly memorable marriage proposal. Congratulations to this fun-loving and happy couple, and here's to many more years of making beautiful music together.
A big thank you to Chicago-based flight attendants Donna W., Marie M., Karen J. and Mark K. for making this proposal come to life.
Copyright © 2020 United Airlines, Inc.
All rights reserved.
Indicates an external site that may or may not meet accessibility guidelines.
Scroll to top
Scroll to top