Just as the leaves are changing in Vermont, "leaf peepers" are jamming the Green Mountain State's normally quiet roads to take in the show. But northern New England doesn't have a monopoly on brilliant fall colors. Trees covered in orange, crimson and gold foliage can be found in many parts of North America, Europe and Asia in the coming weeks.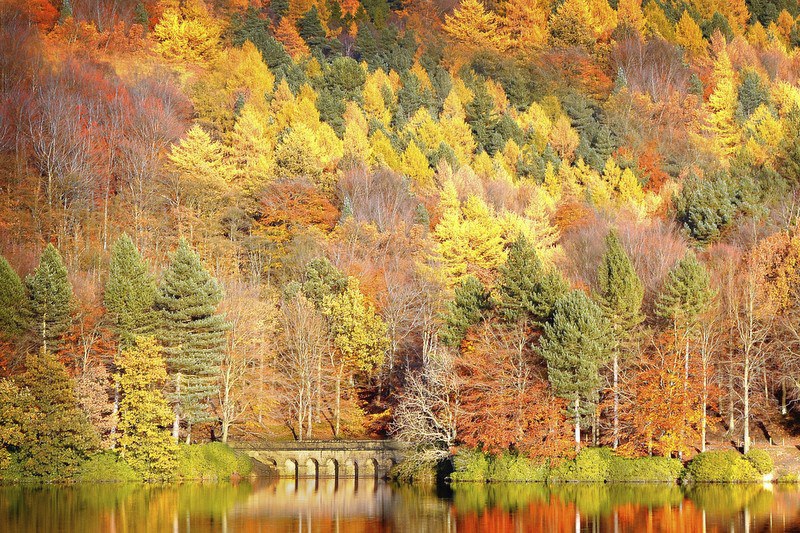 The Berkshires

The high hills of the Berkshires stretch across southwestern Massachusetts and into northern Connecticut, offering a few benefits that you won't find on mountains to the north and west. For starters, these high hills are less crowded with leaf gawkers, they are closer to major airports and cities (Boston and New York are within a three-hour drive) and the leaves peak later in the season. The small 18th-century towns — like Lenox, Stockbridge and Great Barrington in Massachusetts' Berkshire County — are just as charming as those in Vermont, and the leaves are just as head-turning.

Branson & The Ozarks
The Ozarks in southern Missouri is a fine place for seeing fall colors and its proximity to the entertainment capital Branson is a bonus. Leaf-gazing peaks around November 1 and typically lasts until Veterans Day. To maximize your time, go on a driving tour through fall foliage, past lakes, beaches and a national forest, and take a 50-minute walking tour of Branson. From Branson you can also take a lunch, dinner or sightseeing cruise around fall-colors-rimmed Lake Taneycomo aboard a luxury yacht or paddle-wheel riverboat.
Blue Ridge Parkway & Great Smoky Mountains
The Blue Ridge Parkway in Virginia and North Carolina is called "America's Favorite Drive," with 469 miles of scenic splendor, but it's at its finest in the fall. At the southern end of the parkway and just as fall-fabulous is Great Smoky Mountains National Park, which spills over the North Carolina border into Tennessee. The park contains hundreds of miles of paved roads, dirt roads and hiking trails. Both the parkway and the park are managed by the National Park Service.
Vancouver & Victoria
Bigleaf maples and red alders are scattered among the evergreens on the walking paths through Vancouver's Stanley Park. Butchart Gardens, located near Victoria on Vancouver Island, is another local destination where you can see beautiful, multicolor maple leaves on the same trip. The 5 ½-hour drive from Victoria to Port Hardy at the northern tip of the island also sports a dazzling display into November.
Bath & The Cotswolds
The Cotswolds, a hill region of quaint countryside villages in southwest England, is where Londoners retreat to see the leaves change from vehicles, train windows and hiking trails. Also popular in the vicinity for their exuberant fall colors are the Roman-era city of Bath — known for its large city parks and the River Avon — and Batsford Arboretum in The Cotswolds.
Munich & Bavaria
The Bavarian region of Germany, with its famed castles and historic spa towns, is among the prettiest places to immerse yourself in Europe's autumn colors and small-town fall festivals. Munich's Oktoberfest may have ended on October 3, but several weeks of fall foliage throughout Bavaria are just beginning. Spectacular Neuschwanstein Castle is one of many spots where you can experience the deciduous delights of autumn in Bavaria, as are any of its naturparks, which occupy about one-quarter of the land throughout Germany.
Kyoto & Nara
No Japanese cities boast more UNESCO World Heritage Sites than Kyoto and nearby Nara, but in the fall they offer even more than temples and other repositories of ancient Japanese culture. Nearly as cherished as Kyoto's springtime cherry blossoms are its bright-orange and flaming-red kouyou (autumn leaves) in the fall. The compact city of Nara, a 30-minute train ride from Kyoto, is also resplendent in fall finery well into November.
If you go
Visit united.com or use the United app to plan your fall foliage getaway.