7 top things to do in Geneva, Switzerland
Combining cosmopolitan sophistication and natural beauty, Geneva, Switzerland, has an enchanting, resort-like quality that few places in the world can match. Nestled amid snow-capped mountains, this French-speaking city offers all the luxury and excitement of a compact European metropolis. To help make your Swiss adventure truly unforgettable, here are seven must-see attractions you won't want to miss.
The International Red Cross and Red Crescent Museum
Geneva's long history of peace and humanitarianism is celebrated in this multi-media museum which first opened its doors almost three decades ago. Though the exhibits change frequently, visitors to the museum should spend time in the permanent collection titled "The Humanitarian Adventure." Divided into three sections, each exploring different themes of human dignity and compassion, this fascinating exhibit takes viewers from the founding of the Red Cross in 1863 to today's modern environmental humanitarian efforts around the world.
Lake Geneva
There's no better way to experience the region's gorgeous scenery then by taking a pleasure cruise on Lake Geneva. The largest body of water in Switzerland, Lake Geneva is bordered by several picturesque towns, including Nyon, Montreux, Morges, and Vevey. Passengers on a day cruise can stop at many of the quaint villages that wind their way along the shore. Guided tours and rental boats are available in most of the larger towns, making lake travel extremely convenient.
Rue du Rhône
This stretch of Geneva is a shopper's dream come true. Many of the city's most luxurious boutiques, including world-famous watchmakers, renowned jewelers, and master chocolatiers can be found here. Designers like Prada, Chanel, Hermes, and Louis Vuitton compete for your attention as you stroll along the Rhône River that winds gracefully through the heart of the city. As expected, prices are high, but that's part of the fun of window shopping while on vacation, isn't it?
Mont Salève
Though technically located in France, this 4,500 foot mountain is widely referred to as the "Balcony of Geneva." Fans of great literature will recognize it as a memorable setting in Mary Shelly's classic novel "Frankenstein," but even non-readers will find a 2-hour hike up its woodsy trail a wonderful way to spend an afternoon. A restaurant greets climbers who make it to the top, yet it's the spectacular view from the peak that will leave you truly breathless.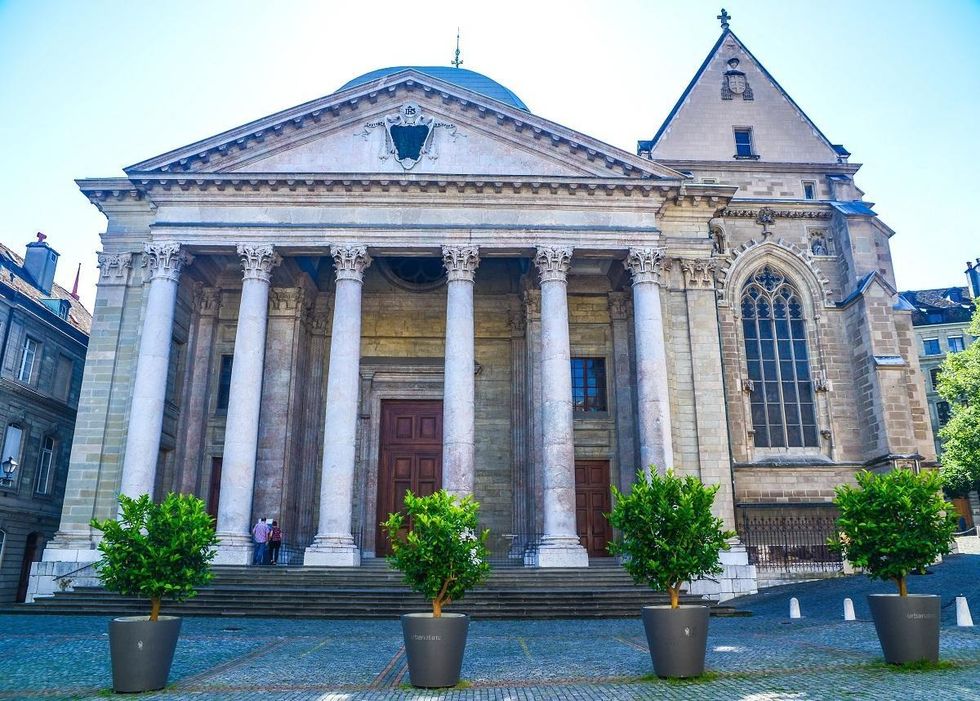 St. Pierre Cathedral
Built between the years of 1160 and 1230, this gothic structure is arguably Geneva's most important historical landmark. A cathedral of enormous beauty, St. Pierre houses several artistic and religious masterpieces. Included among them are the intricately carved wooden choir stalls, the stained glass windows depicting St. Andrew, and an ornate chair belonging to the influential French theologian John Calvin. Visitors to the church can climb two spiral towers that offer a stunning 360° view of the surrounding city.
Fine dining
Geneva is a city with many flavors, and visitors are encouraged to sample them all. For a superb meal in one of the city's finest restaurants, reserve a table at Le Grand Quai Restaurant. Located in a historic 19th century hotel, this elegant eatery's menu is prepared with seasonally grown local produce. If you're looking for a modern Swiss restaurant specializing in French and Mediterranean cuisine, try Vertig'O, at the Hôtel de la Paix. Their elaborately designed dishes are as visually dazzling as they are delicious.
Shaken and stirred
Although Geneva is a city rich in antiquity, that doesn't mean it hasn't kept up with modern cocktail culture. For an intimate spot with a playful take on mixology, order a drink at L'Atelier Cocktail Club, a small neighborhood bar with surprisingly reasonable prices. Or if you're in the mood for a stylish speakeasy with a vintage 1920s flair, look no further than La Verre à Monique. Their passion fruit and rhubarb daiquiri is every bit as amazing as it sounds.
If you go
When you're ready to experience the magic of Switzerland, book your flight at united.com or on the United app.
On March 19, 2020, United operated its first flight carrying cargo without passengers on board. While the passenger cabin was empty, its cargo hold was completely full, carrying more than 29,000 pounds of commodities from Chicago O'Hare International Airport (ORD) to Frankfurt Airport (FRA).
A year later, United Cargo has operated more than 11,000 cargo-only flights carrying more than 570 million pounds of freight. To support the COVID-19 pandemic recovery efforts, United Cargo has also transported more than 113 million pounds of medical and pharmaceutical products on both cargo-only and passenger flights as well as approximately 10 million COVID-19 vaccines, providing global communities access to the items they have needed most.
"At the beginning of the pandemic, we knew we were uniquely positioned to utilize our widebody aircraft and our network to keep commodities moving, so we quickly mobilized various departments throughout the airline to launch a cargo-only network of flights that would keep commodities moving," said United Cargo President Jan Krems. "Thanks to those efforts, United Cargo has delivered millions of items to countries all around the world. We would not have been successful without the steadfast support of our employees, industry partners and our customers."
Since last March, United Cargo has transported almost 850 million pounds of freight on cargo-only and passenger flights. The airline will continue to monitor market trends adjust its cargo-only flight schedules to help ensure we are meeting our customer's evolving shipping needs.
Whether you haven't flown with us for a while or just need a quick refresher before your spring trip, read this list of tips to know before your flight and arrive at the airport travel-ready:
1. Download the United app for contactless bag check, travel assistance and more
Before your flight, download the United app to view your flight status, check in, sign up for flight notifications, locate departure gates, access our free personal device entertainment when available and more. We've also updated our app with new features that can make your trip a little safer, including contactless bag check.
Don't forget to use Agent on Demand for help with any and all questions you may have before your flight. This new capability is available at all our U.S. hub airports and allows you to use your own mobile device to contact a customer service agent via phone, video or chat to help with day-of-travel questions while you're at the airport. Learn more about Agent on Demand here.
2. Check out the Travel-Ready Center
Our Travel-Ready Center makes it easy to get a personalized overview of everything you need to do in preparation for your flight. Just enter your confirmation number or MileagePlus® number and you'll find detailed information on all the documents, tests and more that you'll need for your trip.
3. Read and sign the Ready-to-Fly checklist
Before completing check-in, all United travelers will need to read our Ready-to-Fly checklist and confirm that they understand and agree to our policies. These include:
Acknowledging that you haven't had any symptoms of COVID-19 in the last 14 days
Agreeing that you will not fly if you have tested positive for COVID-19 within the last 21 days
Confirming that you will follow all policies regarding face masks, social distancing and other health and safety measures we've adopted
4. Arrive early; avoid the stress
Airports can be busy, especially during peak travel periods like spring break season. The TSA advises arriving at the airport two hours before your flight for domestic travel and three hours for international travel in anticipation of long security lines. This can help ease the stress when navigating busy check-in areas, security lines and crowded boarding gates.
5. Get familiar with CleanPlus
United CleanPlus℠ is our commitment to delivering industry-leading cleanliness as we put health and safety at the forefront of your experience. We've teamed up with Clorox to redefine our cleaning and disinfection procedures and Cleveland Clinic to advise us on enhancing our cleaning and disinfection protocols, like:
Disinfecting high-touch areas on board and in the terminal
Using electrostatic spraying, Ultraviolet C lighting wands and more advanced measures to clean aircraft cabins before boarding
Redesigning our mobile app to allow for touchless check-in and contactless payment, along with enhanced travel assistance features
Implementing high-efficiency (HEPA) filters on our aircraft that completely recirculate cabin air every 2-3 minutes and remove 99.97% of airborne particles, including viruses and bacteria
Studies show COVID-19 exposure risk is minimal when air filtration systems and masks are in use, so you can rest assured that the steps we've taken to keep you safe truly make a difference.
6. Wear your mask
Federal law requires all travelers to wear a face mask in the airport, including customer service counters, airport lounges, gates and baggage claim, and on board during their entire flight. Make sure you review the requirements for face masks, including what an acceptable face mask looks like.
7. Get ready for a safer boarding process
To make boarding even safer, we now have travelers board their aircraft from back to front. At the gate, just listen for your row number to be called – we'll ask a few rows at a time to board, starting with the last row of the plane. This helps everyone maintain a safe distance from each other during boarding without slowing things down. As you step onto the plane, flight attendants will hand each passenger a sanitizing towelette, which you can use to wipe down your seat to ensure it's extra clean.
8. Pack smart
Before packing your bags, check to see what exactly you can carry on and what you should plan to check. You can also copy your confirmation number into our Baggage Calculator tool to learn about the bag allowance included with your reservation, as well as the cost of checking any additional bags.
9. Check your flight status, important notices and weather
Check the United app regularly for the latest updates on weather conditions, flight status, gate numbers and seat assignments. You can also visit our Important Notices page to find essential information and updates about travel waivers, international travel, TSA and security, airports and United Club locations.
10. Relax and enjoy your flight
Once you're on board, it's time to sit back and enjoy your flight. Our flight attendants will be happy to help you with anything else you need.
This week, we were honored to become the first U.S. airline to join the UNICEF Humanitarian Airfreight Initiative to combat the COVID-19 pandemic by transporting the vaccine and other critically needed supplies to underserved areas of the globe.
"We are committed to helping the global community in any way we can, and we all must work together to do our part to bring this health and humanitarian crisis to an end," said Director of Cargo Specialty Products Manu Jacobs.
We will leverage our expertise to transport these critical pharmaceutical and healthcare shipments around the world safely, efficiently and expediently. We are proud to partner with the United Nations to support this global effort and provide equitable access to COVID-19 vaccines.
Scroll to top