7 top things to do in Geneva, Switzerland
Combining cosmopolitan sophistication and natural beauty, Geneva, Switzerland, has an enchanting, resort-like quality that few places in the world can match. Nestled amid snow-capped mountains, this French-speaking city offers all the luxury and excitement of a compact European metropolis. To help make your Swiss adventure truly unforgettable, here are seven must-see attractions you won't want to miss.
The International Red Cross and Red Crescent Museum
Geneva's long history of peace and humanitarianism is celebrated in this multi-media museum which first opened its doors almost three decades ago. Though the exhibits change frequently, visitors to the museum should spend time in the permanent collection titled "The Humanitarian Adventure." Divided into three sections, each exploring different themes of human dignity and compassion, this fascinating exhibit takes viewers from the founding of the Red Cross in 1863 to today's modern environmental humanitarian efforts around the world.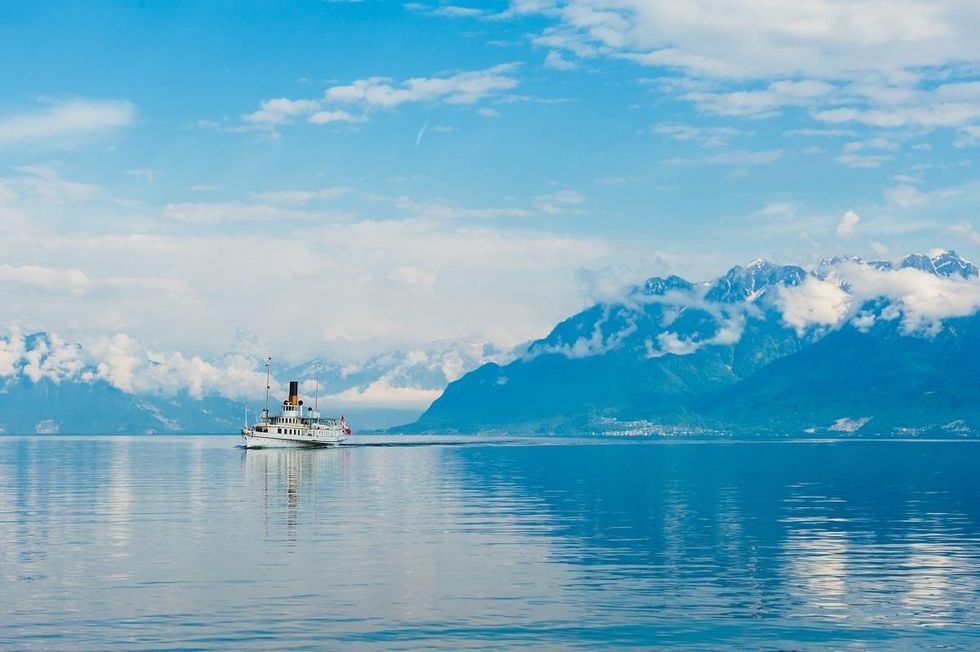 Lake Geneva
There's no better way to experience the region's gorgeous scenery then by taking a pleasure cruise on Lake Geneva. The largest body of water in Switzerland, Lake Geneva is bordered by several picturesque towns, including Nyon, Montreux, Morges, and Vevey. Passengers on a day cruise can stop at many of the quaint villages that wind their way along the shore. Guided tours and rental boats are available in most of the larger towns, making lake travel extremely convenient.
Rue du Rhône
This stretch of Geneva is a shopper's dream come true. Many of the city's most luxurious boutiques, including world-famous watchmakers, renowned jewelers, and master chocolatiers can be found here. Designers like Prada, Chanel, Hermes, and Louis Vuitton compete for your attention as you stroll along the Rhône River that winds gracefully through the heart of the city. As expected, prices are high, but that's part of the fun of window shopping while on vacation, isn't it?
Mont Salève
Though technically located in France, this 4,500 foot mountain is widely referred to as the "Balcony of Geneva." Fans of great literature will recognize it as a memorable setting in Mary Shelly's classic novel "Frankenstein," but even non-readers will find a 2-hour hike up its woodsy trail a wonderful way to spend an afternoon. A restaurant greets climbers who make it to the top, yet it's the spectacular view from the peak that will leave you truly breathless.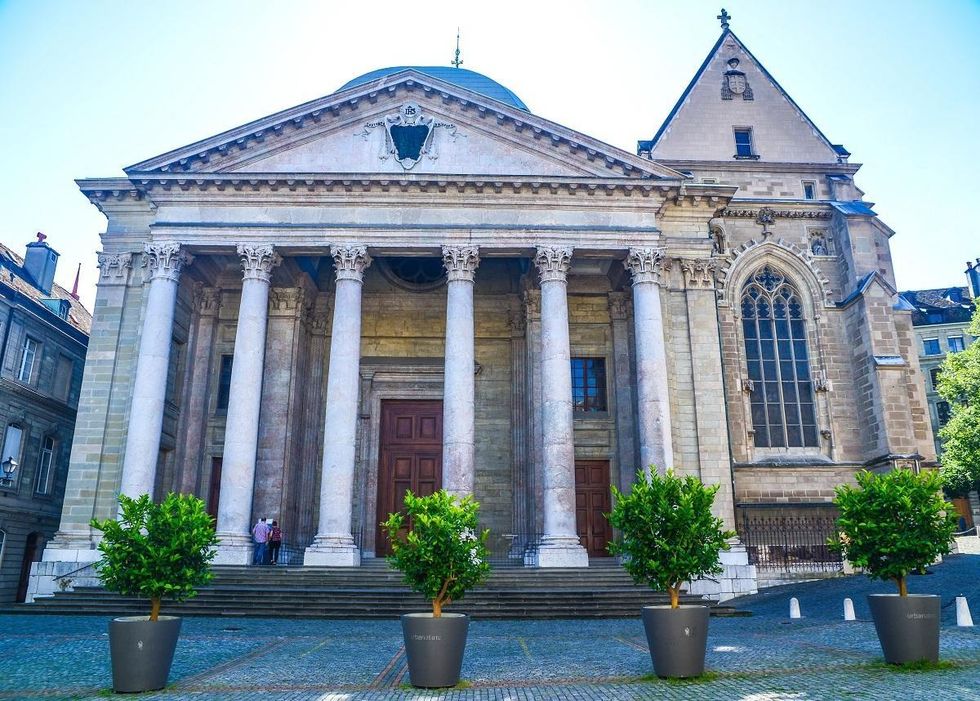 St. Pierre Cathedral
Built between the years of 1160 and 1230, this gothic structure is arguably Geneva's most important historical landmark. A cathedral of enormous beauty, St. Pierre houses several artistic and religious masterpieces. Included among them are the intricately carved wooden choir stalls, the stained glass windows depicting St. Andrew, and an ornate chair belonging to the influential French theologian John Calvin. Visitors to the church can climb two spiral towers that offer a stunning 360° view of the surrounding city.
Fine dining
Geneva is a city with many flavors, and visitors are encouraged to sample them all. For a superb meal in one of the city's finest restaurants, reserve a table at Le Grand Quai Restaurant. Located in a historic 19th century hotel, this elegant eatery's menu is prepared with seasonally grown local produce. If you're looking for a modern Swiss restaurant specializing in French and Mediterranean cuisine, try Vertig'O, at the Hôtel de la Paix. Their elaborately designed dishes are as visually dazzling as they are delicious.
Shaken and stirred
Although Geneva is a city rich in antiquity, that doesn't mean it hasn't kept up with modern cocktail culture. For an intimate spot with a playful take on mixology, order a drink at L'Atelier Cocktail Club, a small neighborhood bar with surprisingly reasonable prices. Or if you're in the mood for a stylish speakeasy with a vintage 1920s flair, look no further than La Verre à Monique. Their passion fruit and rhubarb daiquiri is every bit as amazing as it sounds.
If you go
When you're ready to experience the magic of Switzerland, book your flight at united.com or on the United app.
From Sept. 15 through Oct. 15, the U.S. celebrates Hispanic Heritage Month, a chance to pay tribute to the history, culture and contributions that generations of Latinxs have paved to enrich U.S. history. It is also a reminder to celebrate our differences and spark difficult, yet important, conversations.
To kick off the month, UNITE, our multicultural business resource group for employees, did just that by hosting a panel discussion about the immigrant experience and what it means to be an immigrant in the U.S.
United Litigation and Managing Counsel Elizabeth Lopez, who is a pro bono immigration attorney, moderated the panel, and was joined by Ashley Huebner, Associate Director of Legal Services at the National Immigrant Justice Center (NIJC) and Magdalena Gonzalez, Program Manager, Leadership Development Programs at Hispanic Alliance for Career Enhancement. The three women shared their insights and personal stories, while addressing some misconceptions and highlighting the contributions of immigrants to our company and country.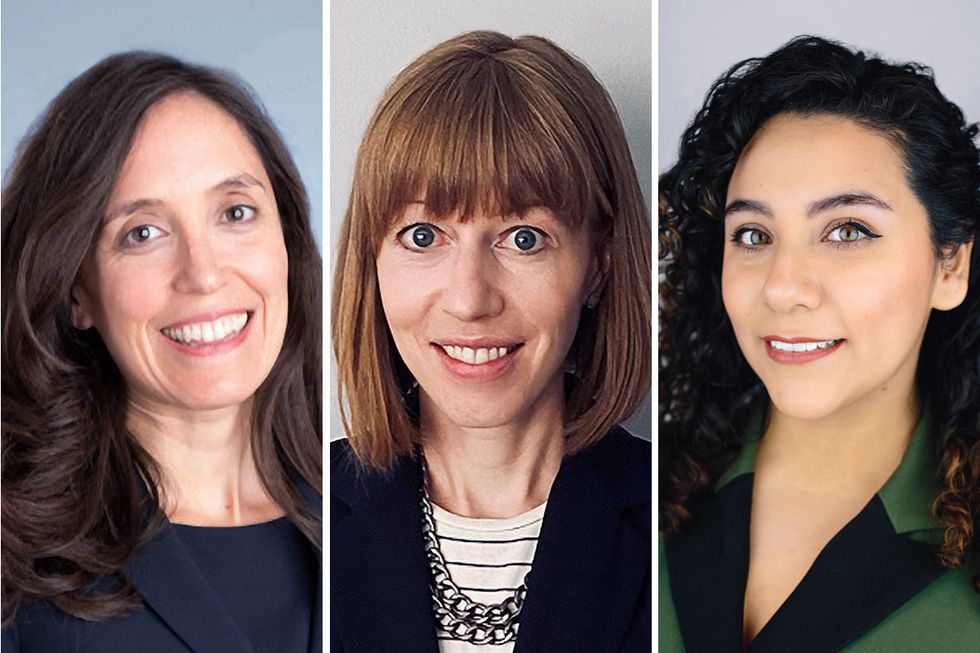 From left to right, Elizabeth Lopez, Ashely Huebner and Magdalena Gonzalez
"I started to notice that there were things I was scared of doing, that I needed to be cautious," said Magdalena while sharing her personal experience as a DACA (Deferred Action for Childhood Arrivals) recipient. "My friends, who a majority of them are citizens, did not need to worry about that. As I was able to see that, I realized that, 'oh, there's so many things that revolve around not just being a DACA recipient but revolve around being a person with an undocumented status here in the United States.'"

United maintains a close relationship with the NIJC. In May of 2019, United co-hosted an asylum clinic put on by the legal services organization, where several attorneys and legal professionals were trained on representing asylum-seeking applicants. At the end of the clinic, members of our legal department were assigned an asylum case through the NIJC.
Litigation Managing Counsel Elizabeth Lopez, Commercial Transactions Counsel Tiffany Jaspers, Global Compliance and Ethics Counsel Nancy Jacobson and Employment Litigation Senior Manager Dorothy Karpierz were partnered with attorneys from the law firm of McDermott Will & Emery to take on an immigration case of a mother of three from Honduras. Recently, after a years-long court battle, the legal team was victorious, changing the life of the woman and her family.
United is committed to connecting people and uniting the world. Whether you're an immigrant, a child of immigrants or simply want to learn more about the immigrant experience in the U.S., discussions like these, related to this hot-button issue, are important to have in order to understand the human lives behind it.
Your voice matters. Voting is one of the most influential civic activities we can engage in as Americans. At United, our mission is to connect people and unite the world — and one of the most important ways to do that is to engage in the democratic process. That's why we've long provided our employees with resources to help them get registered to vote.

This year, we're taking our support a step further as the official airline of the Commission on Presidential Debates (CPD). Since the start of the pandemic, we've overhauled our cleaning measures through a program we call United CleanPlusSM , and the CPD has placed their trust in United to fly Commission production staff to each of the four debates, starting with the first one on September 29, hosted by Cleveland Clinic and Case Western Reserve University.
Today, on National Voter Registration Day, we also want to make sure our customers have access to information about how to participate in the 2020 Election. Over the past several months, you've heard a lot from us about how the COVID-19 pandemic has changed air travel. We've learned that with some planning and extra effort, it's still possible — and safe. That's true of voting, too.
No matter which party you support or how you're planning to vote, we know our democracy will be stronger if you make your voice heard and make a plan to vote.
Best,
Brett J. Hart
President
United Airlines
Since its launch 20 years ago, Year Up, one of our critical needs grant recipients, has helped more than 10,000 young adults gain access to corporate business and technical experience at large companies like United while offering the invaluable perspectives they bring with them.
On Wednesday, the nonprofit inducted United into its Opportunity Hall of Fame – a selection that occurs once every five years.
Year Up's mission is to help close the opportunity divide by providing urban young adults with the skills, experience and support that will empower them to reach their potential through professional careers and higher education. Since 2018, our partnership has allowed talented student learners the opportunity to gain corporate business experience and technical skill training at the airline while bringing their unique perspectives to our United family and culture. One of those students is Emily Lopez, who graduated from the Year Up program in January 2019 and was hired to be part of the United family as an analyst in Revenue Management.
"I moved from Venezuela to the United States in July 2016 and being a young immigrant with no resources can be difficult to pursue a career in a new country," said Emily.
After learning about Year Up and ultimately being accepted into the program, Emily landed an internship with United, an opportunity she is very grateful for.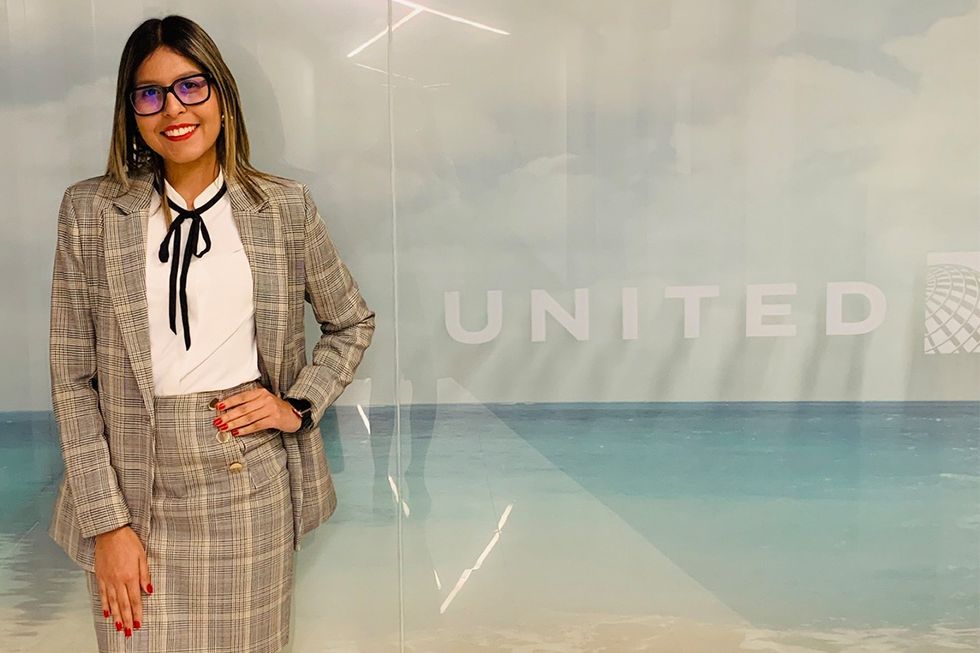 Emily Lopez - Analyst, Pricing & Revenue Management
"Feedback from my mentors, coaches and managers was key during my internship phase and helped me convert my internship at United to a full-time position. I am grateful for the opportunity United has provided me and my Year Up Alumni colleagues to keep building a professional career within the company. I am so excited to continue building a professional career with the company and to see United being inducted to Year Up's Hall of Fame. Let's continue closing the opportunity divide!" said Emily.
Although the coronavirus pandemic has made this year's partnership a bit more difficult, we continue to do our part to support the Year Up student learners. Last month, we surprised 145 graduates of this year's Year Up Chicago program with roundtrip tickets to pursue career and networking opportunities within the United States.
"I've been personally honored and inspired to be an advocate for Year Up since I joined United," said CEO Scott Kirby. "This program gives young people from challenged backgrounds an opportunity to get their foot in the door as interns at United. This year's graduates are entering a challenging job landscape, but we have one thing that can help: a route network that provides easy access to major business markets across the United States."
Scroll to top