The 747's final tour of duty
United ramp serviceman Tryg Farestad watched through his cabin window as Marine Corps Air Station Cherry Point, in Craven County, North Carolina, came into view below him. This Boeing 747 on which he was a passenger had dropped below the cloud line as it made its final descent, and Farestad craned his neck for a better look at the base. Much had changed in the decades since he called it home, but the memories still loomed large in his life and career.
The aircraft touched down on the runway at Cherry Point and taxied to a stop. As Farestad and the rest of the crew offloaded, a crowd of Marines stared up at the massive jet that would be their last taste of home before they embarked upon a nine-month tour of duty on foreign soil.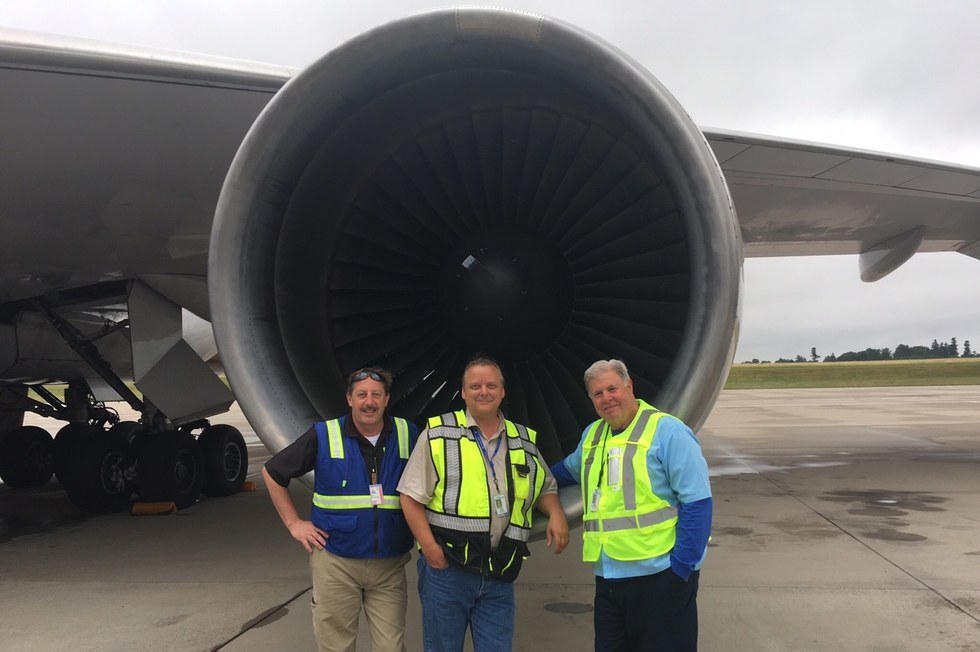 Tryg Farestad (right) with colleagues
Fifty years ago, Farestad stood in the exact same spot as those men and women. He was a Marine during the Vietnam War and was stationed at Cherry Point after returning from Asia. Standing on the other side as part of the group of United employees who now support the airline's U.S. military charters, Farestad scanned the crowd and knew exactly what each soldier was feeling" the same mix of nerves and anticipation that he had experienced as he prepared to take off for Da Nang in 1967.

"Most of them are so young and so gung-ho, but they don't know what to expect," Farestad says. "When they find out I was in the service, especially having been in Vietnam, they have a million questions. It does me good to talk with them, and I hope it does them good to talk to an old G.I."
Since World War II, United has been proud of its role in transporting troops across the globe. Thanks to its size and cargo capacity, the 747 has been a particularly useful tool for moving U.S. armed forces. Of the hundreds of military charter flights United has operated in the past year, roughly 60 percent have been served by 747s.
Like the 747, Farestad joined United in 1970 and has been a workhorse for the airline ever since. A Jersey farmboy, he has spent most of his career in Philadelphia working in a variety of roles, from aircraft load planning and ramp services to refueling operations. That breadth of experience has made him a valuable addition to the charters team.
"We fly into areas where United doesn't have a presence, so we need to know how to do everything when we're in the field," he says. "We load an unload the aircraft, refuel it, make sure everything is set for the flight crew and catering – anything you could think of. No two days are the same."
When the last military-chartered 747 completed its mission in October, it signaled the end of an era that will be missed by the small but dedicated group of employees like Farestad who have supported that subsection of United's business.

"It was one of the nicest airplanes you could fly on," he says. "The soldiers loved the size of it, and I always enjoyed giving them tours. Some of them couldn't believe it when they saw the second deck, the fact that you had to take a staircase up to your seat."
Just like selling your first car or moving away from home, it's the people, experiences, and conversations for which the 747 was the setting that Farestad will truly miss – particularly the encouragement his unique background qualified him to offer.
"When we were in flight, I would circulate around the cabin and talk with the G.Is," he says. "The experiences they have will open their eyes to the rest of the world. Travel has that effect on everyone, and we've been fortunate to be part of that here."