9 best things to do in Cancun
Planning your next Cancun vacation? Here are the best things to do in Cancun.
Packed with culture and adventure, while tapping into Mayan influences and environmental ethos, Cancun feels like an exotic getaway, but is just a quick flight from most U.S. cities. The Caribbean Sea's aquamarine hues and the region's balmy year-round temperatures have enticed dozens of all-inclusive resorts to fan out their pampering amenities along the shoreline. Whether you are happiest chilling on the beach (fruity drink in hand, of course) or snorkeling in the wide-open sea, there are plenty of angles to explore Riviera Maya's largest city. Here are the best things to do in Cancun.
Visit a locals' beach
Cancun beaches, beautiful as they are, can get crowded with tourists. Stray from the pack and head to Playa Delfines, a public beach where locals like to unwind. While there might not be roving waiters with trays of margaritas, palapas are available and drinks can be brought in.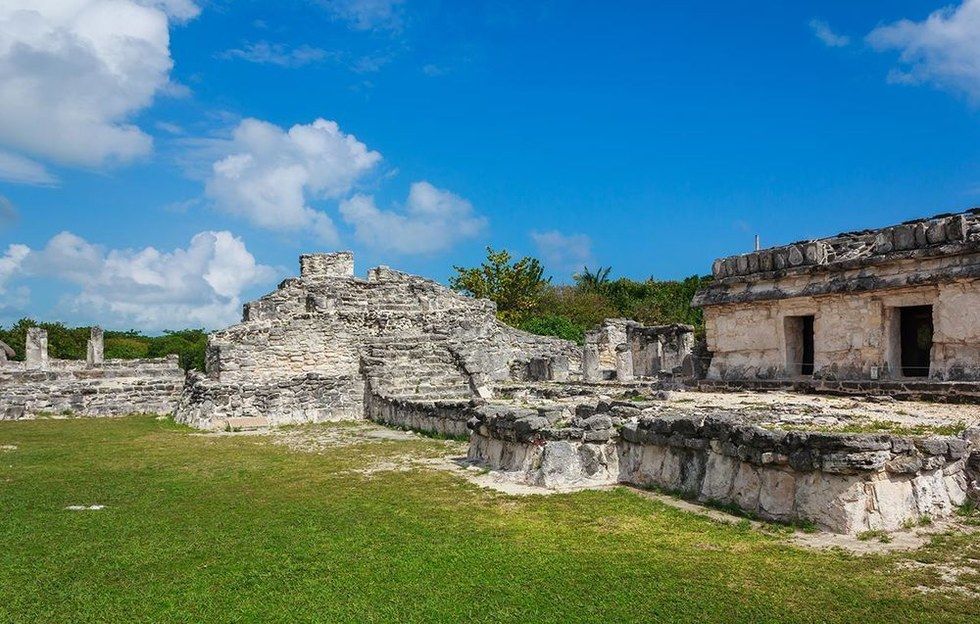 El Rey Mayan Ruins| Shutterstock
Explore Mayan ruins
Coba, Chichen Itza and Tulum are all doable for a day trip, but still quite a trek. El Rey, named for a skeleton unearthed at the site, is right in Cancun's Hotel Zone —and not everyone knows about it. The region's rich Mayan heritage comes alive through 47 stone sculptures dating back to 1250 A.D.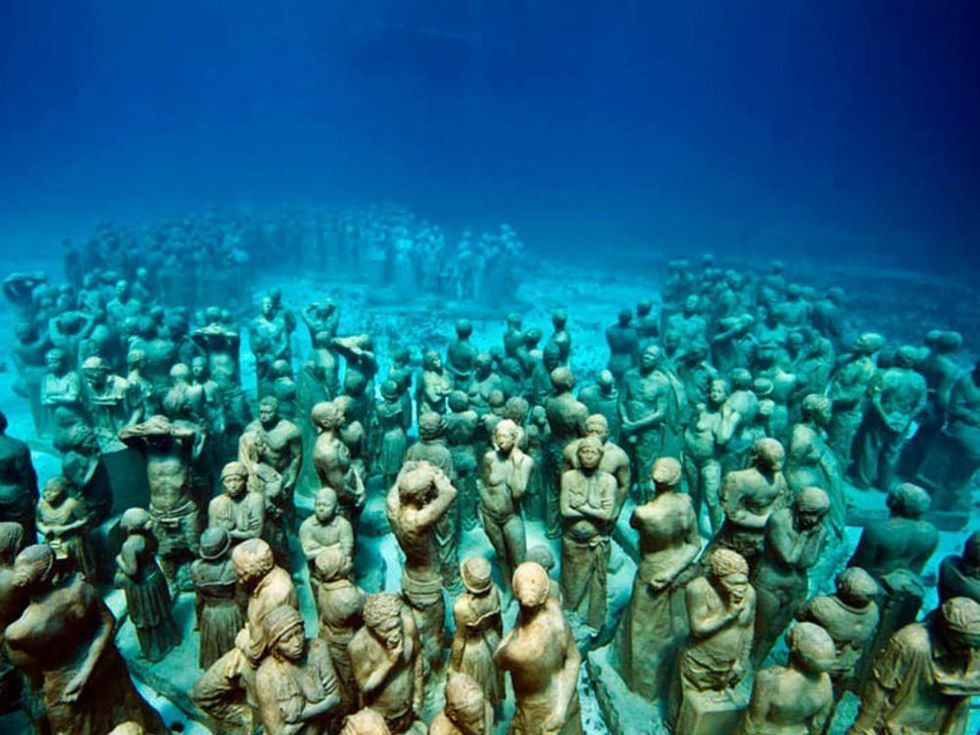 MUSA| Courtesy MUSA
Snorkel among statues
Out of all the things to do in Cancun, this one is a must. The best way to see MUSA, an underwater sculpture garden of 470 statues, is from just below the water's surface. Book a snorkeling excursion with Aqua World which includes fins, masks and vests, plus drinks and tunes onboard. You'll also spot colorful exotic fish.
Check out street art
Artists from around the globe are transforming Cancun's urban walls and abandoned residential areas into murals bursting with color and ocean-conservation themes. The first of these murals (on four buildings) were unveiled in late February, a partnership among three government agencies. The next collection, spanning eight buildings, debuts in early July.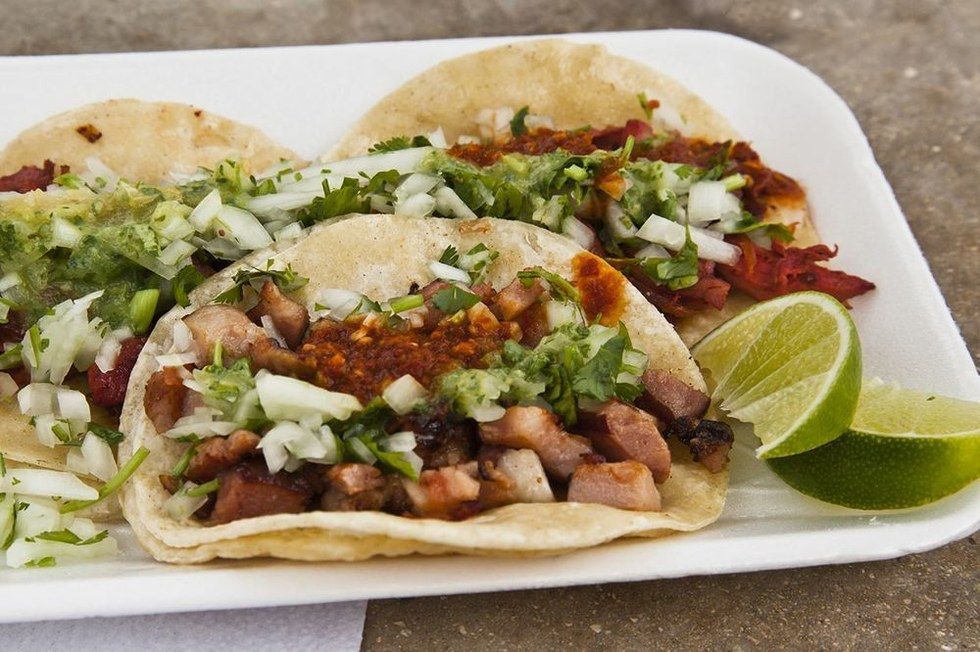 Taco Tour| Shutterstock
Take a food tour
Departing from downtown Cancun, the nightly 2½-hour Taco Tour fills your belly with grub at four stops, led by locals who know the food scene in and out. Sure, Cancun resorts are flush with fine-dining options but street-food fare is equally trending, and off the beaten path.
Shop local markets
Sidestep the luxury, designer-label shopping malls for artisan-made crafts, fashion accessories and home decor Mercado 28, a market in downtown Cancun with 100 shops. From embroidered pillow covers to hand-painted pottery, check off the items on your souvenir and gifts list and have pesos left over to splurge on a beautiful scarf just for you.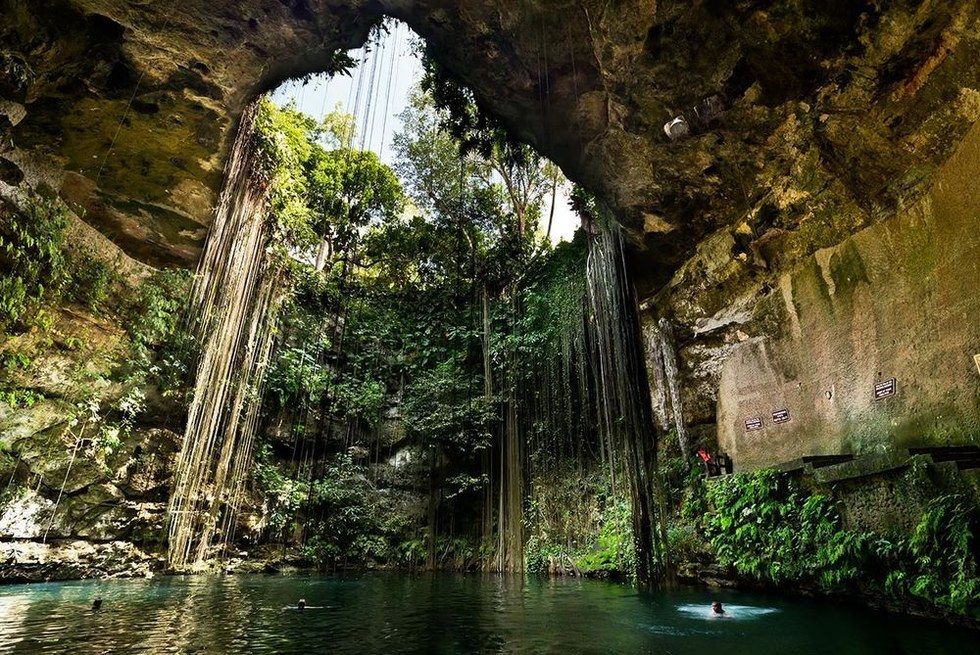 Ik Kil cenote| Shutterstock
Swim in a cenote
Mexico boasts nearly 7,000 naturally occurring cenotes, swimming holes formed when limestone rock collapses, and most are found on the Yucatán Peninsula. The Ik Kil cenote is a two-hour drive from Cancun, and worth the drive: explore gorgeous caves and jungle foliage, and cool off with a dip in the chilly water. Bonus: the cenote is near Chichen Itza's Mayan ruins. To see both in one day, book a tour with Entertainment Plus.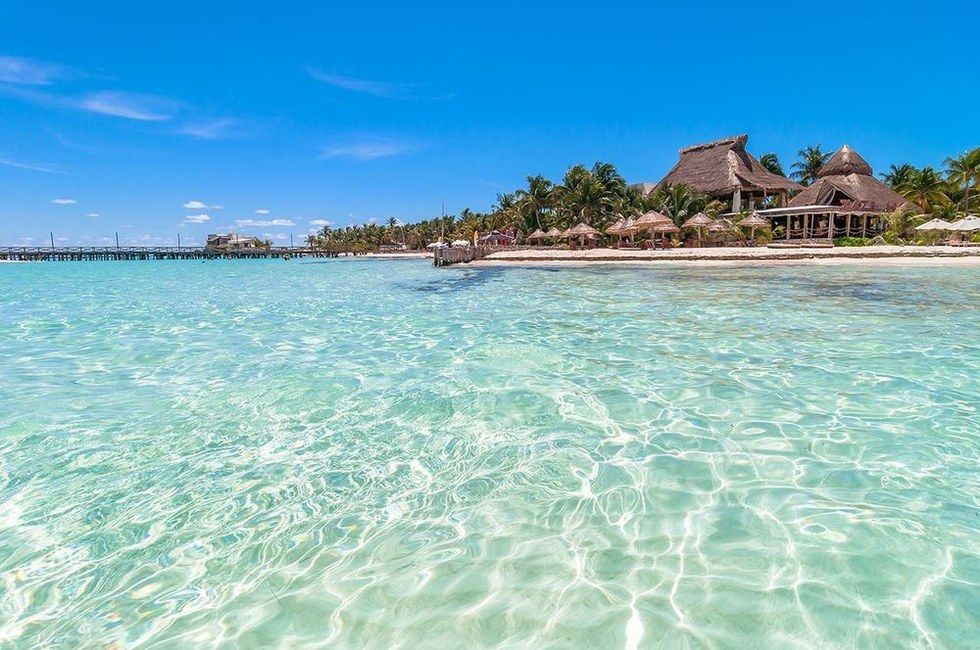 Isla Mujeres| Shutterstock
Hop a ferry to Isla Mujeres
Just a quick 15-minute ferry ride from bustling Cancun is Isla Mujeres, a laid-back island practically free of cars — everyone cruises around in a golf cart. Ferries depart from Gran Puerto and Terminal Martima Puerto Juarez, 10 minutes north of Cancun by taxi, every half hour between 5 a.m. and 9 p.m. Consider activities like kayaking at Garrafón Reef Park or exploring the sea-wall murals.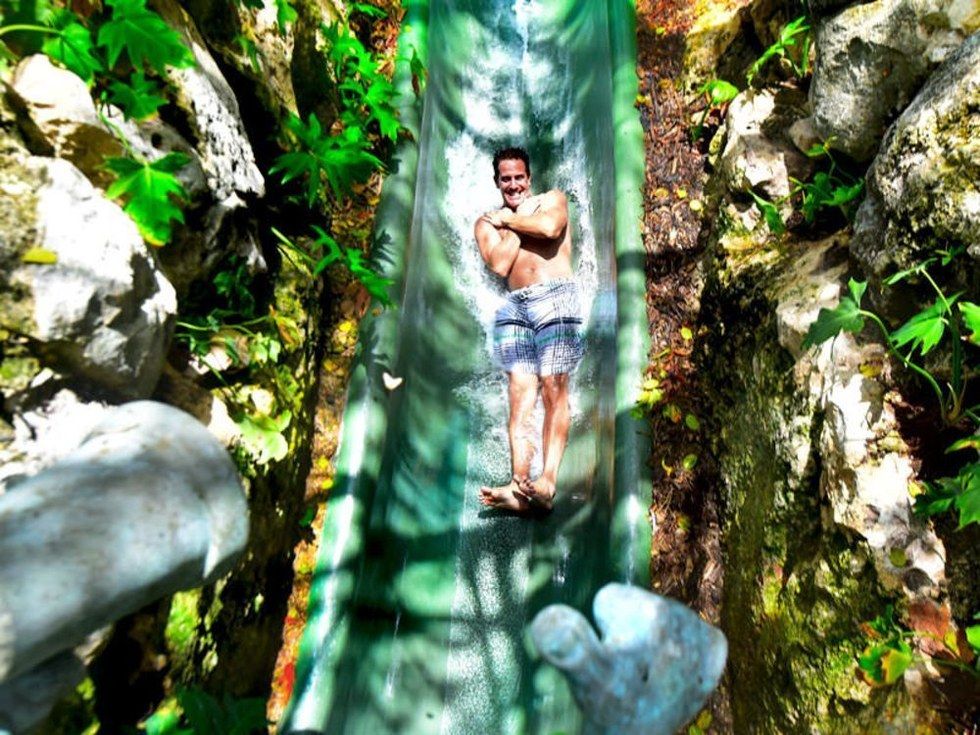 Xenses Theme Park| Courtesy Xenses
Explore Xenses
Part of the Experiencias Xcaret family of eco-oriented parks (its siblings are Xcaret and Xel-Ha) Xenses opened last June in Playa del Carmen, an hour's drive south of Cancun. Built around 15 sensory experiences on land and in water — such as bathing in mineral-rich mud, walking in a dark faux jungle and zip-lining in a bird costume — this family-friendly park takes about a half day to explore.
This article was written by Kristine Hansen from Islands and was legally licensed through the NewsCred publisher network. Please direct all licensing questions to legal@newscred.com.
We're proud to launch a redesigned version of our United app to make it easier for customers with visual disabilities to manage all aspects of day-of travel, including check-in, viewing reservation details and flight status, bag tracking and more.
This latest version of our app is now available to both Android and iOS users, and it offers increased color contrast and more space between graphics. Furthermore, we have reorganized how information is displayed and announced to better integrate with screen reader technologies like VoiceOver and TalkBack, which are built into most handheld devices. By restructuring the way the information is organized on the app, screen readers are better able to convert text to audio in the proper, logical sequence, allowing customers to better understand and navigate the app.
"The parts of the travel experience that we all take for granted like checking luggage, getting your flight status and accessing a boarding pass can still be a challenge for someone with a visual disability," said EVP of Technology and Chief Digital Officer Linda Jojo. "These new accessibility enhancements are part of our continuing commitment to level the playing field, unlock all the customer benefits of our app and give people with disabilities more independence while traveling."
Senior Accessibility Analyst Ray Campbell is a member of United's digital team who's visually impaired and sits on the board of the American Council of the Blind. He played a key role in helping us redesign the app. He even put the app to the test as seen in this video.
"Optimizing mobile apps for tools such as VoiceOver and TalkBack has been a game changer, allowing people with visual disabilities to fully utilize smartphone technology in their daily lives," said Ray. "It's just as important for someone with a visual disability to easily access day-of-travel information and features as for any other customer. Improving the accessibility of the United app, helps us truly live out United's mission of caring for all customers."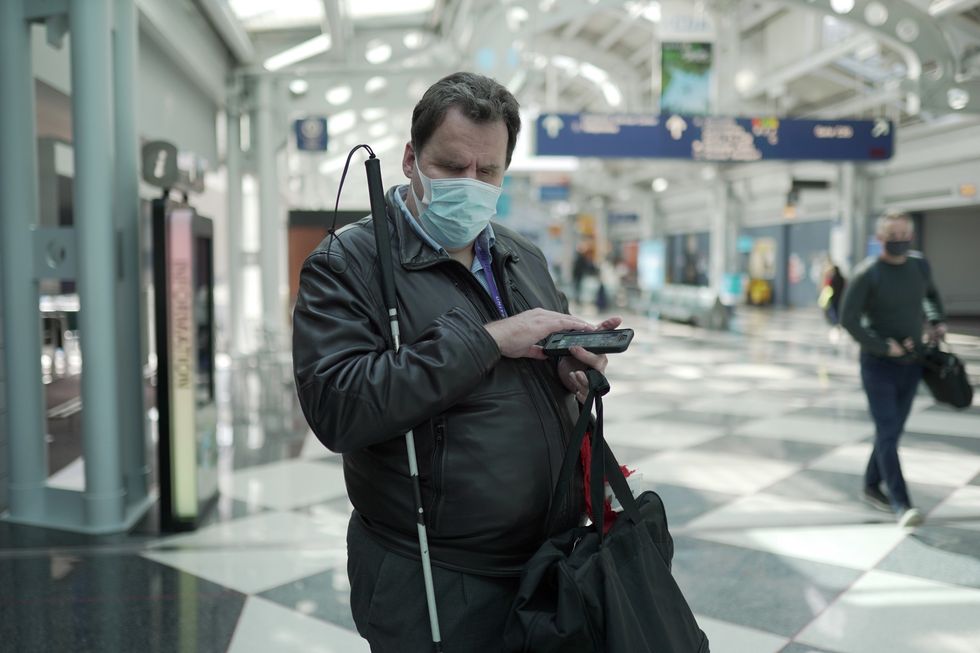 United's Senior Accessibility Analyst Ray Campbell using the mobile app at Chicago O'Hare International Airport.
Beyond the accessibility changes, our digital team enhanced the current offering while keeping the features that helped the app win a Webby People's Voice award in 2019.
For our MileagePlus® program members, the app now features a refreshed account experience for members to easily check balances, track Premier® progress, explore MileagePlus benefits, access past activity and more, all in one place.
The airline is also expanding a popular feature previously only accessible to MileagePlus members. Now, all 37 million customers who have the United app will see a contextualized home screen starting 48 hours before their flight which provides dynamic updates based on where a customer is in their travel journey. For example, customers can see the boarding status of their flight on their homescreen, access personal device entertainment onboard with one click, find a link to a map with gate-to-gate directions for connecting flights and click a quick access button to track any checked bags upon arrival.
We made slight tweaks to navigation based on customer feedback to make the app more intuitive, including making the bottom navigation persistent throughout the app. Another example is the "More" menu, which was reorganized and now contains the "Inbox" feature, which includes timely messages about boarding announcements, gate changes and other travel updates.
Customers will notice a new color palette that's consistent with the refreshed branding the airline debuted in 2019. United's digital team also made subtle design adjustments to make things more consistent and easier to find, like always using a purple bar to highlight the main call-to-action on a page and ensuring alerts and flight status icons appear the same way in every page on the app.
All of these changes are underpinned by a new back-end platform, which will ultimately make the app faster and more responsive.
The redesigned app is now available to download for iPhone®, iPad® and iPod touch® devices (as an iPhone app) and for Android devices.
Calling all AvGeeks and travelers! Take your next video call from a United Polaris® seat, the cockpit or cruising altitude with United-themed backgrounds for use on Zoom and Microsoft Teams.
Newly added to our collection is a background encouraging our employees and customers to vote. Our mission is to connect people and unite the world — and one of the most important ways to do that is to engage in the democratic process. No matter which party you support, we know our democracy will be stronger if you make your voice heard and vote.
So for your next meeting or catch up with friends and family, download the app to either your computer or mobile device to get started.
To use on Zoom:
Start here by downloading your favorite United image to your computer or mobile device. Just click "download" in the bottom left corner of the image.
Next go to your Zoom app (you'll need to download the app to access backgrounds) and click on the arrow to the right of your video camera icon in the bottom of the screen.
From here select, "choose virtual background" to upload your uniquely United photo.
To use on Microsoft Teams:
Start by downloading your favorite United image to your computer. Just click "download" in the bottom left corner of the image.

If you're using a PC, copy the image you want to use into this folder:

C:\[insert your device user name here]\AppData\Microsoft\Teams\Backgrounds\Uploads

If you're using a Mac copy the images to this folder on your computer:

/users/<username>/Library/Application Support/Microsoft/Teams/Backgrounds/Uploads

Once you start a Teams meeting, click the "…" in the menu bar and select "Show background effects" and your image should be there
Earlier this summer, we shone a light on our flagship partnership with Special Olympics and our commitment to the Inclusion Revolution. In that same story, we introduced you to our four Special Olympics Service Ambassadors, Daniel, Kyle, Lauren and Zinyra (Z), who, this month, celebrate one year working at Chicago O'Hare International Airport as part of the United family.
This groundbreaking, inclusive employment program took off as a part of our ongoing partnership with Special Olympics, a community relationship that employees across the company hold close to heart. The original 'UA4' (as they call themselves) have become an integral part of the United team serving customers at O'Hare Airport. Even from behind their masks, their wide smiles and effervescent spirit exude and bring life to the service culture of excellence we strive towards every day.
"The UA4 are more than just customer service ambassadors. They are shining examples of how inclusion, accessibility and equity can have monumental impacts on the culture and service of a business and community," said Customer Service Managing Director Jonna McGrath. "They have forever changed who we are as a company. While they often talk about how United and this opportunity has changed their lives, they have changed ours in more ways than we can count."
In the two years of partnership with Special Olympics, United employees have volunteered over 10,500 hours of service at events around the world and donated over $1.2 million worth of travel to the organization.
"This inclusive employment program is what community partnerships, like ours with Special Olympics, are all about: collaborating to identify areas where the needs of the community intersect with the cultural and business opportunity, then creating the infrastructure and programming to bring the two together," said Global Community Engagement Managing Director Suzi Cabo. "Through this program, our goal is to show other companies that when you put a committed effort and focus towards inclusion and breaking down barriers, you transform lives. I challenge other business around the world to follow our lead in joining the Inclusion Revolution."
Check out the video below to hear from our Special Olympics Service Ambassadors firsthand.
Scroll to top