Once considered off-limits for international tourists on account of a long-running civil war and unpredictable violence, Colombia has undergone a dramatic and dazzling reinvention in recent years. Nowhere is it more evident than in the capital Bogotá, where a sleek new airport welcomes visitors from around the globe to a city boasting beautiful colonial history with elegant shops, hip bars and high-end restaurants. For any first-time visitor, here are 9 essential experiences to create an unforgettable trip.

1. Start at the historic heart of Bogotá
The most logical starting point for any Bogotá visit is in the city's main square, Plaza Bolívar. It's located in the very heart of the original town, La Candelaria, a neighborhood of narrow streets lined with colonial-style houses and buildings. In the center of the square stands a bronze statue of Simón Bolívar, liberator of Latin America from Spanish rule, surrounded by four of the city's architectural highlights: the almost-Parisian Palacio de Liévano (city hall), the Palacio de Justicia (supreme court), the Capitolio Nacional (houses of congress) and the neoclassical Catedral Primada.

2. Go for gold in the Museo del Oro
A lust for gold brought the Spanish to Colombia and the evidence of their taste for opulence is on display at the fascinating Museo del Oro. The most famous of Bogotá's many museums, it holds more than 55,000 pieces of gold and other precious materials laid out over three floors and a series of thematic rooms. Close by, set over two floors inside the Banco de la República's massive museum complex, the Museo Botero celebrates Colombia's most famous artist, Fernando Botero, whose sculptures and paintings celebrate beautiful plus-sized subjects.

3. Stroll through the markets
Two of Bogota's most characterful markets are Mercado de las Pulgas de Usaquen and Paloquemao. The first takes place on Sundays and is a treasure trove of artisan crafts. The second is a vast, sprawling foodie's heaven, featuring vegetables, meats, fish and fruit you've never even heard of, let alone tasted. If you're feeling brave, order the jugo de borojo y cangrejo — a fruit shake mixed with live river crabs that just might boost your virility.

4. Take a food tour
Bogotá has enjoyed a culinary explosion over recent years with cafes, restaurants and hole-in-the-wall dining options to cater to all tastes and budgets, from humble corrientazo serving up hearty set menus of ajiaco soup and corn, potatoes, yucca and meat, to high-end culinary experiences such as Criterión, Matiz and Tábula. To really taste the local flavors, sign up for a food tour and allow an expert to show you the sights and flavors of the city's neighborhoods. La Mesa offers one of the best tours.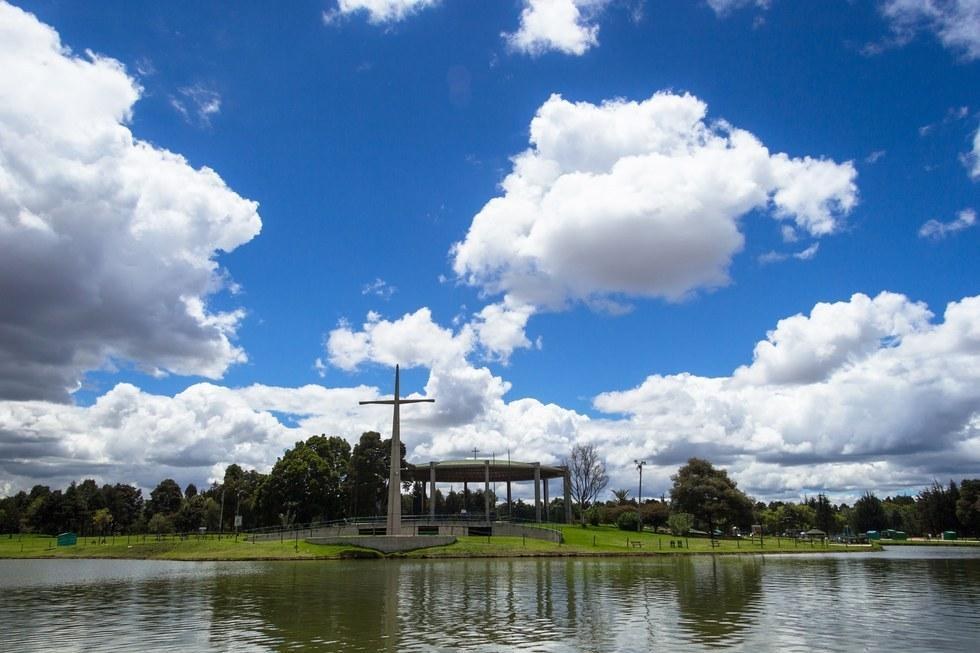 5. Explore the "Green Lungs"
At 400 hectares, Simón Bolívar Metropolitan Park offers relief in a city of more than eight million bustling people. Sitting in the very heart of the city, the park is a series of five neighboring green spaces that function as 'the lung of the city'. Explore lakes, parks, a children's museum and the Events Plaza, where international artists such as Metallica, Red Hot Chili Peppers and Aerosmith have performed (and shattered the tranquility).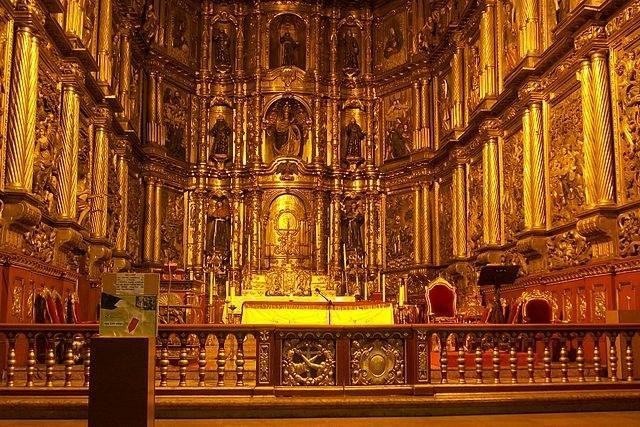 6. Visit the church
In a city of so many places of worship, the Iglesia de San Francisco stands tall as the city's oldest surviving church. Constructed between 1557 and 1621 and standing amid the city's modern office blocks, its vast wooden doors give way to a brooding interior of dark wood, gold leaf and incense quite at odds with its 21st century surroundings. The most notable aspect is the 17th-century gilded main altarpiece, Bogotá's largest and most elaborate piece of art of its kind.

7. Experience the night life
When night falls on Bogotá, head for Gaira Café, the legendary restaurant and bar owned, and occasionally frequented, by Colombian singer Carlos Vives. Part restaurant, part classic Colombian dance hall, part musical museum, space is always at a premium. But if you can't get in, head for Zona T, where the evening stretches long into the night at bar/clubs such as La Villa and Armando Records.

8. Take a street art tour
Bringing color to a city packed full of impressive but undeniably grey colonial architecture, Bogotá's street art scene tells the city's more recent history through a series of vibrant murals. Join up with the Bogotá Graffiti Tour and your expert guides will walk and talk you through the most important art in the city, taking you through the streets of La Candelaria and deep into the city's urban art scene. Reserve a tour here.
9. See the city from above
For the best views and photo opportunities of Bogotá, head up Cerro de Monserrate, an Andean bluff to the east of the city. The white church that stands proudly atop this mountain is a mecca for pilgrims drawn to its altar statue of the Fallen Christ, to whom many miracles have been credited. For the non-religious, the panoramic views of the city 10,000 feet below are as strong a lure. A funicular railway and cable car will carry you up, though it's also possible to walk up via a route that starts beside the base station. If you have any breath left after walking to the top, the views will take it away.
If you go
United Airlines flies directly to this city. Visit united.com or use the United app to plan your next South America adventure.