A witness to history: Looking back at the 50th anniversary of the Stonewall Uprising in NYC
By: John Newton
This story was originally published on AFAR | May 30, 2019
Across New York City, various institutions are commemorating the June anniversary of the Stonewall Riots with a slew of captivating events. Here's where to observe the city's LGBTQ history throughout the month.
This June, New York City looks back on the Stonewall Uprising in 1969 — a pivotal moment in LGBTQ history both in New York and around the world. Exactly 50 years following the riots, which gave birth to the first-ever Pride March held during 1970 in New York City's Greenwich Village (and inspired other ongoing Pride observances around the world), the city also becomes the first in the United States to host WorldPride. This month-long celebration brings a packed schedule of special LGBTQ-themed events to one host city every few years.
Beyond attending the free Stonewall 50 Commemoration Rally on June 28 (held from 6 to 9 p.m. on Christopher Street and Waverly Place), celebrating at the NYC Pride March on June 30 (starting on 26th Street and Fifth Avenue at 12 p.m.), and checking out the WorldPride Mural Project (which brings colorful street art honoring the LBGTQ community to locations across all five boroughs this month), here's where to mark the 50th anniversary of Stonewall in New York City throughout June.
Observe LGBTQ history through an up-close lens
When the Stonewall Uprising began in New York City's Greenwich Village on June 28, 1969, photographer Fred W. McDarrah had a front-row seat on history and, fortunately for the historical record, he had a camera in hand.
As the first staff photographer of the Village Voice beginning in the 1950s, McDarrah chronicled life in New York City during one of its most vibrant cultural and political periods, from the rise of the Beatniks in the '50s to the formation of ACT UP, an advocacy organization founded in the '80s in response to the AIDS crisis. (McDarrah contributed to the alt-weekly until his passing in 2007.) McDarrah was not a member of the LGBTQ community himself, but 50 years ago on that fateful June night, he was truly in the right place at the right time, when just a few doors down from the Village Voice's office in Greenwich Village, a riot broke out at the Stonewall Inn, a local LGBTQ bar, following a police raid. Over the following week, daily protests for equal rights marked a radical turn in the liberation movement for gay, lesbian, bisexual, transgender, and queer people. Since then, McDarrah's photographs have become iconic images for what is often viewed as the symbolic birth of the contemporary fight for LGBTQ rights.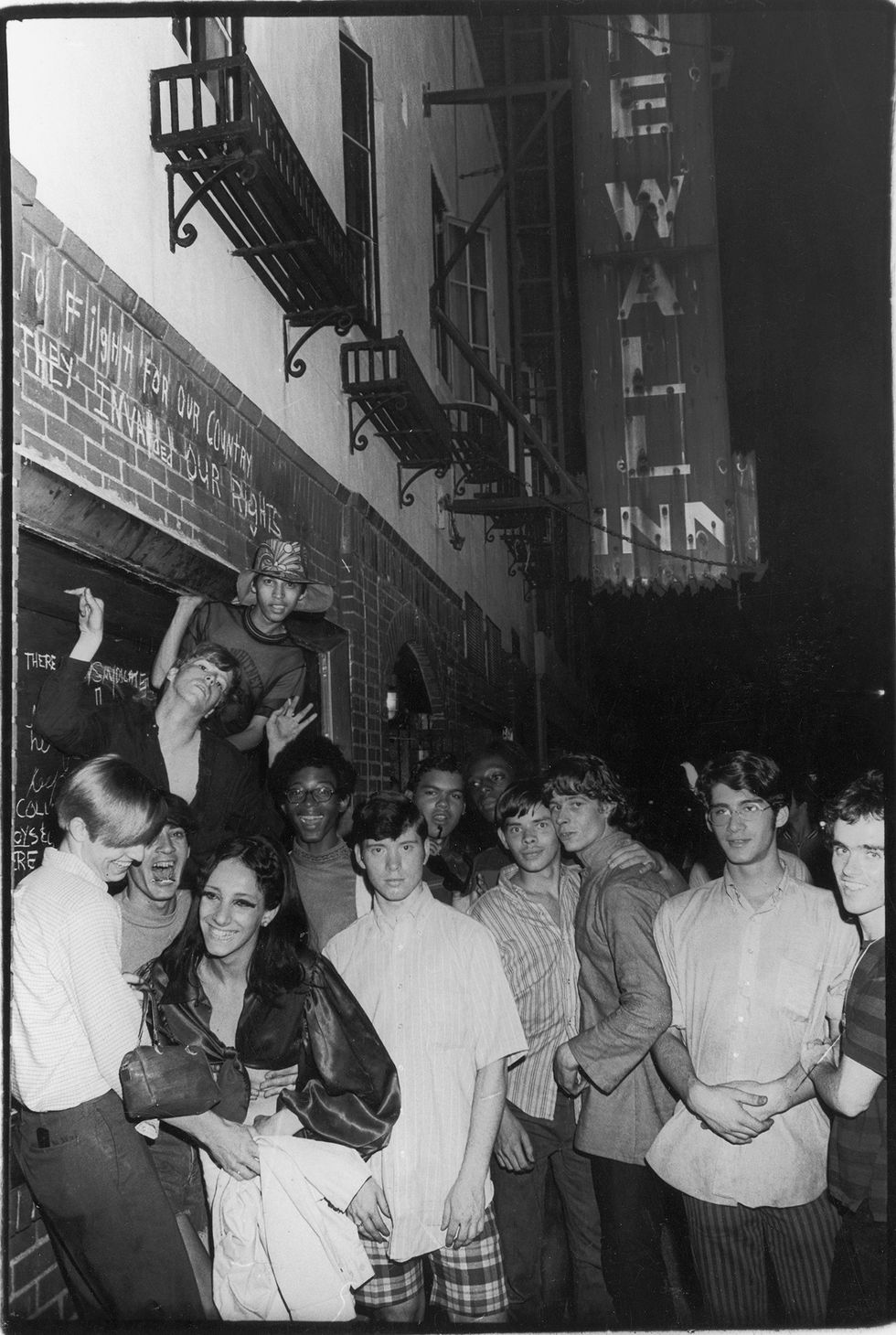 Young people gather outside the Stonewall Inn on the night of the riots, June 28, 1969. | Courtesy Fred W. McDarrah Archive/MUUS Asset Management Co LLC
For the Stonewall Riots anniversary, the Museum of the City of New York has gathered some 40 images by McDarrah — some of the uprising itself and others from 25 years of NYC Pride marches that followed — and presents them in the exhibit PRIDE: Photographs of Stonewall and Beyond, open June 6 through December 31. (It accompanies a larger exhibit, The Voice of the Village, which includes more than 100 photographs by McDarrah taken over the course of his career with a particular focus on civil rights and anti–Vietnam War demonstrations in New York City from the '60s through the '70s.)
While the Stonewall Uprising was an expression of defiant resistance, for exhibit curator Sarah Seidman, it is the full range of emotions that McDarrah captured in his subjects that makes his photographs so powerful. "His Pride parade images show people marching with signs, but also the exuberance and celebratory nature of the events," Seidman says. "He captured both the political agenda as well as the celebration of identity and community."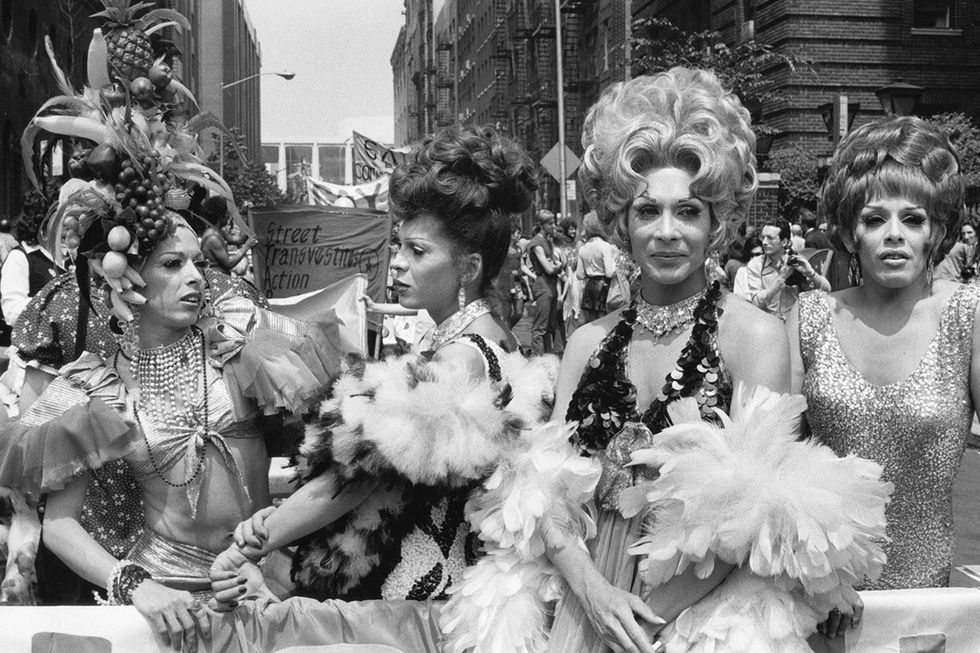 STAR (Street Transvestite Action Revolutionaries) march during the fourth annual Christopher Street Liberation Day March (also known as the NYC Pride March) on June 24, 1973. | Courtesy Fred W. McDarrah Archive/MUUS Asset Management Co LLC
More must-see Stonewall 50 art exhibits in New York City
After seeing PRIDE: Photographs of Stonewall and Beyond, dive deeper into New York's LGBTQ history at these various exhibitions across the city.
Open through July 13 in the main branch of the New York Public Library at Bryant Park, a free exhibition titled Love & Resistance: Stonewall 50 features the work of leading photojournalists from the gay liberation movement (including Kay Tobin Lahusen, the first out lesbian photojournalist) alongside posters, pamphlets, and other materials from the library's archives.
Look Back/Move Forward is New York University's contribution to the celebration: a crowded calendar of movie screenings, speakers, and exhibits that reflect on Stonewall as a turning point for the LGBTQ movement. Notable among the lineup is Art after Stonewall, 1969-1989, an extensive exhibition on view in two parts (one section at NYU's Grey Art Gallery through July 20, the other at the Leslie-Lohman Museum of Gay and Lesbian Art through July 21).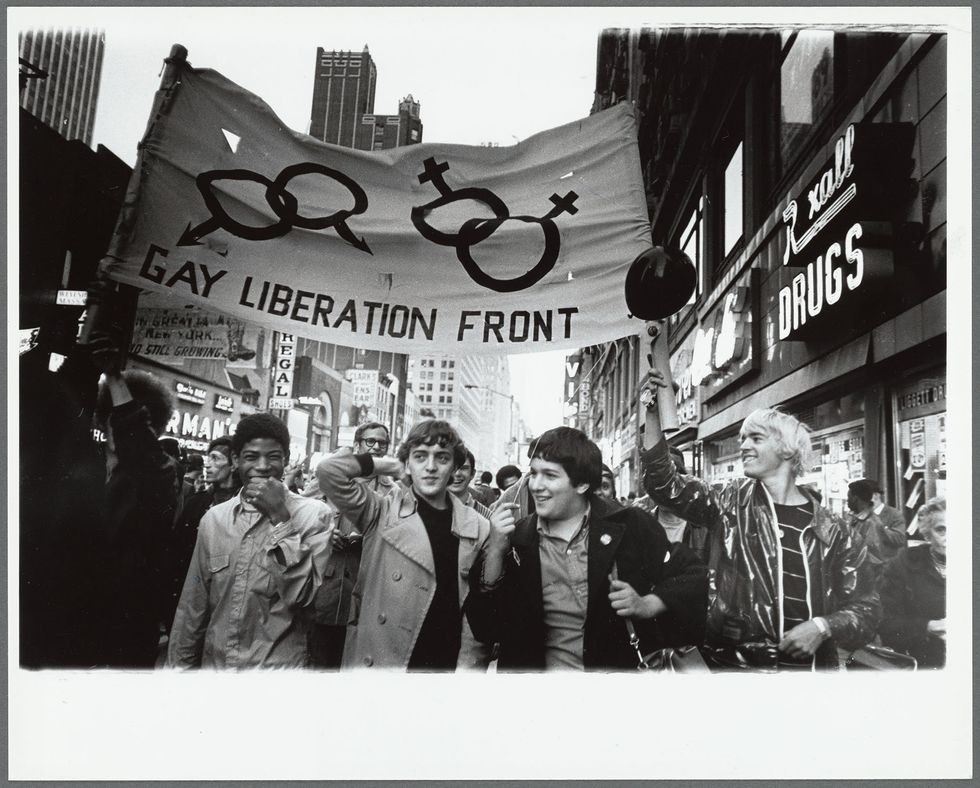 Protestors march at a 1970 NYC Pride Rally. (Image by Diana Davies, one of the leading photojournalists who documented the LGBTQ liberation movement during the '60s and '70s.) | Courtesy of New York Public Library, Manuscripts and Archives Division
From June 5 to 29, the Soho Photo Gallery in downtown Manhattan will host Photography After Stonewall, highlighting the work of 23 living LGBTQ artists whose images demonstrate how the Stonewall Uprising, according to exhibit's curators, "made possible a type of imagery that earlier generations had to suppress." Also throughout the month of June, The James New York—NoMad, near Madison Square Park, will display a Stonewall art exhibit in its lobby. The ICONSshowcase will spotlight unique printed posters featuring "faces and places" of significance in New York City's LGBTQ history, as well as recommendations for spots to visit across the city that are connected to the themes in each poster.
The New-York Historical Society recently opened two Stonewall 50 exhibitions: one on LGBTQ nightlife before and after Stonewall and another highlighting the contributions of lesbians and queer women to the LGBTQ movement. The display, open through September 22, includes a special installation that looks at NYC Pride marches from the 1960s to the present day.
Until December 8 at the Brooklyn Museum, an exhibition titled Nobody Promised You Tomorrow: Art 50 Years After Stonewall presents the works of 28 LGBTQ artists born after 1969; the show draws its title from the words of a prominent figure of the 1969 uprising, transgender artist and activist Marsha P. Johnson.
A walk through LGBTQ history in the West Village
Many sites that were central to LGBTQ life in New York City in 1969 no longer stand, and in the decades since then the community has become more dispersed. Restaurants and bars catering to the LGBTQ community can be found especially in Chelsea, Hell's Kitchen, and neighborhoods in Brooklyn, including Park Slope and Williamsburg. Still, the West Village is where the LGBTQ movement as we know it today began. Here are three of its historic highlights.
Stonewall Inn
The Stonewall Inn is a remarkable survivor. Drinking a beer or waiting your turn at the pool table, you might not realize you are visiting a historic site: the country's first National Monument dedicated to the LGBTQ-rights movement. (That is, unless you happen to visit on a day when it is hosting a political event or rally, which does happen with some frequency.) Near the entrance, an original, framed police poster declaring that "This is a Raided Premises" is a reminder of the summer evening in 1969 that would change the course of LGBTQ history around the world. The Christopher Street establishment is open daily from 12 p.m. to 4 a.m.
Christopher Street
While other streets in Manhattan had periods as the centers of an underground gay life, after Stonewall, Christopher Street became famous nationally as the heart of the city's gay and lesbian community. Even as the LGBTQ community has become more spread out across New York City over the years, gay-owned bars and restaurants such as Ty's NYC and Pieces still line this street west of Sixth Avenue — and they are busy almost every evening. A new guided walking tour with Urban Adventures focuses on LGBTQ history in Greenwich Village and includes stops at many significant Christopher Street landmarks and establishments during the three-hour trip. From $79 per person (ages 21 and older)
The Center
The Center — or, more formally, the Lesbian, Gay, Bisexual, and Transgender Community Center — was established in 1984 and truly lives up to its name: Some 400 different events take place at this building on 13th Street each week, including readings, talks, and political meetings. Even if you aren't attending an event, you may want to make your way to the second-floor men's room, which is covered in murals by Keith Haring; they were completed in 1989, shortly before the artist's death. It's an exuberant, and graphic, celebration of gay male sexuality (a far cry from some of the tamer images associated with the artist's Pop Shop).
In the midst of mobilizing our cargo operations, our teams at New York/Newark (EWR) and Jacksonville (JAX) stepped in to assist Roche Diagnostics with transporting a vital component for an instrument being used for COVID-19 testing.
The component was stuck at EWR en route to the Mayo Clinic in Florida after another airline's flights were cancelled. A Roche employee contacted us asking for help and, within a few hours, our teams had the piece loaded onto a Jacksonville-bound aircraft, with arrangements in place to deliver it to the Mayo Clinic.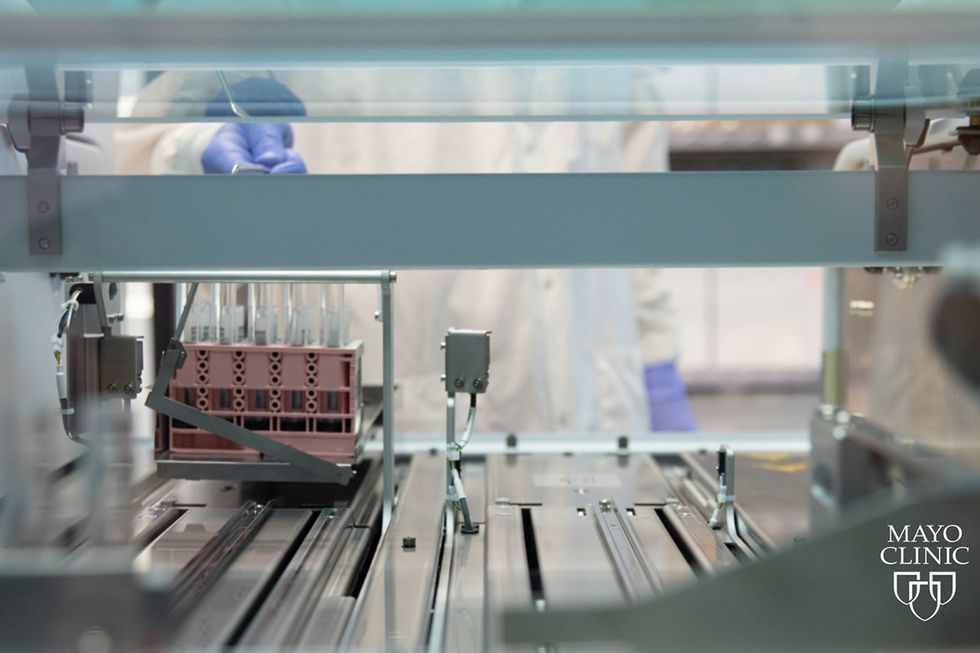 The item we shipped will allow the Mayo Clinic in Florida to process hundreds of COVID-19 tests per day. Mayo Clinic Laboratories has been on the front lines of increasing testing capacity to expedite caring for patients at this critical time and working to ease the burden being felt at test processing laboratories in a growing number of areas.

We are helping to keep military families connected by increasing the frequency of cargo
-only flights between the United States and military bases in
various parts of the world —
including Guam,
Kwajalein
,
and several countries in
Europe
.
Last week
we
began
operating
a minimum of 40 cargo-
only
flights
weekly —
using Boeing 777 and 787 aircraft to fly freight
and mail
to and from U.S. hubs and key international business
and military
locations.
We are going above and beyond to find creative ways to transport fresh food and produce, as well as basic essentials from the U.S. mainland to military and their families in Guam/Micronesia. On Saturday, March 28, we operated an exclusive cargo-only B777-300 charter to transport nearly 100,000 pounds of food essentials to Guam to support our troops.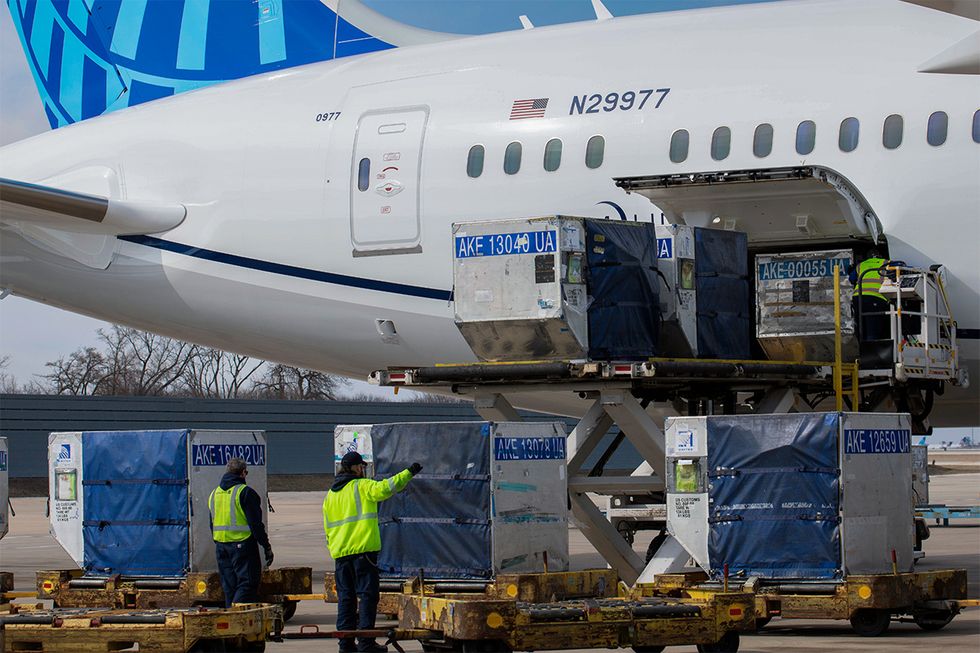 In addition, we move mail year-round all over the world. In response to COVID-19, and in support of the military members and their families overseas, we implemented a charter network, transporting military mail to Frankfurt, which is then transported all over Europe and the Middle East. Since March 20, we have flown 30,000+ pounds of military mail every day between Chicago O'Hare (ORD) and Frankfurt (FRA). On the return flight from Frankfurt to Chicago, we have carried an average of 35,000 pounds of mail to help families stay connected.

"Connecting products and mail to people around the world is the United Cargo mission," said United Cargo President Jan Krems. "Keeping our military families connected with the goods they need, and keeping them connected with loved ones to feel a sense of home, is of critical importance. As a company that has long supported our military families and veterans, our teams are proud to mobilize to lend a hand."
On average, we ship more than 1 billion pounds of cargo every year on behalf of domestic and international customers. For more information, visit unitedcargo.com.
To our customers,
I hope this note finds you and your loved ones healthy and well.
It is safe to say these past weeks have been among some of the most tumultuous and emotional that any of us can remember in our lifetimes. The impact of the coronavirus outbreak has been felt by individuals and families, companies and communities, across the United States and around the world.
The response to this crisis has been extraordinary; as much for what it has required from our society as for what it has revealed of us as a people.
Far from causing division and discord, this crisis and the social distancing it has required, has allowed us to witness something profound and moving about ourselves: our fond and deeply felt wish to be connected with one another.
The role of connector is one we're privileged to play in the moments that matter most in your life – weddings and graduations, birthdays and business trips, events large and small – and it's that responsibility that motivates us most to get back to our regular service, as soon as possible.
That is why it is so important our government acted on a comprehensive relief act to ensure our airline – and our industry – are ready and able to serve you again when this crisis abates.
I want to relay to you, in as deeply personal a way I can, the heartfelt appreciation of my 100,000 United team members and their families for this vital public assistance to keep America and United flying for you.
This support will save jobs in our business and many others. And it allows us time to make decisions about the future of our airline to ensure that we can offer you the service you deserve and have come to expect as our customers.
While consumer demand has fallen, we have seen the need for our service and capabilities shifted. And, we've adapted to help meet those needs.
Right now, aircraft flying the United livery and insignia, flown by our aviation professionals, have been repurposed to deliver vital medical supplies and goods to some of the places that need it most. We're also using several of our idle widebody aircraft to use as dedicated charter cargo flights, at least 40 times per week, to transfer freight to and from U.S. locations as well as to key international business locations. At the same time, we are working in concert with the U.S. State Department to bring stranded Americans who are trying to return home back to their loved ones.
While much remains uncertain right now, one thing is for sure: this crisis will pass. Our nation and communities will recover and United will return to service you, our customers. When that happens, we want you to fly United with even greater pride because of the actions we took on behalf of our customers, our employees and everyone we serve.
Stay safe and be well,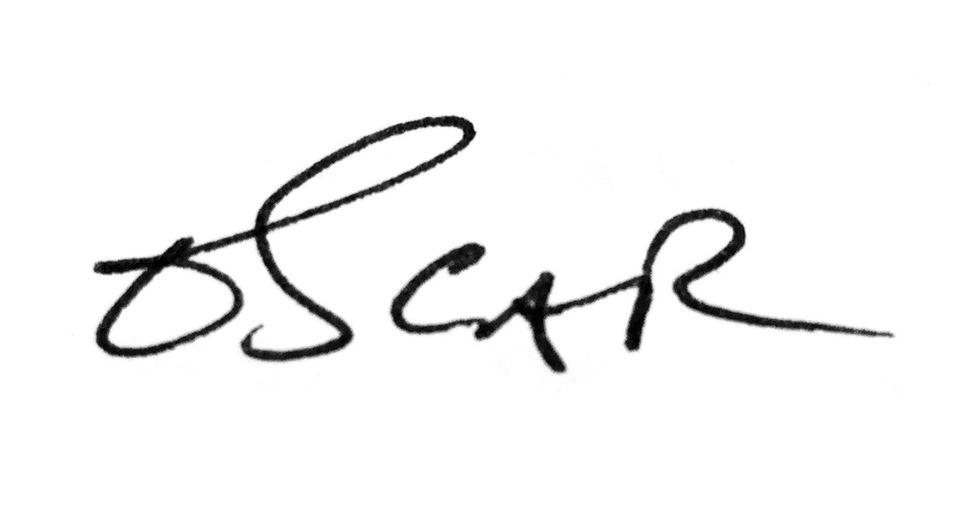 Oscar Munoz
CEO
Together, we are facing an unprecedented challenge. United Together, we rise to meet that challenge.
Check out our newest destinations
United Airlines
united
When
@RocheDia
needed to ship a vital component of a COVID-19 testing unit from New Jersey to Florida, United Cargo jumped in to help. Read about how this part will allow
@MayoClinic
to process hundreds of tests per day for cases in the Southeastern U.S.
uafly.co/2UzOAGW
United Airlines
united
International schedule update: We know some people around the globe are displaced and still need to get home. We are reinstating some international flights over the next few days and will continue to fly six daily international flights through May.
uafly.co/3a5Dj6p
United Airlines
united
We have extended our change fee waiver to cover travel through May 31, 2020: - You can change or cancel your flight on
united.com
or through the app – a phone call is not required - For the latest on our commitment to your safety, visit
united.com/coronavirus
United Airlines
united
Our site,
united.com/coronavirus
, is regularly updated with the latest on travel restrictions, rebooking instructions and health and safety information. Today's updates: - An expanded, more flexible international rebooking policy - Schedule changes for U.K. & Ireland
We Are United
weareunited
Shoutout to our operations team, who are working to properly park, maintain and store many aircraft in the
#BeingUnited
fleet. These aircraft are being housed across our seven hubs, maintenance facilities in CLE and MCO as well as at offsite facilities in New Mexico and Arizona.
We Are United
weareunited
Tomorrow, Oscar and Scott will host a companywide town hall to discuss the latest developments in managing the effects of the coronavirus (COVID-19). You can join the livestream event at 1:20 p.m. CT here:
uafly.co/39AV25m
We Are United
weareunited
Tomorrow, Oscar and Scott will host a companywide town hall to discuss the latest developments in managing the effects of the coronavirus (COVID-19). You can join the livestream event at 1:20 p.m. CT here:
uafly.co/39AV25m
.
Watch our most popular videos
Copyright © 2020 United Airlines, Inc.
All rights reserved.
Indicates an external site that may or may not meet accessibility guidelines.
Scroll to top
Scroll to top