Meet our first African American woman pilot
Retired First Officer Shirley Suber (formerly Tyus) never intended to be a symbol of progress. It's not like she purposely set out to become our first African American woman pilot. She just wanted to fly airplanes.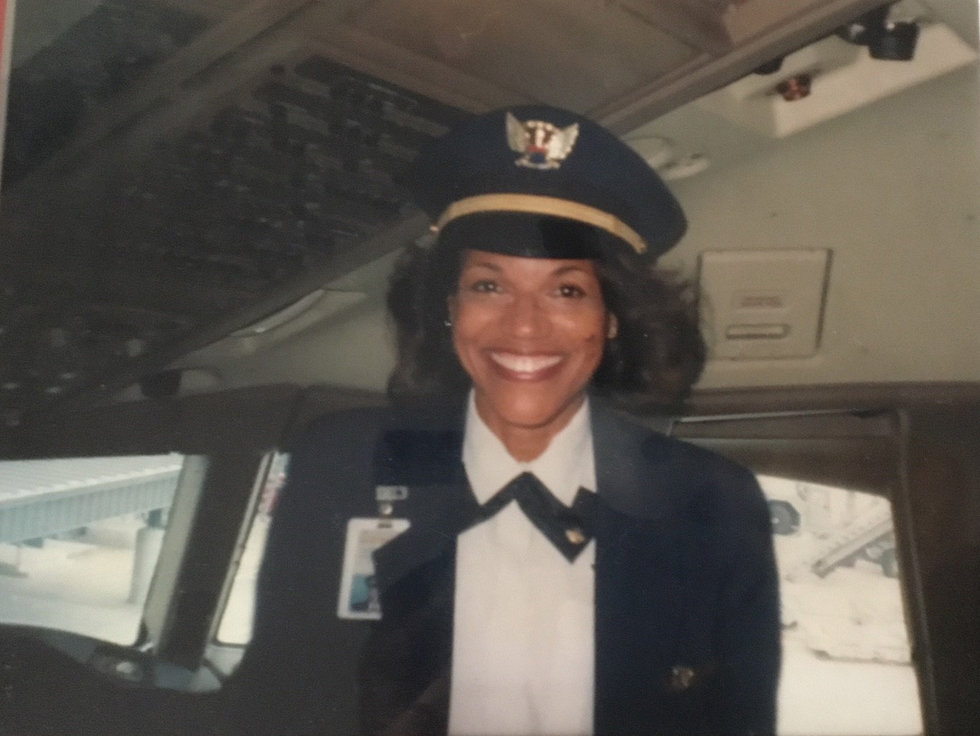 Nevertheless, Shirley was thrust into the spotlight the day she received her pilot's wings in 1987. Along with them came the unofficial title of cultural vanguard, a woman to whom other African American women could point and say, "If she can do it, so can I."
As you can imagine, getting there wasn't always easy. There were the instructors who didn't want to train her because of her race and her gender. There was scrutiny and there was criticism. But talk with Shirley, and you won't hear any complaints. "Why would I want to think about the bad things?" she'll ask, reminding you that her good memories far outweigh her bad ones. "At times, the pain was a bit much, but it was the best job in the world."
Her story began in Kansas City in 1971 during a trip to the airport to pick up a friend. In the terminal, she noticed a sign that said United was hiring flight attendants.
"I bounced into the inflight office and blurted out, 'I want to be a stewardess for the friendly skies!'" Shirley recalled with a smile. She was only kidding, but she took the hiring manager's business card anyway. Six months later, looking for a change, she gave him a call. That time she was serious. In 1972, she completed training and began working as a United flight attendant based at Washington-Dulles.
She loved the job from the start, but soon Shirley found herself spending more and more time in the front of the plane, asking the pilots questions. One day, a pilot asked her why, if she liked the flight deck so much, she didn't get her license.
It was the first time the idea had ever dawned on her, and in 1977, she gave it a shot. Shirley trained on her days off, and within a couple of years she had her commercial certification. Her heart was set on flying for United, but Shirley needed more flight hours if she wanted to be taken seriously. That's when she found her way to Wheeler Flying Service.
Founded in 1969 by Warren Wheeler, the cargo carrier was the first black-owned airline in the United States and a rich training ground for African American pilots. When she finished her last trip as a flight attendant each week, Shirley would drive from her home near Washington, D.C., to Raleigh, North Carolina, where Wheeler was based, and fly cargo runs. She did this for the next few years, balancing the side gig with her full-time job at United and motherhood, before finally getting the call for which she had waited so long.
Flying in the big leagues for us was everything that she had dreamt it would be. Even now, a decade after retiring, she holds onto the sense of awe that she felt piloting those big jets. And she still has a hard time believing that just by chasing that feeling, she became a role model for so many.
"When I look back on it, I sort of forget that I opened a door," said Shirley. "I wasn't trying to break any barriers or anything like that. For me, it was just the passion of flying. When you push that pedal and you feel the rumble of those engines, there's nothing like it."
Today, she spends her free time volunteering with the Ariolina Young Aviators in Durham, North Carolina, a program that provides education and training to low-income high school students who have their sights set on aviation careers. In her work with young people, Shirley draws from her own experiences to show them that no goal is ever beyond their reach.
"There's absolutely no doubt in my mind that anyone can do anything they want," she said. "It's just a matter of how much you want it. For me, quitting was never an option. I wanted to be a pilot, and I wanted it to be with United."