After Landing: Denver
After Landing is a travel guide series dedicated to bringing you insider tips and local recommendations on what to see and do in some of our favorite destinations.
Ranked third on the list of the best places to live in the U.S. behind Austin, Texas and the neighboring town of Colorado Springs, Denver is just as appealing to those who visit for a weekend. If you haven't visited The Mile High City before, our guide is chock full of insider tips and local recommendations compiled by a few of our employees who happen to be travel experts.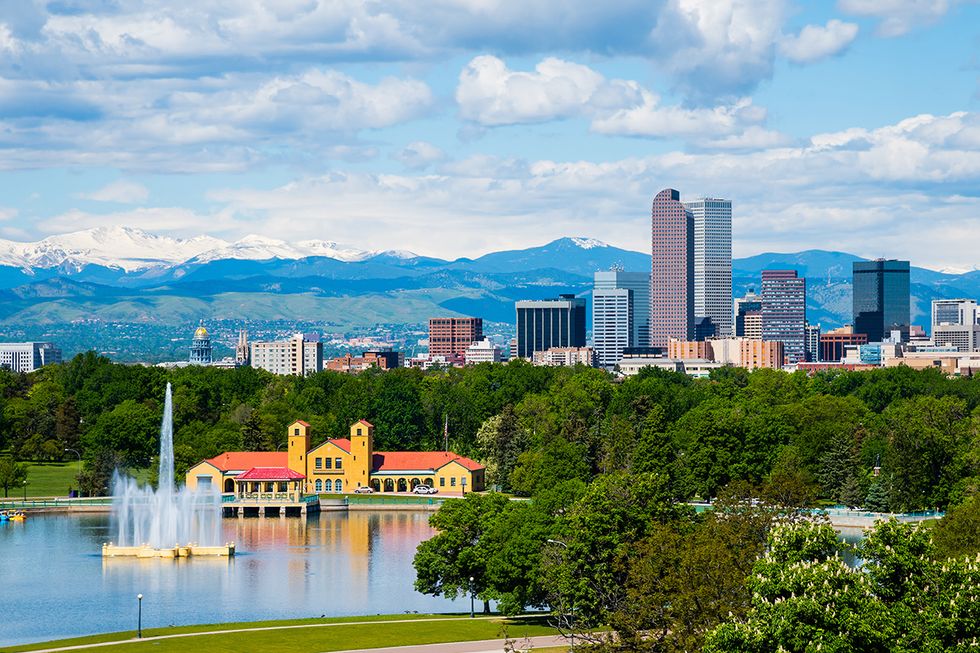 Get to know the Mile High City
The capital city and also the most populous city in Colorado, Denver dates back to the Old West era when it was founded as a mining town during the gold rush in the mid-1800s. As a jumping off point for many ski resorts located in the Rocky Mountains, Denver is a cultural hotspot that basks in more than 300 days of sunshine each year.
Your arrival
Denver International Airport is 27 miles northeast of the city. The A Line rail service will get you to downtown Denver in 37 minutes, costing $9 each way, whereas a taxi is likely to cost upwards of $50.
Where to stay
Excellent hotels are dotted across the city, but many of the best options can be found clustered around Cherry Creek, Glendale and LoDo — Denver's lower downtown area. Cherry Creek is an excellent choice if you're looking for upscale shopping options, while Glendale offers a more suburban feel with plenty of parks and walking trails. Most visitors will gravitate towards LoDo and for good reason. The vibrant neighborhood is filled with many of the city's best restaurants and bars. Wherever you opt for, Denver is a walkable city, so nothing is out of reach.
What to see and do
First-time visitors won't want to miss any of these amazing activities.
Early on, climb to the golden dome atop the Colorado State Capitol building to get your bearings and to take in some Insta-worthy views of the city.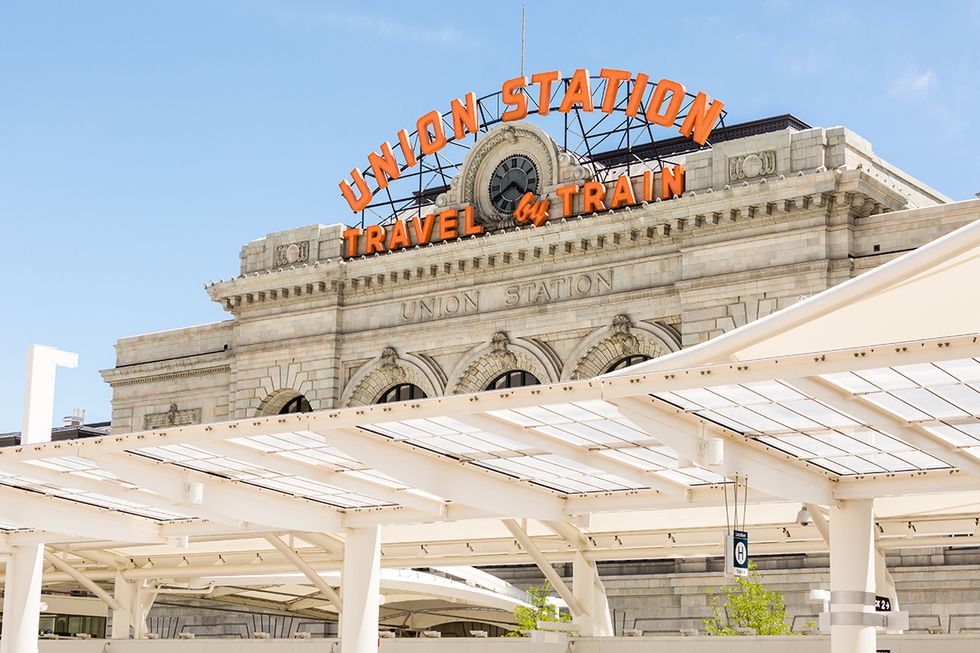 Next, explore the magnificent Union Station in the heart of LoDo. Built in 1881, the station was recently transformed from a tired, old train terminal into the hub of the city. In what the city loving calls "Denver's Living Room," you'll find an eclectic array of the city's best restaurants, bars and boutiques.
If you're a history buff, head to the Denver Art Museum, home to the world's most extensive collection of Native American art, as well as many works from European masters. The impressive Clyfford Still Museum is home to thousands of Clyfford Still's abstract expressionist works while the lower-profile History Colorado Center offers more interactive exhibits to keep younger visitors entertained.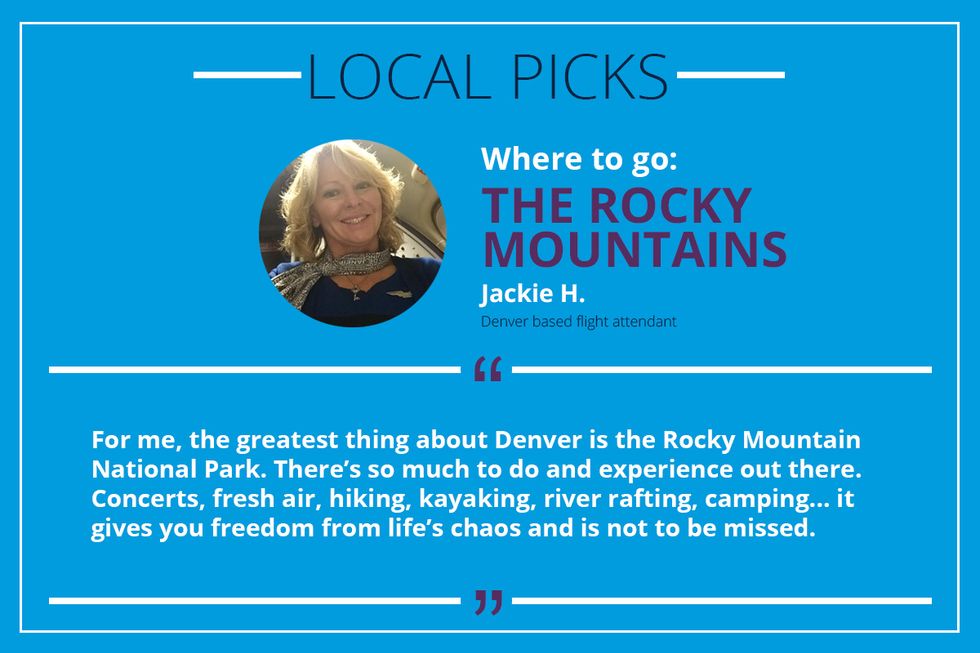 Explore historic Larimer Square and the pedestrian promenade at the 16th Street Mall for great shopping that will keep you entertained for hours. A free shuttle bus also runs the length of the mall if your legs get tired.
In a city of more than 200 parks, City Park is the standout. Its 330 acres are home to Denver Zoo and the Denver Museum of Nature & Science, plus numerous lakes, playgrounds, picnic sites and historical monuments.
With 85 miles of tracks that crisscross the city, the easiest way to explore Denver is by bicycle. Bcycle offers 700 bikes at more than 80 stations throughout the city, and if you only have time to explore one trail, make it Cherry Creek Trail, a 42-mile route from downtown to Franktown.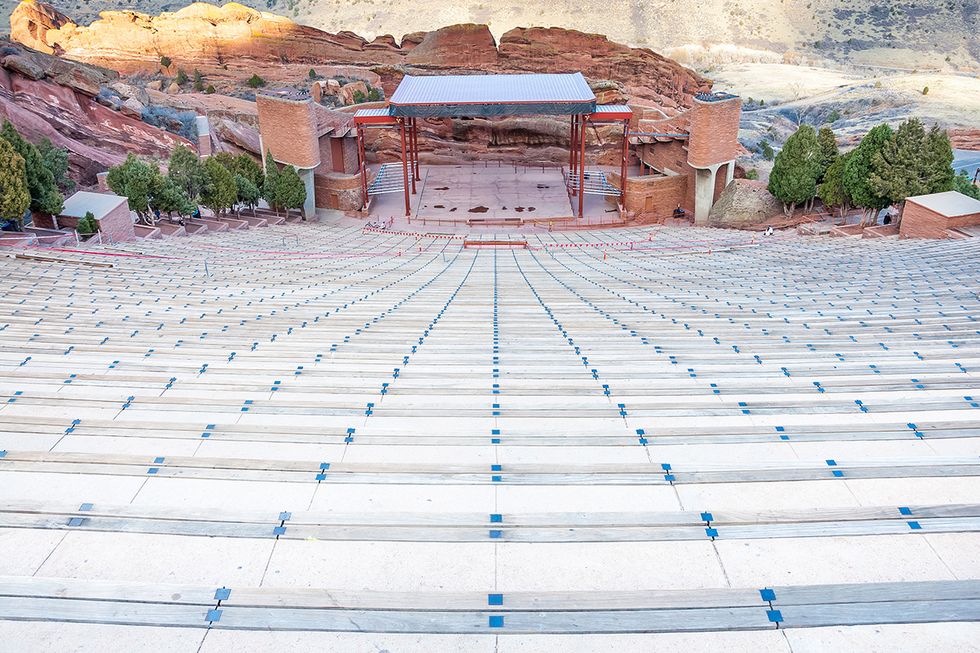 One of the city's most iconic structures stands 16 miles east of the city. Red Rocks Park & Amphitheatre is frequently named the best outdoor venue in America and has hosted everyone from The Beatles to U2. Even if there's no show when you visit, you can still take a tour for a stunning experience.
Finally, take time to embrace the great outdoors. "Head for the Rocky Mountain National Park, about 90 minutes northwest of the city," says Denver based flight attendant Jackie H. "Concerts, fresh air, kayaking, river rafting, camping…the Rockies give you freedom from life's chaos, whatever time of year you visit."
Where to eat and drink
Once renowned for its Rocky Mountain oysters andomelets, Denver's cuisine now reflects the cultural melting pot the city has become. You can eat well on any budget in all quarters of the city, but these spots are within easy reach of LoDo.
For breakfast, Snooze, Prosperoats and Lucile's Creole Cafe are just three of many excellent options, but Jelly in Capitol Hill is a must. "It has, no kidding, the best jelly in the world," says San Francisco base supervisor Miriam S. "It helps that the bread you spread it on is so fresh and delicious, but hands down, this is the best breakfast spot in Denver."
For lunch, Linger, Rosenberg's Bagels & Delicatessen and il porcellino salumi all deserve to be mentioned, but you should definitely make time to visit Biker Jim's Gourmet Dogs, particularly if you've never tasted rattlesnake and pheasant in a hot dog before. The pairing is not for the faint of heart.
Denver has too many excellent restaurant options for dinner to include in one paragraph. Acorn offers eclectic American, Osteria Marco dishes out high-end Italian and Guard & Grace offers a modern take on a steakhouse, but that only scratches the surface. As a general rule, aim to eat around the areas of Union Station, Highland and Five Points and you should leave happy.
Additionally, Denver brews more beer than any other U.S. city and boasts more than 40 brewpubs and microbreweries in the downtown area alone. Wynkoop Brewing Company offers some of the city's most inventive brews, although the Rocky Mountain Oyster Stout made with roasted bull testicles may not be for everyone. A visit to My Brother's Bar, the oldest bar in Denver, is an absolute must, and if you want to extend the night, Skylark Lounge and Hi-Dive are two live music venues off the beaten path.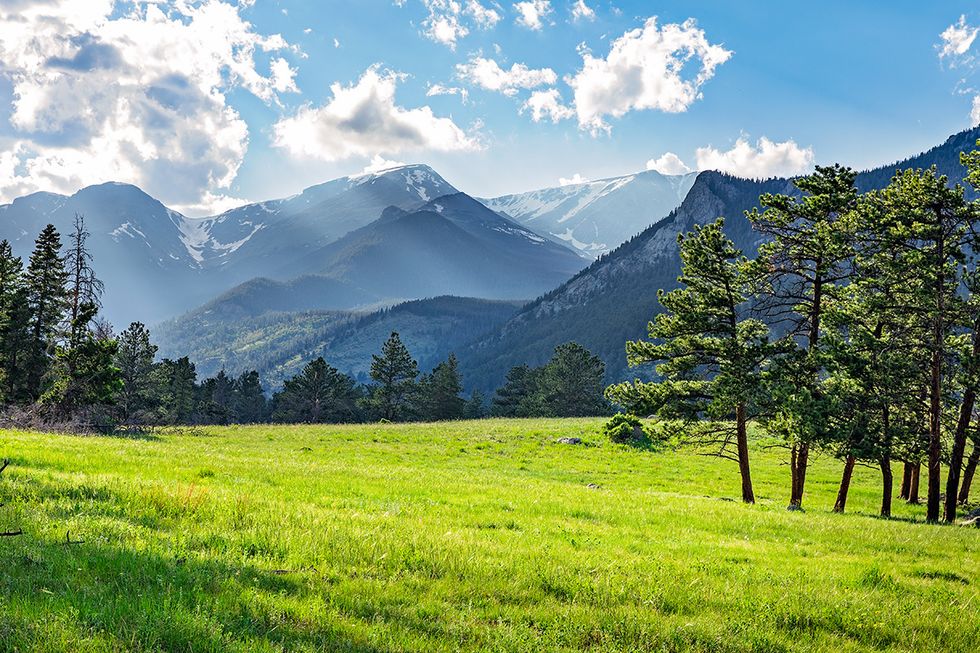 The great outdoors
Make time to explore beyond the city limits and you'll soon find that Denver has some of the greatest scenery on earth. Rocky Mountain National Park is 71 miles northwest of the city and covers 415 square miles, packing in more hiking trails, lakes, waterfalls and majesty than you'll have time for in a single visit. Mount Evans is equally awe-inspiring, and is 60 miles from downtown Denver. The Mount Evans Scenic Byway is the highest paved road in North America, winding its way 14,264 feet up to the magnificent summit.
Best time to visit
With more than 300 days of sunshine each year, there's no bad time to visit Denver. However, be aware that the peak tourist season runs between June and August when temperatures and hotel rates are higher. The two shouldering seasons of April-May and September-October are a better option — the weather is still warm and the tourist numbers and hotel rates are generally much lower.
Getting there
United Airlines offers flights to Denver from many cities throughout the U.S. For more information and to book your journey to The Mile High City, go to united.com or download our convenient United app. And while you're there, share your adventures on social media with the hashtag #UnitedJourney.
Discover more in the After Landing series:
We know people are taking a second look at their travel plans right now. If you're scheduled to travel March 10 – May 31, 2020 and would like to change your plans, there is no fee to do so, regardless of when you purchased your ticket or where you're traveling. This is in addition to our previous waiver, which waives all change fees – domestic and international – for tickets purchased March 3 – April 30, 2020. This is available for any of United's published nonrefundable fares. If you decide to cancel your flight, you can retain the value of your ticket to be applied to a new ticket without a fee. These electronic travel certificates are now valid for 24 months from the date they were issued. This includes all currently valid electronic certificates and all new ones issued on or after April 1, 2020. You might not see this policy change reflected everywhere right away – we appreciate your patience as we work to make that happen.
Eligible travelers on domestic flights and international tickets can request a refund on united.com or may call our contact centers if their flights have been severely adjusted or service to their destination suspended either due to government mandates or United schedule reductions related to COVID-19.
Certain tickets cannot be changed on united.com or the mobile app, including tickets booked through another airline (if the ticket receipt does not begin with 016). Please contact the original ticketing airline for changes.
Follow the steps below to stay up to date, change or cancel your flight.

Change your current flight:
On the united.com homepage, select "My Trips" and enter your flight information to retrieve your flight.
Select "Change flight" and then "Edit" to make the following changes:

Date of travel or destination
Add a flight
Remove a flight

Select "Continue" and choose a new flight option
Continue through booking to confirm your new flight
Note: The change fee will display as waived, but any difference in fare may apply.
Cancel your flight and rebook later:
On the united.com homepage, select "My Trips" and enter your reservation information to retrieve your flight
Select "Cancel flight"
Confirm flight cancellation
If you have future flight credit, when you return to the reservation, select "Use Future Flight Credit" to shop for new flights and apply the credit towards a new flight.
Canceling or changing an award flight:
When you select "Cancel flight," you will have the option to cancel your award reservation and redeposit the miles or to cancel your award reservation and use those miles for another trip in the future.
*We're currently experiencing heavy traffic to united.com. If you experience an error while trying to change or cancel your flight, please try again later.
Click through the slideshow below for more detailed instructions:
​Start on the United homepage: ​
User can select 'My Trips' on the homepage widget to find and retrieve their reservation.
When and where possible, we are working to repatriate travelers who are stranded abroad in the wake of the COVID-19 crisis. Our teams are working closely with government officials here in the U.S. as well as in other countries where flying has been restricted to gain the necessary approvals to operate service. In regions where government actions have barred international flying, we have coordinated with the the U.S. State Department and local government officials to re-instate some flights. Additionally, we have been operating several extra flights to countries in Central America and South America as we continue to play a role in connecting people and uniting the world.
We have operated more than 68 repatriation flights from Panama City, Guatemala City, Quito, Lima, San Pedro Sula, Tegucigalpa and Roatan, bringing nearly 9,200 people home. We will continue working with government officials to operate extra flights to Houston from Quito, San Pedro Sula, Tegucigalpa and from Lima to Washington Dulles and beginning April 5, we will begin operating multiple charter flights between Delhi and San Francisco. We continue to review more opportunities for flights between the United States and other countries to bring citizens home.
Video provided by the U.S. Embassy Ecuador of Americans returning home on United.

Additionally, our Customer Solutions and Recovery team is working with customers in the following markets to rebook them on flights back to the United States as capacity allows, either on our aircraft or on one of our airline partners' planes:

Quito, Ecuador
Managua, Nicaragua
Roatan, Honduras
San Pedro Sula, Honduras
Amsterdam
Brussels
Munich
Singapore
Tokyo-Haneda
Seoul, South Korea
Melbourne, Australia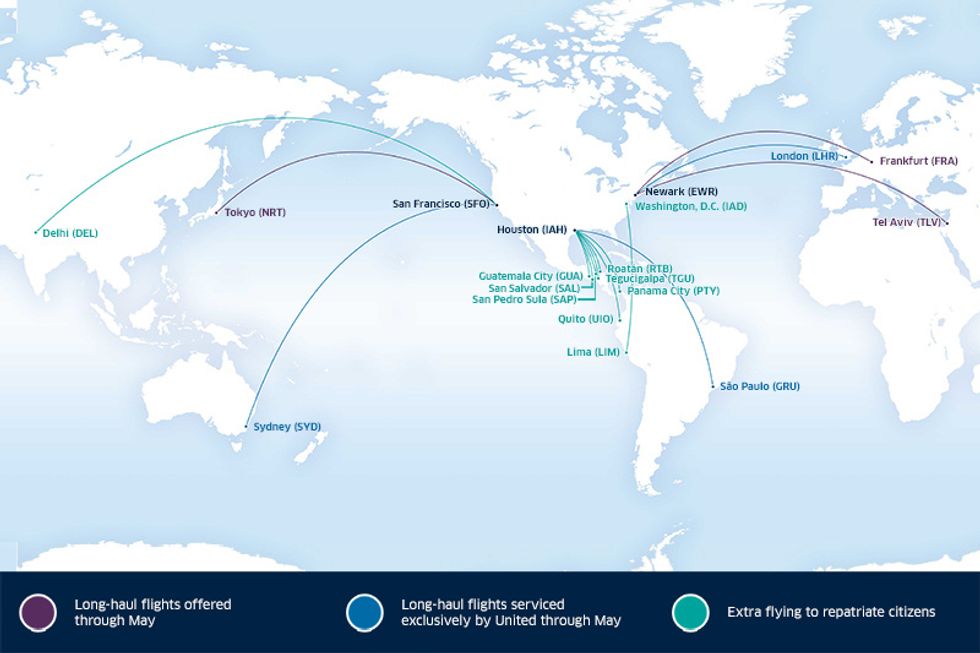 We also recently reinstated several international flights back into our schedule to support customers and essential businesses which depend on these routes. As a result, we will be the only airline to offer service between Newark/New York and London, San Francisco and Sydney, as well as Houston and São Paulo, Brazil.

Calling all AvGeeks and travelers! Here's a fun way to take your next video call….from a United Polaris® seat, the cockpit or cruising altitude. We're introducing United-themed backgrounds for use on Zoom, a video conferencing tool that many people are using to stay connected.
So for your next meeting or catch up with friends and family, download the app to either your computer or mobile device to get started. If you've already downloaded Zoom you can skip ahead to updating your background image (see instructions below).
Start here by downloading your favorite United image to your computer or mobile device. Just click "download" in the bottom left corner of the image.
Next go to your Zoom app (you'll need to download the app to access backgrounds) and click on the arrow to the right of your video camera icon in the bottom of the screen.
From here select, "choose virtual background" to upload your uniquely United photo.
Together, we are facing an unprecedented challenge. United Together, we rise to meet that challenge.
Check out our newest destinations
United Airlines
united
We continue to work with government officials to bring Americans home. In addition to flights from Central & South America, we have charter flights planned from India. Learn more about our repatriation efforts in the wake of COVID-19 here:
uafly.co/3aExaOL
#UnitedTogether
United Airlines
united
When
@RocheDia
needed to ship a vital component of a COVID-19 testing unit from New Jersey to Florida, United Cargo jumped in to help. Read about how this part will allow
@MayoClinic
to process hundreds of tests per day for cases in the Southeastern U.S.
uafly.co/2UzOAGW
United Airlines
united
International schedule update: We know some people around the globe are displaced and still need to get home. We are reinstating some international flights over the next few days and will continue to fly six daily international flights through May.
uafly.co/3a5Dj6p
United Airlines
united
We have extended our change fee waiver to cover travel through May 31, 2020: - You can change or cancel your flight on
united.com
or through the app – a phone call is not required - For the latest on our commitment to your safety, visit
united.com/coronavirus
We Are United
weareunited
Shoutout to our operations team, who are working to properly park, maintain and store many aircraft in the
#BeingUnited
fleet. These aircraft are being housed across our seven hubs, maintenance facilities in CLE and MCO as well as at offsite facilities in New Mexico and Arizona.
We Are United
weareunited
Tomorrow, Oscar and Scott will host a companywide town hall to discuss the latest developments in managing the effects of the coronavirus (COVID-19). You can join the livestream event at 1:20 p.m. CT here:
uafly.co/39AV25m
We Are United
weareunited
Tomorrow, Oscar and Scott will host a companywide town hall to discuss the latest developments in managing the effects of the coronavirus (COVID-19). You can join the livestream event at 1:20 p.m. CT here:
uafly.co/39AV25m
.
Watch our most popular videos
Copyright © 2020 United Airlines, Inc.
All rights reserved.
Indicates an external site that may or may not meet accessibility guidelines.
Scroll to top
Scroll to top