After Landing: San Francisco
After Landing is a travel guide series dedicated to bringing you insider tips and local recommendations on what to see and do in some of our favorite cities. Check back often for new destinations.
If you've visited San Francisco already, you'll know of its charms. If you haven't, then you absolutely should. To help you plan your trip, we've tapped into a few of our employees, aka the travel experts, to share insider tips and local recommendations on some of our favorite cities. First up, the City by the Bay.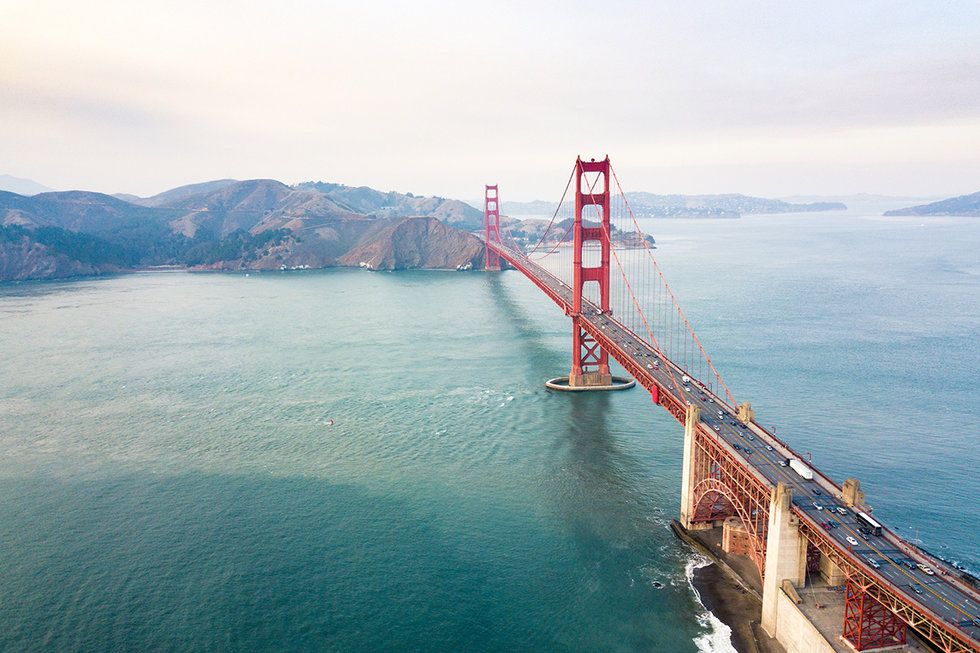 Get to know the City by the Bay
Founded by seafaring Spaniards in the 18th century, the City by the Bay has lured settlers and visitors to its hills for centuries since. With a heady combination of the Californian climate, world-class cuisine and a carefree, cutting edge culture, it's very easy to see why.
Your arrival
Heavy traffic and high taxi prices mean the quickest, easiest and cheapest way to cover the 13 miles from San Francisco International Airport to downtown is to take the Bay Area Rapid Transit (BART), a direct subway/monorail that leaves every 15 minutes and is about a 30-minute trip.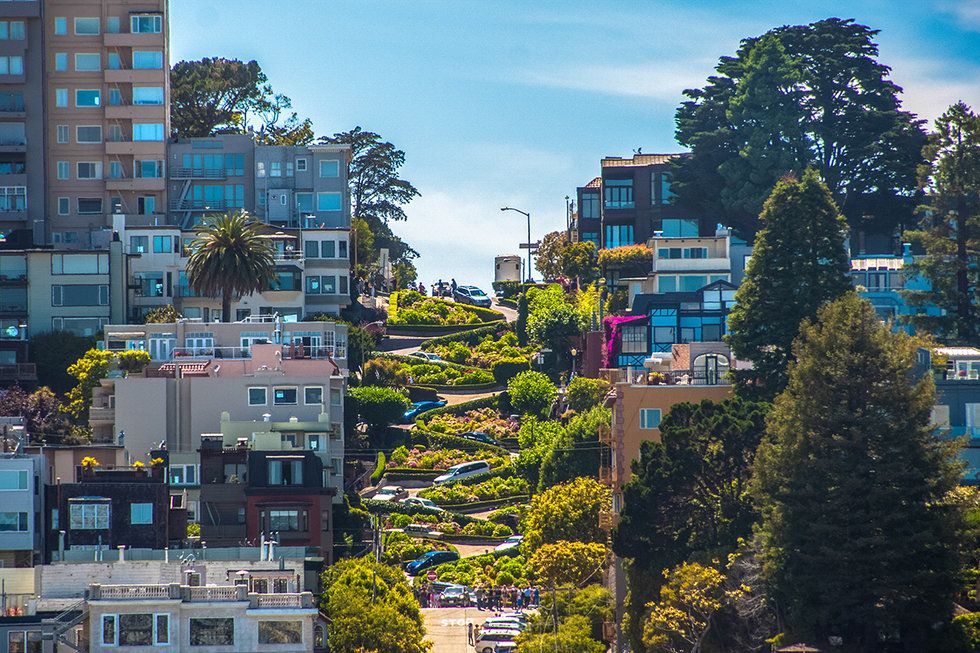 Where to stay
While great quality and good value hotels are dotted all across the city, the greatest concentration can be found in three main locations: around the tourist mecca of Fisherman's Wharf, on all sides of the city's main shopping district of Union Square, and along the stretch of Lombard Street just north of Cow Hollow, heading west towards Presidio and the Golden Gate Bridge. All three have their merits, being close to many of the city's most popular attractions.
However, two other good neighborhoods worth considering are in and around SoMa (South of Market) and Mission. Both combine excellent hotels with many of the city's best restaurants and bars, all within easy strolling distance.
What to see & do

The following recommendations merely scratch the surface of what San Francisco has to offer, but they should definitely be on the itinerary of any first-time visitor.
The best way to cover ground in this hilly city, cable cars have been a feature since 1873 and were awarded national historic landmark status in 1964. They run on three lines, through many of the city's most popular neighborhoods: North Beach, Fisherman's Wharf, Union Square, Nob Hill, Chinatown and Embarcadero. Before you get on, however, remember to buy a ticket.
"The most famous landmarks and attractions are all worth adding to your must-see list," says Christine U., Customer Service Lead. "The sea lions at Pier 39, Fisherman's Wharf, the wonderfully winding Lombard Street, Chinatown… They're popular for a good reason."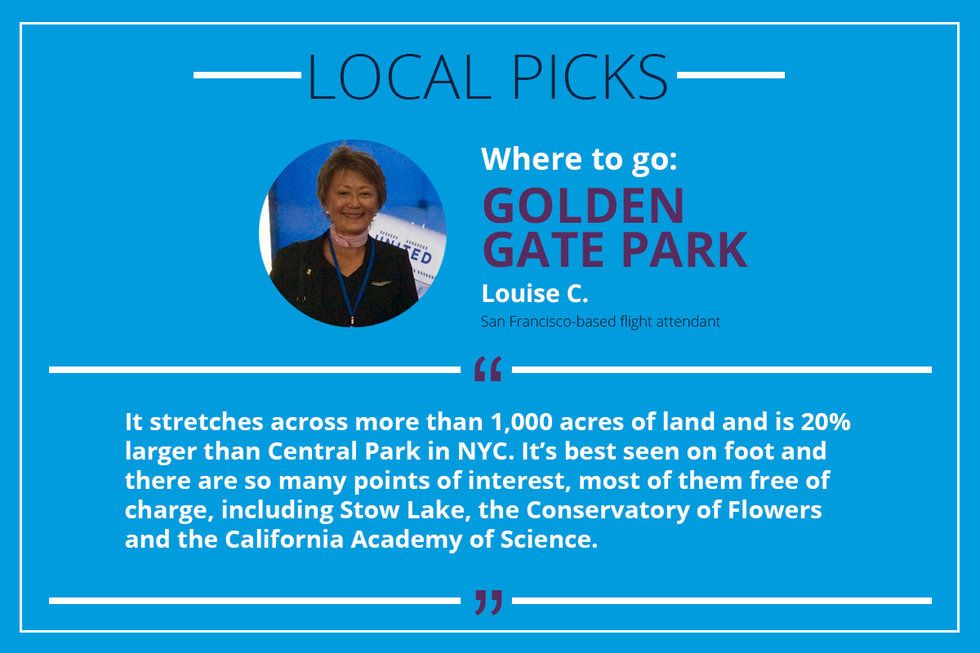 North Beach is another must-visit. Misleadingly, there's no beach there, but the Italian quarter is packed full of cafés, restaurants and hip stores. It's also close to Coit Tower, high on Telegraph Hill, which offers amazing Instagram-worthy views of the city, the bridges and the Bay.
"Golden Gate Park is a must-see," says San Francisco based flight attendant Louise C. "It stretches across more than 1,000 acres of land and is 20% larger than Central Park in NYC. It's best seen on foot and there are so many points of interest, most of them free of charge, including Stow Lake, the Conservatory of Flowers, and the California Academy of Science." Access the park through Haight-Ashbury, the birthplace of America's counter-culture.
The aforementioned California Academy of Sciences is well worth visiting, especially for families. It houses an aquarium, a planetarium, a natural history museum and four-story rainforest, all under one roof. If you need more, look no further than the San Francisco Museum of Modern Art, the de Young Museum, the Asian Art Museum and the Legion of Honor.
If you're after couture more than culture, make your way to Union Square, a mecca for serious shoppers. Major department stores and designer boutiques await, including the largest Bloomingdale's outside of New York City.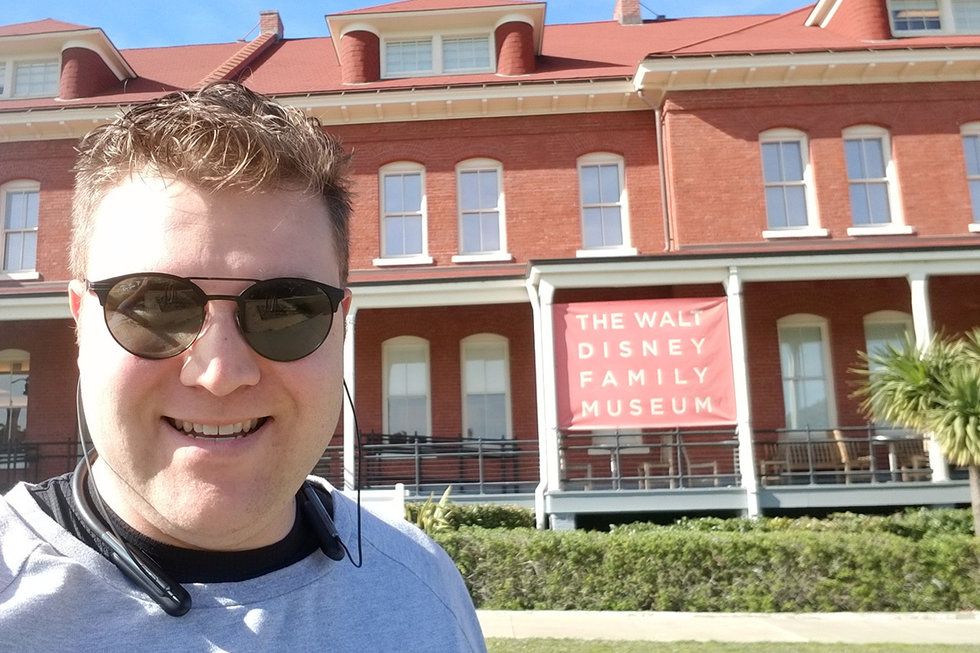 SF based flight attendant, Sean R., pictured in front of the Walt Disney Family Museum | Photo credit: Sean R.
"A personal favorite that I accidentally discovered is the Walt Disney Family Museum in Presidio," says San Francisco based flight attendant, Sean R. "It houses many of the Disney family's heirlooms, many of them interactive and created by Disney Imagineers. It's an amazing and unmissable place."
Cycling to Sausalito across the Golden Gate Bridge is another must-do experience. The Bridge stretches 1.7 miles across the Golden Gate and gives you amazing views across the bay, from Alcatraz to the city. You'll get to explore Sausalito for a while before either cycling back or jumping on a boat back to the San Francisco Ferry Building. Another must just across the Golden Gate Bridge is the Muir Woods National Monument. "The magnitude of the Redwoods is breathtaking. A lovely day trip to escape the city, cross the Golden Gate Bridge and enjoy the peace that comes with a few hours of no cell phone service," says Newark based flight attendant, Luke B.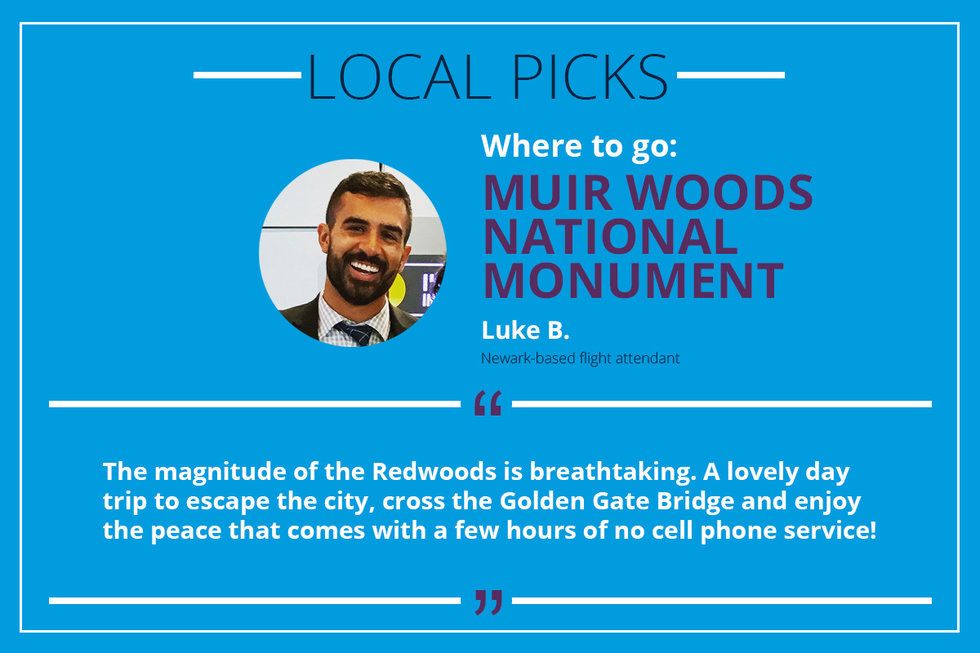 Finally, no visit to San Francisco can be complete without visiting the Rock: Alcatraz. Once home to some of America's most notorious criminals, the prison closed in the 1960s but is now open for cellhouse tours. Take an Alcatraz Cruises boat from Pier 33, but be sure to book ahead.
Where to eat & drink
In a city renowned for its gastronomic inventiveness, you'll eat well wherever you roam. That said, there are certain culinary experiences that should be on the list of every first-time visitor to San Francisco.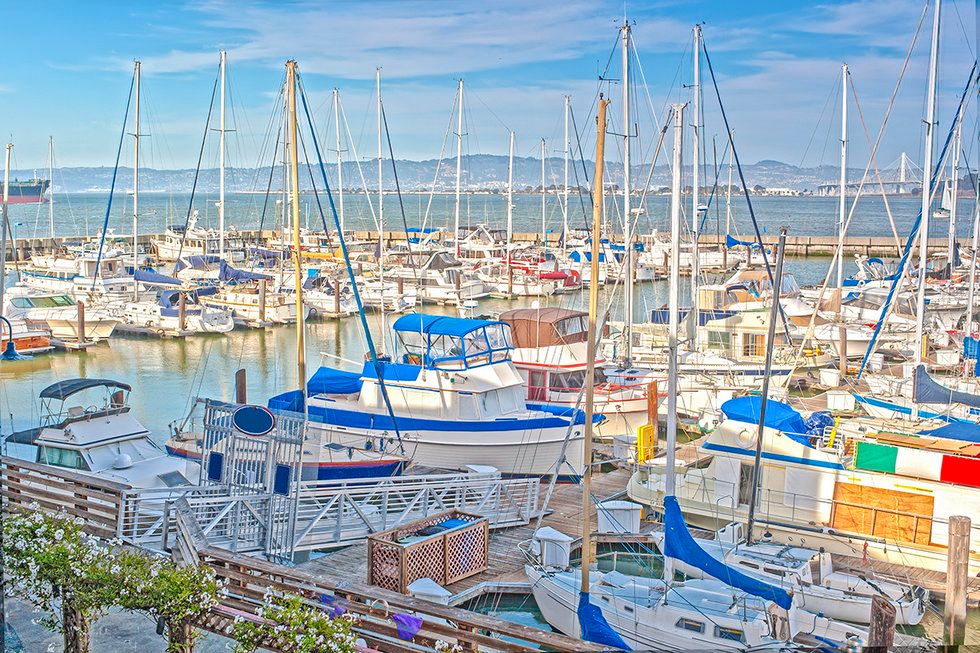 Eating burritos in the Mission at Taqueria El Farolito or La Taqueria is a must; though don't eat both in the same visit, as they're on the larger side. Head to Ferry Plaza Farmers Market, where local chefs shop for some of the city's freshest, finest produce. For seafood fans, head to the Fisherman's Wharf for the chowder served in a sourdough bread bowl at the legendary Boudin Bakery. Refuel with an espresso at Caffe Trieste, where Francis Ford Coppola wrote The Godfather, or with a cold glass of America's first craft beer, the local Anchor Steam. To stay ahead of the culinary curve, order a few slices of millionaire's bacon, just so you can say you have had it.
But, if you want three specific insider options, follow this advice: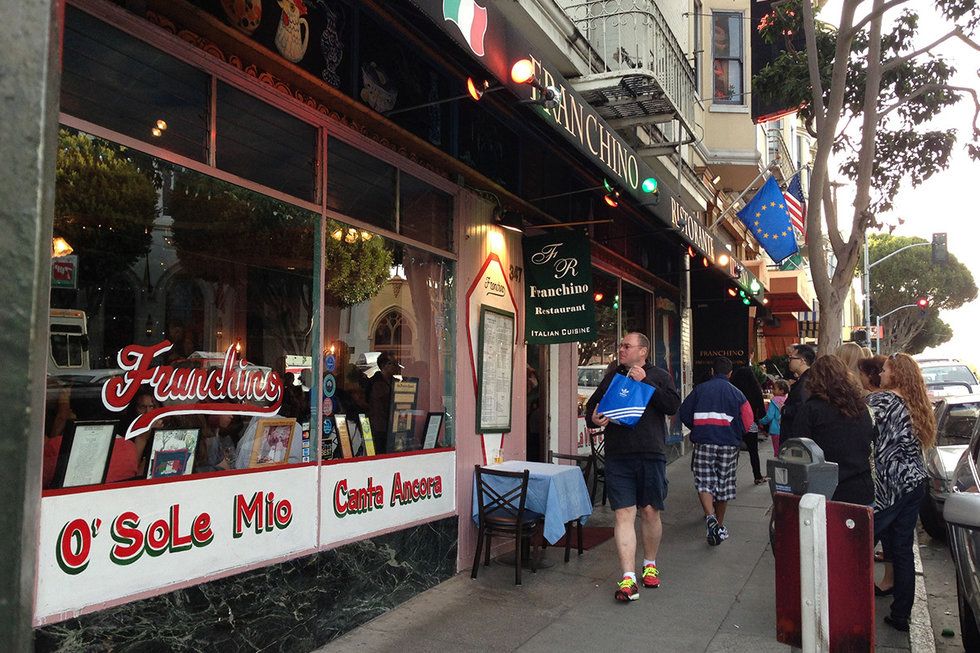 Pictured: Ristorante Franchino | Photo credit: Gary B.
"Ristorante Franchino on Columbus Avenue is a great family-run Italian restaurant you have to visit," says Cleveland-based Boeing 737 captain Gary B. "The food and ambience are exceptional. I've made it my go-to every time I've been in the city for the last 15-plus years, which tells you how good it is. Particularly the tiramisu!"
"One of my absolute favorites is The House in North Beach," says San Francisco-based flight attendant Rebecca M. "The food is Asian American with simple, yummy ingredients. The sea bass is amazing, and also the deep fried salmon roll."
"Fish in Sausalito is worth the journey," says San Francisco-based flight attendant Mallory C. "The drive (or cycle) over the Golden Gate Bridge is stunning, with the gorgeous San Francisco skyline behind you. Then you get to chow down on some of the freshest fish in the Bay Area, eaten on picnic tables and overlooking the marina in Sausalito. Don't leave without ordering the fish tacos. But be warned, Fish is cash only."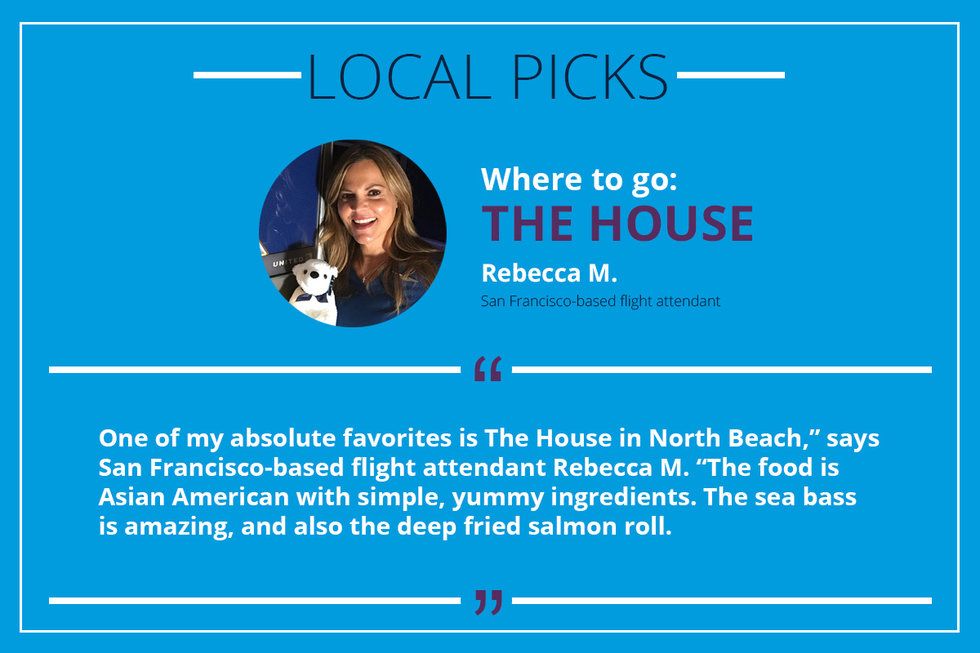 San Francisco focus: Time to wine and dine
Two of America's – indeed the world's – greatest wine regions lie just north of San Francisco, in Napa Valley and Sonoma County. Ideally, you'll be adding a couple of days on at the end of your visit to explore the vineyards at leisure. But if that's not possible, you don't ever need to leave the city to experience the best grapes Northern California has to offer. A growing number of neighborhood wine bars and tasting rooms bring the experience to you, offering the very best local vintages with small plates of seasonal bites. Fig & Thistle, Bluxome Street Winery and Tank18 are just three places getting it spectacularly right.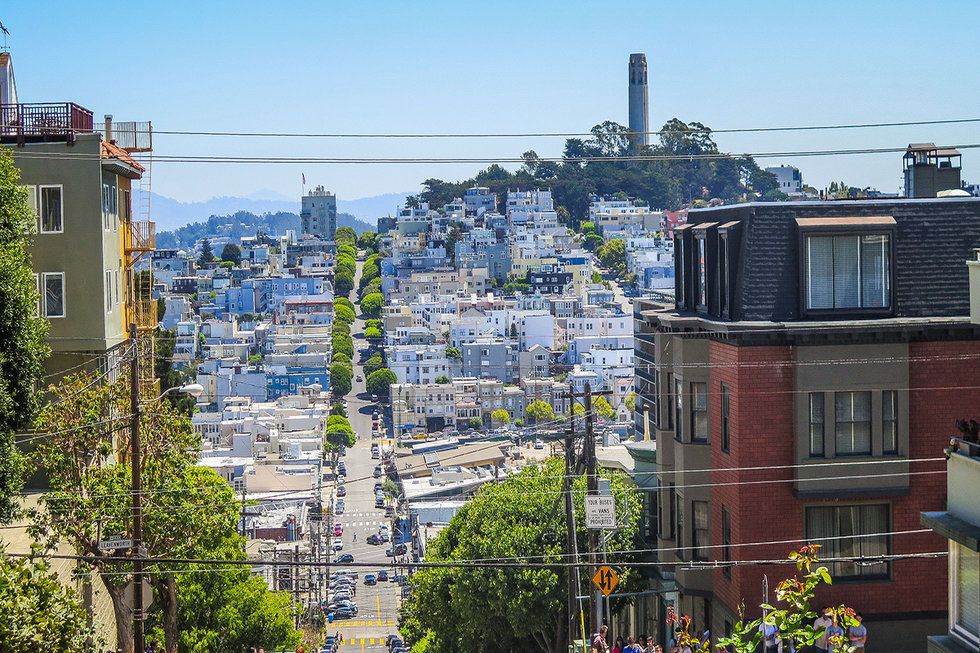 Best time to visit
While summer guarantees sun, it also brings the crowds and higher prices. The shoulder seasons of March to May and late August to November are still warm and slightly quieter, making excellent alternatives.

Getting there
United Airlines offers flights to San Francisco from many cities throughout the U.S. For more information and to book your trip, go to United.com or download our convenient United app. While you're there, share your adventures on social media with the hashtag #UnitedJourney.
Discover more in the After Landing series:
Ask someone to name their favorite thing about fall and you'll likely get a different answer depending on where they live. For many people, the mosaic of vibrantly colored leaves and foliage is what defines the months of September through mid-December. Others find the scent of autumnal spices like cinnamon, nutmeg and turmeric is what makes the fall so special. And for some, it's the cooler temperatures that make being outside even more enjoyable. Plus, fall is full of fun activities no matter where you are — from pumpkin patches and apple picking to watching football and enjoying a bowl of chili. All of these things, and more, make the fall so magical. To help you celebrate the season, here are seven fall-themed activities to try this year.
Go apple picking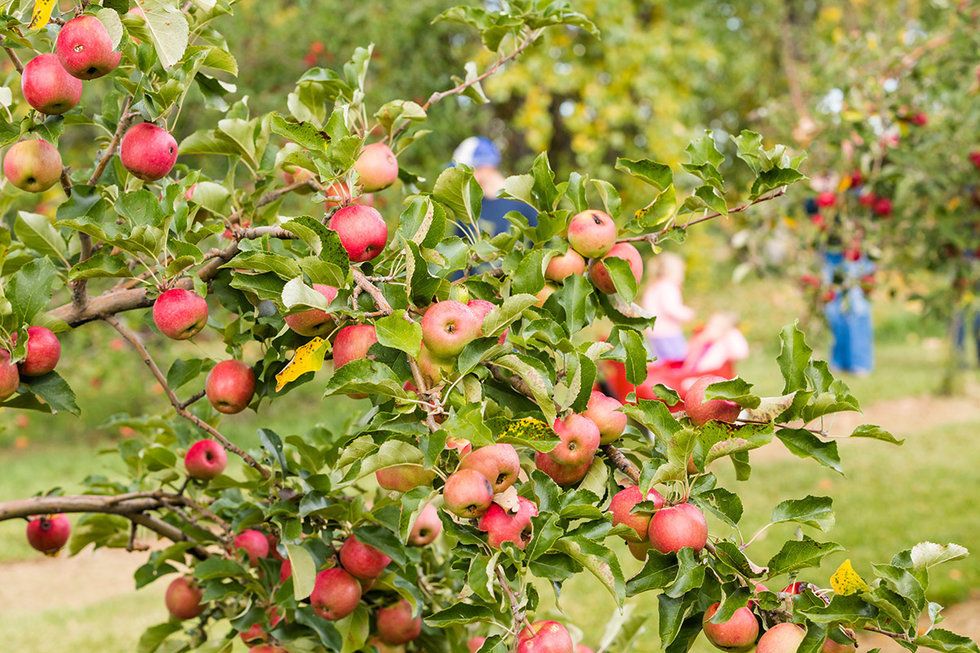 Apple picking combines outdoor fun with delicious and healthy snacks that can be used in a variety of ways, making it the perfect fall activity for adults and children of all ages. Though you'll find countless orchards around the country worth visiting this season, New England is widely considered a prime apple picking destination with over 120 varieties found in the region. It can be argued that the variety they are best known for is the McIntosh apple. This type of apple and many more can be found at Honey Pot Hill Orchards in the lovely town of Stow, Massachusetts, so be sure to stop in and take home a bushel that you pluck from the trees yourself. Picking times are from 9 a.m. until 6:00 p.m. daily, making it easy to schedule a trip.
Meanwhile in California, apple season runs until the end of November, giving you plenty of time to pick a few baskets of Red Delicious or Gala apples before winter. Riley's at Los Rios Rancho in the city of Yucaipa is one of the largest farms of its kind in Southern California and has been welcoming apple pickers to their 10,000-tree farm for more than 100 years.
Visit a pumpkin patch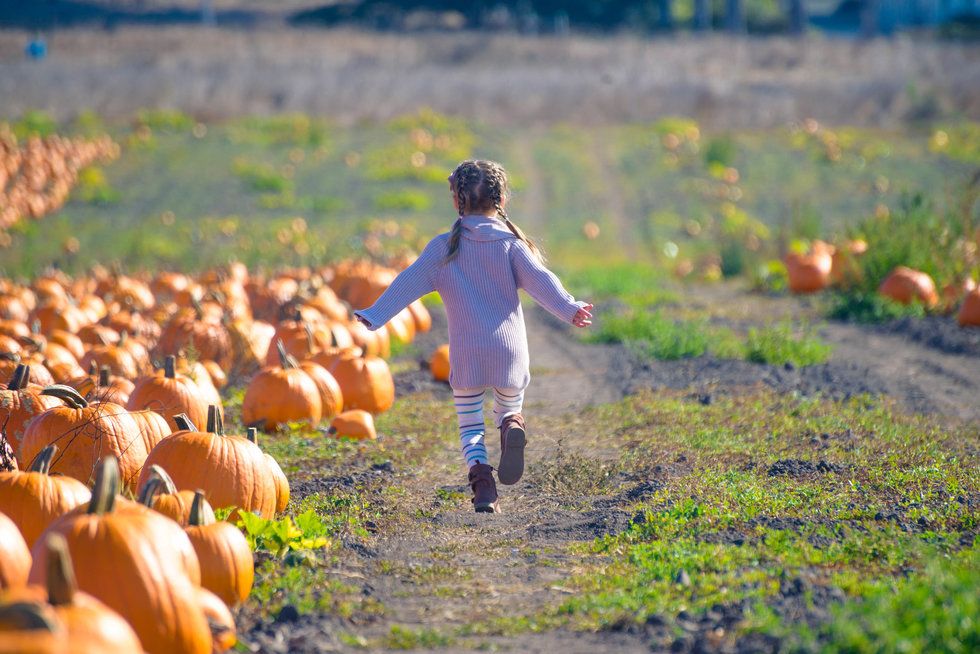 If there was a fall mascot, it would be a pumpkin, so to celebrate the true essence of the season, it's hard to beat a trip to a colorful pumpkin patch. A pumpkin patch is more than just a place to find the perfect candidate for this year's prize-winning jack-o'-lantern, it's a wonderful way to create cherished new memories with your children or friends. The Great Pumpkin Farm in Clarence, New York, is perfect for pumpkin picking, but also offers weekend activities throughout the fall, including scarecrow making lessons, cider brewing demonstrations, pumpkin pie eating contests, and live music and barbecues.
If you're traveling through the Midwest this season, hop aboard a vintage farm wagon at Polly's Pumpkin Patch in Chilton, Wisconsin, and make your way out into their scenic fields where you can pick as many pumpkins as you want. Other activities at Polly's include a livestock petting zoo, a 40-foot slide and a popular corn cannon that lets older kids launch corn cobs at targets for cash prizes.
Enjoy a harvest festival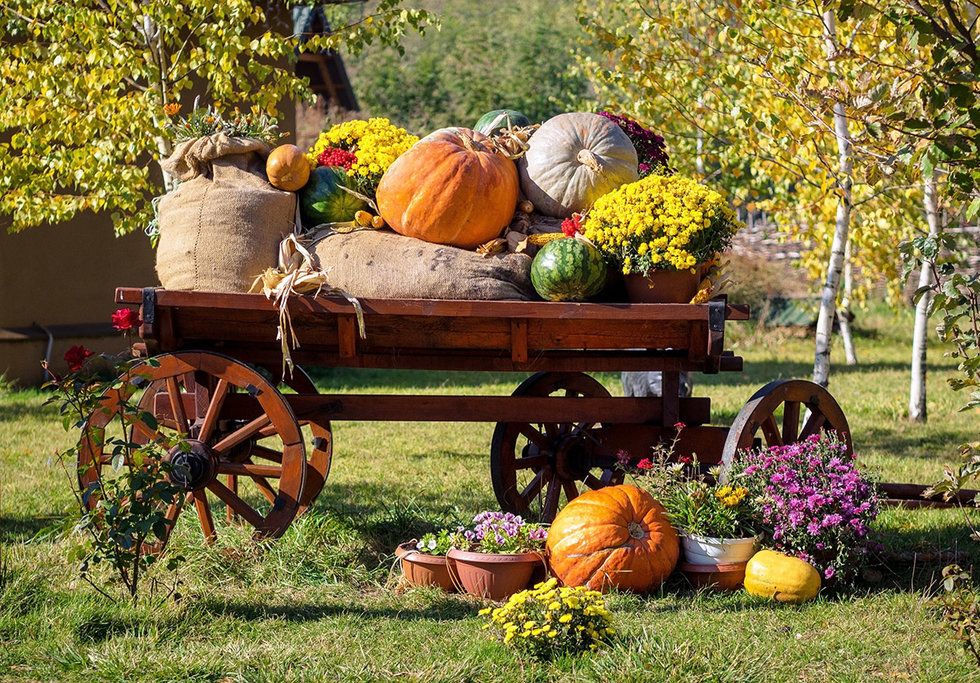 An annual tradition in America that dates back to 1613, harvest festivals are outdoor celebrations that coincide with the growing and reaping seasons we all enjoy. Filled with food, fun, music and dance, you haven't truly experienced the wonder of the fall season until you've participated in a local harvest fest. The good news is that there are plenty to choose from around the country this year. Two of the most popular are the Autumn at the Arboretum festival in Dallas, Texas, which runs until October 31, and the incredible North Carolina Pecan Harvest Festival in Whiteville, North Carolina, which ends on November 3. Both of these festivals have been drawing huge crowds for years.
For a harvest fest that's slightly spookier, head to Wisconsin where you'll find the classic Jack O' Lantern Days celebration in the cozy town of Fish Creek, and the Halloween-themed Zombie Days festival on the coast of Chequamegon Bay. Ghoulish activities include an undead musical show, a zombie pub crawl and a traditional harvest festival pumpkin parade. The scary fun lasts from October 26 through October 27.
Hit the trails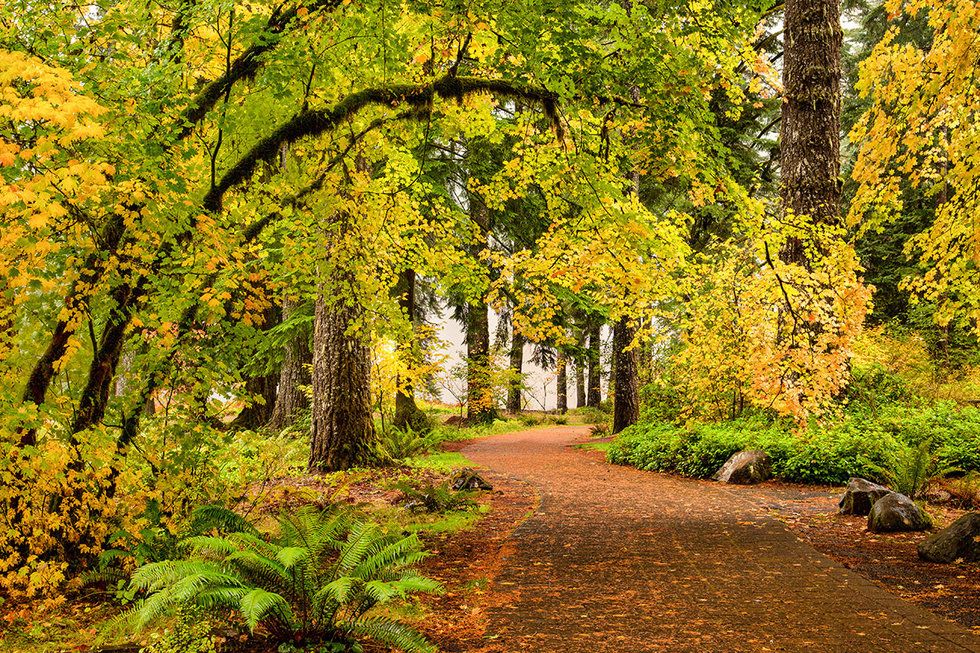 Hiking is more than just great exercise; it's an excellent way to bring the whole family together during the fall. And since the leaves are changing colors, it's also a great way to snap some incredible nature photos. So lace up your hiking boots, grab your kids and your camera, and find a trail that's right for you. If you're looking for suggestions, Sterling Point Trail in Vermont and Rome Point Trail in Rhode Island are impossible to beat when it comes to picturesque fall hiking.
On the opposite side of the country, the trails at Dry Creek Falls in Portland, Oregon, were voted one of the most photogenic hiking spots on the west coast by BuzzFeed, and it's easy to see why once you've been there. Covering a distance of just over 4 miles, this beautiful trail is perfect for all skill levels, making it a solid choice for families with kids.
Roll in the hay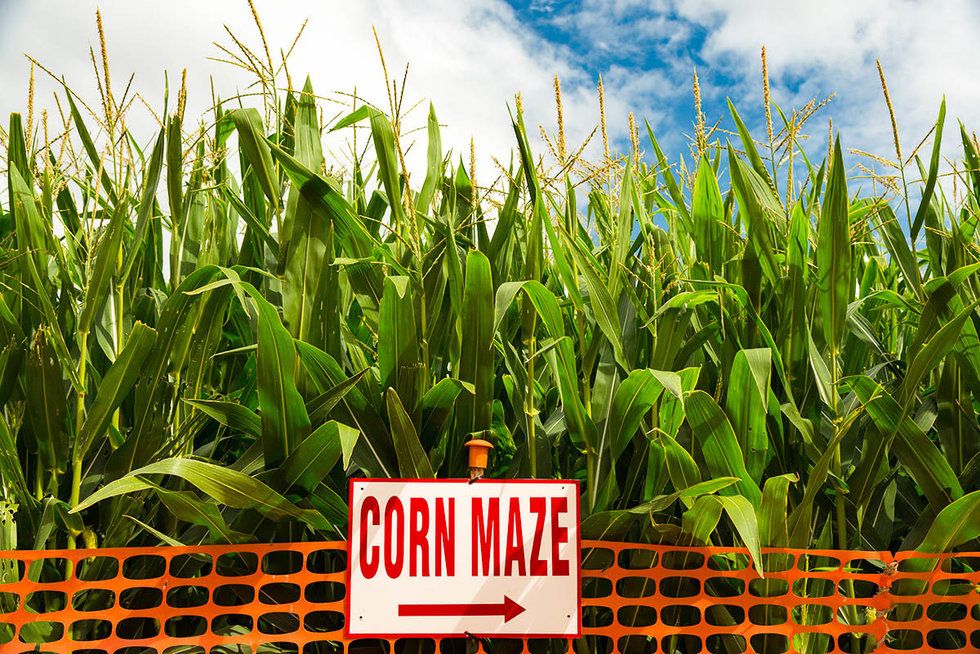 Hayrides and corn mazes are traditional fall activities that have never gone out of style, and for very good reason. There's just something wonderfully nostalgic about introducing a new generation of children to the simple pleasures of wandering through an overgrown corn maze, and with so many participating farms scattered across the country, there's a plethora of options to choose from. The Johnny Appleseed corn maze at Shady Brook Farm in Yardley, Pennsylvania, and the popular horse-drawn hayride at Papa's Pumpkin Patch in Bismarck, North Dakota, are two of the best.
In honor of Halloween, the massive haunted hayride at Fear Farm in Phoenix, Arizona, brings an assortment of ghosts, goblins and ghouls to life from early October until the first week in November. Filled with sinister special effects, creepy costumes and macabre makeup, this Hollywood-worthy hayride is recommended for adults and children over the age of 12. With five terrifying corn mazes to choose from, Fear Farm certainly lives up to its name!
Up, up and away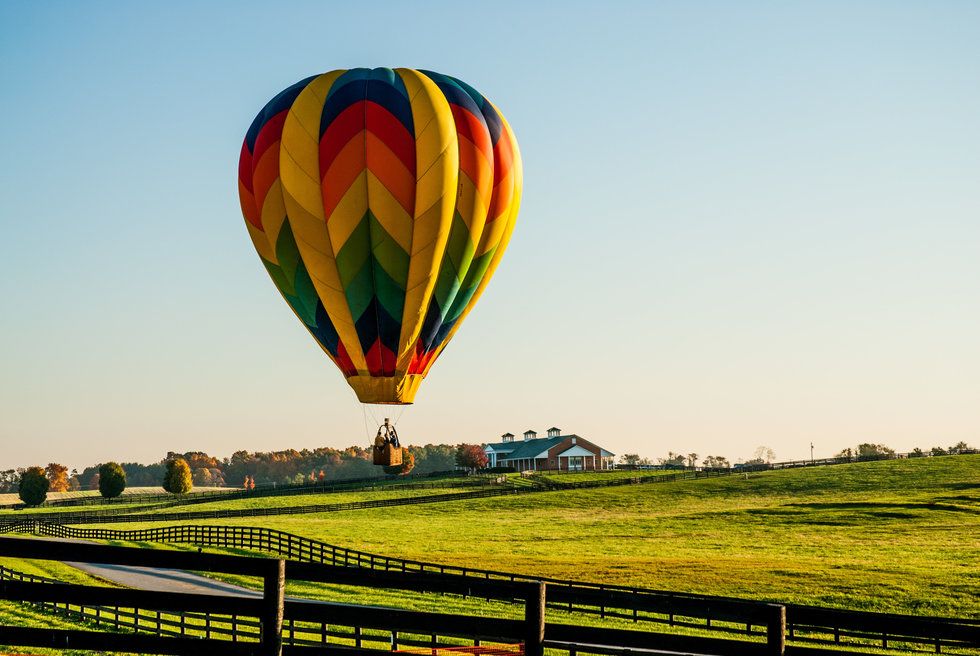 Hot air ballooning during the fall is a dazzling way to experience the season in all its natural splendor. After all, how else can you get a spectacular birds-eye view of the colorful trees as their leaves change from green to golden orange? Balloons Over Letchworth, located near New York's Letchworth State Park, offers astonishing views of the surrounding area, including majestic waterfalls and stunning forests. Best of all, they offer a variety of family tour packages, so you'll find just what you're looking for, regardless of the size of your group.
If you're visiting Southern California's wine region this fall, reserve a balloon ride with the fine folks at California Dreamin'. Their friendly FAA commercial licensed pilots will take you and your family on an unforgettable balloon voyage high above the vineyards of Temecula wine country.
Pitch a tent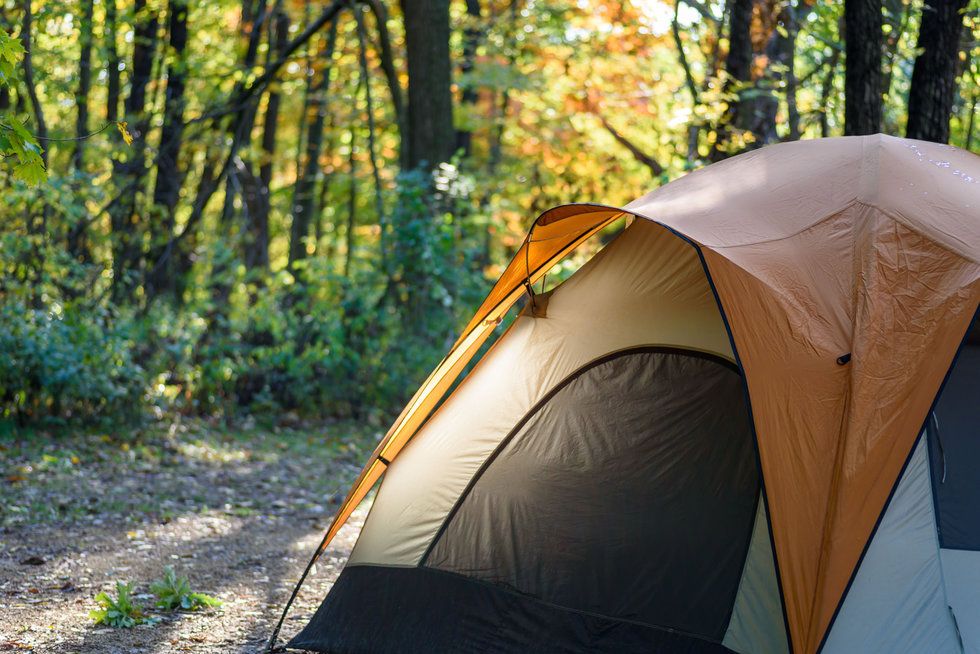 Though typically associated with summer, in many ways the fall is truly the best time of year to go camping. Thanks to the cooler weather, there are few — if any — insects to bother you and your family. Plus, there are less people claiming all the best spots, so you should have no problem picking a prime location to pitch your tent. And when it comes to toasting marshmallow for s'mores over an open campfire, everyone agrees that they simply taste better when eaten on a brisk autumn night.
For the ultimate fall camping trip, book a spot at Earth First Farms in southwest Michigan and set up your tent in an actual organic apple orchard. The 49-acre farm provides campers with complimentary firewood and plenty of fresh produce to pick.
Getting there
Regardless of where you plan to celebrate the fall, book your flight at united.com or by using the convenient United app, and share your story on social media with the #MyUnitedJourney hashtag.
As United's humanitarian Flight 2814 from IAH to the Bahamas departed for the islands on September 17, a little over two weeks after Hurricane Dorian struck the islands with the fury of a record-breaking Category 5 storm, the reality was stark. More than 1,300 people are still missing. Rebuilding in the Bahamas will take years. And the need for help remains urgent, with thousands of evacuees overflowing shelters and infrastructure on Grand Bahama and the Abaco Islands largely destroyed.
United is doing its part. As of September 18, we have raised more than $560,000 together with our four relief partners – Americares, Airlink, Global Giving and the American Red Cross -- to support victims of the storm through a Crowdrise funding campaign and MileagePlus award miles for members who donate $50 or more. And the resounding theme among the nearly 100 aid workers on the flight, which United and its partner Airlink helped coordinate, is that we are all, customers and employees included, part of the same response team.
The flight's passengers came from four organizations: Team Rubicon (U.S.), Team Rubicon Canada, Waves for Water and Mercy Corps. They are moms, grandfathers, ex-soldiers, sailors and infantry, as well as amazing civilians each wanting to play a part in giving these victims hope and a shot at rebuilding their lives.
Nina Augustine, a former Air Force security forces specialist who spent two years in Uganda, is a member of Waves For Water's Veteran Division, The Clean Water Corps. "We deliver water filtration systems and training to people who need access to clean water. I think it's pretty awesome what United is doing. Disaster response is a team effort. Every individual and organization brings a unique skill and resource to help people who have lost everything. But, if we can't get there, none of those skills and resources matter. United taking a lead in supporting moving relief workers to the disaster area is a critical component."

South Florida retired Army veteran Jed Marceau who volunteers with Team Rubicon said, "If you go down and you clear 50 feet of road, you can say you've accomplished something. You do the best you can to help people who need it the most. It makes you feel like you've achieved something." Marceau is signed up for a two-week stint and planning to make it a double.
Jonathen Davis served in the U.S. Navy for seven years as an expeditionary combat cameraman and has been with Team Rubicon longer than that at this point. "The partnership between United, Airlink, and Team Rubicon allows these 80 volunteers to provide disaster relief to communities in the Bahamas that have experienced devastating loss," he said. "Other than veterans, we also bring in first responders and other amazing civilians. We all come together to serve survivors who are looking for help and bring them steps closer to full recovery.
Team Rubicon's core capabilities include mucking out homes, tree branch clearing, heavy equipment operation, movement of piles of debris, and even medical care provided by EMTs with special verification granted by the World Health Organization to care for those they meet along the way.
"It's great that United is providing seats to this group," Davis said. "United and Airlink are team members of Team Rubicon. Without you all, we'd have to find another way to get ourselves there."
Angela Owen, senior program officer at Mercy Corps, says that her organization, too, could not be more thankful for the generous support it's receiving from United and its customers. "This helps incredibly with the response. Deploying staff quickly and easily to the Bahamas has been instrumental in our ability to distribute essentials like clean water, food and solar lanterns. Right now we are focusing our relief efforts on Grand Bahama island, one of the two hardest-hit islands where a large number of people who need assistance are located."
Retired Alaska flight paramedic Teresa Gray discussed the storm on the return flight from Nassau on Tuesday after finishing up a 10-day stint that began just a few days after Dorian hit. Gray founded Mobile Medics International three years ago to bridge what she identified as a unique gap in humanitarian response. "Our mission is to fill the gap from zero medical care [after a natural disaster] to functioning medical service."
As team leader, Gray notifies her volunteer roster of 150 physicians, nurses, and EMTs with plans for an activation, and they let her know if they want to take part. "We specialize in small teams," she said. "When you get into big teams, you're not mobile anymore. The more people you need, the more resources you need. We're never more than eight or nine on a mission, max. We went to Mozambique after the Category 4-equivalent Typhoon Kenneth, and a team of six people saw about 250 people a day."
Dorian, she said, was mind boggling.
"I've never seen anything like it. So much destruction and devastation. Hundreds and hundreds were washed out to sea. Abaco housed 40,000 people before. Now there are 300 to 400. The Haitians went to the smaller islands and Bahamians went to Nassau. All the shelters are overflowing."
The partnerships, the collaborations, the teaming and the sharing are all central features of disaster response, Gray said. "Your $5 donation matters. I can buy 1,000 doses of amoxicillin for $32. We also get a bit of intel about what else they need." Gray then goes back to World Central Kitchen's local feeding operation and shares information with other relief groups about what's lacking, where they need food and water, and where they need tents.
"There are no secrets in humanitarian medicine," she said. "You share what you get."
By the numbers so far:
$560,000+ raised through Crowdrise
200,000 meals on Flight 2814 provided by Rise Against Hunger (RAH), including meals packed by United employees
4,460 hygiene kits and sanitation supplies delivered for Heart to Heart International
Team Rubicon's 2 pallets on board of day packs, water, tents, filtration systems
197 relief volunteers transported (93 on the charter, 104 provided by United through Airlink)
One humanitarian charter (Boeing 777-200)
30,000 lbs. of relief supplies transported
Want to help? You can join us in our disaster relief efforts by donating to our Crowdrise fundraising campaign here.
If you can't get to Mars, what's the next best thing? Apparently Iceland. A team of renowned explorers and researchers recently journeyed to Iceland to test a Mars analog suit in a Martian-like environment.
The United sponsored expedition, led by The Explorers Club — an internationally recognized organization that promotes the scientific exploration of land, sea, air and space — and in partnership with Iceland Space Agency, involved the team venturing inside the Grímsvötn volcano and across the Vatnajökull ice cap. The group traveled to the remote location and lived for six days in the Grímsvötn Mountain Huts and endured harsh weather conditions and unstable terrain.
Helga Kristin Torfadöttir, Geologist and glacier guide, using the LiDAR system to map the ground and test the suit's capabilities on the glacier.
The objective of the mission was to explore the potential of concept operations at the Grímsvötn location while testing the suit in an arctic environment similar to what would be found on the surface of Mars. "This mission was an important test of the design of the MS1 suit, but it was also incredibly helpful to understand the how to conduct these sorts of studies in Iceland," said Michael Lye, MS1 designer and NASA consultant and RISD professor. "No matter how thoroughly something is tested in a controlled environment like a lab, studying it in a setting that accurately represents the environment where it will be used is absolutely essential to fully understand the design."
The suit was designed and constructed by faculty and students at the Rhode Island School of Design (RISD) with input and guidance from members of the HI-SEAS IV crew and NASA's Johnson Space Center Space Suit Engineering team. At 50-60 lbs, the suit is similar to what a planetary exploration suit would weigh in Martian gravity. The suit was originally designed to be used in the warm climate of Hawaii, however the martian climate is much closer to what would be found on top of the glaciers in Iceland. The data collected will inform the future of habitat and spacesuit design that can be used to train astronauts on Earth.
Scroll to top