Spotlighting our own during Hispanic Heritage Month
We celebrate Hispanic Heritage Month from September 15 th through October 15th and take the time to recognize the important contributions of our colleagues of Hispanic descent in the United family.
This year, we hosted virtual events organized by our multicultural business resource group UNITE to celebrate Hispanic Heritage Month, covering topics ranging from immigration reform to Hispanic leadership. We're also taking a moment to highlight Latinx employees nominated by their peers for their contributions both at and outside of work.
These nominees have demonstrated leadership in their position and through their character. Take a moment to read their own words about how their background and heritage plays a role in the way they interact with customers, in how they support their colleagues and why it brings valuable perspective to their work.
Vania Wit – VP & Deputy Counsel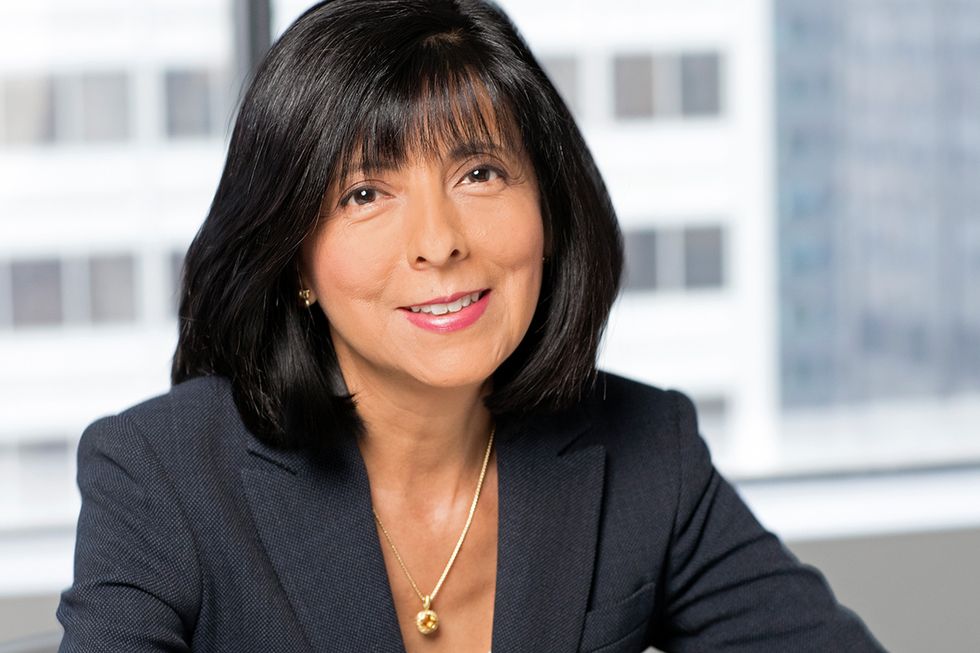 "I am the Vice President and Deputy General Counsel in the legal department. I am an attorney and have worked in the legal department for over 21 years and am currently responsible for a number of different legal areas – such as litigation, international, commercial and government contracts, labor, employment and benefits, antitrust. I have the privilege of working with a tremendous team of attorneys who are directly leading and managing these areas. One of the things I like most about my job is simply getting to know the backgrounds and personal stories that everyone has about their paths to United or their passion for the industry. Being the daughter of immigrants from South America and growing up in a family who relies heavily on air travel to connect us to our close family and friends is an integral part of my story and what drew me to this industry and this company."
Kayra Martinez – International Flight Attendant, FRA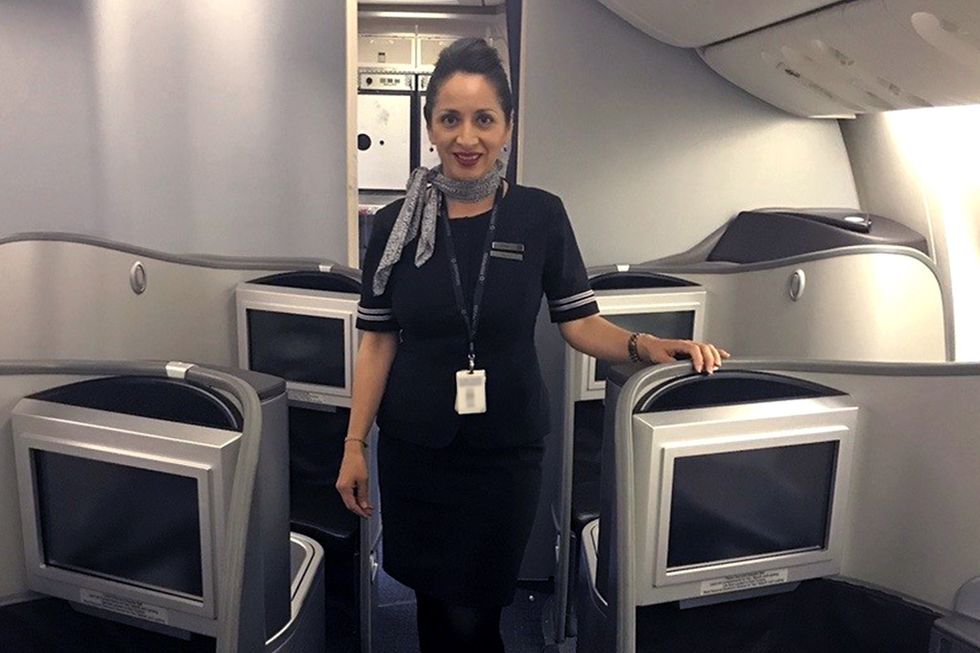 "I love that my work as a flight attendant brings me all over the world and allows me to connect with diverse people across the globe. Because of my Spanish heritage, I've been able to use my language as a way to connect with passengers, crew members and people from every nationality. In addition, my heritage gives me a very close connection to family, creating community and using inclusion as a way to bring people together. After transferring to Europe, I was able to study German, more Spanish, Italian and Arabic. Outside of work, I'm the director and founder of a nonprofit organization that empowers refugees through art. Hundreds of children and adults fleeing war-torn countries have found healing through my art workshops. These refugees are currently displaced in Greece. Their stunning paintings are then sold in art galleries and communities around the world, raising awareness and putting income directly into the hands of refugee artists."
Adriana Carmona – Program Manager, AO Regulatory Compliance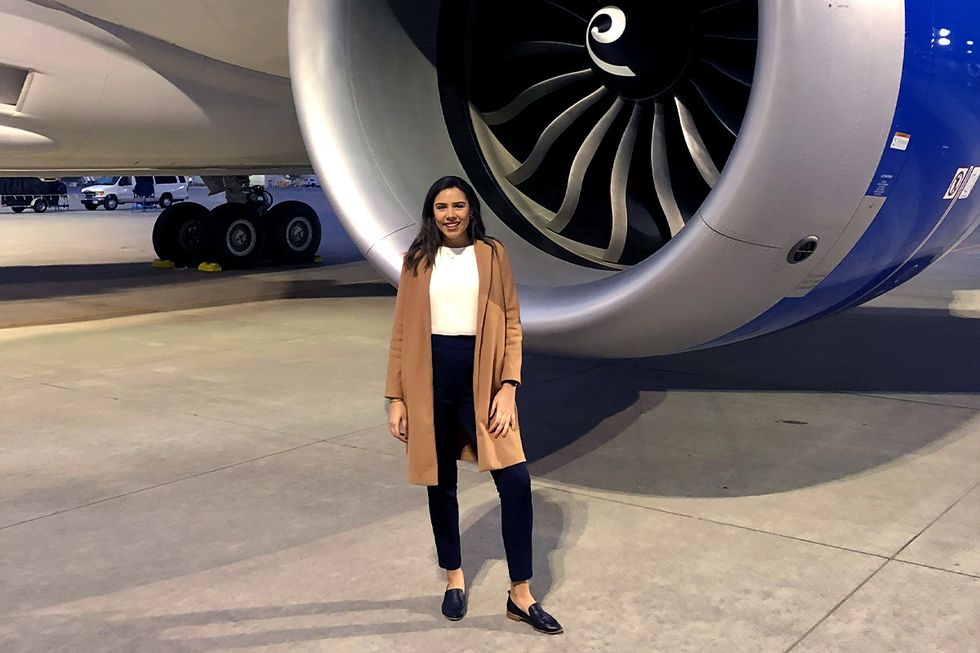 "I've been incredibly lucky to have amazing leaders during my time at United who have challenged me from day one to think outside the box, step out of my comfort zone and trusted me to own and deliver on the tasks assigned. I think this sense of ownership is largely shaped by my Latino background, which values responsibility, respect and accountability and taking full charge of what's in your control to be able to deliver accordingly."
Harry Cabrera – Assistant Manager, AO Customer Service, IAH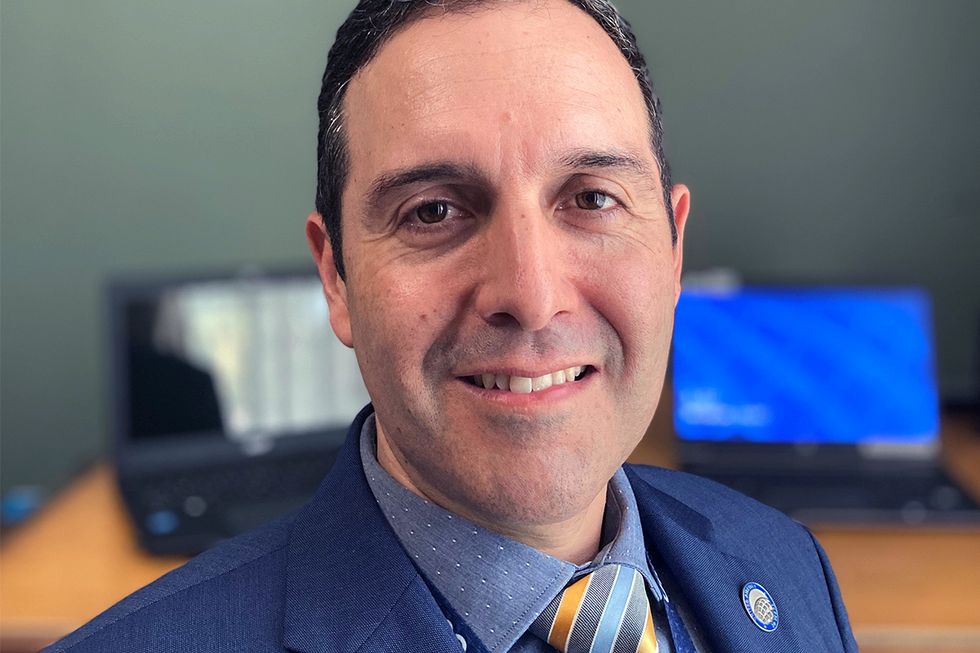 "My desire to help people is what drove me to start my career in Customer Service over two decades ago. Currently I provide support to our coworkers and customers at IAH , the gateway to Latin America and the Caribbean. As a Colombian native celebrating Hispanic Heritage Month, I'm proud to see the strength that my fellow Latinos forge every day at United Airlines. Family values are a cornerstone of the Latin community; I consider my coworkers to be part of my extended family. Mentor support throughout the years gave me the opportunity to grow professionally. The desire to do better and help others succeed is part of that heritage. I collaborate with our Latin American operations and create ways to improve performance. No matter what language you speak, the passion for what you do and being approachable makes the difference in any interaction."
Juciaria Meadows – Assistant Regional Manager, Cargo Sales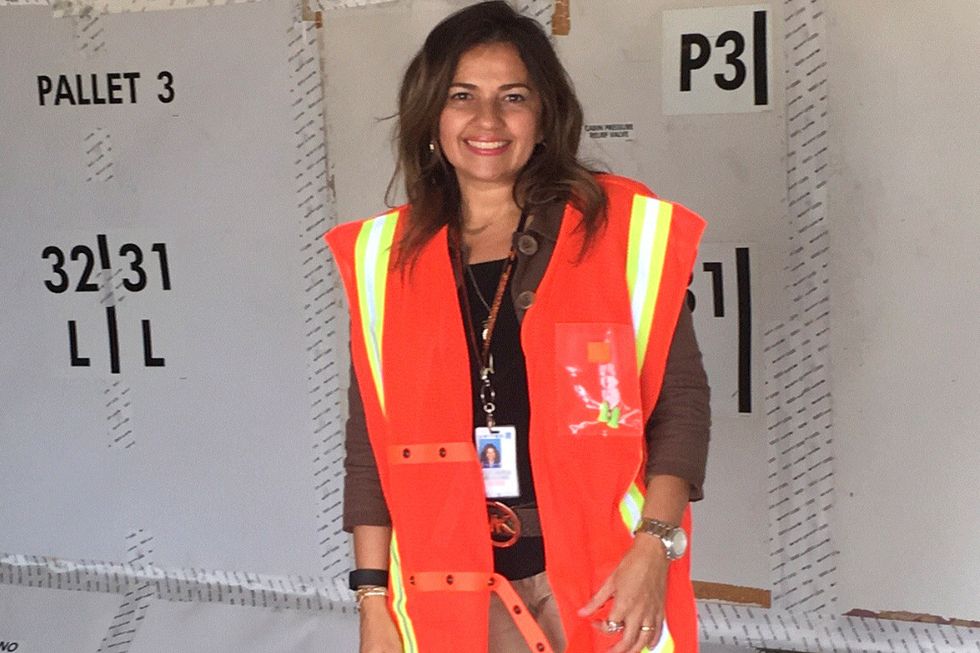 "During my 28-year career, I've worked across the system in various frontline and leadership roles in Reservations, Customer Service and Passenger Sales in Brazil. I moved to the U.S. in 2012 to work as an Account Executive for Cargo. It did not take too long for me to learn that boxes and containers have as much a voice as a passenger sitting in our aircraft. My job is to foster relationships with shippers, freight forwarders, cosignees, etc. and build strong partnerships in fair, trustworthy and caring ways where United Cargo will be their carrier of choice. That's where my background growing up in a Latino family plays an important role in my day-to-day interactions. I've done many wonderful sales trainings provided by United and my academic background , but none of them taught me more than watching my parents running their wholesale food warehouse. Developing exceptional relationships with their customers, they always treated them with trust and respect. They were successful business people with a big heart, creative, always adding a personal touch to their business relationships and I find myself doing the same. It's a lesson that is deep in my heart."
Shanell Arevalo – Customer Service Representative, DEN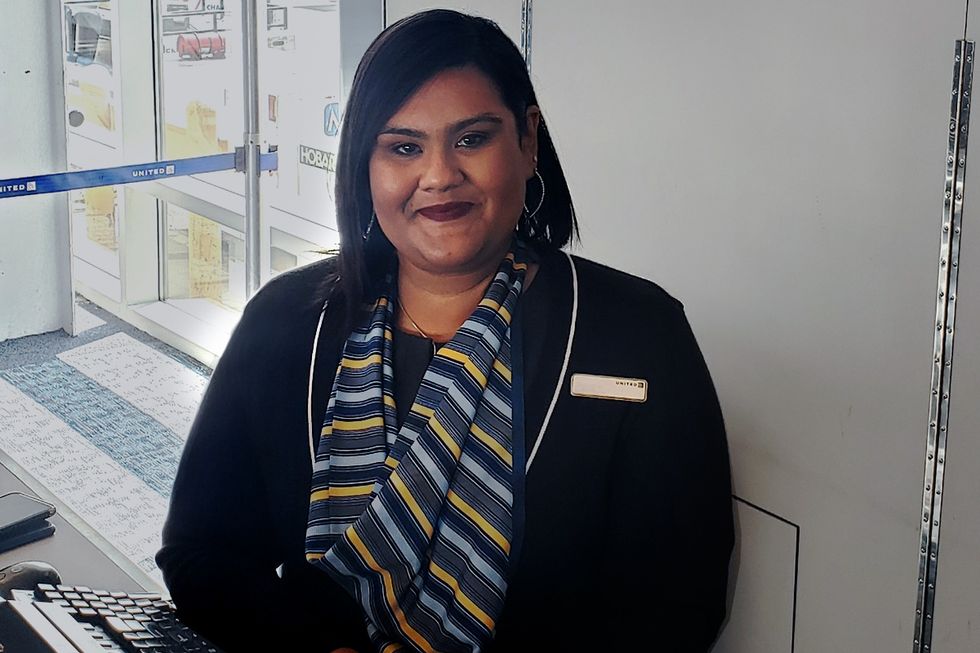 "I am Belizean and Salvadoran. At a young age my family moved to California from Belize. Although I grew up in the United States , one thing my parents taught me was to never forget the culture, values and principles I was raised on. This includes showing love, compassion, and respect to all people. We learned to put our best foot forward for any situation and always put our heart and mind into everything we do. In my position as a customer service agent, it's the difference of showing the love, compassion and respect to our passengers – to show that this is not just a job but rather a passion of genuinely caring for our people. Being Latina, we are raised to always take care of our family, and the way I take care of passengers is the way I would take care of my family. If there's one way I know I can make a difference with our Spanish speaking passengers, it's being able to speak the language. The glow that comes over a passenger's face when they realize there's someone who can speak Spanish is absolutely an indescribable feeling. With that glow comes comfort and joy. The small comfort they get from knowing someone can connect with them makes all the difference in their experience."
We're proud to launch a redesigned version of our United app to make it easier for customers with visual disabilities to manage all aspects of day-of travel, including check-in, viewing reservation details and flight status, bag tracking and more.
This latest version of our app is now available to both Android and iOS users, and it offers increased color contrast and more space between graphics. Furthermore, we have reorganized how information is displayed and announced to better integrate with screen reader technologies like VoiceOver and TalkBack, which are built into most handheld devices. By restructuring the way the information is organized on the app, screen readers are better able to convert text to audio in the proper, logical sequence, allowing customers to better understand and navigate the app.
"The parts of the travel experience that we all take for granted like checking luggage, getting your flight status and accessing a boarding pass can still be a challenge for someone with a visual disability," said EVP of Technology and Chief Digital Officer Linda Jojo. "These new accessibility enhancements are part of our continuing commitment to level the playing field, unlock all the customer benefits of our app and give people with disabilities more independence while traveling."
Senior Accessibility Analyst Ray Campbell is a member of United's digital team who's visually impaired and sits on the board of the American Council of the Blind. He played a key role in helping us redesign the app. He even put the app to the test as seen in this video.
"Optimizing mobile apps for tools such as VoiceOver and TalkBack has been a game changer, allowing people with visual disabilities to fully utilize smartphone technology in their daily lives," said Ray. "It's just as important for someone with a visual disability to easily access day-of-travel information and features as for any other customer. Improving the accessibility of the United app, helps us truly live out United's mission of caring for all customers."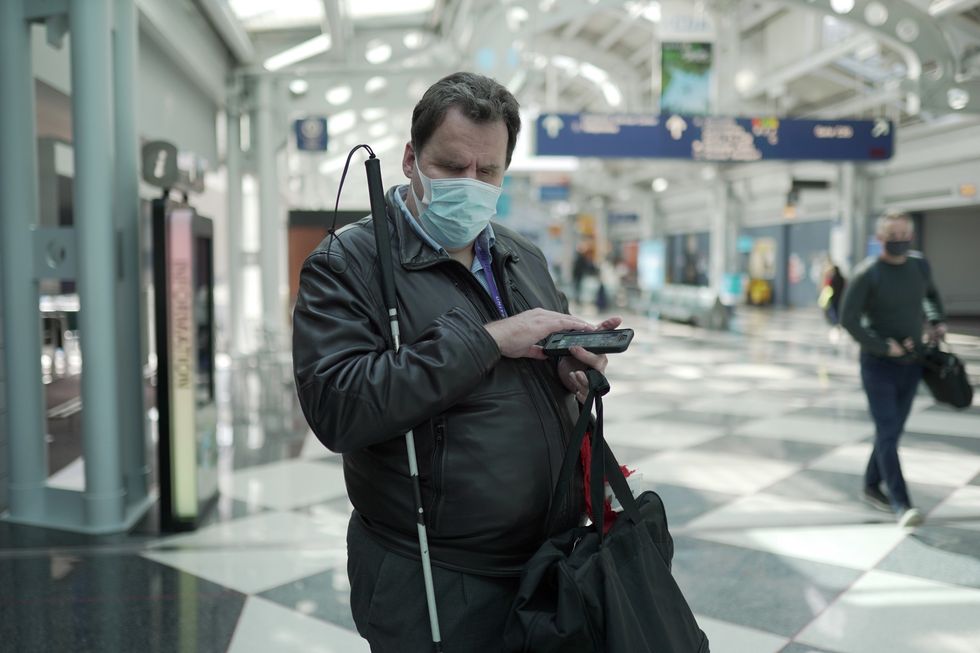 United's Senior Accessibility Analyst Ray Campbell using the mobile app at Chicago O'Hare International Airport.
Beyond the accessibility changes, our digital team enhanced the current offering while keeping the features that helped the app win a Webby People's Voice award in 2019.
For our MileagePlus® program members, the app now features a refreshed account experience for members to easily check balances, track Premier® progress, explore MileagePlus benefits, access past activity and more, all in one place.
The airline is also expanding a popular feature previously only accessible to MileagePlus members. Now, all 37 million customers who have the United app will see a contextualized home screen starting 48 hours before their flight which provides dynamic updates based on where a customer is in their travel journey. For example, customers can see the boarding status of their flight on their homescreen, access personal device entertainment onboard with one click, find a link to a map with gate-to-gate directions for connecting flights and click a quick access button to track any checked bags upon arrival.
We made slight tweaks to navigation based on customer feedback to make the app more intuitive, including making the bottom navigation persistent throughout the app. Another example is the "More" menu, which was reorganized and now contains the "Inbox" feature, which includes timely messages about boarding announcements, gate changes and other travel updates.
Customers will notice a new color palette that's consistent with the refreshed branding the airline debuted in 2019. United's digital team also made subtle design adjustments to make things more consistent and easier to find, like always using a purple bar to highlight the main call-to-action on a page and ensuring alerts and flight status icons appear the same way in every page on the app.
All of these changes are underpinned by a new back-end platform, which will ultimately make the app faster and more responsive.
The redesigned app is now available to download for iPhone®, iPad® and iPod touch® devices (as an iPhone app) and for Android devices.
Calling all AvGeeks and travelers! Take your next video call from a United Polaris® seat, the cockpit or cruising altitude with United-themed backgrounds for use on Zoom and Microsoft Teams.
Newly added to our collection is a background encouraging our employees and customers to vote. Our mission is to connect people and unite the world — and one of the most important ways to do that is to engage in the democratic process. No matter which party you support, we know our democracy will be stronger if you make your voice heard and vote.
So for your next meeting or catch up with friends and family, download the app to either your computer or mobile device to get started.
To use on Zoom:
Start here by downloading your favorite United image to your computer or mobile device. Just click "download" in the bottom left corner of the image.
Next go to your Zoom app (you'll need to download the app to access backgrounds) and click on the arrow to the right of your video camera icon in the bottom of the screen.
From here select, "choose virtual background" to upload your uniquely United photo.
To use on Microsoft Teams:
Start by downloading your favorite United image to your computer. Just click "download" in the bottom left corner of the image.

If you're using a PC, copy the image you want to use into this folder:

C:\[insert your device user name here]\AppData\Microsoft\Teams\Backgrounds\Uploads

If you're using a Mac copy the images to this folder on your computer:

/users/<username>/Library/Application Support/Microsoft/Teams/Backgrounds/Uploads

Once you start a Teams meeting, click the "…" in the menu bar and select "Show background effects" and your image should be there
Earlier this summer, we shone a light on our flagship partnership with Special Olympics and our commitment to the Inclusion Revolution. In that same story, we introduced you to our four Special Olympics Service Ambassadors, Daniel, Kyle, Lauren and Zinyra (Z), who, this month, celebrate one year working at Chicago O'Hare International Airport as part of the United family.
This groundbreaking, inclusive employment program took off as a part of our ongoing partnership with Special Olympics, a community relationship that employees across the company hold close to heart. The original 'UA4' (as they call themselves) have become an integral part of the United team serving customers at O'Hare Airport. Even from behind their masks, their wide smiles and effervescent spirit exude and bring life to the service culture of excellence we strive towards every day.
"The UA4 are more than just customer service ambassadors. They are shining examples of how inclusion, accessibility and equity can have monumental impacts on the culture and service of a business and community," said Customer Service Managing Director Jonna McGrath. "They have forever changed who we are as a company. While they often talk about how United and this opportunity has changed their lives, they have changed ours in more ways than we can count."
In the two years of partnership with Special Olympics, United employees have volunteered over 10,500 hours of service at events around the world and donated over $1.2 million worth of travel to the organization.
"This inclusive employment program is what community partnerships, like ours with Special Olympics, are all about: collaborating to identify areas where the needs of the community intersect with the cultural and business opportunity, then creating the infrastructure and programming to bring the two together," said Global Community Engagement Managing Director Suzi Cabo. "Through this program, our goal is to show other companies that when you put a committed effort and focus towards inclusion and breaking down barriers, you transform lives. I challenge other business around the world to follow our lead in joining the Inclusion Revolution."
Check out the video below to hear from our Special Olympics Service Ambassadors firsthand.
Scroll to top