Mission: Space City Sweepstakes Official Rules
NO PURCHASE NECESSARY. A PURCHASE OR PAYMENT OF ANY KIND WILL NOT INCREASE YOUR CHANCES OF WINNING.
1. Eligibility: The Mission: Space City Sweepstakes (the "Sweepstakes") is open only to legal residents of the fifty (50) United States and the District of Columbia who are at least eighteen (18) years old (or the age of majority in their state of residence, whichever is older) at the time of entry. Employees, officers and directors of 360i, United Airlines, Inc., Houston First Corporation and Greater Houston Convention & Visitor's Bureau, Space Center Houston, The Manned Space Flight Education Foundation, HelloWorld, Inc., and their respective parent, subsidiaries and affiliate entities as well as the immediate family (spouse, parents, stepparents, siblings, children, stepchildren and grandparents, regardless of where they reside) and individuals living in the same household as such individuals, regardless of relation, are not eligible to enter or win this Sweepstakes. The Sweepstakes is subject to all applicable federal, state, and local laws and regulations and is void where prohibited. Participation constitutes entrant's full and unconditional agreement to these Official Rules. Sponsor's and Administrator's decisions are final and binding in all matters related to the Sweepstakes. Winning the prize is contingent upon fulfilling all requirements set forth herein.
2. Sponsor: United Airlines, Inc., 233 S. Wacker Drive, Chicago, IL 60606. Administrator: HelloWorld, Inc., 3000 Town Center, Suite 2100, Southfield, MI 48075.
3. Timing: The Sweepstakes begins on June 21, 2019 at 10:30 a.m. Central Time ("CT") and ends on June 22, 2019 at 10:29 a.m. CT (the "Promotion Period"). Twitter's servers are the official time-keeping devices for the Sweepstakes.
4. How to Enter: To participate you must have a Twitter account. Twitter accounts are free, but subject to Twitter, Inc.'s terms of service: https://twitter.com/tos. Your account settings must be set to "unprotected" and/or "public" in order for your Tweets to be viewable by Sponsor and its agents. If you Tweet using your wireless phone, message and data rates may apply. Please consult your wireless-service provider regarding its pricing plans.
During the Promotion Period, Sponsor will post a Tweet about the Sweepstakes that includes a video, hashtags #MissionSpaceCity and #sweepstakes and the link to these Official Rules: uafly.co/X5laI ("Sponsor's Tweet").
To receive an entry, during the Promotion Period, Retweet Sponsor's Tweet.
You need not include any additional content with your Retweet. However, if you choose to include additional content, it must be your original work and must not be indecent, obscene, hateful, tortious, defamatory, libelous, contain material that violates or infringes another's rights, disparage Sponsor or any other person or party, or contain material that is unlawful in any way.
You automatically will receive one (1) entry into the Sweepstakes for your qualified Retweet. Sponsor may disqualify your Retweet if it determines that it finds it to be unlawful, or in violation of these Official Rules. Released Parties (as defined in Section 7, below) are not responsible for lost, late, unreceived, damaged, incomplete, invalid, un-intelligible, or delayed Retweets or failure to receive the Retweet due to limitations of third-party social network platforms all of which will be void.
Limit: You may enter one (1) time during the Promotion Period. Multiple entrants are not permitted to share the same Twitter account. Any attempt by any entrant to obtain more than one (1) entry by using multiple/different Twitter accounts, identities, registrations and logins, or any other methods will void that entrant's entries and that entrant may be disqualified. Use of any automated system to participate is prohibited and will result in disqualification. In the event of a dispute as to any registration, the authorized account holder of the Twitter account used to register will be deemed to be the entrant. The "authorized account holder" is the natural person assigned an email address by an Internet access provider, online service provider or other organization responsible for assigning email addresses used to create the Twitter account. The potential winner may be required to show proof of being the authorized account holder.
5. Prize Drawing: Administrator is an independent judging organization whose decisions as to the administration and operation of the Sweepstakes drawing and the selection of the potential winner are final and binding in all matters related to the Sweepstakes. Administrator will randomly select the potential Sweepstakes winner from all eligible entries received during the Promotion Period, on or around June 24, 2019. After the drawing, the potential winner will be notified by @united as a reply message or Direct Message on Twitter and will be required to follow the instructions to provide their name, email address, home mailing address and date of birth to confirm eligibility and for prize fulfillment purposes within forty-eight (48) hours of the date notice or attempted notice is sent, in order to claim the prize. The potential winner will be required to sign and return a Declaration of Compliance, Liability Waiver and, where not prohibited, a Publicity Release ("Declaration") which must be received by Administrator, within forty-eight (48) hours of the date notice or attempted notice is sent, in order to claim the prize. If a potential winner of any prize cannot be contacted, fails to sign and return the Declaration or provide any other requested information, within the required time period, or the prize is returned as undeliverable, the potential winner forfeits the prize. Receiving the prize is contingent upon compliance with these Official Rules. In the event that the potential winner is disqualified for any reason, time permitting, Sponsor will award the prize to an alternate winner by random drawing from among all remaining eligible entries. Only three (3) alternate drawings will be held, after which the prize will remain un-awarded.
6. Prize: ONE (1) GRAND PRIZE: A trip for winner and one (1) guest to Houston, Texas on United's space flight (the "Trip package"). Trip package includes one way, economy air transportation for two (2) from a major airport near winner's home (determined by Sponsor in its sole discretion) to New York, NY vicinity; one way economy air transportation for two (2) on United Airlines' July 17, 2019 "Space Flight" from Newark International Airport to Houston, TX; one way, economy air transportation for two (2) from Houston, TX to a major airport near winner's home (determined by Sponsor in its sole discretion); two (2) nights' accommodations at a hotel determined by Sponsor in its sole discretion (single room, double occupancy); two (2) Houston CityPASSes (terms and conditions apply); a $100 H Town Restaurant Group gift card (terms and conditions apply): a Level 9 VIP Tour for two (2) at Space Center Houston (all details determined by Sponsor in its sole discretion); and two (2) tickets to Space Center Houston's Space on Screen screening and dinner on July 18, 2019 (all details determined by Sponsor in its sole discretion); and travel agent services. Winner must travel on July 17-19, 2019 or prize will be forfeited in its entirety. Trip must be booked at least seven (7) days prior to departure. Travel and accommodations are subject to availability. Travel must be round trip. Sponsor will determine airline and flight itinerary in its sole discretion. No refund or compensation will be made in the event of the cancellation or delay of any flight. Travel is subject to the terms and conditions set forth in this Sweepstakes, and those set forth by the Sponsor's airline carrier of choice as detailed in the passenger ticket contract. All expenses and incidental travel costs not expressly stated in the package description above, including but not limited to, meals, ground transportation, incidentals, gratuities, passenger tariffs or duties, airline fees, surcharges, airport fees, service charges or facility charges, personal charges at lodging, security fees, taxes or other expenses are the responsibility solely of winner. Winner's guest must be eighteen (18) years of age or older as of the date of departure, unless said guest is the minor child of the winner. If the minor child of winner, guest must be fourteen (14) years of age or older as of the date of departure. Winner's guest must travel on same itinerary and at the same time as the winner. Winner's guest must execute liability/publicity releases prior to issuance of travel documents. Travel restrictions, conditions and limitations may apply. If in the judgment of Sponsor air travel is not required due to winner's proximity to Newark or Houston, ground transportation will be substituted for air travel at Sponsor's sole discretion. Sponsor will not replace any lost, mutilated, or stolen tickets, travel vouchers or certificates. Approximate Retail Value: $4,927.85. Actual value may vary based on airfare fluctuations and distance between departure and destination. Winner will not receive difference between actual and approximate retail value.
Prize is non-transferable, not redeemable for cash and no substitution will be made except as provided herein at the Sponsor's sole discretion. Sponsor reserves the right to substitute the prize or any prize component for one of equal or greater value if the designated prize should become unavailable for any reason. Winner is responsible for all taxes and fees associated with prize receipt and/or use. Odds of winning the prize depend on the number of eligible entries received during the Promotion Period.
Sponsor is not responsible if any event is delayed, postponed or cancelled for any reason, in which that portion of prize is forfeited in its entirety and no substitution will be provided except as in Sponsor's sole discretion. Tickets may be subject to standard rain-check policies and procedures. By accepting ticket prize, winner agrees to abide by any terms, conditions and restrictions provided by the ticket. The Sponsor is not responsible if winner does not use ticket on day of event. The attendance by any specific astronaut is not guaranteed and shall be subject to such astronaut's availability and Sponsor's sole discretion. In the event the winner and/or guest engage in behavior that, as determined by Sponsor, in their sole discretion, is obnoxious or threatening, illegal or that is intended to annoy, abuse, threaten or harass any other person, Sponsor reserves the right to terminate the trip or any element of the prize early, in whole or in part, and send the winner and/or his or her guest home, with no further compensation. Winner and guest must obey all rules and complete any paperwork required for the prize, including but not limited to any additional releases, contracts, non-disclosure agreements, waivers required by the Sponsor and, failure to sign such paperwork and/or to furnish all required information on dates selected by Sponsor in their sole discretion will result in forfeiture of the prize.
7. Release: By participation in this Sweepstakes, entrants agree to release and hold harmless Sponsor, Administrator, 360i, Space Center Houston, Houston First Corporation and Greater Houston Convention & Visitor's Bureau, The Manned Space Flight Education Foundation, Twitter, Inc., and their respective subsidiaries, affiliates, suppliers, distributors, advertising/promotion agencies, and prize suppliers, and each of their respective parent companies and each such company's officers, directors, employees and agents (collectively, the "Released Parties") from and against any claim or cause of action, including, but not limited to, personal injury, death, or damage to or loss of property, arising out of participation in the Sweepstakes or receipt or use or misuse of any prize.
8. Publicity: Except where prohibited, participation in the Sweepstakes constitutes winner's consent to Sponsor's and its agents' use of winner's name, prize information, likeness, Retweet, photograph (including, without limitation, winner's Twitter profile photo), voice, opinions and/or hometown and state for promotional purposes in any media, worldwide, without further payment or consideration.
9. General Conditions: Sponsor reserves the right to cancel, suspend and/or modify the Sweepstakes, or any part of it, if any fraud, technical failures, human error or any other factor impairs the integrity or proper functioning of the Sweepstakes, as determined by Sponsor in its sole discretion. In such event, Sponsor, in its sole discretion, may elect to hold a random drawing from among all eligible entries received up to the date of discontinuance for any or all of the prizes offered herein. Sponsor reserves the right, in its sole discretion, to disqualify any individual it finds to be tampering with the entry process or the operation of the Sweepstakes or to be acting in violation of the Official Rules of this or any other promotion or in an unsportsmanlike or disruptive manner. Any attempt by any person to deliberately undermine the legitimate operation of the Sweepstakes may be a violation of criminal and civil law, and, should such an attempt be made, Sponsor reserves the right to seek damages from any such person to the fullest extent permitted by law. Sponsor's failure to enforce any term of these Official Rules shall not constitute a waiver of that provision.
10. Limitations of Liability: The Released Parties are not responsible for: (1) any incorrect or inaccurate information, whether caused by entrants, printing errors or by any of the equipment or programming associated with or utilized in the Sweepstakes; (2) technical failures of any kind, including, but not limited to malfunctions, interruptions, or disconnections in phone lines or network hardware or software; (3) unauthorized human intervention in any part of the entry process or the Sweepstakes; (4) technical or human error which may occur in the administration of the Sweepstakes or the processing of entries; (5) late, lost, undeliverable, damaged or stolen mail; or (6) any injury or damage to persons or property which may be caused, directly or indirectly, in whole or in part, from entrant's participation in the Sweepstakes or receipt or use or misuse of any prize. If for any reason an entrant's entry is confirmed to have been erroneously deleted, lost, not received, or otherwise destroyed or corrupted, entrant's sole remedy is another entry in the Sweepstakes, if it is possible. No more than the stated number of prizes will be awarded. In the event that production, technical, seeding, programming or any other reasons cause more than the stated number of prizes as set forth in these Official Rules to be available and/or claimed, Sponsor reserves the right to award only the stated number of prizes by a random drawing among all legitimate, un-awarded, eligible prize claims.
11. Disputes: Except where prohibited, entrant agrees that: (1) any and all disputes, claims and causes of action arising out of or connected with this Sweepstakes or any prize awarded shall be resolved individually, without resort to any form of class action, and exclusively by the United States District Court for the Eastern District of Michigan (Southern Division) or the appropriate Michigan State Court located in Oakland County, Michigan; (2) any and all claims, judgments and awards shall be limited to actual out-of-pocket costs incurred, including costs associated with entering this Sweepstakes, but in no event attorneys' fees; and (3) under no circumstances will entrant be permitted to obtain awards for, and entrant hereby waives all rights to claim, indirect, punitive, incidental and consequential damages and any other damages, other than for actual out-of-pocket expenses, and any and all rights to have damages multiplied or otherwise increased. All issues and questions concerning the construction, validity, interpretation and enforceability of these Official Rules, or the rights and obligations of the entrant and Sponsor in connection with the Sweepstakes, shall be governed by, and construed in accordance with, the laws of the State of Michigan without giving effect to any choice of law or conflict of law rules (whether of the State of Michigan or any other jurisdiction), which would cause the application of the laws of any jurisdiction other than the State of Michigan; provided that any and all disputes, claims and causes of action arising out of or connected with the premiere portion of the prize and the intellectual property of Disney, shall be resolved individually, without resort to any form of class action, shall be governed and construed in accordance with the laws of the state of California and in the event of any dispute, all entrants irrevocably consent to the jurisdiction of the state and federal courts located in Los Angeles, California to resolve such disputes.
12. Entrant's Personal Information: Information collected from entrants is subject to Sponsor's Privacy Policy (https://www.united.com/ual/en/us/fly/privacy.html) and to Administrator's Privacy Policy (http://www.helloworld.com/privacy-policy).
13. Winner List: For a winner list, visit http://bit.ly/2RcXGGf. The winner list will be posted after winner confirmation is complete.
© 2019 HelloWorld, Inc. All rights reserved.
This promotion is in no way sponsored, endorsed or administered by, or associated with, Twitter, Inc.
Eric Rubens (@erubes1) is a MileagePlus member based in Southern California. He is a photographer/videographer who loves meeting new people and traveling the world.
When planning a vacation, one of the first steps is picking a theme. If you're in search of mountains, many look to the Rockies, Swiss Alps, or Dolomites. If a tropical vacation is desired, Hawaii, Mexico, or the Caribbean may be calling your name. There are so many beautiful destinations in this world, but is it possible for one of them to be blessed with incredible mountains, picturesque beaches, and some of the best wildlife viewing in the world?
Cape Town is one of the few places I've found that seems to have it all. With the iconic Table Mountain and Lion's Head rising out of the city, there are hikes leading up to majestic views down the African coastline. The beaches of Clifton and Camps Bay are some of the most incredible beaches on this planet. If wildlife peaks your interest, there's Boulder's Beach, home to one of the only land-based penguin colonies in the world. Did I mention the safari is a short trip away? Add in an exchange rate that is very favorable and you have all the makings of a trip you'll never forget.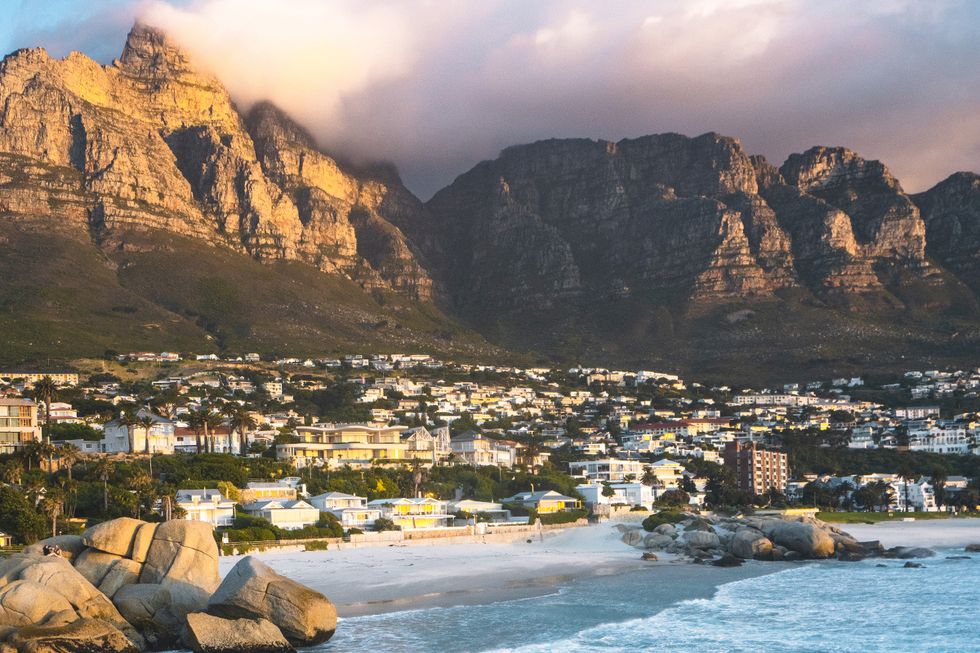 Camps Bay Beach
Planning a trip to Africa for the first time can be both intimidating and a bit challenging. I found very few of my friends or family had been, which made my voyage to South Africa even more exciting. Cape Town is home to a hip urban scene, a vibrant melting pot of culture, and jaw dropping landscapes that'll make you wonder why you didn't visit sooner. There's no city quite like it, and this list of top things to do will make sure you maximize your time in the Mother City. Several theories exist regarding the origin of Cape Town's nickname as "The Mother City." Some say it can be traced back to the beginning of the city's history as a trading hub in the 17th century, or its status as South Africa's first metropolis. But many locals have their own theories – one running joke is that it takes nine months to get anything done in the very laid back city.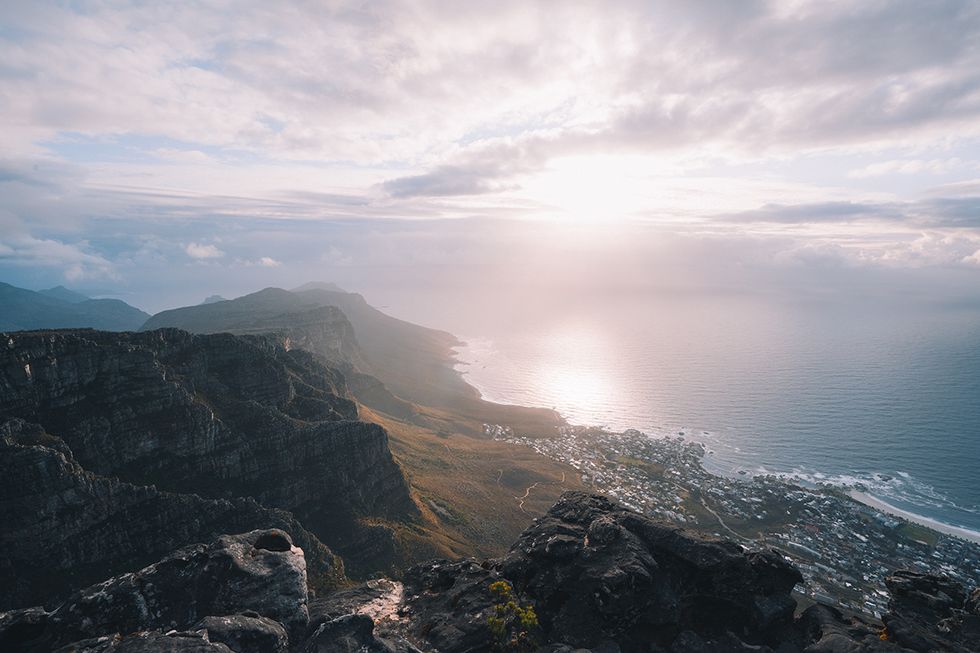 View from the top of Table Mountain
#1: Take a hike or tram up to the top of Table Mountain

This iconic mountain rising from the city is arguably home to Cape Town's best views. The 2 to 3-hour hike to the top makes for a fun activity if you're up for it. Otherwise, take in the view from the aerial cableway, complete with 360-degree rotating floor and running every 5 minutes from the base. Once up top, there's plenty of walking trails, souvenir shopping, and food and drinks. Table Mountain is known for the blanket of fog that rolls over the peak, so weather at the top can change quickly. Make sure to check the weather before heading up and bring a jacket, since the wind can be intense!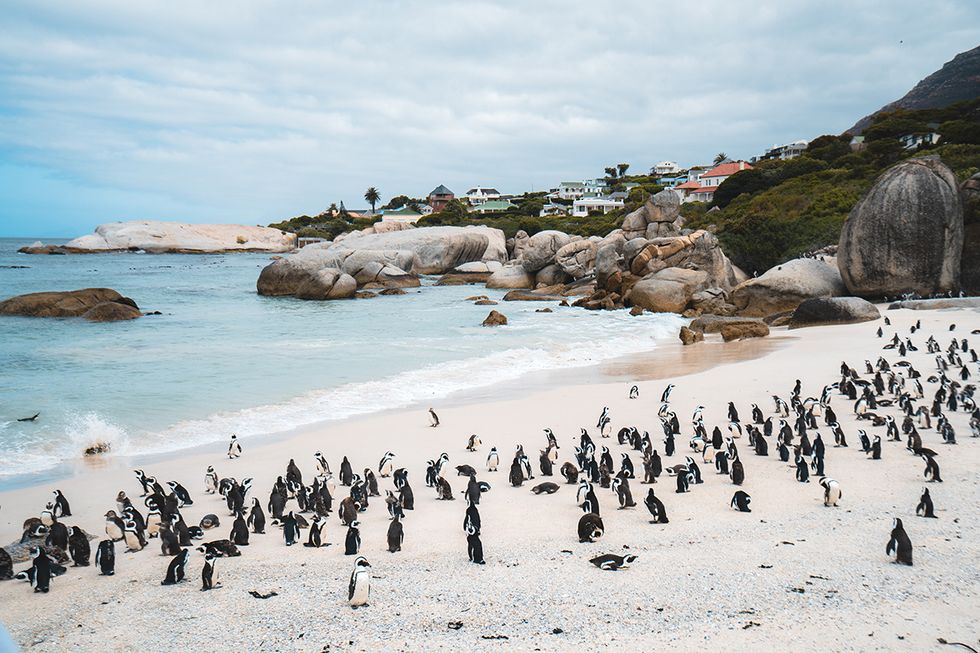 Penguins at Boulder Beach
#2: Visit the penguin colony at Boulder's Beach

Even though it's an hour or so drive from the city, visiting Boulder's Beach and its nearly 2,000 penguins is an unforgettable experience. Watching the penguins lounge on the beach and come in and out of the waves makes for some incredible pictures and a unique encounter. You can also swim in the nearby waters and will often come face to face with members of the colony.
#3: Wake up for a sunrise hike up Lion's Head

One of the most bucket list-worthy activities on a visit to Cape Town is catching sunrise atop Lion's Head. It's a challenging hike and not for those with a fear of heights, but you won't soon forget the view from the summit. If you're willing to scramble and make your way up the final ladders, 360-degree views of the city await, and the sunrise over the city is one for the ages.
#4: Explore the Cape Winelands and the beauty of Constantia
South Africa has some of the best vineyards in the world. Even though the towns of Franschooek and Stellenbosch get the majority of the press, nearby Constantia is home to the oldest wine estate in the country, Groot Constantia. Its proximity (just 15 minutes from the city center) makes it perfect for a day trip. The city sightseeing "Hop-On Hop-Off" bus tour has a purple line that connects through this region, so getting here is easy! If wine tasting isn't your thing, the Alphen Trail is a beautiful trek through the countryside and sure to put you in a relaxing mood.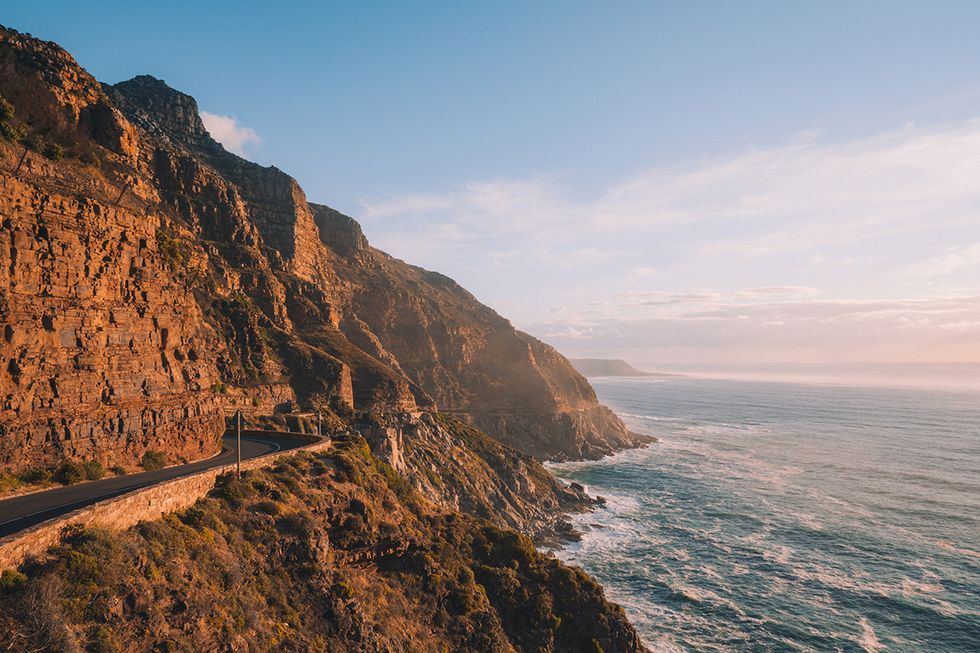 Chapman's Peak Drive
#5: Take a road trip down Chapman's Peak Drive

One of the most beautiful drives awaits just south of Cape Town. Carved into the cliffs and winding along the ocean, this road between Hout Bay and Noordhoek offers majestic views of the coastline. Just make sure to keep your eyes on the road since the sheer beauty can be distracting!
#6: View the diversity of flora throughout Kirstenbosch Gardens
The flora and fauna of South Africa is some of the most diverse in the world, and no place showcases it better than Kirstenbosch Botanical Gardens. Tucked along the slopes of Table Mountain and widely recognized as one of the most impressive gardens in the world, Kirstenbosch is home to over 7,000 species of plants. The newly completed Centenary Tree Canopy Walkway allows you to walk above the tree line. If you visit in summer, try to make one of the Sunday concerts in the gardens, which are a hit with locals and visitors.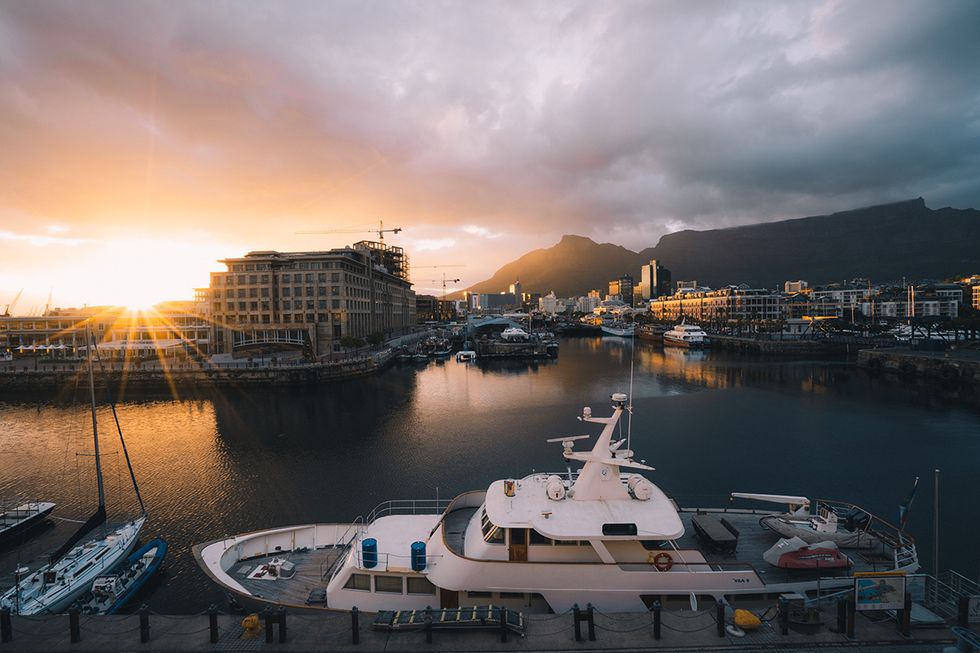 V & A Waterfront
#7: Shop your heart out along the Victoria & Alfred Waterfront

Known as one of the biggest tourism hubs of the city, the always bustling V&A Waterfront is home to many of Cape Town's finest restaurants, shopping, and the launching point of many tours. There are countless ways to spend your time here, but make sure to stop by the V&A food market, where over 40 vendors sell gourmet street food from around the world.
#8: Make your way to the Southern tip of Africa

If you're up for an adventure, take a trip to The Cape of Good Hope. You'll most likely encounter penguins, baboons, and who knows what else along the 1.5-hour drive. The weather can be very unpredictable, so make sure to check it before making the trip south. While there, visit the lighthouse and if you're hungry grab a bite at the appropriately named Two Oceans Restaurant.
#9 Take a tour of historical Robben Island
Even though the prison has been shut down since 1996, a visit to this UNESCO World Heritage Site is one of Cape Town's most popular tours. Tours take around 4 hours including a ferry ride to the island famous for housing Nelson Mandela for 18 of the 27 years he was imprisoned.
Insider tips:
-Use the "hop on hop off" bus for an easy guided tour of the city. The route takes you to many of the best spots throughout Cape Town and allows you to explore at your own pace. Buy tickets ahead of time to save on fare!
-Cape Town has some incredible boutique hotels and bed & breakfasts. My favorites are: Tintswalo Atlantic, 52 De Wet Luxury Boutique Hotel, and Derwent House Boutique Hotel.
-Make sure you don't carry too many valuables on you if you're walking around at night. Although beautiful and mostly safe, there is still a good amount of opportunistic crime throughout the city. Always pay attention to your surroundings.
You can purchase tickets now at united.com or on the United app for three weekly nonstop flights from New York/Newark to Cape Town beginning December 15.
Opinions expressed by the author are those of the author and do not necessarily reflect those of United.
Planning a Caribbean vacation around hurricane season isn't necessary if you head to Dutch-affiliated Curaçao. The southernmost of all Caribbean islands — just off Venezuela's coast — is rarely even grazed by hurricanes. It also has an ideal tropical climate with average winter highs in the 80s (and water temperatures to match) and only about one inch of rain a month.
Curaçao will be more accessible beginning December 7, 2019, when weekly nonstops begin from New York/Newark on United Airlines. The new seasonal service on 737-700 aircraft makes Curaçao the 21st Caribbean island destination for United, which already flies to the other two nearby "ABC islands" — Aruba and Bonaire. Why choose Curaçao? Because like the island's famous blue liqueur, it's colorful, exotic and appealing.
Settling in
Jet lag won't be an issue for Americans flying to Curaçao because it's in the same time zone as New York. Nor is it a long flight — about five hours nonstop from New York/Newark. Upon arrival you can take a taxi, rental car or hotel shuttle from Curaçao International Airport to your accommodations — a resort (reserve early), boutique inn, vacation house or B&B. Most are in Willemstad, a coastal city only five miles from the airport.
Forts above the port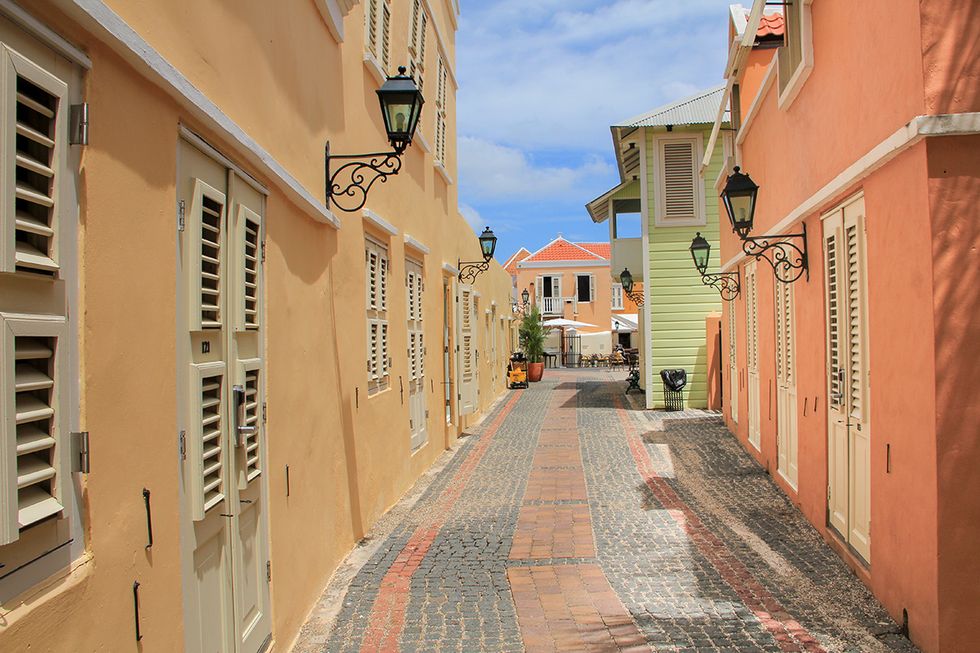 Straat Curaçao Getty Images/iStockphoto
The historic city center and harbor areas of Curaçao's only city of Willemstad are designated as a UNESCO Heritage Site, mostly for the 17th to 19th century Dutch colonial architecture of the houses and forts. The houses are painted a rainbow of bright colors in the Caribbean tradition, and the city is packed with forts — Fort Amsterdam (built in 1636), Fort Beekenburg (1703), Fort Nassau (1797) and Fort Waakzaamheid (1803). All four offer stellar views and are free to visitors.

On the waterfront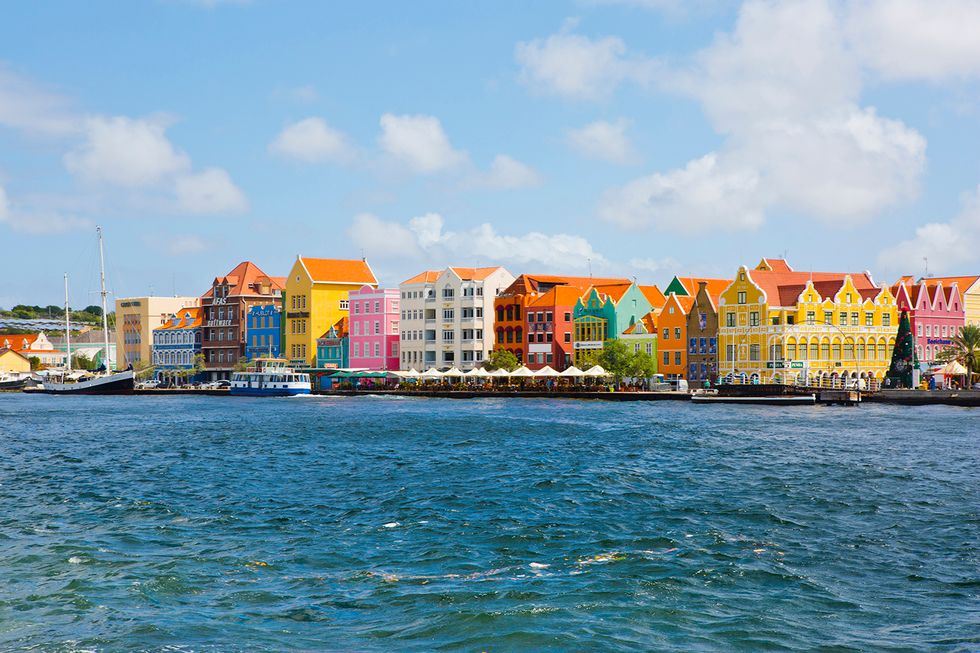 Curacao colorful houses Getty Images/iStockphoto
Along with forts, the harbor area is home to the oldest continuously operating synagogue (and museum) in the Western Hemisphere, an African art museum that tells the story of the slave trade through West African art and artifacts, and a maritime museum. These visits can be followed by a tour and tasting at the Curaçao Distillery, where you'll see how the peels of the native Laraha bitter oranges are turned into curaçao liqueur.

Snorkel from the sand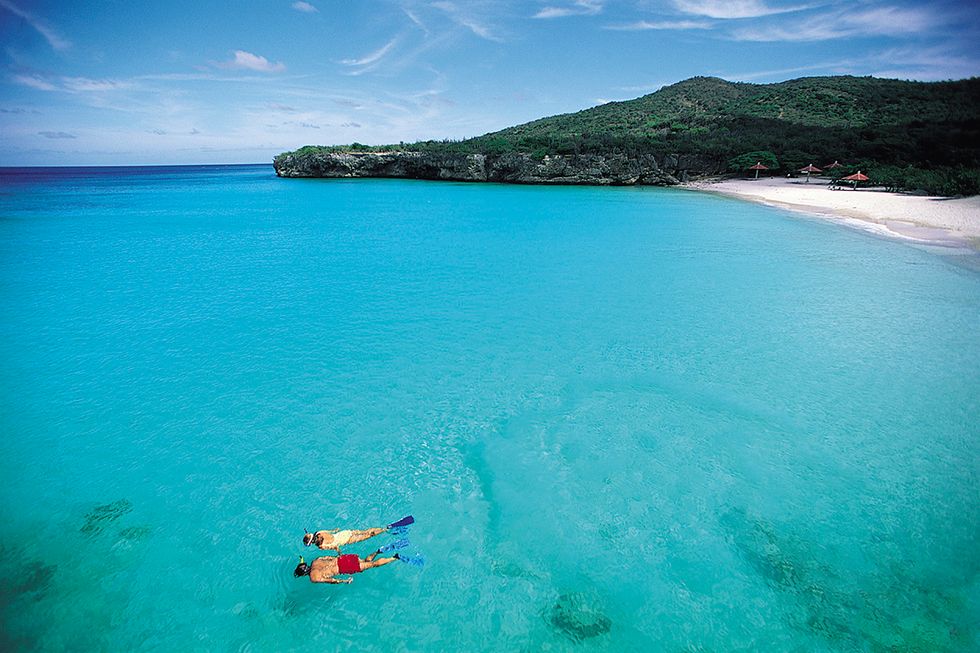 Two people snorkeling off coast of tropical island Getty Images
The chief allure of this 38-mile-long island is, of course, the ocean. Besides sunbathing at any of the dozens of powder-sand cove beaches, you can wade right in and snorkel in the turquoise, bathlike sea, usually around 80 degrees. Visibility is up to 100 feet, a snorkeler's dream. More adventurous types can snorkel or dive from day boats that head to prime diving sites like the Mushroom Forest (mushroom-shaped coral), Blue Cave and several shipwreck spots. There's also a nice aquarium on the shoreline where marine life is seen up close in their natural habitat —from land or aboard a minisub that dives 1,000 feet.

Ready, set…
Curaçao is a convenient tropical destination for Americans because U.S. dollars and credit cards are commonly accepted, English is widely spoken and no visa is required. But the local culture and cuisine are still exotic enough to be intriguing with local specialties like stewed iguana and cactus soup served in restaurants and from food carts in Willemstad.
If you go
Flight reservations from New York/Newark (EWR) to Curaçao (CUR) can be made at united.com on the United app. Use miles to reserve a hotel, rental car or both with MileagePlus®.
One of our most treasured events of the year is here – Fantasy Flights! Our Fantasy Flights bring holiday cheer to children in need by taking them on a special trip to the "North Pole." Each station creates a North Pole with care, in preparation for all the children who will soon be there…
Our participating stations this year are HNL (Honolulu), FRA (Frankfurt), CLE (Cleveland), DEN (Denver), IAD (Washington Dulles), LAX (Los Angeles), SFO (San Francisco), MCO (Orlando), ORD (Chicago O'Hare), GUM (Guam), EWR (New York/New Jersey), NRT (Tokyo-Narita), PHX (Phoenix), IAH (Houston), MCI (Kansas City) and SAT (San Antonio).
Please stay tuned for stories, photos and more from these magical events. #UAFantasyFlights
Scroll to top