Après 3 ways
Story by Nicholas DeRenzo | Hemispheres, November 2018
There's only one way to take the ski slopes: fast. But there are all sorts of approaches to post-powder R&R. Here, Hemispheres looks at a trio of America's favorite winter resorts and offers three methods to après-ski—glitzy, old-school, and family-style—at each. There's something for everyone in the "after"-life.
Telluride, Colorado
Tucked in a box canyon far from the hustle of Colorado's other ski resorts, highbrow yet rustic Telluride is two destinations in one. America's only free public-transportation gondola connects the Victorian mining town where Butch Cassidy robbed his first bank to the Alpine-style Mountain Village and its 2,000 acres of skiable terrain. You might bump into one of the many celebrities with vacation homes here (Oprah, Jerry Seinfeld), but play it cool: It's the Telluride way.
Luxe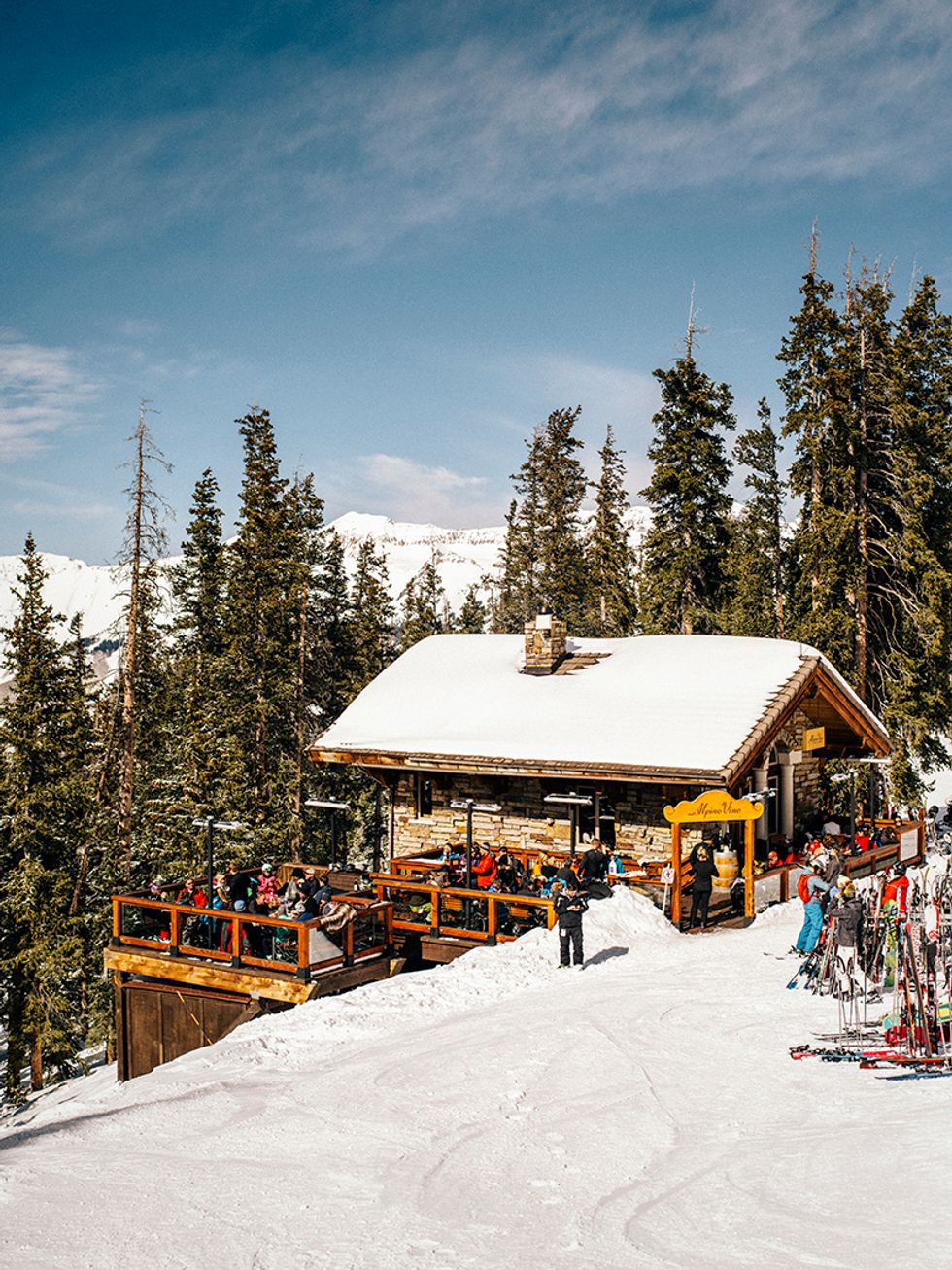 At 11,966 feet, the Dolomite hütte–inspired Alpino Vino is North America's highest restaurant. By day, the tiny wooden cottage is reachable on skis (it's a short glide downhill from the top of Lift 14); at night, heated snow-coaches whisk diners to a five-course Italian tasting menu experience, complete with the region's most impressive wine list. Go for a Brunello di Montalcino—the cellar contains bottles from nearly two dozen producers. Tasting menu $150, with $75 and $125 wine pairing options, tellurideskiresort.com
Classic

Down in town, belly up to the original 1897 mahogany and cherrywood bar at the New Sheridan Hotel saloon, one of the oldest watering holes in the West. The setting may inspire you to order a whiskey, but there's no better place to try the city's unofficial beverage, the Flatliner, made with vanilla vodka, Baileys, Kahlúa, and espresso. newsheridan.com
Family
A little red cabin near the base of the free gondola houses Taco Del Gnar, a delightfully grungy spot selling creative tacos like tempura avocado, housemade lamb sausage, smoked pork belly, and seared ahi tuna. Kids will love the queso blanco–topped tater tots, while parents can work their way through the list of local beers. gnarlytacos.com
Sun Valley, Idaho
Built on the edge of the mining town of Ketchum in 1936, Sun Valley was the world's first destination ski resort and the home of the first chairlift, which was derived from a device that had been used to load bananas onto rail cars. The mountain instantly began attracting the likes of Marilyn Monroe, Clint Eastwood, and Ernest Hemingway—a favorite adopted citizen who helped popularize the image of this valley as one of the West's great outdoorsy getaways.
Luxe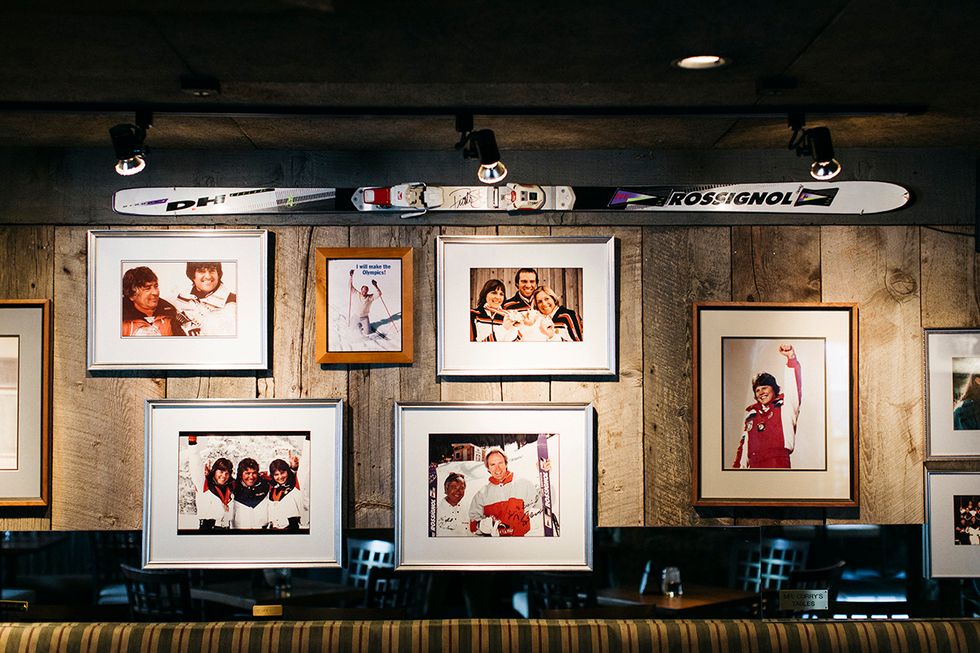 Papa Hemingway ate his last supper in 1961 at Michel's Christiania, a fine-dining (but verycomfortable) French restaurant in the heart of Ketchum where you can order classics like trout meunière and escargots bourguignonne. Chef-owner Michel Rudigoz is a former U.S. women's ski team coach, which explains all the memorabilia in the attached Olympic Bar. michelschristiania.com
Classic
There's nothing fancy about Grumpy's, a dive bar that turned 40 this year. Known for its 32-ounce beer schooners and hodge-podge decor (vintage beer can–lined walls, a prop dog from There's Something About Mary), the bar is a favorite among paparazzi-dodging stars like Bruce Springsteen, who has been known to sing a few tunes when he stops in. grumpyssunvalley.com
Family
Après-ski often means getting out of the cold ASAP, but for one of the valley's most memorable off-slope activities, you'll need to brave the chill a bit longer. The kids will love a Clydesdale-drawn sleigh ride to Trail Creek Cabin for hearty mountain staples such as buffalo tenderloin and ruby trout, plus German chocolate cake for dessert. sunvalley.com
Jackson Hole, Wyoming
Perched on the edge of Grand Teton National Park, Jackson Hole has always felt wild. Trappers used the term "hole" to describe the valley's vertigo-inducing sides, and the resort has used that geological feature to maximum effect. Dubbed "The Big One," the area boasts America's biggest vertical drop in ski terrain (more than 4,100 feet), as well as Corbet's Couloir, a legendarily deranged run that tops many ski-bum bucket lists.
Luxe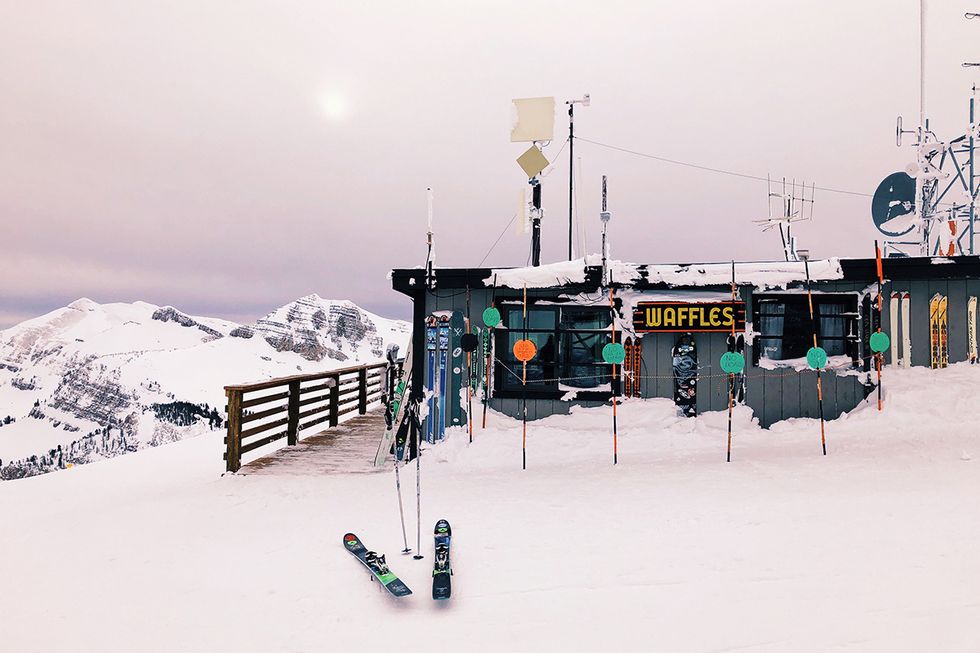 When skiers talk about a good powder day, some may be referring to the powdered sugar on the waffles at Corbet's Cabin. (Remember, après starts early when you're skiing with kids.) Located at 10,450 feet, atop Rendezvous Peak, this refueling station is reachable by the Aerial Tram and dishes out hot waffles in flavors like the Nutella-topped Italian, the lemon-glazed Englishman, and the peanut butter and smoked bacon–stacked Gateway. Parents can warm up faster by spiking their hot cocoa or coffee with Irish cream, whiskey, or schnapps. jacksonhole.com
Classic
Opened in 1967, the Mangy Moose saloon has attracted performers like Jason Aldean and Brandi Carlile. Grab a table under the antlered taxidermy for a buffalo fillet or trout and chips, paired with locally inspired cocktails (like the Huckleberry Cosmo) or the Tourist Trap, a "shot ski" with four shots of Fireball or Rumple Minze. mangymoose.com
Family
The newest member of chef Gavin Fine's aptly named Fine Dining Restaurant Group (which includes an ice cream parlor and craft butcher) is Hotel Terra's Bar Enoteca, a Mediterranean wine and cocktail bar that opened last fall. Small plates such as the wild game sausage and goat cassoulet are perfect for post-slope grazing. hotelterrajacksonhole.com
Right now, around the world, brave members of America's armed forces are on duty, defending our freedom and upholding our values.
When not laser-focused on the mission at hand, they're looking forward to the day when their service to our nation is fulfilled and they can reunite with their families.
They are also imagining how they can use their hard-earned skills to build an exciting, rewarding and important career when they return home.
I want them to look no further than United Airlines.
That's why we are focused on recruiting, developing and championing veterans across our company, demonstrating to our returning women and men in uniform that United is the best possible place for them to put their training, knowledge, discipline and character to the noblest use.
They've developed their knowledge and skills in some of the worst of times. We hope they will use those skills to keep United performing at our best, all of the time.
That's why we are accelerating our efforts to onboard the best and the brightest, and substantially increasing our overall recruitment numbers each year.
We recently launched a new sponsorship program to support onboarding veterans into United and a new care package program to support deployed employees. It's one more reason why United continues to rank high - and rise higher - as a top workplace for veterans. In fact, we jumped 21 spots this year on Indeed.com's list of the top U.S workplaces for veterans. This is a testament to our increased recruiting efforts, as well as our efforts to create a culture where veterans feel valued and supported.
We use the special reach and resources of our global operations to partner with outstanding organizations. This is our way of stepping up and going the extra mile for all those who've stepped forward to answer our nation's call.
We do this year-round, and the month of November is no exception; however, it is exceptional, especially as we mark Veterans Day.
As we pay tribute to all Americans who have served in uniform and carried our flag into battle throughout our history, let's also keep our thoughts with the women and men who are serving around the world, now. They belong to a generation of post-9/11 veterans who've taken part in the longest sustained period of conflict in our history.

Never has so much been asked by so many of so few.... for so long. These heroes represent every color and creed. They are drawn from across the country and many immigrated to our shores.

They then freely choose to serve in the most distant and dangerous regions of the world, to protect democracy in its moments of maximum danger.
Wherever they serve - however they serve - whether they put on a uniform each day, or serve in ways which may never be fully known, these Americans wake up each morning willing to offer the "last full measure of devotion" on our behalf.
Every time they do so, they provide a stunning rebuke to the kinds of voices around the world who doubt freedom and democracy's ability to defend itself.
Unfortunately, we know there are those who seem to not understand – or say they do not - what it is that inspires a free people to step forward, willing to lay down their lives so that their country and fellow citizens might live.
But, we – who are both the wards and stewards of the democracy which has been preserved and handed down to us by veterans throughout our history – do understand.
We know that inciting fear and hatred of others is a source of weakness, not strength. And such divisive rhetoric can never inspire solidarity or sacrifice like love for others and love of country can.
It is this quality of devotion that we most honor in our veterans - those who have served, do serve and will serve.
On behalf of a grateful family of 96,000, thank you for your service.
Humbly,
Oscar
Each year around Veterans Day, Indeed, one of the world's largest job search engines, rates companies based on actual employee reviews to identify which ones offer the best opportunities and benefits for current and former U.S. military members. Our dramatic improvement in the rankings this year reflects a stronger commitment than ever before to actively recruiting, developing and nurturing veteran talent.
"We've spent a lot of time over the past 12 months looking for ways to better connect with our employees who served and attract new employees from the military ranks," said Global Catering Operations and Logistics Managing Director Ryan Melby, a U.S. Army veteran and the president of our United for Veterans business resource group.
"Our group is launching a mentorship program, for instance, where we'll assign existing employee-veterans to work with new hires who come to us from the armed forces. Having a friend and an ally like that, someone who can help you translate the skills you picked up in the military to what we do as a civilian company, is invaluable. That initiative is still in its infancy, but I'm really optimistic about what it can do for United and for our veteran population here."
Impressively, we were the only one of our industry peers to move up on the list, further evidence that we're on a good track as a company.
The question of where David Ferrari was had haunted retired U.S. Army Sergeant Major Vincent Salceto for the better part of 66 years.
Rarely did a week go by that Salceto didn't think about his old friend. Often, he relived their last moments together in a recurring nightmare. In it, it's once again 1953 and Salceto and Ferrari are patrolling a valley in what is now North Korea. Suddenly, explosions shatter the silence and flares light up the night sky.
Crouching under a barrage of bullets, Salceto, the squad's leader, drags two of his men to safety, then he sees Ferrari lying face down on the ground. He runs out to help him, but he's too late. And that's when he always wakes up.
Italian Americans from opposite coasts – Salceto from Philadelphia, Ferrari from San Francisco – the two became close, almost like brothers, after being assigned to the same unit during the Korean War. When Ferrari died, it hit Salceto hard.
"After that, I never let anyone get close to me like I did with Dave," he says. "I couldn't; I didn't want to go through that again."
When the war ended, Salceto wanted to tell Ferrari's family how brave their son and brother had been in battle. Most of all, he wanted to salute his friend at his gravesite and give him a proper farewell.
For decades, though, Salceto had no luck finding his final resting place or locating any of his relatives. Then, in June of this year, he uncovered a clue that led him to the Italian Cemetary in Colma, California, where Ferrari is buried.
Within days, Salceto, who lives in Franklinville, New Jersey, was packed and sitting aboard United Flight 731 from Philadelphia to San Francisco with his wife, Amy, and daughter, Donna Decker, on his way to Colma. For such a meaningful trip, he even wore his Army dress uniform.
That's how San Francisco-based flight attendant Noreen Baldwin spotted him as he walked down the jet bridge to get on the plane.
"I saw him and said to the other crew members, 'Oh my goodness, look at this guy,'" she says. "I knew there had to be a story."
The two struck up a conversation and Salceto told Baldwin why he was traveling. She got emotional listening to him talk and made a point of fussing over him, making sure he and his family had everything they needed.
About halfway through the flight, Baldwin had an idea. She and her fellow crew members would write messages of encouragement to Salceto and invite his fellow passengers to do the same.
"We did it discreetly," says Baldwin. "I asked the customers if they saw the man in uniform, which most had, and asked them if they wanted to write a few words for him on a cocktail napkin. A lot of people did; families did it together, parents got their kids to write something. After the first few rows, I was so choked up that I could barely talk."
When Baldwin surprised Salceto with dozens of hand-written notes, he, too, was speechless. He laid the stack on his lap and read each one. At the same time, the pilots made an announcement about the veteran over the loud speaker, after which the customers on board burst into applause.
"It seems contrived, and I hate using the word organic, but that's what it was; it just happened," Baldwin says. "Mr. Salceto was so loveable and humble, and what he was doing was so incredible, it felt like the right thing to do. And you could tell he was touched."
On June 27, Salceto finally stood before Ferrari's grave and said that long-awaited goodbye. As a trumpeter played "Taps," he unpinned a medal from his jacket and laid it reverently on the headstone.
"I had gotten a Bronze Star for my actions [the night Ferrari died] with a 'V' for valor, and that was the medal I put on Dave's grave," says Salceto, pausing to fight back tears. "I thought he was more deserving of it than I was."
For the first time in years, Salceto felt at peace. His mission was accomplished.
Scroll to top