Bali: A paradise wedding destination
Each week we will profile one of our employee's adventures across the globe, featuring a new location for every employee's story. Follow along every week to learn more about their travel experiences.
By San Francisco-based Flight Attendant Dianne Escalona
Is Bali really like the movie "Eat Pray Love?" This is the first question that ran through my head when my fiancé and I decided on Bali as the top destination option for our wedding. At the time, I had never really known anyone who had been to Bali, so all I had to go off of was the 2010 movie based on Elizabeth Gilbert's memoir. When I thought of Bali, I thought of a tropical, exotic, middle-of-nowhere island that mainly consisted of beaches and palm trees. Boy, was I wrong.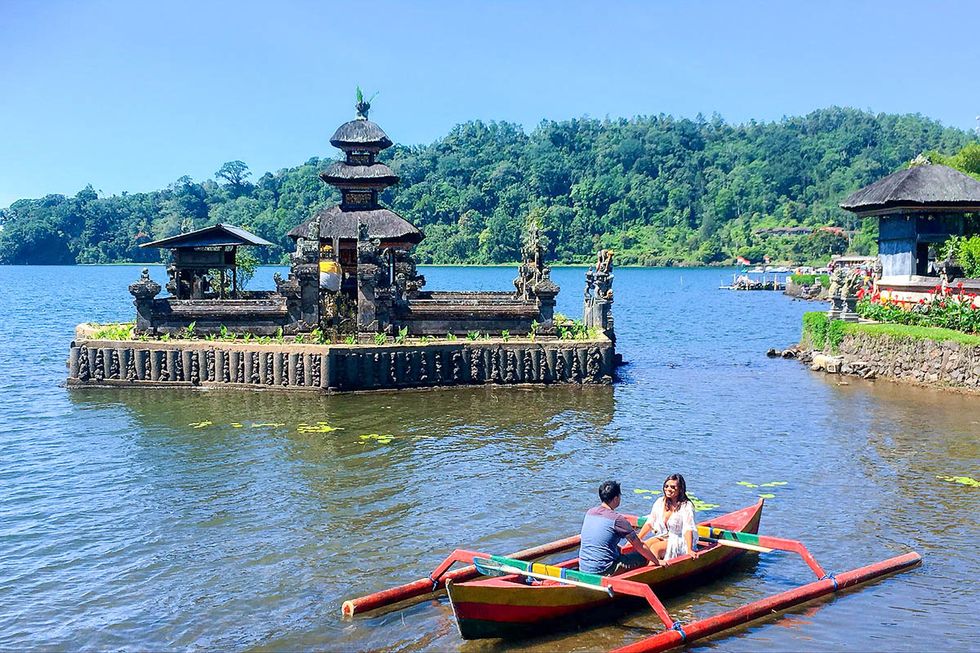 When choosing a destination for our wedding, we both had a few conditions — we wanted somewhere exotic, far away from California, tropical with the ocean and palm trees, and an added bonus would be exotic drinks. We did a lot of research – I read blogs online and he researched possible wedding venues – but we still needed to see and experience the island for ourselves. When it came time for our trip to Bali, last September, we were more than prepared and had a tentative itinerary planned. Through our research we agreed that having our own villa would be more private than a hotel and give us a taste of the local culture, especially since the place we had chosen to rent had a main house with a host who had also offered to show us around. Thanks to her recommendation we hired a private driver to pick us up from the airport and take us around the island - a great decision.
We began our journey by flying into Singapore from San Francisco. Once in Singapore we decided to spend a night in the city before flying over to Bali. We stayed at the JW Marriott, a must-stay hotel with an infinity pool on the roof, offering the grandest view of the city! It definitely rivals the view at Marina Bay Sands, and is much more affordable. The next day, we hopped on a quick flight to Bali and upon landing, our private driver was already outside waiting for us. I've always wanted someone holding up a sign with my name and greeting me outside arrivals —maybe this is a flight attendant thing. Our driver's name was Komang, and he was very gracious and provided us with helpful tips on various places to go each day that would coincide with our wedding venue visits.
Our host at our villa, Soviana, was eagerly waiting to greet us both upon our arrival and gave us a tour of her exquisite, Buddhist temple-looking villa. Before heading to dinner, we enjoyed homemade watermelon smoothies on the rooftop with a nice view of the ocean. After a long day of traveling, we headed to bed early to prepare for the next few days of sightseeing and wedding venue visits.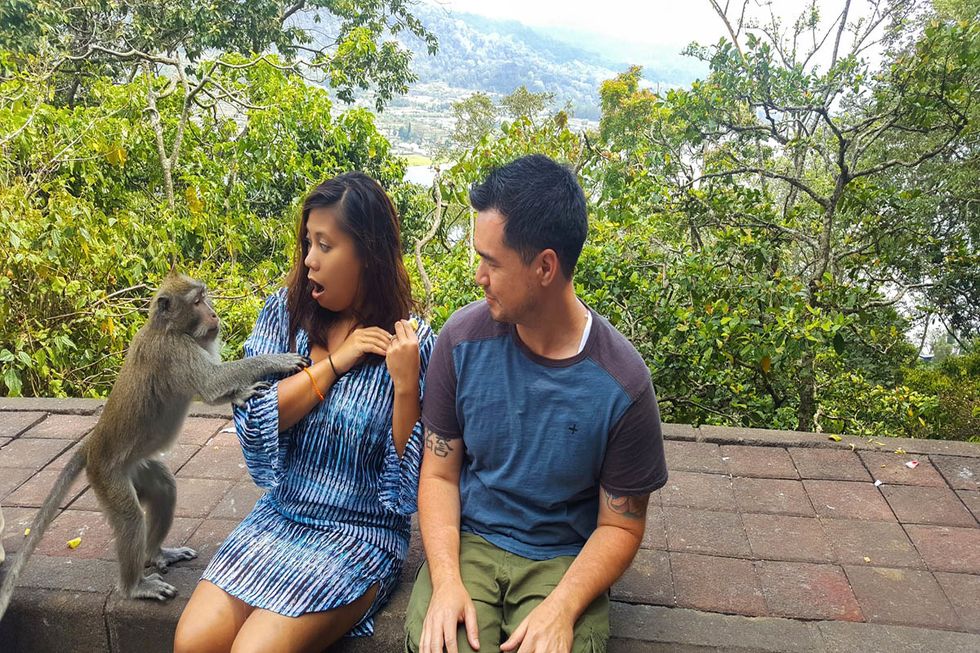 The next few days consisted of hotel appointments and making sure to squeeze in some sightseeing all over the island. Between wedding planning and exploring the island, we never had a dull moment that week. Our favorite activities included the Monkey Forest, water temples and waterfall hunting.
The sacred Ubud Monkey Forest lies within the village of Padangtegal and is home to more than 700 monkeys. This experience was near the top of our bucket list. This monkey forest was built around the 14th century, and while here you can watch the monkeys being fed by the locals. Though it is advised for you to refrain from feeding them, as well as to avoid wearing any jewelry, hats or shiny accessories that may attract their attention. Also, it is recommended to avoid looking them in the eye, which I unfortunately learned the hard way – I looked at a young monkey in the eye and it suddenly jumped on my back, trying to open my backpack. For the most part, they're friendly and won't bother you as long as you follow the advice of the village's residents. After this visit we were ready to cool down from all the walking and see some waterfalls.
Amidst wedding planning, we hiked the Banyumala waterfall with the company of our driver – turned great tour guide. The difficulty of this hike is up to interpretation, as the beginning of the hike was on dry dirt and a steady downhill climb until the dirt turned mushy and the climb became more like a slip and slide with the help of a flimsy rope. It's definitely not a hike you'd want to bring a lot of things on and make sure you wear solid shoes. Although I wasn't prepared for a slippery, downhill, muddy hike, it was worth it. When we finally saw the waterfall, I immediately wanted to jump in. It was the most refreshing water and the most fun we had on the trip. I remember floating on my back and staring at the sun peeking through the clouds and seeing the mist from the falls surround me. It was as if I were in a dream.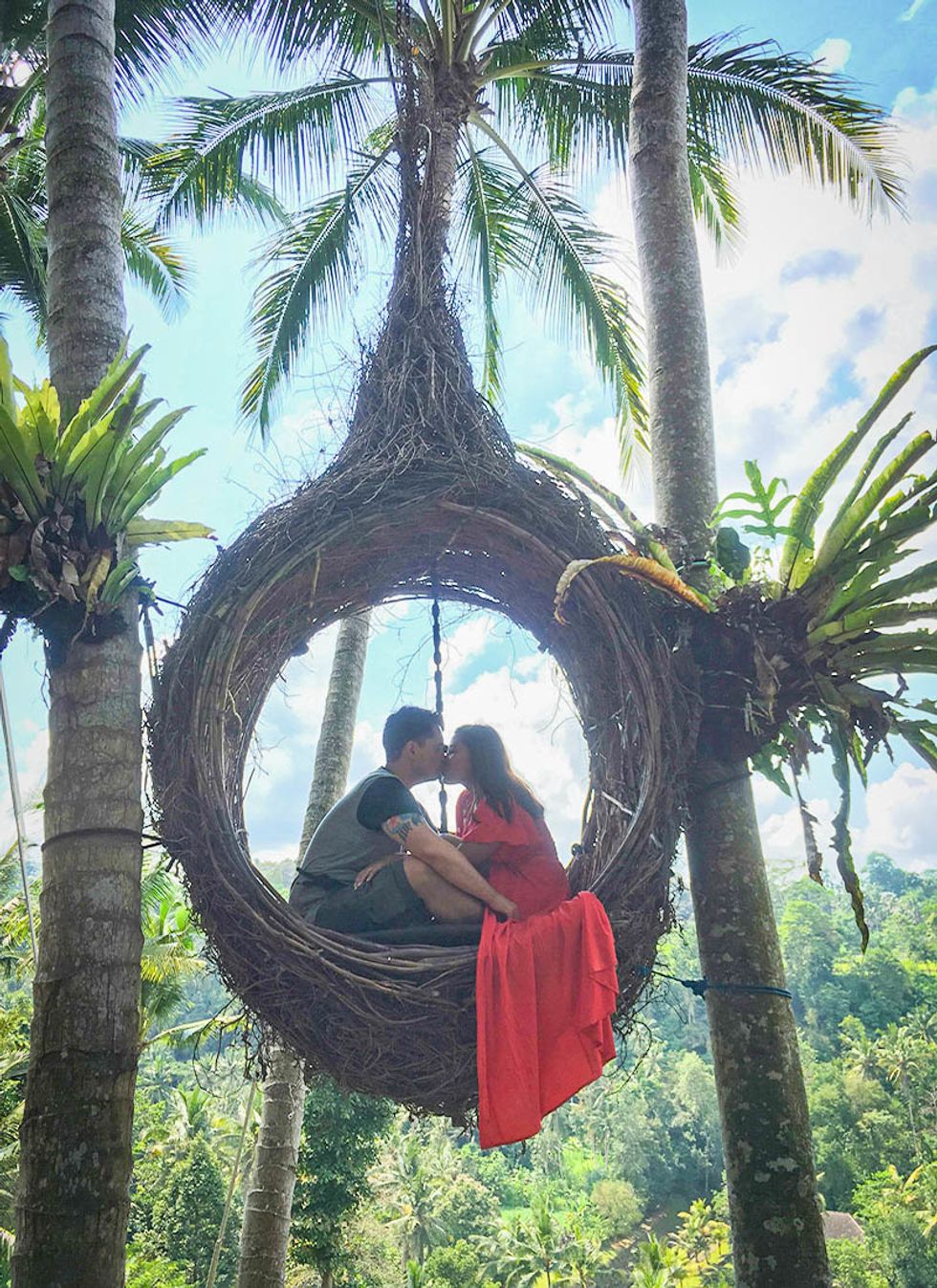 I also wanted to experience a local ritual. I got my chance at the Tirta Empul water temple. This temple is a Hindu Balinese water temple where the locals go for ritual purification. You must wear a sarong to enter and it's famous for its holy spring water. Komang told us the story behind the temple and said that it dates back to 960 AD, when the Balinese ruler, Mayadenawa created a poisoned spring that killed the god Indra's troops; Indra, in his anger, threw his staff into the ground, which caused the a holy purifying spring to form. The story goes on to say that the troops were brought back to life from this holy water. The ritual is performed by starting at the first water spout and bowing toward it, then splashing the water onto your face three times. Then you submerge your head and body underneath the spout while praying to the Hindu gods. You then continue to each of the 13 spouts. However, the 11th and 12th spouts are skipped since they are only used for funerals. The holy water is meant to rid you of evil spirits and cleanse your soul. After experiencing just a few of these cultural and unique places Bali has to offer, my fiancé and I had no doubt in our minds that we were going to get married on this island.
I went to Bali not knowing anything about the country except what I saw in a movie and read online. I left learning that, not only are there an abundance of unique and interesting things to see and do, but I also learned how friendly and spiritual the locals are. Our Airbnb host, our private drivers Komang and Arsa, and the locals we met that week taught us the importance of cleansing your mind and spirit, meditation, massage and a healthy diet. I have no doubt that this is where our dream destination wedding is meant to be in 2020.
Calling all AvGeeks and travelers! Here's a fun way to take your next video call….from a United Polaris seat, the cockpit or cruising altitude. We're introducing United-themed backgrounds for use on Zoom, a video conferencing tool that many people are using to stay connected.
So for your next meeting or catch up with friends and family, download the app to either your computer or mobile device to get started. If you've already downloaded Zoom you can skip ahead to updating your background image (see instructions below).
Start here by downloading your favorite United image to your computer or mobile device. Just click "download" in the bottom left corner of the image.
Next go to your Zoom app (you'll need to download the app to access backgrounds) and click on the arrow to the right of your video camera icon in the bottom of the screen.
From here select, "choose virtual background" to upload your uniquely United photo.
When and where possible, we are working to repatriate travelers who are stranded abroad in the wake of the COVID-19 crisis. Our teams are working closely with government officials here in the U.S. as well as in other countries where flying has been restricted to gain the necessary approvals to operate service. In regions where government actions have barred international flying, we have coordinated with the the U.S. State Department and local government officials to re-instate some flights. Additionally, we have been operating several extra flights to countries in Central America and South America as we continue to play a role in connecting people and uniting the world.
We have operated more than 56 repatriation flights from Panama City, Guatemala City, Quito, Lima, San Pedro Sula, Tegucigalpa and Roatan, bringing nearly 8,000 people home. We will continue working with government officials to operate extra flights to Houston from Quito, San Pedro Sula, Tegucigalpa and from Lima to Washington Dulles and beginning April 5, we will begin operating multiple charter flights between Delhi and San Francisco. We continue to review more opportunities for flights between the United States and other countries to bring citizens home.
Video provided by the U.S. Embassy Ecuador of Americans returning home on United.

Additionally, our Customer Solutions and Recovery team is working with customers in the following markets to rebook them on flights back to the United States as capacity allows, either on our aircraft or on one of our airline partners' planes:

Quito, Ecuador
Managua, Nicaragua
Roatan, Honduras
San Pedro Sula, Honduras
Amsterdam
Brussels
Munich
Singapore
Tokyo-Haneda
Seoul, South Korea
Melbourne, Australia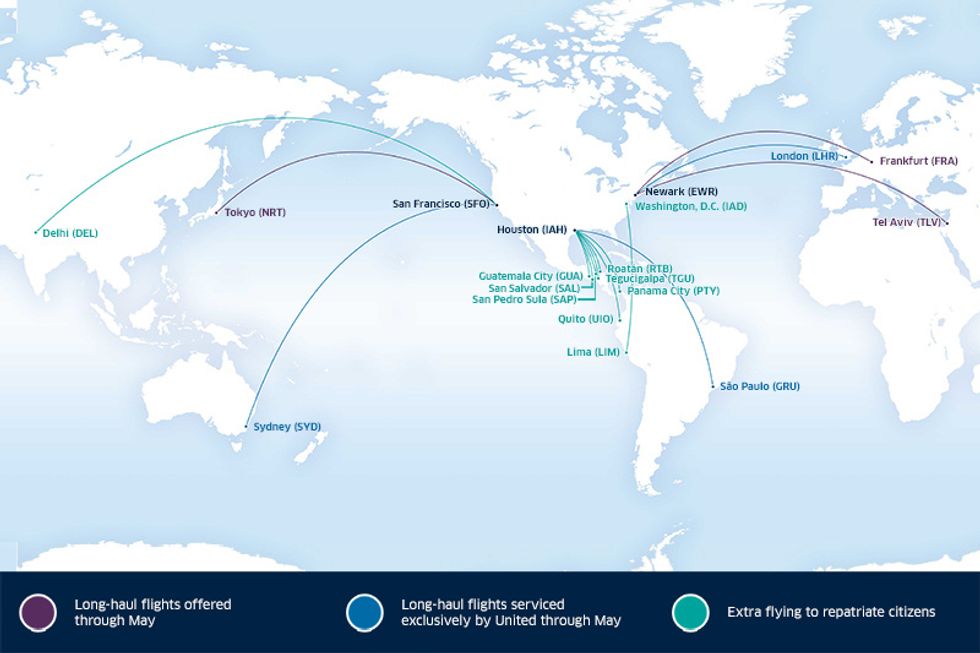 We also recently reinstated several international flights back into our schedule to support customers and essential businesses which depend on these routes. As a result, we will be the only airline to offer service between Newark/New York and London, San Francisco and Sydney, as well as Houston and São Paulo, Brazil.

In the midst of mobilizing our cargo operations, our teams at New York/Newark (EWR) and Jacksonville (JAX) stepped in to assist Roche Diagnostics with transporting a vital component for an instrument being used for COVID-19 testing.
The component was stuck at EWR en route to the Mayo Clinic in Florida after another airline's flights were cancelled. A Roche employee contacted us asking for help and, within a few hours, our teams had the piece loaded onto a Jacksonville-bound aircraft, with arrangements in place to deliver it to the Mayo Clinic.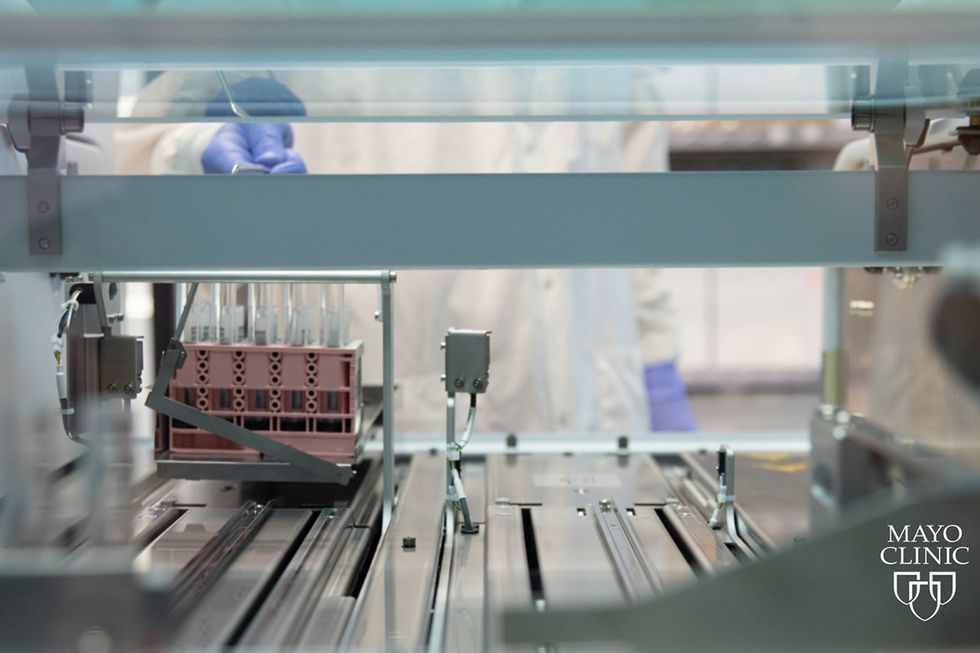 The item we shipped will allow the Mayo Clinic in Florida to process hundreds of COVID-19 tests per day. Mayo Clinic Laboratories has been on the front lines of increasing testing capacity to expedite caring for patients at this critical time and working to ease the burden being felt at test processing laboratories in a growing number of areas.

Together, we are facing an unprecedented challenge. United Together, we rise to meet that challenge.
Check out our newest destinations
United Airlines
united
We continue to work with government officials to bring Americans home. In addition to flights from Central & South America, we have charter flights planned from India. Learn more about our repatriation efforts in the wake of COVID-19 here:
uafly.co/3aExaOL
#UnitedTogether
United Airlines
united
When
@RocheDia
needed to ship a vital component of a COVID-19 testing unit from New Jersey to Florida, United Cargo jumped in to help. Read about how this part will allow
@MayoClinic
to process hundreds of tests per day for cases in the Southeastern U.S.
uafly.co/2UzOAGW
United Airlines
united
International schedule update: We know some people around the globe are displaced and still need to get home. We are reinstating some international flights over the next few days and will continue to fly six daily international flights through May.
uafly.co/3a5Dj6p
United Airlines
united
We have extended our change fee waiver to cover travel through May 31, 2020: - You can change or cancel your flight on
united.com
or through the app – a phone call is not required - For the latest on our commitment to your safety, visit
united.com/coronavirus
We Are United
weareunited
Shoutout to our operations team, who are working to properly park, maintain and store many aircraft in the
#BeingUnited
fleet. These aircraft are being housed across our seven hubs, maintenance facilities in CLE and MCO as well as at offsite facilities in New Mexico and Arizona.
We Are United
weareunited
Tomorrow, Oscar and Scott will host a companywide town hall to discuss the latest developments in managing the effects of the coronavirus (COVID-19). You can join the livestream event at 1:20 p.m. CT here:
uafly.co/39AV25m
We Are United
weareunited
Tomorrow, Oscar and Scott will host a companywide town hall to discuss the latest developments in managing the effects of the coronavirus (COVID-19). You can join the livestream event at 1:20 p.m. CT here:
uafly.co/39AV25m
.
Watch our most popular videos
Copyright © 2020 United Airlines, Inc.
All rights reserved.
Indicates an external site that may or may not meet accessibility guidelines.
Scroll to top
Scroll to top