The 10 best beach vacation destinations in Europe
These spots offer the perfect beach day with a side of art, history and nightlife.
Europe is home to some of the world's most-celebrated seas — the Mediterranean, the Adriatic, the Aegean — and its cultural mosaic makes it a top choice for beach lovers looking to mix sun, fun, art, history and nightlife. Windsurf in the morning, visit ancient ruins in the afternoon, shop for the season's hottest beachwear before enjoying sunset cocktails and then partying until dawn. Sound good? Read on to discover the 10 best beach vacation destinations in Europe.
Mykonos, Greece
Few places do charm and decadence better than Mykonos. This sunny Greek island's calling cards are almost-anything-goes beaches (expect plenty of skin), Instagram-worthy Cycladic architecture (whitewashed buildings with brightly hued shutters and cascading flower boxes), 16th-century windmills (a must-see at sunset) and legendary discos and dance clubs in Mykonos Town. As for the beaches, check out Ornos Bay for pretty views and excellent windsurfing, chic Psarou for celebrity spotting and Paradise and Super Paradise for hedonistic sun-worshipping and dancing until sunrise.
Mallorca, Spain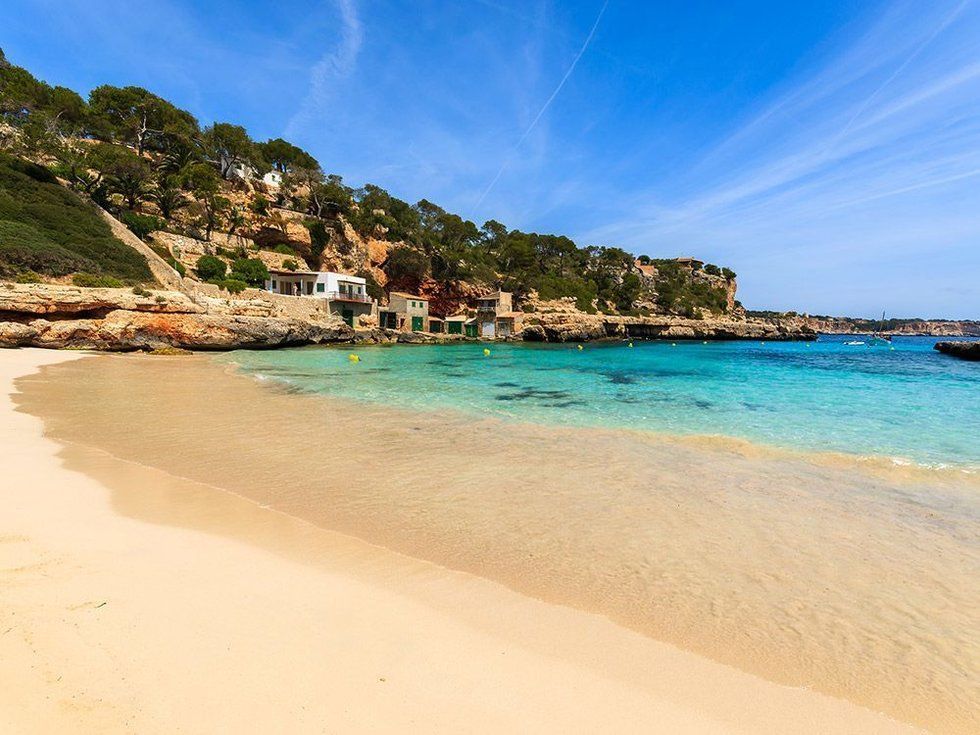 Mallorca, Spain | Shutterstock
This beautiful Mediterranean oasis, the largest of the Balearic Islands located off the east coast of Spain, is a hot spot for northern Europeans, who flock here in summer to enjoy long days of sunshine and fresh air. Once you get beyond the urban sprawl of the capital, Palma, mountainous, bay-fringed Mallorca delivers some of the region's most amazing azure water and soft-sand beaches — there are more than 250, from popular 3½-mile Playa de Muro to secluded Cala Mesquida. The view from the water is pretty incredible, too: centuries-old hilltop villages constructed of golden stone backed by peaceful olive groves and vineyards.
Hvar, Croatia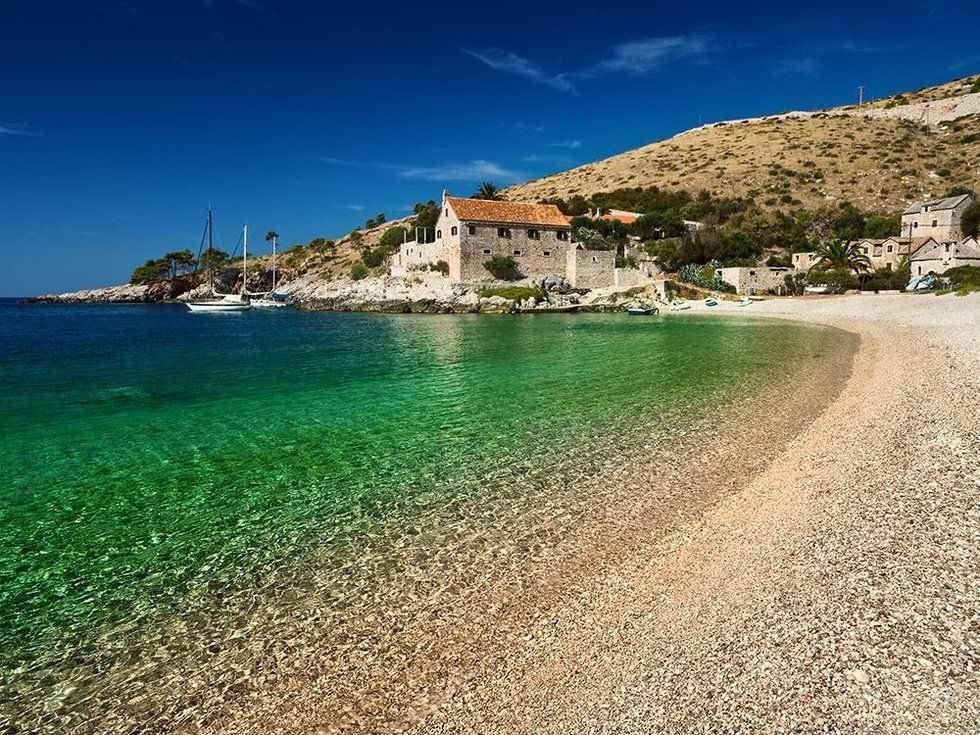 Hvar, Croatia | Shutterstock
In between swimming, sunning and windsurfing, visitors to this summer-resort island, located in the Adriatic off of Croatia's coast near Split, can tour a 13th-century fortress and cathedral, go wine tasting (if you haven't tried Croatian wine, you should) and in June and July, inhale the heavenly aroma of lavender, which grows in abundance here. Hvar's beaches are known for their intense scenic beauty — many are set in serene bays surrounded by cliffs and pine forests — and tempting options include Dubovica, Zavala and Ivan Dolac.

Saint-Malo, France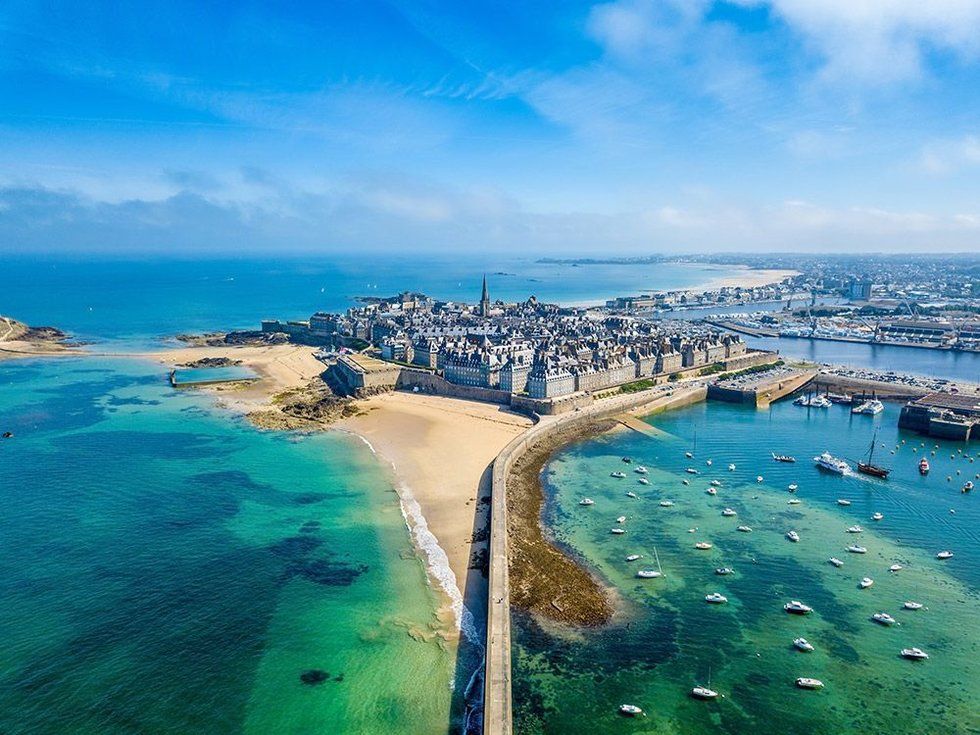 Saint-Malo, France | Shutterstock
If it's seaside drama you seek, consider Saint-Malo, a walled city in France's Brittany region where the cobblestone medieval streets of Old Town are surrounded by a series of sandy beaches, some of which are only walkable at low tide and offer access to rocky islands (timetables tell you when to visit). When the tide's high, tour the Cathedral of Saint-Vincent (constructed between the 12th and 17th centuries) and the city's landmark fortress with its four round towers. Or you can always kick back and relax on Plage du Sillon, a vast beach that stretches for almost 2 miles along the English Channel.
Ibiza, Spain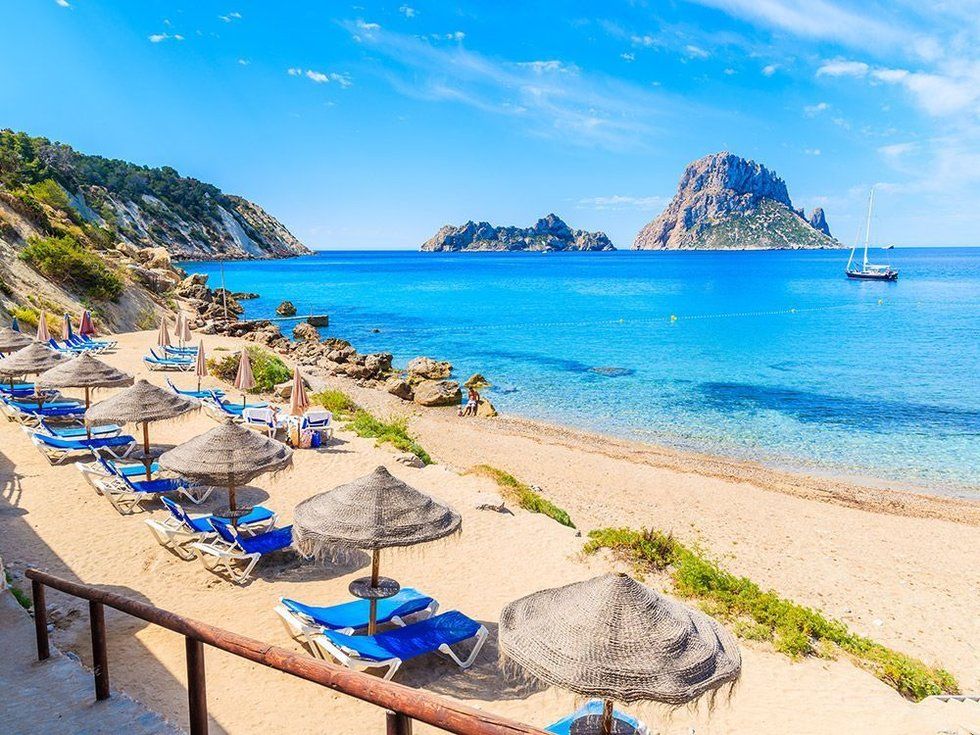 Ibiza, Spain | Shutterstock
It helps to be young to enjoy the 24/7 frenzy that is Ibiza — the wildest isle in the Med thanks to its world-famous clubs blasting dance music. Should you be awake when the sun's shining, top activities on Ibiza, which is also one of Spain's Balearic Islands, include music festivals, beach-going (Cala D'Hort has a view of the distinctive Es Vedra rock formation or hop over to neighboring island Formentera, known for its white sand) and scuba diving, since visibility here is superb.

Sicily, Italy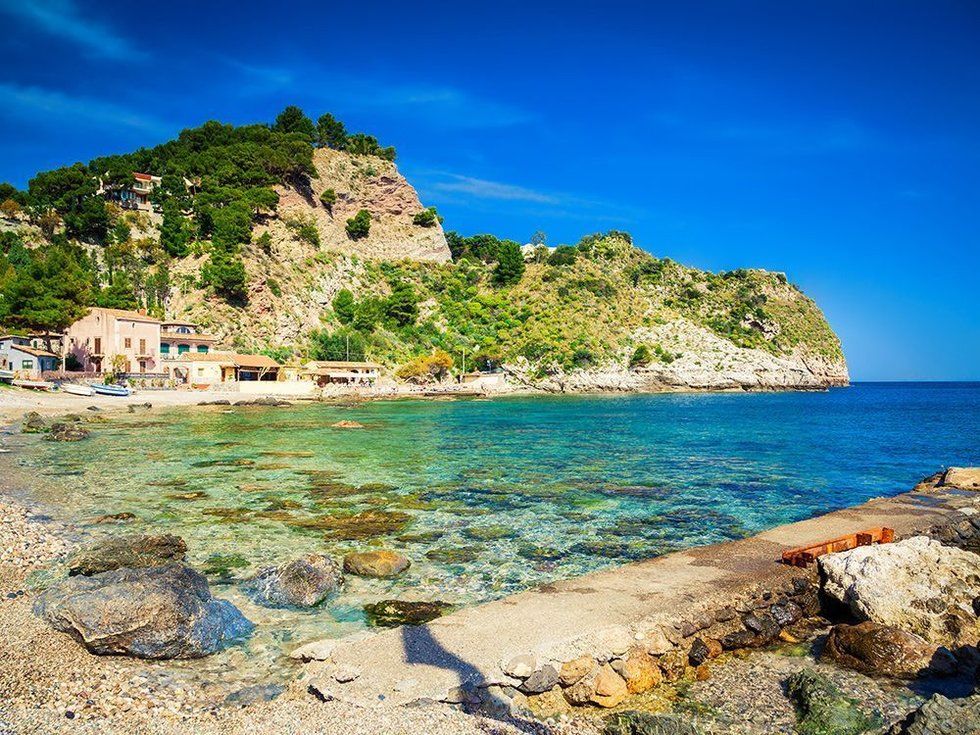 Sicily, Italy | Shutterstock
If you're a fan of old-school destinations — scenic, slow-paced and filled with tradition — you can't go wrong with Sicily. This Italian island, the largest in the Mediterranean, is home to stunning beaches, yummy treats such as ricotta-filled cannoli and meat-filled rice balls called arancini (both invented here) and ancient Greek and Roman ruins dating back several millennia. It also boasts Europe's most active volcano: Mt Etna. Book a beach resort for maximum access to sun and sand, or stay in charming hilltop Taormina and day trip to beaches such as Isola Bella or Giardini Naxos.

The Algarve, Portugal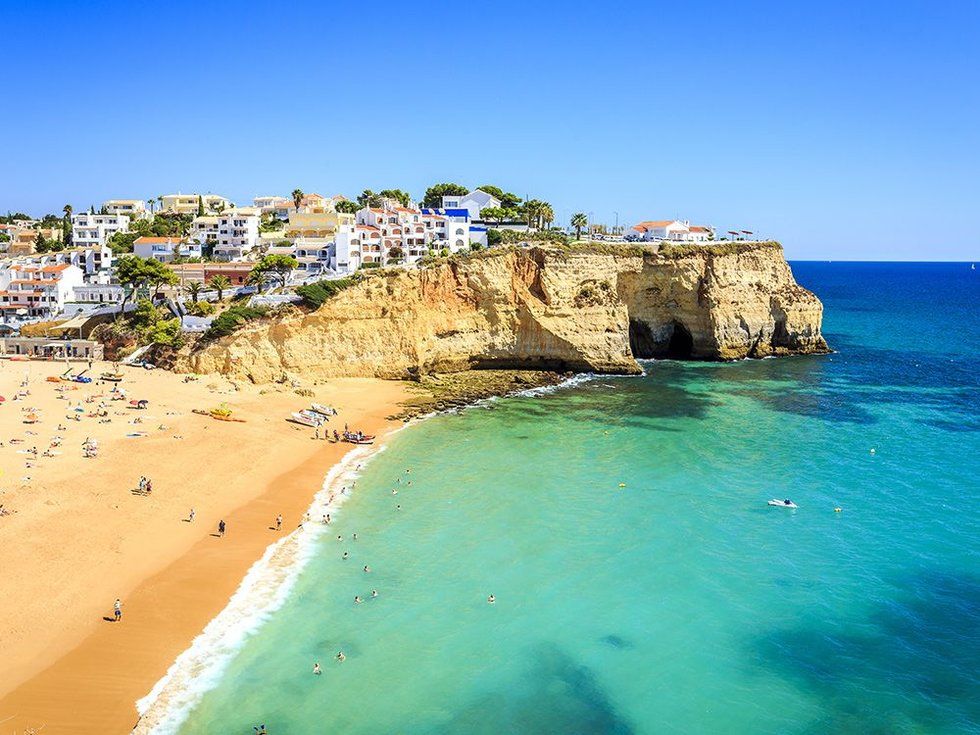 The Algarve, Portugal | Shutterstock
The hot Iberian sun shines along the southern coast of Portugal 300 days a year — and in summer, the region receives very little rain — so it's no surprise that the Algarve ranks among the top beach destinations in Europe. It's also incredibly pretty and quite affordable, with a variety of hotels, rental apartments and homes located in cities and villages stretching from Sagres in the east to Villa Real in the west. In between are more than 150 beaches, with Praia da Falésia near Albufeira, Praia da Camilo near Lagos and Praia da Marinha near Lagoa featuring photogenic limestone cliffs.

Crete, Greece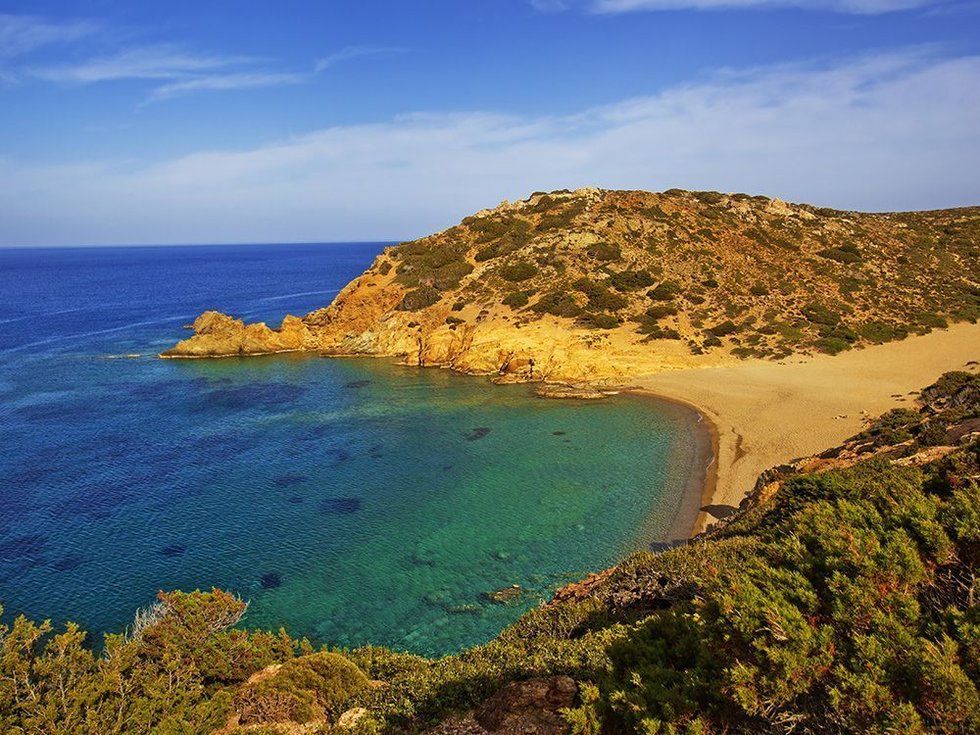 Crete, Greece | Shutterstock
As Greek Isles beaches go, Crete has some of the best. But Greece's largest island is also its most geologically diverse — so beaches here range from sweeping and tranquil to compact and crowded. For the former, head to Balos Lagoon near Kissamos on the west coast or Elafonisi Beach, also in western Crete, with its pink sand. For the latter, there's Vai Beach near Sitia in the northeast, which is backed by Europe's largest natural palm grove, and Matala Beach on the south coast, where you can follow your swim with a seafood lunch at a local taverna.

Cornwall, England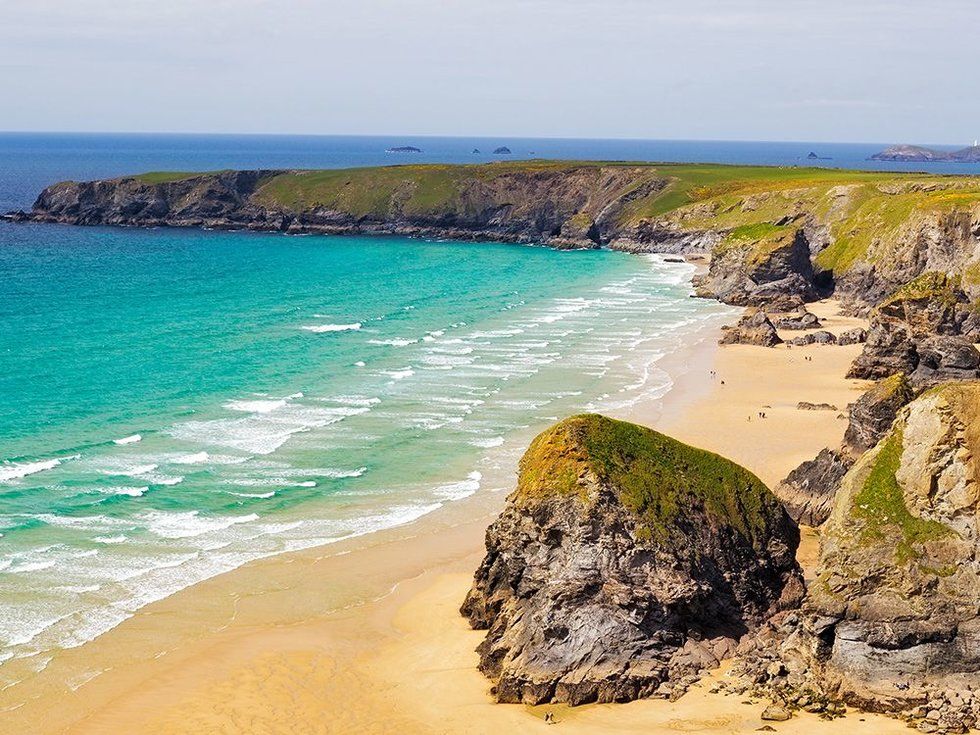 Cornwall, England | Shutterstock
There are hundreds of beaches along this rugged peninsula on the Atlantic in southwest England, some ideal for surfing, others for beachcombing and others for seaside shopping and dining. It's all incredibly wild and moody, the kind of setting that's equally inspiring to artists and adventure-lovers. For pure visual delight, it's hard to beat the beaches around St. Ives, especially Porthmeor, while Kynance Cove seduces at first sight with its unblemished natural beauty. Add in fishing villages such as Mevagissey and Polperro and you'll discover how Cornwall charms visitors with a raw authenticity that's ever harder to find these days.
Sardinia, Italy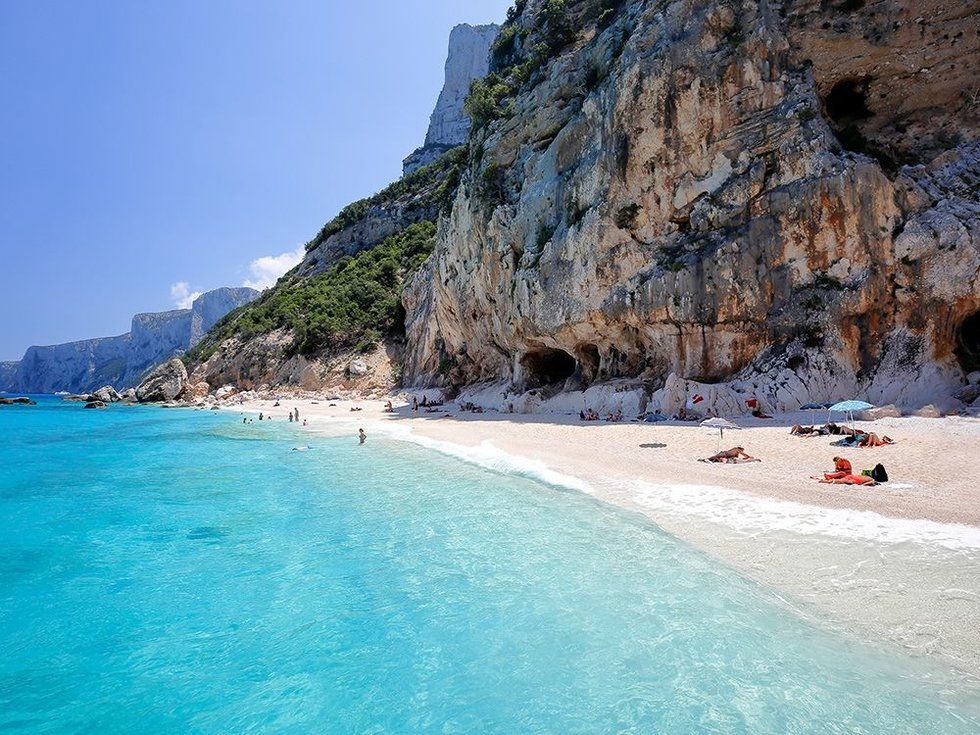 Sardinia, Italy | Shutterstock
On this vast Italian island, the second largest in the Mediterranean, it's possible to be a jetsetter or a backpacker, to step back in time while strolling tiny villages or channel the 21st-century while sunning on a modern mega-yacht, to visit ancient temples or enjoy the latest youth-enhancing spa treatment. Long celebrated for its talcum-soft beaches and clear aquamarine water, Sardinia's alluring Costa Smeralda has been a summer hot spot since the mid-1960s. Yet the island also has a harsh interior landscape that has shaped the local mindset and cuisine (fava beans, sheep's milk cheese and lamb with artichokes compete with seafood and pasta on many menus). But it's Sardinia's coastal beauty that has made it envied the world over.

This article was written by Donna Heiderstadt from Islands and was legally licensed through the NewsCred publisher network. Please direct all licensing questions to legal@newscred.com.
We know people are taking a second look at their travel plans right now. If you're scheduled to travel March 10 – May 31, 2020 and would like to change your plans, there is no fee to do so, regardless of when you purchased your ticket or where you're traveling. This is in addition to our previous waiver, which waives all change fees – domestic and international – for tickets purchased March 3 – April 30, 2020. This is available for any of United's published nonrefundable fares. If you decide to cancel your flight, you can retain the value of your ticket to be applied to a new ticket without a fee. These electronic travel certificates are now valid for 24 months from the date they were issued. This includes all currently valid electronic certificates and all new ones issued on or after April 1, 2020. You might not see this policy change reflected everywhere right away – we appreciate your patience as we work to make that happen.
Eligible travelers on domestic flights and international tickets can request a refund on united.com or may call our contact centers if their flights have been severely adjusted or service to their destination suspended either due to government mandates or United schedule reductions related to COVID-19.
Certain tickets cannot be changed on united.com or the mobile app, including tickets booked through another airline (if the ticket receipt does not begin with 016). Please contact the original ticketing airline for changes.
Follow the steps below to stay up to date, change or cancel your flight.

Change your current flight:
On the united.com homepage, select "My Trips" and enter your flight information to retrieve your flight.
Select "Change flight" and then "Edit" to make the following changes:

Date of travel or destination
Add a flight
Remove a flight

Select "Continue" and choose a new flight option
Continue through booking to confirm your new flight
Note: The change fee will display as waived, but any difference in fare may apply.
Cancel your flight and rebook later:
On the united.com homepage, select "My Trips" and enter your reservation information to retrieve your flight
Select "Cancel flight"
Confirm flight cancellation
If you have future flight credit, when you return to the reservation, select "Use Future Flight Credit" to shop for new flights and apply the credit towards a new flight.
Canceling or changing an award flight:
When you select "Cancel flight," you will have the option to cancel your award reservation and redeposit the miles or to cancel your award reservation and use those miles for another trip in the future.
*We're currently experiencing heavy traffic to united.com. If you experience an error while trying to change or cancel your flight, please try again later.
Click through the slideshow below for more detailed instructions:
​Start on the United homepage: ​
User can select 'My Trips' on the homepage widget to find and retrieve their reservation.
When and where possible, we are working to repatriate travelers who are stranded abroad in the wake of the COVID-19 crisis. Our teams are working closely with government officials here in the U.S. as well as in other countries where flying has been restricted to gain the necessary approvals to operate service. In regions where government actions have barred international flying, we have coordinated with the the U.S. State Department and local government officials to re-instate some flights. Additionally, we have been operating several extra flights to countries in Central America and South America as we continue to play a role in connecting people and uniting the world.
We have operated more than 68 repatriation flights from Panama City, Guatemala City, Quito, Lima, San Pedro Sula, Tegucigalpa and Roatan, bringing nearly 9,200 people home. We will continue working with government officials to operate extra flights to Houston from Quito, San Pedro Sula, Tegucigalpa and from Lima to Washington Dulles and beginning April 5, we will begin operating multiple charter flights between Delhi and San Francisco. We continue to review more opportunities for flights between the United States and other countries to bring citizens home.
Video provided by the U.S. Embassy Ecuador of Americans returning home on United.

Additionally, our Customer Solutions and Recovery team is working with customers in the following markets to rebook them on flights back to the United States as capacity allows, either on our aircraft or on one of our airline partners' planes:

Quito, Ecuador
Managua, Nicaragua
Roatan, Honduras
San Pedro Sula, Honduras
Amsterdam
Brussels
Munich
Singapore
Tokyo-Haneda
Seoul, South Korea
Melbourne, Australia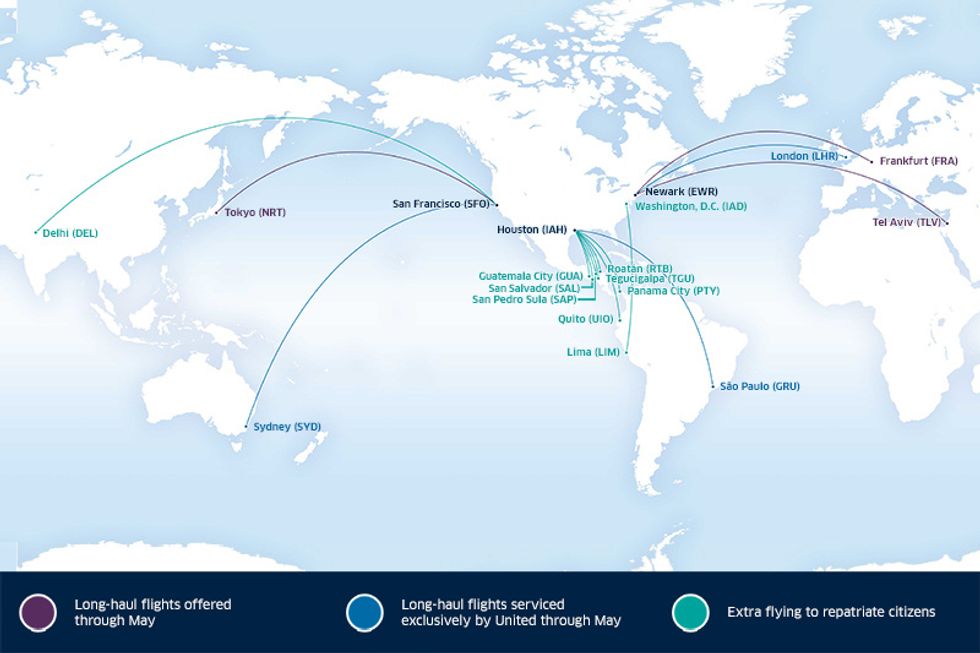 We also recently reinstated several international flights back into our schedule to support customers and essential businesses which depend on these routes. As a result, we will be the only airline to offer service between Newark/New York and London, San Francisco and Sydney, as well as Houston and São Paulo, Brazil.

Calling all AvGeeks and travelers! Here's a fun way to take your next video call….from a United Polaris® seat, the cockpit or cruising altitude. We're introducing United-themed backgrounds for use on Zoom, a video conferencing tool that many people are using to stay connected.
So for your next meeting or catch up with friends and family, download the app to either your computer or mobile device to get started. If you've already downloaded Zoom you can skip ahead to updating your background image (see instructions below).
Start here by downloading your favorite United image to your computer or mobile device. Just click "download" in the bottom left corner of the image.
Next go to your Zoom app (you'll need to download the app to access backgrounds) and click on the arrow to the right of your video camera icon in the bottom of the screen.
From here select, "choose virtual background" to upload your uniquely United photo.
Together, we are facing an unprecedented challenge. United Together, we rise to meet that challenge.
Check out our newest destinations
United Airlines
united
We continue to work with government officials to bring Americans home. In addition to flights from Central & South America, we have charter flights planned from India. Learn more about our repatriation efforts in the wake of COVID-19 here:
uafly.co/3aExaOL
#UnitedTogether
United Airlines
united
When
@RocheDia
needed to ship a vital component of a COVID-19 testing unit from New Jersey to Florida, United Cargo jumped in to help. Read about how this part will allow
@MayoClinic
to process hundreds of tests per day for cases in the Southeastern U.S.
uafly.co/2UzOAGW
United Airlines
united
International schedule update: We know some people around the globe are displaced and still need to get home. We are reinstating some international flights over the next few days and will continue to fly six daily international flights through May.
uafly.co/3a5Dj6p
United Airlines
united
We have extended our change fee waiver to cover travel through May 31, 2020: - You can change or cancel your flight on
united.com
or through the app – a phone call is not required - For the latest on our commitment to your safety, visit
united.com/coronavirus
We Are United
weareunited
Shoutout to our operations team, who are working to properly park, maintain and store many aircraft in the
#BeingUnited
fleet. These aircraft are being housed across our seven hubs, maintenance facilities in CLE and MCO as well as at offsite facilities in New Mexico and Arizona.
We Are United
weareunited
Tomorrow, Oscar and Scott will host a companywide town hall to discuss the latest developments in managing the effects of the coronavirus (COVID-19). You can join the livestream event at 1:20 p.m. CT here:
uafly.co/39AV25m
We Are United
weareunited
Tomorrow, Oscar and Scott will host a companywide town hall to discuss the latest developments in managing the effects of the coronavirus (COVID-19). You can join the livestream event at 1:20 p.m. CT here:
uafly.co/39AV25m
.
Watch our most popular videos
Copyright © 2020 United Airlines, Inc.
All rights reserved.
Indicates an external site that may or may not meet accessibility guidelines.
Scroll to top
Scroll to top