Best beaches in the world
It was a tough job to narrow them down, but these 20 beautiful beaches are the best in the world.
Trying to narrow down the best beaches in the world to only 20 incomparable strands wasn't easy. All corners of our amazing planet — from North America, where wide public expanses flank the Atlantic and Pacific coasts, to the Southern Hemisphere, where more intimate and exotic sands await — has an embarrassment of beautiful beaches. That said, some are just a bit more memorable and much more photogenic than others. A few are world famous (featured in a songs, movies and even a diet) while others are unsung gems. What unites them? That feeling of awe you get when you kick off your flip flops, throw down your beach towel and think, "Now this is paradise." Here is our list of the 20 best beaches in the world.
Camps Bay Beach – Cape Town, South Africa
For sheer drama, it's hard to beat this wide arc of sand located on the Atlantic just seven minutes from Cape Town. Backed by the craggy Twelve Apostles mountain range, Camps Bay is popular with the young, beautiful and successful who swim, surf, sip and shop (there's also a palm-lined promenade), especially on weekends and throughout the peak season from November to January. Enjoying a sundowner cocktail here is a must — as west-facing restaurants and bars offer superb views.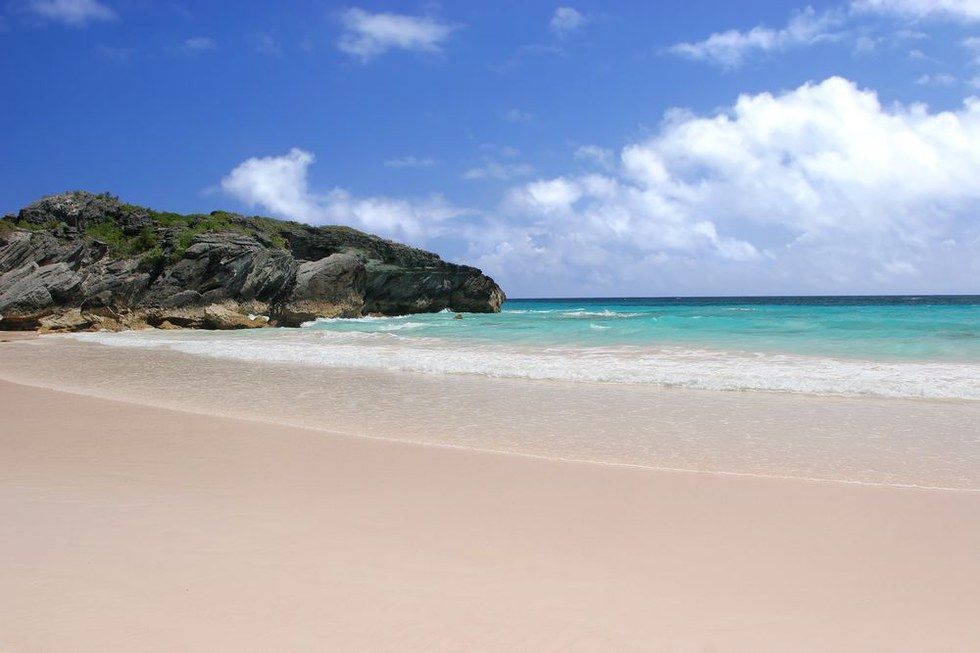 Horseshoe Bay Beach | Shutterstock
Horseshoe Bay Beach – Bermuda
Walking along Bermuda's famous crescent-shaped Horseshoe Bay Beach, or even on the cliff-top trails above it, is a sightseeing must. Named for the shape of its inviting bay, this scenic beach in Southampton parish is perfect for lazy sunning or playful splashing (you can rent towels, boogie boards and snorkel gear). During Bermuda's cooler months (November to March), Horseshoe Bay remains popular as visitors snap photos of its pale-pink sand and grab a cocktail and snacks at the on-site café. One caveat: Expect crowds when cruise ships are in port.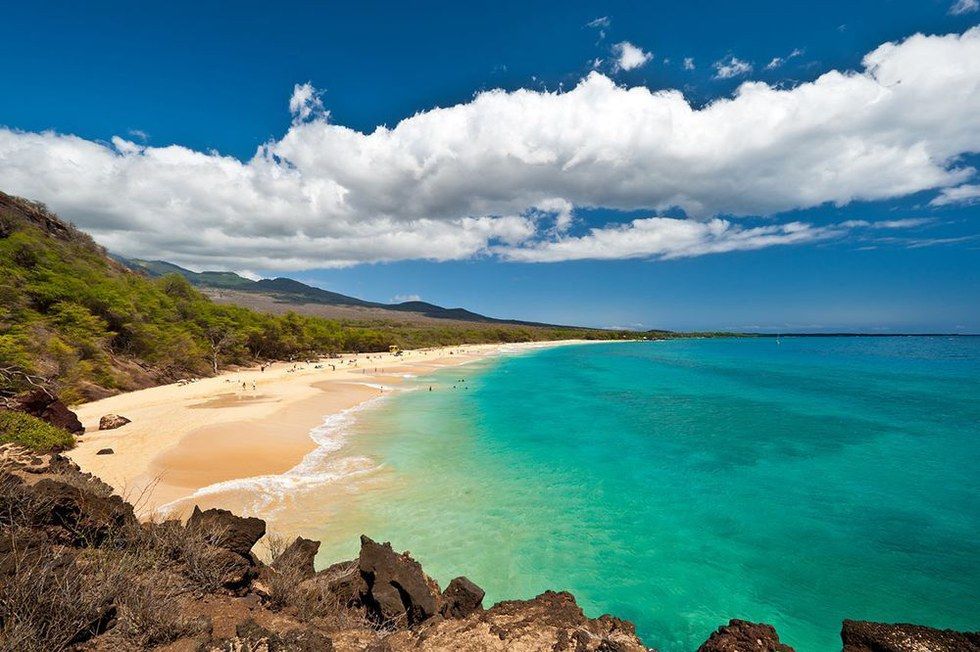 Makena Beach | Shutterstock
Makena Beach – Maui, Hawaii
Sometimes driving a bit further down the road is worth it. And on Maui that means passing by Kihei and Wailea beaches, where resort developments are abundant, and heading instead to Makena State Park. Nicknamed Big Beach, this super-photogenic, 1½ -mile stretch of golden sand is South Maui's largest and offers great views of Kahoolawe island and the Molokini Crater. The unpredictable shore break can be dangerous, however, so you'll need to heed the posted warnings at the lifeguard stations before deciding to swim. And when the surf is way up, pack a picnic, sit back and watch the expert boogie boarders at play.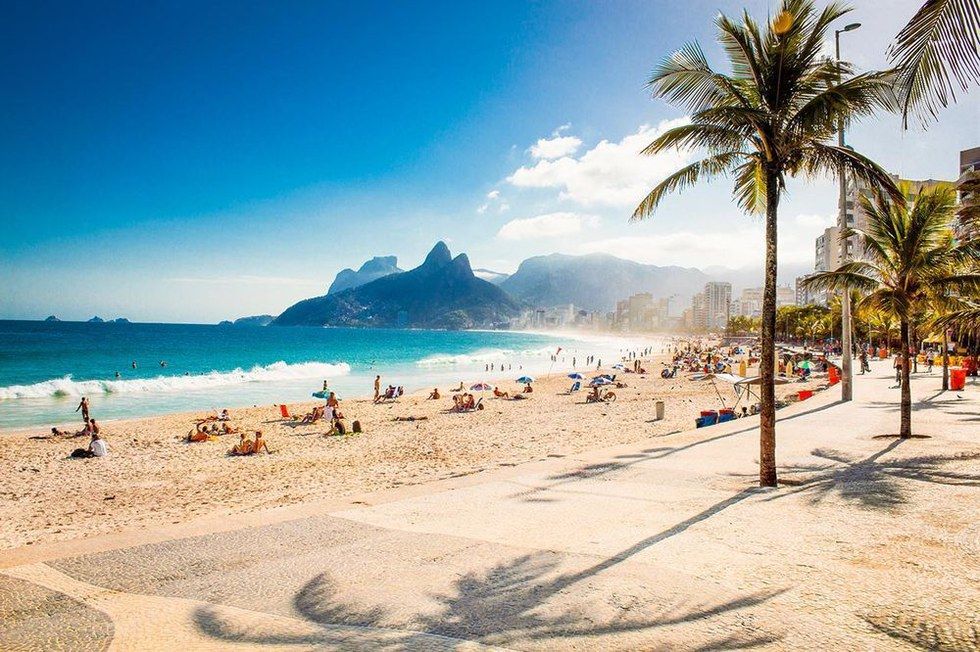 Ipanema Beach | Shutterstock
Ipanema Beach – Rio de Janeiro, Brazil
Rio de Janeiro boasts a pair of famous beaches, Iapanema and Copacabana, but it's the former — celebrated in the sexy 1960s bossa nova hit "The Girl from Ipanema" — that captivates visitors with its breathtaking views. The sand is pale gold and the landmark emerald peaks you'll find yourself gazing at for hours are known as "Two Brothers." Brazilians love to show off their toned bodies, so expect skimpy swimwear and lots of tanned skin. Be sure to leave wallets and valuables in your hotel safe: Despite their beauty, Rio's beaches are known to be frequented by petty thieves.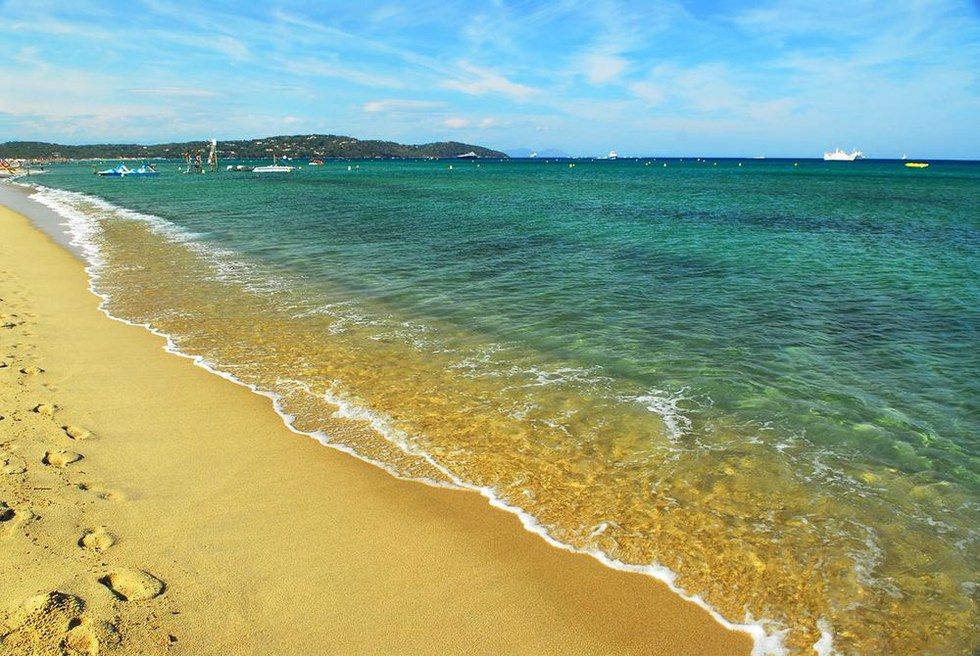 Pampelonne Beach | Shutterstock
Pampelonne Beach – Saint-Tropez, France
Beach clubs, big yachts and beautiful bodies (from Brigitte Bardot to David Beckham) all are synonymous with Saint-Tropez's most famous beach — put on the map by Bardot and her director husband Roger Vadim in the 1955 film And God Created Woman. Everything you'd expect to find on the French Riviera, from striped umbrellas and chaises to skimpy bikinis (tops are optional), are here in abundance, as are odes to excess such as convertible sports cars, designer sunglasses and champagne on ice. If your wallet can handle it, go ahead and soak up some joie de vivre.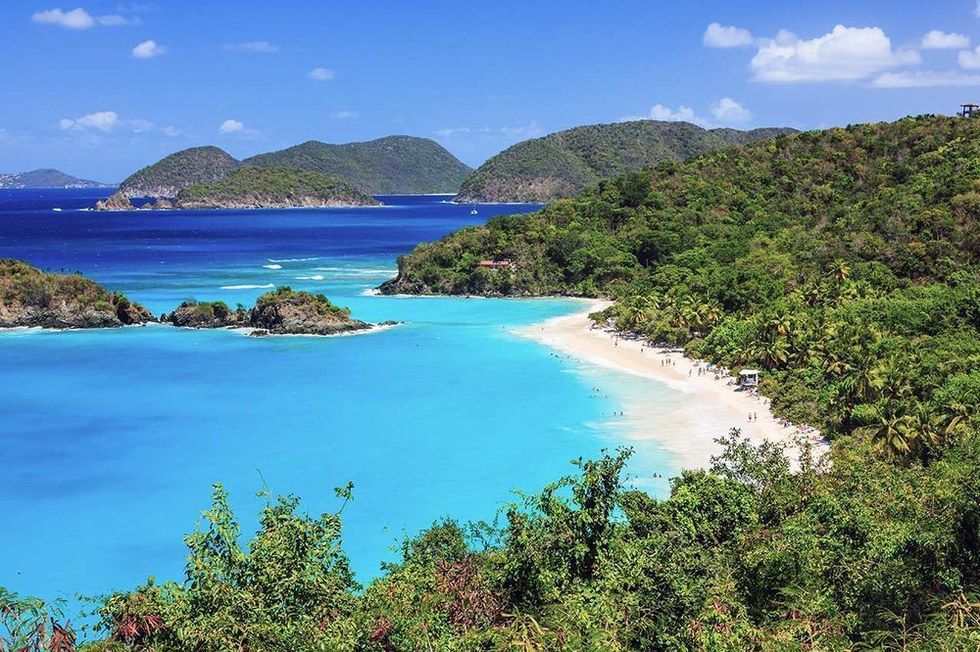 Trunk Bay Beach | Shutterstock
Trunk Bay Beach – St. John, U.S. Virgin Islands
Being able to wade into blissfully warm water, pull on your mask and fins, and snorkel — really snorkel amid abundant coral and Technicolor fish — is a big draw for any beach. The fact that this coconut palm-lined strand on low-key St. John ranks among the most beautiful (and most photographed) spots in the Caribbean is a bonus. As part of Virgin Islands National Park, Trunk Bay Beach offers access to a 225-yard underwater snorkeling trail (gear rentals are available), but plan for an early morning visit if you're seeking tranquility; this beach is popular with cruise ship passengers from neighboring St. Thomas.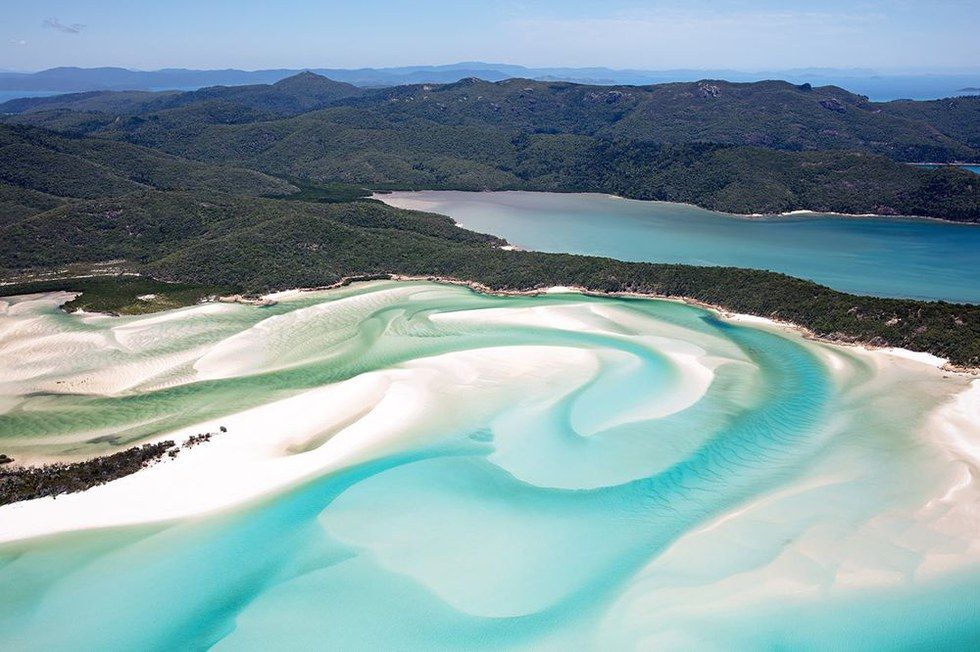 Whitehaven Beach | Shutterstock
Whitehaven Beach – Queensland, Australia
When Oprah Winfrey and Aussie chef Curtis Stone threw a beach barbeque during her 2011 Ultimate Australian Adventure, they did so on this sweeping, 4½-mile stretch of white silica sand in Queensland's Whitsunday islands. It's accessible solely by boat, seaplane or helicopter, so the approach is part of the experience — and the sight of this slender, jungle-backed beach along with Hill Inlet to the north, where tidal shifts create gargantuan sand art, is the definition of breathtaking.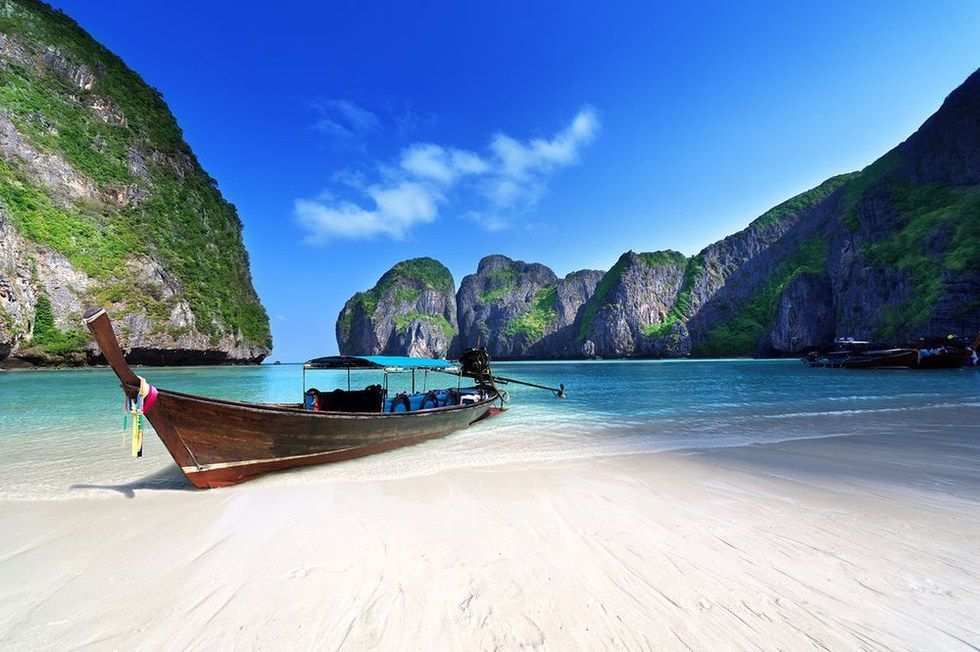 Maya Bay Beach | Shutterstock
Maya Bay Beach – Koh Phi Phi Leh, Thailand
If Maya Bay looks familiar that's because it had a starring role in the 2000 Leonardo DiCaprio movie The Beach. Sheltered at the end of a dramatic bay cradled by 300-foot cliffs on the southern Thailand island of Koh Phi Phi Leh, it's accessed via a day trip (often in a traditional wooden long tail boat) from neighboring Koh Phi Phi Don that includes a stop for snorkeling in surreally pale water. Everyone wants to see it, so Maya Bay does get crowded. For the best photo ops (sans the multitudes) visit in the early morning.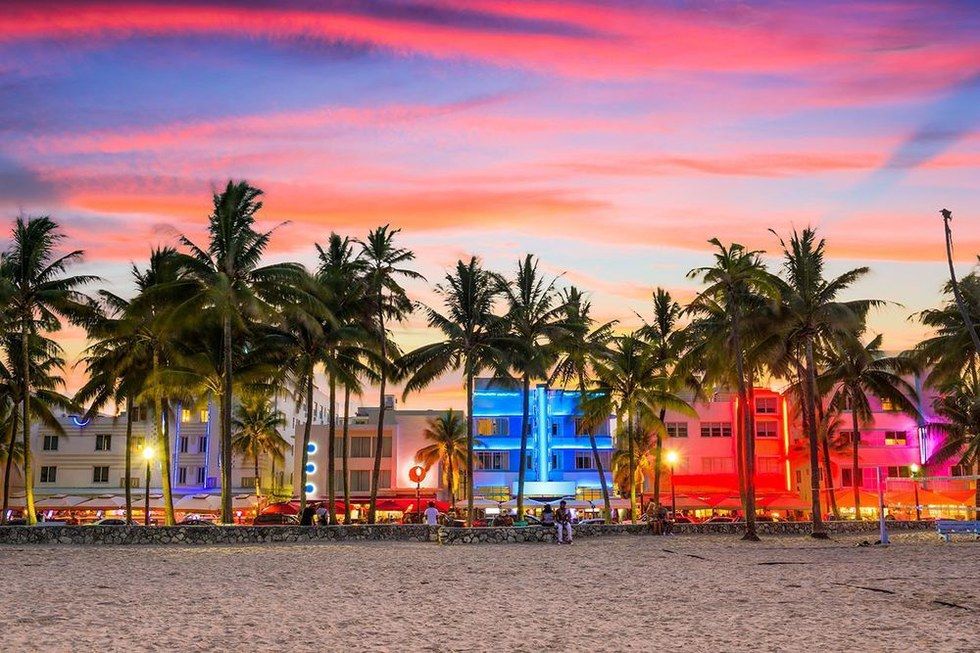 South Beach | Shutterstock
South Beach – Miami, Florida
The sand is soft and white — an ideal complement to the dazzling Art Deco skyline of Miami Beach — and the aquamarine water is warm and inviting. But what truly makes South Beach special is the never-ending parade of people: models and wannabes, athletes and artists, locals and tourists. As brilliant sunshine saturates the beach's quirky and colorful lifeguard stands, put on a pair of dark sunglasses and ogle on the sly. You'll spy barely-there bikinis and Speedos, brazen tattoos and more than a few bare breasts (all perfectly legal).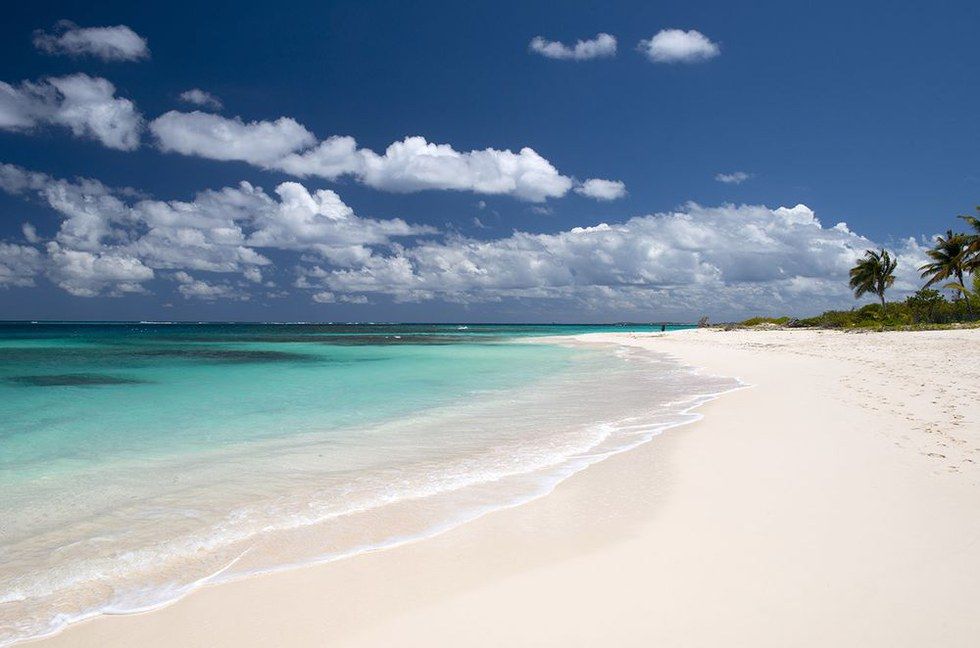 Shoal Bay East | Shutterstock
Shoal Bay East – Anguilla
Almost any of Anguilla's 33 sugar-white beaches could be on this list, but Shoal Bay East tops them all because of its ability to feel both social and secluded. At its heart, this strand is lined with locally-owned bars and restaurants that create a lively ambience — especially on weekends — as visitors enjoy upbeat Anguillan music, rum-laced libations, tasty seafood and barbecue and impromptu dips in the irresistibly clear turquoise sea. Walk the entire two miles and you'll round "the bend," a wide expanse of sand offering splendid views of both Upper Shoal Bay and Lower Shoal Bay.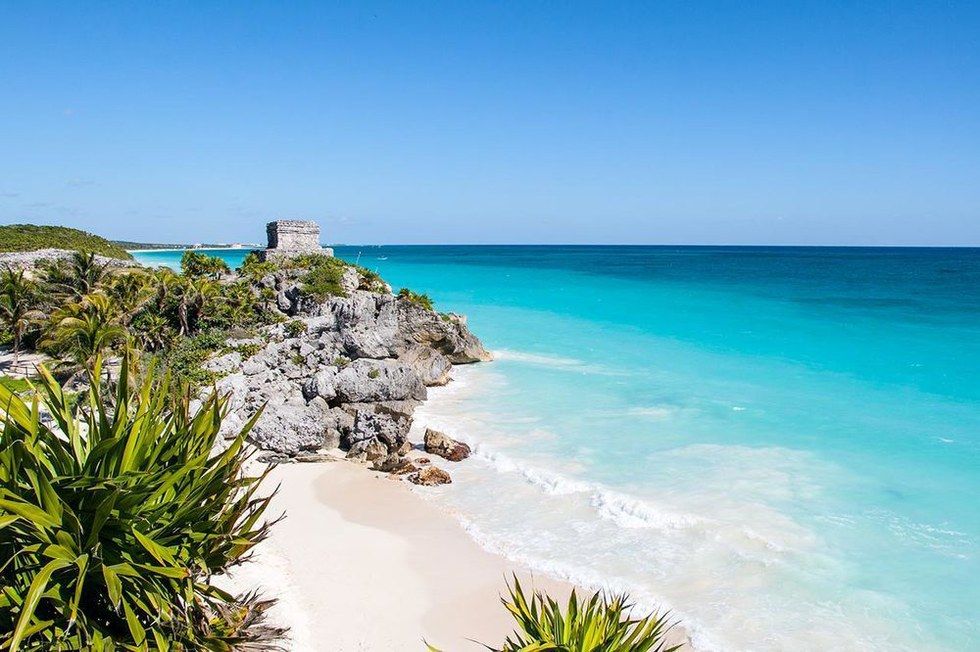 Beach Below the Ruins | Shutterstock
Beach Below the Ruins – Tulum, Mexico
How many beaches can claim to have a postcard-perfect view of 13th-century Mayan ruins? This one, located about 80 miles south of Cancun, can and it's the ideal spot to cool off after exploring the preserved structures of this ancient coastal city, among them the hulking cliff-top Castillo fortress. There are no facilities, so wear your bathing suit under your clothes and your reward will be gentle surf, vibrant blue-green sea and a memorable perspective on how the Mayans relaxed more than 700 years ago.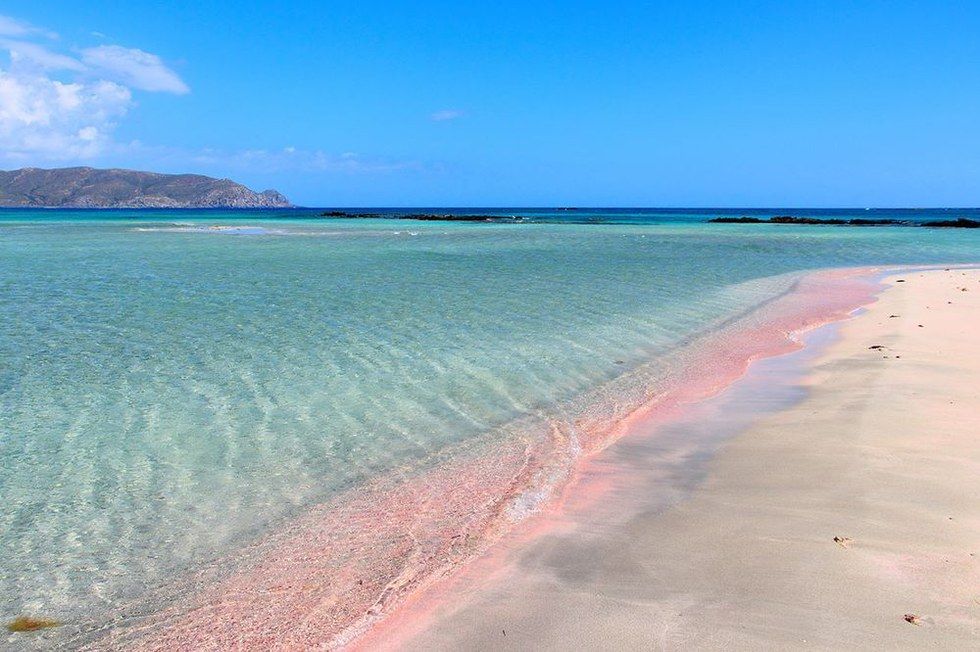 Elafonissi Beach | Shutterstock
Elafonissi Beach – Crete, Greece
What do you get when you mix a Greek island dotted with ancient windswept cedar trees and tides that create hundreds of rippled white and pink sand islets surrounded by shallow aquamarine lagoons? A true natural wonder. Set on a peninsula about 45 miles from the port of Chania on the southwestern coast of Crete, Elafonissi is accessed by wading through the sea. Visitors enjoy swimming and strolling, sunning and snacking (there are umbrellas, showers, food vendors and lifeguards on the eastern end). It's just one of those places that's so beyond ordinary it almost seems like a dream.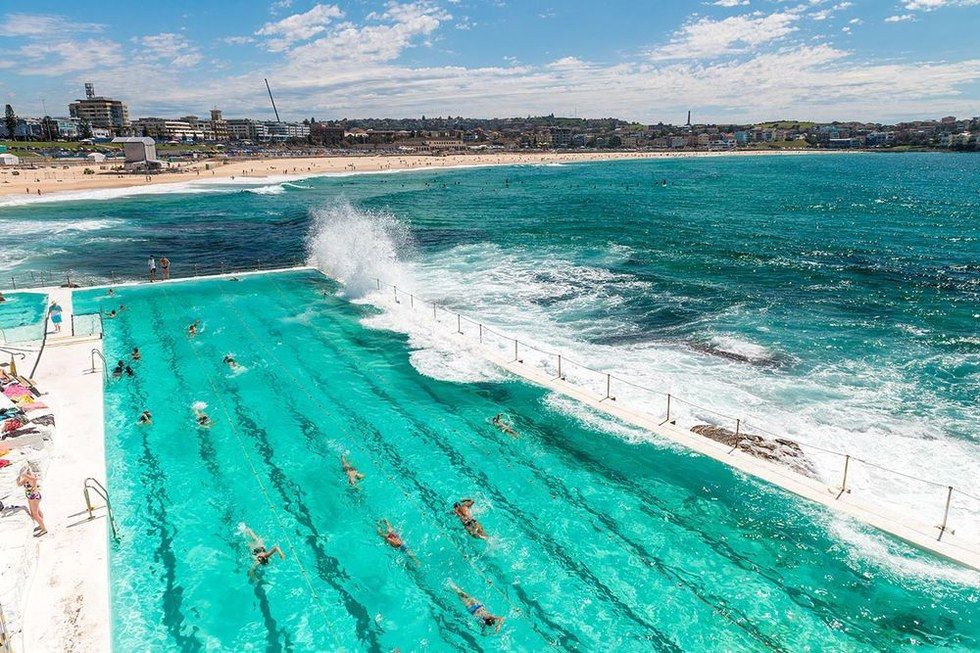 Bondi Beach | Shutterstock
Bondi Beach – Sydney, Australia
Before or after work, when Sydneysiders make time to to play, many head to this picturesque urban oasis just 6 miles from the downtown business district to swim, surf, soak up some sun and grab a flat white (like a latte but with less milk and more espresso). The beach, which curves for more than a ½ mile and is backed by boutique and cafe-lined Campbell Parade, is also home to the famed Bondi Icebergs pool and the starting point for a scenic coastal walk along sandstone cliffs to Bronte.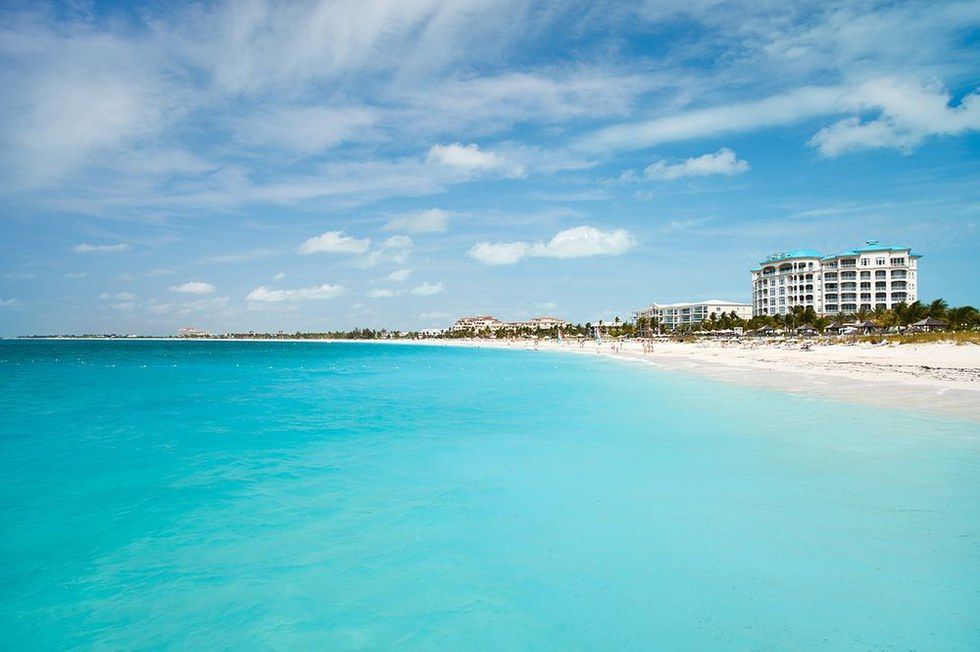 Grace Bay Beach | Shutterstock
Grace Bay Beach – Providenciales, Turks and Caicos
The pure white sand and clear turquoise water of the best-known bay on Providenciales are so sublime that dozens of resorts have opened here over the past two decades. And while that has made this curving 3-mile ribbon of sand a popular destination for travelers in search of upscale relaxation, there's plenty of room for everyone. Add in calm waters (thanks to a barrier reef about a mile offshore), ample watersports and chic sea-view bars and restaurants and Grace Bay Beach — named for Grace Jane Hutchings, the wife of a Turks and Caicos commissioner in the 1930s — is just about perfect.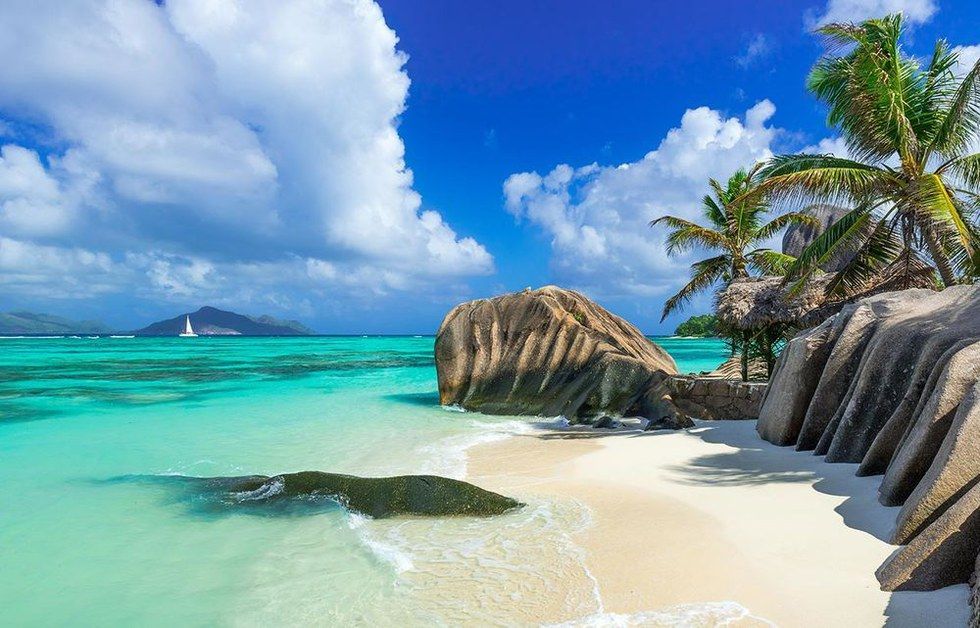 Anse Source d'Argent | Shutterstock
Anse Source d'Argent – Seychelles
Some beaches have an aura that's uniquely their own. Anse Source d'Argent, one of the most famous beaches in the Seychelles, grabs your full attention the moment you set eyes on it. Granite boulders, in swirling shapes Dr. Seuss might have imagined, and gently swaying palms jut up from soft white sand. Located on La Digue island, and lapped by the crystalline waters of the Indian Ocean, it faces west, so the sunsets are pretty awesome, too.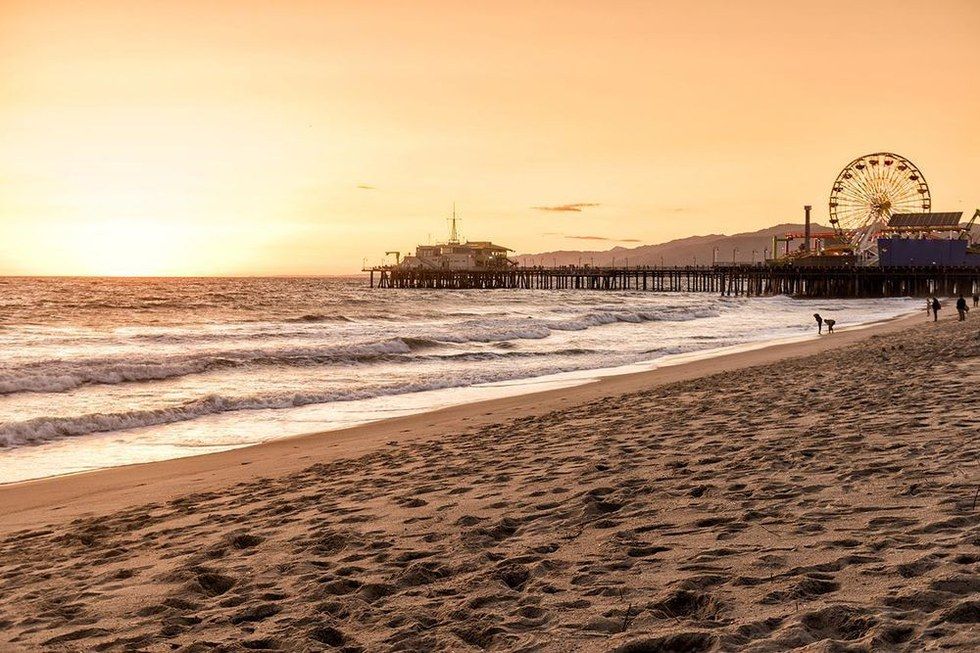 Santa Monica Beach | Shutterstock
Santa Monica Beach – Santa Monica, California
California's surf culture extends along its entire coastline, but nowhere does it comingle with land-based activities so enjoyably as on this vibrant stretch of sand due west of Los Angeles. With its circa-1909 pier — restored in the 1980s and now home to Pacific Park (with its solar-powered Ferris wheel) and a Trapeze School — as well as beachfront hotels, abundant dining options and 8½-mile jogging and biking path connecting to Venice Beach, Santa Monica ranks among the country's most entertaining urban beaches. And the sunsets are magical: searing displays of orange and magenta that seem to go on forever.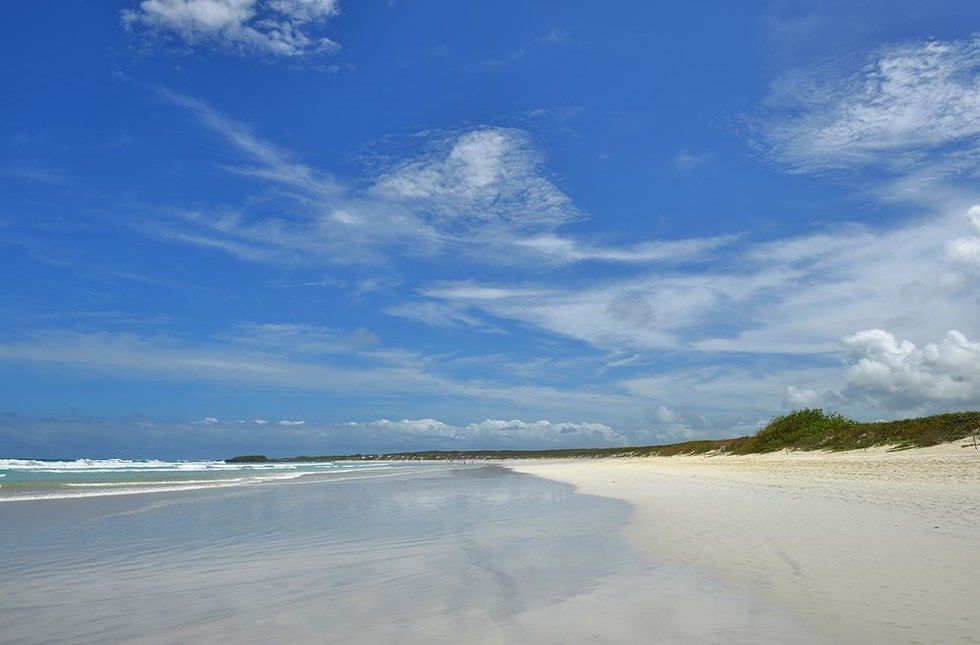 Tortuga Bay Beach | Shutterstock
Tortuga Bay Beach – Galapagos, Ecuador
Some beaches are just perfect for sunning — and you don't have to be a human to know that. Dozens of marine iguanas and small clusters of sea lions swim ashore to stretch out and catch some rays on this pristine arc of talcum-soft sand located on the southern coast of Santa Cruz island in the Galapagos. People can enjoy it, too, but we must walk a 1½-mile path to mingle (and pose) with these fearless creatures. You're also likely to spy sea turtles and bright-red Sally Light-Foot crabs in the surf and blue-footed boobies and frigate birds on land.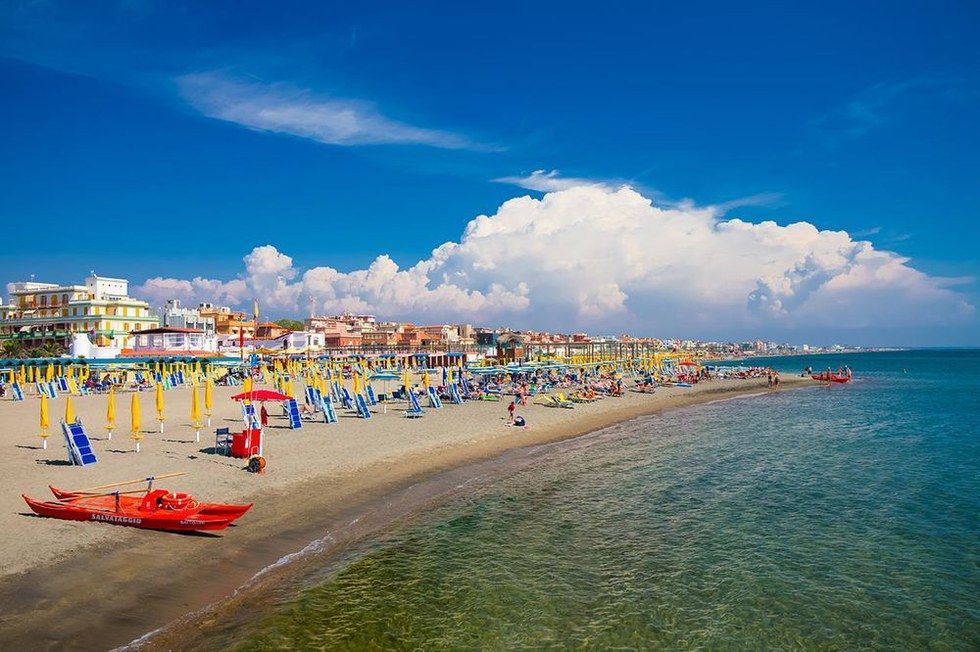 Lido Beach | Shutterstock
Lido Beach – Venice, Italy
Yes, Venice has a beach — and a pretty amazing one at that. The Lido di Venezia, open to the public and stretched out along a seven-mile sandbar facing the Adriatic Sea, is home in season (May to September) to regiments of umbrella-topped beach loungers, neat rows of wooden cabanas, and the historic Hotel Excelsior dating to 1908. Lido also hosts the annual Venice Film Festival (in early September), when A-listers arrive via sleek Riva motorboats and anyone can cross the lagoon via local vaporetto (water bus) to spy on the glamourous action.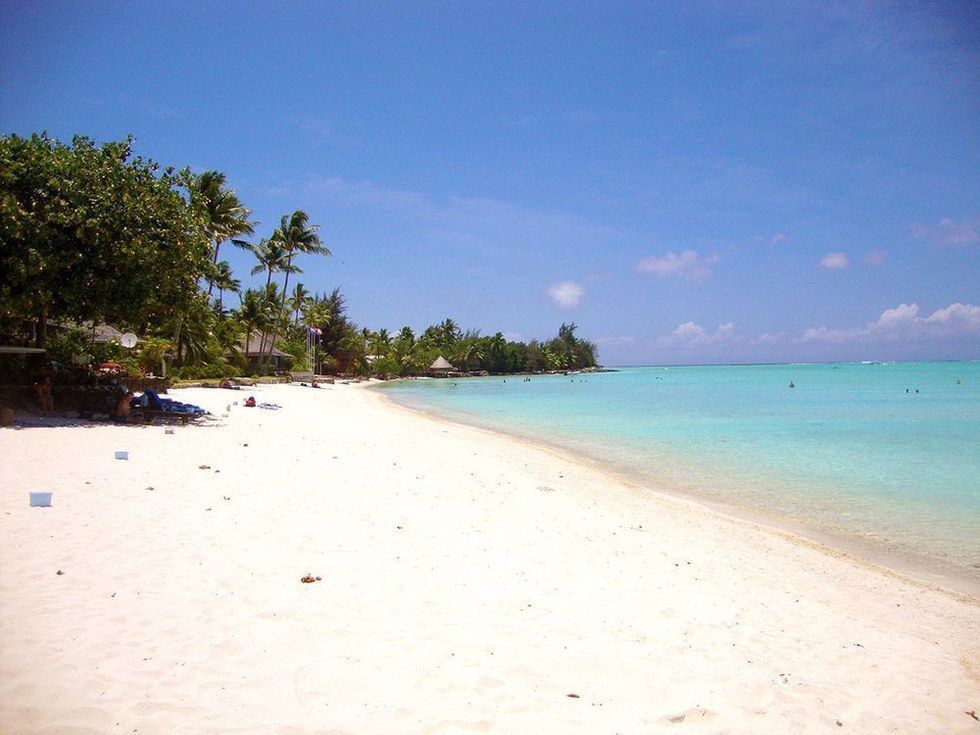 Matira Beach | Shutterstock
Matira Beach – Bora Bora, French Polynesia
The idyllic islands of French Polynesia — of which Bora Bora is the most storied — are home to thousands of beautiful beaches. But many are located on remote motus and atolls, or are part of upscale resorts without public access. Not Matira Beach, a curve of champagne-hued sand centrally located at Matira Point and offering access to the blue mosaic of Bora Bora lagoon. Sun and swim here — or take a spin on a circle-island Jet-Ski tour — and then enjoy lunch at one of Matira's locally owned snack shacks or at the InterContinental Le Moana Resort adjacent to the beach.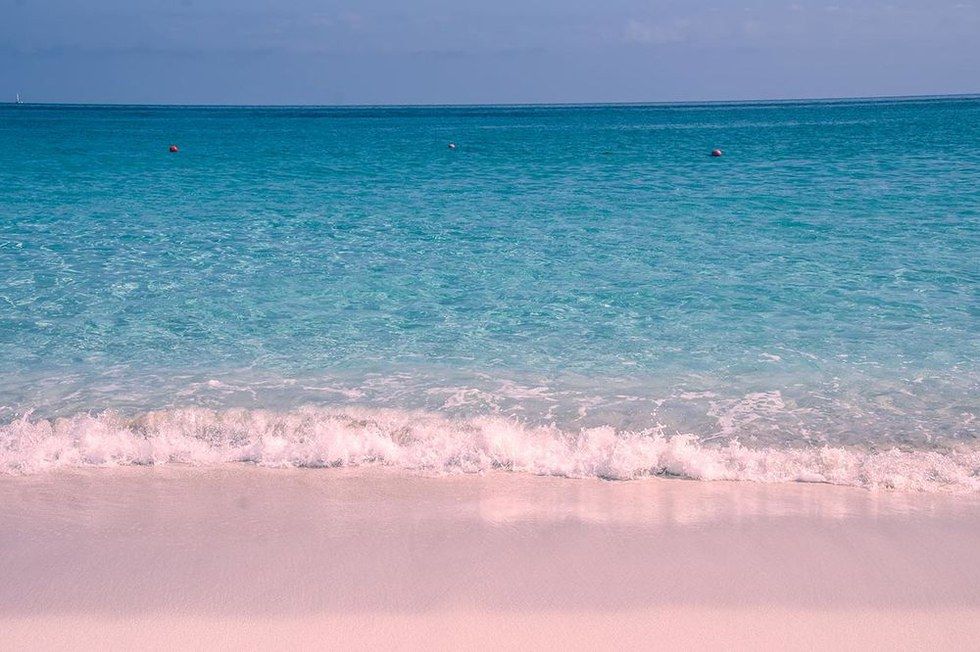 Pink Sands Beach | Shutterstock
Pink Sands Beach – Harbour Island, Bahamas
This Bahamian beach's name doesn't bend the truth one bit — the spot really boasts an amazing shade of pink sand thanks to the rosy-hued shells of tiny sea creatures called foraminifera — and the color is amplified by a backdrop of vivid teal water. Flat, wide and ideal for swimming, sunning or strolling, this 3-mile-long beach embodies the natural beauty of tiny Harbour Island where bikes and golf carts are the main modes of transport (neighboring Eleuthera is the gateway). When you're hungry, head for a seafront eatery (Sip Sip is a fave) and order the local specialty: conch fritters.
This article was written by Donna Heiderstadt from Islands and was legally licensed through the NewsCred publisher network. Please direct all licensing questions to legal@newscred.com.
We will continue building out our already expansive route network next year, adding flights to some attractive leisure destinations in the United States and the Caribbean.
Our hometown hub, Chicago O'Hare International Airport, will be the beneficiary of three of those new routes, which include Santa Barbara, California; Pasco, Washington; and Vail, Colorado. Rounding it out, United will add service from Denver to Nassau, Bahamas, and from Houston to Spokane, Washington. Tickets for all of these destinations are on sale now.
The Denver-Nassau route will begin on March 7, 2020, followed by Chicago-Santa Barbara, Chicago-Pasco, Chicago-Vail and Houston-Spokane on June 4. When that time comes, United will be the only airline offering nonstop service between Denver and Nassau and Chicago and Pasco.
All of these routes will open up a world of connection possibilities for customers living in each market. They'll also be scheduled to give flyers optimal arrival and departure time options. For instance, a passenger going from Chicago to Santa Barbara will have a flight option that departs O'Hare at 7:45 p.m. local time, arriving at Santa Barbara Airport at 10:30 p.m. That's ideal for business travelers.
"We want to offer customers the very best schedule, the best network and the most flight options in the industry," said Ankit Gupta, United's vice president of Domestic Network Planning.
The Boeing 737-800 aircraft will serve the Denver-Nassau route. Passengers going from Chicago to Santa Barbara and from Chicago to Vail will fly on the 737-700. United's 76-seat Embraer 175 aircraft, equipped with United First, Economy Plus and United Economy class seats, will operate on the Chicago-Pasco and Houston-Spokane routes.
You'll find flight times and additional details in the grid below. For more information and to book your tickets, visit
united.com
or download the United mobile app.
Depart

Arrive

Frequency

Duration

Chicago (ORD)

7:45 p.m.

Santa Barbara (SBA)

10:30 p.m.

Daily

Year-round

SBA

11:20 p.m.

ORD

5:20 a.m.

Daily

Year-round

ORD

8:00 p.m.

Pasco (PSC)

10:24 p.m.

Daily

Year-round

PSC

11:38 p.m.

ORD

5:20 a.m.

Daily

Year-round

ORD

4:00 p.m.

Vail/Eagle (EGE)

5:54 p.m.

Daily

Summer seasonal

(June 4 through September 6, 2020)

EGE

9:00 a.m.




ORD

12:45 p.m.

Daily

Summer seasonal

(June 4 through September 7, 2020)

Denver (DEN)

9:56 a.m.

Nassau (NAS)

4:00 p.m.

Once a week on Saturdays

Year-round

(with a break from mid-August through late-October)

NAS

11:37 a.m.

DEN

2:43 p.m.

Once a week on Saturdays

Year-round

(with a break from mid-August through late-October)

Houston (IAH)

9:32 p.m.

Spokane (GEG)

11:32 p.m.

Daily

Summer seasonal

(June 4 through August 17, 2020)

GEG

11:55 p.m.

IAH

6:17 a.m.

Daily

Summer seasonal

(June 4 through August 17, 2020)
Right now, around the world, brave members of America's armed forces are on duty, defending our freedom and upholding our values.
When not laser-focused on the mission at hand, they're looking forward to the day when their service to our nation is fulfilled and they can reunite with their families.
They are also imagining how they can use their hard-earned skills to build an exciting, rewarding and important career when they return home.
I want them to look no further than United Airlines.
That's why we are focused on recruiting, developing and championing veterans across our company, demonstrating to our returning women and men in uniform that United is the best possible place for them to put their training, knowledge, discipline and character to the noblest use.
They've developed their knowledge and skills in some of the worst of times. We hope they will use those skills to keep United performing at our best, all of the time.
That's why we are accelerating our efforts to onboard the best and the brightest, and substantially increasing our overall recruitment numbers each year.
We recently launched a new sponsorship program to support onboarding veterans into United and a new care package program to support deployed employees. It's one more reason why United continues to rank high - and rise higher - as a top workplace for veterans. In fact, we jumped 21 spots this year on Indeed.com's list of the top U.S workplaces for veterans. This is a testament to our increased recruiting efforts, as well as our efforts to create a culture where veterans feel valued and supported.
We use the special reach and resources of our global operations to partner with outstanding organizations. This is our way of stepping up and going the extra mile for all those who've stepped forward to answer our nation's call.
We do this year-round, and the month of November is no exception; however, it is exceptional, especially as we mark Veterans Day.
As we pay tribute to all Americans who have served in uniform and carried our flag into battle throughout our history, let's also keep our thoughts with the women and men who are serving around the world, now. They belong to a generation of post-9/11 veterans who've taken part in the longest sustained period of conflict in our history.

Never has so much been asked by so many of so few.... for so long. These heroes represent every color and creed. They are drawn from across the country and many immigrated to our shores.

They then freely choose to serve in the most distant and dangerous regions of the world, to protect democracy in its moments of maximum danger.
Wherever they serve - however they serve - whether they put on a uniform each day, or serve in ways which may never be fully known, these Americans wake up each morning willing to offer the "last full measure of devotion" on our behalf.
Every time they do so, they provide a stunning rebuke to the kinds of voices around the world who doubt freedom and democracy's ability to defend itself.
Unfortunately, we know there are those who seem to not understand – or say they do not - what it is that inspires a free people to step forward, willing to lay down their lives so that their country and fellow citizens might live.
But, we – who are both the wards and stewards of the democracy which has been preserved and handed down to us by veterans throughout our history – do understand.
We know that inciting fear and hatred of others is a source of weakness, not strength. And such divisive rhetoric can never inspire solidarity or sacrifice like love for others and love of country can.
It is this quality of devotion that we most honor in our veterans - those who have served, do serve and will serve.
On behalf of a grateful family of 96,000, thank you for your service.
Humbly,
Oscar
Each year around Veterans Day, Indeed, one of the world's largest job search engines, rates companies based on actual employee reviews to identify which ones offer the best opportunities and benefits for current and former U.S. military members. Our dramatic improvement in the rankings this year reflects a stronger commitment than ever before to actively recruiting, developing and nurturing veteran talent.
"We've spent a lot of time over the past 12 months looking for ways to better connect with our employees who served and attract new employees from the military ranks," said Global Catering Operations and Logistics Managing Director Ryan Melby, a U.S. Army veteran and the president of our United for Veterans business resource group.
"Our group is launching a mentorship program, for instance, where we'll assign existing employee-veterans to work with new hires who come to us from the armed forces. Having a friend and an ally like that, someone who can help you translate the skills you picked up in the military to what we do as a civilian company, is invaluable. That initiative is still in its infancy, but I'm really optimistic about what it can do for United and for our veteran population here."
Impressively, we were the only one of our industry peers to move up on the list, further evidence that we're on a good track as a company.
Scroll to top