Best beach resorts in the U.S. for family vacations
Wondering where to plan your family vacation this summer? We love these family-friendly beach resorts in the U.S.
Summer is here (hooray!), so it's time to start planning a beach vacation with the whole crew. Think digging your toes into the sand, searching for seashells, and diving headlong into frothy ocean surf. Not much can top days spent wearing flip-flops, snuggling with salty-haired kiddos, and simply enjoying laid-back seashore bliss. Here are our top beach resorts in the U.S. for family vacations.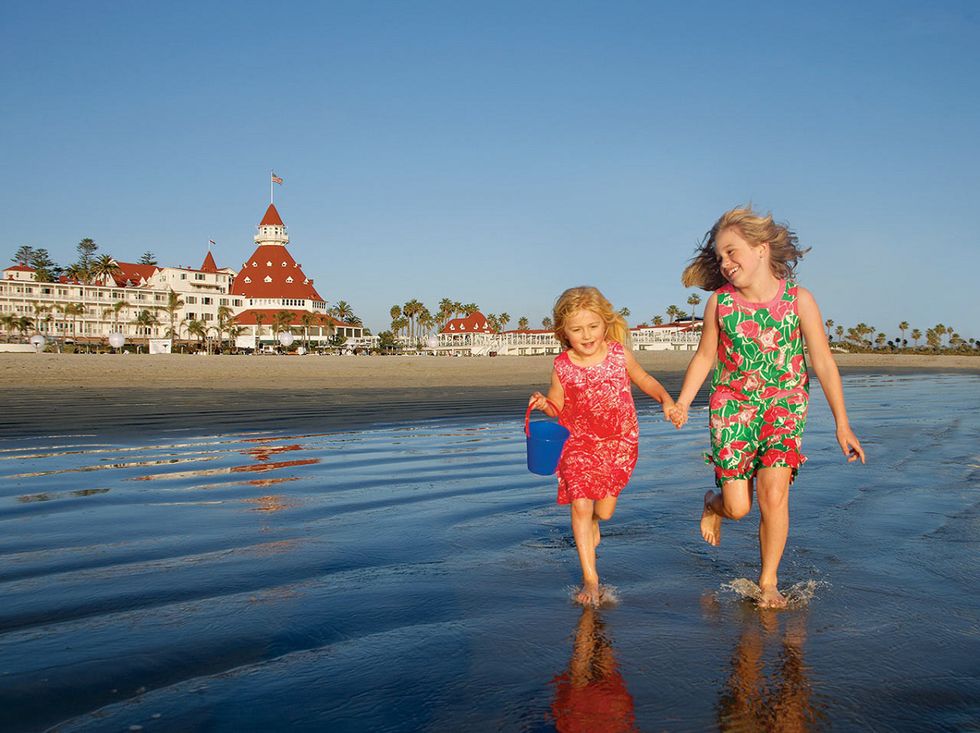 Hotel Del Coronado
Hotel Del Coronado – California
The grand dame of Coronado Island, the stunning, red-roofed Hotel Del Coronado serves up an elegant cocktail of Victorian seashore charm infused with bygone glamor. Set on a private stretch of Coronado Beach, the Del offers families countless seaside activities from biking along the Pacific coast to surf lessons, mermaid fitness classes (tail included!), beach bonfires and waterskiing. Days can be spent in laid-back coastal California style, lounging on the beach (games and gear are available to rent), enjoying the resort's gorgeous pools, or exploring the mecca of unique, onsite shops. Kidtopia, the resort's children's center, features a slew of ocean-themed DelVentures for kids ages 4 through 12, and spots like Spreckles Sweets and Treats and MooTime Creamery are favorites among the underage crowd.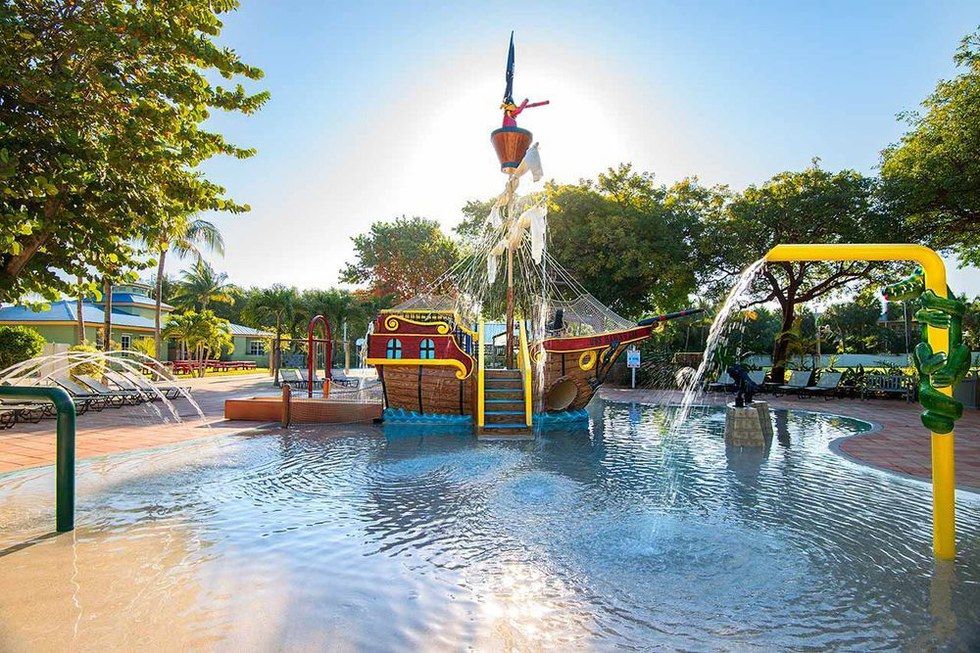 Hawks Cay Resort \Courtesy Hawks Cay Resort
Hawks Cay Resort – Florida Keys
Located at mile-marker 61, Hawks Cay Resort on Duck Key offers a perfect balance of fun and solitude amidst 60-acres of lush gardens, vibrant coral reef and the calm waters of the Atlantic Ocean and Gulf of Mexico. With its unique offerings, children will love the Coral Cay kids club, featuring crafts, scavenger hunts, snorkeling, and kids' nights out. Accommodations — which range from spacious family guestrooms to breezy, multi-bedroom villas with private lanais — are scattered throughout four distinct villages, each with its own inviting island ambience. The resort's onsite marina and Sundance Watersports entice guests with plenty of options to explore the sea including sunset cruises, fishing for local mahi, or kayaking to remote mangrove islets. Lounging with an umbrella-garnished cocktail by one of the resorts five pools, including the elaborate pirate-themed children's area and a private, ocean-fed, saltwater lagoon, is vacation at its best.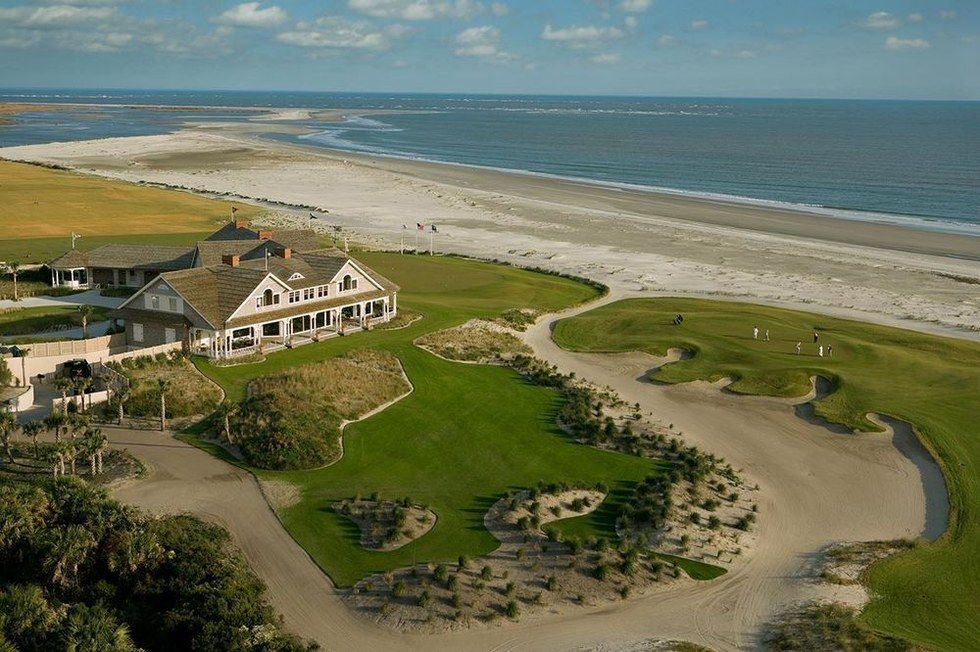 Kiawah Island Resort \Courtesy Kiawah Island Resort
Kiawah Island Resort – South Carolina
Families will find themselves immersed in low-country splendor the moment they drive down the oak-shaded lane that leads to the sublime Sanctuary Hotel on Kiawah Island. Perhaps best known for its five award winning golf courses, Kiawah Island Resort offers a wealth of indulgences beyond the links. The resort is truly breathtaking — a sweeping lawn bedecked by Adirondack chairs overlooks the ocean while verdant palms and plush loungers surround a sparkling saltwater pool. Just beyond the pool deck, a boardwalk leads to a 10-mile expanse of beach, perfect for bike riding or just whiling away the hours. Guests can find Night Heron Park, the resort's activity hub, a short drive from Sanctuary, which is home to the excellent Camp Kiawah kids' program, a fabulous children's pool complete with slides and splash areas, and the Heron Park Nature Center, which serves as the jumping off point for the resort's superior naturalist-led programs — favorites include boating excursions to secluded Sandy Point and wildlife paddling tours through the surrounding saltmarsh. Luxurious accommodations range from spacious guestrooms and suites in the Sanctuary to an enormous selection of villas and private homes spread throughout the resort's 10,000-acre island haven.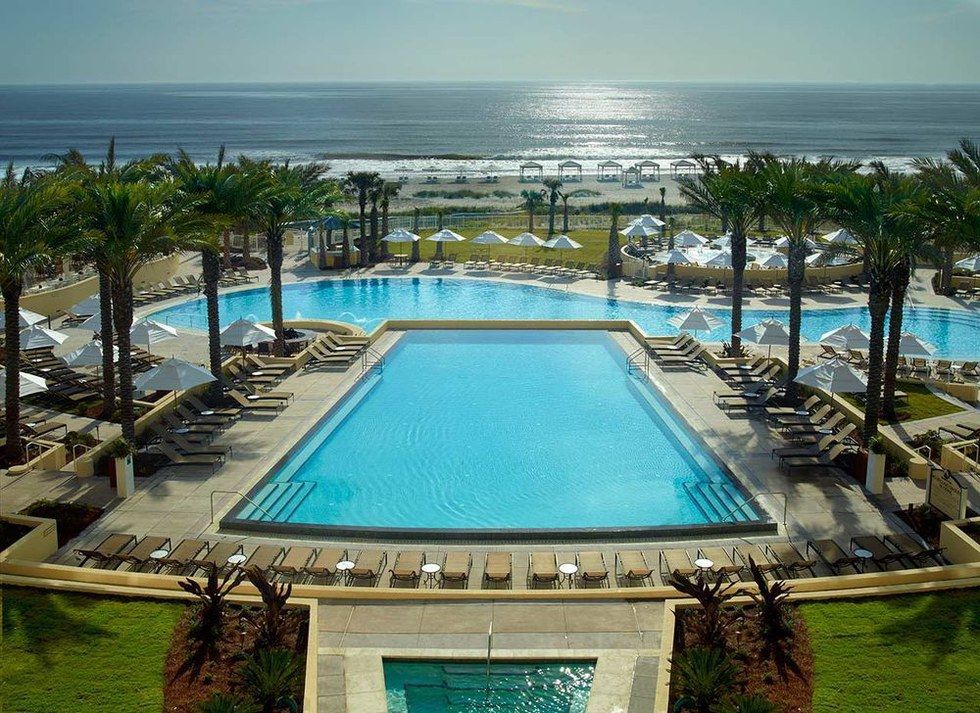 Omni Amelia Island Plantation Resort \Courtesy Omni Amelia Island Plantation Resort
Omni Amelia Island Plantation Resort – Florida
A world unto itself, the Omni Amelia Island Plantation Resort is the kind of place that, once you arrive, you'll never have to leave. Spread throughout 1,350-lush acres, visitors will find three golf courses, 23 Har-Tru tennis courts, a luxury spa, and the Shops of Amelia Island Plantation (home to a variety of charming eateries), Amelia's Wheels bike rentals, Heron's Cove Adventure Golf, and the Amelia Island Nature Center. The resort's centerpiece is the soaring 404-room oceanfront hotel, framed by lush palm trees, 3½ miles of private beach, and a spectacular pool area with restaurants, kids' activities, and even a tequila bar. Camp Amelia offers children ages 4 through 14 the chance to explore the resort through themed activities that encourage nature and science discovery, imaginative play, and camaraderie. Families will love the bright, ocean-inspired guestrooms and suites, most with balconies overlooking the beach and pools.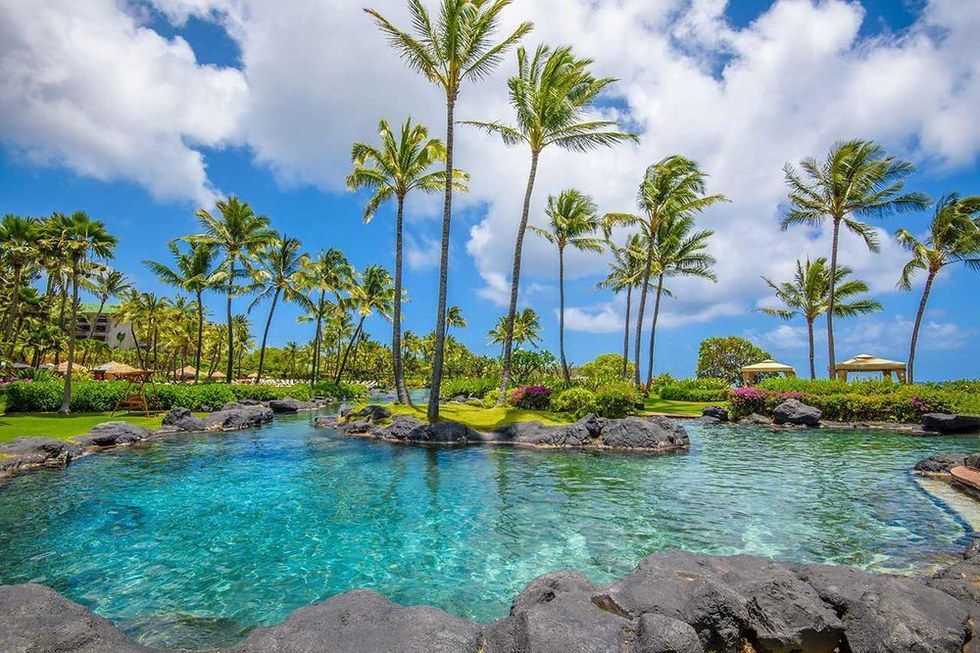 Grand Hyatt Kauai Resort and Spa \Courtesy Grand Hyatt Kauai Resort and Spa
Grand Hyatt Kauai Resort and Spa – Hawaii
Families will find the aloha spirit at the Grand Hyatt Kauai, with its lush, tropical grounds overlooking the gorgeous Pacific surf of Poipu Beach. The resort's pools, featuring slides, a lazy river, waterfalls, and hidden coves, and a 1½ acre saltwater lagoon are the stars of the show. Putting a native spin on the traditional kids' club, Camp Hyatt engages kids in Hawaiian culture with activities like palm-frond weaving, ukulele lessons, and time spent interacting with the resort's colorful parrots. In the resort's open-air atrium, complimentary fun includes lei making and hula lessons throughout the day. Don't miss the twice-weekly luau, which features a lavish Polynesian-style revue.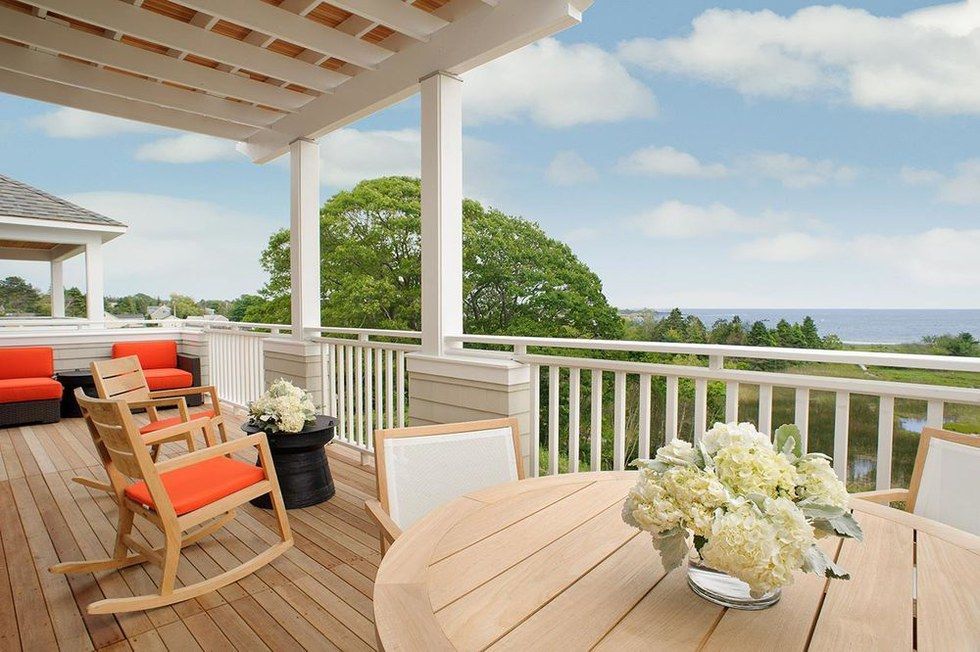 Inn by the Sea \Courtesy Inn by the Sea
Inn by the Sea – Maine
Overlooking the gentle surf and soft sand of Crescent Beach, Inn by the Sea combines eco-luxury with the rugged beauty and nautical charm of coastal Maine. Families take up residence in the Inn's sunny and spacious seaside suites and cottages, most with ocean views, kitchens or kitchenettes, and large furnished decks or balconies. Days are filled with old-fashioned seashore fun — grab beach cruisers and pedal out to one of the local lighthouses, enjoy a naturalist led beach walk, fly kites on the beach, or take a dip in the solar heated swimming pool. Kids will love juggling lessons or learning about Maine's marine ecosystems from an insect's perspective in the Bug's Life Garden tour. A great home base for exploring the maritime wonders of the historic Casco Bay area, the Inn's staff can arrange everything from lobster boat excursions to kayaking, visits to Casco Bay's islands, or tickets to a Portland Sea Dogs game.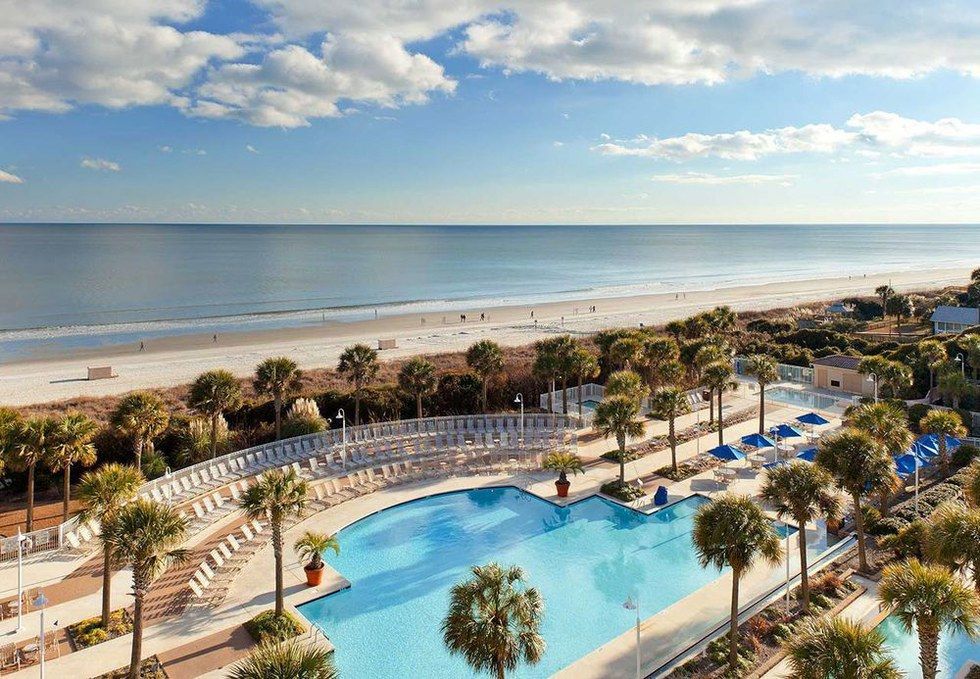 Marriott Resort and Spa at Grand Dunes \Courtesy Marriott Resort and Spa at Grand Dunes
Marriott Resort and Spa at Grand Dunes – South Carolina
Sometimes a beach destination with all the bells and whistles — think flashy boardwalk, super go-karts, and mini-golf on steroids — is just what the family needs. Enter Myrtle Beach, which encompasses all of the above and more. Set along a semi-private stretch of South Carolina's famed Grand Strand and its 60 pristine miles of Atlantic coastline, the best place for families to call home is the Marriott Resort and Spa at Grand Dunes. Though the hullaballoo of the "strip" remains close by, the luxe Marriott Grand Dunes offers blissful respite six miles north of the famed 14th Street Pier. Perks include freshly renovated guestrooms (opt for an ocean view with balcony), the Hibiscus Spa with a fun kids' menu, and a spectacular pool. Organized kids' activities are offered seasonally for a small fee and guests have privileges at several nearby golf courses.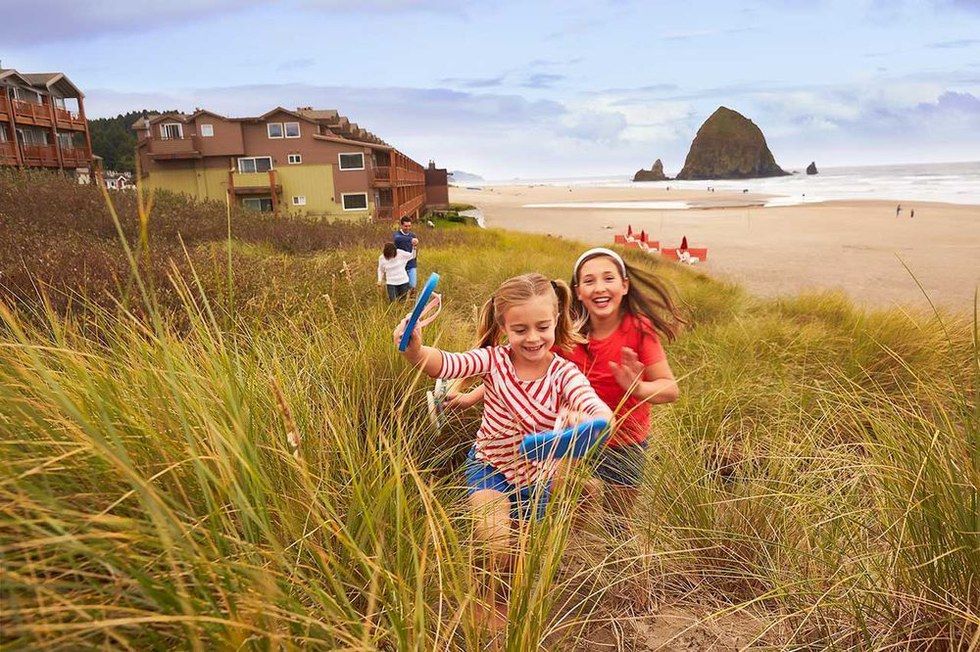 Surfsand Canon Beach \Courtesy Surfsand Canon Beach
Surfsand Canon Beach – Oregon
Old-school seaside charm awaits at Surfsand Resort, perched just a few steps from the edge of Canon Beach. Warm and welcoming, Surfsand is like summer camp for families, offering perks like an extensive DVD library for family movie nights, board games, bicycles and helmets, Saturday ice-cream socials, and in-room lanterns for beach walks beneath the stars. Just offshore, Haystack Rock, a local landmark, soars above the Pacific, while tide pools offer perfect places for kids to explore the underwater world. Parents will love the resort's complimentary cabana service, which provides beach umbrellas, kites, and sand toys. Surfsand's 95 guestrooms offer comfortably chic accommodations, with plush amenities like bathrobes for kids and adults, gas fireplaces and spacious balconies.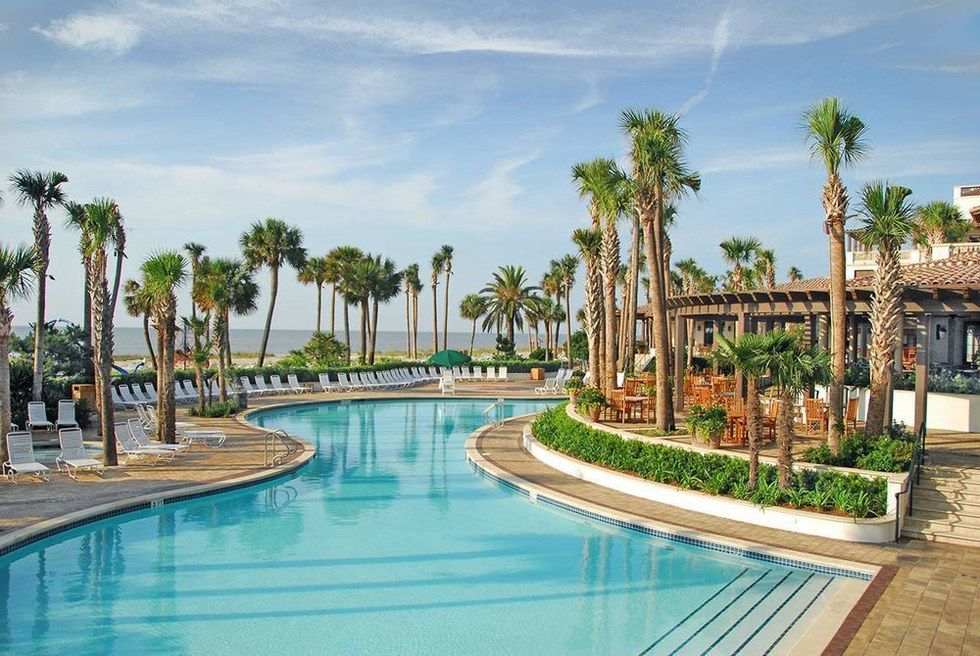 Sea Island \Courtesy Sea Island
Sea Island – Georgia
Take a step back in time to a bygone era of old-fashioned, southern charm on Sea Island, an alluring gem among Georgia's Golden Isles. Bordered by the Black Banks River to the west and 5 miles of dune-fringed Atlantic seashore to the east, the island is steeped in abundant history and pristine natural beauty. At the heart of the resort, the Mediterranean-inspired Cloister and adjacent Beach Club offer a variety of elegant guestrooms and suites — staying on the Beach Club side, with its easy access to the resort's beach and beautiful, meandering pool, is ideal for families. Pedal beneath moss-draped, antebellum oaks and learn about the island's ecology and history, paddleboard through tidal grasslands, grab a cone at Wonderland Sweet Shop, or join the resort's famous Bingo game. Camp Cloister, Sea Island's children's program, offers an array of engaging experiences with talented onsite naturalists and educators for younger guests.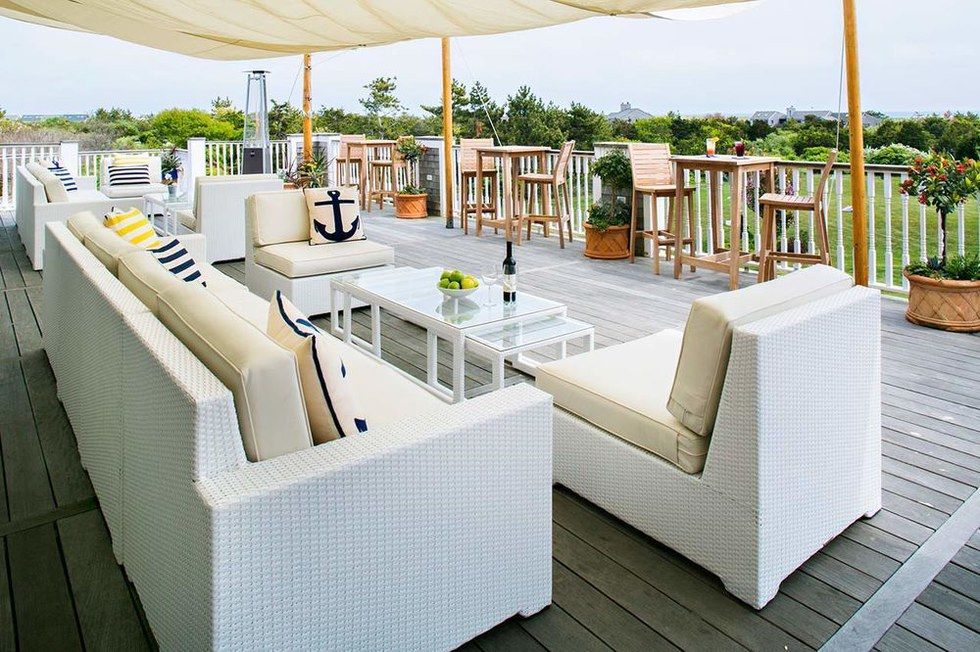 Winnetu Oceanside Resort \Courtesy Winnetu Oceanside Resort
Winnetu Oceanside Resort – Massachusetts
Family-owned by people who know what it's like to be parents, the folks at Winnetu Oceanside Resort truly know how to make a family vacation fun and relaxing. Perched along a gorgeous stretch of South Beach in Edgartown, the resort has handcrafted an imaginative menu of activities that keep kids of all ages running around outside, exploring the tides, visiting a nearby farm and building sandcastles. Teens ages 13 through 16 can join up with the local Martha's Vineyard Adventure Camp for kayaking, orienteering, and mountain biking. Beyond organized fun, families can bike, play classic lawn games, take a ride on an antique fire truck, and kick back at the resort's popular Wednesday evening clambake. For even more adventures, Winnetu's pre-arrival concierge will help plan outings to nearby Nantucket, island nature tours, or an in-room massage. Bright and breezy, the resort's suites and cottages are perfect for families of every size offering space for even large, multigenerational groups to spread out in comfort.
This article was written by Gina Vercesi from Islands and was legally licensed through the NewsCred publisher network. Please direct all licensing questions to legal@newscred.com.
Right now, around the world, brave members of America's armed forces are on duty, defending our freedom and upholding our values.
When not laser-focused on the mission at hand, they're looking forward to the day when their service to our nation is fulfilled and they can reunite with their families.
They are also imagining how they can use their hard-earned skills to build an exciting, rewarding and important career when they return home.
I want them to look no further than United Airlines.
That's why we are focused on recruiting, developing and championing veterans across our company, demonstrating to our returning women and men in uniform that United is the best possible place for them to put their training, knowledge, discipline and character to the noblest use.
They've developed their knowledge and skills in some of the worst of times. We hope they will use those skills to keep United performing at our best, all of the time.
That's why we are accelerating our efforts to onboard the best and the brightest, and substantially increasing our overall recruitment numbers each year.
We recently launched a new sponsorship program to support onboarding veterans into United and a new care package program to support deployed employees. It's one more reason why United continues to rank high - and rise higher - as a top workplace for veterans. In fact, we jumped 21 spots this year on Indeed.com's list of the top U.S workplaces for veterans. This is a testament to our increased recruiting efforts, as well as our efforts to create a culture where veterans feel valued and supported.
We use the special reach and resources of our global operations to partner with outstanding organizations. This is our way of stepping up and going the extra mile for all those who've stepped forward to answer our nation's call.
We do this year-round, and the month of November is no exception; however, it is exceptional, especially as we mark Veterans Day.
As we pay tribute to all Americans who have served in uniform and carried our flag into battle throughout our history, let's also keep our thoughts with the women and men who are serving around the world, now. They belong to a generation of post-9/11 veterans who've taken part in the longest sustained period of conflict in our history.

Never has so much been asked by so many of so few.... for so long. These heroes represent every color and creed. They are drawn from across the country and many immigrated to our shores.

They then freely choose to serve in the most distant and dangerous regions of the world, to protect democracy in its moments of maximum danger.
Wherever they serve - however they serve - whether they put on a uniform each day, or serve in ways which may never be fully known, these Americans wake up each morning willing to offer the "last full measure of devotion" on our behalf.
Every time they do so, they provide a stunning rebuke to the kinds of voices around the world who doubt freedom and democracy's ability to defend itself.
Unfortunately, we know there are those who seem to not understand – or say they do not - what it is that inspires a free people to step forward, willing to lay down their lives so that their country and fellow citizens might live.
But, we – who are both the wards and stewards of the democracy which has been preserved and handed down to us by veterans throughout our history – do understand.
We know that inciting fear and hatred of others is a source of weakness, not strength. And such divisive rhetoric can never inspire solidarity or sacrifice like love for others and love of country can.
It is this quality of devotion that we most honor in our veterans - those who have served, do serve and will serve.
On behalf of a grateful family of 96,000, thank you for your service.
Humbly,
Oscar
Each year around Veterans Day, Indeed, one of the world's largest job search engines, rates companies based on actual employee reviews to identify which ones offer the best opportunities and benefits for current and former U.S. military members. Our dramatic improvement in the rankings this year reflects a stronger commitment than ever before to actively recruiting, developing and nurturing veteran talent.
"We've spent a lot of time over the past 12 months looking for ways to better connect with our employees who served and attract new employees from the military ranks," said Global Catering Operations and Logistics Managing Director Ryan Melby, a U.S. Army veteran and the president of our United for Veterans business resource group.
"Our group is launching a mentorship program, for instance, where we'll assign existing employee-veterans to work with new hires who come to us from the armed forces. Having a friend and an ally like that, someone who can help you translate the skills you picked up in the military to what we do as a civilian company, is invaluable. That initiative is still in its infancy, but I'm really optimistic about what it can do for United and for our veteran population here."
Impressively, we were the only one of our industry peers to move up on the list, further evidence that we're on a good track as a company.
The question of where David Ferrari was had haunted retired U.S. Army Sergeant Major Vincent Salceto for the better part of 66 years.
Rarely did a week go by that Salceto didn't think about his old friend. Often, he relived their last moments together in a recurring nightmare. In it, it's once again 1953 and Salceto and Ferrari are patrolling a valley in what is now North Korea. Suddenly, explosions shatter the silence and flares light up the night sky.
Crouching under a barrage of bullets, Salceto, the squad's leader, drags two of his men to safety, then he sees Ferrari lying face down on the ground. He runs out to help him, but he's too late. And that's when he always wakes up.
Italian Americans from opposite coasts – Salceto from Philadelphia, Ferrari from San Francisco – the two became close, almost like brothers, after being assigned to the same unit during the Korean War. When Ferrari died, it hit Salceto hard.
"After that, I never let anyone get close to me like I did with Dave," he says. "I couldn't; I didn't want to go through that again."
When the war ended, Salceto wanted to tell Ferrari's family how brave their son and brother had been in battle. Most of all, he wanted to salute his friend at his gravesite and give him a proper farewell.
For decades, though, Salceto had no luck finding his final resting place or locating any of his relatives. Then, in June of this year, he uncovered a clue that led him to the Italian Cemetary in Colma, California, where Ferrari is buried.
Within days, Salceto, who lives in Franklinville, New Jersey, was packed and sitting aboard United Flight 731 from Philadelphia to San Francisco with his wife, Amy, and daughter, Donna Decker, on his way to Colma. For such a meaningful trip, he even wore his Army dress uniform.
That's how San Francisco-based flight attendant Noreen Baldwin spotted him as he walked down the jet bridge to get on the plane.
"I saw him and said to the other crew members, 'Oh my goodness, look at this guy,'" she says. "I knew there had to be a story."
The two struck up a conversation and Salceto told Baldwin why he was traveling. She got emotional listening to him talk and made a point of fussing over him, making sure he and his family had everything they needed.
About halfway through the flight, Baldwin had an idea. She and her fellow crew members would write messages of encouragement to Salceto and invite his fellow passengers to do the same.
"We did it discreetly," says Baldwin. "I asked the customers if they saw the man in uniform, which most had, and asked them if they wanted to write a few words for him on a cocktail napkin. A lot of people did; families did it together, parents got their kids to write something. After the first few rows, I was so choked up that I could barely talk."
When Baldwin surprised Salceto with dozens of hand-written notes, he, too, was speechless. He laid the stack on his lap and read each one. At the same time, the pilots made an announcement about the veteran over the loud speaker, after which the customers on board burst into applause.
"It seems contrived, and I hate using the word organic, but that's what it was; it just happened," Baldwin says. "Mr. Salceto was so loveable and humble, and what he was doing was so incredible, it felt like the right thing to do. And you could tell he was touched."
On June 27, Salceto finally stood before Ferrari's grave and said that long-awaited goodbye. As a trumpeter played "Taps," he unpinned a medal from his jacket and laid it reverently on the headstone.
"I had gotten a Bronze Star for my actions [the night Ferrari died] with a 'V' for valor, and that was the medal I put on Dave's grave," says Salceto, pausing to fight back tears. "I thought he was more deserving of it than I was."
For the first time in years, Salceto felt at peace. His mission was accomplished.
Scroll to top