Best beach resorts in the U.S. for family vacations
Wondering where to plan your family vacation this summer? We love these family-friendly beach resorts in the U.S.
Summer is here (hooray!), so it's time to start planning a beach vacation with the whole crew. Think digging your toes into the sand, searching for seashells, and diving headlong into frothy ocean surf. Not much can top days spent wearing flip-flops, snuggling with salty-haired kiddos, and simply enjoying laid-back seashore bliss. Here are our top beach resorts in the U.S. for family vacations.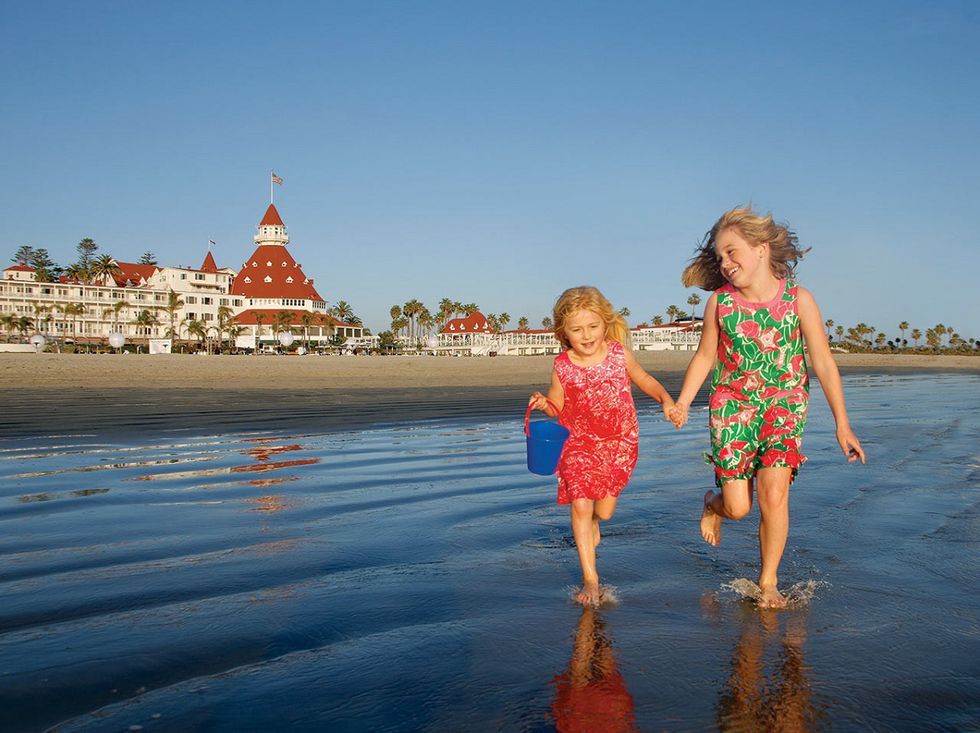 Hotel Del Coronado
Hotel Del Coronado – California
The grand dame of Coronado Island, the stunning, red-roofed Hotel Del Coronado serves up an elegant cocktail of Victorian seashore charm infused with bygone glamor. Set on a private stretch of Coronado Beach, the Del offers families countless seaside activities from biking along the Pacific coast to surf lessons, mermaid fitness classes (tail included!), beach bonfires and waterskiing. Days can be spent in laid-back coastal California style, lounging on the beach (games and gear are available to rent), enjoying the resort's gorgeous pools, or exploring the mecca of unique, onsite shops. Kidtopia, the resort's children's center, features a slew of ocean-themed DelVentures for kids ages 4 through 12, and spots like Spreckles Sweets and Treats and MooTime Creamery are favorites among the underage crowd.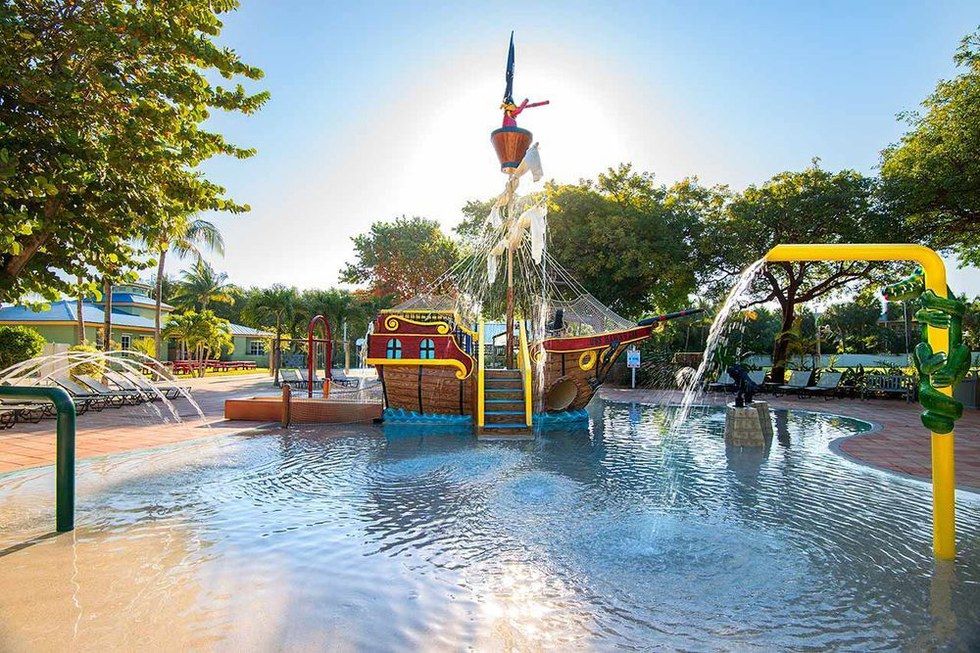 Hawks Cay Resort \Courtesy Hawks Cay Resort
Hawks Cay Resort – Florida Keys
Located at mile-marker 61, Hawks Cay Resort on Duck Key offers a perfect balance of fun and solitude amidst 60-acres of lush gardens, vibrant coral reef and the calm waters of the Atlantic Ocean and Gulf of Mexico. With its unique offerings, children will love the Coral Cay kids club, featuring crafts, scavenger hunts, snorkeling, and kids' nights out. Accommodations — which range from spacious family guestrooms to breezy, multi-bedroom villas with private lanais — are scattered throughout four distinct villages, each with its own inviting island ambience. The resort's onsite marina and Sundance Watersports entice guests with plenty of options to explore the sea including sunset cruises, fishing for local mahi, or kayaking to remote mangrove islets. Lounging with an umbrella-garnished cocktail by one of the resorts five pools, including the elaborate pirate-themed children's area and a private, ocean-fed, saltwater lagoon, is vacation at its best.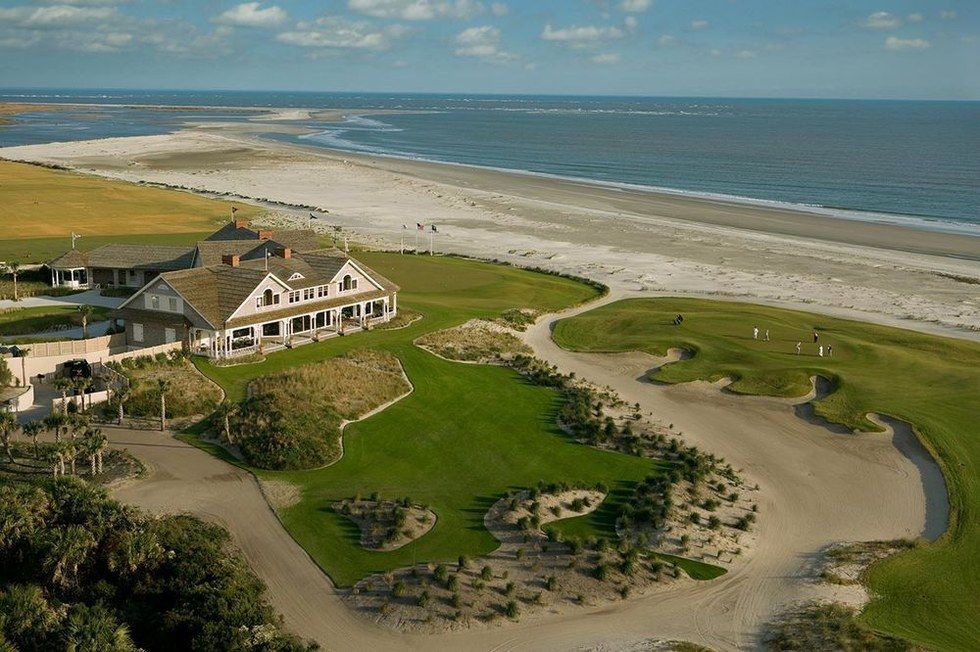 Kiawah Island Resort \Courtesy Kiawah Island Resort
Kiawah Island Resort – South Carolina
Families will find themselves immersed in low-country splendor the moment they drive down the oak-shaded lane that leads to the sublime Sanctuary Hotel on Kiawah Island. Perhaps best known for its five award winning golf courses, Kiawah Island Resort offers a wealth of indulgences beyond the links. The resort is truly breathtaking — a sweeping lawn bedecked by Adirondack chairs overlooks the ocean while verdant palms and plush loungers surround a sparkling saltwater pool. Just beyond the pool deck, a boardwalk leads to a 10-mile expanse of beach, perfect for bike riding or just whiling away the hours. Guests can find Night Heron Park, the resort's activity hub, a short drive from Sanctuary, which is home to the excellent Camp Kiawah kids' program, a fabulous children's pool complete with slides and splash areas, and the Heron Park Nature Center, which serves as the jumping off point for the resort's superior naturalist-led programs — favorites include boating excursions to secluded Sandy Point and wildlife paddling tours through the surrounding saltmarsh. Luxurious accommodations range from spacious guestrooms and suites in the Sanctuary to an enormous selection of villas and private homes spread throughout the resort's 10,000-acre island haven.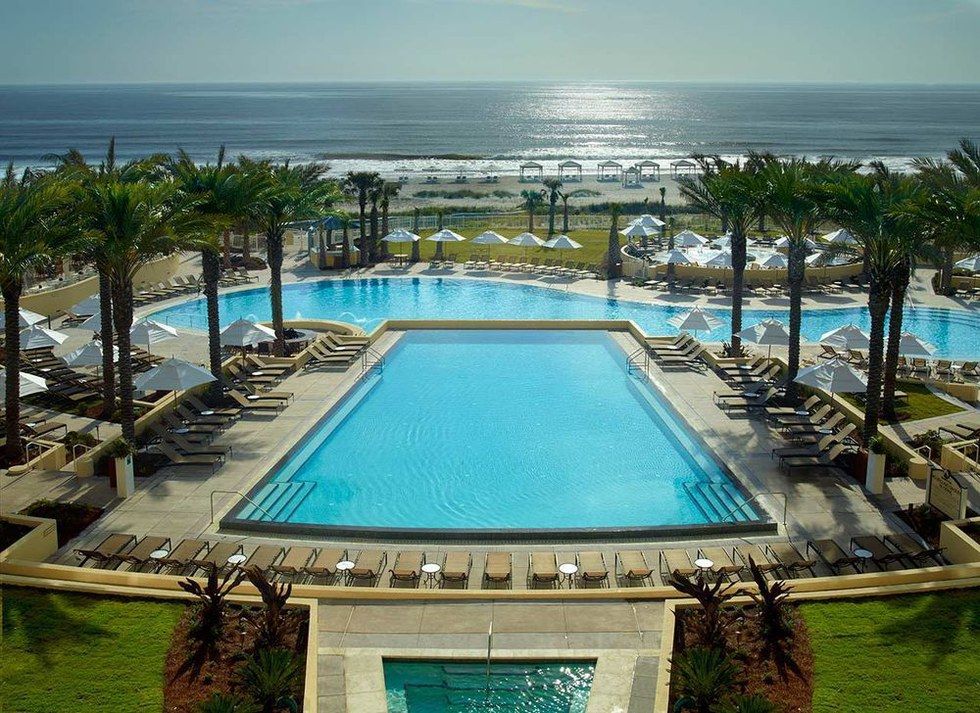 Omni Amelia Island Plantation Resort \Courtesy Omni Amelia Island Plantation Resort
Omni Amelia Island Plantation Resort – Florida
A world unto itself, the Omni Amelia Island Plantation Resort is the kind of place that, once you arrive, you'll never have to leave. Spread throughout 1,350-lush acres, visitors will find three golf courses, 23 Har-Tru tennis courts, a luxury spa, and the Shops of Amelia Island Plantation (home to a variety of charming eateries), Amelia's Wheels bike rentals, Heron's Cove Adventure Golf, and the Amelia Island Nature Center. The resort's centerpiece is the soaring 404-room oceanfront hotel, framed by lush palm trees, 3½ miles of private beach, and a spectacular pool area with restaurants, kids' activities, and even a tequila bar. Camp Amelia offers children ages 4 through 14 the chance to explore the resort through themed activities that encourage nature and science discovery, imaginative play, and camaraderie. Families will love the bright, ocean-inspired guestrooms and suites, most with balconies overlooking the beach and pools.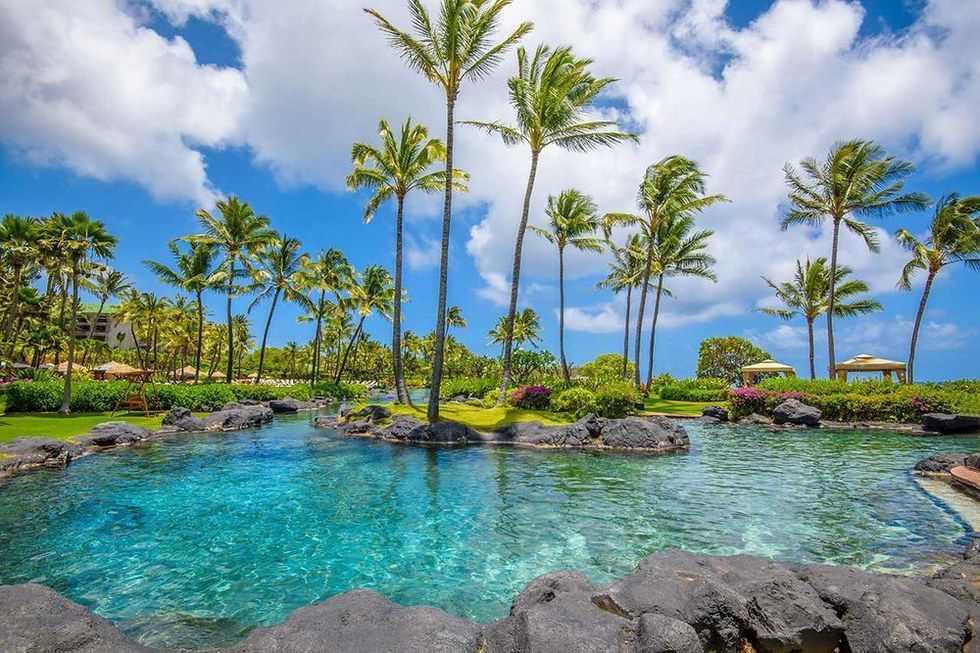 Grand Hyatt Kauai Resort and Spa \Courtesy Grand Hyatt Kauai Resort and Spa
Grand Hyatt Kauai Resort and Spa – Hawaii
Families will find the aloha spirit at the Grand Hyatt Kauai, with its lush, tropical grounds overlooking the gorgeous Pacific surf of Poipu Beach. The resort's pools, featuring slides, a lazy river, waterfalls, and hidden coves, and a 1½ acre saltwater lagoon are the stars of the show. Putting a native spin on the traditional kids' club, Camp Hyatt engages kids in Hawaiian culture with activities like palm-frond weaving, ukulele lessons, and time spent interacting with the resort's colorful parrots. In the resort's open-air atrium, complimentary fun includes lei making and hula lessons throughout the day. Don't miss the twice-weekly luau, which features a lavish Polynesian-style revue.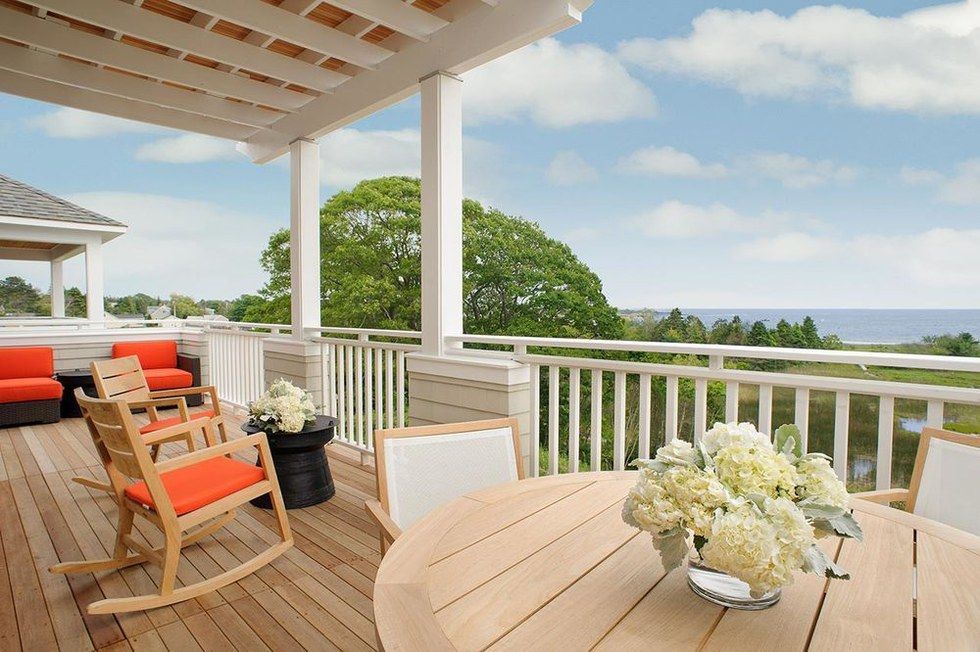 Inn by the Sea \Courtesy Inn by the Sea
Inn by the Sea – Maine
Overlooking the gentle surf and soft sand of Crescent Beach, Inn by the Sea combines eco-luxury with the rugged beauty and nautical charm of coastal Maine. Families take up residence in the Inn's sunny and spacious seaside suites and cottages, most with ocean views, kitchens or kitchenettes, and large furnished decks or balconies. Days are filled with old-fashioned seashore fun — grab beach cruisers and pedal out to one of the local lighthouses, enjoy a naturalist led beach walk, fly kites on the beach, or take a dip in the solar heated swimming pool. Kids will love juggling lessons or learning about Maine's marine ecosystems from an insect's perspective in the Bug's Life Garden tour. A great home base for exploring the maritime wonders of the historic Casco Bay area, the Inn's staff can arrange everything from lobster boat excursions to kayaking, visits to Casco Bay's islands, or tickets to a Portland Sea Dogs game.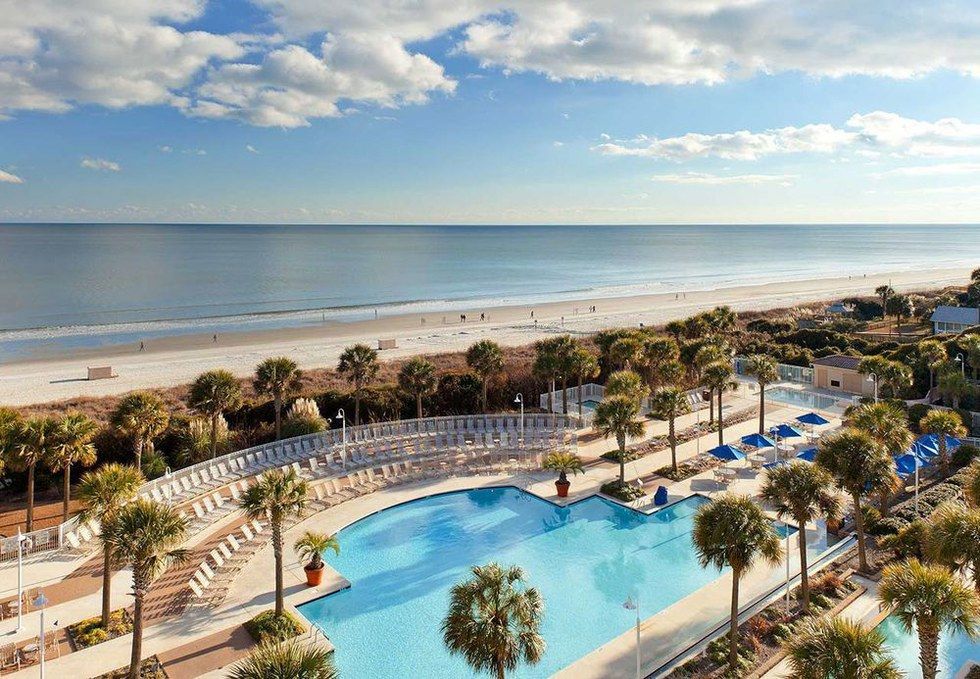 Marriott Resort and Spa at Grand Dunes \Courtesy Marriott Resort and Spa at Grand Dunes
Marriott Resort and Spa at Grand Dunes – South Carolina
Sometimes a beach destination with all the bells and whistles — think flashy boardwalk, super go-karts, and mini-golf on steroids — is just what the family needs. Enter Myrtle Beach, which encompasses all of the above and more. Set along a semi-private stretch of South Carolina's famed Grand Strand and its 60 pristine miles of Atlantic coastline, the best place for families to call home is the Marriott Resort and Spa at Grand Dunes. Though the hullaballoo of the "strip" remains close by, the luxe Marriott Grand Dunes offers blissful respite six miles north of the famed 14th Street Pier. Perks include freshly renovated guestrooms (opt for an ocean view with balcony), the Hibiscus Spa with a fun kids' menu, and a spectacular pool. Organized kids' activities are offered seasonally for a small fee and guests have privileges at several nearby golf courses.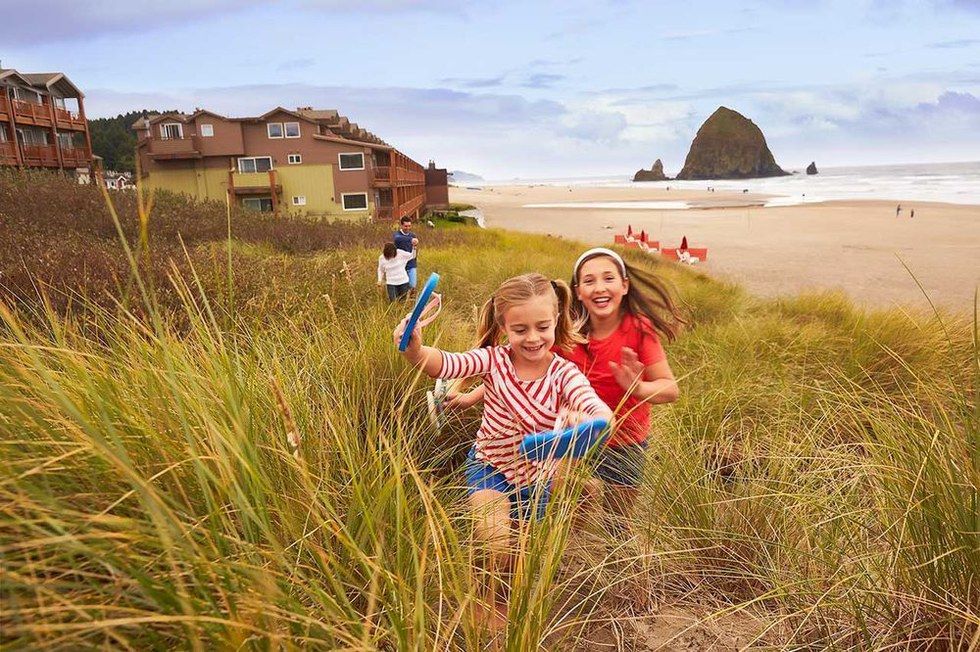 Surfsand Canon Beach \Courtesy Surfsand Canon Beach
Surfsand Canon Beach – Oregon
Old-school seaside charm awaits at Surfsand Resort, perched just a few steps from the edge of Canon Beach. Warm and welcoming, Surfsand is like summer camp for families, offering perks like an extensive DVD library for family movie nights, board games, bicycles and helmets, Saturday ice-cream socials, and in-room lanterns for beach walks beneath the stars. Just offshore, Haystack Rock, a local landmark, soars above the Pacific, while tide pools offer perfect places for kids to explore the underwater world. Parents will love the resort's complimentary cabana service, which provides beach umbrellas, kites, and sand toys. Surfsand's 95 guestrooms offer comfortably chic accommodations, with plush amenities like bathrobes for kids and adults, gas fireplaces and spacious balconies.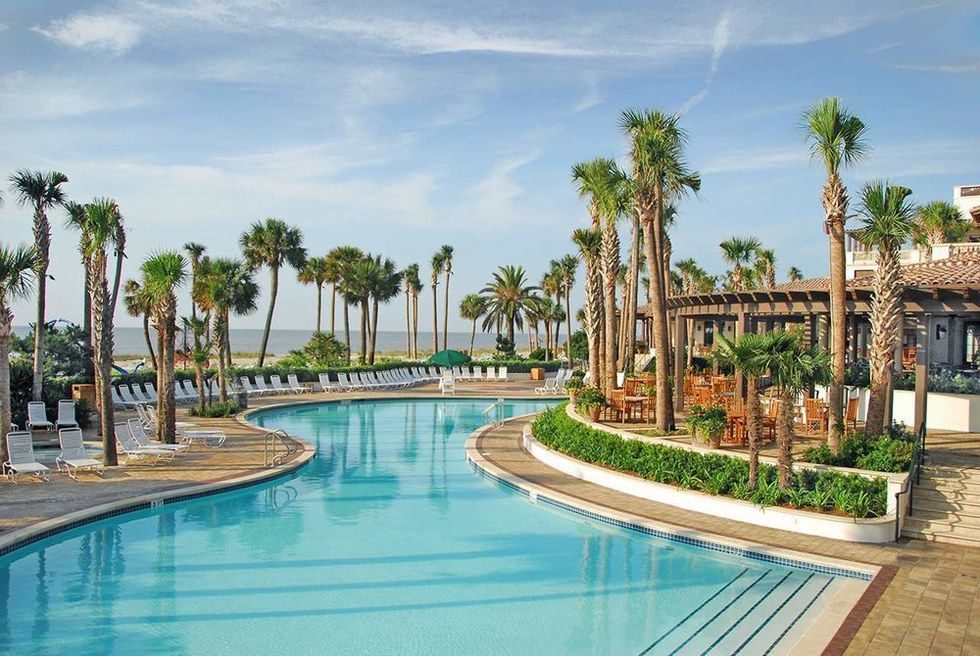 Sea Island \Courtesy Sea Island
Sea Island – Georgia
Take a step back in time to a bygone era of old-fashioned, southern charm on Sea Island, an alluring gem among Georgia's Golden Isles. Bordered by the Black Banks River to the west and 5 miles of dune-fringed Atlantic seashore to the east, the island is steeped in abundant history and pristine natural beauty. At the heart of the resort, the Mediterranean-inspired Cloister and adjacent Beach Club offer a variety of elegant guestrooms and suites — staying on the Beach Club side, with its easy access to the resort's beach and beautiful, meandering pool, is ideal for families. Pedal beneath moss-draped, antebellum oaks and learn about the island's ecology and history, paddleboard through tidal grasslands, grab a cone at Wonderland Sweet Shop, or join the resort's famous Bingo game. Camp Cloister, Sea Island's children's program, offers an array of engaging experiences with talented onsite naturalists and educators for younger guests.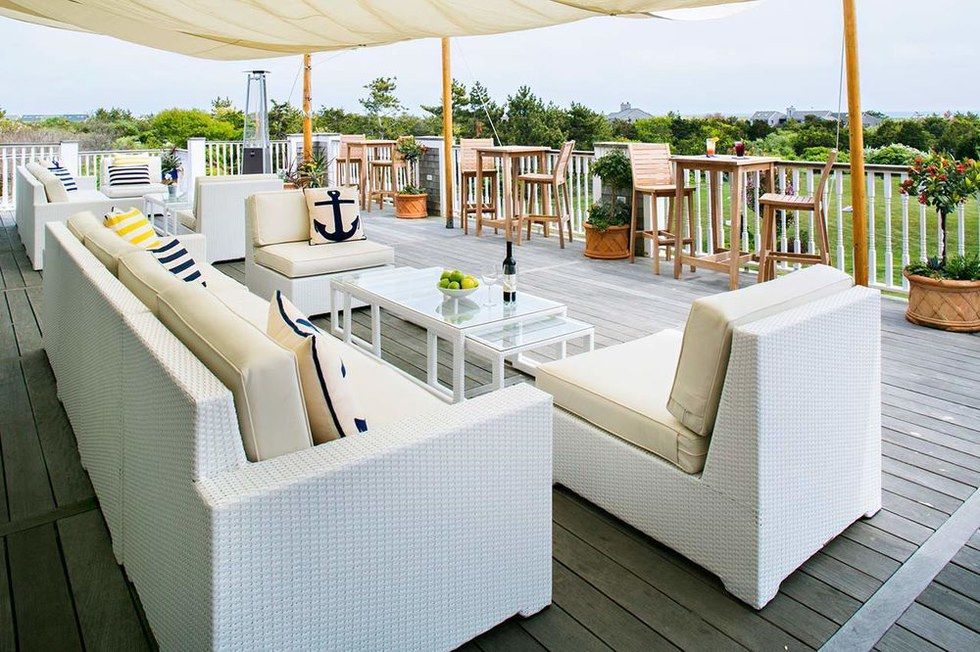 Winnetu Oceanside Resort \Courtesy Winnetu Oceanside Resort
Winnetu Oceanside Resort – Massachusetts
Family-owned by people who know what it's like to be parents, the folks at Winnetu Oceanside Resort truly know how to make a family vacation fun and relaxing. Perched along a gorgeous stretch of South Beach in Edgartown, the resort has handcrafted an imaginative menu of activities that keep kids of all ages running around outside, exploring the tides, visiting a nearby farm and building sandcastles. Teens ages 13 through 16 can join up with the local Martha's Vineyard Adventure Camp for kayaking, orienteering, and mountain biking. Beyond organized fun, families can bike, play classic lawn games, take a ride on an antique fire truck, and kick back at the resort's popular Wednesday evening clambake. For even more adventures, Winnetu's pre-arrival concierge will help plan outings to nearby Nantucket, island nature tours, or an in-room massage. Bright and breezy, the resort's suites and cottages are perfect for families of every size offering space for even large, multigenerational groups to spread out in comfort.
This article was written by Gina Vercesi from Islands and was legally licensed through the NewsCred publisher network. Please direct all licensing questions to legal@newscred.com.
Earlier this summer, we shone a light on our flagship partnership with Special Olympics and our commitment to the Inclusion Revolution. In that same story, we introduced you to our four Special Olympics Service Ambassadors, Daniel, Kyle, Lauren and Zinyra (Z), who, this month, celebrate one year working at Chicago O'Hare International Airport as part of the United family.
This groundbreaking, inclusive employment program took off as a part of our ongoing partnership with Special Olympics, a community relationship that employees across the company hold close to heart. The original 'UA4' (as they call themselves) have become an integral part of the United team serving customers at O'Hare Airport. Even from behind their masks, their wide smiles and effervescent spirit exude and bring life to the service culture of excellence we strive towards every day.
"The UA4 are more than just customer service ambassadors. They are shining examples of how inclusion, accessibility and equity can have monumental impacts on the culture and service of a business and community," said Customer Service Managing Director Jonna McGrath. "They have forever changed who we are as a company. While they often talk about how United and this opportunity has changed their lives, they have changed ours in more ways than we can count."
In the two years of partnership with Special Olympics, United employees have volunteered over 10,500 hours of service at events around the world and donated over $1.2 million worth of travel to the organization.
"This inclusive employment program is what community partnerships, like ours with Special Olympics, are all about: collaborating to identify areas where the needs of the community intersect with the cultural and business opportunity, then creating the infrastructure and programming to bring the two together," said Global Community Engagement Managing Director Suzi Cabo. "Through this program, our goal is to show other companies that when you put a committed effort and focus towards inclusion and breaking down barriers, you transform lives. I challenge other business around the world to follow our lead in joining the Inclusion Revolution."
Check out the video below to hear from our Special Olympics Service Ambassadors firsthand.
We celebrate Hispanic Heritage Month from September 15 th through October 15th and take the time to recognize the important contributions of our colleagues of Hispanic descent in the United family.
This year, we hosted virtual events organized by our multicultural business resource group UNITE to celebrate Hispanic Heritage Month, covering topics ranging from immigration reform to Hispanic leadership. We're also taking a moment to highlight Latinx employees nominated by their peers for their contributions both at and outside of work.
These nominees have demonstrated leadership in their position and through their character. Take a moment to read their own words about how their background and heritage plays a role in the way they interact with customers, in how they support their colleagues and why it brings valuable perspective to their work.
Vania Wit – VP & Deputy Counsel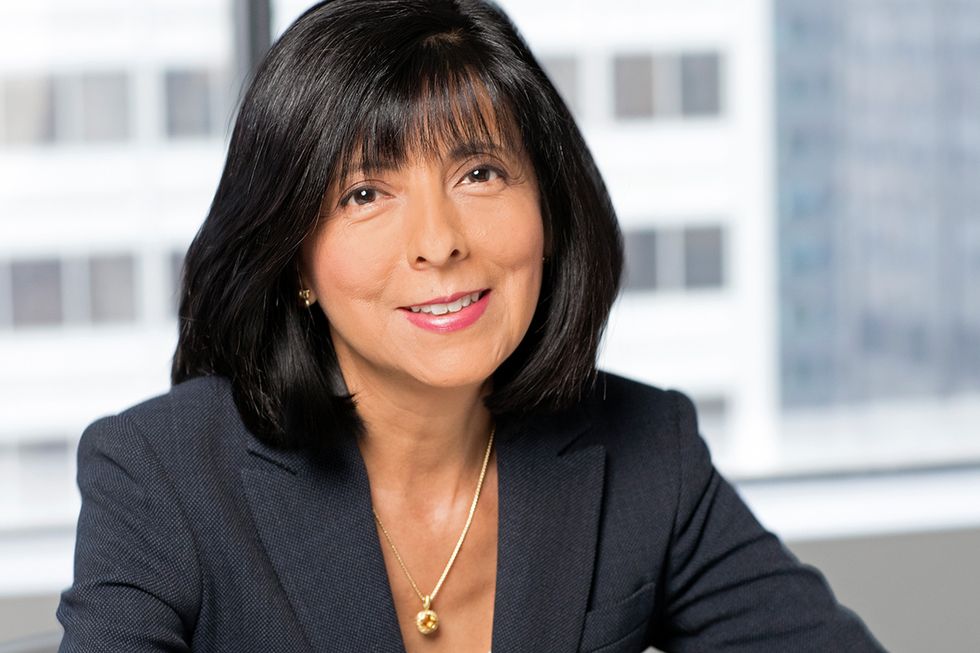 "I am the Vice President and Deputy General Counsel in the legal department. I am an attorney and have worked in the legal department for over 21 years and am currently responsible for a number of different legal areas – such as litigation, international, commercial and government contracts, labor, employment and benefits, antitrust. I have the privilege of working with a tremendous team of attorneys who are directly leading and managing these areas. One of the things I like most about my job is simply getting to know the backgrounds and personal stories that everyone has about their paths to United or their passion for the industry. Being the daughter of immigrants from South America and growing up in a family who relies heavily on air travel to connect us to our close family and friends is an integral part of my story and what drew me to this industry and this company."
Kayra Martinez – International Flight Attendant, FRA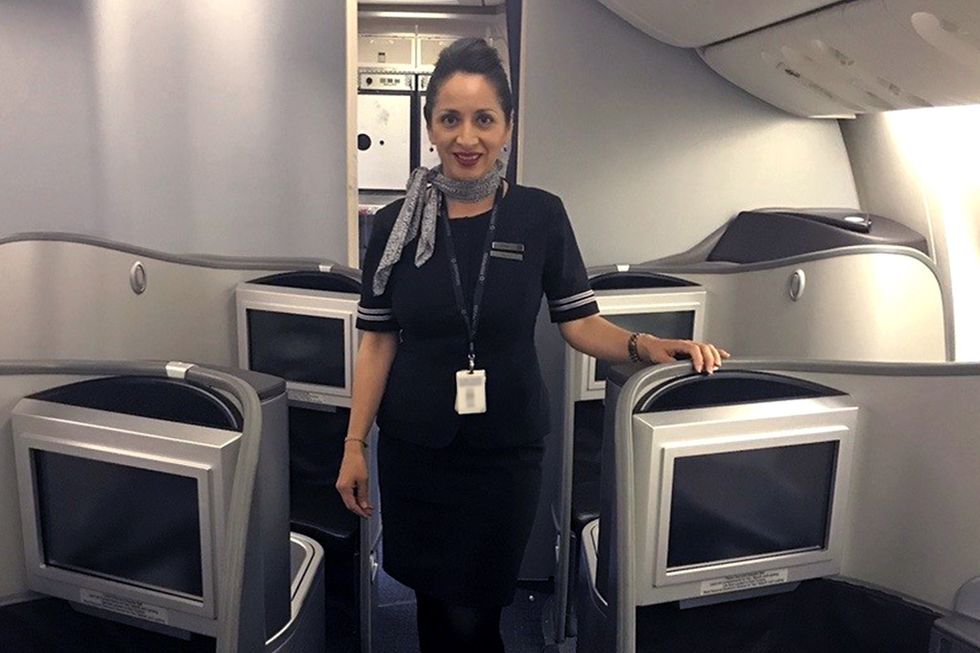 "I love that my work as a flight attendant brings me all over the world and allows me to connect with diverse people across the globe. Because of my Spanish heritage, I've been able to use my language as a way to connect with passengers, crew members and people from every nationality. In addition, my heritage gives me a very close connection to family, creating community and using inclusion as a way to bring people together. After transferring to Europe, I was able to study German, more Spanish, Italian and Arabic. Outside of work, I'm the director and founder of a nonprofit organization that empowers refugees through art. Hundreds of children and adults fleeing war-torn countries have found healing through my art workshops. These refugees are currently displaced in Greece. Their stunning paintings are then sold in art galleries and communities around the world, raising awareness and putting income directly into the hands of refugee artists."
Adriana Carmona – Program Manager, AO Regulatory Compliance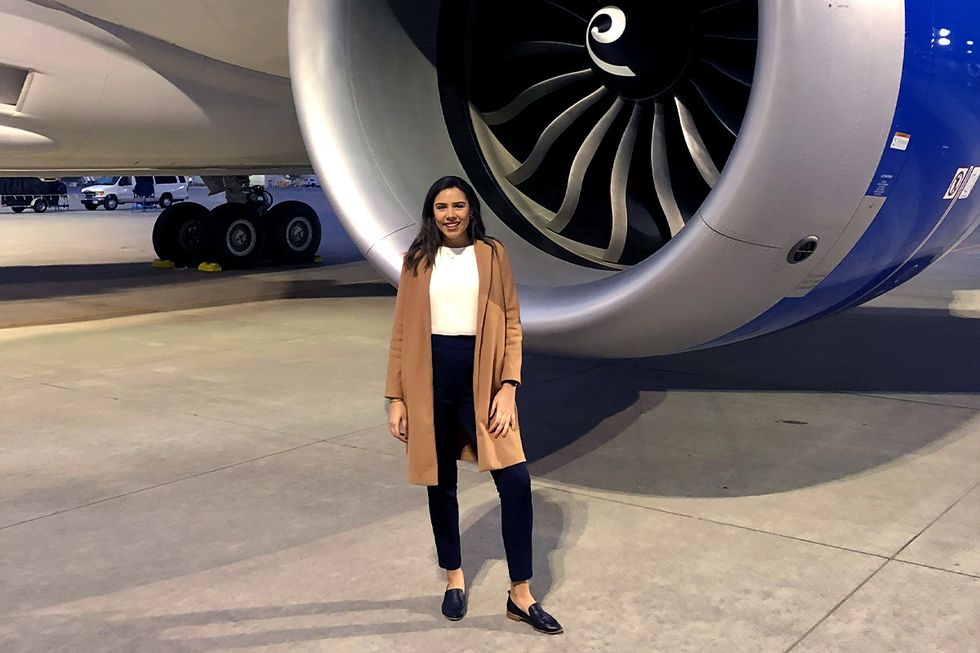 "I've been incredibly lucky to have amazing leaders during my time at United who have challenged me from day one to think outside the box, step out of my comfort zone and trusted me to own and deliver on the tasks assigned. I think this sense of ownership is largely shaped by my Latino background, which values responsibility, respect and accountability and taking full charge of what's in your control to be able to deliver accordingly."
Harry Cabrera – Assistant Manager, AO Customer Service, IAH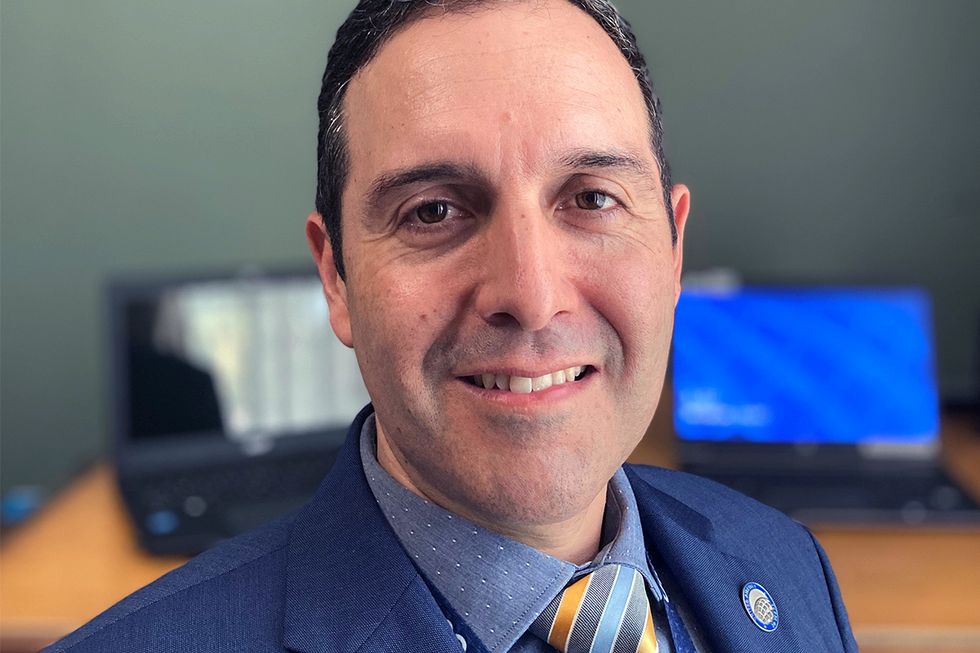 "My desire to help people is what drove me to start my career in Customer Service over two decades ago. Currently I provide support to our coworkers and customers at IAH , the gateway to Latin America and the Caribbean. As a Colombian native celebrating Hispanic Heritage Month, I'm proud to see the strength that my fellow Latinos forge every day at United Airlines. Family values are a cornerstone of the Latin community; I consider my coworkers to be part of my extended family. Mentor support throughout the years gave me the opportunity to grow professionally. The desire to do better and help others succeed is part of that heritage. I collaborate with our Latin American operations and create ways to improve performance. No matter what language you speak, the passion for what you do and being approachable makes the difference in any interaction."
Juciaria Meadows – Assistant Regional Manager, Cargo Sales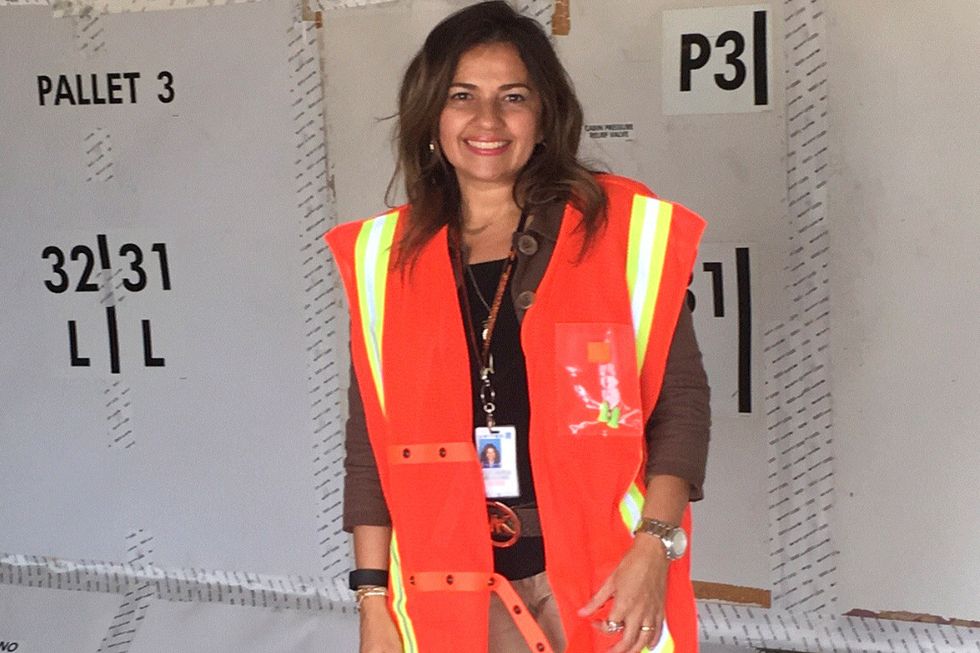 "During my 28-year career, I've worked across the system in various frontline and leadership roles in Reservations, Customer Service and Passenger Sales in Brazil. I moved to the U.S. in 2012 to work as an Account Executive for Cargo. It did not take too long for me to learn that boxes and containers have as much a voice as a passenger sitting in our aircraft. My job is to foster relationships with shippers, freight forwarders, cosignees, etc. and build strong partnerships in fair, trustworthy and caring ways where United Cargo will be their carrier of choice. That's where my background growing up in a Latino family plays an important role in my day-to-day interactions. I've done many wonderful sales trainings provided by United and my academic background , but none of them taught me more than watching my parents running their wholesale food warehouse. Developing exceptional relationships with their customers, they always treated them with trust and respect. They were successful business people with a big heart, creative, always adding a personal touch to their business relationships and I find myself doing the same. It's a lesson that is deep in my heart."
Shanell Arevalo – Customer Service Representative, DEN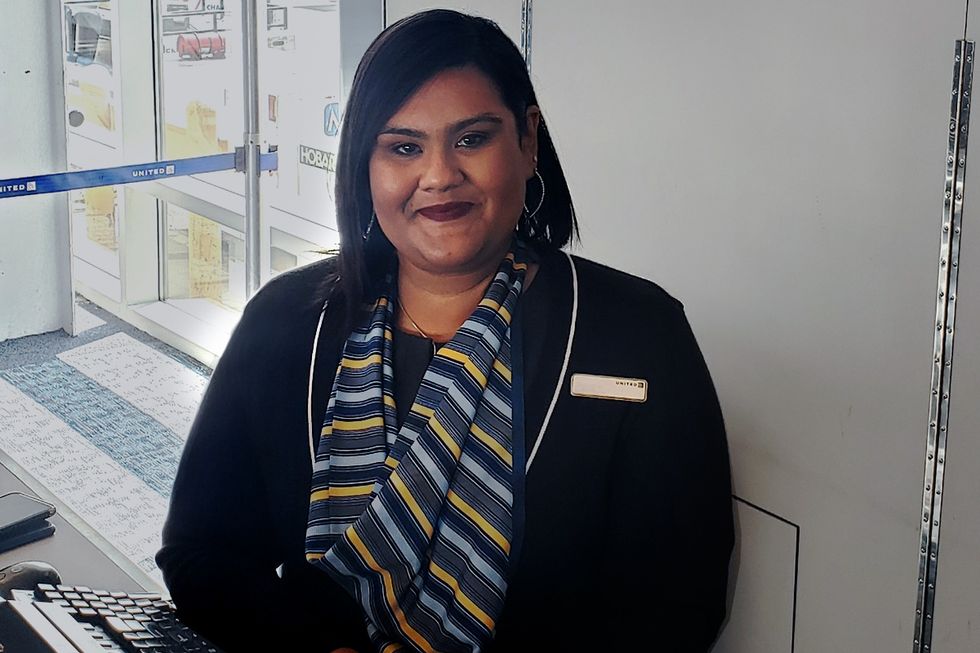 "I am Belizean and Salvadoran. At a young age my family moved to California from Belize. Although I grew up in the United States , one thing my parents taught me was to never forget the culture, values and principles I was raised on. This includes showing love, compassion, and respect to all people. We learned to put our best foot forward for any situation and always put our heart and mind into everything we do. In my position as a customer service agent, it's the difference of showing the love, compassion and respect to our passengers – to show that this is not just a job but rather a passion of genuinely caring for our people. Being Latina, we are raised to always take care of our family, and the way I take care of passengers is the way I would take care of my family. If there's one way I know I can make a difference with our Spanish speaking passengers, it's being able to speak the language. The glow that comes over a passenger's face when they realize there's someone who can speak Spanish is absolutely an indescribable feeling. With that glow comes comfort and joy. The small comfort they get from knowing someone can connect with them makes all the difference in their experience."
Even before the COVID-19 pandemic, United Cargo has supported a variety of customers within the healthcare industry for over 10 years. Three key solutions – TempControl, LifeGuard and QuickPak – protect the integrity of vital shipments such as precision medicine, pharmaceuticals, biologics, medical equipment and vaccines. By utilizing processes like temperature monitoring, thermodynamic management, and priority boarding and handling, United Cargo gives customers the peace of mind that their shipments will be protected throughout their journey.
With the global demand for tailored pharmaceutical solutions at an all-time high, we've made investments to help ensure we provide the most reliable air cargo options for cold chain shipping. In April this year, we became the first U.S. carrier to lease temperature-controlled shipping containers manufactured by DoKaSch Temperature Solutions. We continue to partner with state-of-the-art container providers to ensure we have options that meet our customers' ever-changing needs.
"Providing safe air cargo transport for essential shipments has been a top priority since the pandemic began. While the entire air cargo industry has had its challenges, I'm proud of how United Cargo has adapted and thrived despite a significant reduction in network capacity and supply," said United Cargo President Jan Krems. "We remain committed to helping our customers make it through the pandemic, as well as to doing everything we can to be prepared for the COVID-19 vaccine distribution when the time comes."
Our entire team continues to prioritize moving critical shipments as part of our commitment to supporting the global supply chain. We've assembled a COVID readiness task team to ensure we have the right people in place and are preparing our airports as we get ready for the industry-wide effort that comes next.
In cooperation with our partners all over the world, United Cargo has helped transport nearly 145 million pounds of medical supplies to aid in the fight against COVID-19, using a combination of cargo-only flights and passenger flig­hts. To date, United Cargo has operated more than 6,300 cargo-only flights and has transported more than 213 million pounds of cargo worldwide.
Scroll to top