Best beach resorts in the U.S. for family vacations
Wondering where to plan your family vacation this summer? We love these family-friendly beach resorts in the U.S.
Summer is here (hooray!), so it's time to start planning a beach vacation with the whole crew. Think digging your toes into the sand, searching for seashells, and diving headlong into frothy ocean surf. Not much can top days spent wearing flip-flops, snuggling with salty-haired kiddos, and simply enjoying laid-back seashore bliss. Here are our top beach resorts in the U.S. for family vacations.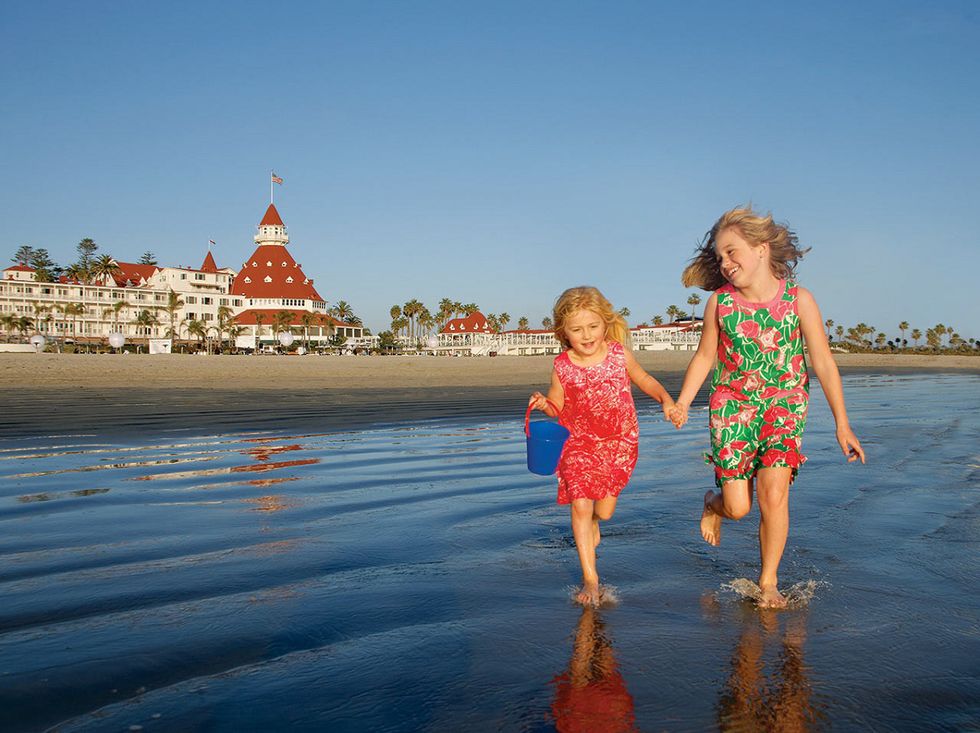 Hotel Del Coronado
Hotel Del Coronado – California
The grand dame of Coronado Island, the stunning, red-roofed Hotel Del Coronado serves up an elegant cocktail of Victorian seashore charm infused with bygone glamor. Set on a private stretch of Coronado Beach, the Del offers families countless seaside activities from biking along the Pacific coast to surf lessons, mermaid fitness classes (tail included!), beach bonfires and waterskiing. Days can be spent in laid-back coastal California style, lounging on the beach (games and gear are available to rent), enjoying the resort's gorgeous pools, or exploring the mecca of unique, onsite shops. Kidtopia, the resort's children's center, features a slew of ocean-themed DelVentures for kids ages 4 through 12, and spots like Spreckles Sweets and Treats and MooTime Creamery are favorites among the underage crowd.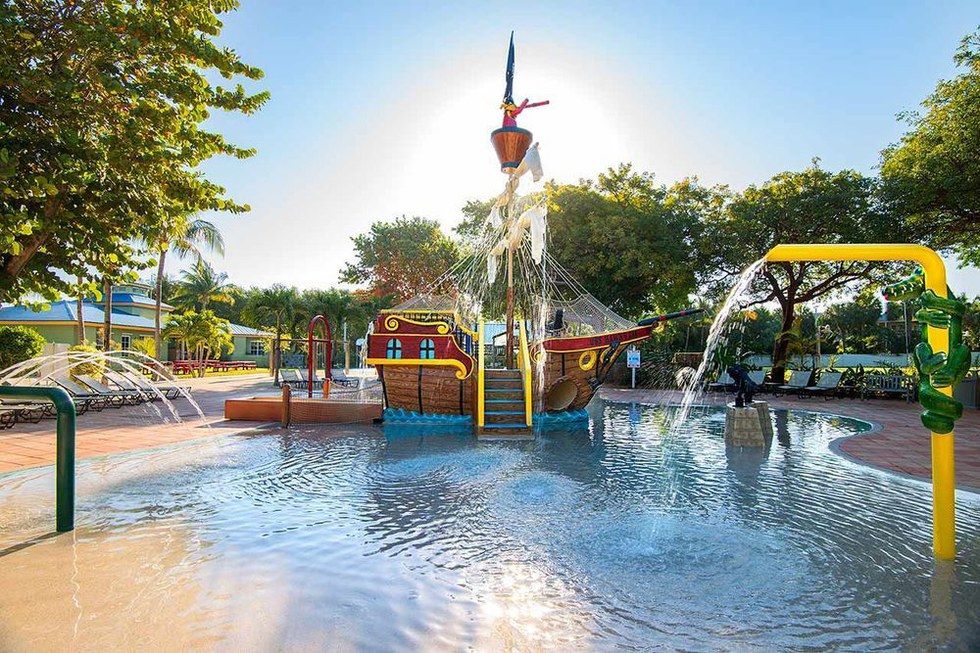 Hawks Cay Resort \Courtesy Hawks Cay Resort
Hawks Cay Resort – Florida Keys
Located at mile-marker 61, Hawks Cay Resort on Duck Key offers a perfect balance of fun and solitude amidst 60-acres of lush gardens, vibrant coral reef and the calm waters of the Atlantic Ocean and Gulf of Mexico. With its unique offerings, children will love the Coral Cay kids club, featuring crafts, scavenger hunts, snorkeling, and kids' nights out. Accommodations — which range from spacious family guestrooms to breezy, multi-bedroom villas with private lanais — are scattered throughout four distinct villages, each with its own inviting island ambience. The resort's onsite marina and Sundance Watersports entice guests with plenty of options to explore the sea including sunset cruises, fishing for local mahi, or kayaking to remote mangrove islets. Lounging with an umbrella-garnished cocktail by one of the resorts five pools, including the elaborate pirate-themed children's area and a private, ocean-fed, saltwater lagoon, is vacation at its best.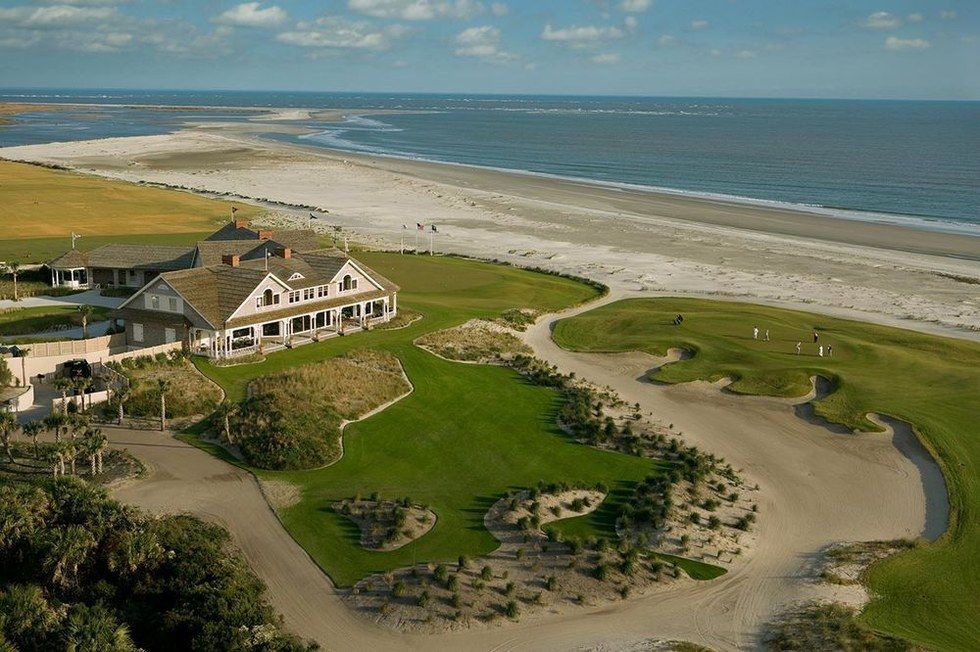 Kiawah Island Resort \Courtesy Kiawah Island Resort
Kiawah Island Resort – South Carolina
Families will find themselves immersed in low-country splendor the moment they drive down the oak-shaded lane that leads to the sublime Sanctuary Hotel on Kiawah Island. Perhaps best known for its five award winning golf courses, Kiawah Island Resort offers a wealth of indulgences beyond the links. The resort is truly breathtaking — a sweeping lawn bedecked by Adirondack chairs overlooks the ocean while verdant palms and plush loungers surround a sparkling saltwater pool. Just beyond the pool deck, a boardwalk leads to a 10-mile expanse of beach, perfect for bike riding or just whiling away the hours. Guests can find Night Heron Park, the resort's activity hub, a short drive from Sanctuary, which is home to the excellent Camp Kiawah kids' program, a fabulous children's pool complete with slides and splash areas, and the Heron Park Nature Center, which serves as the jumping off point for the resort's superior naturalist-led programs — favorites include boating excursions to secluded Sandy Point and wildlife paddling tours through the surrounding saltmarsh. Luxurious accommodations range from spacious guestrooms and suites in the Sanctuary to an enormous selection of villas and private homes spread throughout the resort's 10,000-acre island haven.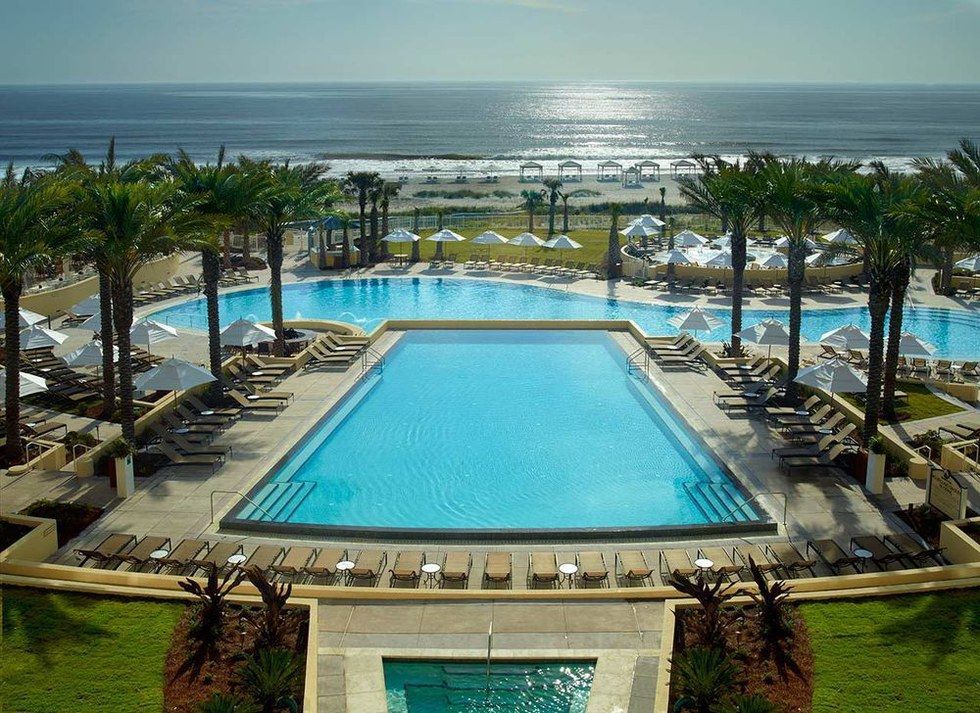 Omni Amelia Island Plantation Resort \Courtesy Omni Amelia Island Plantation Resort
Omni Amelia Island Plantation Resort – Florida
A world unto itself, the Omni Amelia Island Plantation Resort is the kind of place that, once you arrive, you'll never have to leave. Spread throughout 1,350-lush acres, visitors will find three golf courses, 23 Har-Tru tennis courts, a luxury spa, and the Shops of Amelia Island Plantation (home to a variety of charming eateries), Amelia's Wheels bike rentals, Heron's Cove Adventure Golf, and the Amelia Island Nature Center. The resort's centerpiece is the soaring 404-room oceanfront hotel, framed by lush palm trees, 3½ miles of private beach, and a spectacular pool area with restaurants, kids' activities, and even a tequila bar. Camp Amelia offers children ages 4 through 14 the chance to explore the resort through themed activities that encourage nature and science discovery, imaginative play, and camaraderie. Families will love the bright, ocean-inspired guestrooms and suites, most with balconies overlooking the beach and pools.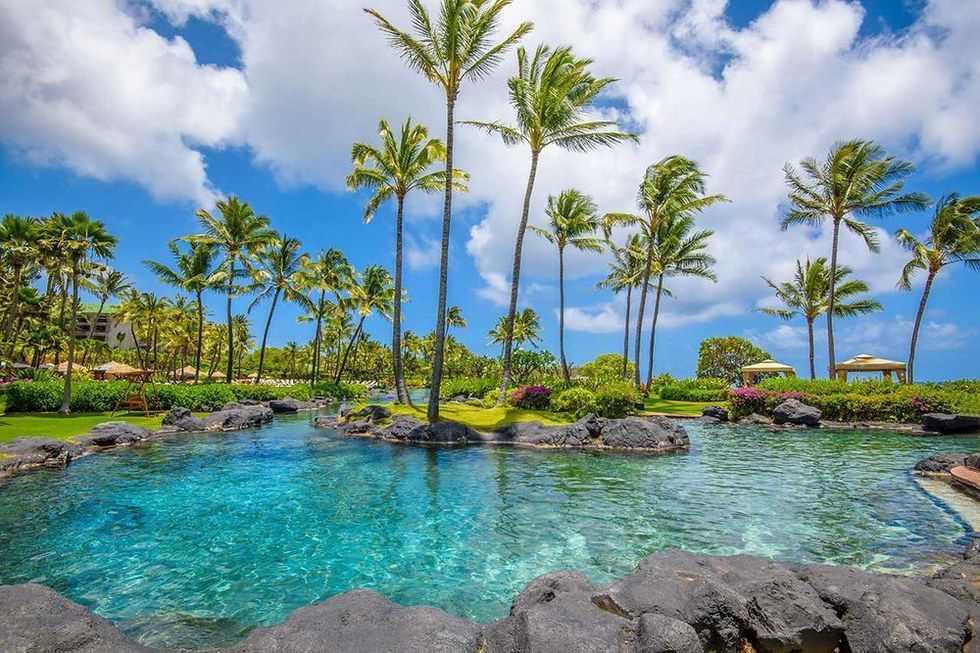 Grand Hyatt Kauai Resort and Spa \Courtesy Grand Hyatt Kauai Resort and Spa
Grand Hyatt Kauai Resort and Spa – Hawaii
Families will find the aloha spirit at the Grand Hyatt Kauai, with its lush, tropical grounds overlooking the gorgeous Pacific surf of Poipu Beach. The resort's pools, featuring slides, a lazy river, waterfalls, and hidden coves, and a 1½ acre saltwater lagoon are the stars of the show. Putting a native spin on the traditional kids' club, Camp Hyatt engages kids in Hawaiian culture with activities like palm-frond weaving, ukulele lessons, and time spent interacting with the resort's colorful parrots. In the resort's open-air atrium, complimentary fun includes lei making and hula lessons throughout the day. Don't miss the twice-weekly luau, which features a lavish Polynesian-style revue.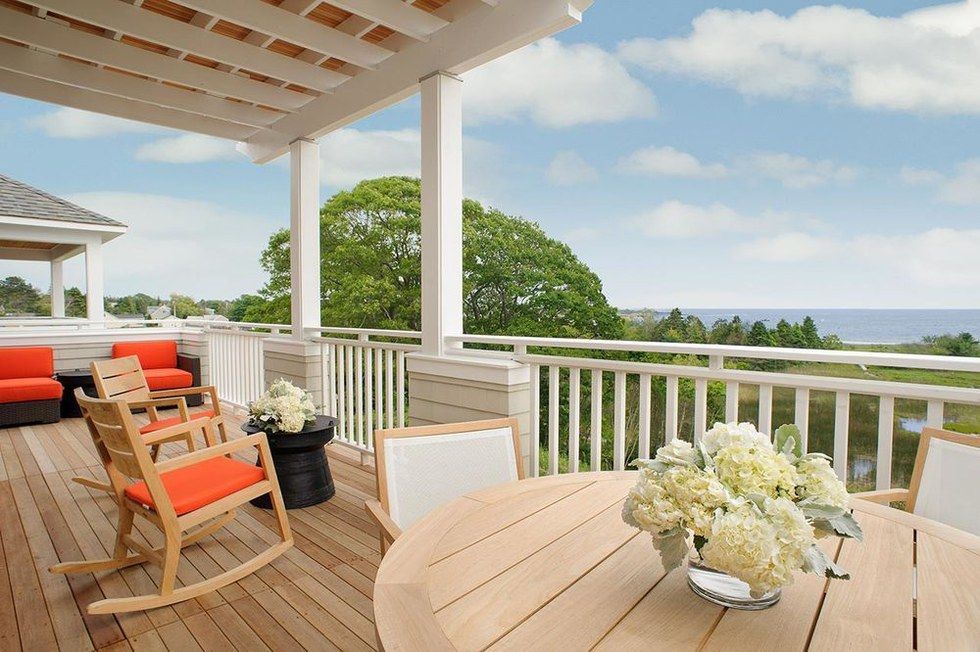 Inn by the Sea \Courtesy Inn by the Sea
Inn by the Sea – Maine
Overlooking the gentle surf and soft sand of Crescent Beach, Inn by the Sea combines eco-luxury with the rugged beauty and nautical charm of coastal Maine. Families take up residence in the Inn's sunny and spacious seaside suites and cottages, most with ocean views, kitchens or kitchenettes, and large furnished decks or balconies. Days are filled with old-fashioned seashore fun — grab beach cruisers and pedal out to one of the local lighthouses, enjoy a naturalist led beach walk, fly kites on the beach, or take a dip in the solar heated swimming pool. Kids will love juggling lessons or learning about Maine's marine ecosystems from an insect's perspective in the Bug's Life Garden tour. A great home base for exploring the maritime wonders of the historic Casco Bay area, the Inn's staff can arrange everything from lobster boat excursions to kayaking, visits to Casco Bay's islands, or tickets to a Portland Sea Dogs game.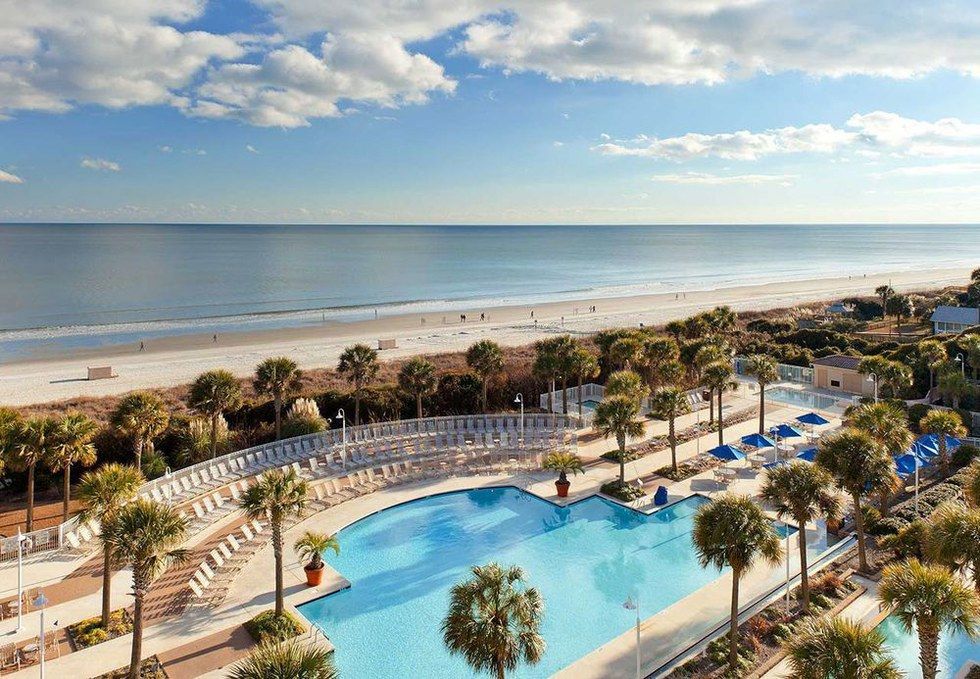 Marriott Resort and Spa at Grand Dunes \Courtesy Marriott Resort and Spa at Grand Dunes
Marriott Resort and Spa at Grand Dunes – South Carolina
Sometimes a beach destination with all the bells and whistles — think flashy boardwalk, super go-karts, and mini-golf on steroids — is just what the family needs. Enter Myrtle Beach, which encompasses all of the above and more. Set along a semi-private stretch of South Carolina's famed Grand Strand and its 60 pristine miles of Atlantic coastline, the best place for families to call home is the Marriott Resort and Spa at Grand Dunes. Though the hullaballoo of the "strip" remains close by, the luxe Marriott Grand Dunes offers blissful respite six miles north of the famed 14th Street Pier. Perks include freshly renovated guestrooms (opt for an ocean view with balcony), the Hibiscus Spa with a fun kids' menu, and a spectacular pool. Organized kids' activities are offered seasonally for a small fee and guests have privileges at several nearby golf courses.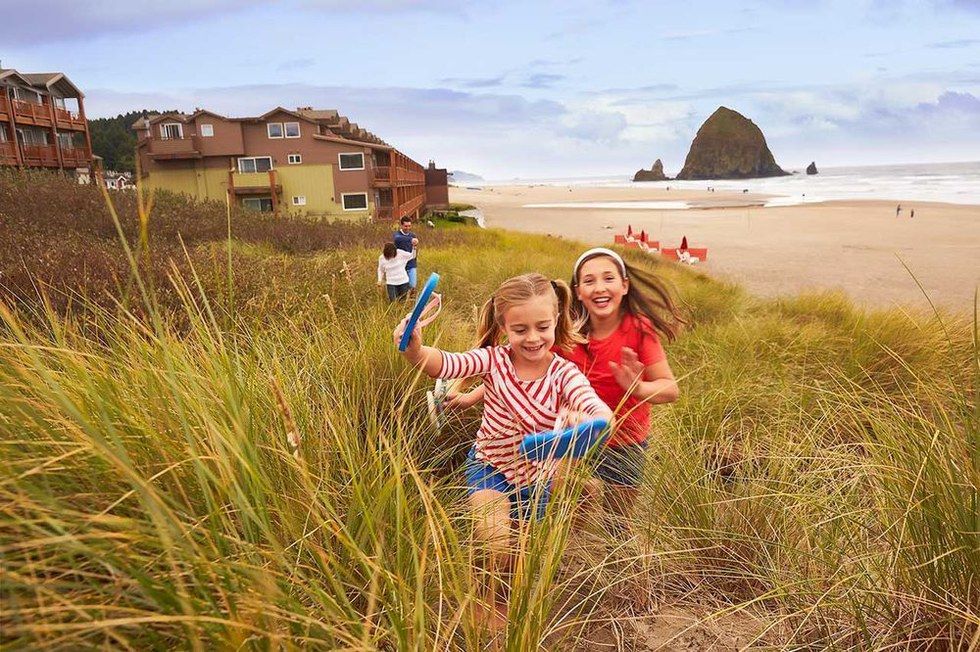 Surfsand Canon Beach \Courtesy Surfsand Canon Beach
Surfsand Canon Beach – Oregon
Old-school seaside charm awaits at Surfsand Resort, perched just a few steps from the edge of Canon Beach. Warm and welcoming, Surfsand is like summer camp for families, offering perks like an extensive DVD library for family movie nights, board games, bicycles and helmets, Saturday ice-cream socials, and in-room lanterns for beach walks beneath the stars. Just offshore, Haystack Rock, a local landmark, soars above the Pacific, while tide pools offer perfect places for kids to explore the underwater world. Parents will love the resort's complimentary cabana service, which provides beach umbrellas, kites, and sand toys. Surfsand's 95 guestrooms offer comfortably chic accommodations, with plush amenities like bathrobes for kids and adults, gas fireplaces and spacious balconies.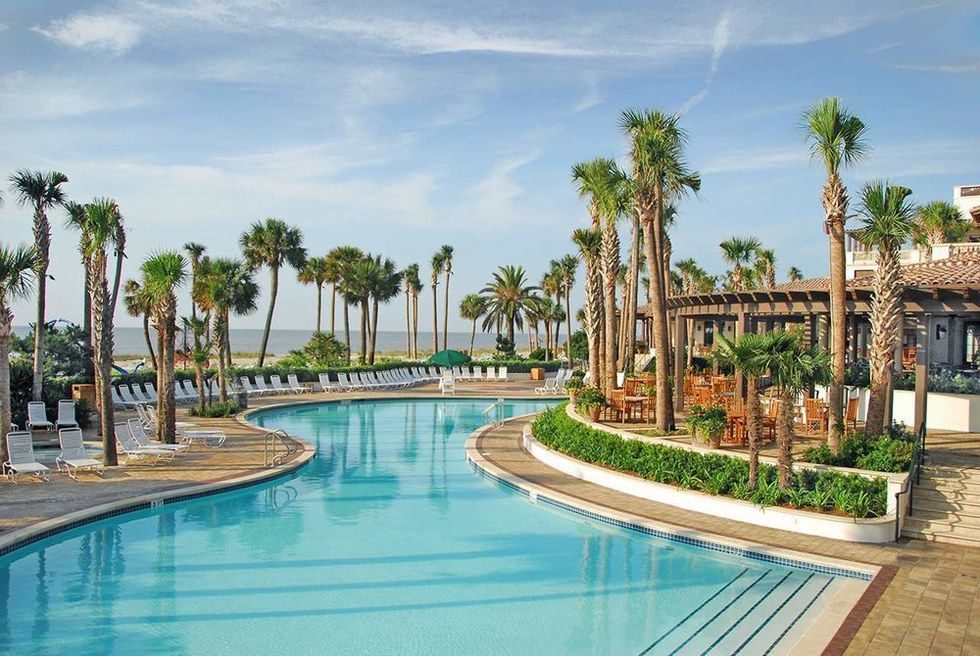 Sea Island \Courtesy Sea Island
Sea Island – Georgia
Take a step back in time to a bygone era of old-fashioned, southern charm on Sea Island, an alluring gem among Georgia's Golden Isles. Bordered by the Black Banks River to the west and 5 miles of dune-fringed Atlantic seashore to the east, the island is steeped in abundant history and pristine natural beauty. At the heart of the resort, the Mediterranean-inspired Cloister and adjacent Beach Club offer a variety of elegant guestrooms and suites — staying on the Beach Club side, with its easy access to the resort's beach and beautiful, meandering pool, is ideal for families. Pedal beneath moss-draped, antebellum oaks and learn about the island's ecology and history, paddleboard through tidal grasslands, grab a cone at Wonderland Sweet Shop, or join the resort's famous Bingo game. Camp Cloister, Sea Island's children's program, offers an array of engaging experiences with talented onsite naturalists and educators for younger guests.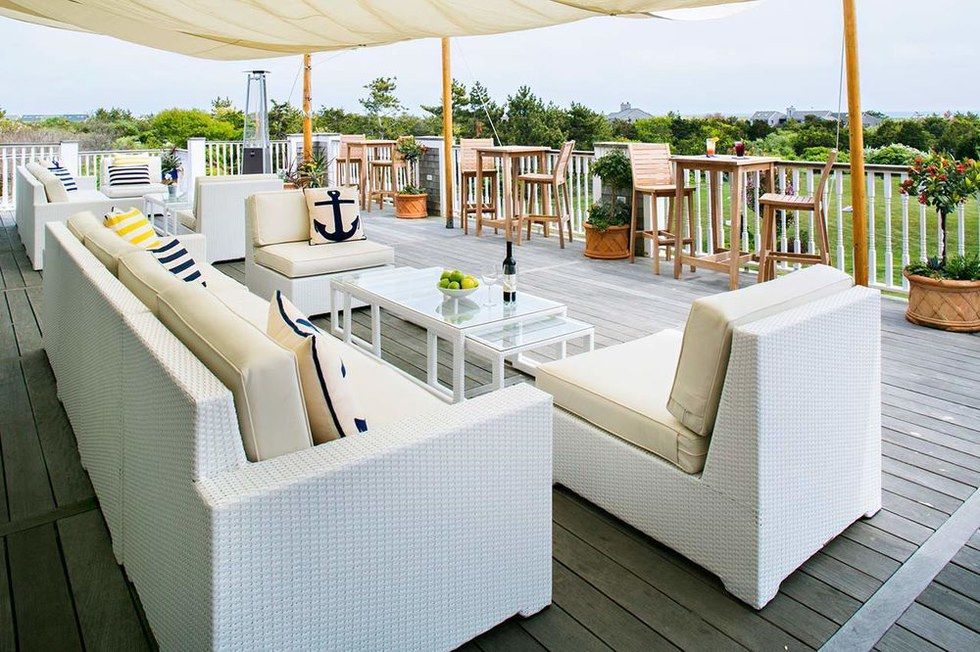 Winnetu Oceanside Resort \Courtesy Winnetu Oceanside Resort
Winnetu Oceanside Resort – Massachusetts
Family-owned by people who know what it's like to be parents, the folks at Winnetu Oceanside Resort truly know how to make a family vacation fun and relaxing. Perched along a gorgeous stretch of South Beach in Edgartown, the resort has handcrafted an imaginative menu of activities that keep kids of all ages running around outside, exploring the tides, visiting a nearby farm and building sandcastles. Teens ages 13 through 16 can join up with the local Martha's Vineyard Adventure Camp for kayaking, orienteering, and mountain biking. Beyond organized fun, families can bike, play classic lawn games, take a ride on an antique fire truck, and kick back at the resort's popular Wednesday evening clambake. For even more adventures, Winnetu's pre-arrival concierge will help plan outings to nearby Nantucket, island nature tours, or an in-room massage. Bright and breezy, the resort's suites and cottages are perfect for families of every size offering space for even large, multigenerational groups to spread out in comfort.
This article was written by Gina Vercesi from Islands and was legally licensed through the NewsCred publisher network. Please direct all licensing questions to legal@newscred.com.
As a member in the tourism, travel and transportation industries, United offers a unique perspective into the economic and operational effects rippling across the U.S. To advocate United's efforts, and in anticipation of a bright future, New York/New Jersey President Jill Kaplan and California President Janet Lamkin have both been named to their states' respective governor's COVID-19 response task force committees.
Appointed by New Jersey Governor Phil Murphy, Jill joins the New Jersey Restart and Recovery Advisory Council ­— a group of business and municipal leaders tasked with planning to restart the state's economy.
"Serving on Governor Murphy's Restart & Advisory Council uniquely positions us in the epicenter of helping to restart state's economy by providing innovative ideas, sharing best practices and creative thinking to help ensure the rebuilding of New Jersey's economic vitality alongside notable business leaders," said Jill. "I'm honored to represent United Airlines and the transportation industry as a core building block to expediting the state's recovery."
United is the sixth largest company in the state and one of the largest essential businesses continuing to operate through this crisis, and as or advocate, Jill will share some of our best practices and lessons we're learning with the nine different committees through the customer and employee lens.
On the opposite coast, California Governor Gavin Newsom last month appointed Janet to his Task Force on Business and Jobs Recovery. Joining Janet at the table are former California governors, legislative leaders and CEOs and executives from numerous businesses with large stakes in the state, such as Apple and Disney. In addition to Janet's position on the task force, Janet is also serving on the Long-Term Jobs Recovery sub-committee and will advocate for industries suffering long-term ramifications of COVID-19 such as tourism, travel and entertainment.
"Being appointed to Governor Newsom's Task Force on Business and Jobs Recovery ensures that United is part of the important conversation and part of the plan to help California pave the way toward a fast, safe recovery of jobs," said Janet. "It is an honor to represent the only transportation business on the task force, and I look forward to working alongside a group of very distinguished leaders and focusing on innovative ways to rebuild the economy for our 40 million residents. This work will build on our partnership with the Governor to provide free flights for medical volunteers and having our employees call to check in on isolated older adults as part of the Social Bridging Project."
Pre-COVID, we transported 38 million passengers to, from and within California each year, and directly and indirectly supported tens of thousands of jobs, so the health and well-being of the industry is vital to the prosperity of the state.
As the only airline represented among each of these groups, Jill and Janet are working hard to ensure that our voices, as a company and industry, are heard, valued and utilized as a new chapter dawns on the horizon.
Hello. I'm Scott Kirby, the new CEO of United Airlines. I'm a proud Air Force Academy graduate and have spent my entire career in and around aviation, including the last four years as President of United.
While I had planned for my first communication with you to be about the meaningful investments we were making to the travel experience and our continued growth across the U.S. and expansion to exciting new destinations around the world, today, the situation rendered to us by the COVID-19 pandemic leads me to a different type of message.
First, I graciously and humbly thank you for your business. Now, more than ever, our customers' loyalty is so deeply appreciated by every member of the United family.
As essential workers, the men and women of our airline have been hard at work over the past two months to transport vital medical supplies and critical goods to places that need them most, to provide free travel to healthcare professionals and to help thousands of individuals repatriate to their home countries.
Safety has always been our top priority, and right now in the midst of an unprecedented crisis, it's our singular customer focus. We recognize that COVID-19 has brought cleanliness and hygiene standards to the front of your mind when making travel decisions. We're not leaving a single stone unturned in our pursuit to protect our customers and employees.
We are installing plexiglass in lobby and gate areas, we're using the same equipment used to clean hospitals to disinfect the interiors of our aircraft, all crew and customers on board are required to wear face mask coverings and we're taking the temperature of our employees before they start work.
But at United, we're not stopping there. We're teaming up with experts from Clorox and the Cleveland Clinic to set a new standard for cleanliness and healthy flying that we are calling United CleanPlus℠.
Clorox is working closely with us to improve how we disinfect common surfaces and provide our customers with amenities that support a healthy and safe environment.
Physicians and scientists at the Cleveland Clinic, will advise us on new technologies and approaches, assist in training development and create a rigorous quality assurance program. And, as scientists learn more about how to fight COVID-19, Cleveland Clinic experts will help us use those discoveries to quickly implement new ways to keep our customers safe.
While we may not know when this pandemic will subside, what we do know is that travel is so deeply woven into the fabric of our global culture. We all desire to visit family, dance at a friend's wedding, hug parents…and see the wonders of this beautiful world. No matter how sharp the picture quality – or how strong the WiFi signal – there's simply no substitute for being there – in person – to collaborate, celebrate, explore. We are confident that travel will return. And when it does, United Airlines will be ready to serve you again in the friendly skies.
Thank you. Be well. And I look forward to seeing you on board.

We remain passionate about connecting the world safely
United CleanPlus SM is our commitment to putting health and safety at the forefront of your journey, with the goal of delivering an industry-leading standard of cleanliness. We're teaming up with Clorox to redefine our cleaning and disinfection procedures, and over the coming months, we'll roll out Clorox products across our U.S. airports, starting in select locations, to help support a healthy and safe environment throughout your travel experience.
At the airport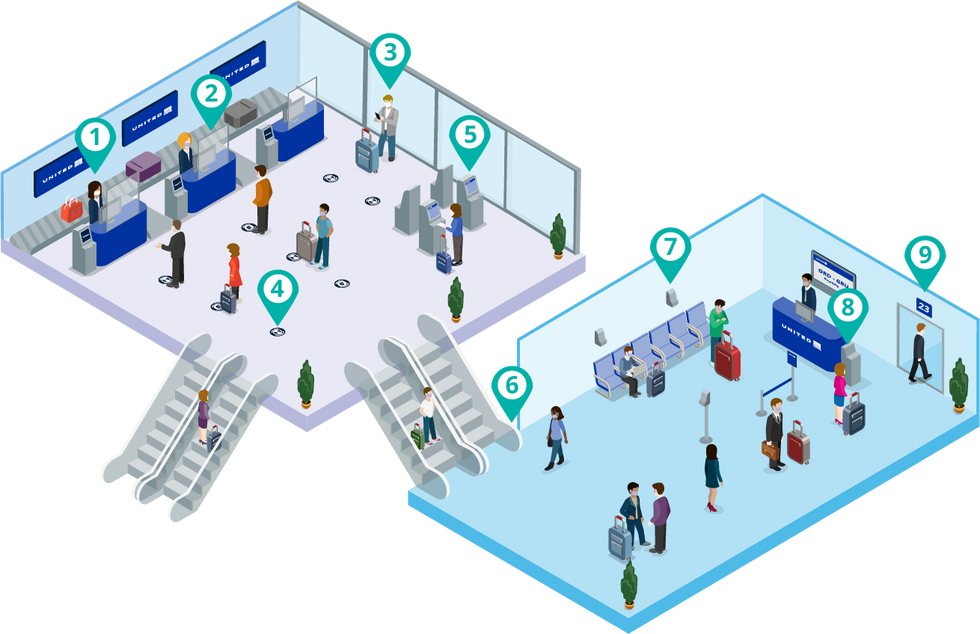 At check-in:

Implementing temperature checks for employees and flight attendants working at hub airports
Installing sneeze guards at check-in and

gate podiums

Encouraging use of the United app for contactless travel assistance and more
Promoting social distancing with floor decals to help customers stand 6 feet apart
Introducing touchless check-in for customers with bags

At the gate:
Disinfecting high-touch areas such as door handles, handrails, elevator buttons, telephones and computers
Providing hand sanitizer and
disinfectant wipes
Allowing customers to self-scan

boarding passes

Boarding fewer customers at a time and, after

pre-boarding

, boarding from the back of the plane to the front to promote social distancing
On our aircraft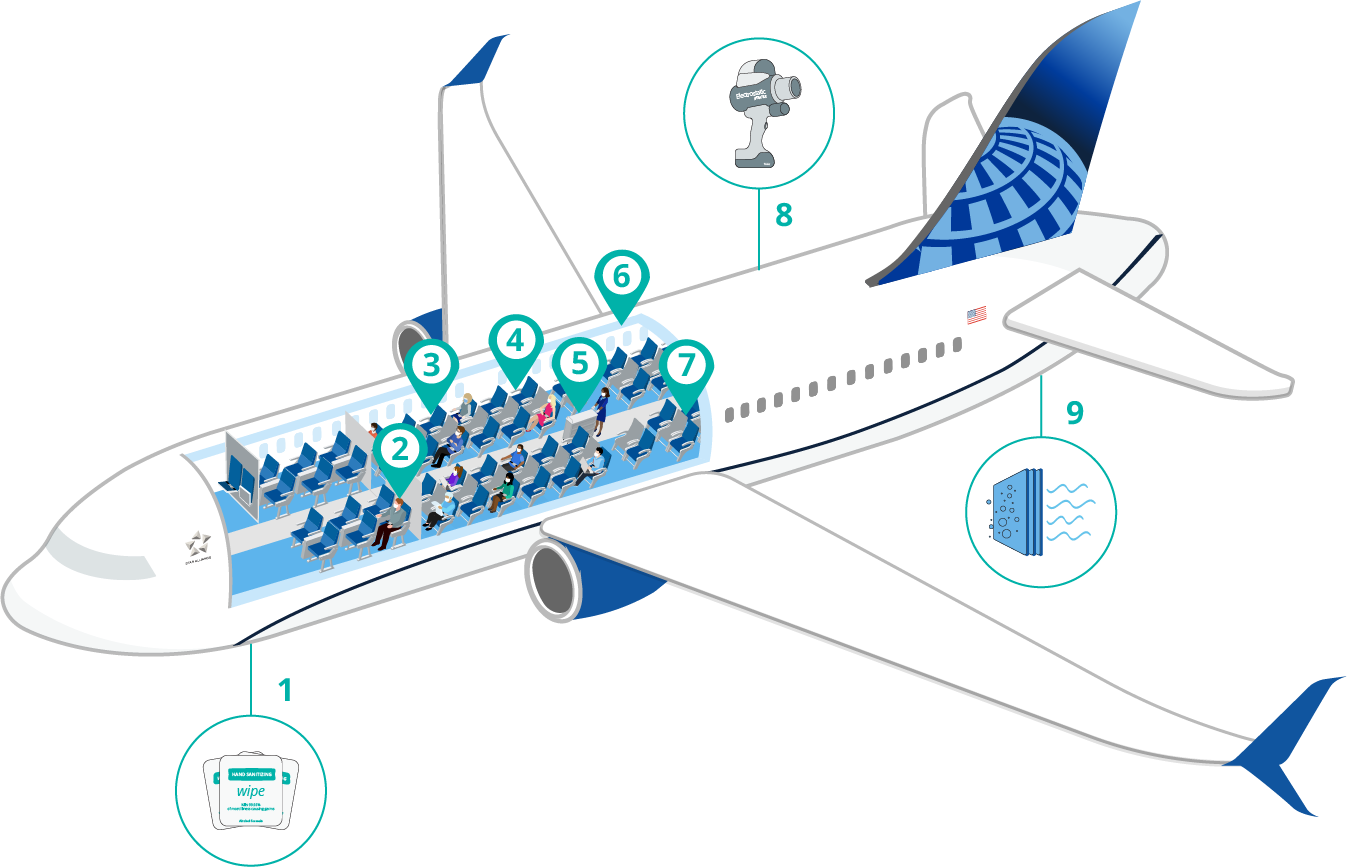 Providing individual hand sanitizer wipes

for customers

Requiring all customers and employees to wear a face covering and providing disposable face coverings for customers who need them
Temporarily removing onboard items like pillows, blankets and inflight magazines
Disinfecting high-touch areas, like tray tables and armrests, before boarding
Reducing contact between flight attendants and customers during snack and beverage service
Ensuring aircraft cleaning standards meet or exceed CDC guidelines
Applying social distancing to seating procedures when possible, including:

Limiting middle seat selection
Moving customers seated closely together
De-planing in groups of five rows at a time to reduce crowding

Using electrostatic spraying to disinfect aircraft, to be completed on all flights by mid-June
Using state-of-the-art, hospital-grade, high-efficiency (HEPA) filters to circulate air and remove up to 99.7% of airborne particles

We're working closely with the experts at Cleveland Clinic to advise us on enhancing our cleaning and disinfection protocols for the safety of our employees and customers. Visit Cleveland Clinic's website to learn more about COVID-19.
Together, we are facing an unprecedented challenge. United Together, we rise to meet that challenge.
Learn more
United Airlines
united
To allow for additional flexibility, flights booked now through June 30 can be changed for free over the next 12 months. All existing travel can be changed without fees as well. See waiver for details:
uafly.co/2M9vgLC
We Are United
weareunited
#AMTDay
is in honor of Charles Taylor, Wright Brothers' mechanic. The highest honor an aviation maintenance technician can receive is his namesake award. Congratulations, Garrick C. (HNL), Phil D., Bud G. and Benny G. (all SFO) who've received it in the past year.
#BeingUnited
We Are United
weareunited
United regional presidents Jill Kaplan and Janet Lamkin will join their states' respective governor's committees tasked with planning to restart the state's economy. Learn more about how they plan to help pave the way toward a fast, safe recovery of jobs.
uafly.co/2zjPrDI
We Are United
weareunited
Oscar, thank you for listening and learning as you traveled the system the past five years. We will carry the New Spirit of United with us as we respond and recover from this historic challenge --
#UnitedTogether
as we care for each other and serve our customers. 💙
#BeingUnited
Watch our most popular videos
Flying UCSF Medical Workers to New York
This is why we fly.
20 UCSF Health workers, who voluntarily set aside their own lives to help save lives, are on their way to New York City.
We are humbled by your selfless sacrifice.
Thank you.
#UnitedTogether #UCSFHeroes
A happy, Hollywood ending
This is the story of Jason and Shantel. You see, Jason and Shantel love each other very much. They also love traveling and they love the classic Adam Sandler film, The Wedding Singer.
It all began when Jason reached out to United's social media team, hoping for assistance with his upcoming plan to propose. Some phone calls and one borrowed guitar later, the stage was set for Jason. Put all that together, mix in some helpful United employees and, voila, you have a truly memorable marriage proposal. Congratulations to this fun-loving and happy couple, and here's to many more years of making beautiful music together.
A big thank you to Chicago-based flight attendants Donna W., Marie M., Karen J. and Mark K. for making this proposal come to life.
Copyright © 2020 United Airlines, Inc.
All rights reserved.
Indicates an external site that may or may not meet accessibility guidelines.
Scroll to top
Scroll to top