As temperatures drop during the winter, finding fun ways to heat things up is on everyone's mind. For some, that could mean a trip to sunny Cancun or the Canary Islands, both of which boast year-round warm weather. For others, a crackling fireplace and a cup of cocoa will do the trick nicely. But to truly escape the cold, you can't beat a long soak in a natural hot springs pool. Beyond the blissfully warm temperatures, these mineral-rich baths offer an abundance of therapeutic health benefits, like increased blood circulation, stress reduction, and pain relief. So grab your bathing suit and plan a trip to one of these seven amazing hot springs.
Chena Hot Springs, Alaska
At this plush resort in Fairbanks, Alaska, guests can soak in a healing natural pool while gazing up at the colorful aurora borealis sparkling in the night sky overhead. The outdoor water temperature is approximately 106-degrees throughout the year, but a heated indoor pool is set at a slightly cooler 90-degrees for those who don't like it too hot. A variety of room packages are available, and a host of therapeutic massages – including Swedish, deep tissue, and hot stone – can be scheduled daily.
Lava Hot Springs, Idaho
Thanks to a kid-friendly indoor water park that comes complete with slides and a multi-tiered diving platform, Lava Hot Springs is an excellent choice for family vacations. Children will love the resort's Aquatic Center and Kiddie Cove play area, which features inflatable toys, water sprays, and climbing structures. Adults, meanwhile, can relax in the natural pools fed by nearby geothermal mountain springs. Water temperatures can reach as high as 112-degrees, and heated stone pathways make the walk from your room to the pool toasty warm.
Glenwood Hot Springs, Colorado
Sporting the largest hot springs pool in the world, this gorgeous Colorado getaway sits nestled in the shadow of the majestic Rocky Mountains. Situated snuggly between Aspen and Vail, the resort features a historic 107-room lodge that has been welcoming visitors since 1888. Several award-winning spa packages are available, including a therapeutic Zen treatment and a romantic couple's massage package. To keep you in top physical shape, fitness programs like Pilates, spinning classes, and Swim Fit are offered in the resort's Athletic Club.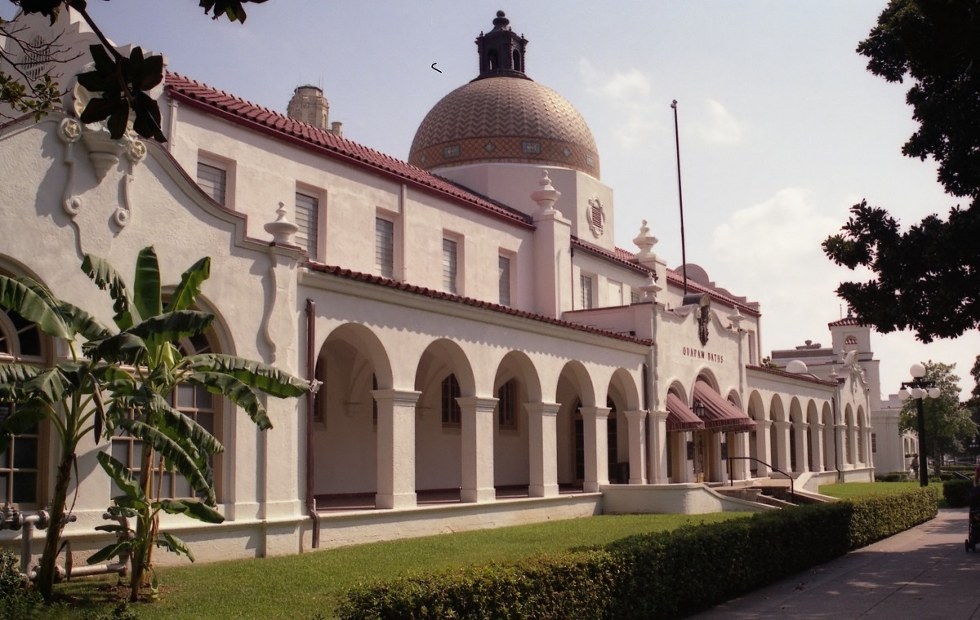 Quapaw Baths and Spa, Arkansas

Located in a town that's literally called Hot Springs, this resort and spa includes a historic indoor bathhouse built in the Spanish Colonial style back in 1922. Emphasizing luxury and relaxation, Quapaw is the ideal place for guests who want their every need catered to. Though individuals and couples are always welcome, the resort's state-of-the-art reception hall is perfect for larger groups, including wedding receptions, reunions, and holiday parties. In addition to the healing waters, visitors can indulge in a variety of massage packages and stress-relieving mud baths.
Bagby Hot Springs, Oregon
Tucked away in a remote area of Mount Hood National Forest, this hot spring is well suited for anyone looking to escape the crowds. It's a warm and woodsy retreat from the hustle and bustle of nearby Portland. After an awe-inspiring 1.5 mile hike to the facility, visitors can soak individually in one of several hollowed-out logs, or take a soothing dip in a larger barrel-style tub that holds up to eight people.
Riverbend Hot Springs, New Mexico
Couples looking for a relaxing romantic getaway will find the private soaking tubs in this blissful resort the perfect place to unwind in comfort. The lovely mountain views add to the cozy ambiance, and the mineral-rich waters provide unsurpassed detoxifying benefits, making Riverbend a top choice for a winter vacation. Peaceful "whisper zones" located throughout the resort help encourage a meditative atmosphere that promotes wellness and relaxation, but social butterflies can soak in the larger communal pools, which are a great way to meet the property's other happy guests.
Granite Hot Springs, Wyoming
Accessible only by snowmobile, dog-sled, or skiing in the winter, this stunning hot springs pool in the Bridger-Teton National Forest is arguably the most scenic spot on this list. Recommended for nature lovers with a taste for adventure, a trip to the 112-degree natural waters at Granite Hot Springs is an experience you'll never forget. Although you won't find terrycloth robes, massage tables, or anything other than a few simple changing rooms onsite, you'll be so busy marvelling at the area's rustic splendor and enjoying the water that it won't matter.
If you go
When you're ready for a rejuvenating hot springs plunge, United Airlines can get you there. Visit united.com, or try the United app on your smartphone, to plan your trip.