The best 8 places for fall foliage
Labor Day is over and autumn is on the horizon. So once there's a chill in the air — and rather than drinking rum punch under a palm tree, you're in the mood to sip warm cider beneath a majestic golden maple — where should you go to enjoy autumn in all its glory? Here are eight islands known for their fall colors.

Mount Desert Island, Maine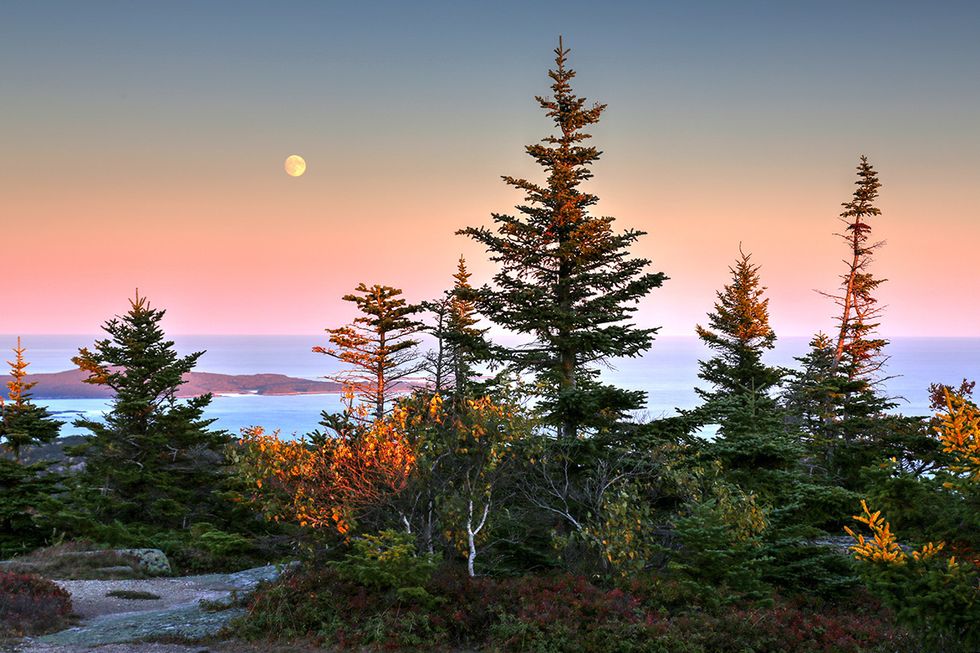 Home to Acadia National Park, Maine's Mount Desert Island becomes a spectacular patchwork of autumn colors in early- to mid-October. Temperatures might be a bit brisk (in the 40s and 50s), but the fresh air is perfect for a hike to the summit of 1,530-foot Cadillac Mountain. Prefer to sightsee by car? Drive the 27-mile Park Loop Road to check out the beauty of Sand Beach, the views from Otter Cliff and the crystalline waters of Jordan Pond, where your can enjoy lobster rolls and chowder in the Jordan Pond House restaurant.
Honshu Island, Japan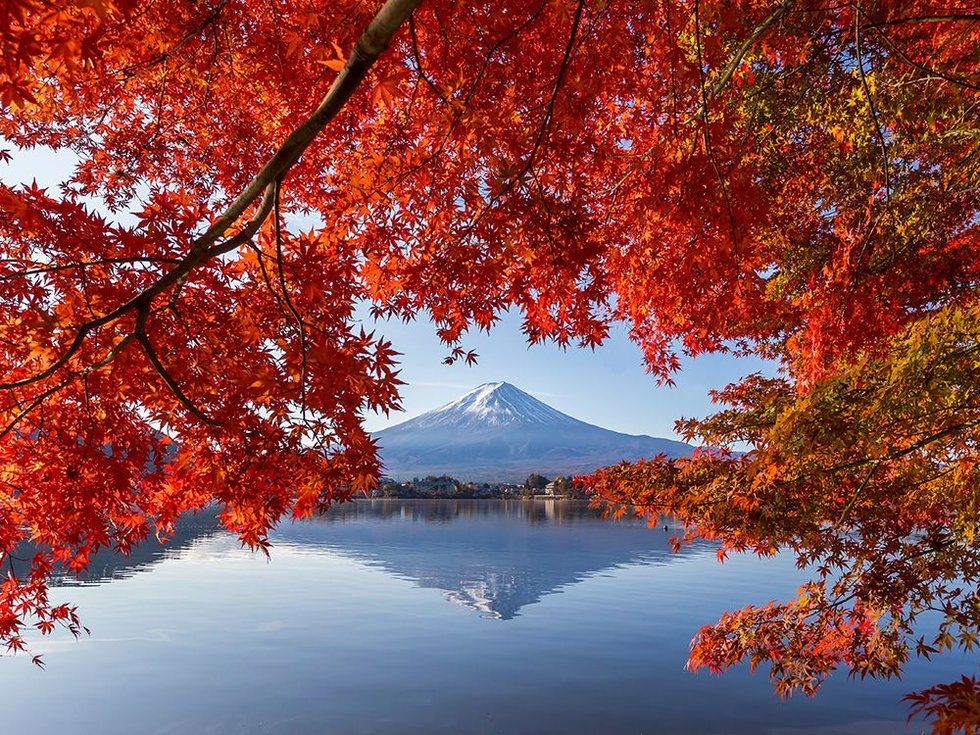 Autumn colors surround Lake Kawaguchiko near Mount FujiShutterstock
Japanese red maples — need we say more? The temples of the ancient city of Kyoto on Japan's main island of Honshu are even more stunning when surrounded by the intense crimson hues of its native fall foliage. Colors tend to peak in early to mid-November and there's an array of top leaf-viewing spots from which to choose: Honen-in Temple, Ginkaku-ji Temple and Nanzen-ji Temple as well as Sento-Gosho Garden and the mountain village of Takao. Crowds swell on weekends, so plan to visit midweek.
Mackinac Island, Michigan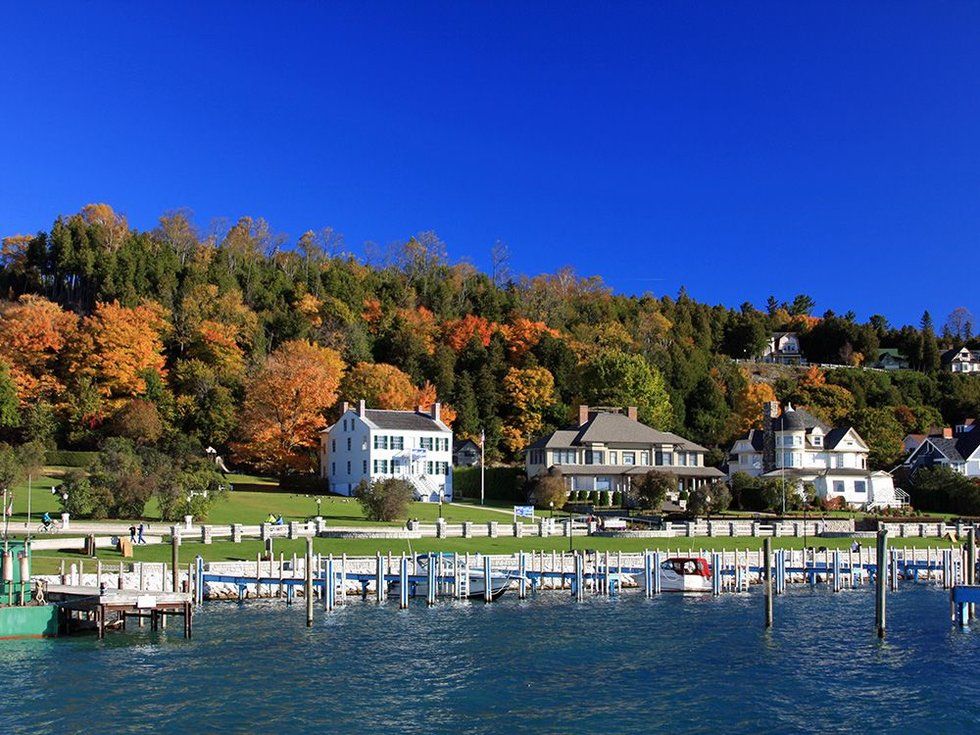 Peep fall leaves on Mackican from late September to late OctoberShutterstock
Travel back more than a century in time as you celebrate fall on this car-free Michigan island that's located where Lake Michigan meets Lake Huron and is home to the legendary Grand Hotel, built in 1887, and hundreds of horse-drawn carriages. Peak foliage occurs from late September to late October (ferries run until Oct. 31) and it's the perfect time to rent a bike and ride the 8-mile trail that circles the island to experience its many charms: Victorian mansions along East Bluff; late-blooming dahlias in the Grand Hotel's flower beds; the rocky, postcard-perfect shorelines; and the golden maples and red oaks around Fort Mackinac.
The British Isles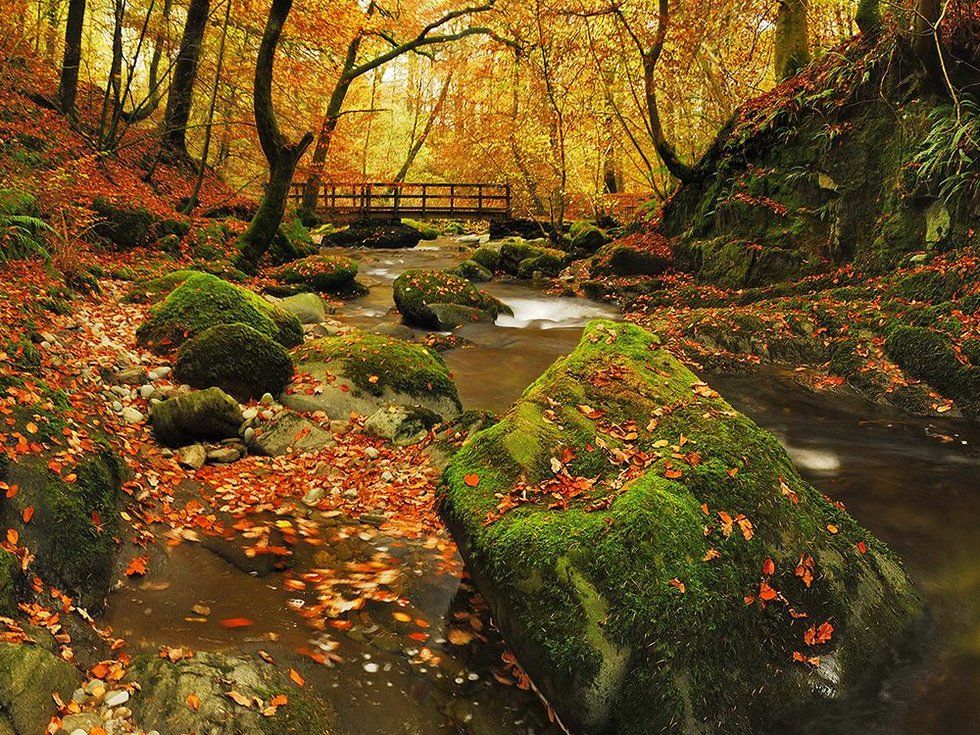 Stockghyll, located in England's Lake District, is lovely in the fallShutterstock
Take your pick of England, Ireland, Scotland or Wales — but we especially love the fall colors in England's Lake District. Rolling hills, tidy villages and meandering back roads set the scene as native trees and plants that include oak, beech, birch and heather color the landscape with painterly shades of red, yellow, orange and purple. From Derwent Water to Windermere, there are fireplaces galore to get cozy in front of and ample pints of local craft beer to down. Foliage tends to peak in early October, but if you can't make it then, November 5 is Bonfire Night (aka Guy Fawkes Night — a four-century-old tradition), when fireworks and bonfires provide a color show of another sort.
Prince Edward Island, Canada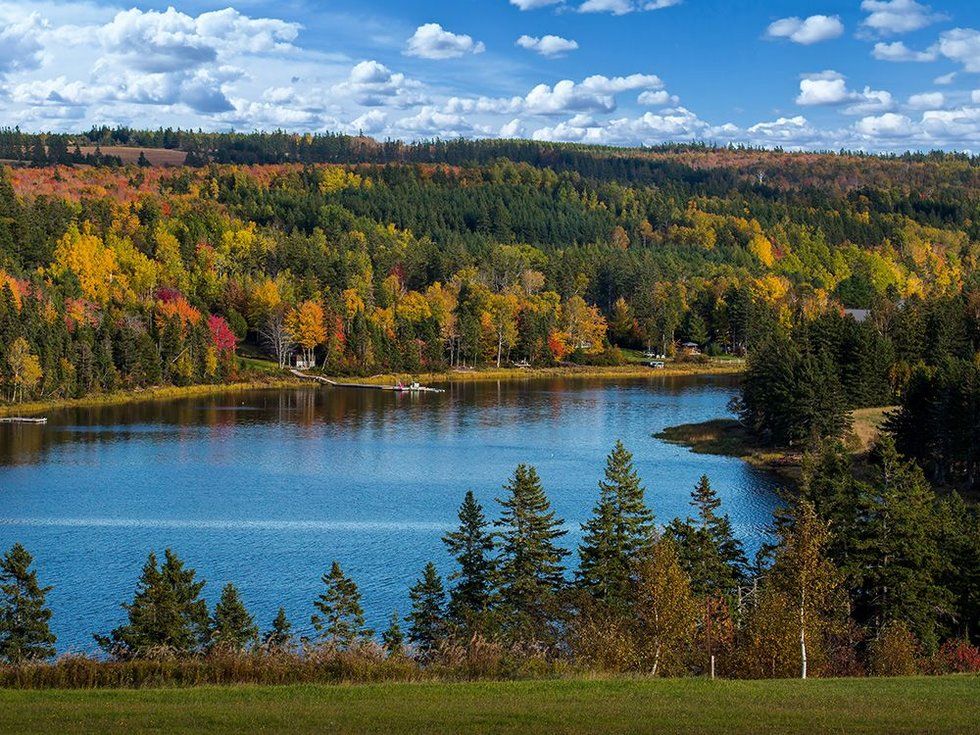 Fall foliage on Prince Edward IslandShutterstock
Anne of Green Gables may be the fictional redheaded heroine of this island in Canada's Eastern provinces, but from mid-September to late October, fiery red maples and brilliant yellow birches are the stars. In autumn, Prince Edward Island is a haven of relaxation, offering walking, hiking and biking trails as well as a rich harvest of local fruits, vegetables and seafood. If oysters, mussels, lobster and other tasty ocean treats are your favorites, time your visit to coincide with the annual PEI International Shellfish Festival in mid-September as the leaves are just beginning to change.
San Juan Islands, Washington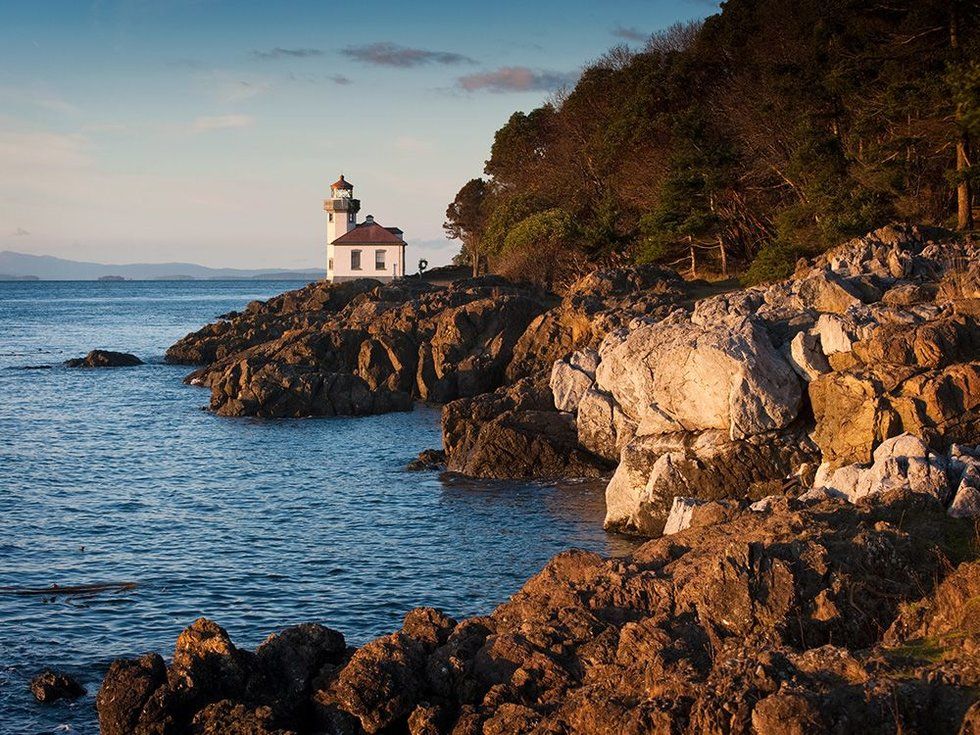 Fall colors surround the lighthouse on San Juan Island in WashingtonShutterstock
Catch a ferry from Anacortes across Puget Sound to one of these rugged Washington State islands — San Juan, Orcas and Lopez being the main three — and you'll feel instantly relaxed. And with summer crowds a distant memory, the pace is laid-back and temperatures range from the mid-60s in September to around 50 in November. Discover the region's flavors during farm tours, beer tastings and harvest dinners with special "Savor the San Juans" events throughout fall. As for the foliage, Garry oaks and big leaf maples add splashes of color to the velvety forests of firs, hemlocks and cedars.
New York, New York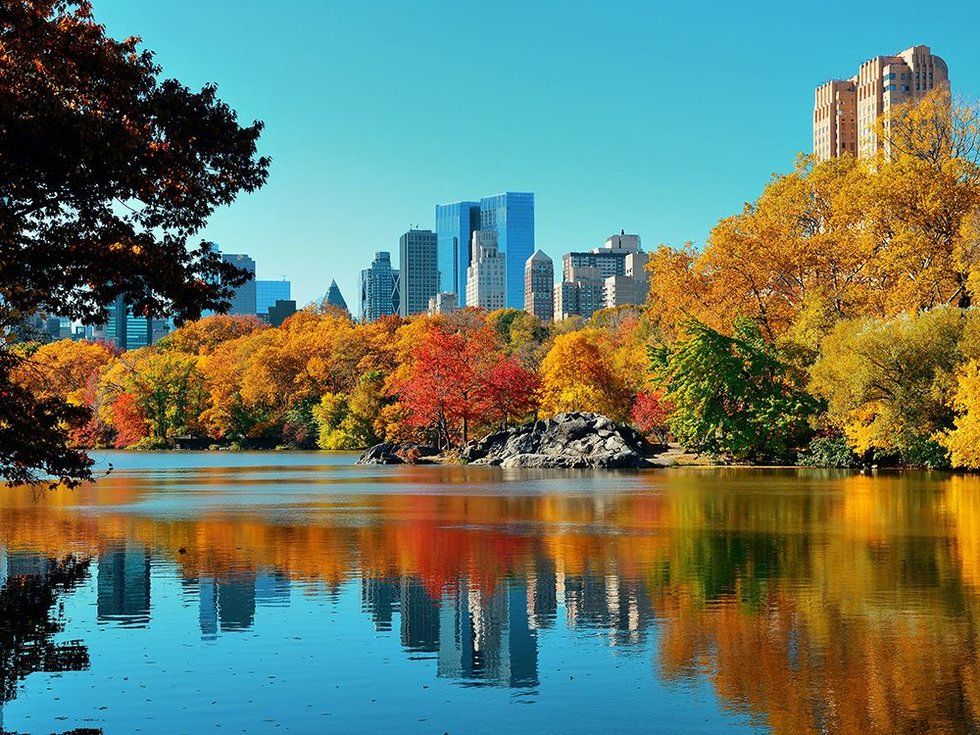 The lake in Manhattan's Central Park is a prime leaf-peeping spotShutterstock
Yes, the island of Manhattan is mostly asphalt and concrete, and yet the nature-blessed oases it does have — Central Park, Riverside Park, the Cloisters — put on a pretty amazing autumnal show from mid-October to mid-November. You can jog through a "shower" of gently falling leaves on the Mall in Central Park or pose for a selfie by the Bow Bridge with its backdrop of golden branches. Riverside Park's walking trails are enveloped in a canopy of color and the medieval sculptures and gardens of Upper Manhattan's Cloisters become even more inviting. Frank Sinatra chose to record Autumn in New York for a reason.

Assateague Island, Maryland and Virginia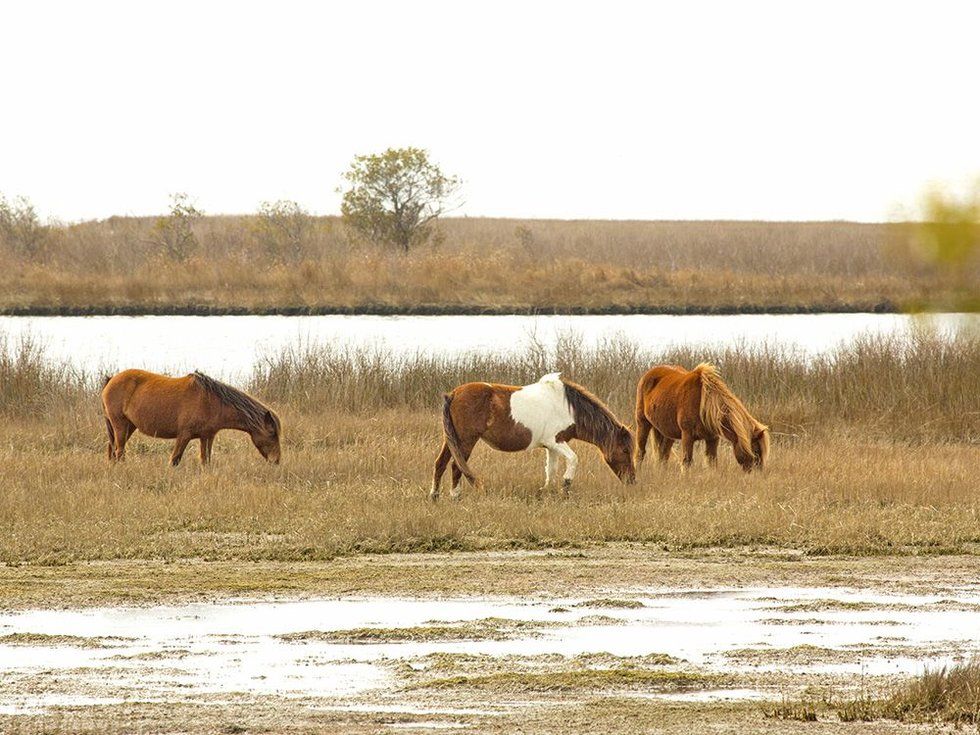 Assateague Island's wild poniesShutterstock
Why settle for fall colors when you can see magnificent wild horses, too? Assateague Island, located on the Eastern Shore and divided equally between Maryland and Virginia, is home to both. Its coastal groundcover turns vivid yellow and deep red by late October and early November (but be careful to avoid the poison ivy!) and the 300 horses, also referred to as ponies, freely roam the island's state and national parks in small groups. You can get within a safe viewing distance (40 feet or more) several ways: wildlife cruises, kayak tours, bike rides or leisurely drives around the island. Just remember, these horses are feral and should not be approached or petted.
This article was written by Donna Heiderstadt from Islands and was legally licensed through the NewsCred publisher network. Please direct all licensing questions to legal@newscred.com.
In the midst of mobilizing our cargo operations, our teams at New York/Newark (EWR) and Jacksonville (JAX) stepped in to assist Roche Diagnostics with transporting a vital component for an instrument being used for COVID-19 testing.
The component was stuck at EWR en route to the Mayo Clinic in Florida after another airline's flights were cancelled. A Roche employee contacted us asking for help and, within a few hours, our teams had the piece loaded onto a Jacksonville-bound aircraft, with arrangements in place to deliver it to the Mayo Clinic.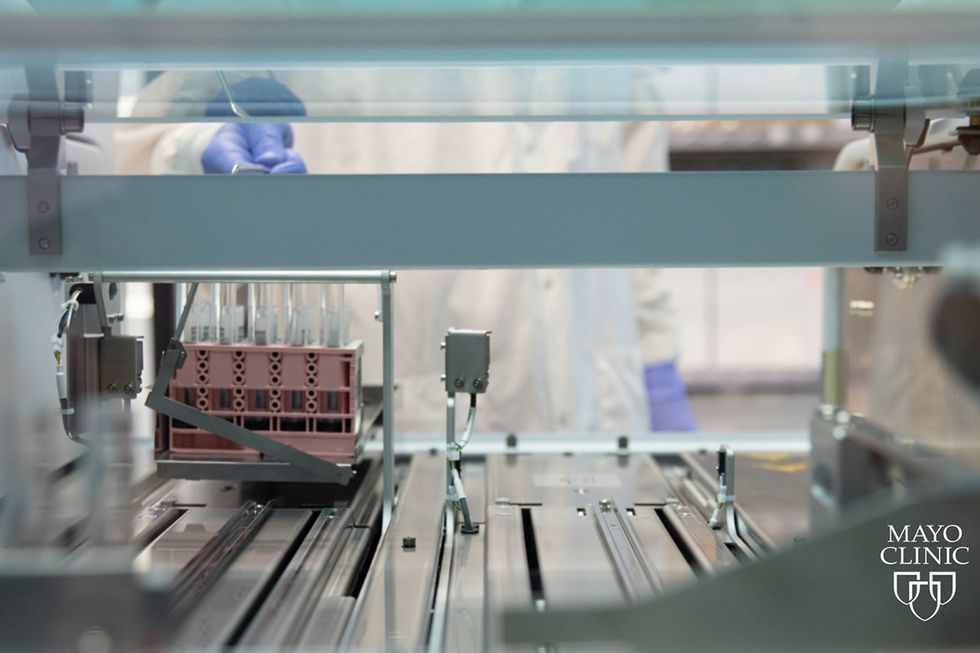 The item we shipped will allow the Mayo Clinic in Florida to process hundreds of COVID-19 tests per day. Mayo Clinic Laboratories has been on the front lines of increasing testing capacity to expedite caring for patients at this critical time and working to ease the burden being felt at test processing laboratories in a growing number of areas.

We are helping to keep military families connected by increasing the frequency of cargo
-only flights between the United States and military bases in
various parts of the world —
including Guam,
Kwajalein
,
and several countries in
Europe
.
Last week
we
began
operating
a minimum of 40 cargo-
only
flights
weekly —
using Boeing 777 and 787 aircraft to fly freight
and mail
to and from U.S. hubs and key international business
and military
locations.
We are going above and beyond to find creative ways to transport fresh food and produce, as well as basic essentials from the U.S. mainland to military and their families in Guam/Micronesia. On Saturday, March 28, we operated an exclusive cargo-only B777-300 charter to transport nearly 100,000 pounds of food essentials to Guam to support our troops.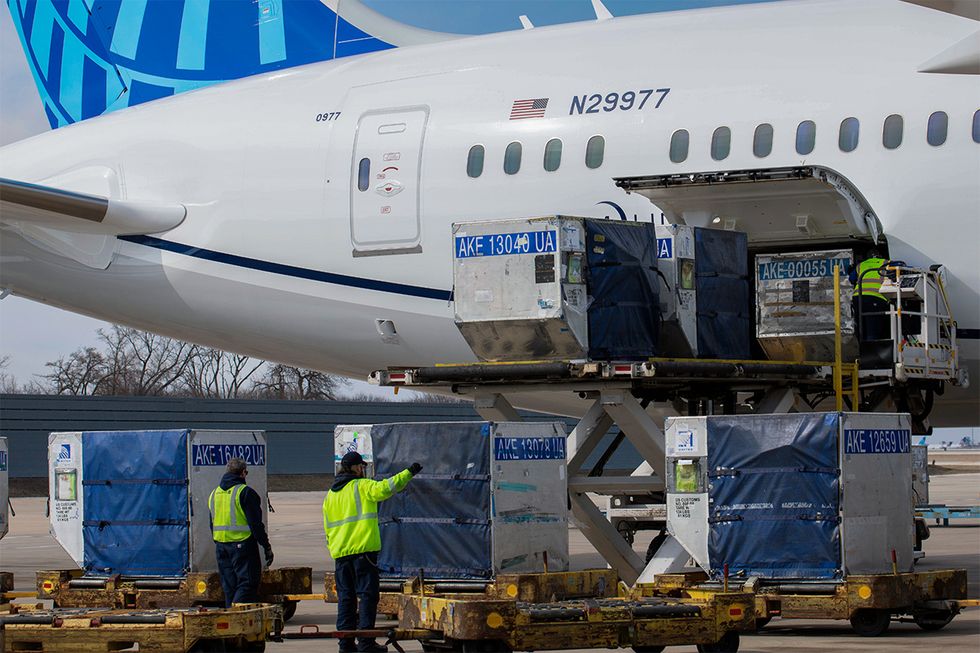 In addition, we move mail year-round all over the world. In response to COVID-19, and in support of the military members and their families overseas, we implemented a charter network, transporting military mail to Frankfurt, which is then transported all over Europe and the Middle East. Since March 20, we have flown 30,000+ pounds of military mail every day between Chicago O'Hare (ORD) and Frankfurt (FRA). On the return flight from Frankfurt to Chicago, we have carried an average of 35,000 pounds of mail to help families stay connected.

"Connecting products and mail to people around the world is the United Cargo mission," said United Cargo President Jan Krems. "Keeping our military families connected with the goods they need, and keeping them connected with loved ones to feel a sense of home, is of critical importance. As a company that has long supported our military families and veterans, our teams are proud to mobilize to lend a hand."
On average, we ship more than 1 billion pounds of cargo every year on behalf of domestic and international customers. For more information, visit unitedcargo.com.
To our customers,
I hope this note finds you and your loved ones healthy and well.
It is safe to say these past weeks have been among some of the most tumultuous and emotional that any of us can remember in our lifetimes. The impact of the coronavirus outbreak has been felt by individuals and families, companies and communities, across the United States and around the world.
The response to this crisis has been extraordinary; as much for what it has required from our society as for what it has revealed of us as a people.
Far from causing division and discord, this crisis and the social distancing it has required, has allowed us to witness something profound and moving about ourselves: our fond and deeply felt wish to be connected with one another.
The role of connector is one we're privileged to play in the moments that matter most in your life – weddings and graduations, birthdays and business trips, events large and small – and it's that responsibility that motivates us most to get back to our regular service, as soon as possible.
That is why it is so important our government acted on a comprehensive relief act to ensure our airline – and our industry – are ready and able to serve you again when this crisis abates.
I want to relay to you, in as deeply personal a way I can, the heartfelt appreciation of my 100,000 United team members and their families for this vital public assistance to keep America and United flying for you.
This support will save jobs in our business and many others. And it allows us time to make decisions about the future of our airline to ensure that we can offer you the service you deserve and have come to expect as our customers.
While consumer demand has fallen, we have seen the need for our service and capabilities shifted. And, we've adapted to help meet those needs.
Right now, aircraft flying the United livery and insignia, flown by our aviation professionals, have been repurposed to deliver vital medical supplies and goods to some of the places that need it most. We're also using several of our idle widebody aircraft to use as dedicated charter cargo flights, at least 40 times per week, to transfer freight to and from U.S. locations as well as to key international business locations. At the same time, we are working in concert with the U.S. State Department to bring stranded Americans who are trying to return home back to their loved ones.
While much remains uncertain right now, one thing is for sure: this crisis will pass. Our nation and communities will recover and United will return to service you, our customers. When that happens, we want you to fly United with even greater pride because of the actions we took on behalf of our customers, our employees and everyone we serve.
Stay safe and be well,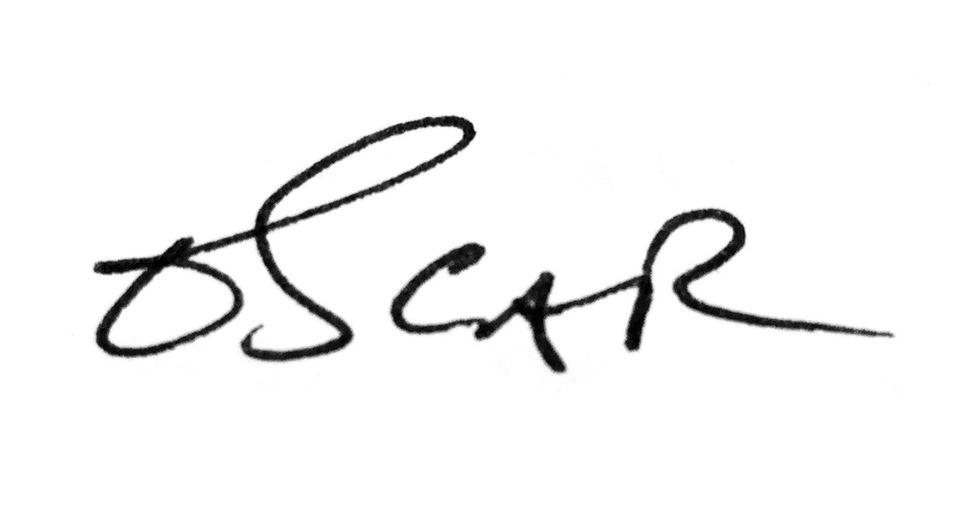 Oscar Munoz
CEO
Together, we are facing an unprecedented challenge. United Together, we rise to meet that challenge.
Check out our newest destinations
United Airlines
united
When
@RocheDia
needed to ship a vital component of a COVID-19 testing unit from New Jersey to Florida, United Cargo jumped in to help. Read about how this part will allow
@MayoClinic
to process hundreds of tests per day for cases in the Southeastern U.S.
uafly.co/2UzOAGW
United Airlines
united
International schedule update: We know some people around the globe are displaced and still need to get home. We are reinstating some international flights over the next few days and will continue to fly six daily international flights through May.
uafly.co/3a5Dj6p
United Airlines
united
We have extended our change fee waiver to cover travel through May 31, 2020: - You can change or cancel your flight on
united.com
or through the app – a phone call is not required - For the latest on our commitment to your safety, visit
united.com/coronavirus
United Airlines
united
Our site,
united.com/coronavirus
, is regularly updated with the latest on travel restrictions, rebooking instructions and health and safety information. Today's updates: - An expanded, more flexible international rebooking policy - Schedule changes for U.K. & Ireland
We Are United
weareunited
Shoutout to our operations team, who are working to properly park, maintain and store many aircraft in the
#BeingUnited
fleet. These aircraft are being housed across our seven hubs, maintenance facilities in CLE and MCO as well as at offsite facilities in New Mexico and Arizona.
We Are United
weareunited
Tomorrow, Oscar and Scott will host a companywide town hall to discuss the latest developments in managing the effects of the coronavirus (COVID-19). You can join the livestream event at 1:20 p.m. CT here:
uafly.co/39AV25m
We Are United
weareunited
Tomorrow, Oscar and Scott will host a companywide town hall to discuss the latest developments in managing the effects of the coronavirus (COVID-19). You can join the livestream event at 1:20 p.m. CT here:
uafly.co/39AV25m
.
Watch our most popular videos
Copyright © 2020 United Airlines, Inc.
All rights reserved.
Indicates an external site that may or may not meet accessibility guidelines.
Scroll to top
Scroll to top