Best all-inclusive resorts in the Caribbean for family vacations
Plan your next family vacation at one of these all-inclusive Caribbean resorts.
Given the hustle and bustle of family life, the best family vacations are those that entice you to stay put, with entertainment, activities and amenities to please everyone. All-inclusive resorts offer all of this and more, including the peace of mind that comes with knowing you won't be dipping into your wallet every five minutes. With countless all-inclusives throughout the Caribbean, it's challenging to narrow your options, but these family-friendly hotels are sure to please. With everything from spacious guestrooms, to upscale amenities, luxurious spas, innovative cuisine, and a bounty of adventures to be had on both land and sea, these resorts should top your list of picks for your next family getaway.
Beaches Negril Resort & Spa – Jamaica
The epitome of family vacation bliss, the Beaches brand seems to find its way onto every list of best all-inclusive resorts. Especially sublime is Beaches Negril, located on a splendid 1,400-foot swath of the famed Jamaica beach, Seven Mile Beach. Big perks include the resort's spacious, multi-room suites that make it easy to accommodate larger families, an onsite nursery that welcomes newborns, and an elaborate kids' club featuring fun activities like face painting and treasure hunts for the littles, and reggae jam sessions, snorkeling and pool Olympics for bigger kids. Days can be spent enjoying the pools and beach, splashing in the extravagant Pirates Island waterpark, and joining a variety of things to do including tennis, volleyball, snorkeling, paddle boarding and catamaran tours. Meals, snacks, and drinks are served throughout 11 restaurants and seven bars, while themed evening entertainment offers something for everyone in the family.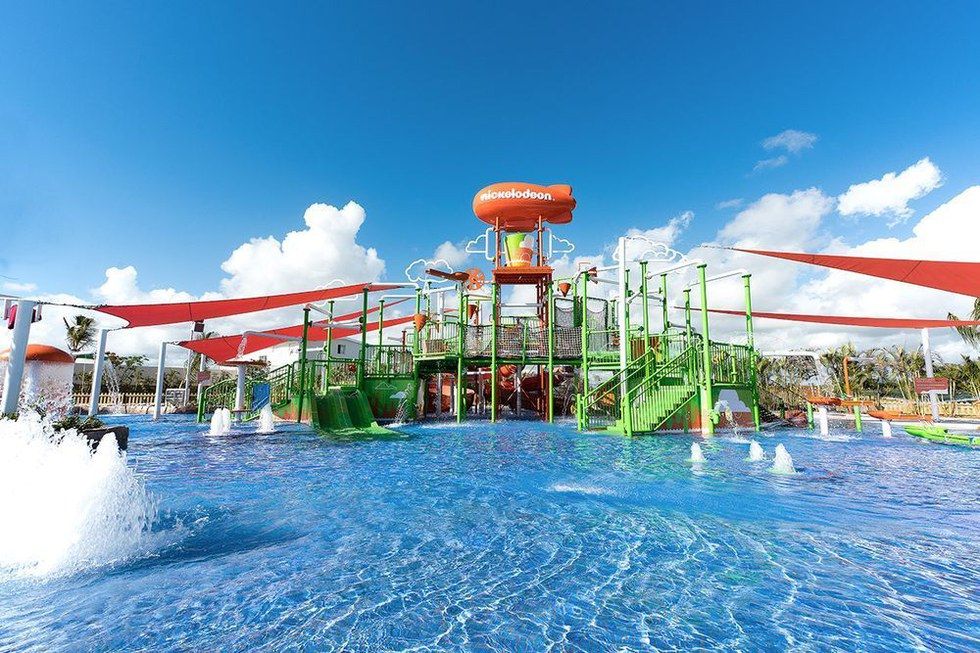 Nickelodeon Hotels & Resorts Punta Cana |Courtesy Nickelodeon Hotels & Resorts Punta Cana
Nickelodeon Hotels & Resorts Punta Cana – Dominican Republic
Far more elegant than Sponge Bob's flamboyant color palate might suggest, families at the Nickelodeon Punta Cana can choose from seven different styles of chic suites, all with balconies or patios, or from four elaborate villas — a pineapple under the sea anyone? Designed so families can immerse themselves in as much or as little Nick as they want, one side of the property features a mellow, palm fringed infinity pool overlooking the beach while the other side is home to Nickelodeon Place, where you'll find the Just Kiddin' kids' club and Aqua Nick, a lavish water park. Karisma Resort's signature Gourmet Inclusive means a slew of dining options are included as well as activities like fitness classes, beach volleyball and Spanish lessons, to name a few.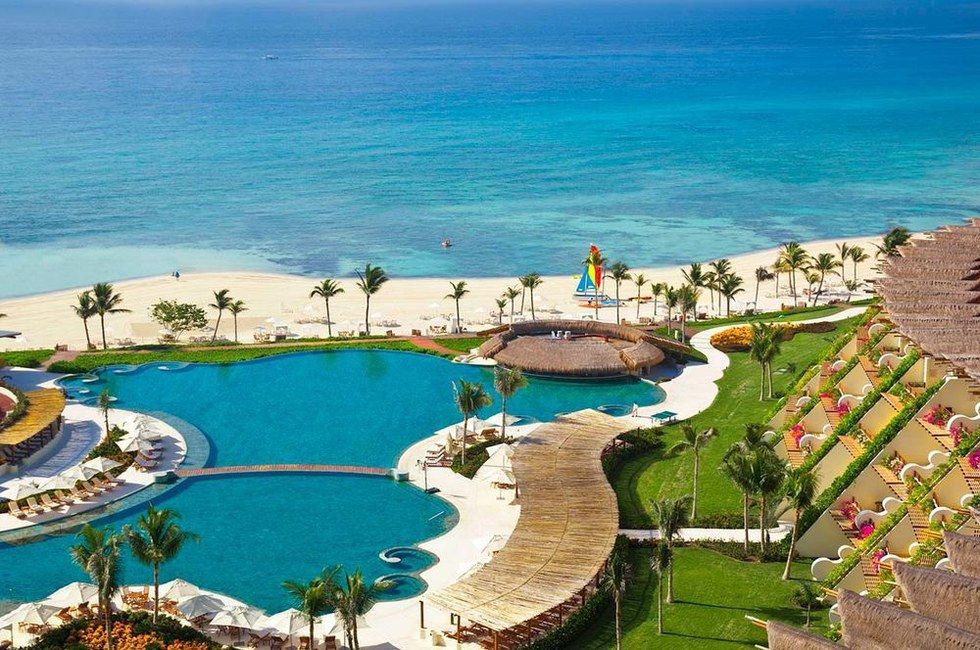 Grand Velas Riviera Maya | Courtesy Grand Velas Riviera Maya
Grand Velas Riviera Maya – Mexico
Perched on the edge of one of the widest beaches on the Mayan Riviera, the 85-acre Grand Velas Resort offers all-inclusive luxury for families. Enormous, plush guestrooms — all at least 1,100 square feet — are spread between two family-friendly areas and feature private terraces. The well-thought kids' clubs play host to both young ones and the teen set alike, offering daily activities like piñata making, storytelling and karaoke, while an award-winning spa, built around one of the resorts eight natural cenotes, offers blissful relaxation for adults. Nannies can be arranged to care for little ones and the onsite baby concierge allows parents to pack lightly. Gourmet dining, an array of activities and 24-hour butler service round out the resort's upscale amenities.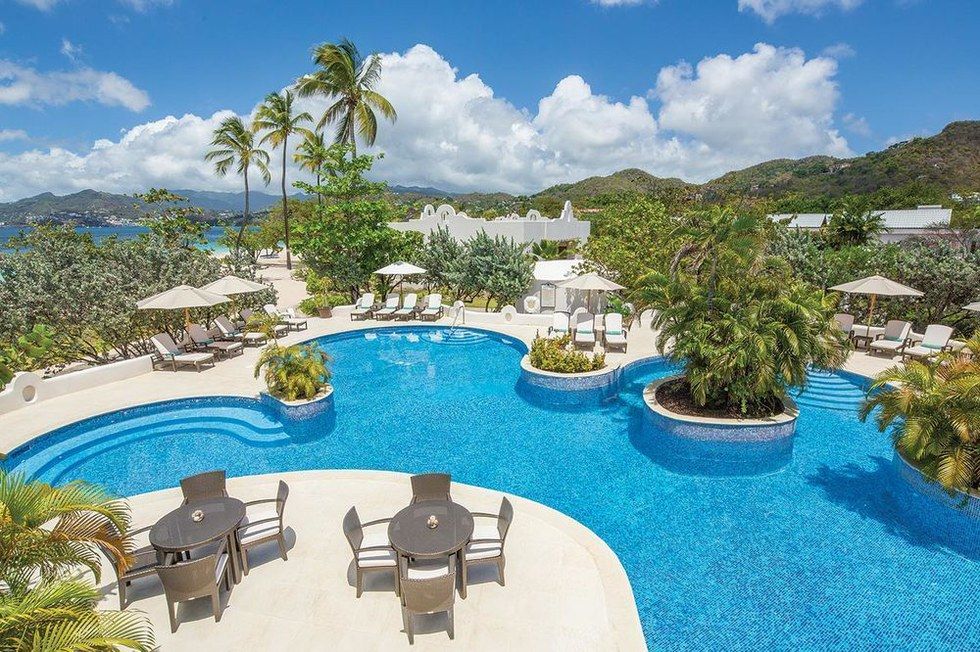 Spice Island Beach Resort |Courtesy Spice Island Beach Resort
Spice Island Beach Resort – Grenada
Cloistered among 8 acres of lush gardens, Grenada's Spice Island Beach Resort exudes an intimate, relaxed elegance combined with a welcoming, family-friendly ambience. The boutique, family-run property is a member of the esteemed Small Luxury Hotels of the World and offers 64 airy, Caribbean-style suites just steps from the sea along a spectacular stretch of Grand Anse beach. A slew of activities are offered daily including kayaking, snorkeling the offshore coral gardens, tennis, or simply whiling away the hours by the pool or sea. The resort is best for families with school-aged kids, as ages 3 through 12 can join the Nutmeg Pod during the day, or the concierge can arrange for babysitting services as needed. The Friday night Caribbean buffet with live steel drum band is a favorite weekly tradition.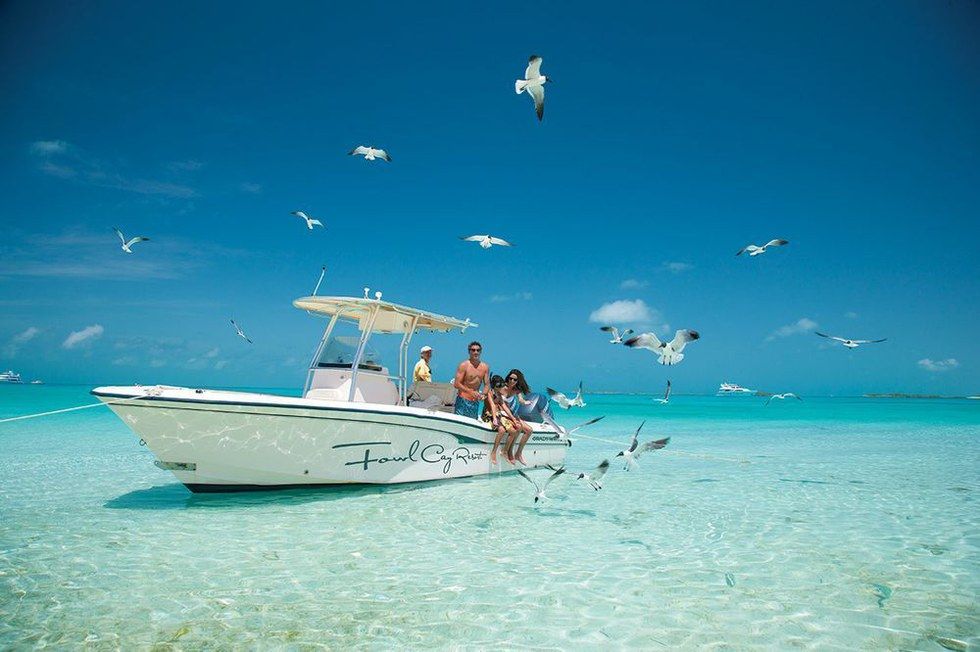 Fowl Cay Resort |Courtesy Fowl Cay Resort
Fowl Cay Resort – Bahamas
Ever dream of owning a private island? Fowl Cay, in the Bahamian out islands of the Exumas, is the perfect spot to indulge in castaway fantasies, though with a luxurious spin. Families can choose from one of six ocean-view villas dotting the eastern edge of the 50-acre island, each with its own personal motorboat — gas included — to explore countless nearby islets and cays. Prior to your arrival, your villa will be stocked with everything you need to prepare meals or mix a cocktail, though lunch and dinner at the island's Hill House Restaurant are also included — the chef will even prepare a gourmet picnic for your daily outings. On the island, Fowl Cay's three sublime beaches await, along with a large selection of kayaks, paddle boards and Hobie Cats, snorkeling gear, tennis courts, beach cruiser bicycles, and a freshwater pool with bar. There's no onsite kids' club, but you definitely won't miss it.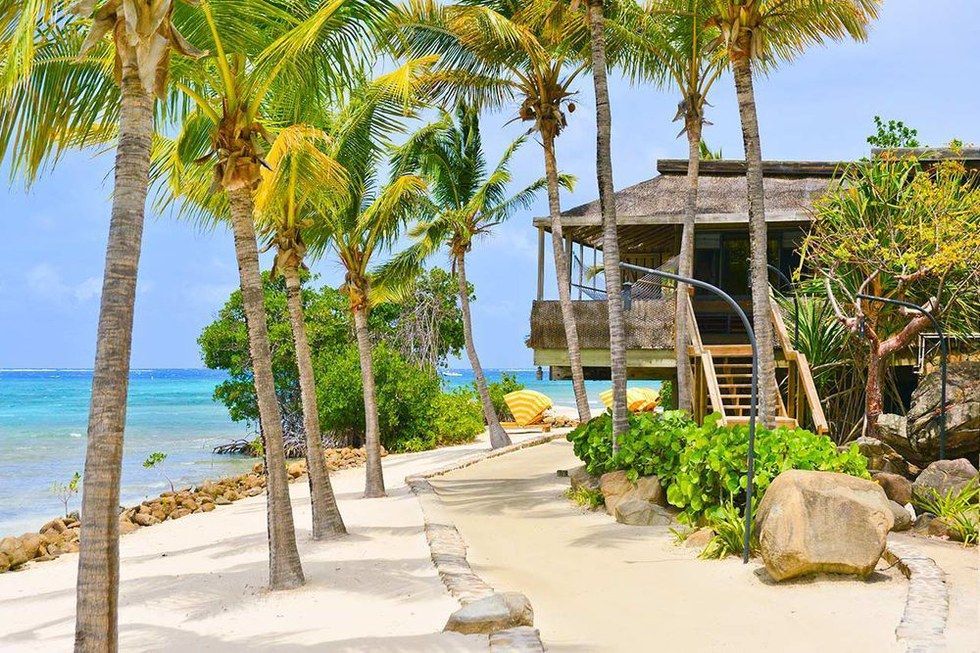 Bitter End Yacht Club |Courtesy Bitter End Yacht Club
Bitter End Yacht Club – British Virgin Islands
Family owned since the 1970s, the Bitter End on Virgin Gorda's spectacular North Sound prevails as the British Virgin Islands' most iconic yacht club. Relax by the pool or beneath a thatched palapa on one of the club's beaches, take an excursion to the nearby natural wonder of the Baths, or head out for a snorkeling adventure. An absolute dream for the younger bunch, the resort's kids' club offers a plethora of activities daily for an additional fee — imagine the ultimate summer camp in the midst of laid-back island bliss. The Club's elegant bungalows feature wraparound verandahs sporting panoramic views, while a variety of dining options — three meals per day are included — offer everything from Caribbean buffets to brick oven pizzas and sea-to-table fare.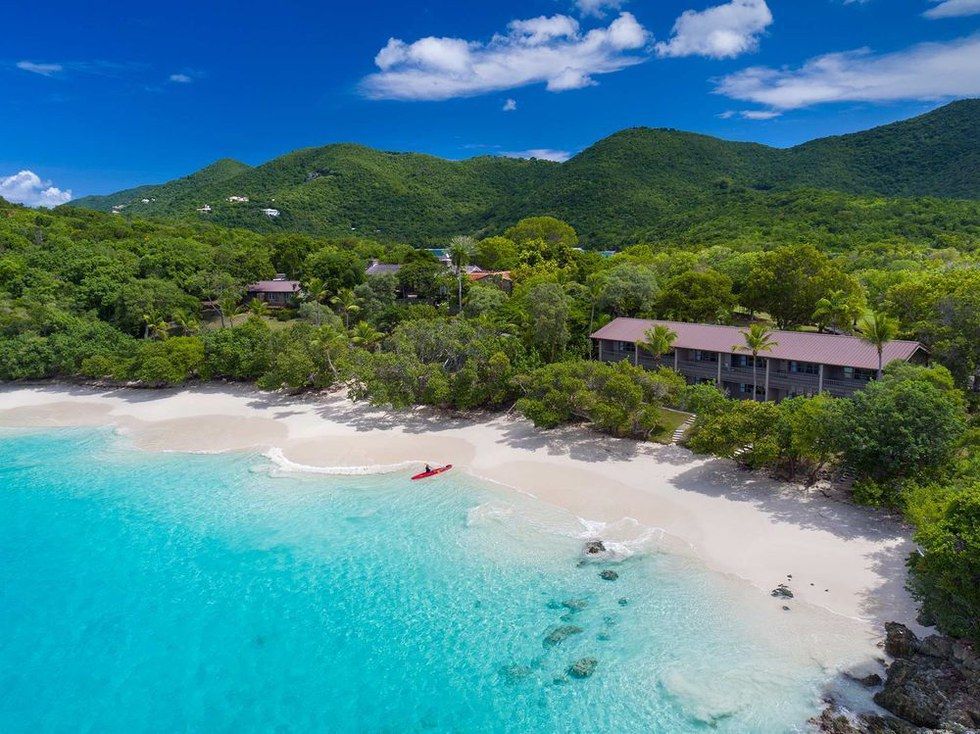 Caneel Bay |Courtesy Caneel Bay
Caneel Bay – U.S. Virgin Islands
Laurence Rockefeller had the right idea back in 1956 when he opened blissful Caneel Bay, an idyllic resort with seven perfect beaches set along a 170-acre peninsula on pristine St. John. 166 understated, electronics-free guestrooms are spread throughout an assortment of single-story mid-century modern bungalows — 23 new beachfront cottages were added to the property in 2016. Though not a traditional all-inclusive, the resort offers the option to add-on a variety of meal plans, which can be used at three of Caneel Bay's four restaurants. Turtle Town and Club Calabash, the resort's complimentary kids' clubs for children ages 3 through 11 and tweens and teens respectivley, offer engaging nature activities — St. John is sixty-percent national park — as well as crafts, treasure hunts, and baking lessons. Non-motorized water sports and snorkeling gear are also included free of charge.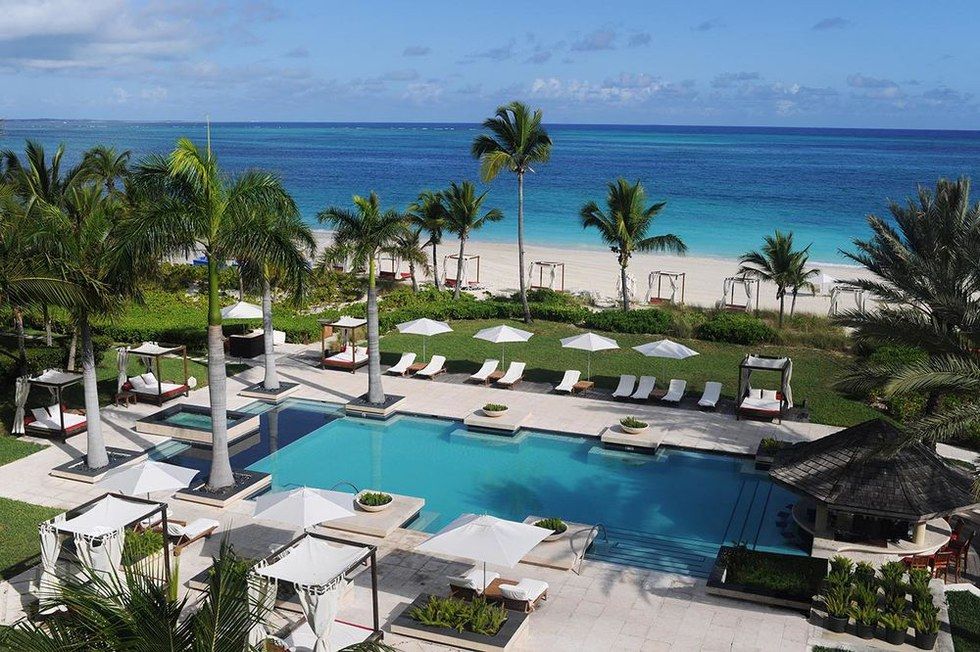 Grace Bay Club |Courtesy Grace Bay Club
Grace Bay Club – Turks and Caicos
Grace Bay, on the island of Providenciales, has been voted time and time again as one of the most beautiful beaches in the world. The luxurious Grace Bay Club offers 38 family suites, most with full kitchens, that overlook the ocean and offer spacious accommodations. A full breakfast is included with your room and a variety of dining plans can be added at an additional cost. Onsite, the Resort's Kid's Town programming is truly top-notch. Run in partnership with the fabulous folks at SURFSide Ocean Academy, Kid's Town offers a mix of complimentary and for-fee excursions on land and sea including kayaking, snorkeling, island field trips and evening programs for families.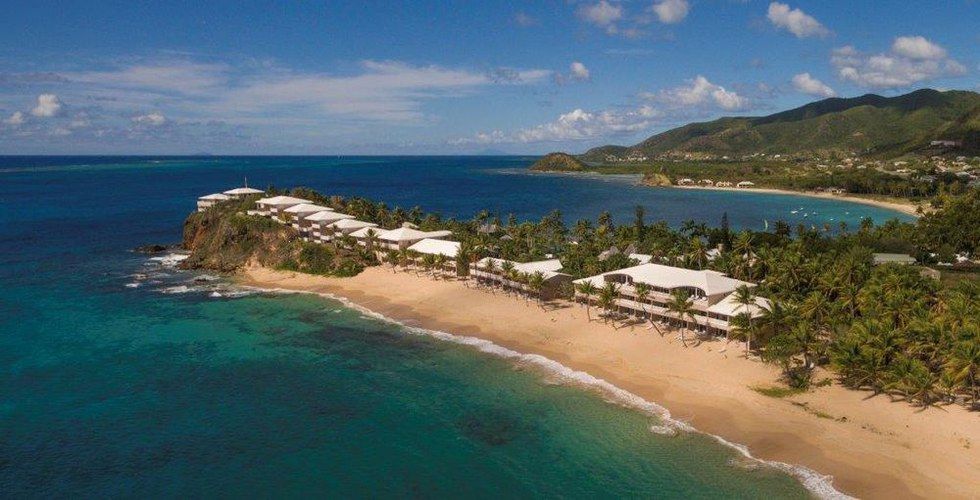 Curtain Bluff |Courtesy Curtain Bluff
Curtain Bluff – Antigua
Time spent at Curtain Bluff immerses you in understated luxury fused with a warm, old-fashioned family vibe. Children 3 through 12 will find plenty to do at the creative Cee Bee kids' club, from identifying island flowers to crafting mobiles from collected beach treasures and concocting their own mocktails. Kids of all ages, as well as their parents, will love the easygoing ambience, unlimited watersports (including tubing and waterskiing), luxe spa and gorgeous beaches. Families can settle into a variety of guest rooms decorated in Caribbean pastels that compliment the endless aquamarine sea right outside your door.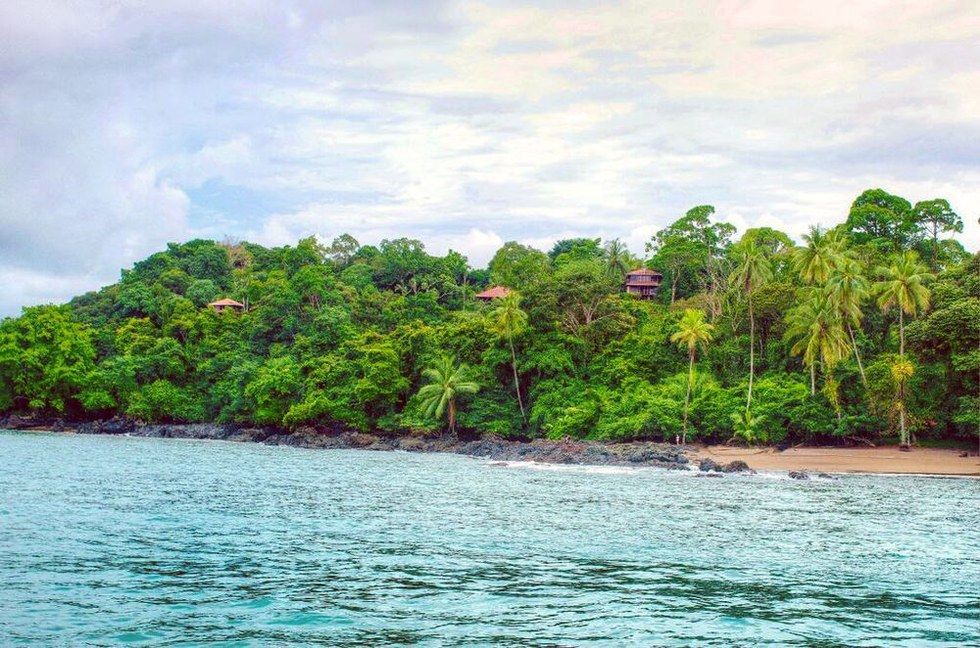 La Paloma Lodge |Courtesy La Paloma Lodge
La Paloma Lodge – Costa Rica
Families looking to unplug and immerse themselves in nature will delight in the sustainable luxury of the La Paloma Lodge. Set amidst lush, tropical rainforest on Costa Rica's Osa Peninsula, this stunning eco-resort treats visitors to sweeping views of the Pacific, a black-sand beach and onsite naturalists to guide you through a cornucopia of remarkable biodiversity. Stay in one of 11 private bungalows, most with spectacular ocean views and hammocks overlooking the jungle, where capuchin monkeys and colorful toucans are your only neighbors. Meals are served family style in the open-air dining room.
This article was written by Gina Vercesi from Islands and was legally licensed through the NewsCred publisher network. Please direct all licensing questions to legal@newscred.com.
Right now, around the world, brave members of America's armed forces are on duty, defending our freedom and upholding our values.
When not laser-focused on the mission at hand, they're looking forward to the day when their service to our nation is fulfilled and they can reunite with their families.
They are also imagining how they can use their hard-earned skills to build an exciting, rewarding and important career when they return home.
I want them to look no further than United Airlines.
That's why we are focused on recruiting, developing and championing veterans across our company, demonstrating to our returning women and men in uniform that United is the best possible place for them to put their training, knowledge, discipline and character to the noblest use.
They've developed their knowledge and skills in some of the worst of times. We hope they will use those skills to keep United performing at our best, all of the time.
That's why we are accelerating our efforts to onboard the best and the brightest, and substantially increasing our overall recruitment numbers each year.
We recently launched a new sponsorship program to support onboarding veterans into United and a new care package program to support deployed employees. It's one more reason why United continues to rank high - and rise higher - as a top workplace for veterans. In fact, we jumped 21 spots this year on Indeed.com's list of the top U.S workplaces for veterans. This is a testament to our increased recruiting efforts, as well as our efforts to create a culture where veterans feel valued and supported.
We use the special reach and resources of our global operations to partner with outstanding organizations. This is our way of stepping up and going the extra mile for all those who've stepped forward to answer our nation's call.
We do this year-round, and the month of November is no exception; however, it is exceptional, especially as we mark Veterans Day.
As we pay tribute to all Americans who have served in uniform and carried our flag into battle throughout our history, let's also keep our thoughts with the women and men who are serving around the world, now. They belong to a generation of post-9/11 veterans who've taken part in the longest sustained period of conflict in our history.

Never has so much been asked by so many of so few.... for so long. These heroes represent every color and creed. They are drawn from across the country and many immigrated to our shores.

They then freely choose to serve in the most distant and dangerous regions of the world, to protect democracy in its moments of maximum danger.
Wherever they serve - however they serve - whether they put on a uniform each day, or serve in ways which may never be fully known, these Americans wake up each morning willing to offer the "last full measure of devotion" on our behalf.
Every time they do so, they provide a stunning rebuke to the kinds of voices around the world who doubt freedom and democracy's ability to defend itself.
Unfortunately, we know there are those who seem to not understand – or say they do not - what it is that inspires a free people to step forward, willing to lay down their lives so that their country and fellow citizens might live.
But, we – who are both the wards and stewards of the democracy which has been preserved and handed down to us by veterans throughout our history – do understand.
We know that inciting fear and hatred of others is a source of weakness, not strength. And such divisive rhetoric can never inspire solidarity or sacrifice like love for others and love of country can.
It is this quality of devotion that we most honor in our veterans - those who have served, do serve and will serve.
On behalf of a grateful family of 96,000, thank you for your service.
Humbly,
Oscar


Each year around Veterans Day, Indeed, one of the world's largest job search engines, rates companies based on actual employee reviews to identify which ones offer the best opportunities and benefits for current and former U.S. military members. Our dramatic improvement in the rankings this year reflects a stronger commitment than ever before to actively recruiting, developing and nurturing veteran talent.
"We've spent a lot of time over the past 12 months looking for ways to better connect with our employees who served and attract new employees from the military ranks," said Global Catering Operations and Logistics Managing Director Ryan Melby, a U.S. Army veteran and the president of our United for Veterans business resource group.
"Our group is launching a mentorship program, for instance, where we'll assign existing employee-veterans to work with new hires who come to us from the armed forces. Having a friend and an ally like that, someone who can help you translate the skills you picked up in the military to what we do as a civilian company, is invaluable. That initiative is still in its infancy, but I'm really optimistic about what it can do for United and for our veteran population here."
Impressively, we were the only one of our industry peers to move up on the list, further evidence that we're on a good track as a company.
The question of where David Ferrari was had haunted retired U.S. Army Sergeant Major Vincent Salceto for the better part of 66 years.
Rarely did a week go by that Salceto didn't think about his old friend. Often, he relived their last moments together in a recurring nightmare. In it, it's once again 1953 and Salceto and Ferrari are patrolling a valley in what is now North Korea. Suddenly, explosions shatter the silence and flares light up the night sky.
Crouching under a barrage of bullets, Salceto, the squad's leader, drags two of his men to safety, then he sees Ferrari lying face down on the ground. He runs out to help him, but he's too late. And that's when he always wakes up.
Italian Americans from opposite coasts – Salceto from Philadelphia, Ferrari from San Francisco – the two became close, almost like brothers, after being assigned to the same unit during the Korean War. When Ferrari died, it hit Salceto hard.
"After that, I never let anyone get close to me like I did with Dave," he says. "I couldn't; I didn't want to go through that again."
When the war ended, Salceto wanted to tell Ferrari's family how brave their son and brother had been in battle. Most of all, he wanted to salute his friend at his gravesite and give him a proper farewell.
For decades, though, Salceto had no luck finding his final resting place or locating any of his relatives. Then, in June of this year, he uncovered a clue that led him to the Italian Cemetary in Colma, California, where Ferrari is buried.
Within days, Salceto, who lives in Franklinville, New Jersey, was packed and sitting aboard United Flight 731 from Philadelphia to San Francisco with his wife, Amy, and daughter, Donna Decker, on his way to Colma. For such a meaningful trip, he even wore his Army dress uniform.
That's how San Francisco-based flight attendant Noreen Baldwin spotted him as he walked down the jet bridge to get on the plane.
"I saw him and said to the other crew members, 'Oh my goodness, look at this guy,'" she says. "I knew there had to be a story."
The two struck up a conversation and Salceto told Baldwin why he was traveling. She got emotional listening to him talk and made a point of fussing over him, making sure he and his family had everything they needed.
About halfway through the flight, Baldwin had an idea. She and her fellow crew members would write messages of encouragement to Salceto and invite his fellow passengers to do the same.
"We did it discreetly," says Baldwin. "I asked the customers if they saw the man in uniform, which most had, and asked them if they wanted to write a few words for him on a cocktail napkin. A lot of people did; families did it together, parents got their kids to write something. After the first few rows, I was so choked up that I could barely talk."
When Baldwin surprised Salceto with dozens of hand-written notes, he, too, was speechless. He laid the stack on his lap and read each one. At the same time, the pilots made an announcement about the veteran over the loud speaker, after which the customers on board burst into applause.
"It seems contrived, and I hate using the word organic, but that's what it was; it just happened," Baldwin says. "Mr. Salceto was so loveable and humble, and what he was doing was so incredible, it felt like the right thing to do. And you could tell he was touched."
On June 27, Salceto finally stood before Ferrari's grave and said that long-awaited goodbye. As a trumpeter played "Taps," he unpinned a medal from his jacket and laid it reverently on the headstone.
"I had gotten a Bronze Star for my actions [the night Ferrari died] with a 'V' for valor, and that was the medal I put on Dave's grave," says Salceto, pausing to fight back tears. "I thought he was more deserving of it than I was."
For the first time in years, Salceto felt at peace. His mission was accomplished.
Scroll to top