Biofuel takes flight in Los Angeles
When approximately 150 of our customers boarded Flight 708 departing from Los Angeles International Airport (LAX) on March 11, they became part of a milestone in commercial aviation. The Boeing 737 was powered by a blended biofuel made from agricultural waste and other natural byproducts.
"It's great to be part of this flight, and it's exciting to be the first U.S. airline using renewable energy to power our flights," said United First Officer Ernesto Alessio, one of Flight 708's pilots.
United has now moved the U.S. aviation industry beyond demonstration flights and is, for the first time, using biofuels in regular commercial operations. We agreed to purchase up to 15 million gallons of sustainable biofuel from AltAir Fuels over a three-year period. We are now using the biofuel in daily operations at LAX, storing and delivering it the same way as traditional fuel – making LAX the first airport to incorporate biofuels into its fueling system.
To celebrate this eco milestone, we held a ceremonial ribbon-cutting at the LAX's Terminal 7 with customers, employees and United leaders, as well as industry and government partners including California State Senator Fran Pavley (D), California State Senator Ben Allen (D), California Assembly member Jim Frazier (D), California Energy Commissioner Janea Scott, Air Resources Board Member Hector De La Torre and Los Angeles World Airports CEO Deborah Flint.

"It's an honor to be at the launch, celebrating this great achievement," said Jim Compton, United's chief revenue officer and vice chairman. "Supporting the commercialization of biofuels is good for both United and the United States – we are helping to diversify the fuel supply with sustainable sources of fuel, supporting energy security, and protecting against long-term oil price volatility."
The biofuel United is using is a blend of 70 percent traditional jet fuel and 30 percent biofuel, so it doesn't require any modifications to aircraft engines or airport infrastructure. It also undergoes rigorous testing to ensure it meets the same performance certification as our conventional jet fuel. To our customers and crews, the flight experience is exactly the same.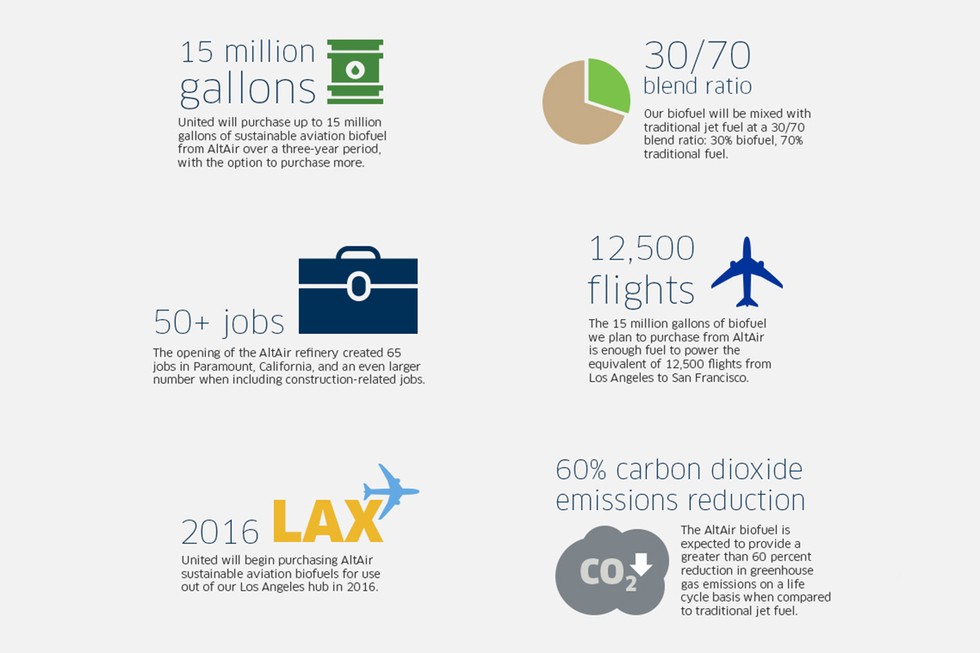 This alternative fuel is estimated to reduce lifecycle greenhouse gas emissions by greater than 60 percent. This means fewer carbon emissions are produced throughout the whole lifecycle process, starting with harvesting the raw materials, refining the fuel, transporting the fuel and combusting the fuel in our aircraft engines.
"We're proud to be a leader in sustainable aviation biofuels for the airline industry," said Angela Foster-Rice, United's managing director for environmental affairs and sustainability. "We are committed to taking actions today to help build a more sustainable future for our customers, employees and communities."
United's partnership is with AltAir Fuels, and over the next three years, we plan to buy enough biofuel to power the equivalent of 12,500 flights from Los Angeles to San Francisco. Which means the Friendly Skies are about to get a whole lot friendlier to the environment.