Brazil's big three: Rio, São Paulo and Salvador
Brazil is nearly as large, populous and diverse as the United States. So where does a tourist begin? In the U.S., the answer might be to visit New York City, Chicago and L.A., each with its own personality. In Brazil, the best answer is Rio de Janeiro for its festive vitality, São Paulo for its cosmopolitan culture and Salvador for its history and beaches.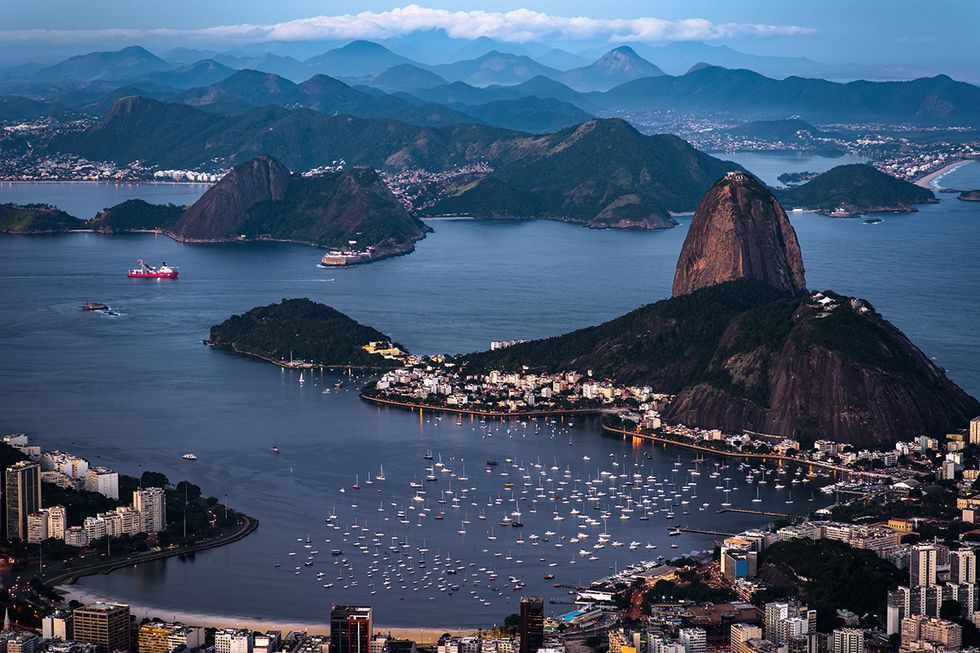 Rio de Janeiro

The world came to Rio for the 2016 Summer Olympics and left with a big grin. The energy of the city, the splendor of the beaches and the spirit of the people — including a passion for sports — made the games the global success story of the year.
From the Lapa district's samba clubs to the beaches, Rio de Janeiro is a colorful city where the party never ends. Copacabana Beach's two miles of sand are routinely packed with tourists and locals alike while adjacent Ipanema Beach is more sedate, located alongside the Ipanema and Leblon neighborhoods' upscale shopping streets and restaurants. Two steep, iconic mountains tower over the city, letting you see it all from high above. Take a gondola ride to climb to the top of Sugar Loaf Mountain, or a cog train to ascend up to Corcovado Mountain's 130-foot-tall Christ the Redeemer statue.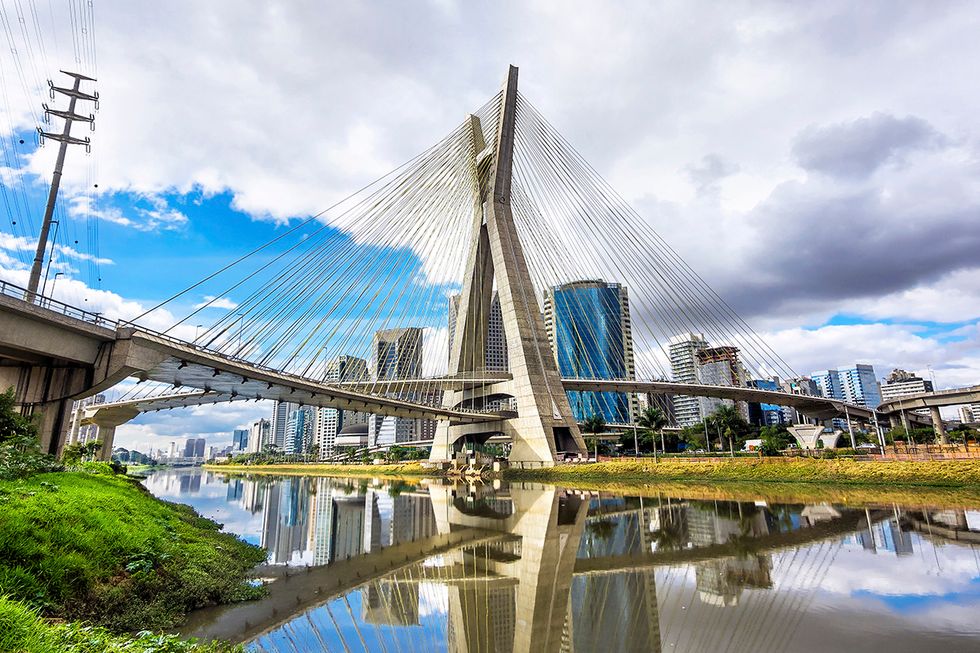 São Paulo
With 12 million people, São Paulo is the Western Hemisphere's most populous city, boasting more residents than New York City and even Mexico City. But that's not the only reason to visit. It's a must-see global city because of what the diverse, relatively affluent population has built — many of South America's finest museums, architecture, culture and more.
Several museums are found in the old city center. Walking distance apart are a neoclassical Brazilian art museum (The Pina), a neo-Byzantine cathedral and a Belle-Epoque covered marketplace. Elsewhere in the city are the São Paulo Museum of Art, boasting the largest collection of Western art in the Southern Hemisphere, and Museu Paulista, a colossal history museum surrounded by Versailles-inspired gardens at the University of Sao Paulo. Every Saturday, live samba music is played in many of the city's bars, but the place to experience this is at Bar Samba in Vila Madalena. And when you're hungry, it's good to know the restaurants are the best in Brazil, especially in the Jardins district. Among them are countless sushi spots and pizzerias, thanks to a vast population of Japanese and Italian immigrants and descendants.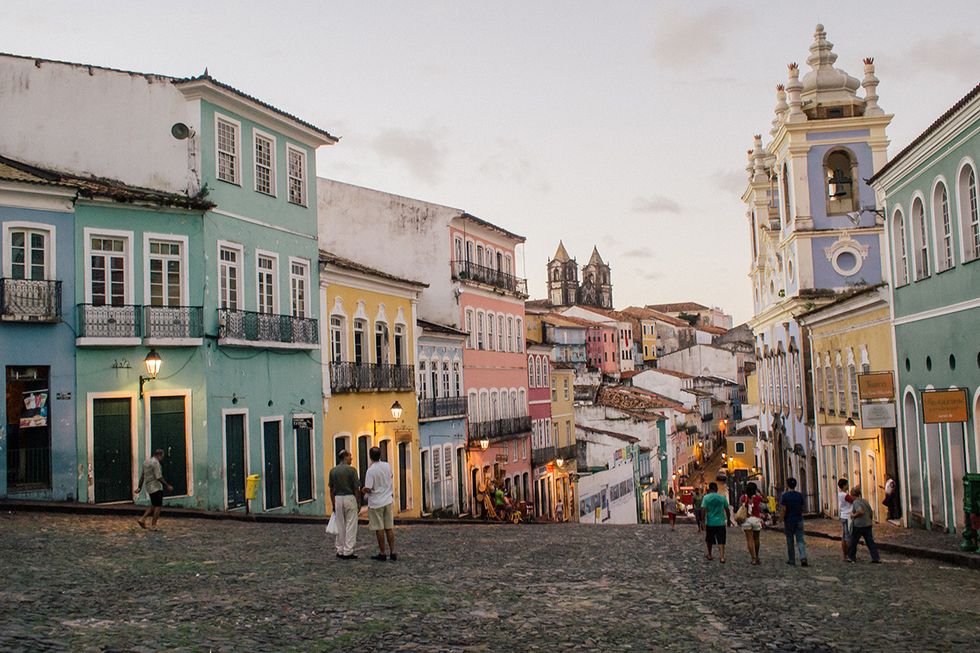 Salvador
Among the major cities on Brazil's northern coast, none offer as much to visitors as Salvador, the original capital city of Brazil. This city of three million has stunning beaches, superb restaurants and bars, plus an historic city center (Pelourinho — a UNESCO Cultural Heritage Site) that dates to the 16th-century dawn of the city.
Similar to Rio, almost everything worth experiencing in Salvador is on the water or close by, starting with beaches on the Bay of All Saints and Atlantic Ocean — ideal for swimming, surfing and sunbathing. Also found near the shore is the Elevador Lacerda (the world's first elevator—now a tourist attraction) and many museums devoted to South American, modern and decorative art. Also found in the Old City nearby are more museums, six cobblestone squares and a 17th-century cathedral. Many of Salvador's restaurants serve Afro-Brazilian food, a relic of the city's past.
Practicalities
All three of these Brazilian cities are closer to the equator than Miami, so expect balmy year-round temperatures that almost always hover in the seventies and eighties. The only months to avoid are the rainy season: December to February in Rio and Sao Paulo; April to June in Salvador. Transportation in all three cities is easy via Uber, buses and subways. Don't bother with pricey taxis or rental cars. And while in Brazil, be sure to try the national beverages — Brazilian coffee by day, caipirinhas by night.
If you go
United Airlines offers flights to Rio de Janeiro and São Paulo from numerous U.S. cities, including nonstop flights from Houston Intercontinental to Rio de Janeiro and nonstop flights from Chicago O'Hare, Houston Intercontinental, New York/Newark and Washington Dulles to São Paulo. Salvador is served by Star Alliance partner Avianca Brasil, with frequent flights from Rio de Janeiro and São Paulo. You can also get to any of these three cities via one of our partner airlines, Azul Brazilian Airlines. MileagePlus® Rewards can help pay for your hotel room. In addition, before you go make sure to submit the proper documentation to receive a tourist visa. Go to united.com or use the United app to plan your Brazilian adventure.
We will continue building out our already expansive route network next year, adding flights to some attractive leisure destinations in the United States and the Caribbean.
Our hometown hub, Chicago O'Hare International Airport, will be the beneficiary of three of those new routes, which include Santa Barbara, California; Pasco, Washington; and Vail, Colorado. Rounding it out, United will add service from Denver to Nassau, Bahamas, and from Houston to Spokane, Washington. Tickets for all of these destinations are on sale now.
The Denver-Nassau route will begin on March 7, 2020, followed by Chicago-Santa Barbara, Chicago-Pasco, Chicago-Vail and Houston-Spokane on June 4. When that time comes, United will be the only airline offering nonstop service between Denver and Nassau and Chicago and Pasco.
All of these routes will open up a world of connection possibilities for customers living in each market. They'll also be scheduled to give flyers optimal arrival and departure time options. For instance, a passenger going from Chicago to Santa Barbara will have a flight option that departs O'Hare at 7:45 p.m. local time, arriving at Santa Barbara Airport at 10:30 p.m. That's ideal for business travelers.
"We want to offer customers the very best schedule, the best network and the most flight options in the industry," said Ankit Gupta, United's vice president of Domestic Network Planning.
The Boeing 737-800 aircraft will serve the Denver-Nassau route. Passengers going from Chicago to Santa Barbara and from Chicago to Vail will fly on the 737-700. United's 76-seat Embraer 175 aircraft, equipped with United First, Economy Plus and United Economy class seats, will operate on the Chicago-Pasco and Houston-Spokane routes.
You'll find flight times and additional details in the grid below. For more information and to book your tickets, visit
united.com
or download the United mobile app.
Depart

Arrive

Frequency

Duration

Chicago (ORD)

7:45 p.m.

Santa Barbara (SBA)

10:30 p.m.

Daily

Year-round

SBA

11:20 p.m.

ORD

5:20 a.m.

Daily

Year-round

ORD

8:00 p.m.

Pasco (PSC)

10:24 p.m.

Daily

Year-round

PSC

11:38 p.m.

ORD

5:20 a.m.

Daily

Year-round

ORD

4:00 p.m.

Vail/Eagle (EGE)

5:54 p.m.

Daily

Summer seasonal

(June 4 through September 6, 2020)

EGE

9:00 a.m.




ORD

12:45 p.m.

Daily

Summer seasonal

(June 4 through September 7, 2020)

Denver (DEN)

9:56 a.m.

Nassau (NAS)

4:00 p.m.

Once a week on Saturdays

Year-round

(with a break from mid-August through late-October)

NAS

11:37 a.m.

DEN

2:43 p.m.

Once a week on Saturdays

Year-round

(with a break from mid-August through late-October)

Houston (IAH)

9:32 p.m.

Spokane (GEG)

11:32 p.m.

Daily

Summer seasonal

(June 4 through August 17, 2020)

GEG

11:55 p.m.

IAH

6:17 a.m.

Daily

Summer seasonal

(June 4 through August 17, 2020)
Right now, around the world, brave members of America's armed forces are on duty, defending our freedom and upholding our values.
When not laser-focused on the mission at hand, they're looking forward to the day when their service to our nation is fulfilled and they can reunite with their families.
They are also imagining how they can use their hard-earned skills to build an exciting, rewarding and important career when they return home.
I want them to look no further than United Airlines.
That's why we are focused on recruiting, developing and championing veterans across our company, demonstrating to our returning women and men in uniform that United is the best possible place for them to put their training, knowledge, discipline and character to the noblest use.
They've developed their knowledge and skills in some of the worst of times. We hope they will use those skills to keep United performing at our best, all of the time.
That's why we are accelerating our efforts to onboard the best and the brightest, and substantially increasing our overall recruitment numbers each year.
We recently launched a new sponsorship program to support onboarding veterans into United and a new care package program to support deployed employees. It's one more reason why United continues to rank high - and rise higher - as a top workplace for veterans. In fact, we jumped 21 spots this year on Indeed.com's list of the top U.S workplaces for veterans. This is a testament to our increased recruiting efforts, as well as our efforts to create a culture where veterans feel valued and supported.
We use the special reach and resources of our global operations to partner with outstanding organizations. This is our way of stepping up and going the extra mile for all those who've stepped forward to answer our nation's call.
We do this year-round, and the month of November is no exception; however, it is exceptional, especially as we mark Veterans Day.
As we pay tribute to all Americans who have served in uniform and carried our flag into battle throughout our history, let's also keep our thoughts with the women and men who are serving around the world, now. They belong to a generation of post-9/11 veterans who've taken part in the longest sustained period of conflict in our history.

Never has so much been asked by so many of so few.... for so long. These heroes represent every color and creed. They are drawn from across the country and many immigrated to our shores.

They then freely choose to serve in the most distant and dangerous regions of the world, to protect democracy in its moments of maximum danger.
Wherever they serve - however they serve - whether they put on a uniform each day, or serve in ways which may never be fully known, these Americans wake up each morning willing to offer the "last full measure of devotion" on our behalf.
Every time they do so, they provide a stunning rebuke to the kinds of voices around the world who doubt freedom and democracy's ability to defend itself.
Unfortunately, we know there are those who seem to not understand – or say they do not - what it is that inspires a free people to step forward, willing to lay down their lives so that their country and fellow citizens might live.
But, we – who are both the wards and stewards of the democracy which has been preserved and handed down to us by veterans throughout our history – do understand.
We know that inciting fear and hatred of others is a source of weakness, not strength. And such divisive rhetoric can never inspire solidarity or sacrifice like love for others and love of country can.
It is this quality of devotion that we most honor in our veterans - those who have served, do serve and will serve.
On behalf of a grateful family of 96,000, thank you for your service.
Humbly,
Oscar
Each year around Veterans Day, Indeed, one of the world's largest job search engines, rates companies based on actual employee reviews to identify which ones offer the best opportunities and benefits for current and former U.S. military members. Our dramatic improvement in the rankings this year reflects a stronger commitment than ever before to actively recruiting, developing and nurturing veteran talent.
"We've spent a lot of time over the past 12 months looking for ways to better connect with our employees who served and attract new employees from the military ranks," said Global Catering Operations and Logistics Managing Director Ryan Melby, a U.S. Army veteran and the president of our United for Veterans business resource group.
"Our group is launching a mentorship program, for instance, where we'll assign existing employee-veterans to work with new hires who come to us from the armed forces. Having a friend and an ally like that, someone who can help you translate the skills you picked up in the military to what we do as a civilian company, is invaluable. That initiative is still in its infancy, but I'm really optimistic about what it can do for United and for our veteran population here."
Impressively, we were the only one of our industry peers to move up on the list, further evidence that we're on a good track as a company.
Scroll to top