Brazil's big three: Rio, São Paulo and Salvador
Brazil is nearly as large, populous and diverse as the United States. So where does a tourist begin? In the U.S., the answer might be to visit New York City, Chicago and L.A., each with its own personality. In Brazil, the best answer is Rio de Janeiro for its festive vitality, São Paulo for its cosmopolitan culture and Salvador for its history and beaches.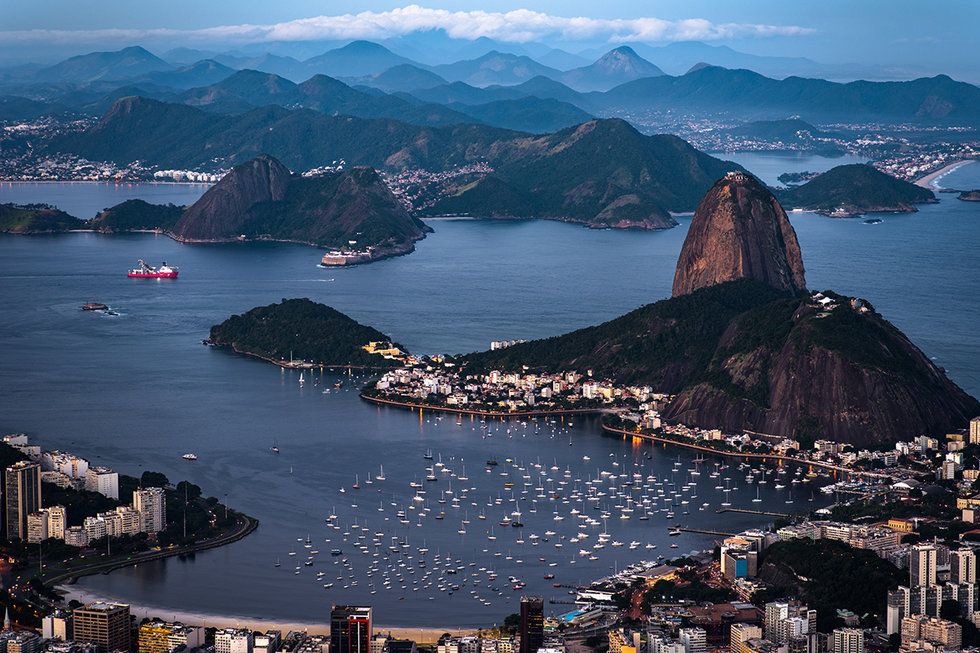 Rio de Janeiro

The world came to Rio for the 2016 Summer Olympics and left with a big grin. The energy of the city, the splendor of the beaches and the spirit of the people — including a passion for sports — made the games the global success story of the year.
From the Lapa district's samba clubs to the beaches, Rio de Janeiro is a colorful city where the party never ends. Copacabana Beach's two miles of sand are routinely packed with tourists and locals alike while adjacent Ipanema Beach is more sedate, located alongside the Ipanema and Leblon neighborhoods' upscale shopping streets and restaurants. Two steep, iconic mountains tower over the city, letting you see it all from high above. Take a gondola ride to climb to the top of Sugar Loaf Mountain, or a cog train to ascend up to Corcovado Mountain's 130-foot-tall Christ the Redeemer statue.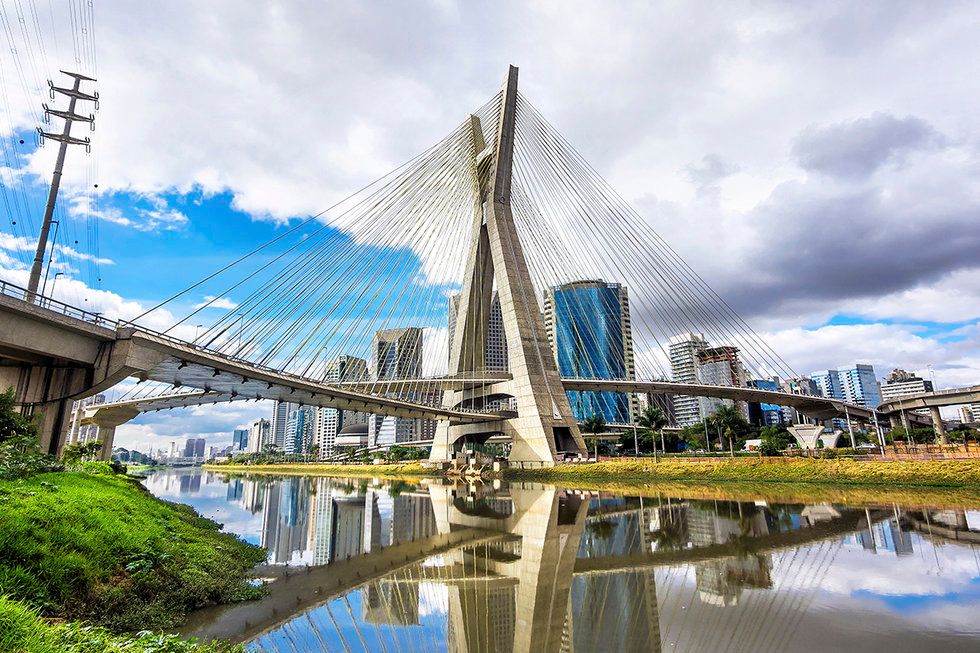 São Paulo
With 12 million people, São Paulo is the Western Hemisphere's most populous city, boasting more residents than New York City and even Mexico City. But that's not the only reason to visit. It's a must-see global city because of what the diverse, relatively affluent population has built — many of South America's finest museums, architecture, culture and more.
Several museums are found in the old city center. Walking distance apart are a neoclassical Brazilian art museum (The Pina), a neo-Byzantine cathedral and a Belle-Epoque covered marketplace. Elsewhere in the city are the São Paulo Museum of Art, boasting the largest collection of Western art in the Southern Hemisphere, and Museu Paulista, a colossal history museum surrounded by Versailles-inspired gardens at the University of Sao Paulo. Every Saturday, live samba music is played in many of the city's bars, but the place to experience this is at Bar Samba in Vila Madalena. And when you're hungry, it's good to know the restaurants are the best in Brazil, especially in the Jardins district. Among them are countless sushi spots and pizzerias, thanks to a vast population of Japanese and Italian immigrants and descendants.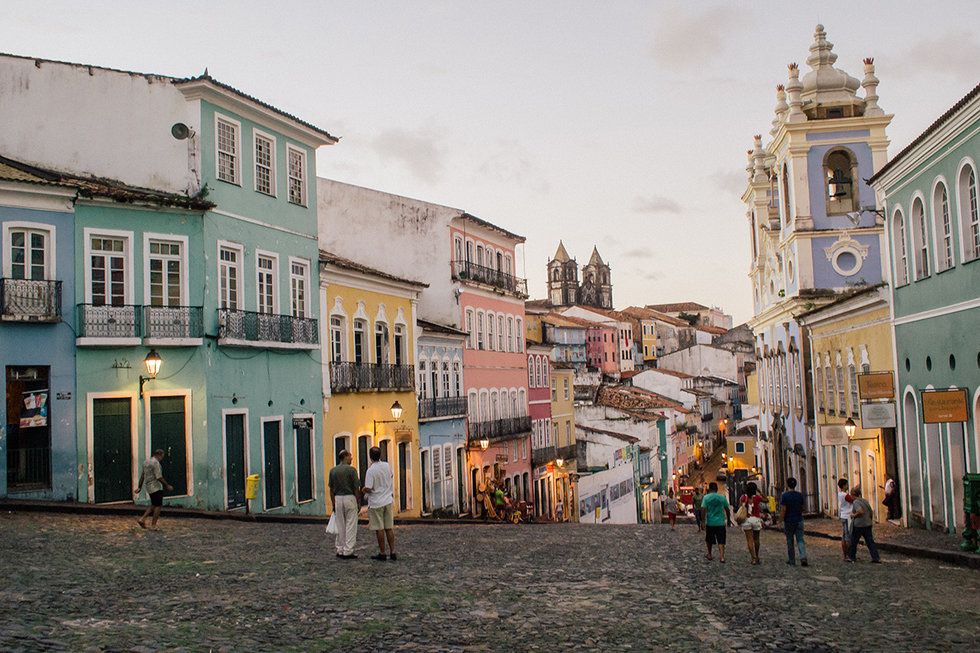 Salvador
Among the major cities on Brazil's northern coast, none offer as much to visitors as Salvador, the original capital city of Brazil. This city of three million has stunning beaches, superb restaurants and bars, plus an historic city center (Pelourinho — a UNESCO Cultural Heritage Site) that dates to the 16th-century dawn of the city.
Similar to Rio, almost everything worth experiencing in Salvador is on the water or close by, starting with beaches on the Bay of All Saints and Atlantic Ocean — ideal for swimming, surfing and sunbathing. Also found near the shore is the Elevador Lacerda (the world's first elevator—now a tourist attraction) and many museums devoted to South American, modern and decorative art. Also found in the Old City nearby are more museums, six cobblestone squares and a 17th-century cathedral. Many of Salvador's restaurants serve Afro-Brazilian food, a relic of the city's past.
Practicalities
All three of these Brazilian cities are closer to the equator than Miami, so expect balmy year-round temperatures that almost always hover in the seventies and eighties. The only months to avoid are the rainy season: December to February in Rio and Sao Paulo; April to June in Salvador. Transportation in all three cities is easy via Uber, buses and subways. Don't bother with pricey taxis or rental cars. And while in Brazil, be sure to try the national beverages — Brazilian coffee by day, caipirinhas by night.
If you go
United Airlines offers flights to Rio de Janeiro and São Paulo from numerous U.S. cities, including nonstop flights from Houston Intercontinental to Rio de Janeiro and nonstop flights from Chicago O'Hare, Houston Intercontinental, New York/Newark and Washington Dulles to São Paulo. Salvador is served by Star Alliance partner Avianca Brasil, with frequent flights from Rio de Janeiro and São Paulo. You can also get to any of these three cities via one of our partner airlines, Azul Brazilian Airlines. MileagePlus® Rewards can help pay for your hotel room. In addition, before you go make sure to submit the proper documentation to receive a tourist visa. Go to united.com or use the United app to plan your Brazilian adventure.
If you can't get to Mars, what's the next best thing? Apparently Iceland. A team of renowned explorers and researchers recently journeyed to Iceland to test a Mars analog suit in a Martian-like environment.
The United sponsored expedition, led by The Explorers Club — an internationally recognized organization that promotes the scientific exploration of land, sea, air and space — and in partnership with Iceland Space Agency, involved the team venturing inside the Grímsvötn volcano and across the Vatnajökull ice cap. The group traveled to the remote location and lived for six days in the Grímsvötn Mountain Huts and endured harsh weather conditions and unstable terrain.
Helga Kristin Torfadöttir, Geologist and glacier guide, using the LiDAR system to map the ground and test the suit's capabilities on the glacier.
The objective of the mission was to explore the potential of concept operations at the Grímsvötn location while testing the suit in an arctic environment similar to what would be found on the surface of Mars. "This mission was an important test of the design of the MS1 suit, but it was also incredibly helpful to understand the how to conduct these sorts of studies in Iceland," said Michael Lye, MS1 designer and NASA consultant and RISD professor. "No matter how thoroughly something is tested in a controlled environment like a lab, studying it in a setting that accurately represents the environment where it will be used is absolutely essential to fully understand the design."
The suit was designed and constructed by faculty and students at the Rhode Island School of Design (RISD) with input and guidance from members of the HI-SEAS IV crew and NASA's Johnson Space Center Space Suit Engineering team. At 50-60 lbs, the suit is similar to what a planetary exploration suit would weigh in Martian gravity. The suit was originally designed to be used in the warm climate of Hawaii, however the martian climate is much closer to what would be found on top of the glaciers in Iceland. The data collected will inform the future of habitat and spacesuit design that can be used to train astronauts on Earth.
Today, we remember the colleagues, customers and every single victim of the terrorist attacks of Sept. 11, 2001.
I know each of us in the United family marks this difficult moment in our own way. Still, we all share a common commitment to honor how our brothers and sisters left us and also celebrate what they gave to us during their lives. We remember their professionalism and heroism. We cherish their camaraderie and friendship. We carry with us the examples they set forth, especially in the heroism and bravery displayed by so many on that terrible day. Above all, we understand a simple truth: While thousands of our fellow human beings lost their lives in New York City, Arlington and Shanksville, the attacks of September 11th were aimed at all people of peace and good will, everywhere. They were attacks on the values that make life worth living, as well as the shared purpose that make us proud of what we do as members of the United family: connecting people and uniting the world.
We may live in times scarred by discord and disagreement, and we know there are those around the world who seek to divide us against one another. But, on this day – above all – we come together, as one. We affirm our core belief that far, far more unites us as citizens and fellow human beings than can ever divide us.
Let us embody that belief as we go about serving our customers and one another – on this day and every day – as we continue to help building a world that's more united. Let that be our memorial to the sisters and brothers we lost, eighteen Septembers ago.
Humbly,
Oscar
A team of search and rescue experts from Empact Northwest departed Newark International Airport (EWR) this morning for Nassau (NSA), the capital of the Bahamas to help meet the pressing need for search and rescue services identified by Bahamian Prime Minister Hubert Minnis in the aftermath of Hurricane Dorian. The Empact Northwest team worked with Airlink, a rapid-response humanitarian relief organization that connects airlines with non-governmental organizations (NGOs), that respond quickly and efficiently in the wake of major disasters.
"We can't thank United enough for allowing us to jump out of the gate right away to aid people devastated by this storm," said Airlink Strategic Advisor Emily Sperling. "Search and rescue, medical care, temporary shelter, food and access to potable water are among the most immediate and pressing needs identified in the region. United's assistance is critical in ensuring that groups like Empact Northwest join others, including Mercy Corps, ADRA, and Heart to Heart International in fulfilling those most basic needs."
Airlink notes that our assistance enables two types of first responders to arrive quickly: those with specialized response capabilities like search and rescue, as well as assessment teams, who identify the most pressing needs and establish partnerships quickly to distribute supplies more efficiently once they are on the ground in country. Our partnership is felt long after the initial outreach after a disaster, too, according to Ms. Sperling. "After Irma and Maria hit the Caribbean in 2017, we received requests to transport relief workers a year or two later, to provide training and rebuilding assistance to help these communities develop future resilience," she said. The partnership also helps move responders into place to assist U.S. East Coast communities in the path of this tremendous storm.
You can join us in our disaster relief efforts by donating to our Crowdrise fundraising page here.

Scroll to top