How to celebrate the moon landing's 50th anniversary
Story by Susan B. Barnes • Hemispheres July 2019
10 ways to commemorate Neil Armstrong's giant leap for mankind.
10. Walk like an astronaut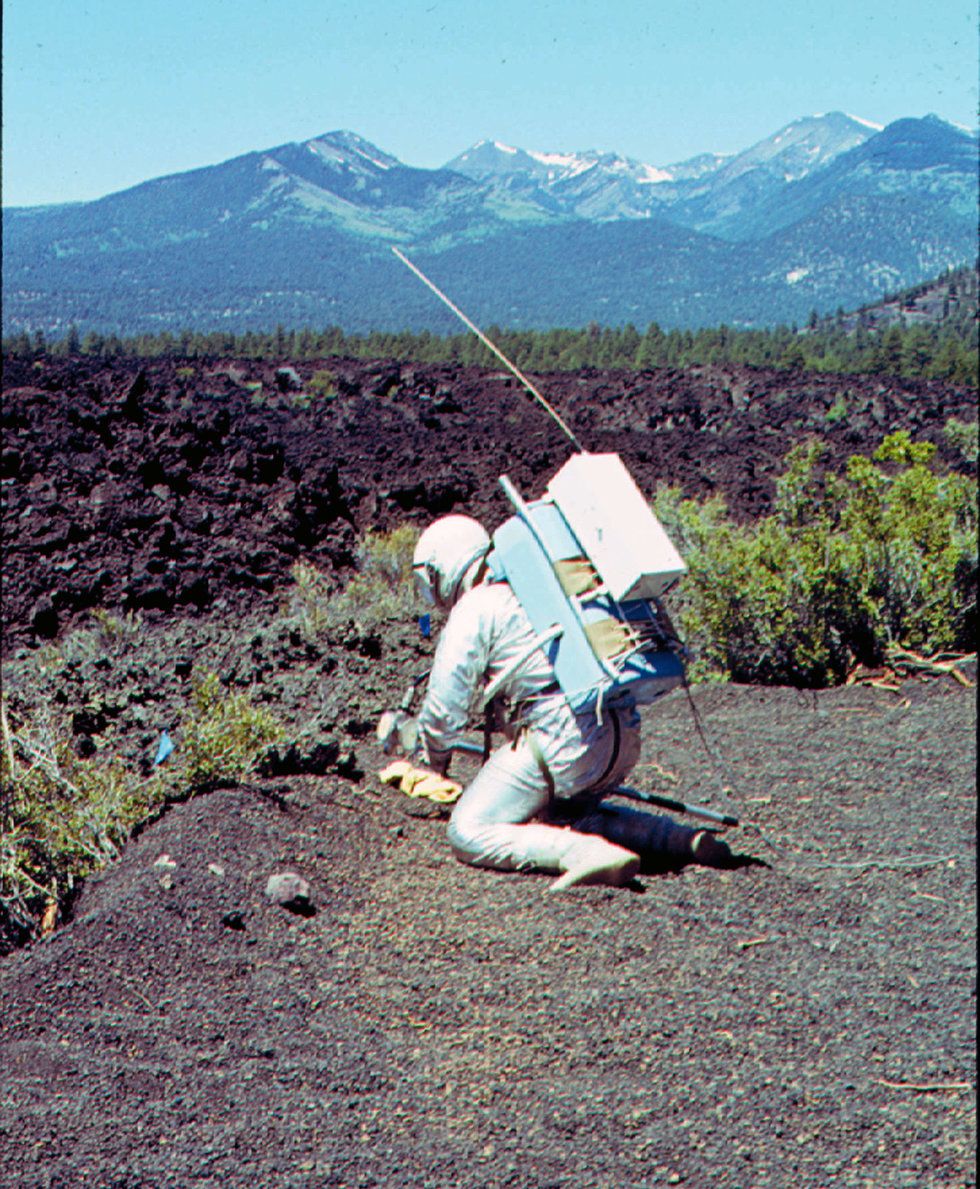 Long before liftoff, all of the astronauts who would walk on the surface of the Moon trained in the desert and forest around Flagstaff, Arizona, from 1963 to 1972. Join a three-hour guided hike through the Bonito Lava Flow in Sunset Crater Volcano National Monument to experience firsthand the places where the astronauts learned to drive the Lunar Roving Vehicle (or moon buggy) and to pick up tiny pebbles while wearing clumsy space-suit gloves.
9. Cheers to 50 years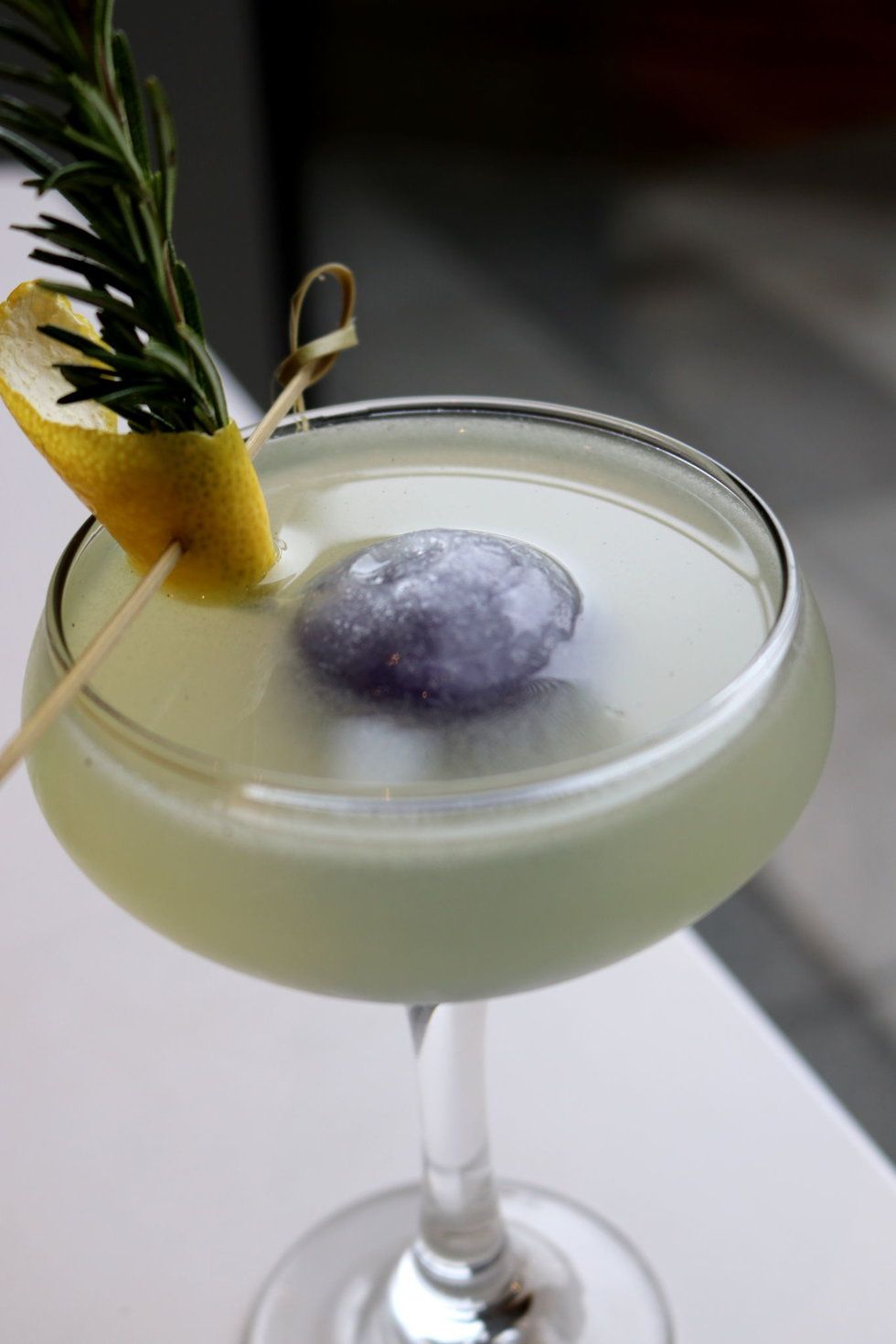 Sommelier and mixologist Sean Beck developed a trio of cocktails for three Houston restaurants to celebrate the milestone. "I'm a history buff and always enjoyed the study of space," he says, "so it was easy to find inspiration for such a monumental event." At Xochi, his Tranquility Base Margarita features a moon rock–inspired ice sphere made from crème de violette and Oaxacan poléo tea. The "moon" also appears in Backstreet Café's We Came in Peace for All Mankind (pictured), a riff on the classic Last Word cocktail that's named for the final sentence on the plaque placed on the moon. Finally, at Caracol, the Michael Collins Remembered is an ode to the third Apollo 11 member, who stayed on the command module during the moon walk. "Michael Collins was quite simply the loneliest man in the universe when he was on the far side of the moon, out of communication and view of our planet," Beck says. "He doesn't get nearly enough attention. When I think of him, I think of being crazy-brave, passionate, and so calm and in control." The spin on an old-fashioned captures Collins's passion through the use of Glenfiddich Fire & Cane Whisky and is served with an ice cube studded with toasted blue corn kernels, which hover in the drink like little moon rocks.
8. Party like it's 1969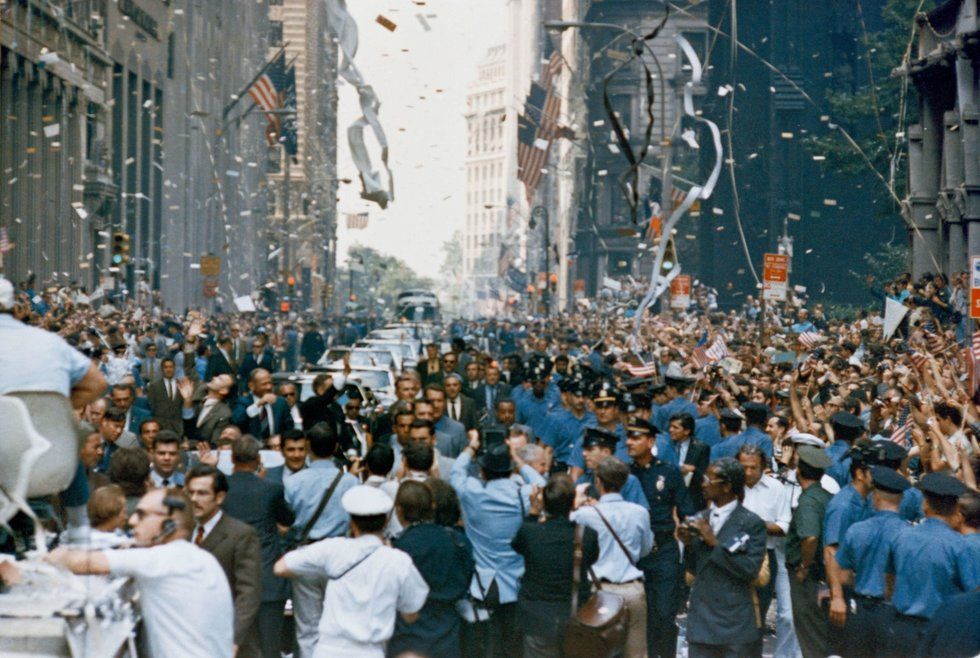 "As we approach the 50th anniversary of the Apollo 11 mission, I am still in awe by the fact that I walked on the moon," Buzz Aldrin recently said. He and a slew of other astronauts—along with the retired Air Force One that carried the Apollo 11 crew on a post-mission world tour—will appear at the "black-tie/white-spacesuit" gala at the Ronald Reagan Presidential Library in Simi Valley, California, on July 13. In Washington, D.C., meanwhile, the Smithsonian National Air and Space Museum will hold its culminating celebration on July 20 at 10:56 p.m. (the exact time Armstrong's foot touched the moon). And Space Center Houston will cap its festivities with a '60s-themed Splashdown party on July 24 to honor the successful return of Armstrong, Aldrin, and Collins, whose command module floated down to the Pacific Ocean with the help of three enormous parachutes.
7. Where to see moon memorabilia
Smithsonian National Air and Space Museum, Washington, D.C.
Thanks in part to a Kickstarter campaign, Armstrong's Apollo 11 spacesuit goes back on display on July 16, for the first time in 13 years.
The Museum of Flight, Seattle
The command module Columbia is the centerpiece of the exhibit Destination Moon: The Apollo 11 Mission (through September 2), which features a 3-D tour of the module's interior made with high-resolution scans from the Smithsonian.
Kennedy Space Center Visitor Complex, Merritt Island, Florida
The newly refreshed Apollo/Saturn V Center houses one of the three remaining Saturn V rockets, which propelled the Apollo 11 crew into space, and the Astrovan, which transported them to the launch pad.
6. Hop onto a spacecraft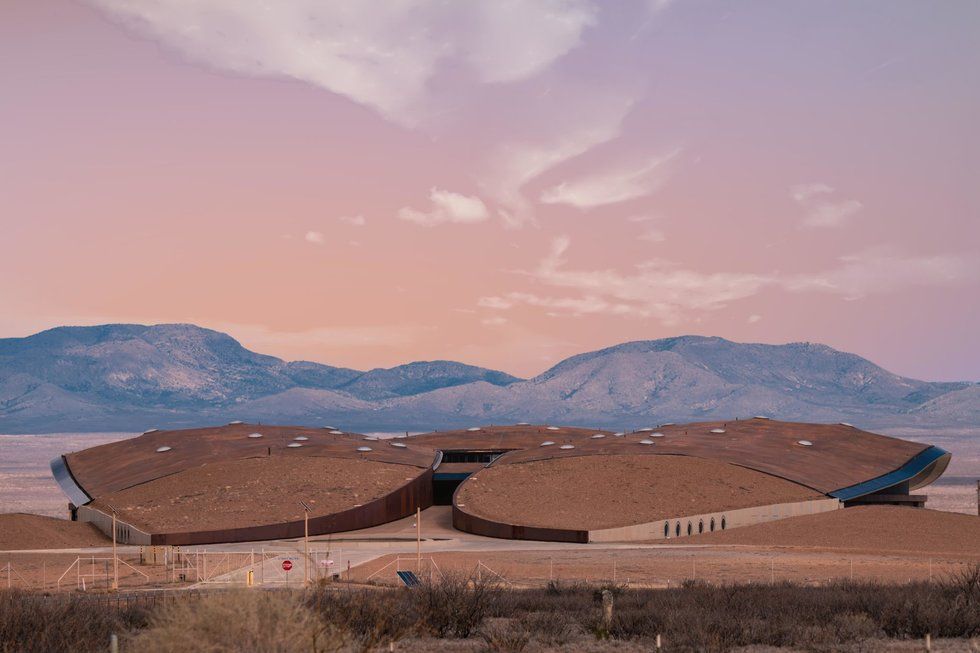 Although space tourism is still a thing of the future, more than 700 people have reportedly already signed up for a $250,000 commercial flight into orbit that will eventually blast off from the sleek Spaceport America, deep in the New Mexico desert. Until then, check out the Spaceport America Visitor Center, which is housed in a historic adobe building in nearby Truth or Consequences, to test your mettle in a G-force simulator—the perfect training for young space lovers who might be celebrating the 50th anniversary of the Mars landing in the not-too-distant future.
5. Houston, we have restoration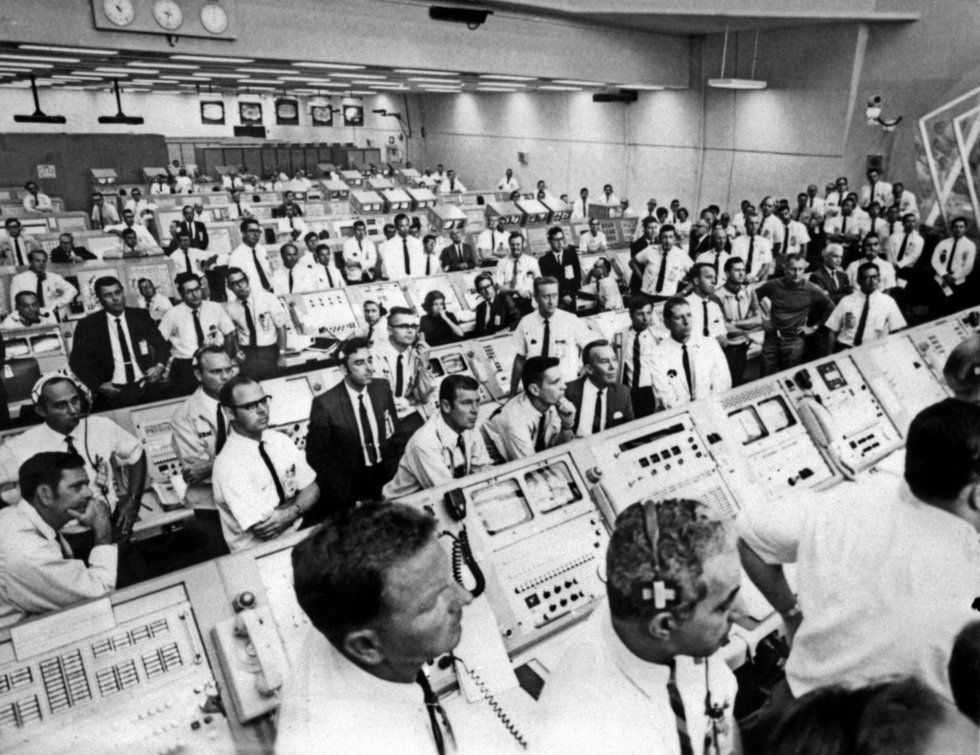 On June 28, Space Center Houston and Johnson Space Center debuted a totally restored—down to the last scrap of wallpaper and carpet—Apollo Mission Control Center. The goal? If a scientist who worked there in the 1960s arrived today, he or she wouldn't be able to tell the difference.
"[The restoration] will not only help share our history with visitors from around the world," says Jim Thornton, the restoration project manager, "but also remind our current employees who are planning missions to send humans back to the moon and then further, to Mars, that anything is possible, and we are standing on the shoulders of giants."
The museum took every detail into account: After workers uncovered original wallpaper and carpeting, curators tracked down the manufacturers and had them replicate the 1960s look. They also hand-stamped the ceiling tiles with original patterns and ordered a period-appropriate coffee pot on eBay.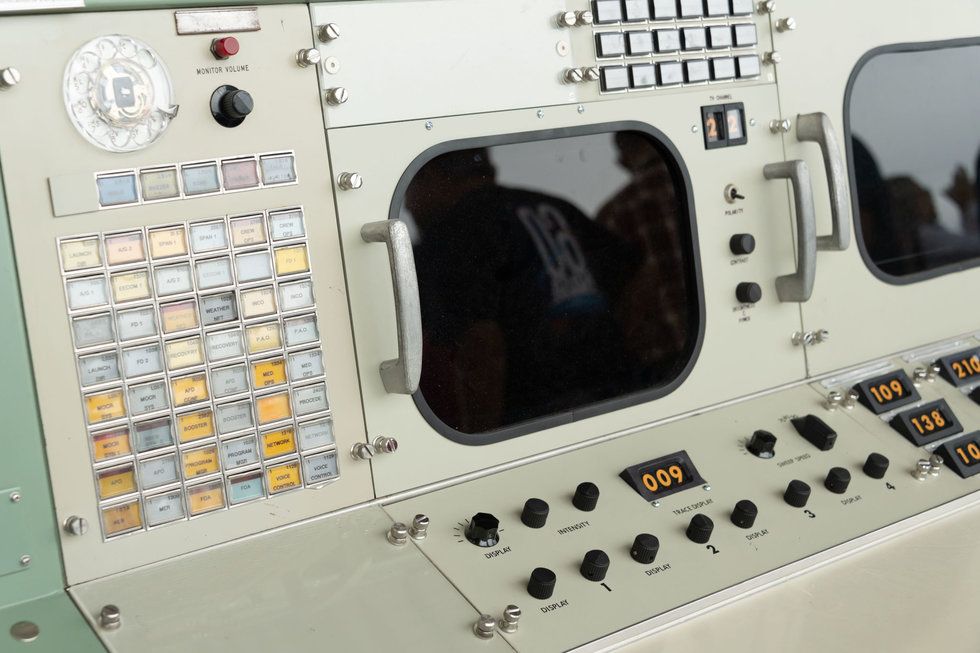 "We're using modern methods to make things look old," says historic preservation officer Sandra Tetley. The original flip tops on the Visitors Viewing Room ashtrays, for instance, had vanished over the years—likely taken as souvenirs—so Tetley's team had new ones 3-D printed. Meanwhile, a team at Kansas's Cosmosphere is restoring the flight control consoles to the original Apollo configuration (they had been modernized for space shuttle launches). These updates have a purpose beyond aesthetics, says Space Center Houston president and CEO William T. Harris: "The accomplishments of the Apollo era inspired people and spurred innovators to chase impossible dreams. We hope experiencing the restored historic Mission Control will spark curiosity and fuel people of all ages to join the science, technology, engineering, and math pathway."
4. Kids in space
This summer, let your budding astronauts get in on the action. During Discover the Moon Day (July 19) at the Smithsonian National Air and Space Museum in D.C., visitors can follow a route that's roughly the distance the Apollo 11 crew walked on the moon (about 3,300 feet), stopping at informational stations along the way. On July 20 at the Cosmosphere in Hutchinson, Kansas, kids can sketch their own space-suit designs and make suit components from household materials. And Denver's Wings Over the Rockies Air & Space Museum hosts an Apollo-palooza (July 13–20) with speakers such as NASA flight director Gene Kranz, who was played by Ed Harris in Apollo 13.
3. Shoot the moon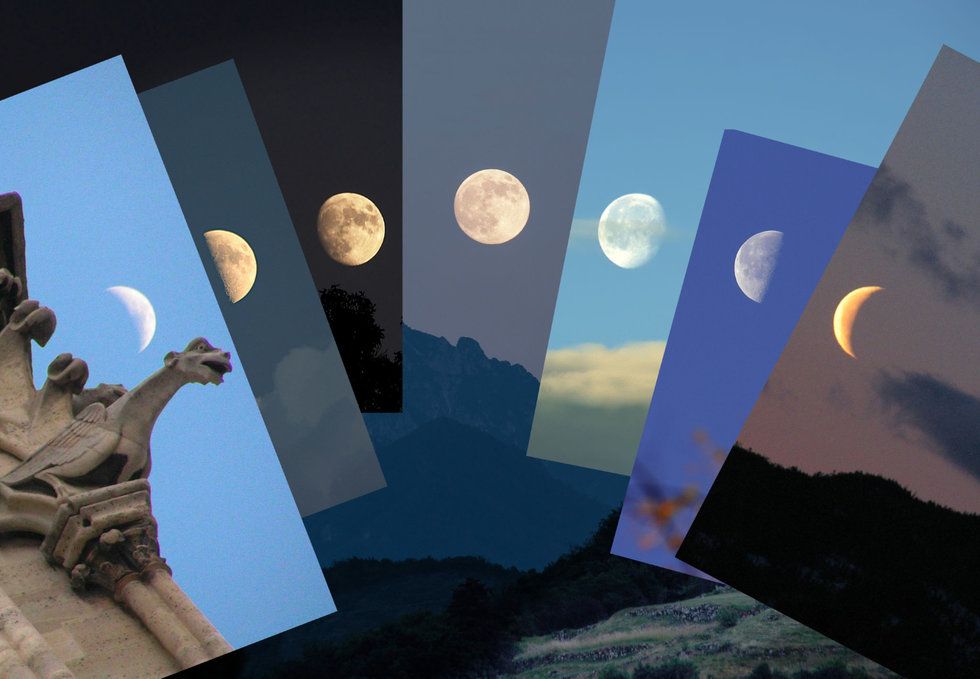 The moon has served as a muse since the earliest days of both art—the 15,000-year-old Lascaux cave paintings contain a lunar calendar—and photography. Two newly discovered 1840s daguerreotypes, believed to be the earliest existing photographic images of the moon, form the centerpiece of Apollo's Muse (through September 22) at New York's Metropolitan Museum of Art, which is also displaying cameras used by the Apollo crew. At the National Gallery of Art in Washington, D.C., By the Light of the Silvery Moon (through January 5, 2020) includes glass stereographs taken more than a century apart: some captured by British astronomer Warren De La Rue in the 1850s, others by Armstrong and Aldrin on the surface of the moon in 1969. Finally, the Museum of Fine Arts, Houston's Shooting the Moon (through September 2) includes works by Ansel Adams, Garry Winogrand, and "remix artist" Cassandra C. Jones (pictured).
2. Lunch with an astronaut
An out-of-this-world experience—with an otherworldly price tag that starts at $10,000—awaits at The Post Oak Hotel at Uptown Houston. The two-night Space Center Houston Package includes travel via helicopter to Ellington Field (a former NASA training center), a private tour of Johnson Space Center, and a private lunch with an astronaut. Afterward, return to earth with the hotel's Ritual of Five Worlds treatment.
1. ...We have liftoff
Huntsville, Alabama—aka Rocket City—is the home of the Saturn V rocket. To honor its place in history, the city's U.S. Space & Rocket Centeris launching a record 5,000 model rockets at the exact local time of liftoff, 8:32 a.m., on July 16. The organization has also tasked everyday space lovers with launching their own model, stomp, and makeshift rockets and posting photos with the hashtag #GlobalRocketLaunch.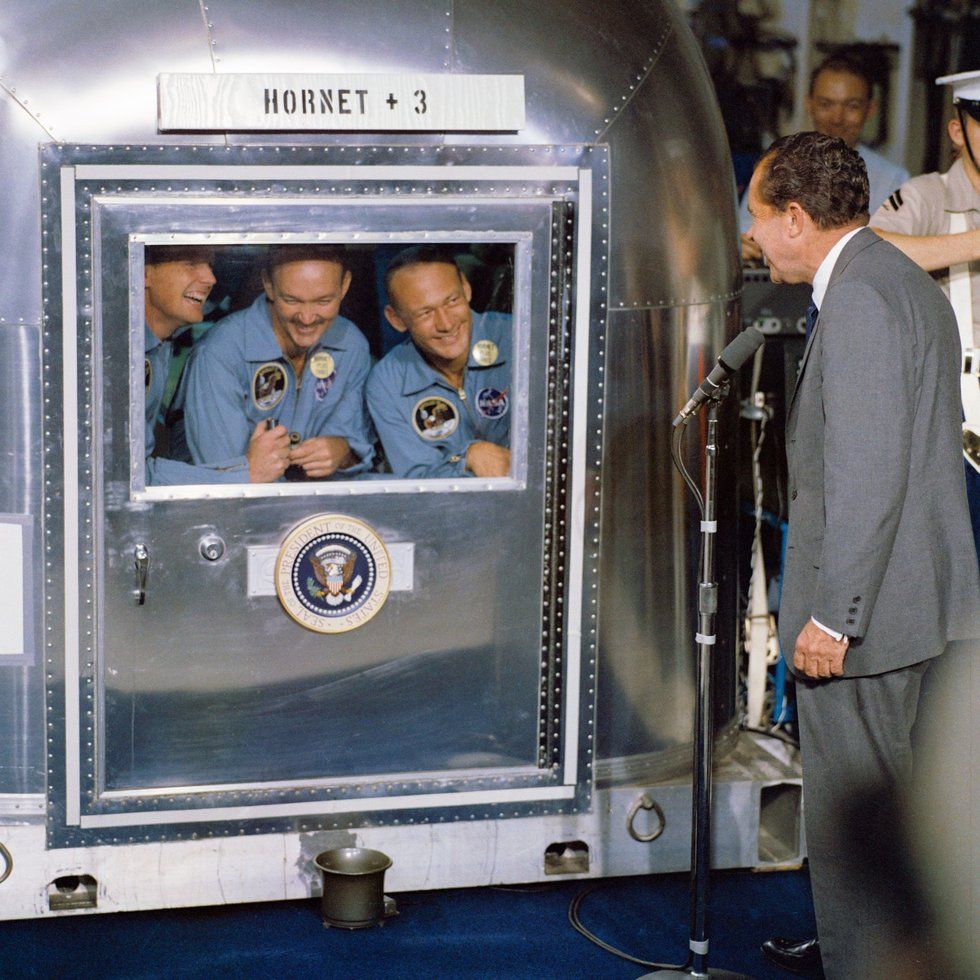 We will continue building out our already expansive route network next year, adding flights to some attractive leisure destinations in the United States and the Caribbean.
Our hometown hub, Chicago O'Hare International Airport, will be the beneficiary of three of those new routes, which include Santa Barbara, California; Pasco, Washington; and Vail, Colorado. Rounding it out, United will add service from Denver to Nassau, Bahamas, and from Houston to Spokane, Washington. Tickets for all of these destinations are on sale now.
The Denver-Nassau route will begin on March 7, 2020, followed by Chicago-Santa Barbara, Chicago-Pasco, Chicago-Vail and Houston-Spokane on June 4. When that time comes, United will be the only airline offering nonstop service between Denver and Nassau and Chicago and Pasco.
All of these routes will open up a world of connection possibilities for customers living in each market. They'll also be scheduled to give flyers optimal arrival and departure time options. For instance, a passenger going from Chicago to Santa Barbara will have a flight option that departs O'Hare at 7:45 p.m. local time, arriving at Santa Barbara Airport at 10:30 p.m. That's ideal for business travelers.
"We want to offer customers the very best schedule, the best network and the most flight options in the industry," said Ankit Gupta, United's vice president of Domestic Network Planning.
The Boeing 737-800 aircraft will serve the Denver-Nassau route. Passengers going from Chicago to Santa Barbara and from Chicago to Vail will fly on the 737-700. United's 76-seat Embraer 175 aircraft, equipped with United First, Economy Plus and United Economy class seats, will operate on the Chicago-Pasco and Houston-Spokane routes.
You'll find flight times and additional details in the grid below. For more information and to book your tickets, visit
united.com
or download the United mobile app.
Depart

Arrive

Frequency

Duration

Chicago (ORD)

7:45 p.m.

Santa Barbara (SBA)

10:30 p.m.

Daily

Year-round

SBA

11:20 p.m.

ORD

5:20 a.m.

Daily

Year-round

ORD

8:00 p.m.

Pasco (PSC)

10:24 p.m.

Daily

Year-round

PSC

11:38 p.m.

ORD

5:20 a.m.

Daily

Year-round

ORD

4:00 p.m.

Vail/Eagle (EGE)

5:54 p.m.

Daily

Summer seasonal

(June 4 through September 6, 2020)

EGE

9:00 a.m.




ORD

12:45 p.m.

Daily

Summer seasonal

(June 4 through September 7, 2020)

Denver (DEN)

9:56 a.m.

Nassau (NAS)

4:00 p.m.

Once a week on Saturdays

Year-round

(with a break from mid-August through late-October)

NAS

11:37 a.m.

DEN

2:43 p.m.

Once a week on Saturdays

Year-round

(with a break from mid-August through late-October)

Houston (IAH)

9:32 p.m.

Spokane (GEG)

11:32 p.m.

Daily

Summer seasonal

(June 4 through August 17, 2020)

GEG

11:55 p.m.

IAH

6:17 a.m.

Daily

Summer seasonal

(June 4 through August 17, 2020)
Right now, around the world, brave members of America's armed forces are on duty, defending our freedom and upholding our values.
When not laser-focused on the mission at hand, they're looking forward to the day when their service to our nation is fulfilled and they can reunite with their families.
They are also imagining how they can use their hard-earned skills to build an exciting, rewarding and important career when they return home.
I want them to look no further than United Airlines.
That's why we are focused on recruiting, developing and championing veterans across our company, demonstrating to our returning women and men in uniform that United is the best possible place for them to put their training, knowledge, discipline and character to the noblest use.
They've developed their knowledge and skills in some of the worst of times. We hope they will use those skills to keep United performing at our best, all of the time.
That's why we are accelerating our efforts to onboard the best and the brightest, and substantially increasing our overall recruitment numbers each year.
We recently launched a new sponsorship program to support onboarding veterans into United and a new care package program to support deployed employees. It's one more reason why United continues to rank high - and rise higher - as a top workplace for veterans. In fact, we jumped 21 spots this year on Indeed.com's list of the top U.S workplaces for veterans. This is a testament to our increased recruiting efforts, as well as our efforts to create a culture where veterans feel valued and supported.
We use the special reach and resources of our global operations to partner with outstanding organizations. This is our way of stepping up and going the extra mile for all those who've stepped forward to answer our nation's call.
We do this year-round, and the month of November is no exception; however, it is exceptional, especially as we mark Veterans Day.
As we pay tribute to all Americans who have served in uniform and carried our flag into battle throughout our history, let's also keep our thoughts with the women and men who are serving around the world, now. They belong to a generation of post-9/11 veterans who've taken part in the longest sustained period of conflict in our history.

Never has so much been asked by so many of so few.... for so long. These heroes represent every color and creed. They are drawn from across the country and many immigrated to our shores.

They then freely choose to serve in the most distant and dangerous regions of the world, to protect democracy in its moments of maximum danger.
Wherever they serve - however they serve - whether they put on a uniform each day, or serve in ways which may never be fully known, these Americans wake up each morning willing to offer the "last full measure of devotion" on our behalf.
Every time they do so, they provide a stunning rebuke to the kinds of voices around the world who doubt freedom and democracy's ability to defend itself.
Unfortunately, we know there are those who seem to not understand – or say they do not - what it is that inspires a free people to step forward, willing to lay down their lives so that their country and fellow citizens might live.
But, we – who are both the wards and stewards of the democracy which has been preserved and handed down to us by veterans throughout our history – do understand.
We know that inciting fear and hatred of others is a source of weakness, not strength. And such divisive rhetoric can never inspire solidarity or sacrifice like love for others and love of country can.
It is this quality of devotion that we most honor in our veterans - those who have served, do serve and will serve.
On behalf of a grateful family of 96,000, thank you for your service.
Humbly,
Oscar
Each year around Veterans Day, Indeed, one of the world's largest job search engines, rates companies based on actual employee reviews to identify which ones offer the best opportunities and benefits for current and former U.S. military members. Our dramatic improvement in the rankings this year reflects a stronger commitment than ever before to actively recruiting, developing and nurturing veteran talent.
"We've spent a lot of time over the past 12 months looking for ways to better connect with our employees who served and attract new employees from the military ranks," said Global Catering Operations and Logistics Managing Director Ryan Melby, a U.S. Army veteran and the president of our United for Veterans business resource group.
"Our group is launching a mentorship program, for instance, where we'll assign existing employee-veterans to work with new hires who come to us from the armed forces. Having a friend and an ally like that, someone who can help you translate the skills you picked up in the military to what we do as a civilian company, is invaluable. That initiative is still in its infancy, but I'm really optimistic about what it can do for United and for our veteran population here."
Impressively, we were the only one of our industry peers to move up on the list, further evidence that we're on a good track as a company.
Scroll to top