Celebrating Hispanic Heritage Month
To celebrate Hispanic Heritage Month — recognized nationwide from September 15 to October 15 — we're highlighting the extraordinary impact of Hispanic Americans on our nation, starting close to home with our more than 13,000 Hispanic colleagues at United.
As part of our festivities, we're showcasing the stories of a few of our Hispanic employees, who were nominated by their colleagues as rock stars. In addition to their personal or professional achievements, these employees were selected because of the significant contributions they've made to United by going above and beyond to help our customers, their fellow colleagues, and the communities we serve, thrive. Whether donating their time volunteering for a worthy cause, leveraging their unique perspective to address a critical business challenge or helping foster an inclusive culture, they make United a better place to work. Let's get to know them better here.
Gabriel Vaisman
Captain Gabriel (Gabe) Vaisman, based in Houston, has been part of the United family for over 34 years. As a native of Argentina who immigrated to the U.S. with his family at a young age, Gabe faced multiple challenges during his school years, including financial struggles and learning a new language. However, with discipline and determination, and even working two jobs in high school, he was able to obtain his commercial pilot's license and multi-engine rating at the age of 18. He quickly moved up the ladder and landed his first job at United in 1985, where he continued to move up and became a captain for our Boeing 737 fleet 22 years ago. When he is not busy flying customer to their destinations, you can find Gabe visiting children hospitals as part of his volunteering efforts with the Pilots For Kids organization in Houston. For the past 14 months, he has also served on the board of Lone Star College, acting as an advisor for their professional pilot degree program and inspiring a new generation of pilots.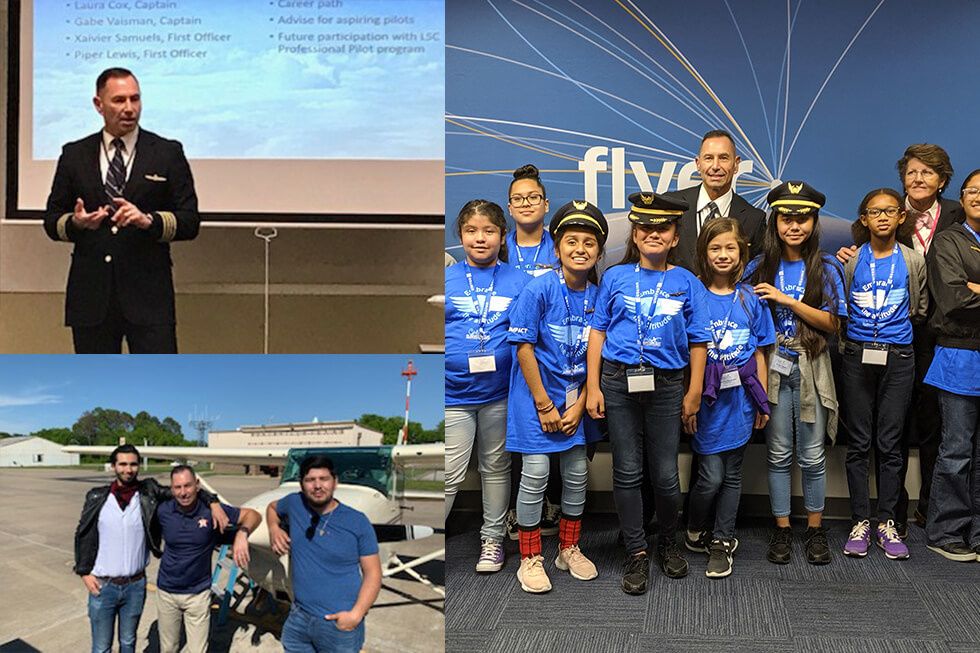 Gabe pictured at a lecture at Lone Star College (LSC), with LSC students, and at one of our recent events for Girls in Aviation Day.
"All the volunteer work I do has helped change one life at a time, and I hope that my career story inspires anyone who feels hopeless with no way out of their current situation. The message I always try to leave with young people is that no matter what career you choose, you will have to sacrifice time and maybe give up a few good times with your friends to accomplish what you are pursuing."

Vania Montero Wit
The daughter of Bolivian immigrants, Vania earned her law degree from Harvard University and joined United's legal department 20 years ago. Throughout the years, Vania Montero Wit has advanced to become one of the key leaders of United's legal department as vice president and deputy general counsel. As one of the highest-ranking Latinas at United, Vania represents a crack in the glass ceiling for Hispanic women in corporate America. Despite the heavy demands of her job, Vania is very generous with her time, serving as executive sponsor for uIMPACT, a business resource group supporting women at United, and has given career advice to employees as a panelist for UNITE, United Airlines multi-cultural business resource group. She has made a positive impact in the community as Chair of the legal department's Pro Bono and Community Service Committee, where she even took on and won an asylum case. Vania's compassion for others and continued support of the company's diversity-and-inclusion initiatives make her a role model for both Hispanics and non-Hispanics alike.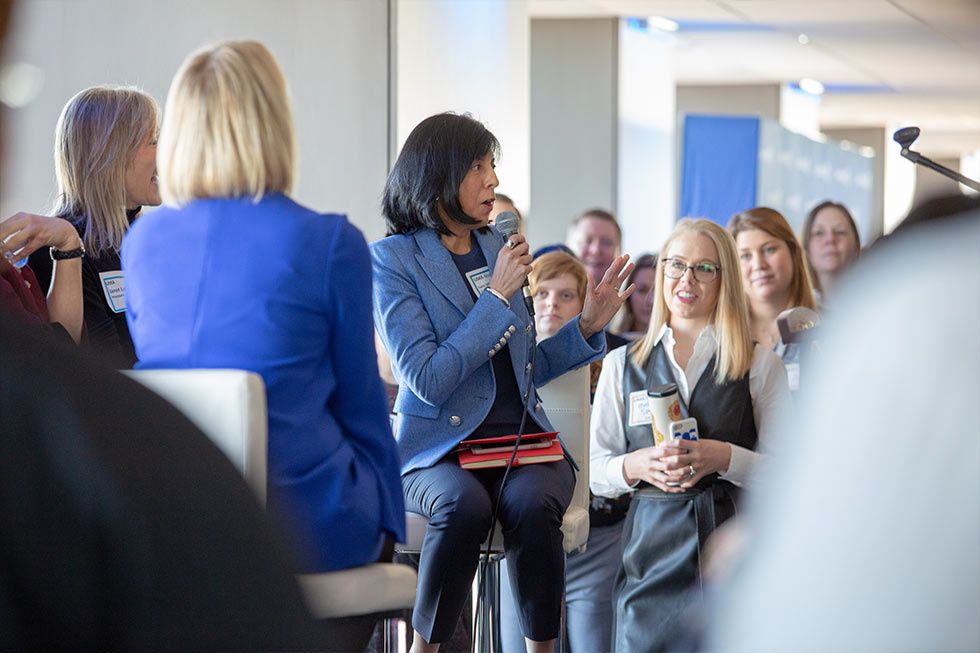 Vania (center) speaking at a leadership event at United.
" As a working Latina woman, I strive to be a role model for any and all who are working in a corporate environment and struggling to find their voice or simply looking to make connections and expand their network. My long tenure at United has afforded me a range of experiences and teaching moments all of which I am happy to share with others."

Katherine Gil Mejia
Katherine Gil Mejia is a human resources representative for United Ground Services in at New York/Newark. A native of the Dominican Republic who moved to the U.S. only 8 years ago, she joined United shortly after at the young age of 19. With her work ethic and drive, she quickly became a go-to-person for many departments offering assistance or guidance when needed. Katherine never hesitates to step in and translate for customers or colleagues that are struggling with a language barrier, and she does so while providing amazing customer service. Katherine's knowledge of United — as well as her caring and friendly personality — have earned her the trust and respect of her colleagues. Katherine also has a passion for helping others, giving back, and making a difference in the community. She always offers to volunteer during United Airlines Fantasy Flights, and when she can, she also takes the time to bring Ben Flying bears to kids at hospitals.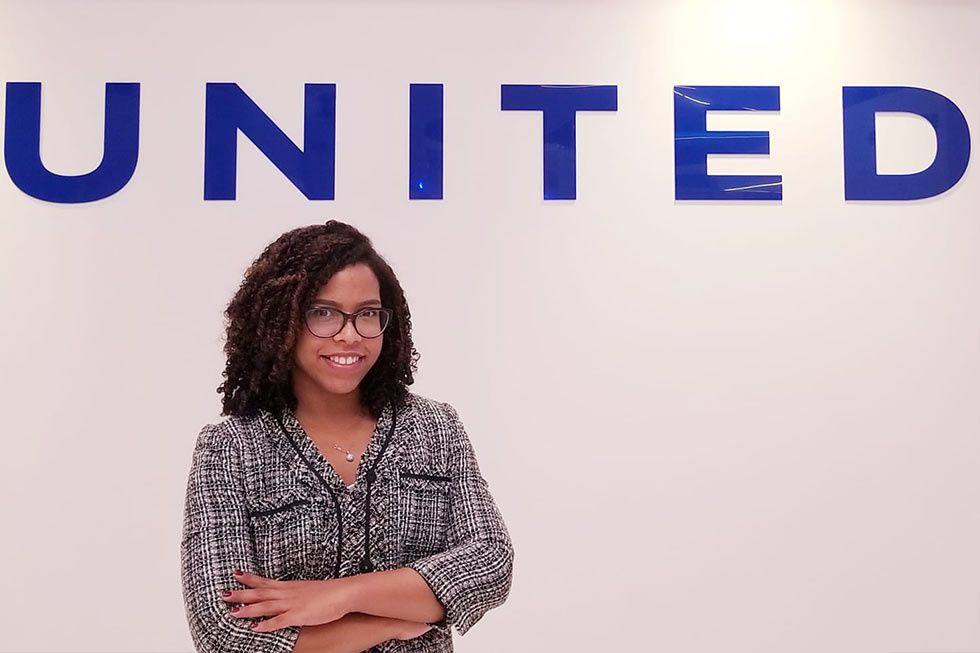 Katherine in Newark.
"I know the language barrier for some employees can play a role in potential miscommunication. I often put myself in their shoes and try to relate. My upbringing in Dominican Republic taught me to work and trust my neighbors, community and family. It was natural to bring that trust mentality into work with my colleagues and employees. I believe that is what makes me successful in HR."

Antonio Valentin
Antonio (Tony) Valentin has been working as a ramp service employee at Chicago O'Hare for three years. He's earned the respect of his colleagues by going above and beyond and always stepping in to help both colleagues and customers alike. It's not rare to find him around the terminal translating for Spanish-speaking customers and helping them find their ways to their gates. Tony's caring personality shines beyond the airport in all the volunteering work he does in the local community, especially in the Chicago Humboldt Park area, and in the work he has done as lieutenant commander in the U.S. Coast Guard, including his deployment to Puerto Rico where he assisted with relief effort after Hurricane Maria.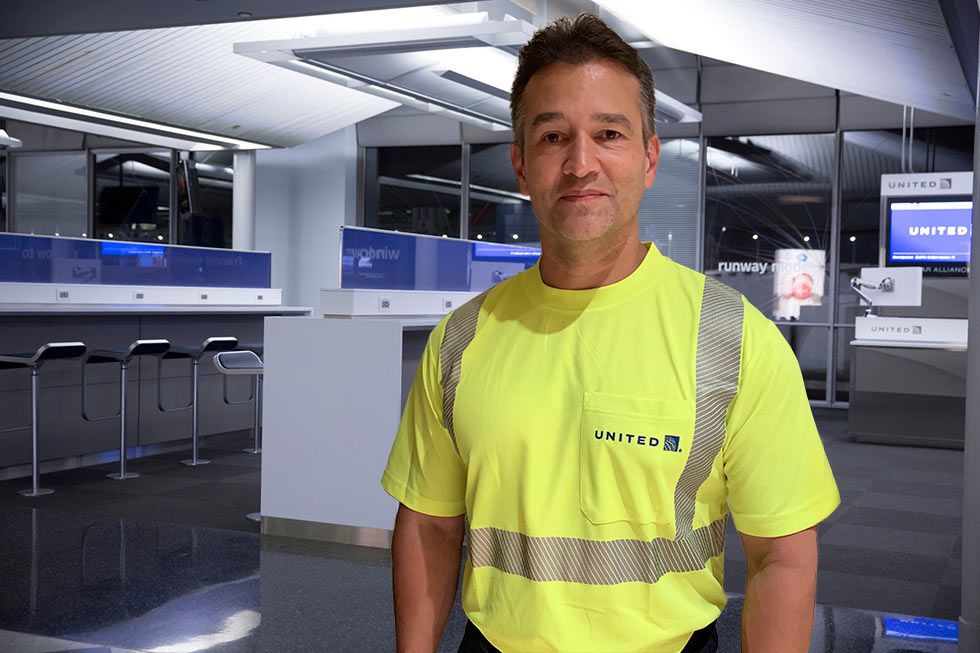 Antonio at Chicago O'Hare.
"I've always had a passion for helping people and I truly believe that being a good person is equal to being successful. As a prior educator, I am always encouraging members of RSE (ramp service employees) to return to school and to live their lives as lifelong learners."

Sylvia Gomez
Sylvia Gomez is the daughter of Mexican immigrant parents that moved to the U.S. in 1960. At the age of 5, her family moved back to Mexico so they could build strong connections with their heritage and culture. They eventually returned to the U.S. in pursuit of a better education, as her father believed that education was the key to success. The move back to the U.S. was not easy, but it gave Sylvia the opportunity to understand two different cultures, which has been instrumental in her career. She recently celebrated 30 years at United, where she currently serves as managing director of IT Infrastructure Program Management. Sylvia has been making a mark in the company with her efforts to pass forward her experience and knowledge, and she spends a great amount of her time mentoring United employees. She is currently mentoring five young women, and she also makes sure to stay in touch with previous mentees to make sure they are still on a path toward success. She is also an active participant on the planning committee for a Women in Technology group and volunteers with Junior Achievement USA, mostly working with inner-city high school students.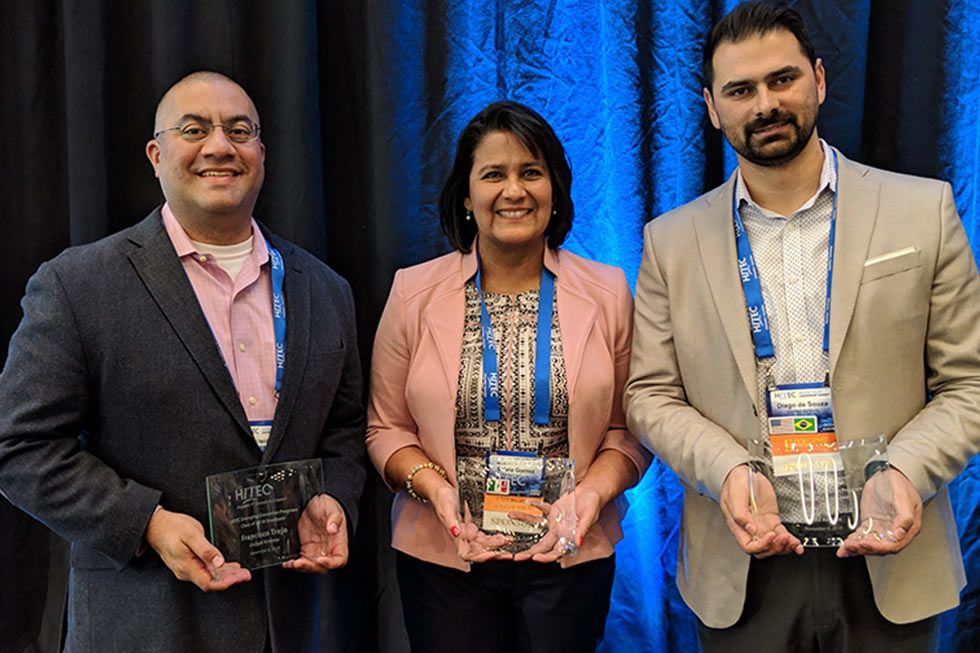 Sylvia (center) pictured with Digital Products managing director, Francisco Trejo and Security Technology managing director, Diego Souza at the HITEC San Jose Summit.
"Always look for people that have been there and learn from them. And, always look to see who you can help. Never underestimate the power of having people around you. Have the confidence to take risks and celebrate your successes."

Carlos Palacio
Carlos Palacio, a lead customer service representative in Houston, has been part of the United family for 20 years. When speaking to Carlos, you can clearly see how passionate he is about his job and about United, and embracing his Cuban heritage has been instrumental in delivering excellent customer service at the airport. He even takes extra time with Hispanic customers that cannot speak English, making sure they have all their travel documents and that they have all they need for their journeys. On his spare time, the new father often travels to Latin American countries like Colombia and Cuba to visit children's hospitals and to donate schools supplies for children in need. Seeing the smiles of the little kids he helps keeps Carlos motivated and pushes him to continue his efforts to help others.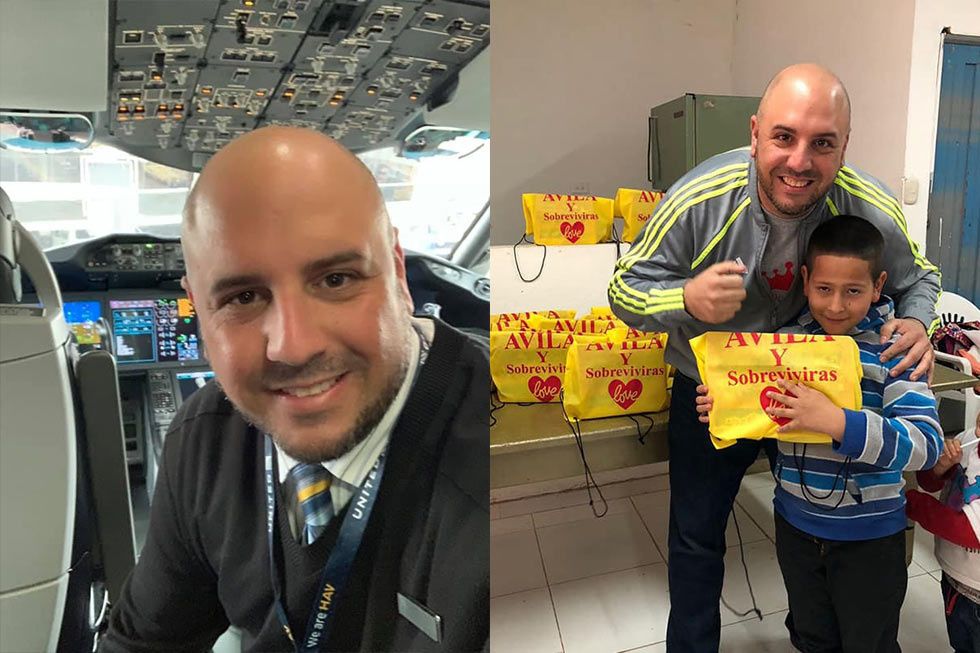 Carlos pictured in the cockpit of a United aircraft (left) as well as donating school supplies to children (right).
"I want young people to know that this is a great country … to go to school and make a career and pay attention to mom and dad who want the best for them, and one more thing, never forget we are all human. My culture is very fundamental in my job. I help people every day who need help in Spanish. Speaking Spanish at work helps many of our customers."

Roberto Hernandez
Roberto Hernandez was born and raised in Puerto Rico. His passion for travel and customer service ultimately led him to the airline industry four years ago, when he joined United as a flight attendant. Roberto worked as a purser for a while, displaying excellent leadership skills and customer service. He now works as a base supervisor at New York/Newark and is also the local chapter director for EQUAL, a business resource group at United. In his role at EQUAL, Roberto has been focused on fostering diversity and inclusion at United, especially for the LGBTQ+ community. In fact, he recently played a great role organizing this year's company celebration of Pride in New York and was there front and center representing our company in Pride Live's Stonewall Day on World Pride. Roberto really values his heritage and culture, and is very proud of where he comes from, which is why he did not hesitate to help with the relief efforts in Puerto Rico after Hurricane Maria.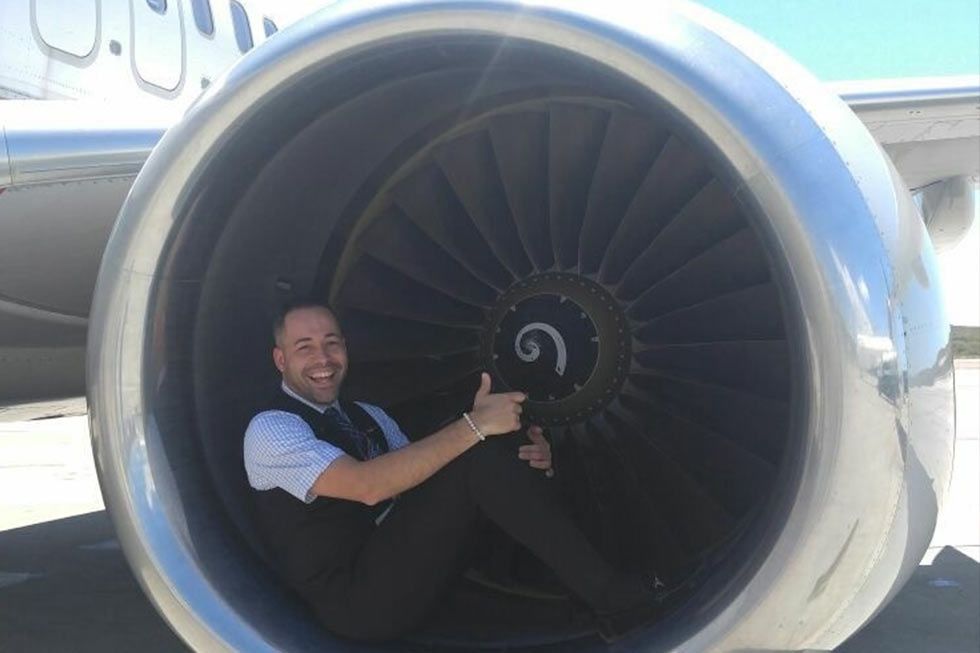 Roberto, posing in the engine of one of United's aircraft.
"I bring my true, authentic self to work each day, ready to assist in whatever way I can. When I say 'true, authentic self' I mean the person I was raised to be. A kind, caring and patient individual who is ready to assist in any way I can. I think the most important piece is to respect each other and to learn from one another. Be proud of who you are, no matter where you're from. We're all different, but if we all integrate together we can make things happen. That's what I love about United. We're doing that."

In their own distinct way, these rock stars exemplify the many ways our company is enriched by our differences and unique journeys. When we create an environment where people feel valued, this influences how we treat one another and our customers across the globe. In the words of our chief executive officer, Oscar Muñoz: "This month is also an opportunity for us to think about our efforts to build bridges between cultures and communicate authentically to all the communities we serve," he said. "By becoming more culturally aware, we can be more effective ambassadors for United's values around the world and embody them in the way we serve our customers and one another."
We hope you're as inspired by this group of dedicated, passionate and talented rock stars as we are.
In the midst of mobilizing our cargo operations, our teams at New York/Newark (EWR) and Jacksonville (JAX) stepped in to assist Roche Diagnostics with transporting a vital component for an instrument being used for COVID-19 testing.
The component was stuck at EWR en route to the Mayo Clinic in Florida after another airline's flights were cancelled. A Roche employee contacted us asking for help and, within a few hours, our teams had the piece loaded onto a Jacksonville-bound aircraft, with arrangements in place to deliver it to the Mayo Clinic.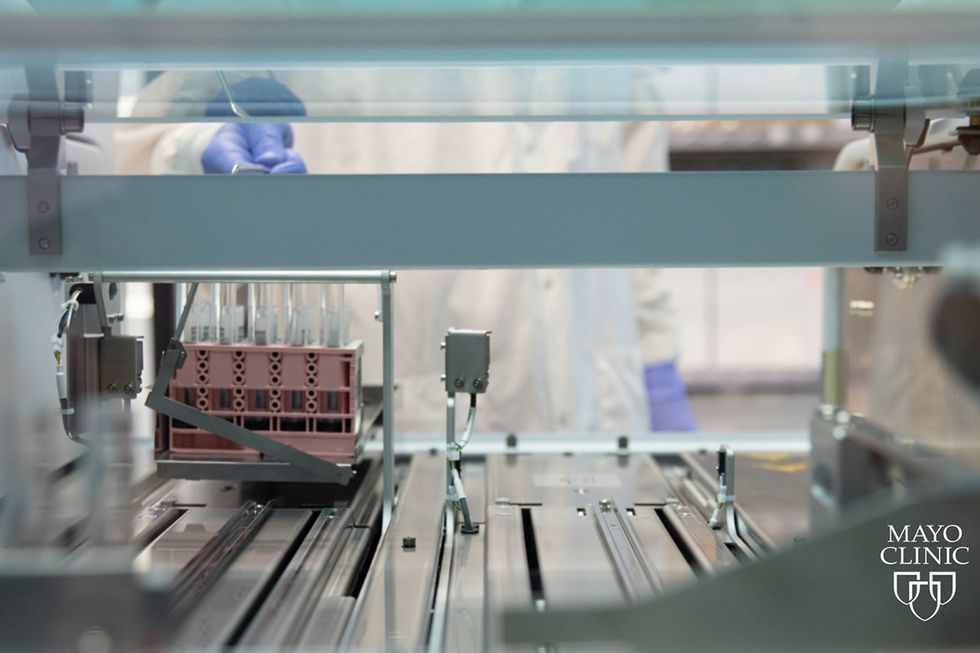 The item we shipped will allow the Mayo Clinic in Florida to process hundreds of COVID-19 tests per day. Mayo Clinic Laboratories has been on the front lines of increasing testing capacity to expedite caring for patients at this critical time and working to ease the burden being felt at test processing laboratories in a growing number of areas.

We are helping to keep military families connected by increasing the frequency of cargo
-only flights between the United States and military bases in
various parts of the world —
including Guam,
Kwajalein
,
and several countries in
Europe
.
Last week
we
began
operating
a minimum of 40 cargo-
only
flights
weekly —
using Boeing 777 and 787 aircraft to fly freight
and mail
to and from U.S. hubs and key international business
and military
locations.
We are going above and beyond to find creative ways to transport fresh food and produce, as well as basic essentials from the U.S. mainland to military and their families in Guam/Micronesia. On Saturday, March 28, we operated an exclusive cargo-only B777-300 charter to transport nearly 100,000 pounds of food essentials to Guam to support our troops.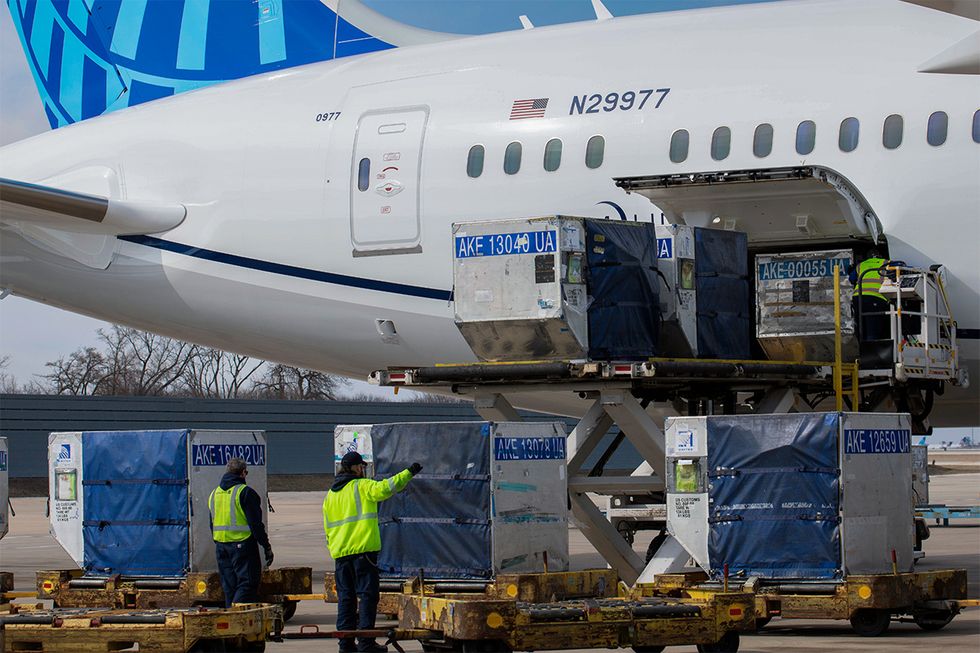 In addition, we move mail year-round all over the world. In response to COVID-19, and in support of the military members and their families overseas, we implemented a charter network, transporting military mail to Frankfurt, which is then transported all over Europe and the Middle East. Since March 20, we have flown 30,000+ pounds of military mail every day between Chicago O'Hare (ORD) and Frankfurt (FRA). On the return flight from Frankfurt to Chicago, we have carried an average of 35,000 pounds of mail to help families stay connected.

"Connecting products and mail to people around the world is the United Cargo mission," said United Cargo President Jan Krems. "Keeping our military families connected with the goods they need, and keeping them connected with loved ones to feel a sense of home, is of critical importance. As a company that has long supported our military families and veterans, our teams are proud to mobilize to lend a hand."
On average, we ship more than 1 billion pounds of cargo every year on behalf of domestic and international customers. For more information, visit unitedcargo.com.
To our customers,
I hope this note finds you and your loved ones healthy and well.
It is safe to say these past weeks have been among some of the most tumultuous and emotional that any of us can remember in our lifetimes. The impact of the coronavirus outbreak has been felt by individuals and families, companies and communities, across the United States and around the world.
The response to this crisis has been extraordinary; as much for what it has required from our society as for what it has revealed of us as a people.
Far from causing division and discord, this crisis and the social distancing it has required, has allowed us to witness something profound and moving about ourselves: our fond and deeply felt wish to be connected with one another.
The role of connector is one we're privileged to play in the moments that matter most in your life – weddings and graduations, birthdays and business trips, events large and small – and it's that responsibility that motivates us most to get back to our regular service, as soon as possible.
That is why it is so important our government acted on a comprehensive relief act to ensure our airline – and our industry – are ready and able to serve you again when this crisis abates.
I want to relay to you, in as deeply personal a way I can, the heartfelt appreciation of my 100,000 United team members and their families for this vital public assistance to keep America and United flying for you.
This support will save jobs in our business and many others. And it allows us time to make decisions about the future of our airline to ensure that we can offer you the service you deserve and have come to expect as our customers.
While consumer demand has fallen, we have seen the need for our service and capabilities shifted. And, we've adapted to help meet those needs.
Right now, aircraft flying the United livery and insignia, flown by our aviation professionals, have been repurposed to deliver vital medical supplies and goods to some of the places that need it most. We're also using several of our idle widebody aircraft to use as dedicated charter cargo flights, at least 40 times per week, to transfer freight to and from U.S. locations as well as to key international business locations. At the same time, we are working in concert with the U.S. State Department to bring stranded Americans who are trying to return home back to their loved ones.
While much remains uncertain right now, one thing is for sure: this crisis will pass. Our nation and communities will recover and United will return to service you, our customers. When that happens, we want you to fly United with even greater pride because of the actions we took on behalf of our customers, our employees and everyone we serve.
Stay safe and be well,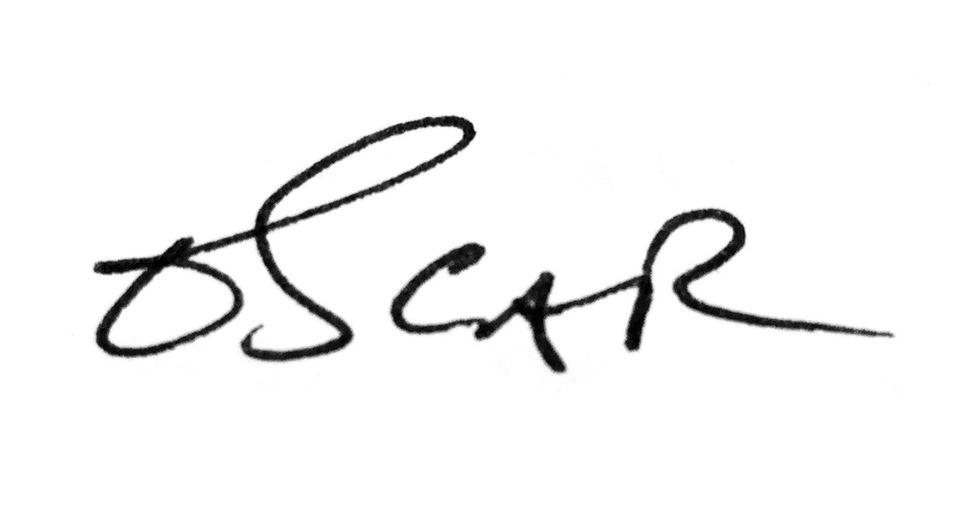 Oscar Munoz
CEO
Together, we are facing an unprecedented challenge. United Together, we rise to meet that challenge.
Check out our newest destinations
United Airlines
united
When
@RocheDia
needed to ship a vital component of a COVID-19 testing unit from New Jersey to Florida, United Cargo jumped in to help. Read about how this part will allow
@MayoClinic
to process hundreds of tests per day for cases in the Southeastern U.S.
uafly.co/2UzOAGW
United Airlines
united
International schedule update: We know some people around the globe are displaced and still need to get home. We are reinstating some international flights over the next few days and will continue to fly six daily international flights through May.
uafly.co/3a5Dj6p
United Airlines
united
We have extended our change fee waiver to cover travel through May 31, 2020: - You can change or cancel your flight on
united.com
or through the app – a phone call is not required - For the latest on our commitment to your safety, visit
united.com/coronavirus
United Airlines
united
Our site,
united.com/coronavirus
, is regularly updated with the latest on travel restrictions, rebooking instructions and health and safety information. Today's updates: - An expanded, more flexible international rebooking policy - Schedule changes for U.K. & Ireland
We Are United
weareunited
Shoutout to our operations team, who are working to properly park, maintain and store many aircraft in the
#BeingUnited
fleet. These aircraft are being housed across our seven hubs, maintenance facilities in CLE and MCO as well as at offsite facilities in New Mexico and Arizona.
We Are United
weareunited
Tomorrow, Oscar and Scott will host a companywide town hall to discuss the latest developments in managing the effects of the coronavirus (COVID-19). You can join the livestream event at 1:20 p.m. CT here:
uafly.co/39AV25m
We Are United
weareunited
Tomorrow, Oscar and Scott will host a companywide town hall to discuss the latest developments in managing the effects of the coronavirus (COVID-19). You can join the livestream event at 1:20 p.m. CT here:
uafly.co/39AV25m
.
Watch our most popular videos
Copyright © 2020 United Airlines, Inc.
All rights reserved.
Indicates an external site that may or may not meet accessibility guidelines.
Scroll to top
Scroll to top