Celebrating Hispanic Heritage Month
To celebrate Hispanic Heritage Month — recognized nationwide from September 15 to October 15 — we're highlighting the extraordinary impact of Hispanic Americans on our nation, starting close to home with our more than 13,000 Hispanic colleagues at United.
As part of our festivities, we're showcasing the stories of a few of our Hispanic employees, who were nominated by their colleagues as rock stars. In addition to their personal or professional achievements, these employees were selected because of the significant contributions they've made to United by going above and beyond to help our customers, their fellow colleagues, and the communities we serve, thrive. Whether donating their time volunteering for a worthy cause, leveraging their unique perspective to address a critical business challenge or helping foster an inclusive culture, they make United a better place to work. Let's get to know them better here.
Gabriel Vaisman
Captain Gabriel (Gabe) Vaisman, based in Houston, has been part of the United family for over 34 years. As a native of Argentina who immigrated to the U.S. with his family at a young age, Gabe faced multiple challenges during his school years, including financial struggles and learning a new language. However, with discipline and determination, and even working two jobs in high school, he was able to obtain his commercial pilot's license and multi-engine rating at the age of 18. He quickly moved up the ladder and landed his first job at United in 1985, where he continued to move up and became a captain for our Boeing 737 fleet 22 years ago. When he is not busy flying customer to their destinations, you can find Gabe visiting children hospitals as part of his volunteering efforts with the Pilots For Kids organization in Houston. For the past 14 months, he has also served on the board of Lone Star College, acting as an advisor for their professional pilot degree program and inspiring a new generation of pilots.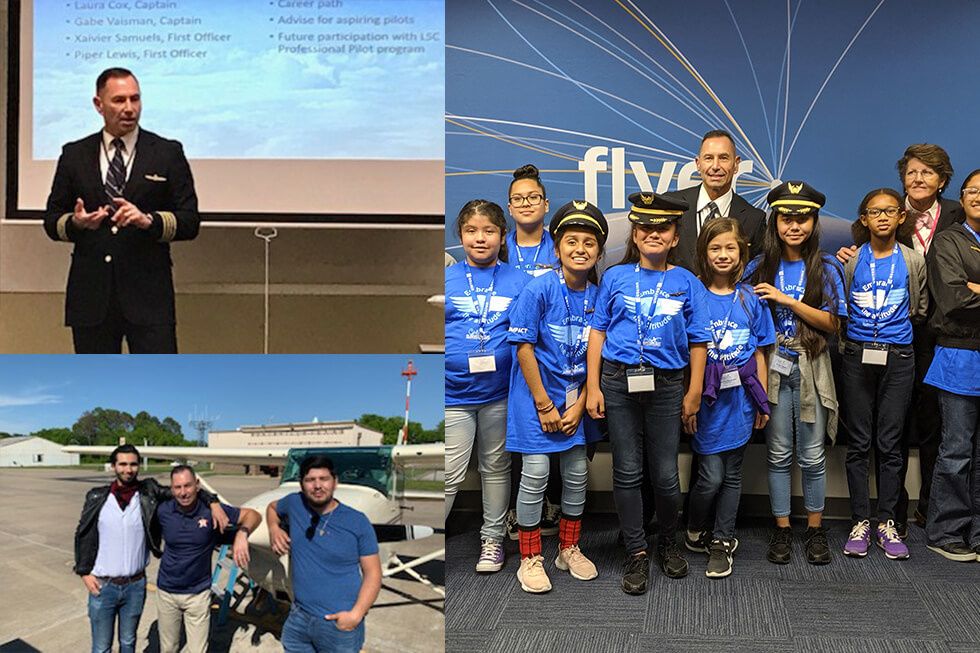 Gabe pictured at a lecture at Lone Star College (LSC), with LSC students, and at one of our recent events for Girls in Aviation Day.
"All the volunteer work I do has helped change one life at a time, and I hope that my career story inspires anyone who feels hopeless with no way out of their current situation. The message I always try to leave with young people is that no matter what career you choose, you will have to sacrifice time and maybe give up a few good times with your friends to accomplish what you are pursuing."

Vania Montero Wit
The daughter of Bolivian immigrants, Vania earned her law degree from Harvard University and joined United's legal department 20 years ago. Throughout the years, Vania Montero Wit has advanced to become one of the key leaders of United's legal department as vice president and deputy general counsel. As one of the highest-ranking Latinas at United, Vania represents a crack in the glass ceiling for Hispanic women in corporate America. Despite the heavy demands of her job, Vania is very generous with her time, serving as executive sponsor for uIMPACT, a business resource group supporting women at United, and has given career advice to employees as a panelist for UNITE, United Airlines multi-cultural business resource group. She has made a positive impact in the community as Chair of the legal department's Pro Bono and Community Service Committee, where she even took on and won an asylum case. Vania's compassion for others and continued support of the company's diversity-and-inclusion initiatives make her a role model for both Hispanics and non-Hispanics alike.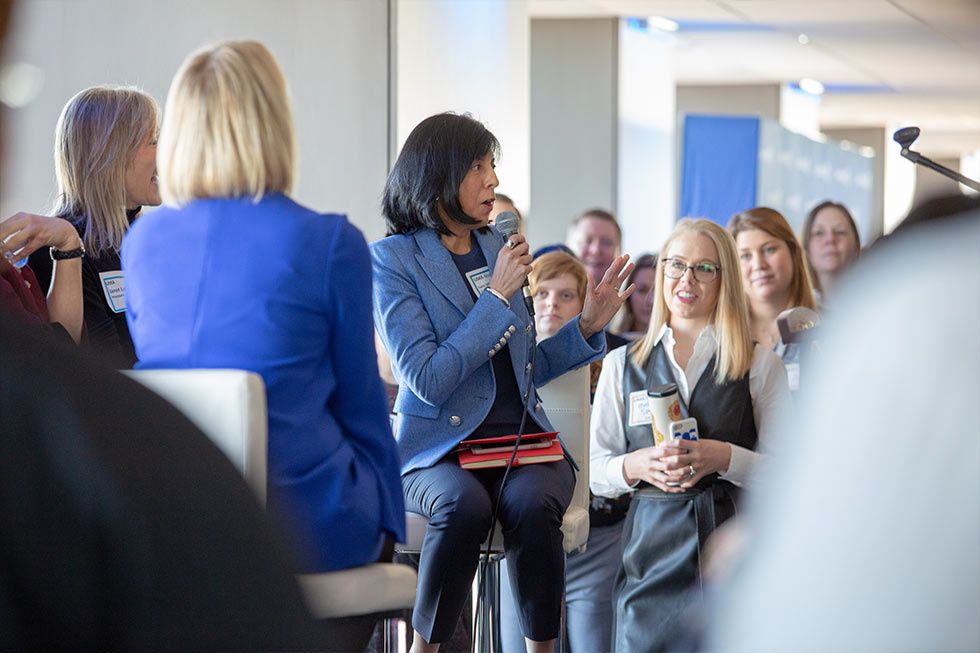 Vania (center) speaking at a leadership event at United.
" As a working Latina woman, I strive to be a role model for any and all who are working in a corporate environment and struggling to find their voice or simply looking to make connections and expand their network. My long tenure at United has afforded me a range of experiences and teaching moments all of which I am happy to share with others."

Katherine Gil Mejia
Katherine Gil Mejia is a human resources representative for United Ground Services in at New York/Newark. A native of the Dominican Republic who moved to the U.S. only 8 years ago, she joined United shortly after at the young age of 19. With her work ethic and drive, she quickly became a go-to-person for many departments offering assistance or guidance when needed. Katherine never hesitates to step in and translate for customers or colleagues that are struggling with a language barrier, and she does so while providing amazing customer service. Katherine's knowledge of United — as well as her caring and friendly personality — have earned her the trust and respect of her colleagues. Katherine also has a passion for helping others, giving back, and making a difference in the community. She always offers to volunteer during United Airlines Fantasy Flights, and when she can, she also takes the time to bring Ben Flying bears to kids at hospitals.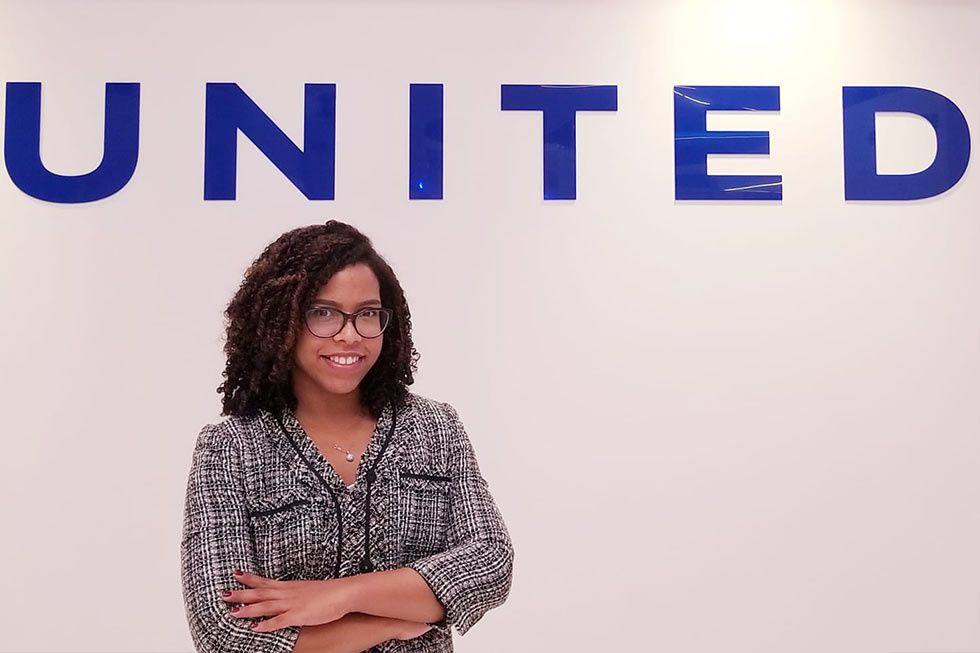 Katherine in Newark.
"I know the language barrier for some employees can play a role in potential miscommunication. I often put myself in their shoes and try to relate. My upbringing in Dominican Republic taught me to work and trust my neighbors, community and family. It was natural to bring that trust mentality into work with my colleagues and employees. I believe that is what makes me successful in HR."

Antonio Valentin
Antonio (Tony) Valentin has been working as a ramp service employee at Chicago O'Hare for three years. He's earned the respect of his colleagues by going above and beyond and always stepping in to help both colleagues and customers alike. It's not rare to find him around the terminal translating for Spanish-speaking customers and helping them find their ways to their gates. Tony's caring personality shines beyond the airport in all the volunteering work he does in the local community, especially in the Chicago Humboldt Park area, and in the work he has done as lieutenant commander in the U.S. Coast Guard, including his deployment to Puerto Rico where he assisted with relief effort after Hurricane Maria.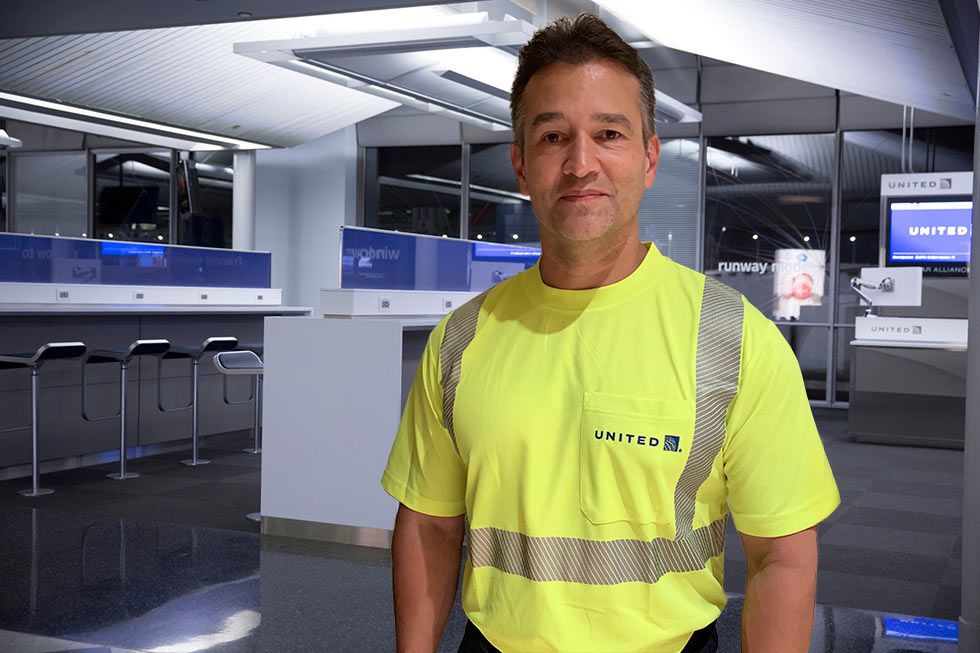 Antonio at Chicago O'Hare.
"I've always had a passion for helping people and I truly believe that being a good person is equal to being successful. As a prior educator, I am always encouraging members of RSE (ramp service employees) to return to school and to live their lives as lifelong learners."

Sylvia Gomez
Sylvia Gomez is the daughter of Mexican immigrant parents that moved to the U.S. in 1960. At the age of 5, her family moved back to Mexico so they could build strong connections with their heritage and culture. They eventually returned to the U.S. in pursuit of a better education, as her father believed that education was the key to success. The move back to the U.S. was not easy, but it gave Sylvia the opportunity to understand two different cultures, which has been instrumental in her career. She recently celebrated 30 years at United, where she currently serves as managing director of IT Infrastructure Program Management. Sylvia has been making a mark in the company with her efforts to pass forward her experience and knowledge, and she spends a great amount of her time mentoring United employees. She is currently mentoring five young women, and she also makes sure to stay in touch with previous mentees to make sure they are still on a path toward success. She is also an active participant on the planning committee for a Women in Technology group and volunteers with Junior Achievement USA, mostly working with inner-city high school students.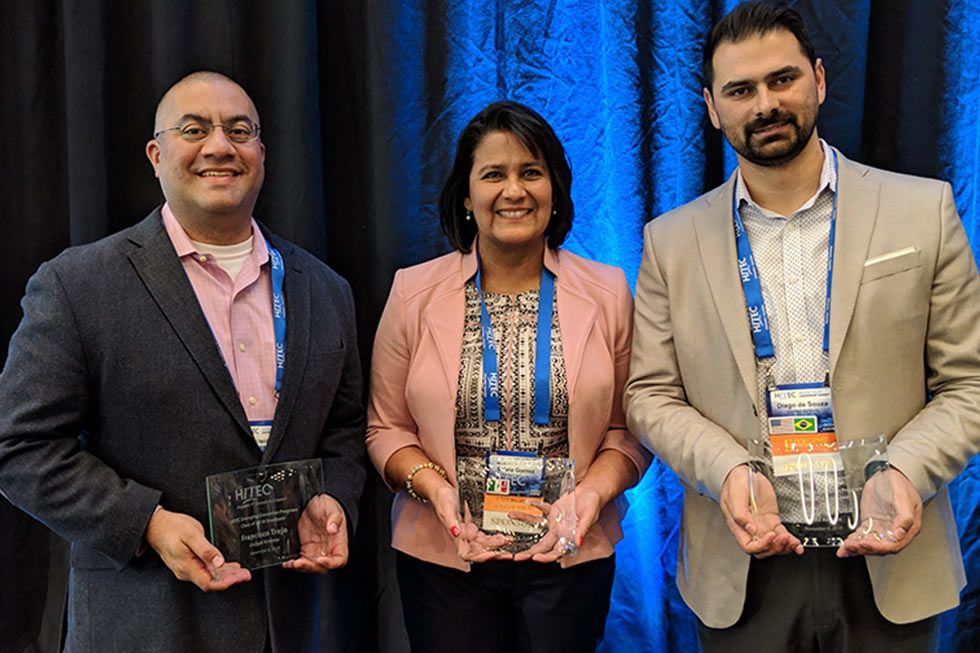 Sylvia (center) pictured with Digital Products managing director, Francisco Trejo and Security Technology managing director, Diego Souza at the HITEC San Jose Summit.
"Always look for people that have been there and learn from them. And, always look to see who you can help. Never underestimate the power of having people around you. Have the confidence to take risks and celebrate your successes."

Carlos Palacio
Carlos Palacio, a lead customer service representative in Houston, has been part of the United family for 20 years. When speaking to Carlos, you can clearly see how passionate he is about his job and about United, and embracing his Cuban heritage has been instrumental in delivering excellent customer service at the airport. He even takes extra time with Hispanic customers that cannot speak English, making sure they have all their travel documents and that they have all they need for their journeys. On his spare time, the new father often travels to Latin American countries like Colombia and Cuba to visit children's hospitals and to donate schools supplies for children in need. Seeing the smiles of the little kids he helps keeps Carlos motivated and pushes him to continue his efforts to help others.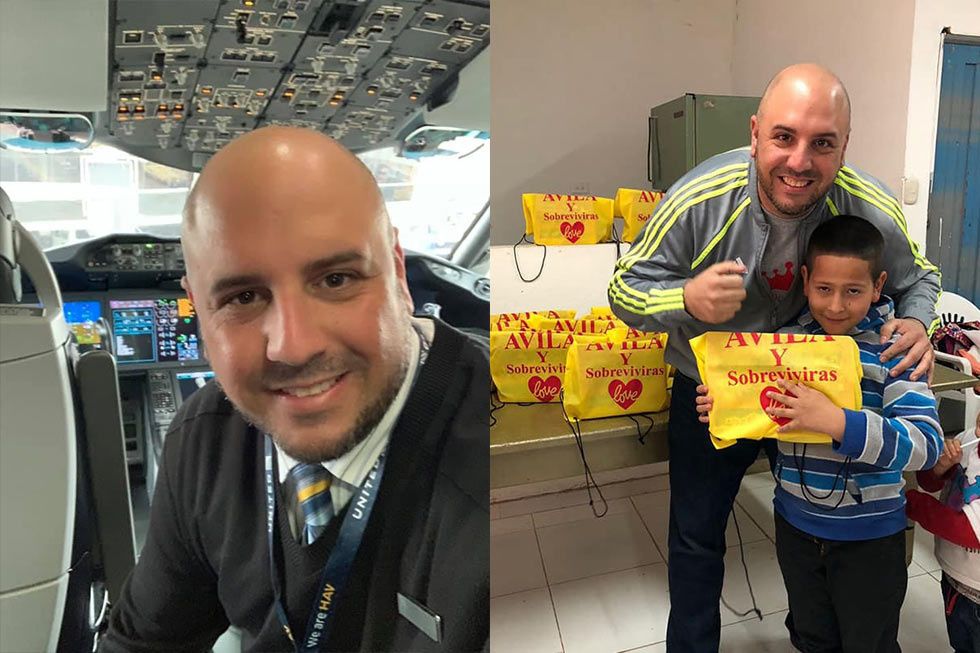 Carlos pictured in the cockpit of a United aircraft (left) as well as donating school supplies to children (right).
"I want young people to know that this is a great country … to go to school and make a career and pay attention to mom and dad who want the best for them, and one more thing, never forget we are all human. My culture is very fundamental in my job. I help people every day who need help in Spanish. Speaking Spanish at work helps many of our customers."

Roberto Hernandez
Roberto Hernandez was born and raised in Puerto Rico. His passion for travel and customer service ultimately led him to the airline industry four years ago, when he joined United as a flight attendant. Roberto worked as a purser for a while, displaying excellent leadership skills and customer service. He now works as a base supervisor at New York/Newark and is also the local chapter director for EQUAL, a business resource group at United. In his role at EQUAL, Roberto has been focused on fostering diversity and inclusion at United, especially for the LGBTQ+ community. In fact, he recently played a great role organizing this year's company celebration of Pride in New York and was there front and center representing our company in Pride Live's Stonewall Day on World Pride. Roberto really values his heritage and culture, and is very proud of where he comes from, which is why he did not hesitate to help with the relief efforts in Puerto Rico after Hurricane Maria.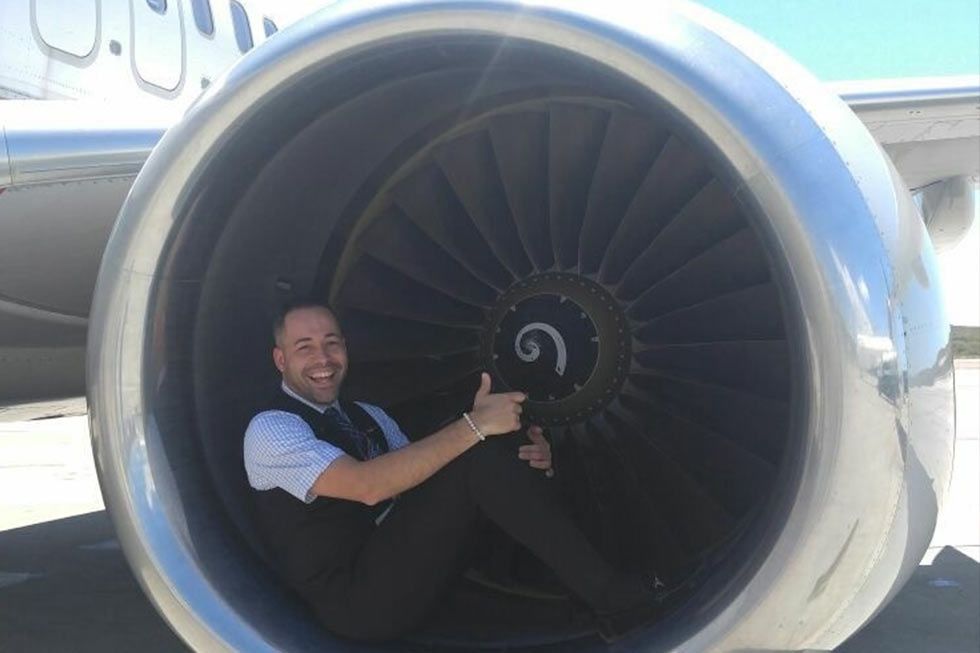 Roberto, posing in the engine of one of United's aircraft.
"I bring my true, authentic self to work each day, ready to assist in whatever way I can. When I say 'true, authentic self' I mean the person I was raised to be. A kind, caring and patient individual who is ready to assist in any way I can. I think the most important piece is to respect each other and to learn from one another. Be proud of who you are, no matter where you're from. We're all different, but if we all integrate together we can make things happen. That's what I love about United. We're doing that."

In their own distinct way, these rock stars exemplify the many ways our company is enriched by our differences and unique journeys. When we create an environment where people feel valued, this influences how we treat one another and our customers across the globe. In the words of our chief executive officer, Oscar Muñoz: "This month is also an opportunity for us to think about our efforts to build bridges between cultures and communicate authentically to all the communities we serve," he said. "By becoming more culturally aware, we can be more effective ambassadors for United's values around the world and embody them in the way we serve our customers and one another."
We hope you're as inspired by this group of dedicated, passionate and talented rock stars as we are.
Carole Cary-Hopson, Newark Liberty International Airport Boeing 737 First Officer, remembers how it felt piloting her first United flight.
"Shivers" she recalled. "I felt as if this is what dreams are made of. Every single time I come to work, I feel that way."
"That way" was 14 years in the making for Carole. "What dreams are made of" dates back to her childhood in Pennsylvania and frequently visiting her grandma's home in south Jersey that was right by the Philadelphia airport.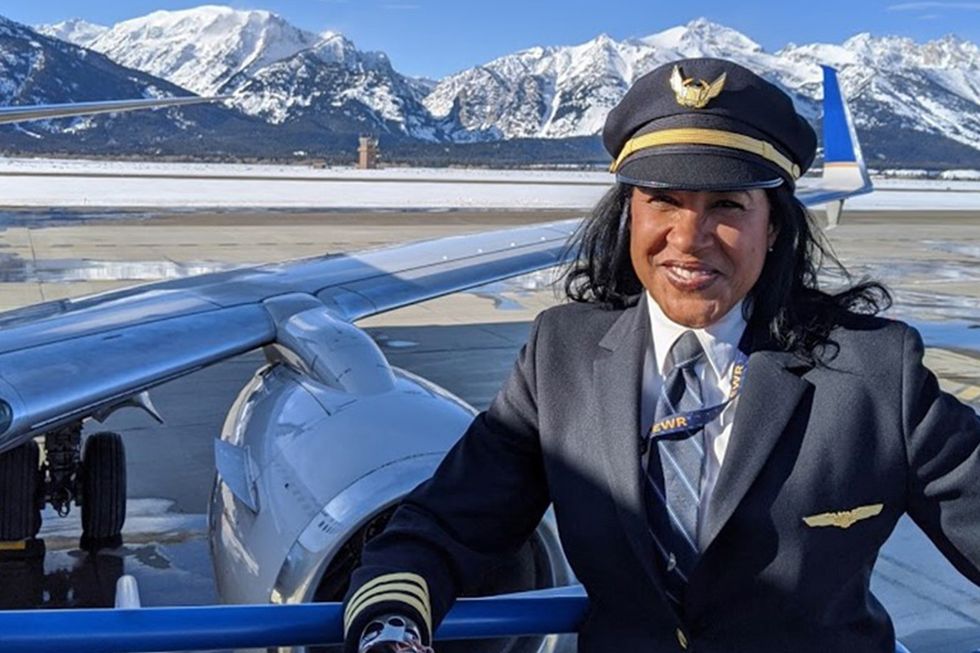 "We would go and lie in the grass by the airport and note the colors of the planes coming in and leaving, how many would come through at a time; we made graphs," said Carole. "I was fascinated by it."

As Carole grew up, she held on to that fascination, but an undergrad and master's degree later, she found herself successfully climbing her way up the corporate ladder, from the NFL to Footlocker. As her duties and roles continued to evolve and grow, Carole observed that she was always on an airplane. In fact, it was on a work trip where that observation and her life-long fascination came full circle.
"I was on a KLM flight and the pilot noticed me looking around and observing everything," she said. "So, he offered me the jumpseat and proceeded to teach me everything across the North Atlantic trip. It was then and there I realized, 'I can do this.' It all came together in my head."
Not long after that flight, Carole went on a date with a man who she now proudly calls her husband.
"I told him on that date, 'I have something to tell you and if you laugh at me about it, I'll never see you again,'" said Carole. Carole proceeded to tell him about her dream of becoming a pilot. A few weeks after that date, he handed her gift certificates to attend a flight school right outside of Manhattan.
From there, Carole moved roles in her corporate career once more, taking a job with L'Oreal where she socked away her paychecks to save up for flight school. In the meantime, she began to network in the aviation world, attending events through Women in Aviation and the Organization of Black Aerospace Professionals (OBAP). It was there she met her mentors, one being American Airlines Captain Jenny Beatty who handed her a mug of Bessie Coleman, the first woman of African-American and Native-American descent to hold a pilot's license.
"I stood on that crowded convention floor with Jenny and Bessie at that time and just bawled," said Carole. "I kept asking myself how I could be an Ivy League graduate and had never heard of her. At that moment, I wanted to do something with her story."
Thus, along with training, becoming a pilot and raising a family, Carole began writing a historical fiction book on Bessie, a woman who had to go to France to learn how to fly because no one would teach her in the U.S. Today, the book is near completion and once finished, 25% of the proceeds will go toward the Lt. Colonel Luke Weathers Flight Academy, an organization within OBAP that aims to grow and diversify the future pilot pipeline.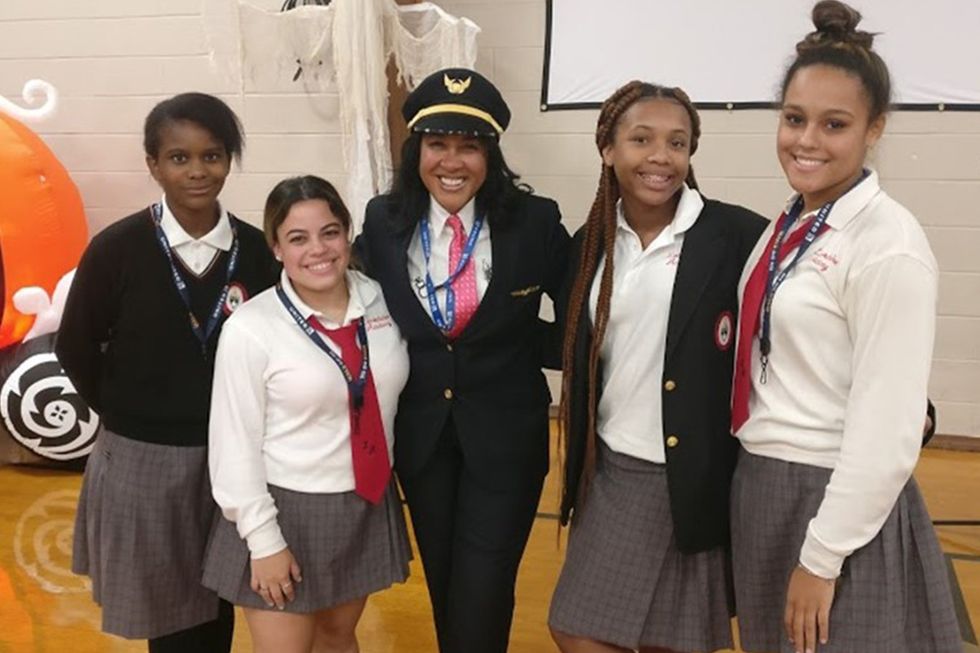 "I hope Bessie is smiling down and has forgiven me for taking so long on writing this book," said Carole. "She continues to provide me with guidance and being an example of determination. I know she would tell me to keep going and to not even dare to stop."

Well, as if Bessie already doesn't know, stopping doesn't seem to be in Carole's vocabulary.
"When you have a goal, there are a series of definitive steps," said Carole. "Each one is important and sometimes, they take many years to reach. But each one of those goals I had in the past were steps that got me to flying."
And Carole's next step?
"Continue to fly and finish Bessie's book," said Carole. "And once the book is finished, the goal is a movie and then sending 100 black women to flight school. With the numbers being only 1-2% African-American's flying, we need to fix that, and I intend to!"
Sisters and United MileagePlus® Premier® 1k members, Kelsey and Courtney Montague, are constantly traveling to create street art pieces for communities around the world. This year they teamed up with us to travel to Peru to explore the beautiful country, and to create a custom mural for a very special group of young women participating in the Peruvian Hearts program. Peruvian Hearts, now part of our Miles on a Mission program, works to support female leaders with access to education, counseling and peer support
Finding tranquility at Machu Picchu
As we hiked up the ancient steps of Machu Picchu, we were surrounded by Incan merchants, servants and townsfolk climbing the stairs to start their day. As foreigners not used to hiking at 7,9000 feet, the locals sprinted by us as we struggled up the steep steps, with the lush rainforest behind us and ancient city just beyond. But even with burning legs and straining lungs, it's likely anyone's breath would be taken away (as ours was) once they reached the clearing above this sprawling city in the clouds. All thoughts of the slightly tortuous route we took to this dazzling ancient city were forgotten the second we laid eyes on this UNESCO World Heritage site.
Along with my sister Kelsey, our Dad and our friend Clay felt the power and mystery when we all arrived at the vantage point over the city of Machu Picchu. The day before we had traveled all day from Denver flying in United's stunning United Polaris®. We slept fully flat on two excellent flights, curled up on down pillows and wrapped in Saks Fifth Avenue comforters. We slept soundly after feasting on steak and chocolate sundaes and spent a layover chatting with bartender, Steven, as he made us cosmos at the United Polaris lounge in Houston. It was wonderful, but the best part? Arriving in Peru so rested and relaxed we were able to completely savor this moment at Machu Picchu. A moment only made sweeter when our Dad turned to us and thanked us for taking him on the trip of a lifetime and giving him the opportunity to see a place he never thought he'd get to visit.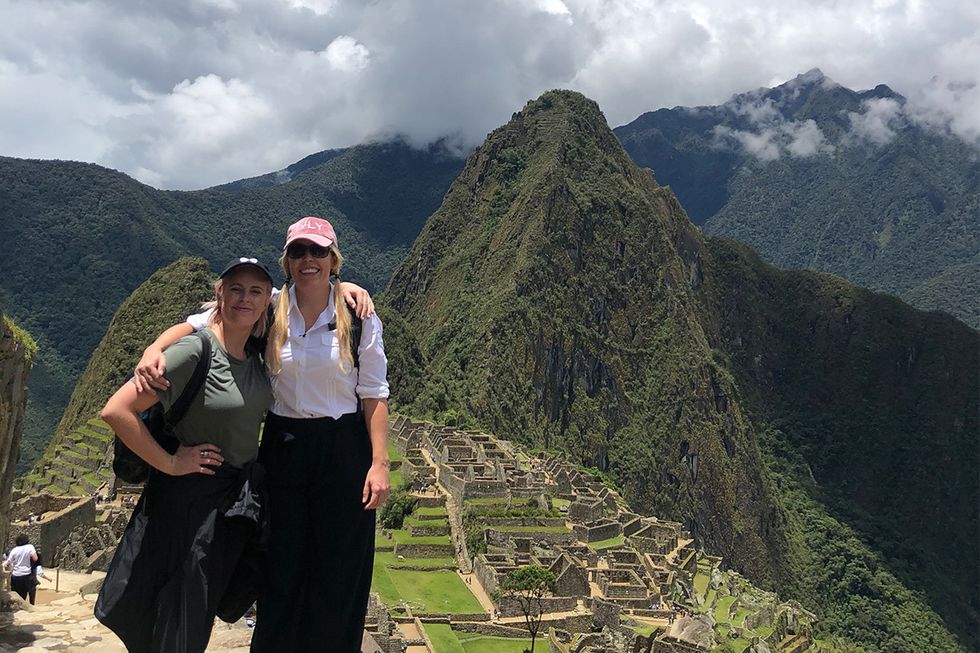 We explore the ruins with the wide eyes of children, enjoying every view and savoring every piece of information from our guide. Llamas 'own' the ruins and gently nudge tourists aside as they scamper between buildings to their favorite pasture. The terraces on the outskirts of the town were used to prevent soil erosion and to farm maize and beans. Condors soar above our heads, their keen eyes hunting for chinchillas tucked into the terrace rock walls.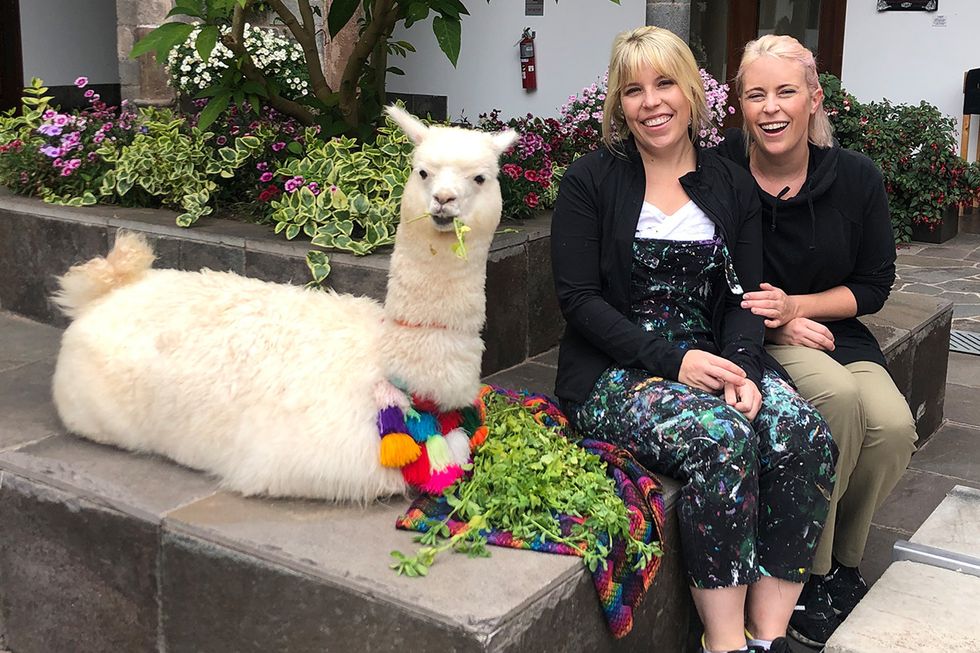 Incan community members that lived or worked in Machu Picchu must have felt the same way we felt the first time they came across this thriving metropolis, situated on top of a mountain. Incan urban planners neatly organized centers for astrological studies, religious ceremonies, sports, commerce and farming. The buildings were built from granite and limestone, likely from a quarry located on the same mountaintop. Some buildings were so finely constructed scientists still don't quite know how the Incans did it.

At the end of the tour we come to the sacred rock — a perfect, flat replica of the Yanantin mountain behind it. Some mystical members of society believe that touching the rock transmits tremendous power. I won't lie that I quietly let my fingers graze the stone as a I walked by. Did I feel a sudden power rush? No. But did I leave Machu Picchu filled with a sense of wonder and a reaffirmed belief that anything is possible? Yes.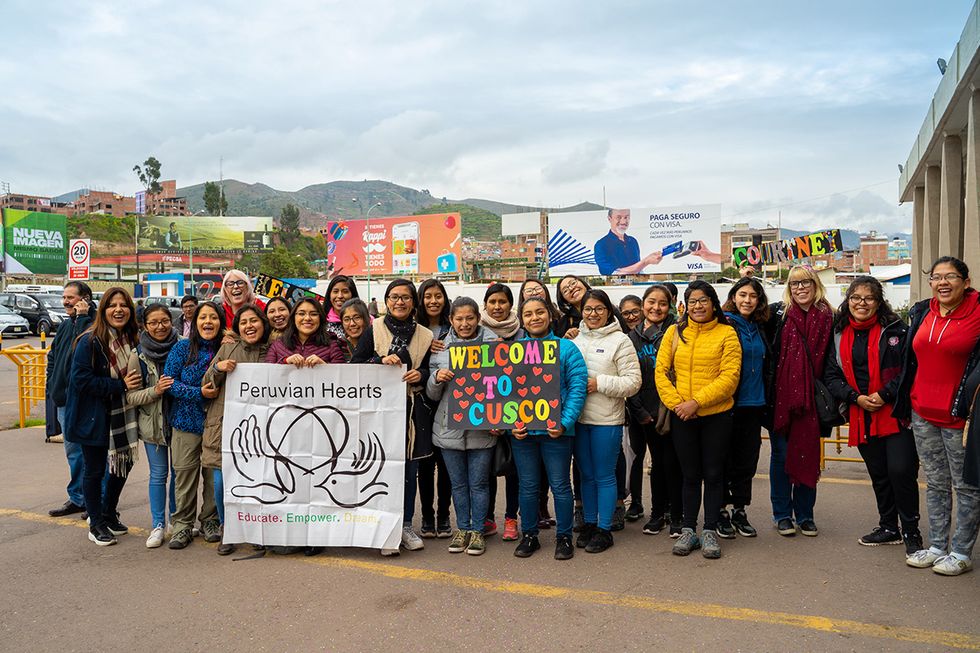 Partnering with Peruvian Hearts

The next morning, we awoke ready to tackle the most meaningful part of our trip to Peru — working with Peruvian Hearts.
Peruvian Hearts works to support women by giving them access to education, counseling and peer support. They are currently working with 32 talented, bright young women who they have hand-picked from secondary institutions across Cusco. They focus on supporting brilliant engineers, psychologists, teachers, scientists and doctors. These are the future female leaders that will change their communities, their country and the world for the better.
When we arrive to meet these scholars, they cheer, and each young woman gives Kelsey and me a hug. Overwhelmed, we both begin to cry. We are so grateful for our job as a traveling street art team, but we are on the road so much we are often very lonely. We can't remember the last time we received so many hugs or saw so many bright smiles.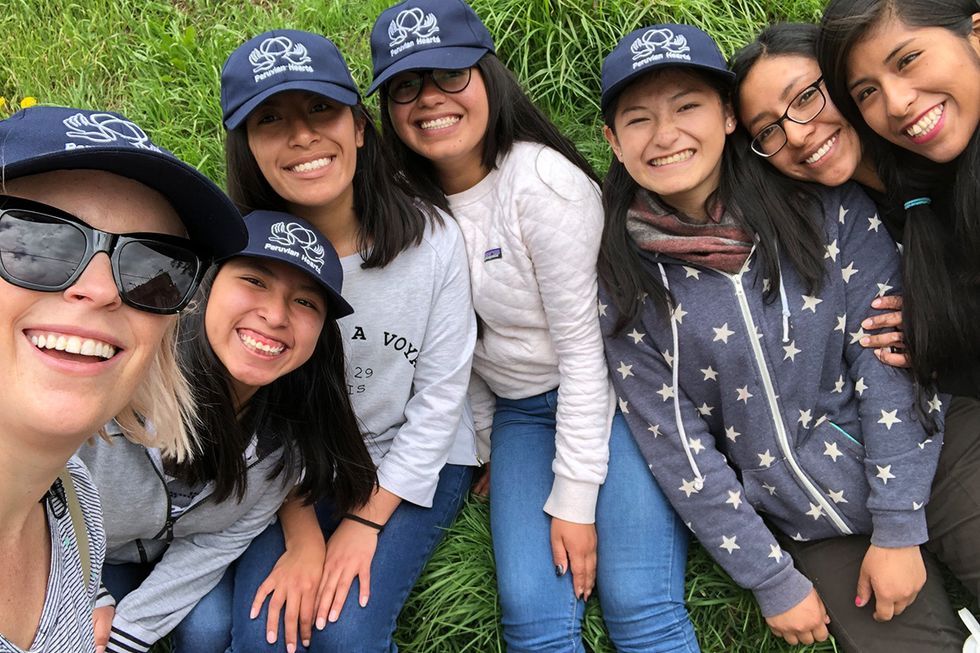 When we arrive to the Peruvian Hearts headquarters a number of the young women tell us how they found Peruvian Hearts. Aldi, a brilliant engineer in training, was asked to join this special organization because she was first in her class in secondary school. She grew up in tough financial circumstances — her mother is ill and unable to work, and her father works in construction. As the only person in her family who has attended university, she is the primary hope of her family. Tears stream down her face as she describes how tough it has been for her family to survive. So many of these young women tell similar stories and carry the weight of their entire family's future squarely and proudly on their shoulders.

These stories reaffirm the reason Kelsey and I decided to join forces with United — we hope to make that weight on their shoulders a little lighter. As we worked on the mock-up for the mural to commemorate Peruvian Hearts, United decided to help in another way by including Peruvian Hearts in their new Miles on a Mission program. A first of its kind program, United MileagePlus members can now donate their miles to nonprofits they care about. Miles that will help young women like Aldi attend conferences in the United States or study abroad in Mexico.
Other women will be able to travel more freely between their studies in Lima and their families in Cusco. The young scholars were so excited to now be part of the United family and to have access to the connections a major airline can bring.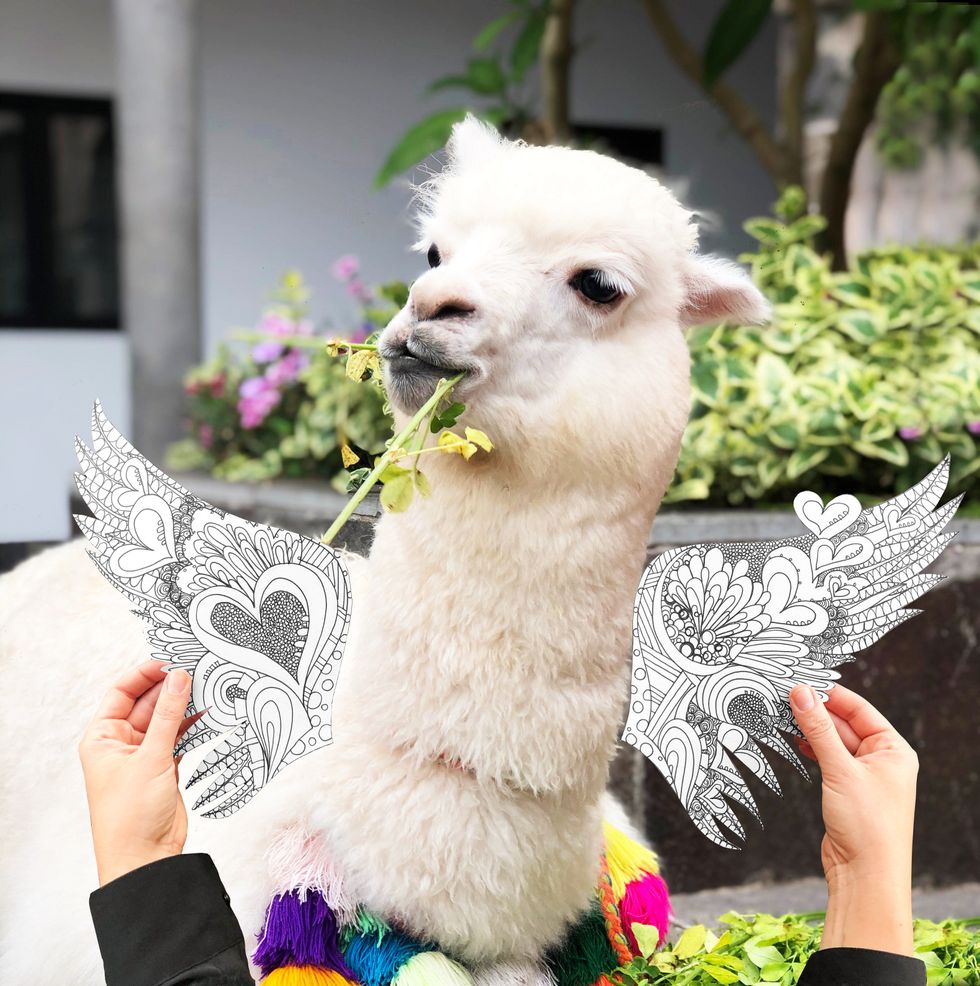 After an ideation period Kelsey decided to create a large-scale heart flock mural with 32 hearts on one side to represent the young women in the program and 32 hearts on the other side to represent those to come. Over two days we painted the piece and filled it with items that represent Peru (a llama, a condor, Peru's national flower and butterflies), Peruvian Hearts (pencils, books, and a shooting star) and a United airplane. As we worked on the piece the ladies sang, danced and told us their dreams. Dreams to travel, learn new languages, start meaningful careers and change their communities for the better.

When we finished the piece — two massive streams of hearts that appear to be coming from the person standing in the middle of the mural — the girls came to thank us. With cheers, hugs and kisses they explained how proud they were that this mural was for them and how it would continue to lift them up as they work hard to improve their circumstances.
At the end of this project Kelsey and I felt so blessed to be connected to such a wonderful group of women. At that moment we realized that is what art and travel should be about. Art and travel should connect us to each other as humans and to something deeper within ourselves — a desire to lift each other up.
Visit United's
Miles on a Mission program
to support Peruvian Hearts .
February 12, 2020
As we continue to evaluate our operation between our U.S. airport hub locations and Beijing, Chengdu, and Shanghai as well as Hong Kong, we have decided to extend the suspension of those flights until April 24. We will continue to monitor the situation and will evaluate our schedule as we remain in close contact with the CDC and other public health experts around the globe.
We suspend travel to Hong Kong
February 4, 2020
In response to the continued drop in demand, we are suspending travel to Hong Kong beginning February 8 until February 20. Our last flights will depart San Francisco on February 5 (flight 877 and flight 869) and the last returning flight will depart Hong Kong on February 7 (flight 862).
Please check united.com for important travel information as well as current travel waivers.

Scroll to top