United in the air turns happily ever after
Shortly after boarding his flight on July 5, 2014, customer Jake Guthrie's life changed forever. He was on his way home from vacation, and so was his seat mate. "It was by pure fate and a chance encounter that we happened to be seated next to each other," Mr. Guthrie recalled. "We hit it off so well on our flight that I asked her on a date."
That date went very well and so did the next one and all the others after that. Fast forward three years, and his seat mate is now his wife. They married on July 3, and choosing United for their honeymoon to Hawaii was a no-brainer.
"Since United will always be a part of our lives, we decided it was only fitting that we started our honeymoon the same way we first met," Mr. Guthrie said. "United will always be the reason our relationship took off."
Considering how they first met, we decided it was only fitting that we provide them an extra special experience on their way to the Hawaiian Islands. Los Angeles International Airport, Customer Care, Inflight Services, Flight Operations and Global Services team members worked together to recognize the newlywed couple on board. Their seats were decorated and came with a box of Godiva chocolates, a bottle of champagne and a United history book. We handed out "love is in the air" cookies to each customer and Los Angeles based Chief Pilot Alberto Diaz came on board to personally congratulate them.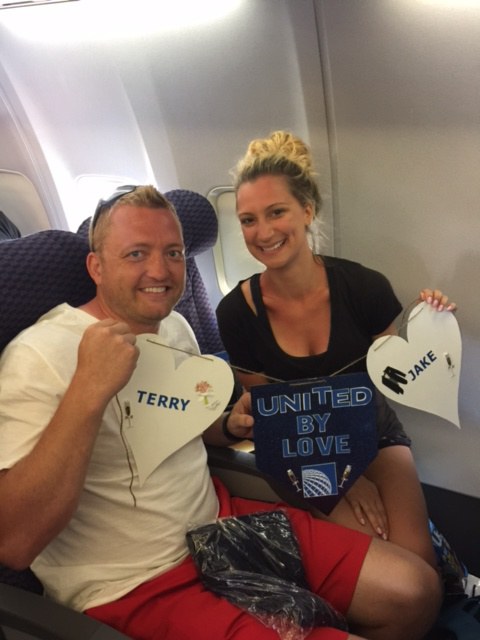 "Kudos to all of you who went above and beyond to celebrate these customers' honeymoon flight and really make it as memorable as possible," Customer Contact Centers Vice President Sharon Grant said. "We are literally connecting people and uniting the world!"