Customer Danny Young embarks on a rock royalty tour on United
Last October, Danny Young, along with his friend and fellow musician Jack Moore, boarded a Los Angeles-bound United flight from London with a one-of-a-kind acoustic guitar in tow, kicking off the first leg of an epic rock and roll odyssey.
Over the next several weeks, they would crisscross the U.S. in pursuit of artists like Peter Frampton, Deep Purple's Glenn Hughes, Dhani Harrison (musician and son of the late Beatle George Harrison), Thin Lizzy's Ricky Warwick and Ozzy Osbourne, among others, asking each one to autograph the guitar. But this wasn't a case of two fans chasing down their idols for kicks. This trip had a much bigger meaning and an unbelievable backstory.
In a way, you could trace the start of it back to 2015. At that time, Danny was a 35-year-old first-time flyer nervously settling into his seat on board a United aircraft at London's Heathrow airport. Danny, a guitar virtuoso, was on his way to the United States, where he was scheduled to demo products for guitar accessory giant Seymour Duncan at an industry trade show. It was the kind of career opportunity that he'd been waiting for all his life. And he almost missed out on it.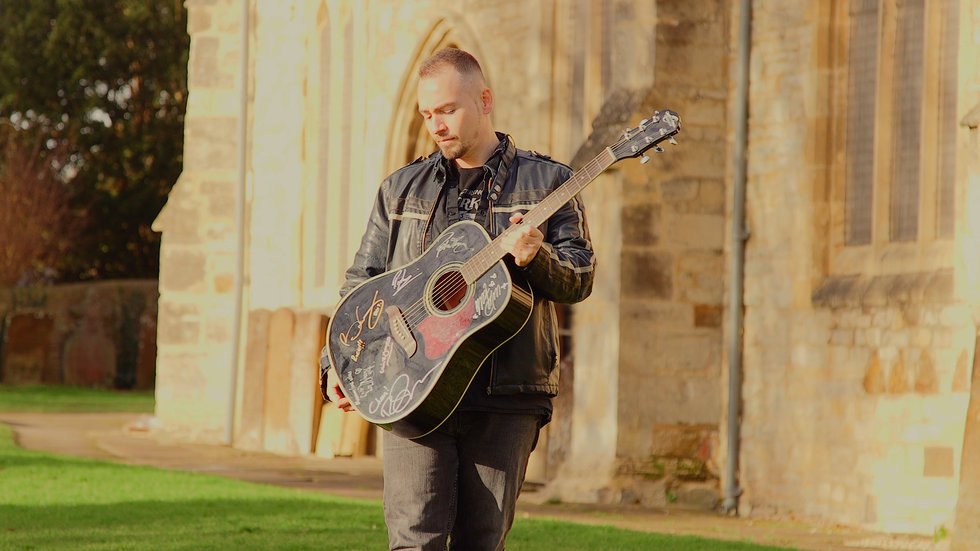 Just before takeoff, his heart started to race and his palms began to sweat. The engine hum and the sound of chatter from his fellow passengers seemed to grow louder and louder until Danny found it all unbearable. Before he knew it, he was bolting toward the nearest exit.

"I ran up to a flight attendant and I told her, 'I need to get off, I can't be on here,'" Danny recalled. "I was completely beside myself with anxiety, and I just wanted to get to the door at that point."
It wasn't the first time he'd experienced an episode like that. Diagnosed as a young boy with autistic spectrum disorder, Danny struggles with severe anxiety in public places. Over the years, he's experienced more panic attacks than he cares to count, making many everyday tasks like going to the grocery store – or even maintaining employment – difficult.
After escorting him off the aircraft, a flight attendant sat and comforted him in the gate area while he called his partner, Jody, to pick him up. When Danny got home that evening, he felt defeated. "My son came up to me and said, 'Don't worry, Dad, I would have been just as scared,'" said Danny. "That's when I knew I had to get on that airplane, because I was setting a bad example for my son to not face his fears."
Danny returned to Heathrow the following day determined to get to L.A. When he approached his gate, to his surprise, United employees were standing by, ready to put his jitters to rest.
"They seemed to know what had happened the day before," he said, still somewhat in disbelief at the compassion they showed him. "They led me on board before the other passengers and the captain came over and talked me through everything. The flight attendants stopped by every few minutes and made sure that it was a comfortable experience for me. It completely took the anxiety away; I don't think I could have done it without them."
His first-ever flight went off without a hitch, with Danny growing more comfortable by the mile. By the time he arrived in L.A., the fear was gone. Since that day, he's been a dedicated United customer, which is why he approached our airline to help him get to the United States for his autograph quest last fall. And that brings us to the second part of the story.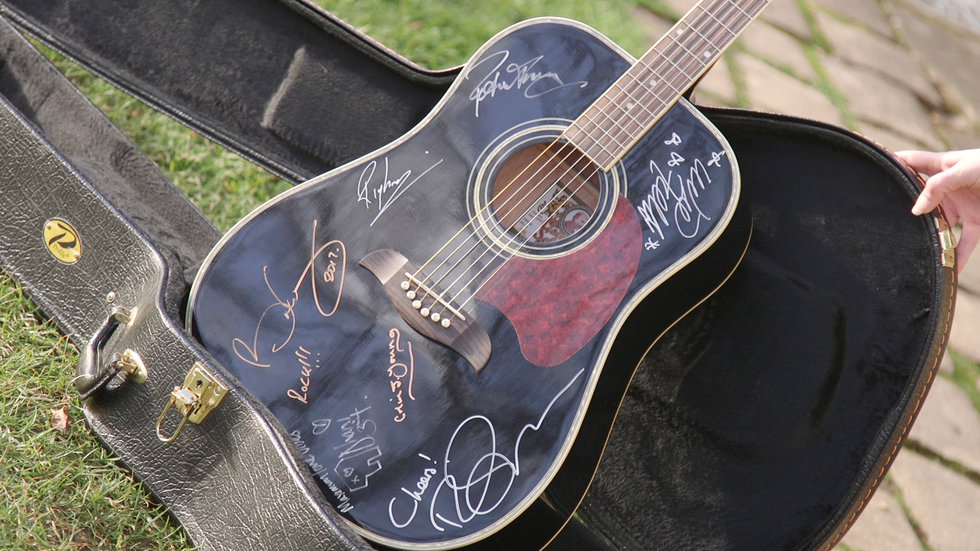 Two years ago, Danny took possession of a guitar signed by actor-comedian Ricky Gervais. Gervais auctioned the instrument to raise money for the Story Book Farms Primate Sanctuary, and Danny, himself an animal rights proponent, jumped at the chance to support a worthy cause while bringing home a unique collector's item.

But after ponying up more than $6,000 for the winning bid, Danny was unsure of what to do with the guitar. He wasn't going to play it, and it didn't seem right to just hang it on his living room wall. Then his father had an idea: Why not try and get more signatures on it, then re-auction the guitar to raise even more money for the primate sanctuary?
Through some of his previous activism, Danny had been introduced to the Save Me Trust, a charity founded by legendary Queen guitarist Brian May to battle animal cruelty. With the help of mutual friends, Danny was able to get in touch with May who agreed to help, adding his autograph to the guitar alongside Gervais'. In return, Danny agreed to split the proceeds the guitar would earn at auction between the Save Me Trust and Story Book Farms.
Next, Danny recruited Jack Moore to join the project. Jack's father was the late Gary Moore, a renowned guitar player most famous for his work in Thin Lizzy. With Jack's connections in the music business and Danny's determination, they soon had a growing stable of musicians willing to sign, including the aforementioned list of rock luminaries, whom Danny and Jack visited in the United States.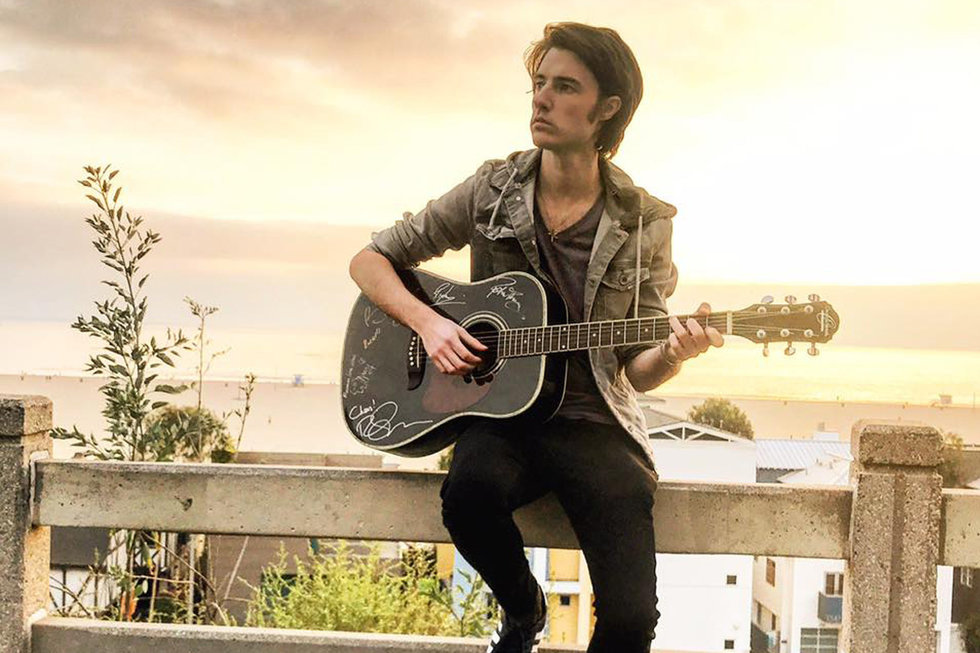 Those signatures would be enough for most people, but Danny's not finished yet. He aims to see the project grow in an effort to maximize the funds he can raise, and hopes to auction the guitar again sometime in early 2018.

"I've got my sights set on Jeff Lynne," the co-founder of Electric Light Orchestra, Danny said, ticking off names of other artists he'd love to add before putting the guitar back up for auction. "I grew up a big Jeff Lynne fan. Another one would be Paul McCartney. Peter and Brian are as big as it gets in the guitar world, so I think we can attract some really good names. Where there's a will, there's a way."
In talking with Danny, you're left with the feeling that he will indeed find a way. His enthusiasm for what he's doing is contagious. After a lifetime of searching, he is a man who seems to have found his purpose.
"I've never been successful in financial terms, and I attribute that to the fact that I've had about 50 jobs in my life," he said. "Statistics show that one in four people with autistic spectrum disorder hold a job, but what we do well is immerse ourselves in the things we love. I'm not trying to capitalize on this financially – I just want to help some great charities, share great music and have fun with it all. And I hope that I can prove that anything is possible if you just try."