Adventures of 'diners, drive-ins and dives'
Each week we will profile one of our employee's adventures across the globe, featuring a new location for every employee's story. Follow along every week to learn more about their travel experiences.

On Sept. 16, Bill marked his 600th "Triple D" visit when he dined at The Carving Room Kitchen and Bar in Washington, D.C.
Having finally found The Smoking Swine food truck and getting to my 599th "Triple D" visit, I was ready to get to my 600th! Guy visited a few places in D.C. that I had been saving so that I could do my 600th at one of them and invite friends to help me celebrate.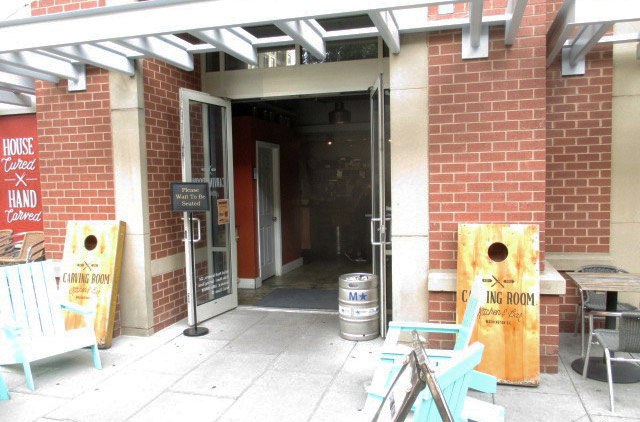 There was one place that I had really wanted to visit as soon as I saw their "Triple D" episode. The Carving Room Kitchen and Bar is in northwestern Washington, D.C., at the corner of 4th Street and Massachusetts Ave., and I sent an email asking if they would be interested in hosting a group of about 15 for my 600th visit on a Saturday, Sept. 19. A few days later, they responded and said that they would love to host my 600th visit. As the day approached, I had planned to drive into D.C. and park on the street near the restaurant, but there were reports of rallies or protests in the city so I decided to meet with some friends in Tysons, Virginia, and take the Metro to the Judiciary Square Metro stop, which is only about a 4-5 minute walk to the restaurant.
The Carving Room is a medium-sized restaurant with indoor and outdoor seating. The owners, Rachel and Oded, set up a special table for us and put up balloons around the table and also had special gold balloons that made the number 600, a really nice surprise. They greeted us as we entered the restaurant and made all of us feel at home.
I was so flattered that my friends came to help me celebrate this milestone visit. Dave, Sue, Barry, Nancy, Trish, Stephanie and Amy are great friends that I see throughout the year, and they are very special to me. Phil is a friend that I hadn't seen since high school and had been wanting to do a "Triple D" visit with. One of my "Triple D" Facebook friends, Sebastian, whom I had never met in person, came from New Jersey to help celebrate! I was flattered that he and Karen came, and this was Seb's 390th "Triple D" visit.
The Carving Room specializes in all types of meats, and everything is made in house. On their episode, they made their famous cigar appetizers and also featured some of their cured meat sandwiches and fresh-cut hamburgers. All of us at the table decided to get a couple of orders of the cigar appetizers, which are cigar-shaped spring rolls stuffed with all types of the meats they cure on site. Each order had six cigars; two stuffed with chorizo with a salsa dipping sauce, two stuffed with corned beef with a Russian dressing dipping sauce and two classics that were filled with Moroccan ground beef with a lemon yogurt dipping sauce. All were delicious, and the chorizo had a nice spice bite.
All of us then ordered from the restaurant's huge choice of sandwiches and at least a dozen sides. I chose the roast lamb on ciabatta with bacon-cheese fries on the side and a pickled veggie garnish. Everyone tried something different, and it all looked delicious! My sandwich was great! It had pickled cucumbers, pickled onions and a lemon yogurt sauce, which didn't overpower the sandwich but enhanced it. The huge portion of fries was excellent! Everyone just raved about their meals.
As we were finishing, Oded and Rachel came over to see how we enjoyed everything, and I got both of them, along with our server Alicia, to sign my "Triple D" book. I was also able to get one of the other restaurant diners to take pictures of our group.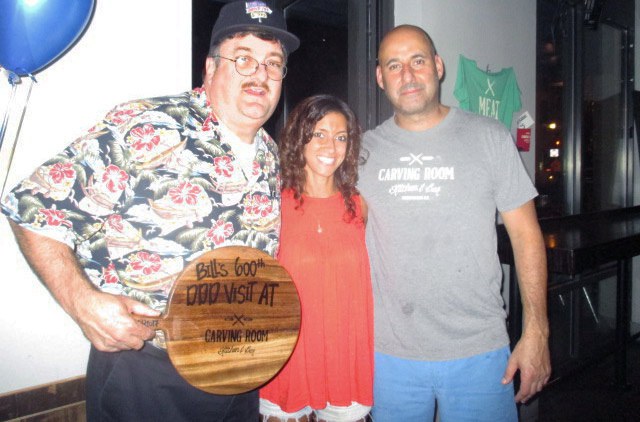 Just before we left, Oded and Rachel presented me with a T-shirt from The Carving Room and a beautiful carving board labeled "Bill's 600th Triple D visit at The Carving Room Kitchen and Bar." What a great surprise, it's a gift that I will always treasure!

I was just so happy with the warm and wonderful service that Rachel, Oded and the staff gave to me and my wonderful friends. As we left, I was asked by more than a few what number 601 will be... I don't yet know, but there will be more! This has been a wonderful journey. I have met so many great people, some of whom have become friends, and I have also been able to reconnect with old friends along the way. All I can say is that I am truly blessed!
Interested in reading more about Bills's dining adventures? Check out his blog, Diners, Drive-ins, and Dives" Adventures".