Eco-friendly in the friendly skies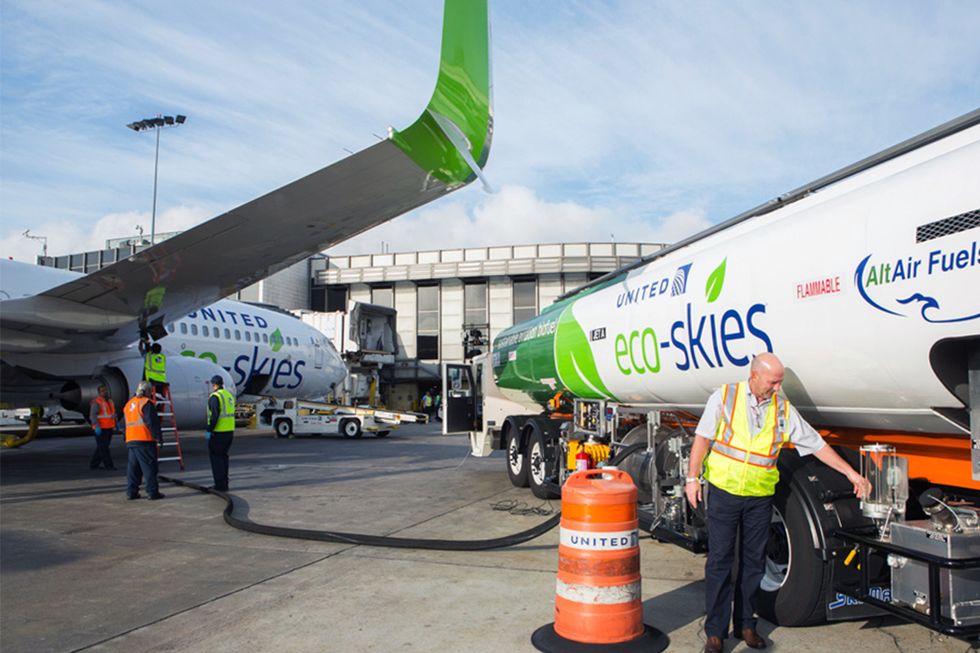 Sustainability initiatives did not take off just this year — many Earth Days have come and gone since we began launching environmental programs ranging from sustainable practices, products and nonprofit partnerships to green buildings and biofuel flights. These are not token programs meant just for Earth Day — they are making a real difference, every day of the year.
Biofuel in the air
In March, we became the first U.S. airline to use low-carbon aviation biofuel at commercial-scale volumes for regularly scheduled flights from LAX. Greenhouse gas emissions from AltAir biofuel are 65 to 85 percent lower than traditional jet fuel emissions throughout the life cycle — collection to use. In 2009 we began testing biofuels in our operations, conducting the first-ever biofuel demonstration flight by a U.S. carrier. We also became the first U.S. airline to use biofuel on a commercial flight in 2011. We're proud to say that this year's commencement of regular use of sustainable aviation biofuel has been recognized as an aviation milestone.
The biofuel, part of a 30-percent biofuel/70-percent jet-fuel blend, is extracted from sustainable feedstocks, non-edible natural oils and agricultural waste products. Once it's processed in Paramount, California, the biofuel is then used to fuel jets at the LAX airport. Up to 15 million gallons of the biofuel will be used over 3 years — enough to fuel the equivalent of 12,500 LAX-SFO flights.

Last year, we announced a historic $30 million equity investment in U.S.-based alternative fuels developer Fulcrum BioEnergy, Inc., a pioneer in the development and commercialization of converting municipal solid waste into low-cost sustainable aviation biofuel. To date, our investment in Fulcrum is the single largest by any U.S. airline in alternative fuels.

The green team
Technological advances have already improved fuel efficiency in the air by more than one-third in the last two decades. We were the first airline in the world to fly with the split scimitar winglet technology that cuts fuel consumption by up to an additional 2 percent, and we continue to take delivery of new Boeing and Airbus aircraft that are 15 to 20 percent more fuel efficient than those they will replace. United now has more than 260 of these new, fuel-efficient aircraft on order — and an industry-wide switch to renewables like biofuel will also have a major impact. Still, aviation accounts for only two percent of global CO2 emissions. While we recognize that our carbon footprint happens in the air, most contributions to global warming happen on the ground, which is why United team members have been adopting and following sustainable practices for many years.
Our employees have recycled nearly 30 million pounds of plastic, paper and aluminum from flights and United facilities since 2008. Last year, through our upcycling initiative, an entire football field's worth of fabric banners at Chicago's O'Hare airport was turned into fashionable travel bags and later sold to benefit the Chicago-based Re:new Project and our United Eco-Skies CarbonChoice Alto Mayo Forest Carbon Project in Northern Peru. Efforts to reduce consumption are also being made at our airport locations — United employees at the San Francisco Maintenance Center cut water consumption by more than 30 percent during the recent California drought.
Gold, silver and green
Green-building innovations have earned new United facilities recognition, including a prestigious LEED Gold certification in San Francisco, a LEED Silver in Houston and acclaim for a massive "green roof" in Chicago — all in the last four years.
Taking the gold is the SFO Terminal 3 Boarding Area E (T3E). Natural lighting from windows and skylights helps T3E to reduce electricity requirements, photovoltaic panels deliver onsite renewable energy and the terminal also makes use of local and sustainable materials including recycled carpeting and glass. Claiming the silver is Houston's George Bush Intercontinental Airport Terminal B south concourse, which features an energy-efficient, 28-foot glass wall. And that green roof? It can be found atop the new cargo facility at Chicago's O'Hare airport. Besides sporting one of the largest vegetative living roofs in North America (109,000 square feet), the building incorporates leading-edge green features such as energy-efficient lighting, heating and cooling, and even storm-water recycling. Existing United customer and employee facilities are also tweaked on a regular basis to make them more sustainable.
Coffee and cream
Starting this summer, we'll begin serving illy coffee on all United flights worldwide. Illy coffee is already being served at United Club SM locations at U.S. mainland hubs and will appear soon in all other United Club lounges this year. We're proud to serve illy, whose coffee-bean growers and processors earn above-market wages in exchange for following eco-friendly and sustainable-quality practices.
Cowshed Spa skin-care products are another recent addition to United flights. The award-winning, eco-friendly product line — including hand creams, lip treatments, moisturizing balms and towelettes — are found in many premium cabin amenity kits, as well as in United Club locations. Made in England, Cowshed uses organic and fair-trade extracts and essential oils to make their premium products. All products in their line are made from sustainable sources and natural botanicals and contain no parabens, petrochemicals, sulphates, animal ingredients (spare a little organic beeswax and wildflower honey), no artificial colors or fragrances and no animal testing.
Green partners
Through our United Eco-Skies program we have partnered with a number of nonprofit organizations to enhance sustainability efforts. Sustainable Travel International manages our CarbonChoice offset program, with all proceeds going to worldwide projects curated by STI. Through our partnership with the Smithsonian Conservation Biology Institute, scientists are flown to study native habitats around the world. Additionally, we also support the Clean Energy Trust Challenge, which awards annual grants to pioneers in energy efficiency and innovation.
MileagePlus members can receive bonus miles for consultations (5,000 miles) or purchases (25,000 miles) from NRG Home Solar in the five states where it operates, along with bonus miles for other sustainable products. These are just some of the investments we have made toward creating a more sustainable world; others range from clean-energy STEM education programs and EV charging programs to tree planting and adopt-a-stream projects.
Earth Day and beyond
The United team is committed to being a responsible global citizen all year — not just on Earth Day or during Earth Month. We have pledged to continue to boost our efforts to be an industry leader in seeking to reduce our carbon footprint while striving for sustainability. Sustainability at United applies to not only preserving our environment, but also to fostering community pride and celebrating diversity. Our team members on the ground and in the air are dedicated to protecting our planet and aim to preserve its health and richness every day.
We will continue building out our already expansive route network next year, adding flights to some attractive leisure destinations in the United States and the Caribbean.
Our hometown hub, Chicago O'Hare International Airport, will be the beneficiary of three of those new routes, which include Santa Barbara, California; Pasco, Washington; and Vail, Colorado. Rounding it out, United will add service from Denver to Nassau, Bahamas, and from Houston to Spokane, Washington. Tickets for all of these destinations are on sale now.
The Denver-Nassau route will begin on March 7, 2020, followed by Chicago-Santa Barbara, Chicago-Pasco, Chicago-Vail and Houston-Spokane on June 4. When that time comes, United will be the only airline offering nonstop service between Denver and Nassau and Chicago and Pasco.
All of these routes will open up a world of connection possibilities for customers living in each market. They'll also be scheduled to give flyers optimal arrival and departure time options. For instance, a passenger going from Chicago to Santa Barbara will have a flight option that departs O'Hare at 7:45 p.m. local time, arriving at Santa Barbara Airport at 10:30 p.m. That's ideal for business travelers.
"We want to offer customers the very best schedule, the best network and the most flight options in the industry," said Ankit Gupta, United's vice president of Domestic Network Planning.
The Boeing 737-800 aircraft will serve the Denver-Nassau route. Passengers going from Chicago to Santa Barbara and from Chicago to Vail will fly on the 737-700. United's 76-seat Embraer 175 aircraft, equipped with United First, Economy Plus and United Economy class seats, will operate on the Chicago-Pasco and Houston-Spokane routes.
You'll find flight times and additional details in the grid below. For more information and to book your tickets, visit
united.com
or download the United mobile app.
Depart

Arrive

Frequency

Duration

Chicago (ORD)

7:45 p.m.

Santa Barbara (SBA)

10:30 p.m.

Daily

Year-round

SBA

11:20 p.m.

ORD

5:20 a.m.

Daily

Year-round

ORD

8:00 p.m.

Pasco (PSC)

10:24 p.m.

Daily

Year-round

PSC

11:38 p.m.

ORD

5:20 a.m.

Daily

Year-round

ORD

4:00 p.m.

Vail/Eagle (EGE)

5:54 p.m.

Daily

Summer seasonal

(June 4 through September 6, 2020)

EGE

9:00 a.m.




ORD

12:45 p.m.

Daily

Summer seasonal

(June 4 through September 7, 2020)

Denver (DEN)

9:56 a.m.

Nassau (NAS)

4:00 p.m.

Once a week on Saturdays

Year-round

(with a break from mid-August through late-October)

NAS

11:37 a.m.

DEN

2:43 p.m.

Once a week on Saturdays

Year-round

(with a break from mid-August through late-October)

Houston (IAH)

9:32 p.m.

Spokane (GEG)

11:32 p.m.

Daily

Summer seasonal

(June 4 through August 17, 2020)

GEG

11:55 p.m.

IAH

6:17 a.m.

Daily

Summer seasonal

(June 4 through August 17, 2020)
Right now, around the world, brave members of America's armed forces are on duty, defending our freedom and upholding our values.
When not laser-focused on the mission at hand, they're looking forward to the day when their service to our nation is fulfilled and they can reunite with their families.
They are also imagining how they can use their hard-earned skills to build an exciting, rewarding and important career when they return home.
I want them to look no further than United Airlines.
That's why we are focused on recruiting, developing and championing veterans across our company, demonstrating to our returning women and men in uniform that United is the best possible place for them to put their training, knowledge, discipline and character to the noblest use.
They've developed their knowledge and skills in some of the worst of times. We hope they will use those skills to keep United performing at our best, all of the time.
That's why we are accelerating our efforts to onboard the best and the brightest, and substantially increasing our overall recruitment numbers each year.
We recently launched a new sponsorship program to support onboarding veterans into United and a new care package program to support deployed employees. It's one more reason why United continues to rank high - and rise higher - as a top workplace for veterans. In fact, we jumped 21 spots this year on Indeed.com's list of the top U.S workplaces for veterans. This is a testament to our increased recruiting efforts, as well as our efforts to create a culture where veterans feel valued and supported.
We use the special reach and resources of our global operations to partner with outstanding organizations. This is our way of stepping up and going the extra mile for all those who've stepped forward to answer our nation's call.
We do this year-round, and the month of November is no exception; however, it is exceptional, especially as we mark Veterans Day.
As we pay tribute to all Americans who have served in uniform and carried our flag into battle throughout our history, let's also keep our thoughts with the women and men who are serving around the world, now. They belong to a generation of post-9/11 veterans who've taken part in the longest sustained period of conflict in our history.

Never has so much been asked by so many of so few.... for so long. These heroes represent every color and creed. They are drawn from across the country and many immigrated to our shores.

They then freely choose to serve in the most distant and dangerous regions of the world, to protect democracy in its moments of maximum danger.
Wherever they serve - however they serve - whether they put on a uniform each day, or serve in ways which may never be fully known, these Americans wake up each morning willing to offer the "last full measure of devotion" on our behalf.
Every time they do so, they provide a stunning rebuke to the kinds of voices around the world who doubt freedom and democracy's ability to defend itself.
Unfortunately, we know there are those who seem to not understand – or say they do not - what it is that inspires a free people to step forward, willing to lay down their lives so that their country and fellow citizens might live.
But, we – who are both the wards and stewards of the democracy which has been preserved and handed down to us by veterans throughout our history – do understand.
We know that inciting fear and hatred of others is a source of weakness, not strength. And such divisive rhetoric can never inspire solidarity or sacrifice like love for others and love of country can.
It is this quality of devotion that we most honor in our veterans - those who have served, do serve and will serve.
On behalf of a grateful family of 96,000, thank you for your service.
Humbly,
Oscar
Each year around Veterans Day, Indeed, one of the world's largest job search engines, rates companies based on actual employee reviews to identify which ones offer the best opportunities and benefits for current and former U.S. military members. Our dramatic improvement in the rankings this year reflects a stronger commitment than ever before to actively recruiting, developing and nurturing veteran talent.
"We've spent a lot of time over the past 12 months looking for ways to better connect with our employees who served and attract new employees from the military ranks," said Global Catering Operations and Logistics Managing Director Ryan Melby, a U.S. Army veteran and the president of our United for Veterans business resource group.
"Our group is launching a mentorship program, for instance, where we'll assign existing employee-veterans to work with new hires who come to us from the armed forces. Having a friend and an ally like that, someone who can help you translate the skills you picked up in the military to what we do as a civilian company, is invaluable. That initiative is still in its infancy, but I'm really optimistic about what it can do for United and for our veteran population here."
Impressively, we were the only one of our industry peers to move up on the list, further evidence that we're on a good track as a company.
Scroll to top