Eco-friendly in the friendly skies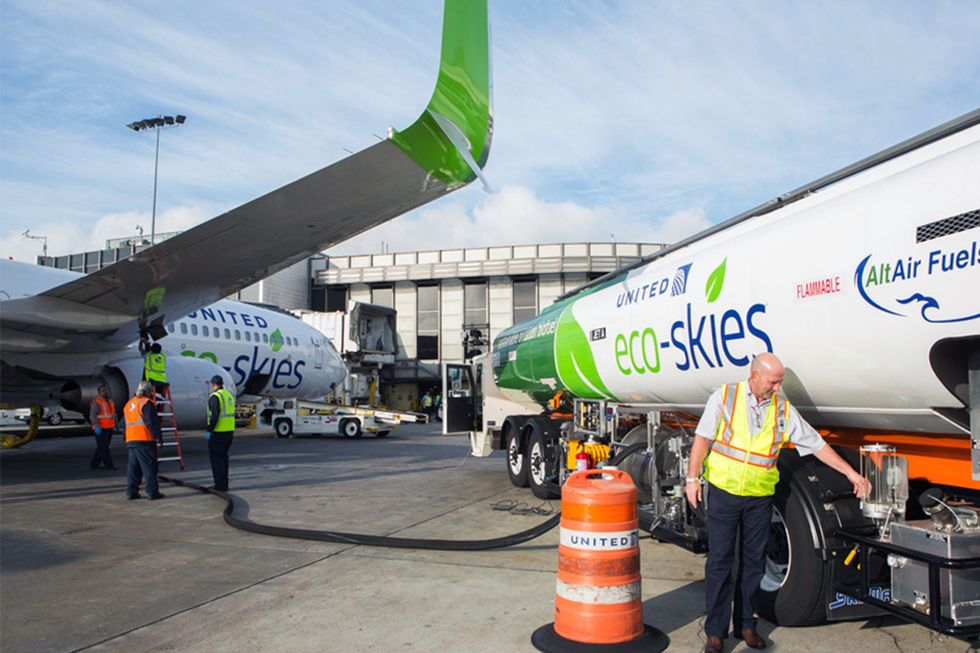 Sustainability initiatives did not take off just this year — many Earth Days have come and gone since we began launching environmental programs ranging from sustainable practices, products and nonprofit partnerships to green buildings and biofuel flights. These are not token programs meant just for Earth Day — they are making a real difference, every day of the year.
Biofuel in the air
In March, we became the first U.S. airline to use low-carbon aviation biofuel at commercial-scale volumes for regularly scheduled flights from LAX. Greenhouse gas emissions from AltAir biofuel are 65 to 85 percent lower than traditional jet fuel emissions throughout the life cycle — collection to use. In 2009 we began testing biofuels in our operations, conducting the first-ever biofuel demonstration flight by a U.S. carrier. We also became the first U.S. airline to use biofuel on a commercial flight in 2011. We're proud to say that this year's commencement of regular use of sustainable aviation biofuel has been recognized as an aviation milestone.
The biofuel, part of a 30-percent biofuel/70-percent jet-fuel blend, is extracted from sustainable feedstocks, non-edible natural oils and agricultural waste products. Once it's processed in Paramount, California, the biofuel is then used to fuel jets at the LAX airport. Up to 15 million gallons of the biofuel will be used over 3 years — enough to fuel the equivalent of 12,500 LAX-SFO flights.

Last year, we announced a historic $30 million equity investment in U.S.-based alternative fuels developer Fulcrum BioEnergy, Inc., a pioneer in the development and commercialization of converting municipal solid waste into low-cost sustainable aviation biofuel. To date, our investment in Fulcrum is the single largest by any U.S. airline in alternative fuels.

The green team
Technological advances have already improved fuel efficiency in the air by more than one-third in the last two decades. We were the first airline in the world to fly with the split scimitar winglet technology that cuts fuel consumption by up to an additional 2 percent, and we continue to take delivery of new Boeing and Airbus aircraft that are 15 to 20 percent more fuel efficient than those they will replace. United now has more than 260 of these new, fuel-efficient aircraft on order — and an industry-wide switch to renewables like biofuel will also have a major impact. Still, aviation accounts for only two percent of global CO2 emissions. While we recognize that our carbon footprint happens in the air, most contributions to global warming happen on the ground, which is why United team members have been adopting and following sustainable practices for many years.
Our employees have recycled nearly 30 million pounds of plastic, paper and aluminum from flights and United facilities since 2008. Last year, through our upcycling initiative, an entire football field's worth of fabric banners at Chicago's O'Hare airport was turned into fashionable travel bags and later sold to benefit the Chicago-based Re:new Project and our United Eco-Skies CarbonChoice Alto Mayo Forest Carbon Project in Northern Peru. Efforts to reduce consumption are also being made at our airport locations — United employees at the San Francisco Maintenance Center cut water consumption by more than 30 percent during the recent California drought.
Gold, silver and green
Green-building innovations have earned new United facilities recognition, including a prestigious LEED Gold certification in San Francisco, a LEED Silver in Houston and acclaim for a massive "green roof" in Chicago — all in the last four years.
Taking the gold is the SFO Terminal 3 Boarding Area E (T3E). Natural lighting from windows and skylights helps T3E to reduce electricity requirements, photovoltaic panels deliver onsite renewable energy and the terminal also makes use of local and sustainable materials including recycled carpeting and glass. Claiming the silver is Houston's George Bush Intercontinental Airport Terminal B south concourse, which features an energy-efficient, 28-foot glass wall. And that green roof? It can be found atop the new cargo facility at Chicago's O'Hare airport. Besides sporting one of the largest vegetative living roofs in North America (109,000 square feet), the building incorporates leading-edge green features such as energy-efficient lighting, heating and cooling, and even storm-water recycling. Existing United customer and employee facilities are also tweaked on a regular basis to make them more sustainable.
Coffee and cream
Starting this summer, we'll begin serving illy coffee on all United flights worldwide. Illy coffee is already being served at United Club SM locations at U.S. mainland hubs and will appear soon in all other United Club lounges this year. We're proud to serve illy, whose coffee-bean growers and processors earn above-market wages in exchange for following eco-friendly and sustainable-quality practices.
Cowshed Spa skin-care products are another recent addition to United flights. The award-winning, eco-friendly product line — including hand creams, lip treatments, moisturizing balms and towelettes — are found in many premium cabin amenity kits, as well as in United Club locations. Made in England, Cowshed uses organic and fair-trade extracts and essential oils to make their premium products. All products in their line are made from sustainable sources and natural botanicals and contain no parabens, petrochemicals, sulphates, animal ingredients (spare a little organic beeswax and wildflower honey), no artificial colors or fragrances and no animal testing.
Green partners
Through our United Eco-Skies program we have partnered with a number of nonprofit organizations to enhance sustainability efforts. Sustainable Travel International manages our CarbonChoice offset program, with all proceeds going to worldwide projects curated by STI. Through our partnership with the Smithsonian Conservation Biology Institute, scientists are flown to study native habitats around the world. Additionally, we also support the Clean Energy Trust Challenge, which awards annual grants to pioneers in energy efficiency and innovation.
MileagePlus members can receive bonus miles for consultations (5,000 miles) or purchases (25,000 miles) from NRG Home Solar in the five states where it operates, along with bonus miles for other sustainable products. These are just some of the investments we have made toward creating a more sustainable world; others range from clean-energy STEM education programs and EV charging programs to tree planting and adopt-a-stream projects.
Earth Day and beyond
The United team is committed to being a responsible global citizen all year — not just on Earth Day or during Earth Month. We have pledged to continue to boost our efforts to be an industry leader in seeking to reduce our carbon footprint while striving for sustainability. Sustainability at United applies to not only preserving our environment, but also to fostering community pride and celebrating diversity. Our team members on the ground and in the air are dedicated to protecting our planet and aim to preserve its health and richness every day.
From Sept. 15 through Oct. 15, the U.S. celebrates Hispanic Heritage Month, a chance to pay tribute to the history, culture and contributions that generations of Latinxs have paved to enrich U.S. history. It is also a reminder to celebrate our differences and spark difficult, yet important, conversations.
To kick off the month, UNITE, our multicultural business resource group for employees, did just that by hosting a panel discussion about the immigrant experience and what it means to be an immigrant in the U.S.
United Litigation and Managing Counsel Elizabeth Lopez, who is a pro bono immigration attorney, moderated the panel, and was joined by Ashley Huebner, Associate Director of Legal Services at the National Immigrant Justice Center (NIJC) and Magdalena Gonzalez, Program Manager, Leadership Development Programs at Hispanic Alliance for Career Enhancement. The three women shared their insights and personal stories, while addressing some misconceptions and highlighting the contributions of immigrants to our company and country.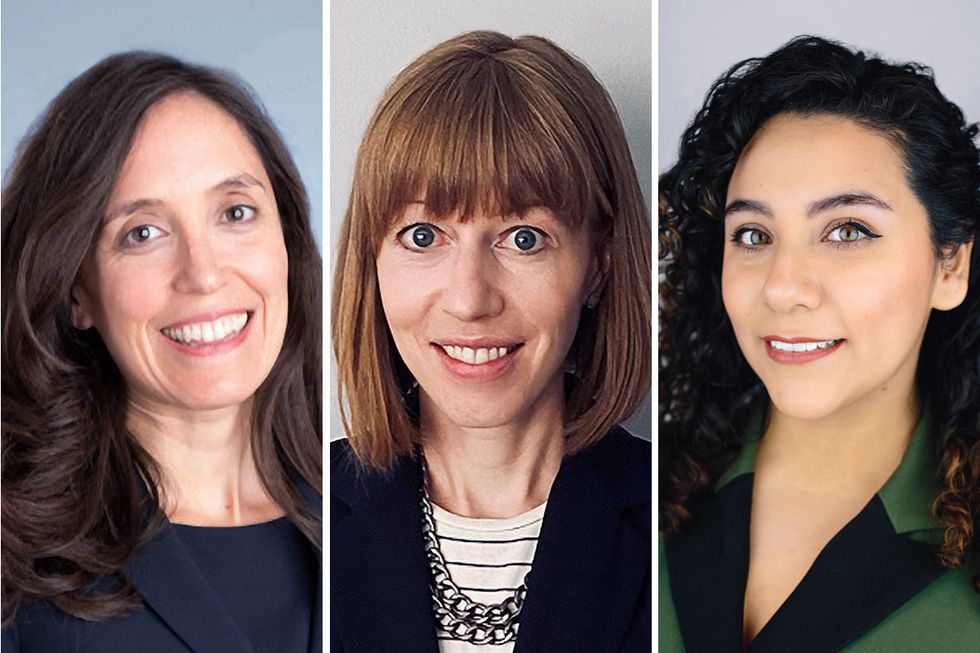 From left to right, Elizabeth Lopez, Ashely Huebner and Magdalena Gonzalez
"I started to notice that there were things I was scared of doing, that I needed to be cautious," said Magdalena while sharing her personal experience as a DACA (Deferred Action for Childhood Arrivals) recipient. "My friends, who a majority of them are citizens, did not need to worry about that. As I was able to see that, I realized that, 'oh, there's so many things that revolve around not just being a DACA recipient but revolve around being a person with an undocumented status here in the United States.'"

United maintains a close relationship with the NIJC. In May of 2019, United co-hosted an asylum clinic put on by the legal services organization, where several attorneys and legal professionals were trained on representing asylum-seeking applicants. At the end of the clinic, members of our legal department were assigned an asylum case through the NIJC.
Litigation Managing Counsel Elizabeth Lopez, Commercial Transactions Counsel Tiffany Jaspers, Global Compliance and Ethics Counsel Nancy Jacobson and Employment Litigation Senior Manager Dorothy Karpierz were partnered with attorneys from the law firm of McDermott Will & Emery to take on an immigration case of a mother of three from Honduras. Recently, after a years-long court battle, the legal team was victorious, changing the life of the woman and her family.
United is committed to connecting people and uniting the world. Whether you're an immigrant, a child of immigrants or simply want to learn more about the immigrant experience in the U.S., discussions like these, related to this hot-button issue, are important to have in order to understand the human lives behind it.
Your voice matters. Voting is one of the most influential civic activities we can engage in as Americans. At United, our mission is to connect people and unite the world — and one of the most important ways to do that is to engage in the democratic process. That's why we've long provided our employees with resources to help them get registered to vote.

This year, we're taking our support a step further as the official airline of the Commission on Presidential Debates (CPD). Since the start of the pandemic, we've overhauled our cleaning measures through a program we call United CleanPlusSM , and the CPD has placed their trust in United to fly Commission production staff to each of the four debates, starting with the first one on September 29, hosted by Cleveland Clinic and Case Western Reserve University.
Today, on National Voter Registration Day, we also want to make sure our customers have access to information about how to participate in the 2020 Election. Over the past several months, you've heard a lot from us about how the COVID-19 pandemic has changed air travel. We've learned that with some planning and extra effort, it's still possible — and safe. That's true of voting, too.
No matter which party you support or how you're planning to vote, we know our democracy will be stronger if you make your voice heard and make a plan to vote.
Best,
Brett J. Hart
President
United Airlines
Since its launch 20 years ago, Year Up, one of our critical needs grant recipients, has helped more than 10,000 young adults gain access to corporate business and technical experience at large companies like United while offering the invaluable perspectives they bring with them.
On Wednesday, the nonprofit inducted United into its Opportunity Hall of Fame – a selection that occurs once every five years.
Year Up's mission is to help close the opportunity divide by providing urban young adults with the skills, experience and support that will empower them to reach their potential through professional careers and higher education. Since 2018, our partnership has allowed talented student learners the opportunity to gain corporate business experience and technical skill training at the airline while bringing their unique perspectives to our United family and culture. One of those students is Emily Lopez, who graduated from the Year Up program in January 2019 and was hired to be part of the United family as an analyst in Revenue Management.
"I moved from Venezuela to the United States in July 2016 and being a young immigrant with no resources can be difficult to pursue a career in a new country," said Emily.
After learning about Year Up and ultimately being accepted into the program, Emily landed an internship with United, an opportunity she is very grateful for.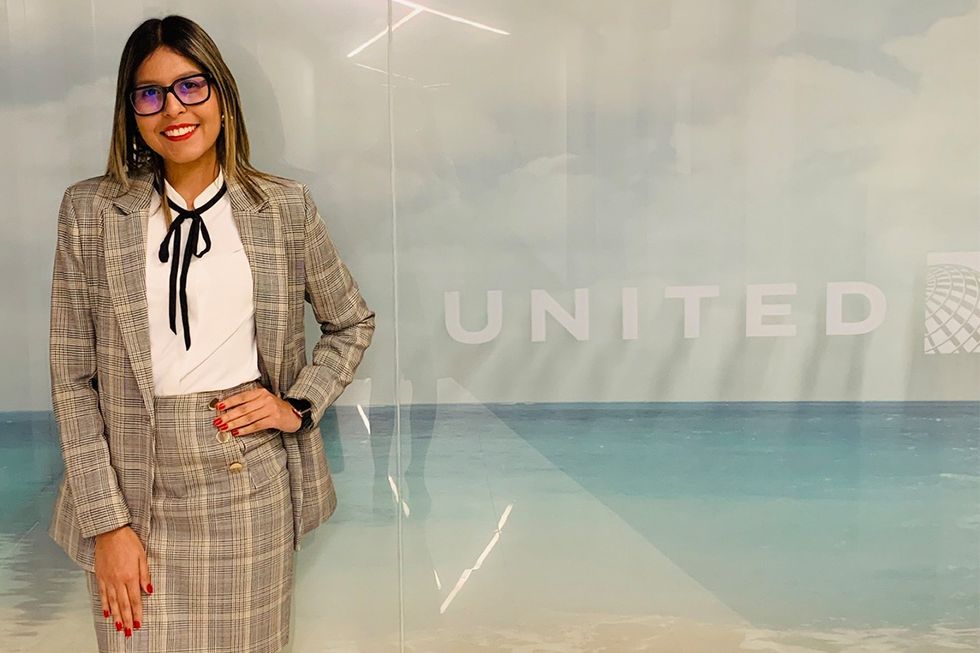 Emily Lopez - Analyst, Pricing & Revenue Management
"Feedback from my mentors, coaches and managers was key during my internship phase and helped me convert my internship at United to a full-time position. I am grateful for the opportunity United has provided me and my Year Up Alumni colleagues to keep building a professional career within the company. I am so excited to continue building a professional career with the company and to see United being inducted to Year Up's Hall of Fame. Let's continue closing the opportunity divide!" said Emily.
Although the coronavirus pandemic has made this year's partnership a bit more difficult, we continue to do our part to support the Year Up student learners. Last month, we surprised 145 graduates of this year's Year Up Chicago program with roundtrip tickets to pursue career and networking opportunities within the United States.
"I've been personally honored and inspired to be an advocate for Year Up since I joined United," said CEO Scott Kirby. "This program gives young people from challenged backgrounds an opportunity to get their foot in the door as interns at United. This year's graduates are entering a challenging job landscape, but we have one thing that can help: a route network that provides easy access to major business markets across the United States."
Scroll to top