The sounds of the Himalayas
Each week we will profile one of our employee's adventures across the globe, featuring a new location for every employee's story. Follow along every week to learn more about their travel experiences.
By Chicago O'Hare A320 Captain Terry Sesvold
Our never-ending quest for the biggest, fastest or most extreme vacation has taken us all over the world. From driving the ice road in Canada, riding the world's fastest rollercoaster in Abu Dhabi or swimming with the great white sharks in Shark Alley, South Africa, it's a continuous adventure. So the thought of hiking to Mt. Everest base camp seemed like a logical vacation option for my son's senior year spring break. Unfortunately, the 15-day, 38-mile hike was just too much, given his school's constraints. Hiking to Tengboche, a small village in northeast Nepal (approximately an 11-mile hike from Kathmandu), became the better option.
Kathmandu, Nepal, is a little over an hour flight from Delhi. From there we caught our flight to Lukla, Nepal and began our trek. Lukla is the main starting point for the Everest base camp trek and is only accessible by air or a five-day hike. There are no cars; the main mode of transportation is trekking. Everything from building supplies, to cooking gas, to food is flown in and then carried up the trail by porters and donkeys. It's a logistic nightmare considering the terrain and the difficult weather.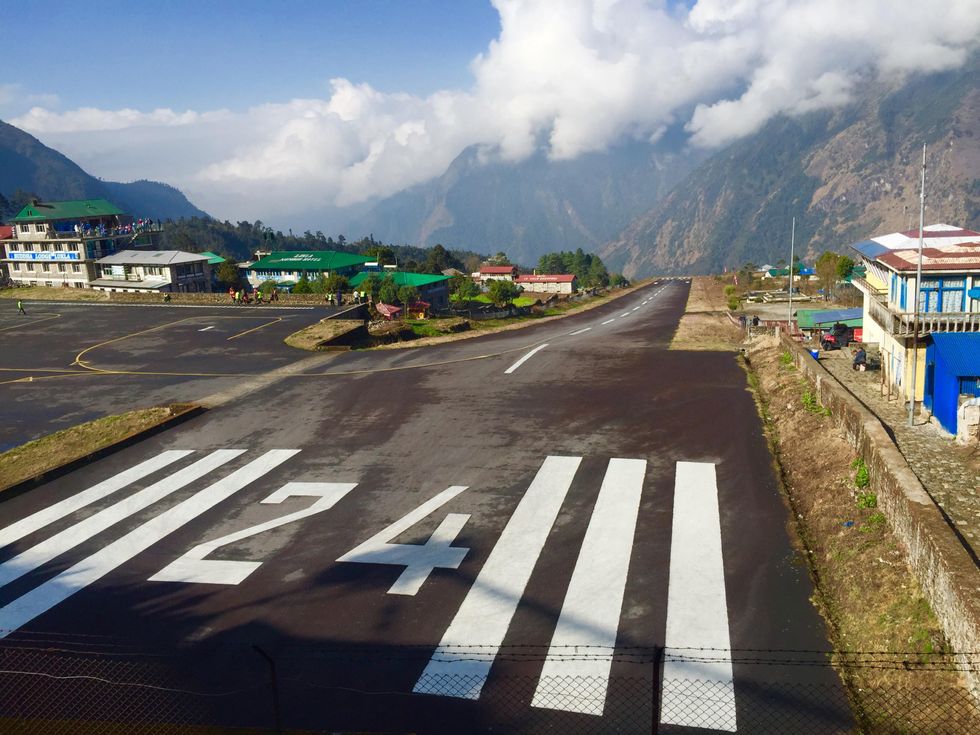 Lukla Airport is one of the most dangerous airports in the world. Located at an elevation of 9,300 feet, the runway is 1,700 feet long and has an 11 percent slope. Landings are performed uphill on Runway 06 that terminates into a mountain, so there is little to no chance of a viable missed approach. Takeoffs are downhill on Runway 24. The end of the runway terminates into a very sharp, steep valley. There is no aborted takeoff option on the runway. There is high terrain surrounding the airport, and they only allow visual approaches. There are several airlines flying into Lukla, but the schedule is heavily dependent on the weather. Flights depart from the domestic terminal at Tribhuvan International Airport in Kathmandu. After numerous attempts and a day-and-a-half delay, we finally gave in and took a helicopter.
We met our Sherpa guide and porter in Lukla and began the five-mile hike to Phakding. The hike started out as a gentle down slope trek along the Dudh Koshi Nadi River, giving us our first look at the Himalayas. It's a lush green valley with towering mountains, dotted with the occasional prayer flags and a rushing river. As the hike progressed, it became hilly, with a nearly continuous up-and-down path that ended up about 800 feet lower than Lukla. I was beginning to feel the effects of the elevation, as every step became a bit more difficult. We had frequent encounters with mule and yow (half cow, half yak) delivering goods up the trail. We crossed numerous suspension bridges that got higher and more dramatic as we went along. The bottom of the bridges was slatted, which offers excellent views, or terrifying ones, depending on your perspective, of the valley and the river below. We ended up in Phakding just before sunset and stayed in a small lodge overlooking the river.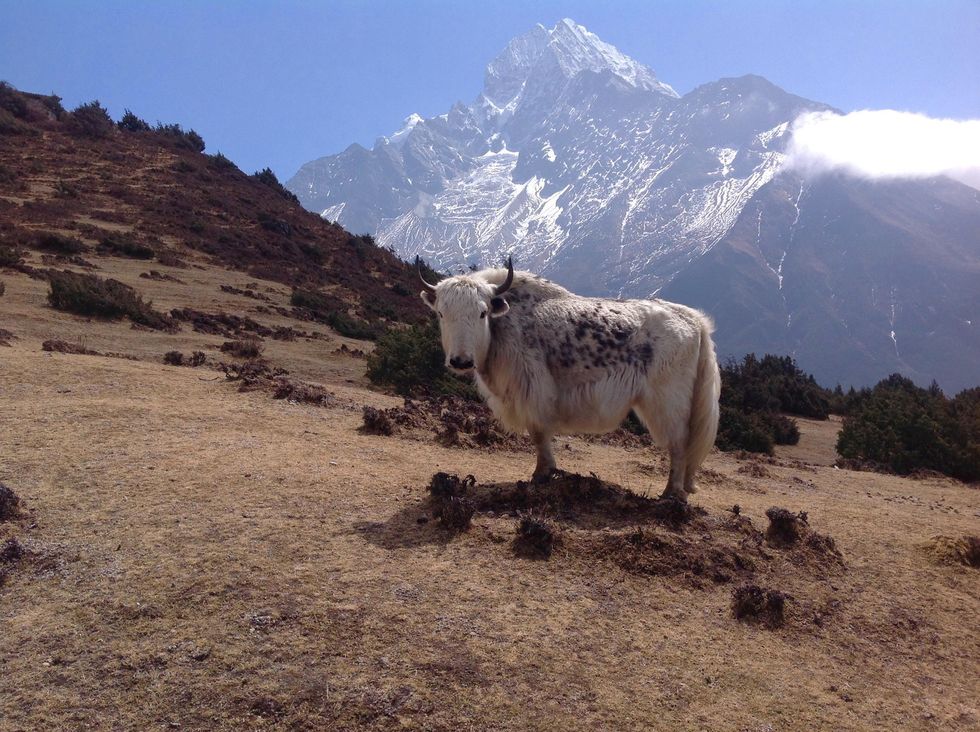 The second day of our trek began early in the morning and took us on a 4.5-mile hike to Namche Bazaar. We continued to follow the Dudh Koshi Nadi River past the rhododendron and magnolia forest to Monjo, where the river splits and becomes the Bhote Koshi Nadi. We stopped for lunch in Jarsale, the last village before the uphill hike begins. The next three hours were the most difficult portion of the base camp hike. It was a 1,900 feet altitude gain over a very steep and uneven trail -- roughly the height of the Willis Tower. After careful thought, I decided to hire a horse, who I called Fred, to schlep my couch potato body up the mountain. It was one of my more brilliant decisions in life.
The trail passing Jarsale followed along the river and was easy to navigate. I asked my guide to send Fred ahead and have him meet us at the steep part. Fred was a little too anxious, and he took off -- I wouldn't see him for quite some time. We came up the Larja Bridge, one of the most dramatic bridges at just over 400 feet; it's not for the faint of heart. These bridges gently sway in the wind and move with every step you take. The trail to the bridge was steep, and I was looking around for good old Fred. Our guide pointed to the top left side of the bridge, and there he was. I did ask our guide where the elevator was, but I'm not sure he understood my humor. I dragged myself, huffing and puffing, to the top of the bridge and started chanting the Rocky theme song while pumping my fists into the air. My son had no idea what to make of my craziness. I took the requisite photos then glanced over at my son, who seemed to sense my excess spunkiness.
Approaching the center of the bridge, I stopped, closed my eyes and listened. I heard the churning of the river below. It was a powerful, low-frequency rumble that resembled the sound of a freight train off in the distance. I heard the occasional chime of the mule train bells and a faint woosh of the breeze through the trees. No cars, no cell phones -- just the sounds of the Himalayas. The bridge swayed gently in the breeze. I opened my eyes, looked down through the slats in the bridge, and thought, "Wow, we are high up." I had a perfect view of the mountains, the valley and the thundering rapids below. It was an awe-inspiring view that I will never forget.
I continued my run across the bridge with my arms wide open, ready to greet Fred like a long-lost friend. He seemed less excited to see me -- he'd been up this mountain before, and I'm guessing he wasn't too crazy about carrying me.
The next two hours were a grueling, very steep climb over makeshift stairs that were uneven and spaced between 10 and 20 inches high. The guide book said this part of the hike is difficult ... HA, I would love to meet the person who determined that. For some reason, Fred liked to hug the outside of the trail. Under normal circumstances, that wouldn't have bothered me, but considering that the drop is several thousand feet down, it was a bit disconcerting.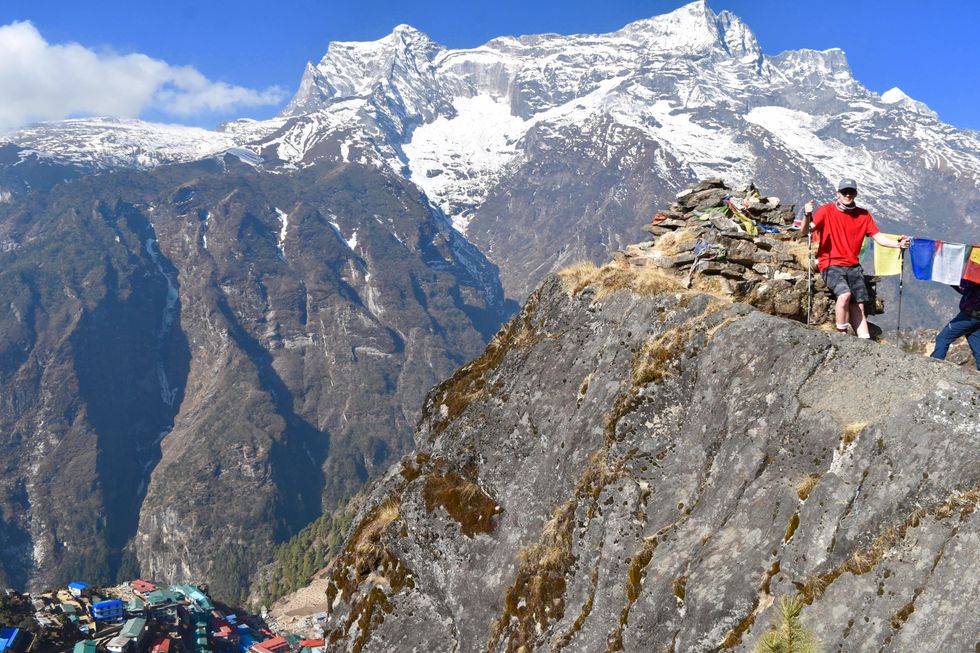 We arrived in Namche just before dinner, and I could clearly see the fatigue and sheer exhaustion on my son's face. He is a competitive swimmer who swims over five miles a day, and this hike wiped him out. As we passed other hikers coming into town, the look on everyone's faces was the same; they were completely spent.
Namche is a double acclimatization day, which means we had to spend two days there before going higher to prevent altitude sickness. The plan for our next day was to hike to Everest View Hotel at 13,000 feet, take a few pictures then return to Namche for an early dinner. What was described as an easy hike was in reality a 1,700-foot, nearly vertical climb to the Syangboche Airport, followed by a gradual climb to the Everest View Hotel. Good thing I still had Fred on standby. The views from there were amazing, offering the first clear views of Mt. Everest as well as 360-degree views of the Himalayas. We made our way down around noon, just as the clouds started to roll in. It was an impressive sight to see the weather change so quickly. By the time we returned to Namche, the entire area was completely engulfed in fog.
Our next day was planned for Tengboche, but, because of constant weather issues in the afternoon, we decided to spend another night in Namche and hike the Khumjung Valley instead. We stopped at the visitor's center to view the Sir Edmund Hillary statue with Mt. Everest clearly visible in the background. We made our way up toward the Syangboche Airport, then followed the valley toward Mt. Everest. This area has been rightfully described as the most beautiful hike in the world, and it did not disappoint. We were completely surrounded by towering, snowcapped mountains that stretched as far as we could see, with Mt. Everest prominently displayed at the end of the valley. The trail was narrow, with a sheer drop off of several thousand feet. The river that we passed just a few days prior was barely visible below. We cut across the Khumjung Valley and made our way back for our final night in Namche.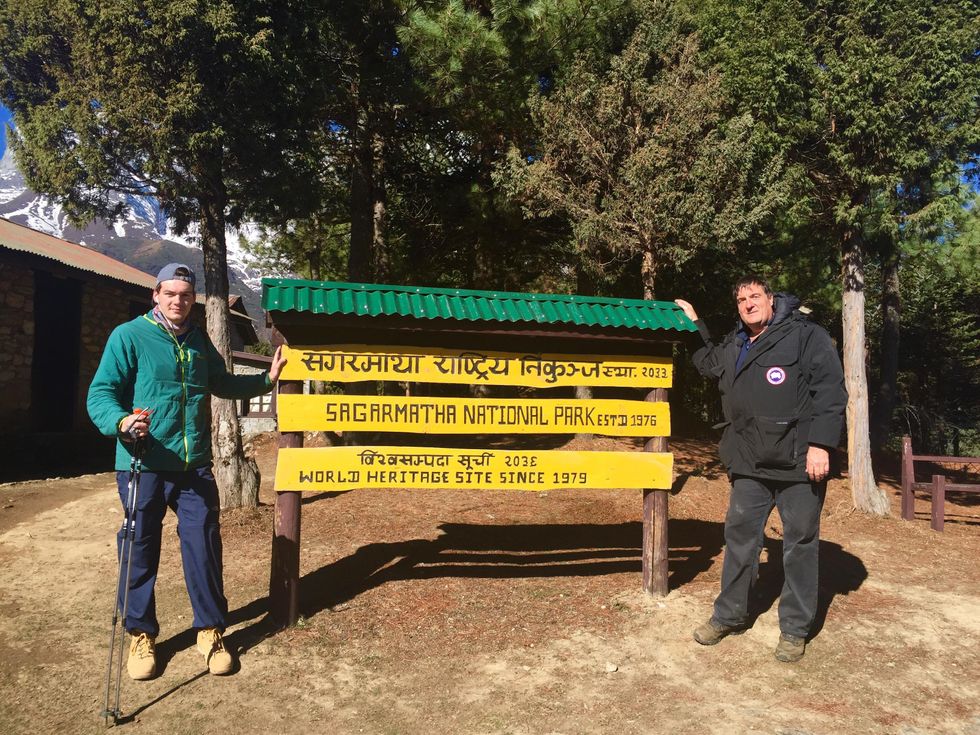 Back in Lukla, it was déjà vu, and our hopes of getting to fly out of Lukla quickly disappeared. We ended up taking a helicopter back to Kathmandu.
It was an epic trip that was spectacular, exhausting, terrifying and humbling all in one breathtaking vacation. The Sherpa people were nothing short of amazing. Their warm smiles and endless energy made the long, sometimes treacherous days, a little easier. Perhaps it is their unconnected, technology-absent existence. Maybe the things that are supposed to make our lives a little easier are actually contributing to our stress.
After a quick stop in Delhi to see the Taj Mahal, we headed back home. We hopped off the plane and made a quick dash through customs, enjoying the oxygenated air. As I exited customs, I saw a sight that almost brought a tear to my eye... there it was, I've seen it a million times, and I will admit, maybe even took it for granted, the beautiful piece of modern machinery that can effortlessly transport me up two flights of stairs without so much as a whimper. As if the day couldn't get any better, I boarded a train that whisked me to Terminal 1, a mere few hundred yards, in just a matter of minutes. What would my Sherpa guide think of such foolishness?
On March 19, 2020, United operated its first flight carrying cargo without passengers on board. While the passenger cabin was empty, its cargo hold was completely full, carrying more than 29,000 pounds of commodities from Chicago O'Hare International Airport (ORD) to Frankfurt Airport (FRA).
A year later, United Cargo has operated more than 11,000 cargo-only flights carrying more than 570 million pounds of freight. To support the COVID-19 pandemic recovery efforts, United Cargo has also transported more than 113 million pounds of medical and pharmaceutical products on both cargo-only and passenger flights as well as approximately 10 million COVID-19 vaccines, providing global communities access to the items they have needed most.
"At the beginning of the pandemic, we knew we were uniquely positioned to utilize our widebody aircraft and our network to keep commodities moving, so we quickly mobilized various departments throughout the airline to launch a cargo-only network of flights that would keep commodities moving," said United Cargo President Jan Krems. "Thanks to those efforts, United Cargo has delivered millions of items to countries all around the world. We would not have been successful without the steadfast support of our employees, industry partners and our customers."
Since last March, United Cargo has transported almost 850 million pounds of freight on cargo-only and passenger flights. The airline will continue to monitor market trends adjust its cargo-only flight schedules to help ensure we are meeting our customer's evolving shipping needs.
Whether you haven't flown with us for a while or just need a quick refresher before your spring trip, read this list of tips to know before your flight and arrive at the airport travel-ready:
1. Download the United app for contactless bag check, travel assistance and more
Before your flight, download the United app to view your flight status, check in, sign up for flight notifications, locate departure gates, access our free personal device entertainment when available and more. We've also updated our app with new features that can make your trip a little safer, including contactless bag check.
Don't forget to use Agent on Demand for help with any and all questions you may have before your flight. This new capability is available at all our U.S. hub airports and allows you to use your own mobile device to contact a customer service agent via phone, video or chat to help with day-of-travel questions while you're at the airport. Learn more about Agent on Demand here.
2. Check out the Travel-Ready Center
Our Travel-Ready Center makes it easy to get a personalized overview of everything you need to do in preparation for your flight. Just enter your confirmation number or MileagePlus® number and you'll find detailed information on all the documents, tests and more that you'll need for your trip.
3. Read and sign the Ready-to-Fly checklist
Before completing check-in, all United travelers will need to read our Ready-to-Fly checklist and confirm that they understand and agree to our policies. These include:
Acknowledging that you haven't had any symptoms of COVID-19 in the last 14 days
Agreeing that you will not fly if you have tested positive for COVID-19 within the last 21 days
Confirming that you will follow all policies regarding face masks, social distancing and other health and safety measures we've adopted
4. Arrive early; avoid the stress
Airports can be busy, especially during peak travel periods like spring break season. The TSA advises arriving at the airport two hours before your flight for domestic travel and three hours for international travel in anticipation of long security lines. This can help ease the stress when navigating busy check-in areas, security lines and crowded boarding gates.
5. Get familiar with CleanPlus
United CleanPlus℠ is our commitment to delivering industry-leading cleanliness as we put health and safety at the forefront of your experience. We've teamed up with Clorox to redefine our cleaning and disinfection procedures and Cleveland Clinic to advise us on enhancing our cleaning and disinfection protocols, like:
Disinfecting high-touch areas on board and in the terminal
Using electrostatic spraying, Ultraviolet C lighting wands and more advanced measures to clean aircraft cabins before boarding
Redesigning our mobile app to allow for touchless check-in and contactless payment, along with enhanced travel assistance features
Implementing high-efficiency (HEPA) filters on our aircraft that completely recirculate cabin air every 2-3 minutes and remove 99.97% of airborne particles, including viruses and bacteria
Studies show COVID-19 exposure risk is minimal when air filtration systems and masks are in use, so you can rest assured that the steps we've taken to keep you safe truly make a difference.
6. Wear your mask
Federal law requires all travelers to wear a face mask in the airport, including customer service counters, airport lounges, gates and baggage claim, and on board during their entire flight. Make sure you review the requirements for face masks, including what an acceptable face mask looks like.
7. Get ready for a safer boarding process
To make boarding even safer, we now have travelers board their aircraft from back to front. At the gate, just listen for your row number to be called – we'll ask a few rows at a time to board, starting with the last row of the plane. This helps everyone maintain a safe distance from each other during boarding without slowing things down. As you step onto the plane, flight attendants will hand each passenger a sanitizing towelette, which you can use to wipe down your seat to ensure it's extra clean.
8. Pack smart
Before packing your bags, check to see what exactly you can carry on and what you should plan to check. You can also copy your confirmation number into our Baggage Calculator tool to learn about the bag allowance included with your reservation, as well as the cost of checking any additional bags.
9. Check your flight status, important notices and weather
Check the United app regularly for the latest updates on weather conditions, flight status, gate numbers and seat assignments. You can also visit our Important Notices page to find essential information and updates about travel waivers, international travel, TSA and security, airports and United Club locations.
10. Relax and enjoy your flight
Once you're on board, it's time to sit back and enjoy your flight. Our flight attendants will be happy to help you with anything else you need.
This week, we were honored to become the first U.S. airline to join the UNICEF Humanitarian Airfreight Initiative to combat the COVID-19 pandemic by transporting the vaccine and other critically needed supplies to underserved areas of the globe.
"We are committed to helping the global community in any way we can, and we all must work together to do our part to bring this health and humanitarian crisis to an end," said Director of Cargo Specialty Products Manu Jacobs.
We will leverage our expertise to transport these critical pharmaceutical and healthcare shipments around the world safely, efficiently and expediently. We are proud to partner with the United Nations to support this global effort and provide equitable access to COVID-19 vaccines.
Scroll to top