A historical flashback in Moscow
Each week we will profile one of our employee's adventures across the globe, featuring a new location for every employee's story. Follow along every week to learn more about their travel experiences.
By Ground Safety Program Integration Specialist Kerry Fischman
Growing up in the age of the Cold War and the monthly air raid drills, my wife and I never imagined that one day we would be able to visit Russia, the former Union of Soviet Socialist Republics, and a country that had instilled so much fear in us as children. My wife had loved the movie "Dr. Zhivago" (cue "Lara's Theme") and thought it would be interesting to visit during a Russian winter. However, saner minds prevailed, and we chose August of 2011 to visit Moscow.
In order to visit Russia, we needed to obtain a visa. In addition to the appropriate paperwork, the visa required a letter of "sponsorship," which our hotel was able to provide for us. To make life simple, we used a visa service in Washington, D.C.
Once we arrived at our hotel and freshened up, our first "must-see" was Red Square. As children of the 1950s, we would see TV newsreels showing the armies on parade marching into this massive square with tanks and missiles. All around were imposing red brick buildings and at the far end was this colorful cathedral. Fast forward to the 21st century, and here we were. We walked through an archway that, during the Soviet era, had been destroyed to make room for the military equipment but now had been rebuilt. We emerged into Red Square and, instead of marching armies and tanks, there were families strolling with their children. We stood and just slowly turned in each direction to take it all in. The far end of the square is dominated by St. Basil's Cathedral, with its multi-colored, onion-like domes. Two other sides contain various buildings of the Kremlin and the State Museum. On another side is GUM, the large department store. During the days of the old U.S.S.R., newsreels would show lines of people lined up outside to get their bread or food allowance for that day/week. Today, the building houses stores like Prada, Louis Vuitton, an upscale food market and ice cream stands. It's a complete 180-degree turn from what it had been. But, more than just a building housing three floors of stores in which to spend your money, the building is very beautiful with a ceiling made of steel and glass. After meandering through this late 18th century architectural beauty, we walked back out sun into Red Square, still full of families strolling in the late afternoon.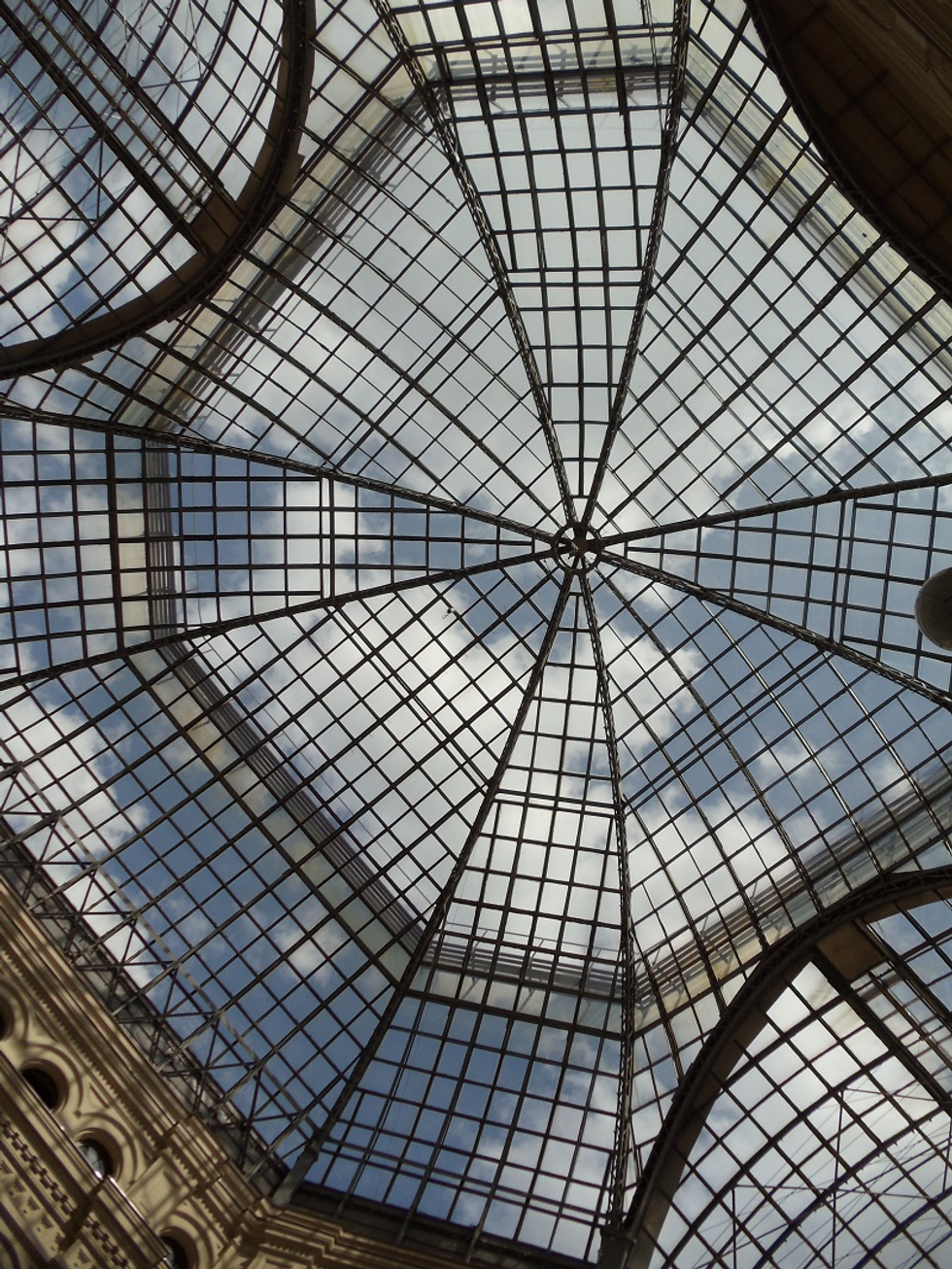 Throughout our stay, we would walk the short 10 minutes from our hotel to Red Square – just to take in the historical relevance. A bit of background information: Red Square does not get its name from the pigment in the bricks of the buildings in the square, nor from a euphemism for communism, but rather from a Russian word that means both "red" and "beautiful" – in reference to a small area around St. Basil's and parts of the Kremlin.

The British have Parliament. The Unites States have Capitol Hill. The Russians have the Kremlin. The name "Kremlin" means fortress inside a city. The Kremlin is made of cathedrals, palaces, office buildings and the residence of the president of Russia. It is walled off from the city, but many of the palaces and cathedrals are open for touring. One can tour some of the buildings (not the governmental ones) on their own, but we wanted more in-depth knowledge of what we would be seeing, so we arranged through our hotel for a private guide. Our guide took us through cathedrals and museums that displayed masterpieces of Russian art, Russian icon paintings, gilt frescoes and all things connected to the Russian royal family. Of particular interest were the world-famous Faberge eggs. A series of Easter eggs were created by Fabergé for the Russian imperial family from 1885 to 1916. The Faberge egg is fashioned out of gold and other precious materials and decorated with jewels. The outer "shell" can be opened on many of them to reveal a surprise inside. The surprises range from a perfect miniature replica of the Coronation carriage - that took 15 months to make working 16-hour days - to a mechanical swan and an ivory elephant, to a heart-shaped frame on an easel with 11 miniature portraits of members of the imperial family.
Just outside, near the Kremlin Wall, is the Tomb of the Unknown Soldier. Just like the American Tomb of the Unknown Soldier in the Arlington Cemetery, it is guarded with dignity by the Russian military.

Steps away from Red Square sits the famous Bolshoi Theatre, home to the world-famous ballet, theatre and opera companies – but, due to renovation during our visit to Moscow, the theatre was closed and we were unable to attend a performance there. Although we could not enter, we admired the grand sculptures of the four flying horses that sit atop the theatre and imagined the majesty of hearing a performance of Tchaikovsky.
Moscow is more than the red brick facade buildings, the onion-domed cathedrals and the block style of architecture from the Soviet era – it also has beautiful boulevards that are lined with 19th century mansions. Over the years, one boulevard, Ulitsa Arbat, fell out of favor and was neglected, but in the 1980s it became pedestrianized, and now it is home to trendy restaurants, art galleries, shops and street performers. The mansions are pastel colored – pale green next to pink next to sunny yellow, making this boulevard come to life and a perfect area to stroll.
Every major city of the world has its underground subway system and, of course, Moscow has one as well. But what makes the subway system in Moscow unique is that several of its underground stations are very ornate. The first metro stations were conceived as magnificent showcases of Soviet success. The Ploschad Revolyutsi station boasts 76 bronze statues, while Mayakovskaya station has beautiful mosaics, Komsomolskaya contains marble walls and chandeliers,Novoslobodskaya has amazing stained glass and is very ornate, and Novokuznetskaya contains historical themes. For the price of one metro ticket, you can take a tour of these stations simply by changing subway trains, all underground without surfacing.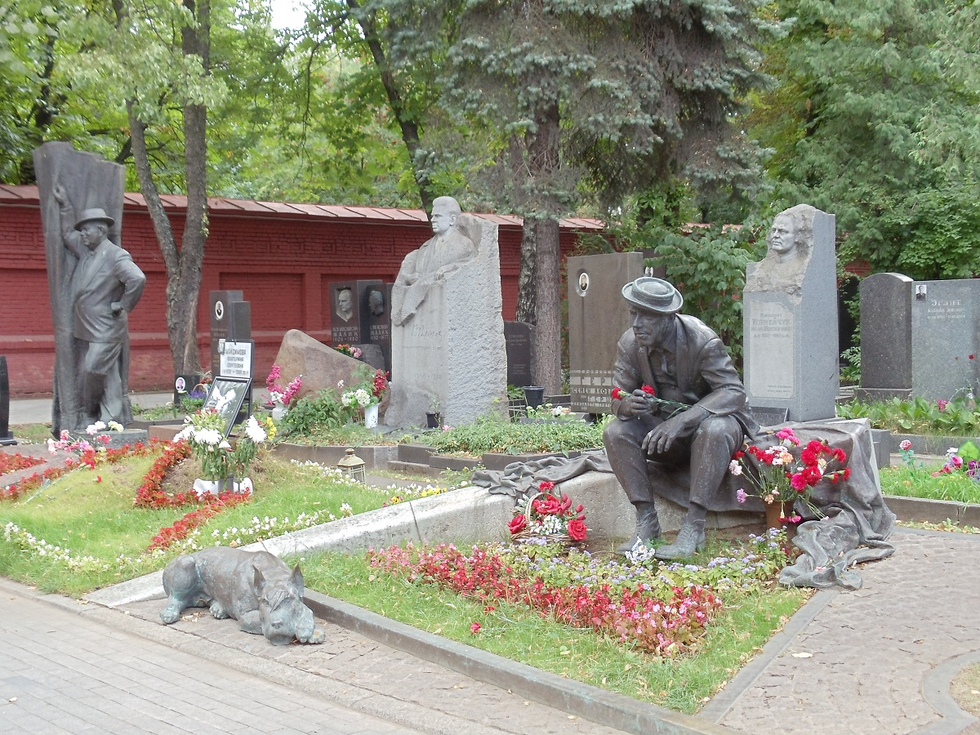 Not only are the metro stations works of art, but the Novodevichy Cemetery is like walking through a sculpture park. Don't think of this as a mournful place, but rather one that has a "park-like ambience." As you enter the cemetery, which is dotted with small chapels and large sculpted monuments, you are struck by the ornateness of the gravestones. Reading the names of those who are buried here is like reading a list of the who's who in Russian culture and politics. Anton Chekhov, Raisa Gorbachev, Nikita Khrushchev and Boris Yeltsin are buried here, along with notable scientists, musicians, poets and playwrights.

Although English is spoken widely throughout Moscow, one thing we needed to do was decipher the Cyrillic alphabet. While it does resemble the English alphabet, many letters are "turned around." For us, especially while in the Metro, we would go letter by letter… regular A, backwards C, then backward R, followed by an O with an I in it – it was not only a cultural experience but a linguistic one as well.
Moscow amazed us – giving us reminders of the bleakness of the Cold War era and then surprising us with the colorful streets full of upscale shopping. Many times, we had surreal experiences with our personal flashbacks to the "duck and cover" days while we were walking Red Square. It was an experience, to say the least.
Right now, around the world, brave members of America's armed forces are on duty, defending our freedom and upholding our values.
When not laser-focused on the mission at hand, they're looking forward to the day when their service to our nation is fulfilled and they can reunite with their families.
They are also imagining how they can use their hard-earned skills to build an exciting, rewarding and important career when they return home.
I want them to look no further than United Airlines.
That's why we are focused on recruiting, developing and championing veterans across our company, demonstrating to our returning women and men in uniform that United is the best possible place for them to put their training, knowledge, discipline and character to the noblest use.
They've developed their knowledge and skills in some of the worst of times. We hope they will use those skills to keep United performing at our best, all of the time.
That's why we are accelerating our efforts to onboard the best and the brightest, and substantially increasing our overall recruitment numbers each year.
We recently launched a new sponsorship program to support onboarding veterans into United and a new care package program to support deployed employees. It's one more reason why United continues to rank high - and rise higher - as a top workplace for veterans. In fact, we jumped 21 spots this year on Indeed.com's list of the top U.S workplaces for veterans. This is a testament to our increased recruiting efforts, as well as our efforts to create a culture where veterans feel valued and supported.
We use the special reach and resources of our global operations to partner with outstanding organizations. This is our way of stepping up and going the extra mile for all those who've stepped forward to answer our nation's call.
We do this year-round, and the month of November is no exception; however, it is exceptional, especially as we mark Veterans Day.
As we pay tribute to all Americans who have served in uniform and carried our flag into battle throughout our history, let's also keep our thoughts with the women and men who are serving around the world, now. They belong to a generation of post-9/11 veterans who've taken part in the longest sustained period of conflict in our history.

Never has so much been asked by so many of so few.... for so long. These heroes represent every color and creed. They are drawn from across the country and many immigrated to our shores.

They then freely choose to serve in the most distant and dangerous regions of the world, to protect democracy in its moments of maximum danger.
Wherever they serve - however they serve - whether they put on a uniform each day, or serve in ways which may never be fully known, these Americans wake up each morning willing to offer the "last full measure of devotion" on our behalf.
Every time they do so, they provide a stunning rebuke to the kinds of voices around the world who doubt freedom and democracy's ability to defend itself.
Unfortunately, we know there are those who seem to not understand – or say they do not - what it is that inspires a free people to step forward, willing to lay down their lives so that their country and fellow citizens might live.
But, we – who are both the wards and stewards of the democracy which has been preserved and handed down to us by veterans throughout our history – do understand.
We know that inciting fear and hatred of others is a source of weakness, not strength. And such divisive rhetoric can never inspire solidarity or sacrifice like love for others and love of country can.
It is this quality of devotion that we most honor in our veterans - those who have served, do serve and will serve.
On behalf of a grateful family of 96,000, thank you for your service.
Humbly,
Oscar
Each year around Veterans Day, Indeed, one of the world's largest job search engines, rates companies based on actual employee reviews to identify which ones offer the best opportunities and benefits for current and former U.S. military members. Our dramatic improvement in the rankings this year reflects a stronger commitment than ever before to actively recruiting, developing and nurturing veteran talent.
"We've spent a lot of time over the past 12 months looking for ways to better connect with our employees who served and attract new employees from the military ranks," said Global Catering Operations and Logistics Managing Director Ryan Melby, a U.S. Army veteran and the president of our United for Veterans business resource group.
"Our group is launching a mentorship program, for instance, where we'll assign existing employee-veterans to work with new hires who come to us from the armed forces. Having a friend and an ally like that, someone who can help you translate the skills you picked up in the military to what we do as a civilian company, is invaluable. That initiative is still in its infancy, but I'm really optimistic about what it can do for United and for our veteran population here."
Impressively, we were the only one of our industry peers to move up on the list, further evidence that we're on a good track as a company.
The question of where David Ferrari was had haunted retired U.S. Army Sergeant Major Vincent Salceto for the better part of 66 years.
Rarely did a week go by that Salceto didn't think about his old friend. Often, he relived their last moments together in a recurring nightmare. In it, it's once again 1953 and Salceto and Ferrari are patrolling a valley in what is now North Korea. Suddenly, explosions shatter the silence and flares light up the night sky.
Crouching under a barrage of bullets, Salceto, the squad's leader, drags two of his men to safety, then he sees Ferrari lying face down on the ground. He runs out to help him, but he's too late. And that's when he always wakes up.
Italian Americans from opposite coasts – Salceto from Philadelphia, Ferrari from San Francisco – the two became close, almost like brothers, after being assigned to the same unit during the Korean War. When Ferrari died, it hit Salceto hard.
"After that, I never let anyone get close to me like I did with Dave," he says. "I couldn't; I didn't want to go through that again."
When the war ended, Salceto wanted to tell Ferrari's family how brave their son and brother had been in battle. Most of all, he wanted to salute his friend at his gravesite and give him a proper farewell.
For decades, though, Salceto had no luck finding his final resting place or locating any of his relatives. Then, in June of this year, he uncovered a clue that led him to the Italian Cemetary in Colma, California, where Ferrari is buried.
Within days, Salceto, who lives in Franklinville, New Jersey, was packed and sitting aboard United Flight 731 from Philadelphia to San Francisco with his wife, Amy, and daughter, Donna Decker, on his way to Colma. For such a meaningful trip, he even wore his Army dress uniform.
That's how San Francisco-based flight attendant Noreen Baldwin spotted him as he walked down the jet bridge to get on the plane.
"I saw him and said to the other crew members, 'Oh my goodness, look at this guy,'" she says. "I knew there had to be a story."
The two struck up a conversation and Salceto told Baldwin why he was traveling. She got emotional listening to him talk and made a point of fussing over him, making sure he and his family had everything they needed.
About halfway through the flight, Baldwin had an idea. She and her fellow crew members would write messages of encouragement to Salceto and invite his fellow passengers to do the same.
"We did it discreetly," says Baldwin. "I asked the customers if they saw the man in uniform, which most had, and asked them if they wanted to write a few words for him on a cocktail napkin. A lot of people did; families did it together, parents got their kids to write something. After the first few rows, I was so choked up that I could barely talk."
When Baldwin surprised Salceto with dozens of hand-written notes, he, too, was speechless. He laid the stack on his lap and read each one. At the same time, the pilots made an announcement about the veteran over the loud speaker, after which the customers on board burst into applause.
"It seems contrived, and I hate using the word organic, but that's what it was; it just happened," Baldwin says. "Mr. Salceto was so loveable and humble, and what he was doing was so incredible, it felt like the right thing to do. And you could tell he was touched."
On June 27, Salceto finally stood before Ferrari's grave and said that long-awaited goodbye. As a trumpeter played "Taps," he unpinned a medal from his jacket and laid it reverently on the headstone.
"I had gotten a Bronze Star for my actions [the night Ferrari died] with a 'V' for valor, and that was the medal I put on Dave's grave," says Salceto, pausing to fight back tears. "I thought he was more deserving of it than I was."
For the first time in years, Salceto felt at peace. His mission was accomplished.
Scroll to top