A historical flashback in Moscow
Each week we will profile one of our employee's adventures across the globe, featuring a new location for every employee's story. Follow along every week to learn more about their travel experiences.
By Ground Safety Program Integration Specialist Kerry Fischman
Growing up in the age of the Cold War and the monthly air raid drills, my wife and I never imagined that one day we would be able to visit Russia, the former Union of Soviet Socialist Republics, and a country that had instilled so much fear in us as children. My wife had loved the movie "Dr. Zhivago" (cue "Lara's Theme") and thought it would be interesting to visit during a Russian winter. However, saner minds prevailed, and we chose August of 2011 to visit Moscow.
In order to visit Russia, we needed to obtain a visa. In addition to the appropriate paperwork, the visa required a letter of "sponsorship," which our hotel was able to provide for us. To make life simple, we used a visa service in Washington, D.C.
Once we arrived at our hotel and freshened up, our first "must-see" was Red Square. As children of the 1950s, we would see TV newsreels showing the armies on parade marching into this massive square with tanks and missiles. All around were imposing red brick buildings and at the far end was this colorful cathedral. Fast forward to the 21st century, and here we were. We walked through an archway that, during the Soviet era, had been destroyed to make room for the military equipment but now had been rebuilt. We emerged into Red Square and, instead of marching armies and tanks, there were families strolling with their children. We stood and just slowly turned in each direction to take it all in. The far end of the square is dominated by St. Basil's Cathedral, with its multi-colored, onion-like domes. Two other sides contain various buildings of the Kremlin and the State Museum. On another side is GUM, the large department store. During the days of the old U.S.S.R., newsreels would show lines of people lined up outside to get their bread or food allowance for that day/week. Today, the building houses stores like Prada, Louis Vuitton, an upscale food market and ice cream stands. It's a complete 180-degree turn from what it had been. But, more than just a building housing three floors of stores in which to spend your money, the building is very beautiful with a ceiling made of steel and glass. After meandering through this late 18th century architectural beauty, we walked back out sun into Red Square, still full of families strolling in the late afternoon.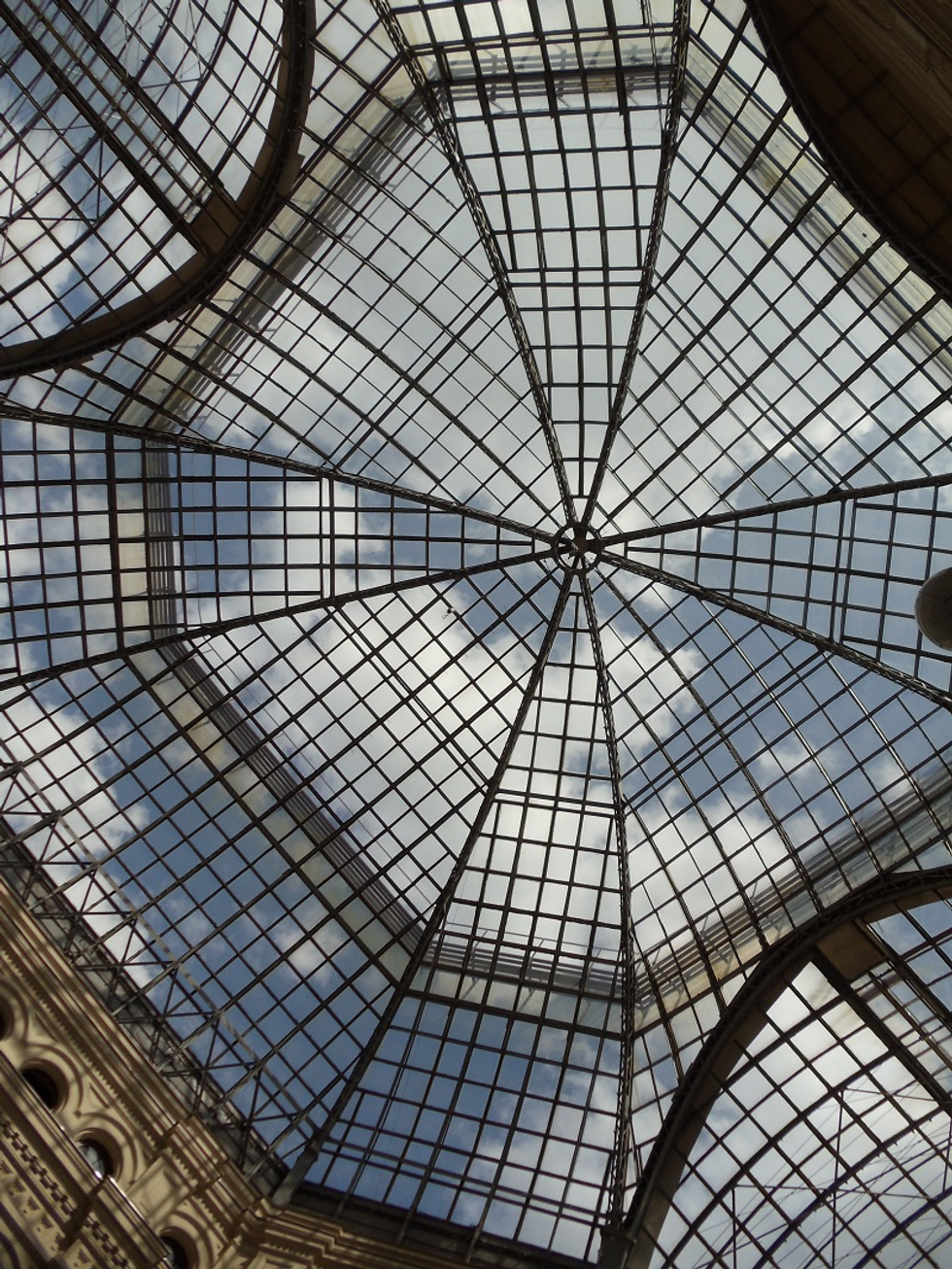 Throughout our stay, we would walk the short 10 minutes from our hotel to Red Square – just to take in the historical relevance. A bit of background information: Red Square does not get its name from the pigment in the bricks of the buildings in the square, nor from a euphemism for communism, but rather from a Russian word that means both "red" and "beautiful" – in reference to a small area around St. Basil's and parts of the Kremlin.

The British have Parliament. The Unites States have Capitol Hill. The Russians have the Kremlin. The name "Kremlin" means fortress inside a city. The Kremlin is made of cathedrals, palaces, office buildings and the residence of the president of Russia. It is walled off from the city, but many of the palaces and cathedrals are open for touring. One can tour some of the buildings (not the governmental ones) on their own, but we wanted more in-depth knowledge of what we would be seeing, so we arranged through our hotel for a private guide. Our guide took us through cathedrals and museums that displayed masterpieces of Russian art, Russian icon paintings, gilt frescoes and all things connected to the Russian royal family. Of particular interest were the world-famous Faberge eggs. A series of Easter eggs were created by Fabergé for the Russian imperial family from 1885 to 1916. The Faberge egg is fashioned out of gold and other precious materials and decorated with jewels. The outer "shell" can be opened on many of them to reveal a surprise inside. The surprises range from a perfect miniature replica of the Coronation carriage - that took 15 months to make working 16-hour days - to a mechanical swan and an ivory elephant, to a heart-shaped frame on an easel with 11 miniature portraits of members of the imperial family.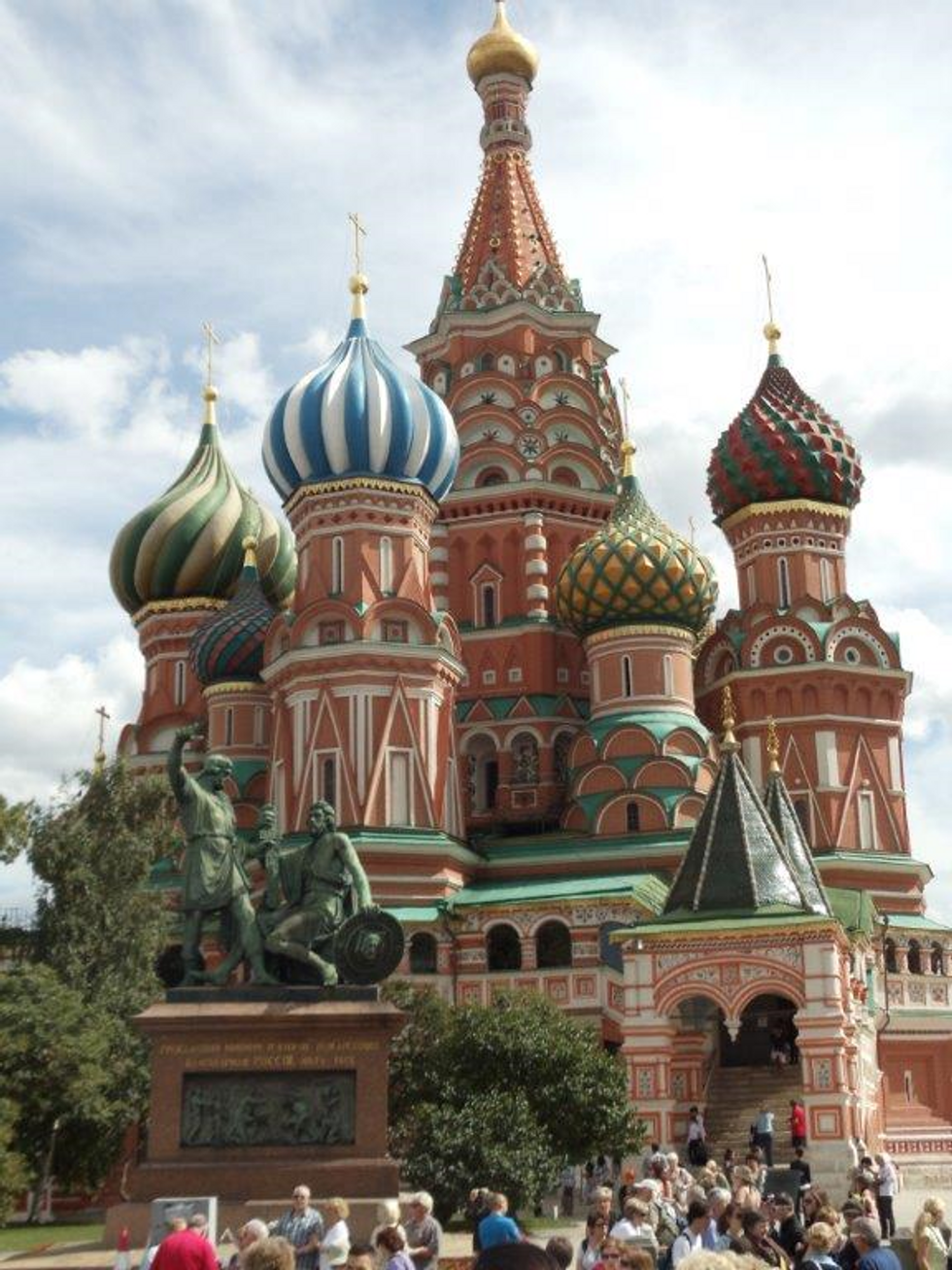 Just outside, near the Kremlin Wall, is the Tomb of the Unknown Soldier. Just like the American Tomb of the Unknown Soldier in the Arlington Cemetery, it is guarded with dignity by the Russian military.

Steps away from Red Square sits the famous Bolshoi Theatre, home to the world-famous ballet, theatre and opera companies – but, due to renovation during our visit to Moscow, the theatre was closed and we were unable to attend a performance there. Although we could not enter, we admired the grand sculptures of the four flying horses that sit atop the theatre and imagined the majesty of hearing a performance of Tchaikovsky.
Moscow is more than the red brick facade buildings, the onion-domed cathedrals and the block style of architecture from the Soviet era – it also has beautiful boulevards that are lined with 19th century mansions. Over the years, one boulevard, Ulitsa Arbat, fell out of favor and was neglected, but in the 1980s it became pedestrianized, and now it is home to trendy restaurants, art galleries, shops and street performers. The mansions are pastel colored – pale green next to pink next to sunny yellow, making this boulevard come to life and a perfect area to stroll.
Every major city of the world has its underground subway system and, of course, Moscow has one as well. But what makes the subway system in Moscow unique is that several of its underground stations are very ornate. The first metro stations were conceived as magnificent showcases of Soviet success. The Ploschad Revolyutsi station boasts 76 bronze statues, while Mayakovskaya station has beautiful mosaics, Komsomolskaya contains marble walls and chandeliers,Novoslobodskaya has amazing stained glass and is very ornate, and Novokuznetskaya contains historical themes. For the price of one metro ticket, you can take a tour of these stations simply by changing subway trains, all underground without surfacing.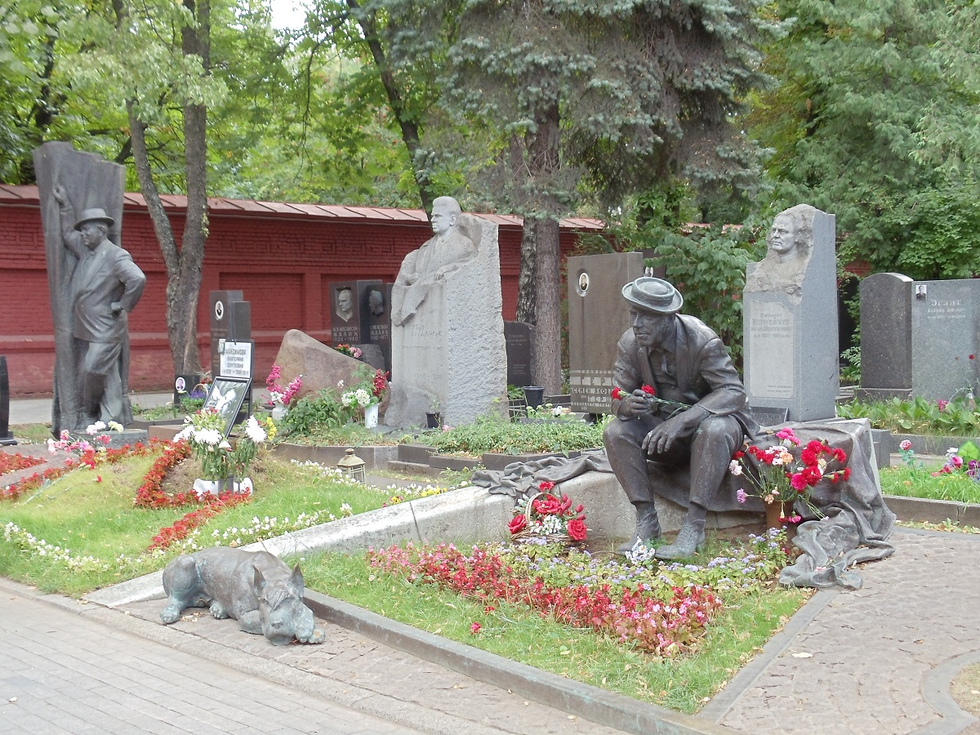 Not only are the metro stations works of art, but the Novodevichy Cemetery is like walking through a sculpture park. Don't think of this as a mournful place, but rather one that has a "park-like ambience." As you enter the cemetery, which is dotted with small chapels and large sculpted monuments, you are struck by the ornateness of the gravestones. Reading the names of those who are buried here is like reading a list of the who's who in Russian culture and politics. Anton Chekhov, Raisa Gorbachev, Nikita Khrushchev and Boris Yeltsin are buried here, along with notable scientists, musicians, poets and playwrights.

Although English is spoken widely throughout Moscow, one thing we needed to do was decipher the Cyrillic alphabet. While it does resemble the English alphabet, many letters are "turned around." For us, especially while in the Metro, we would go letter by letter… regular A, backwards C, then backward R, followed by an O with an I in it – it was not only a cultural experience but a linguistic one as well.
Moscow amazed us – giving us reminders of the bleakness of the Cold War era and then surprising us with the colorful streets full of upscale shopping. Many times, we had surreal experiences with our personal flashbacks to the "duck and cover" days while we were walking Red Square. It was an experience, to say the least.
On March 19, 2020, United operated its first flight carrying cargo without passengers on board. While the passenger cabin was empty, its cargo hold was completely full, carrying more than 29,000 pounds of commodities from Chicago O'Hare International Airport (ORD) to Frankfurt Airport (FRA).
A year later, United Cargo has operated more than 11,000 cargo-only flights carrying more than 570 million pounds of freight. To support the COVID-19 pandemic recovery efforts, United Cargo has also transported more than 113 million pounds of medical and pharmaceutical products on both cargo-only and passenger flights as well as approximately 10 million COVID-19 vaccines, providing global communities access to the items they have needed most.
"At the beginning of the pandemic, we knew we were uniquely positioned to utilize our widebody aircraft and our network to keep commodities moving, so we quickly mobilized various departments throughout the airline to launch a cargo-only network of flights that would keep commodities moving," said United Cargo President Jan Krems. "Thanks to those efforts, United Cargo has delivered millions of items to countries all around the world. We would not have been successful without the steadfast support of our employees, industry partners and our customers."
Since last March, United Cargo has transported almost 850 million pounds of freight on cargo-only and passenger flights. The airline will continue to monitor market trends adjust its cargo-only flight schedules to help ensure we are meeting our customer's evolving shipping needs.
Whether you haven't flown with us for a while or just need a quick refresher before your spring trip, read this list of tips to know before your flight and arrive at the airport travel-ready:
1. Download the United app for contactless bag check, travel assistance and more
Before your flight, download the United app to view your flight status, check in, sign up for flight notifications, locate departure gates, access our free personal device entertainment when available and more. We've also updated our app with new features that can make your trip a little safer, including contactless bag check.
Don't forget to use Agent on Demand for help with any and all questions you may have before your flight. This new capability is available at all our U.S. hub airports and allows you to use your own mobile device to contact a customer service agent via phone, video or chat to help with day-of-travel questions while you're at the airport. Learn more about Agent on Demand here.
2. Check out the Travel-Ready Center
Our Travel-Ready Center makes it easy to get a personalized overview of everything you need to do in preparation for your flight. Just enter your confirmation number or MileagePlus® number and you'll find detailed information on all the documents, tests and more that you'll need for your trip.
3. Read and sign the Ready-to-Fly checklist
Before completing check-in, all United travelers will need to read our Ready-to-Fly checklist and confirm that they understand and agree to our policies. These include:
Acknowledging that you haven't had any symptoms of COVID-19 in the last 14 days
Agreeing that you will not fly if you have tested positive for COVID-19 within the last 21 days
Confirming that you will follow all policies regarding face masks, social distancing and other health and safety measures we've adopted
4. Arrive early; avoid the stress
Airports can be busy, especially during peak travel periods like spring break season. The TSA advises arriving at the airport two hours before your flight for domestic travel and three hours for international travel in anticipation of long security lines. This can help ease the stress when navigating busy check-in areas, security lines and crowded boarding gates.
5. Get familiar with CleanPlus
United CleanPlus℠ is our commitment to delivering industry-leading cleanliness as we put health and safety at the forefront of your experience. We've teamed up with Clorox to redefine our cleaning and disinfection procedures and Cleveland Clinic to advise us on enhancing our cleaning and disinfection protocols, like:
Disinfecting high-touch areas on board and in the terminal
Using electrostatic spraying, Ultraviolet C lighting wands and more advanced measures to clean aircraft cabins before boarding
Redesigning our mobile app to allow for touchless check-in and contactless payment, along with enhanced travel assistance features
Implementing high-efficiency (HEPA) filters on our aircraft that completely recirculate cabin air every 2-3 minutes and remove 99.97% of airborne particles, including viruses and bacteria
Studies show COVID-19 exposure risk is minimal when air filtration systems and masks are in use, so you can rest assured that the steps we've taken to keep you safe truly make a difference.
6. Wear your mask
Federal law requires all travelers to wear a face mask in the airport, including customer service counters, airport lounges, gates and baggage claim, and on board during their entire flight. Make sure you review the requirements for face masks, including what an acceptable face mask looks like.
7. Get ready for a safer boarding process
To make boarding even safer, we now have travelers board their aircraft from back to front. At the gate, just listen for your row number to be called – we'll ask a few rows at a time to board, starting with the last row of the plane. This helps everyone maintain a safe distance from each other during boarding without slowing things down. As you step onto the plane, flight attendants will hand each passenger a sanitizing towelette, which you can use to wipe down your seat to ensure it's extra clean.
8. Pack smart
Before packing your bags, check to see what exactly you can carry on and what you should plan to check. You can also copy your confirmation number into our Baggage Calculator tool to learn about the bag allowance included with your reservation, as well as the cost of checking any additional bags.
9. Check your flight status, important notices and weather
Check the United app regularly for the latest updates on weather conditions, flight status, gate numbers and seat assignments. You can also visit our Important Notices page to find essential information and updates about travel waivers, international travel, TSA and security, airports and United Club locations.
10. Relax and enjoy your flight
Once you're on board, it's time to sit back and enjoy your flight. Our flight attendants will be happy to help you with anything else you need.
This week, we were honored to become the first U.S. airline to join the UNICEF Humanitarian Airfreight Initiative to combat the COVID-19 pandemic by transporting the vaccine and other critically needed supplies to underserved areas of the globe.
"We are committed to helping the global community in any way we can, and we all must work together to do our part to bring this health and humanitarian crisis to an end," said Director of Cargo Specialty Products Manu Jacobs.
We will leverage our expertise to transport these critical pharmaceutical and healthcare shipments around the world safely, efficiently and expediently. We are proud to partner with the United Nations to support this global effort and provide equitable access to COVID-19 vaccines.
Scroll to top