Network Planning and Scheduling Analyst Matthew Falkler
Since I was in middle school, I have been fascinated with American history, specifically about World War II. For years, I have imagined traveling to where this history actually took place and one of my top places was Normandy, France. Normandy was the landing site of the Allied liberation of Europe, which occurred on June 6, 1944. It was called Operation Overlord, more notoriously know as D-Day. Finally, I decided to make this trip happen and it did not disappoint.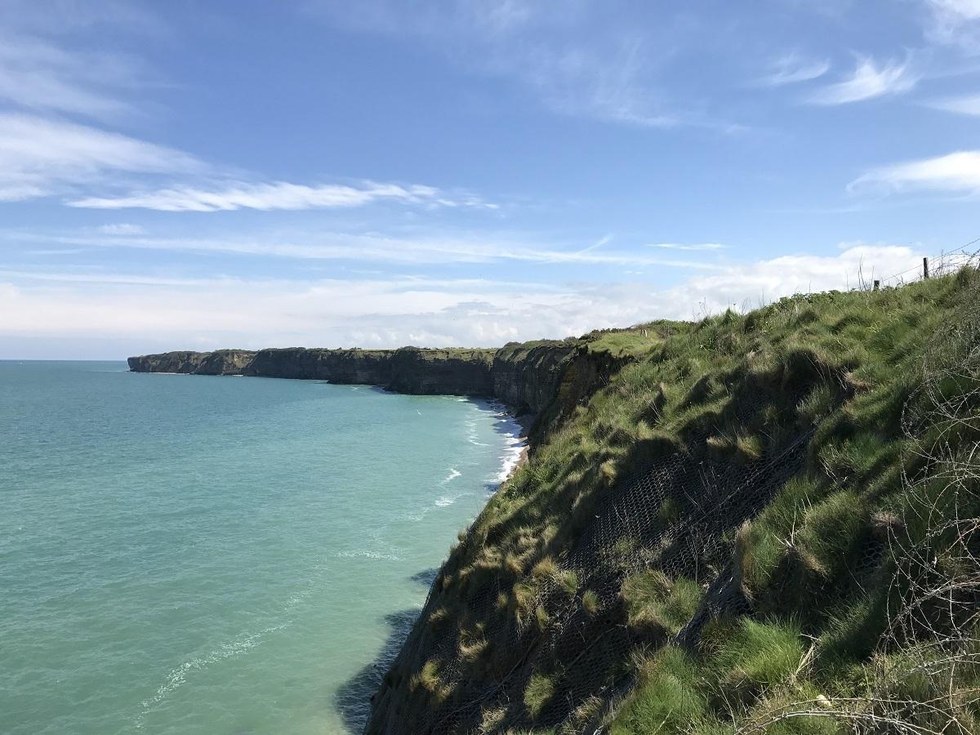 After flying into Paris Airport and checking out the many sites of the City of Light, I took a train to Carentan the next day. I booked a tour, through a company called Bayeux Shuttle, which I highly recommend, that timed nicely for a day trip from Paris in which they pick you up and drop you off at the train stations. From Carentan we made our first stops to Airborne sites. In the very early morning hours of D-Day, Army Airborne Division Paratroopers dropped behind enemy lines with numerous objectives to support the Allied beach landings which would occur just hours later. Our stops included a twelfth century church in Angoville-au-Plain, which was made into an aid station by two 101st Airborne Medics, and a famous battle site called Brécourt Manor which was featured in the HBO miniseries "Band of Brothers."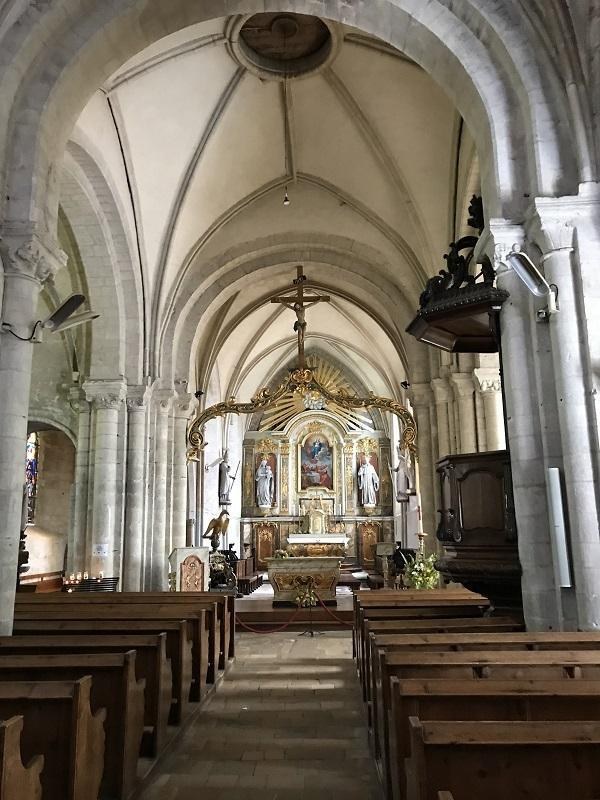 Our tour group then proceeded to Utah Beach, one of the five beach sectors the Allies stormed and one of the two where American troops landed. We arrived at low tide and our tour guide told us low tide extends the beach to a few hundred yards in length. The landing had to happen at low tide, meaning our soldiers would have to run even farther to secure the beaches because the Germans strategically placed mines and obstacles aimed to stop a high tide invasion as part of their Atlantic Wall. Utah Beach had very nice monuments, a visitor's center and Le Roosevelt Café, named after the famous General Theodore Roosevelt Jr., who led the first wave of troops that landed on Utah Beach. The tour continued to another famous Airborne site, a church in the town of Sainte-Mère-Église. The town became the first officially liberated by the Allies in France.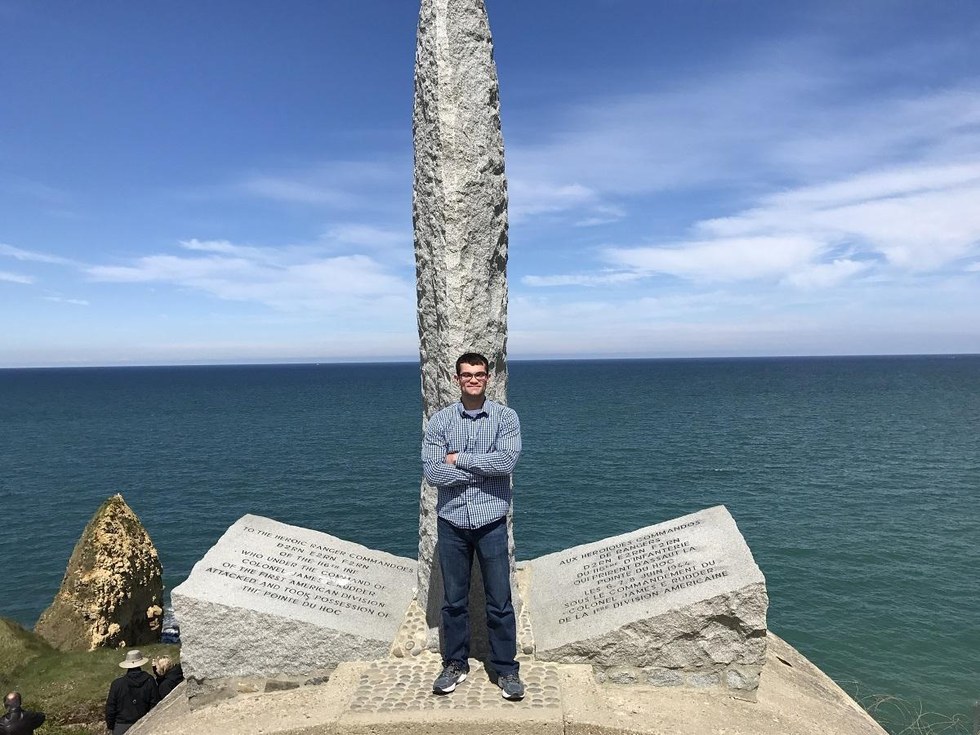 After a scenic break for lunch, we went to Pointe du Hoc. This is where Army Rangers scaled cliffs 85-100 feet straight up to eliminate German artillery. President Ronald Reagan made his famous 40th Anniversary of D-Day speech at Pointe du Hoc. This was my favorite stop because not much was developed around this area, preserving the history of the war. You can go inside German bunkers and still see how the Allied bombing runs shifted the landscape of the terrain. We then went to Omaha Beach (if you have seen the movie "Saving Private Ryan," that is where they depicted the opening war scene). Omaha Beach saw the fiercest fighting of the invasion as it housed heavy defenses along with well-trained German soldiers.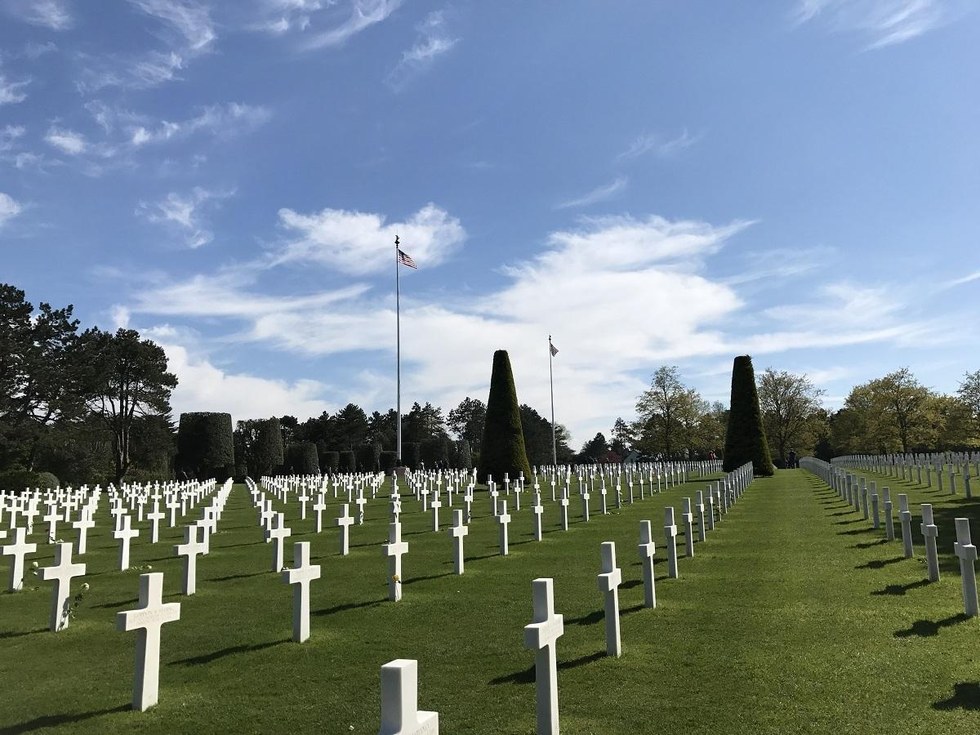 Our final stop was the most moving of the tour -- the Normandy American Cemetery and Memorial located right off the coast of Omaha Beach. Nearly 10,000 American men and women were laid to rest here along with a wall dedicated to the Missing in Action. I am glad we spent the most time of the tour at the memorial because having time to reflect is an important part of the experience.

Touring Normandy was an incredible experience, something I will never forget. Honestly, I wish I had more time to walk around and explore. Whether you know much about the war or not, I recommend touring Normandy to anyone. It truly is a humbling experience and reinforces the sacrifices made by the Greatest Generation. This country sacrificed so much to liberate the world from tyranny and oppression and that never should be forgotten.