Enchanted by Paraty, Brazil
Each week we will profile one of our employee's adventures across the globe, featuring a new location for every employee's story. Follow along every week to learn more about their travel experiences.
By Employee Operations Staff Representative Frankie Pagan
I have always said that I would rather have a passport full of stamps than a house full of stuff, and my passion for travel has brought me to more than 62 countries. People always ask me, "What's your favorite destination?" and I always answer, "The one that I'm going to next." However, Brazil is definitely at the top of my favorites list. In fact, it is the country I return to the most.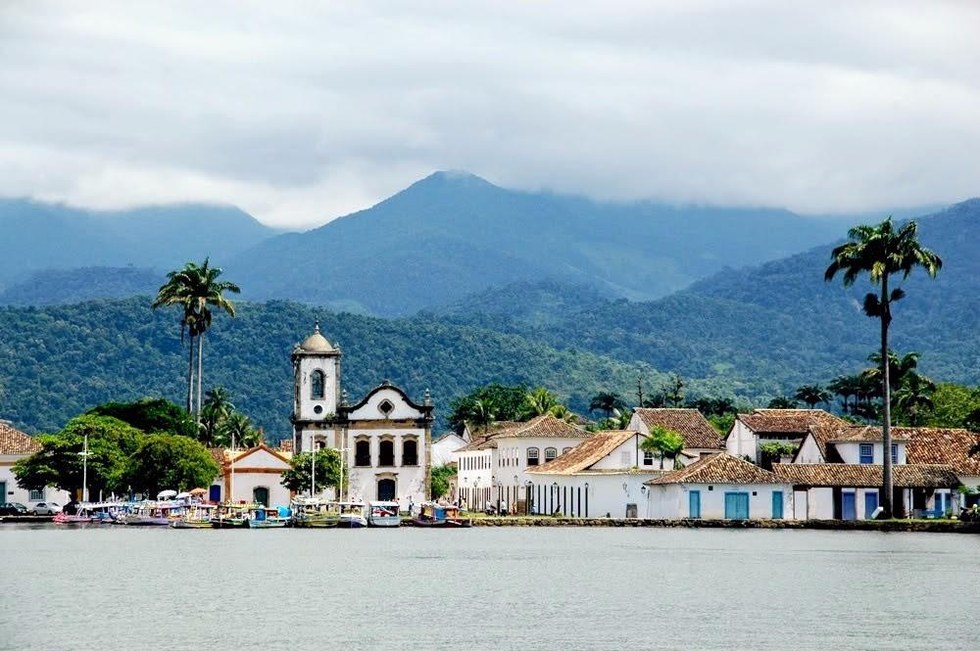 One of my favorite cities in Brazil is Rio de Janeiro, but just 4.5 hours south of the Marvelous City, as Rio is known, lies a beautiful hidden gem: Paraty - a colonial work of art, where Brazilians and tourists alike share in this beautiful city's old charm and flavor. A visit to this enchanting town will transport you back to the Portuguese colonial era.
Named after a local fish, Paraty sits on Brazil's stunning southeastern Costa Verde coast and is set amid jutting peninsulas and secluded beaches with a backdrop of steep, lush, jungle mountains plunging into an island-studded turquoise bay.
The small colonial town's center is a national historic monument with very well-preserved Portuguese colonial buildings on its pedestrian-only cobblestone streets. Cars are not allowed to enter the town.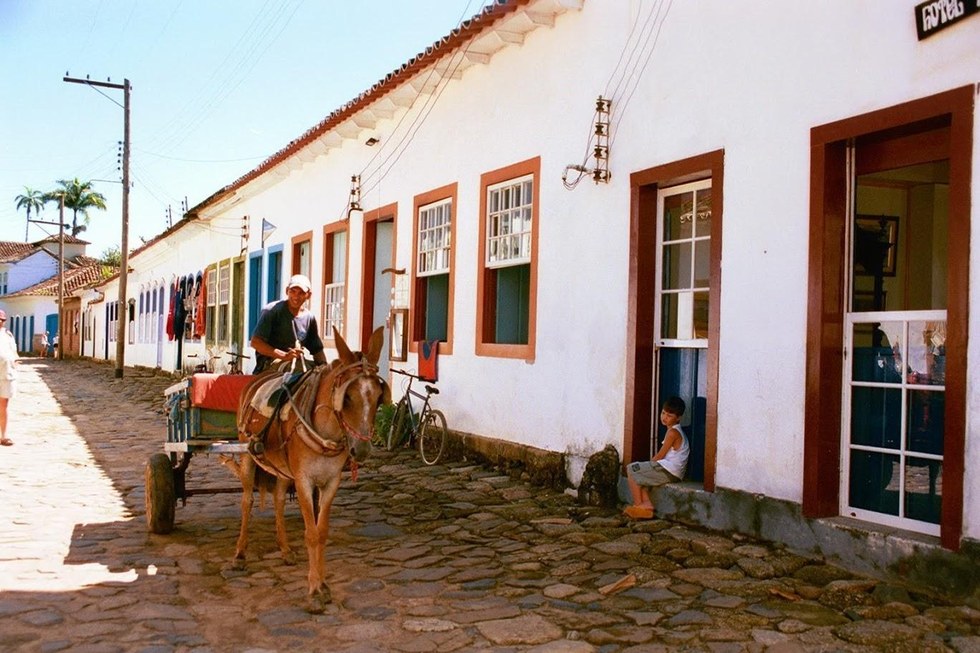 Elegant white buildings adorned with fanciful multicolored borders and latticed windows blend harmoniously with the natural beauty that envelops this charming town. Among its architectural landmarks is the waterfront Capela de Santa Rita, a whitewashed church built in 1722. Since 1966, the Brazilian government has recognized Paraty as a National Historic Site.
The town's cosmopolitan flavor is further enhanced by the large number of artists, writers and chefs -- both Brazilian and foreign -- who have settled here and opened shops, galleries and fantastic restaurants. The food options are endless, from international to local beach eats, but be sure to try the local seafood. Bars can be hard to find, so just follow the music. They usually aren't jumping until late.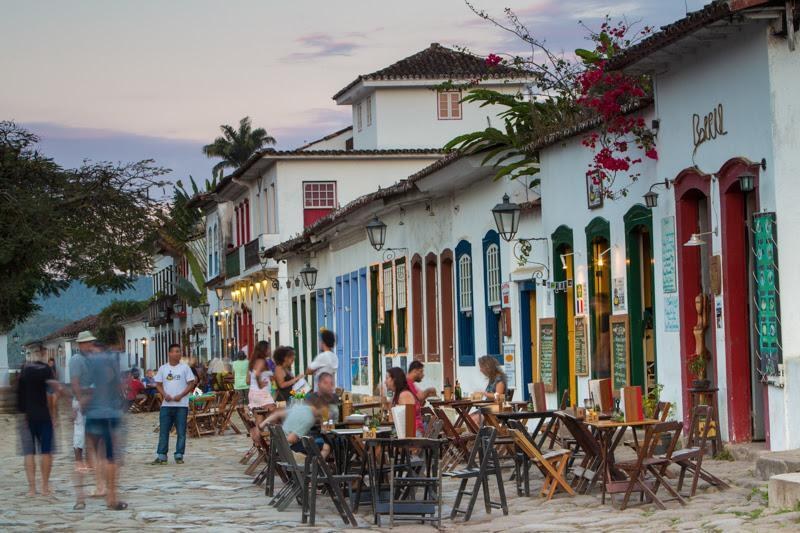 Paraty has a wide range of accommodations. I recommend that you stay at a pousada, or country inn, near the historical center of town. We stayed at Pousada Literaria de Paraty, a small elegant pousada owned by a Brazilian actress.

The town is very walkable. The vibe is relaxed and carefree. Everyone wears Havaianas, Brazilian flip flops. The locals are warm, friendly and genuinely nice. They are very proud of their delightful town and are always happy to help tourists. Keep an eye out for the monkeys that roam the streets. They are quite amusing and may be waiting for a treat.
A very interesting and unique characteristic of the town is that it floods regularly and intentionally — I heard from the locals that it has an old street-cleaning strategy. It dates back to colonial times, when the city was planned. Since Paraty is below sea level, sidewalks are elevated about a foot above the cobblestones, and, at high tides, ocean waters flood the streets in a timeless ebb and flow. It's best to carry a pair of flip-flops to wear so that you don't ruin your shoes. Some hotels and pousadas offer flip-flops to their guests, but I recommend you by yourself a pair of Havaianas.
In the town's main square, you can watch a capoeira performance, a Brazilian martial art that combines elements of fight, acrobatics, music and dance in a very magnetic way. Check with your hotel for times because it is something you won't want to miss.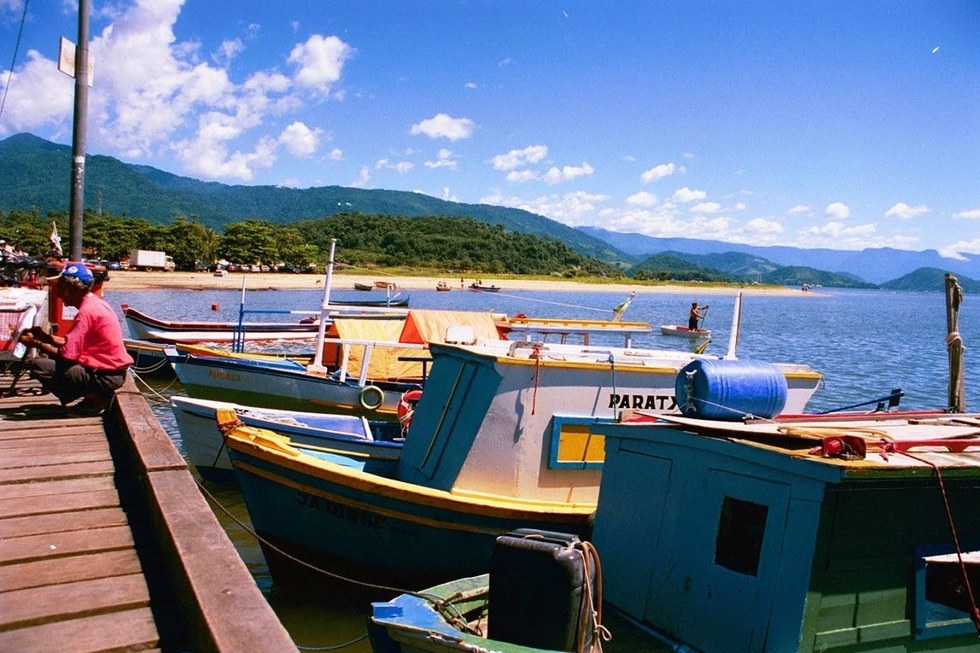 For approximately $125, you can rent a boat for the day and head out into the bay to the small islands and coves nearby. Along the way, you can snorkel in the crystal-clear, emerald-green sea and swim in the many secluded beaches. Our boat stopped on one of the islands, where we had a tasty lunch of freshly caught fish, garlicky white rice and Brazilian-style bean stew. Wash it all down with Brazil's national drink, the rum-tastic caipirinha or a refreshing local beer. Then sit back, relax in a beach chair and take it all in.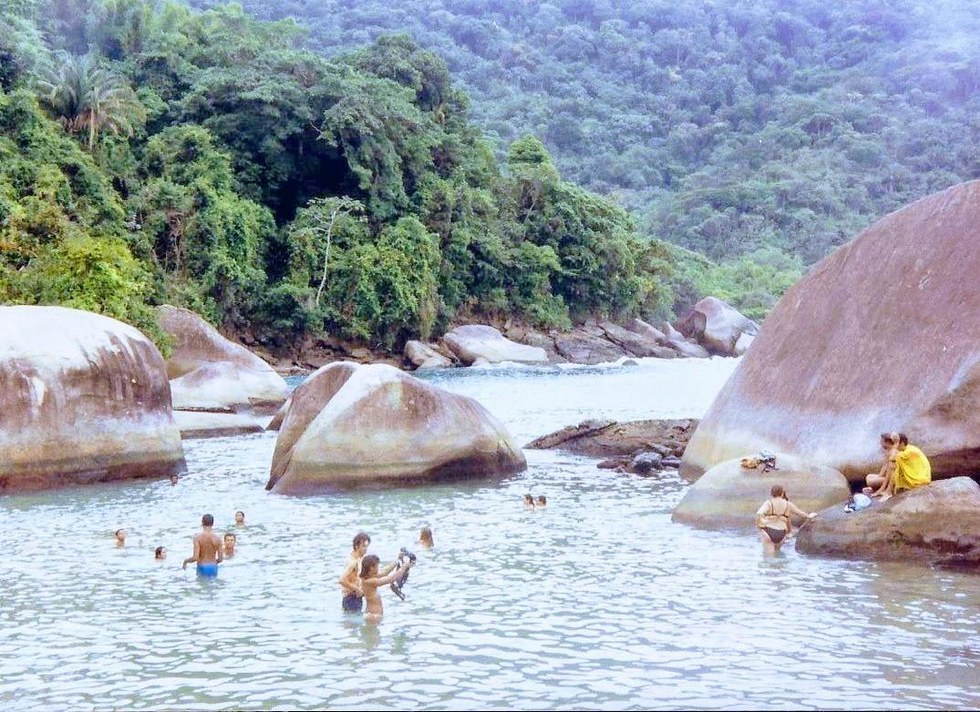 It's very easy to reach Paraty once in Brazil. From the U.S., Untied flies nonstop from multiple of our hubs to São Paulo or Rio de Janeiro. Air-conditioned buses leave from both Rio and São Paulo for Paraty. Buses from Rio depart 12+ times a day from the Rodoviaria Novo Rio bus station. The price of one-way a ticket is approximately $25, and the trip takes about 4.5 hours. The trip from São Paulo's Rodoviaria Tiete bus station takes about 6.5 hours and costs about the same. From São Paulo, try Reunidas Paulista bus company and, from Rio de Janeiro, Costa Verde Transportes.
Useful information and tips: